Valentines Day is such a cute and fun holiday, especially for the kids! I really enjoy seeing all the bright reds and pinks everywhere and all the creative activities and tasty treats all around.
I decided to create a small list of to make that you can do with your kids to bring the holiday of love to life! All of the items used to make these are very inexpensive and can be found at Walmart, Dollar Tree and most craft stores for easy shopping.
1. Heart Shaped Sugar Cookies
You can make your own but I chose refrigerated premade store-bought ones to make my life easier. I got these ones from Aldi but you can find them at other grocery stores as well.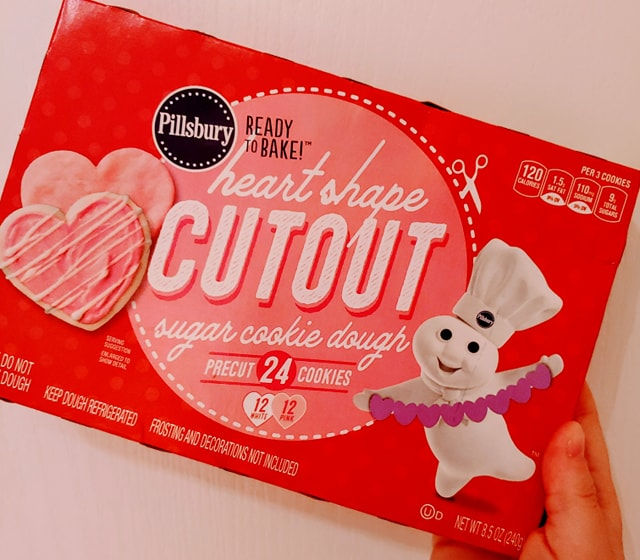 Just put them on a cookie sheet, throw them in the oven and put the timer on. When they are finished set them out to cool. Once cool, it's time to decorate! I chose to use canned frosting, again, to make life easier.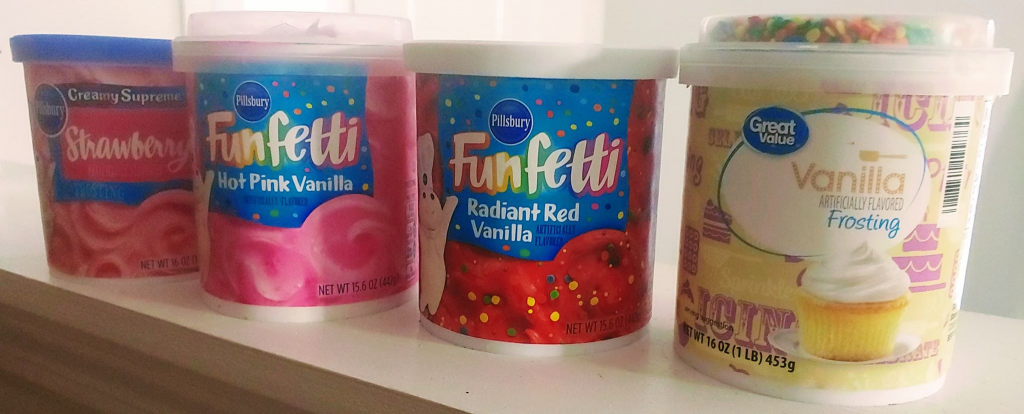 Use a spatula or knife to spread it out then add your decorations.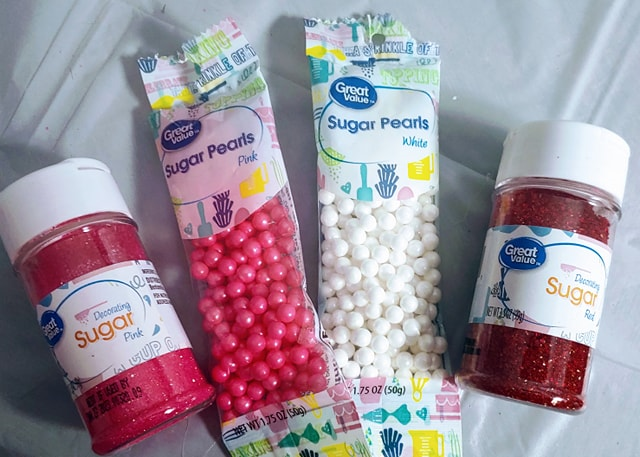 Pick out a lot of different colored sprinkles and candy so you can create a ton of different cookie designs!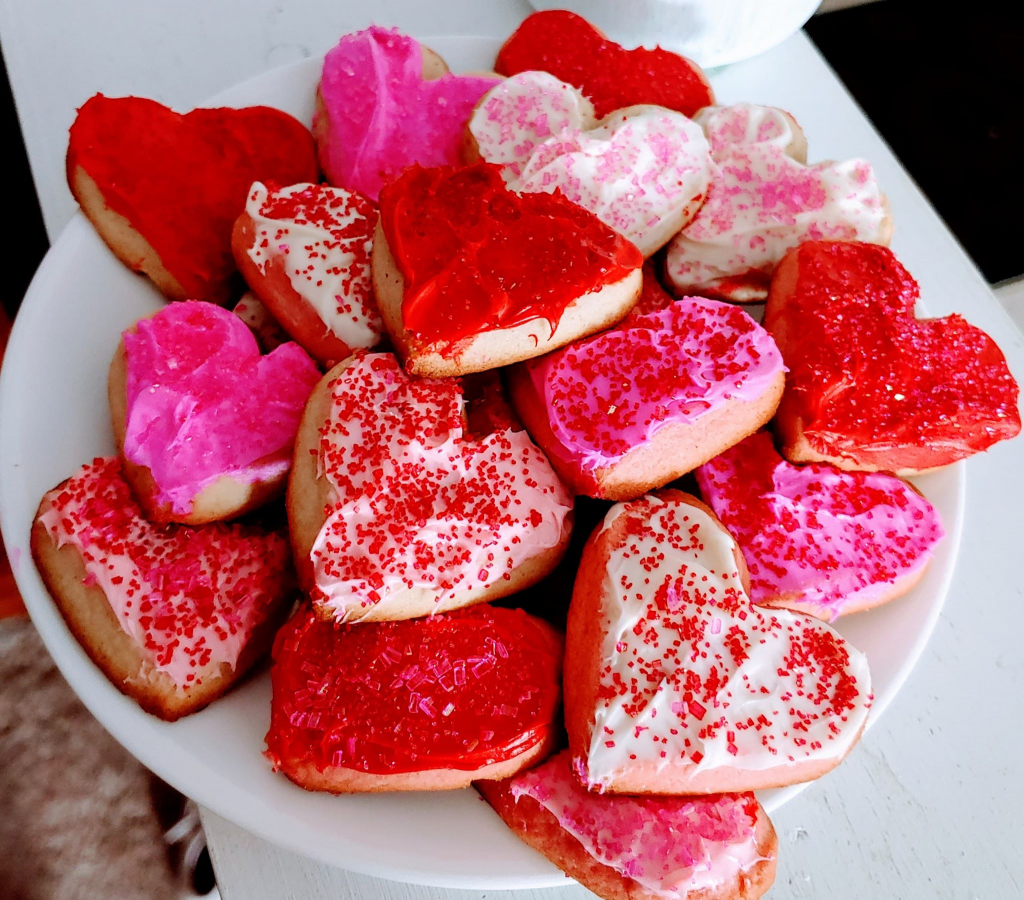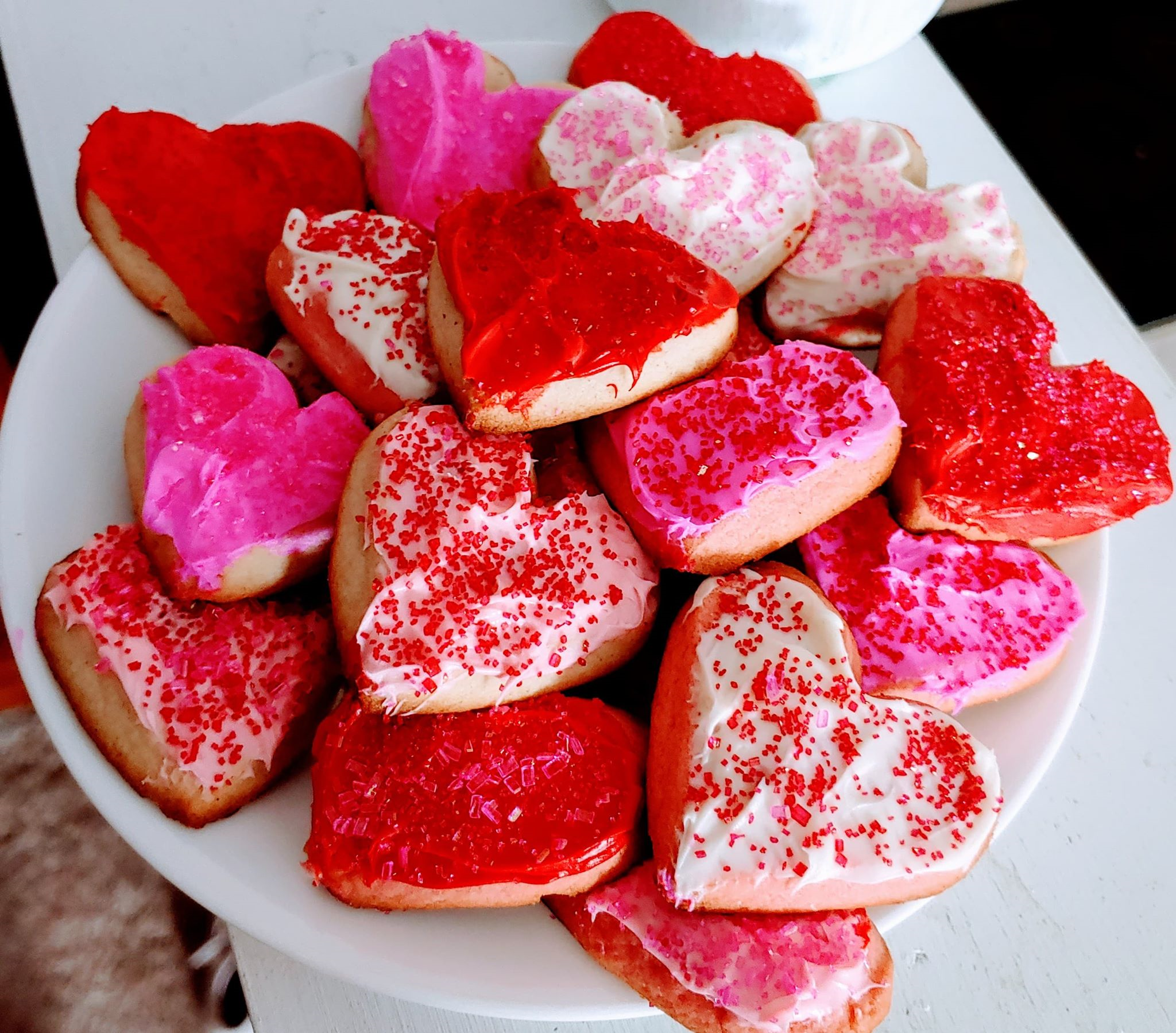 2. Heart Garland
This is such a fun and easy craft! Just grab a glue gun, package of small foam hearts from the Dollar Tree and some twine and you can make an adorable garland for your tv stand or mantle!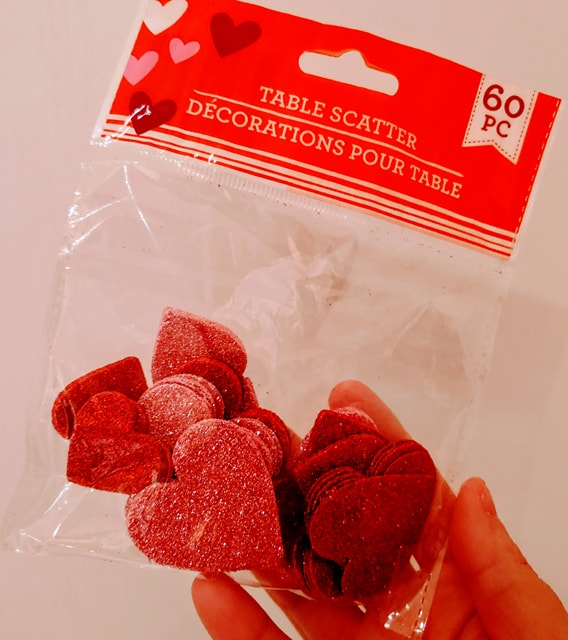 Measure the length of the area where you want to put your garland. My area was 57 inches so I decided to cut my twine to 65 inches for some extra room to drape and hang. Cut three more strings of twine at 12 inches and two at 7 inches, this gives me about 10-12 inches of spacing between each string.
You will then glue four hearts on either side so they cover the string about 3 inches apart on the 12-inch strings and 2-3 hearts on the 7-inch ones. Make sure to glue hearts on both sides as the twine twirls so not matter what angle they are at you cannot see the twine.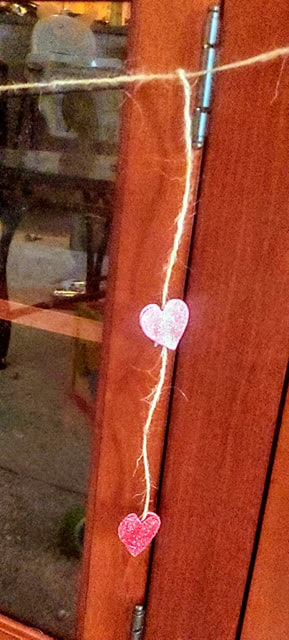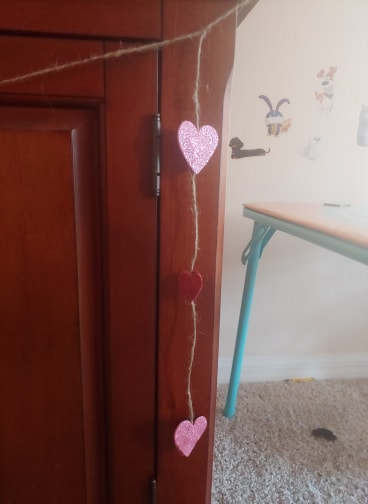 After letting them cool for a few minutes tie the tops of the smaller twine to the long twine and let them hang nicely. Alternate the 12-inch and 7-inch strings until you have it the way you like it and you have a cute, simple Valentine's day decoration!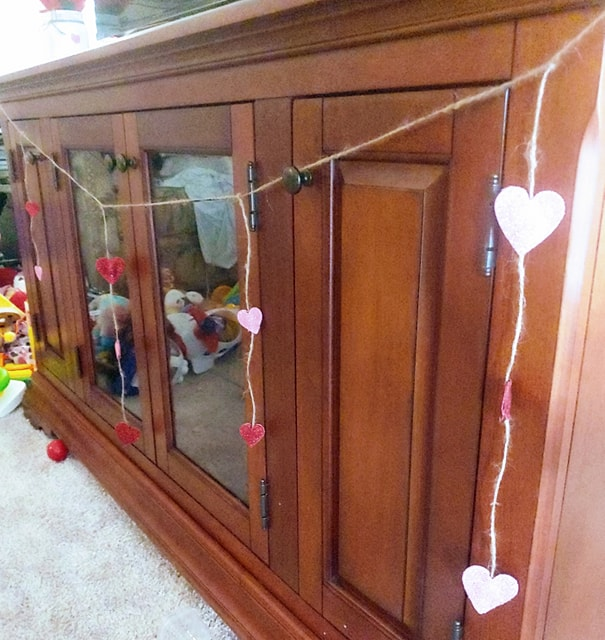 3. Thumbprint Heart Jars
You can use any type of vase or even a mason jar for this and any arrangement of fake flowers. I got mine from the Dollar Tree. You can do one or a few for a cute display.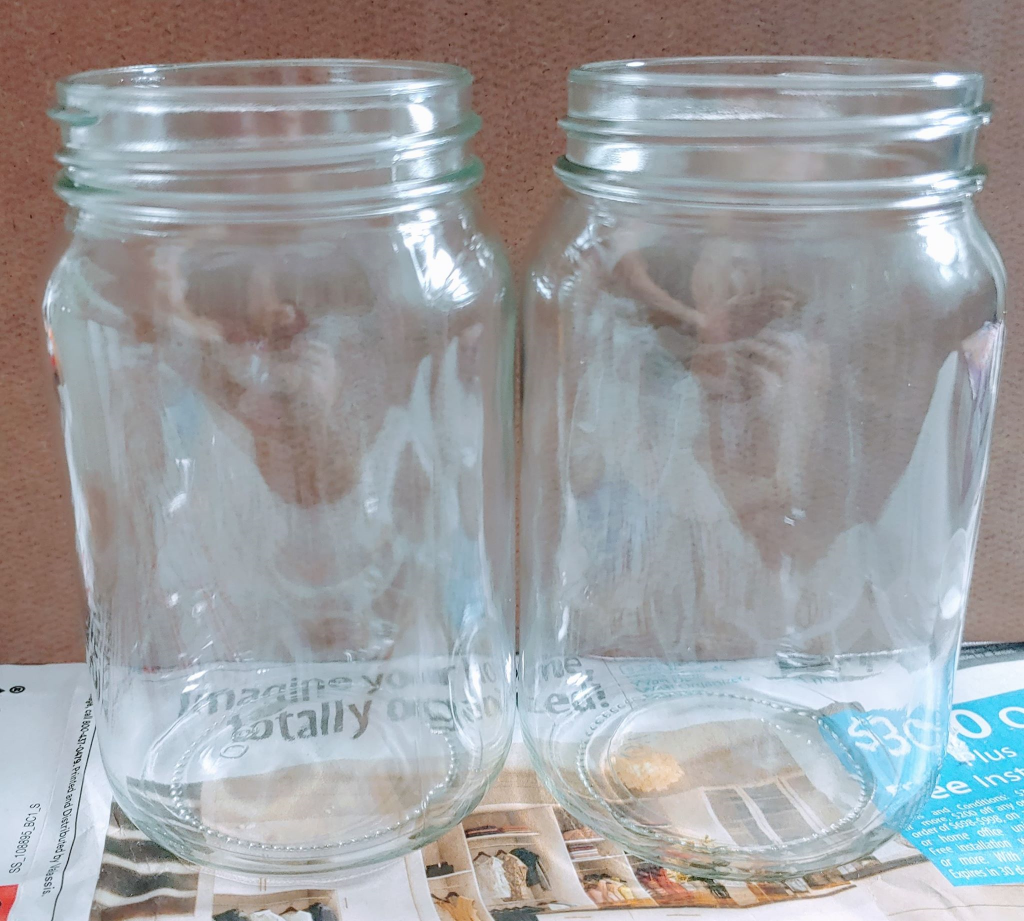 Use some chalk paint like white, pink, and red. I did not have any pink so I mixed some white and red.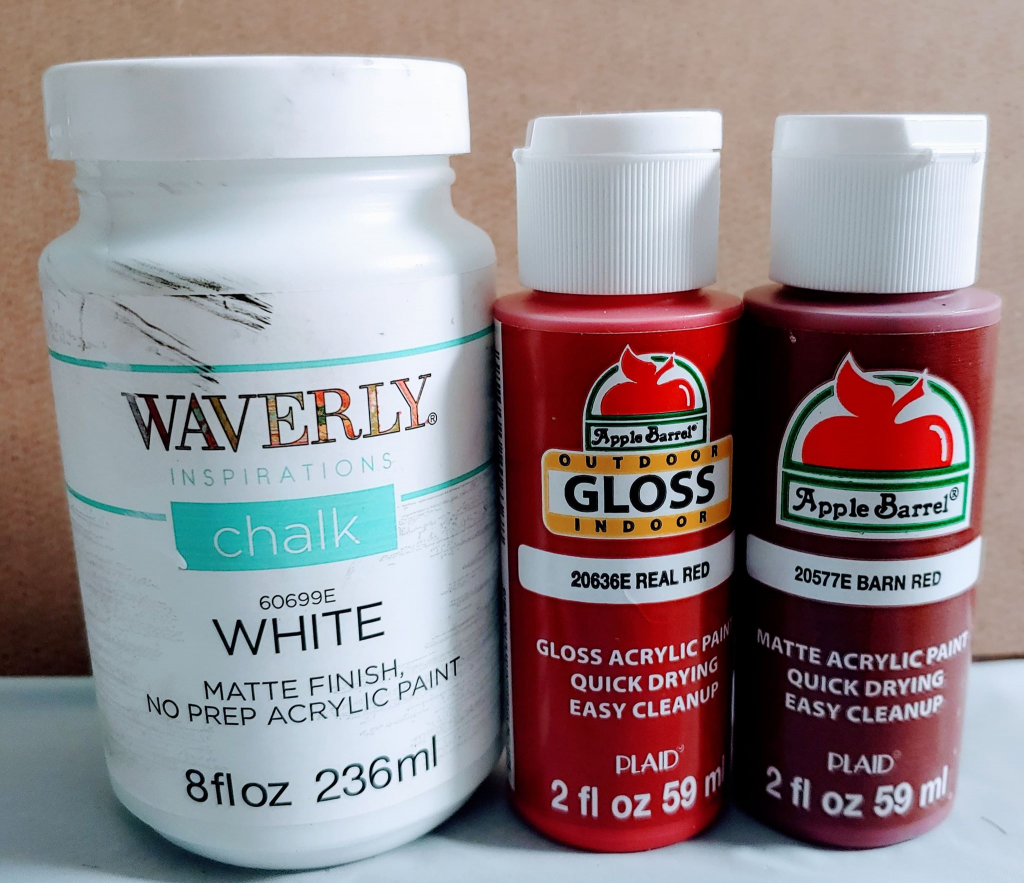 Paint the jars one solid color and let dry (I did mine all white but forgot to take a picture). Once dry take a different color then your base color and let your little ones dip their fingers in it and put two little finger prints next to each other to make a heart. My daughter was afraid of the paint so I just did it myself but you might have better luck than me. You can do a few of these all around the jar in one color or multiple colors for a fun look.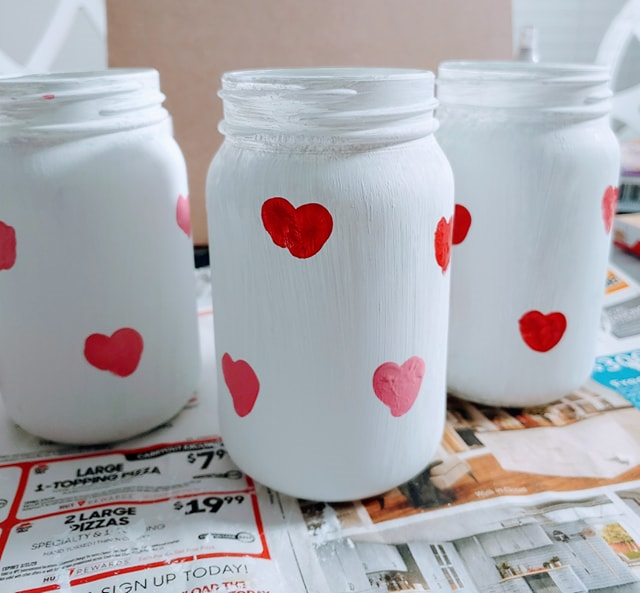 After it dries, you can add a little bit of twine around the top and make a little bow for a farmhouse look. Add in the flowers and you have an adorable centerpiece for your table!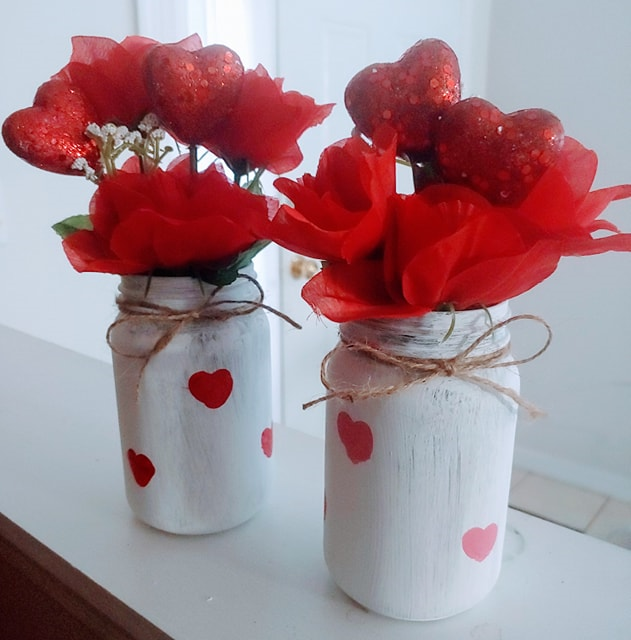 4. Chocolate Dipped Marshmallows
This one is super easy but always a hit with the kids! Just take some large marshmallows, put them on a skewer or stick. I used some cake pop sticks I had laying around (I believe I got them from Walmart.)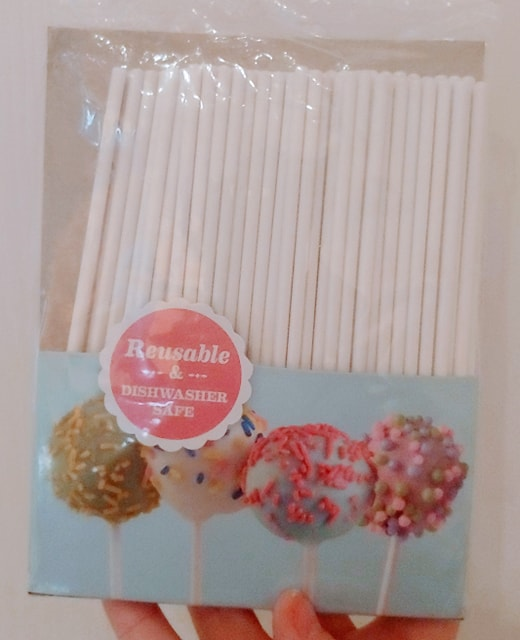 Warm up some chocolate or frosting and set out some of the sprinkles used for the cookies. You will then dip the marshmallows into whichever frosting you want and use the sprinkles to decorate, set on parchment paper and set in fridge for about 20 minutes. Once they're cooled, you can add set them out of a plate to enjoy!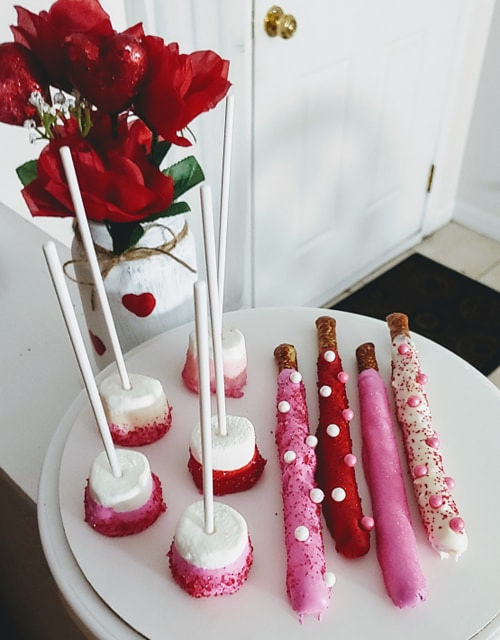 5. Chocolate Covered Pretzel Sticks
Another really easy Valentine's Day treat that will be ready in minutes! You can find pretzel sticks at almost every store. I purchased mine at the Dollar Tree. Make sure you check them first because they tend to have a lot of broken ones.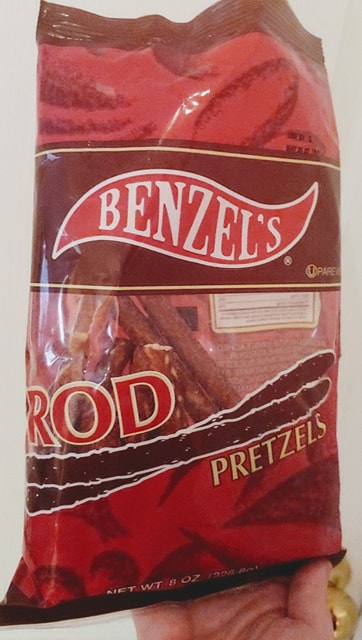 The easiest way to do this is to use the leftover frosting from the earlier projects, warm up for 10 seconds, stir, then another 10 seconds, stir again and it should be at a great consistency. Dip your pretzel sticks three quarters of the way down or just to where your fingers can stay clean, hold it over the can while it drips off then set on some parchment paper.
Decorate with your favorite sprinkles, nuts, chocolates, M&M's and more! Once these cool for a bit you can always drizzle some pink or red frosting or chocolate over the top for an extra Valentine's Day pop.
Set them in the fridge for about 30 minutes then you can bag them up or set out on a plate for easy snacking! You can see the final pretzel sticks pictures with the marshmallows in the previous project.
6. Valentine's Day Chocolate Bark
This one is so fun and delicious! All you need is a cookie sheet, some graham crackers and a few bars of chocolate or chocolate chips and sprinkles, you can get creative and add Valentine's Day M&M's, Oreo or even marshmallows to this.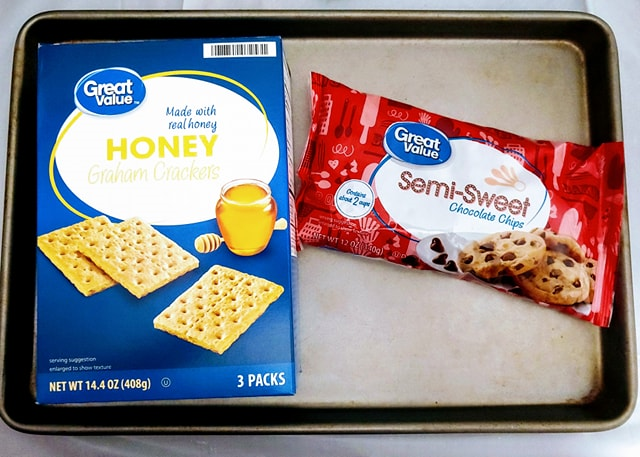 First you will place graham crackers in a single layer on a small cookie sheet with edges.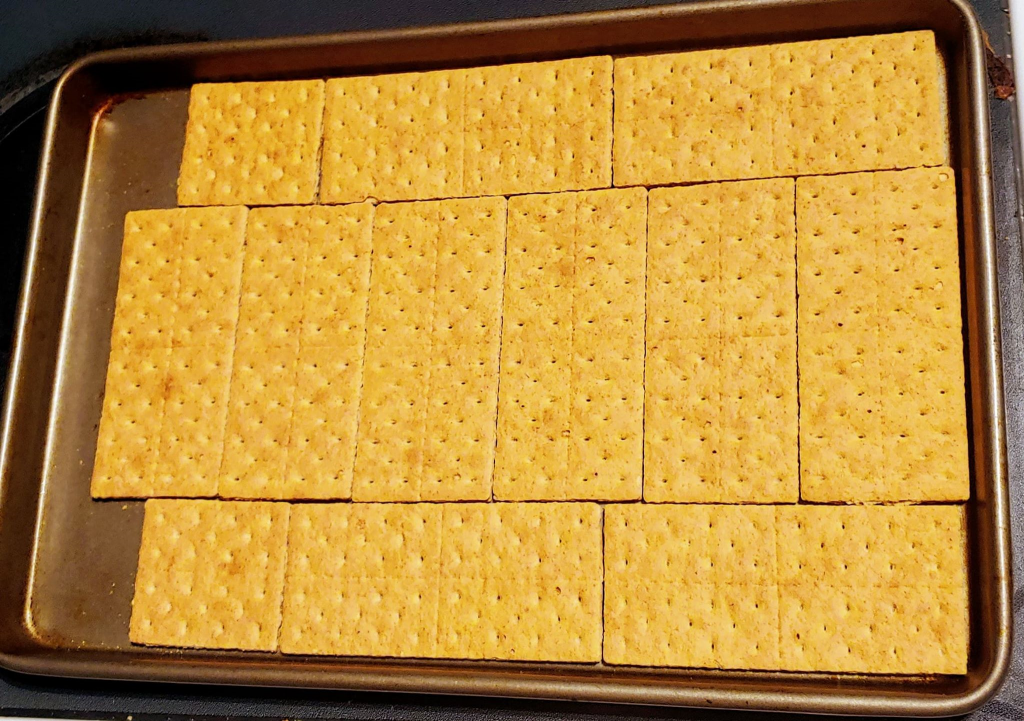 Melt the chocolate either in the microwave or a double broiler and pour all over the crackers.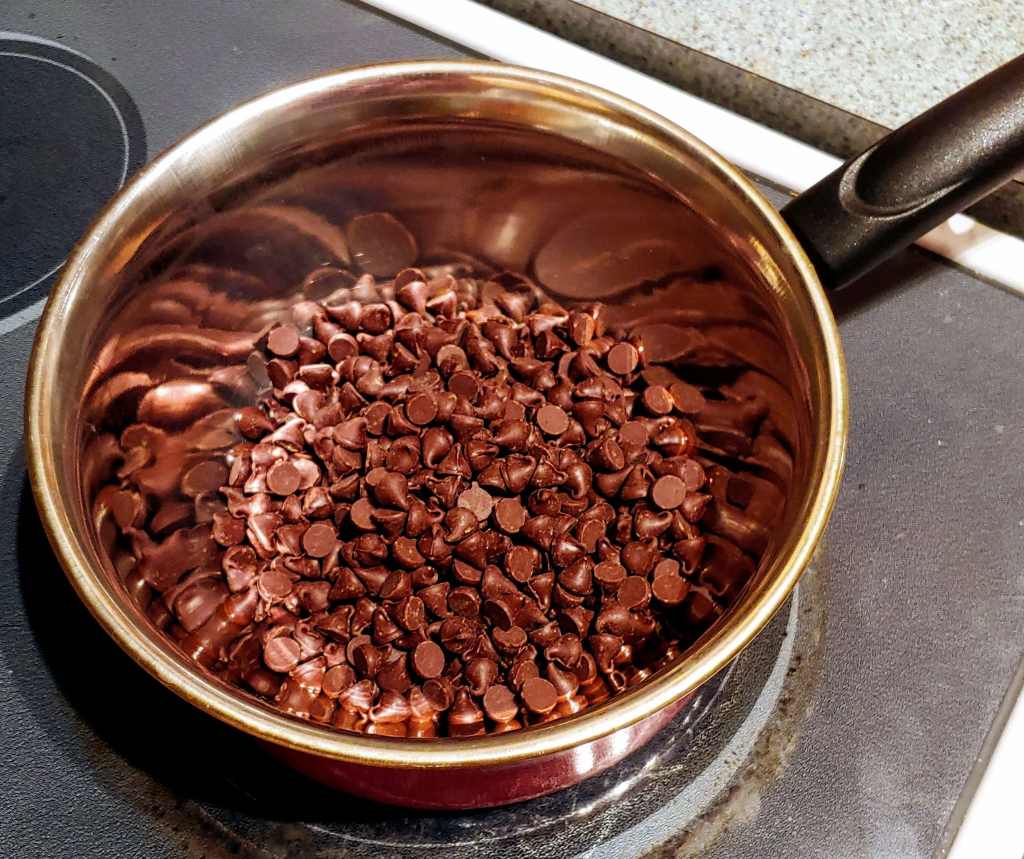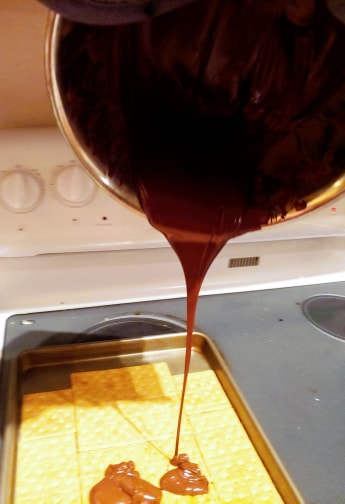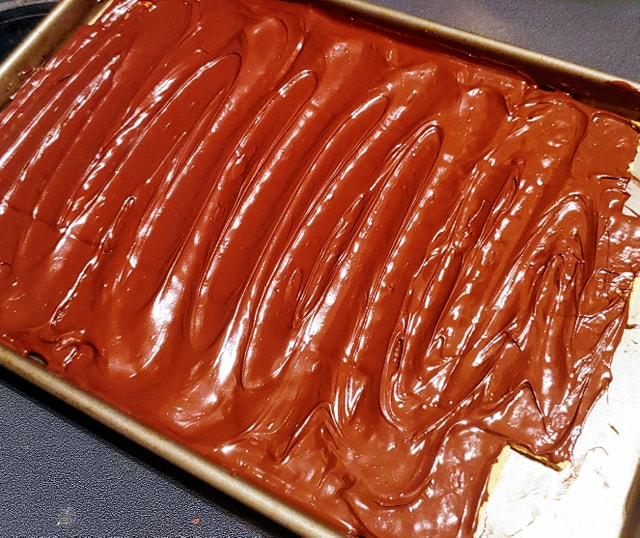 Let your kids add toppings everywhere and let in sit in the fridge for about 30 minutes.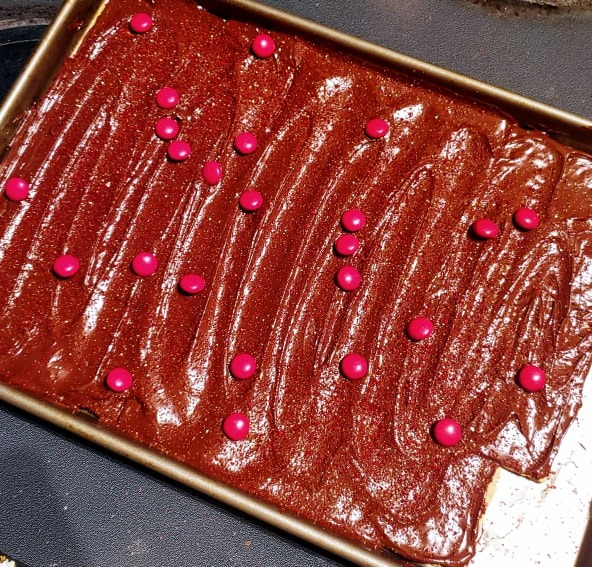 Once it hardens, smack the bottom of your cookie sheet on the counter to break it apart. You can place in tins for gifts or keep it in a container for your own enjoyment!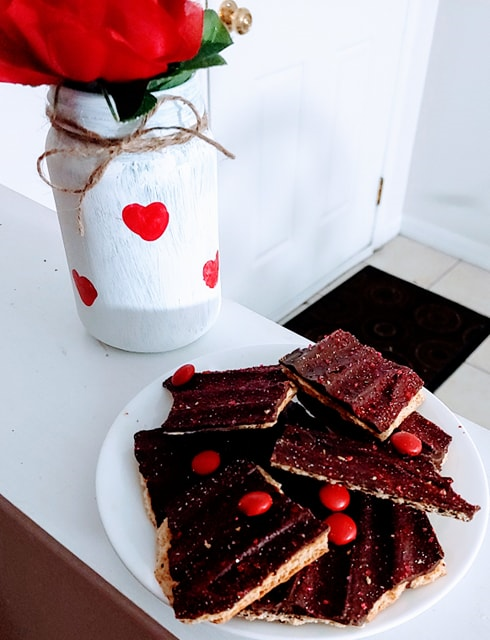 7. Puzzle Piece Frame
Find a cute picture of your child that you would like to display for Valentine's Day. Get any puzzle from the Dollar Tree and grab some popsicle sticks.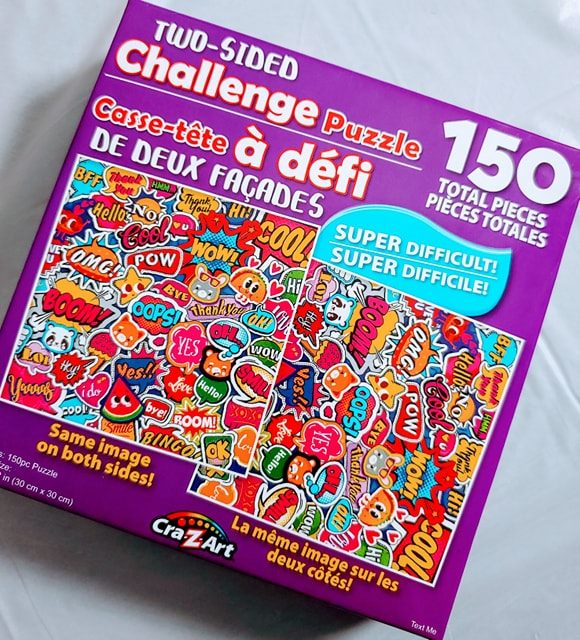 Lay popsicle sticks out to form the shape of a frame, you can do whatever size you'd like, just make sure the picture you are using will fit into it. You may have to cut some of your sticks, then glue them together to assemble your frame base. This will not show from the front but will on the backside.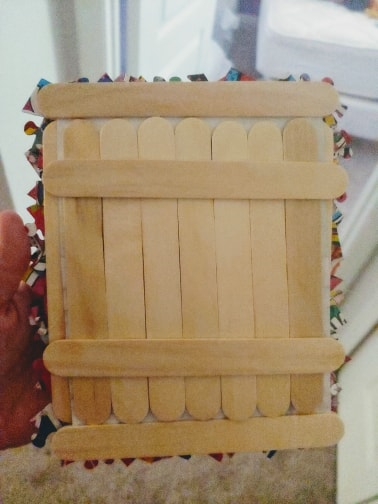 Once the glue sets on your frame, center the picture and glue it on. Do not use wood glue for this. I did since it was close to me and it bubbled through the picture. Paint your puzzle pieces either white, pink or red or some of each color for a cool mix.
Once they are dry, grab one piece at a time and add some hot glue on the back and place on the popsicle stick. Do one layer all the way around then start overlapping them to cover up the sticks. You may end up with several layers depending on how you place them. You can then print out a cute little square that says "I love you to pieces." Feel free to add your child's name, age or grade if you'd like.
Your child now has a cute picture to gift to someone or to keep in your home as a decoration!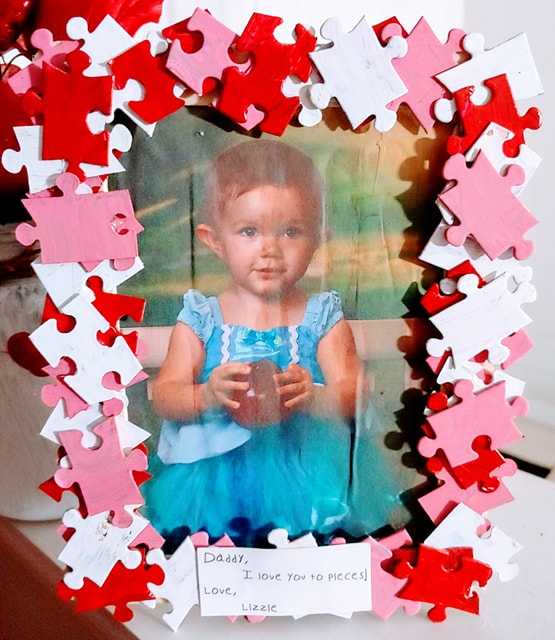 As you can see, we had a lot of fun creating these projects! We did them all in a span of about 3 hours. It only cost about $25.00 to do everything since I already had paint, glue and sticks laying around. All of these crafts and goodies can be changed into any theme or color so they are universal for every holiday.
Give them a try and let me know how they turn out for you in the comments below!