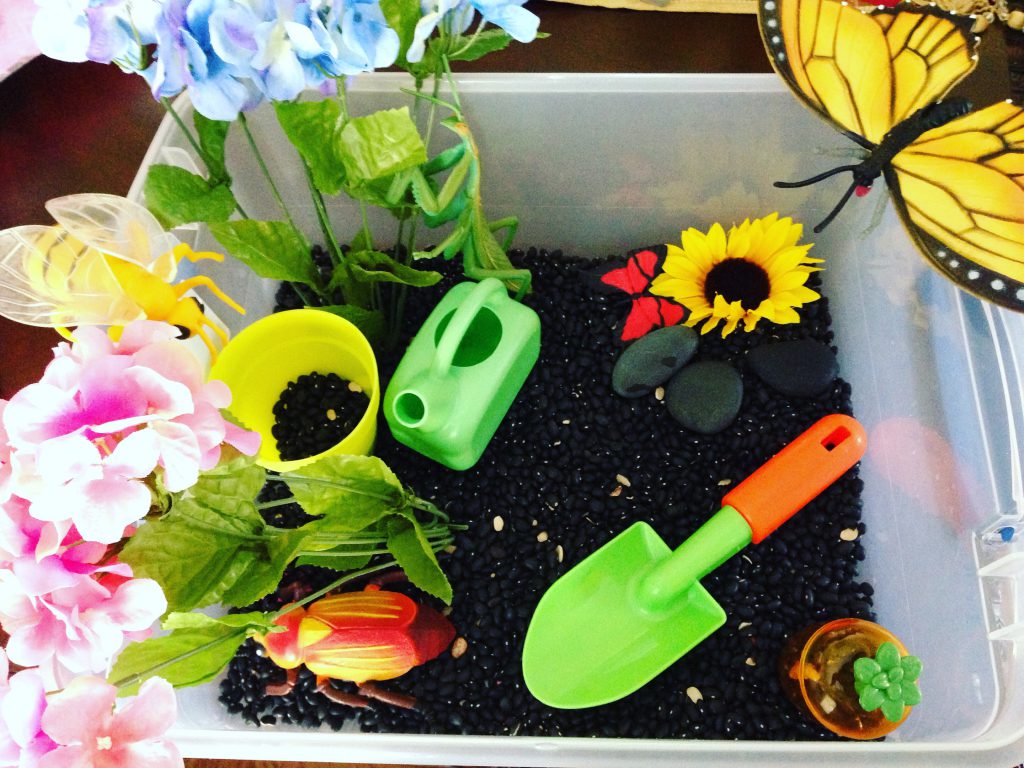 Garden Sensory Bin
Spring is in the air and what better way of welcoming the start of this sunny and bright season than with a few spring themed activities! Let's start off with this fun (and simple) garden sensory bin:
What you need:
Bin
Uncooked black beans
Bug figurines
Artificial (or real) flowers
Gardening kit playset (or containers, scoops, etc)
Rocks (optional)
Set up everything as simple or creative as you want and invite your child to play in their own miniature garden!
Alphabet Garden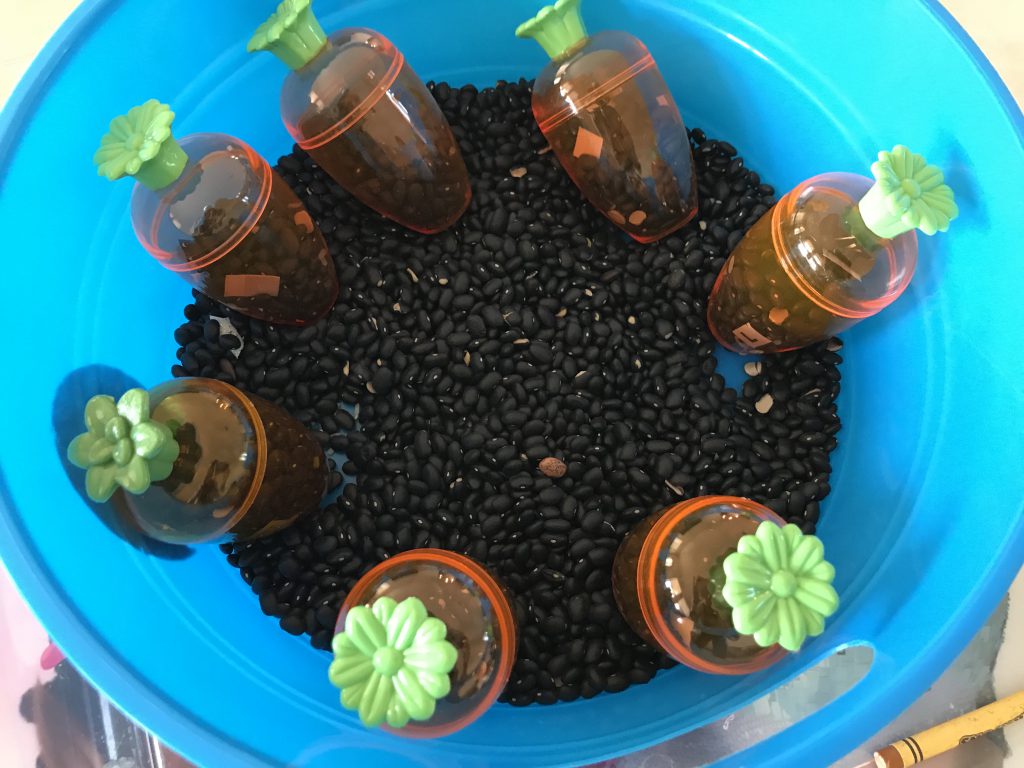 Another great use for those uncooked black beans is this fun carrot garden activity! Fill a few of these plastic carrot containers with the beans and some letter sticker cutouts, place them inside the bin, and fill the empty spaces of the bin with the rest of the black beans. You can find a great (free) Alphabet printout that you can use for this activity at Alphabet Garden Printout along with the original version of this Alphabet Garden activity.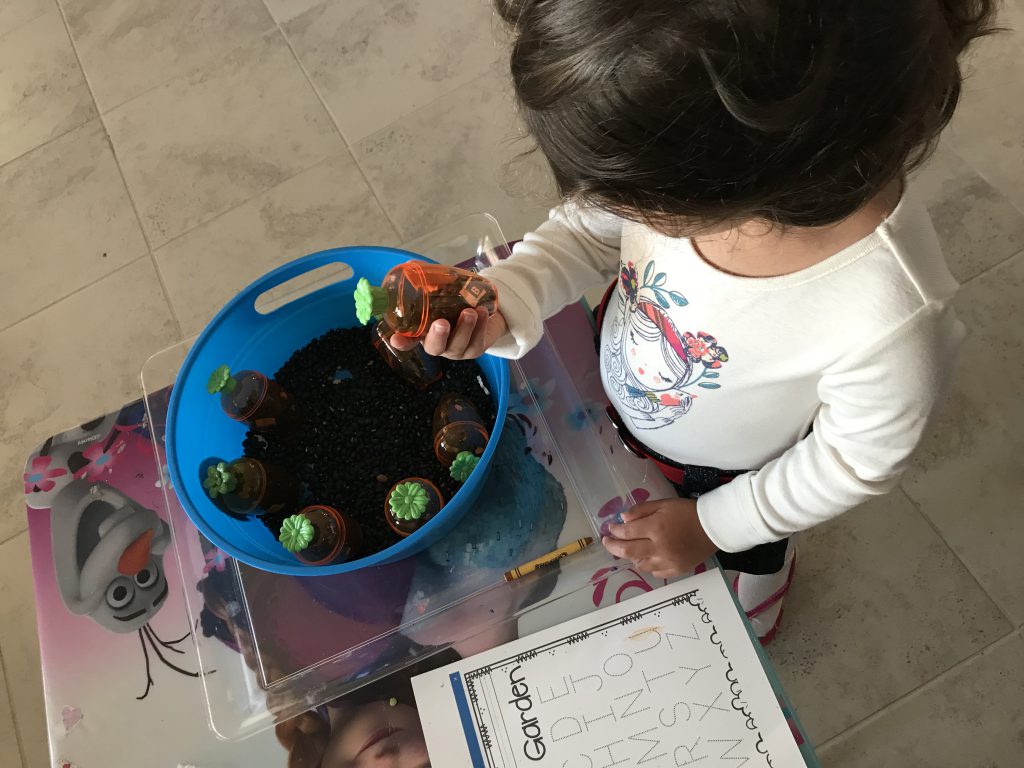 Once you have everything set up, have your child shake the carrot containers, search for a letter, and trace that letter on the printout until they have complete the whole alphabet. That's it!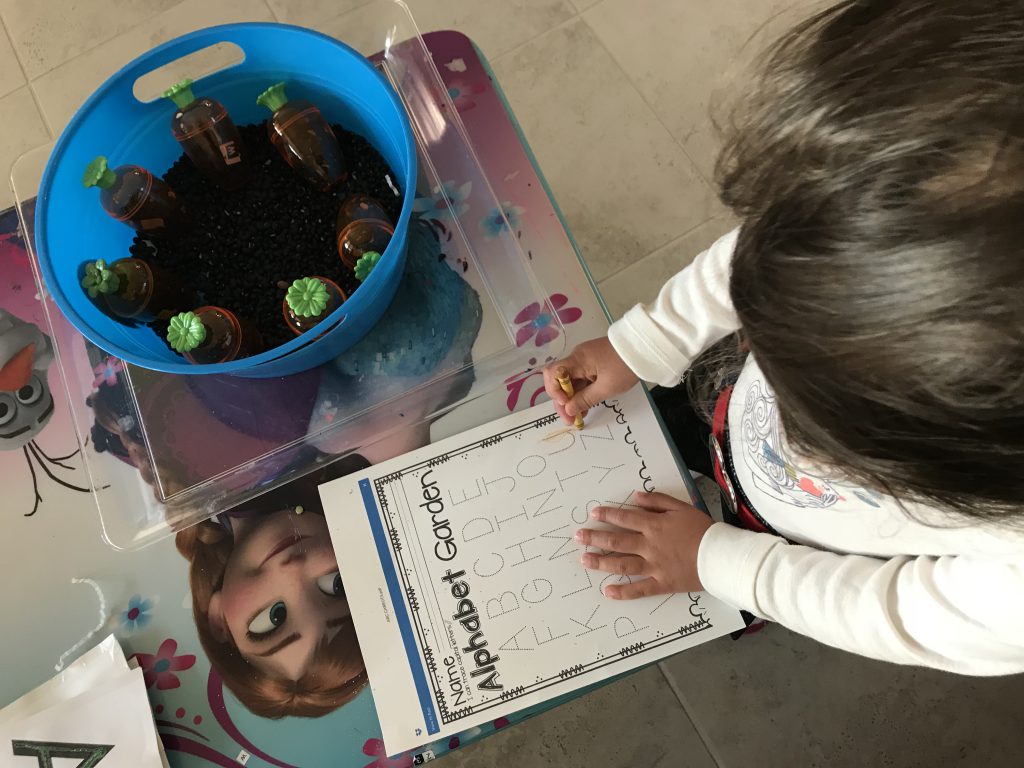 *You can purchase the carrot containers at the Dollar Store, especially during the Easter season.
Clay Nests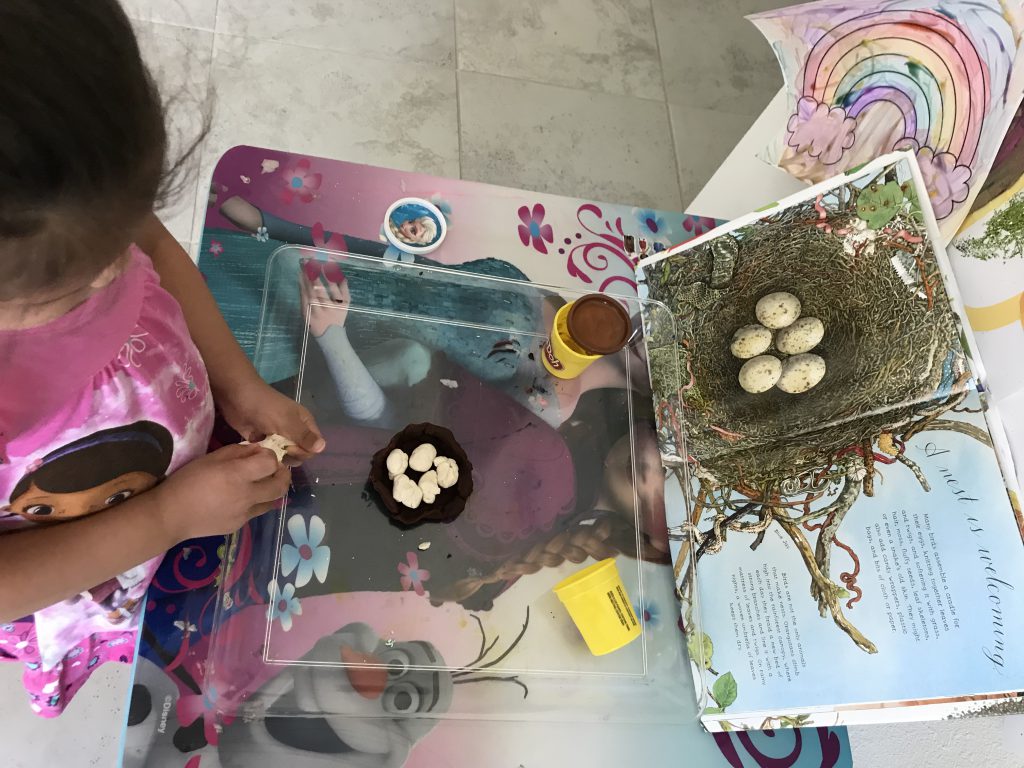 This was one of those easy set up activities that actually entertained my daughter for quite a bit. First, we talked about birds and their nests. We read the book "A Nest is Noisy" by Dianna Hutts Aston and enjoyed looking at all of the interesting photos of the different types of nests. Then, we got to work building our own versions of different birds' nests with play dough. As my daughter built her play dough nests, we talked about the colors of the nests, the sizes of the eggs, and many other different characteristics of nests that we had seen in the book. It's amazing how a simple activity can engaged a little one's creativity for such a long time.
Watercolor Nest Paintings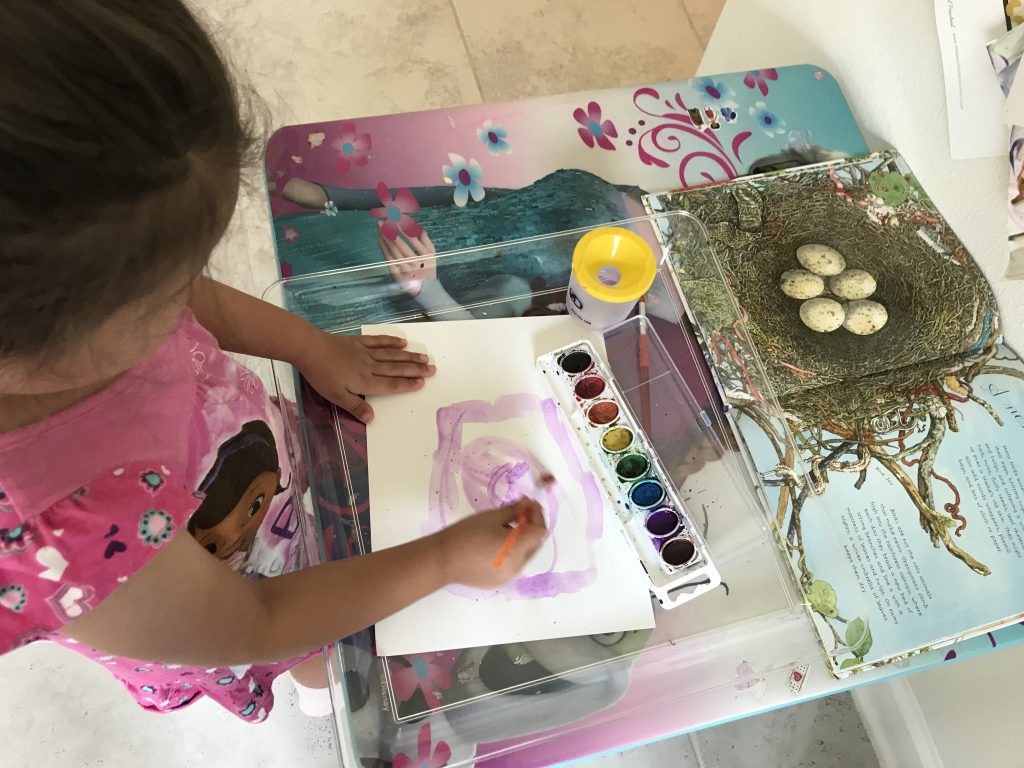 My daughter loves to paint and since she was really interested in the whole bird nest idea, I gave her some paper and watercolors, and had her draw her own version of a bird's nest.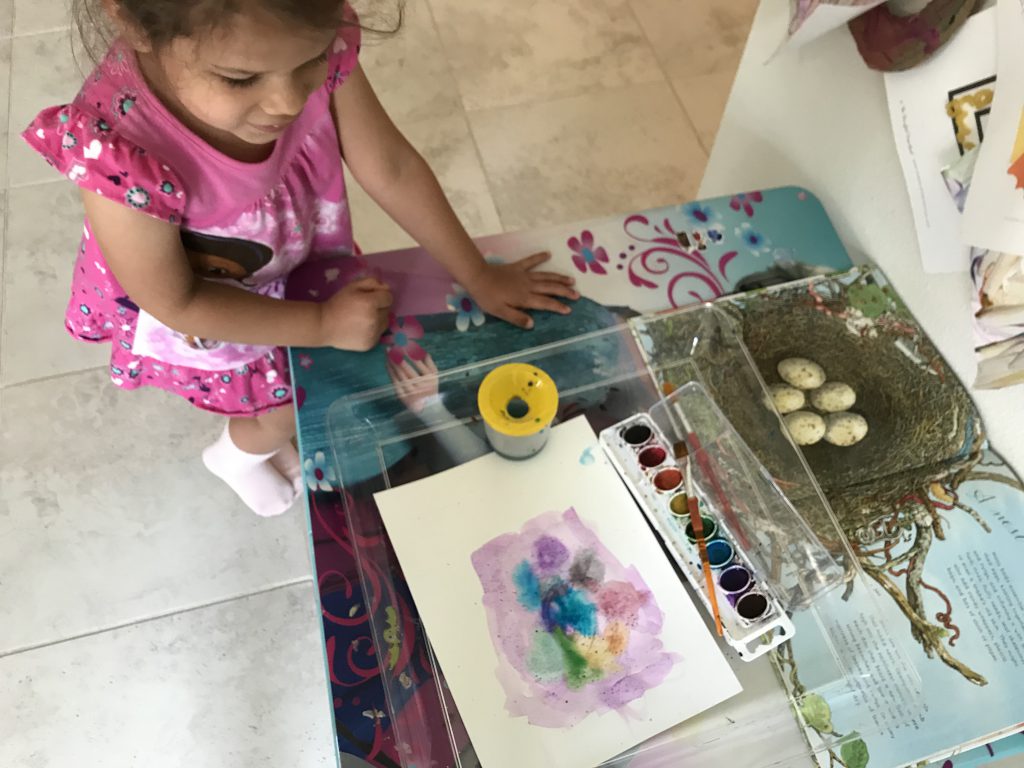 Although she had a photo as a guide, she made her own beautiful version of a bird's nest.
Foil Egg Art with Q-tips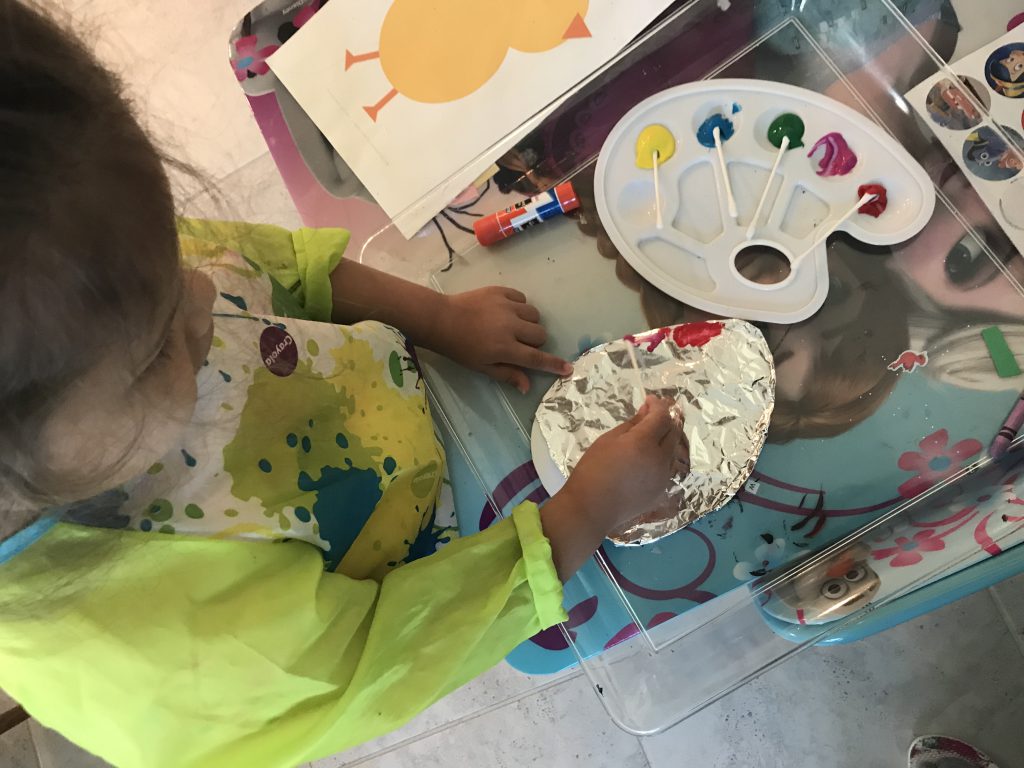 I can't begin to describe how fun this activity was for my three year old! It only requires finger paint, q-tips, foil, and a cardstock cutout in the shape of an egg. Wrap the cardstock cutout in foil and simply have your child start decorating their egg with the paint and q-tips. My daughter was absolutely amazed not only with the paint on the foil, but also with the sound the foil made every time she painted on it. She said it sounded as if the egg was "cracking." She loved it!
Hope you enjoyed these Spring themed activity ideas and let me know if you try out any of them with your little ones!