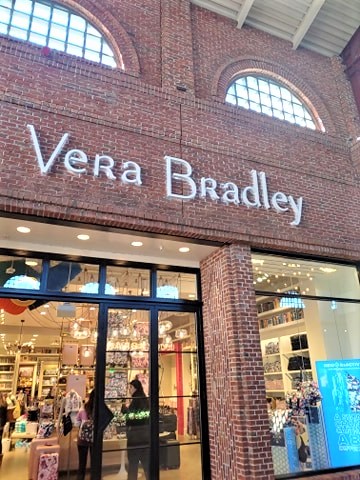 We were invited by Vera Bradley in Disney Springs to check out their new collections and they did not disappoint!
Vera Bradley is famous for their beautiful, vibrant patterns on your favorite household, travel and daily use items. Their high-quality items feature some amazing detail and you can even get them personalized with beautiful embroidery! They also have an amazing line of Disney merchandise along with some great personalization for our military and college students making this company very diverse!
New Collections
Their new line features a lot of florals, solids and some prints that are perfect for the beach! Vera Bradley is consistently creating new and fun designs and their new line is one not to skip!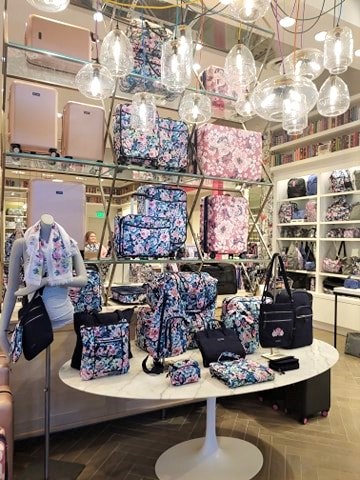 Floral is a big theme with their new prints and that's not a bad thing! I always love a good floral print and these bags are so bright and fresh. They are a great way to accent your wardrobe!
The floral prints are named Garden Grove, Garden Picnic, Strawberry Grand Garden and Park Stripe. Other popular products are their beach themed items called Sea Life and Seahorse of Course. Their solid print is called Performance Twill Strawberry Ice.
Some more recent collections include the Gramercy Paisley Collection, Deep Night Paisley Collection and the Foxwood collection.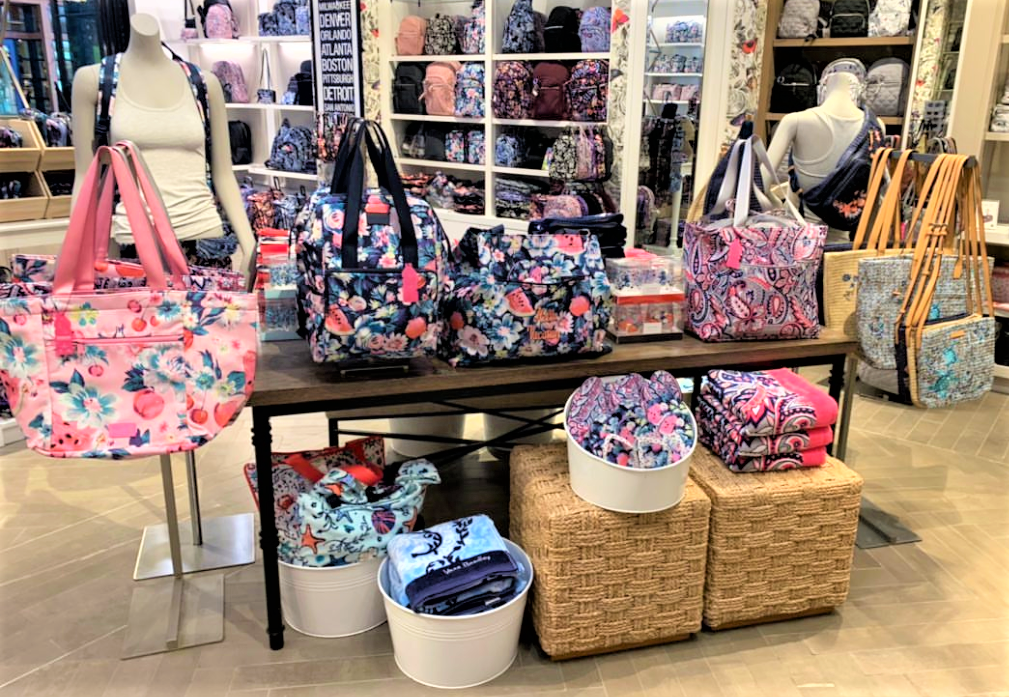 Garden Grove comes in almost anything you can think. Find it on travel bags, tote bags, lanyards, blankets, backpacks, wallets, umbrellas, mugs, scarves and even glasses! This is such a fun, versatile pattern and perfect for your everyday ensemble.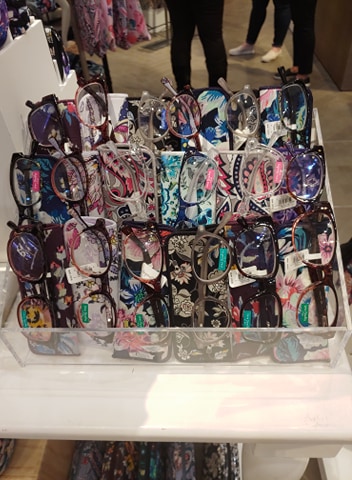 Garden Picnic is also very fun and vibrant with similar colors as the Garden Grove print and showcases the amazing ReACTIVE line (more about this collection later). This includes various bags, organizers, backpacks and other cute non-ReACTIVE items like a card set, flip flop and a beach towel.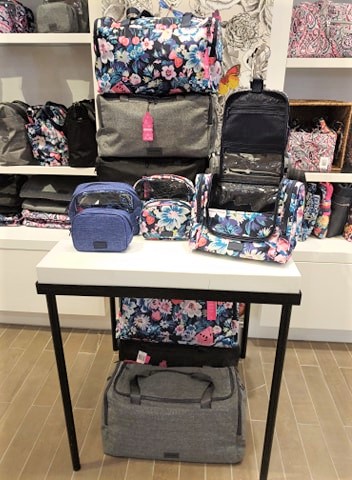 Strawberry Grand Garden is pink with white flowers and focuses more on travel and on the go items like suitcases, large packable backpacks and duffle bags. The colors on this bag are so beautiful and are perfect for Spring!
Park Stripe is a more subtle print with grey and light-colored flowers, this print really showcases the tailoring of the fabric and is one of my favorites. This print also has a little bit of everything for an everyday style, bags, an RFID cellphone holder, RFID bag belt, wristlets and even an adorable raincoat with matching umbrella. This print is absolutely beautiful and a must have for any wardrobe!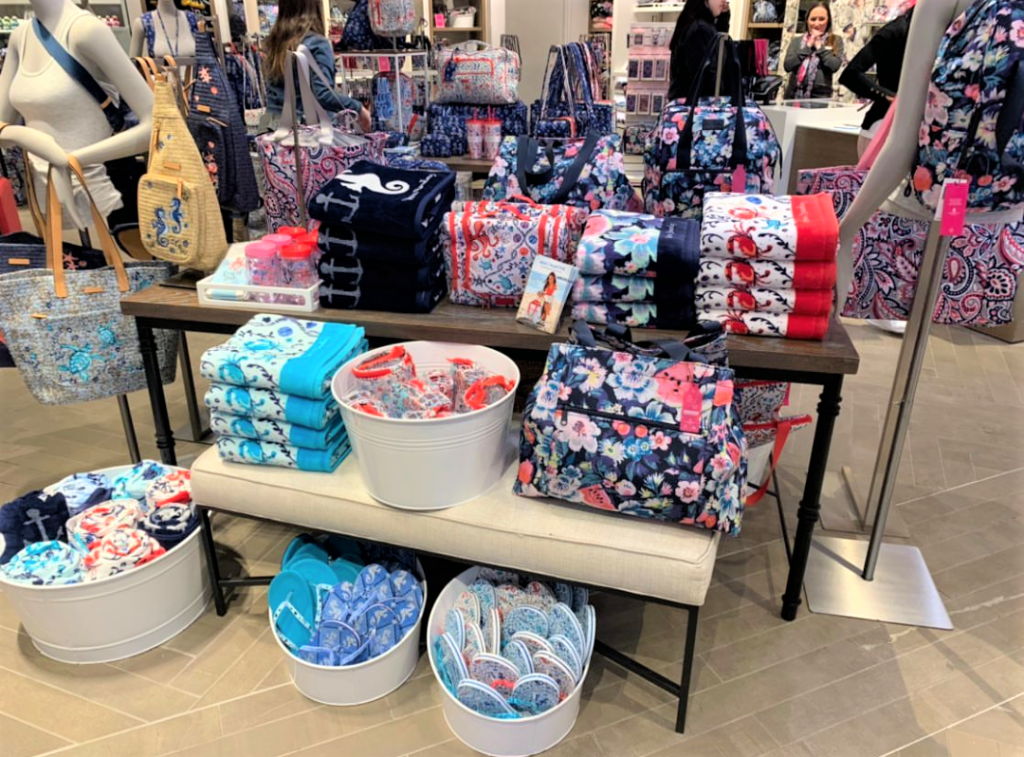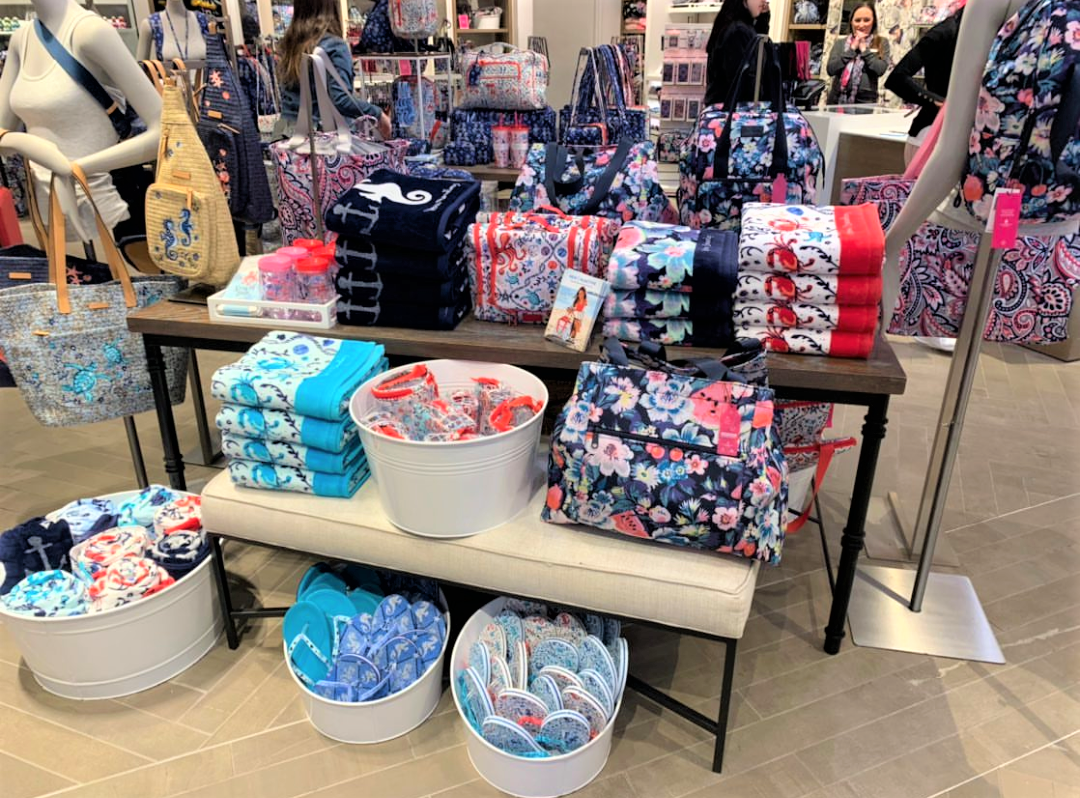 Sea Life is one of my absolute favorites of their entire new collection! The colors are so bright and give me a The Little Mermaid vibes (same color scheme) even though there are no mermaids on them. This print features so many under water creatures including turtles, seahorses, crabs, starfish, shells, octopus and so much more, making this print perfect for the beach!
Sea Life comes in everything you need for a beach trip, flip flops, tumblers, travel bags and small totes, beach towels, sunglasses and the RFID All in One Crossbody. This crossbody is a versatile item that can be used as a fanny pack, crossbody bag or clutch! It also has some everyday use items like phone cases, pens, pop sockets, notepads and mugs.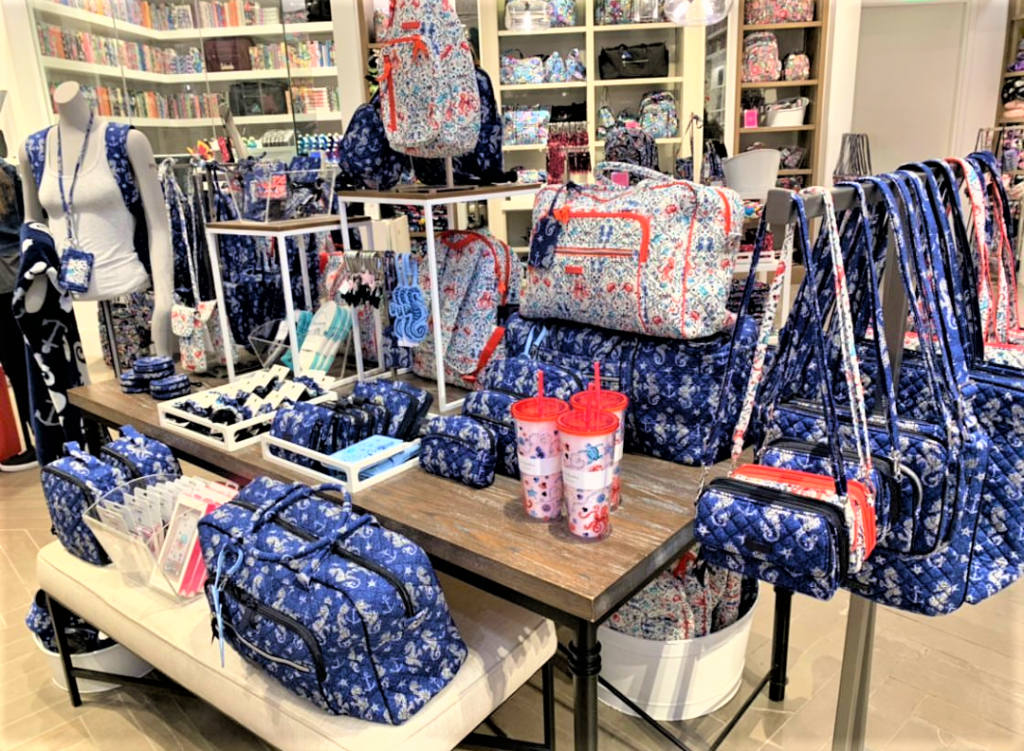 Seahorse of Course is another cute beach pattern that is a lot more subtle than Sea Life. This is a dark blue pattern with gray seahorses and is absolutely adorable! Some of the bags and purses are lined with Sea Life and the two prints pair up beautifully!
This collection features your typical bags, lanyards, totes, etc. but this line also has scrunchies, passport wallets and luggage charms that are so cute for your travel bags!
My favorite items from this collection is the plush throw blanket and giant beach towels that actually fold up inside themselves making for easy transport!
The Gramercy Paisley, Deep Night Paisley and Foxwood Collections all feature beautiful paisley and solid prints. Both are available in bright and vibrant and subtle and warm colors. Although they are not brand new, they still give off some Spring vibes and are the perfect collections to transform from Winter to Spring.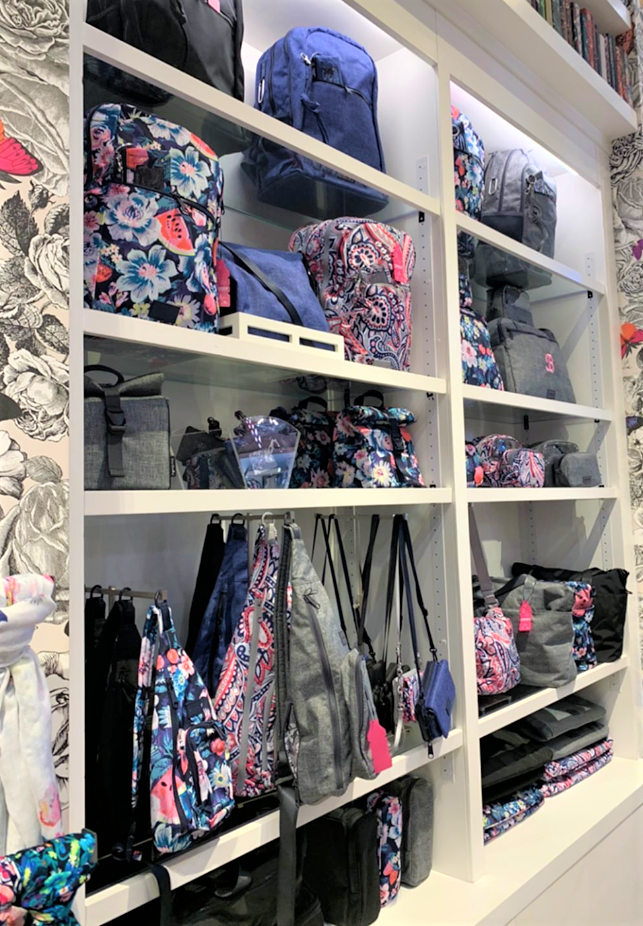 One of their newest creations and my personal favorite is their ReACTIVE line.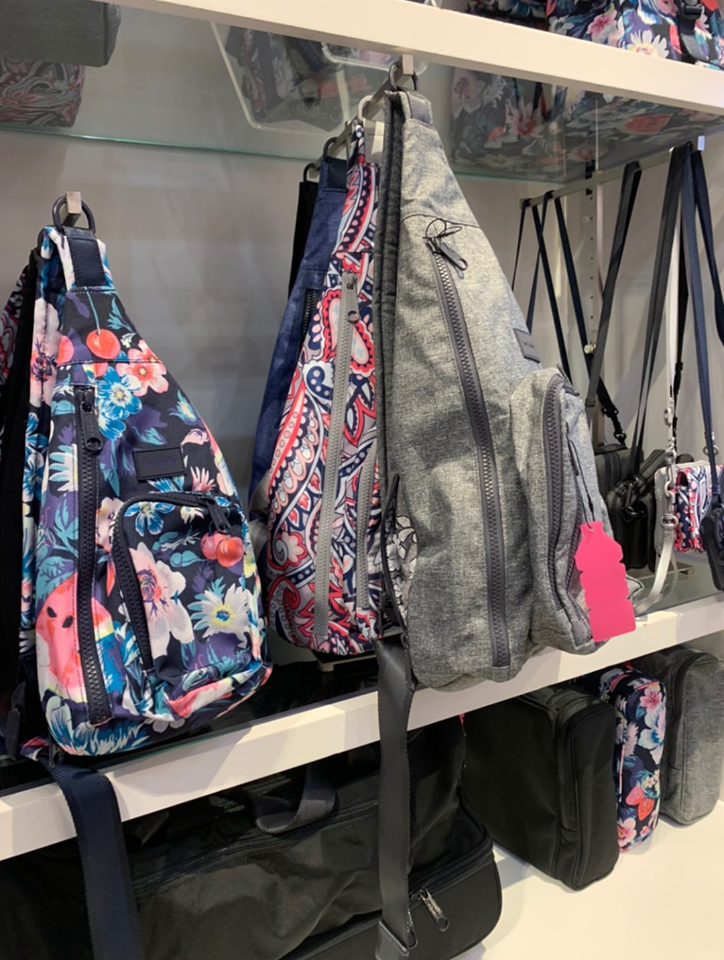 This amazing line is all created from recycled plastic bottles as they are trying to make an impact on our planet. It takes 16 plastic bottles to make one yard of fabric and it is very durable, lightweight and the best part, it repels water! If you see these bags, you would never believe they are made from plastic bottles. They are such amazing quality just like all of their bags and feature prints from all of their new collections.
To give you an idea of how many bottles it takes to make one item, here are some statistics: it takes 23 bottles to make a drawstring family tote bag, 10 for a sling backpack, 17 for a cooler backpack and a whopping 27 bottles to make a gym bag! By creating these environmentally friendly bags, they are preventing over 2.7 million plastic bottles from entering our oceans and landfill just in this season alone!
Did you know that it takes 450 years for a plastic water bottle to degrade and that 91% of all plastic is never recycled!? Vera Bradley is setting the standards very high in the fashion industry with these amazing products! I hope that more companies follow in their footsteps!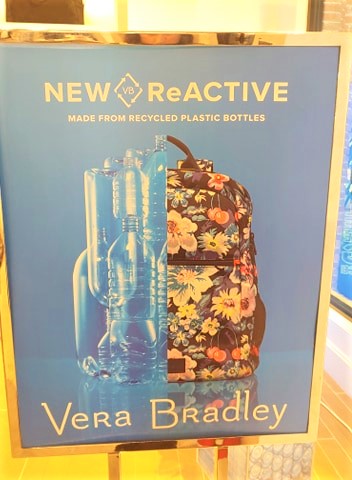 L'OCCITANE
Not only did we get to see products from Vera Bradley but they invited L'OCCITANE over to sample some of their amazing products.
They had a beautiful display featuring their new Immortelle Overnight Reset Eye Serum which helps diminish dark circles under your eyes and Immortelle Divine Eyes which helps fight visible signs of aging. They also had some of their amazing hand creams made from shea butter and their new Solidarity Balm which is made from shea butter and hibiscus flowers.
I ended up taking home some of the Solidarity Balm as it smelled amazing. It also helps nourish and protect your skin. It can be used on your hands, lips and even hair! What is even better is that 100% of the profits from this balm will fund projects to promote women's leadership in Burkina Faso in Western Africa. This is also where L'OCCITANE gets all of their shea butter from.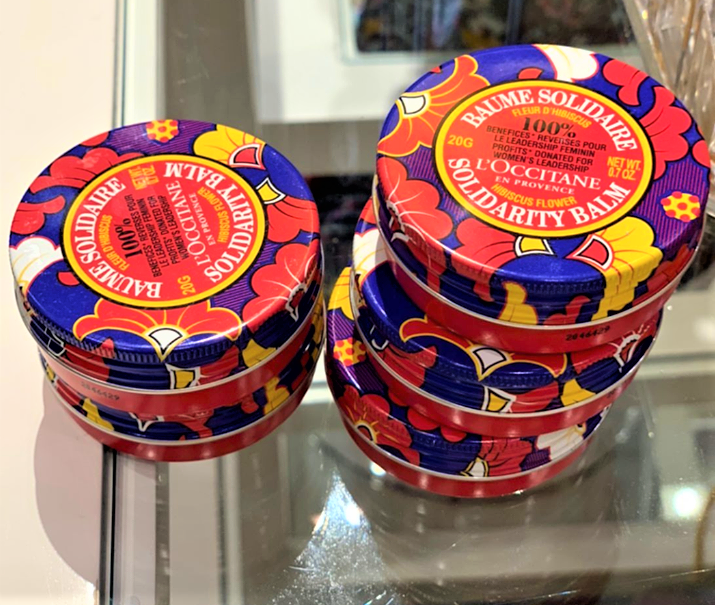 L'OCCITANE thrives on creating products that are developed as sustainable making it a perfect company to be at a Vera Bradley event. Both companies aim to help our planet!
As you can see Vera Bradley is an amazing company that aims to please their customers with their innovative approach to your favorite accessories. The are constantly coming out with new items and are a definite competitor in the fashion industry. Their new collection is a step in the right direction for our planet!
I am very grateful for companies like Vera Bradley who want to help make a better future. Hopefully other companies take some steps in the same direction.
Thank you to the staff at Vera Bradley Disney Springs and L'OCCITANE for inviting us to see your amazing products! They were all so sweet to take the time to host us and teach us about all the new items!