It's no secret that I absolutely LOVE to throw a well themed party, so when my daughter requested a "pink Ariel mermaid" party for her third birthday, I was more than happy to oblige. I had been waiting for the day that she requested a mermaid theme and secretly already had a Pinterest board full of mermaid party ideas!
Since Grace was very adamant about the "pink" component of her mermaid theme I chose a color palette of pink, teal, and purple with the idea that teal and purple would give us the "Ariel" component. I knew I would be hand making a lot of items and this would be an easy color combination to work with.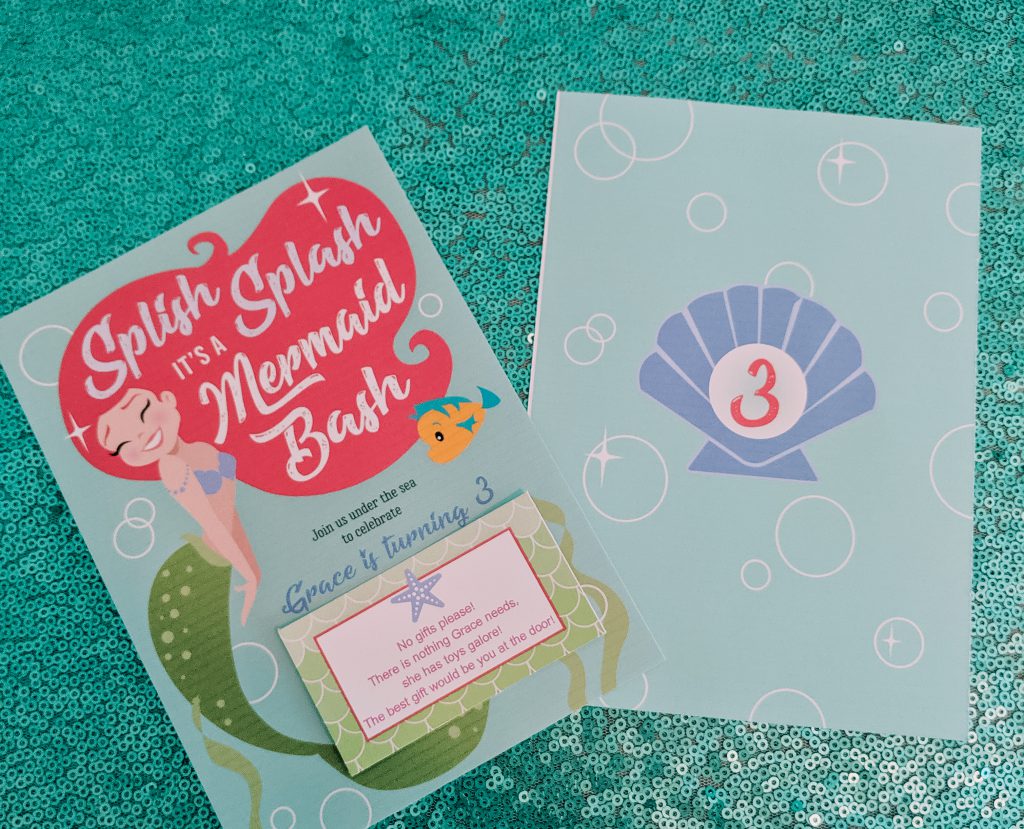 We ordered an invitation from Etsy that we could print at home. Grace chose an invitation that didn't match the themed colors but she was very adamant about it and I knew that the invitation wouldn't necessarily be around the rest of the décor (plus, she's 3…there's no changing her mind once she decides she wants something!)
Decorations
We had the party at our home because we were expecting a decent amount of family and friends visiting and wanted to keep costs down. I absolutely LOVE the idea of having a party at a separate venue, however, when you are expecting 20-30 kids it makes an outside venue quite costly.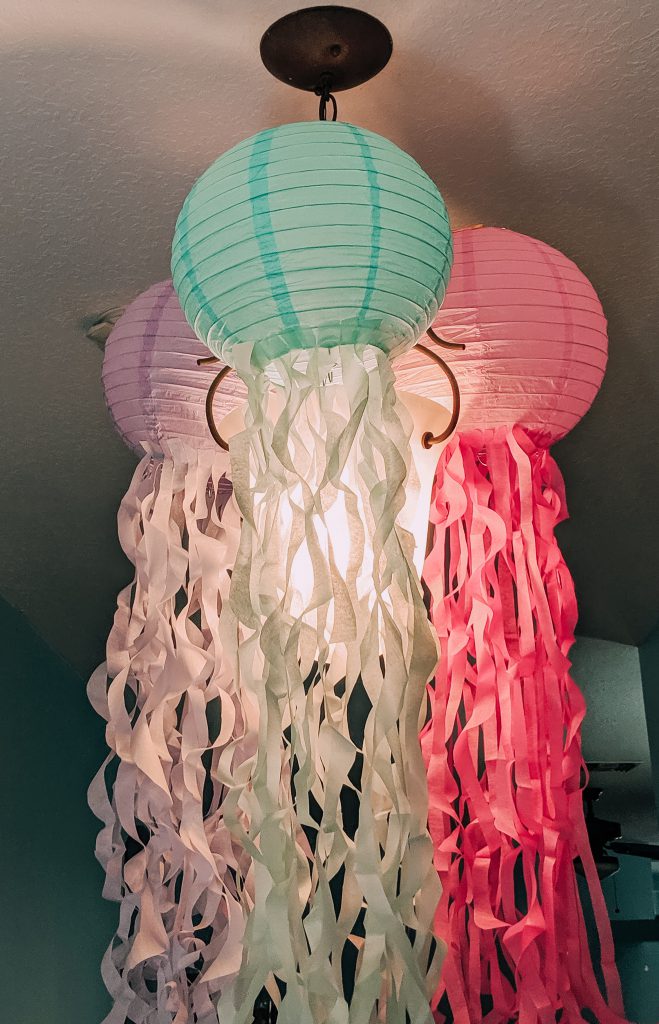 We added some mermaid touches to our house including some jellyfish at the entrance in the foyer, a fun balloon fishnet decoration along our archway/plant ledge and some helium balloons. The primary focus was the food and dessert table!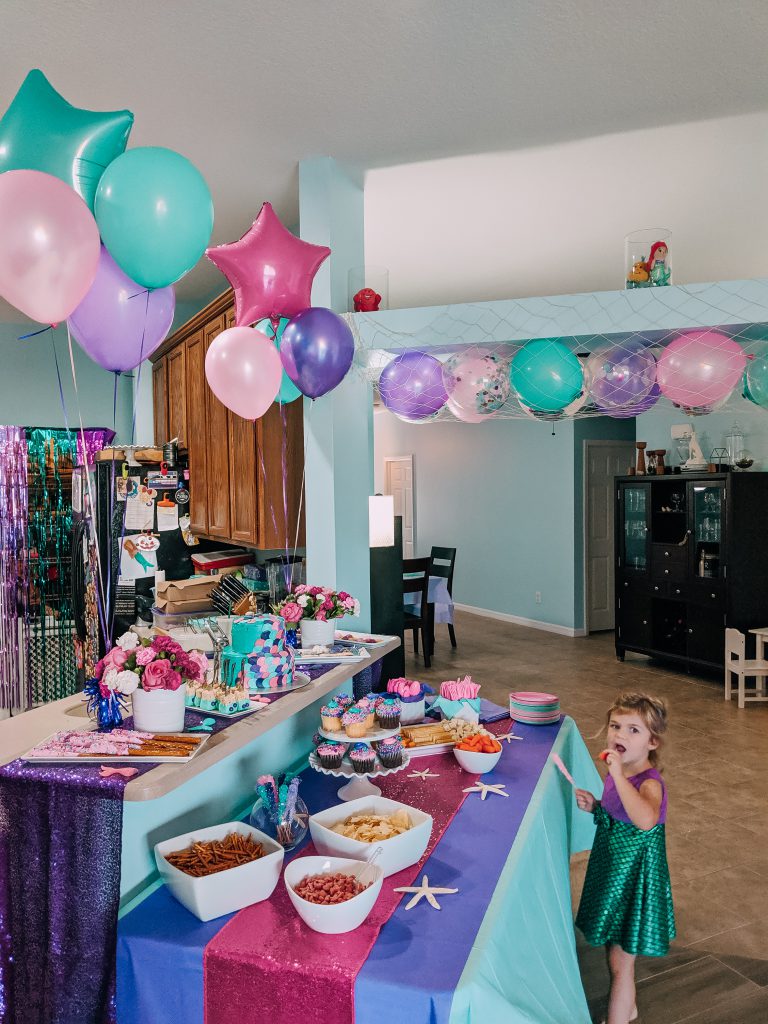 Menu
Snacks
The party was mid-afternoon and so our menu consisted of primarily snack foods and desserts with some fun mermaid theming thrown in. We had Flounder's fish and chips (Princess Goldfish and potato chips), driftwood (pretzel sticks), crab legs (baby carrots) and Scuttle's cheese and crackers.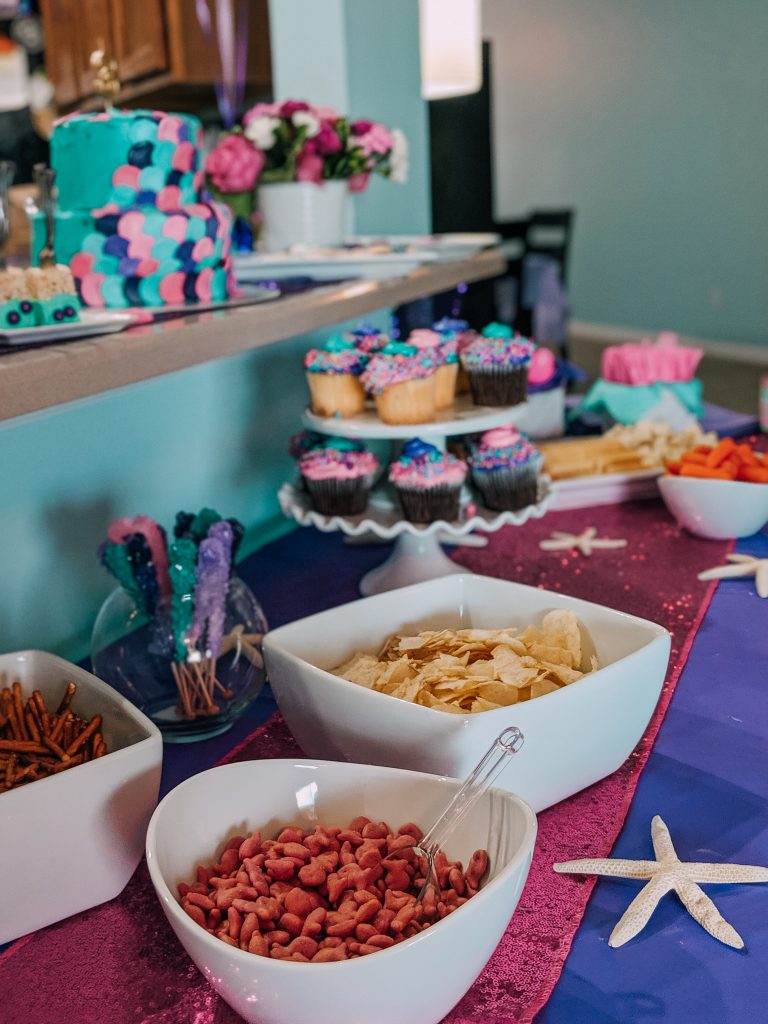 I made things easy for myself and purchased already cubed cheese and items that I could put out on trays and in bowls to make them look nice on the table.
Desserts
Most of my time and energy went into the dessert table. I had so much fun creating mermaid inspired desserts! We had Ariel Rice Krispy Treats complete with mini dinglehoppers, chocolate sea shells in graham cracker sand, chocolate covered pretzel sticks with mermaid sprinkles, some "coral" rock candy, beautifully decorated cookies from Sugar Rushed Cookies (@sugar.rushed.cookies on Instagram), cupcakes and a mermaid tail cake.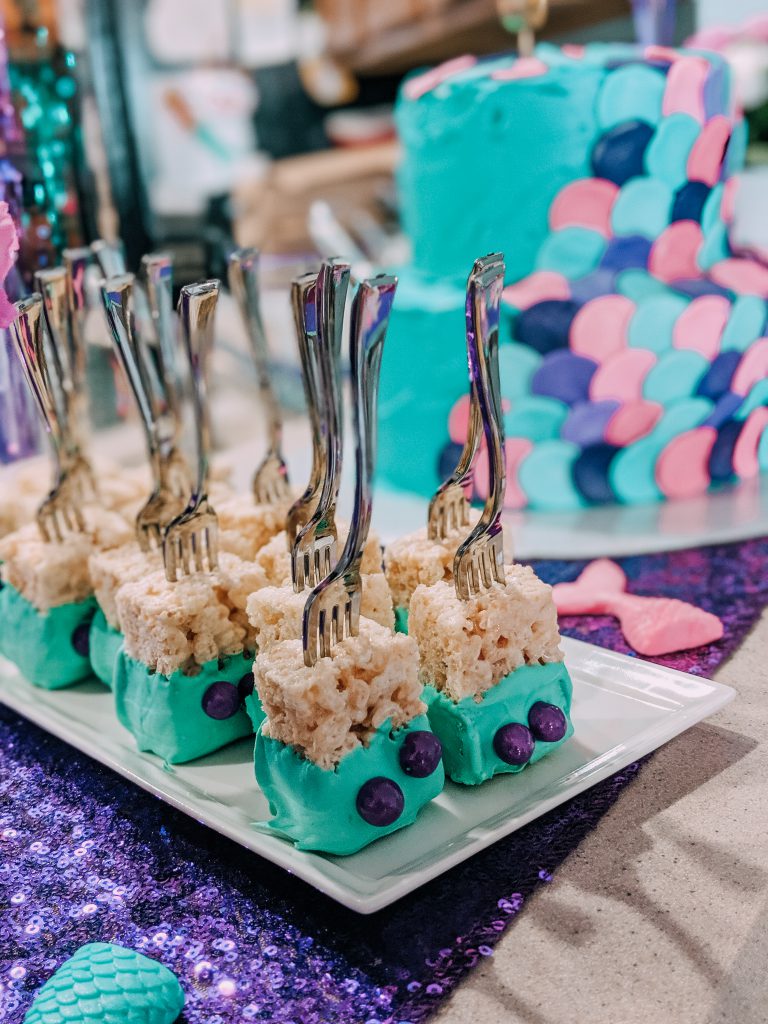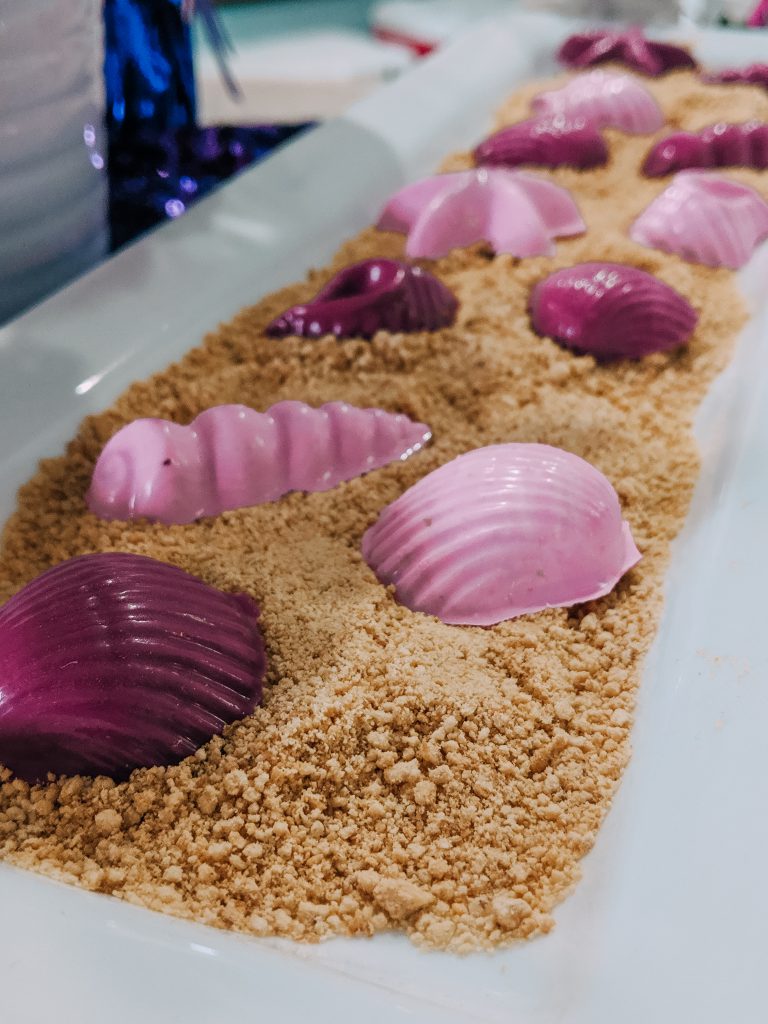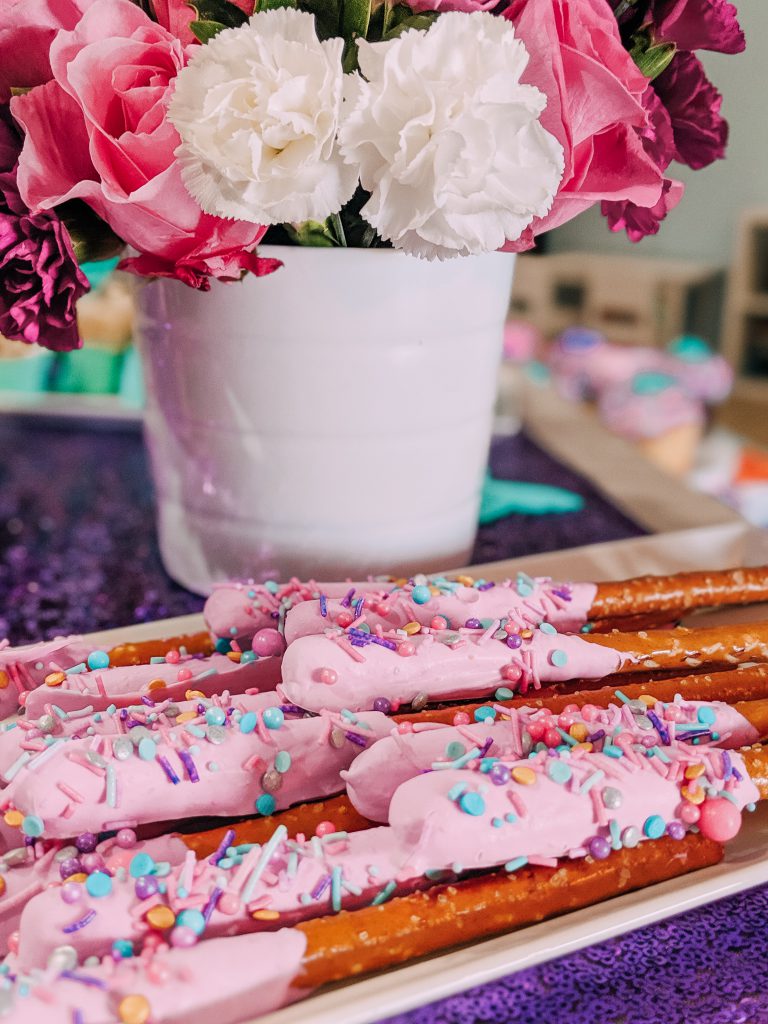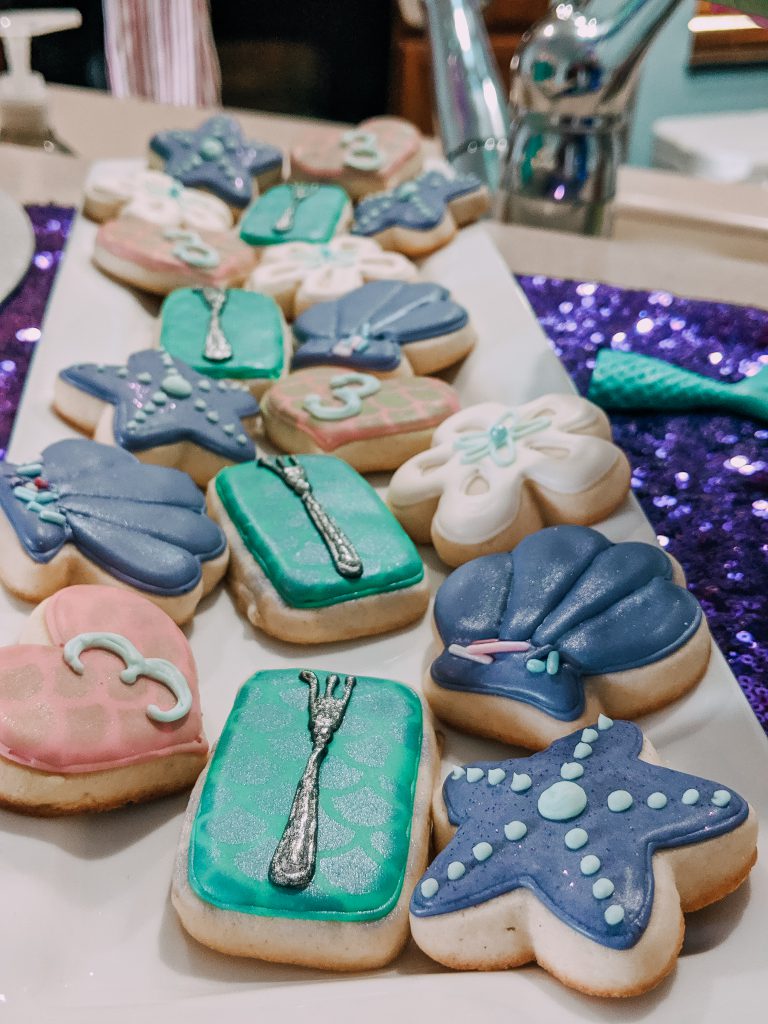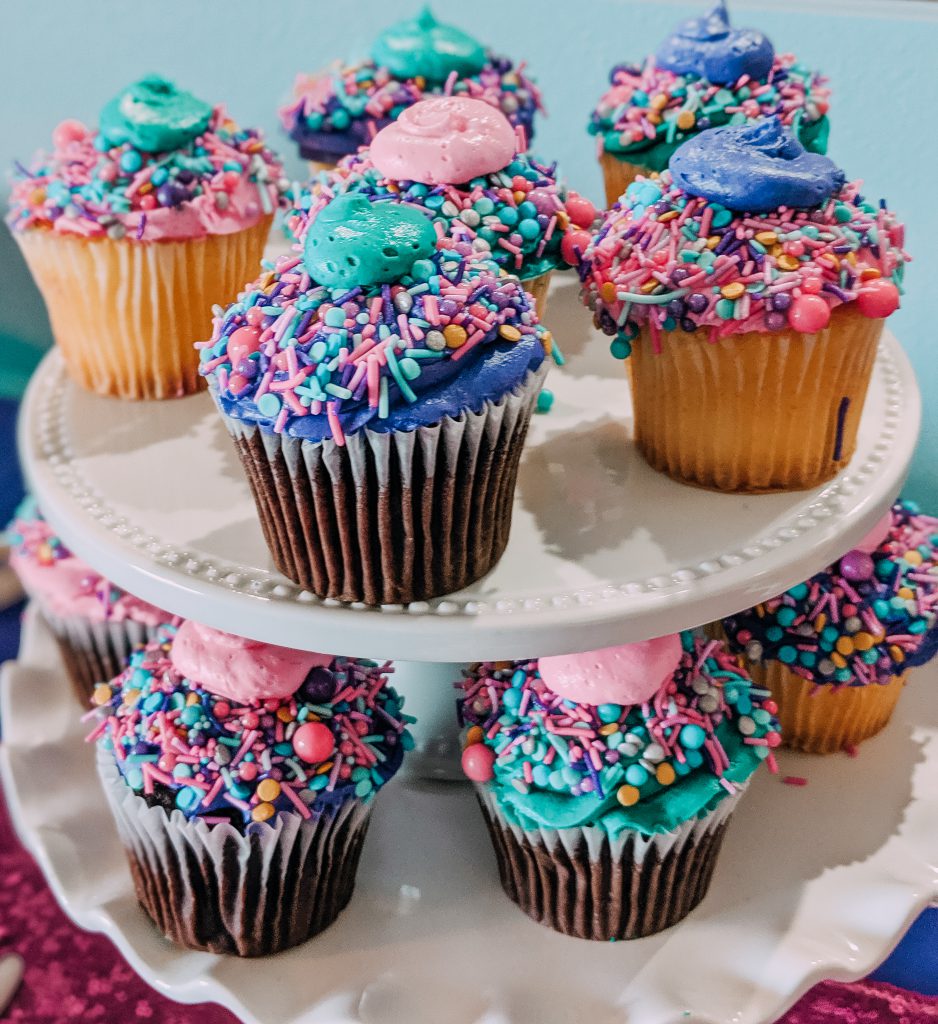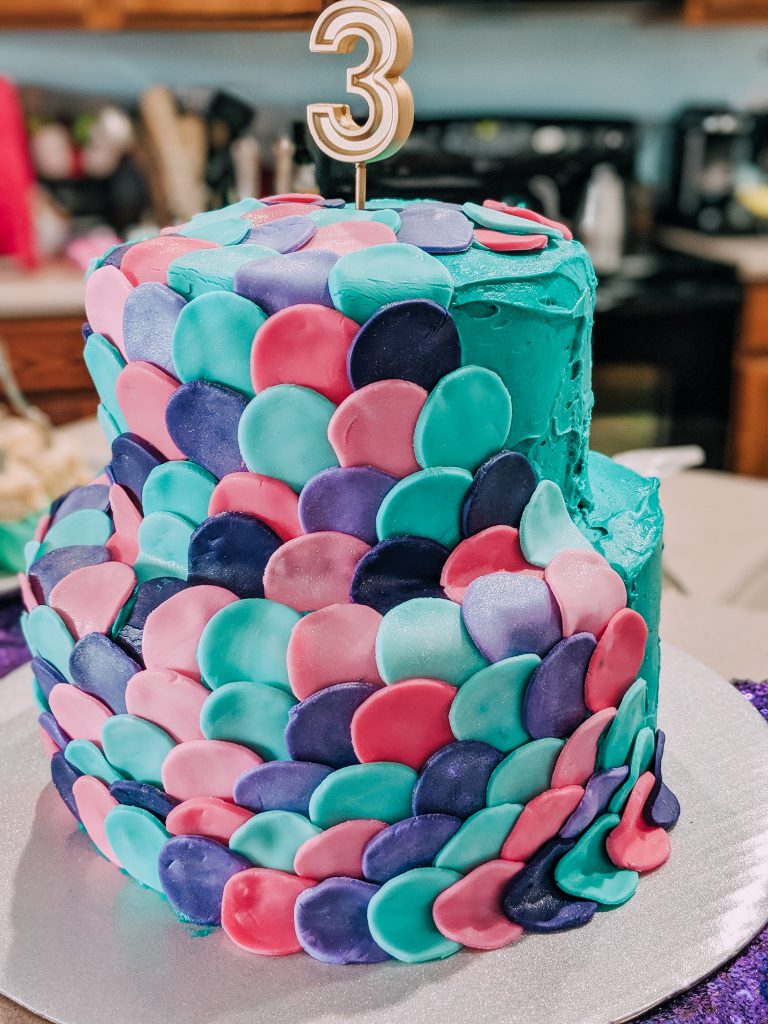 We had both cupcakes and a "show" cake because we realized that kids would much rather have their own cupcake than a slice of cake! We saved the main cake to enjoy on Grace's birthday a few days later.
Activities
What would a mermaid party be without some water activities? On the invitation we asked everybody to bring their swimsuit and towel. I managed to find a kid's water slide on clearance at Target a few weeks before the party and decided that it was worth the investment for our water loving girl. We also had bubble gloves and water balloons.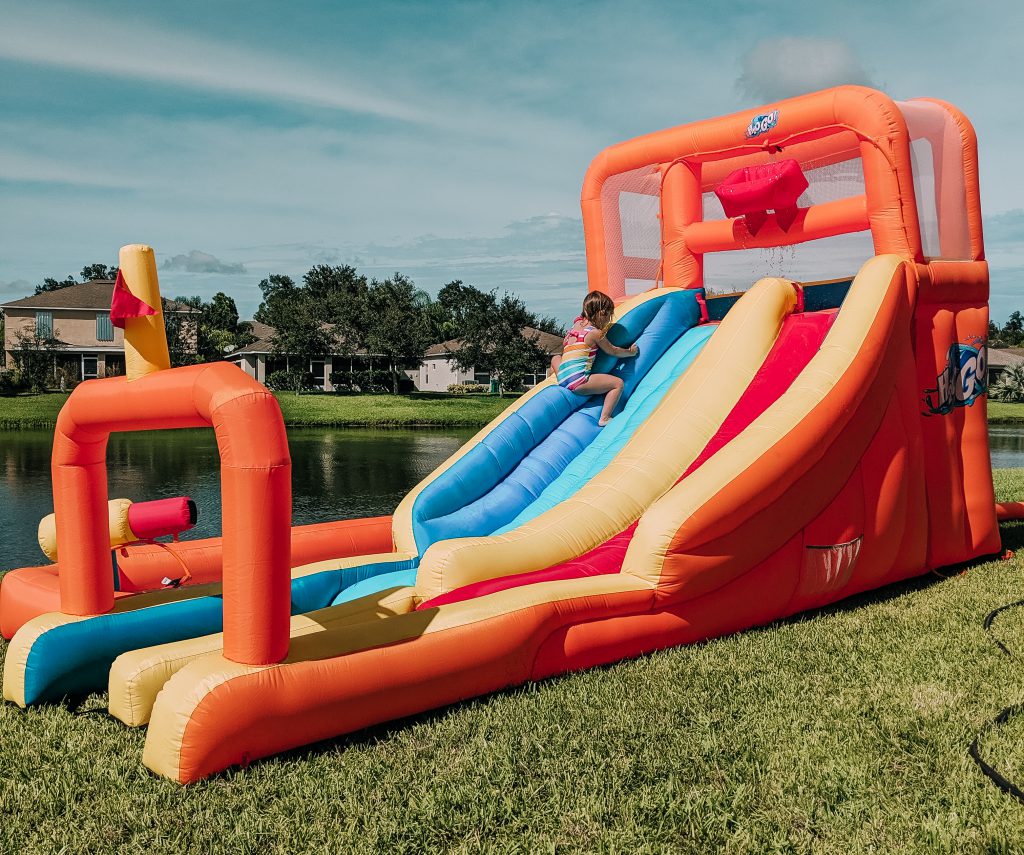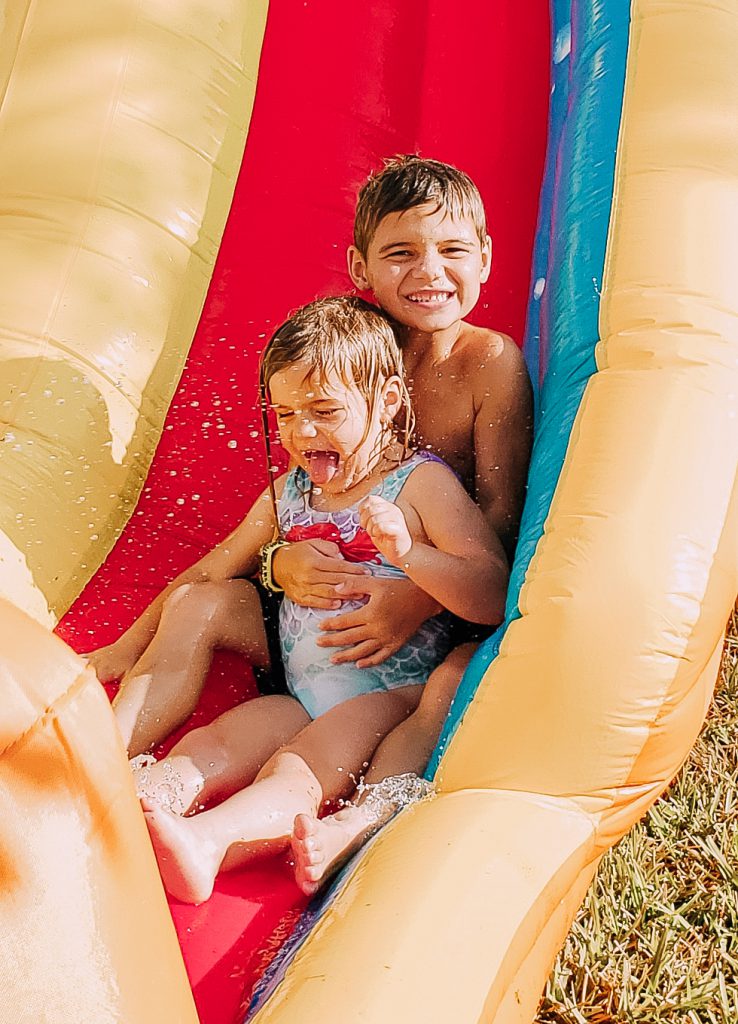 A few days before the party, Tropical Storm Humberto looked like it was going to give us a good dousing and drive the party indoors, so I also had a back up craft. I found small treasure chests at the craft store and provided washable markers and some foam stickers for decorating.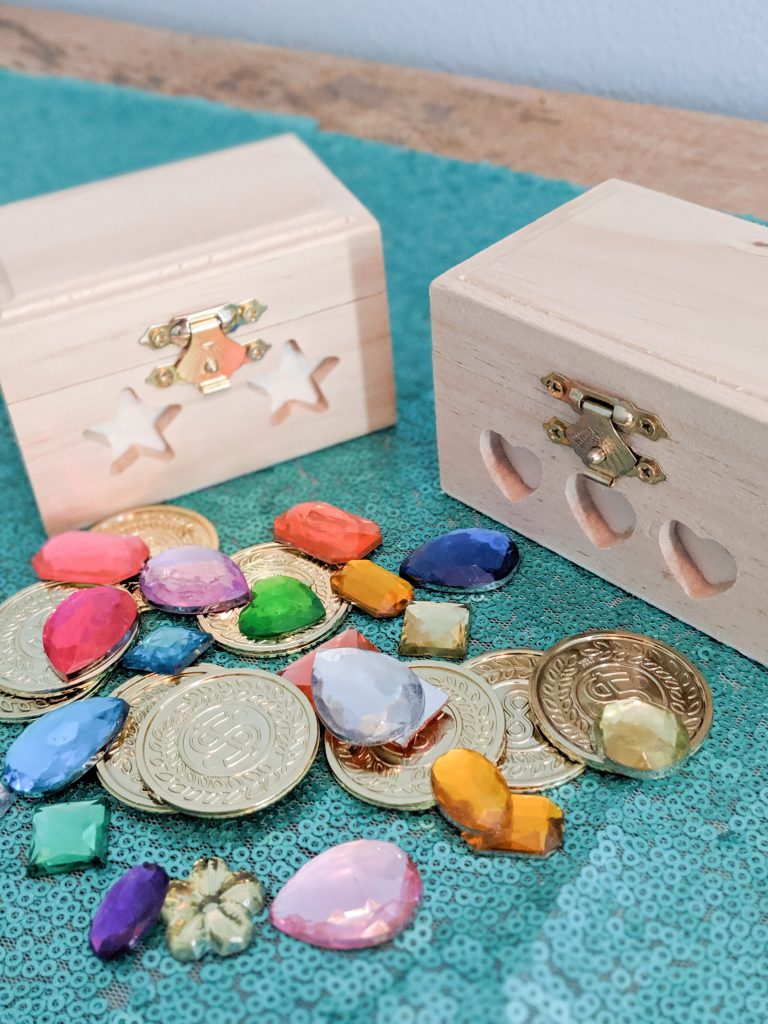 After our guests decorated their treasure chest they were able to fill them up with gold coins and jewels. Even though the weather held out and we were able to be outdoors I decided to still put out the craft and I'm glad I did. Having a separate indoor activity provided the kids with something a little quieter to do during the party.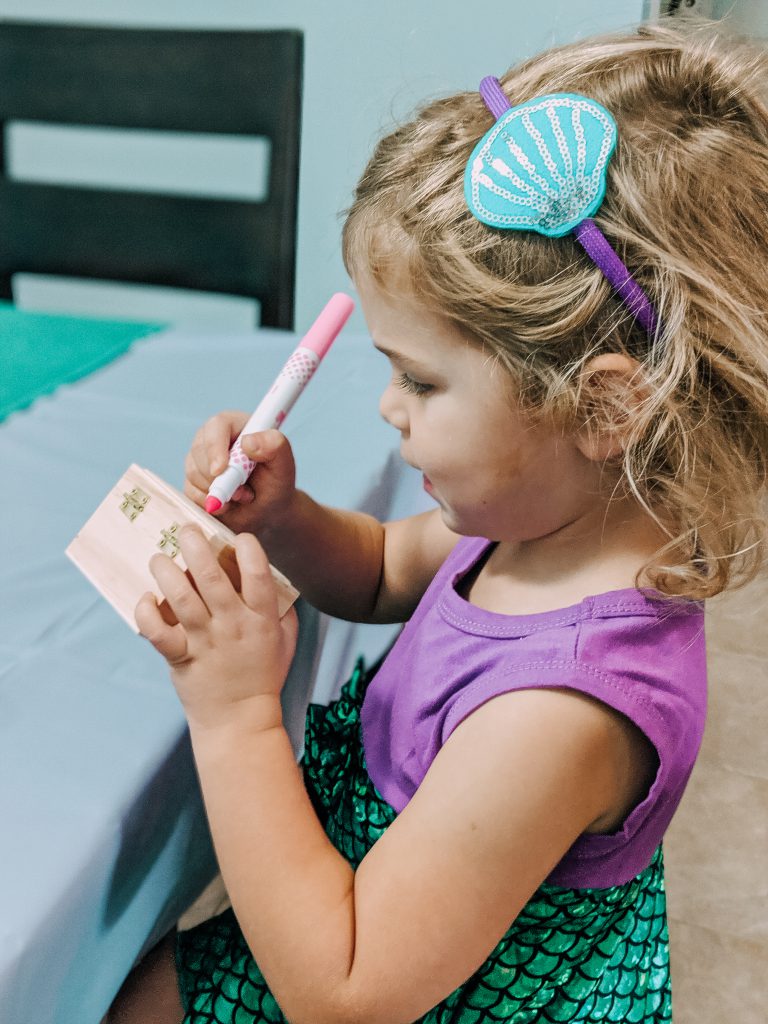 Special Guests
To say that Ariel is my daughter's favorite princess is a bit of an understatement. A close friend told me about Elite Princess Events (find them on Facebook!) and I knew that I needed to have Ariel and Eric come to our party. I asked them to arrive about an hour after the party started and Grace's face instantly lit up when she saw them! Grace usually gets a bit star struck and freezes up when we see characters in Disney, especially when we only have about 30 seconds to a minute to interact with them. By the end of the party Grace was showing Ariel her bedroom and sitting in her lap!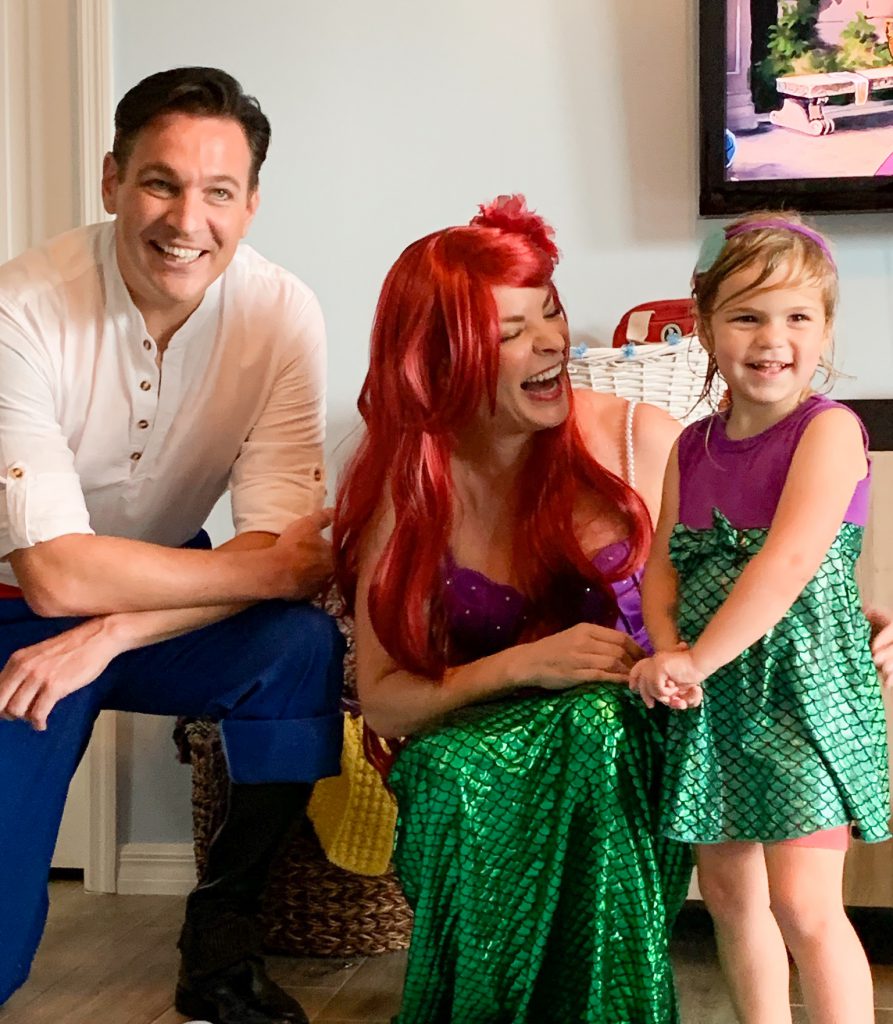 Ariel and Eric interacted with all the kids and took photos with anyone that wanted one, helped lead the party in singing "Happy Birthday" to Grace and even provided Grace with a special princess tiara. I cannot sing their praises loud enough!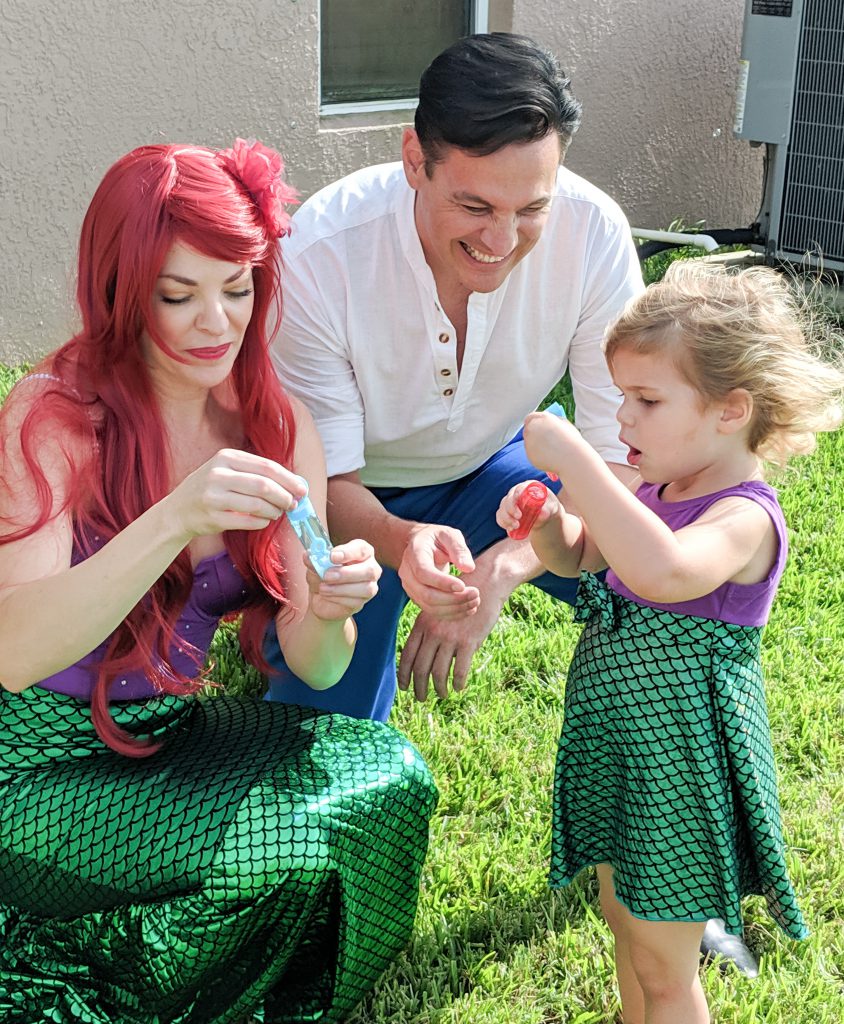 Gifts
We provided a small party favor for guests as a thank you for helping Grace celebrate her birthday. I wanted to keep it small, especially since we asked guests to not bring presents for Grace. I found some small bubble wands on clearance at Target and used my Cricut to make small circles to cover up the label on the bubbles. I also added some Little Mermaid stickers onto the paper circle to decorate them.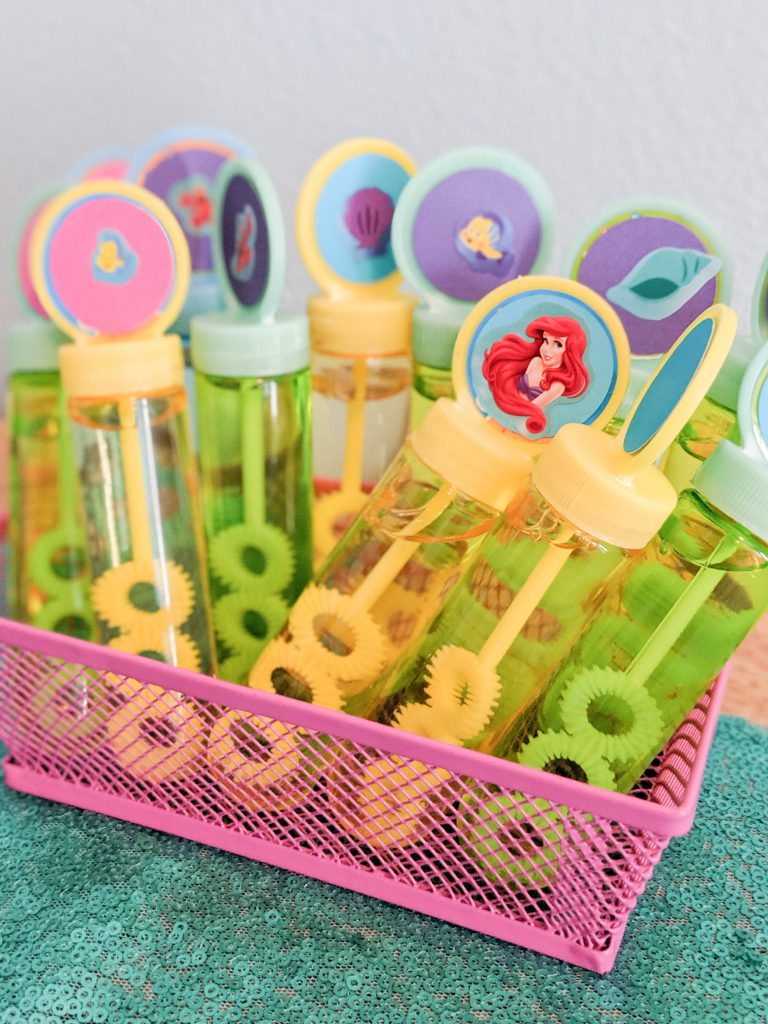 I hope you enjoyed this little trip "under the sea" with us!