"Play is the highest form of research." — Albert Einstein
I first started doing sensory bins when my daughter was around two years old. I initially began researching ways to keep her learning and entertained at home but I wasn't too familiar with sensory activities so I started off by doing a color scheme as a theme and gathering objects that I believed she would find interesting. She absolutely loved it! I knew then that I had found a new way of engaging my daughter's curiosity about the world around her.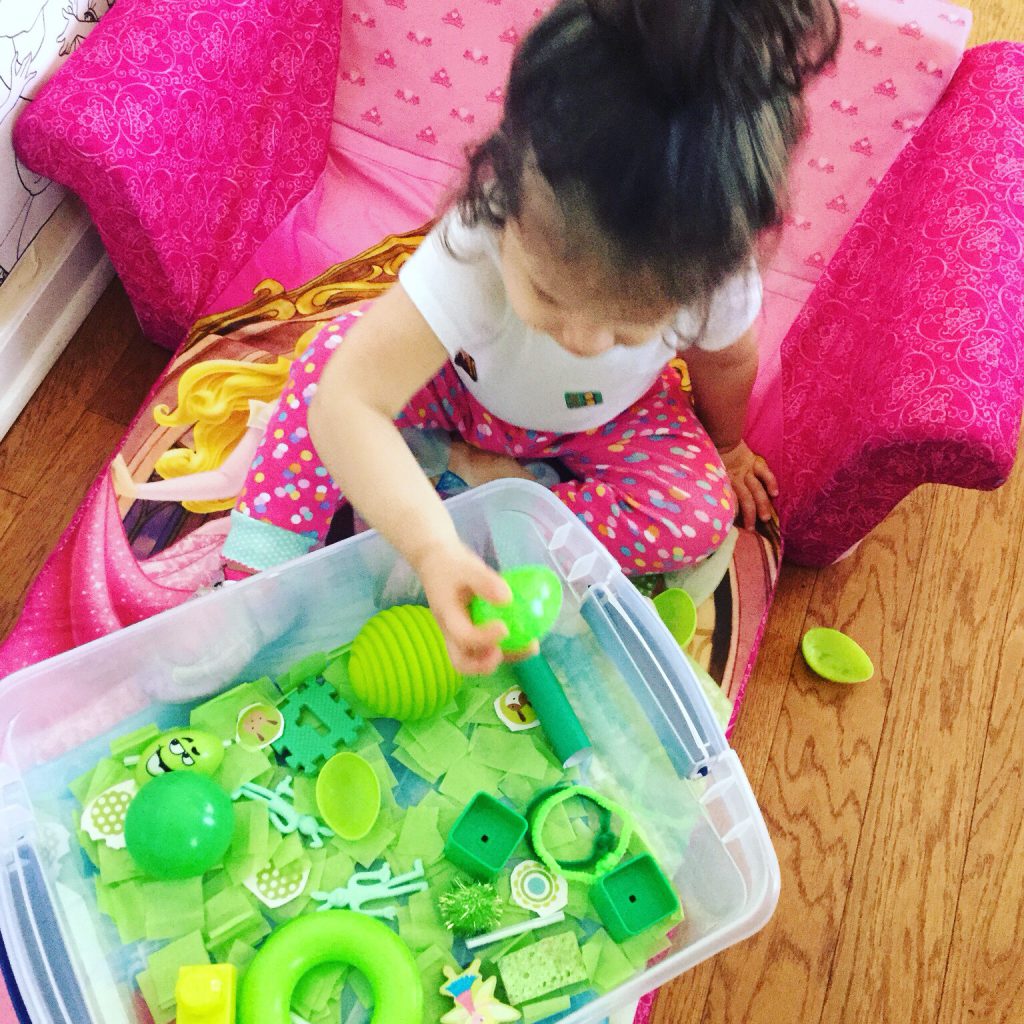 After everything I have tried with my daughter and introduced her to in the last 2 years, sensory bins have been one of the few things we come back to, time and time again. She is almost four years old now and she is still as interested as the day I first introduced her to it, maybe even more so now.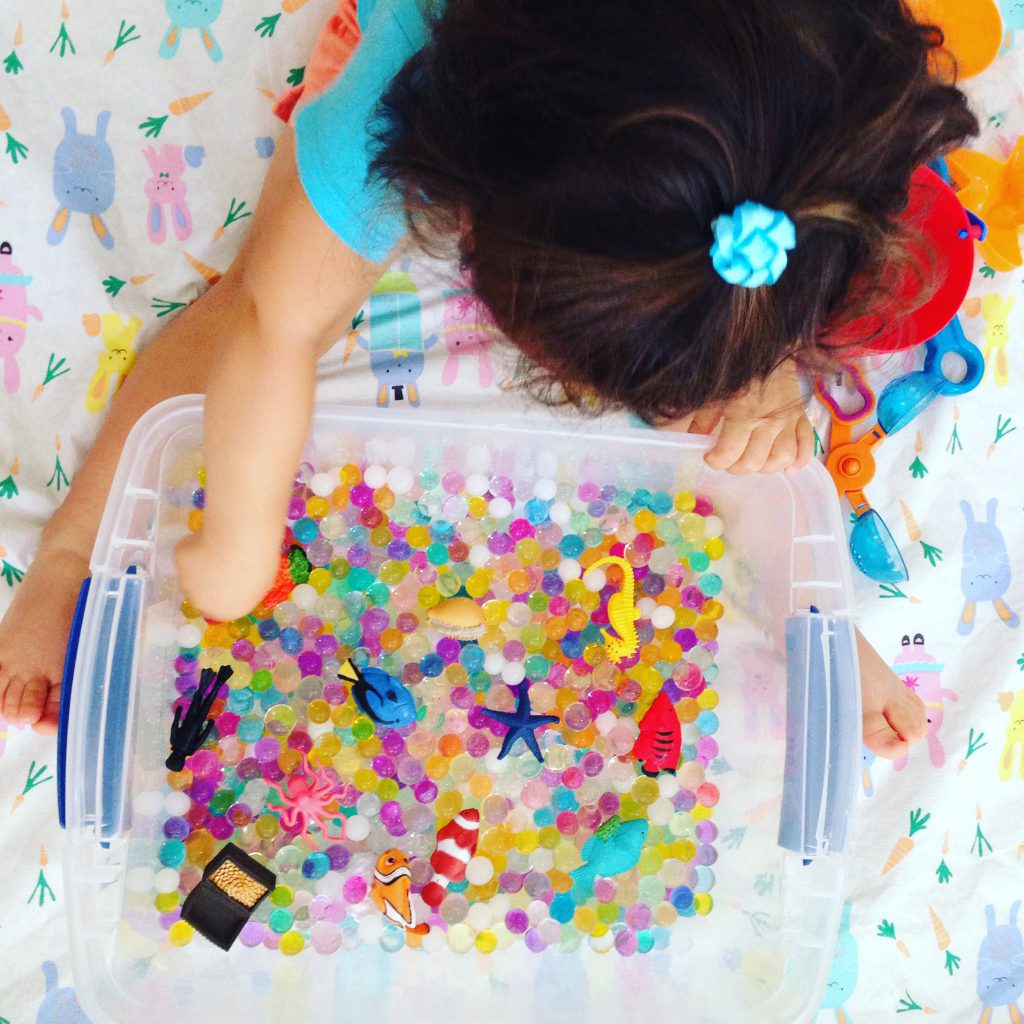 Why set up a sensory bin?
When we talk about sensory bins, we're pretty much talking about a "tactile" experience for your little ones. They get to use all their senses to explore their world and learn many valuable skills in the process, such as independent play, co-op play and social skills, fine and gross motor skills, language development, problem solving, the list goes on. You can make the set up as simple or complex as you want, depending on time, materials, or whatever your child is interested in or learning at the moment.
Basic materials include:
Plastic storage containers work great! The size isn't important as long as your little one has enough room to explore, scoop, dump, fill, etc.
Basically I have found that any material that you consider safe for your child can be a filler. I've used a lot of uncooked food items such as rice, beans, oatmeal, as well as sand, water, and many others. You can place many of these items in ziploc bags or small containers to use again and again. Don't forget to place mats (towels, etc) around the bin area or just take the activity outside if the filler will be particularly messy.
Containers, shovels, or scoops
Kitchen measuring cups and spoons work great.
Get creative or just let them explore whatever is in the bin.
*Always remember to supervise your child and be aware of choking hazards.*
That's pretty much all you need to start your little one off on a journey of exploration! Feel free to ask any questions and check out some more sensory bin ideas below!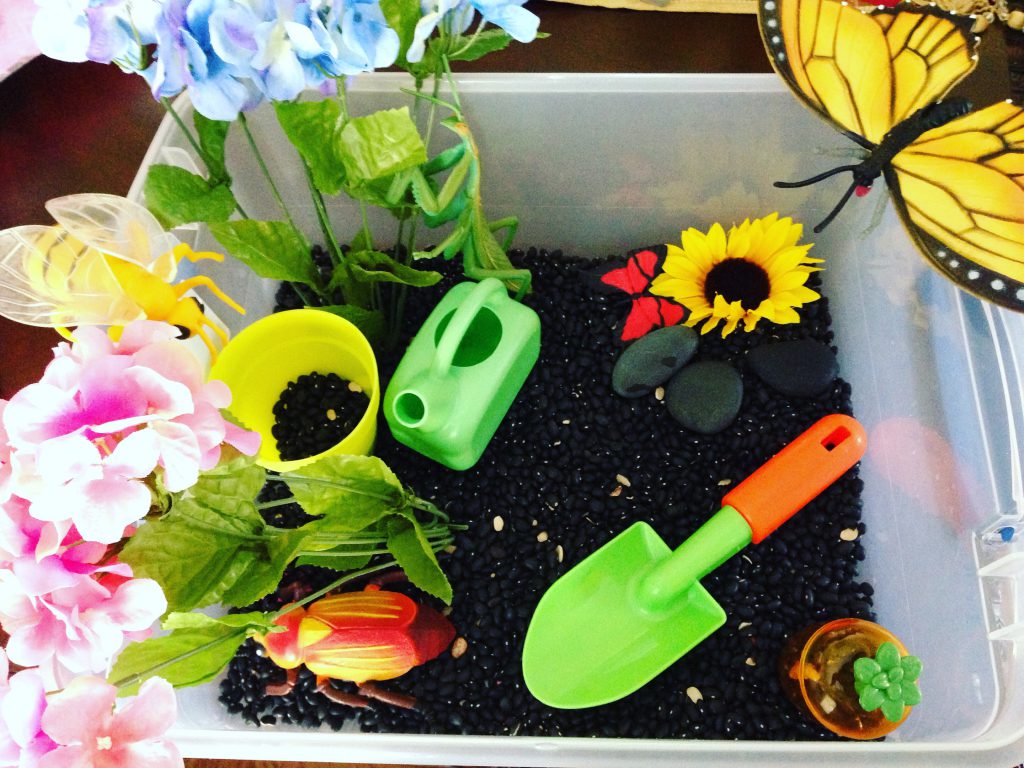 Bug Sensory Bin