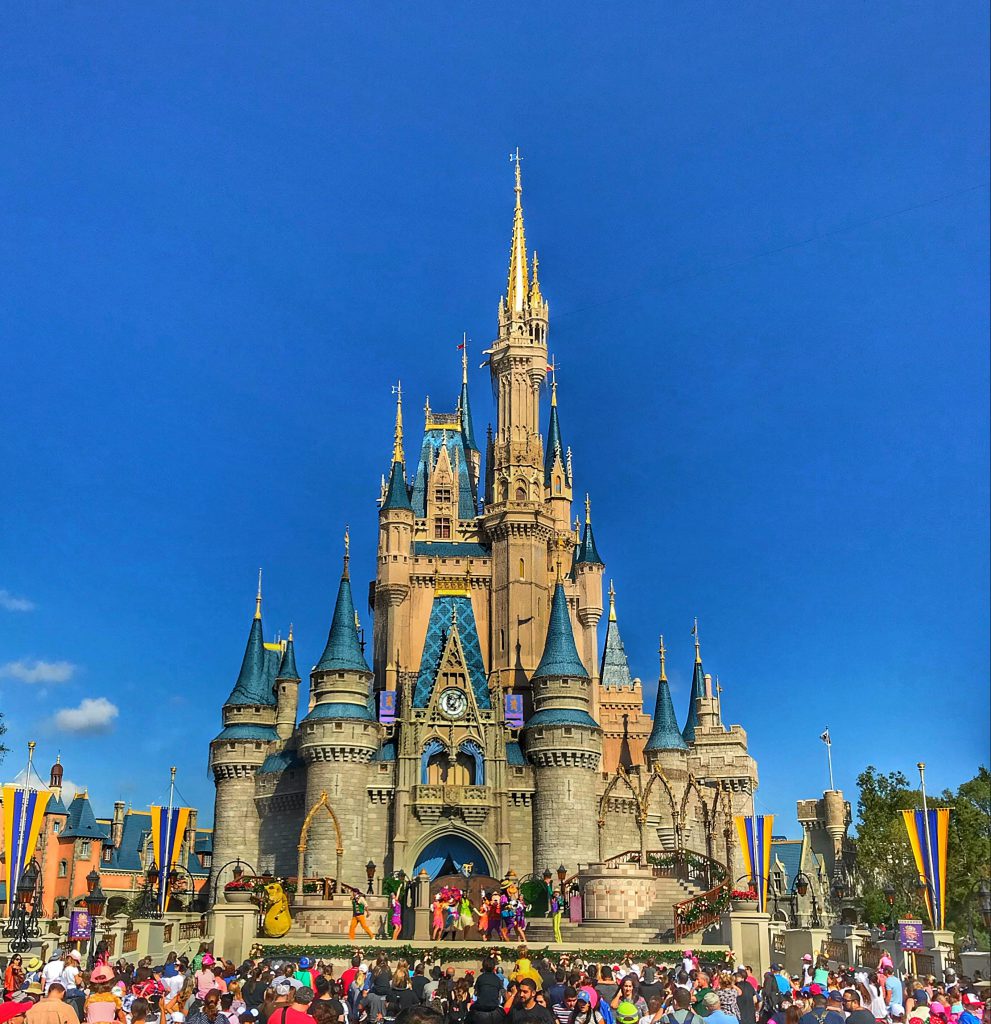 A trip to Magic Kingdom is sure to get the little ones all excited, but there's so much to see and do that sometimes it's a bit difficult to know what to pick for your small child. When I first took my daughter a few months ago, I honestly didn't even know what ride or parade she would enjoy. Now that we've gone a few times, my 3.5 year old has quite a few favorites and requests them every single trip. Here are our favorite attractions that make our Magic Kingdom days extra special and get those happy giggles and cheers from our daughter whenever we go.
Dumbo the Flying Elephant
This is an absolute favorite and my little one would probably go on it all day if she could (I'm sure it holds a special place in her little heart as it was her first ever Disney ride). The indoor play area is amazing (especially the air conditioning) and it's a great way to cool off for a bit and rest your feet while your little ones play. However, if you choose to use a Fastpass for this ride, you completely skip the play area and the line takes you straight to the ride.
Prince Charming Regal Carousel
My daughter ALWAYS requests to ride this. It's perfect for all ages and slow enough to make it a top pick for little kids. Unfortunately, unless you go really early in the day, there is usually a bit of a wait for this and no Fastpass.
Talking Mickey
Everyone loves talking Mickey and this special meet and greet is one of my daughter's all-time favorites. The videos we have recorded of him talking to her and interacting with her are just so magical. It's always so hard for her to say goodbye to him and asks to see the videos of them together as soon as we get home. Unfortunately, he will be losing his voice soon (May 12th, 2018 to be exact) so be sure to pay him a visit before then if you can and don't forget your Fastpass!
Princess Fairytale Hall
My daughter cannot get enough of the character meet and greets, especially the princesses. Sometimes I think that her only goal whenever we visit the Disney parks is to meet as many characters as possible. She has already filled up TWO autograph books! However, the princess meet and greets at Princess Fairytale Hall are just plain lovely. My daughter always wants to go say hi to them every time we go. The princesses are just beautiful and so welcoming. Little ones can get to see them interact with the other kids while waiting for their turn which makes for a better overall experience. I recommend a Fastpass, especially if arriving later in the day.
Move It! Shake It! Dance & Play It! Street Party
This is so FUN, especially for little kids! My daughter was ecstatic when she found out she could walk up to the characters and dance with them! It's very family friendly and interactive! We've caught the 12:30pm dance party but I'd check the showtimes to make sure you don't miss it! We loved it!
Mickey's Royal Friendship Faire
 I'm pretty sure we stop to watch this show in front of the castle at least once every time we're at Magic Kingdom. It has a mix of characters and songs from The Princess and the Frog, Tangled, and Frozen, all singing and dancing on stage alongside Mickey and his friends. I'm not sure how many times we've seen this already, but my daughter always acts so amazed and excited as if she's never seen this show before. It's just THAT amazing for her! There are so many times available that you're bound to catch it at some point during your visit, just make sure you check the times in the Disney App. (Tip: you can catch the whole show under a nice, comfortable shade while getting a bite to eat at Tomorrowland Terrace.)
As much as our daughter would love to do all these things in one visit we usually only get to do 2 or 3 of her favorites before it's time to eat, crowds start forming, or she's just had enough of all the attractions. After that, we just wonder around in the park and just enjoy each other's company until it's time to go home.