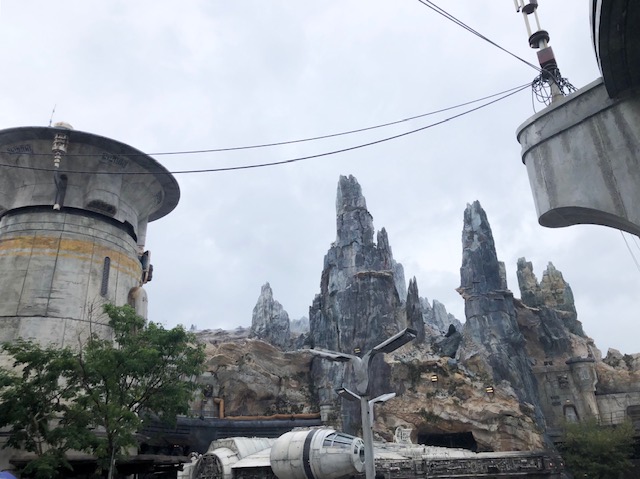 Being able to attend a preview of Star Wars: Galaxy's Edge at Disney World was such a treat! I can't even begin to explain how immersive this new area of Hollywood Studios is. You will truly feel as though you have been transported to the planet of Batuu.
One of the things that I thought was incredibly smart about the design of Galaxy's Edge is that you enter through a tunnel and walk down into the land because it was built at a slightly lower level than the rest of the park. In addition, the backdrop of mountains and buildings were built up very high. This means that you cannot see anything in the park surrounding you which adds to the immersive feel. I loved walking around and exploring the entire area. Not a single corner of Galaxy's Edge has gone untouched by the amazing details. I could literally spend hours just wandering around and looking at everything. The merchandise shops alone are worth taking your time in.
There are also restaurants featuring food fit for a planet on the Outer Rim. Not to mention Star Wars characters wandering the area to interact with. There is no shortage of amazing things to discover in Galaxy's Edge but the real gem for me was Oga's Cantina.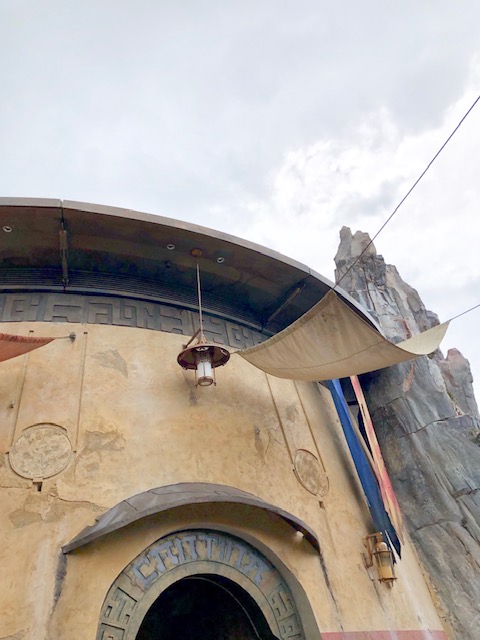 Every Star Wars fan knows that Oga's is the place to be when you get thirsty after traveling the Galaxy. The array of drinks offered here was so impressive. From non-alcoholic concoctions to one of a kind cocktails, there is something for everyone.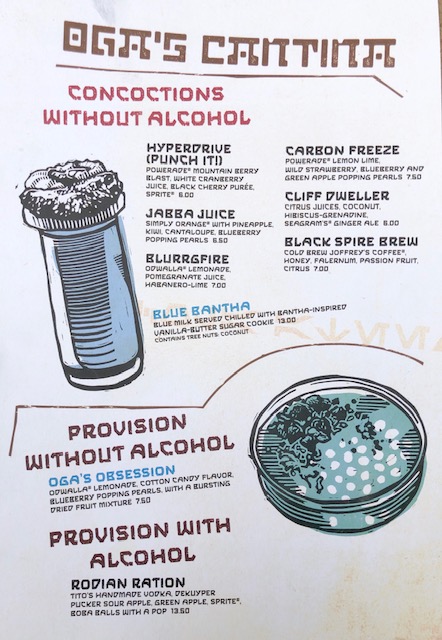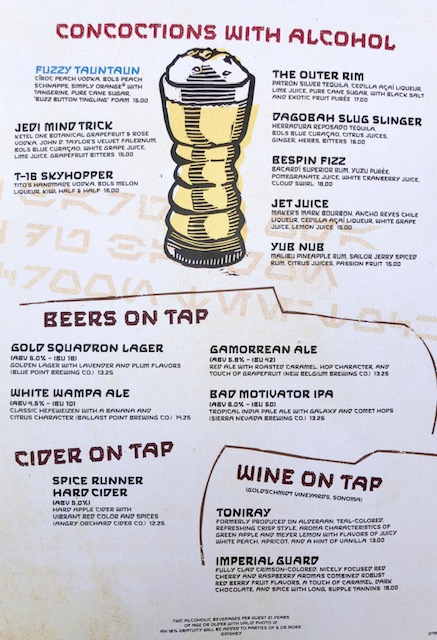 Some of them even offer quite a surprise as I found out when I ordered the Fuzzy Tauntaun and experienced the "fuzziness" for myself. Apparently, this drink may or may not be safe for human consumption and you'll experience quite a tingle in your mouth when you drink it!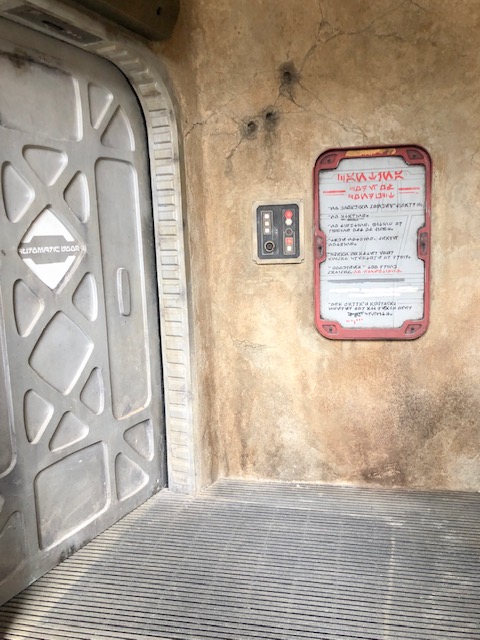 I entered Oga's Cantina with a host who made sure we hurried because "Oga does not like to wait." A nondescript door slid open as if by Jedi mind trick and I stepped inside. There were spaces at the bar as well as communal tables to stand or sit at. The first thing I noticed was the music. It didn't take long to figure out that the DJ in the front of the room was actually a very enthusiastic droid spinning tunes.
It was pretty hard to decide on what drinks to order because they all looked so good. But there was plenty to see while I waited. The ceiling was strung with pipes and cords connected to a giant contraption in the middle of the bar filled with an otherworldly neon liquid and alien creatures hanging inside of it. The drinks were great, if a bit expensive even for Disney prices but it was worth it for the experience. I had such a fun time at Oga's and I can't wait to go back!
Recreating Oga's Drinks at Home
In fact, I couldn't wait for my next trip across the galaxy so I decided to recreate a couple of the drinks at home. I invited some friends over to get their opinions on my Batuuan concoctions and we got to work.
I started with the T-16 Skyhopper. This is a creamy drink with notes of kiwi and melon. The ingredients are listed as: vodka, melon liqueur, kiwi, and half and half. I started with blending 3 peeled and chopped kiwis with ¼ cup half and half. In hindsight, I would have either strained the kiwi seeds out or perhaps used kiwi juice instead. We found that the blended kiwi seeds gave the drink a strange texture and the cream made them stick in our throats. Next time, I'll make sure there are no seeds.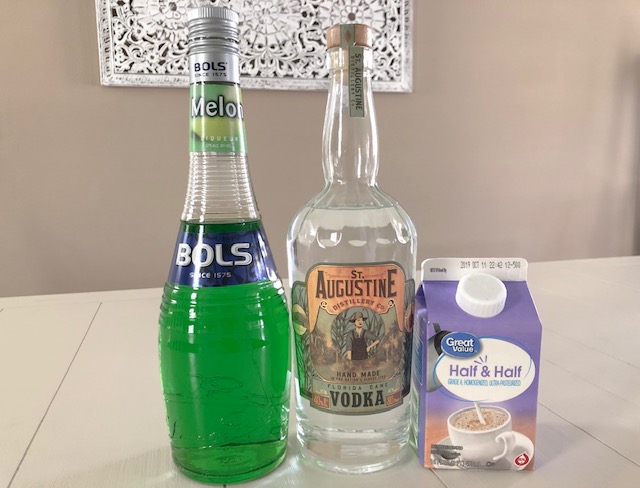 I then added ice, vodka, and melon liqueur and blended it all together. While the fruity flavors were good, it definitely lacked sweetness. I added some honey for taste. Perhaps next time I'll make a simple syrup by dissolving an equal amount of sugar into water to sweeten the drink. I think it would blend into the drink easier than the honey did.
All in all, we agreed this drink was just ok. I am going to try it again with the adjustments I mentioned and see if that helps. The creaminess just doesn't work well with the fruit, which is a review I've heard from other space travelers who've tried the drink at Oga's Cantina. One of my friends mentioned subbing the cream for coconut milk for a sweeter, lighter flavor which might be worth a try. Don't tell Oga, but this one just wasn't my favorite.
T-16 Skyhopper:
3 peeled and chopped kiwis
3 ounces melon liqueur
2 ounces vodka
¼ cup half and half
4 tablespoons honey
1 cup ice
Blend until smooth.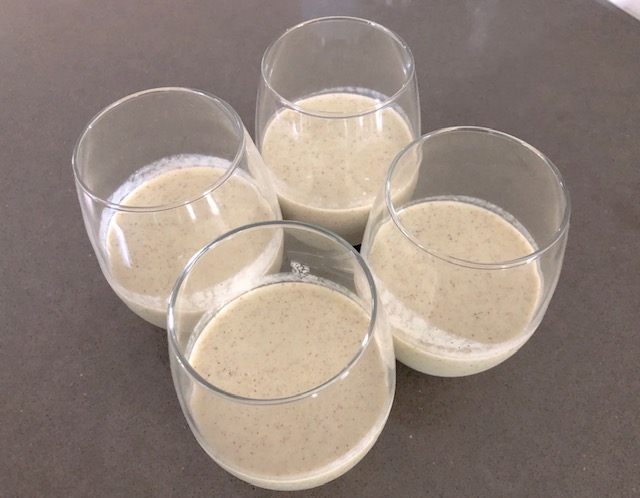 Next, I tried recreating the Yub Nub. This is a fruity, tropical drink served over ice. The ingredients are listed as: pineapple rum, spiced rum, citrus juice, and passion fruit. While shopping for ingredients at my local outpost I discovered passion fruit lemonade. It seemed like an easy combination of the citrus and passion fruit juices listed on Oga's menu.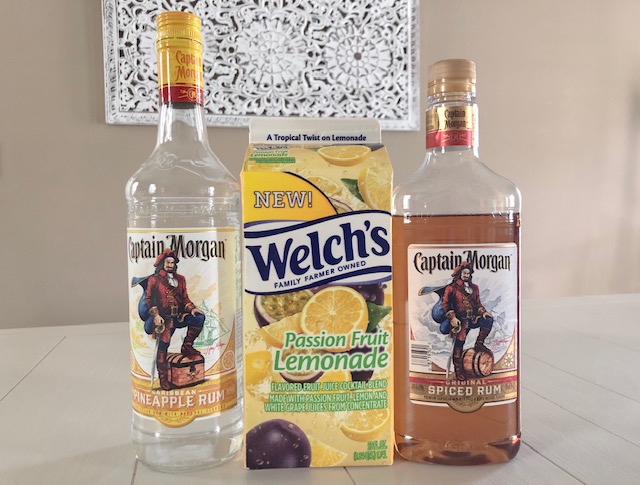 I added the lemonade with the rum and let me tell you, I'd go to the dark side for this drink. It was delicious and will definitely be a go-to for me. A word of caution, this drink is sneaky! It is one of those cocktails that you just can't taste the alcohol in which can be dangerous because it is so yummy. Feel free to cut the amount of rum in half for a less potent concoction. We all agreed this was delicious and would be perfect for a hot day, which there are no shortage of on Batuu since it has 3 suns!
Yub Nub:
2 ounces pineapple rum
2 ounces spiced rum
2 cups passion fruit lemonade
Serve over ice.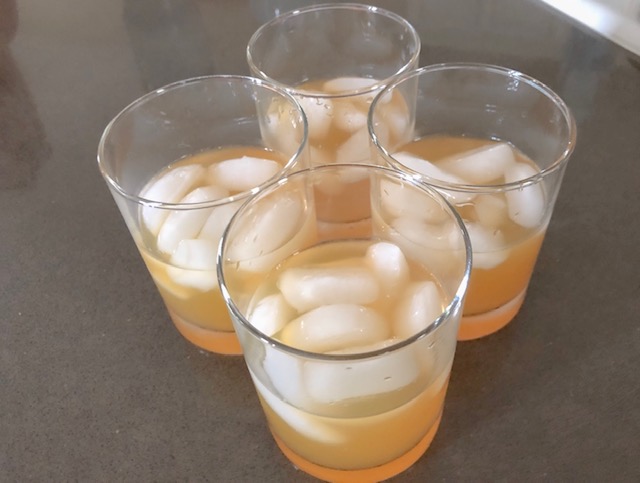 I hope I've made Oga proud with these drinks and I hope you will try them for yourself and let us know what you think. Bright suns, travelers!