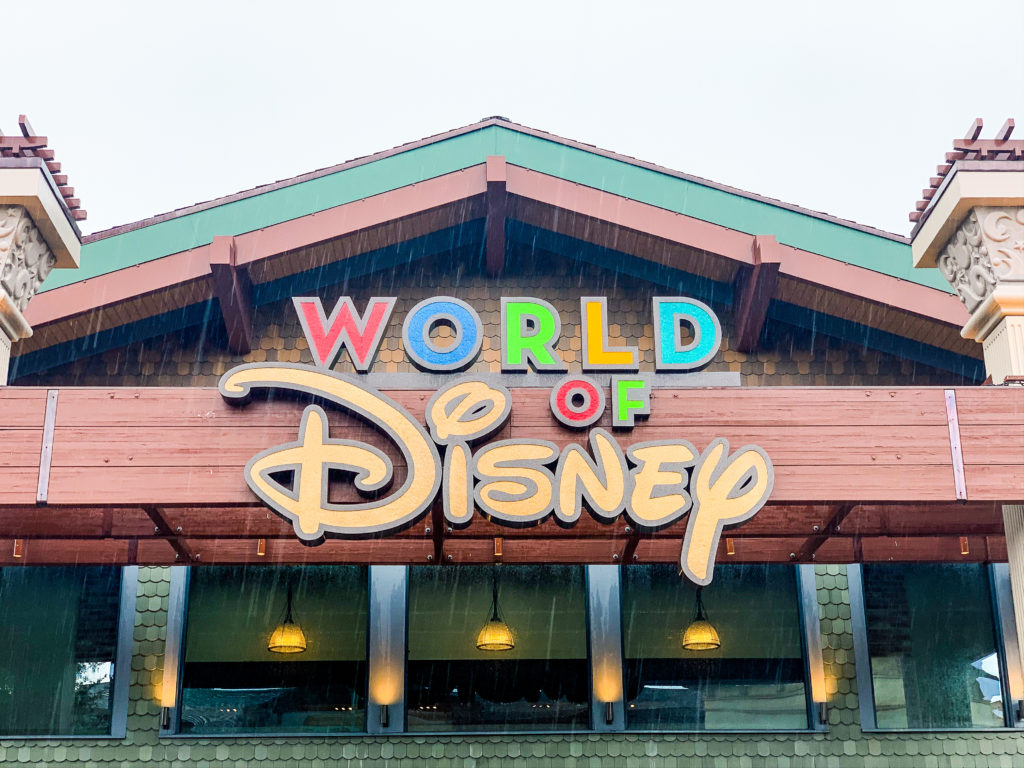 We arrived and parked at Disney Springs Orange garage around 9:30 am (currently Lime garage opens at 12 noon).
Parking went very smoothly. We put on our required masks and went to the entrance level for Disney Springs. Then we went through the area they have set up for our temperature check. It was quick and easy and we were on our way for some shopping!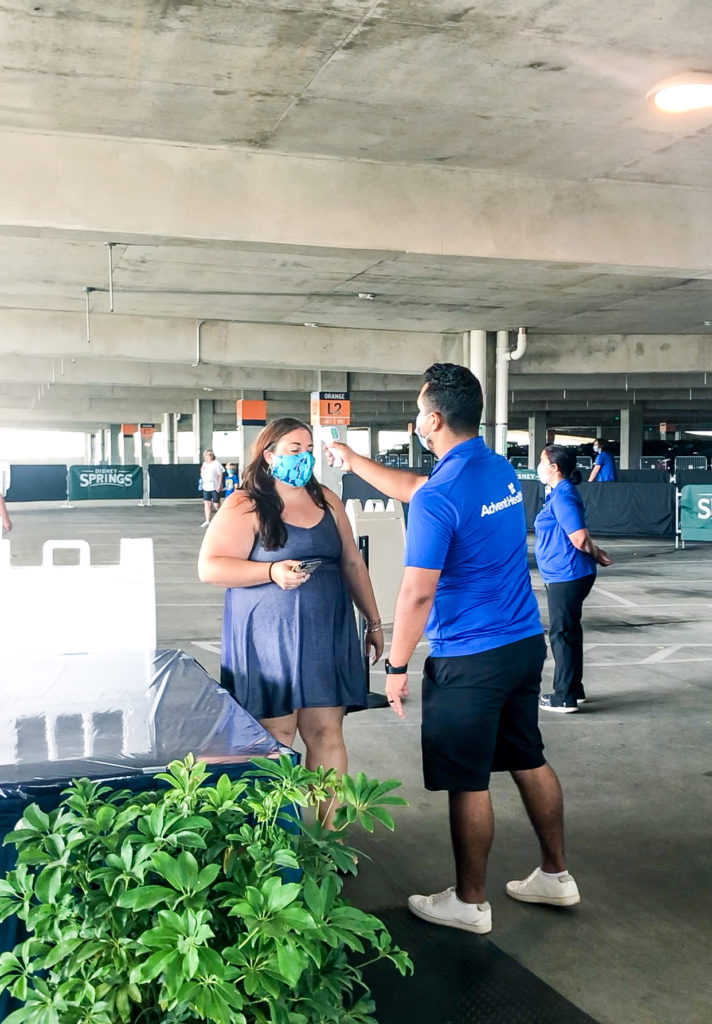 We had already expected more people to be around this particular morning because the 'World of Disney" store was opening for its first time since everything closed. Comparing this morning's trip to one in the past week, there were definitely a lot more people but mostly over by the "World of Disney". There was a long line already in place, which we found out was actually the line to join a "virtual queue".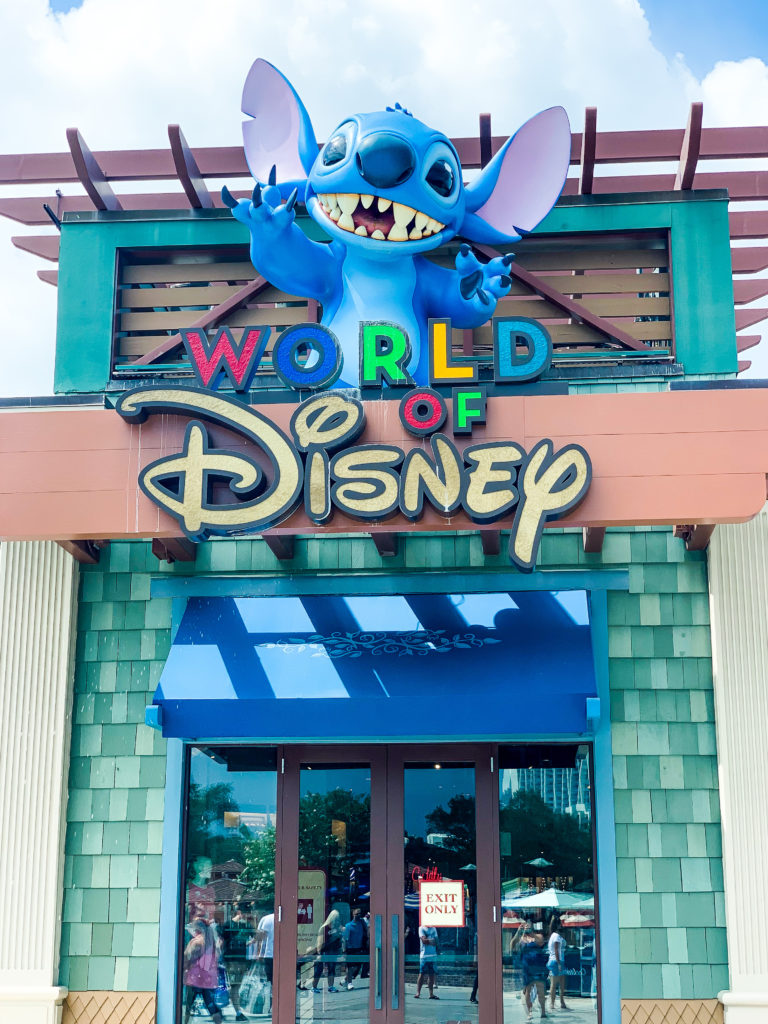 What is a "virtual queue" you ask? In the virtual queue, you sign up and they text you when it's your time to shop! It really is a great way to not have too many people in the store. You also don't have to wait in a line out front for your turn (a great time to go grab a yummy treat!) I fully don't expect most days to have a line or even have to join a queue at all, but on opening day it was a must!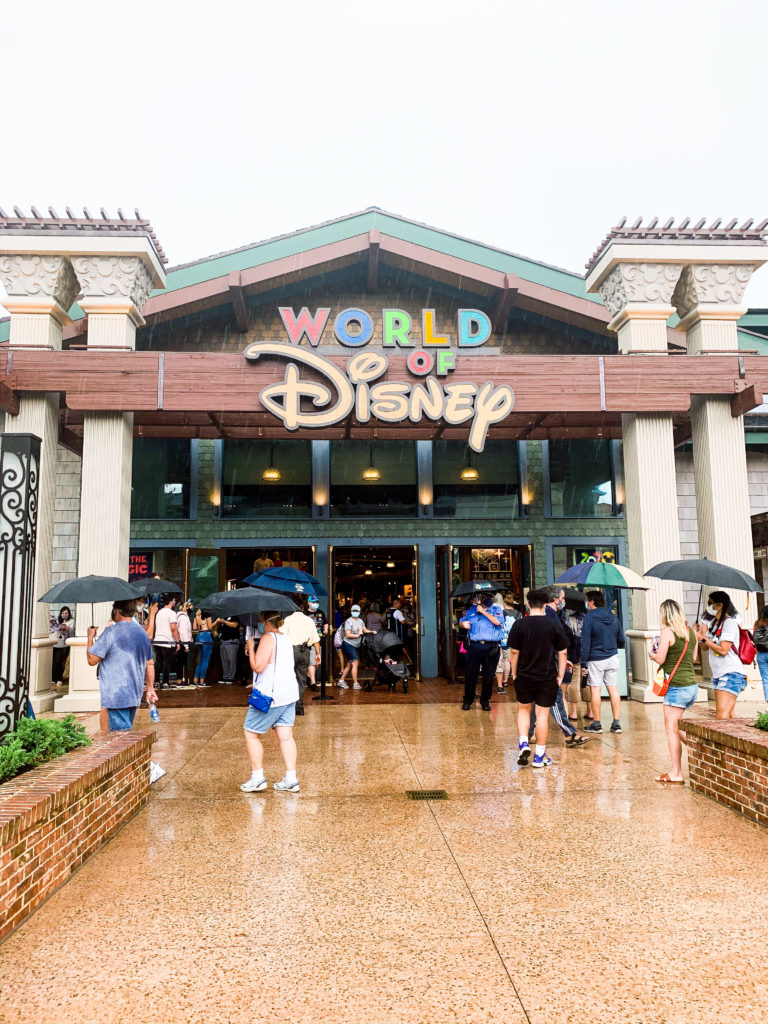 Disney, of course, had everything marked off beautifully and even though the line was long, people were plenty far apart and things were going smoothly. We waited for about an hour just to sign up for a text. As we approached the front of the line we heard that even the virtual queue text could be up to a 6 hour wait. Thankfully, right before it was time to talk with a cast member and sign up, we got a little bit of "Pixie Dust"! Another guest had been called to shop, but was leaving so she gave us her info and we got to take her spot in the store! Talk about magic!
So off we went to do some shopping. Everything was well organized, clean, and there were hand sanitizing stations even inside the store. There was also tons of room to shop, no rushing, no one in my space. It was honestly the best shopping experience!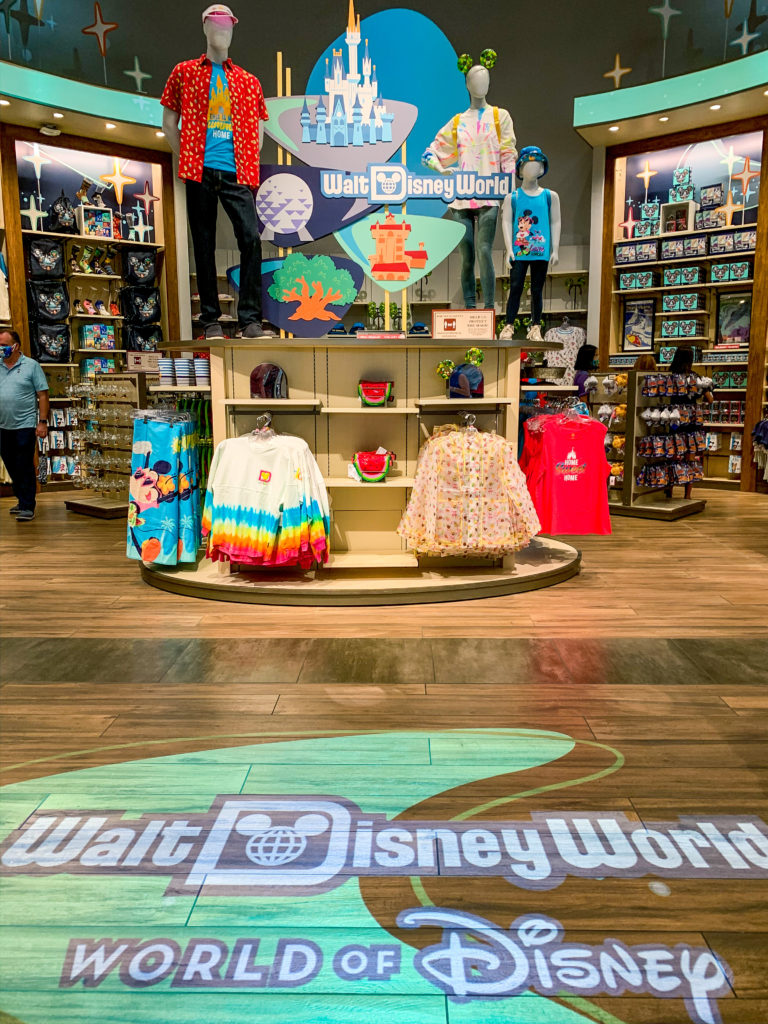 I grabbed a special gift for each one of my kids. I got my son a Porg that sits on your shoulder. My girls got a Wishable for one and a Marie cat clip on ears for another. My youngest got " The Child" or otherwise known as Baby Yoda. They had a ton of Baby Yoda and that was so much nicer than waiting for the pre-order online for him. By the time we got in, there were some smaller shelves cleared out. I'm assuming mostly because some serious Disney collectors had already been in before us, which was fine because I wasn't looking for those items anyhow, haha. I'm definitely interested to see how it looks when they get a restock. Fingers crossed for new Wishables!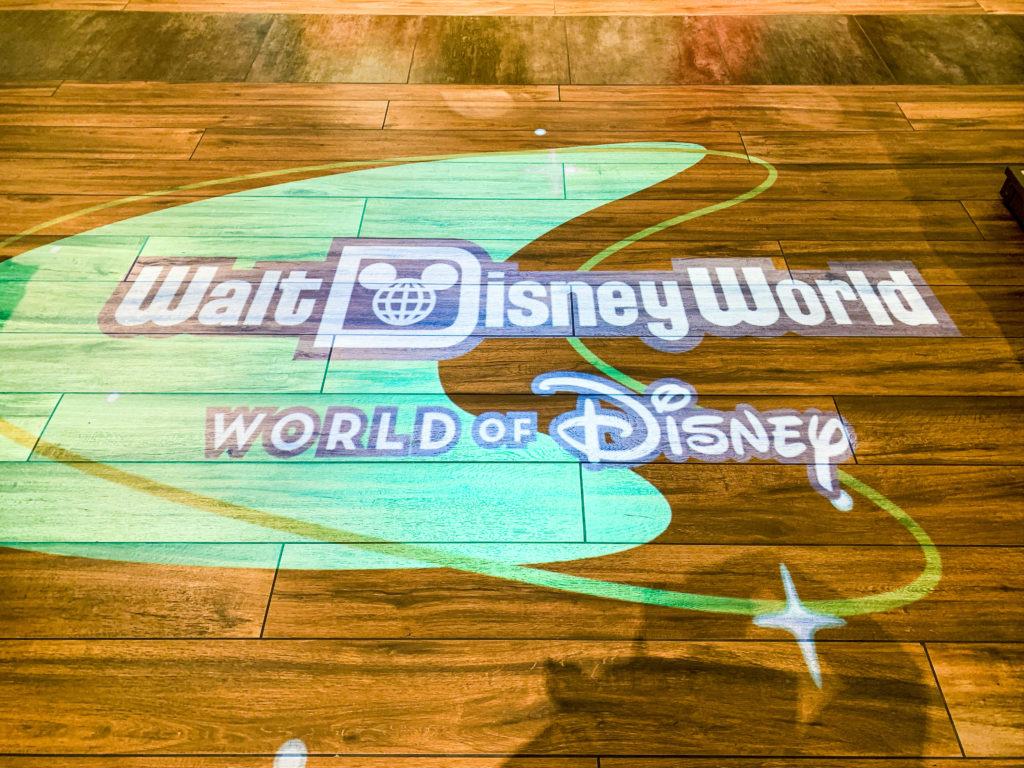 After shopping we had a yummy lunch at The Polite Pig. If you haven't eaten there, add it to your list to try! I've never been disappointed. Things were marked clearly for where to stand for social distancing purposes. They had spaced out seating inside and outside. We were able to still get fountain drinks, we just had to ask the cast member for a refill verses doing it ourselves. It was so nice to have a few minutes to take the mask off while eating and sitting in air conditioning.
Walking back to the car a little bit more magic happened. The Mickey balloons were out, and that always makes me smile.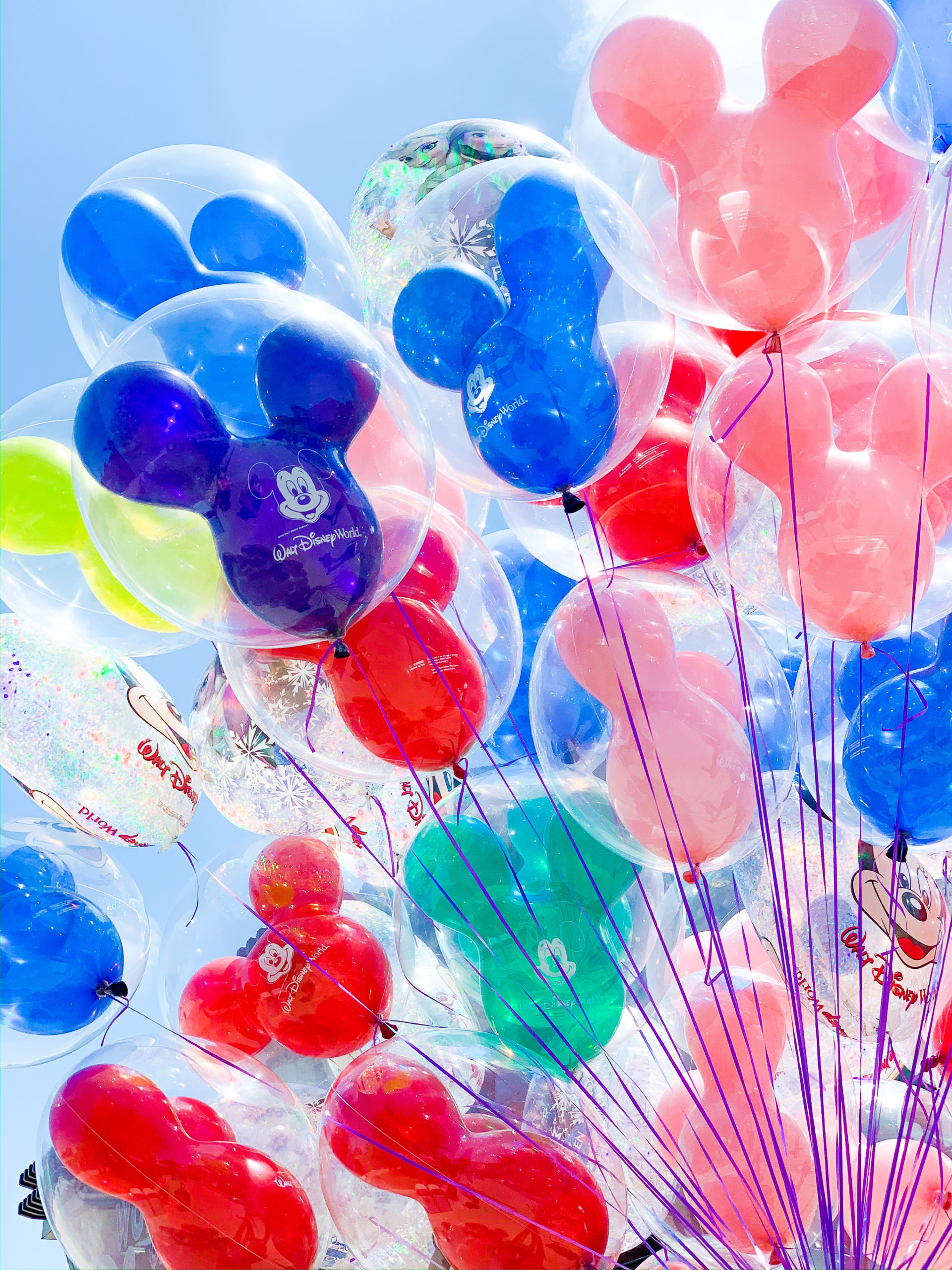 You can take a photo with them behind you, you just can't take the photo " holding" the balloons.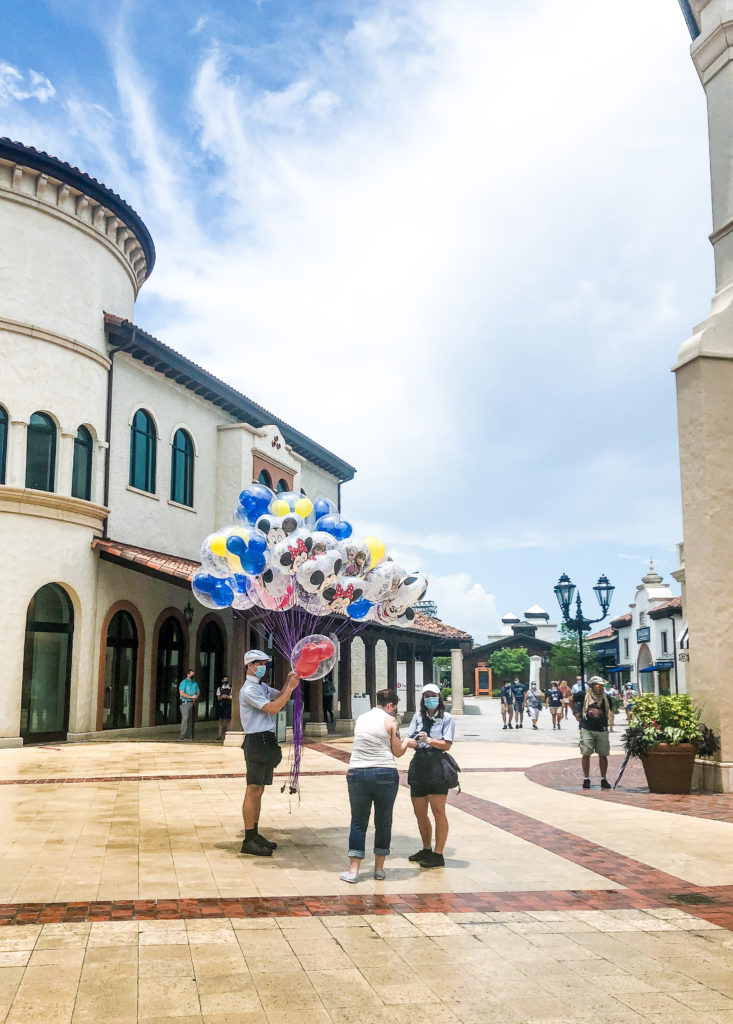 A bit further down we heard some familiar voices. Up on one of the shop's veranda areas we spotted some Storm Troopers! That was so much fun to see! I really hope they are out next week when I take my kiddos up to Joffreys for some yummy doughnuts.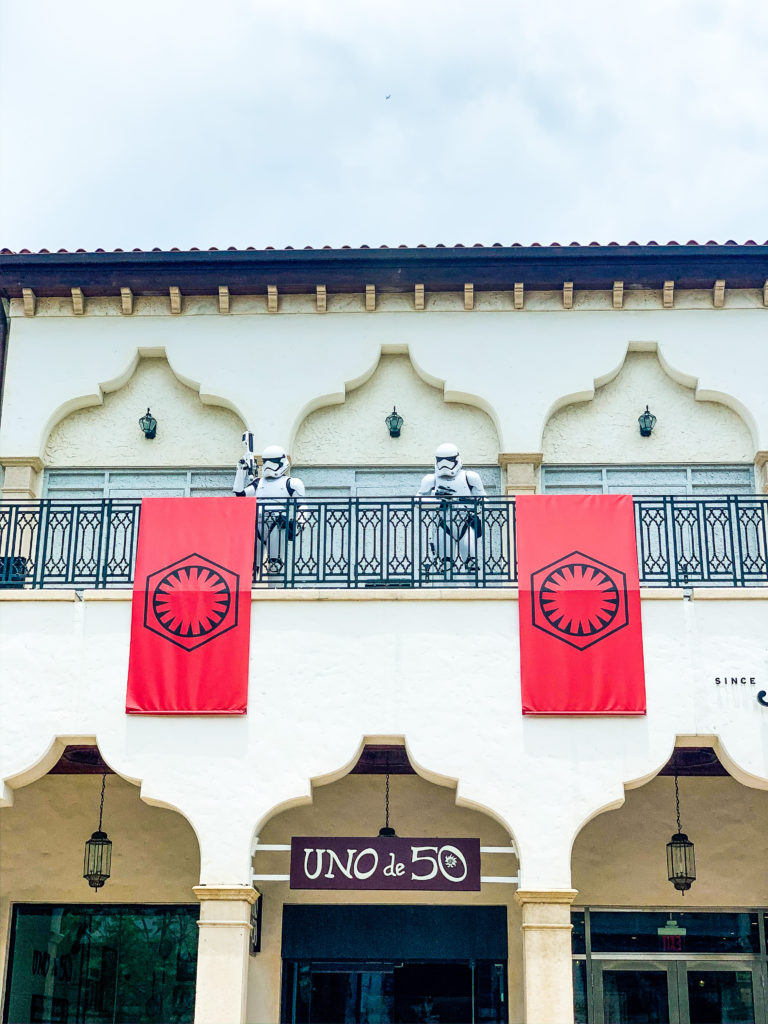 Overall, even with the first long line and being a bit warmer from the mask, it was a magical morning. Lots of laughs and a bit more of a normal feeling being able to go out with my Mom and do some shopping. I think Disney did an outstanding job with the opening day crowds and the cleanliness of the space. Plenty of sanitizing and hand washing stations. From what I saw everyone wore their masks and kept a good distance from those people they weren't with. I can't wait to be back!