One of the coolest things to happen to me in my writing career life was being invited by Walt Disney World and Disney Parks Blog to spend the day at Magic Kingdom to showcase all they have to offer during this Halloween season.
I honestly have to say that I am a bit sad there isn't a Mickey's Not-So-Scary Halloween Party this year. I'll definitely miss standing in front of Sleepy Hollow Treats waiting for the Headless Horseman (my favorite villain) to lead the way for the Boo To You Parade. However, I totally understand why it had to be canceled. I have to hand it to Disney though because they are keeping the holiday spirit alive with multiple Halloween and Fall items on various levels.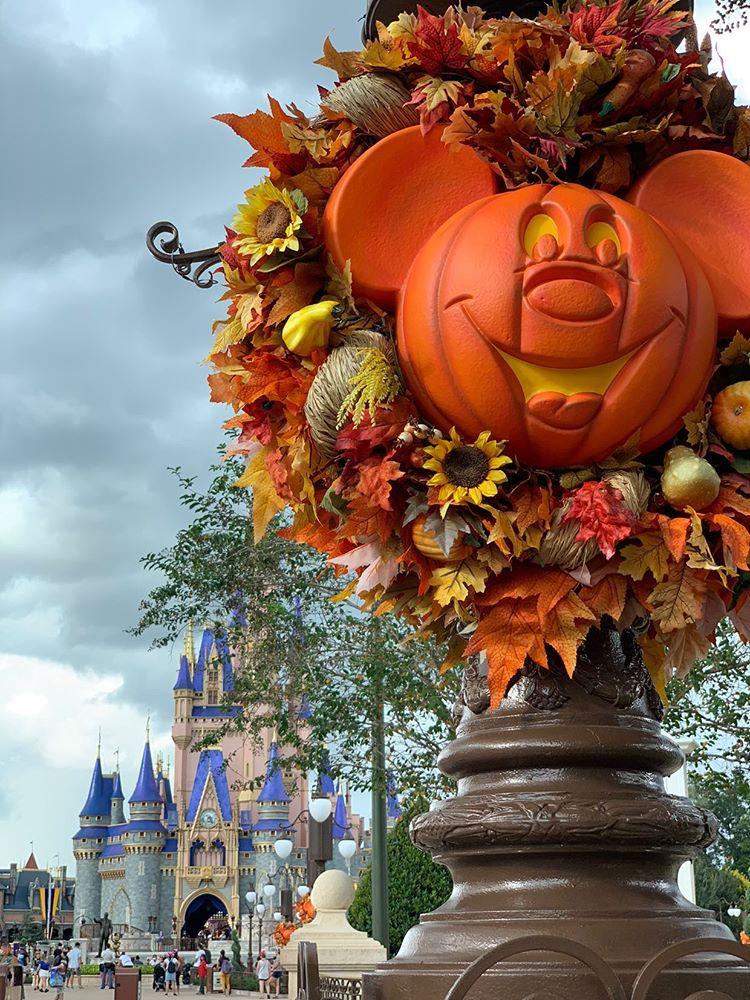 Health and Safety Measures
First, let's talk about safety.
I respect Disney for staying on point and taking precautions with their added safety measures like temperature screenings prior to reaching the gates. There are also reminder signs throughout the park, extra hand-washing stations, sanitizing stations, and social distancing markers on the ground.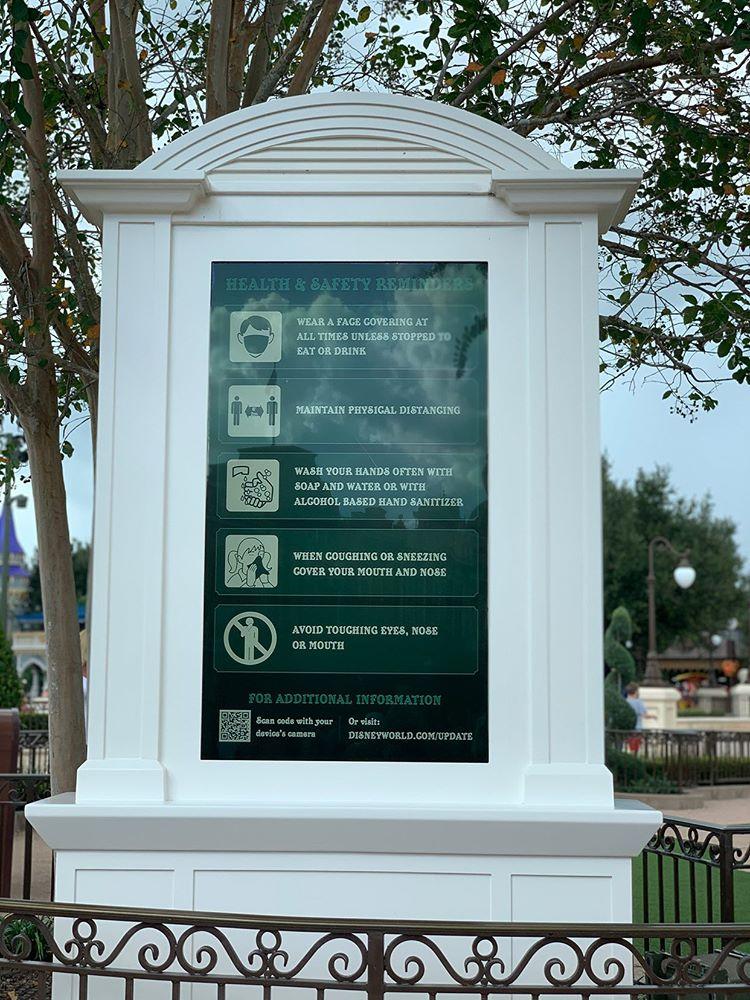 One of my favorite features that Disney has implemented is the mobile ordering option in the My Disney Experience app. It's super easy to use, letting you place your order before you get to the restaurant. Once you arrive, you just tap "I'm Here" to let them know you're there.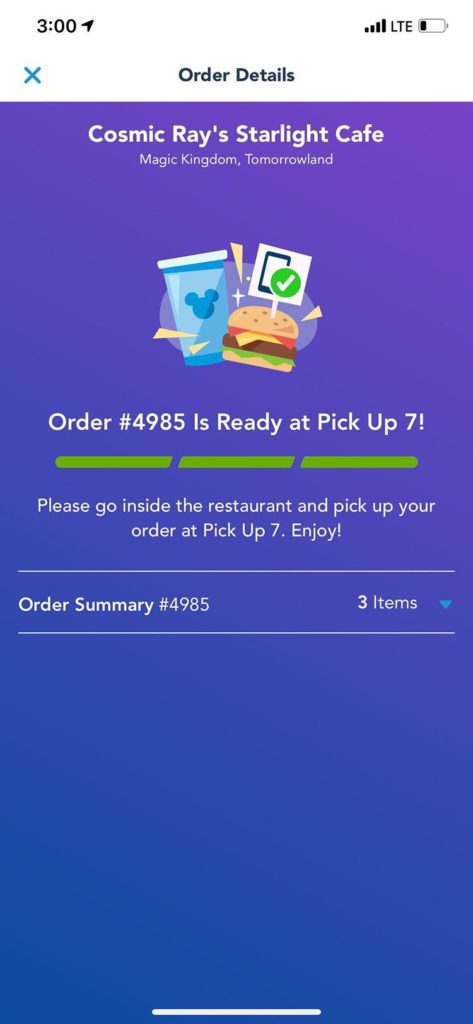 A cast member will assign you a pick up lane where you head to grab your delicious lunch or dinner. You'll notice that the restaurants have added protective clear dividers between you and the cast members to keep a safe barrier for everyone.
As you grab your seats, you'll see that tables have been closed to keep social distancing between groups while you are dining.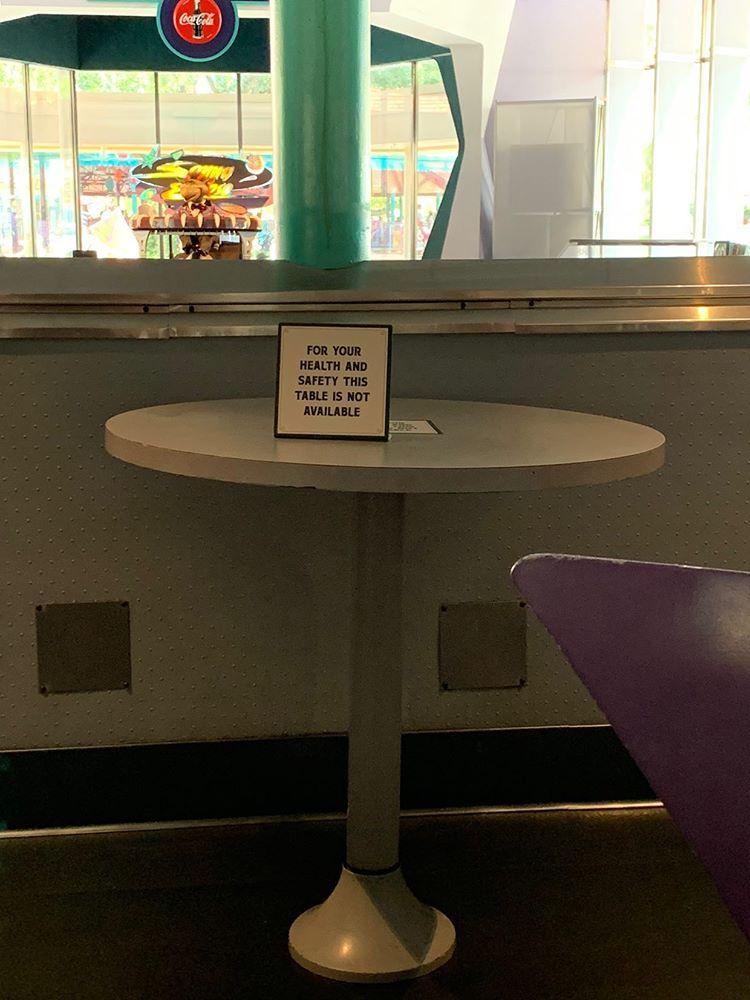 Another thing I'd like to point out is that Disney understands and has taken in consideration that we're located in Florida. It can get pretty warm, sweltering even. It's hard to travel the parks all day in a mask. Therefore, they have set aside space for what they have titled "Relaxation Stations" where you can go for a bit to remove your mask and enjoy a seat in the shade.
There are three Relaxation Stations located in Magic Kingdom:
Tomorrowland Terrace – Tomorrowland (outdoor with covering)
Pete's Silly Sideshow – Fantasyland (indoor)
The Golden Oak Outpost – Frontierland (outdoor with no covering)
Halloween Snacks!
As the omnomnommom, I was super excited to try the plethora of delicious treats awaiting us at Magic Kingdom. It was difficult to decide on where to begin. However, I had heard such wonderful feedback on a particular item, it only made sense to head there first!
Poor Unfortunate Souls Float
I have always had an eye for the villain. They always seem to have an interesting past and story as to why they are well, villainous, so it's only fitting that this would be my favorite item of the day.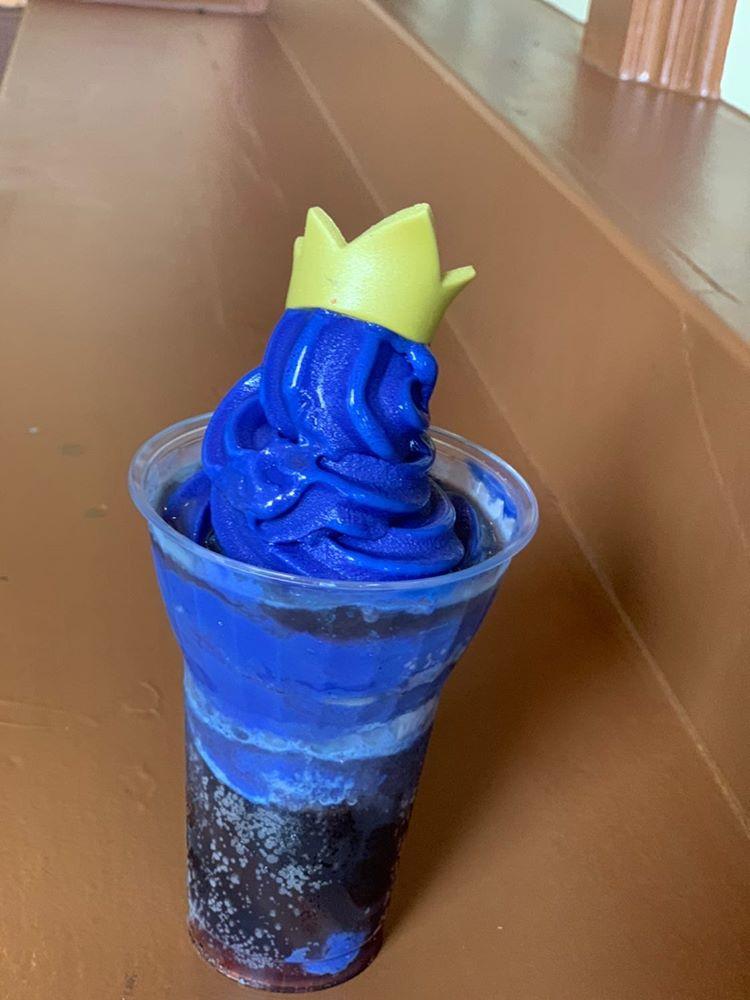 Consisting of cream cheese soft-serve, black raspberry syrup, and Coca-Cola, topped with Ursula's crown – made of sugar.
It's smooth, it's refreshing, it's sweet but not overbearing. I have to say this is the perfect treat on a hot Florida day!
You can find it at Storybook Treats in Fantasyland for $6.99.
Constance's For Better Or Worse Wedding Cake
Constance has changed a little since I was younger. The story I always knew of her was a little more forlorn and kind of sad. With the most not-so-recent update, they turned her into a sort of black widow. This is a pretty interesting take on the character and one that fits pretty well. I really enjoy that she has gotten quite a bit more attention than in the past.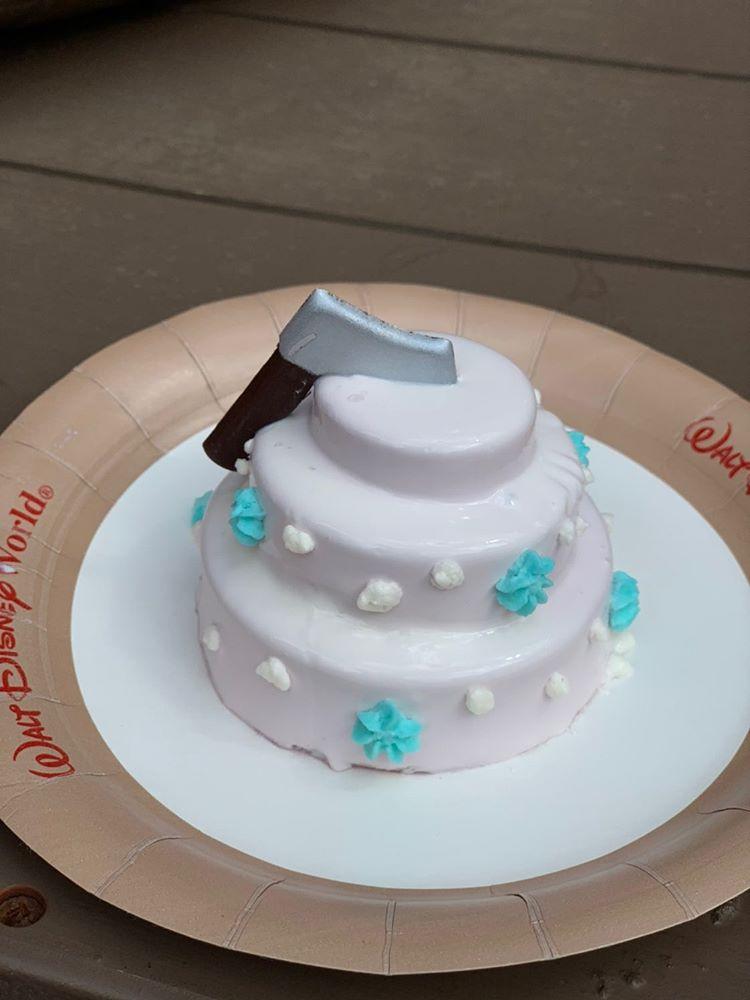 Made with a citrus-scented cake, raspberry Bavarian cream, glacage (a smooth icing), and buttercream pearls and flowers, topped off with a chocolate axe.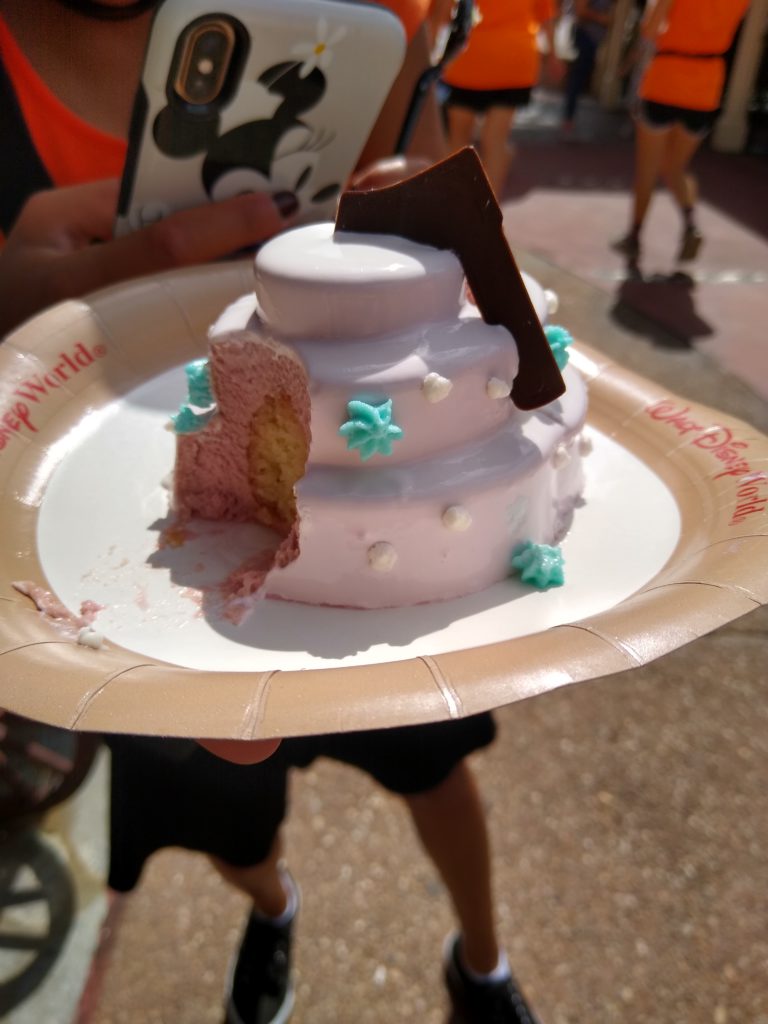 It's bright, it's moist and the flavors blend together well. This one is definitely one that Winter Garden Moms recommend!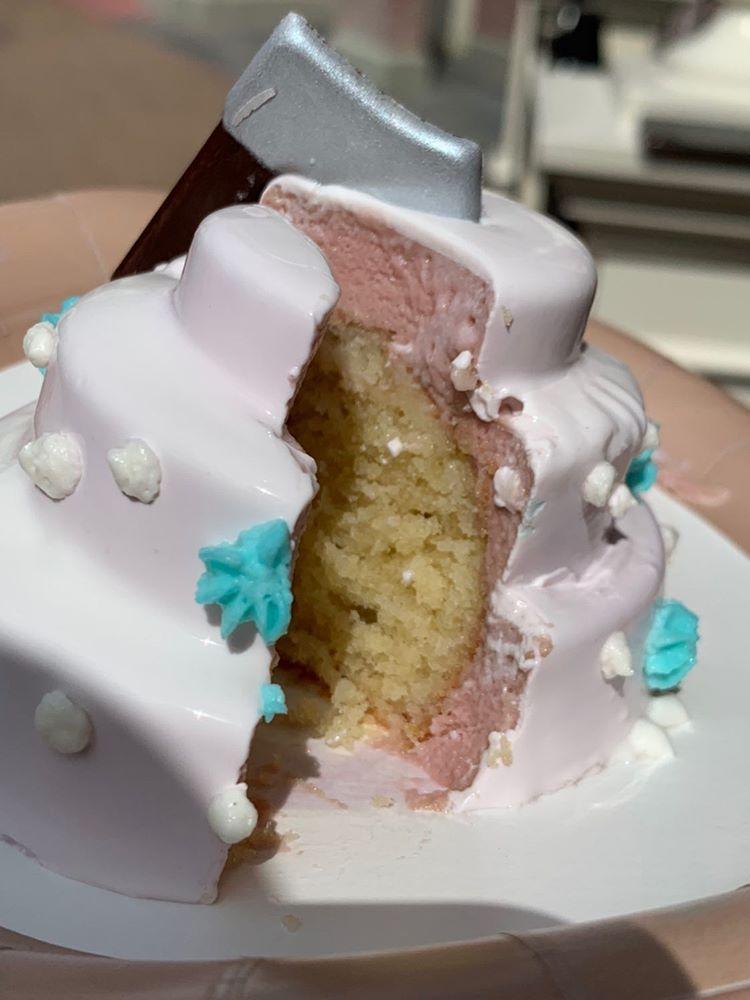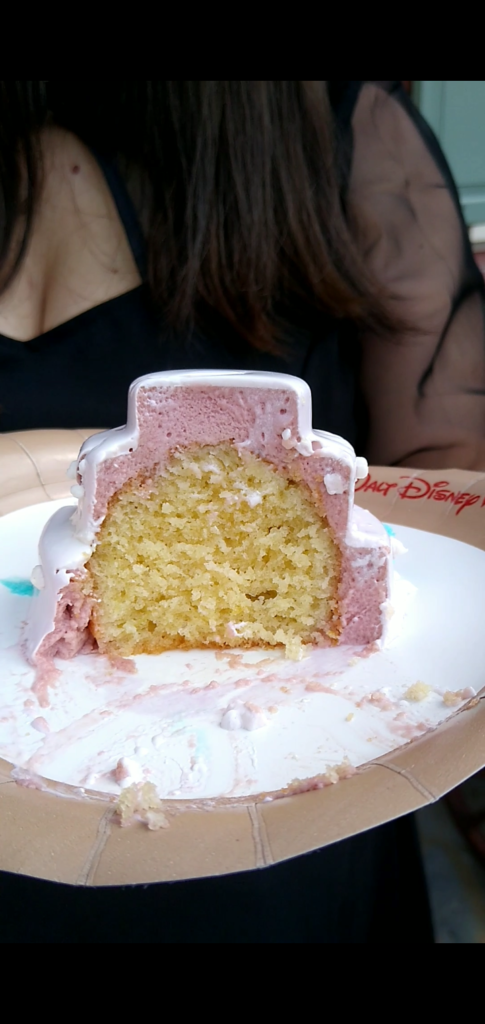 I had to add these photos we took to showcase the beauty of this cake both inside and out! It's a gorgeous creation, executed – no pun intended – amazingly.
You can find it located in the Liberty Square Market for $6.29.
Mickey's Monster Mash Burger
I have to admit, I can be slightly picky with my burgers. I mean, we all have certain foods that we take a little more seriously than others and we have our expectations and…not so much standards…but standards.
This savory treat did NOT disappoint at all! The only "complaint" I have when it comes to ordering a burger where they are cooked for the masses, is that I tend to prefer mine to be cooked more on the medium side, but that's more of a preference.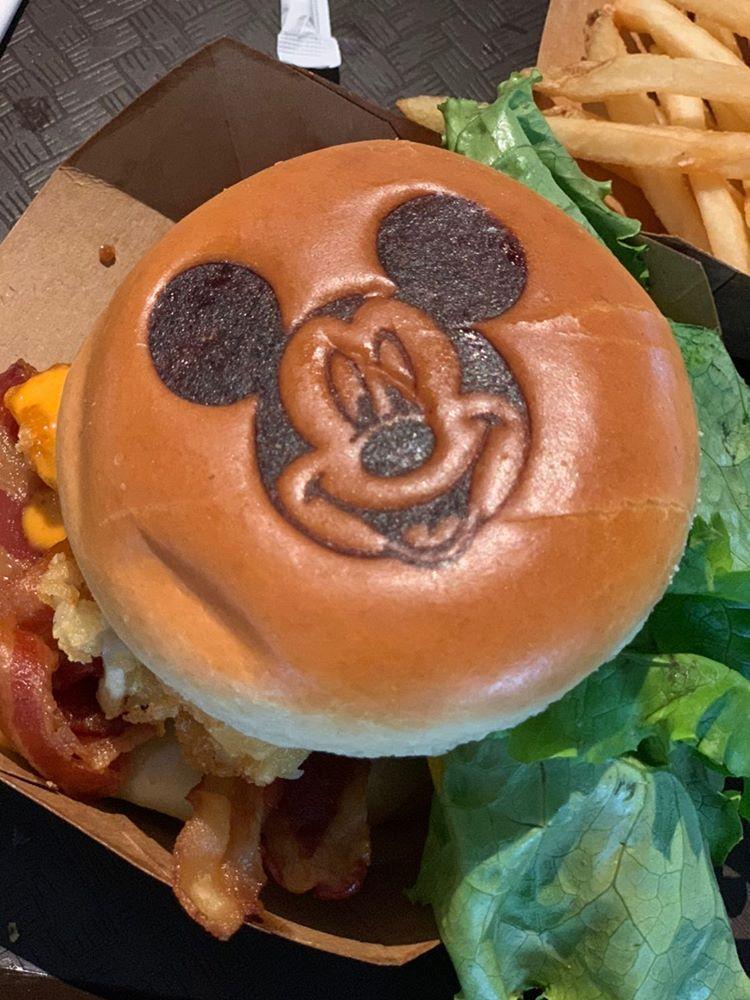 Topped with muenster cheese, potato barrels, bacon, lettuce, tomato, and a sriracha aioli, Mickey's Monster Mash Burger is one delicious thrill ride of flavors. It also gives just the right amount of 'heat' without taking away from the flavor.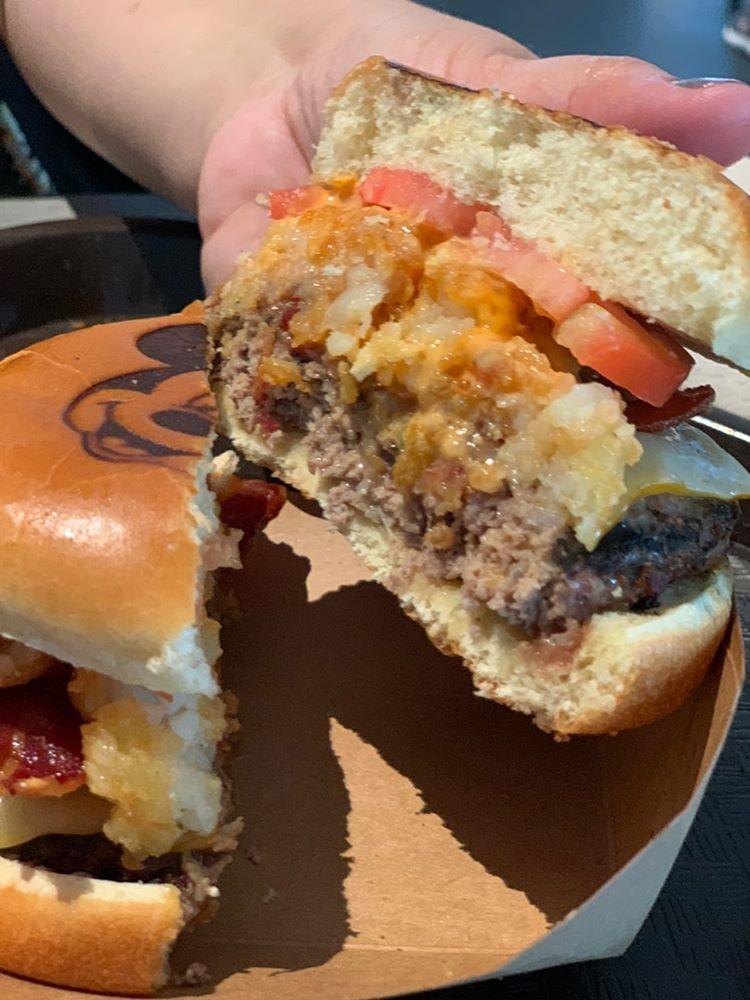 You can find this yummy treat through mobile order at Cosmic Ray's Cafe in Tomorrowland for $13.99.
Hades's Nachos
While I did not personally get to try these babies out, another one of our Winter Garden Moms, Alison, did and she spoke very highly of them so I wanted to add them to this post. They are definitely on my list for my next visit!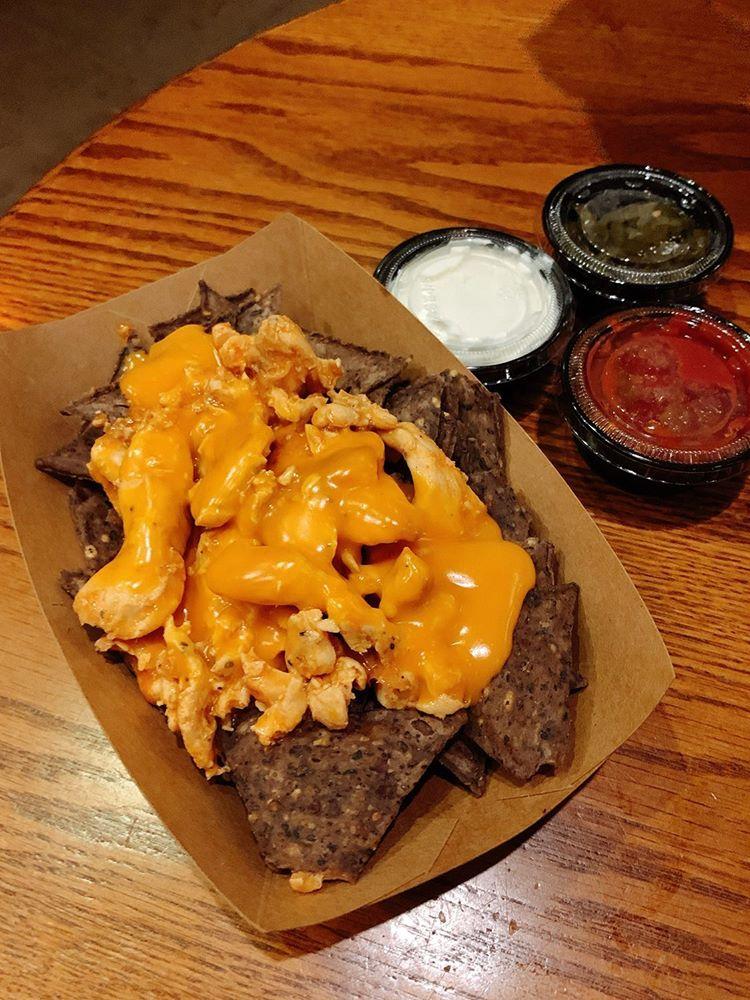 Black bean chips, "fiery" buffalo chicken, lettuce, tomato, sour cream, salsa, and jalapeno round up this dish.
You can find it at Pecos Bill's in Frontierland for $12.79.
Disney's Halloween Treats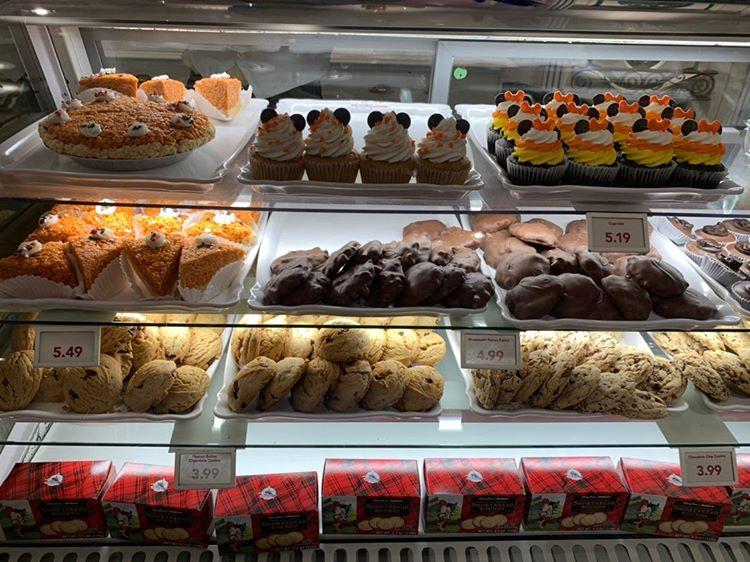 If you have a sweet tooth and you're looking for something to grab, go, and munch on, or some to take home for later, hit up the Confectionary to see all of the different treats offered.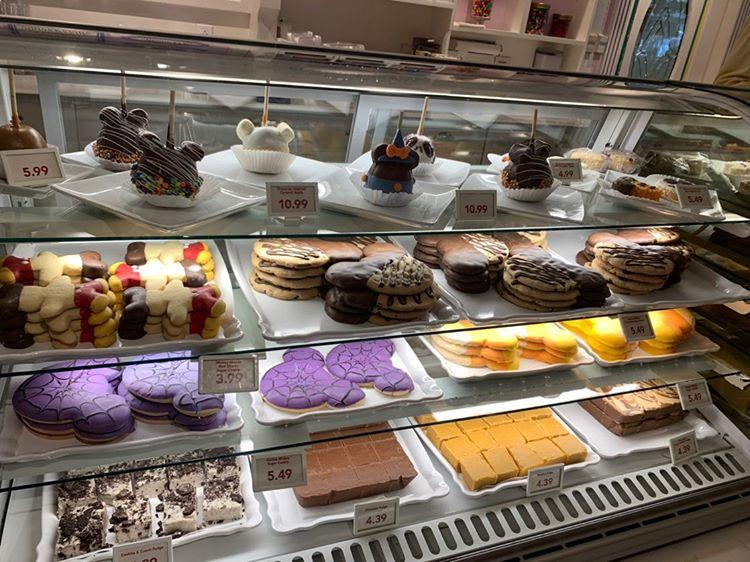 Soooo many fall favorites at your fingertips!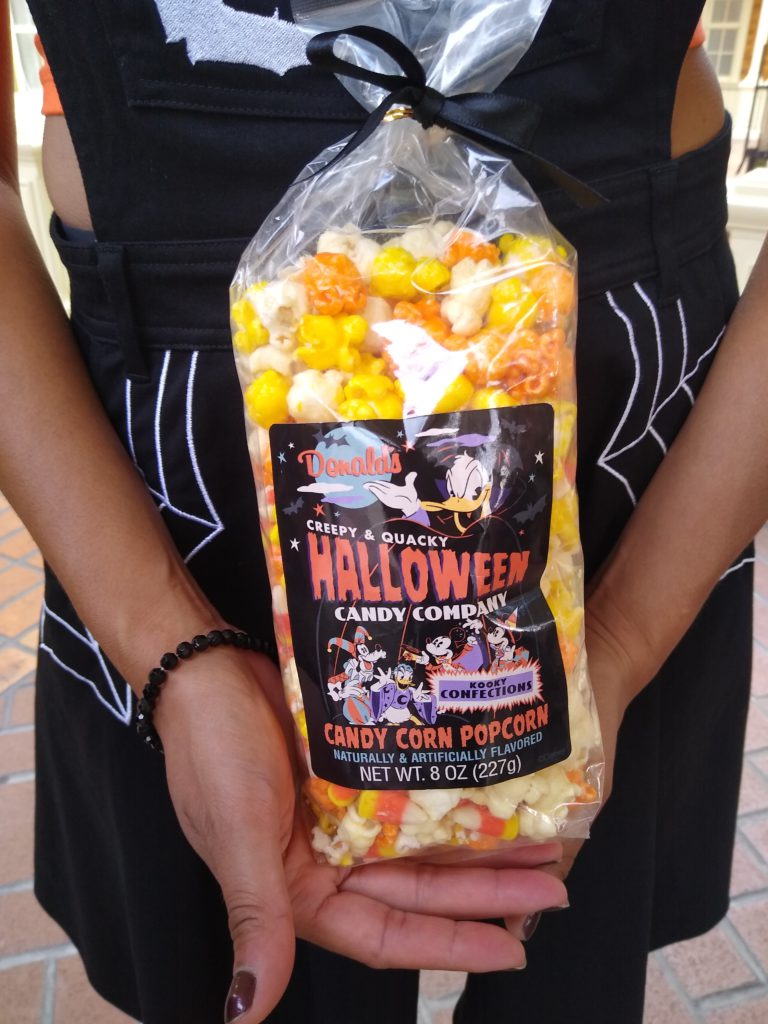 Candy Corn flavored popcorn with candy corn mixed inside!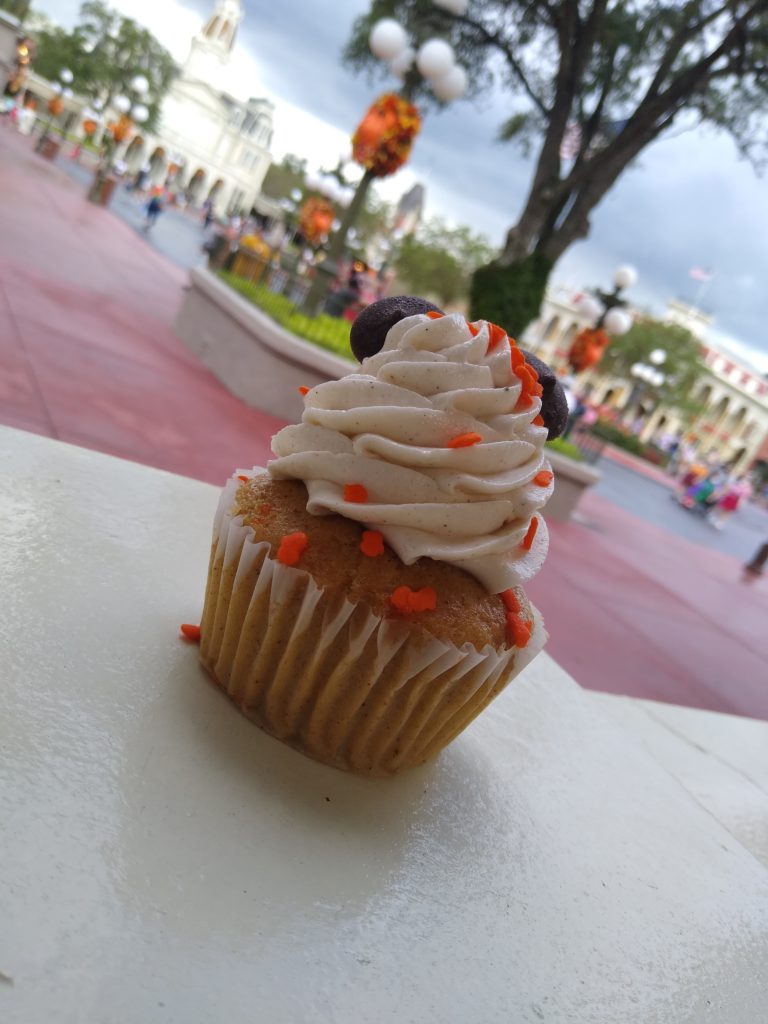 Pumpkin Spiced cupcake!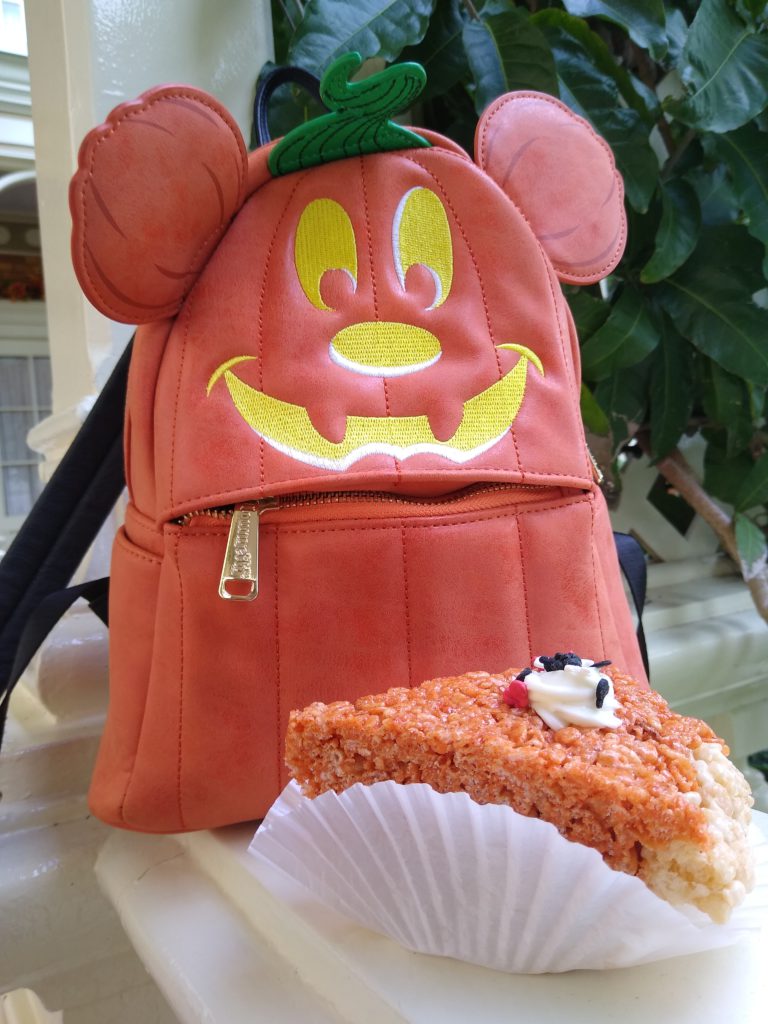 Pumpkin Pie Rice Crispy Treat! Tastes just like pumpkin pie!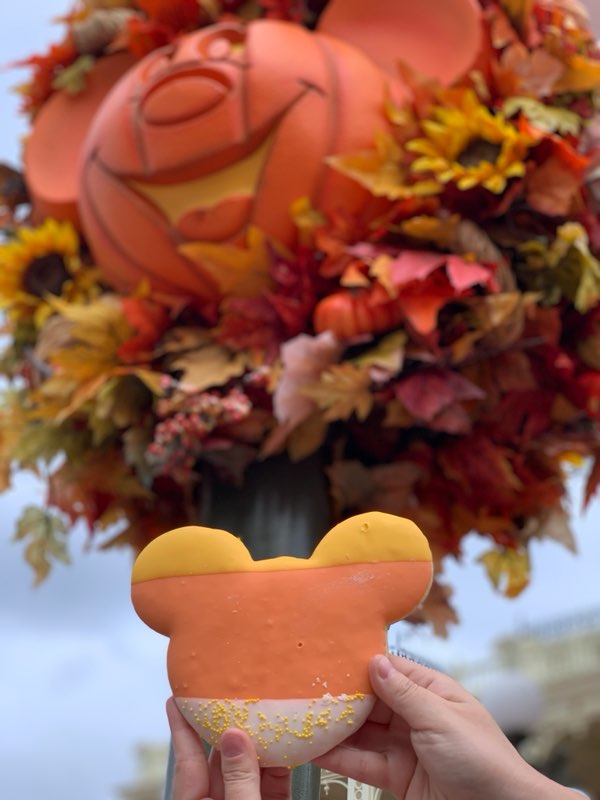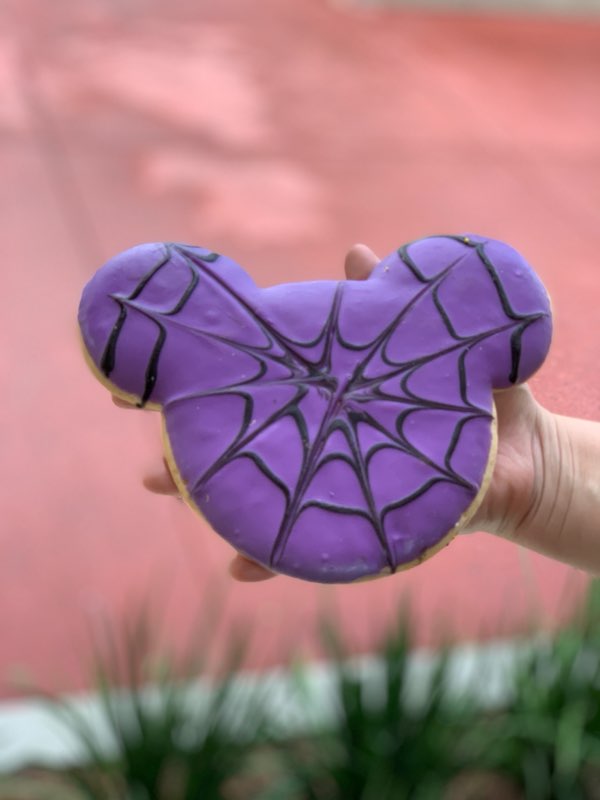 Candy Corn and Spiderweb decorated cookies! – Some of my favorites! So simple, but so good!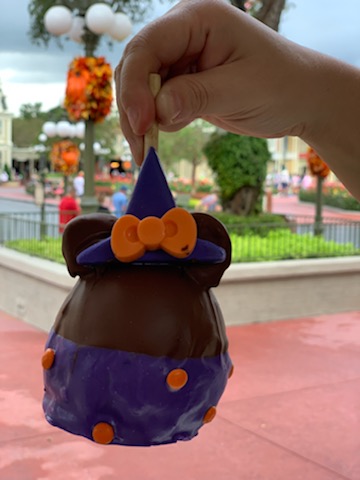 Witchy Candy Apple! A nice crisp apple, dipped in chocolate, and decorated in more chocolate with marshmallow ears. – Sorry, am I drooling?! –
Character Cavalcades
We must have timed our entrance to the park just right, as we caught almost (all but two) character cavalcades, some photo ops, and a performance from the Cadaver Dans. I not so secretly call them the Dapper Deads.
They rise from the dead throughout the day to serenade the crowds with various Halloween themed songs.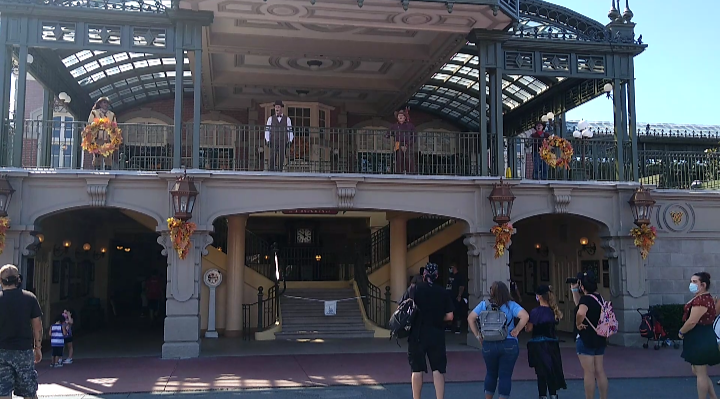 We got to see the Happy Halloween/Boo To You Cavalcade featuring Mickey, Minnie, Pluto, Donald, and Daisy in their amazing Halloween costumes! They always pick such great icons to dress up as. Donald is totally me with the way he flips his cape around!
After that, it was time for the Villains "Good To Be Bad" Cavalcade featuring Queen of Hearts, Captain Hook, Big Bad Wolf (who I love seeing out and about) and Bowler Hat Guy. Jafar, Maleficent, and the Evil Queen followed behind them on a Chernabog float.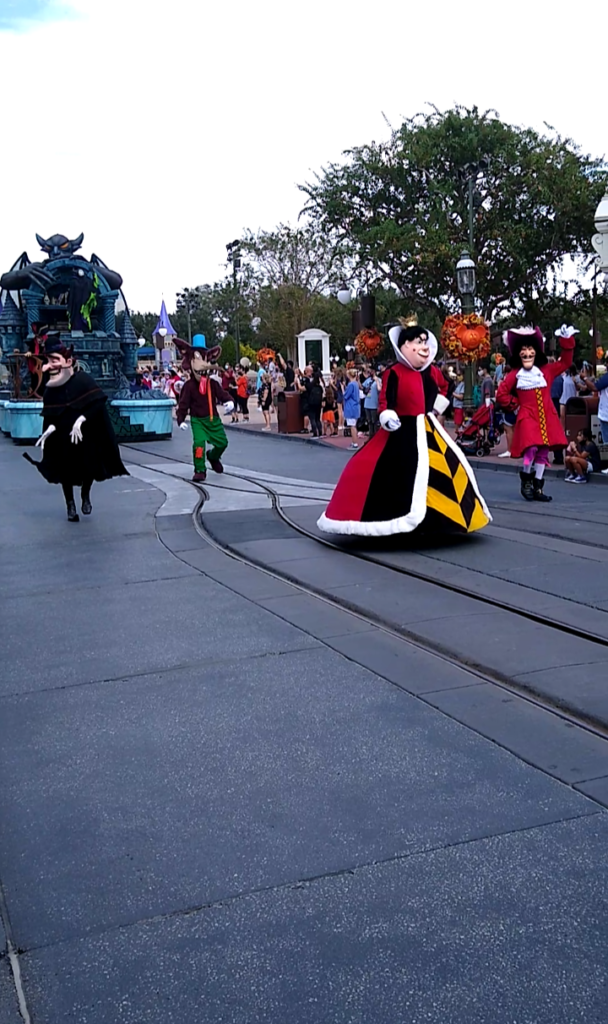 The sweet "Dreams Do Come True" Princess Cavalcade made its way through next, with Merida leading the way on her valiant steed!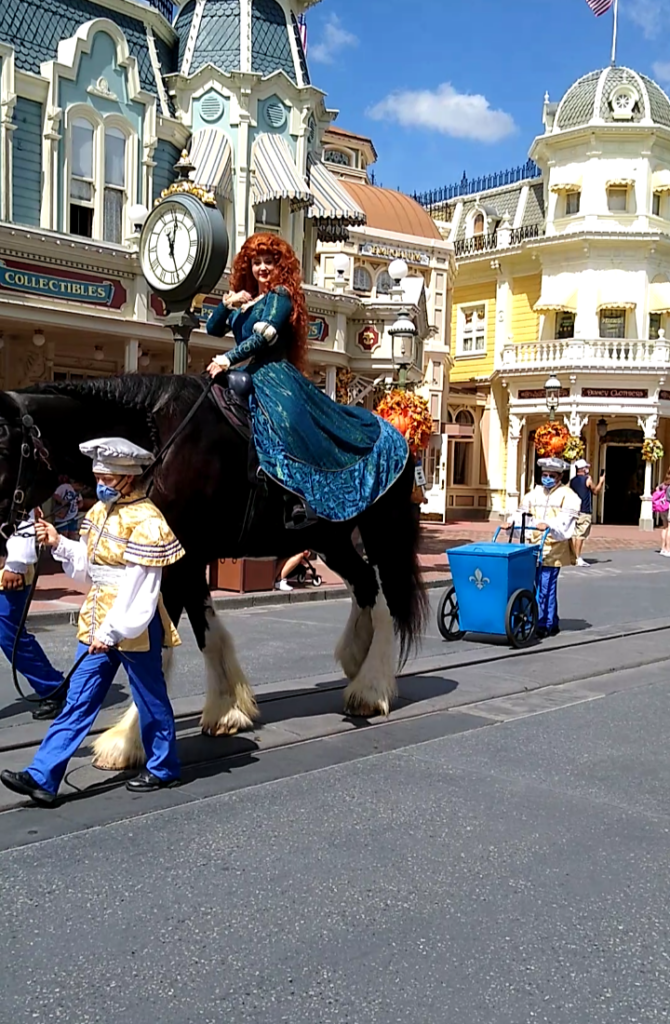 Followed by Rapunzel and Tiana, with the final float bringing quite an array of Princesses from Aurora to Ariel to Cinderella, and more!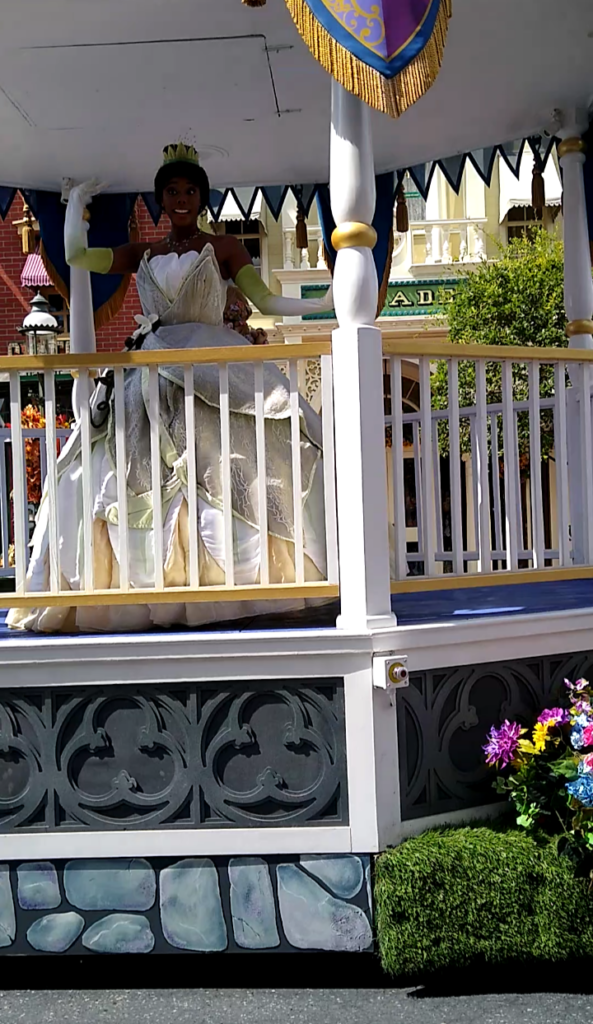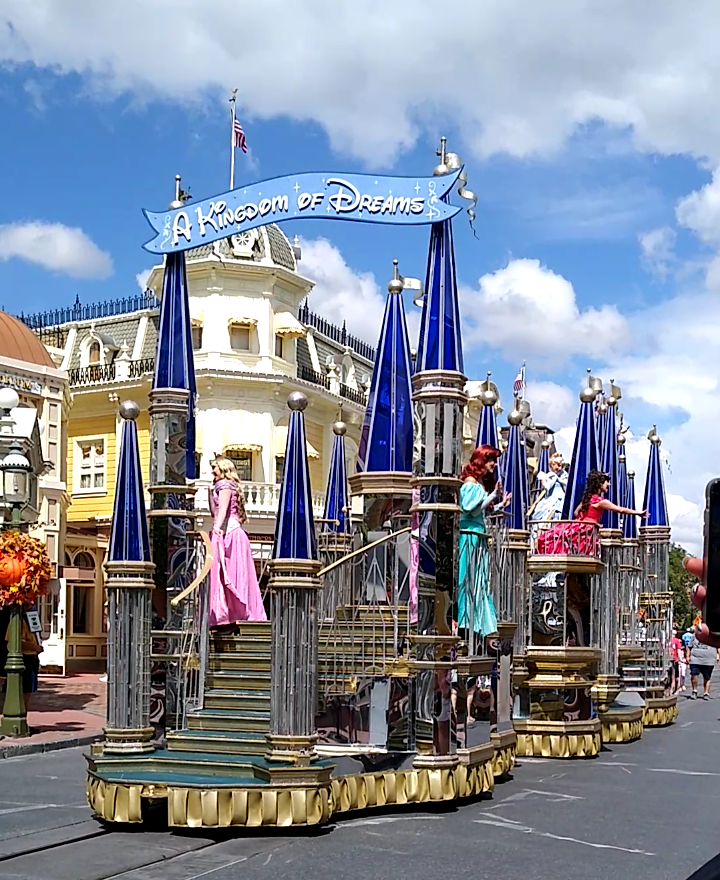 Lastly, we caught the Winnie the Pooh and Friends Cavalcade. Pooh, Tigger, Piglet, and Eeyore all make an appearance to show off their adorable Halloween costumes!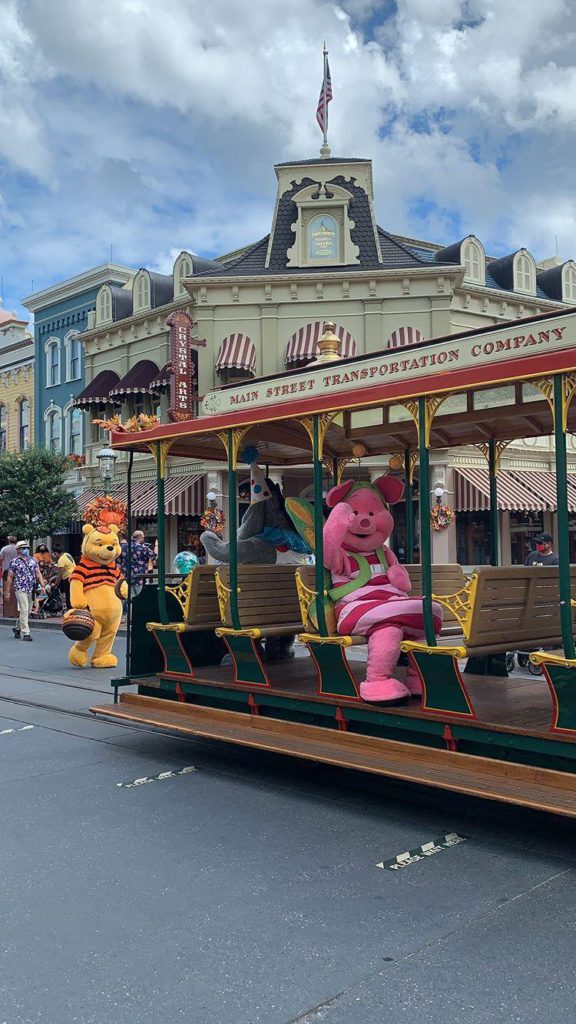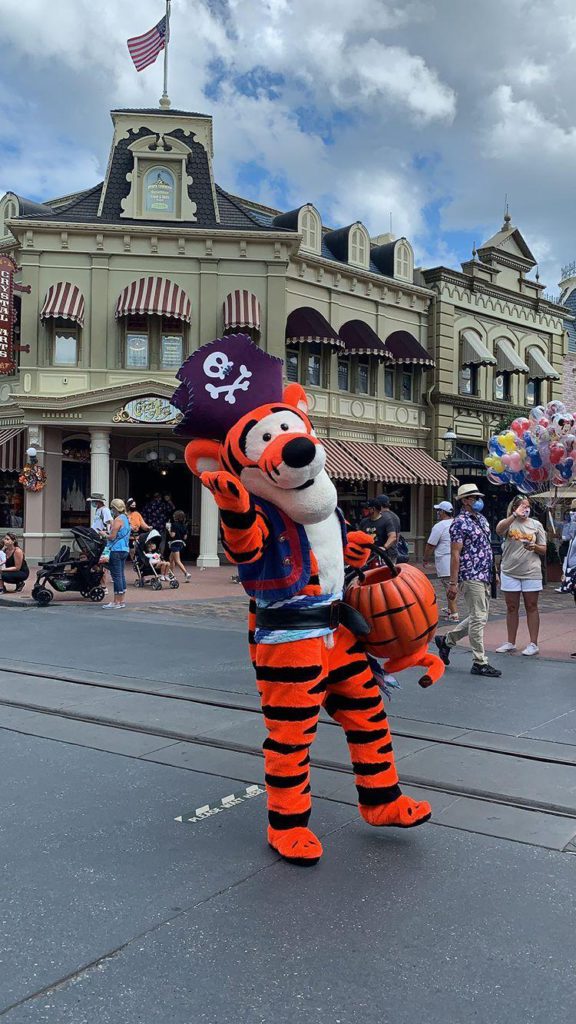 Now, I have to say that I'm slightly heartbroken that I didn't get to see the Nightmare Before Christmas Cavalcade on this trip, but I guess it just means I'll have to make more. The float has Jack, Sally, and Oogie Boogie riding down Main Street!
You can catch them every day except Thursdays and Fridays!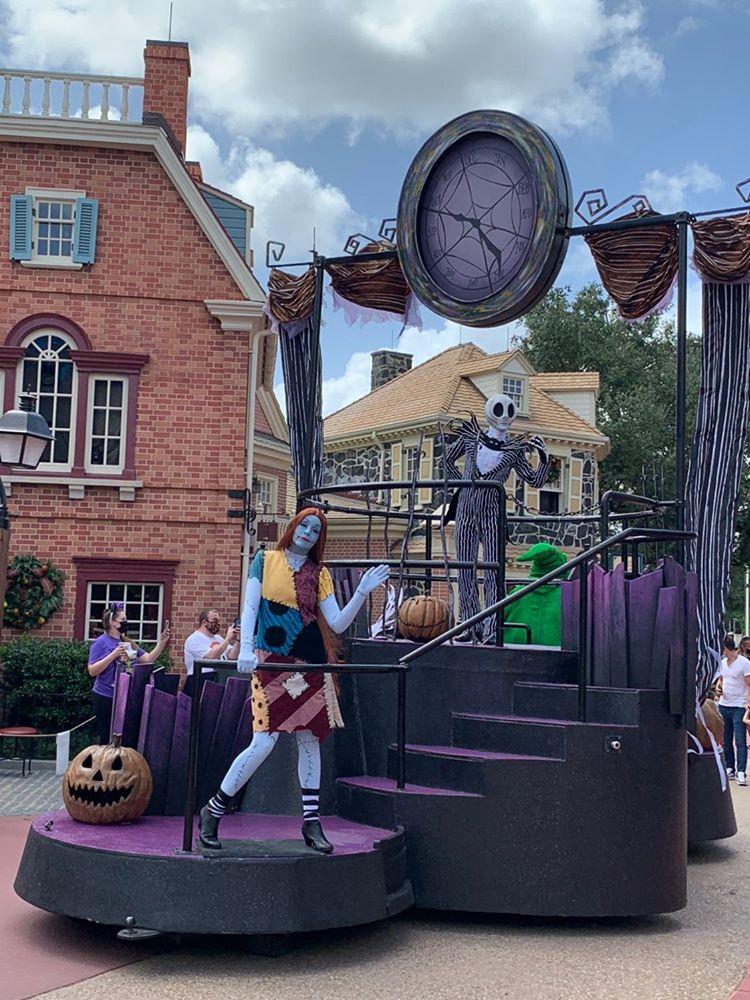 Be sure to check out the train station when you're passing through, as the characters pop in and out at random times during the day to say hello and take socially distanced and fun photos!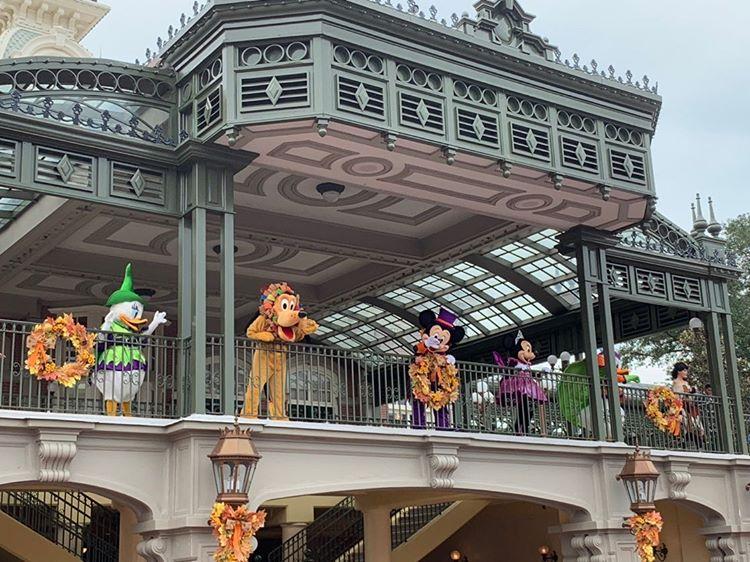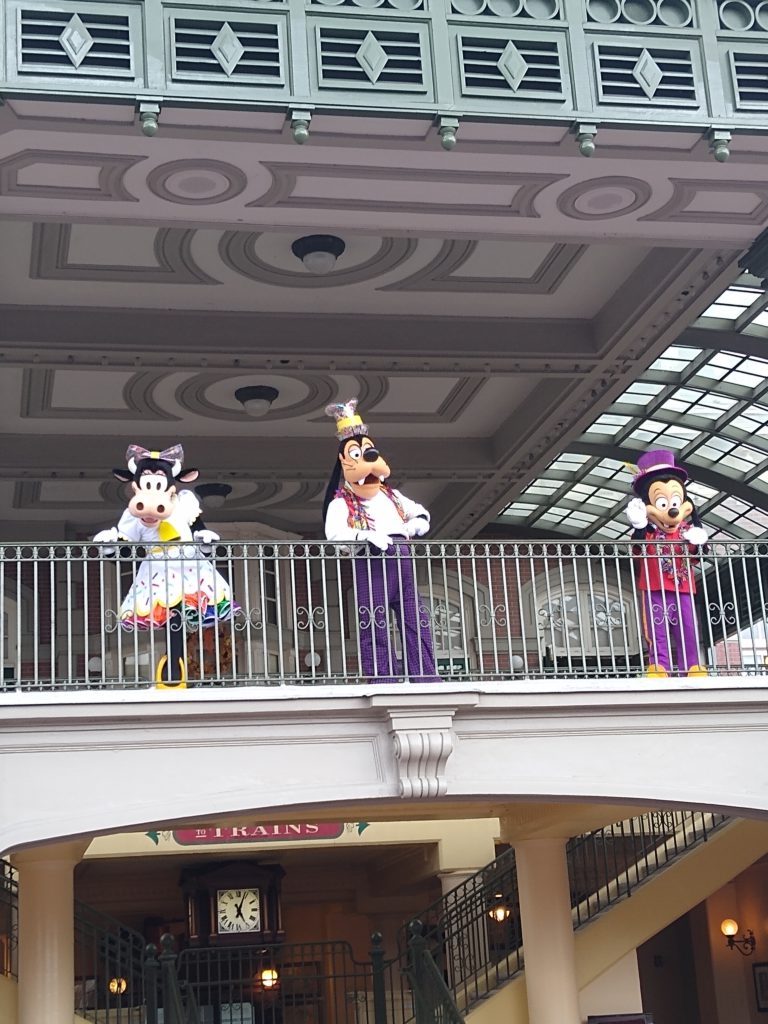 Some of my favorites – Jose Carioca and Ponchito from The Three Caballeros were an awesome awesome surprise!
Halloween Goodies
If you have a hard time picking out gifts, are looking for stocking stuffers, or you have a "hard to shop for" family member, you can grab your very own gift card featuring one of 60+ new designs on ShopDisney!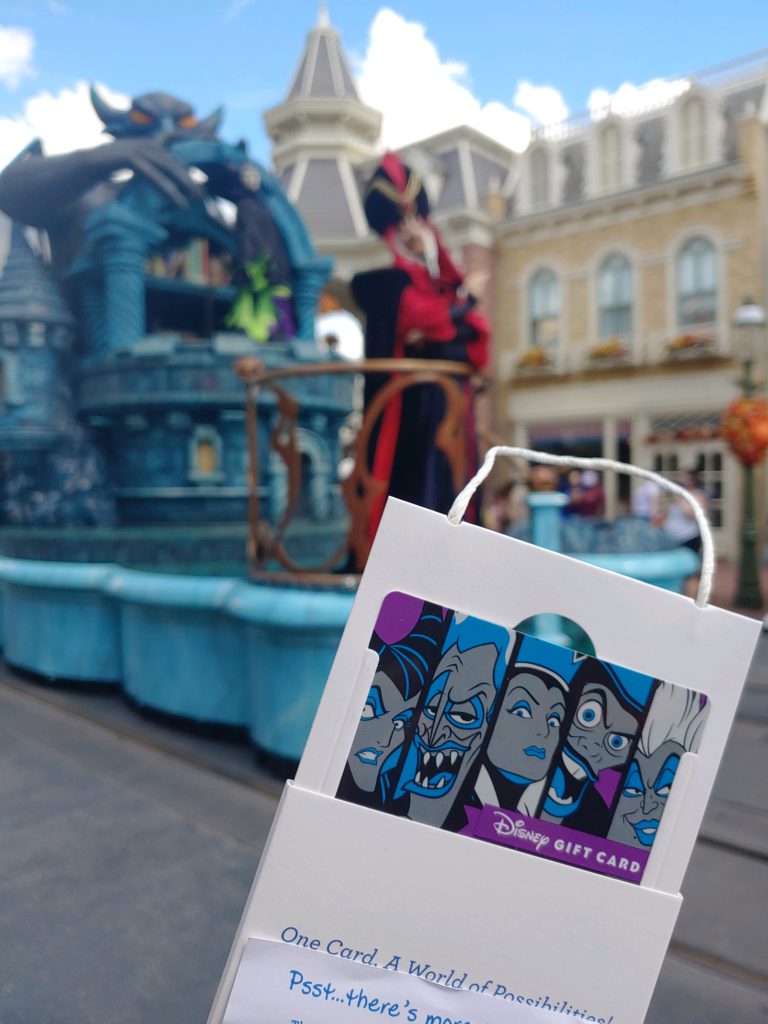 If you're looking for some super cool souvenirs, gifts for the Disney and Halloween lover in your family, or something just plain fun, definitely take a peek into the Emporium where they have all and I mean ALL of the coolest goodies you can find this side of the Mississippi! The candy corn theme is just killing me this year!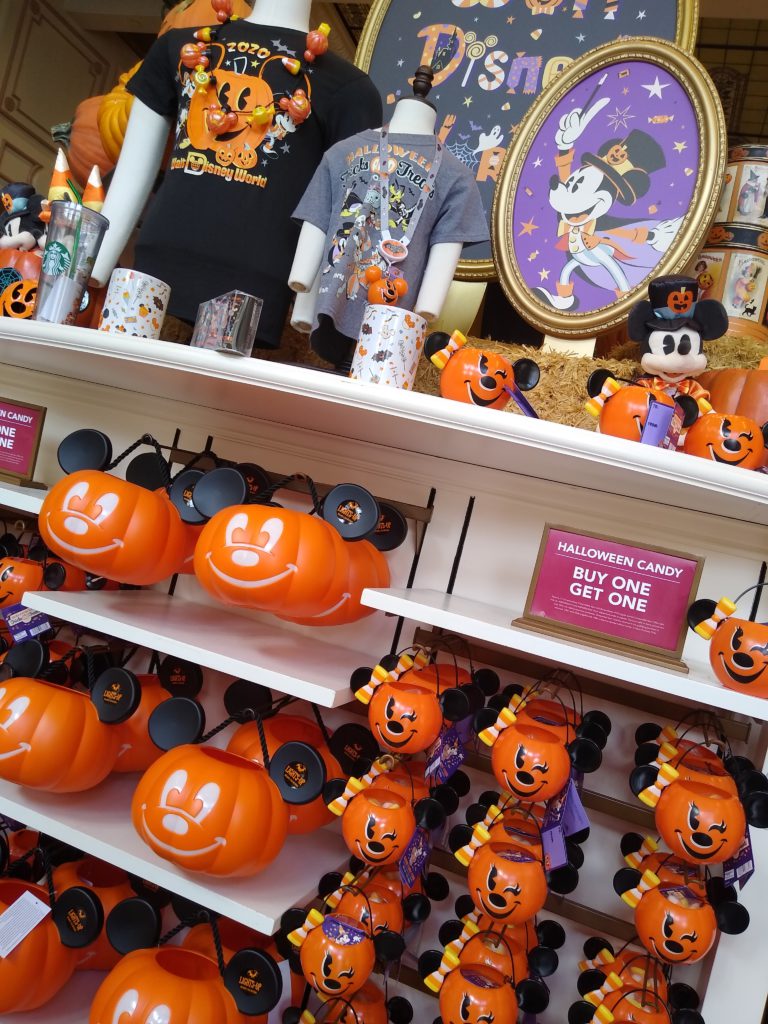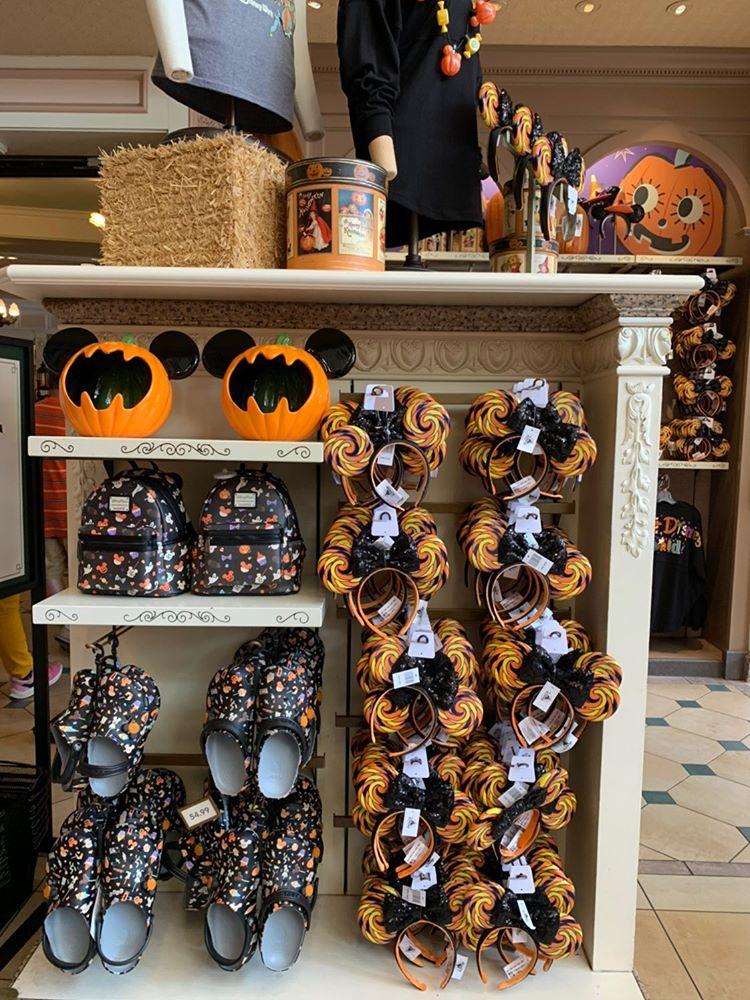 From towels to necklaces to candy to crocs to Halloween countdown figurines! From awesome ears to light up signs, picture frames, plushies, and more!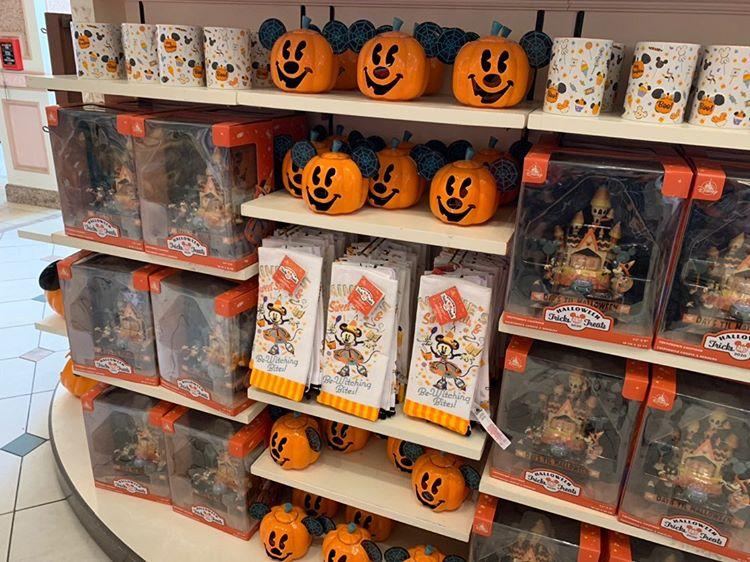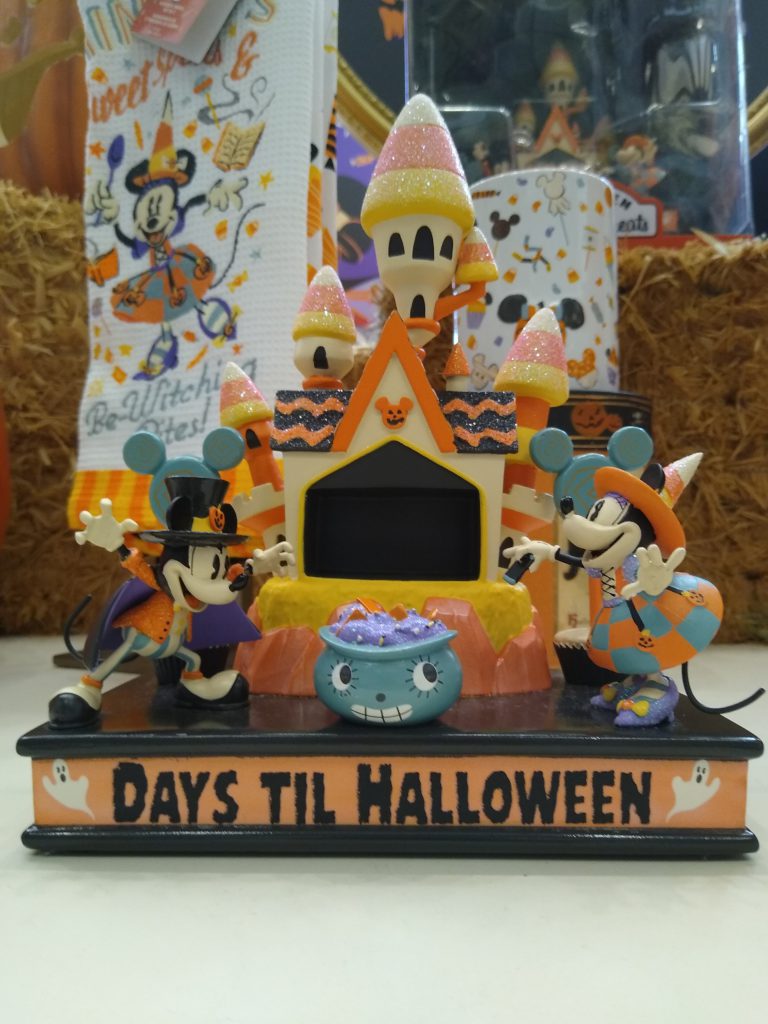 Also, check out the snack stands for really cool Hitchhiking Ghosts and Oogie Boogie cups and popcorn buckets!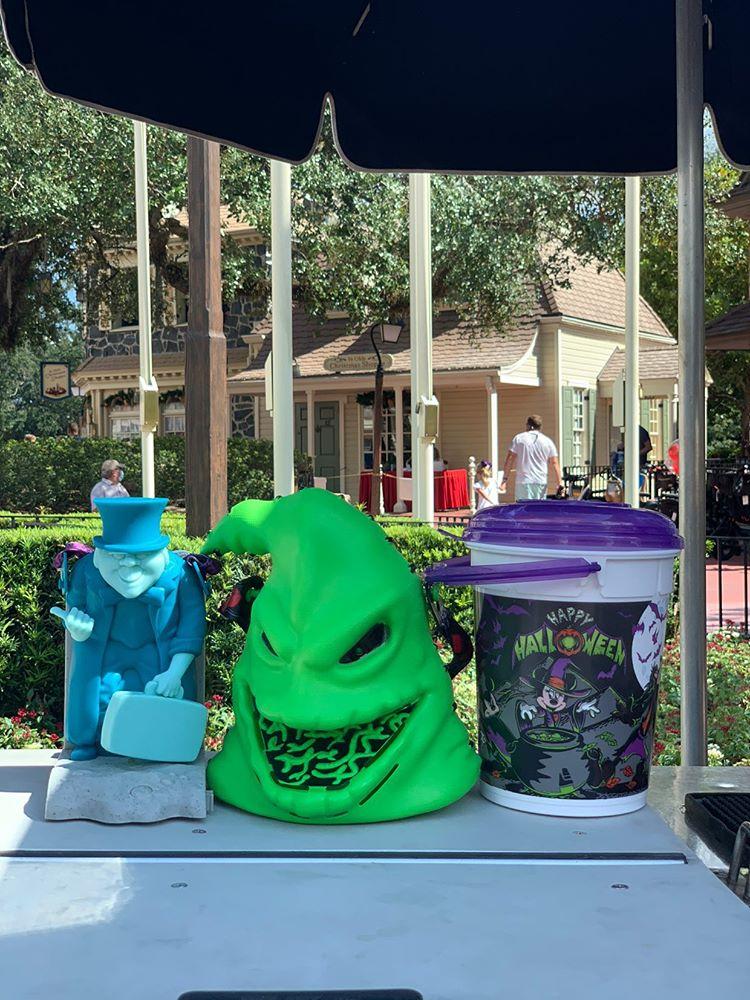 I'm sad to say, this is where our trip comes to an end, but don't worry, all of this and more is waiting for you when you visit Disney's Magic Kingdom during the Halloween season!
One more thing before I go…
Make sure you check out and grab the AWESOME Halloween themed Magic Photos/Videos being offered through Photopass right now.
I was seriously blown away at mine!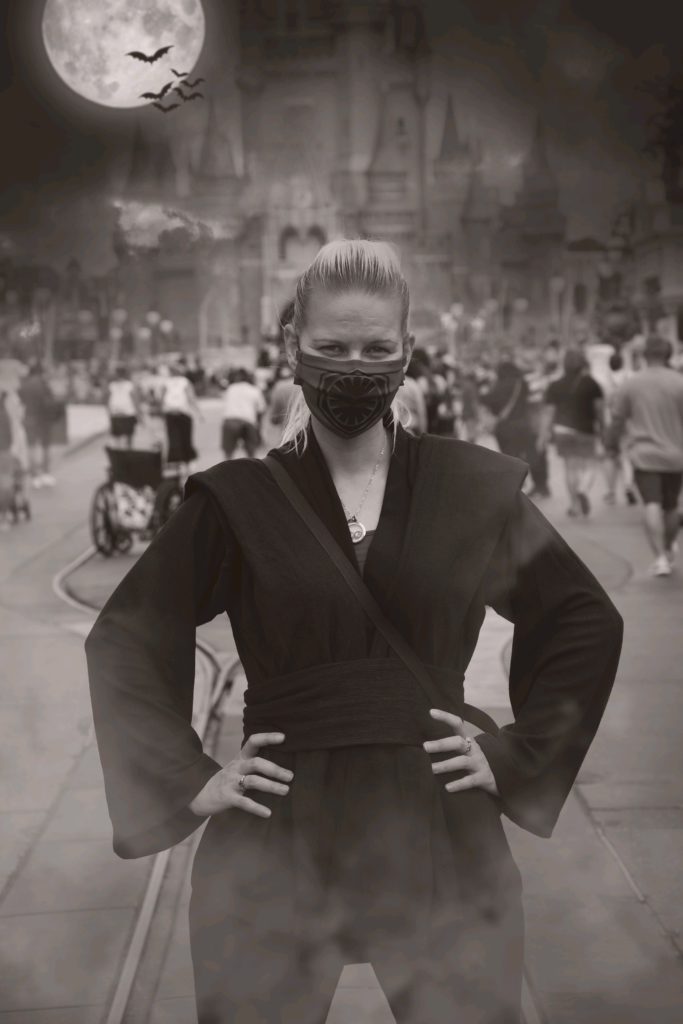 The rest of the lovely moms with me received videos, which I can't upload here, but I did want to showcase their great photos as well!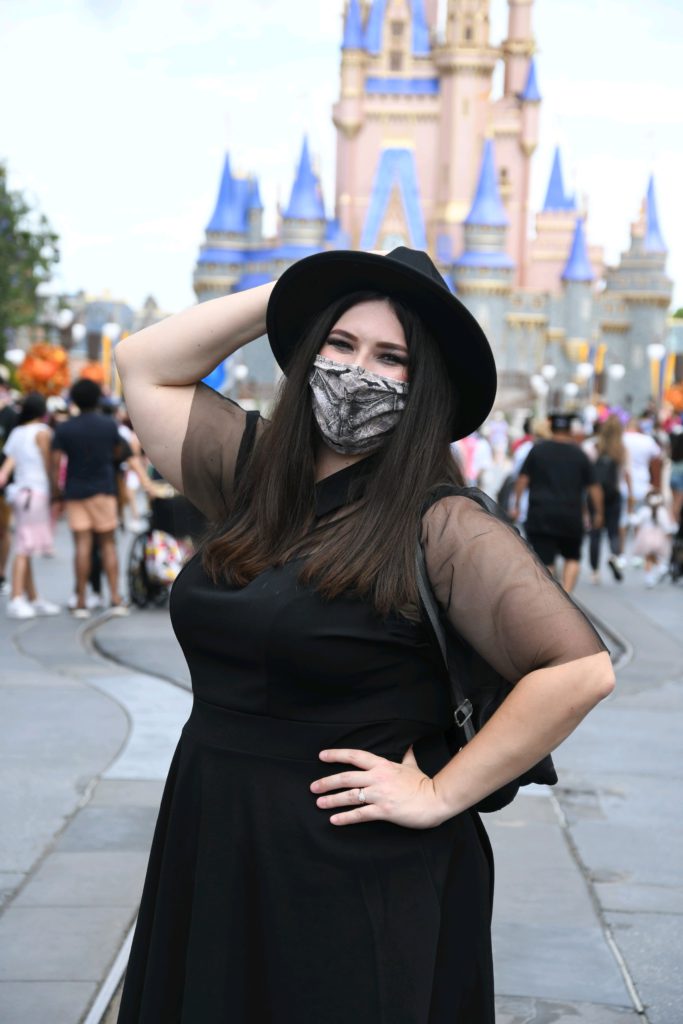 Susan @jabbathesue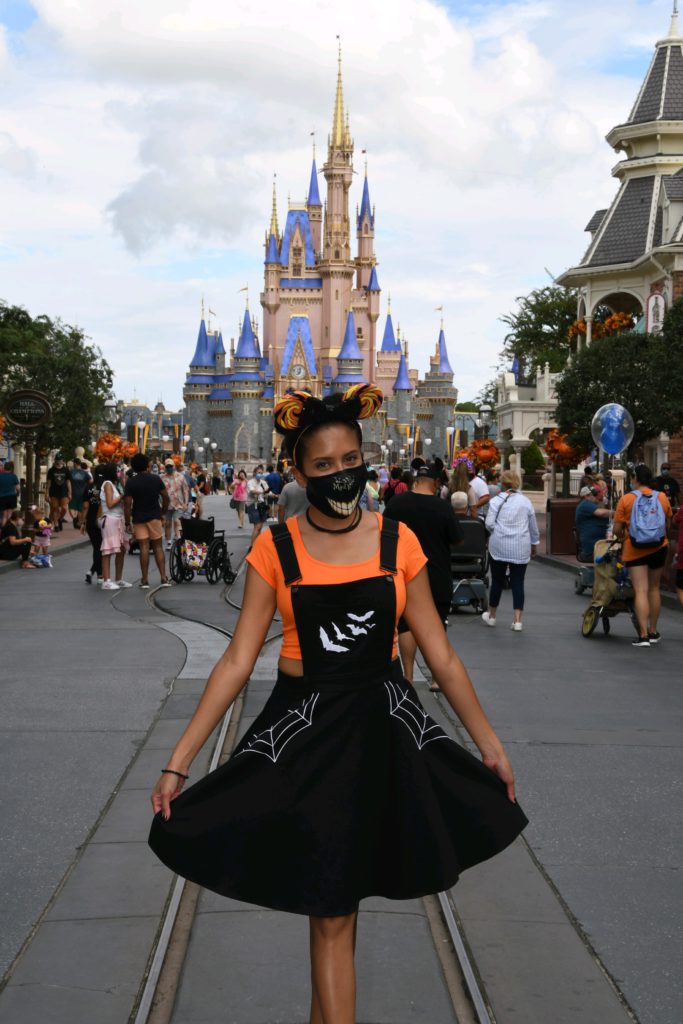 Yeskel @mrs.everydaymommy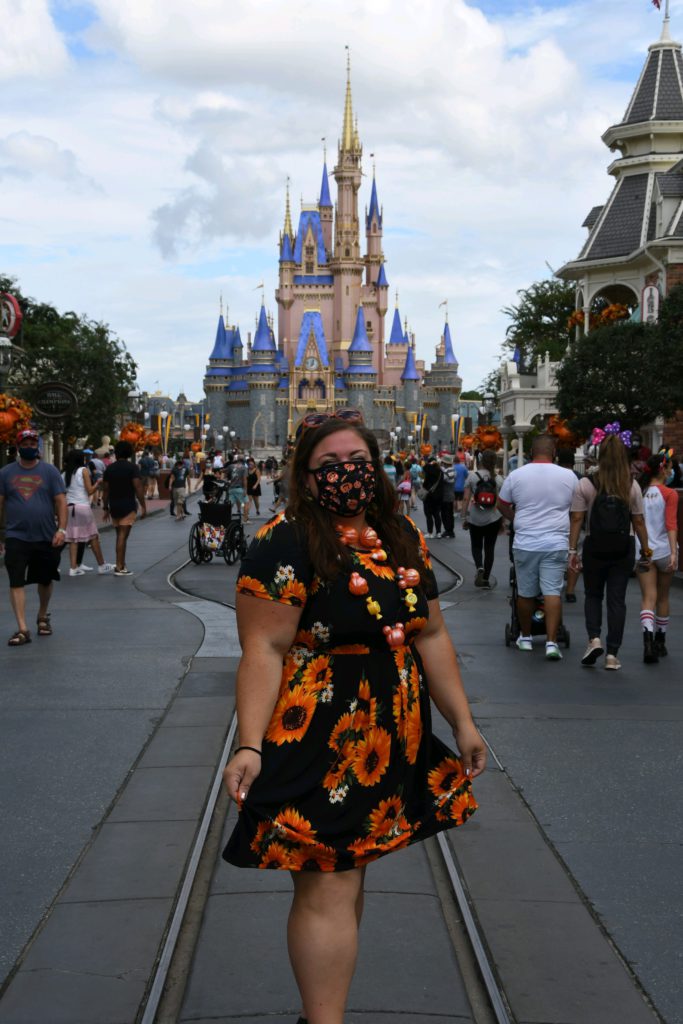 Brandy @brightspotphoto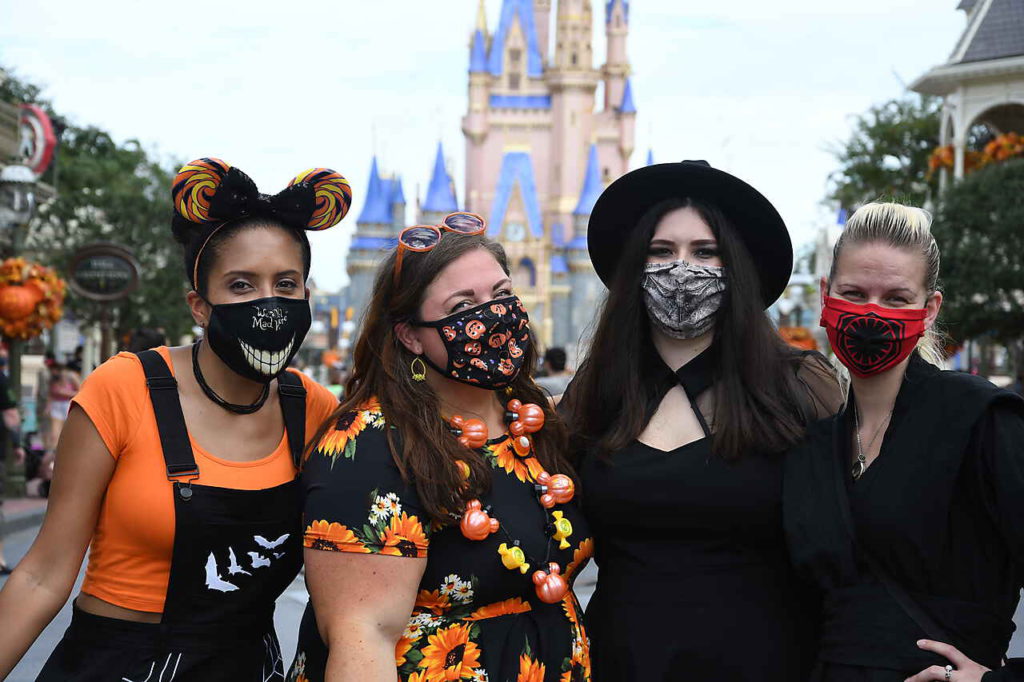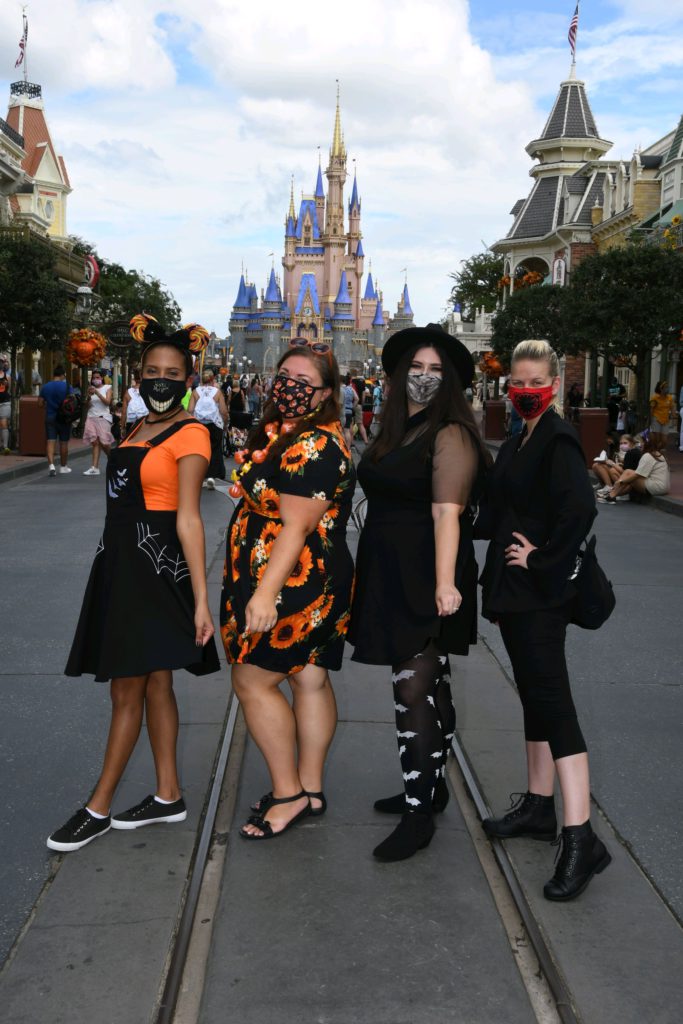 Last, certainly not least…
Winter Garden Moms would like to thank Walt Disney World and Disney Parks Blog for hosting us. We had an absolute blast dressing up, trying all of the delicious Halloween treats, seeing all of the wonderfully themed goodies, and experiencing all of the character cavalcades!
In the words of Mr. Walt Disney and Mickey Mouse, "See Ya Real Soon!"