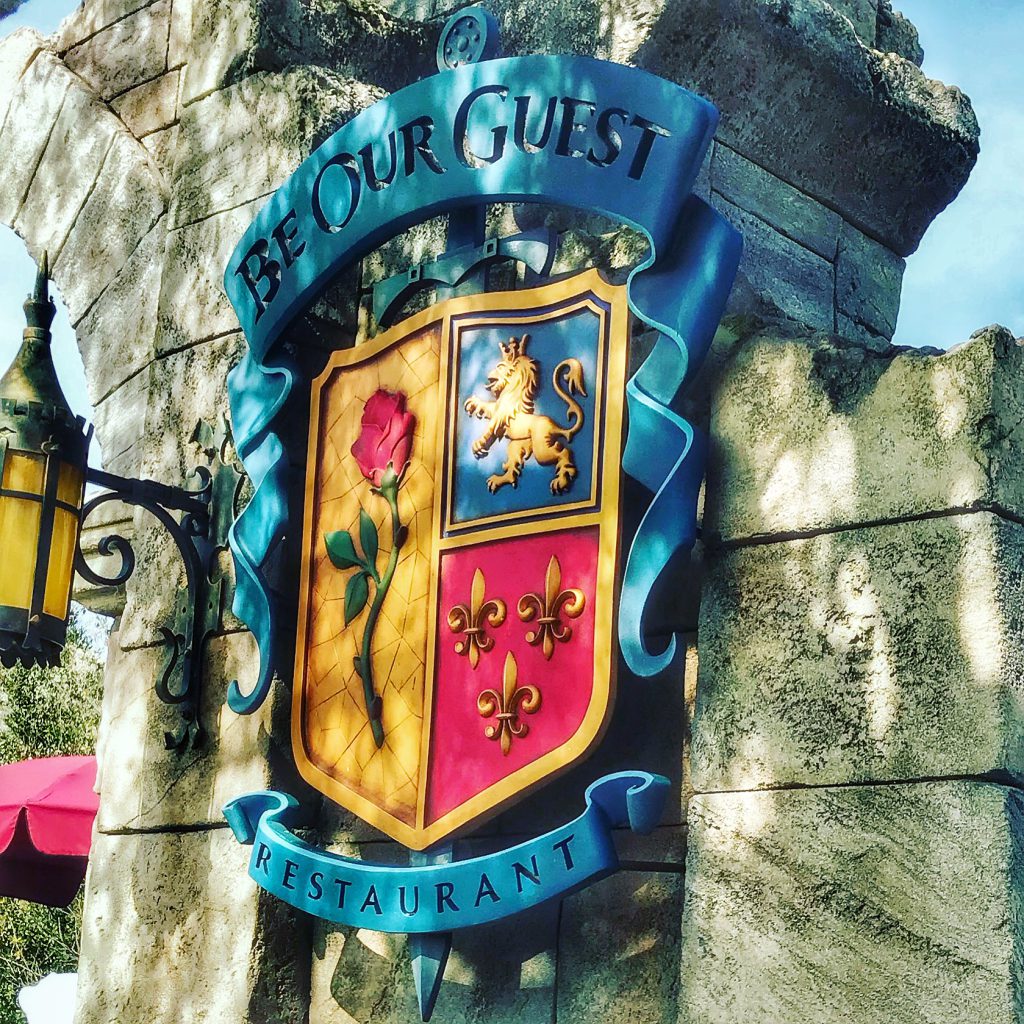 A few months ago I had the opportunity to visit and dine at the Be Our Guest Restaurant for my birthday. At first we were planning on bringing our daughter, but then my parents made plans to visit us that weekend and they volunteered to stay with her for a few hours. I jumped at the perfect chance to have a birthday lunch date with my husband. I mean, who wouldn't want to enjoy a meal at this amazing restaurant without their kid constantly trying to touch everything, running around, all that "fun" stuff?
It is strongly advised that you try to make your reservations as far in advance as possible for any of the more popular dining experiences at Disney. This is great if you're able to plan so far ahead, especially if you're coming from out of town and visiting during peak times. I didn't do that though. I simply waited about a week before my birthday (which was in January) and kept checking every day on the Disney app for any availability. Yes that's me procrastinating but sometimes it works to your advantage.
One of those times I was able to find a reservation for breakfast. I was aiming for lunch but made the reservation for breakfast anyways. Once I had that reservation, I continued to check every day at random times, hoping that there had been a lunch cancellation and a new reservation was now available. Well, to say I got lucky is an understatement. About a few days before our Disney date, a lunch reservation opened up and I took it right away. Fortunately, Disney is pretty good when it comes to making and cancelling reservations, as long as you do it within their cancellation time frame (usually 24 hours ahead but always double check). If you cancel after 24 hours you will get charged a fee per person, which can be from $10-$25 each. I was able to cancel my breakfast reservation and keep my lunch time.
I was ready for my birthday lunch date.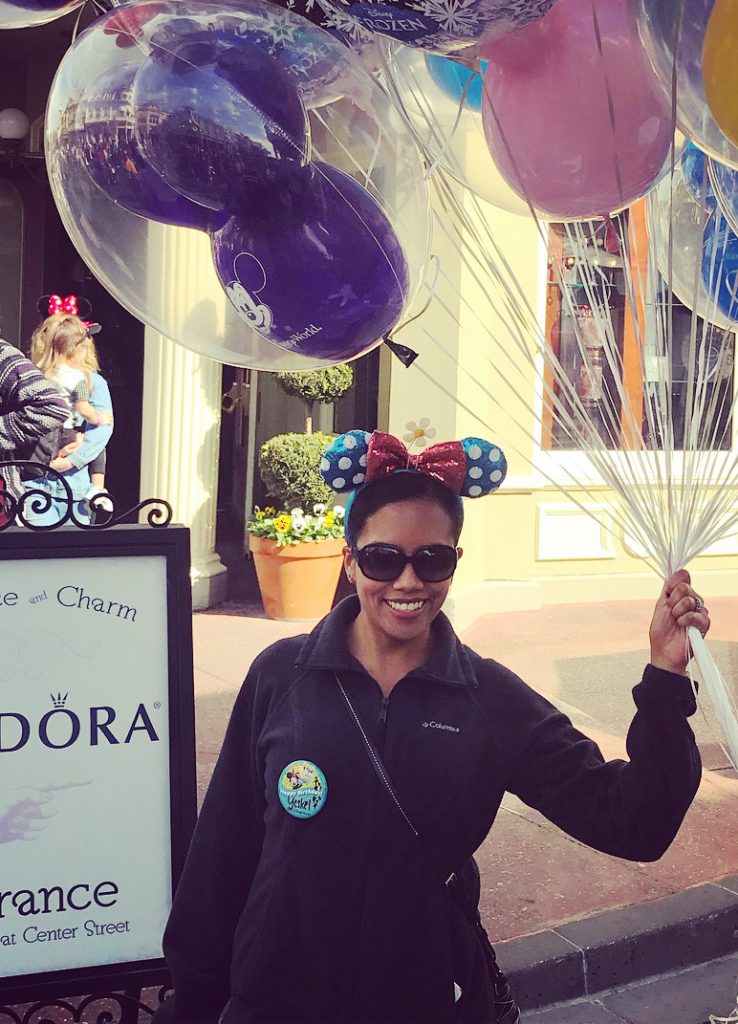 Why pick lunch?
After researching the different menu items and their prices, I opted to try out the quick service lunch menu. Breakfast is supposedly pretty overpriced for a quick service meal that is less than impressive. On the other hand, dinner consists of a table service and you do get to meet the Beast but we weren't looking to spend a a lot on a meal just for one character. Alcohol is available for purchase as well but only at dinner. A $120 bottle of wine, anyone?
One interesting option available at this restaurant is the Order-Ahead Dining. We chose to place our order online the day before our reservation but you can also place your order at the restaurant through a touch-screen terminal. Order-Ahead Dining is only available for breakfast and lunch.
Be Our Guest
On the day of our lunch date, we arrived about 25 mins early at the check in booth located across from Mine Train at Magic Kingdom. Apparently, Disney appreciates that you get to your reservation early, but not too early. We were told we had to wait about 10-15 mins before our reservation time to be able to check in.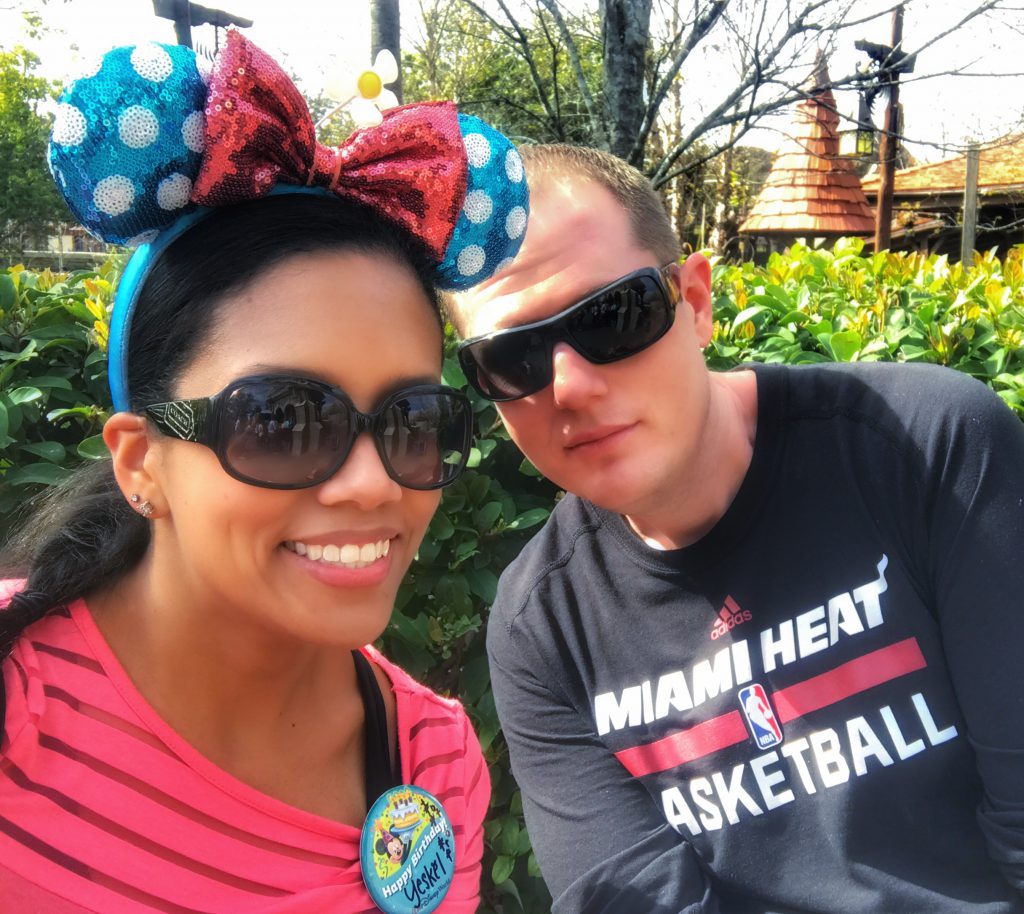 Finally, we were able to check in and walk over the bridge to the main entrance.
Here you will find the actual check in location where you are either directed to the touch-screen terminal (and hear the talking suits of armor) or proceed to the register and pay for your online order.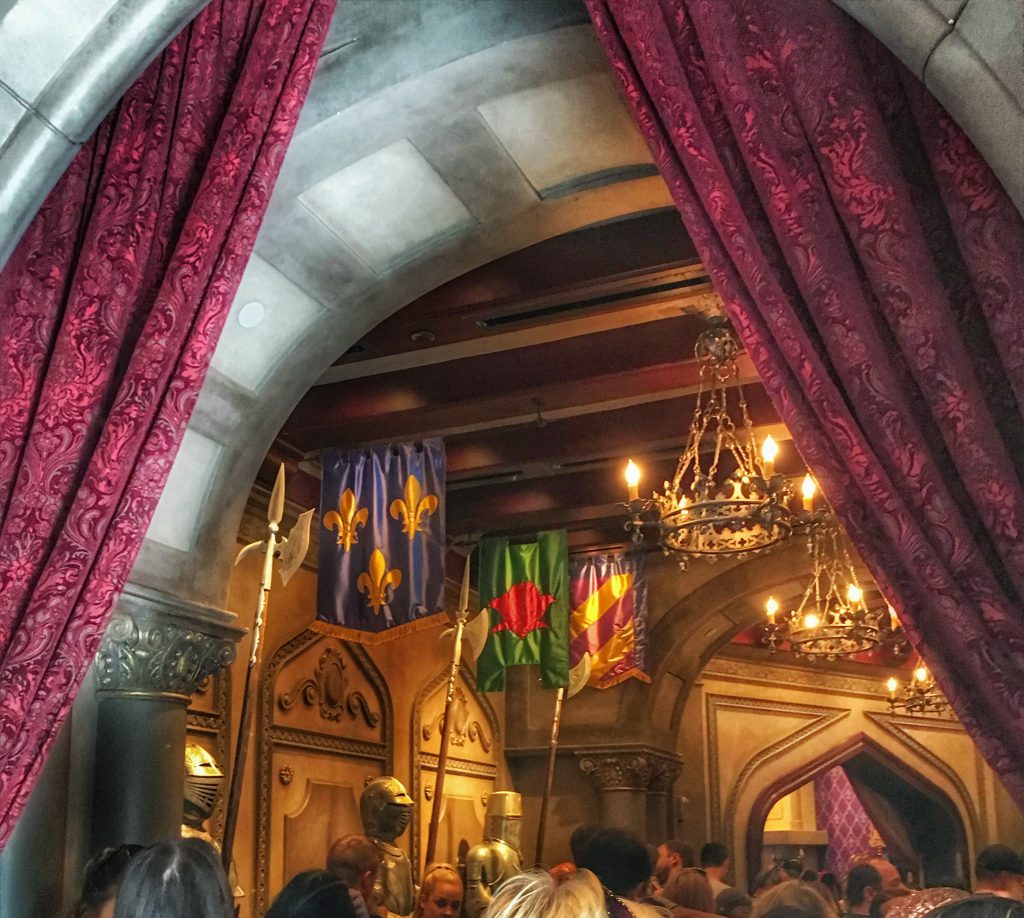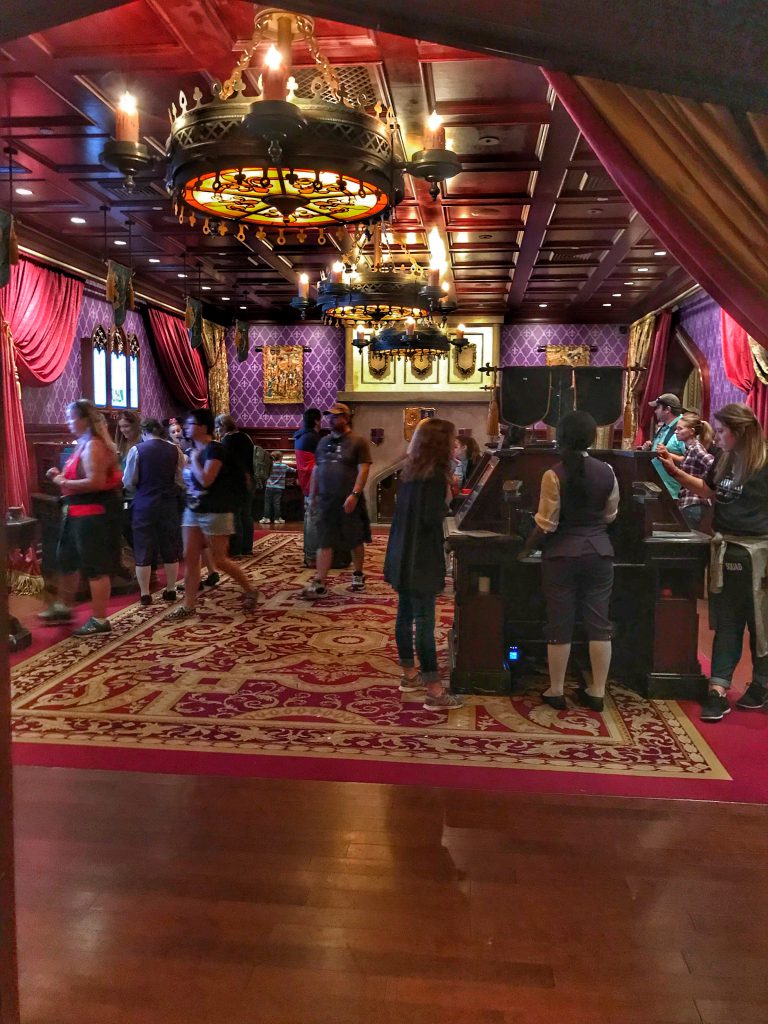 There are three stunning rooms that you can eat in for breakfast and lunch: the West Wing, the Castle Gallery, and the Grand Ballroom (however, the Grand Ballroom is usually the only room available for dinner). All three rooms have the same menu so it's truly up to a matter of preference. Seating is first come, first served so be on the look out for an empty table if it's particularly crowded.
 The West Wing
After reading the reviews, I decided on the West Wing. It is located off to one side and it is so amazing in detail that it really makes you feel like you are in a scene from the movie.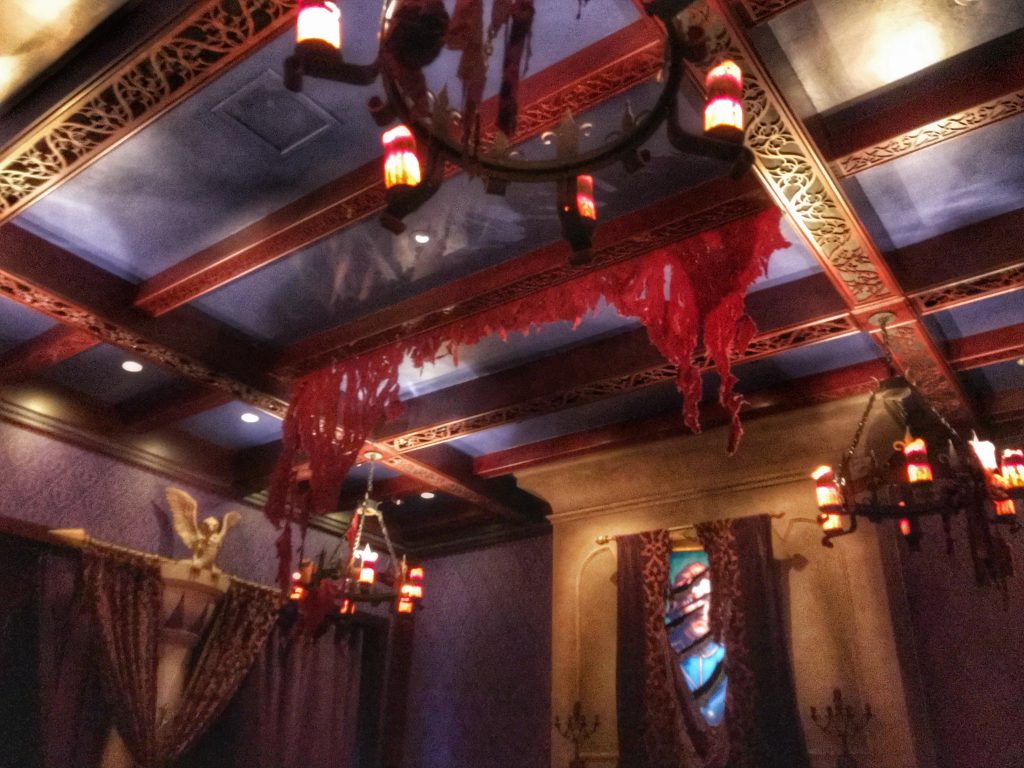 Many agree that the West Wing might not be the best choice if dining with small children. This room is very dark and every few minutes the Beast's portrait changes between human and beast while the sound of thunder is heard in the background. I'm pretty sure our daughter would not have been too happy eating in this room so we took advantage of this rare (parents only) opportunity and enjoyed the amazing atmosphere.
This is also where you will find the enchanted rose and witness it's petals falling.
The West Wing is pretty small so finding a table might be a bit of a challenge if it's crowded. We were lucky enough to spot one and once we sat down, a cast member came to take our receipt and proceeded to get our order. However, we had to get our own tableware and drinks.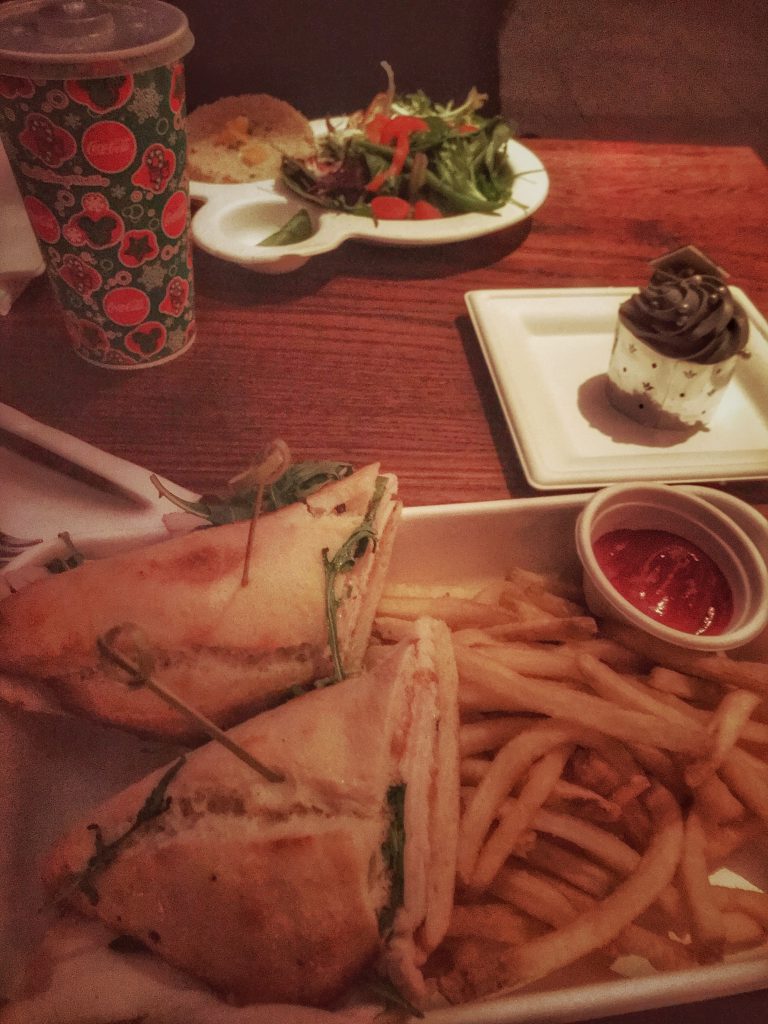 I had decided on the Carved Turkey Sandwich served warm on a Baguette with Dijon Mayonnaise and Pommes Frites. My husband opted for the Quinoa Salad with Chilled Green Beans, Potatoes, Olives, Roasted Bell Peppers, Golden Beets and Tomatoes. The food was delicious! I ordered "the Grey Stuff" cupcake as well, but since we mentioned that it was my birthday, they brought an extra cupcake with a birthday card.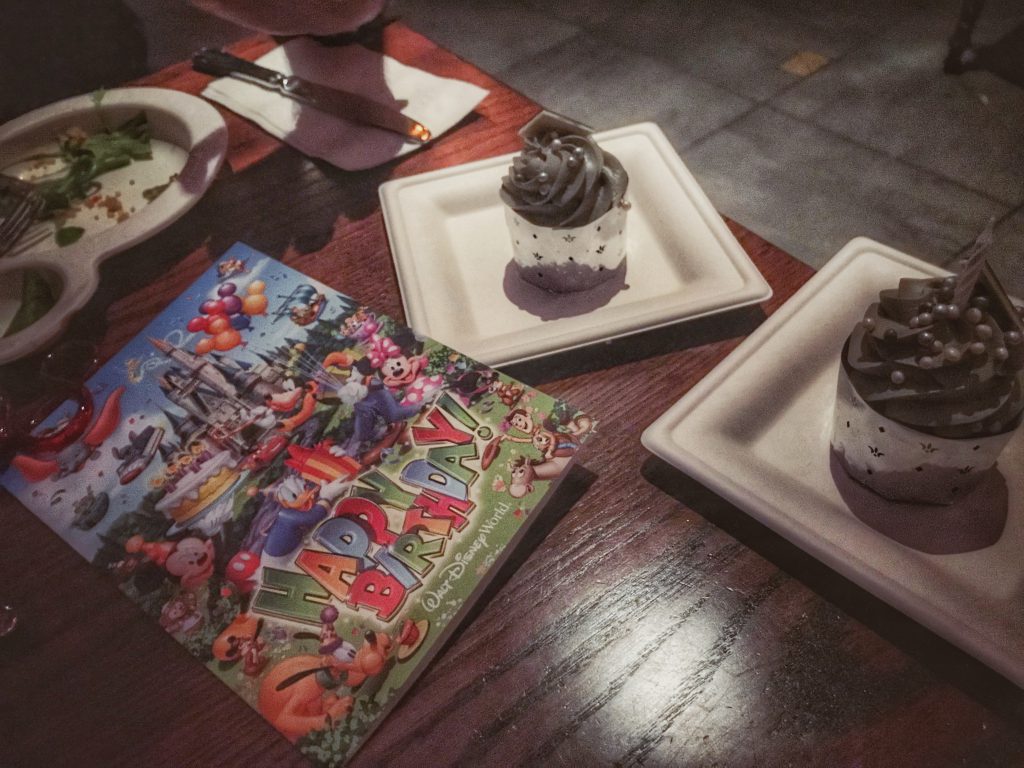 The birthday card was  "signed" by Belle and the Beast.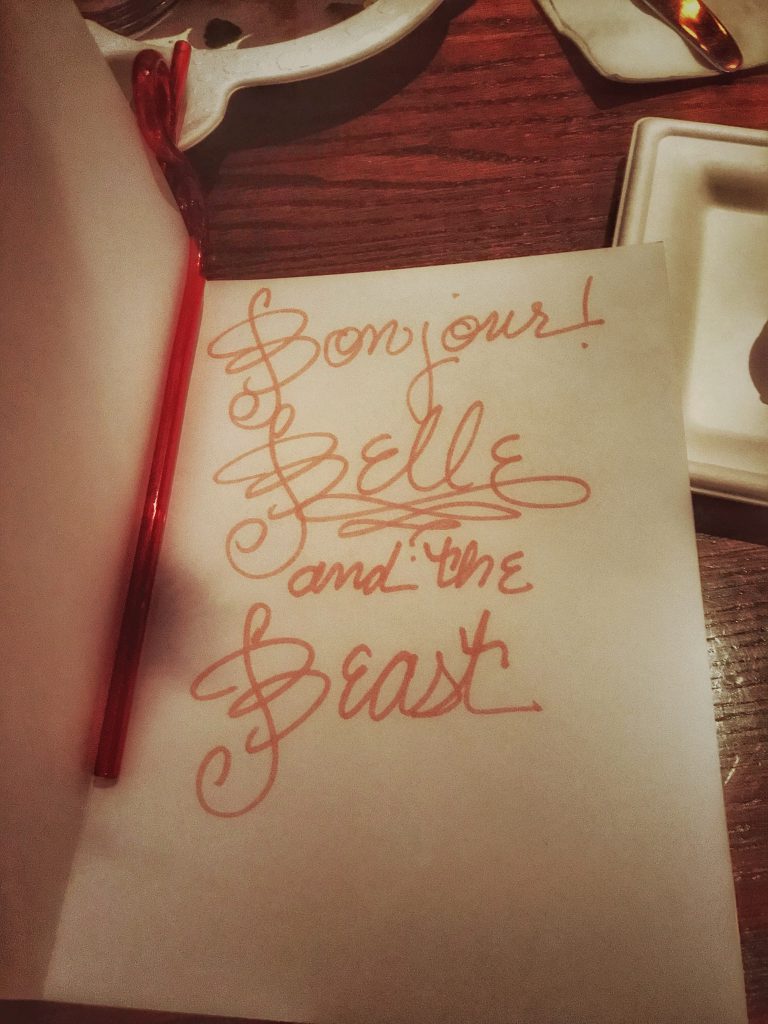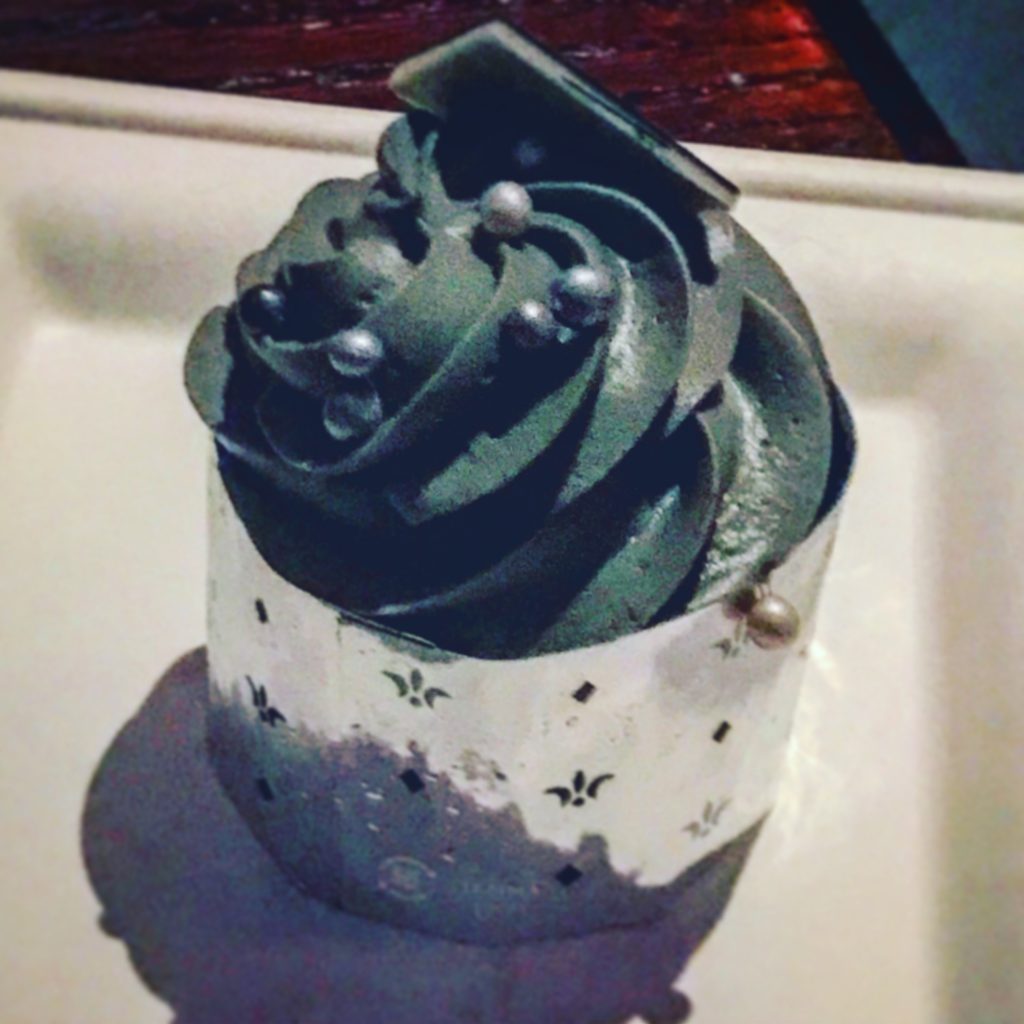 The Castle Gallery and Grand Ballroom
After we finished our meal, we decided to explore the other rooms. The Grand Ballroom is the first room you will see when you enter the restaurant. It's the noisiest room but perhaps the most beautiful.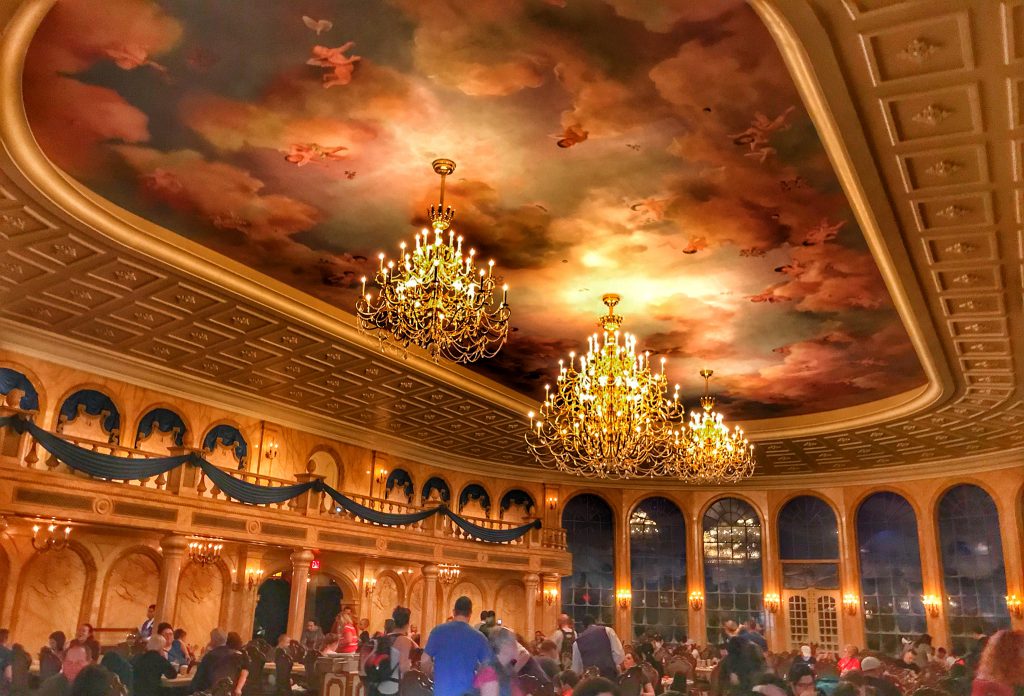 The ceiling appears to be almost an exact replica as the one in the movie. The cherubs are painted beautifully and are said to have been done in the likeness of the imagineers involved in this project and that of their children. The snow falling outside the windows is truly a magnificent sight as well.
On the other side is the Castle Gallery. A 7 foot tall music box sits right in the center of the room.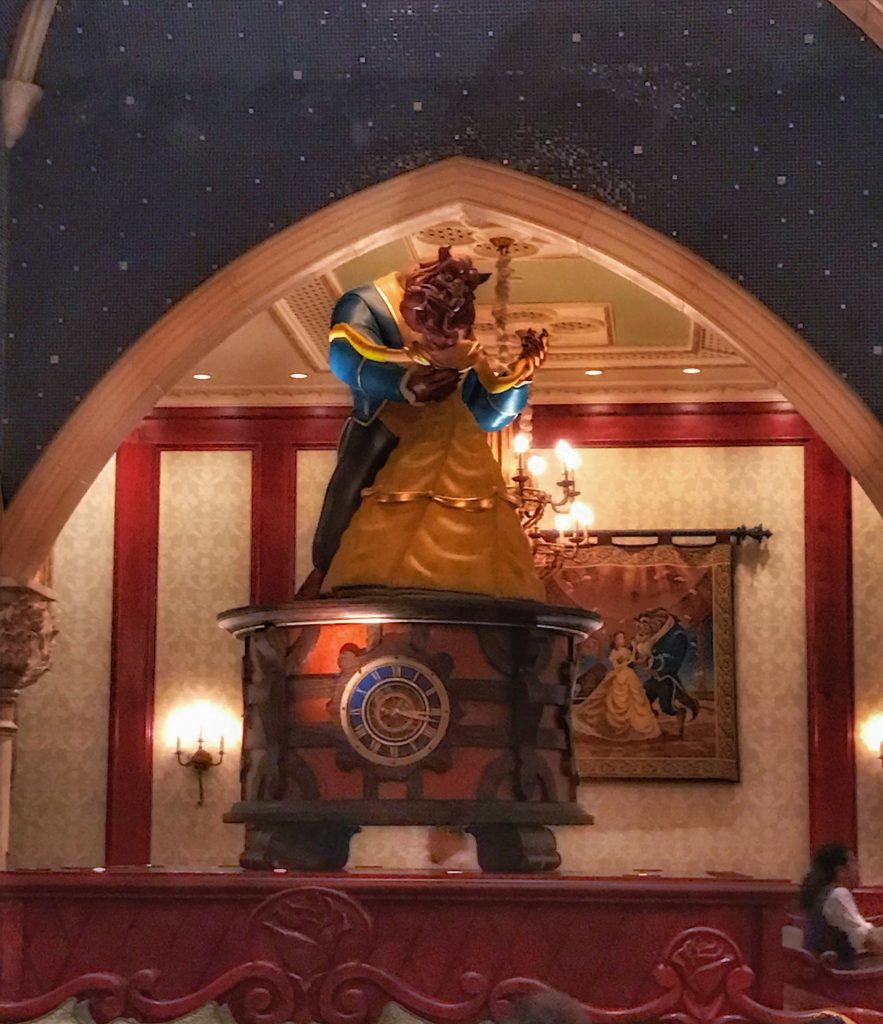 This stunning music box plays the classic song from the movie while figurines of Belle and the Beast spin.
The walls in this room feature artwork showcasing favorite scenes from the movie.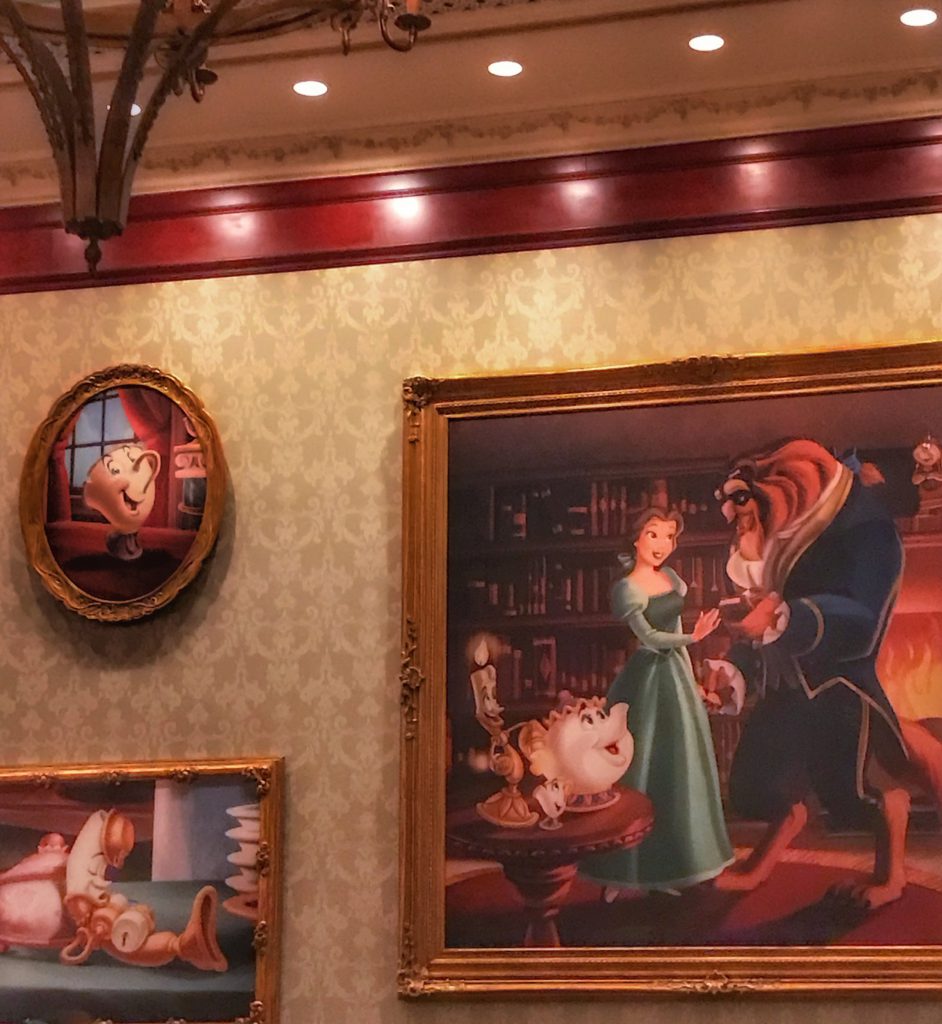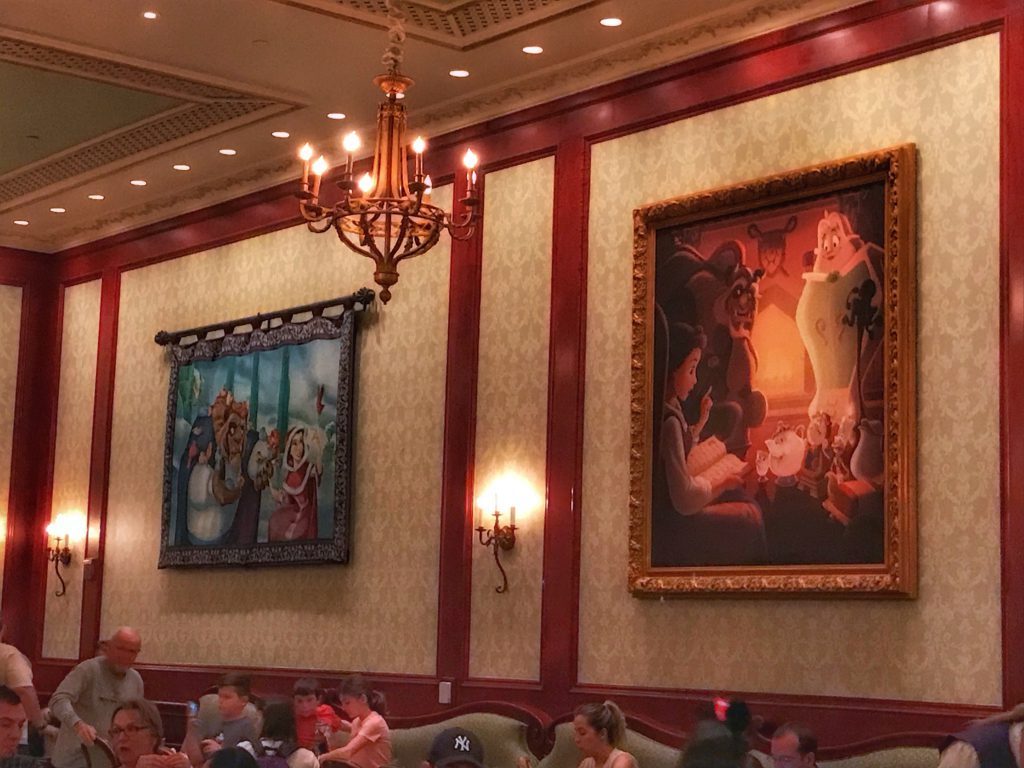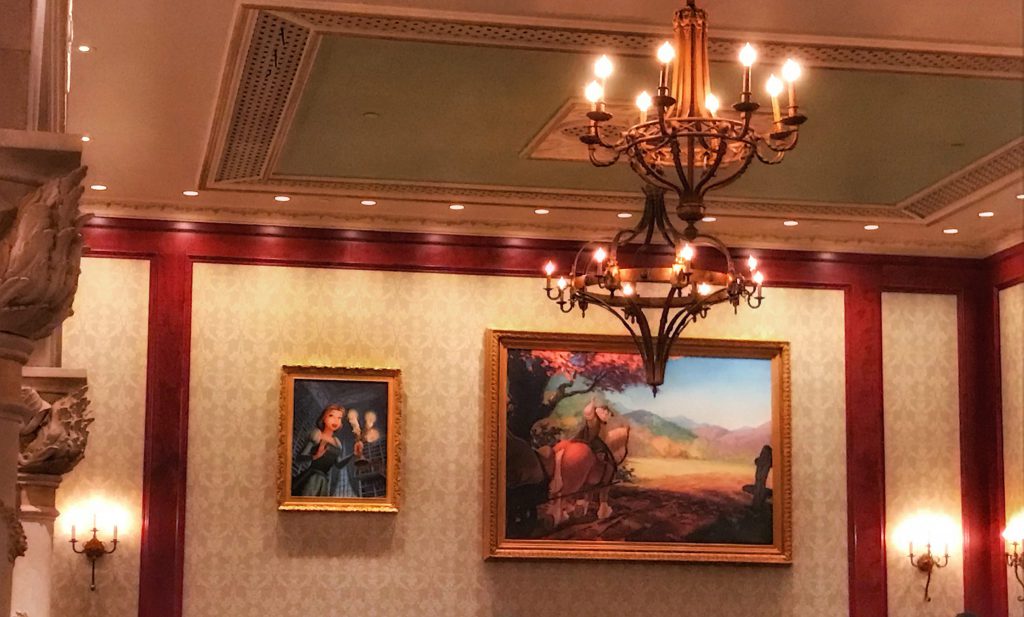 Tale as Old as Time
The Be Our Guest Restaurant seems to be one of the most amazing restaurant experiences Disney has to offer. The meal is a bit overpriced, but eating at this beautiful restaurant, at least once, is definitely worth it. I enjoyed all the movie references and loved that I was able to share this experience together with my husband, just the two of us.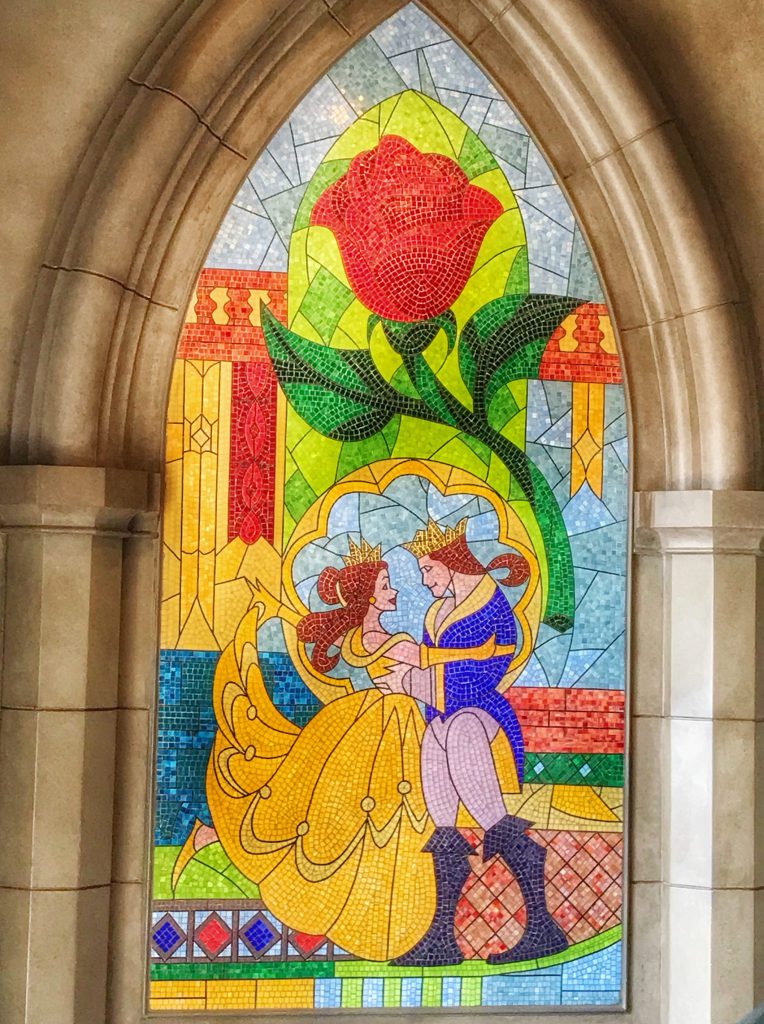 We're planning on returning with our little girl next time. I know it will probably be a completely different experience but I'm looking forward to seeing it through her eyes. Who knows, perhaps we'll end up eating in the West Wing again.
*Starting on July 27, 2018, dinner will offer only a prix fixe menu consisting of a 3-course meal (2 Disney Dining Plan credits). Breakfast and lunch will still be quick service (1-credit).