Part of the reason my husband and I have decided to only have one child is to allow us all the opportunity to do more traveling. The idea of traveling with a toddler still felt really daunting to us! Our son is often unpredictable- even going out to eat can be an adventure! We strive to maintain a consistent sleep and nap schedule which adds an extra layer to traveling. These challenges haven't held us back from traveling with him and one of our favorite trips thus far was our Halloween on the High Seas Disney Cruise.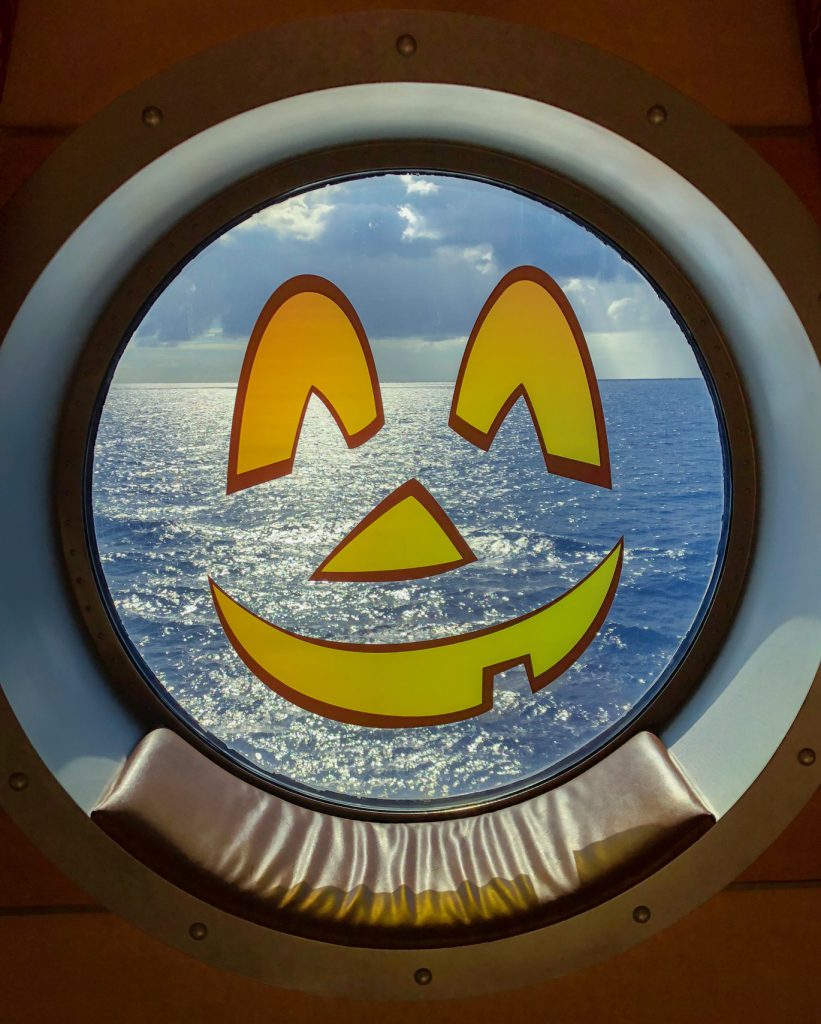 Why take a cruise?
Let's be real- as parents of a 1 year old, we wanted convenience, ease, safety, luxury, options, and flexibility. Orlando is close to Port Canaveral so we were able to avoid flying anywhere. In fact, we were fortunate to have a neighbor take us to the port using our vehicle so we didn't need to bring a car seat! Cruising allowed us to be stress-free in regards to meals, naps, bedtime, having a babysitter, etc. Those things would require major thought and preparation if traveling traditionally. My husband and I had never cruised before so we had a lot of questions and there were a lot of unknowns but we can now say that cruising is the way to travel with small children!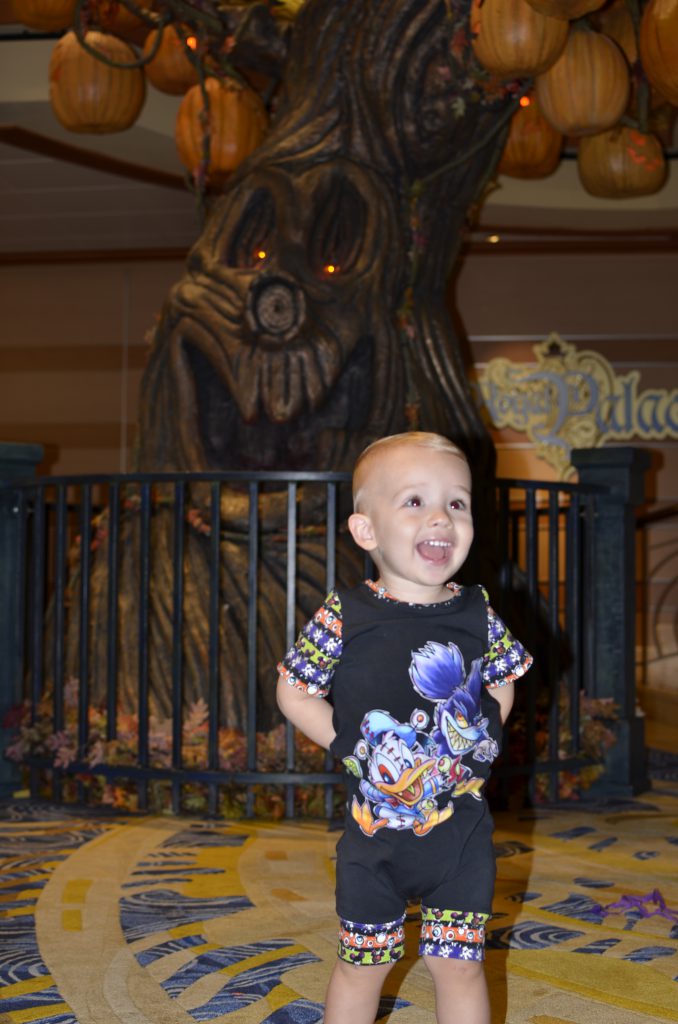 Why cruise Disney?
At first, we considered cruising with other cruise lines- they were typically more affordable, even offering free sailings for kids or unlimited drinks. Because we live near the port, to be fair, I've only ever cruised Disney so the reasons I'm about to list may be biased but we spoke with other families who say the same.
CLEANLINESS
Disney has been ranked in the top 3 cleanest cruise lines! We were flabbergasted to see an attendant at every single entrance to every restaurant handing out hand sanitizing wipes. That brought us some comfort because the last thing we wanted was to be stuck in our room, battling the plague. Speaking of room, our room was kept immaculate by our attendant and he was a phone call away if we needed anything.
TODDLER AMENITIES
Aside from amazing entertainment geared-toward children, Disney provides wonderful amenities for kids. Our pack 'n play that was waiting for us in our stateroom had a custom Disney cover that lined the entire inside and outside of the crib! We rested easy knowing he was sleeping in a clean space. They also had a diaper pail waiting in our room which I never would've thought to ask for! We knew that the ship offered plenty of baby foods and supplies available for purchase if we forgot, or ran out of, anything. Let's not forget BABYSITTING!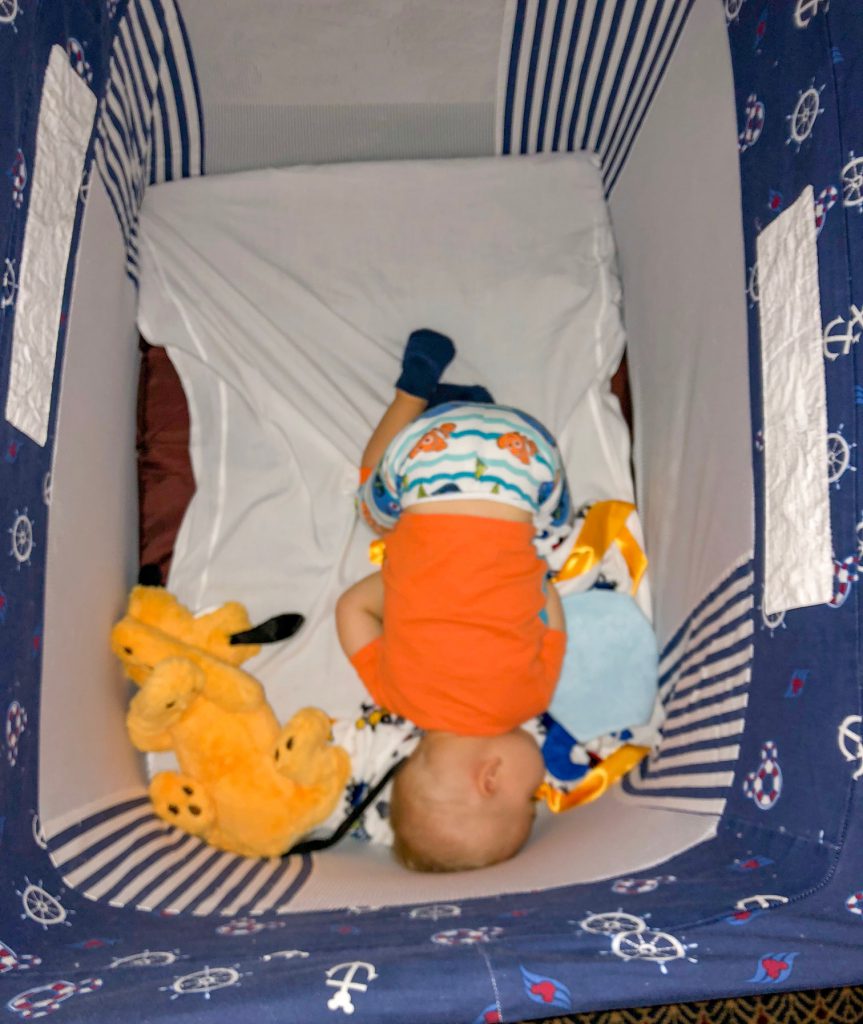 CHILDCARE
No one is as amazing with children as Disney so we felt comfortable leaving our son at the nursery. Disney Cruise Lines offers a nursery setting for children under the age of 3 for a fee (I believe $9/hour). Kiddos 3+ are free at the kids clubs and preteens and teens even have their own groups! During my son's time at the nursery, they would feed him, lay him down for naps/bedtime in a separate, dark room, and entertained him nonstop with everything from toys to crafts and character appearances. Yes, on occasion characters stop into the nursery!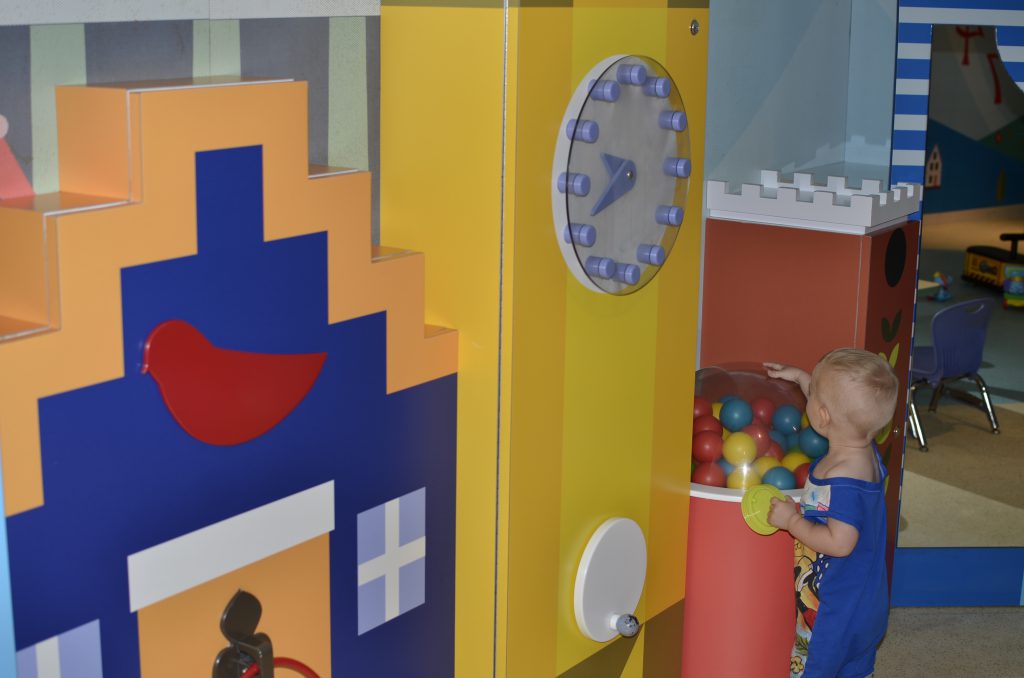 Our son couldn't wait to be dropped off there and usually didn't want to leave. The crew who watched him were absolutely wonderful- thoroughly following any instructions we left behind. This allowed us to enjoy the shows after dinner or relax by the adult pool while he napped.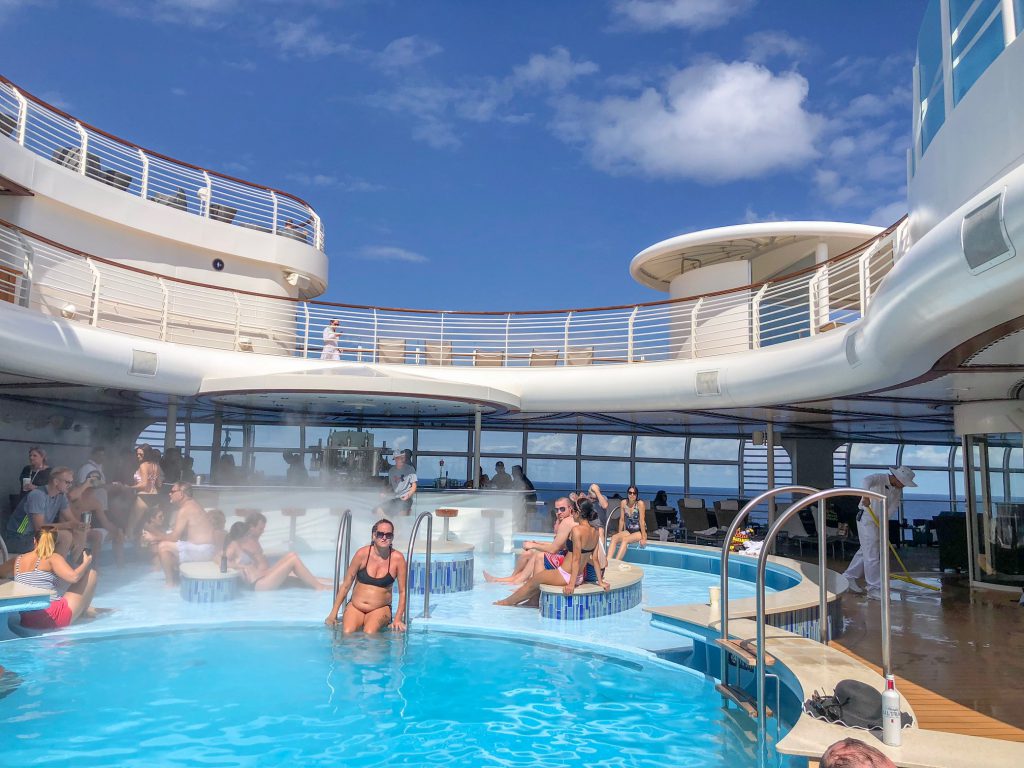 SERVICE
It's so rare that Disney drops the ball so we knew that the price difference between another cruise line and DCL would be worth it. We were absolutely right about that. All of the crew that we interacted with were spectacular.
ENTERTAINMENT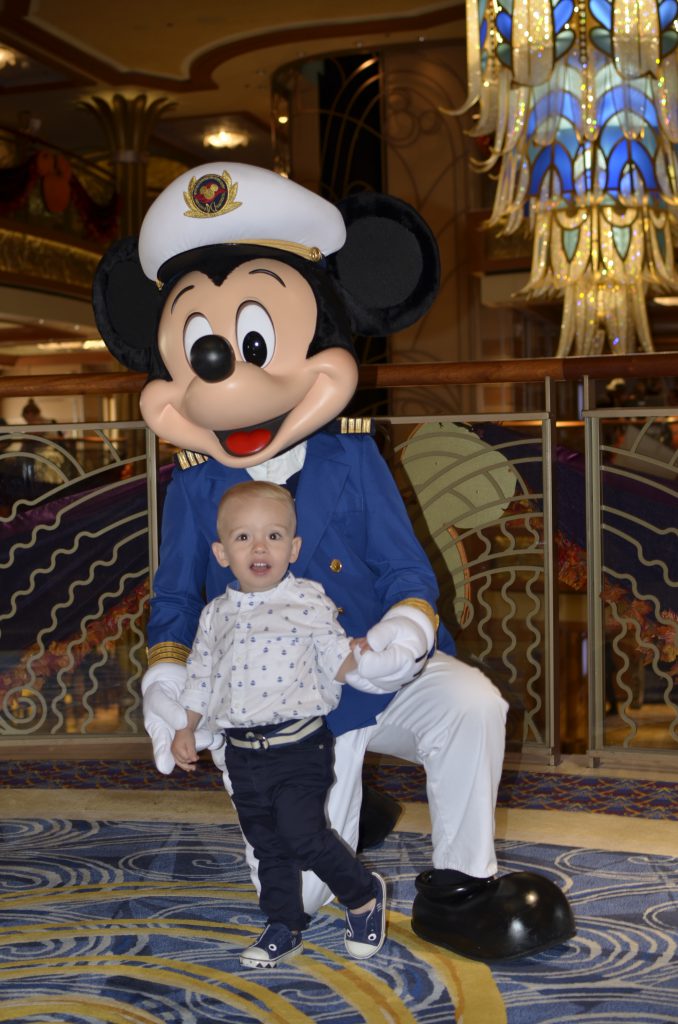 There is no way to be bored on a Disney cruise! From meeting characters to seeing live, Broadway-caliber shows, there is always something going on. Often times we had to choose between a few different things going on at once. Select cruises offer special activities (ex: Halloween, Christmas, Star Wars, Marvel, etc.). When we set sail and left the port, there was a wonderful Sail Away! party with music and characters. There is Bingo, a full spa, adult nightclubs, free cooking classes… the possibilities are endless!
Toddler-Specific Tips
NURSERY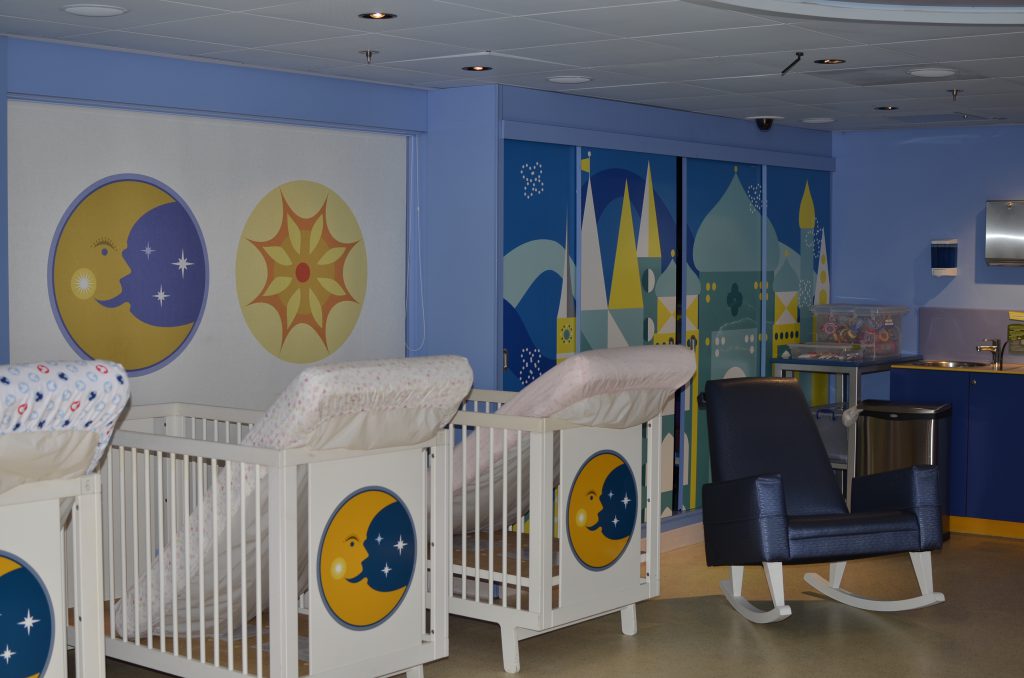 After we made our reservation, we could log into our account online and plan activities. These range from shore excursions to fine dining and the nursery. The amount of nursery hours we were able to book in advance varies based off the length of the cruise. A shorter cruise allowed us to reserve 10 hours in advance; a longer cruise allowed us to book 35 hours! I was able to select time slots by the half hour so I reserved some chunks of time after dinner and in the afternoons. My thoughts behind those times were that our son would likely be sleeping those times anyway so it allowed my husband and I some guilt-free adult time. We even left him in the nursery while we left the ship to explore Nassau for a couple of hours!
DCL allows you to drop off snacks with your child but they must be prepackaged (not in a Ziplock bag… think small bags of Cheez-Its). All kid's areas are peanut-free. We brought a tiny backpack with him each time, labeled with his name, filled with several diapers, wipes, jammies, and his stuffed animal. They provide meals during certain periods of time and will offer whatever drinks you select during drop off.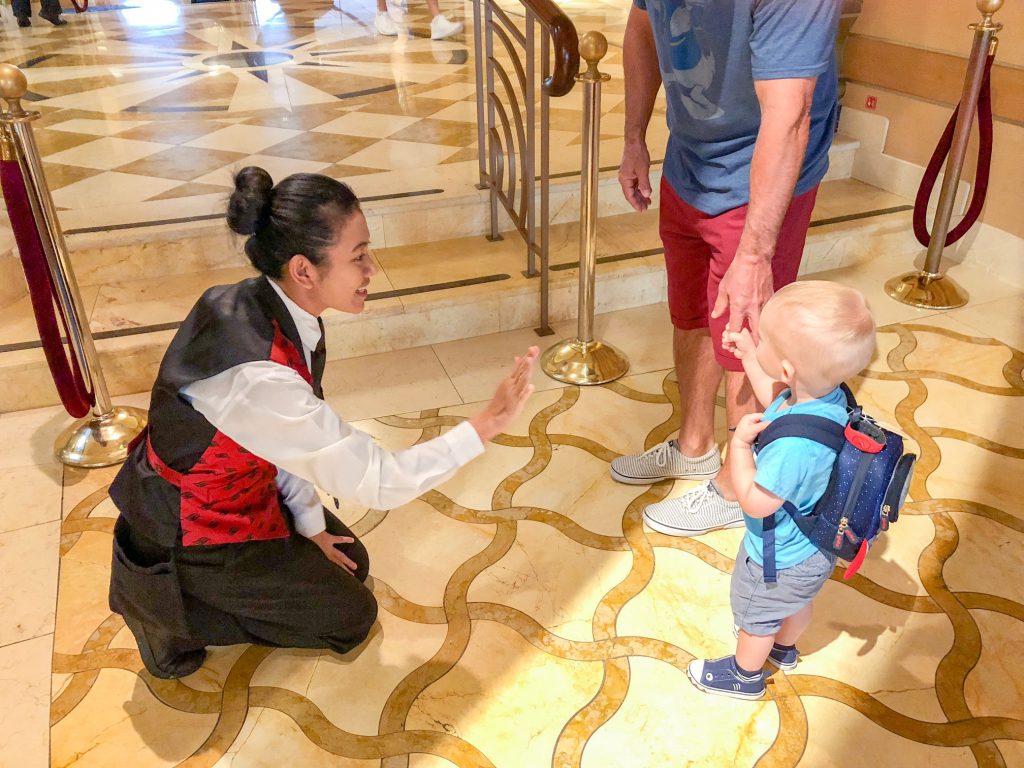 Nursery reservations can be made at any time (availability may vary) and can be canceled 4 hours in advance. We picked our son up early once because he wouldn't sleep and we had to pay for the end of his reserved time. That wasn't a huge deal to us because we just wanted him to stay on schedule. Just be aware that you pay for what you reserve if you don't cancel in advance.
We always kept our room phone with us while our son was in the nursery so we knew if they had any issues with him. They called or texted us on it if he wasn't napping, got sick, etc.
SPLASH PAD
Diapered children are not allowed to swim in any pools onboard but our son loved the Nemo's Reef splash pad aboard the Dream! It was totally shaded so we didn't have to worry about sunscreen and included squirting activities, a waterfall, things to climb and play on, a slide, and more. The family pools were usually super-crowded anyway so I was totally happy skipping them!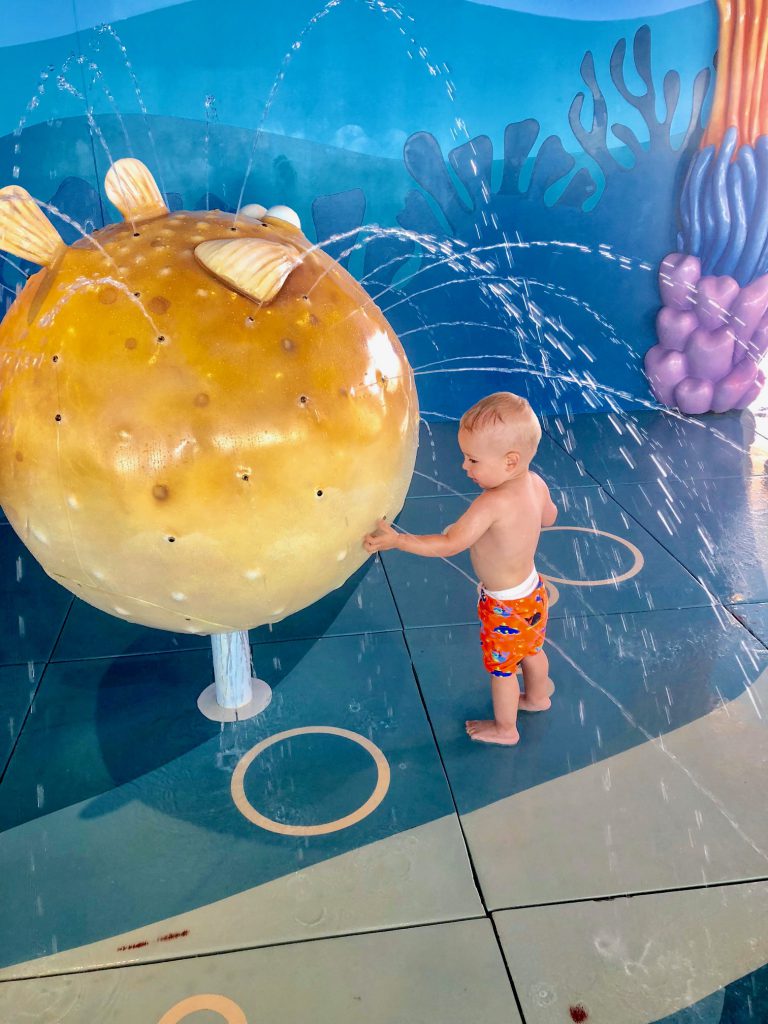 TIMING
I've said it before but timing is incredibly important when taking a cruise! If you're able to swing it, I highly recommend cruising during the school year and avoiding holidays. These cruises are genuinely more affordable and have a slightly lower percentage of kids. Long cruises (over a week) have even fewer kids aboard.
Timing meals and naps wasn't a big challenge for us while sailing but DCL offers two dinner services and your time will be set in advance. If you book your reservation early, you will have your choice but often, the early meal (5:45pm) gets full and you may be stuck with 8pm. Don't be discouraged if you get a late seating- this could work wonderfully.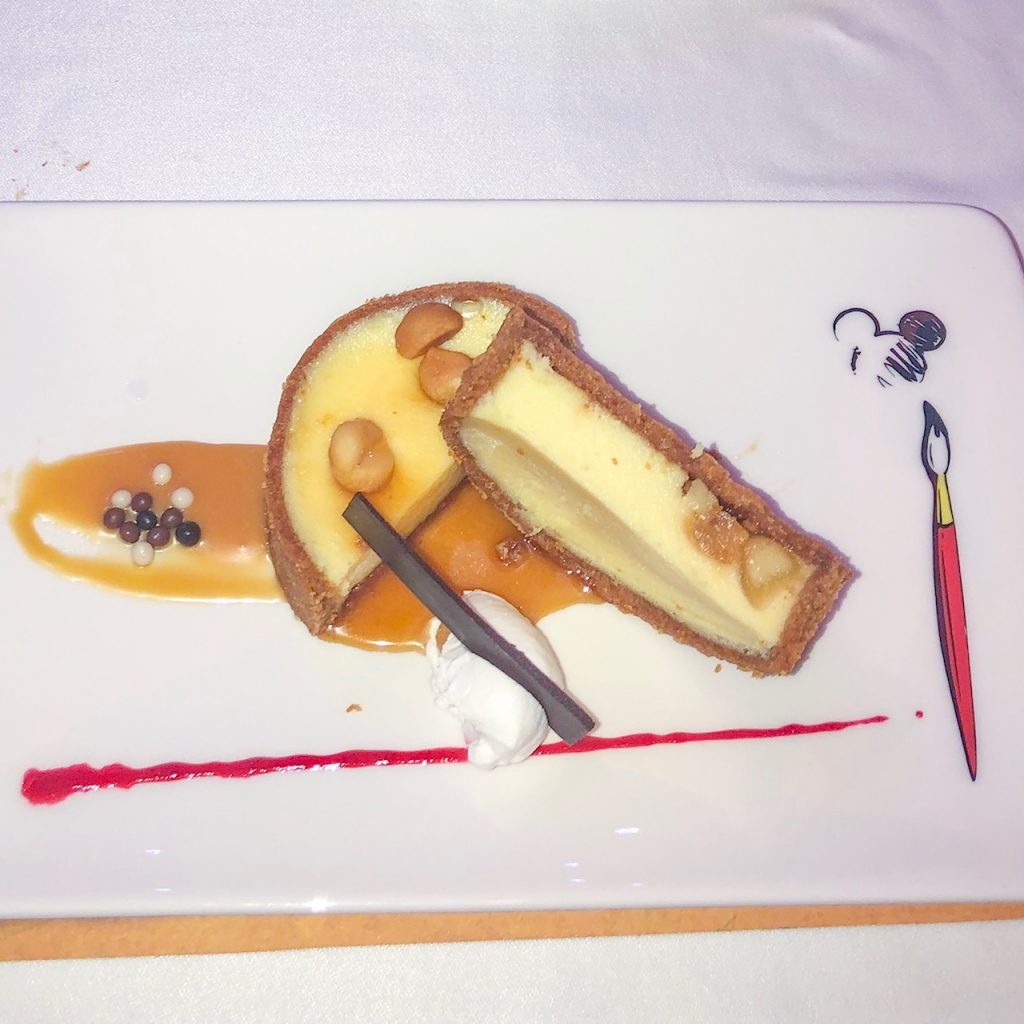 Early Seating- We had early seating on our first cruise and I was thrilled because we'd been waitlisted for it but upon checking in at the port, we found out that we got bumped forward. Our family of 3 was seated with another family of 5 for the duration of our cruise and we became good friends with them by the end! After dinner, our live showtime was 8:15pm. We kept our son at dinner with us and then watched the shows in the evening without him.
Late Seating- The benefit of late seating is that it might be possible for your kiddo to watch the show with you because the show starts at 6 and then dinner follows. Our upcoming cruise has us in the late seating group and we are planning to feed our son before/during the show and then drop him off in the nursery so we can enjoy dinner.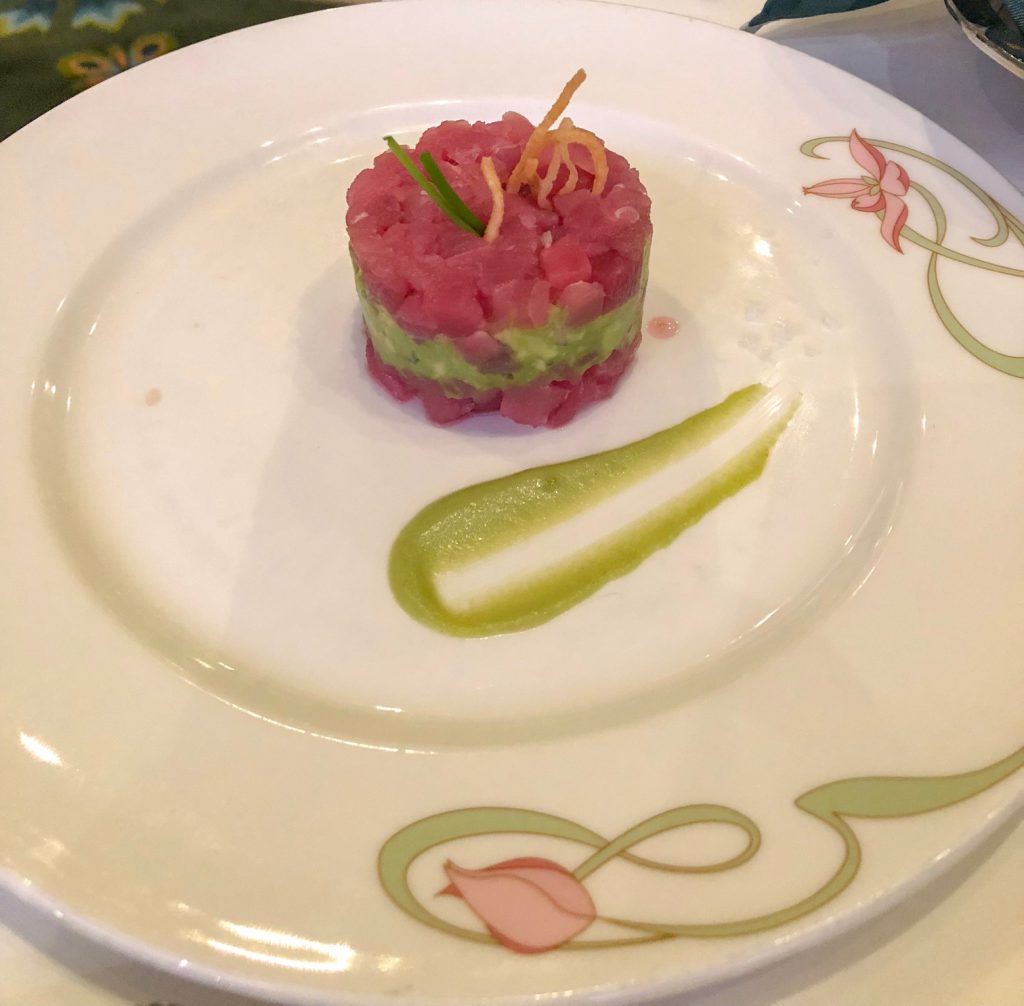 EXCURSIONS
Let me start by recommending that you book excursions through Disney! We don't have experience either way but I've heard they're much more reliable in general. Shore excursions vary in price, duration, and age requirements. Many won't allow a toddler at all so plan accordingly, or book nursery time. Excursions aren't a requirement to leave the ship so we ventured off by foot and saw a few things I'd researched in advance. There are also locals waiting around the ports offering a variety of tours or excursions that you could pay for and do immediately. Just use extreme caution that you have no idea what you're actually getting- but these could be a great value if you want to take the risk!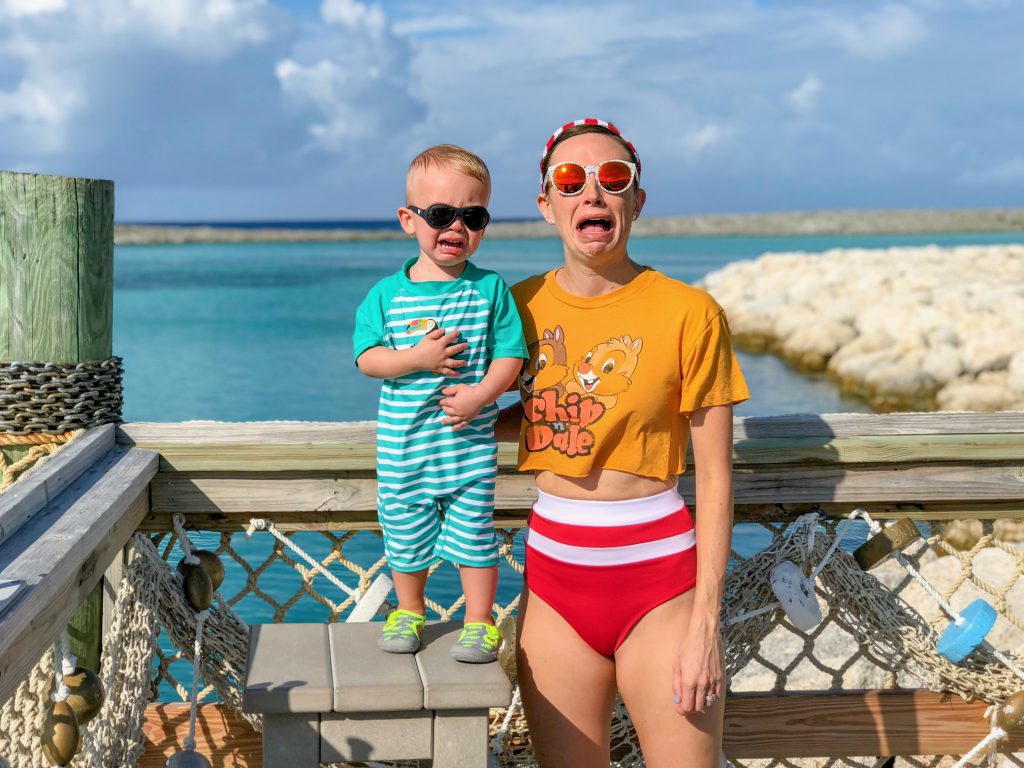 CHARACTERS
Characters come out in different areas of the ship at different times. This info will be available on your daily Navigator (newsletter) or on the app (be sure to download in advance). In our experience, lining up about 10 minutes prior was perfect to avoid long waits. You may be able to reserve a free character dining for one breakfast aboard the ship and we are looking forward to that on our next cruise!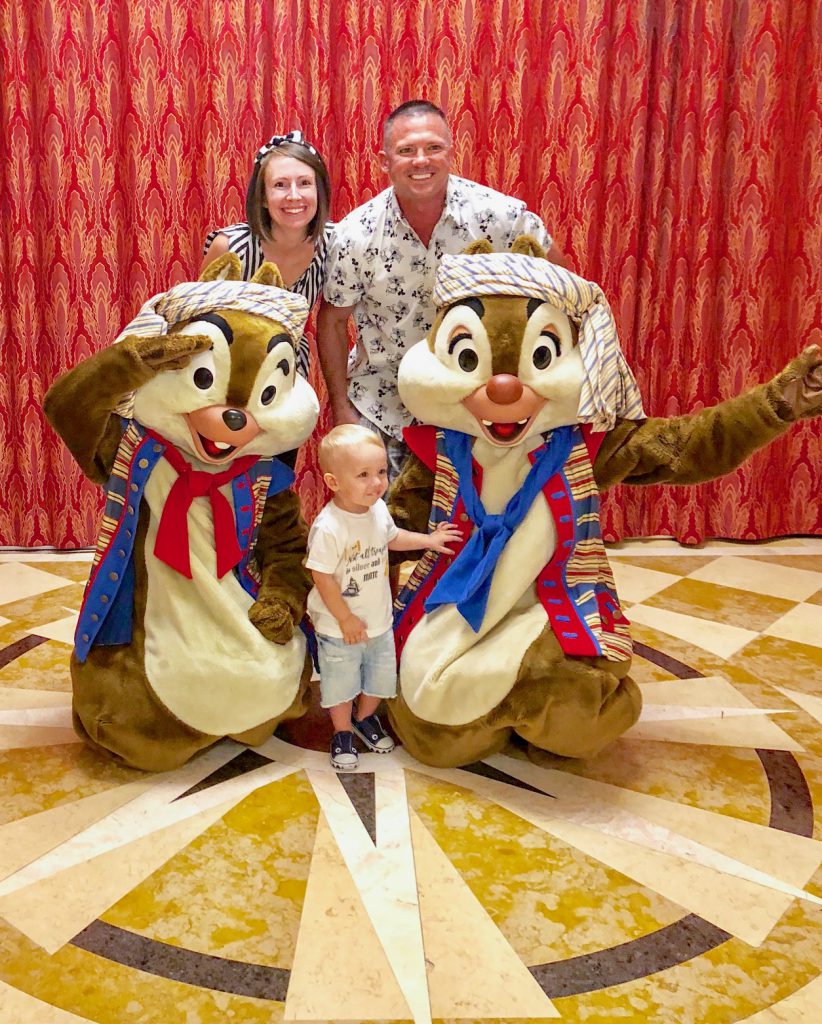 Castaway Cay, Disney's private island in the Bahamas, also has special character meet and greets.
COMMUNICATION
No cell phone service was a concern for me in regards to finding my husband on the ship but DCL provides two phones per room. They're small cordless phones that you can use to call staterooms, services, or outgoing calls (for a fee). DCL can also send you text messages through them about your laundry being finished or your child having an issue in the nursery.
The Disney Cruise app was wonderful for scheduling reminders for myself about activities, characters, nursery time, and more. I also loved that my husband and I could link up on the app, while we still had cell service/internet, and then used it to message each other while onboard. The app is free and since I was carrying my phone to take pictures, it was easiest to keep track of everything on there instead of bringing the daily Navigator.
BREAKFAST/LUNCH/SNACKS
Dining rooms and the free buffet are open for breakfast and lunch but I highly recommend trying the dining rooms. The service is similar to what you'll get during dinner but you'll have a private table. It's so nice to be waited on when you have a toddler! You can request an expedited meal if you need to get to something. We loved the breakfasts we had in the dining rooms and wish we'd done them our first couple of days.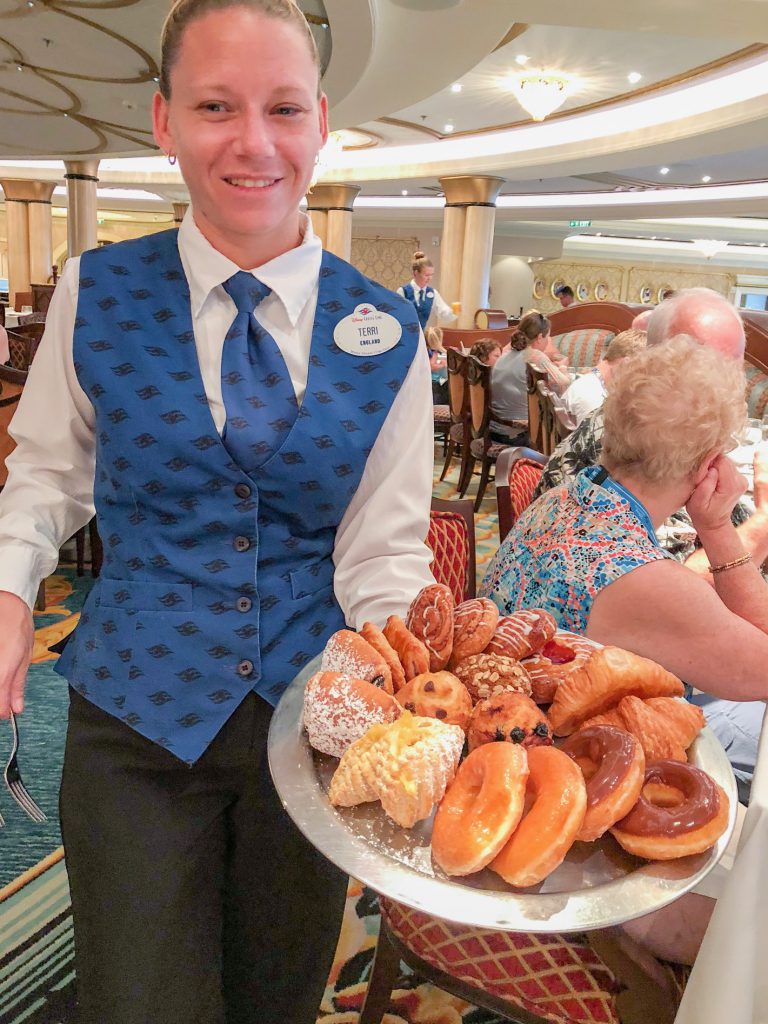 You'll leave with a full belly of fresh fruit, eggs cooked to your liking, pastries, meats, etc. Room service is free! That's right- you can eat all your meals from the comfort of your own bed if you'd like. We tipped our room service with cash so plan accordingly and bring small bills. Certain items may have a fee (like popcorn) but you can get a huge variety of foods for free. In the evenings, we would ask our server or the nursery to send us back to our rooms with some milk for our son.
STROLLER
Leave it at home. We found that unless you have an infant, a stroller isn't necessary. Our son burned some energy walking around and we could carry him if needed- it wasn't far to walk anywhere on the ship. Bringing a stroller would mean taking the elevator every time and that can be a long wait. Plus, the stairs were the only way I burned any calories onboard!! Strollers also take up tons of room in an already small stateroom. There is a spot onboard that you can leave them but they aren't secure in any way. Castaway Cay offers wagons and strollers for free, in a limited supply. The baby carrier was a great way to do a nap on the go if we needed to.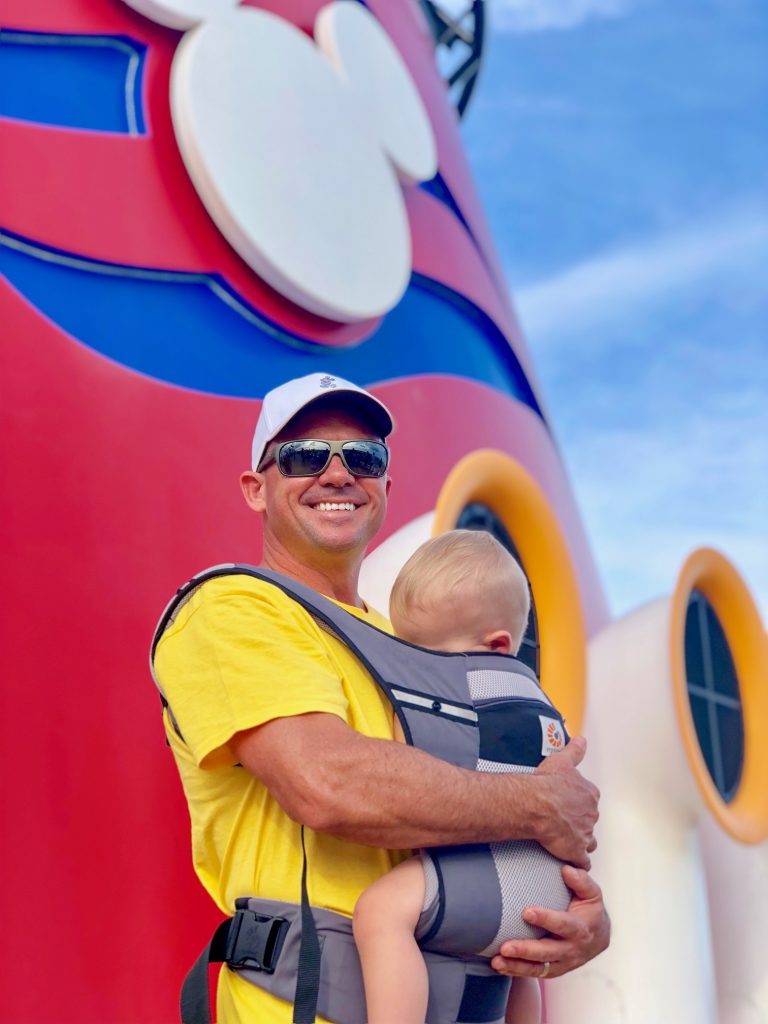 Motion Sickness & Special Vaccines
We reached out to our son's pediatrician prior to cruising to see if he needed any special vaccinations for the areas we were visiting. Disney did offer bug repellant which was wonderful! I also recommend having a prescription (or at least Dramamine Kids) and SeaBands in case someone is plagued with motion sickness. It's worth whatever the cost! Luckily, my son and husband weren't affected by our rough seas. Disney ships have a doctor aboard should you need medical attention. They may or may not be covered by your insurance. Please don't cruise if someone in your party is sick- the quarters are close and it's not worth the risk of everyone ending up sick- including those not in your group! Use a credit card to book your reservation that has travel insurance or purchase it when booking. That way you can cancel and still get your money back.
Fish Extenders & Facebook Cruise Groups
People organize Facebook groups for every sailing date and ship and we were able to find our cruise group by searching our ship name and date on Facebook. After approved to join, we found a LOT of activities and meet-ups and exchanges organized by fellow travelers. Some people exchange ornaments, recipes, and general surprise gifts (look for fish extender groups). This is an awesome way to make friends in advance and link up with them on your Disney Cruise app to communicate!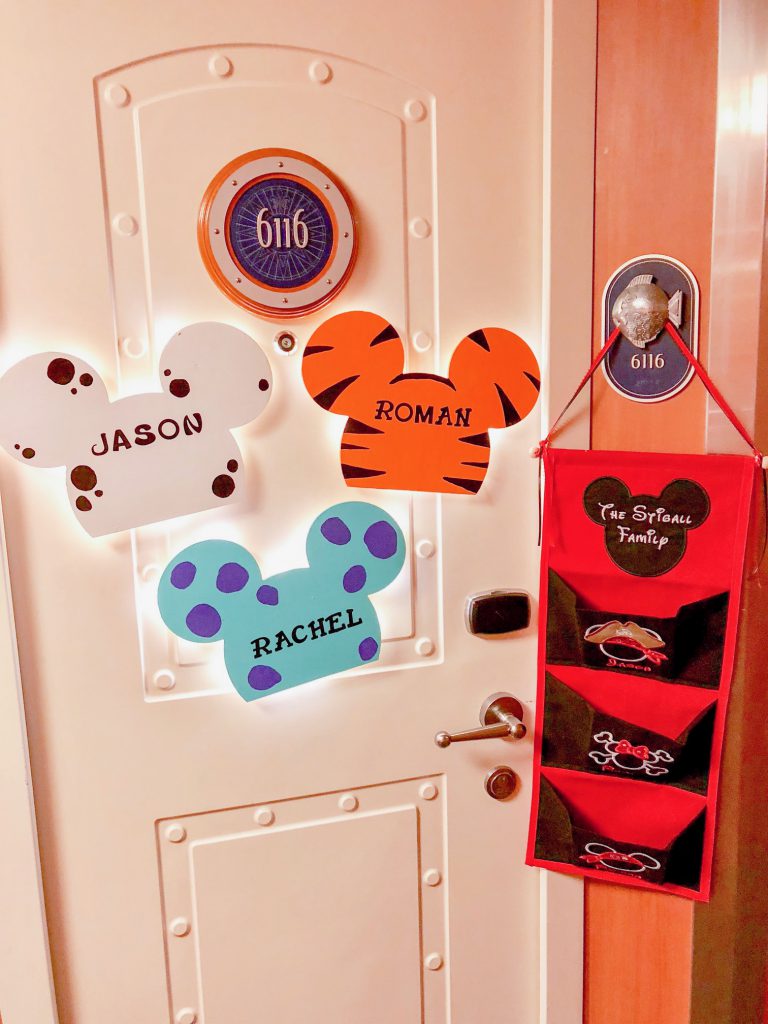 Fish extenders are pouches (you can find them on Etsy or make them yourself) that people hang outside their stateroom door in order to exchange gifts and treats. Some people bring "pixie dust" meaning gifts to giveaway at random but you can join a group and pair up to exchange with specific rooms. We did this and had a blast with it but we joined a last-minute group because we booked so late and were disappointed that not everyone followed-through with exchanging, even though they left their pouch out to receive gifts. Don't be those people!!!
What are you waiting for!?
Cruises are the perfect way for us to explore the world without needing to board an airplane or lug baggage around. I was thrilled to enjoy endless options of food without any extra stress of budgeting or prep/cleanup. We were truly spoiled for a week and can't wait to do it again soon! Being immersed in the magic of Disney, outside of the parks, just doesn't compare to anything else.