Our daughter loves picking something special to do with us on her birthday. It's become a fun tradition and something she looks forward to every year. This could be any activity, event, etc., that she would love to experience with us. This year she chose the Perfectly Princess Tea Party at the Grand Floridian!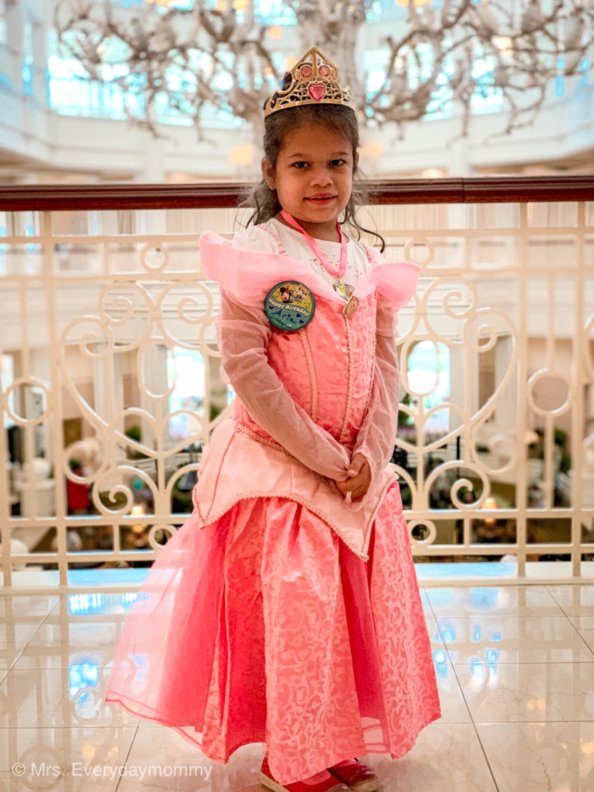 I made the reservation for Friday even though her birthday was Saturday. Weekdays always tend to be better for any Disney related event. The event time was 9am and as far as I could tell, this was the only time available. Once we arrived at the Grand Floridian, we headed to the Garden View Tea Room. This is where you check in with your party and line up. The children wait to be announced by name and receive their crown.
This was a lovely opportunity for a photo op with the main hostess, Rose Petal, before being escorted to your own private table.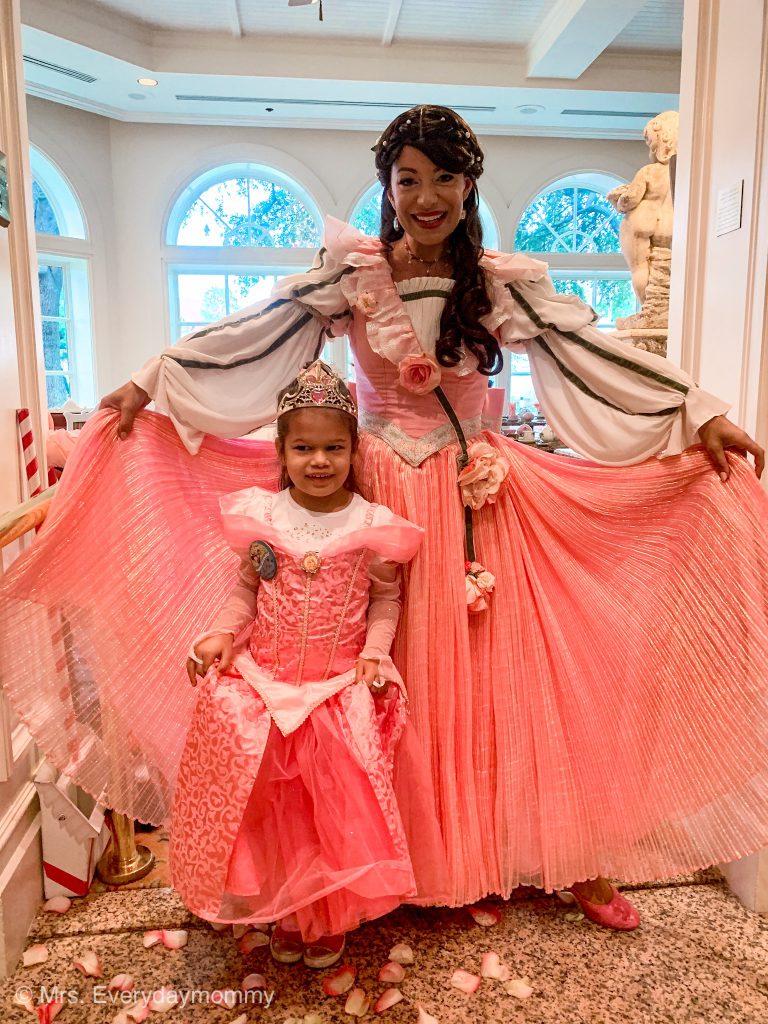 Another very special surprise was waiting for my daughter as we approached the table, her very own Aurora doll!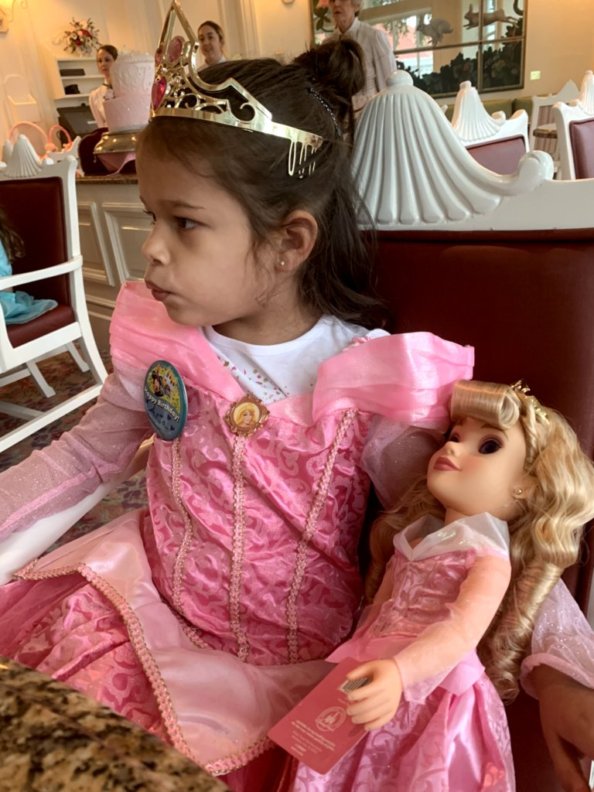 My daughter was thrilled with her doll but her eyes lit up when she noticed that she had her own tea cup (filled with apple juice) waiting for her as well as a plate of many of her favorite finger sandwiches (pb&j, Mickey-shaped and with Mickey sprinkles, cheese and ham spirals, a mini muffin and fruits.)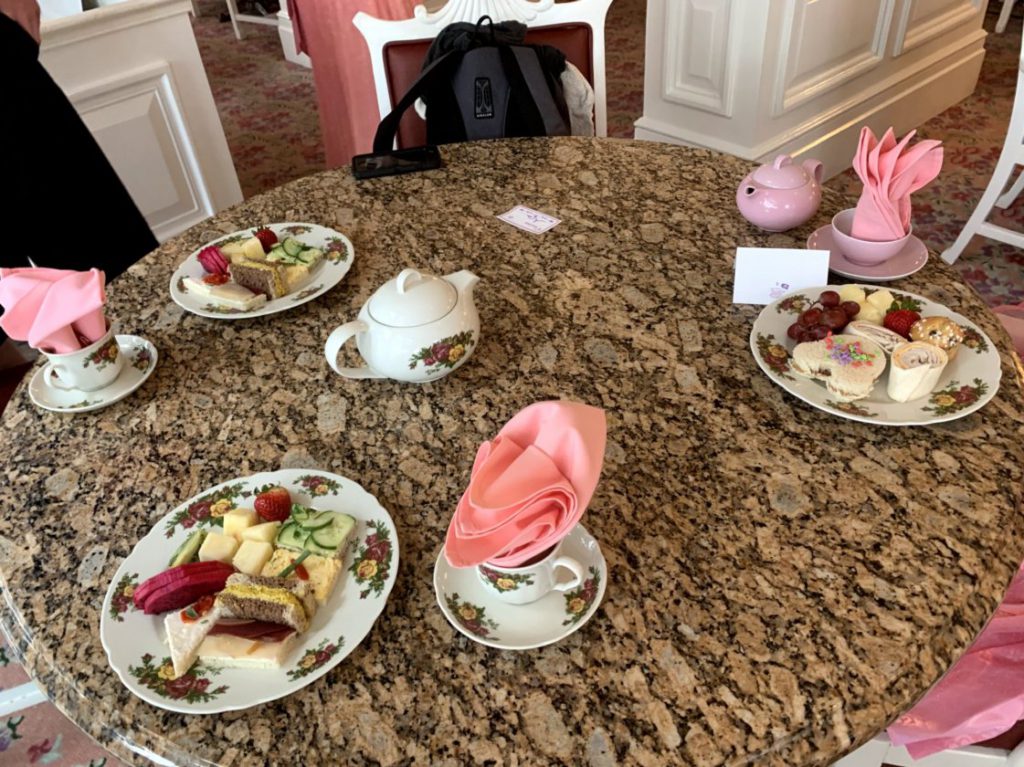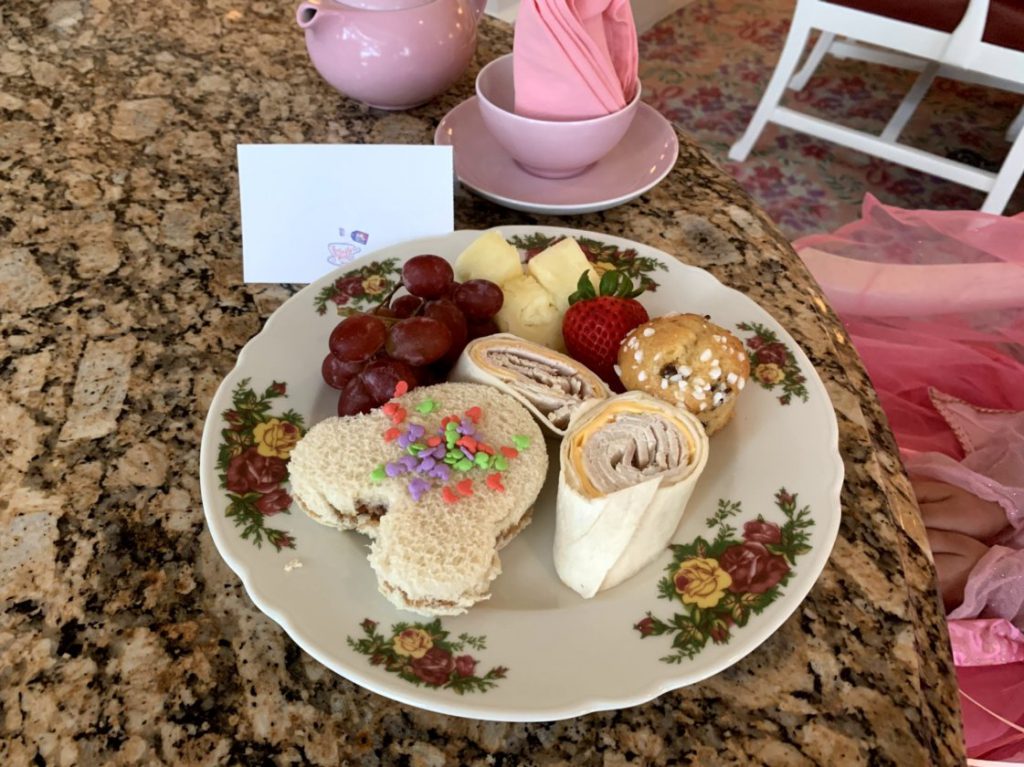 My husband and I were served hot tea (which was absolutely delicious!) and some finger sandwiches and fruits.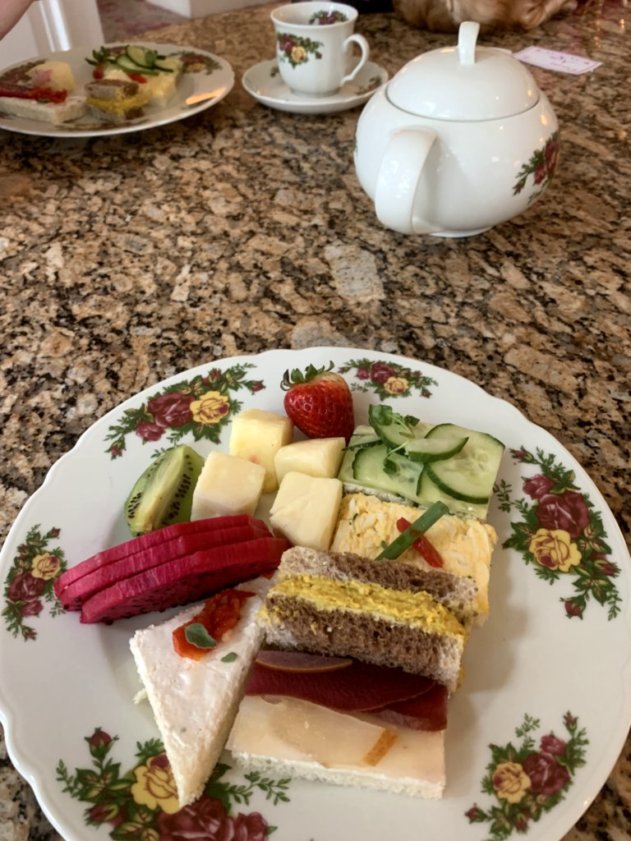 As we ate, the pianist went around the tables and greeted the guests. He introduced himself to the kids, signed autographs, and then returned to play music while everyone ate.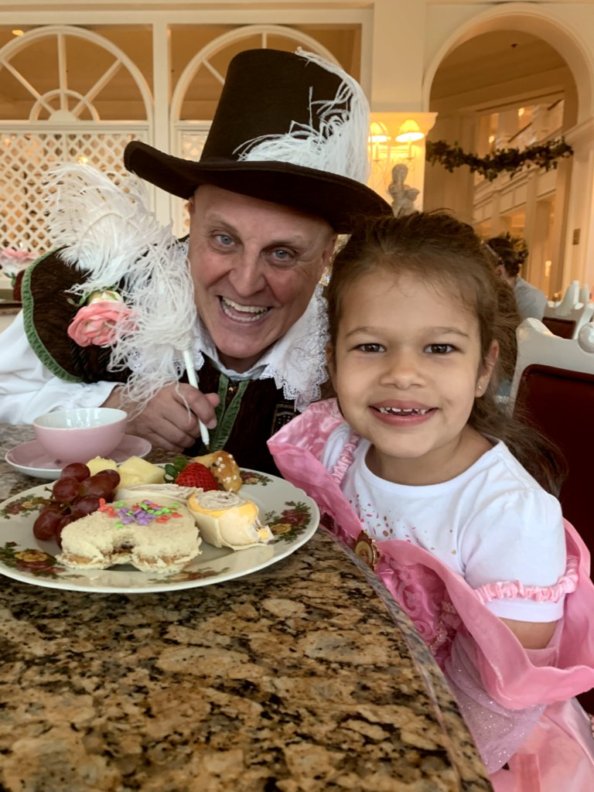 A little while later, Rose Petal began telling stories and singing songs for the kids.
She later called the children to join her at the center of the room and taught them sign language with one of the songs. Finally Aurora appeared and greeted the children.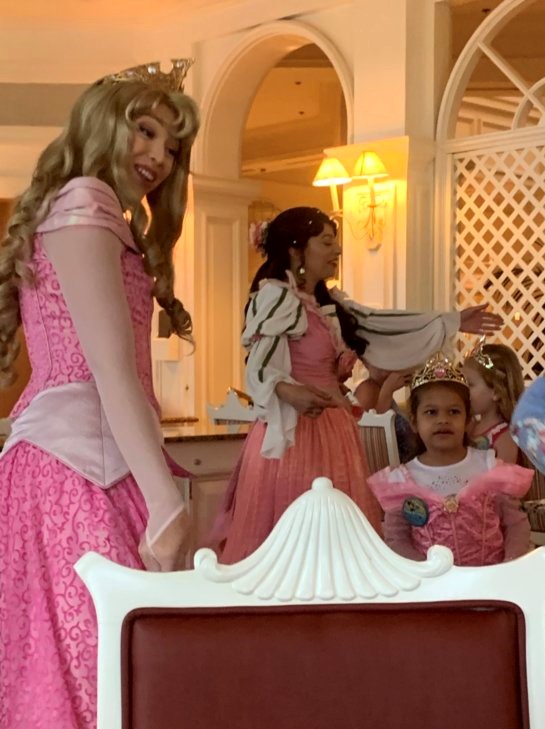 Meanwhile the plates were cleared from the tables in preparation for the princess cake, which was then cut and served to everyone.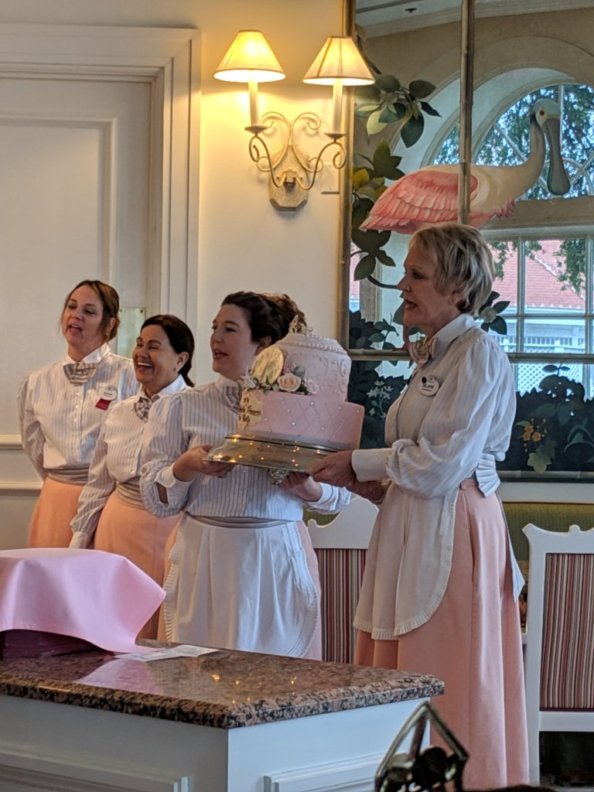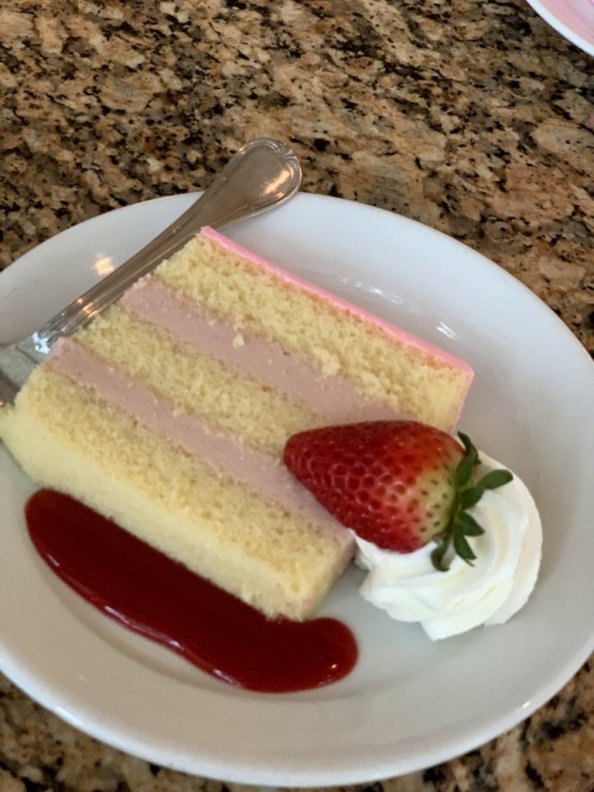 Aurora made her way around the room, visiting each of the tables for pictures and autographs. She gave my daughter a real rose to take with her.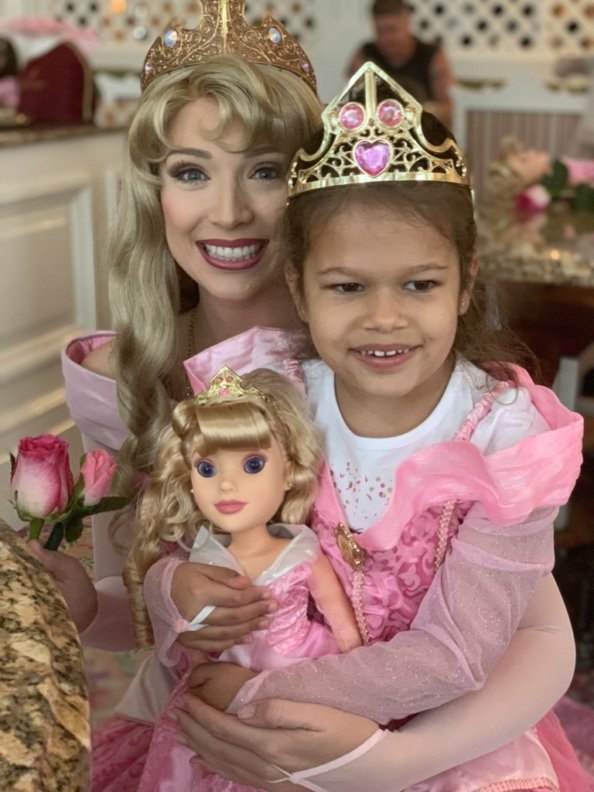 Rose Petal also visited our table and gave my daughter a necklace, similar to the one she wears. My daughter also received a silver bracelet, a princess wand and a princess cinch bag to take home.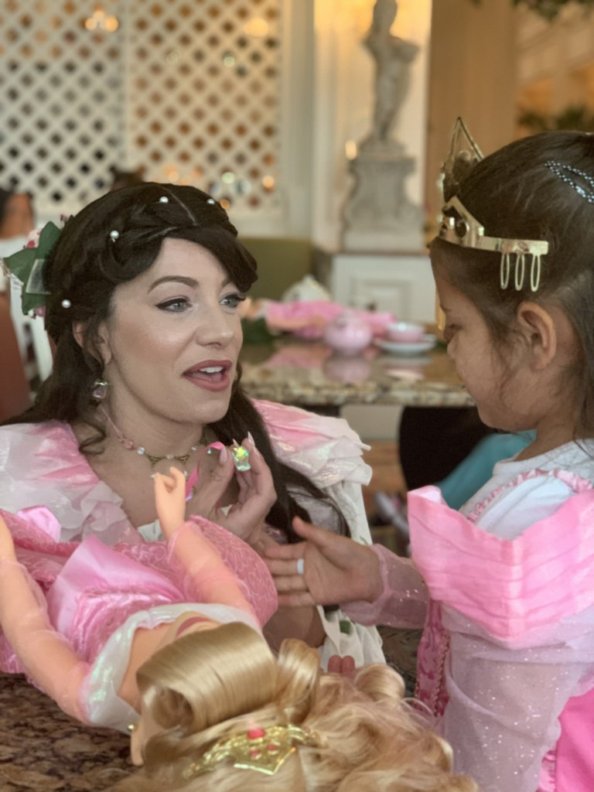 Once the visits finished, the children lined up outside in the lobby for a special parade. The cast members waved and smiled as they passed. Soon after the kids were led upstairs for a group photo with Aurora.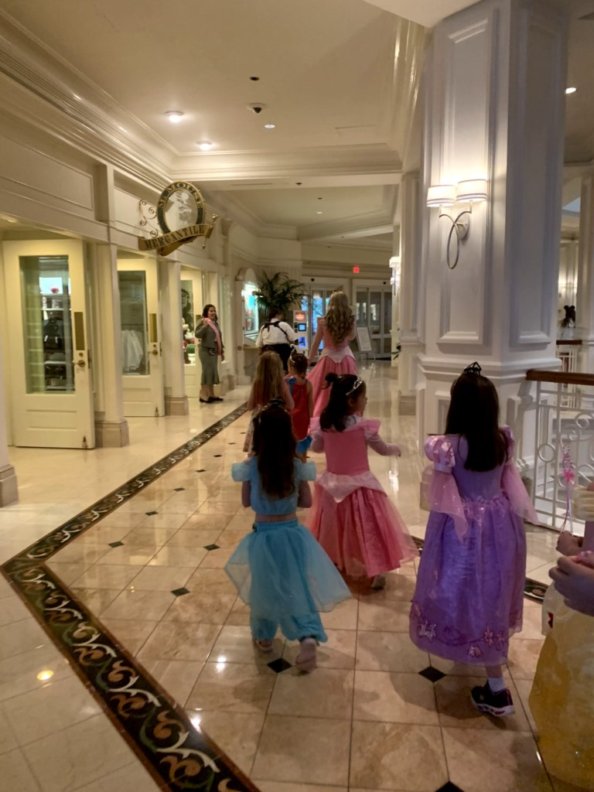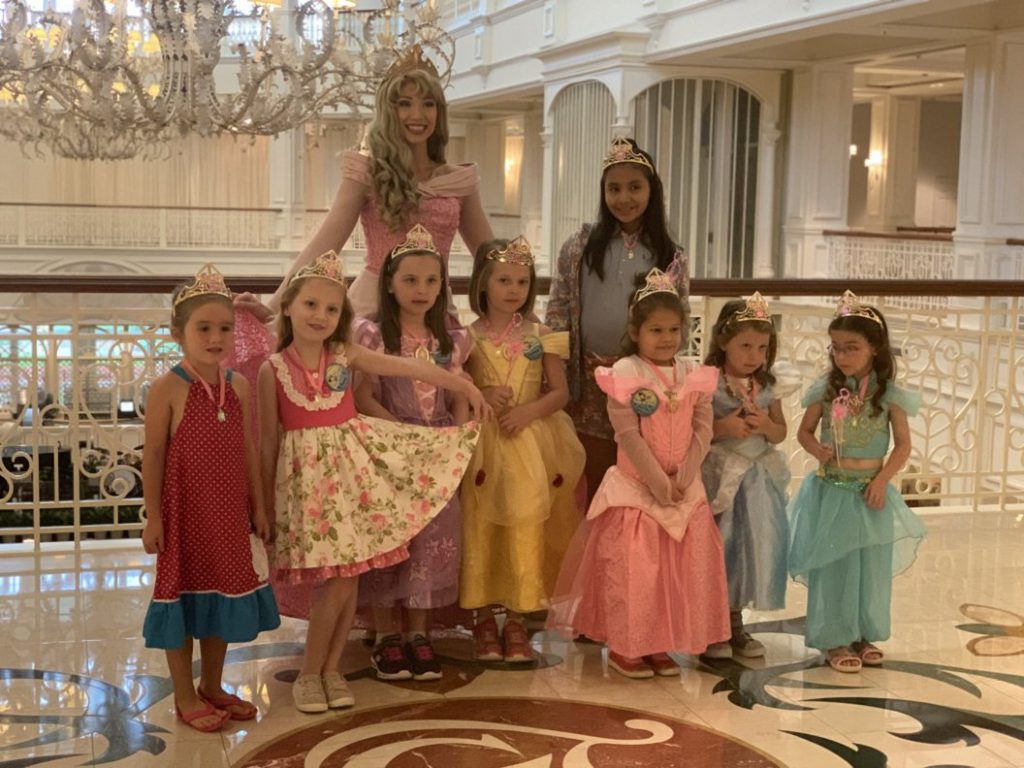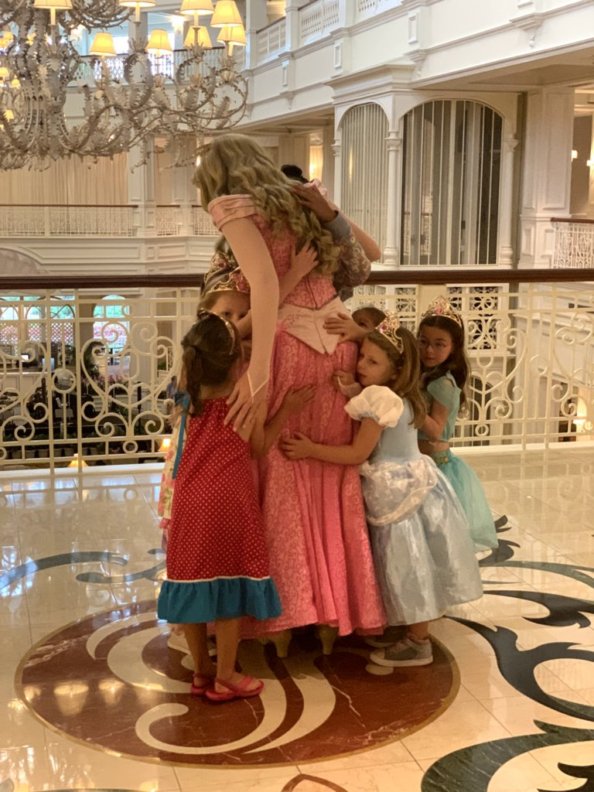 After everyone said goodbye to her, we were led into the gift shop. Cast members had set up a desk for the kids to fill out their doll's birth certificate and receive a special princess sticker package.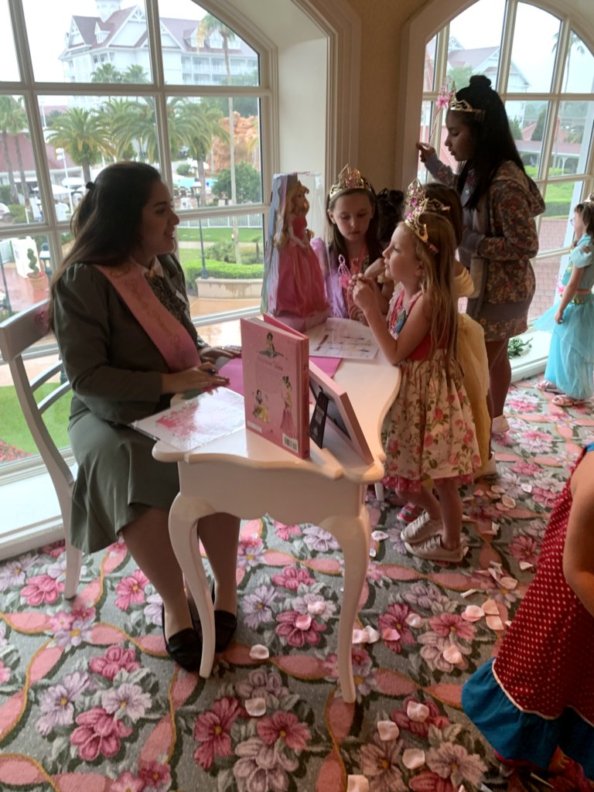 Another Photopass location had also been arranged for the children to take photos with an Aurora doll.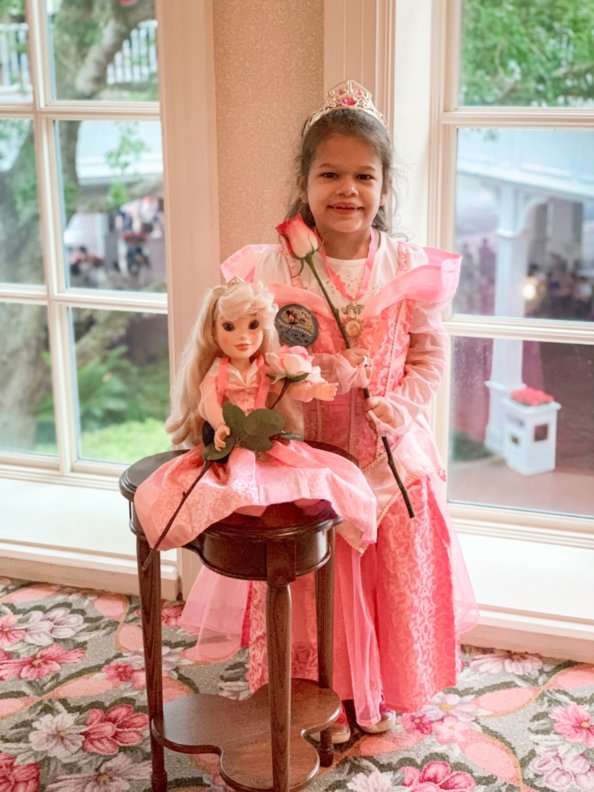 Details:
This event takes place at the Grand Floridian's Garden View Tea room on select mornings at 9am. Price is $333.64 which includes one guest (ages 10 and over) and one child (ages 3-9). You can add more guests for an additional cost. Full payment is required when booking the reservation and no dining plan or discounts are offered. The price includes food and gifts with the option for a princess or prince package. There are no Photopass photographers during the event. The Photopass photos taken after the meal are not included in the price and must be purchased separately. For more information, visit the Walt Disney World Website.
Overall Thoughts
I will admit that this is quite an expensive Disney experience but it is also one of those that are worth doing at least once. My daughter absolutely loved everything about it. From the moment she arrived until the final photo, she truly felt special. The cast member interactions with the kids were magical, and the little gifts received throughout were perfect for our birthday celebration. I highly recommend this experience if you're looking for a wonderful way to make your little princess feel extra special.