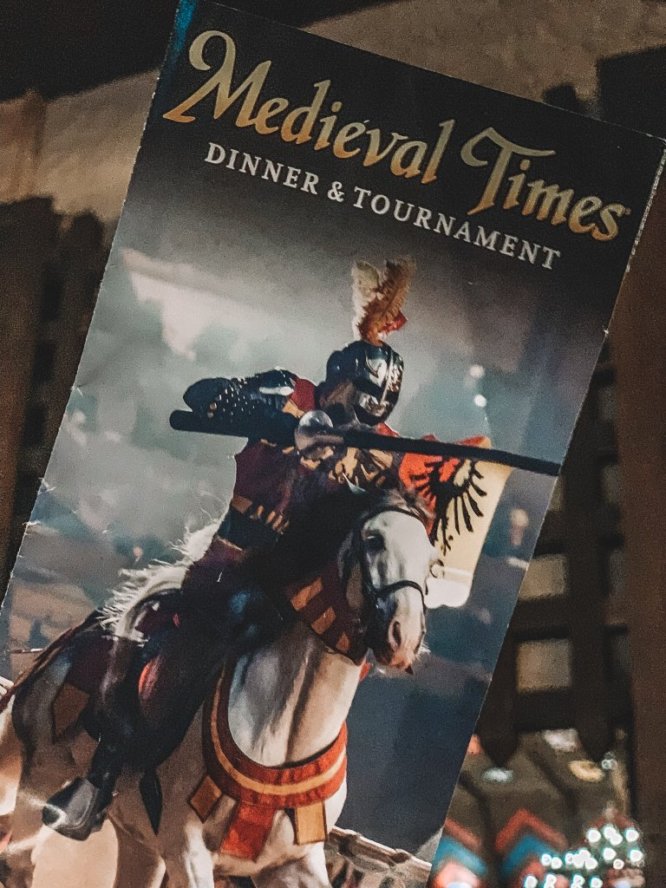 Have you ever wanted to have dinner in an 11th century castle while cheering on knights during battle? At Medieval Times Orlando you can travel back in time for the night with a dinner and a show fit for royalty!
What is Medieval Times?
Medieval Times is a family dinner theater experience located in Kissimmee, a short 20 minute drive from the Walt Disney World Resort. It takes place inside an 11th century- style castle and has quickly become one of Orlando's most popular attractions since it's initial opening in 1983. Not only was this location the first ever to open in North America, but it's also the only one with an eight- cottage medieval village!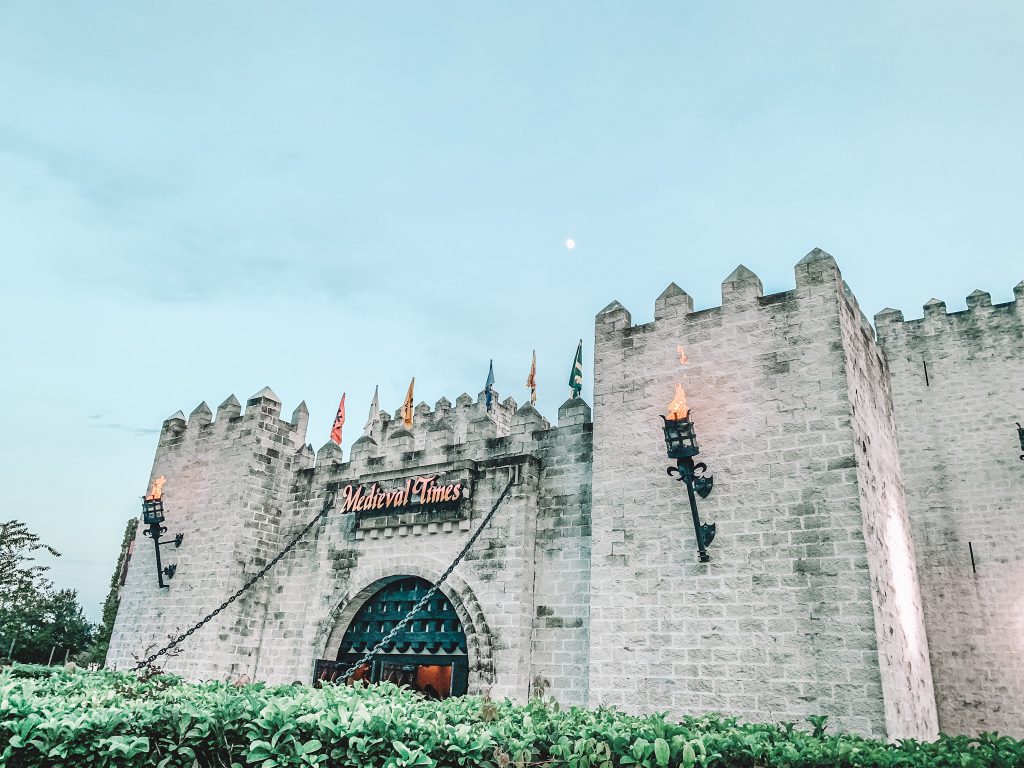 Upon arrival, you check in and receive your table number. You're also given a paper crown with the colors of the knight you will be cheering for that evening.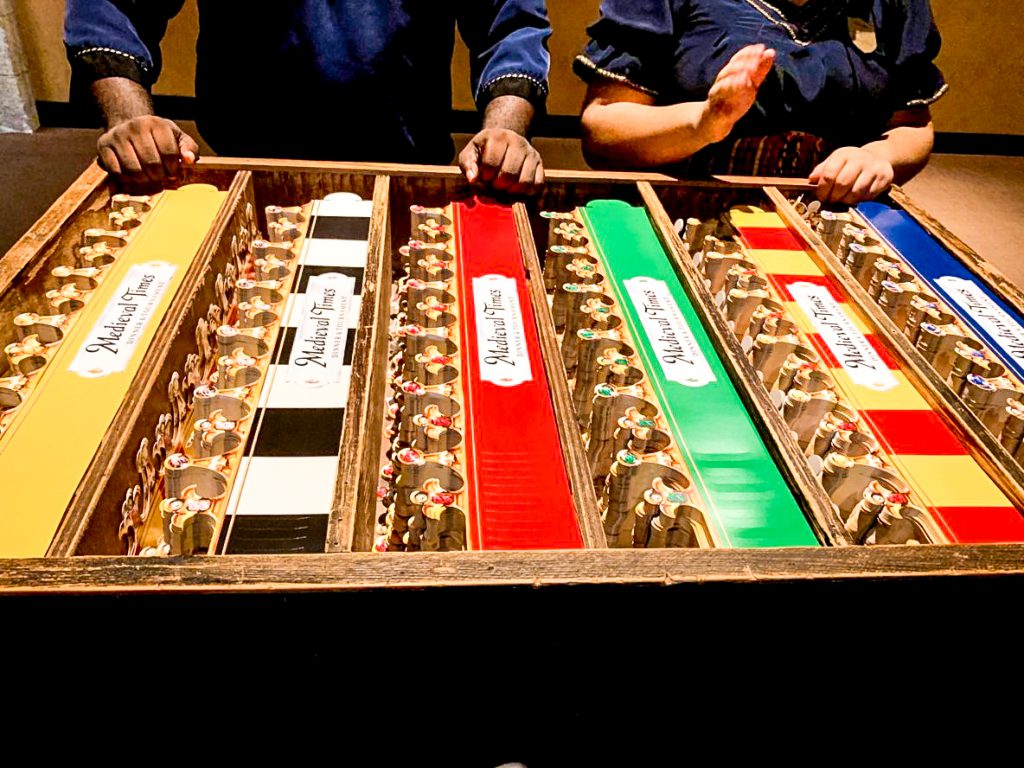 You are then led into another room for a photo opportunity before proceeding into the massive waiting area.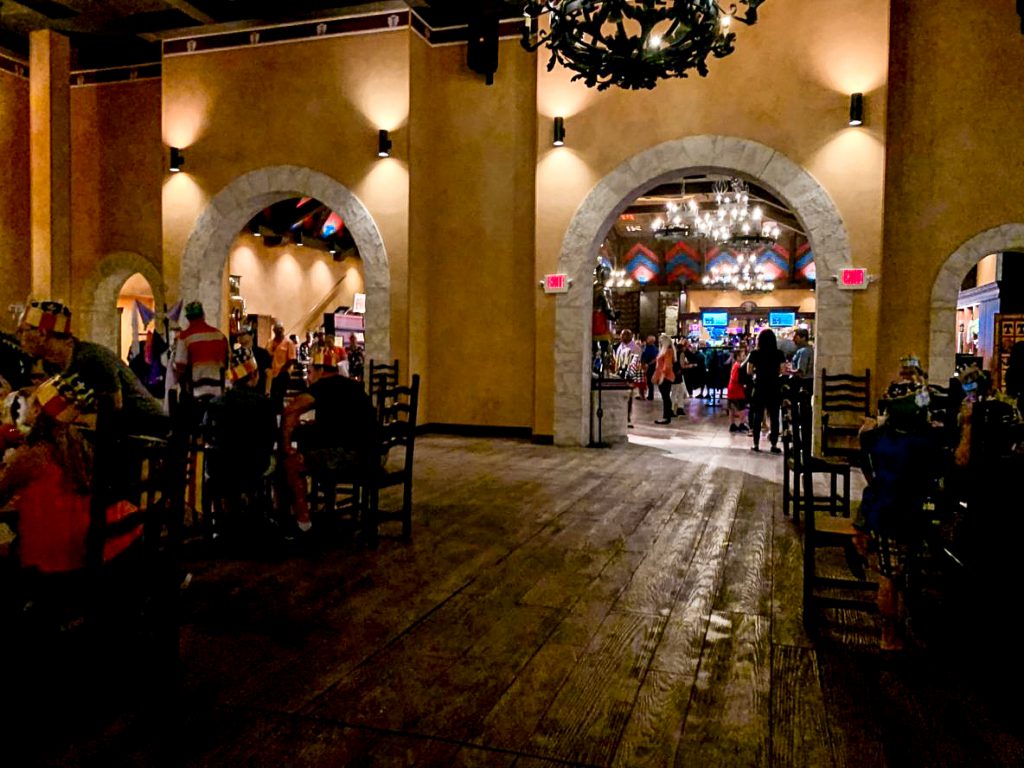 Here you can find many options for souvenirs, as well as quite a few bars for ordering drinks. Ample seating is also available throughout.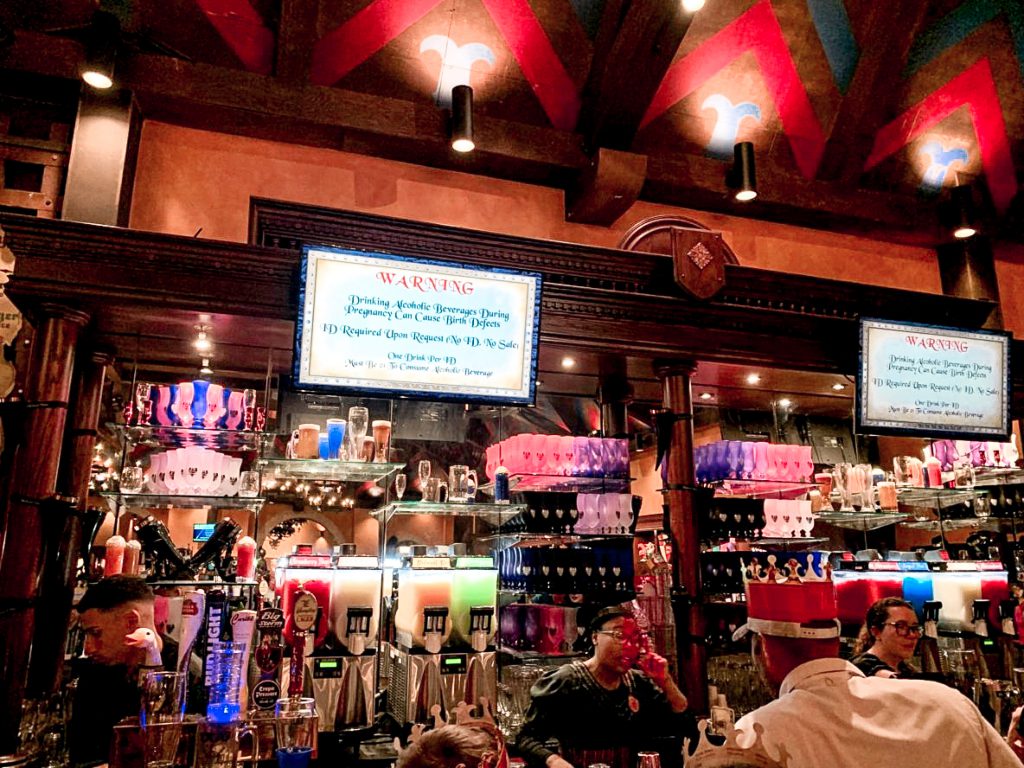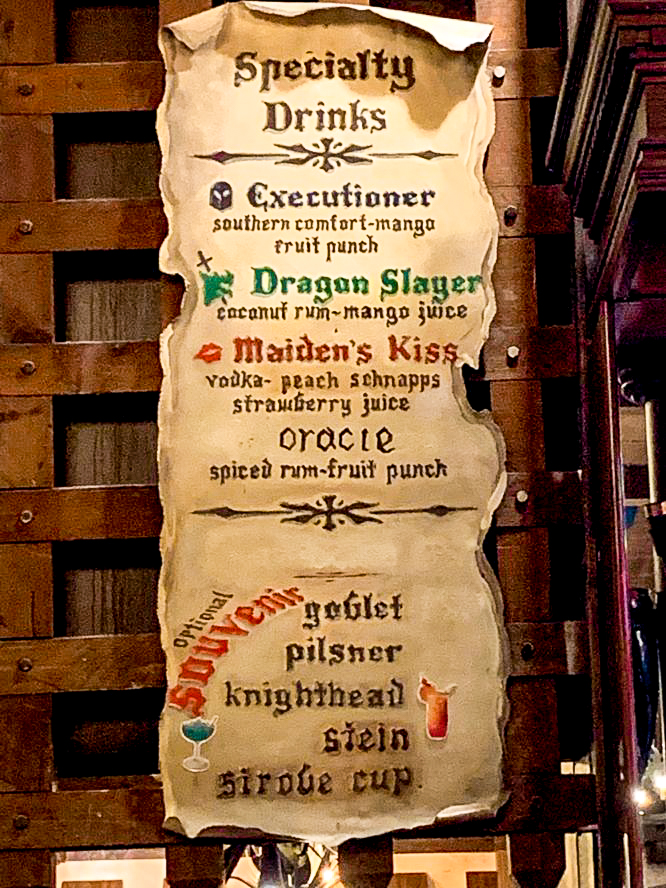 There are many souvenir cups and drinks available for purchase. My daughter enjoyed the kid's frozen fruit punch which you can choose to purchase in a light-up cup! I had a refreshing pineapple cider while my husband enjoyed the beer on draft.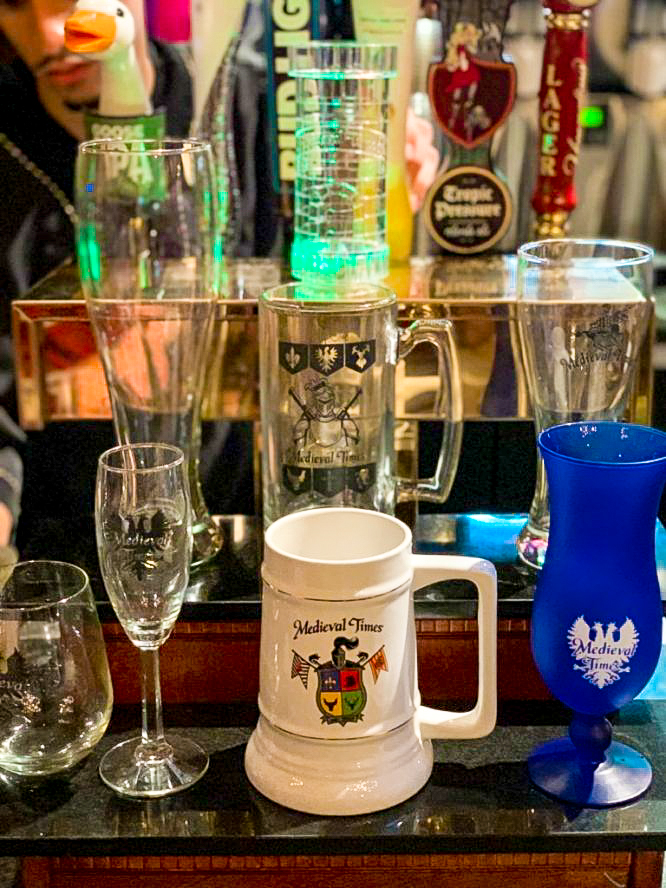 Knighting ceremonies take place before the show in this waiting area as well, and guests are allowed to cheer and witness the celebration.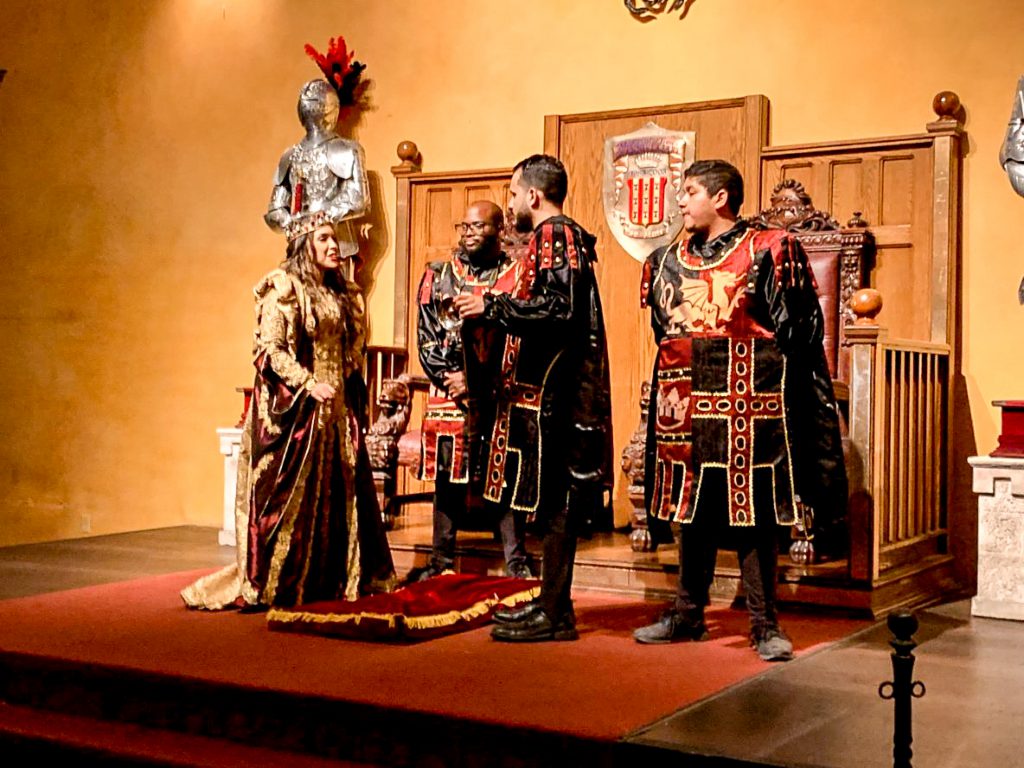 The Food
During the show, we were served a delicious meal consisting of tomato bisque soup, followed by a piece of garlic toast, and the main course, a half roasted chicken with a seasoned baked potato, and sweet buttered corn. Be prepared to eat with your hands as there is no silverware here (we are in the medieval times after all!)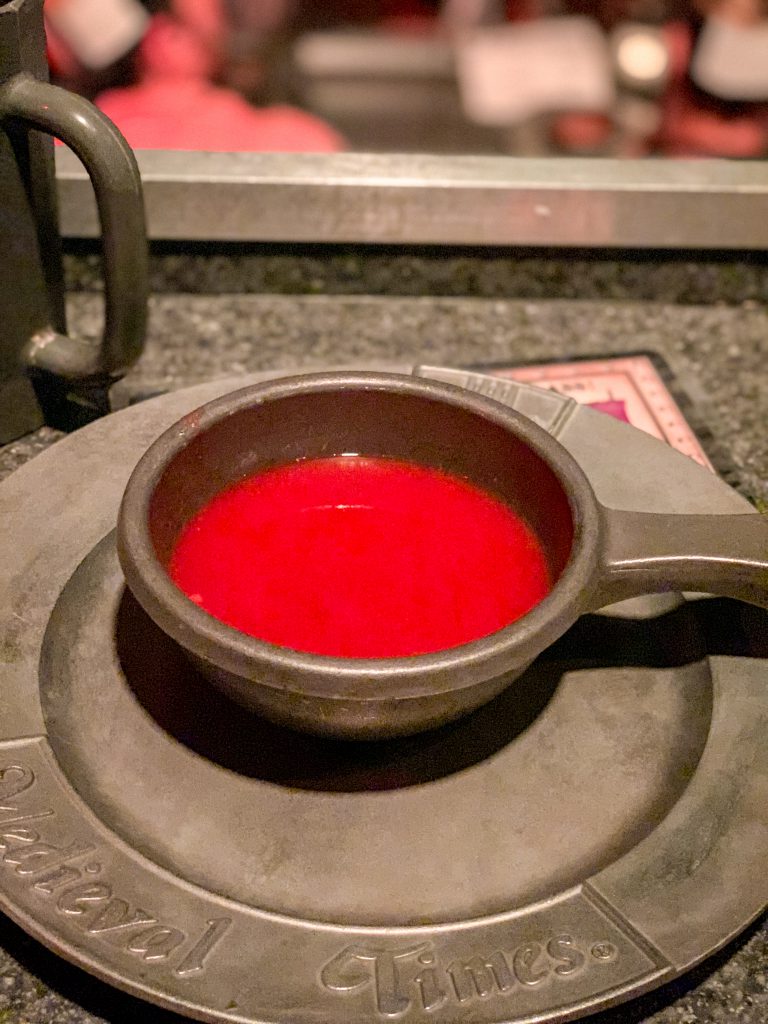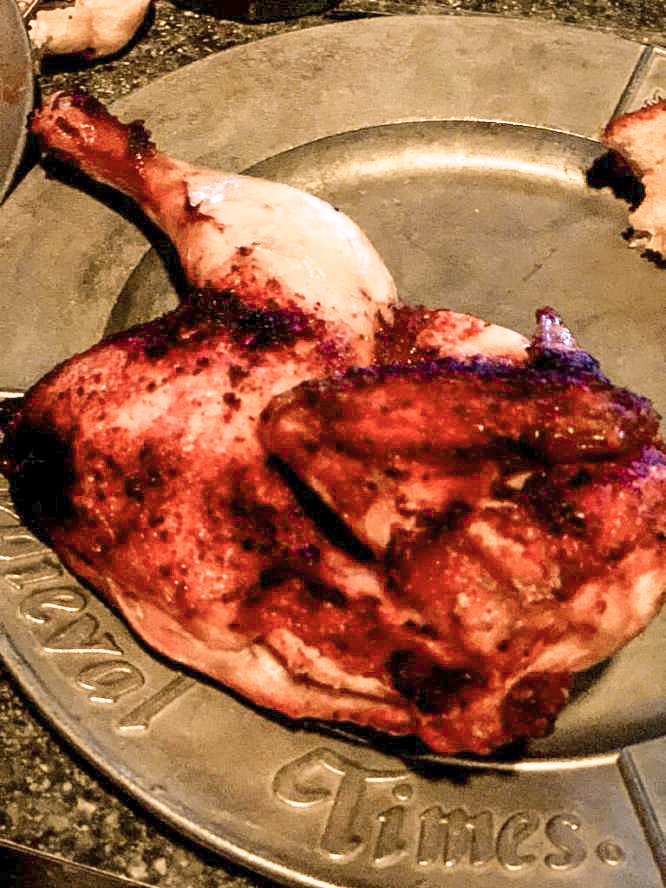 The dessert was a refreshing vanilla ice cream topped with caramel.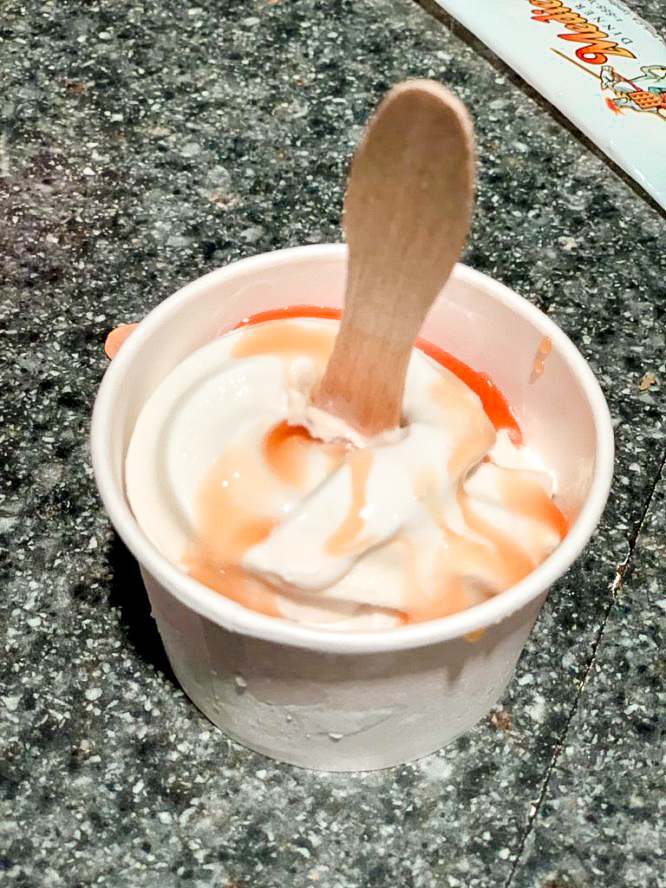 Coffee and 2 rounds of non-alcoholic beverages were available with our meal. You can also choose a vegetarian dish if you prefer. Keep in mind that this request must be made in advance as it will not be offered during the show.
The Show
Anything that can keep my daughter's attention for more than an hour is always a winner in my book! As we enjoyed our meal, we were mesmerized by the beautiful horses prancing around and by demonstration of a live falcon performing tricks.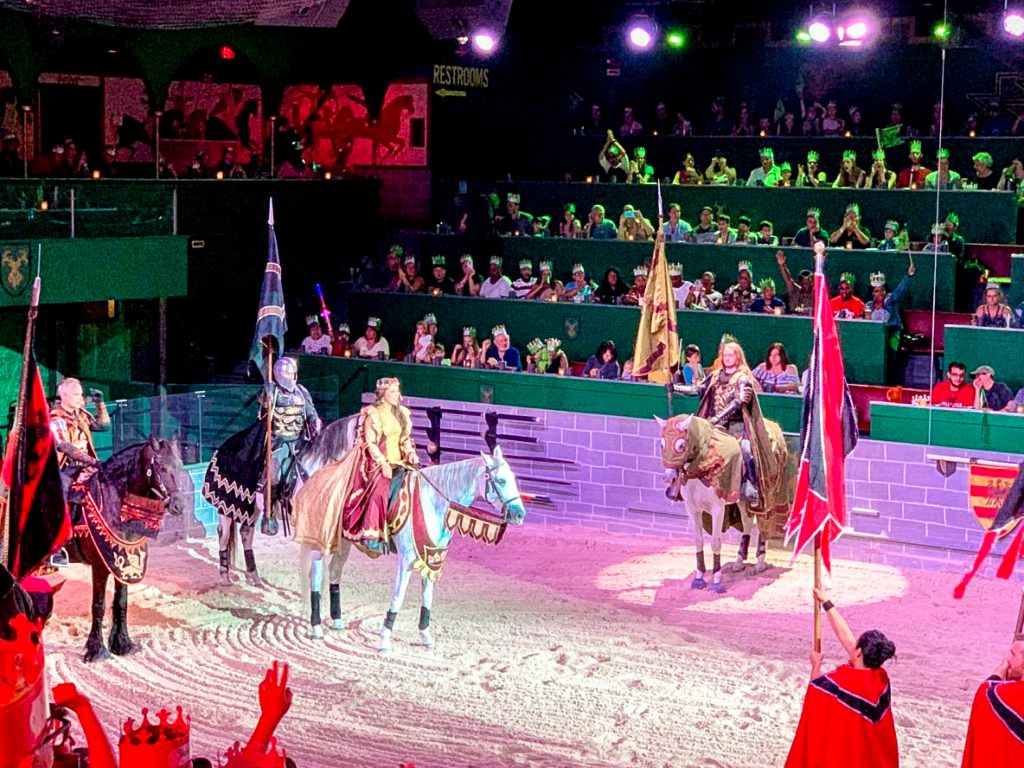 Everyone loved cheering their knight as he stood before the crowd. They interact so well with the guests and have everyone cheering from start to finish! They even throw flowers at the crowd. This little girl was lucky enough to catch one and you can bet she felt pretty special!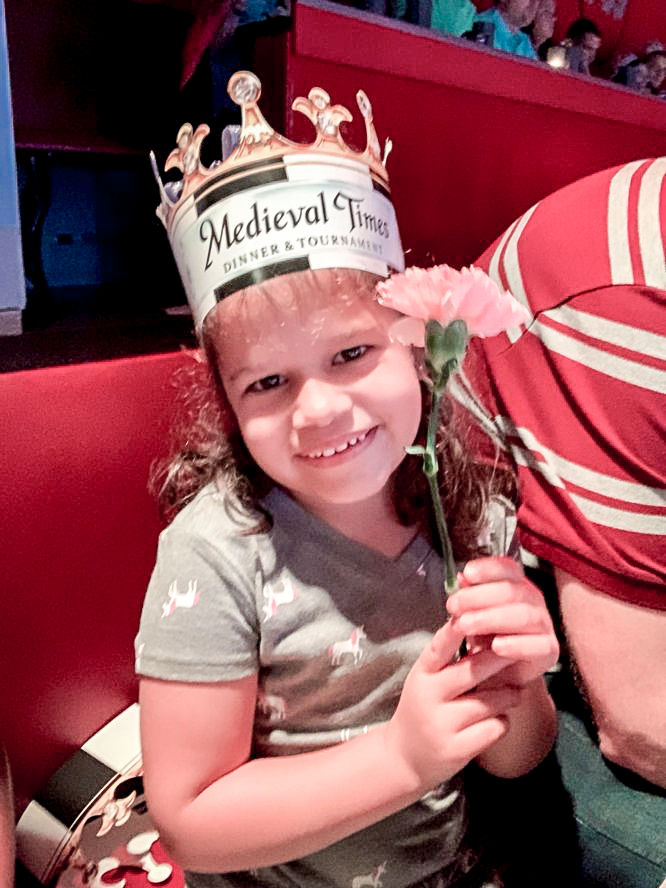 However, the highlight of the night was the jousting tournament.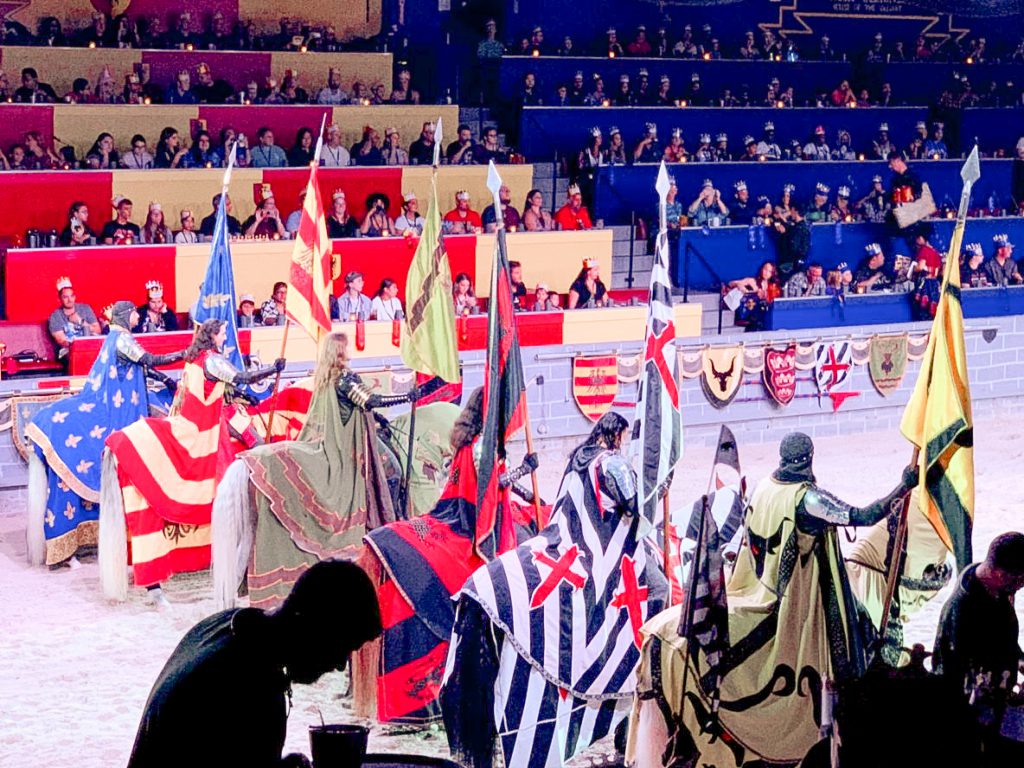 It is incredibly well done, and truly gets the crowd excited!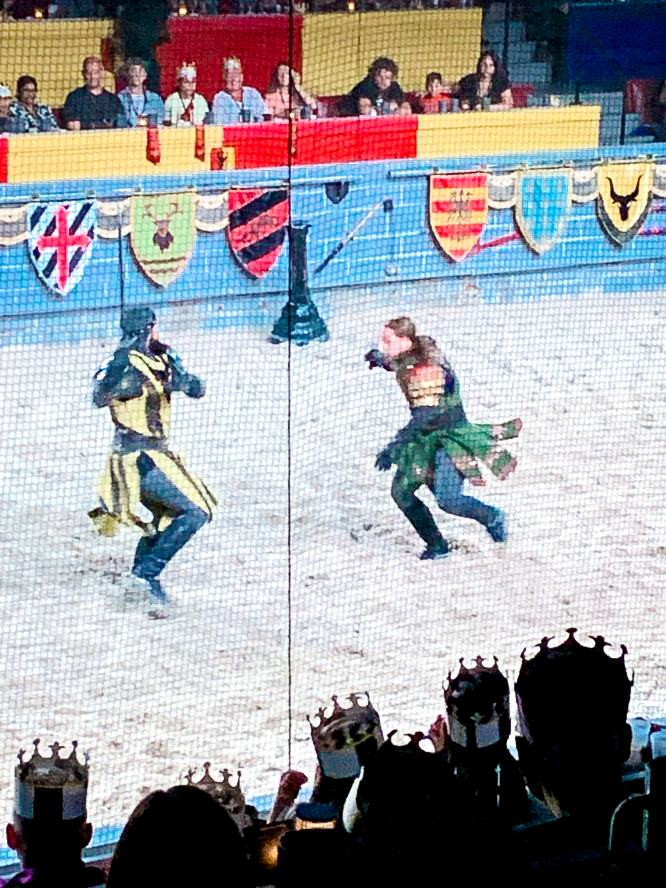 After the show we headed out to the Medieval Village. This area opens 90 minutes prior to the show and can be visited either before or after.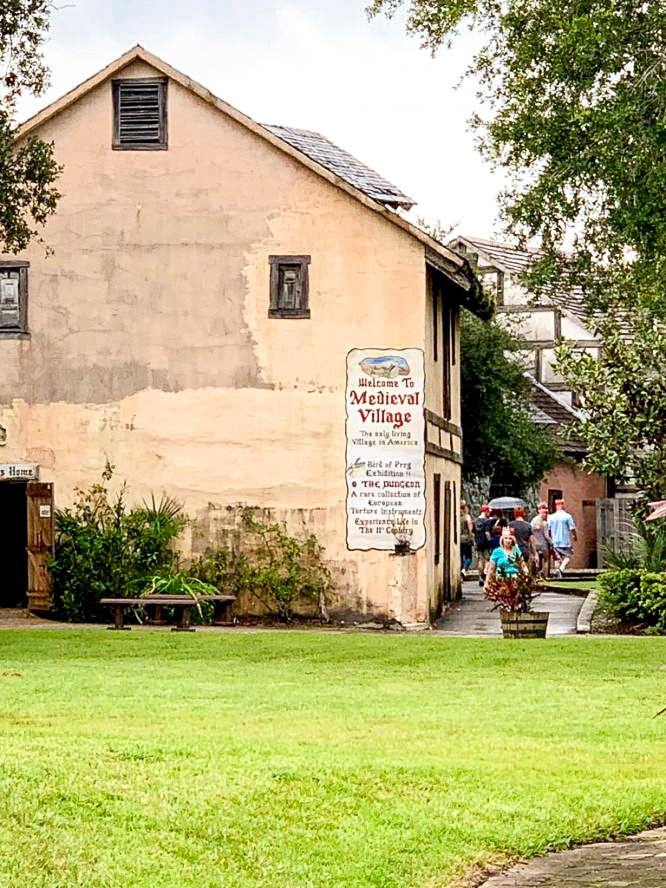 This is a stop you definitely don't want to miss! We had so much fun exploring the cottages and enjoyed learning more about this incredible time period.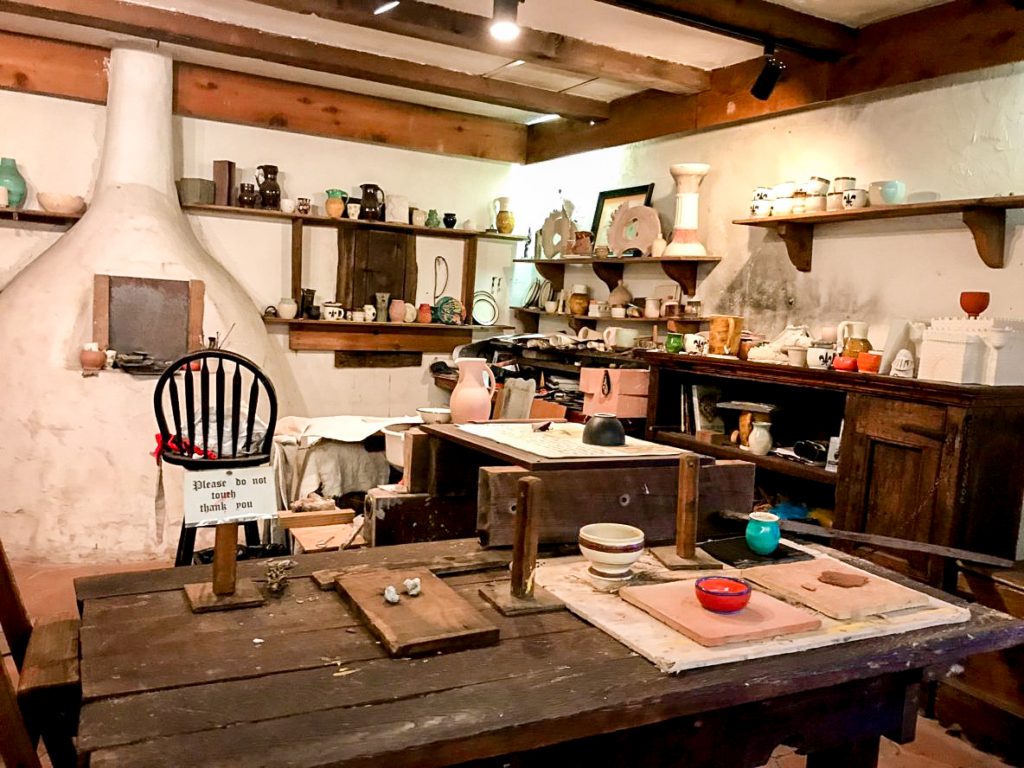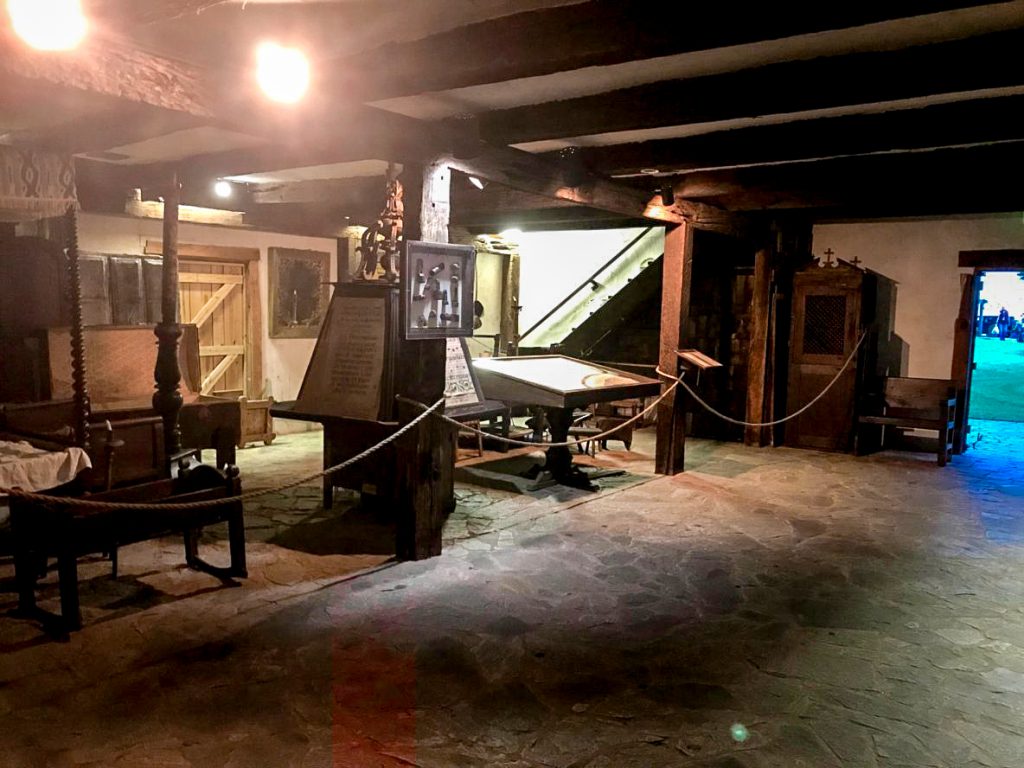 Overall Thoughts
Medieval Times truly knows how to put on a show. As soon as we set foot in that 11th century castle replica, we felt as if we were transported back in time. Between the amazing food, incredible performances, and overall family-friendly atmosphere, this is definitely a great option for a fun night out at a great value!
They offer many discounted prices on their website which you can always upgrade for various VIP packages for even more fun. For more information, visit the Medieval Times website.
Thank you again Medieval Times for hosting us! We had an amazing time!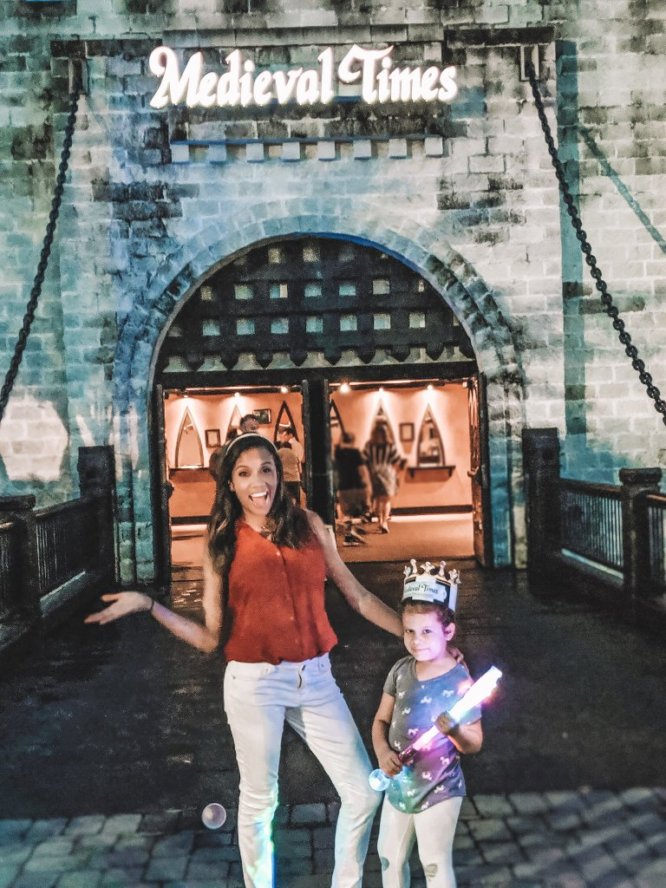 Have you been to Medieval Times?