We recently had the opportunity to attend the Epcot International Food & Wine Festival Family Media Day event. It was such an amazing experience and we had the best day tasting our way around the world. We want to send a huge thank you to Disney for hosting us and allowing us to be a part of this event!
We tried so many great dishes but there were some true stand outs, in our opinion. So, with no further ado, here is just a small sampling of the dishes we think should not be missed at Epcot's Food & Wine Festival this year.
Islands of the Caribbean:
Ropa Vieja Empanada with Tomato Aioli – $5.50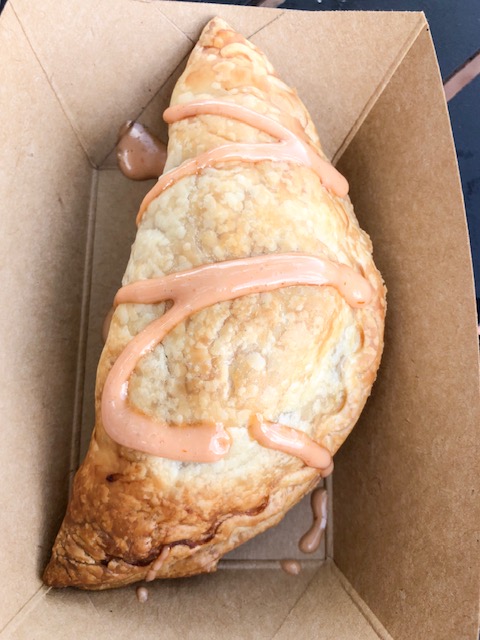 This dish was probably the best thing we ate all day. It was warm and crispy with plenty of filling. The "Ropa Vieja" was shredded beef with vegetables. We loved the authentic flavor of the filling and the tender meat. It had a slightly spicy flavor but nothing overpowering. Definitely a must try!
Quesito Puff Pastry with Sweetened Cream Cheese and Guava Sauce – $4.00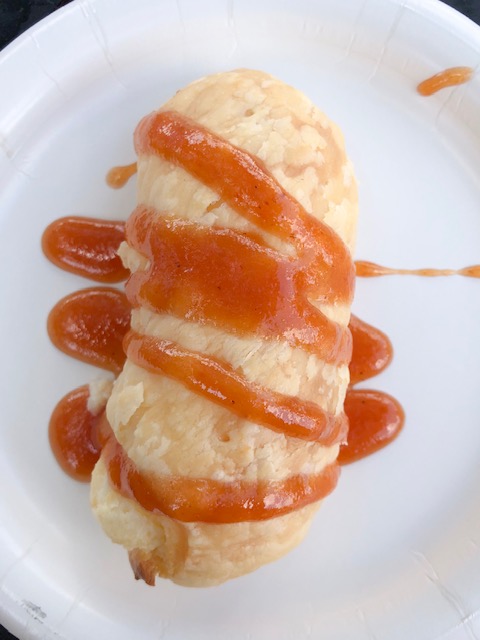 This dessert dish was a good value for the size at only $4.00. It was very similar to a cheesecake or cheese danish wrapped in a flaky pastry. The thing that made this dish stand out was the guava sauce. It added another layer of flavor and the slight tartness of the guava cut through the richness of the cream cheese.
Thailand
Shrimp and Cold Noodle Salad – $5.25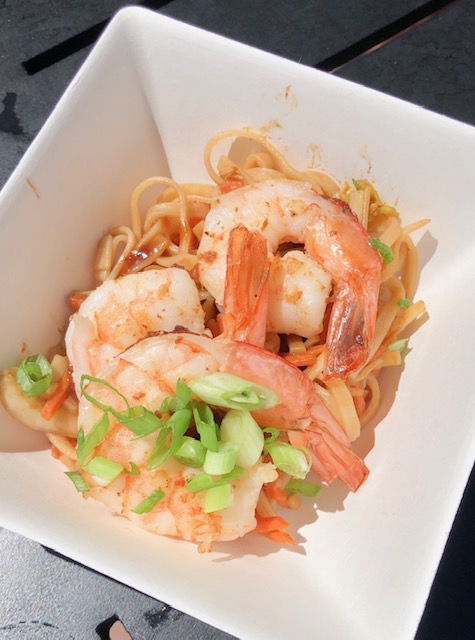 This noodle salad was served cold which was a nice change, especially on a hot day. The noodles were cooked perfectly and served in a soy sauce type dressing. The real treat of this dish was the shrimp. It comes with three jumbo shrimp that we just couldn't believe the size of for the price of this dish!
India
Warm Indian Bread with Pickled Garlic, Mango Salsa, and Coriander Pesto Dips – $4.75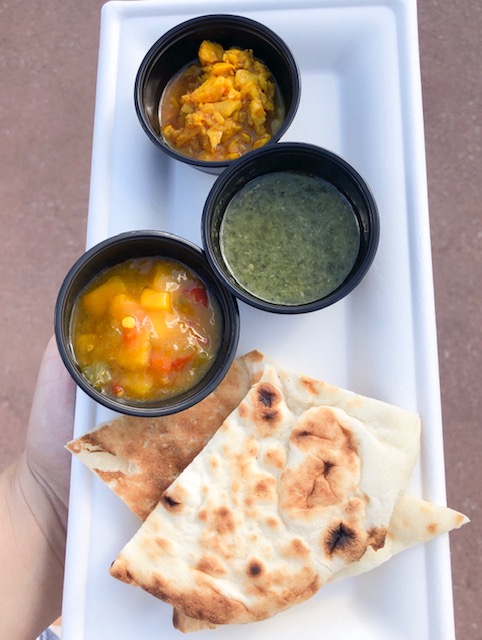 This is a great snack if you are looking for something to share with a friend. It was like a mini version of the bread service at Sanaa at the Animal Kingdom Lodge. It comes with 3 pieces of bread and three dips. The pickled garlic was mild and tasty, the mango salsa was sweet and thick, and the coriander pesto had a nice, bright flavor.
Spain
Spanish-style Paella with Botifarra and Roasted Chicken – $5.50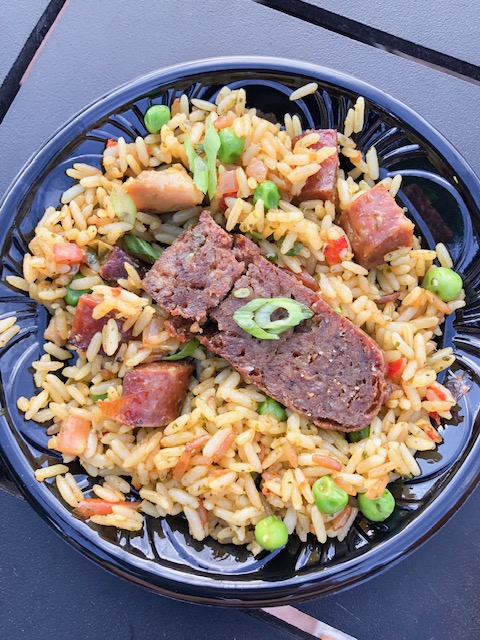 We really enjoyed this paella because it was so flavorful and filling. The rice, chicken, and veggies had a lot of flavor. The botifarra sausage was quite spicy with a wonderful, authentic taste. This was a nice, hearty dish that was also a good deal for the price.
Brazil
Pão de Queijo Brazillian Cheese Bread – $4.50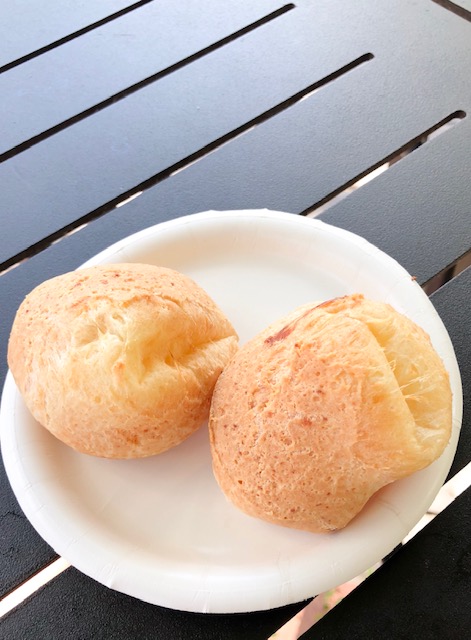 These pillowy baked treats have become a staple at the festival! You just can't go wrong with warm cheese and soft bread. They are a pretty good value at two for under five dollars so they are great to share. They are also gluten free! We liked that they were warm, gooey, and easy to eat on the go.
Hops & Barley (America):
New Brunswick Slider Slow-braised Beef Brisket with Horseradish Cream and Crispy Fried Onions on a Potato Roll – $6.00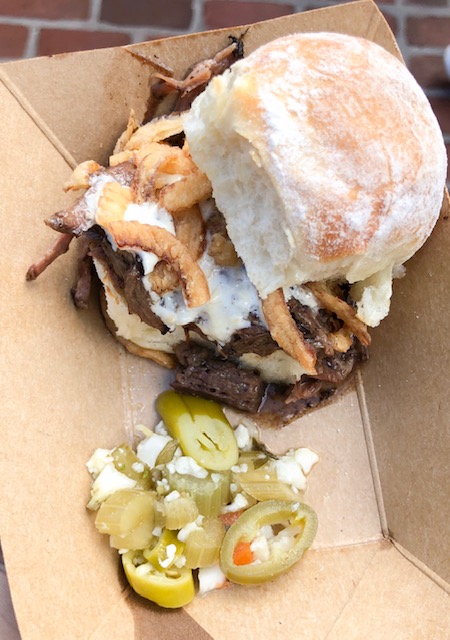 While this isn't the best value at the festival being that it was more pricey and a bit smaller than some other dishes, the flavor made it a worthy splurge. The meat was cooked "pot-roast style" and was tender and savory. The crispy onions and cream sauce paired with the soft roll were delicious. It also comes served with a small side of pickled vegetables.
Appleseed Orchard (Canada)
Cider Flight – $9.75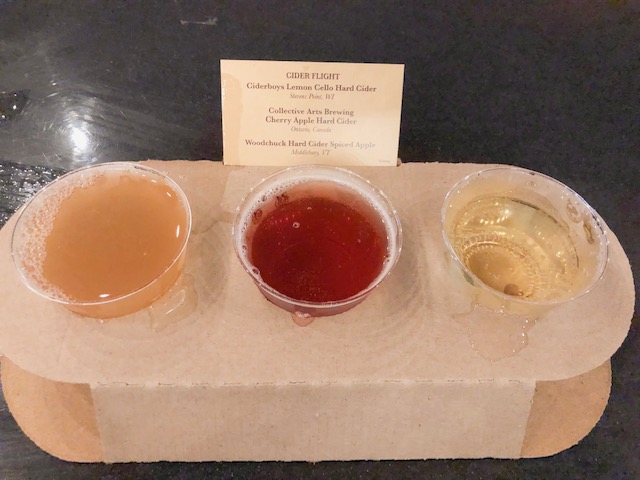 To wash down all of these delicious dishes, you'll need a cold drink. Make sure to stop by the Appleseed Orchard which is new to the festival this year. The flight came with a small pour of Lemon Cello Cider, Cherry Apple Cider, and Spiced Apple Cider. They were all sweet and refreshing!
We are so glad that the Food & Wine Festival runs through November 23rd this year so we have plenty of time to go back and try more things! Let us know what your favorite Epcot must-eats and must-drinks are!
*Disclosure: I was invited to Disney's Family Media Day event for the 2019 Epcot International Food & Wine Festival. The opinions expressed here are my own.