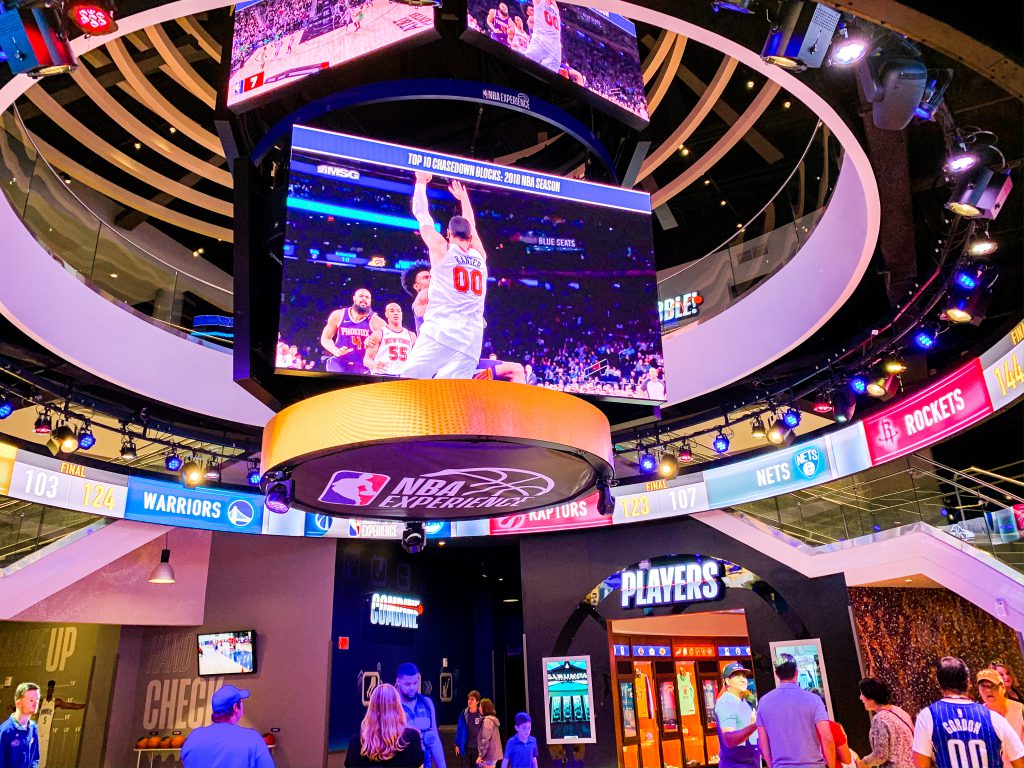 Do you have an NBA fan in your family? No? Well not to worry because the NBA Experience offers a fun time for all, whether or not you're a basketball fan!
What Is It?
The NBA Experience at Disney Springs is a completely immersive experience where you have the opportunity to learn what it takes to be a professional basketball player, from watching films and learning facts to taking on physical challenges and activities. There are 13 activities in total and each one offers an interactive and fun way to get in the game! There is no food or drinks allowed inside, but your one day ticket allows you to leave and return throughout your day making it easy to go out and grab some lunch and then return for more fun.
The Experience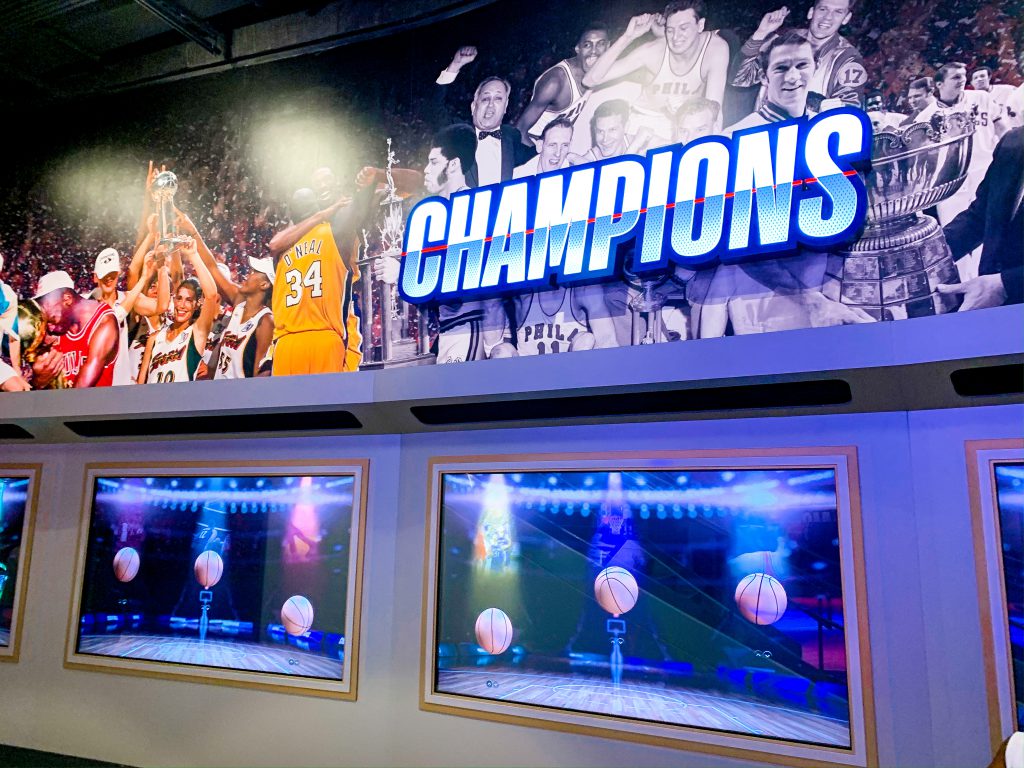 Last weekend I had the opportunity to visit the NBA Experience at Disney Springs for Disney's Family Media Day. As I walked into the entrance area on level 1, I literally felt like I was walking into an arena and out onto the basketball court. The huge screens above continuously showed basketball highlights as Cast Members welcomed you in. The photo ops with the Championship and MVP trophies located here were very fun.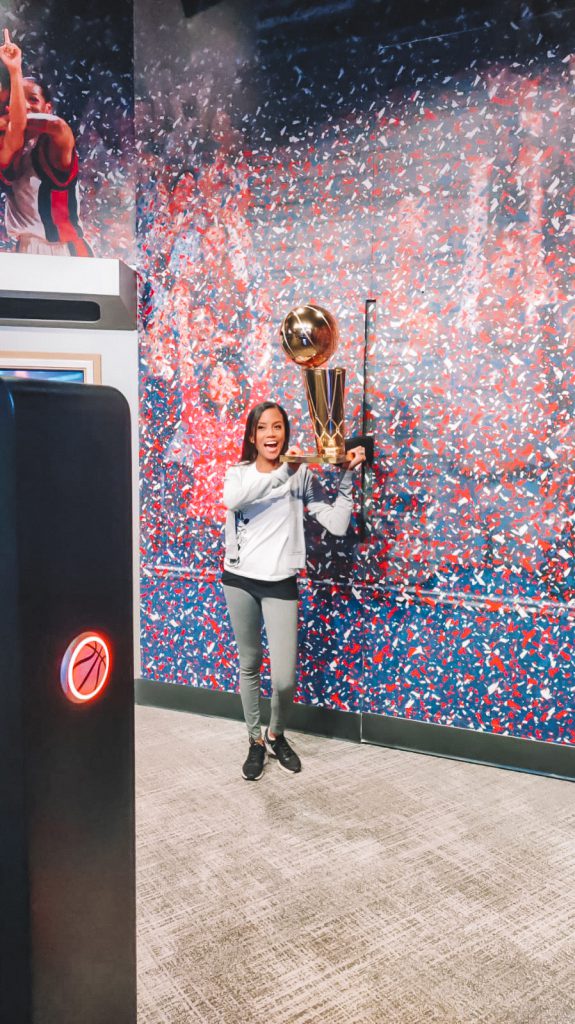 Don't forget to stop by the kiosks located in this area as well. I almost skipped this without realizing that this is where you can personalize your whole experience by scanning your magic band or entrance pass and entering your age, favorite team, basketball skill level, and even a nickname.
The players' locker rooms, theater (featuring two 10 minute films), and the Combine experience are also located on this level. In the Combine experience you are able to measure your wingspan, vertical leap and shooting skills. This was pretty fun and a great way to introduce you into the world of an NBA player.
The Players- Inside the Sanctuary actually felt like you were really inside the players' locker rooms. The displays were amazing featuring memorabilia and items from the different teams and players. There were also huge touch screens that provided you with stats and various information about the NBA teams.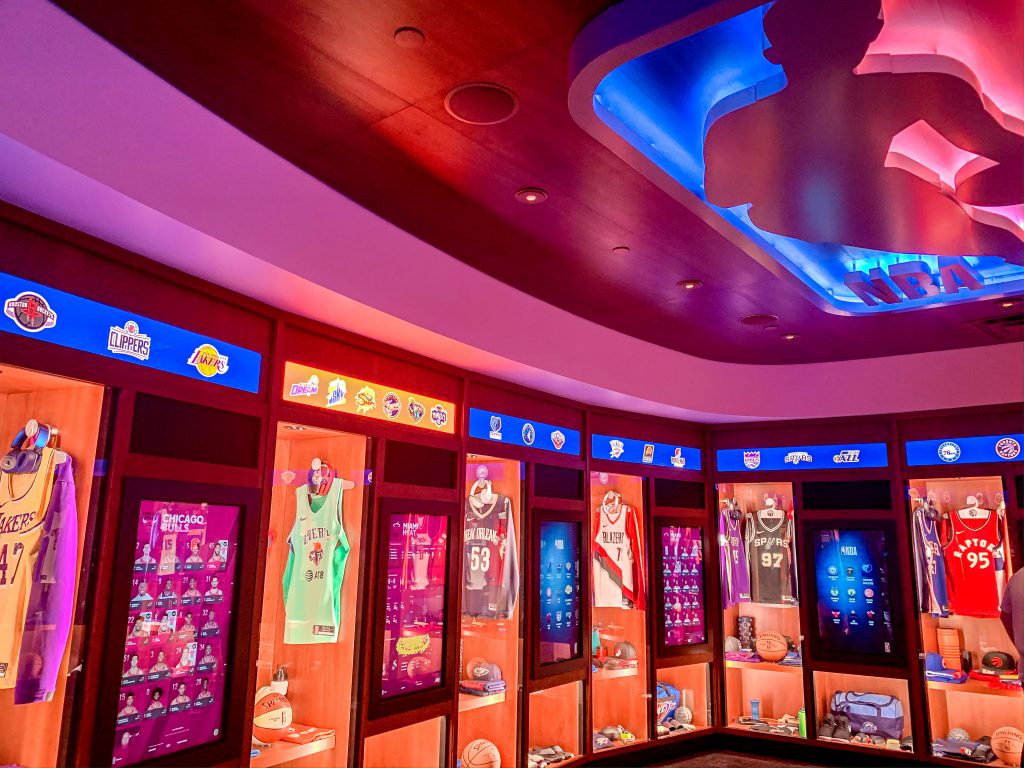 After exploring level 1, we headed to level 2 where the rest of the physical challenges and activities were located. In this area you will find the interactive games such as Slingshot, Shoot, Dunk, and Dribble.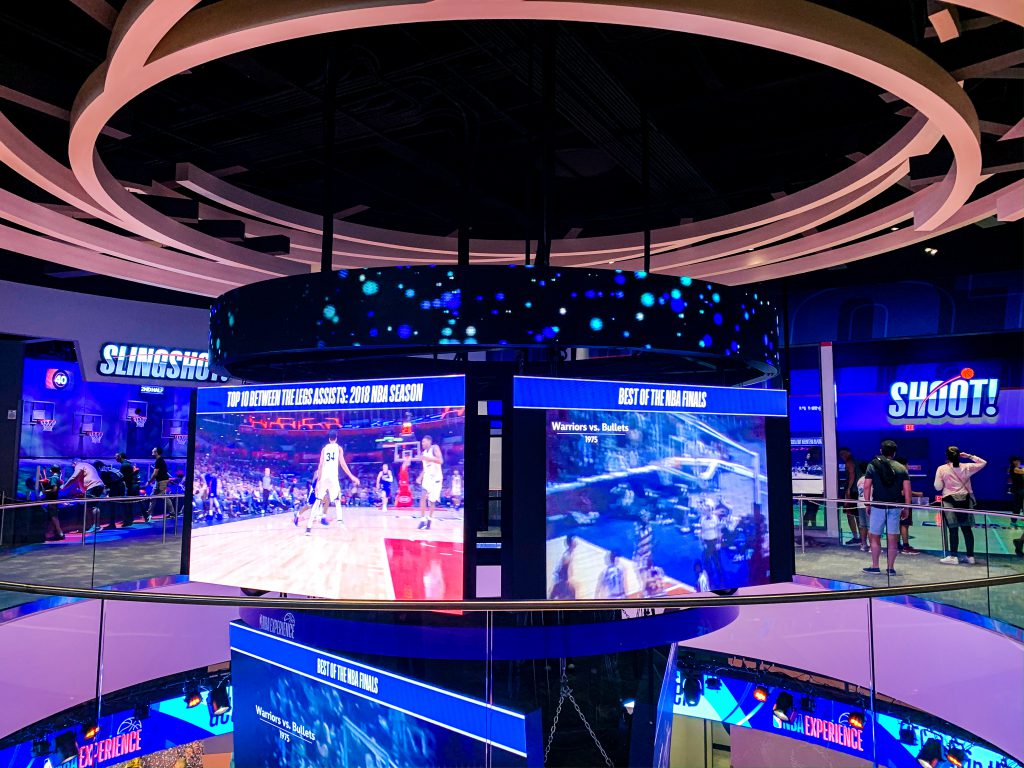 The Slingshot challenge was one of my favorites! Here you use a large slingshot to shoot the ball into hoops of various heights. I literally must've played this game like 4 times! It's so fun and a very different approach on shooting a basketball.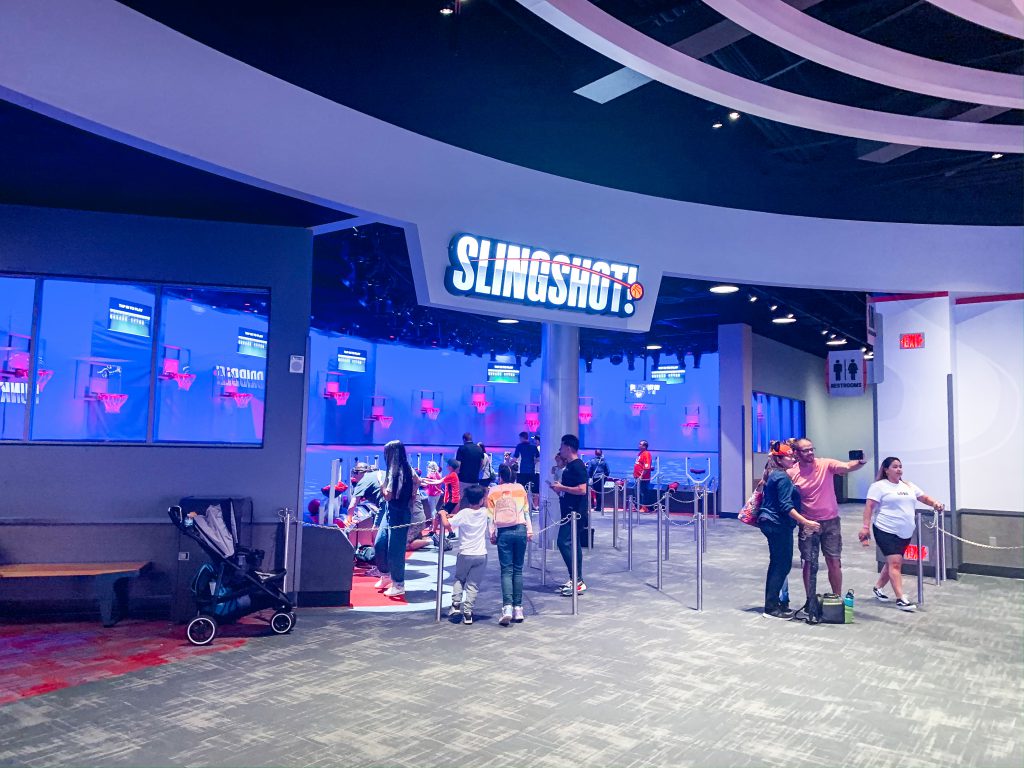 The Shoot challenge was another activity I enjoyed trying multiple times. You actually get to step onto a basketball court and try your skills at shooting a basketball from the three-point line. The Cast Member you are teamed up with assists in passing the balls to you before you run out of time. I felt like I was actually playing in the court as the Cast Member cheered me on.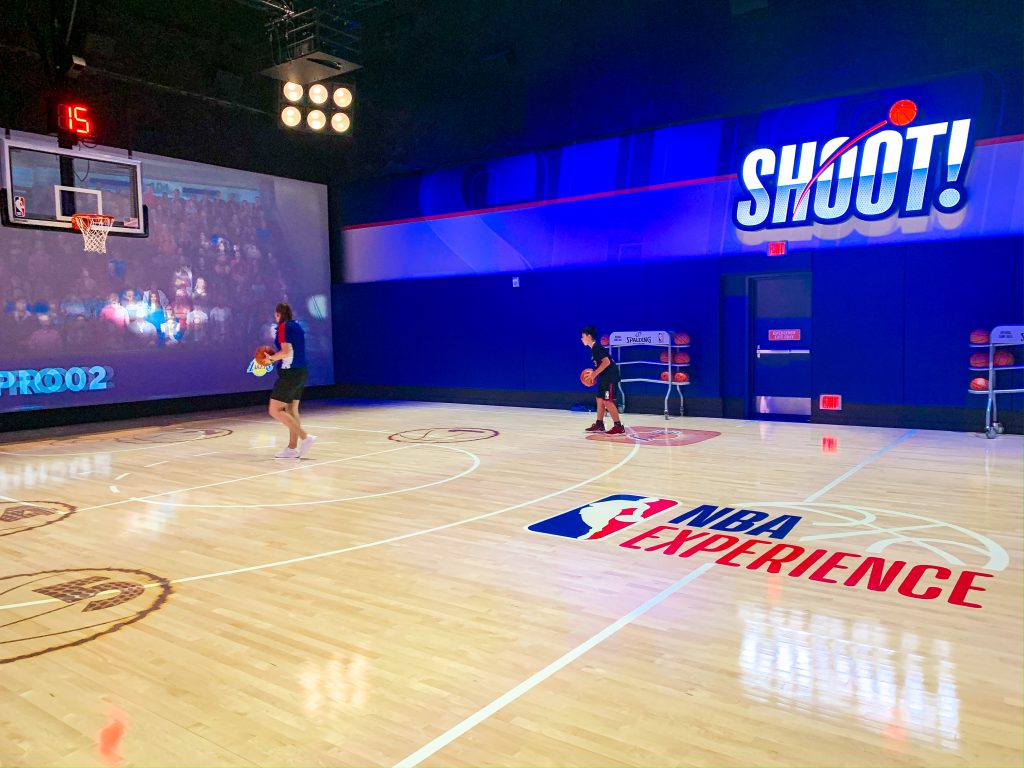 We ended up playing a few rounds of their classic basketball style arcade games. I was very surprised to find that they even had the NBA 2K video games as well. Honestly, you could probably even spend quite a bit of time there just playing the arcade games and challenging your friends.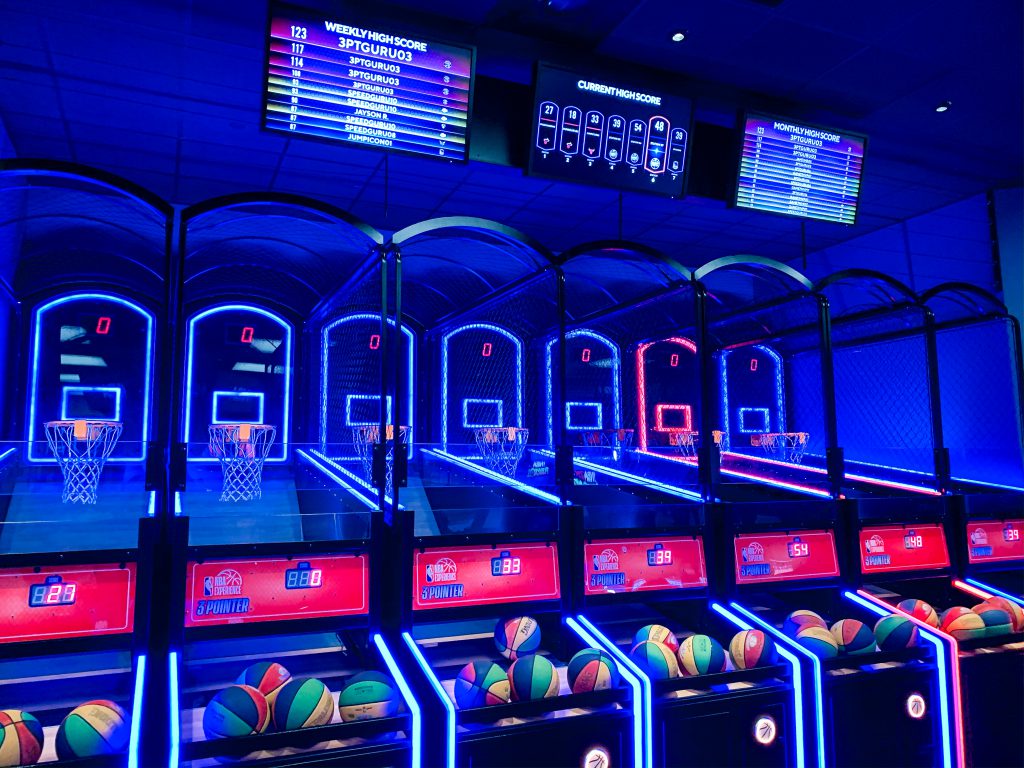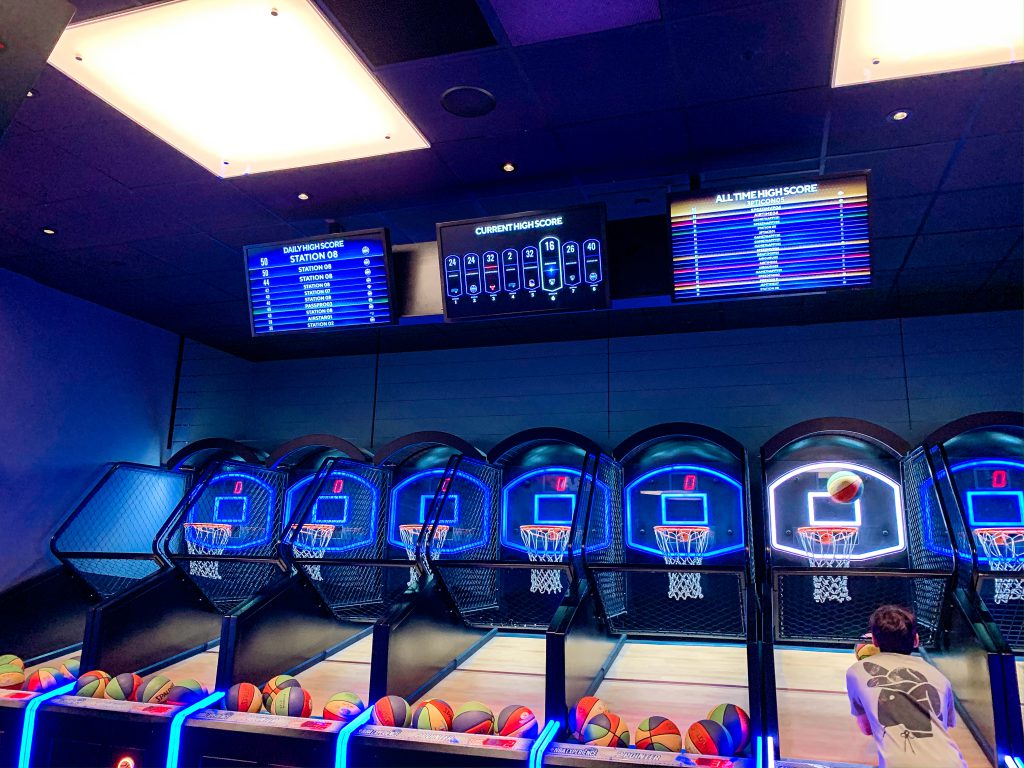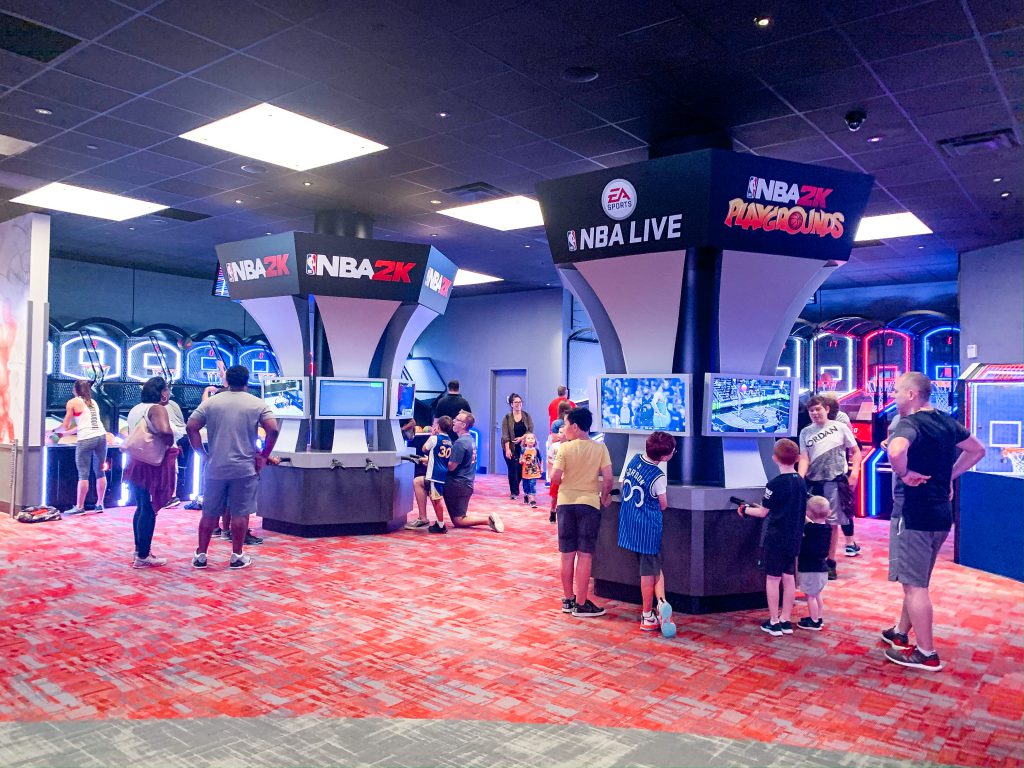 Another fun area was Trivia, whether or not you have intensive knowledge about the NBA. It's just an overall entertaining experience, and with the possibility of competing with up to 20 people at a time, it makes for some good competitive fun.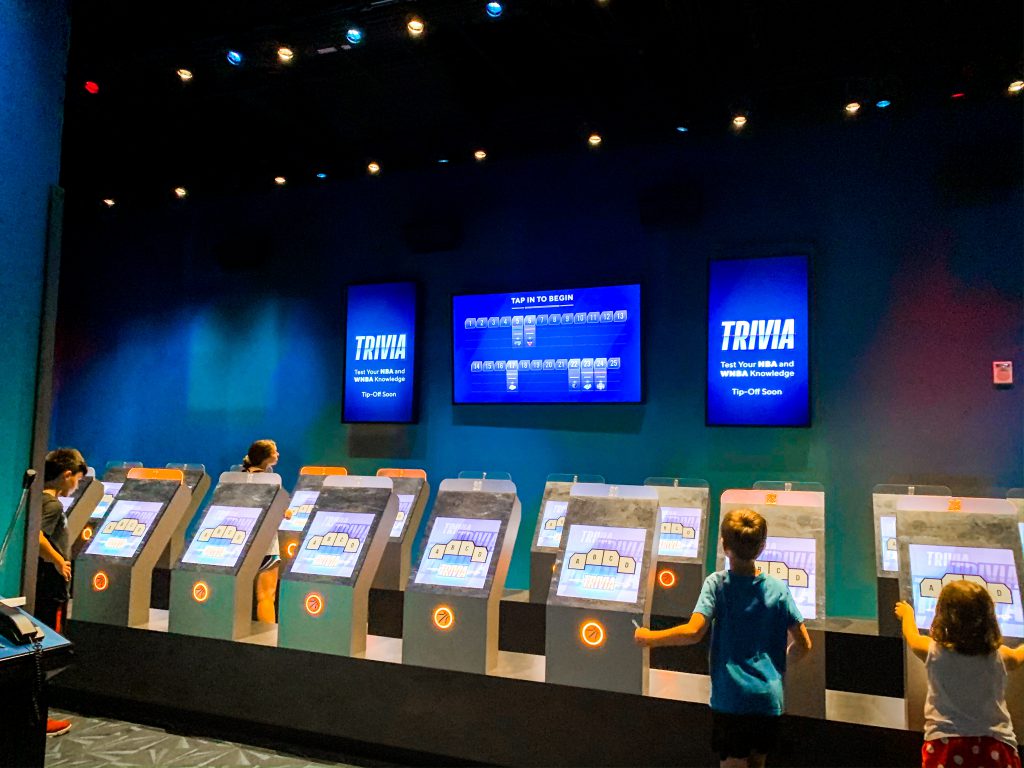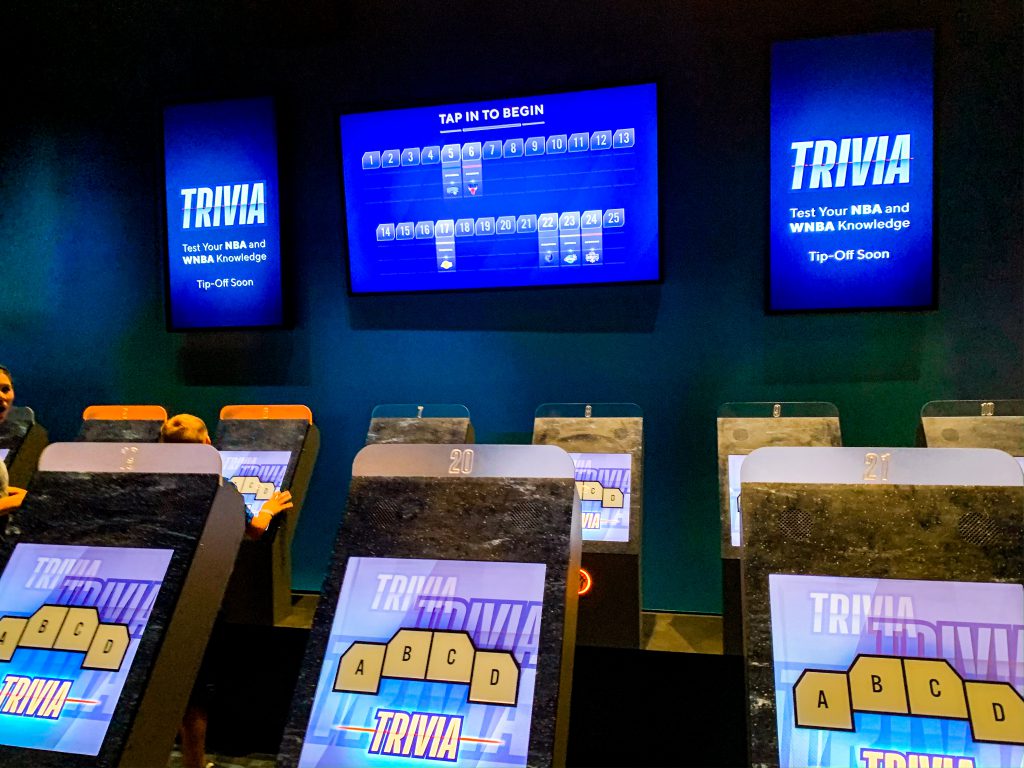 We also had to make a stop at the Draft Day photo op where we got "drafted" by our favorite team. This is another photo opportunity that adds a nice touch to the overall experience. After being selected by your team, you have the chance to take an amazing, personalized photo with the NBA Commissioner.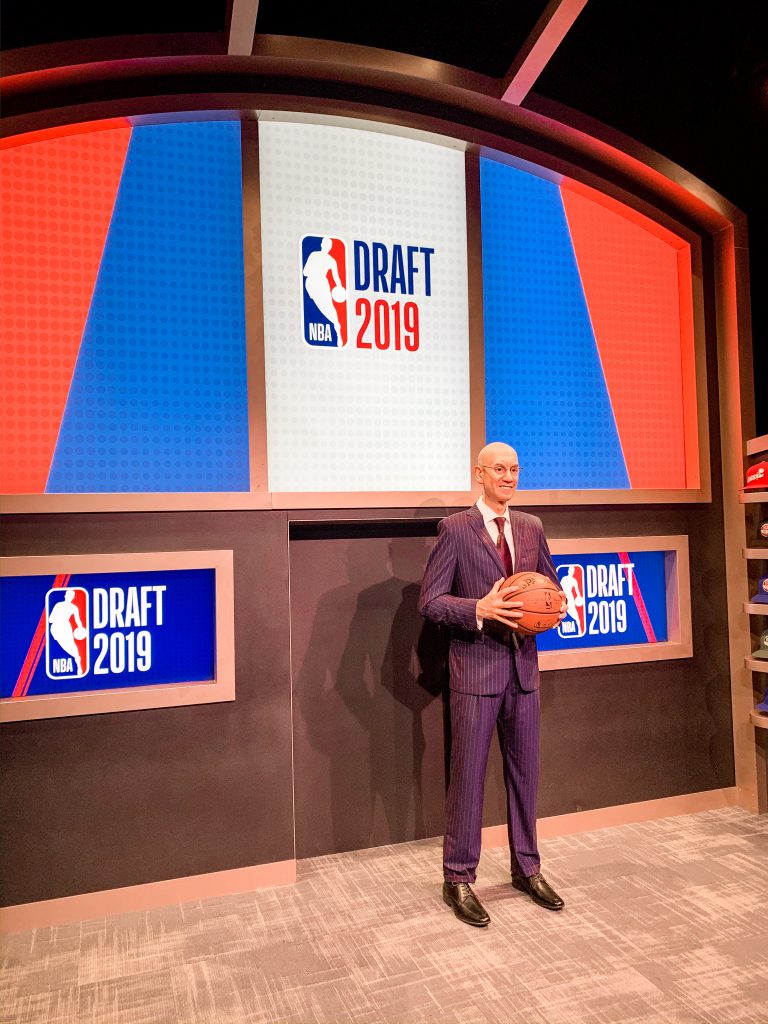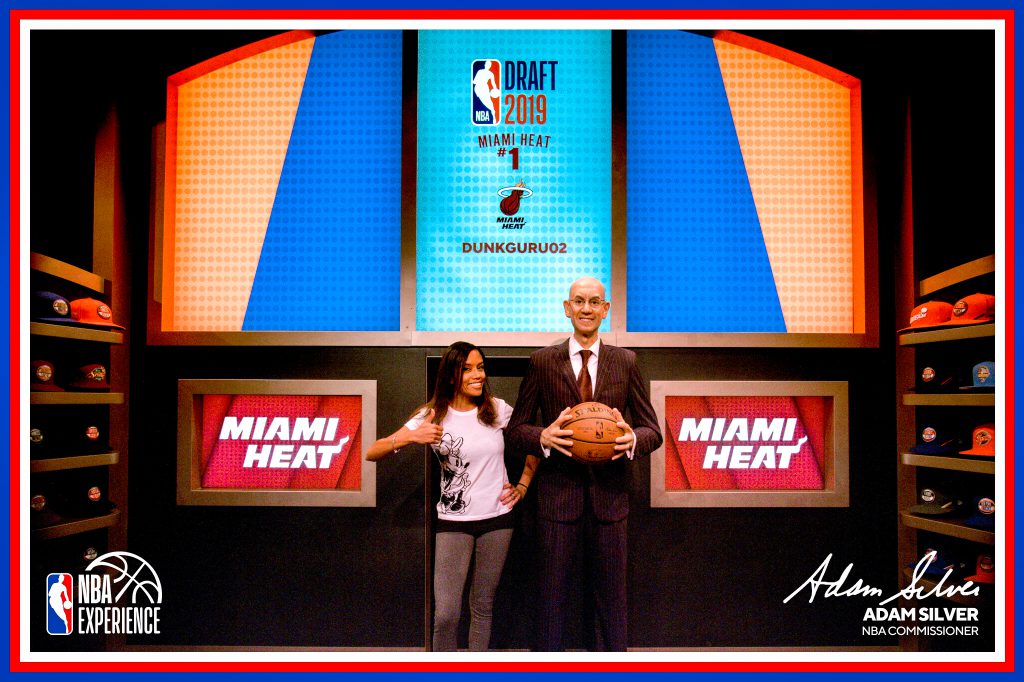 The Dunk and Dribble areas provide even more opportunities to test your skills. The Dunk challenge lets you adjust the height of the hoop, making it perfect for anyone to practice dunking. In the Dribble challenge, you can practice dribbling a ball from one hand to the other while your accuracy is measured.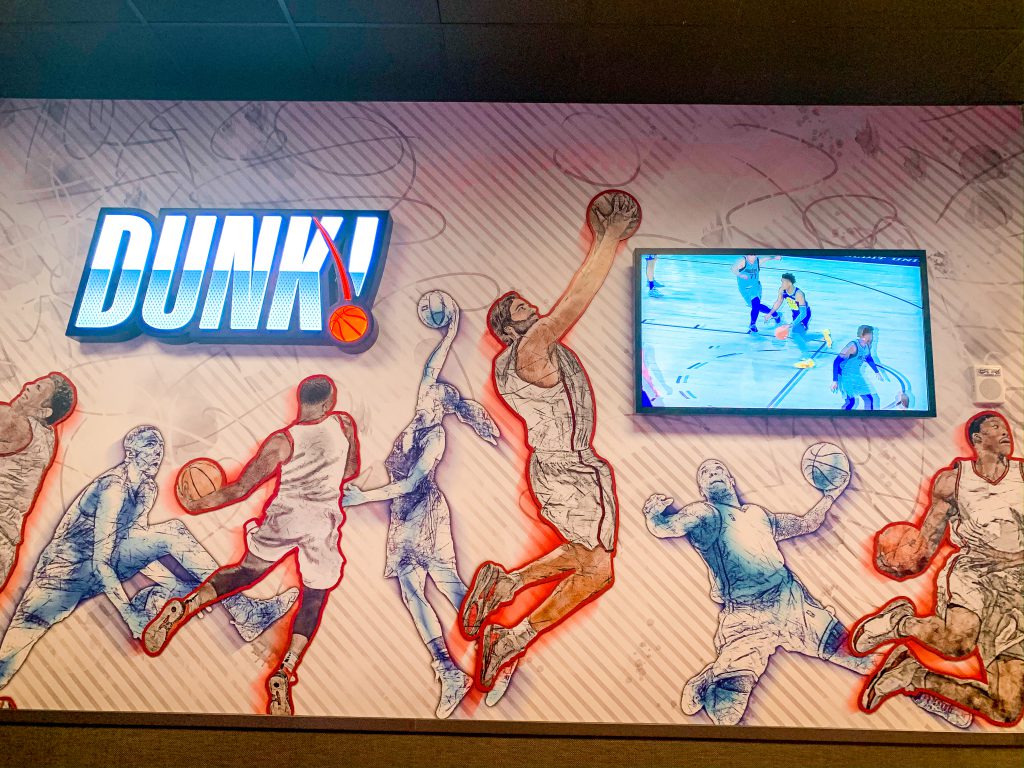 Before heading back downstairs, we quickly checked out the Replay area. For this game, you must make the call about whether or not an NBA play was good or bad, just like an official. It's easy to miss this experience due to its location but worth a quick stop as it is another important aspect of the NBA game.
Overall Thoughts
We spent about 2 hours checking out the NBA Experience but I feel that we could have easily stayed longer simply enjoying the interactive games. I think a big NBA fan would definitely appreciate all that this place has to offer. They really did an amazing job bringing the NBA world to the fans.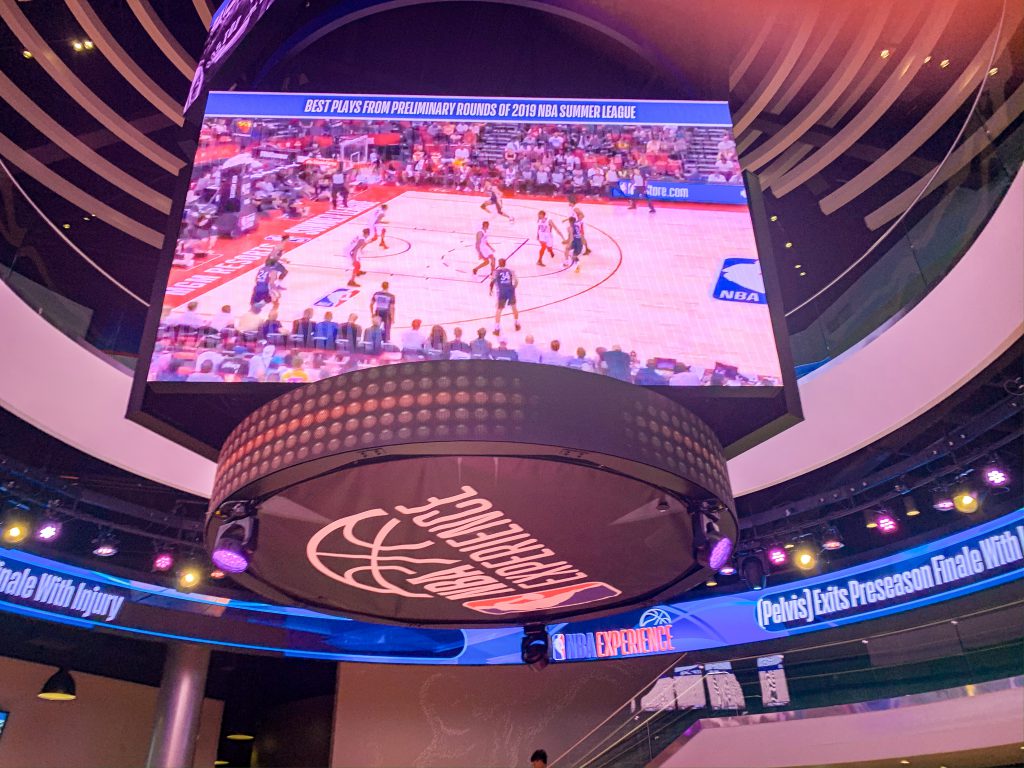 However, you can still enjoy competing in the games with family and friends without being a fan. This is a true hands-on experience and anyone is able to participate and have fun no matter their age. It's a great option for a non-park, rainy, or hot day.
The NBA Experience is located on the Disney Springs West Side. Tickets are $34 per person and include all the pictures taken throughout the day at the various photo ops inside the facility. For more information visit the Walt Disney World website.
A special thank you to Disney for inviting us to the NBA Experience Family Media Day. We had a blast!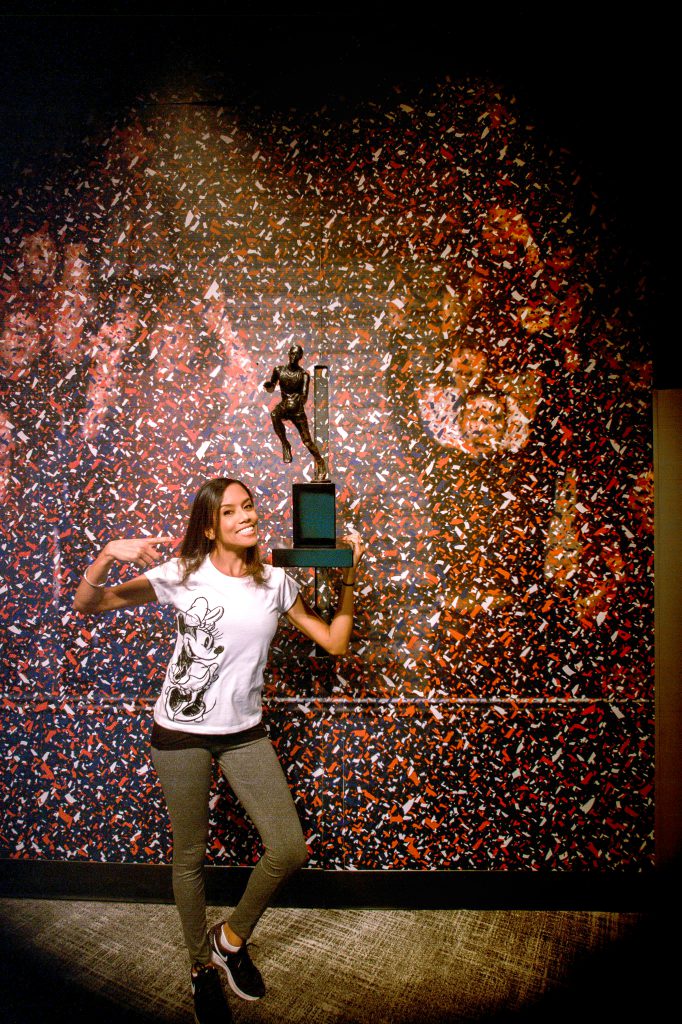 Will you be visiting the NBA Experience at Disney Springs on your next trip?