The most wonderful time of the year becomes even more spectacular at the Most Magical Place on Earth. Walt Disney World has the most amazing shows and decorations during this time of year, including one of the most magical celebrations, Mickey's Very Merry Christmas Party.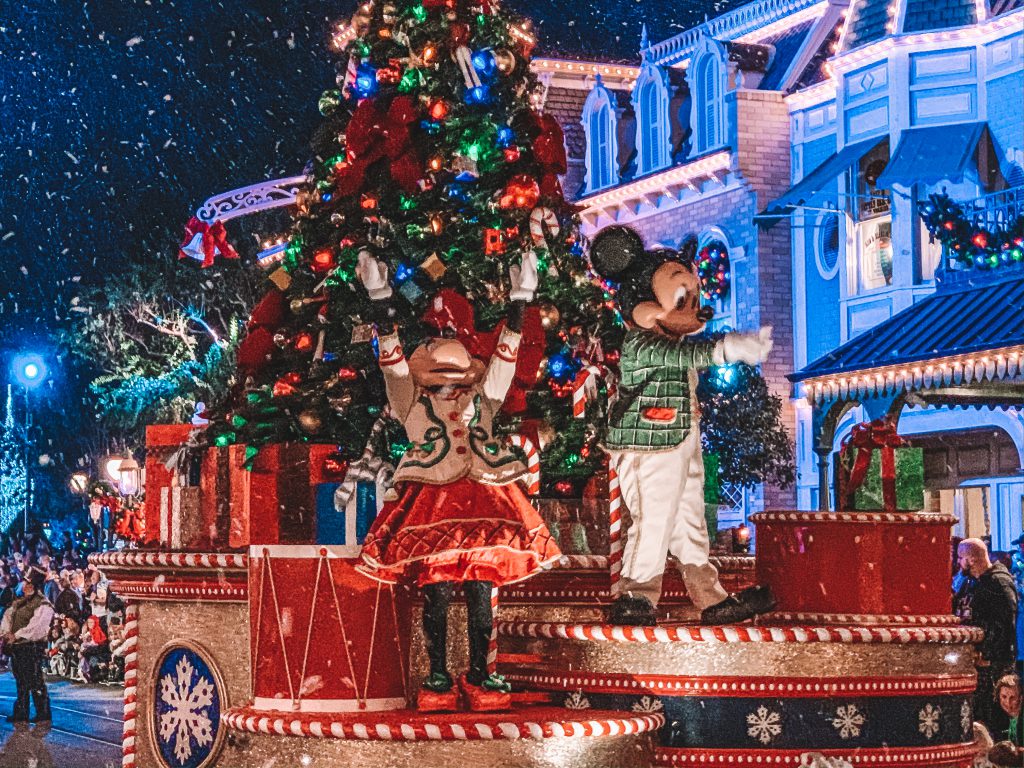 This annual event takes place on select nights until December 22nd, with special shows, treats, and even a parade, all included with your party ticket. Although it is a separate ticketed event, you can enter the park as early as 4pm and use fastpasses until the party officially starts at 7pm (fastpasses are not available once the party begins).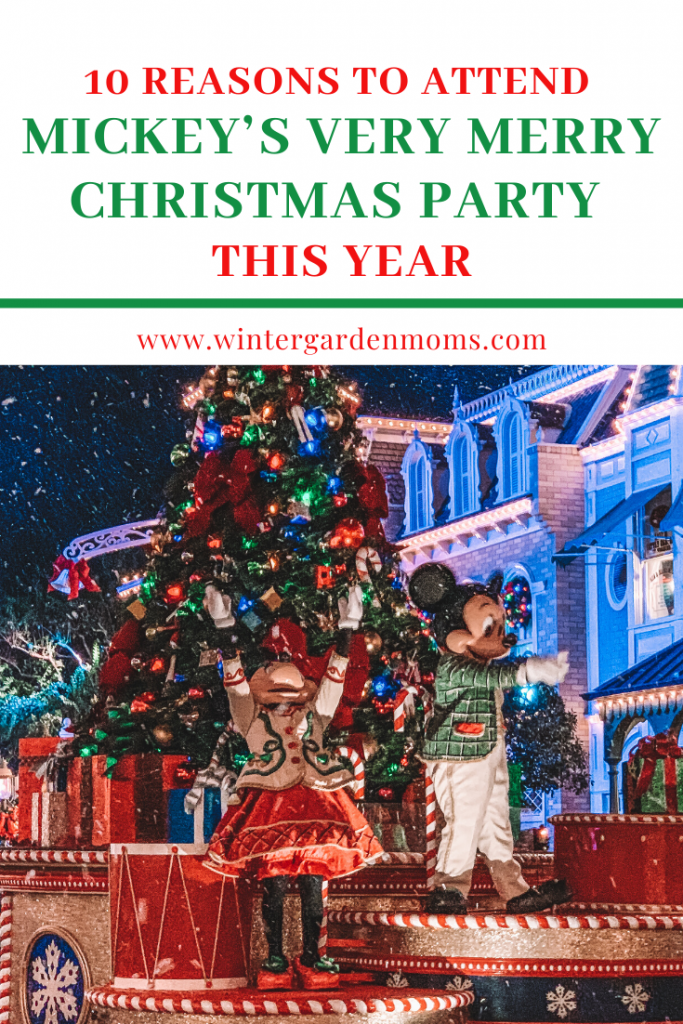 Love Christmas as much as we do? Then read on to find out why this amazing party is a must-do during your holiday visit at Walt Disney World!
1. Holiday Shows
The best way to get into the holiday spirit is watching one of Walt Disney World's special stage shows. A Frozen Holiday Wish is one you will not want to miss as Elsa "lights up" the castle for the holidays! Keep in mind that there are only two shows available, one at 6:15pm (open to the public) and one at 8:15pm (only for party guests).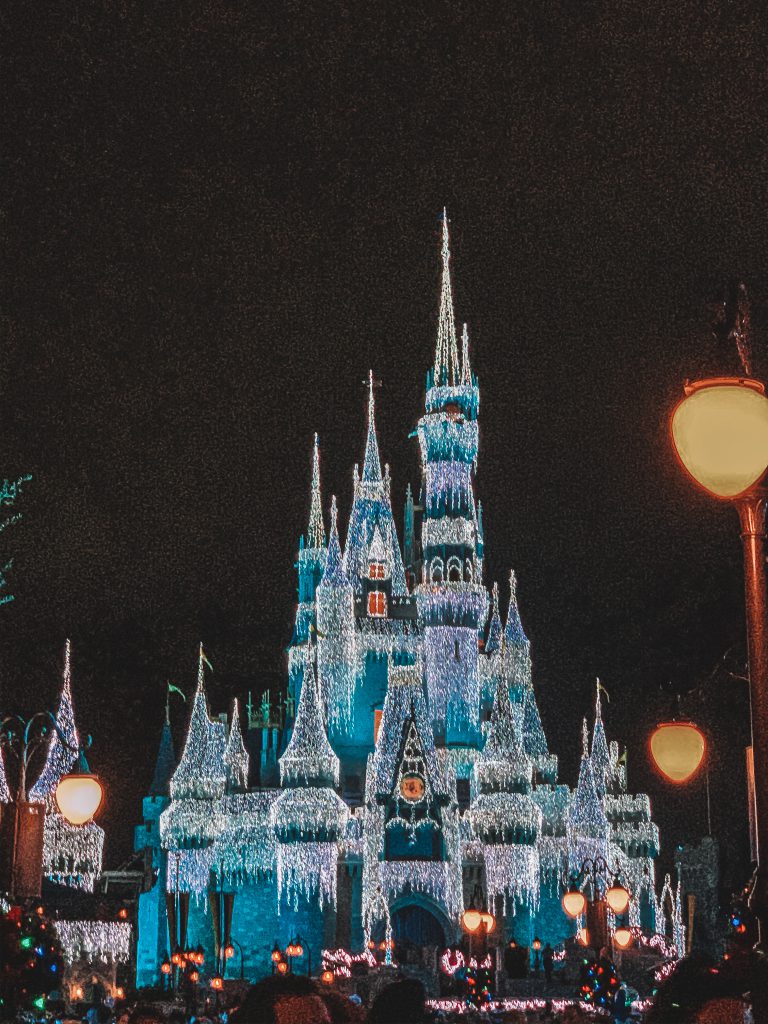 Another favorite is Mickey's Most Merriest Celebration which takes place several times a night. This show is so cute as Mickey and his pals dance on stage to some classic holiday tunes that will get you singing and dancing right along with them.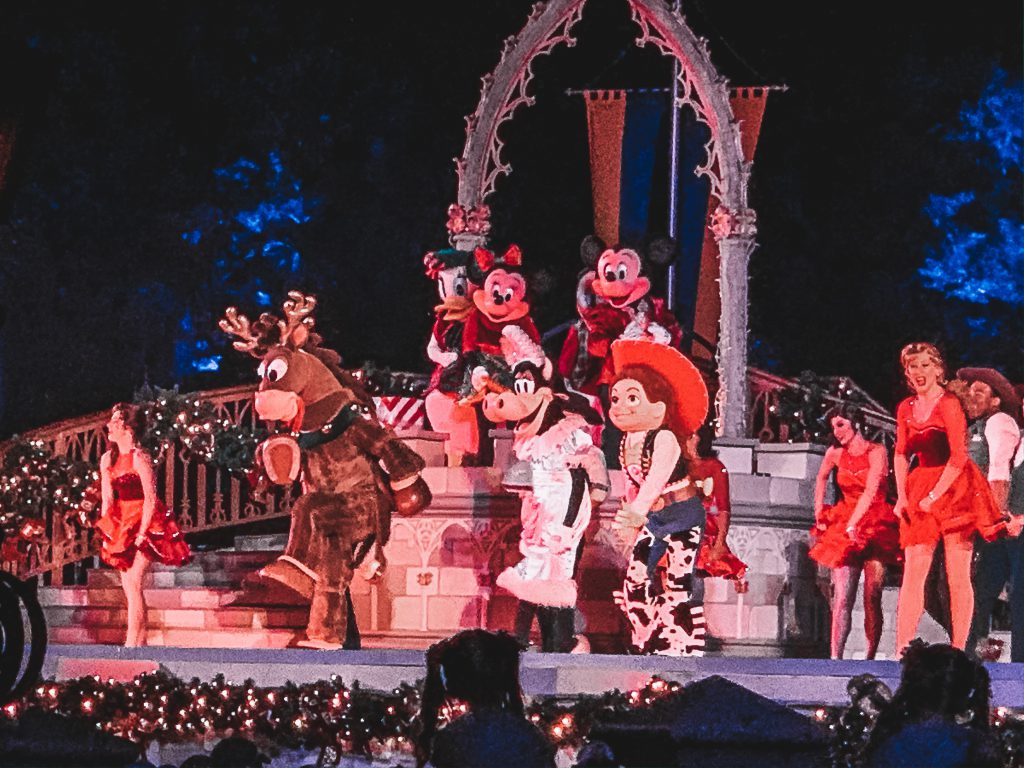 Times available for this show are: 7:40pm, 9:25pm, 10:30pm, and 11:55pm
2. Dance Parties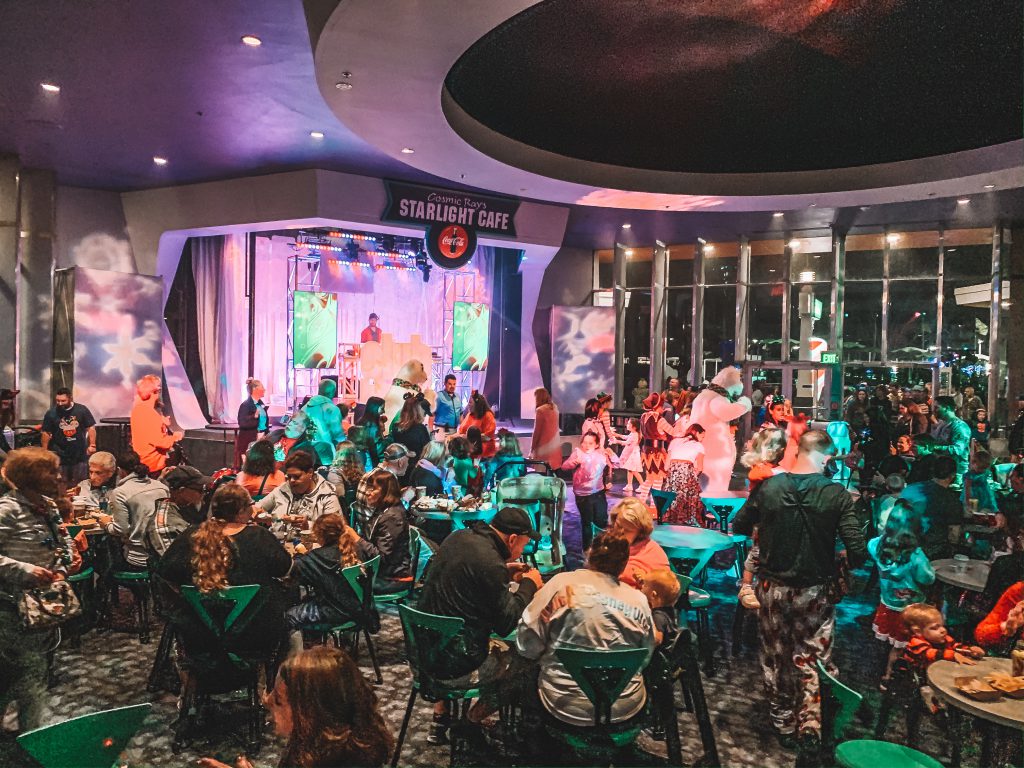 These are always a favorite in our family, especially for our daughter whenever we attend one of these special events. She absolutely loves interacting and dancing along to some of her favorite characters.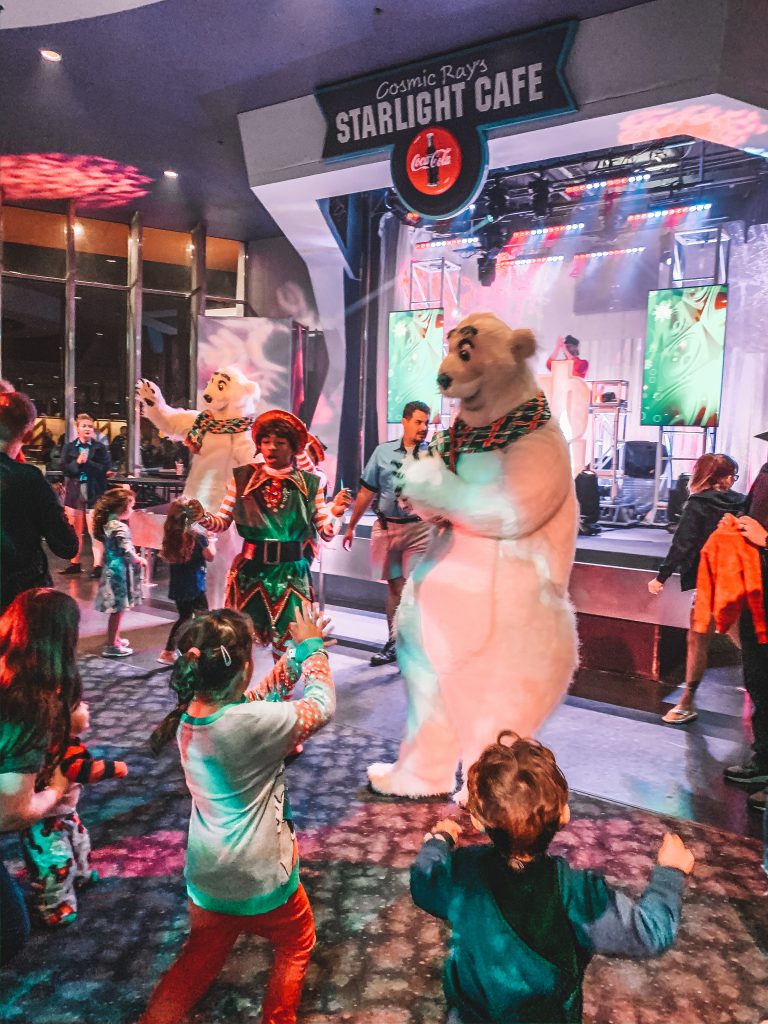 Mickey's Very Merry Christmas Party actually includes three locations (including one indoors) where your little ones can dance the night away alongside some of their fave Disney pals.
Dance Parties include :
Storybook Circus Disney Junior Jam running from 7pm-12am at Storybook Circus
A Totally Tomorrowland Christmas with showtimes at 7:45pm, 8:35pm, 9:25pm, 10:45pm, and 11:35pm) and also an a cappela concert by The Edge Effect at 8:10pm, 0:00pm, 10:20pm, and 11:10pm.
Club Tinsel located at Cosmic Ray's Starlight Cafe offers continuous fun from 7pm all the way to midnight.
3. Complimentary Treats And Drinks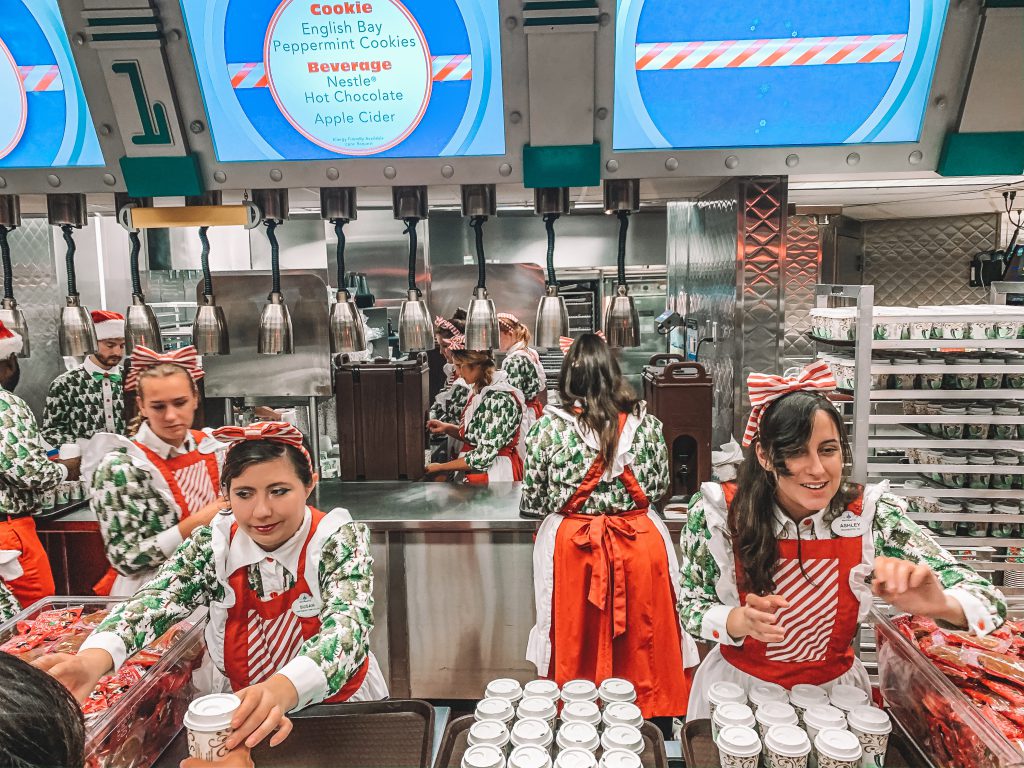 One of our favorite things about this party is definitely stopping at a treat station for our holiday treat. There are 11 stations throughout the park, each handing out a treat and drink. It's all unlimited and since the cookies are individually wrapped, you can easily take them home to enjoy later!
Treat Stations Locations and Treats:
Main Street USA: Welcome holiday treat (and one of my favorites, a delicious sugar cookie!)
The Lunching Pad: Ginger Molasses Cookie and Apple Cider
Cosmic Ray's Starlight Cafe: Peppermint Cookie, Hot chocolate, and Apple Cider
Golden Oak Outpost: Snickerdoodle Cookie
Miner's Cove: Peppermint Cookie
The Diamond Horseshoe: Chocolate Chip Cookie and Eggnog
The Friar's Nook: Chocolate Chip Cookie
Storybook Snacks: Snowman Pretzel
Pinocchio Village Haus: Snickerdoodle Cookie, Hot Chocolate, and Fanta
Jungle Cruise: Ginger Molasses Cookie
Tortuga Tavern: Snowman Pretzel and Fanta
Allergy-Friendly treats are also available upon request.
4. Ride Overlays and Shorter Wait Times
Many of your favorite attractions stay open during the event, providing you an excellent opportunity to enjoy them without the long wait times. A few have also been enhanced for the party, each with a festive twist. These ride overlays include Jungle (Jingle) Cruise, Mad Tea Party, Tomorrowland Speedway, Space Mountain, and Monsters, Inc. Laugh Floor.
5. Characters Dressed In Holiday Attire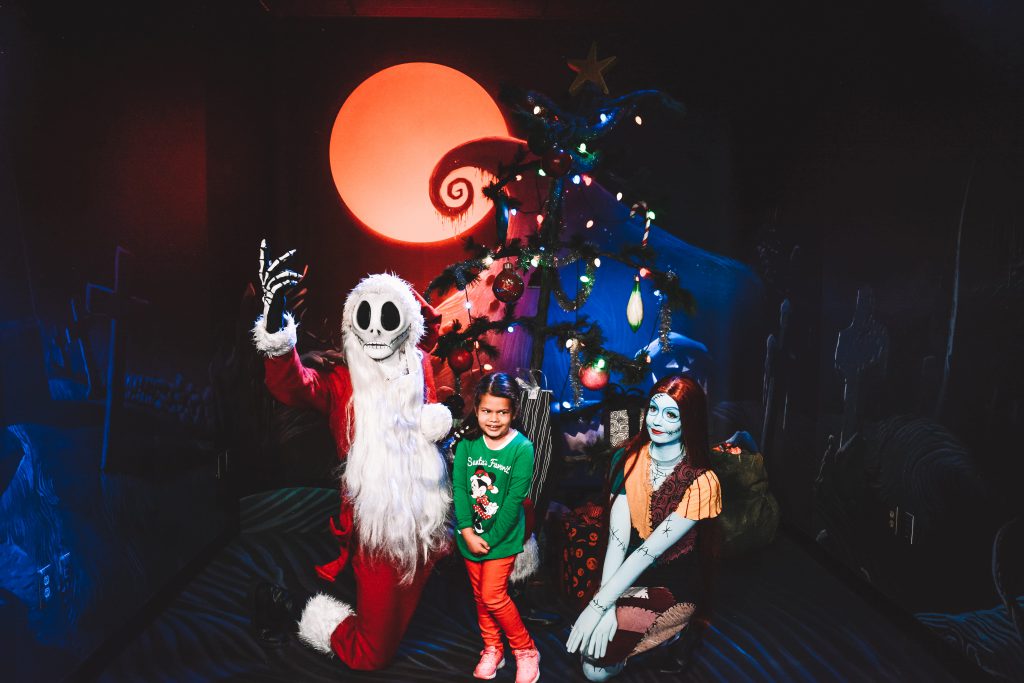 Many of the classic characters have dressed up for the holiday season and offer the cutest meet and greets. There are also some special characters that only appear during the party and although wait times can get somewhat long, characters meet throughout the whole night giving you plenty of opportunity to meet some of your favorites.
Characters and Locations:
Main Street U.S.A- Santa Claus, Mickey Mouse, Jack Skellington (as Sandy Claws) and Sally
Tomorrowland- Reindeers and Polar Bears (Club Tinsel), Nick Wilde, Judy Hopps
Liberty Square- Mary Poppins and Bert
Frontierland- Country Bears
Fantasyland- (many characters are found in this area)
Pooh and Friends, Tweedle Dee and Tweedle Dum, Ariel and Prince Eric, Snow White and Prince, Cinderella and Prince Charming, Rapunzel and Flynn Rider, Princess Elena of Avalor, Aurora and Prince Phillip, Princess Tiana and Prince Naveen, Belle. The Seven Dwarves, Minnie and Daisy, Donald and Scrooge McDuck, Santa Goofy, Doc McStuffins, Vampirina, Timon, and Fancy Nancy can all be found in Storybook Circus.
Adventureland- Jack Sparrow, Moana, Aladdin, Jasmine, Abu and Genie, Peter Pan
6. Specialty Treats
Although the party ticket includes unlimited cookies and drinks, there are also various party exclusive treats all around the park. These are not included with your party admission but are incredibly festive, delicious, and I highly recommend that you try at least one or more!
Specialty Treats Available:
Olaf's Frozen Hot Chocolate- GF chocolate cake, layered with chocolate crisps, chocolate panna cotta, and marshmallow fluff (Main Street Bakery and it was delicious!)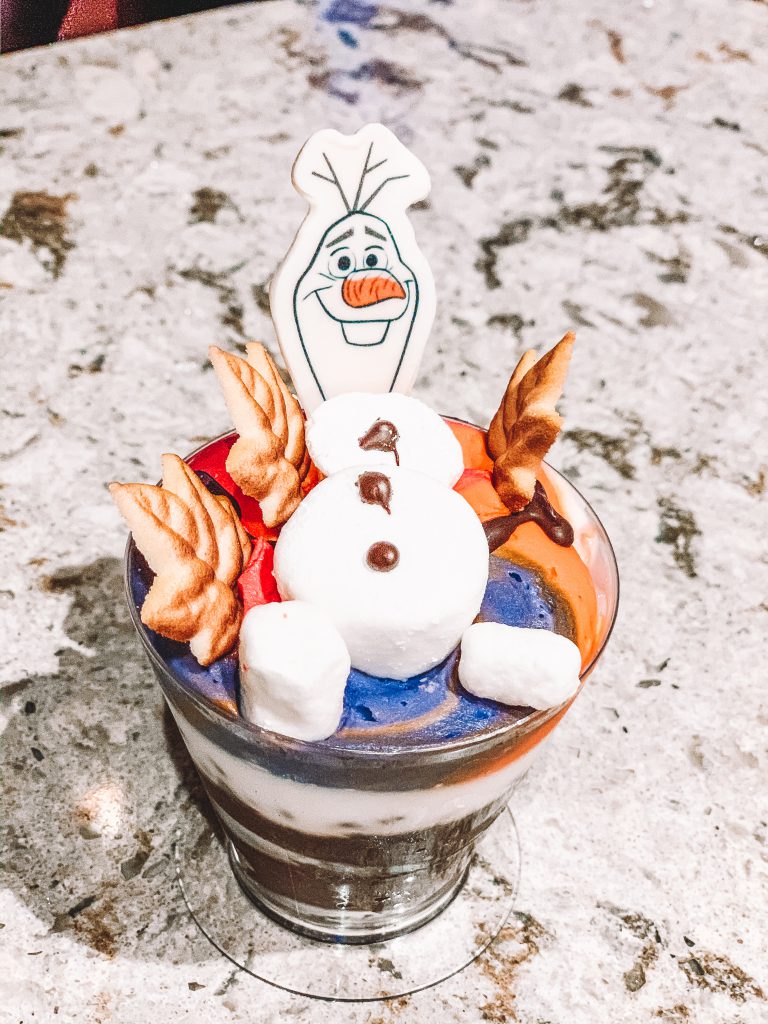 Holiday Mickey Cinnamon Roll- A Mickey-shaped cinnamon roll garnished with red and green icing and a white chocolate Mickey Santa hat (Main Street Bakery)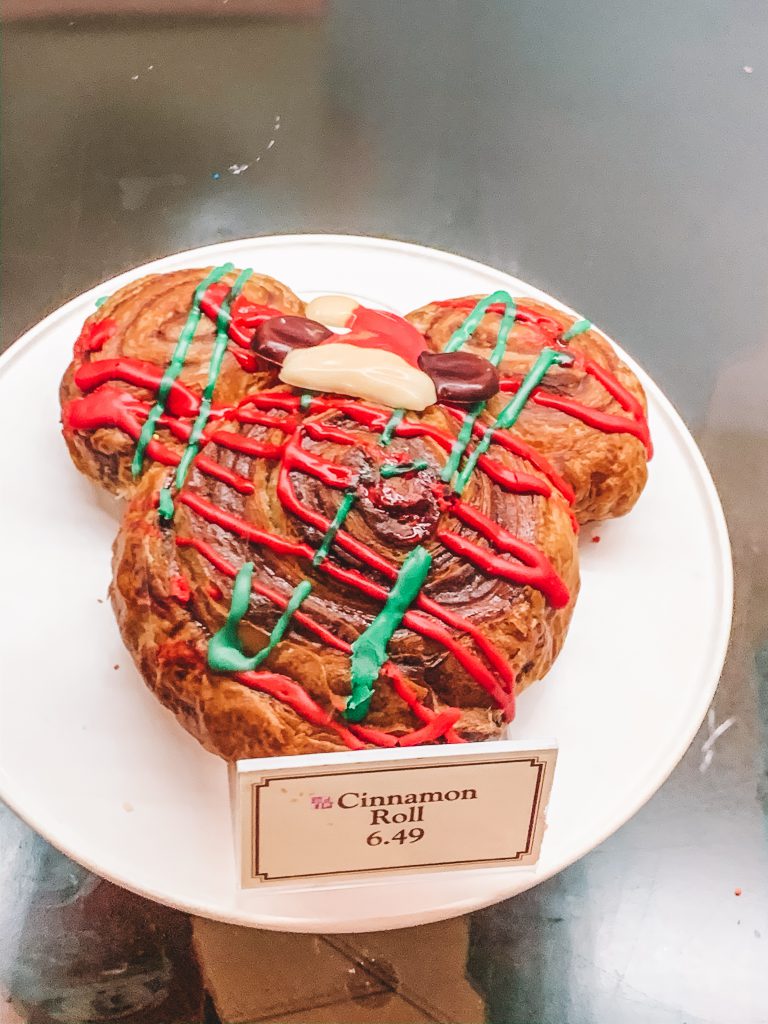 Snowflake Brownie- Chocolate brownie decorated with sugar snowflakes and icing (Casey's Corner)
Carved Turkey Sandwich (Party Exclusive) – Oven-roasted turkey with Applewood smoked bacon, smoked gouda, chipotle garlic aïoli, lettuce, and tomato on a roll (Cosmic Ray's Starlight Café)
Christmas Cookie Milkshake- Cookie butter milkshake topped with whipped cream and a Mickey marshmallow straw (Auntie Gravity's Galactic Goodies)
Christmas Cookie Sundae- Cookie butter soft-serve topped with whipped cream, chocolate sauce, sprinkles, and a white chocolate piece (Auntie Gravity's Galactic Goodies)
Gaston's Cheese Dip (Party Exclusive) – Beer cheese dip with smoked bacon bits served with breadstick antlers (Gaston's Tavern)
Gingerbread Sundae- Gingerbread soft-serve sundae topped with whipped cream, gingerbread pieces, and a Minnie Mouse waffle topper (Storybook Treats)
An Orange Bird Christmas (Party Exclusive) – Orange-scented white chocolate mousse filled with orange curd on a citrus-almond cream cake with buttercream leaves and a white chocolate piece (Sunshine Tree Terrace)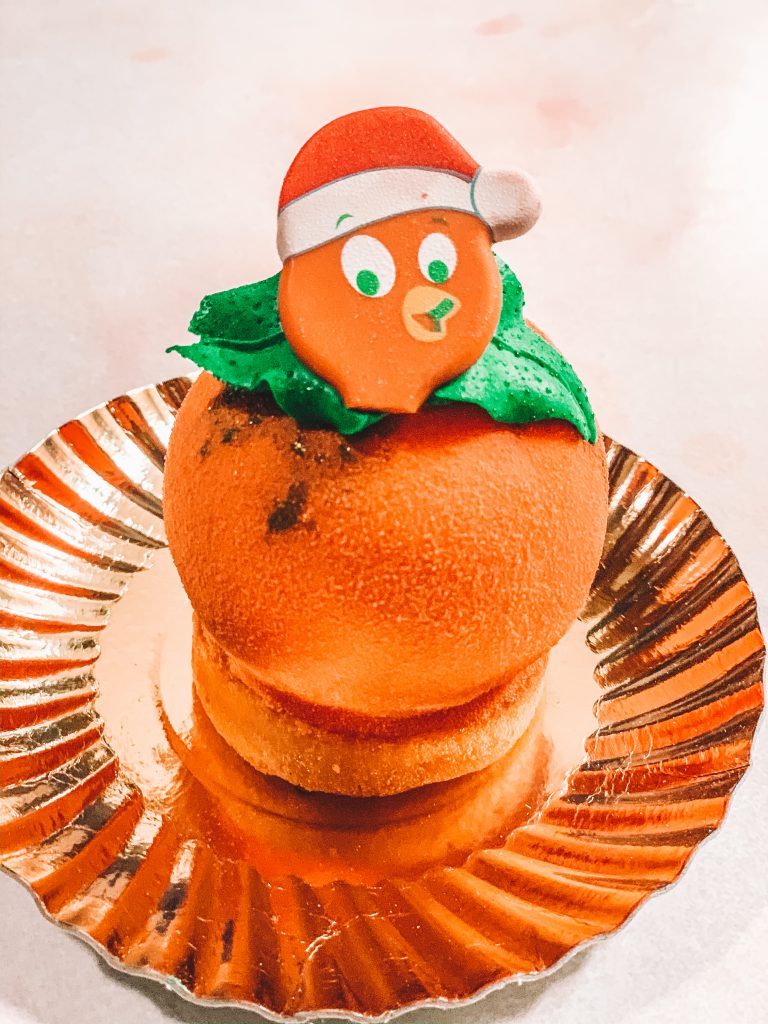 Cherry & Pistachio Float –Cherry and pistachio swirl soft-serve served over cold hot chocolate (Aloha Isle)
Kakamora Float (Party Exclusive) – Coconut soft-serve served on top of pineapple juice and non-alcoholic blue curaçao syrup topped with a chocolate Kakamora cake pop (Aloha Isle)
Sven's Carrot Cake (Party Exclusive) – Carrot cake topped with cream cheese icing, sugar carrots, and a chocolate Sven piece (Pecos Bill Tall Tale Inn & Café)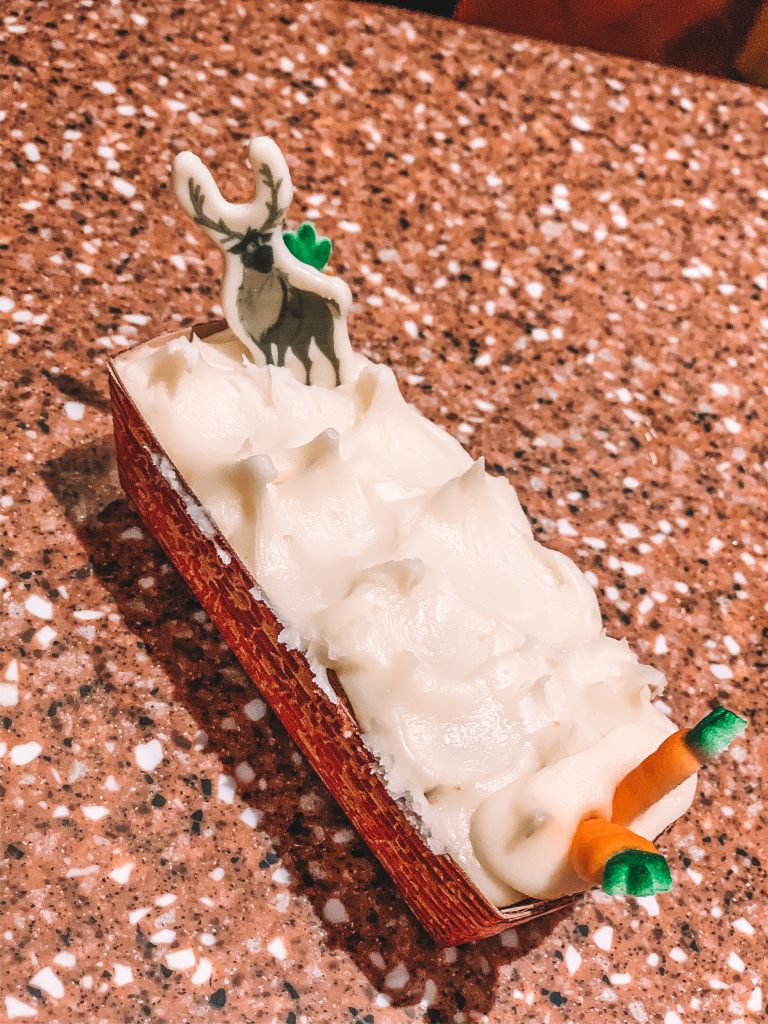 Jolly Tamale Christmas (Party Exclusive) – Three house-made tamales filled with shredded chicken and your choice of toppings from the complimentary fixings bar (Pecos Bill Tall Tale Inn & Café)
Christmas Churros- Mini churros topped with red and green sprinkles and served with chocolate dipping sauce (Pecos Bill Tall Tale Inn & Café and Outdoor Vending Churro Carts)
Santa Mickey Waffle Sundae- Red velvet waffle topped with mint-chip ice cream, seasonal sprinkles, chocolate sauce, and peppermint powder (Sleepy Hollow)
Tis the Season (Party Exclusive) – Chilled Fanta Orange mixed with cranberry juice and green apple popping pearls
To Be Jolly Float (Party Exclusive) – Peppermint iced coffee topped with vanilla ice cream, crushed peppermint, and a chocolate Minnie Mouse bow (Plaza Ice Cream Parlor)
Deck the Halls- Frozen eggnog topped with whipped cream, confetti sprinkles, and a chocolate bulb (Cosmic Ray's Starlight Café)
7. Exclusive Merchandise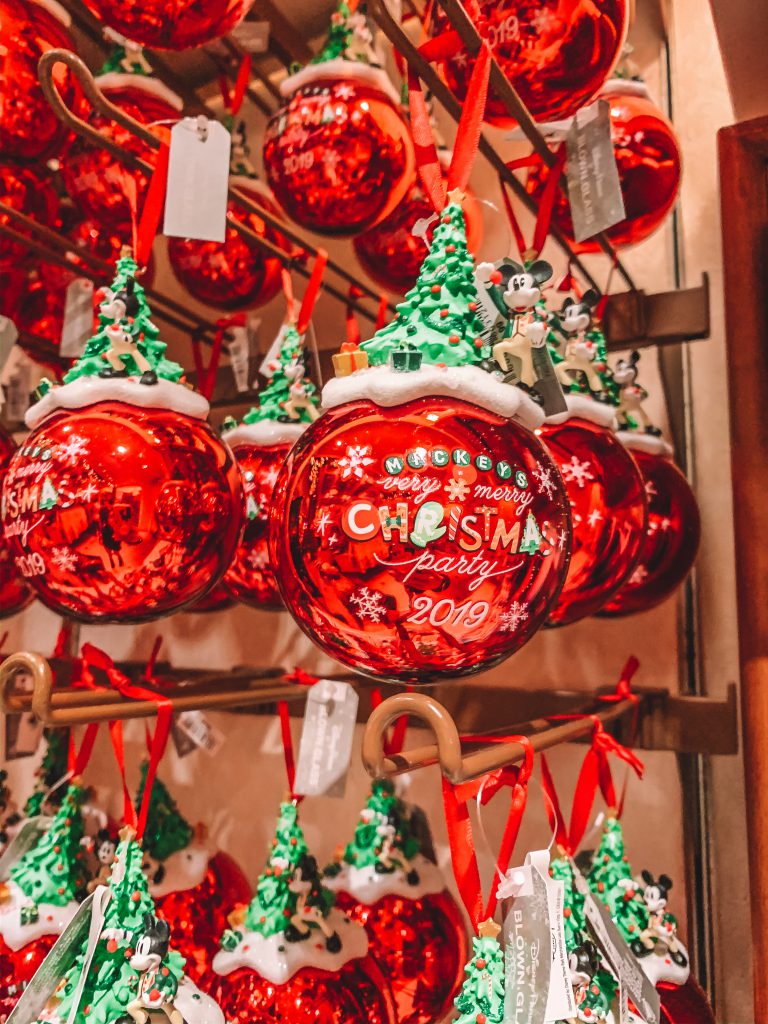 Looking for ways to take a bit of the festive fun home? Then make sure you stop by the Emporium, Big Top Souvenirs, Star Traders, Frontier Trading Post, and the Ye Olde Christmas Shoppe. Here you can purchase many of these party exclusive items!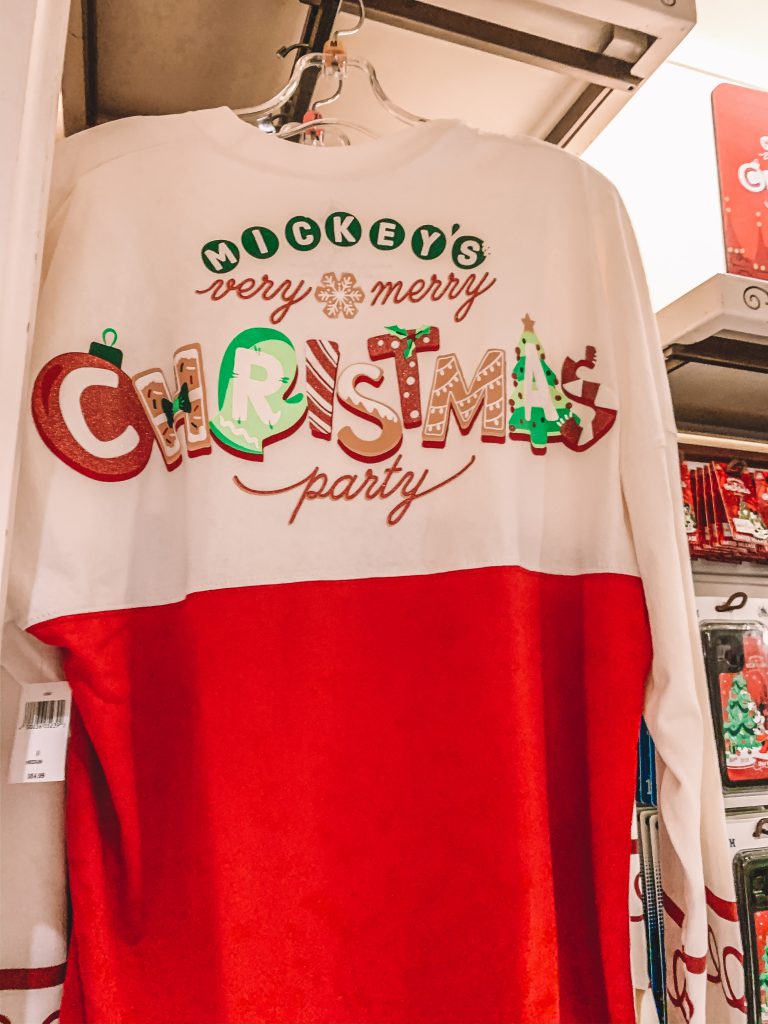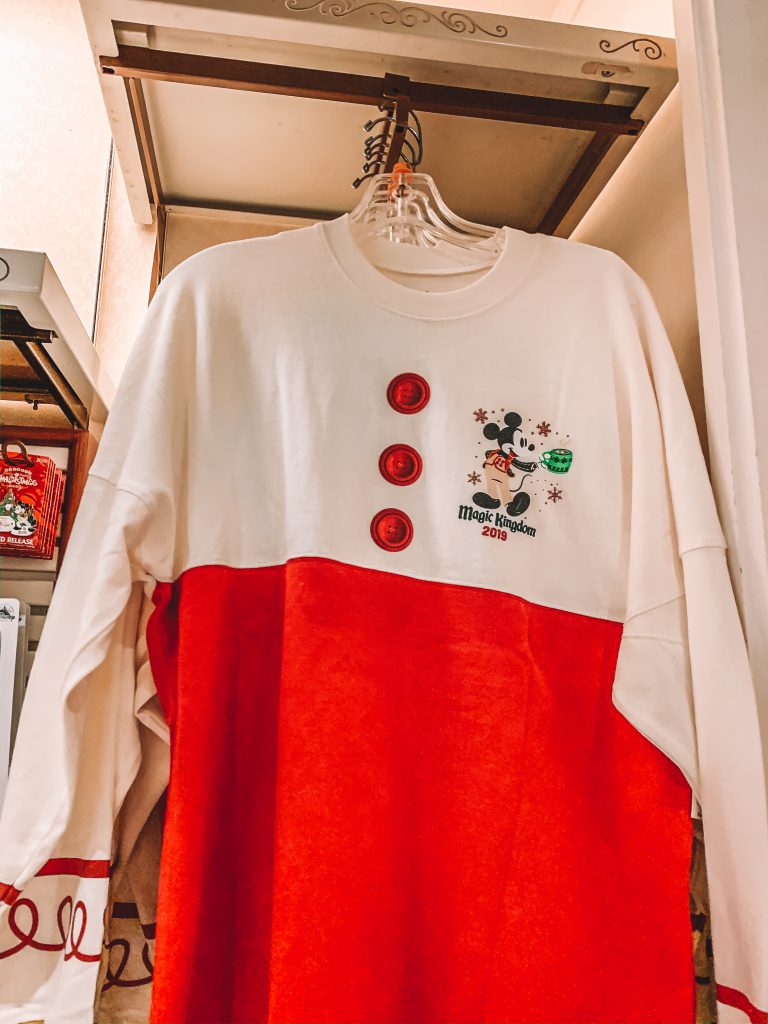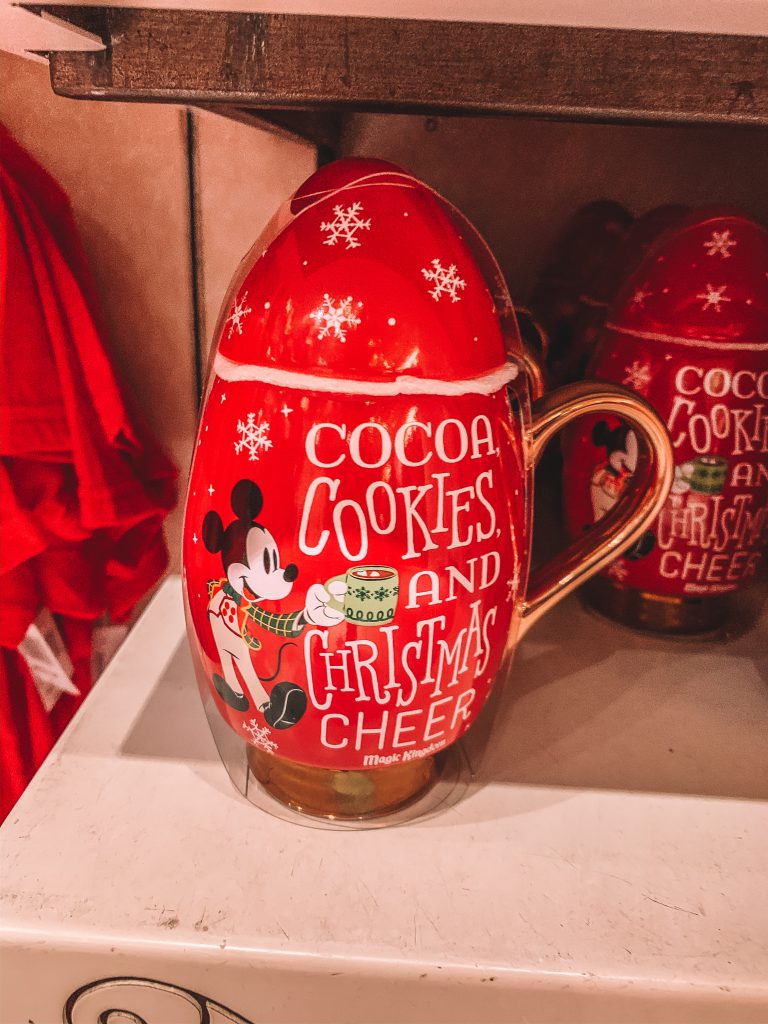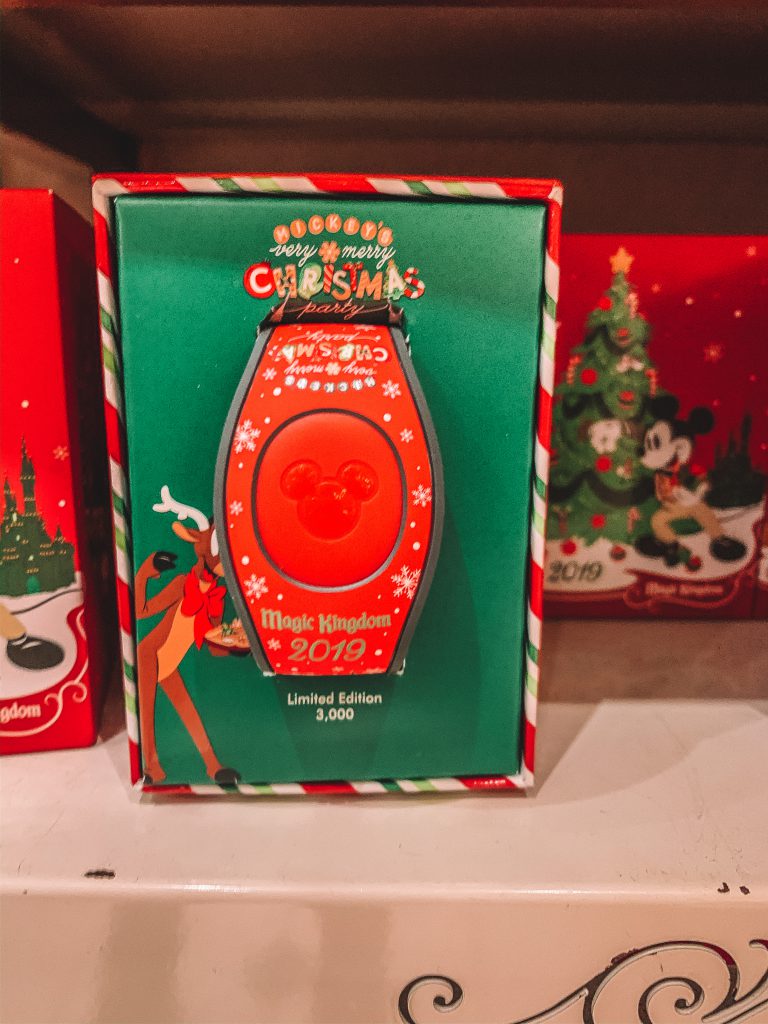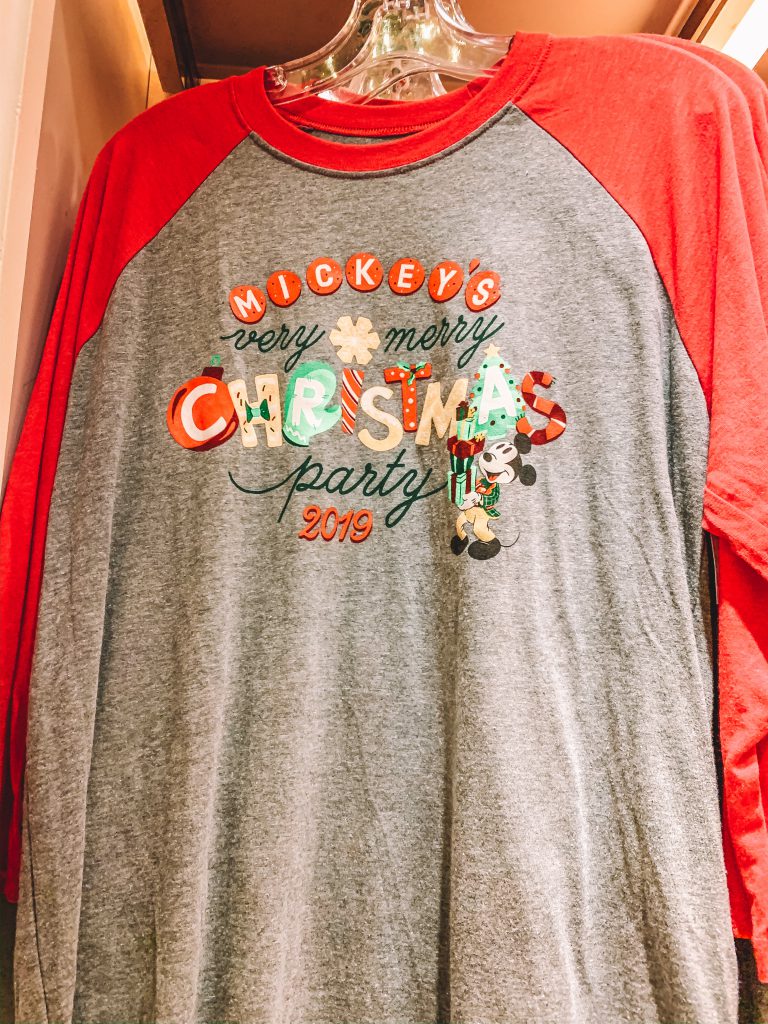 8. Minnie's Wonderful Christmastime Fireworks Show
This brand new fireworks show for this year's party is one you will not want to miss! Fireworks at Walt Disney World are always amazing but the holiday music and beautiful castle projections will surely have you in the spirit of the season even before the spectacular grand finale. My family and I absolutely loved it and I'll be the first to admit, it even brought tears to my eyes.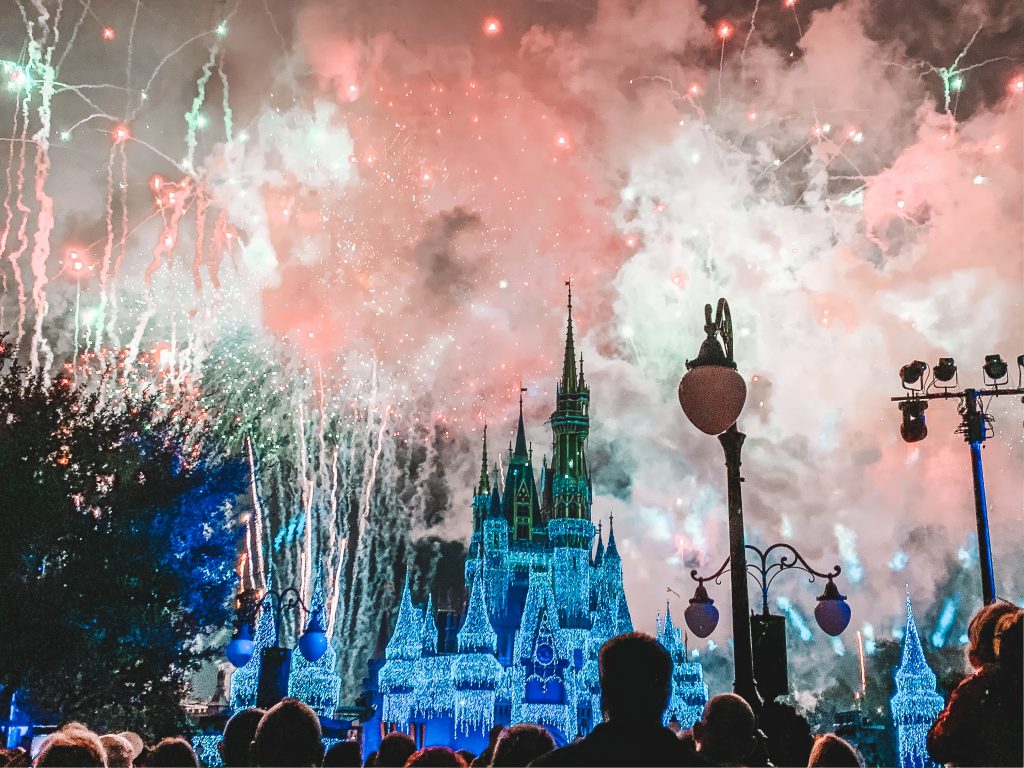 Tip: There is only one fireworks show which takes place at 10pm, so make sure you pick a spot at least 30- 45 mins before it starts as it tends to get quite crowded.
9. Once Upon a Christmastime Parade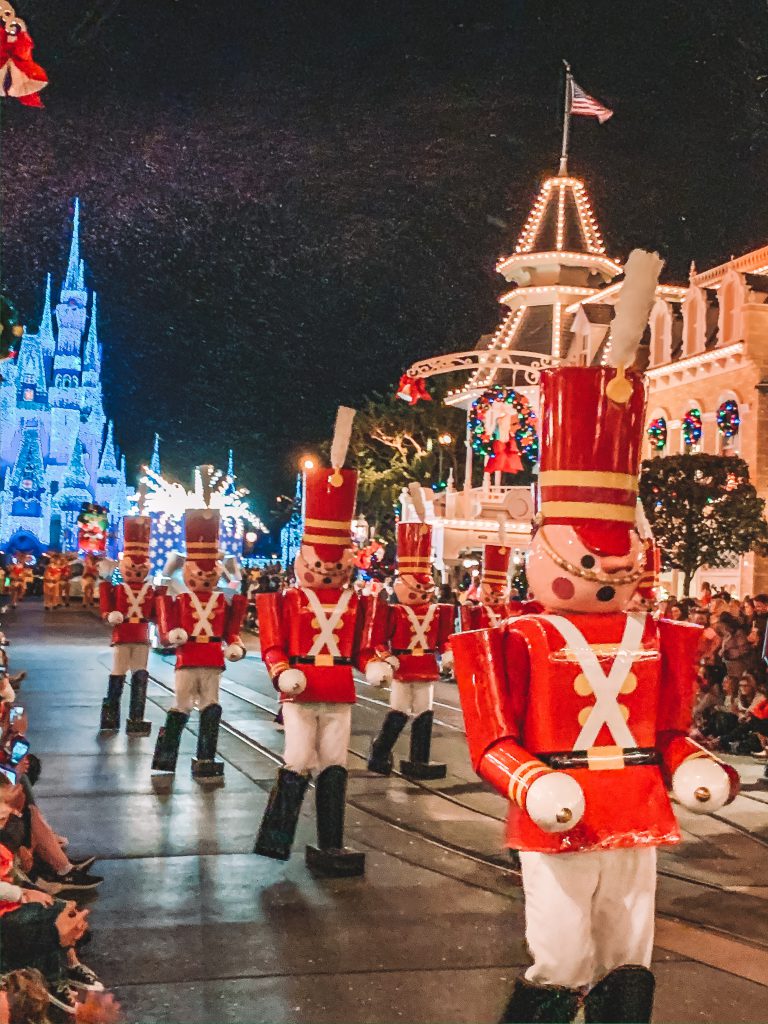 If you love the parades at Disney then you'll definitely want to make sure you don't miss Mickey's Once Upon a Christmastime Parade during your visit. The floats are beautiful and feature many of our favorite characters dressed in their holiday outfits. There are also holiday favorites like, reindeers, toy soldiers (my favorites!), and even Santa himself!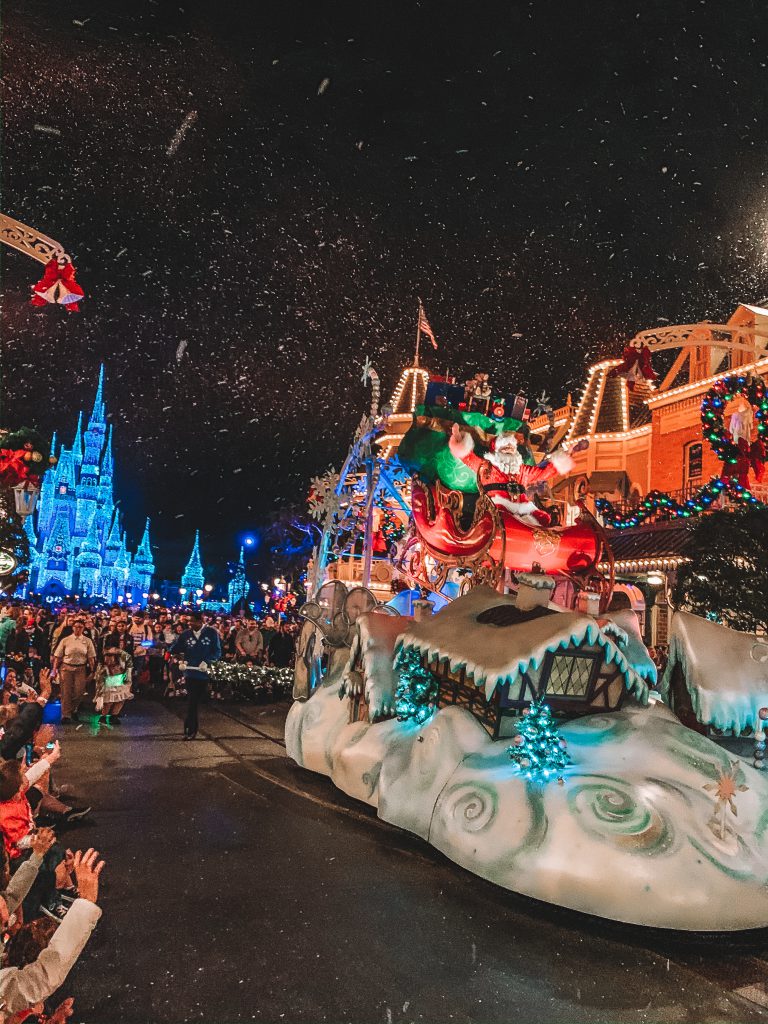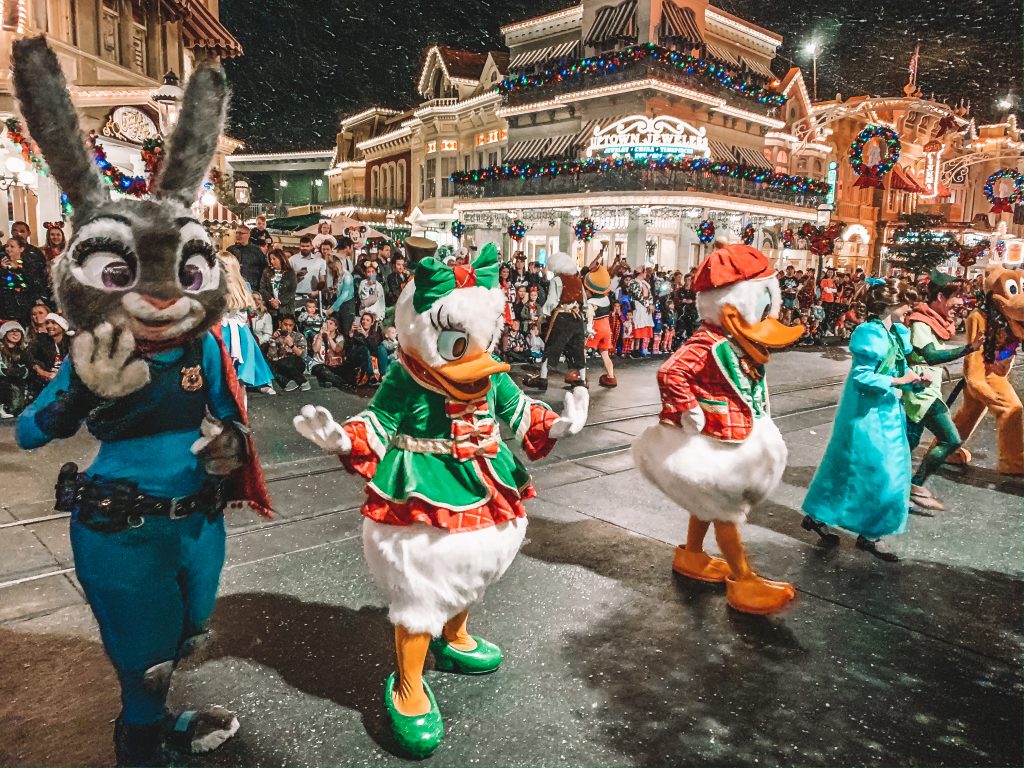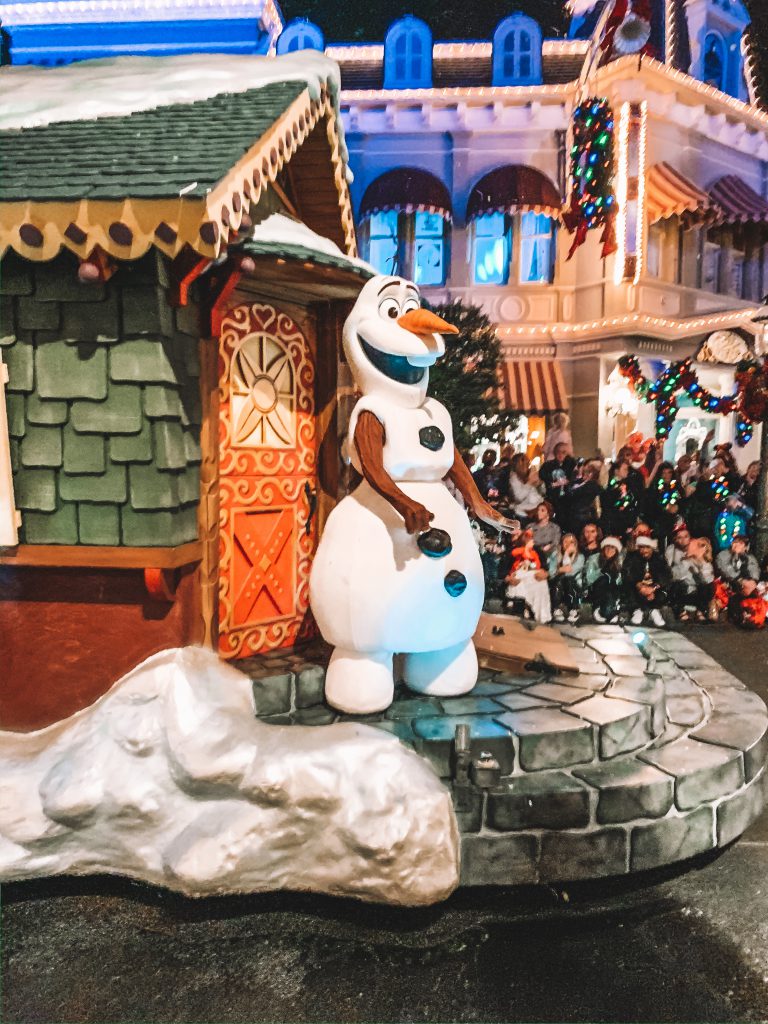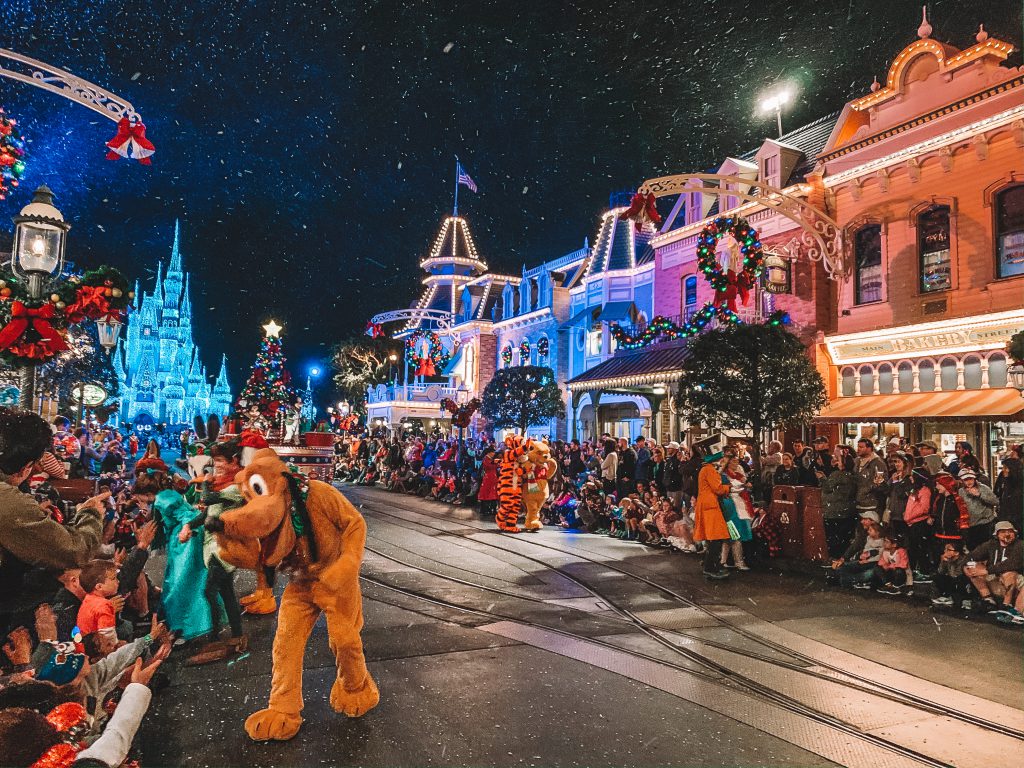 This was our first year watching it on Main Street and it was by far one of the most magical experiences at Walt Disney World for us. The lights, the music, the smells (a float even smelled like pine trees!), the castle in the background as the "snow" falls down, all this can only be experience on Main Street U.S.A. It's an unbelievable experience and one I would suggest you do at least once.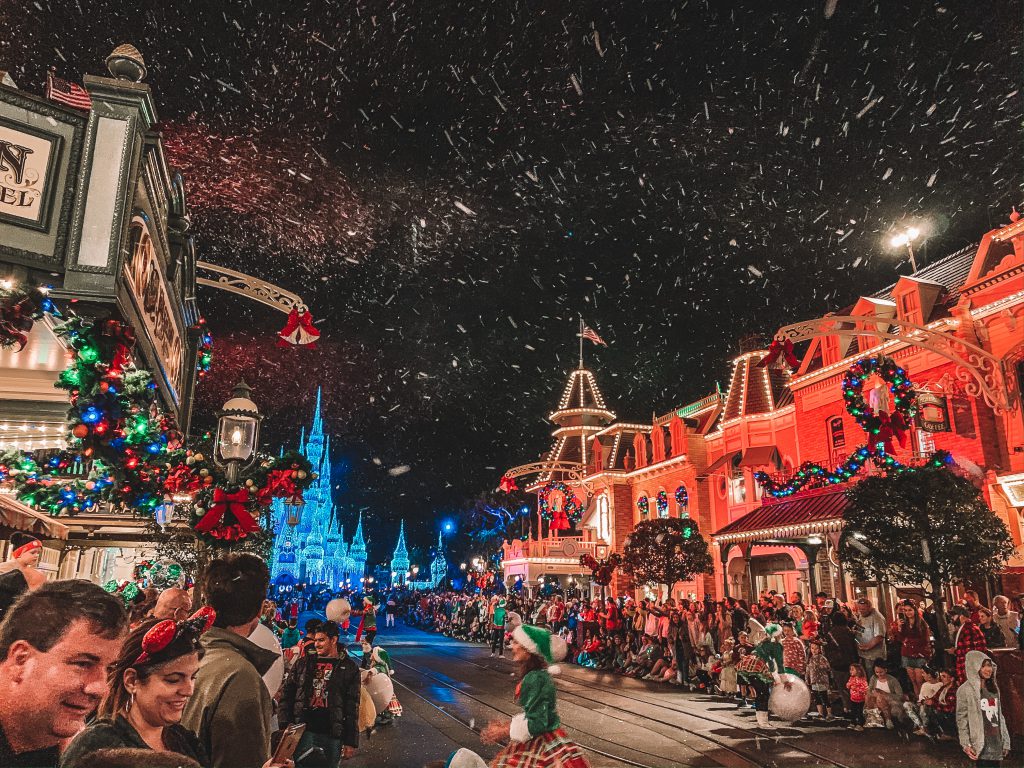 Tip: The parade only takes place at 8:30pm and 11pm with the second parade being a lot less crowded than the first. Make sure you pick your spot at least 45 mins to an hour before if planning to watch the first parade on Main Street.
10. "Snow" Falling On Main Street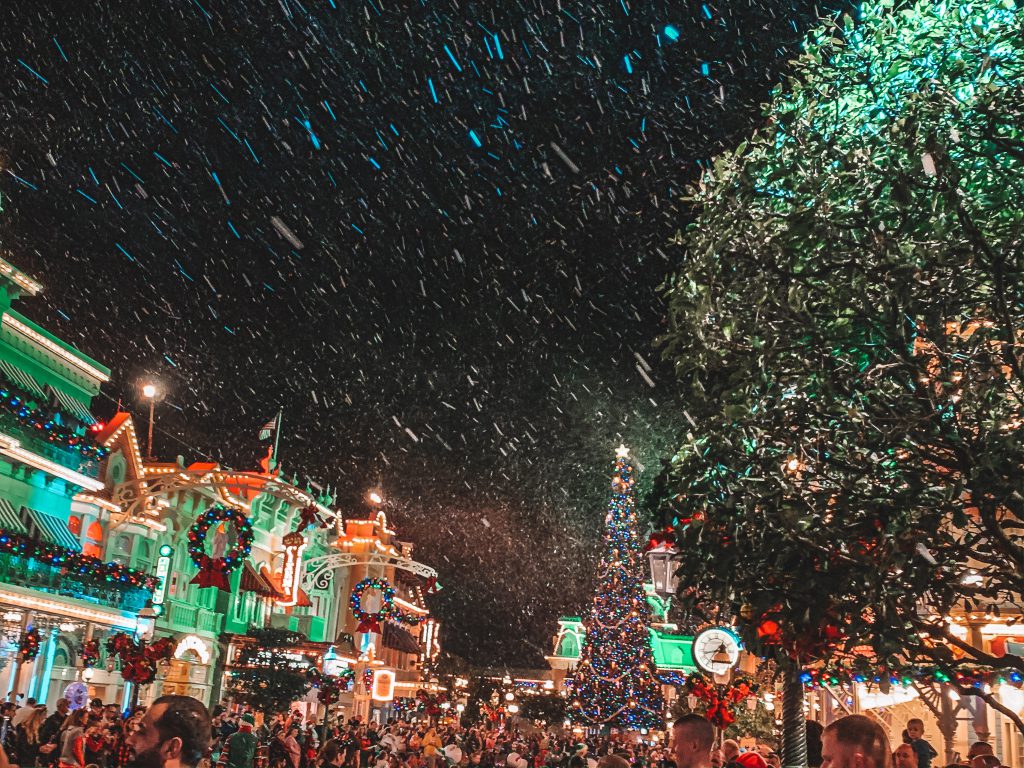 Magical does not even begin to describe it. As we waited for the parade to start, my little one enjoyed dancing right in the middle of Main Street U.S.A. as the snow fell and Christmas music played. I can't begin to tell you what a special moment this was, not just for her but for myself as well. Snow falling on Main Street U.S.A is truly an incredible experience.
Additional Tips:
There are various holiday themed magic shots available throughout the park including right outside by the park entrance, on Main Street USA, right by the Partners' Statue, the bridge connecting the castle and Fantasyland, entrance of The Haunted Mansion, Santa Claus meet and greet, the giant Christmas tree, and the official party entrance on the right.
Remember to pick up the party-exclusive Sorcerer's of the Magic Kingdom Party card.
Watch the later showing of Mickey's Most Merriest Celebration stage show and second parade for less crowds.
Dress in the holiday spirit, but remember to pack a jacket, rain gear, and wear comfortable shoes!
Overall Thoughts
I loved Mickey's Very Merry Christmas Party! In my opinion it's an experience that's completely worth it. I loved all the special memories that we got to experience during this event. There is so much to do for the whole family and if you love Christmas as much as we do, then I definitely recommend it during the holiday season.
For more information visit the Walt Disney World website.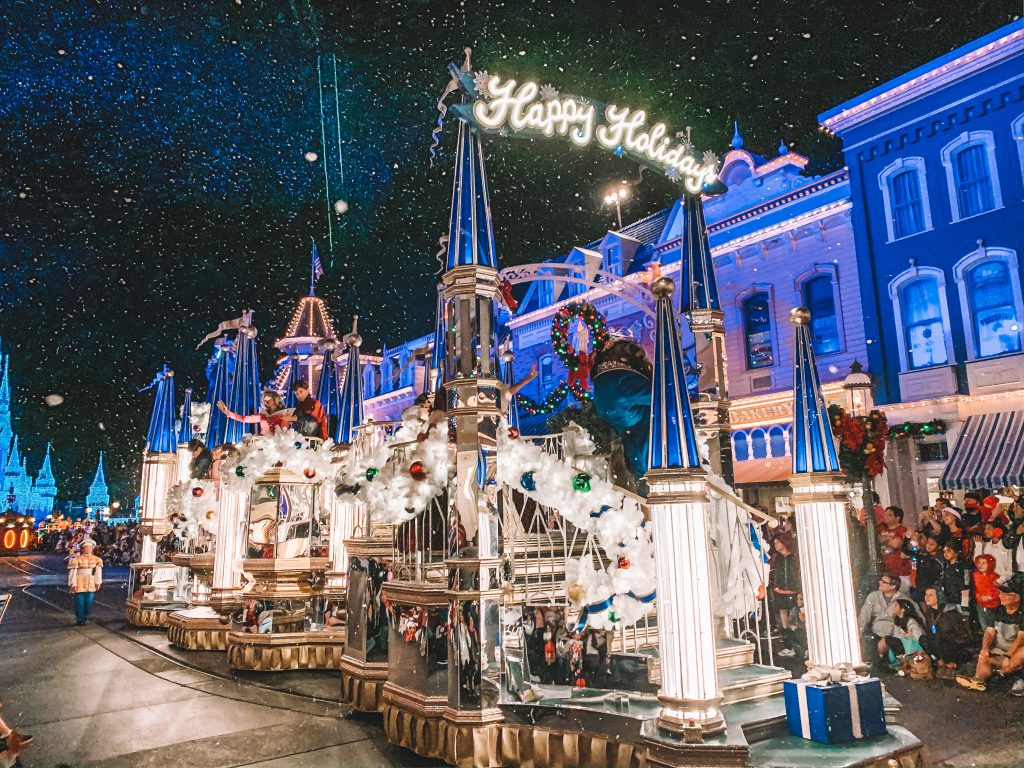 Thank you Walt Disney World for inviting us! Our family had an amazing time!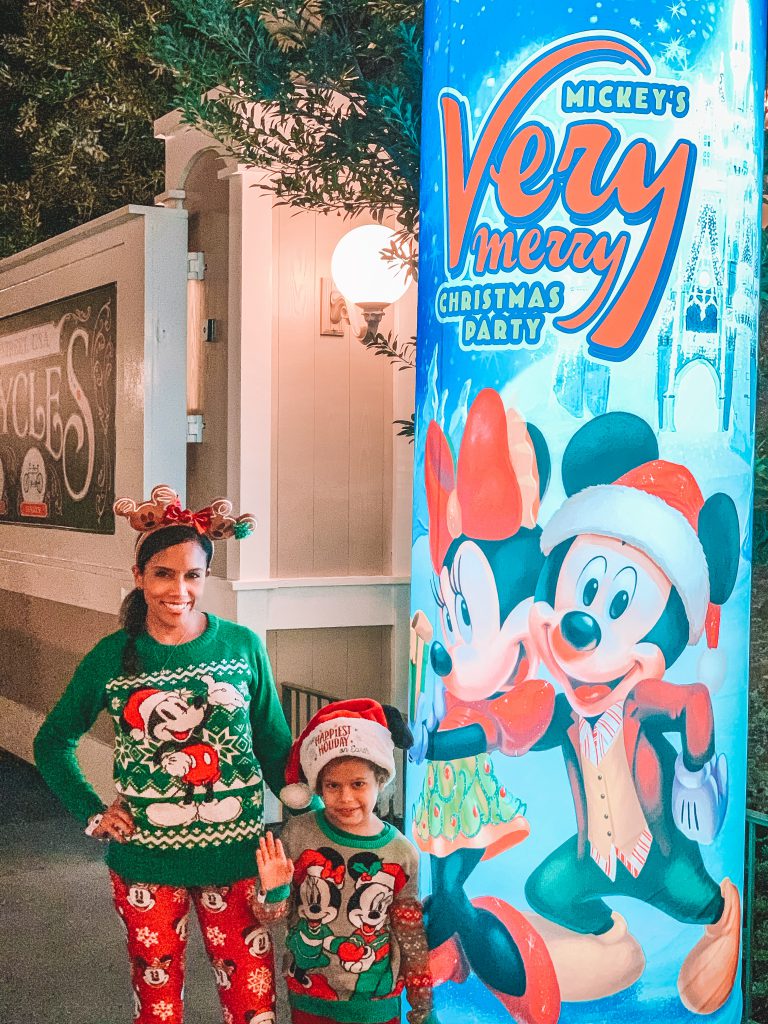 Will you be attending Mickey's Very Merry Christmas Party this year?