…The Pizza Press, that is.
Last week, I had the honor of not only attending my very first Winter Garden Moms Blog outing, but I was also given the chance to check out The Pizza Press, located in the new Hamlin area of Winter Garden, Florida.
I couldn't have asked for a better experience.
Let me start off with the Fine Print: The Pizza Press is a franchised company and locally owned. I just want to state that any of the information or opinions are solely based on this location. Not saying that there aren't other locations out there just as amazing, but I don't want to give the impression that all of the hours, menu items, or pricing featured here is the same at all stores.
Now that we have that out of the way, let's continue to the fun stuff!
Located at 16406 New Independence Parkway, The Pizza Press is open daily from 11:00 am – 10:00 pm (Sun-Thurs) and 11:00 am – 11:00 pm (Fri/Sat).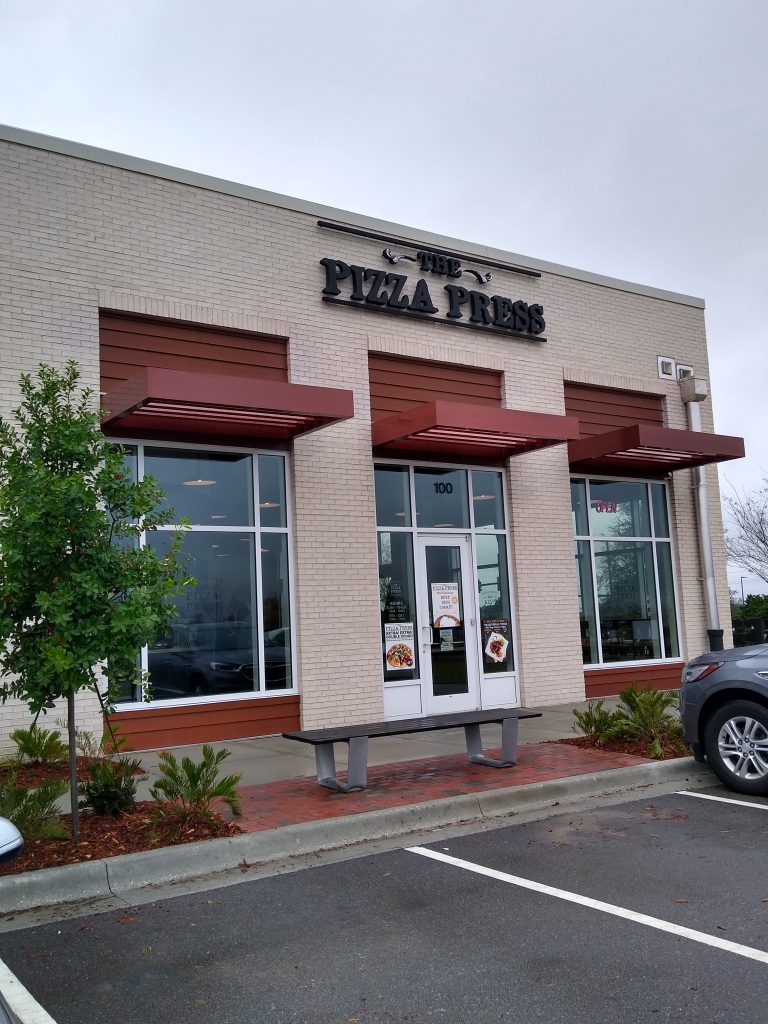 They offer dine-in, carryout, delivery service (ending at 9pm daily), and catering, so you can get your pizza fix any way you'd like! They also offer an online ordering feature, but if you're not in a rush, I say definitely take the time to experience the step-by-step ordering, as it's super fun.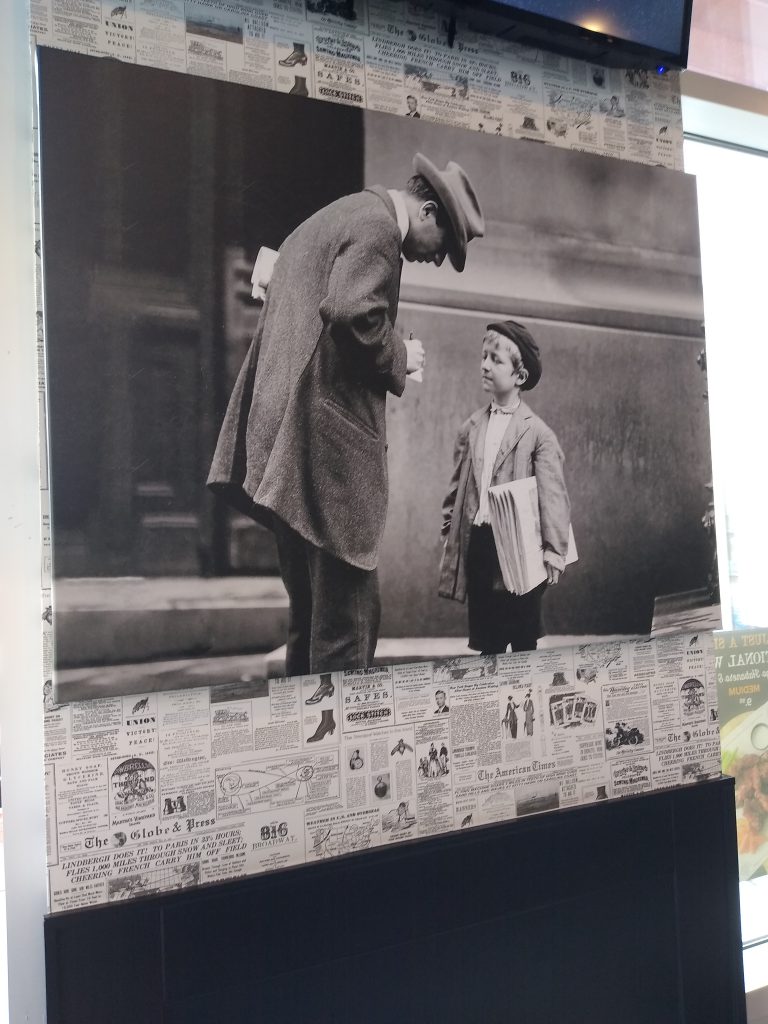 Upon arriving, I was super impressed with the size of the restaurant, especially as it is located in a shopping plaza. This usually limits you on size, but it is actually pretty remarkable. I fell in immediate love with the artwork that donned the walls.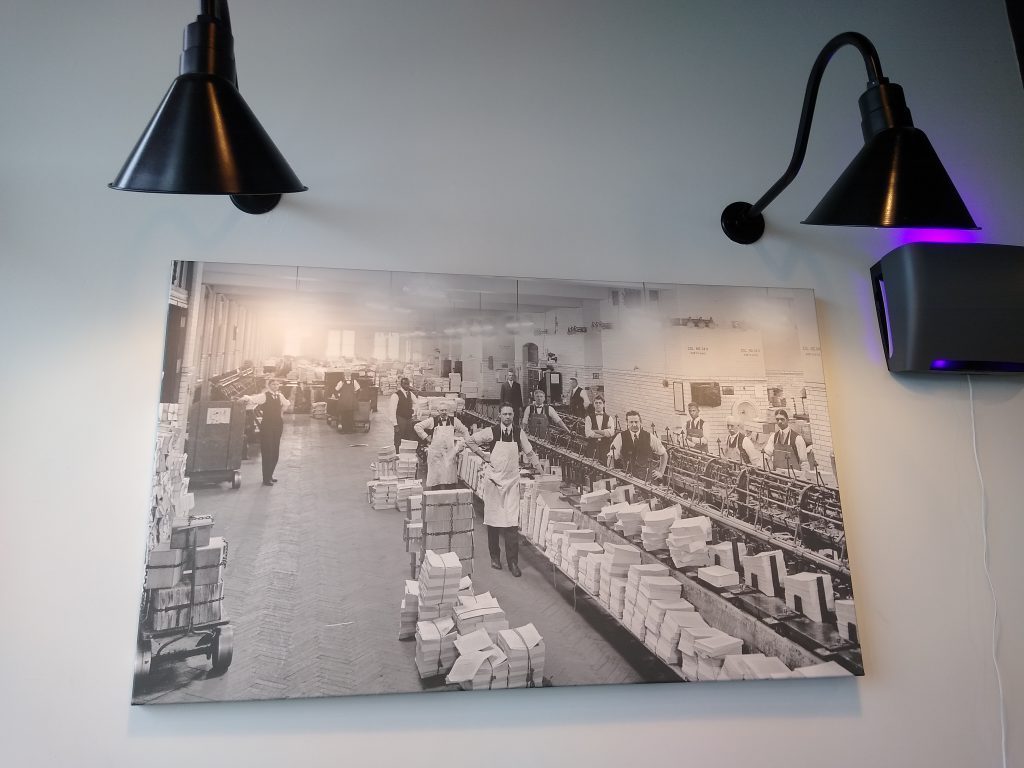 I can't begin to describe how welcomed I felt when walking through the door. Immediately I was greeted with a warm "Hi, welcome to Pizza Press." Honestly, as a middle child, you would think the attention would make me want to run the other way, but it adds to the openness and all around feel of the restaurant.
Another amazing point is the staff had a table reserved for us. It had a lovely hand-made sign featuring our names and a "thank you" to us for visiting. I felt kind of important and special, but all I could think was "thank you for having us." – Once again, middle child. –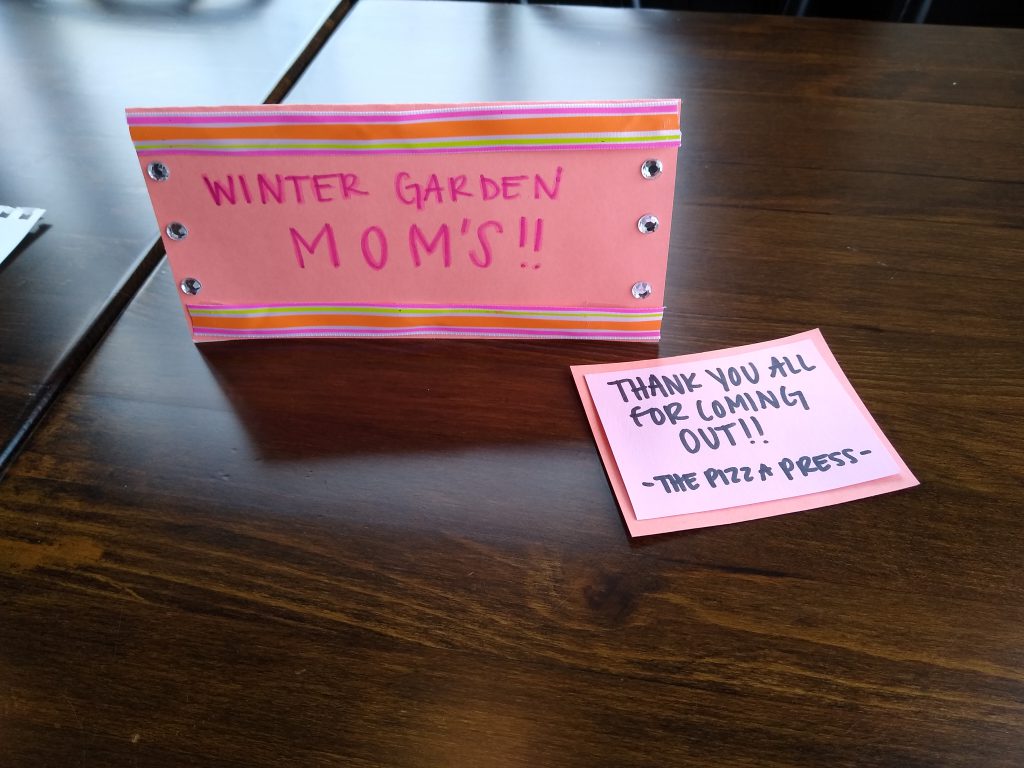 I do have to say that the staff was super patient with us, as most of us had never visited before, and we actually sat down to have a meeting of the minds, small chat before we ordered, to get the "business" side of things out of the way. They even offered us beverages while we discussed our plans for the blog.
The lovely ladies of Winter Garden Moms Blog have been so awesome and have welcomed me with open arms, and have definitely ignited a new found motivation that I was starting to lose. They have helped me learn new things about the blogging world and have been just all around wonderful, amazing women, so be sure to check them out.
I'm super honored to be a part of this group, and look forward to creating awesome experiences in the future. Not only for us, but also for the readers.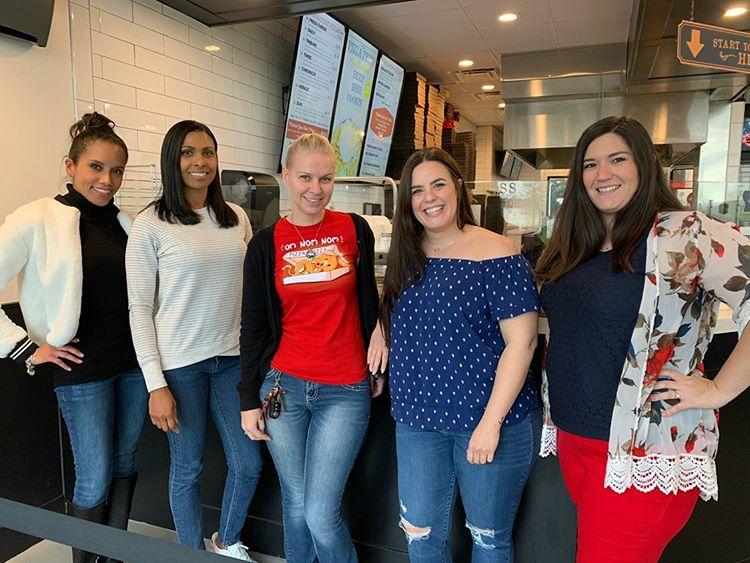 What Is Pizza Press?
Once we finally started to get those rumbles in our tummies, you know the ones, they can detect pizza nearby, and they want a piece of it! We made our way over to order.
The Pizza Press is set up in the style of what I like to refer to as an assembly line, the writer and pizza lover inside me was doing cartwheels…but let me not get ahead of myself.
You see, The Pizza Press has nailed the concept of taking you back in time to the 1920's, to the Americana newspaper press era of the nation, where they encourage you to craft your story by "publishing" your very own pizza. You can also select from one of their signature offerings.
Founded in 2012, based in Anaheim, California…home to Disneyland, also on my bucket list. I'll have to add visiting the original Pizza Press location.
They are a rapidly growing brand with over 30 stores nationwide, and even have a few locations Coming Soon to cities near you!
If you're looking to start off with an appetizer, check out their Cheesy Garlic Bread for just $5.95, maybe grab some wings for the table starting at $6.00, or try one of their salads starting at $4.45 for a side, and $8.45 for a full.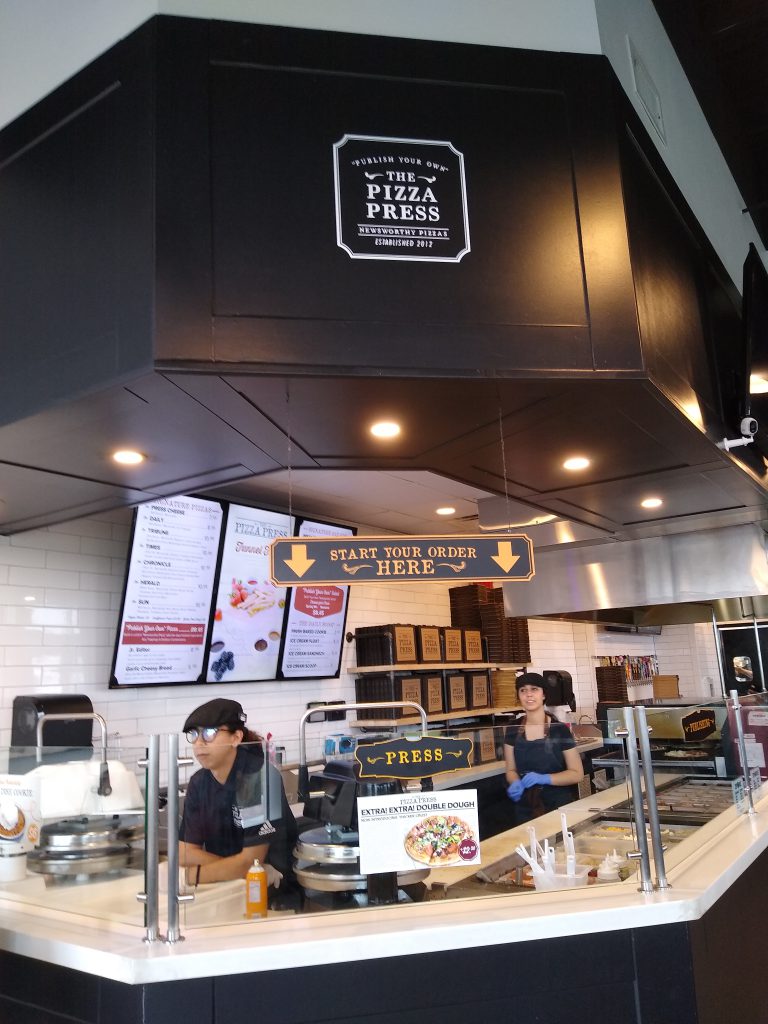 You start your journey…well, at the beginning…
The Menu
The menus feature all of the food and beverage offerings on screens where the middle scrolls between beverages, desserts, and specials. I have to admit, I am a theme junkie…and they have it mastered, from the ordering process to the names of the items.
If you decide to go with a Signature Pizza, starting at $10.95 you have a variety to choose from, such as "The Tribune," "The Times," and "The Herald" just to name a few.
Their "Newsboy Lunchbox" is their daily lunch special…when I say daily, I mean daily from 11:00 am – 4:00 pm, Sunday – Saturday featuring a small pizza, small cheese bread, side salad, and a fountain beverage.
If you have little ones, check out their "Junior Editor" meal including a 6-inch pizza up to (2) toppings, a fresh baked cookie, and a small fountain beverage.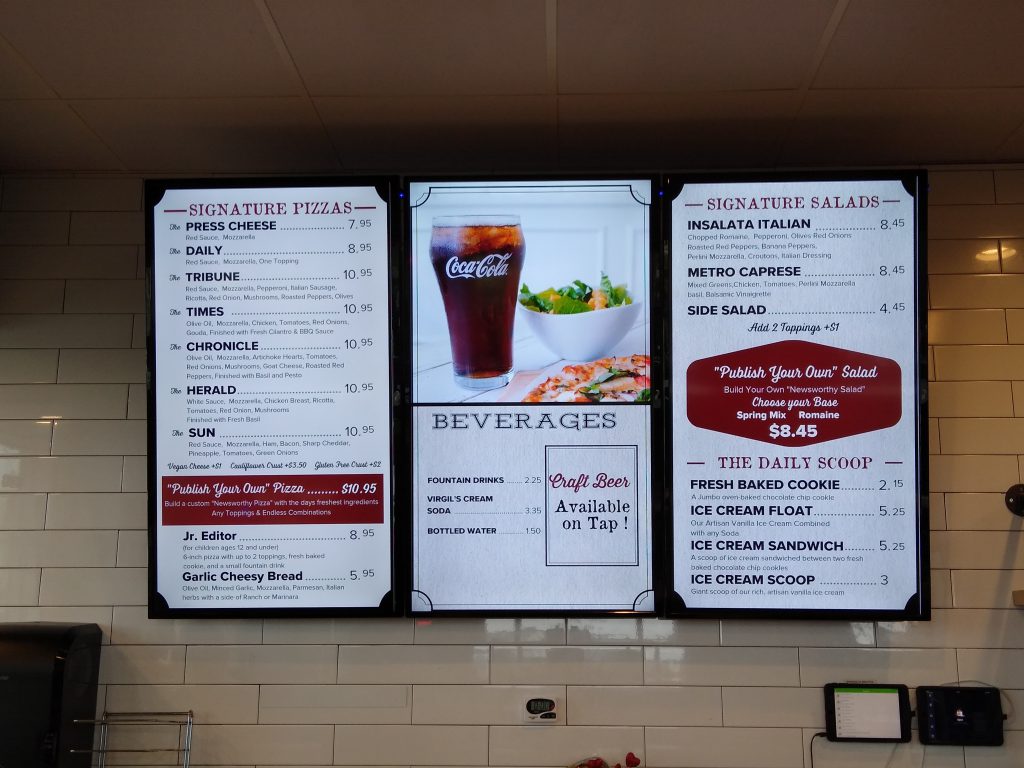 Another fact that I would also like to point out is that their menu is rather contained, you have quite a few options to choose from, something for everyone. However, it isn't overwhelming or anxiety inducing like other places I have been where I'm scrambling to choose just so I don't hold anyone up.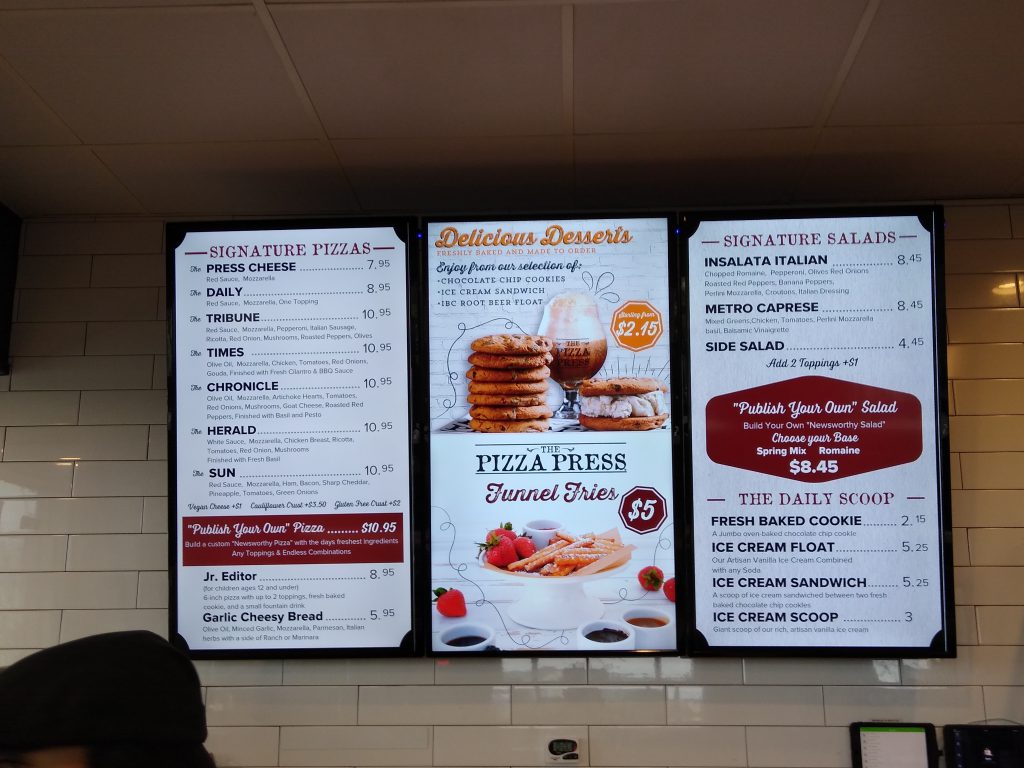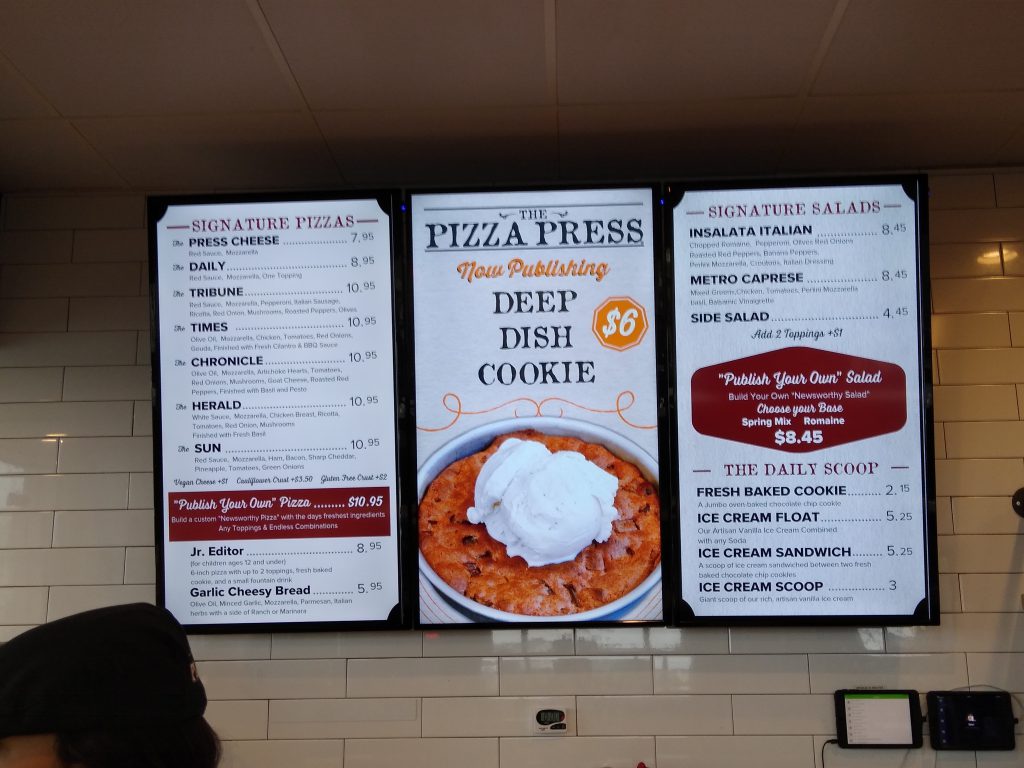 So, let's go ahead and grab our blank sheet of dough at "The Press."
They actually press it fresh for you as you order. I wanted to highlight this because other places I have visited will press the dough, then set it to the side until someone comes along to order. It isn't the worst thing in the world, but I do feel there is a difference in the flavor and texture.
Starting at $7.95, you get to Craft your own "Story."
Crafting Your Pizza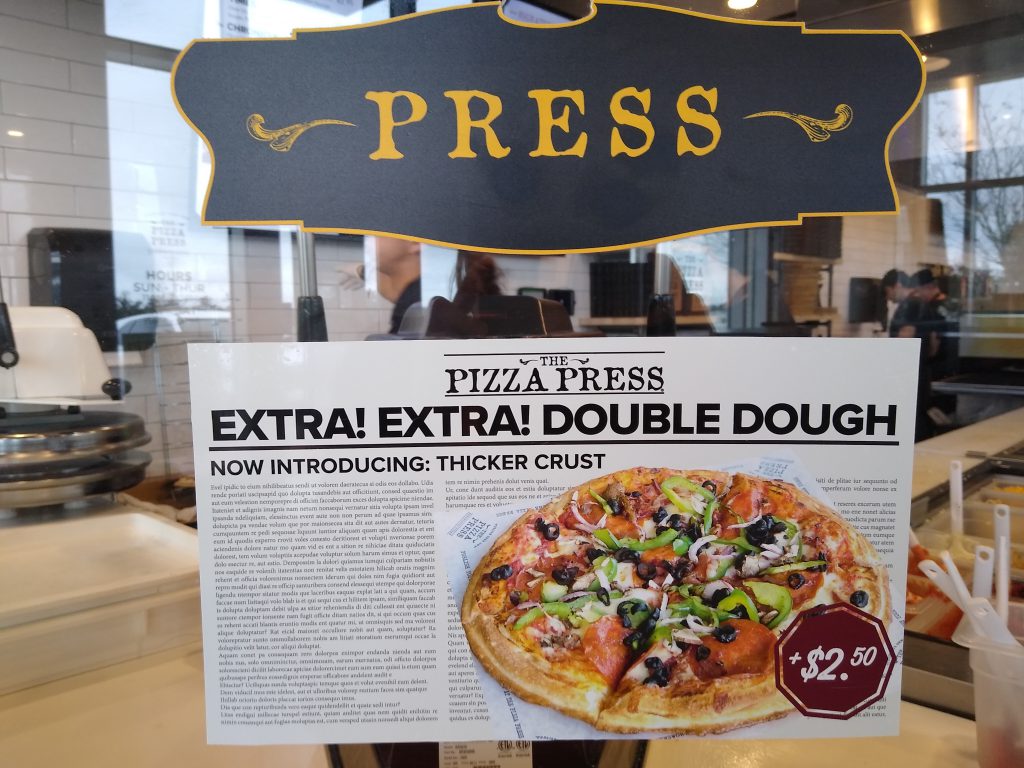 Take your pick from their four choices: Regular, Double Dough, Gluten – Free, and Cauliflower – which I'm super interested in trying out. Gluten-Free and Cauliflower are available for a small up-charge.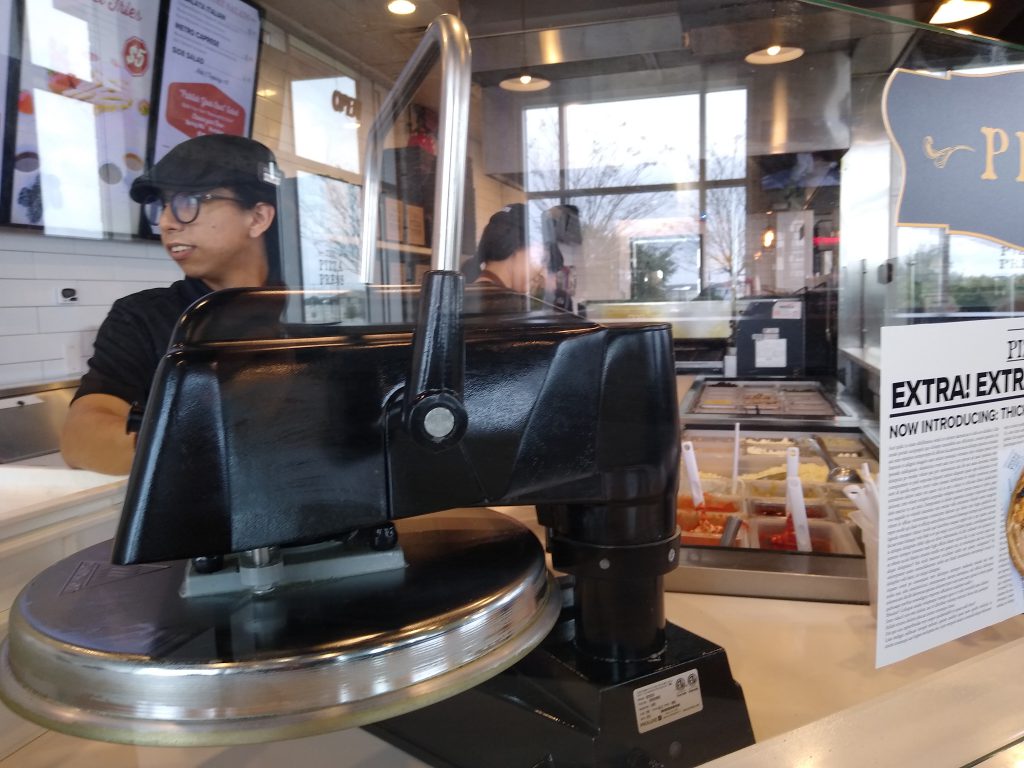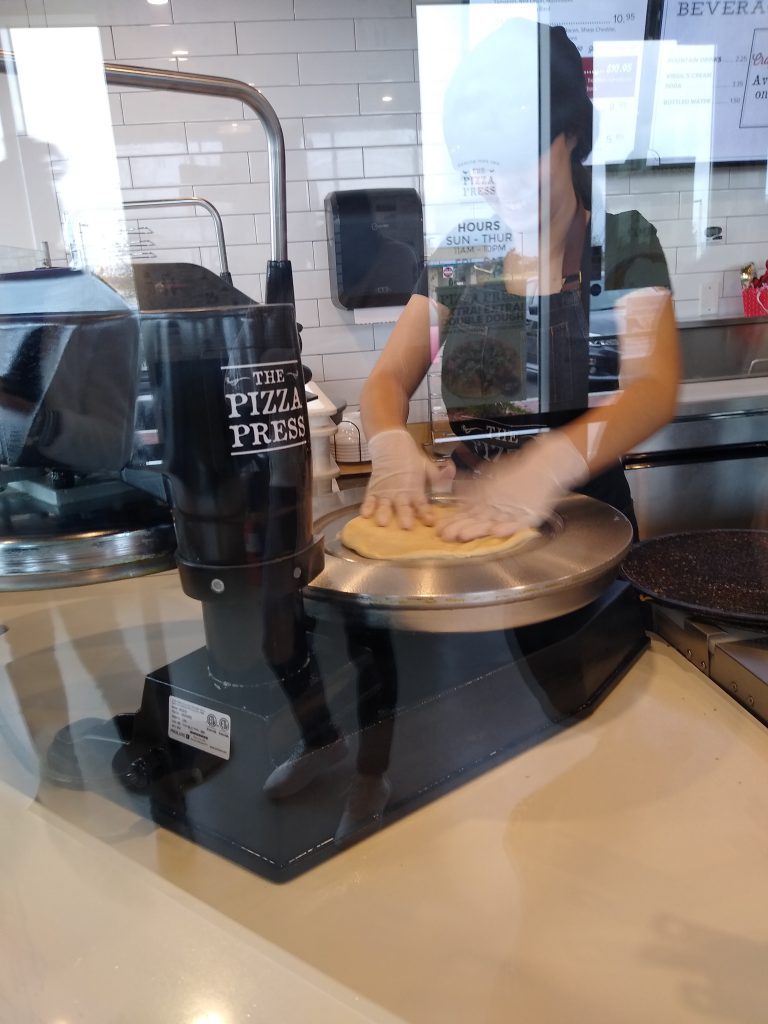 Once we have that beautifully pressed sheet, we move down to "Publishing."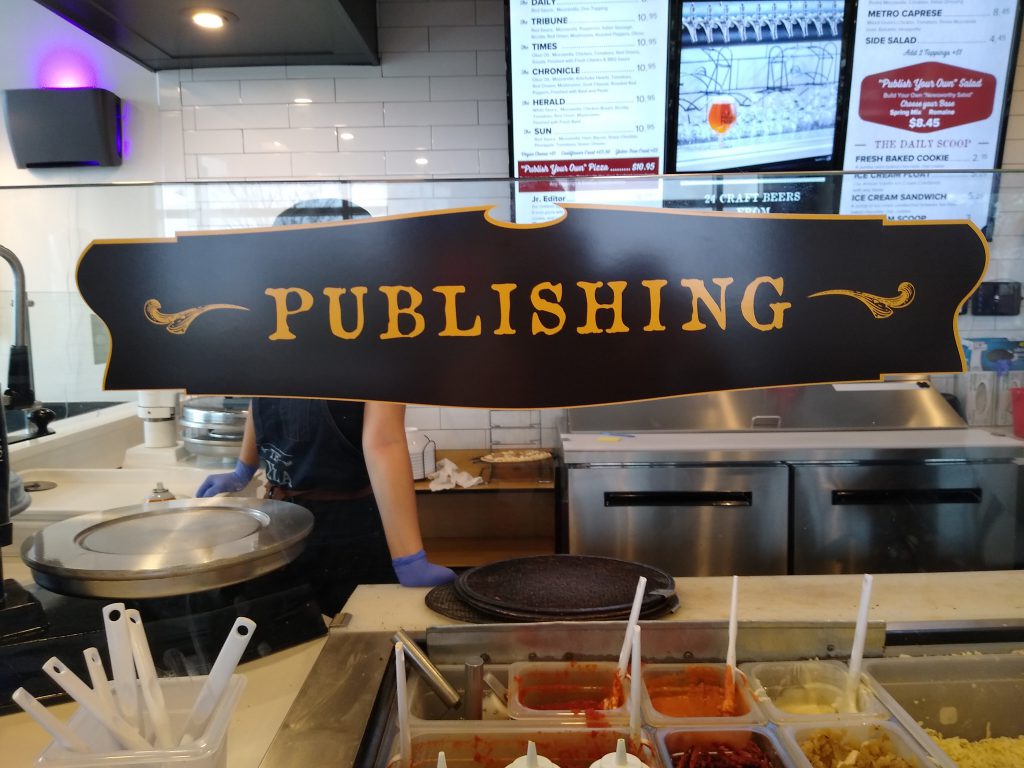 This is one of the most important steps as this is where you begin to craft your very own story!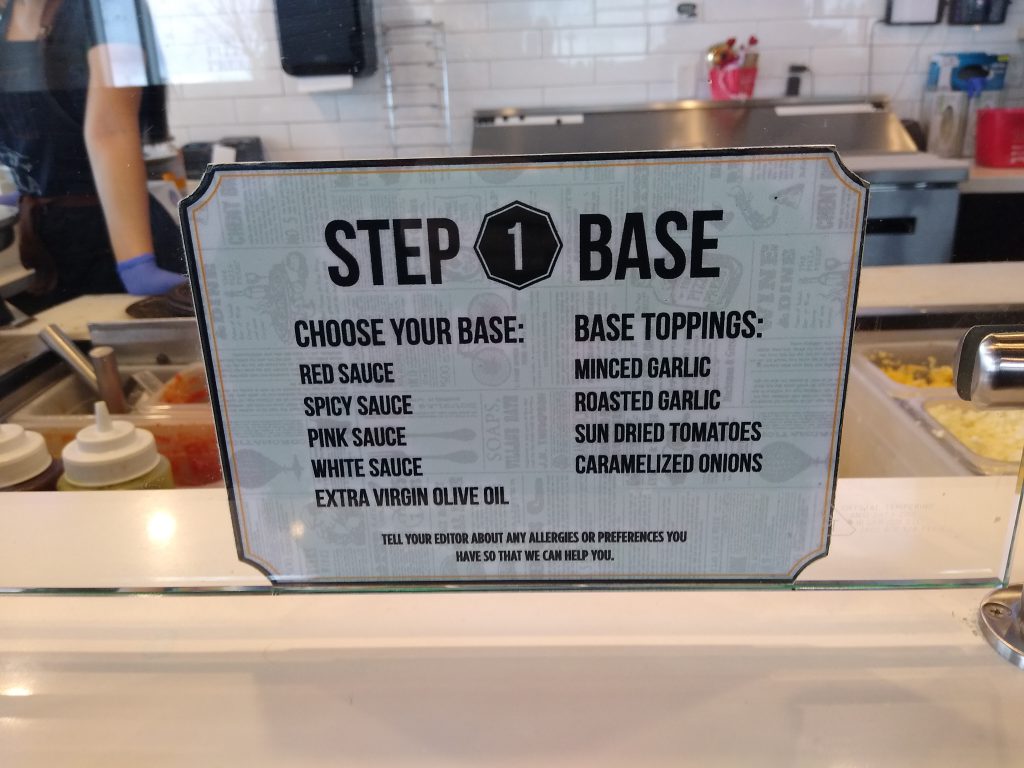 Here, you'll pick your sauce from the five options available, from that Classic Red to the ever so delicious "pink" sauce (a mixture of your red and white with the end result being one of the best creations I have ever had).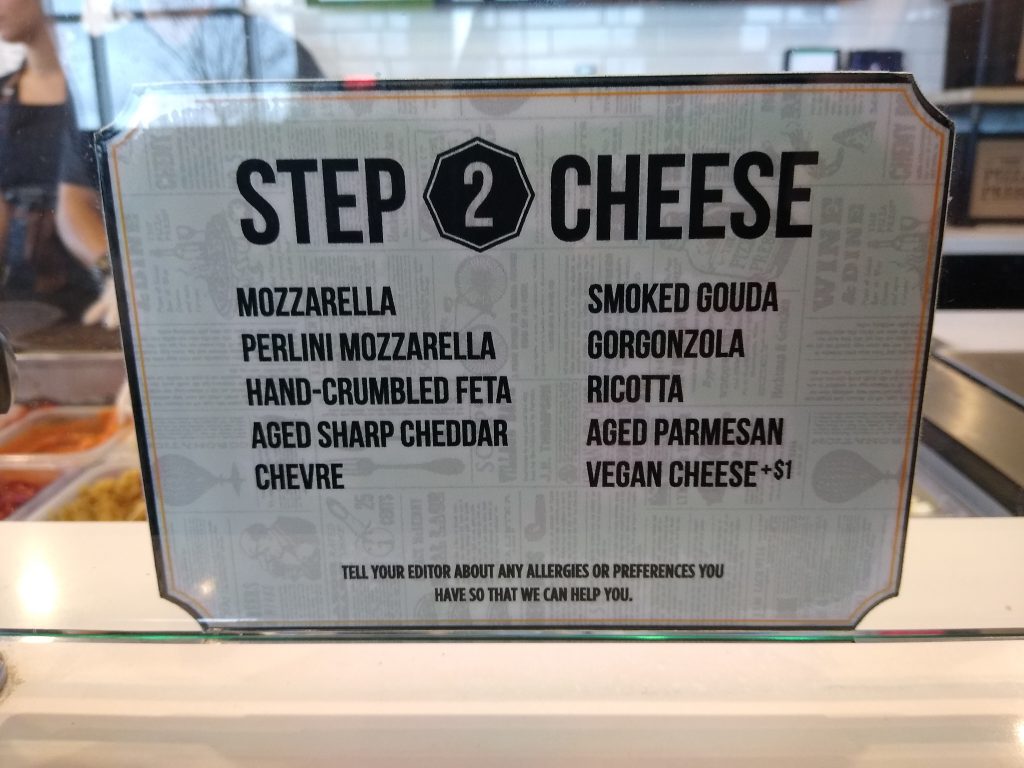 This took me the longest to decide between, the cheese…we all know I love cheese. It is one of my favorite foods, and they offer TEN of them, yes, you read that correctly, ten. With two types of mozzarella, aged parmesan, gouda, feta, and even a vegan option, which I think is so cool!
In the words of The Press – Be Newsworthy!
I decided to go with The Daily, just a simple one-topping. You know me, I always start off simple with my first visit, then get to the crazy adventure mode as I get comfortable.
Now that we have taken the hardest step and started our story, it's time for "Proofing."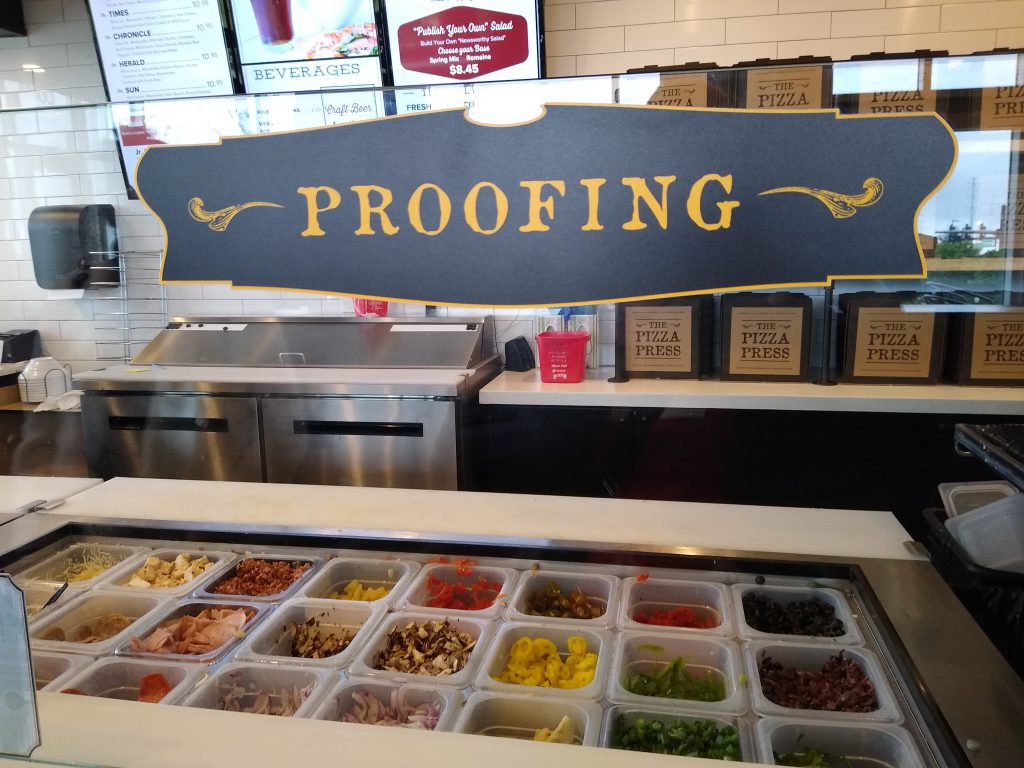 The part where you go back over and add any of the missing pieces. In this case, it's the toppings, and what a selection you have to choose from.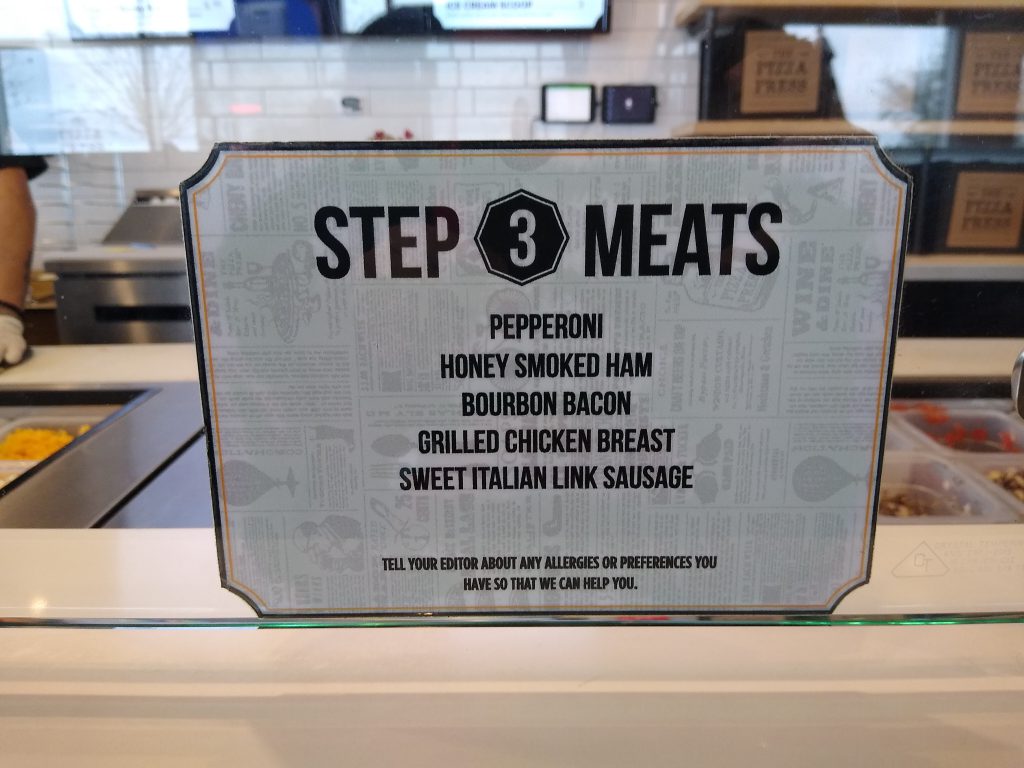 With five meats ranging from large round-cute pepperoni to a Bourbon Bacon that I will definitely be trying out on my next visit in the not so distant future, and the sixteen veggie choices that include one of my favorite toppings – crimini mushrooms – to squash.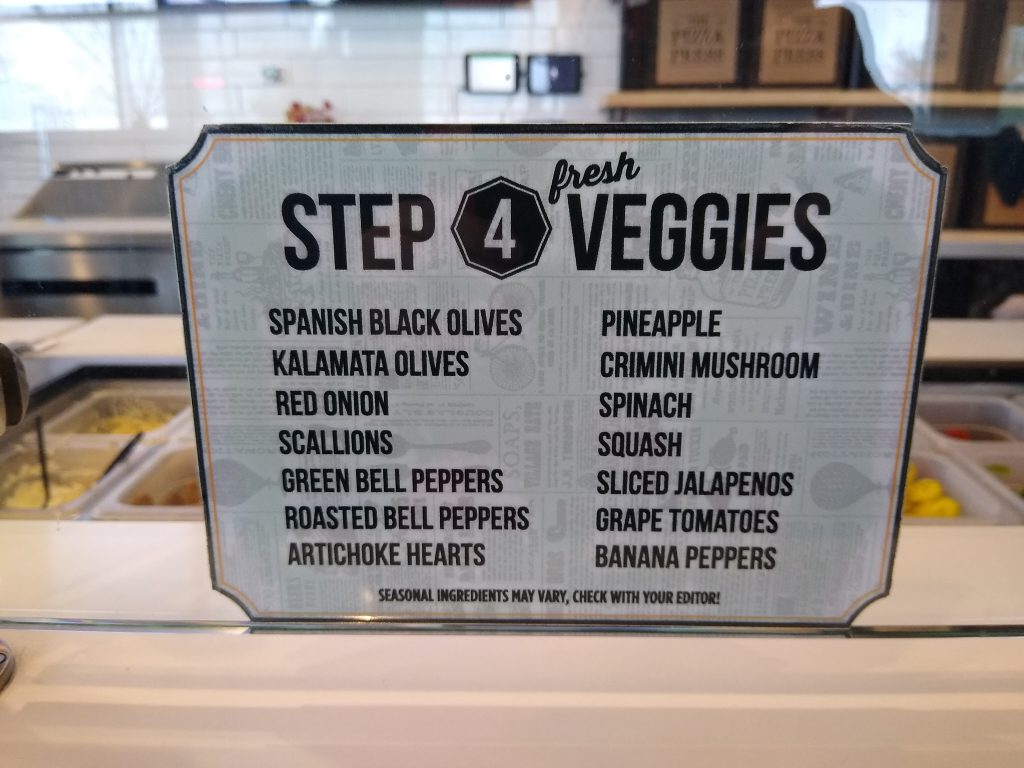 I never would have thought to put squash on a pizza, also not sure how the texture would come along with that one. I do like squash, but maybe I'll leave it as a side dish.
We have now hit the part where we send our lovely new baby pizza into the oven…a slow moving conveyor belt to get all nice, hot, crisp, and to melt that beautiful cheese. This is where the real patience kicks in for me, I hate waiting for my pizza.
Once those three minutes of pure agony are done and the pizza has popped out the other side, we head over to "Editorial" to put the finishing touches on our pizza.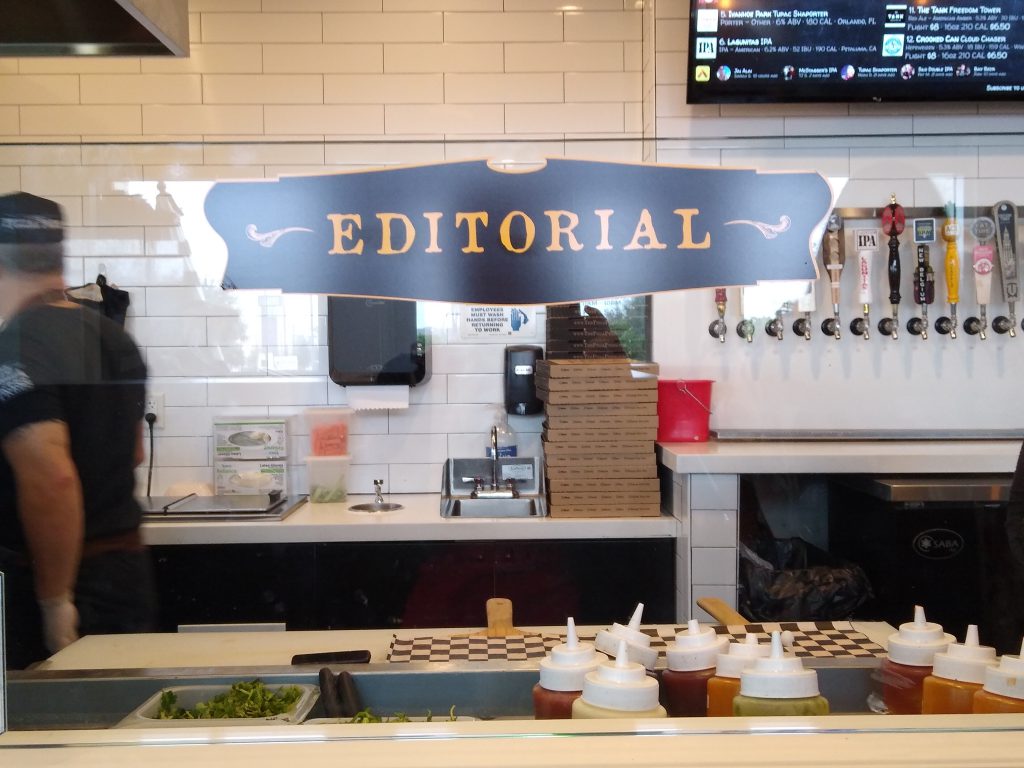 They have a few extra offerings you can add to your pizza to give it a nice flavorful touch.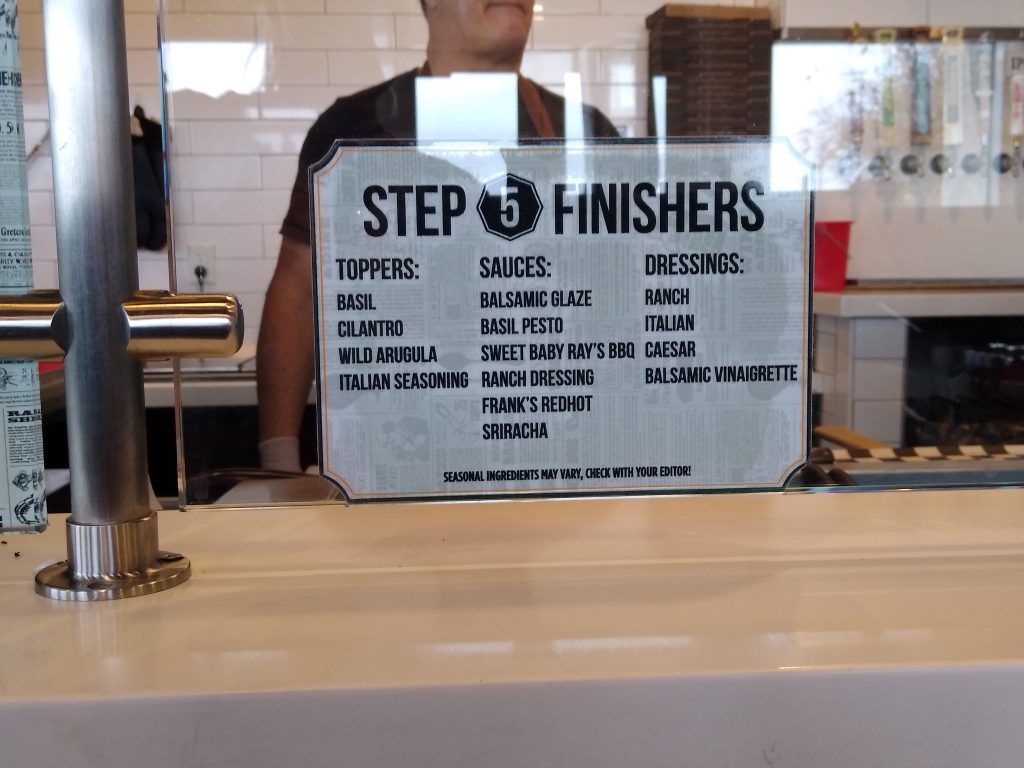 Try one of five sauces – a nice sweet Balsamic or a spicy Sriracha to give it some kick, four dressings – tangy Ranch to dip your crust in, maybe, or one of three toppers – fresh Basil, Cilantro, or wild Arugula for that special touch.
Make it your Own!
Seasonal options are available and may vary, so please make sure to check with your editor for extras!
Drinks
Once you have your mouthwatering, fresh out of the oven pizza, step on up to select your beverage.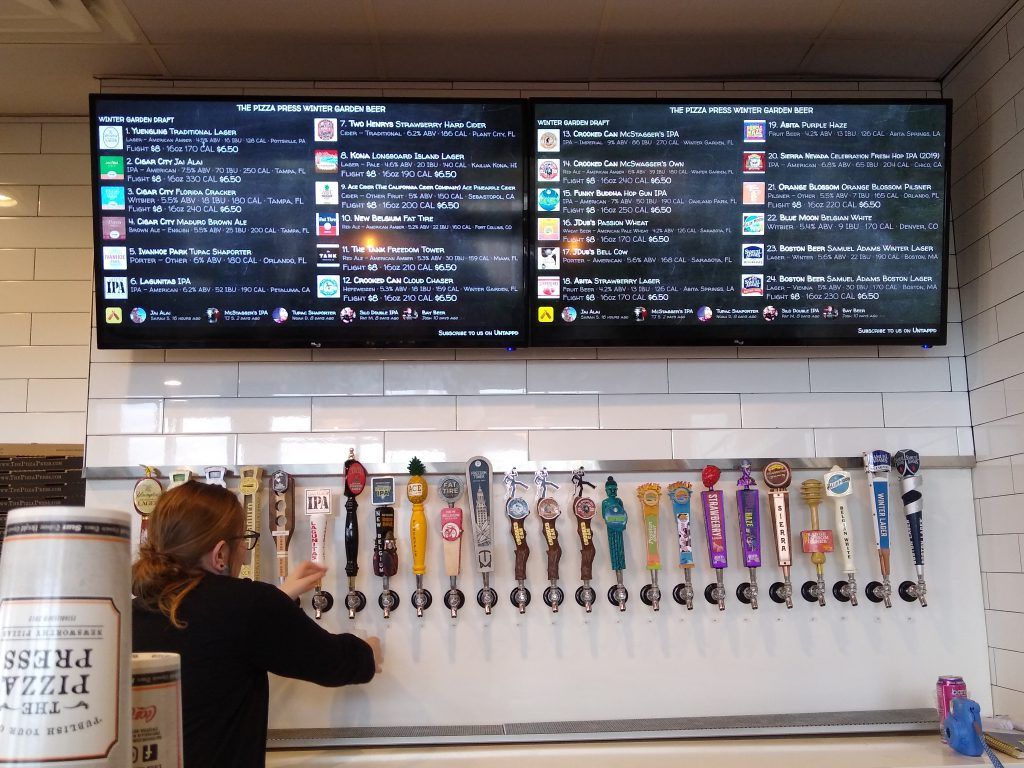 Options include:
Fountain Beverages (we all know I love my Coca-Cola products) and bottled beverages, including water, Virgil's Root Beer and Cream Soda (I love these as well). You can also choose from one of the many craft beers, ciders, or wine. They also offer Stumptown's Cold Brew Coffee.
I went with Keel & Curley's Madman's Strawberry Cider, heavenly. Smooth, crisp, light, a nice sweet touch.
Dining
So, now that we have received all of our items, we paid, we're all good…find a spot in the dining area, unless you want to stand, and that is perfectly okay as well.
The seating offered half booths and full tables. There was also a "bar" style seating for those who may be dining alone and are like me, just need a seat for myself, thanks.
The pizza is super delicious. The toppings are fresh while the cheese melts perfectly and isn't overpowering. The sauce is a nice blend of tasty spices, without taking away from the rest of the pizza.
The pizza itself, is 11," a very nice portion, especially for the price, and will definitely fill you up. I will admit, I would have liked to have a flavored crust, maybe some garlic butter, but all in all, I have nothing negative to say about the pizza. 8/8 slices!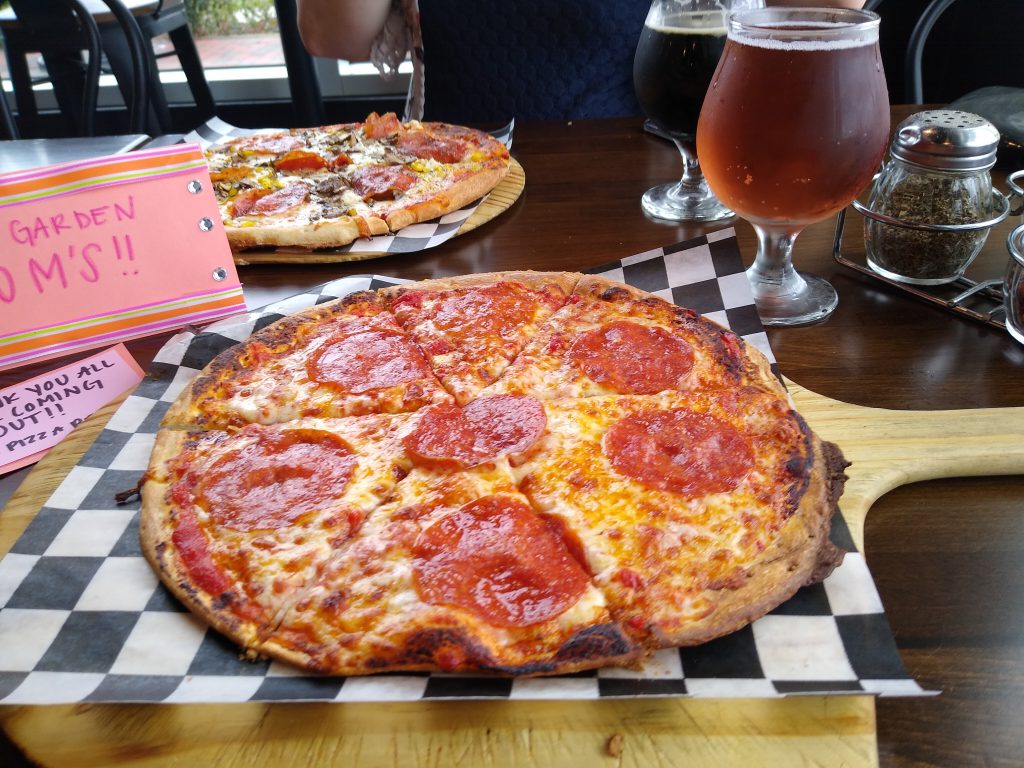 Dessert
Normally I don't do a dessert feature, usually because I am too stuffed from the pizza. This time, I saved some room for "The Daily Scoop," because I noticed they offer Funnel Cake Fries…who wouldn't want to try them?!
Delicious, made fresh to order, crisp, warm, just the right amount of sweet and added powdered sugar…I also added a little caramel drizzle.
I definitely recommend.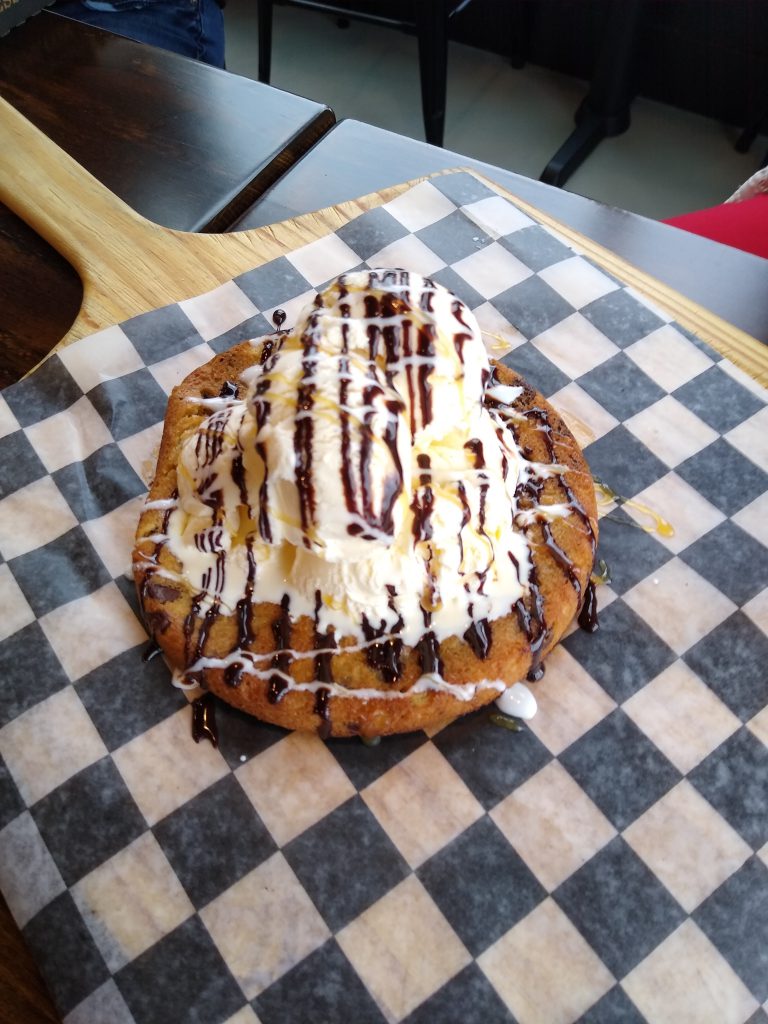 Of course, I'm the oddball out, and all of the other ladies enjoyed the Deep Dish Chocolate Chip Cookie Sundae. It smelled and looked absolutely amazing. They also bake this fresh to order, top it with vanilla ice cream, and give a nice chocolate and caramel drizzle. You can opt to leave this off if you'd like.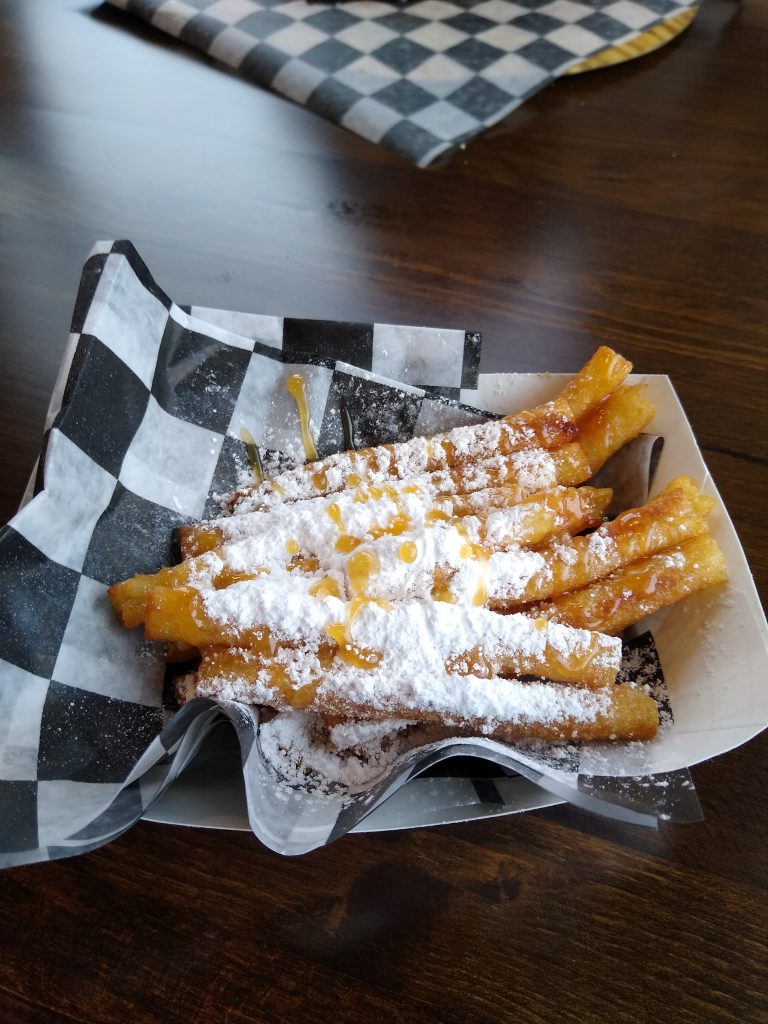 They have an ice cream sandwich that I will also need to go back and try some time.
Thoughts
In conclusion, using those writer skills, I have to say that this was one of my favorite pizza outings. From the company I was with, to the delicious food, and the amazing hospitality of the staff working this location, I seriously couldn't have asked for a better lunch!
I definitely recommend stopping in to try The Pizza Press, located in Winter Garden. If you aren't in the area and do have one by you, stop in…tell them that Winter Garden Moms Blog sent you.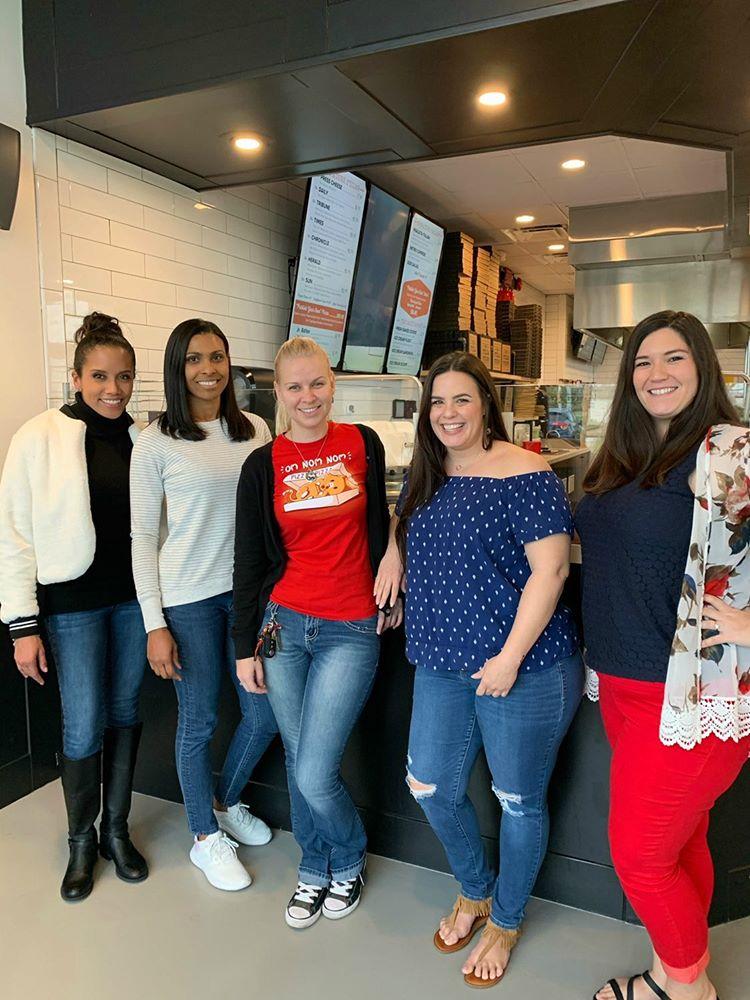 Until next time!