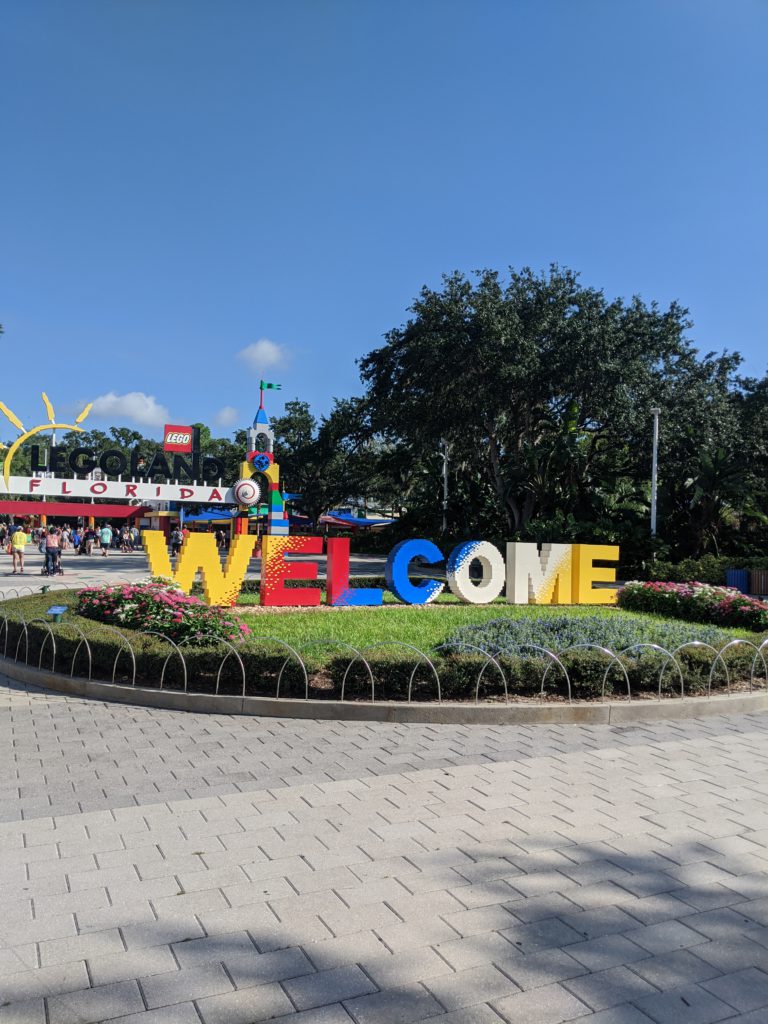 We had the totally AWESOME opportunity to be hosted by LEGOLAND Florida Resort to check out the theme park and their new Pirate Island Hotel! Today we're going to talk about LEGOLAND Florida's theme park!
Overview
LEGOLAND Florida Resort encompasses 145 acres and is located in Winter Haven, FL. It occupies what was formerly the Cypress Gardens theme park and was renovated and rethemed to encompass the LEGO theme before opening in 2011. The park is designed for families with children ages 2-12 and features over 50 rides, shows, attractions, restaurants and shops. LEGOLAND Florida Resort also has two onsite hotels – the LEGOLAND Hotel and the new Pirate Island Hotel. Nearby is the LEGOLAND Beach Retreats, a family oriented getaway situated on Lake Dexter.
Before You Go
At the time of our visit, LEGOLAND Florida Resort had the following Enhanced Safety Procedures in place:
Parking: Guests are asked to leave a space between their vehicle and other vehicles in the parking lot.
Temperature Checks: Non-invasive temperature checks are done before entering the security area. Any guests with temperatures over 100.4 are not permitted to enter the LEGOLAND Florida Resort.
Face Masks: Guests 8 years and older are asked to wear masks in all indoor areas and while on all rides.
Social Distancing: Social distancing markers (LEGO bricks, of course!) can be found in the queues for rides and wherever else groups may form (ticket windows, entrance gates, restaurants, etc).
Social Distancing will be promoted on rides and attractions by allowing for empty rows or seats between parties.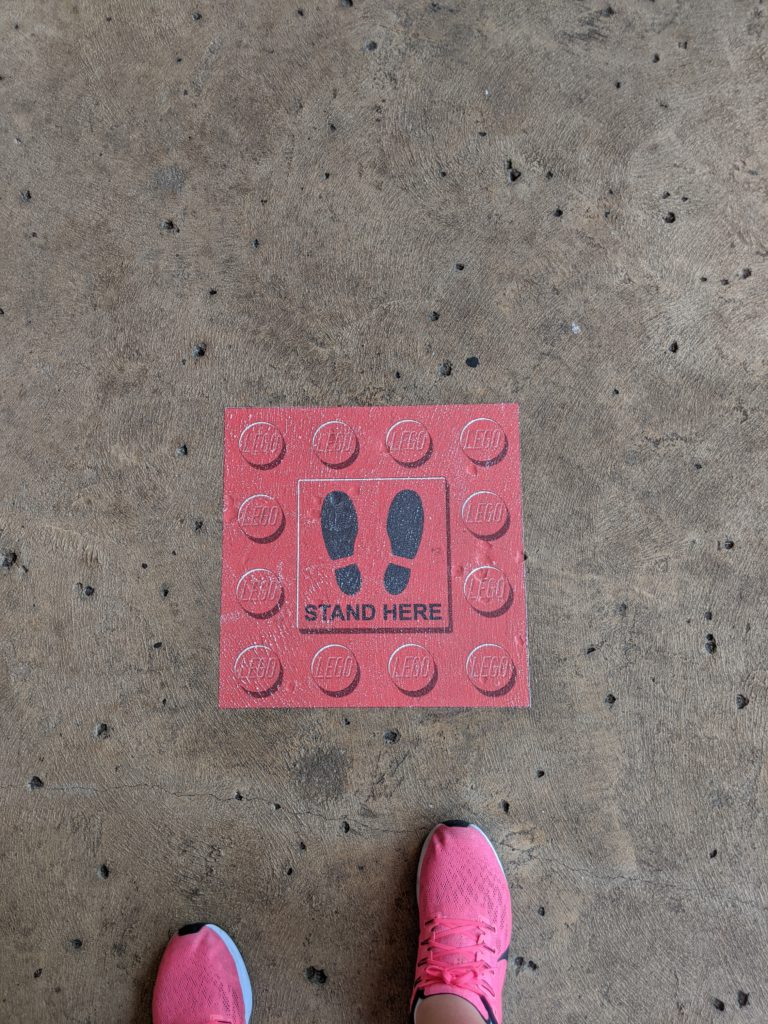 Height checks: For guests that are under 48 inches are now done in the front of the park in order to reduce congestion at the height check on rides. Little guests receive a color coded wristband based upon what height they currently are.
Hand sanitizer stations: Located throughout the park for guests' convenience.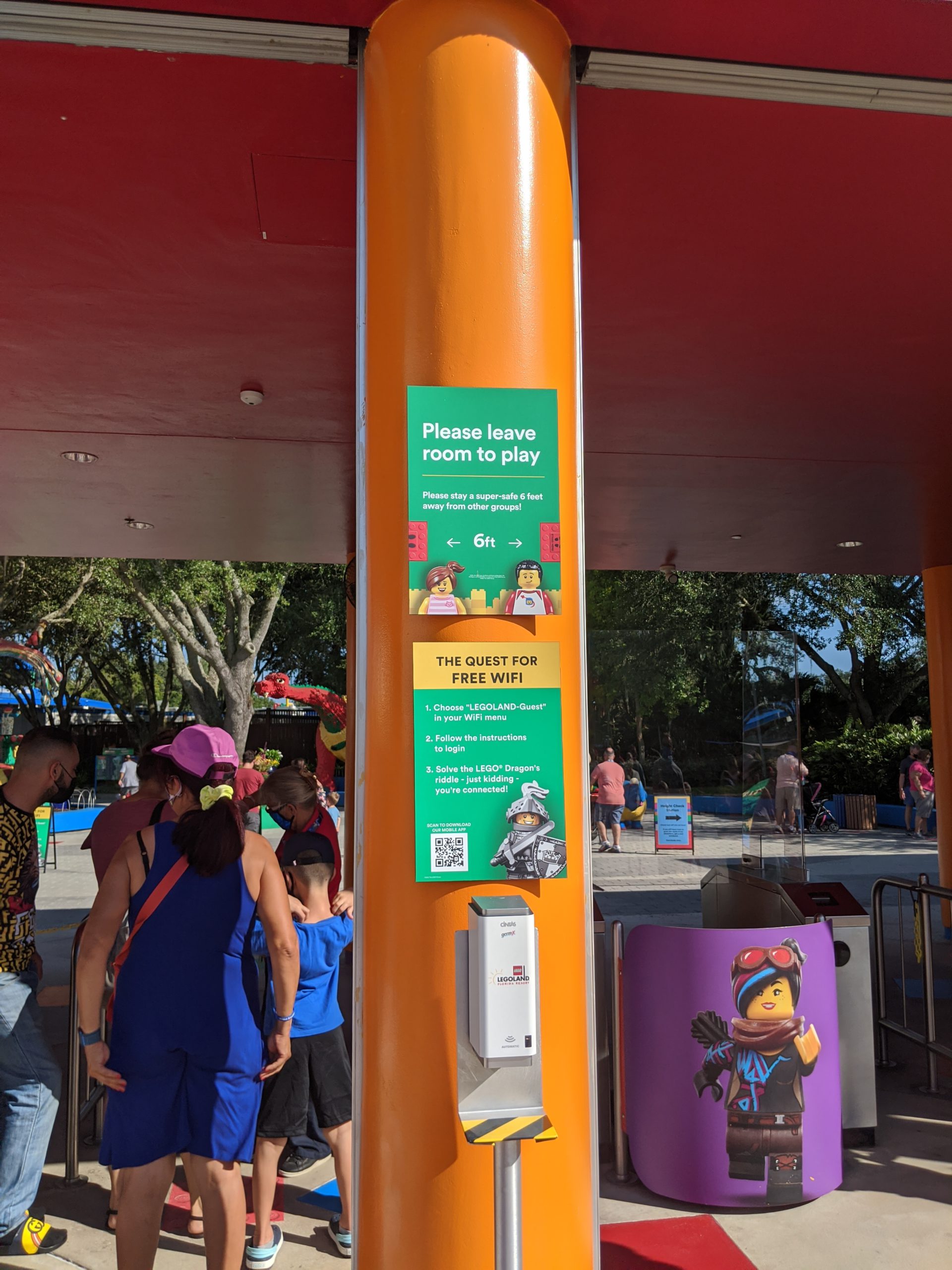 Currently, no reservations are required for park admission. When we visited, the State of Florida was still under Phase 2 of reopening. This meant that all theme parks were running at a limited capacity. Florida has since moved into Phase 3 and no attendance restrictions are required by law. However, LEGOLAND has not announced any such change on their end (ie, it IS possible that the park could reach capacity limitations).
We recommend double checking all current procedures, recommendations, and restrictions at LEGOLAND's website (www.legoland.com) before you go because things are constantly changing!
Rides and Attractions
We went on a Saturday and therefore the park was naturally busy. The park was open from 10 AM to 5 PM (again, check the times before you go). However, many of the areas did not open until 11am. Many restaurants, stores, and attractions still remain closed. Make sure to check the LEGOLAND website or their app for available options.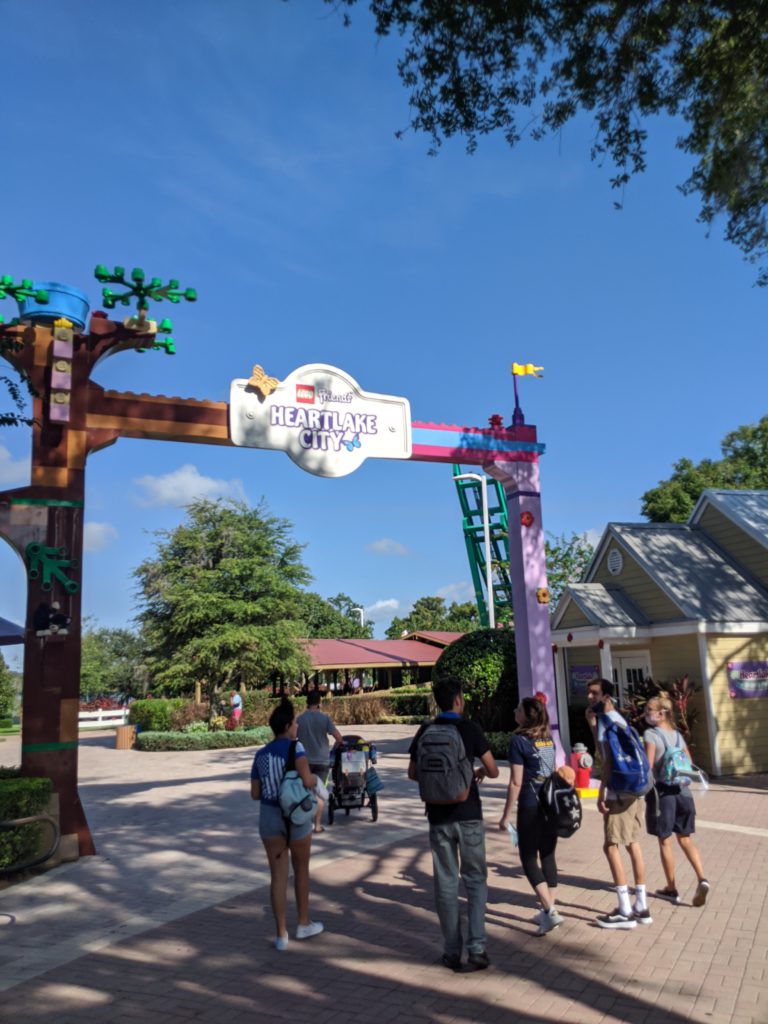 We spent the first hour exploring the Heartlake City area, which is based on the LEGO Friends sets.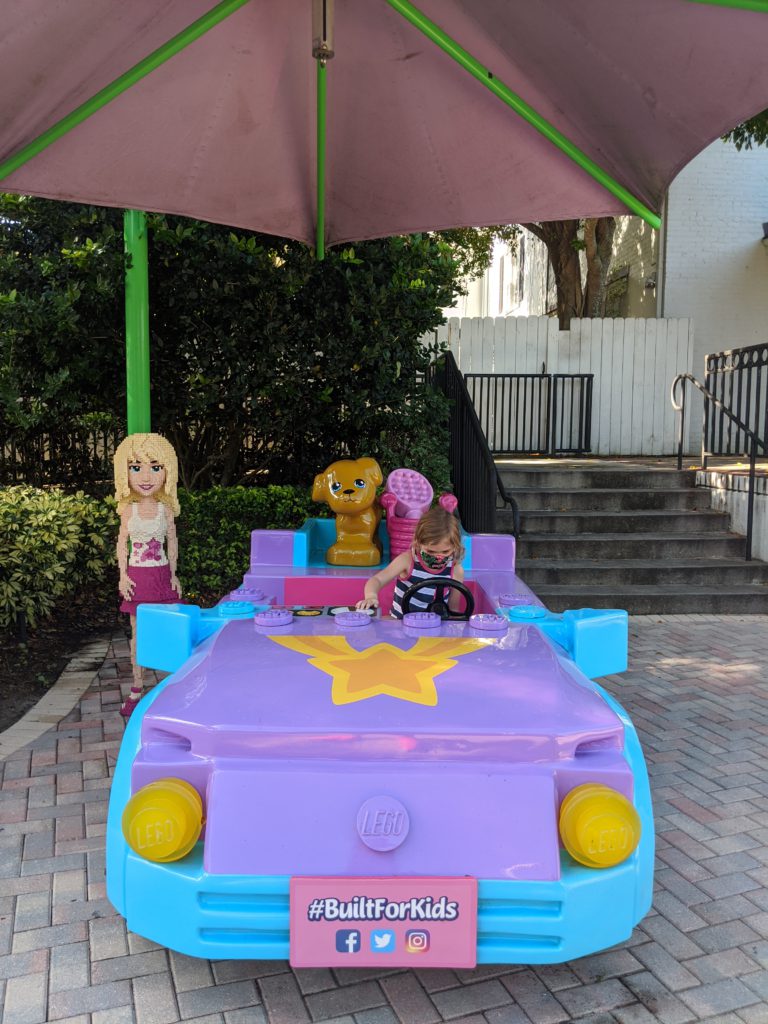 Grace absolutely loved sitting in the LEGO car and visiting the horse outside of Mia's Riding adventure. Grace was too short to ride but didn't seem to mind!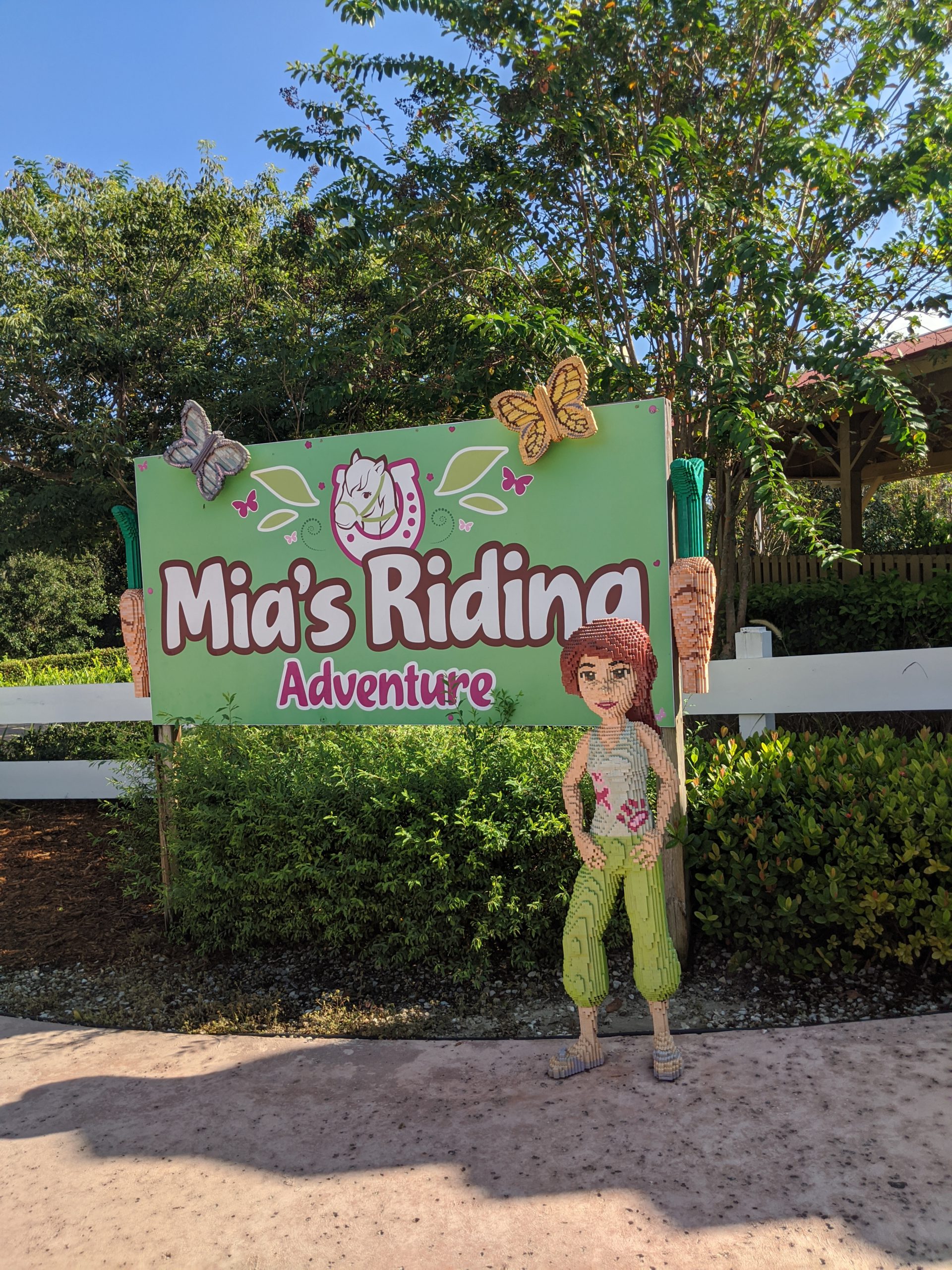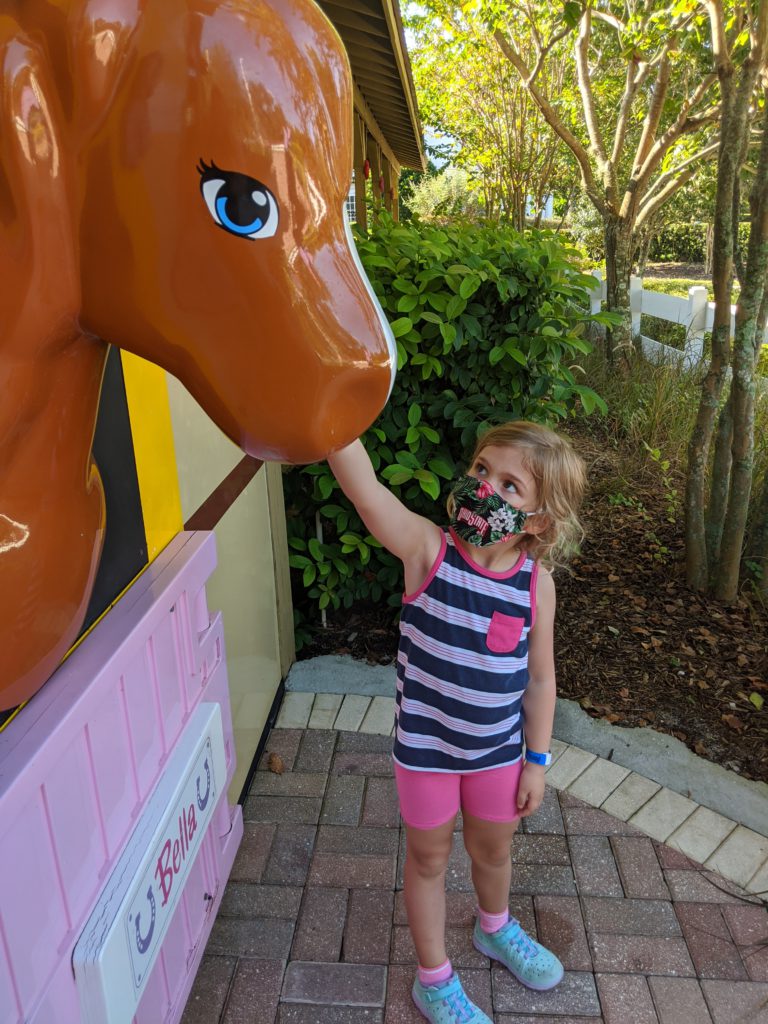 We also explored the Miniland area, which is made up of LEGO models of famous cities around the world. Grace loved seeing all of the interactive components and making water shoot out at us (and sometimes catching us off guard!).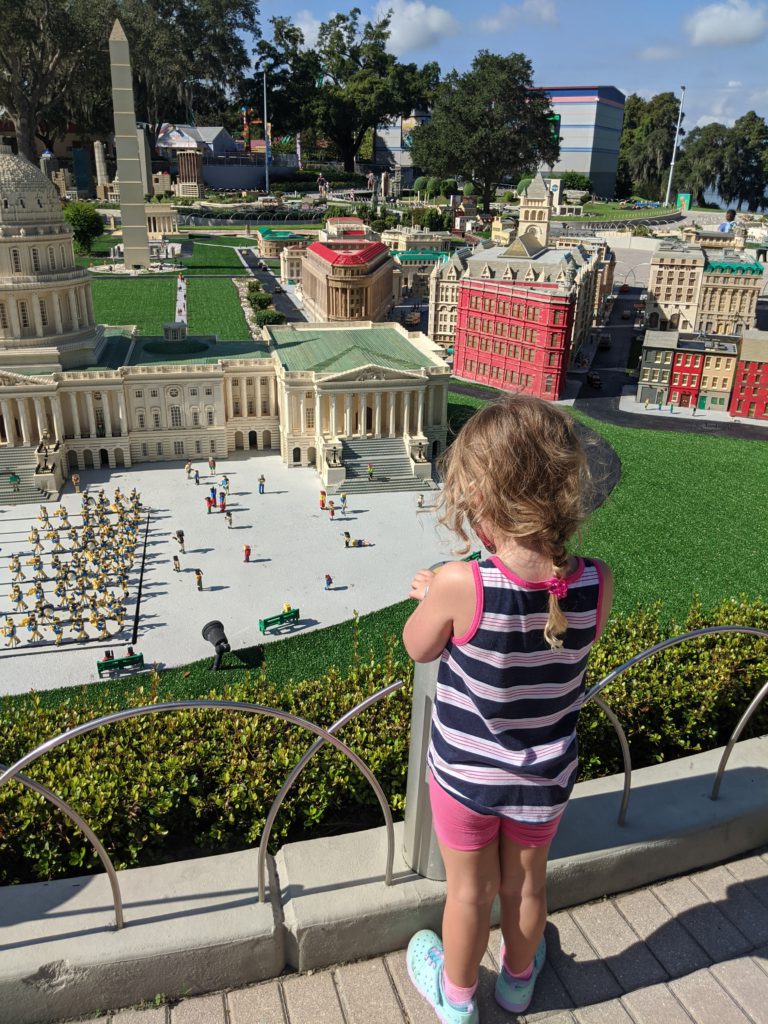 As adults we loved finding buildings that we recognized. We were amazed by the intricate detail that the Master Builders were able to achieve with LEGO bricks.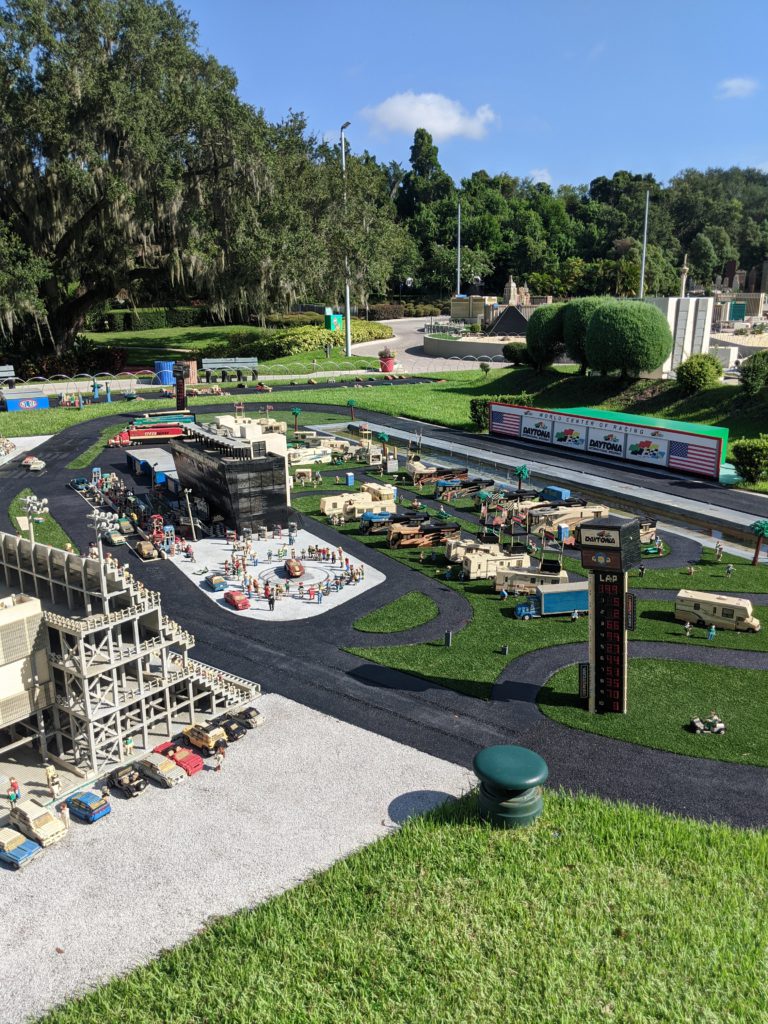 Grace loved the DUPLO Valley area too. She loved the fact that she could do many of the rides on her own (but are perfectly safe for your wee littles to do with a grown up).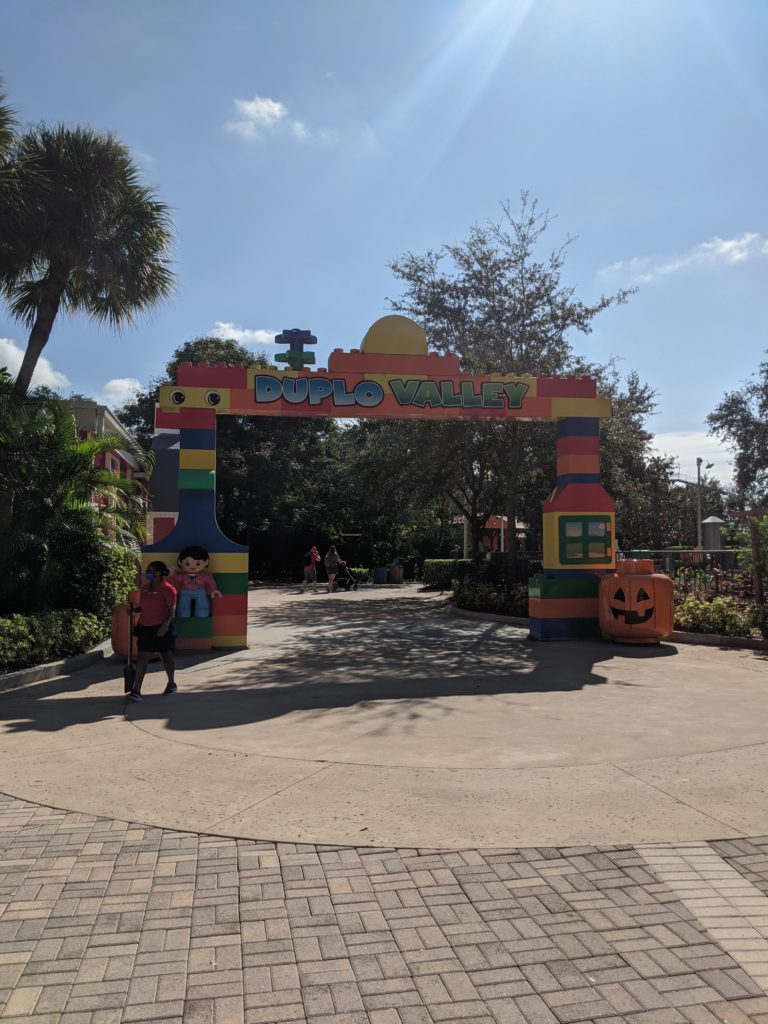 She also loved the Schoolhouse, an indoor play area that featured playground equipment suited for younger children.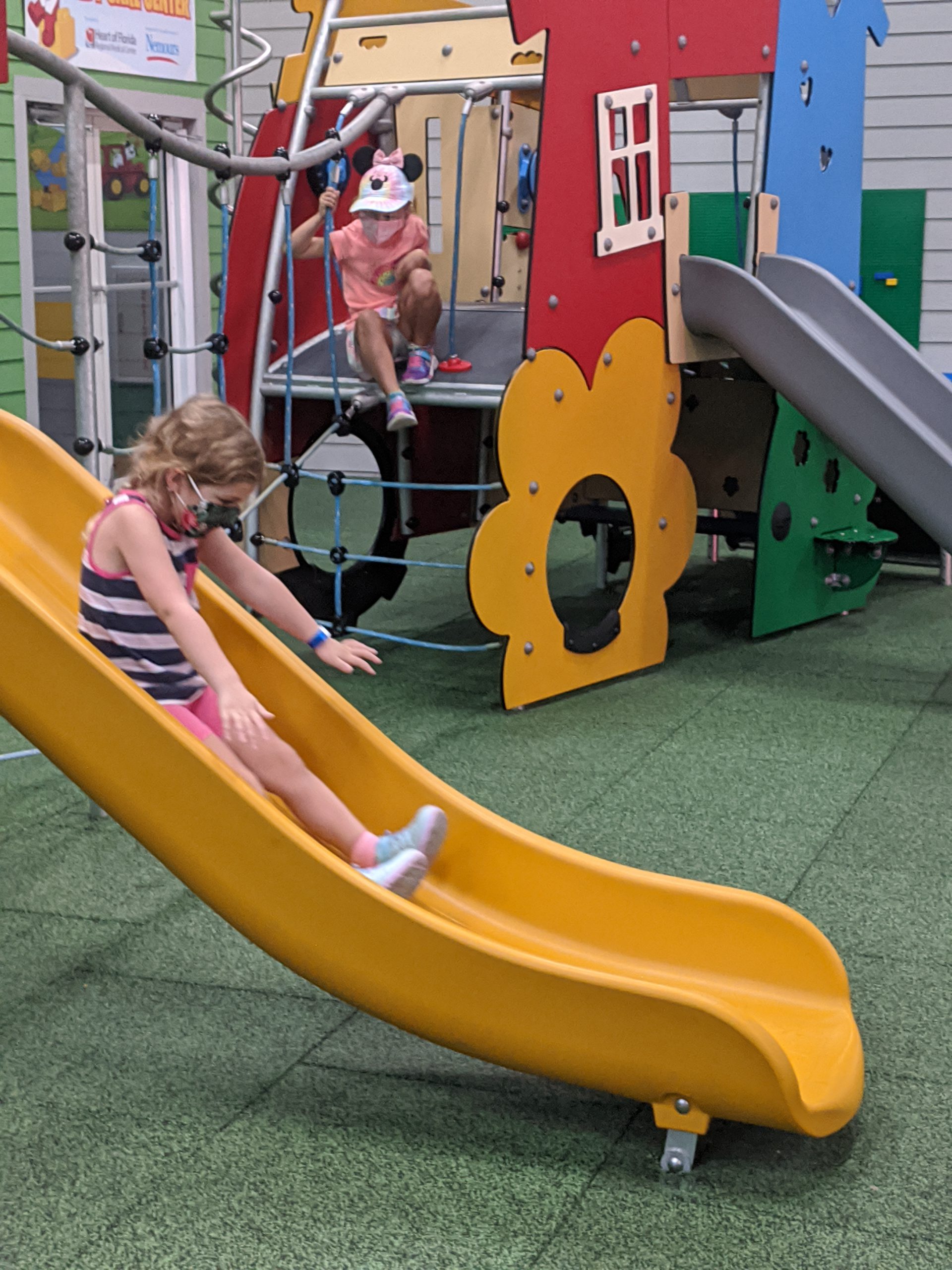 This is where you will also find a baby care area and outlets to charge your phone.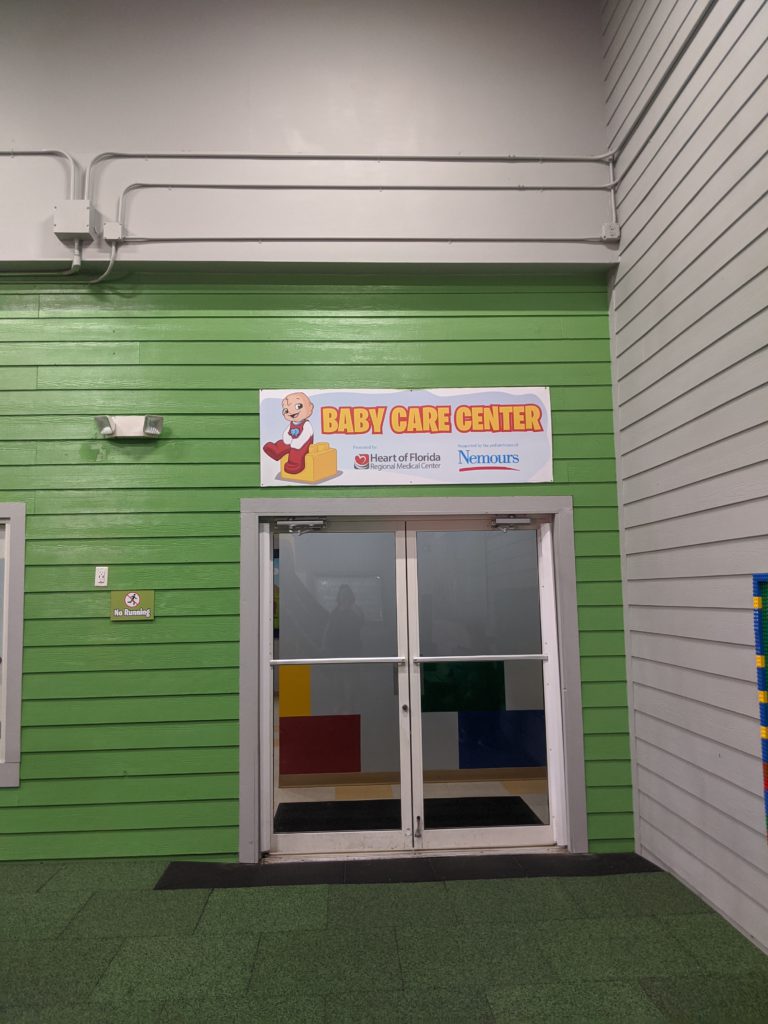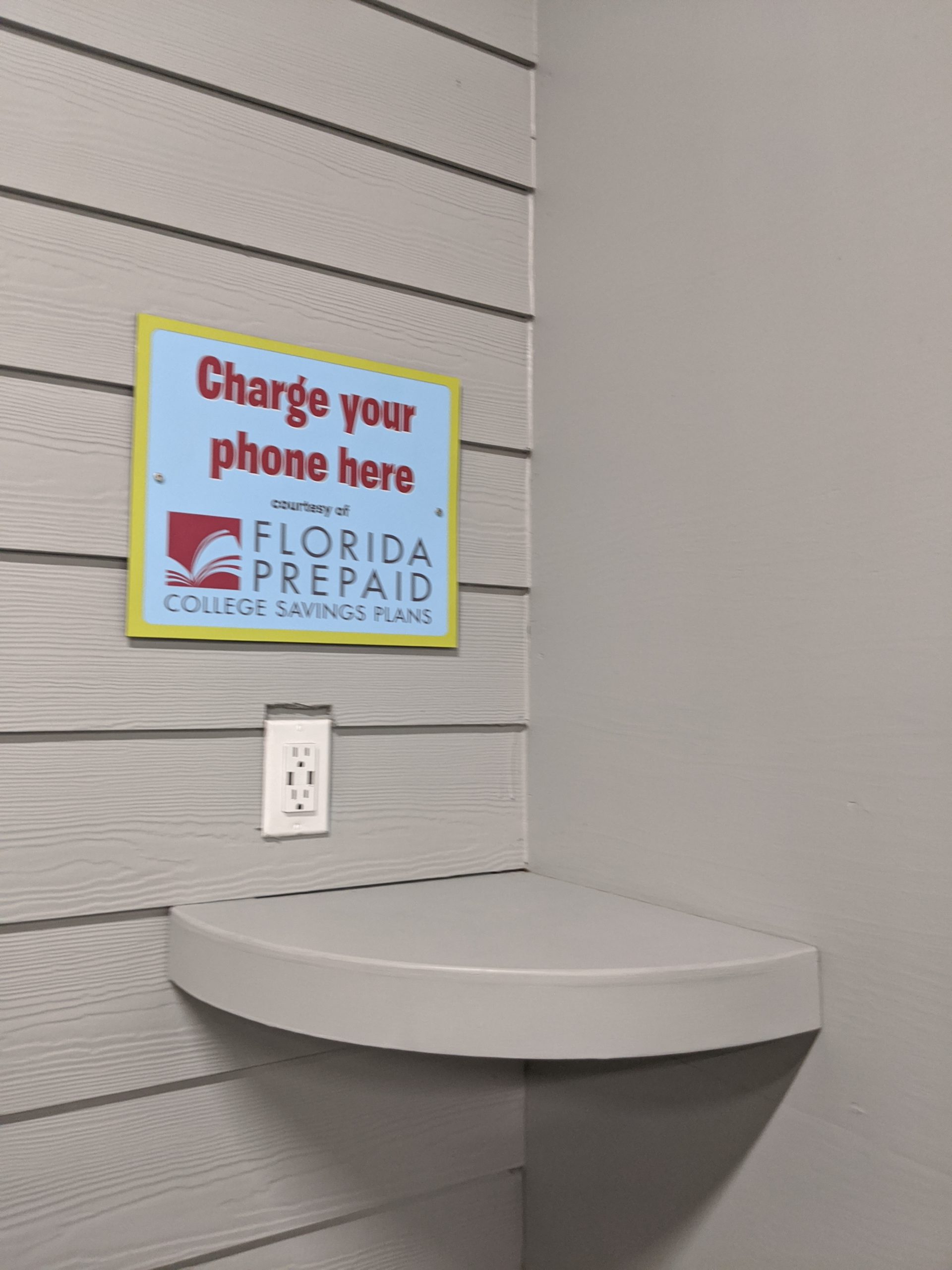 As a family we love the arcade style games (what can we say, we can be a bit competitive). We loved the Lost Kingdom Adventure in Land of Adventure so much that we rode it three times! The kind Model Citizens (LEGOLAND's name for employees) allowed us to stay in our ride vehicle and ride through each time.
We also loved Ninjago the Ride 3D game. In this ride, you use your hands to release orbs onto an interactive screen. Grace and daddy rode 3 times in a row – mommy had to sit out after the first time (3D rides and I don't mix well!)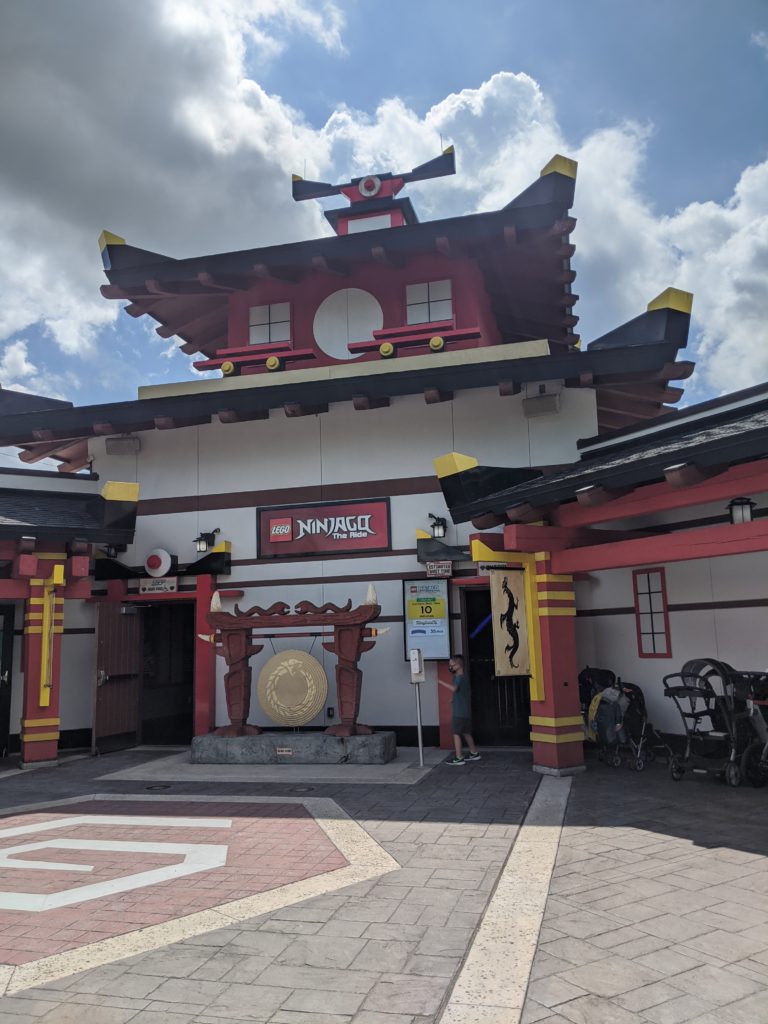 Other themed areas of the park include the new LEGO Movie World (Grace wasn't tall enough for this area), LEGO Kingdoms, LEGO Technic, LEGO City, Imagination Zone, and Pirates Cove.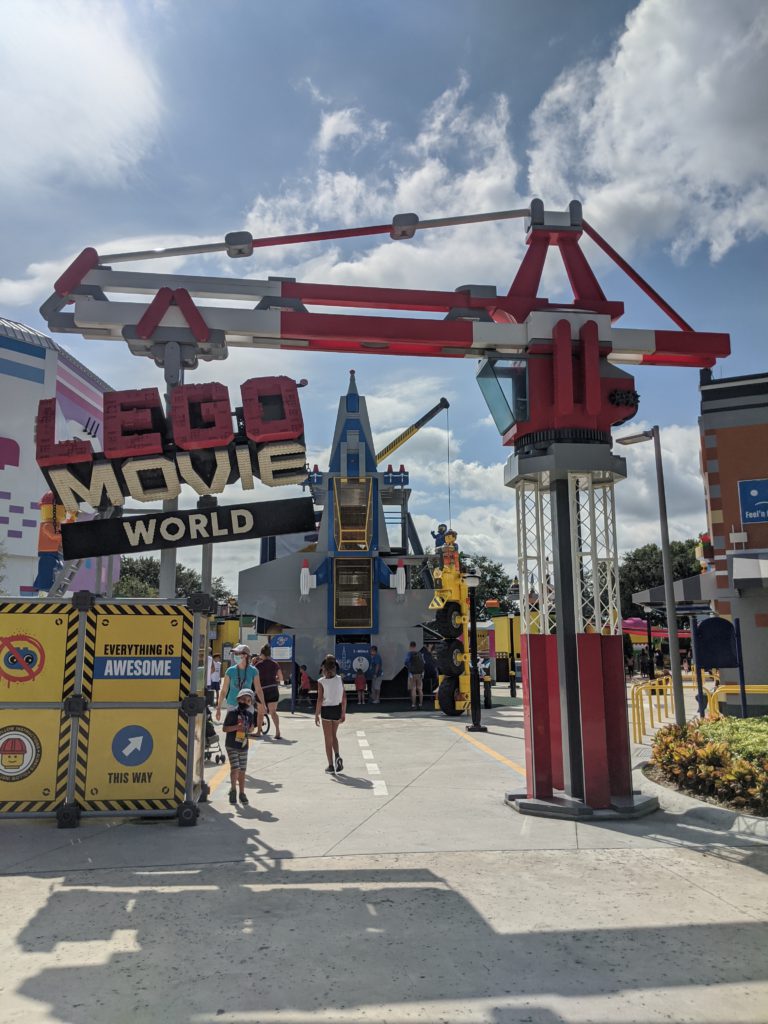 Water Park
Did you know that LEGOLAND Florida Resort had its own water park? For a small fee you can add this park onto your daily park ticket or Annual Pass.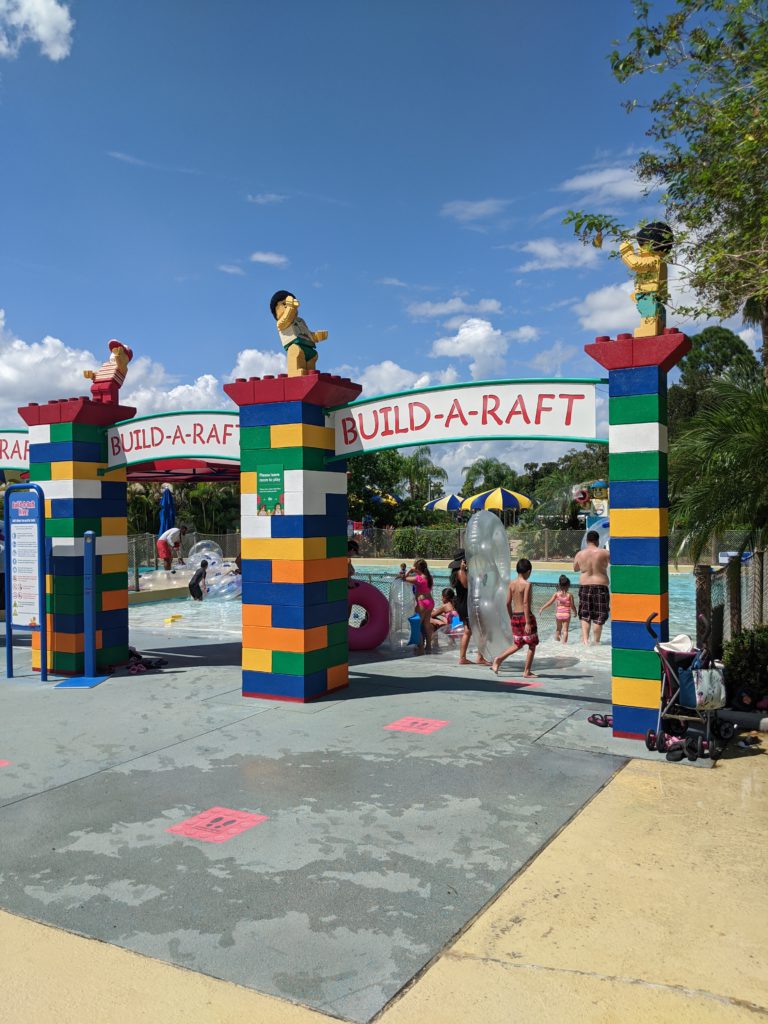 The water park was open from 12-4 PM while we were there. Grace absolutely loves the water so this is where we spent a large portion of our time!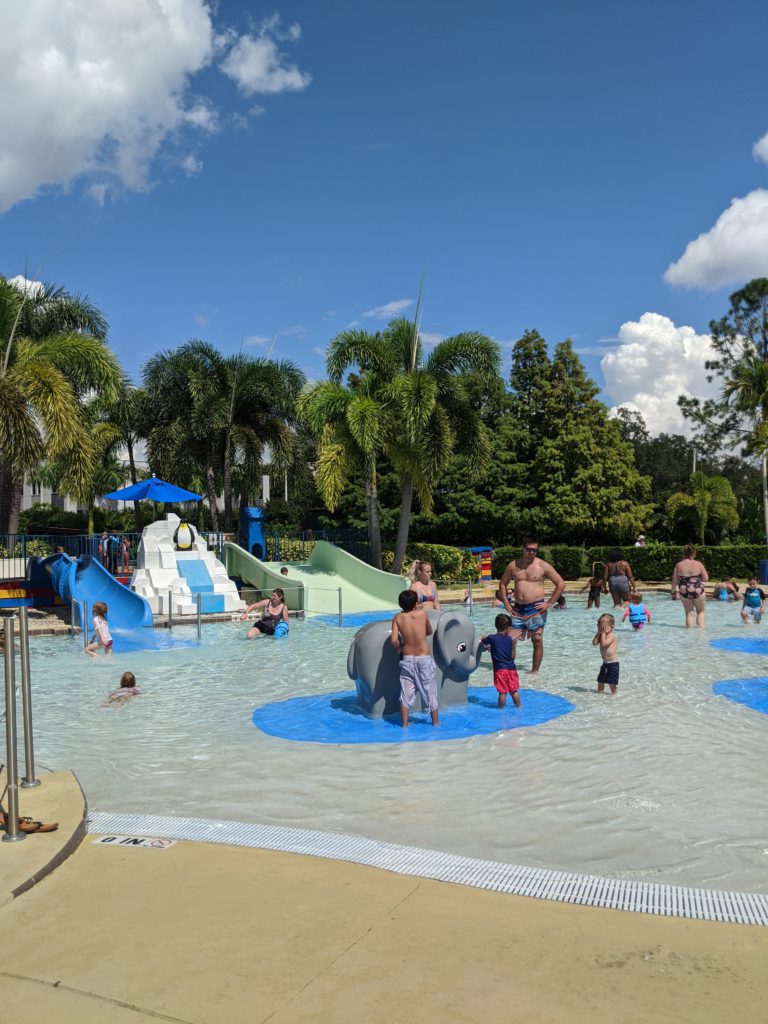 There are changing rooms, showers, and lockers available for guests to rent.
Don't forget to bring your own towels! We didn't realize this and had to dry out before changing back into our clothes when we left (although it was hot enough that it didn't take long!).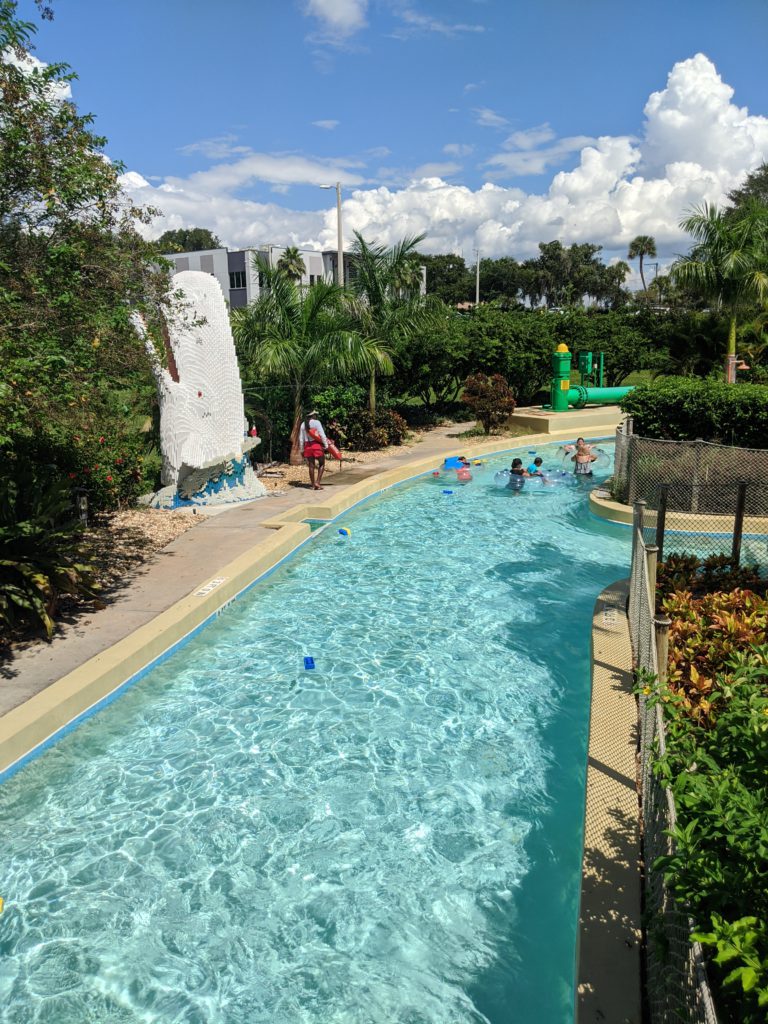 The water park features the LEGO Wave Pool, a wave pool with kid-sized waves and the Build-A-Brick Lazy River. Both of these attractions had floating LEGO Bricks and you could build while you relaxed in the water. Grace was in heaven!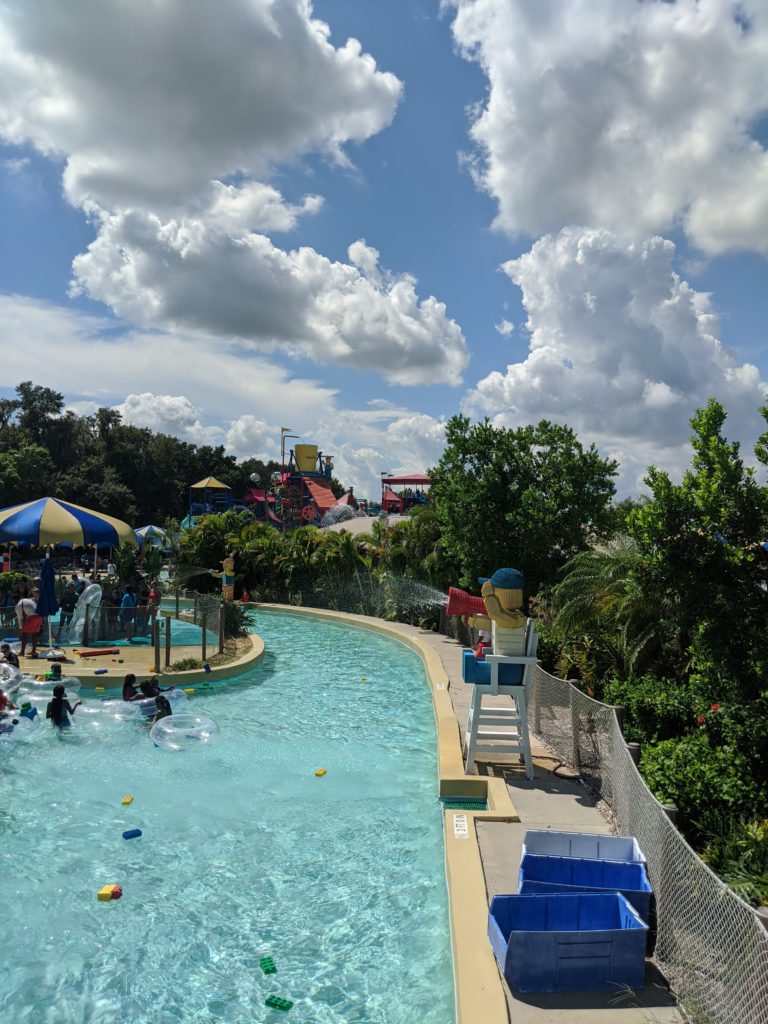 Grace also loved the Joker Soaker, a big kid's slide and obstacle course area that featured a giant bucket that empties onto the entire area. It may seem like a tame kid's area but it is anything but! We got SOAKED!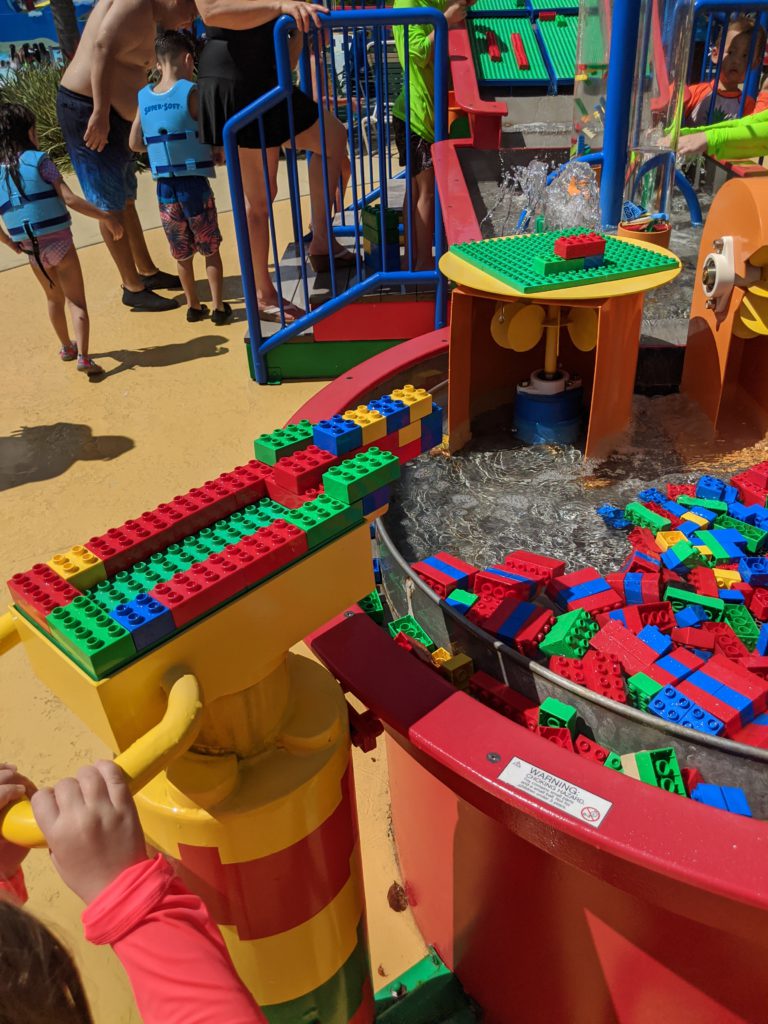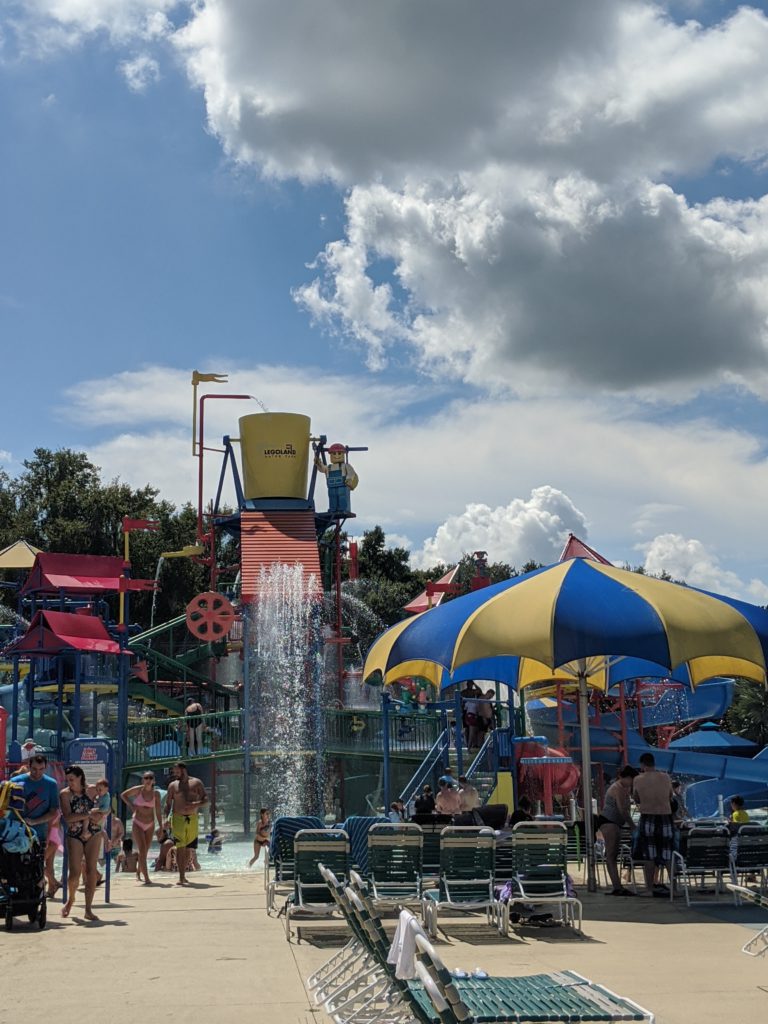 The DUPLO Splash Safari, a toddler splash pad, was also a surprising hit. As parents we loved that we could monitor her from the side and sit under the umbrella in some shade!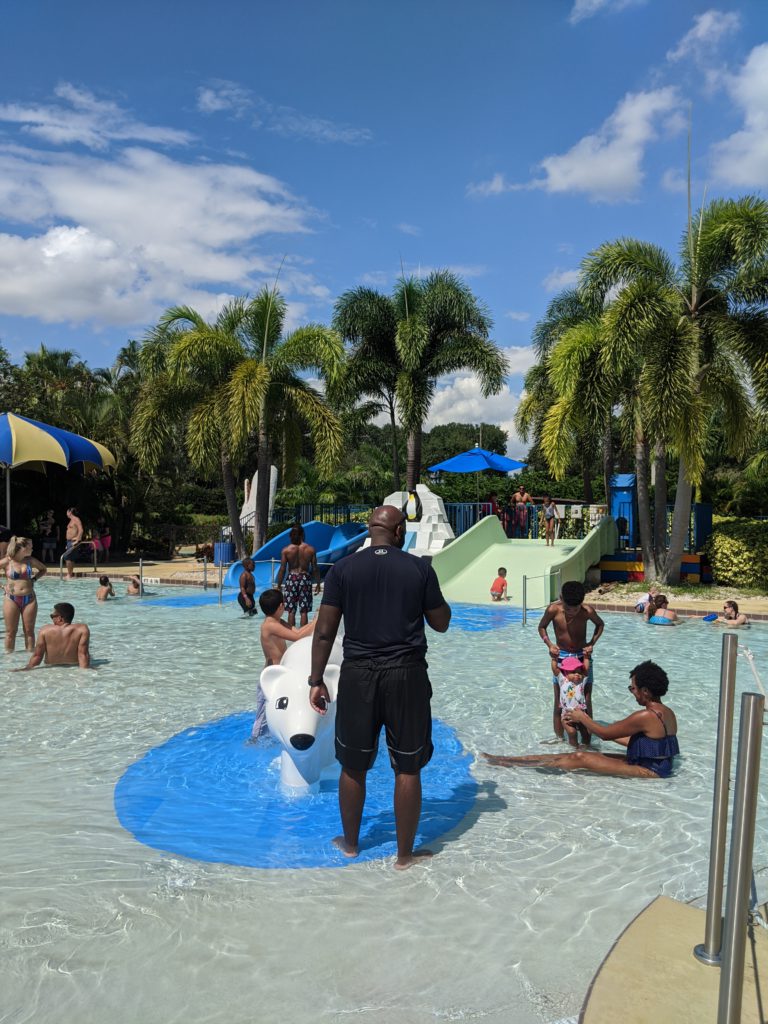 For those that are thrill seekers, the Twin Chasers and Splash out will definitely satisfy your craving for thrills! We weren't able to go back into that cove due to capacity restrictions but we could hear the screams as people went down the slides!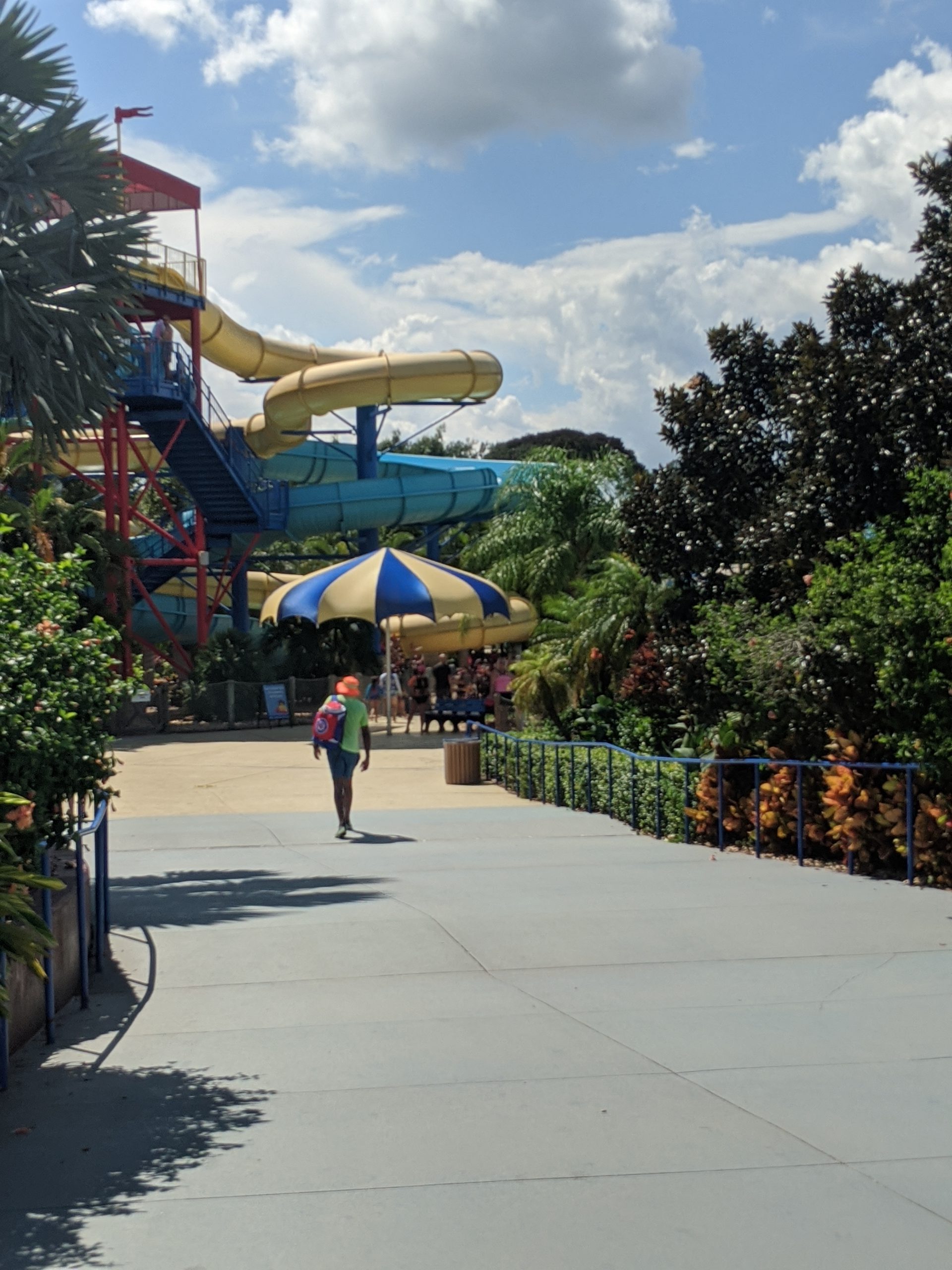 Cypress Gardens
After leaving the water park we walked through the Cypress Gardens area of the park. When LEGOLAND was built they preserved the walkway and much of the "old Florida" feel that this area had. It was a nice, relaxing finish to our day.
Food and Drinks
Admittedly, we don't eat many meals when we visit theme parks. We tend to bring our own snacks and water bottles and will buy a treat or two in the parks. After reopening, many food offerings still remain closed within the parks. The main restaurant that was open when we visited was the Burger Kitchen, featuring hamburgers and chicken sandwiches.
LEGOLAND Florida offers a souvenir refillable cup that is a great value! You purchase the cup and can refill for the day for free! Each additional day you purchase a "day pass" for refills – each additional day of refills is about the price of purchasing 2 sodas on their own. If you have a larger family or just really enjoy soda this can be a great bargain for you. There are various refill stations throughout the park that feature Coke Freestyle machines.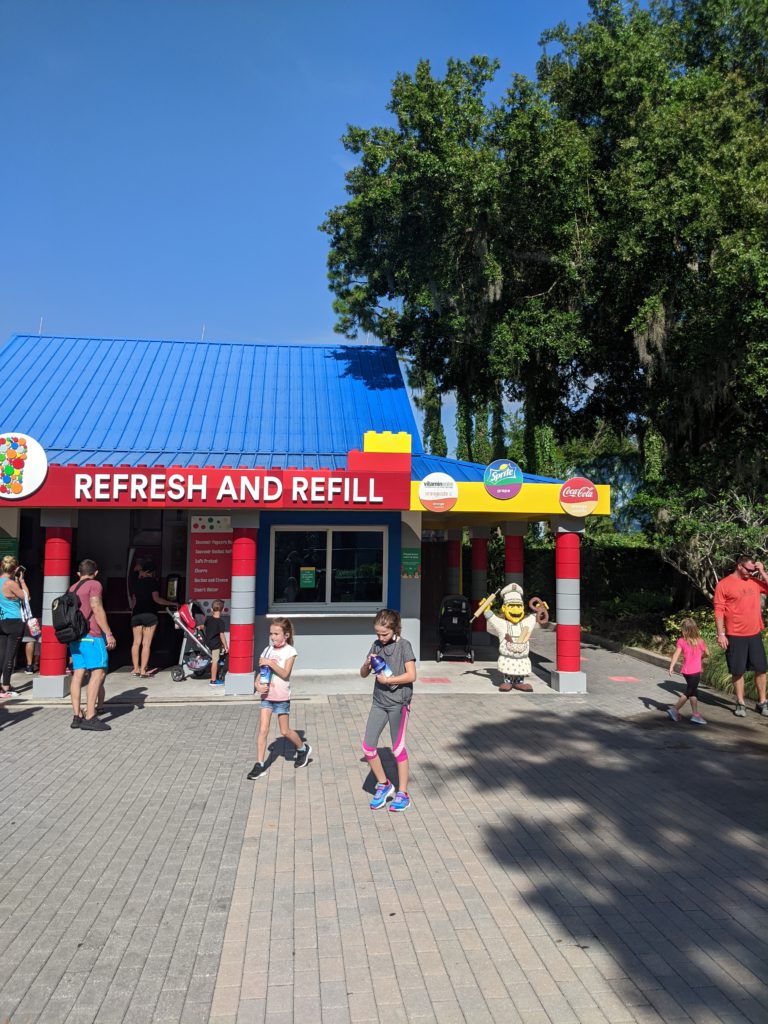 Drinking fountains are currently unavailable but you can ask for cups of water in restaurants or drink fill stations that have a soda fountain. We would recommend bringing in water because many of these refill stations and restaurants had long lines that we didn't want to wait in.
While we visited we HAD to try the Granny's Apple Fries! Located in the front of the park near the Grand Carousel it features the most delicious apple fries, coffee, and bottled drinks. We chose to have ours as a sundae and it didn't disappoint!
Upcoming Events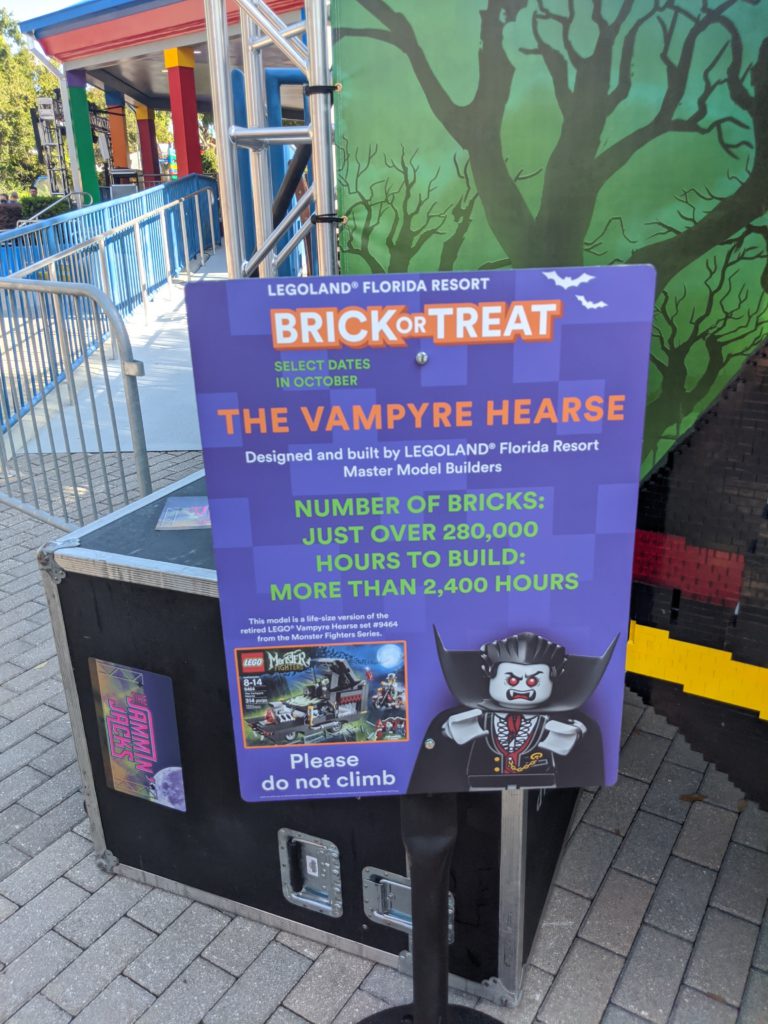 During our visit LEGOLAND Florida was preparing for Brick or Treat, a Halloween event that will be running weekends in October.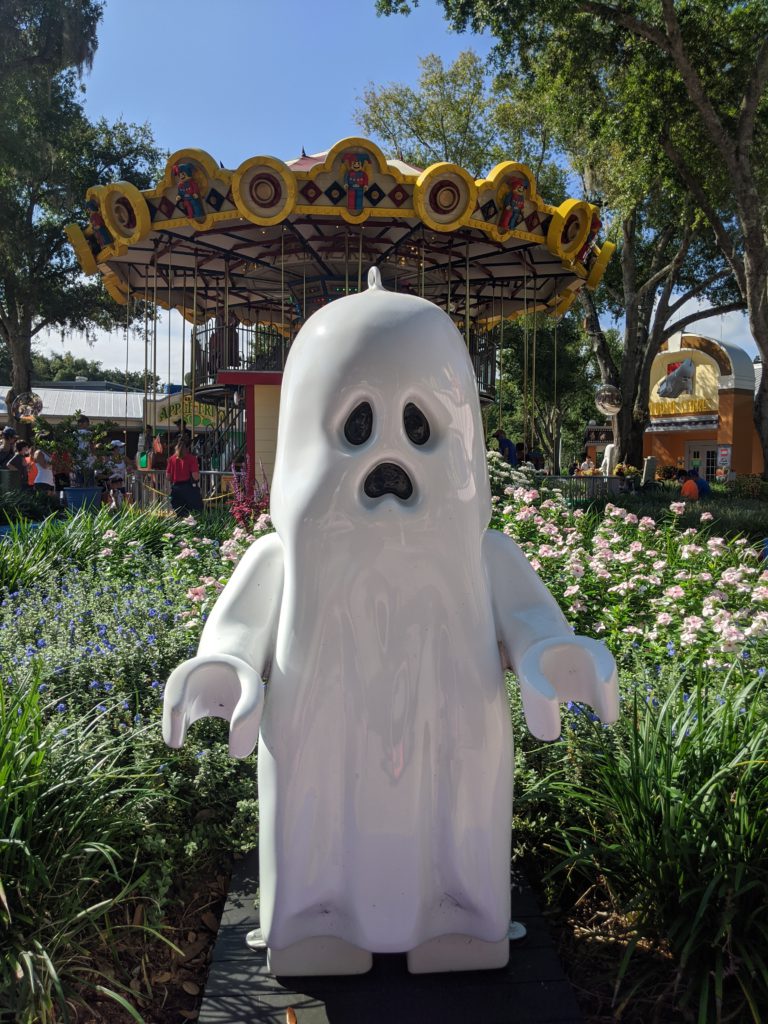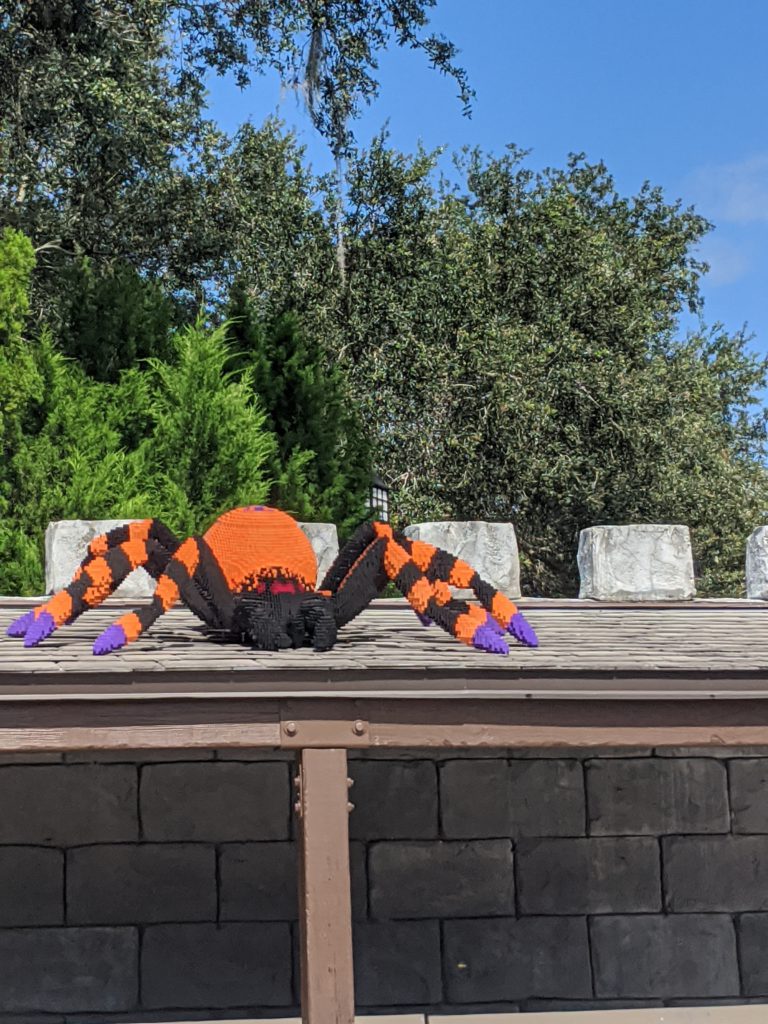 The event will feature trick or treating, meet and greets with LEGO characters and special stage performances. We loved seeing the spooky decorations and LEGO models that were being prepared!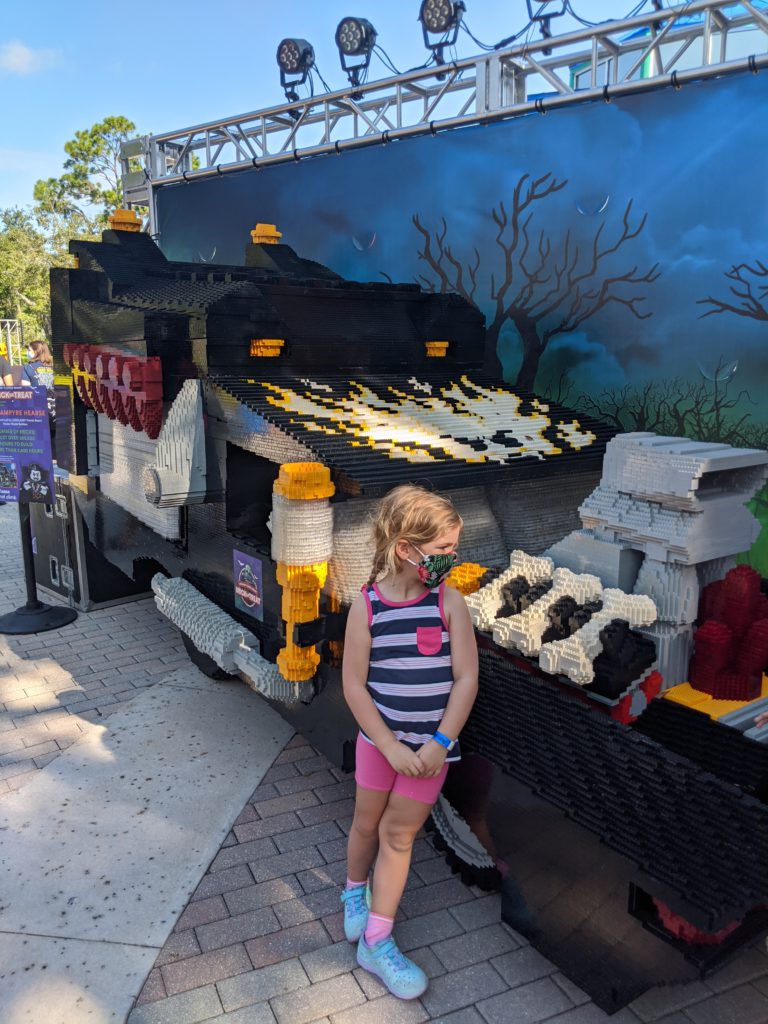 You can check out more of our day at LEGOLAND Florida over on the Winter Garden Moms Instagram page (@WinterGardenMoms) or our Instagram page (@happiest.haigs.on.earth). Find our stories from our park day in the highlights section labeled "LEGOLAND"!
A HUGE thank you to LEGOLAND Florida Resort for hosting our day at the park! Stay tuned for our visit to Pirate Island Hotel!