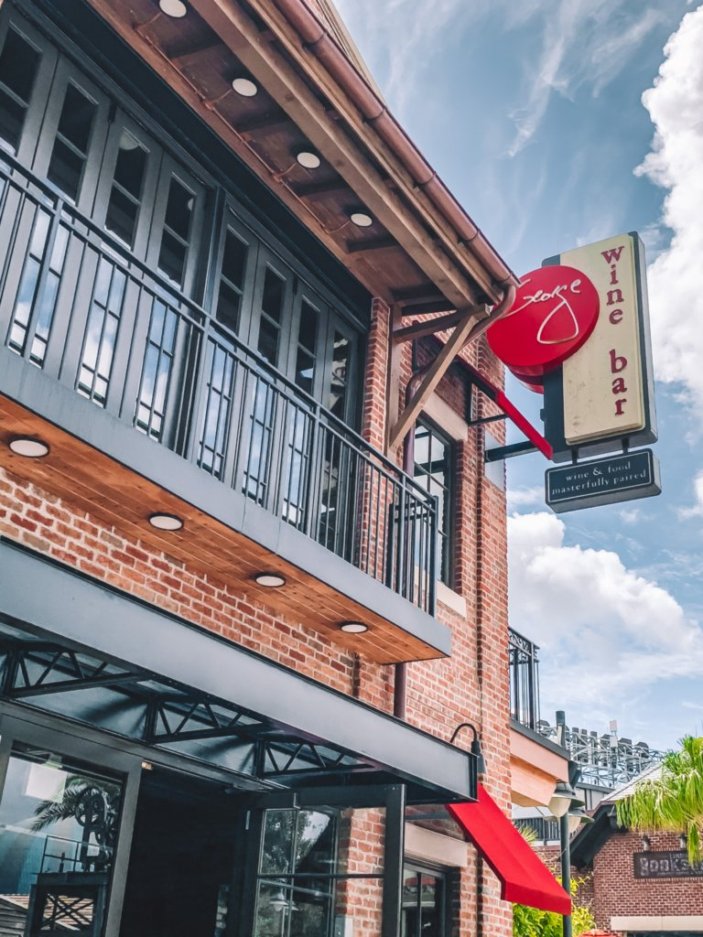 Wine Bar George at Disney Springs recently invited Winter Garden Moms to try out some of their delicious food and drinks and we can't wait to tell you all about it!
When we arrived we did a digital check in through our phones to let them know we were there for our reservation. This allowed us to stay socially distant and not wait in a line.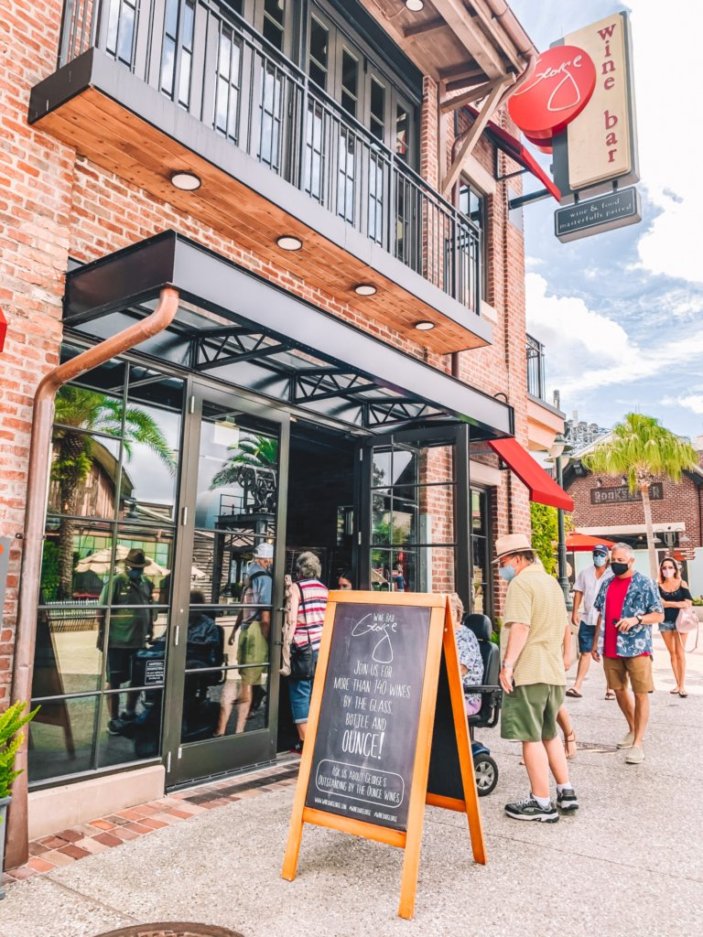 Once we entered we were instructed to scan the menu on our cameras which is another great safety measure. The menu can also be found on their website and the My Disney Experience app. We were then shown to our table and given paper bags for our masks to keep them clean.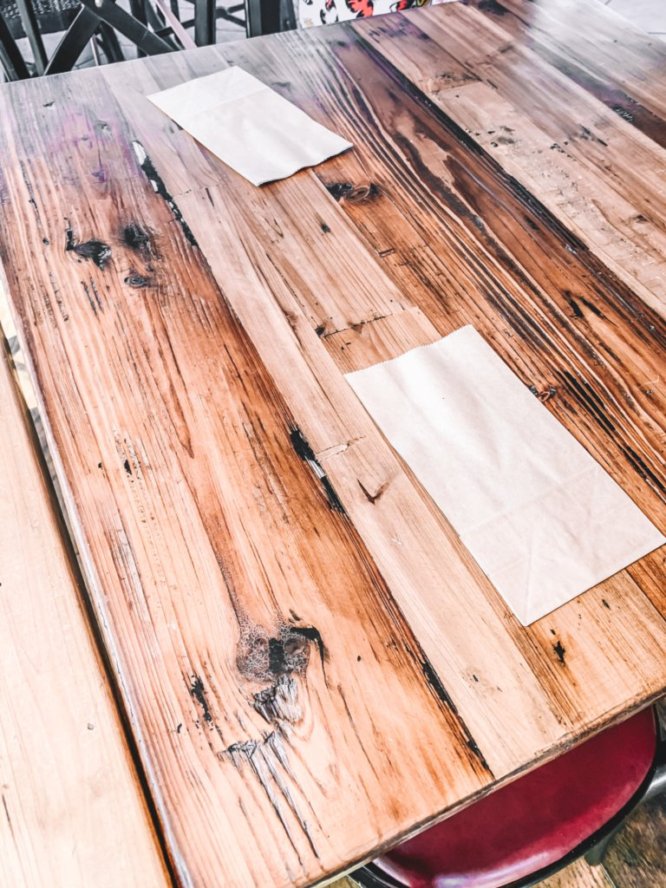 The tables were spaced out and we felt very comfortable removing our masks inside. There is also outside seating on the upstairs balcony for those who prefer to dine alfresco.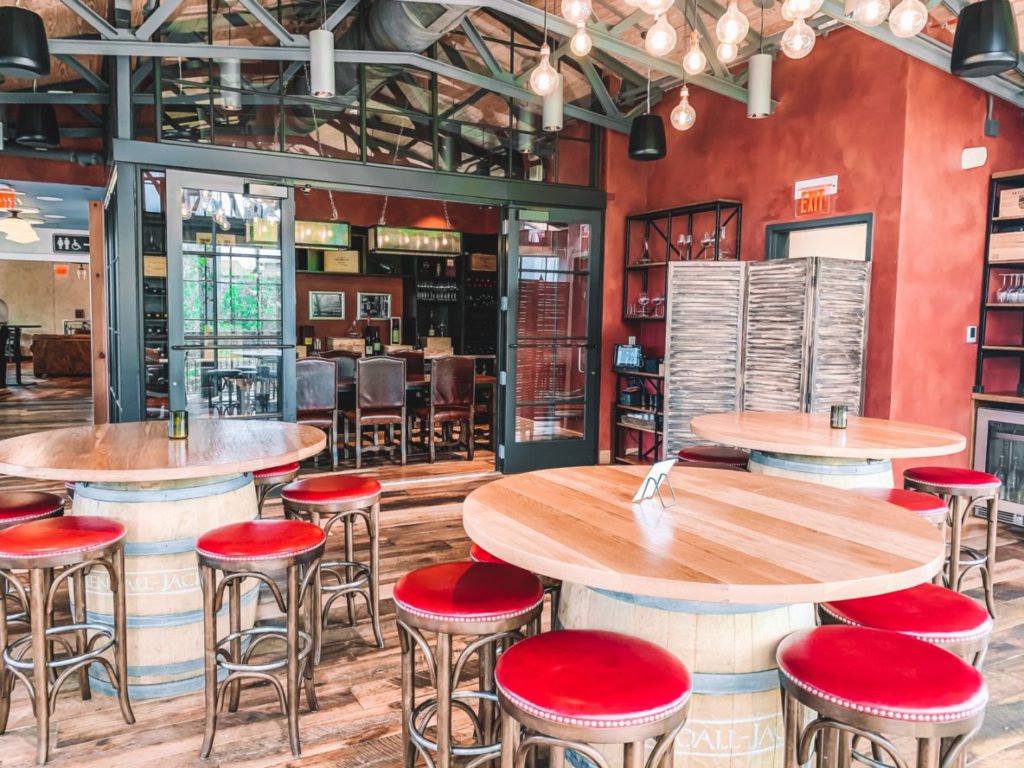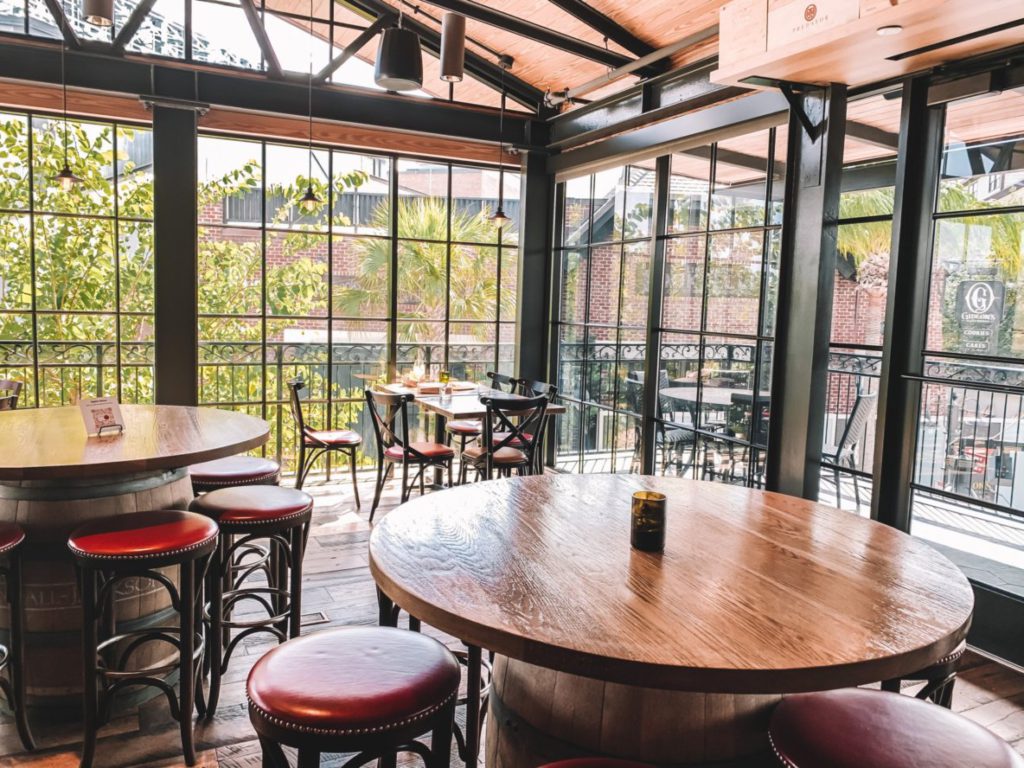 We started with a cocktail called The Hoot. Wine Bar George has recently partnered with Hooten Young American Whiskey and created some signature cocktails with this delicious spirit. The Hoot is made with Hooten Young Whiskey, Creme de Cassis, and Ginger Beer. We are not typically whiskey drinkers and were worried that this drink would be too strong for us but were very pleasantly surprised.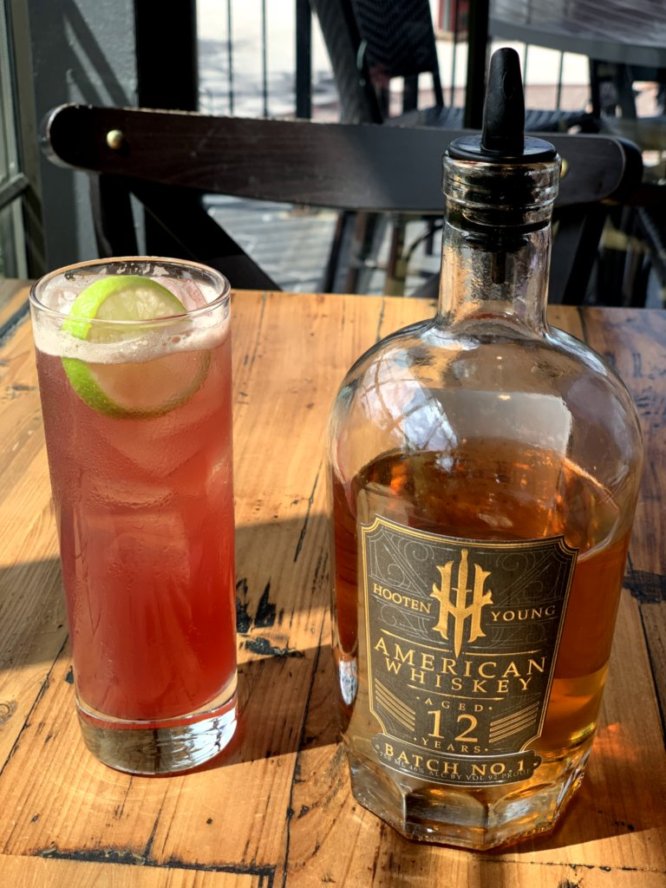 It was so light and refreshing that we just couldn't stop sipping it! The warmth of the whiskey and bite from the ginger beer perfectly balanced the sweetness. It was perfect! If you'd like to try to recreate this drink at home, Hooten Young American Whiskey is also available for online purchase at wineonlinedelivery.com.
Wine Bar George separates their menu into categories of small plates, boards, entrees, and family style plates. We decided to get a couple small plates as well as an entree to split and it was plenty of food for two people. We were absolutely stuffed by the end of our dining experience.
The first to arrive at the table was the Saganaki On Fire. It is Vlahotiri Cheese flambéed in Metaxa Brandy and served with crostini. The process alone is worth ordering this dish! The server brings it to the table before lighting it so that you can enjoy the experience and grab a video of how impressive it looks! The cheese is melty and creamy with a salty bite and perfect on top of the crispy crostini.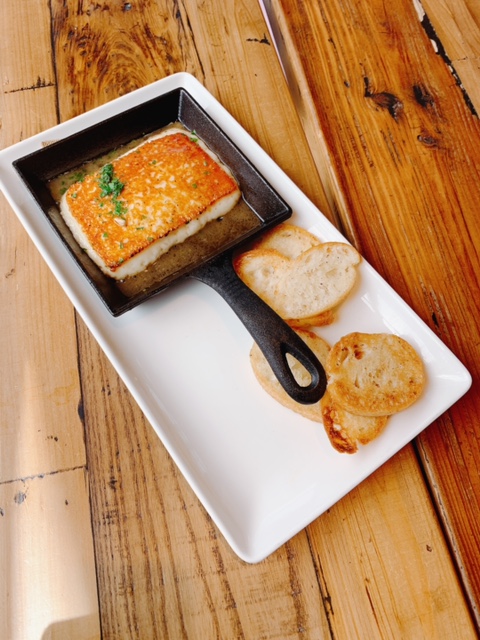 Next we tried the Chicken Skewers. This didn't sound as flashy as some of the other things on the menu but we were so glad that we ordered this dish! It is incredibly flavorful and complex. The crispy chicken is seasoned with togarashi and served on a bed of Asian slaw. The cool slaw melded with the spiced chicken perfectly and we just couldn't get enough!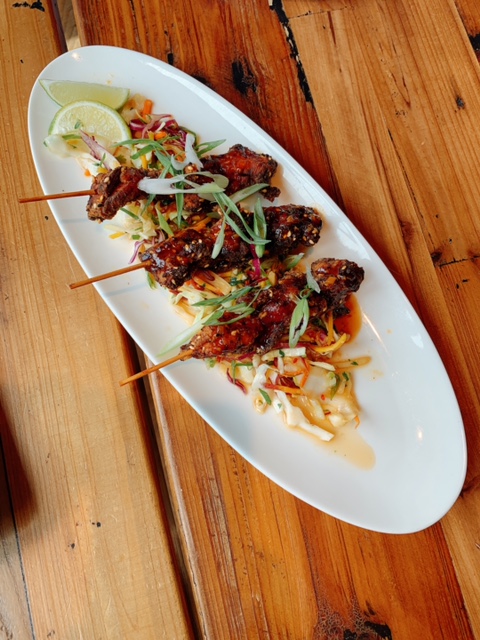 We then ordered the Steak Frites. This was a massive pile of crispy french fries topped with perfectly cooked skirt steak and caramelized onion aioli. This is a very rich dish between the fried potatoes, beef, and creamy aioli but definitely a splurge worth taking. It paired so well with the bright flavors of the cocktail.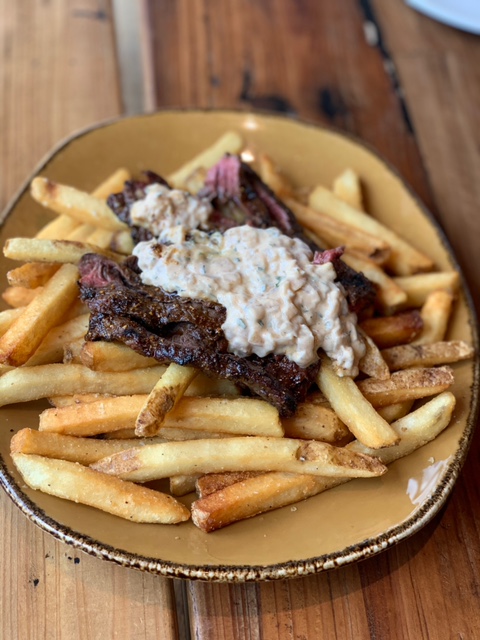 Finally, we tried the Key Lime Pie for dessert. Not only was the presentation of this so pretty but the dessert itself was wonderful. It had almost a pudding consistency making it silky smooth in contrast with the crumbly graham cracker crust. We highly recommend this one!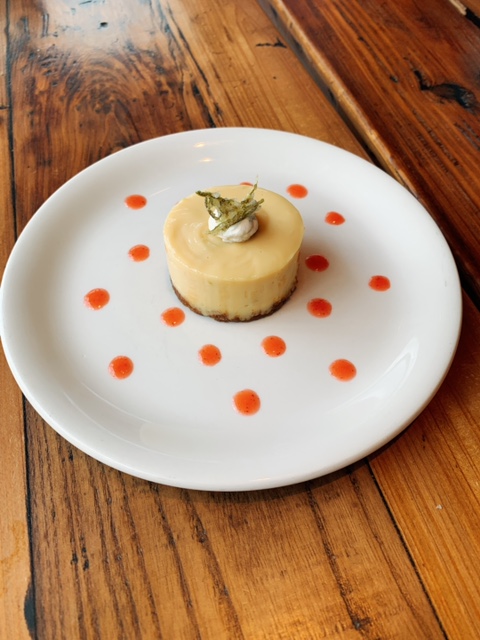 We also spent a bit of time walking around the restaurant and enjoying the scenery. Even if you don't have time for a full meal, Wine Bar George is a great place to pop in for a drink or two from their extensive wine, cocktail, frozen drinks, and beer menu. If you are a Disney Dole Whip fan, make sure to try the Frozcato made with Dole Whip Pineapple. They also have a walk up window outside to get a drink and snack to go.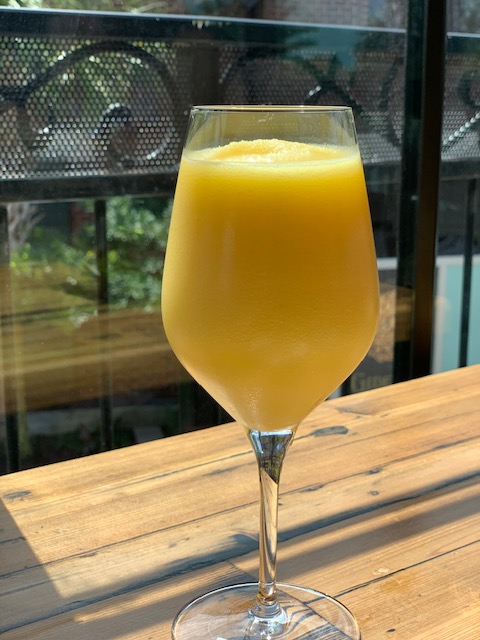 There is a full bar both upstairs and downstairs as well. We highly recommend making your way to the second floor. From upstairs, you get a great view of the surrounding area of Disney Springs.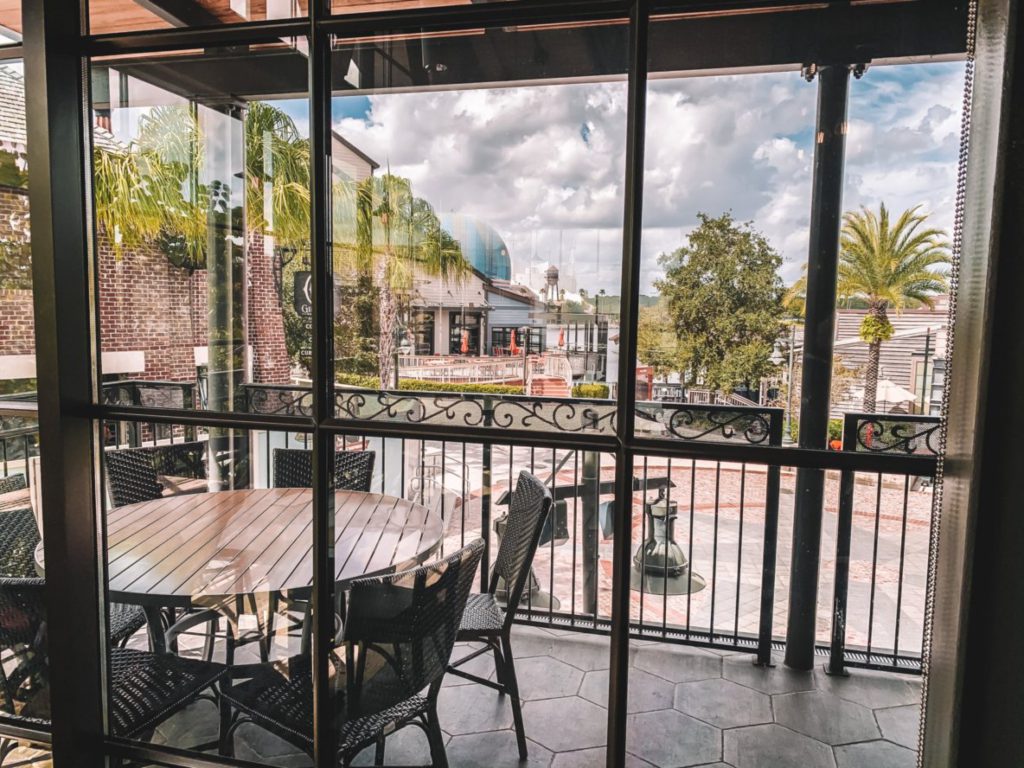 The service is impeccable and the vibe is relaxing and fun. It's the perfect place for date night or meeting friends. Wine Bar George was a 10/10 for us and definitely Winter Garden Mom approved!
Let us know if you've been to Wine Bar George and what your favorite thing about your experience was.