If you've ever walked by Splitsville, located at the southwest end of Disney Springs, you've probably seen their towering, retro inspired sign stretching up into the sky.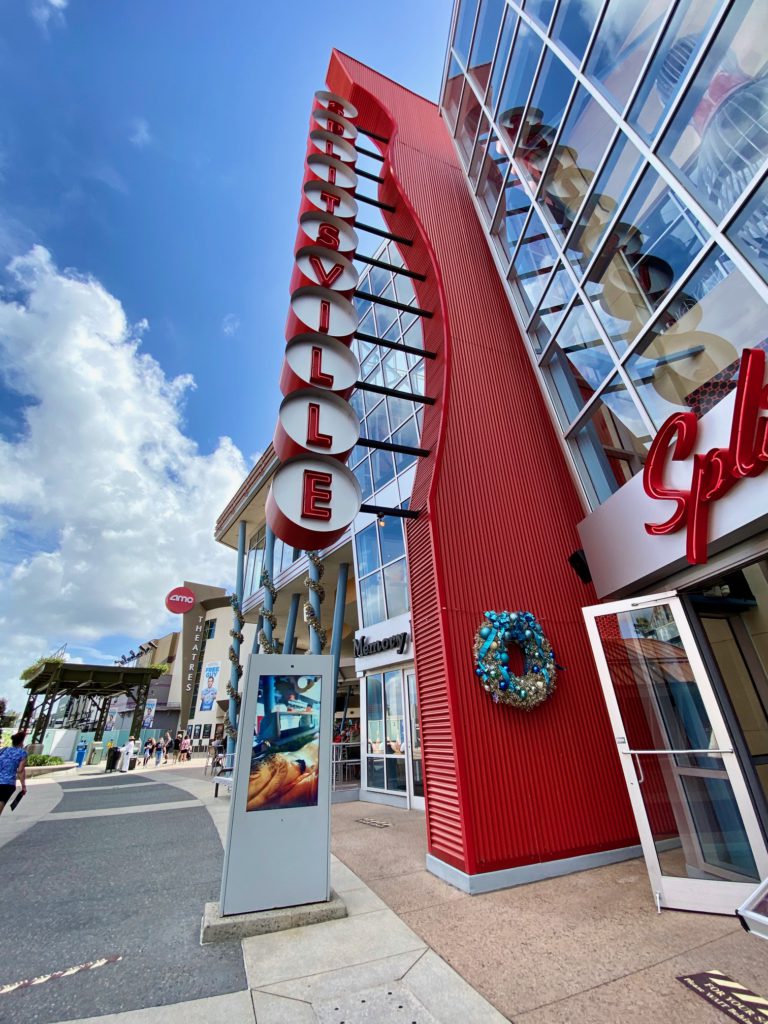 That's because Splitsville is a massive, 2-story bowling alley with bowling lanes and dining on both levels!
Splitsville recently hosted several of us from Winter Garden Moms. While there, we learned more about some exciting updates they have planned and others, like the new Feather Bowling lounge, that are already in place.
Outdoor Expansion
One update I'm particularly eager for is the expansion of the outdoor bar on the first level. On our trips to Disney Springs, my husband and I always stop by Splitsville to see what live music is playing on the patio.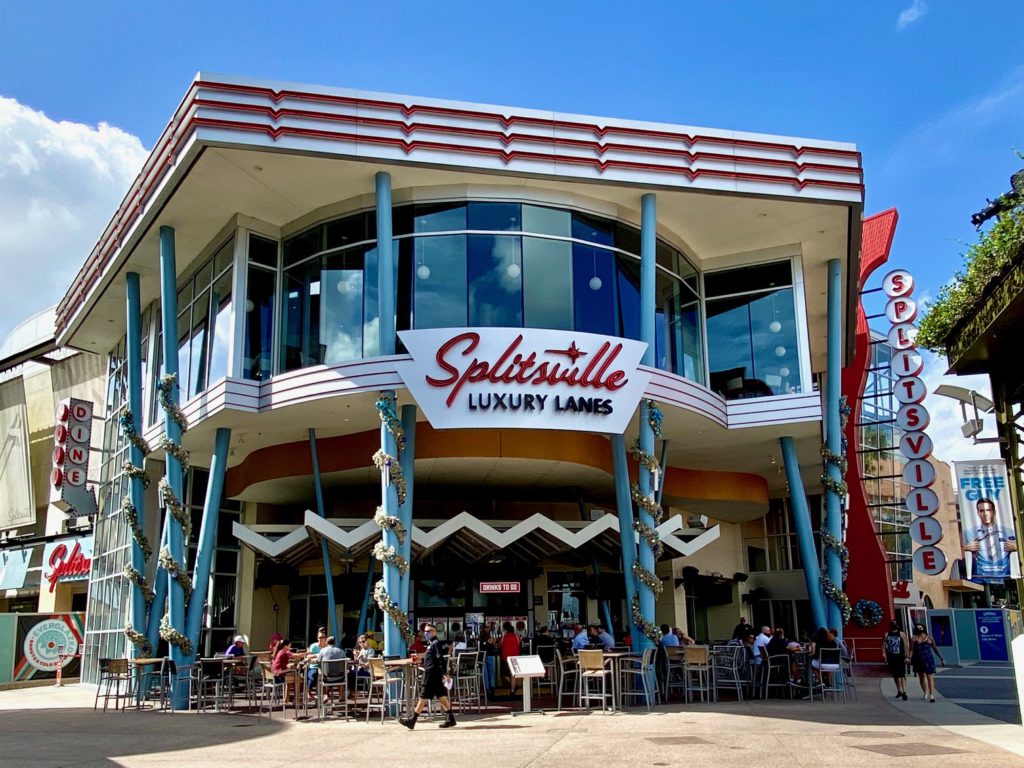 We are thrilled that this area is going to be expanded. This is a date night hot spot and it fills up fast so finding a seat isn't always easy!
The expansion outside will also work to seamlessly incorporate the new Everglazed Donuts and Cold Brew moving in next door to Splitsville. The same bright, retro vibe will tie both spots together in their outdoor spaces.
You'll be able to have a cold brew and hand crafted donut in the morning and come back for cocktails and sushi at night in one spot. I predict the Orange garage at Disney Springs is going to get a bit more crowded when this is all finished!
How We Roll…I Mean Bowl
Bowling at Splitsville is a little more snazzy than your typical bowling alley. I for one don't miss the let's just say "lived in" appearance of most bowling alleys. Splitsville radiates clean, bright, retro FUN from top to bottom.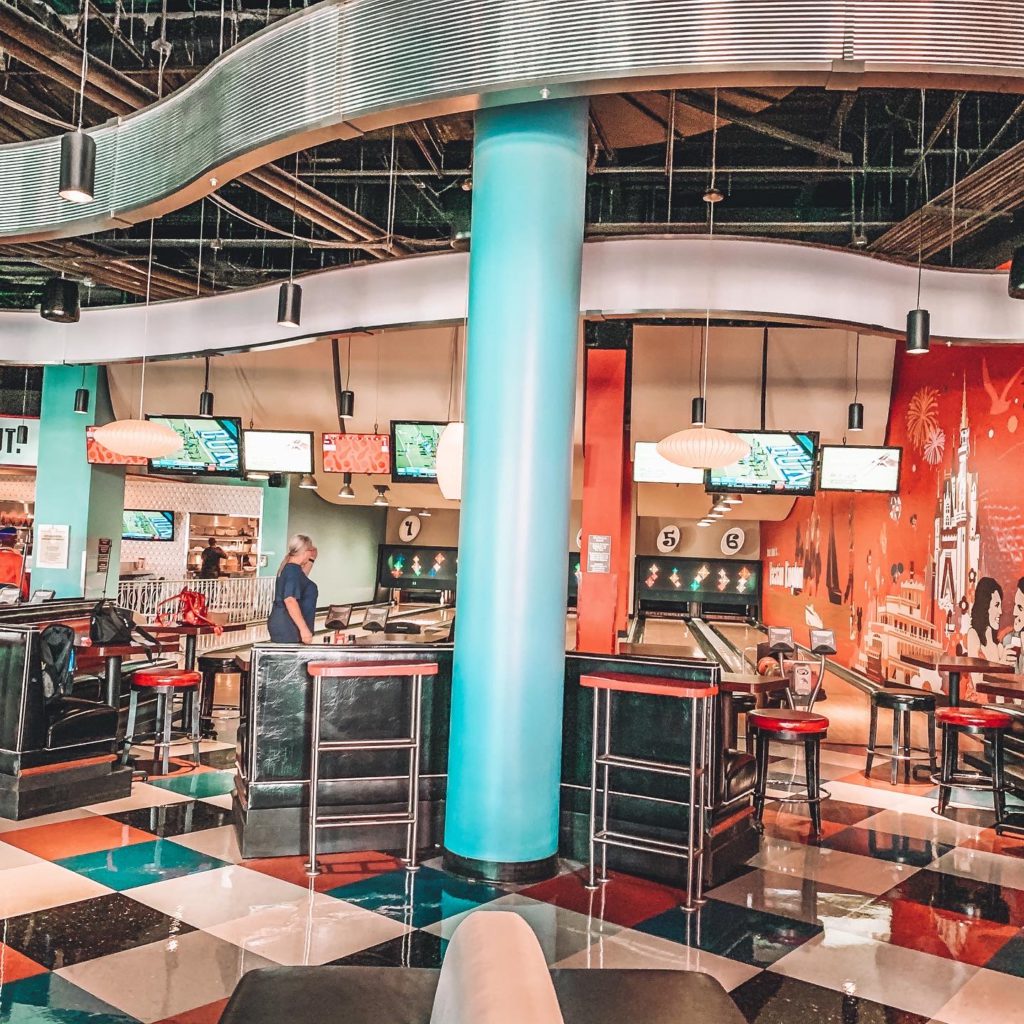 Bowling lanes are grouped in small clusters throughout the restaurant, while other areas are for bar or dine-in only customers.
The layout is well planned so that bowlers and dining customers don't feel like they are in other's spaces. I've never felt like I was intruding on someone's dinner when I was bowling nor was I ever distracted by the bowlers when I was just having lunch or dinner there.
Covid Safety Precautions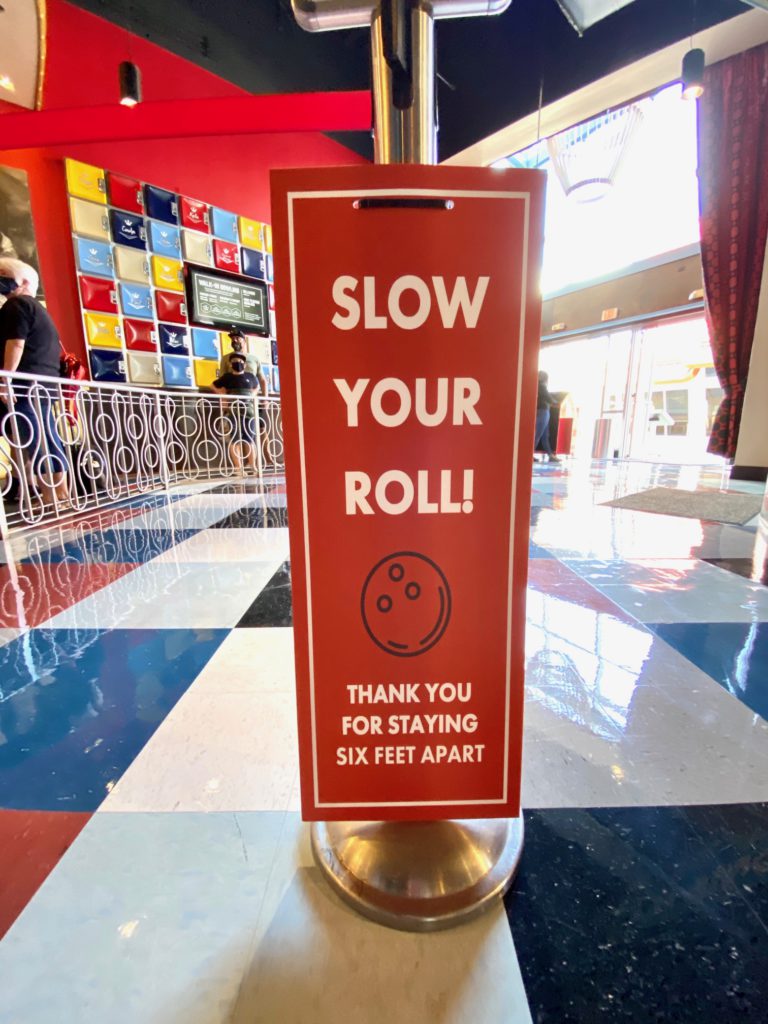 The new Covid safety protocols in place also made the experience stand out to our group from Winter Garden Moms. Typically two side-by-side lanes would share one bowling ball conveyor and both lanes' balls would end up mixing together.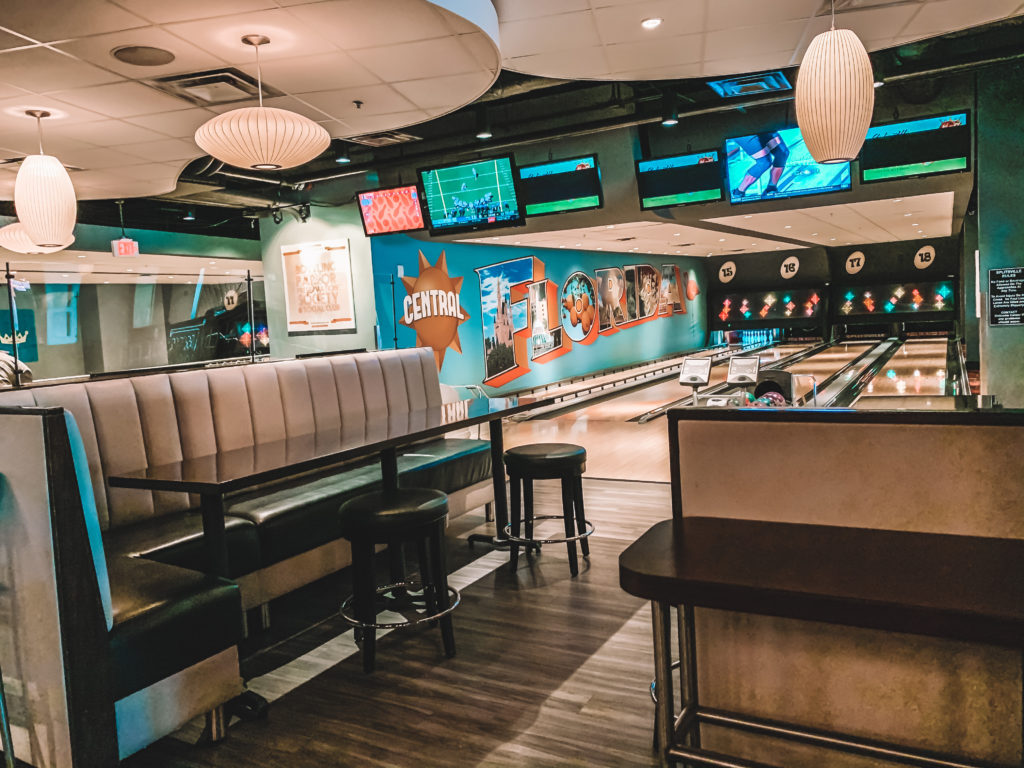 Splitsville blocks off every other lane so that no one has to mix with another group to get their balls from the dispenser. When we arrived at our lane, selections of different-sized balls were already there, cleaned and disinfected for our use. When we needed a different size, we just asked our lane attendant and they brought us a new ball.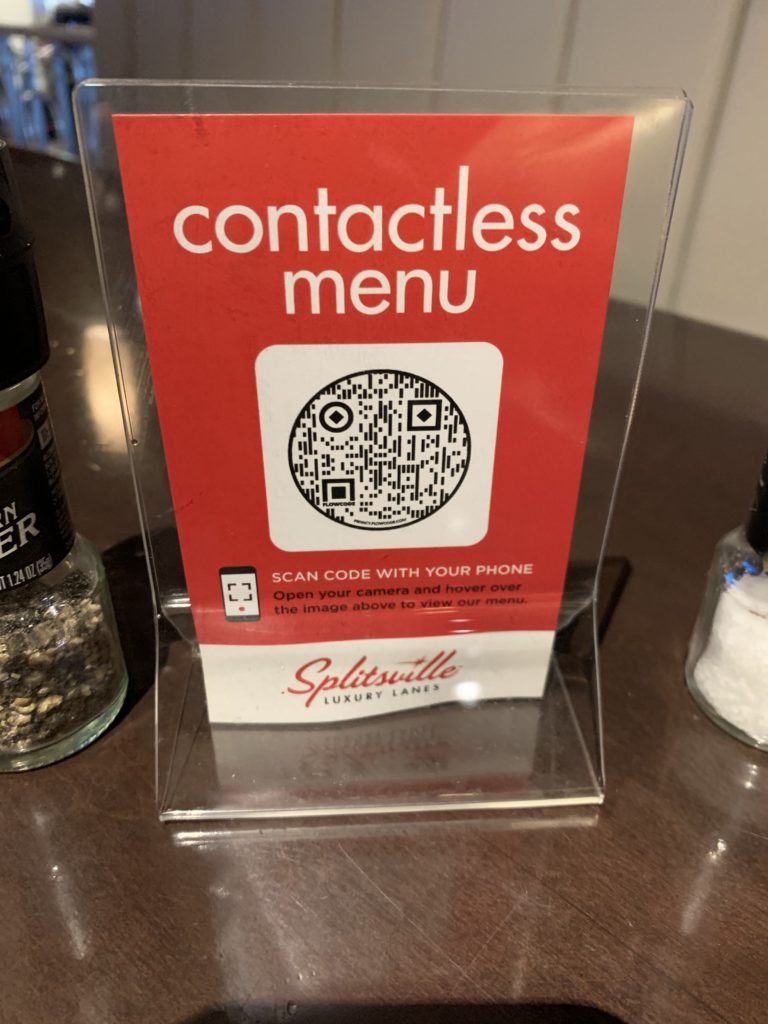 Each lane has a table for dining and contactless menus. We were required to wear a mask while in the restaurant unless eating or drinking in our bowling lane. Everywhere we looked people were spaced out appropriately and following all the protocols. All in all, it felt like a very safe space to have a fun outing with friends.
Dining And Cocktails
On to the question you've been asking yourselves since you heard the words bowling alley. Is the food really that good? And the answer is YES!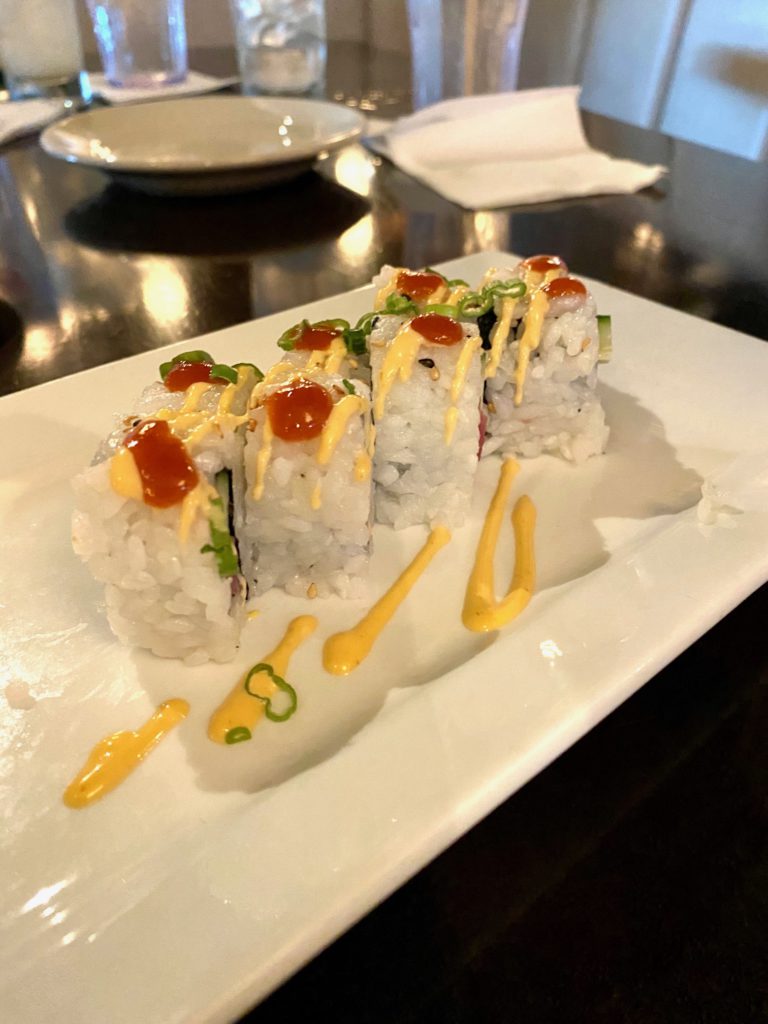 If you are an Orlando local or even regular visitor, then you've probably heard Splitsville is known for being one of the top dining options in Disney Springs.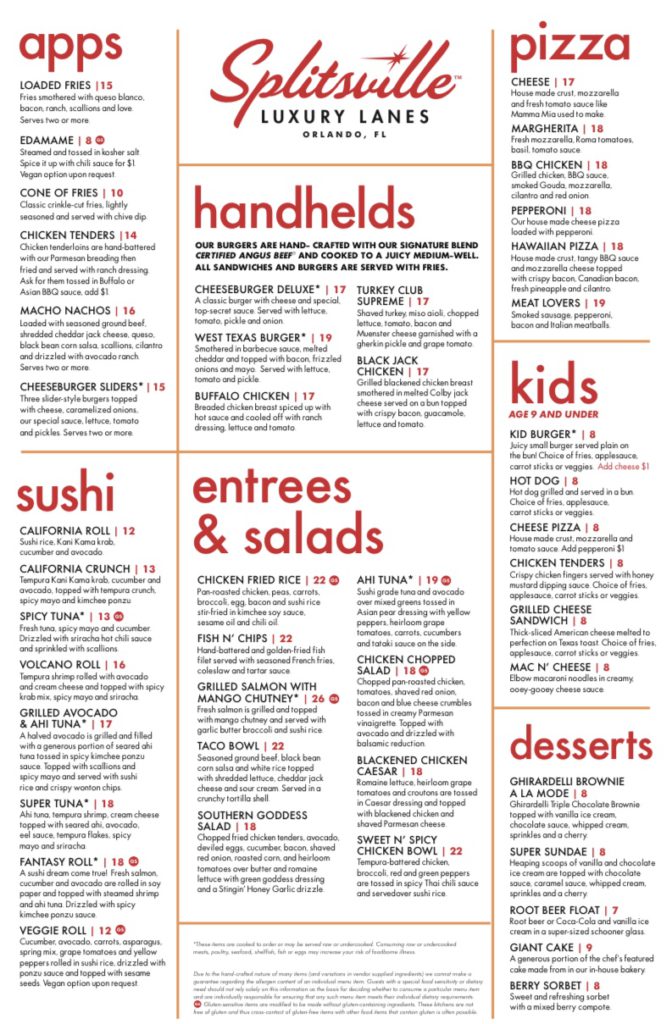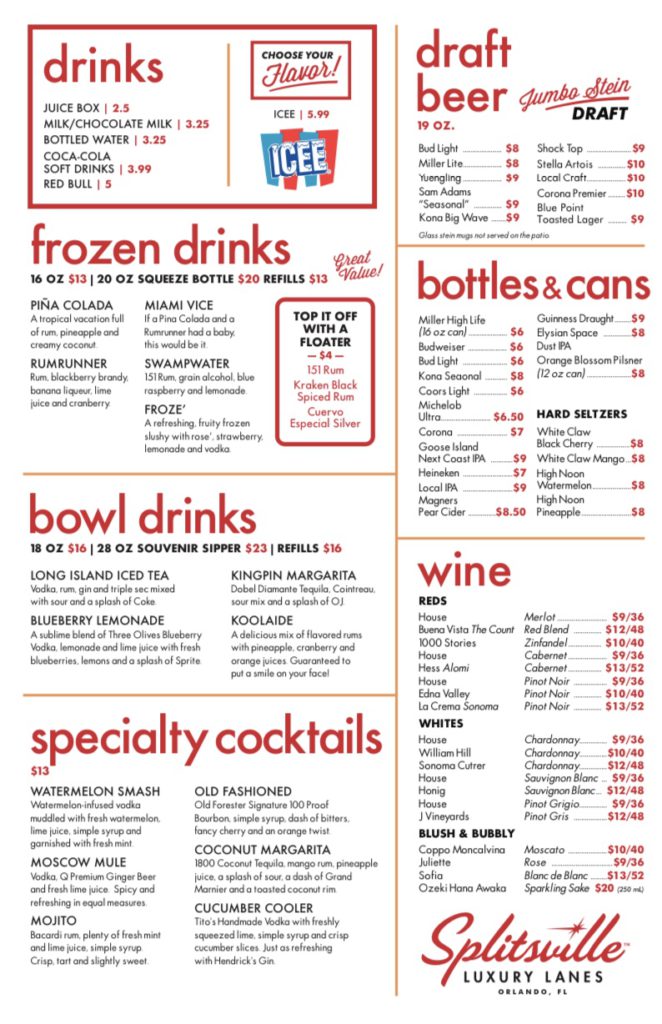 Visitors come for the food as much as for the bowling and the restaurant is particularly known for having some of the best sushi in town.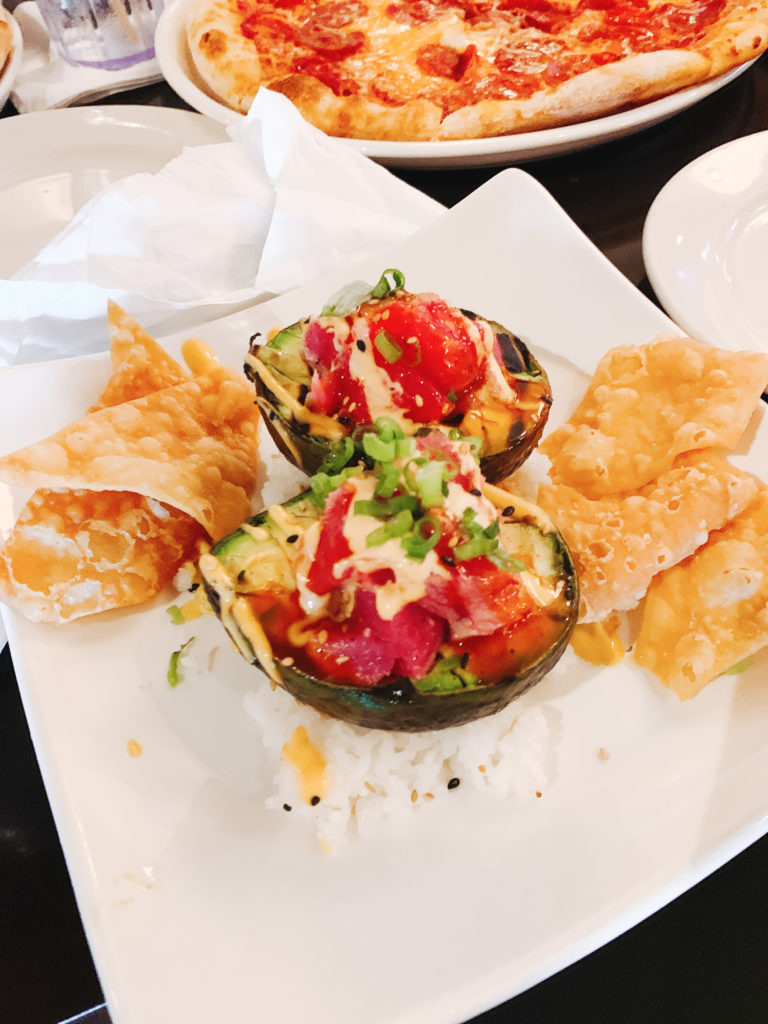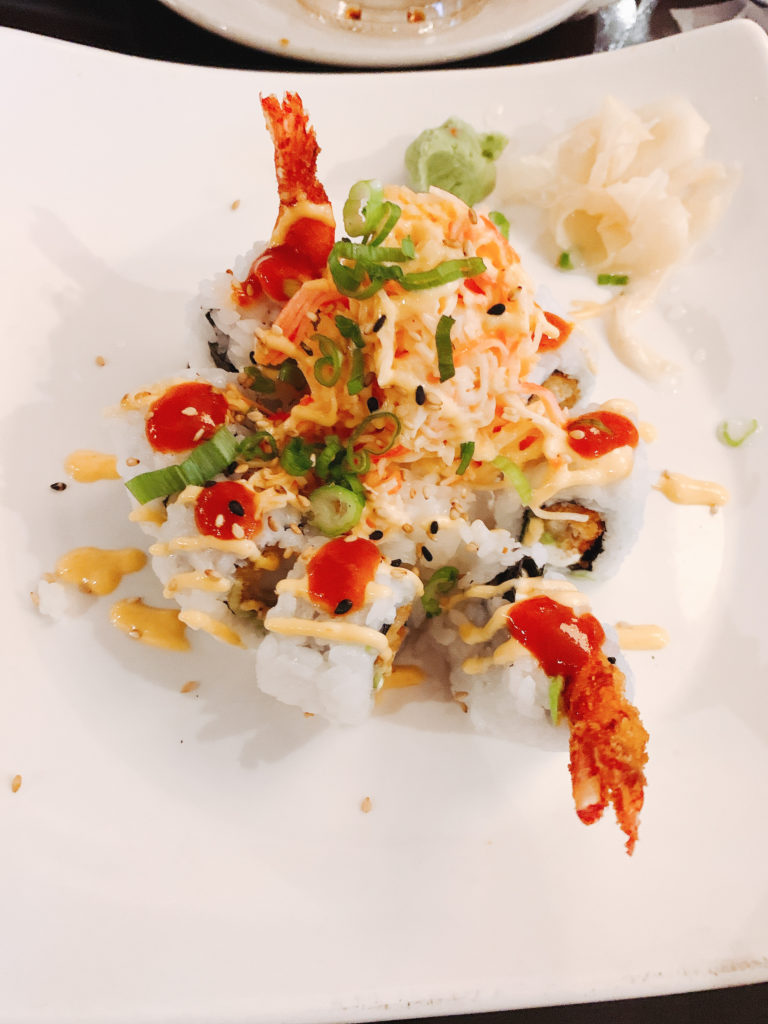 We tried the Spicy Tuna, the Super Tuna, the Volcano Roll and the Grilled Avocado and Ahi Tuna. They were all phenomenal! I will definitely be getting these again (especially the Super Tuna).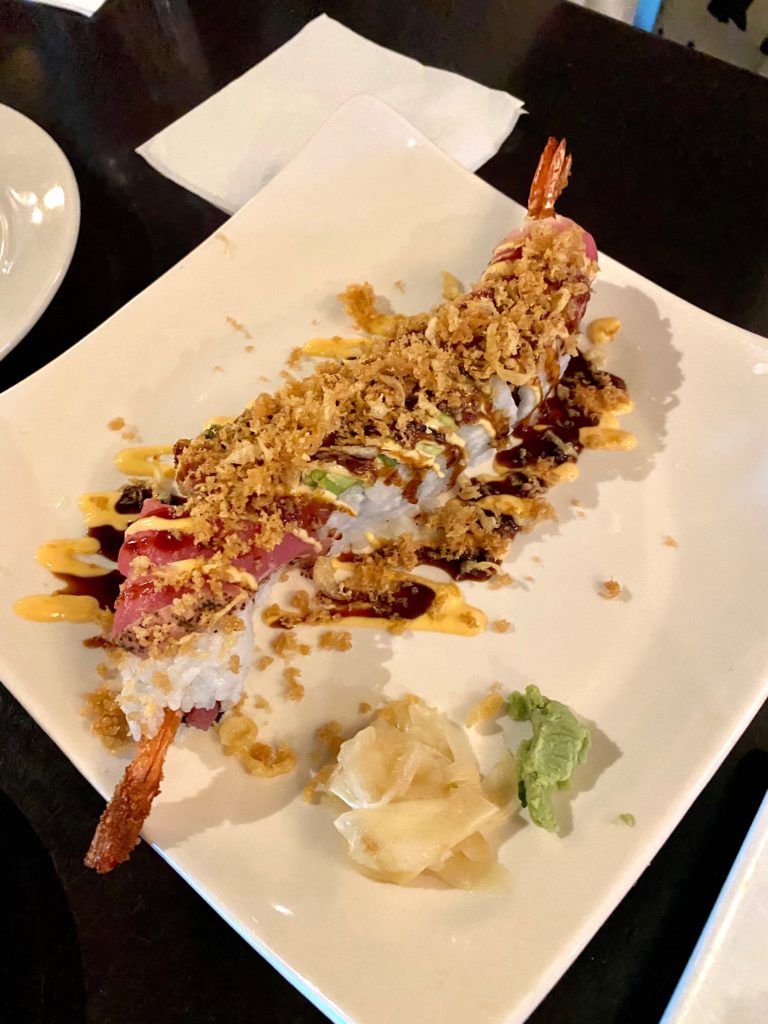 I also have a weakness for Ahi Tuna salads and the one at Splitsville is not to be missed.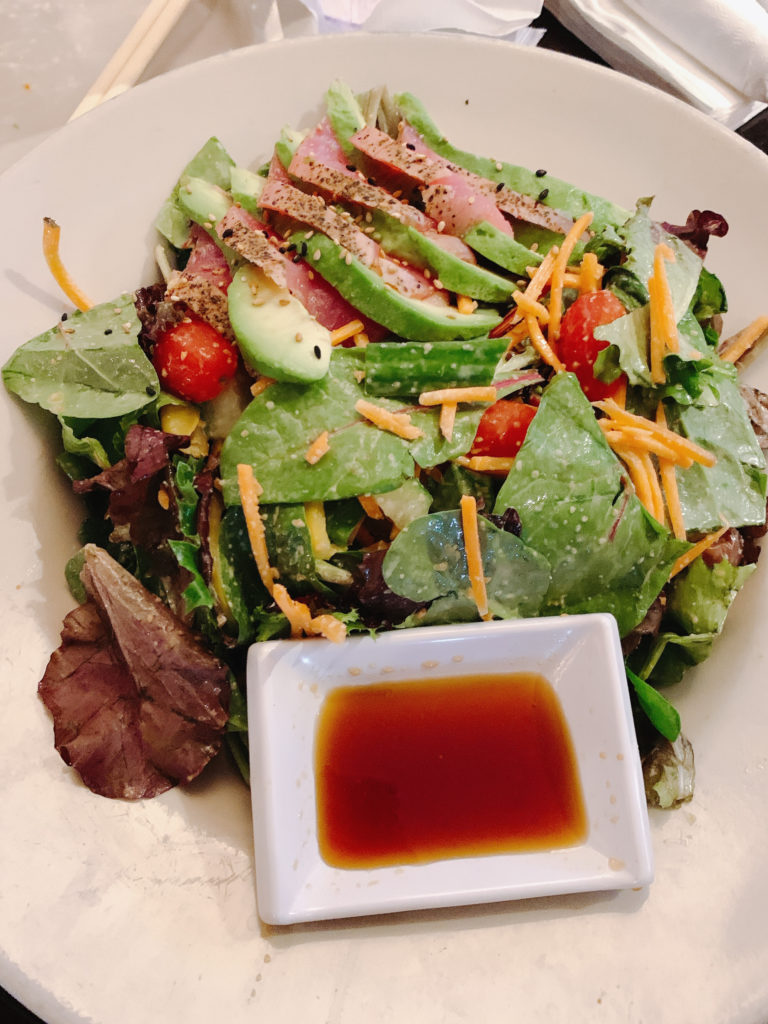 But what if you aren't a sushi fan? No worries. We also tried the Margherita and Pepperoni pizzas and the Sweet and Spicy Chicken Bowl to equal applause. Are you getting hungry yet?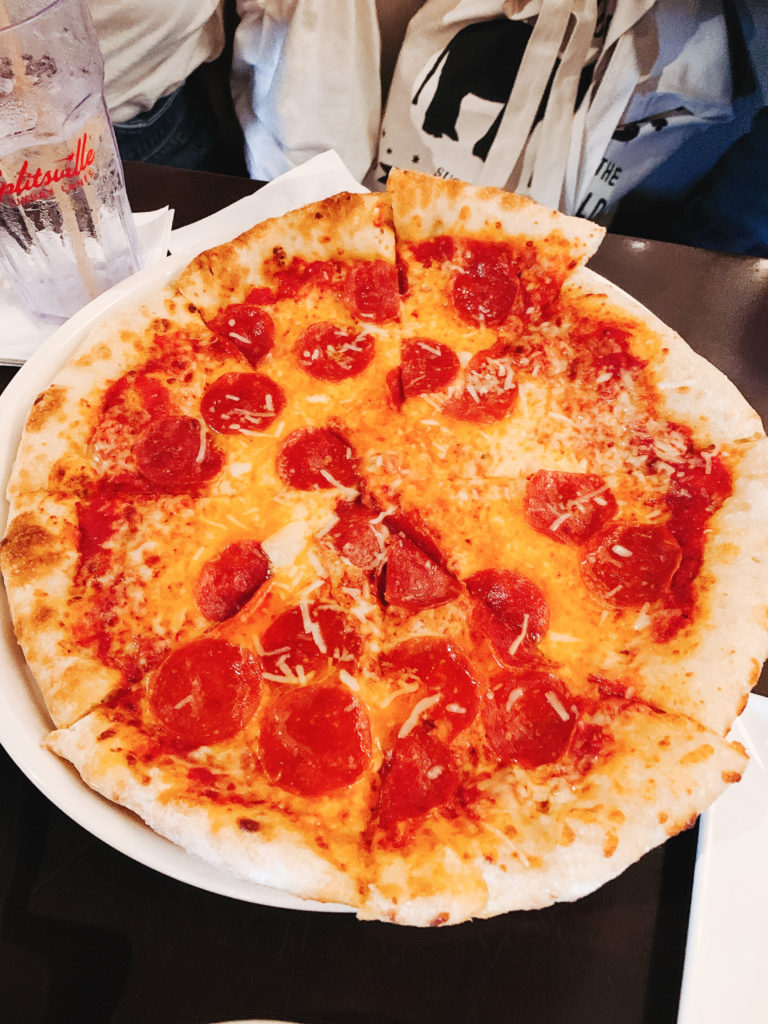 Between our group, we sampled a few specialty cocktails as well, including the Watermelon Smash, a perfectly sweet and tart vodka-based drink; a Coconut Margarita, which was a delicious concoction of tropical flavors; a very refreshing Froze'; and a perfectly crafted Piña Colada.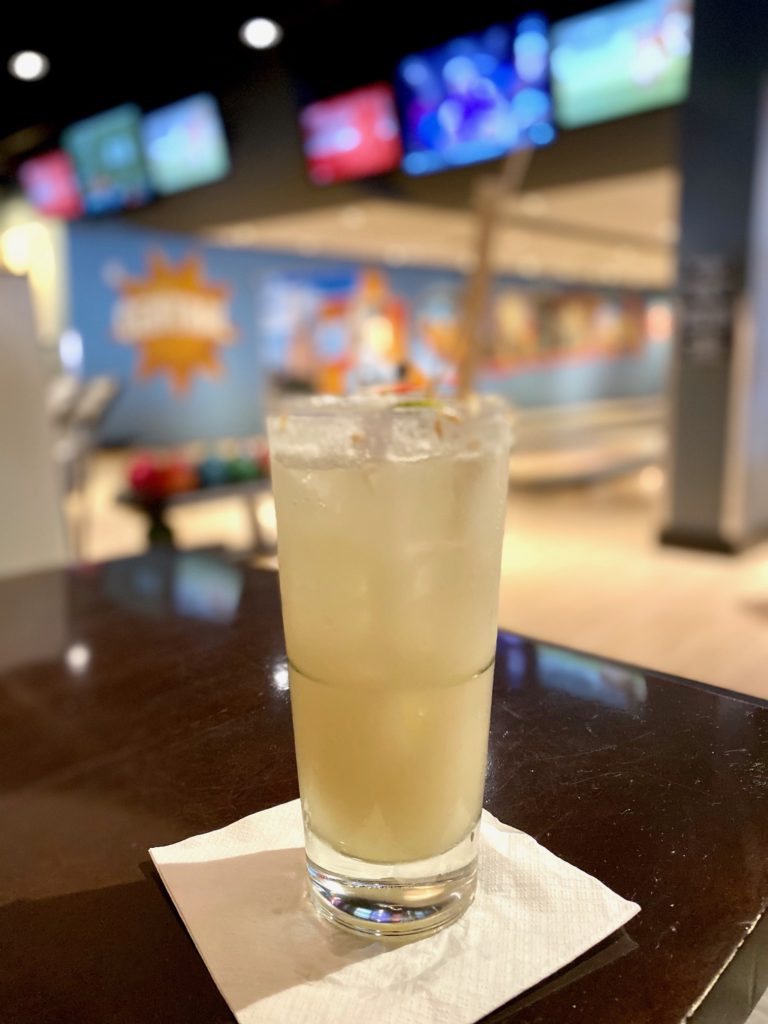 The cocktails and drinks menu is extensive enough to make a visit to the bar worth the trip even if you aren't dining or bowling.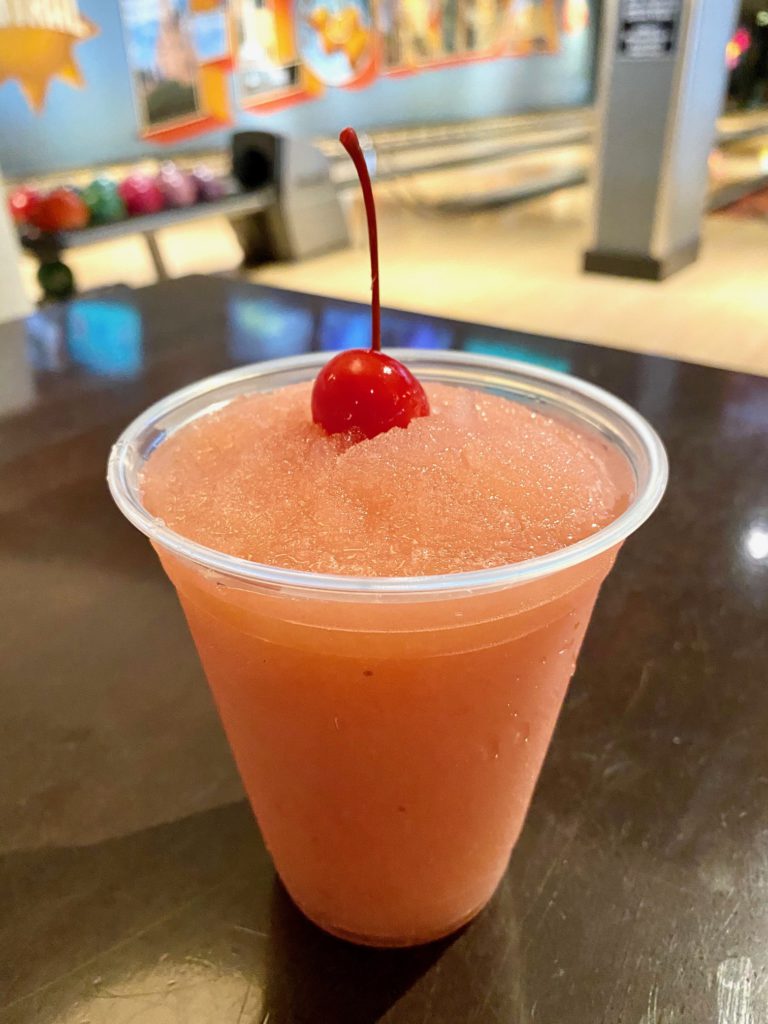 Feather Bowling Lounge
One last update we were able to learn about was the new Feather Bowling lounge. Splitsville has created a lounge area near the upstairs bar for a new type of bowling called Feather Bowling.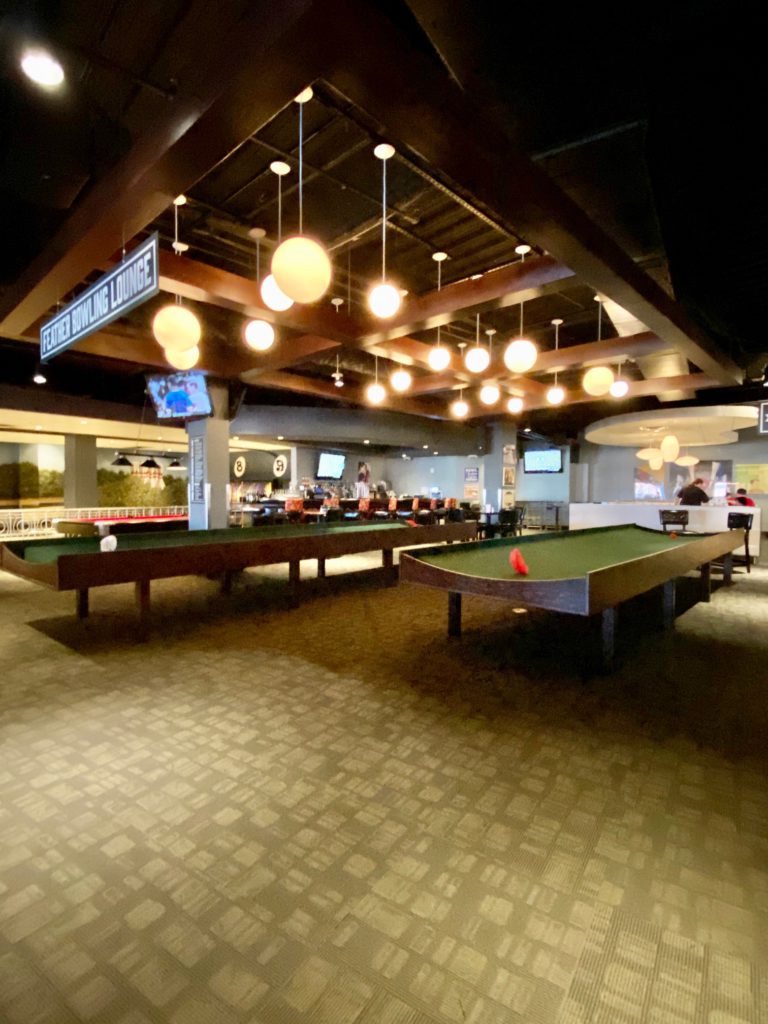 Splitsville's version of Feather Bowling is smaller than traditional Feather Bowling and elevated for easier playing. The rules are similar to shuffleboard in that you try to place your pucks nearest to a feather at the far end of your lane.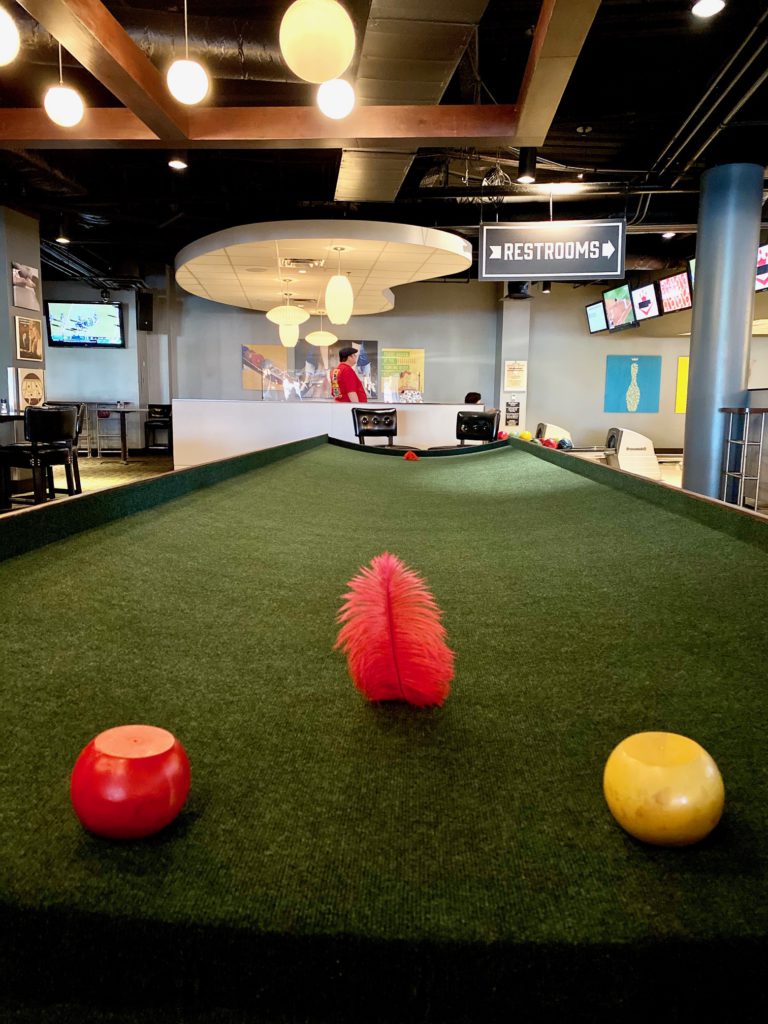 The other team tries to block your move or push your puck out of the way. Apparently, customers are really taking to the new game, with some inventing their own rules. Hey, we're all just here to have fun right?
See You Real Soon!
Splitsville Restaurant and Bowling Alley has long been a family favorite of ours, and this latest visit with friends is yet another cherished memory. I know all of us from Winter Garden Moms are looking forward to many more visits to come! For more information visit www.splitsvillelanes.com.
Thank you Splitsville for hosting Winter Garden Moms!