'Tis the Season to eat, drink and be merry and Paddlefish Orlando in Disney Springs checks off all these boxes and more! A few of us from Winter Garden Moms were thrilled to sample some Paddlefish favorites on our recent visit. Wow, were we impressed!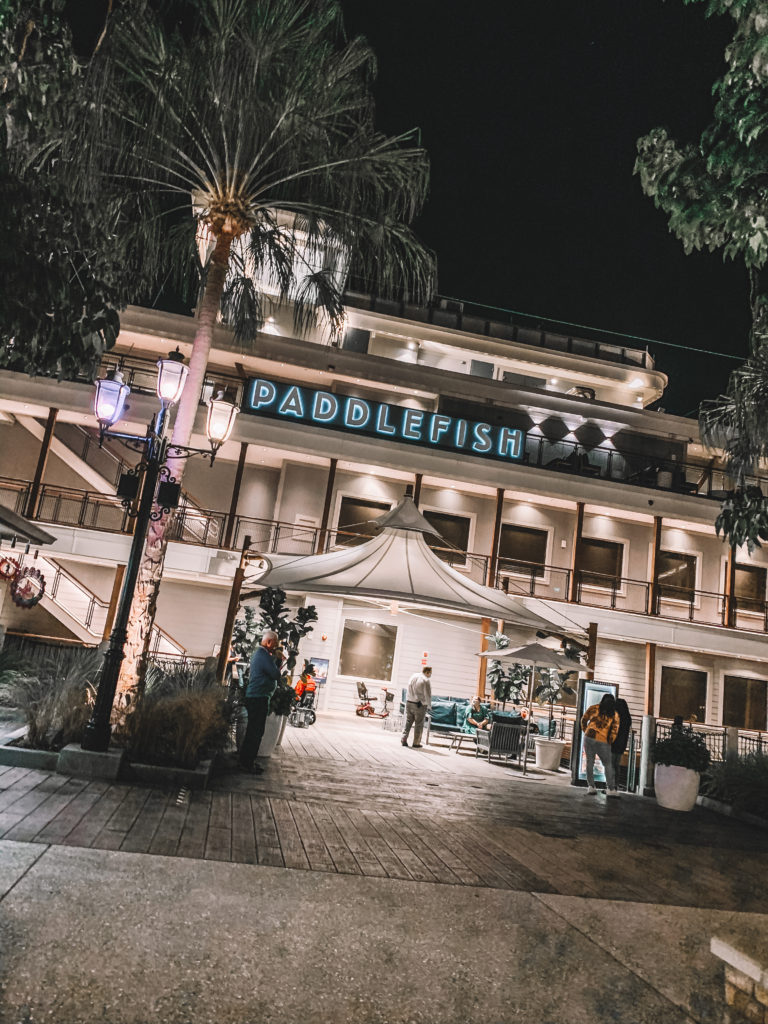 Paddlefish is located in Disney Springs in the large paddleboat located on the water near Terralina Crafted Italian. The restaurant offers 3 levels of seating, including a rooftop deck with wraparound views of Disney Springs. The views over the water are stunning and we really enjoyed our table on the second floor near the windows.
Starters
For starters, we enjoyed some ridiculously tasty Lobster Corn Dogs, Fried Green Tomatoes and the star of the show…Crab Guacamole! The guacamole included lump crab, tomatoes, jalapenos and red onions served with Tajin tortilla chips. We could not stop eating it!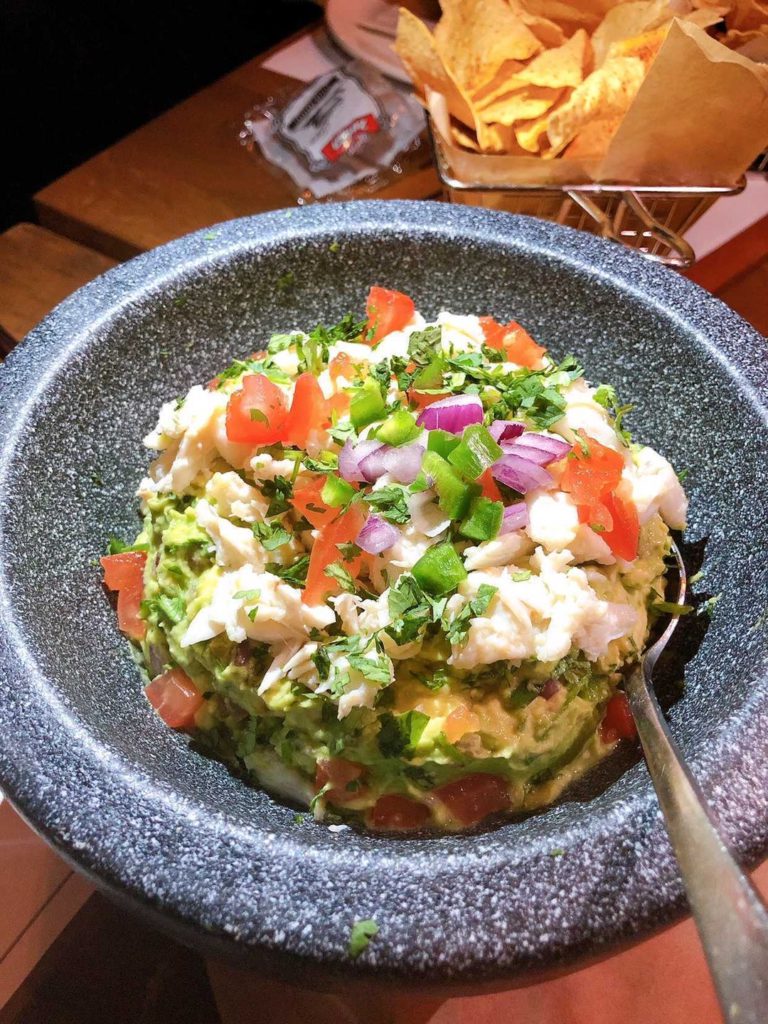 We also sampled a few cocktails including Lili's Steamboat Breeze, a slightly floral yet earthy vodka-based drink and a bourbon-based Old Fashioned. Both were expertly crafted and very smooth.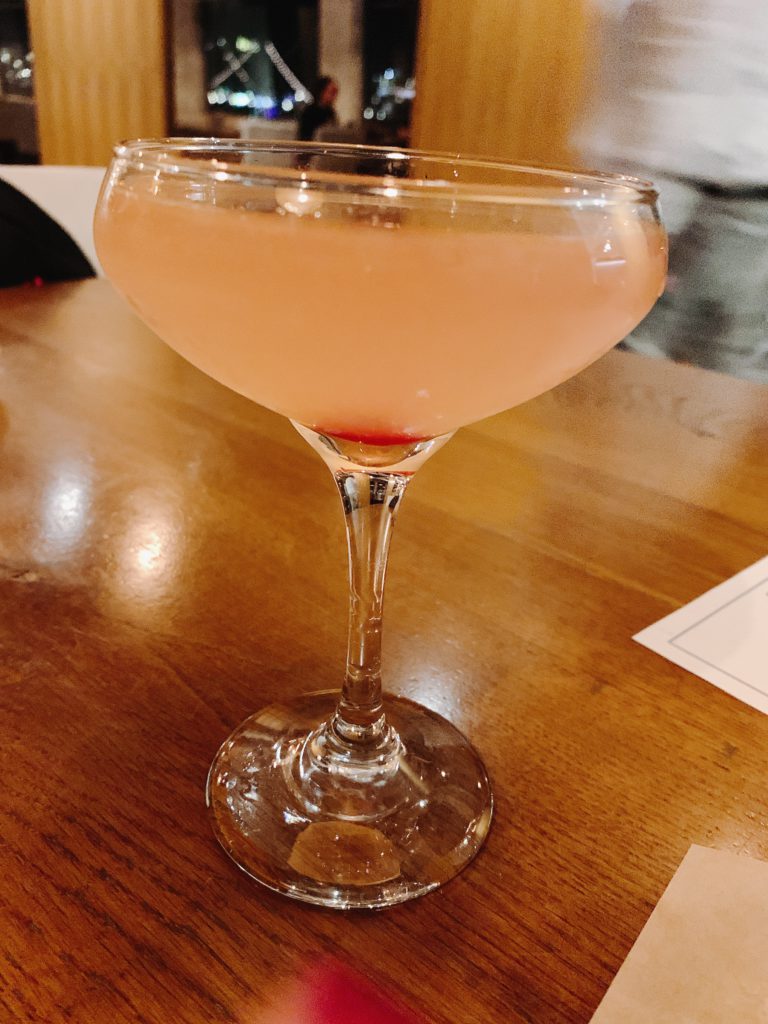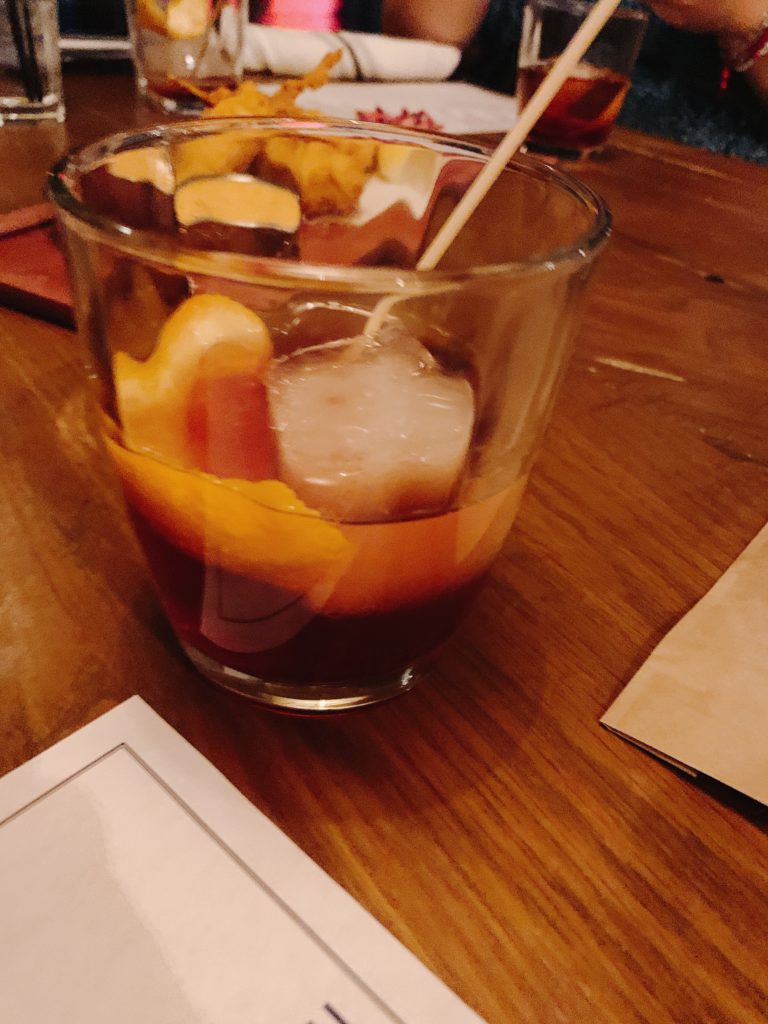 We especially enjoyed the selection of Italian wines, including the Zenato Pinot Grigio and the Gagliole Chianti, which paired well will all our entrees. Our server Mimi was excellent at helping us navigate the menu and the pairings!
Mains
Next up was a sampling of Paddlefish's most popular and tastiest dishes. The Stuffed Cod was a favorite of several of the Winter Garden Moms, which was cod stuffed with shrimp and scallop cornbread.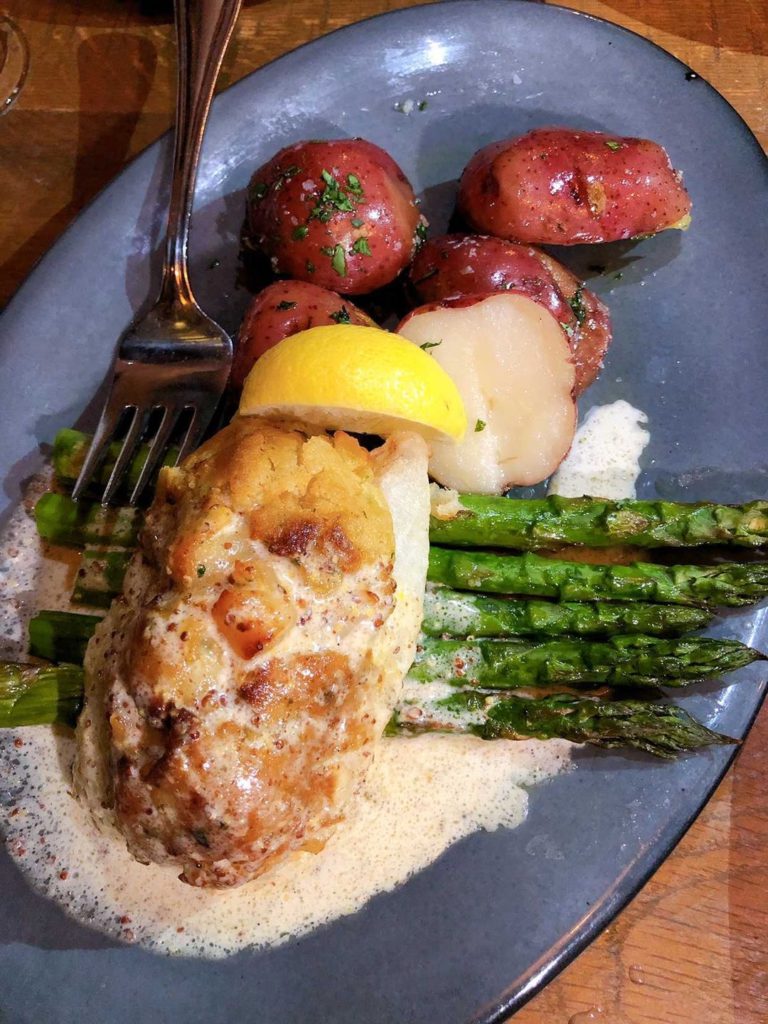 It came with asparagus, red potatoes, and mustard cream sauce. Chef Steven Richards explained that this was his grandfather's recipe that he had recently started including at the restaurant. I will definitely be going back for this dish!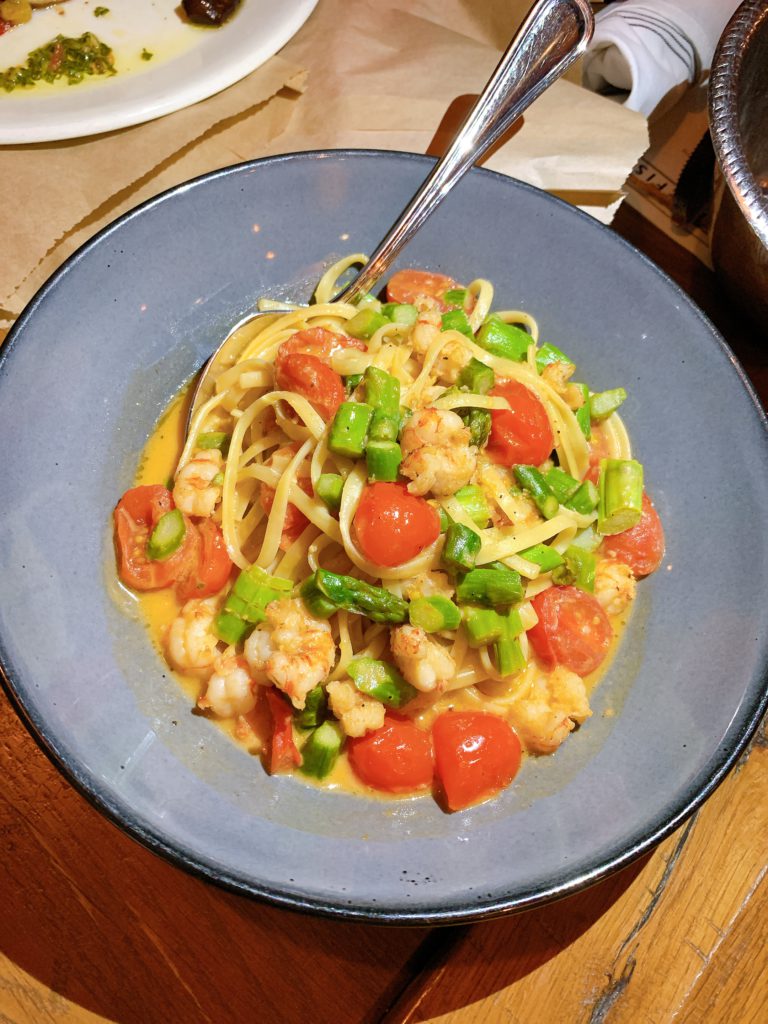 We also tried the Shrimp Pasta, a linguine pasta with Florida rock shrimp, asparagus and tomatoes; the Mahi, served with caponata, salsa verde, and herb roasted potatoes, and King Crab Claws, served with corn on the cob and new potatoes. All of these dishes were made to perfection and were so delicious!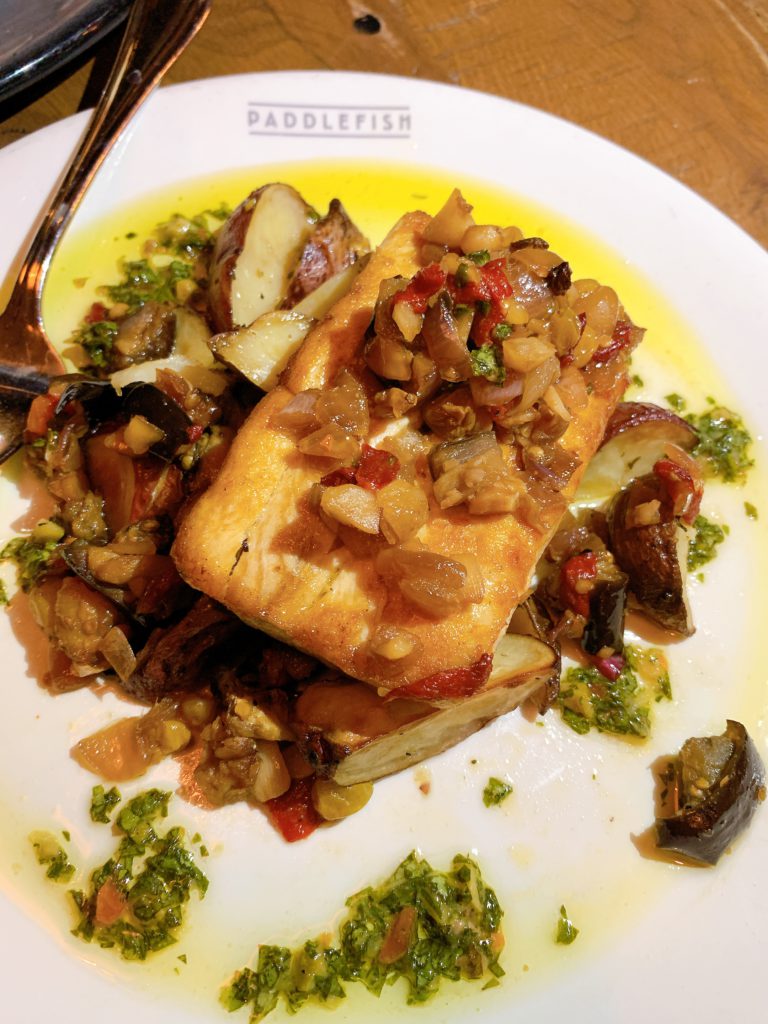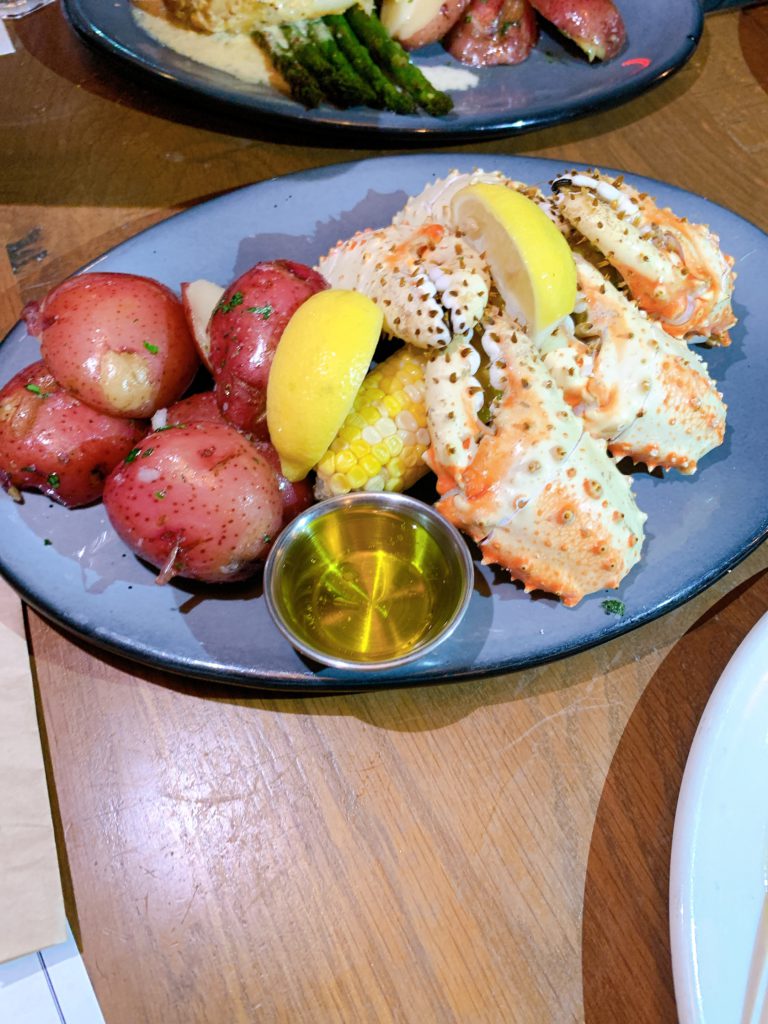 For guests who don't eat seafood, no worries. There are plenty of menu options, including one of our other Winter Garden Moms' favorites: the Pork Chop.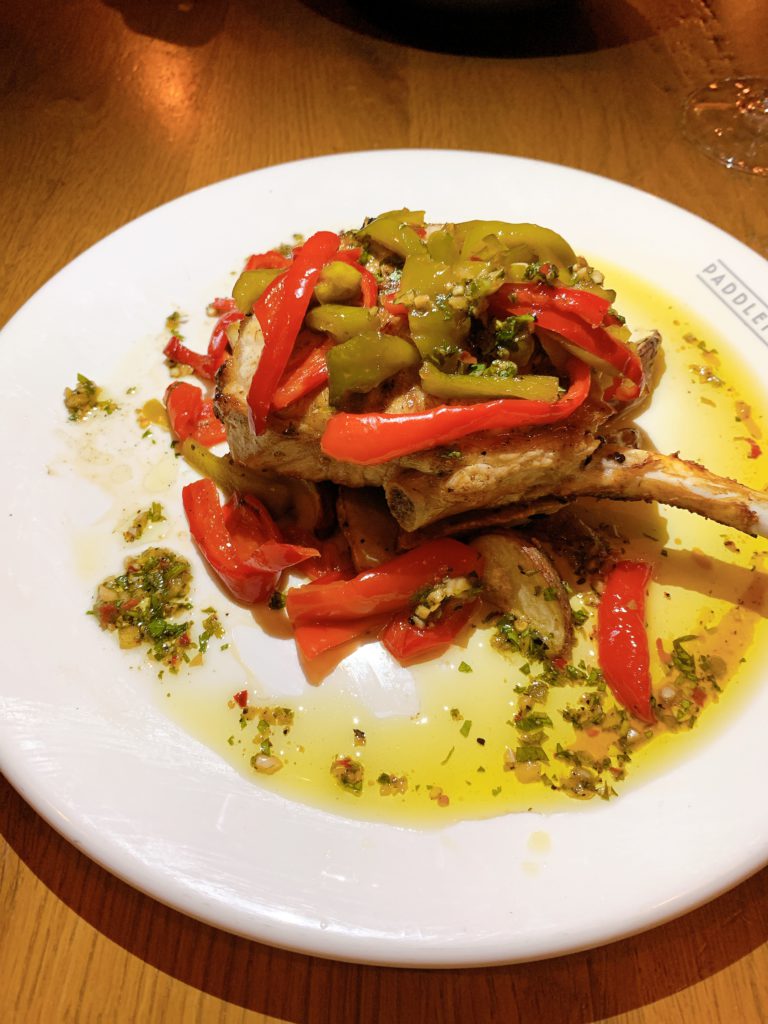 This dish is served with herb roasted potatoes, marinated peppers and chimichurri. It was so flavorful and tender, it seemed to melt in your mouth!
Dessert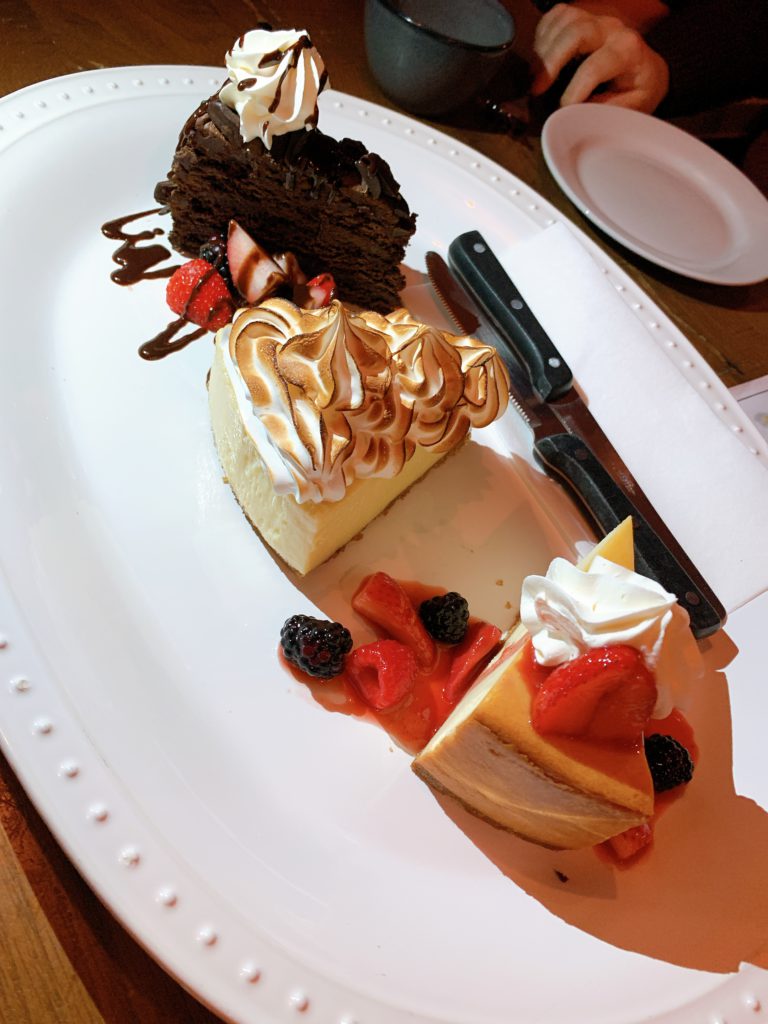 For dessert we sampled the Key Lime Pie, the Cheesecake and the Chocolate Layer Cake. These three desserts are some of my favorites in general and they were all amazing.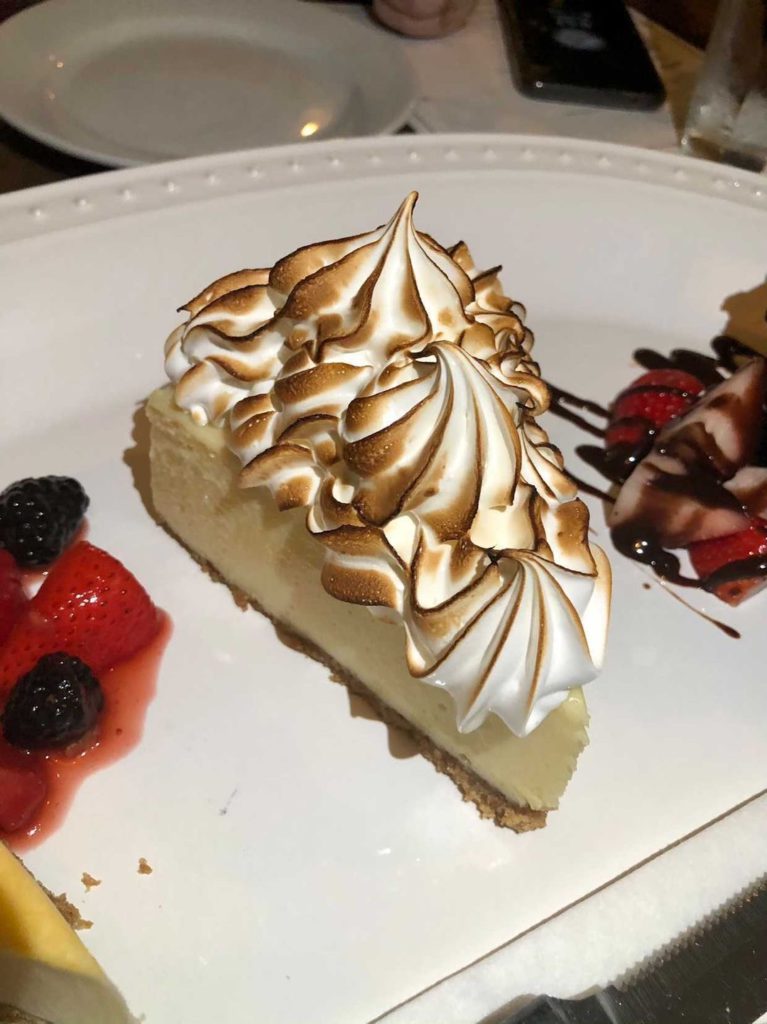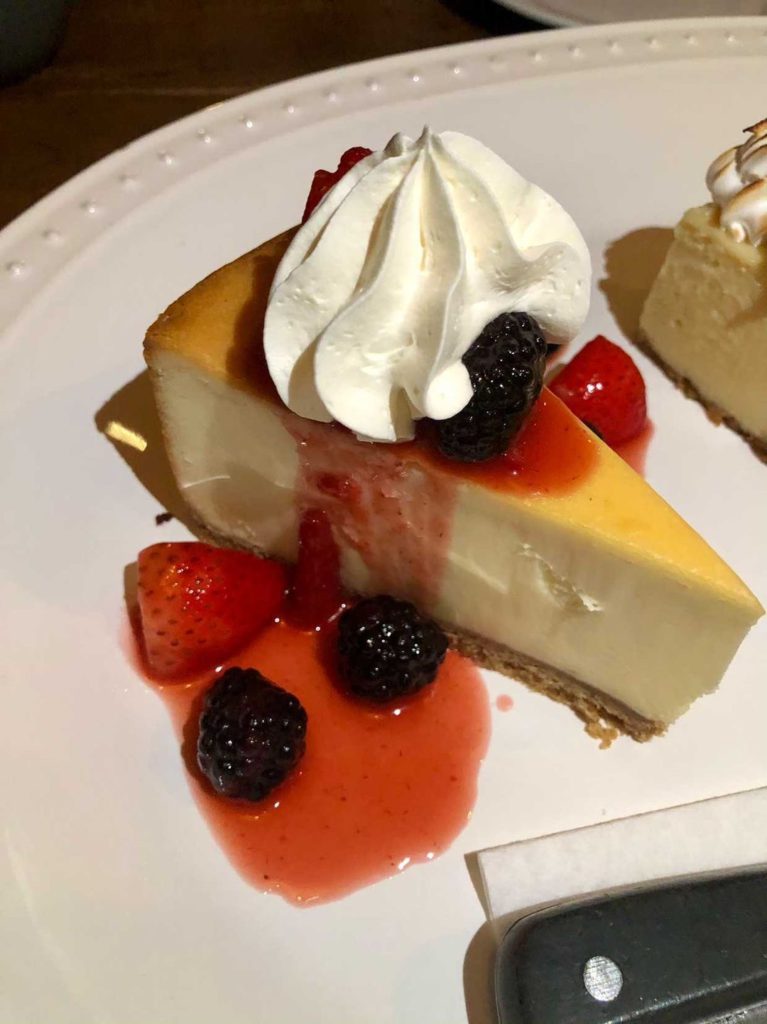 If you are a true chocolate lover (like me), then you won't want to miss out on Paddlefish's Chocolate Layer Cake. It was so decadent and absolutely delectable!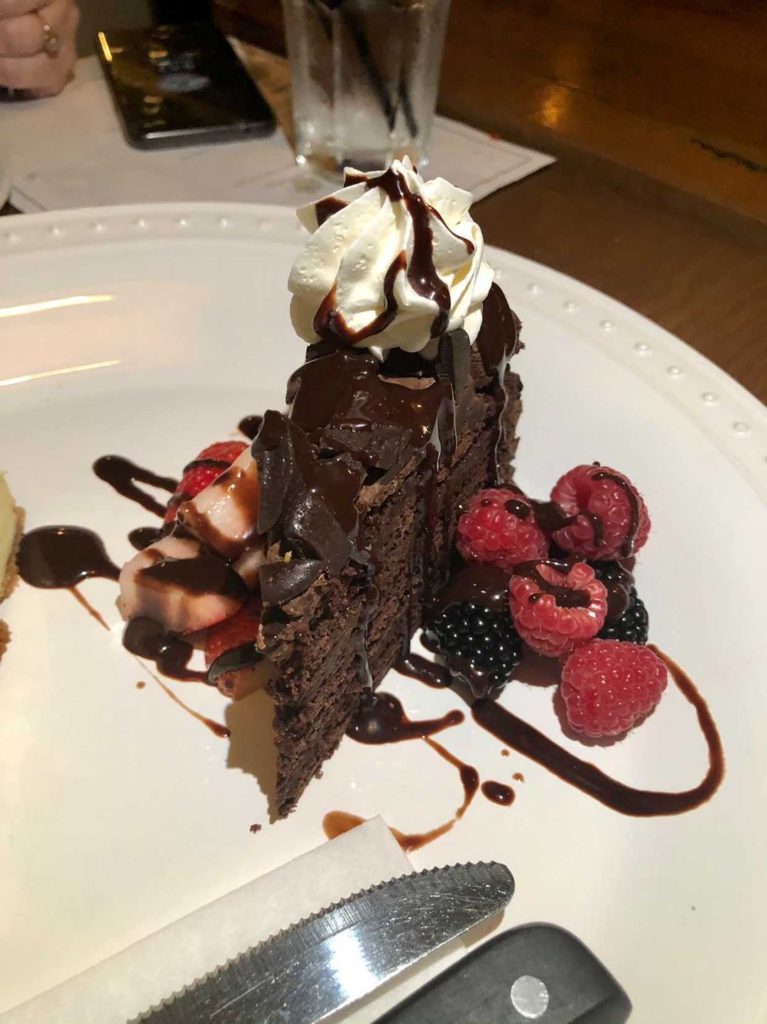 Allergy Friendly
Paddlefish is one of the most allergy-conscious restaurants that I've experienced. With multiple seating areas and multiple kitchens, the restaurant can accommodate almost any food allergy, including airborne ones! If needed, the chef will prepare a special meal in his own kitchen so that there is no cross contamination. Guests can also ask to speak with the chef before ordering to confirm everything is safe. We loved that the restaurant was so safety conscious and accommodating!
Stunning Views
Managers Joe and Cesar both stopped by to answer questions and check on our meal. They encouraged us to check out the rooftop terrace after dinner. I've sat up there a few times on date nights with the hubby, but wow, that view never gets old!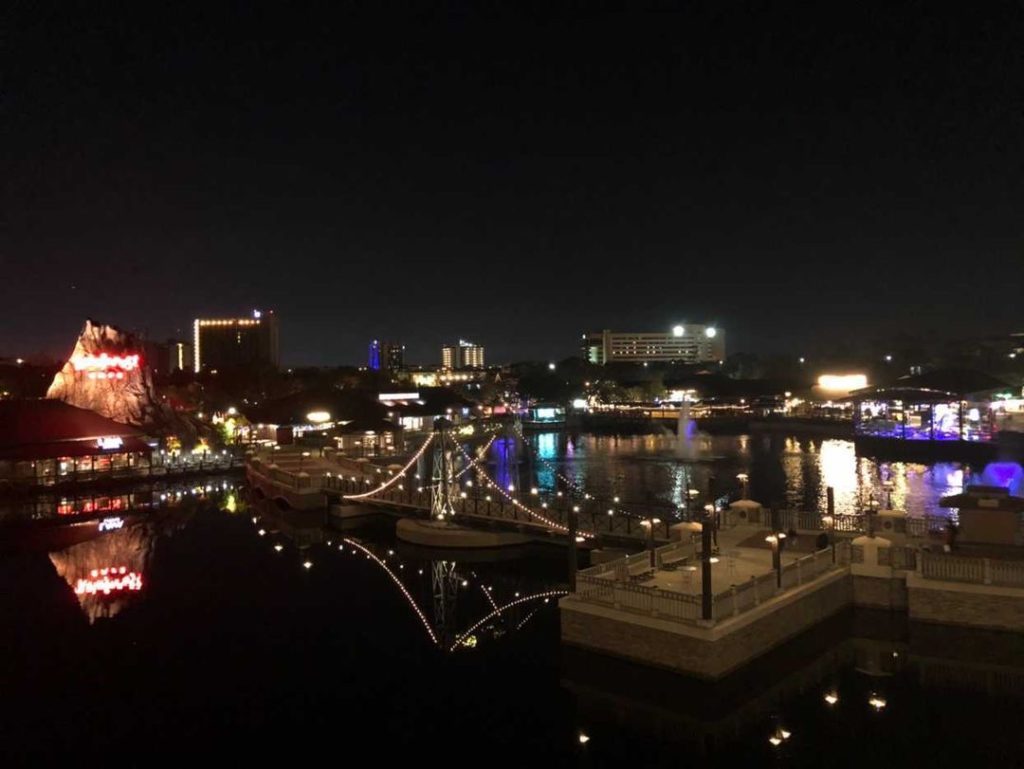 While we were marveling at the views, I realized that once Disney brings back nighttime fireworks shows, this rooftop deck would be a prime spot to see the fireworks off in the distance. I love finding unconventional spots to watch the nighttime spectaculars! For more information and to make a reservation, go to https://www.paddlefishrestaurant.com/.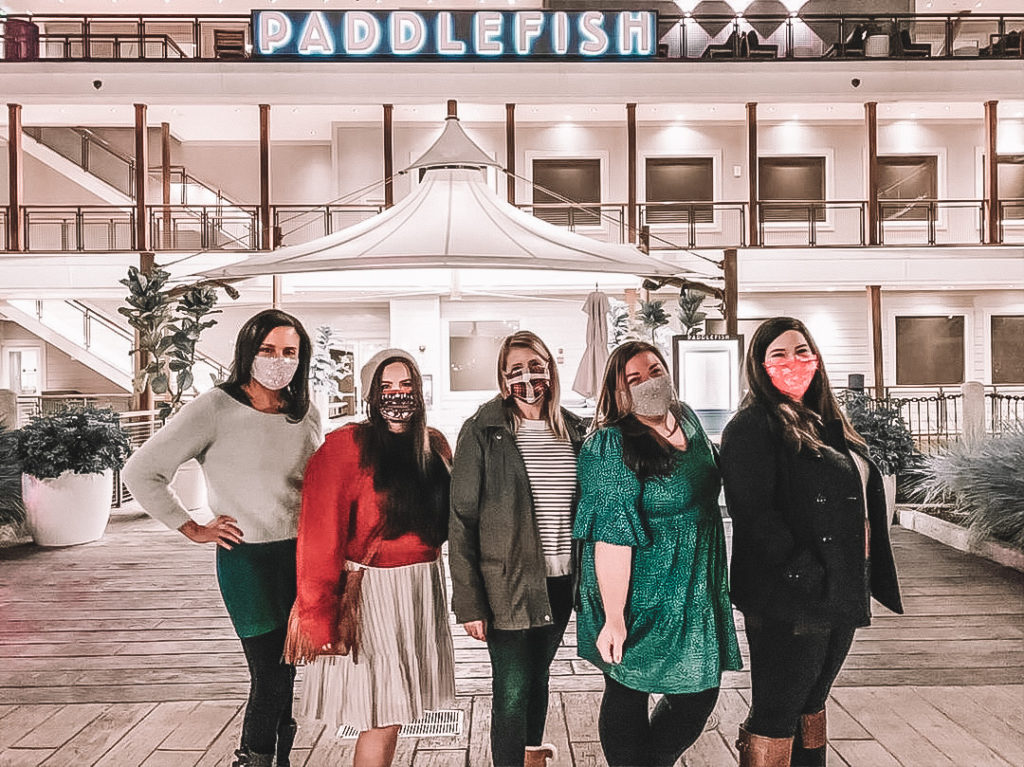 Thank you so much to Paddlefish for hosting Winter Garden Moms Blog for such a fabulous night out!