This colorful and inspiring festival is just waiting to be explored and enjoyed. There is something special at every turn!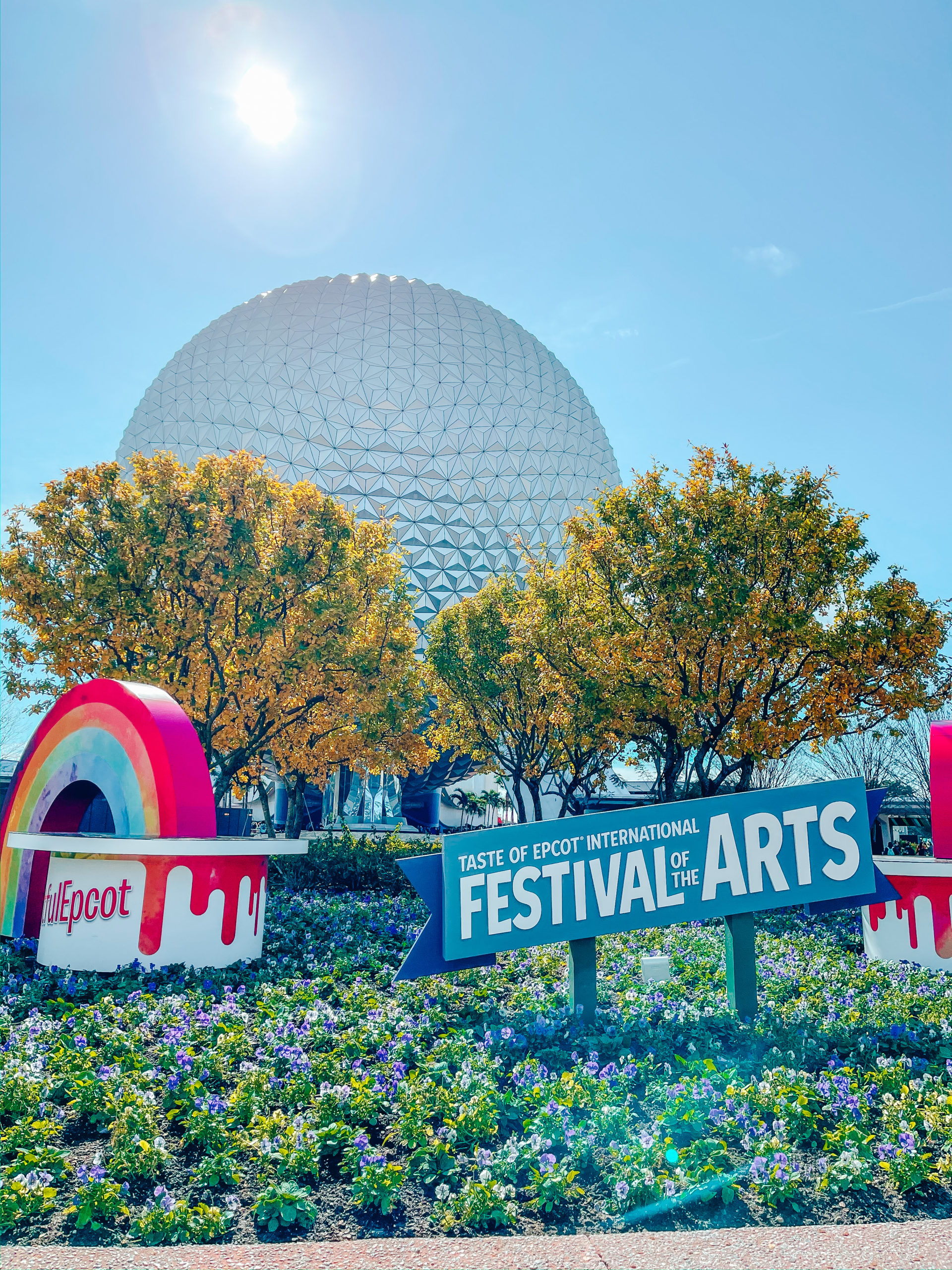 When you arrive don't forget to grab your map and your Festival of the Arts guide. There is so much great information in there especially the whereabouts of all the delicious food and drinks to try!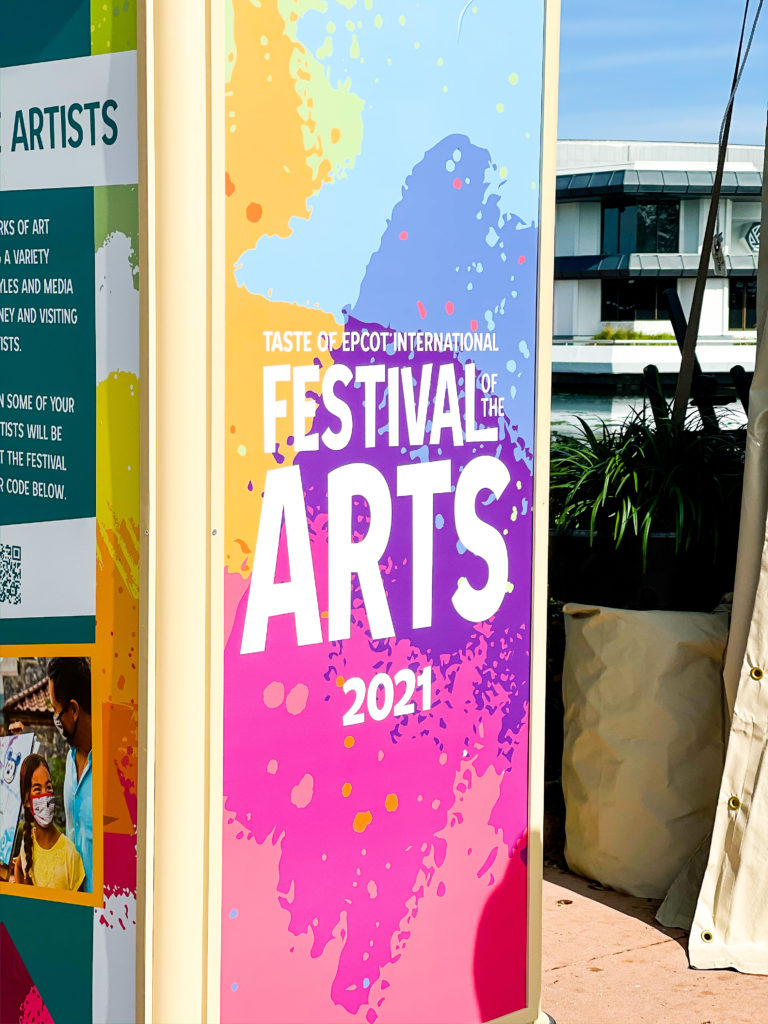 Here are a few of our favorite stops around the park:
Art Gallery Tents:
Art tents are set up all throughout the park, and sometimes the artist is even there to sign your art!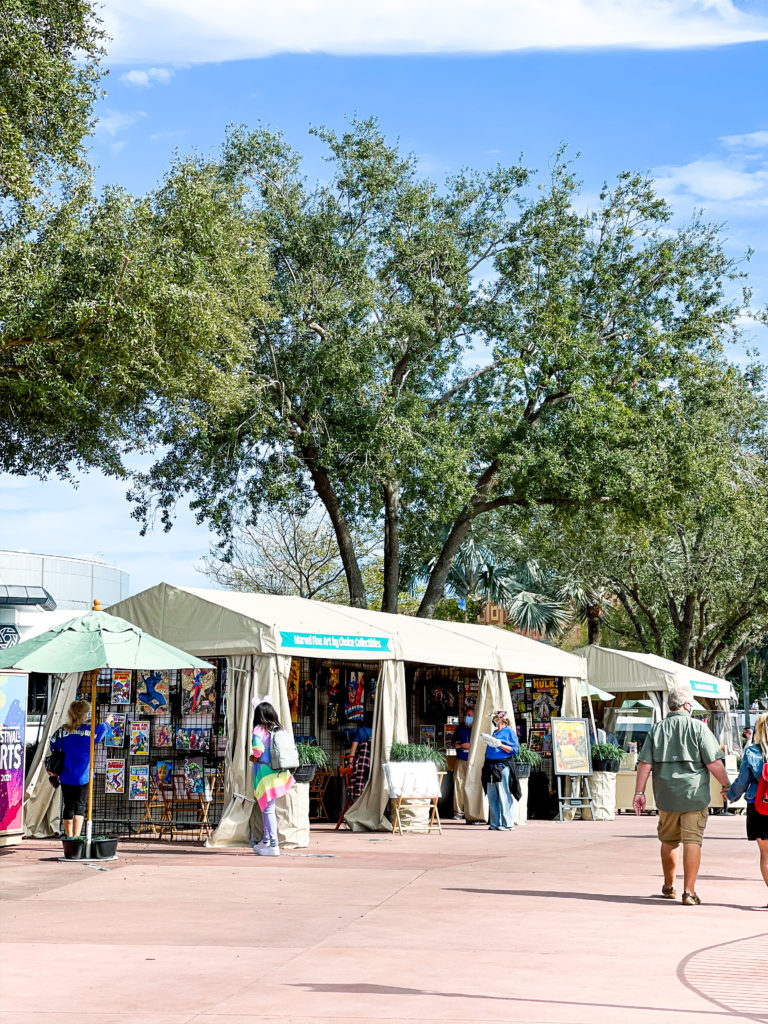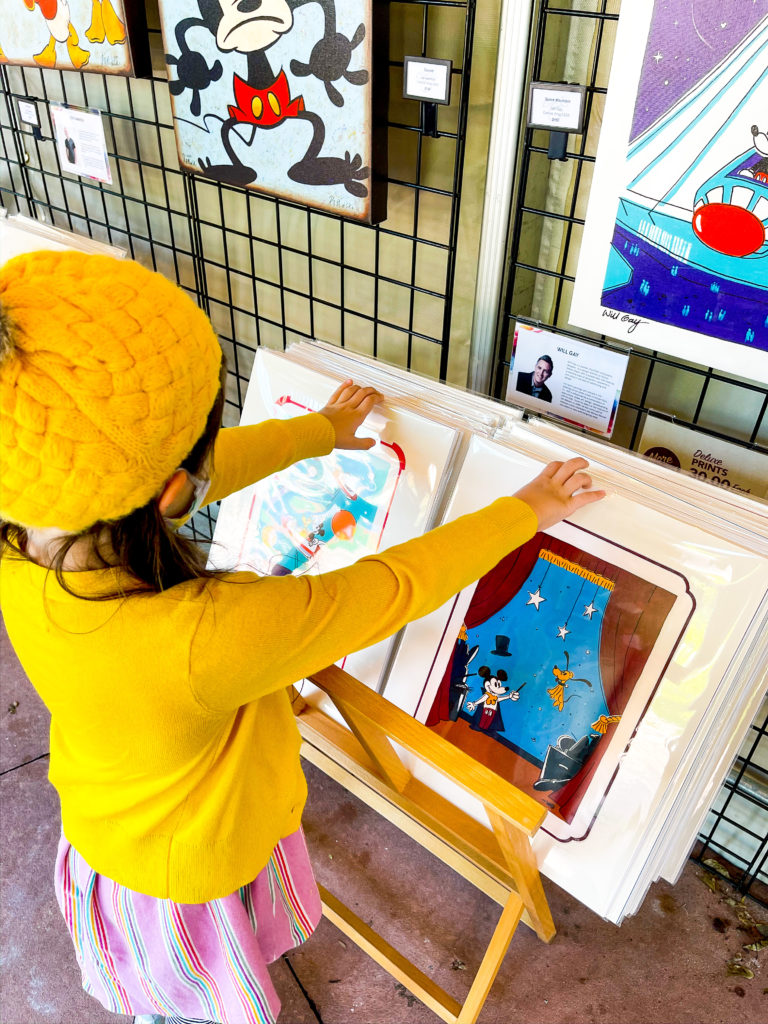 The Paint By Number wall:
The wall is located in "Future World West" on the map just across from " Living with the Land" building. The mural photo changes weekly. This week's design was "Starry Night" and Epcot mixed as one.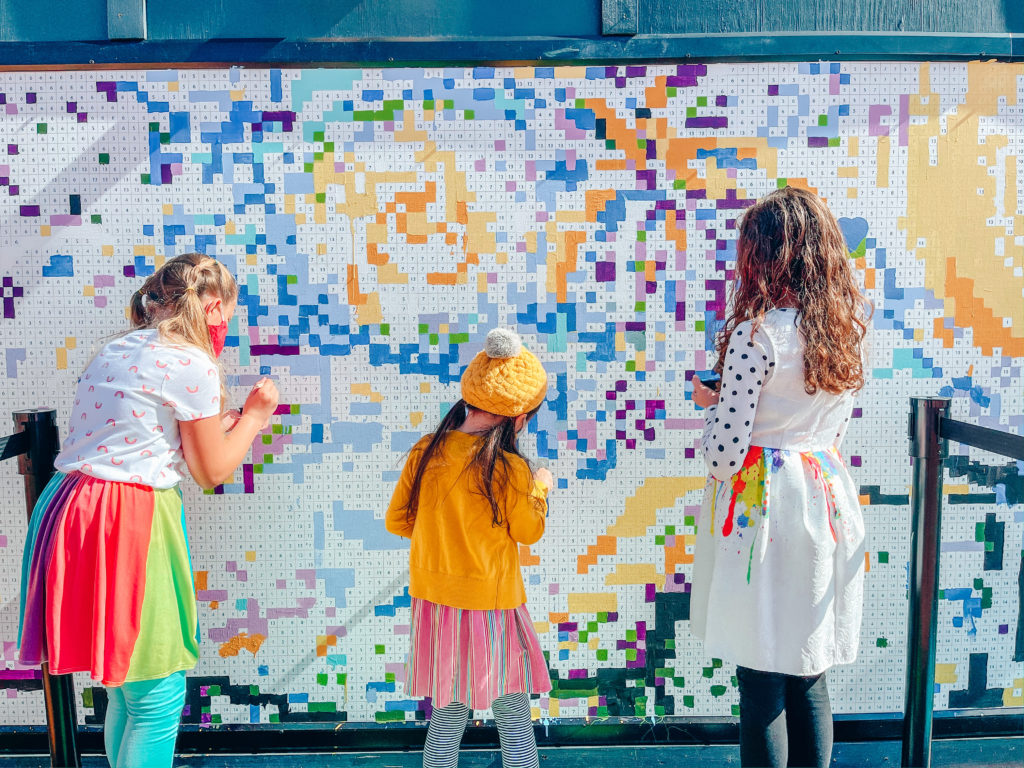 First you pick up a color and a brush. They will tell you how many squares to paint.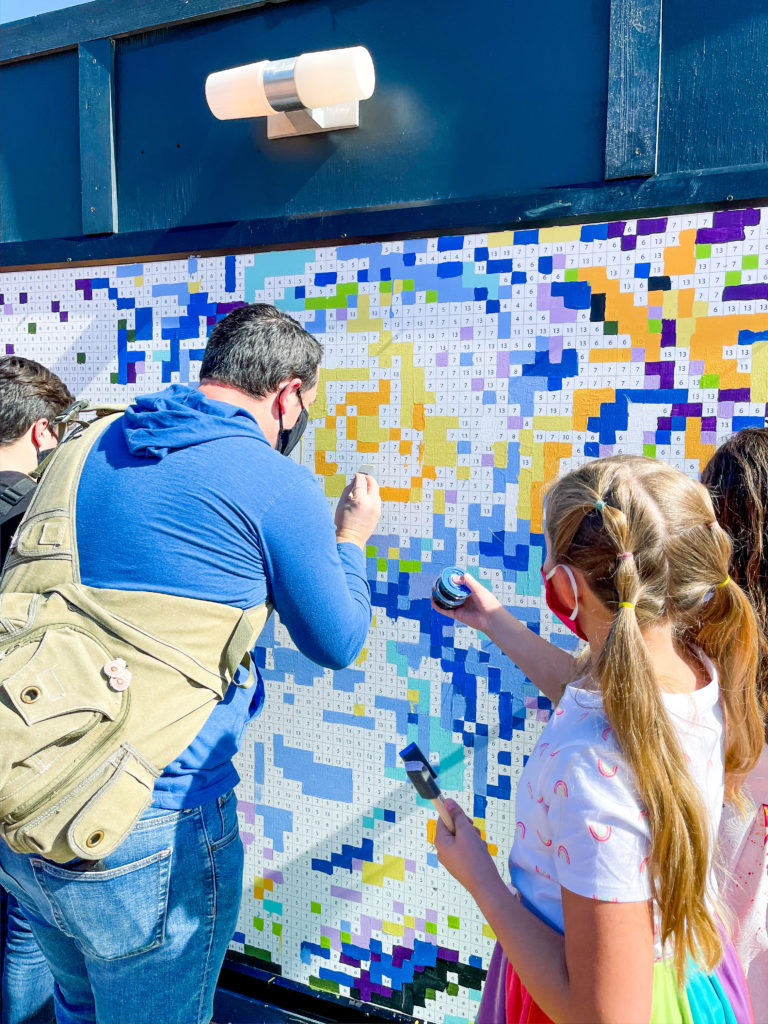 Disney has this activity nicely spaced out and roped off in some sections to promote social distancing. My whole family loves this activity and we look forward each week to seeing the new designs.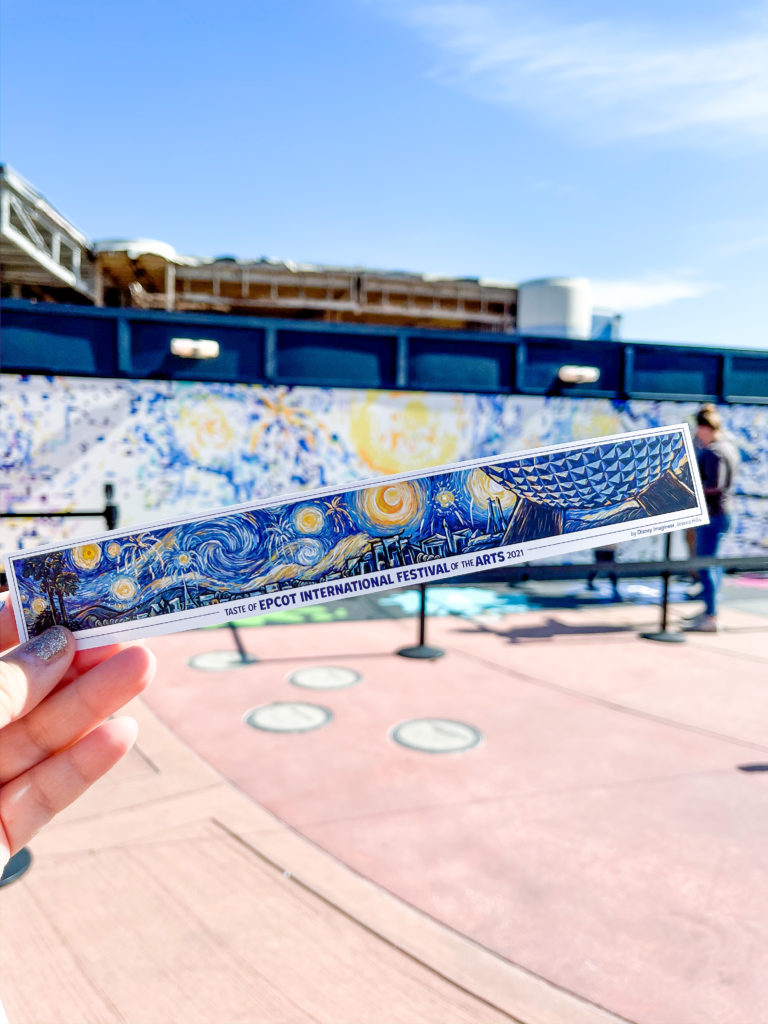 Artful Photo ops:
There are so many great photo ops. Some are reminiscent of famous paintings.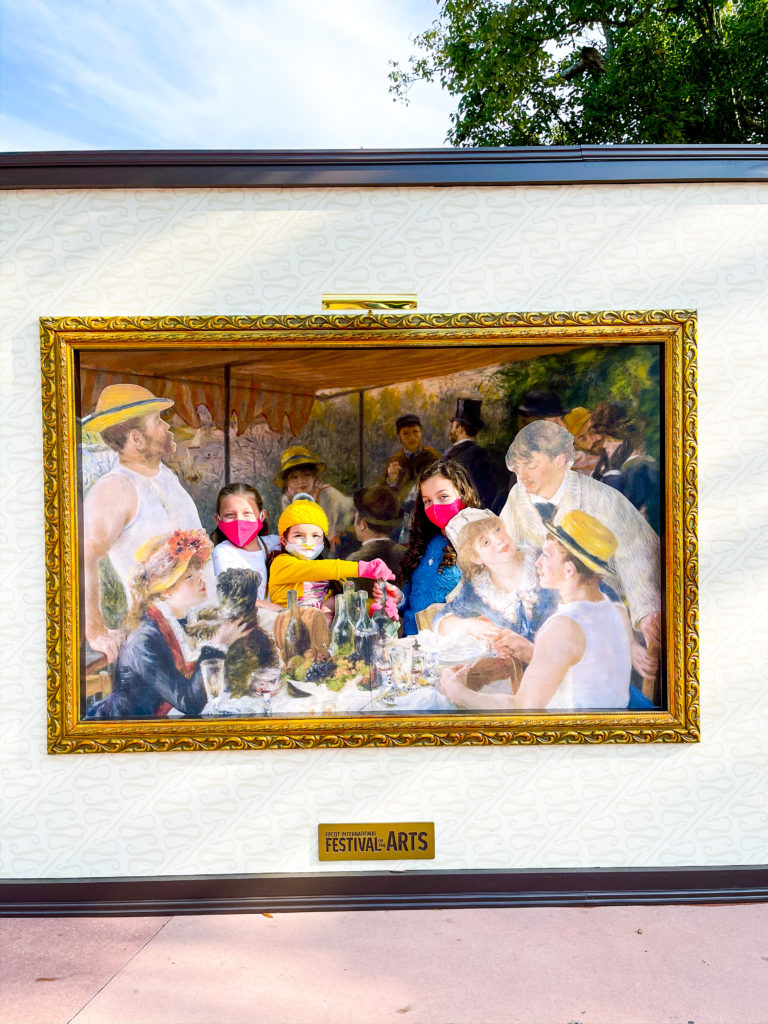 Others are photo walls and may have wings and other things to take photos with. Here are just a few of them.
Chalk Art:
Along the bridge to the World ShowCase you will find gorgeous Chalk Art, and it changes often!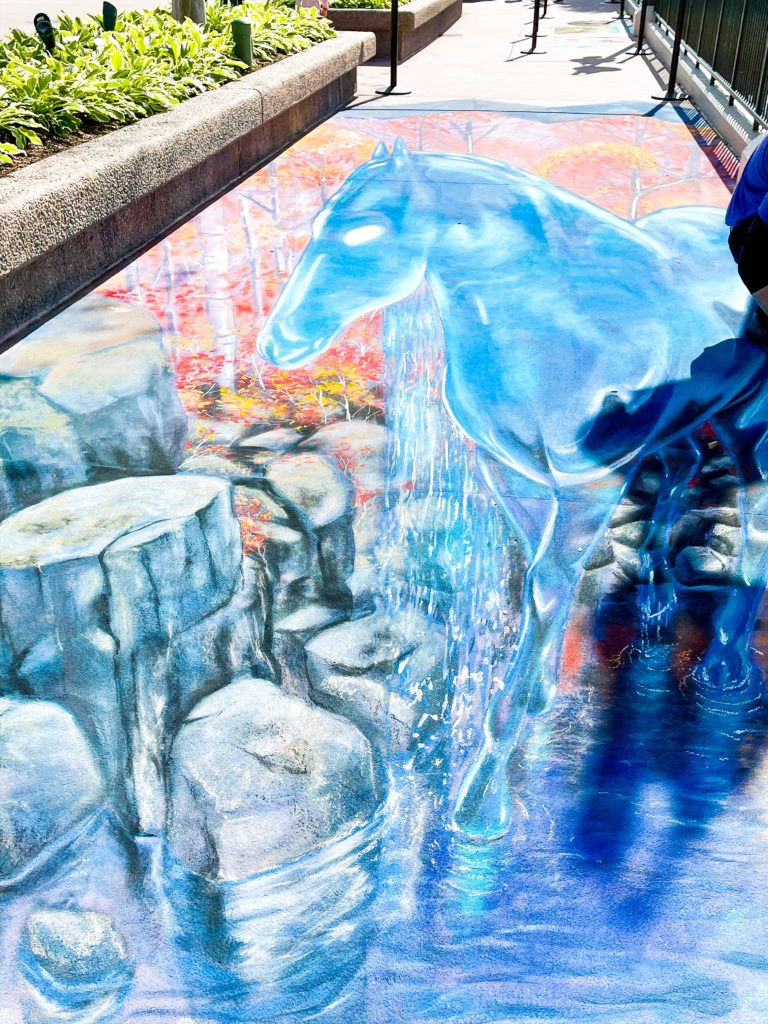 Scavenger Hunt:
Don't forget about the Figment Scavenger Hunt too! The cost is $8 to buy the map and then you go around the World Showcase and find Figment in famous paintings in each country! There are a few prizes to choose from at the end!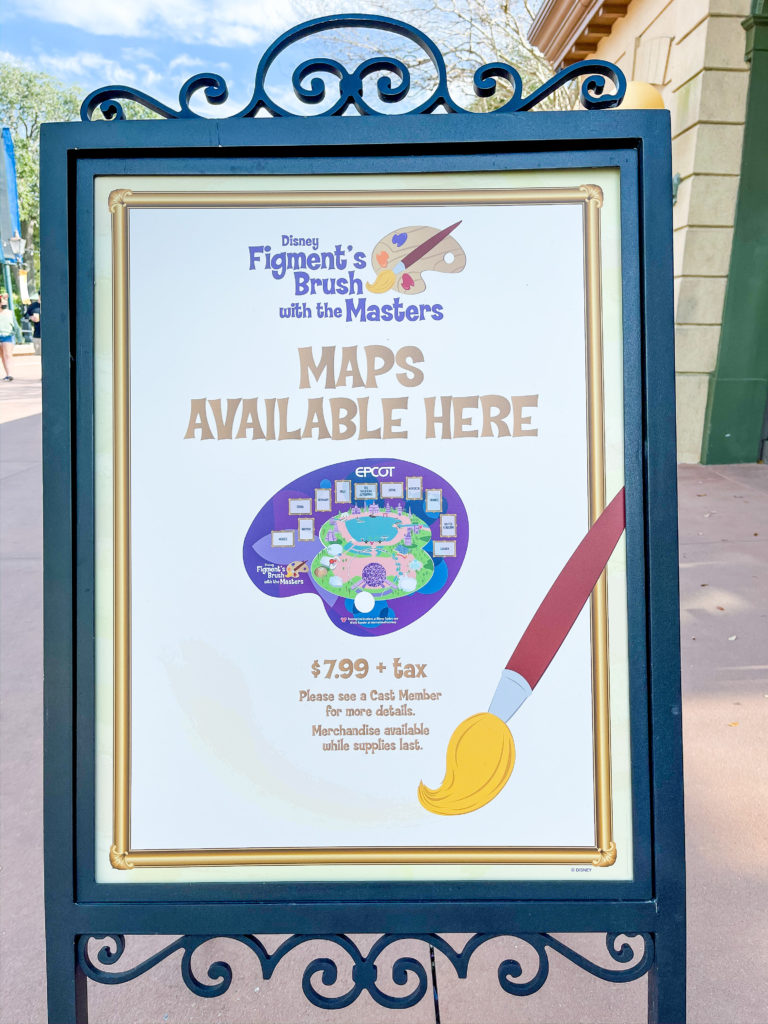 Tip: While you're going from country to country look around for special character art added in. Here are just a few we wanted to share without giving away all the fun.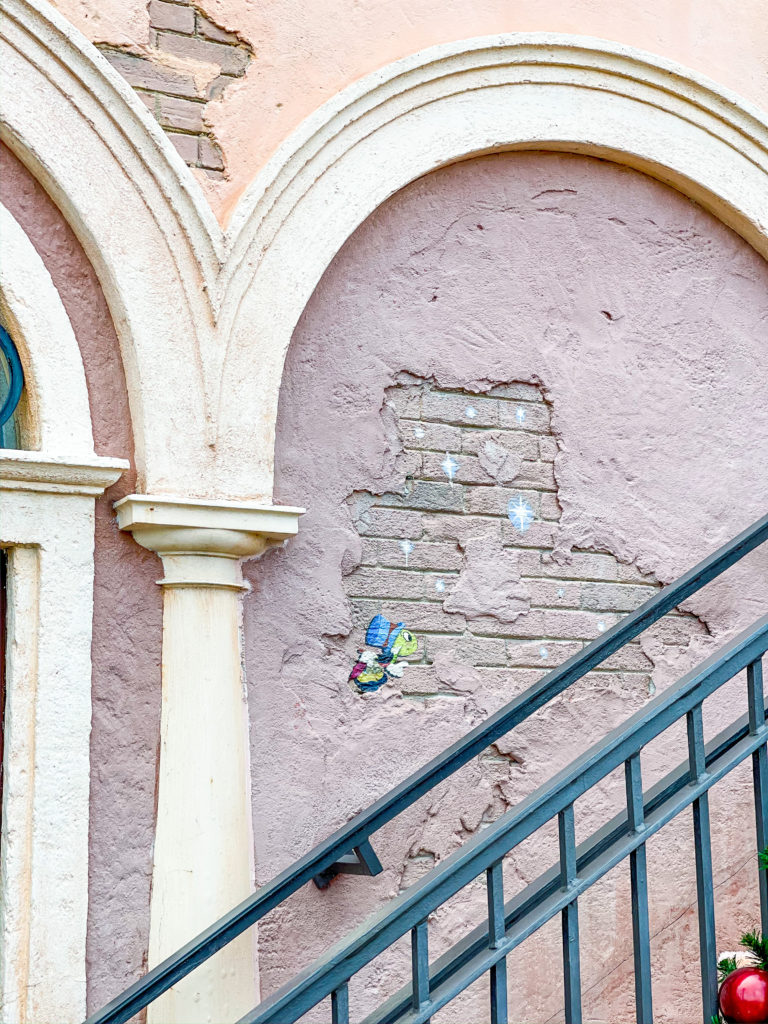 Another set of fun things to check out are located in America at the "American Gardens Theatre!"
The Animation Academy:
Currently at 12:30 and 1:30. This is where a Disney artist teaches you to draw a character!
They provide a cleaned clipboard, paper and pencil. We all loved doing this quick little stop and then comparing our various versions of Goofy that we got to draw.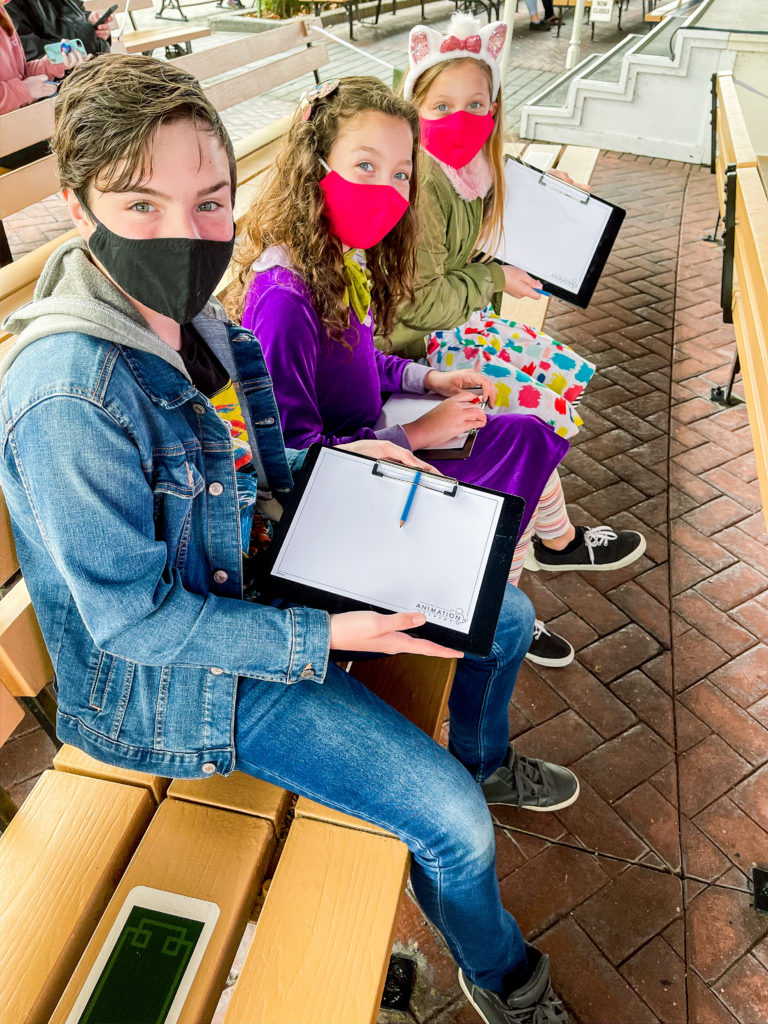 Pro-Tip: plan to bring a paper towel tube to roll your art into so it doesn't get squished as you enjoy the rest of the day!
The super fun Mariachi Cobre band as well as the Voices of Liberty: Singing various popular Disney songs, play at the same stage throughout the day.
Here are the times for everything the day we went.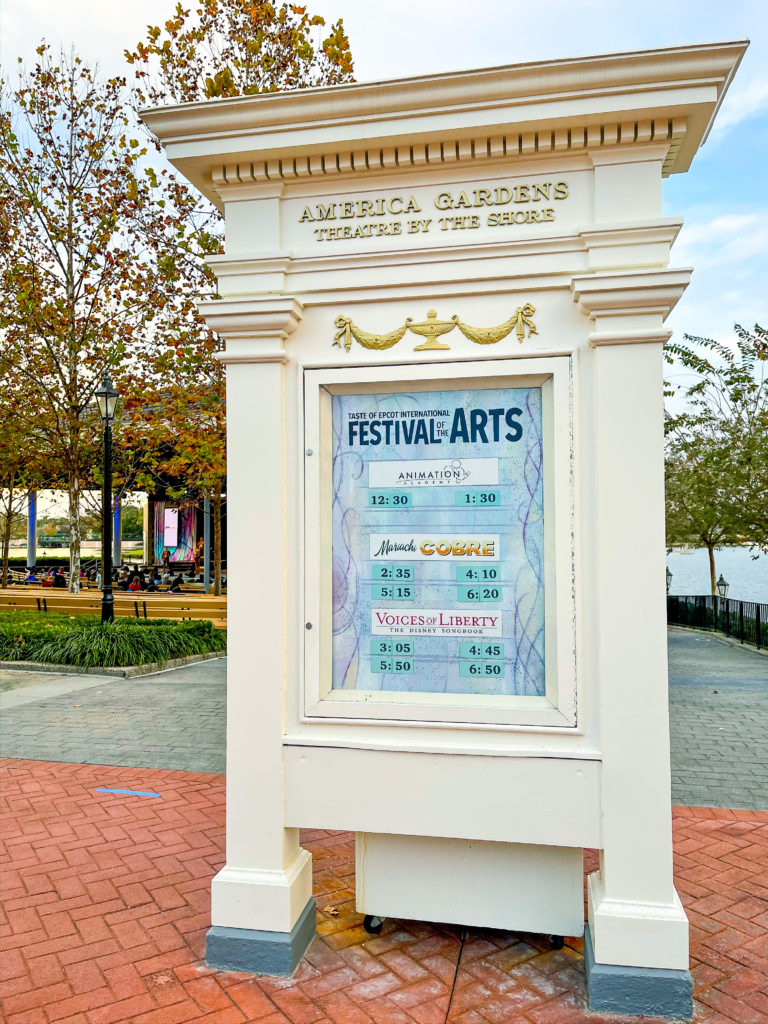 There are some beautiful paintings out in the garden in the UK.
In the "World Showplace" building (located between UK and Canada) you can find some of the art exhibits and more festival food booths as well as more entertainment including an Epcot Pianist, Art Defying Gravity and even a Visual Art Performance.
Festival Food:
Last but not least the Festival Foods! I cannot quite express how many amazing choices you'll find at the "Wonderful Walk of Colorful Cuisine." Everything from "Deconstructed food" to the "Vibrant and Colorful!"
I'm absolutely loving this festival. Here are a few of the items my family and close friends have tried.
The "Pink Snow" drink found at "Goshiki" festival booth in Japan.
Sake, Peach Schnapps, Cranberry Juice, and Calpico dusted with snowflake confetti.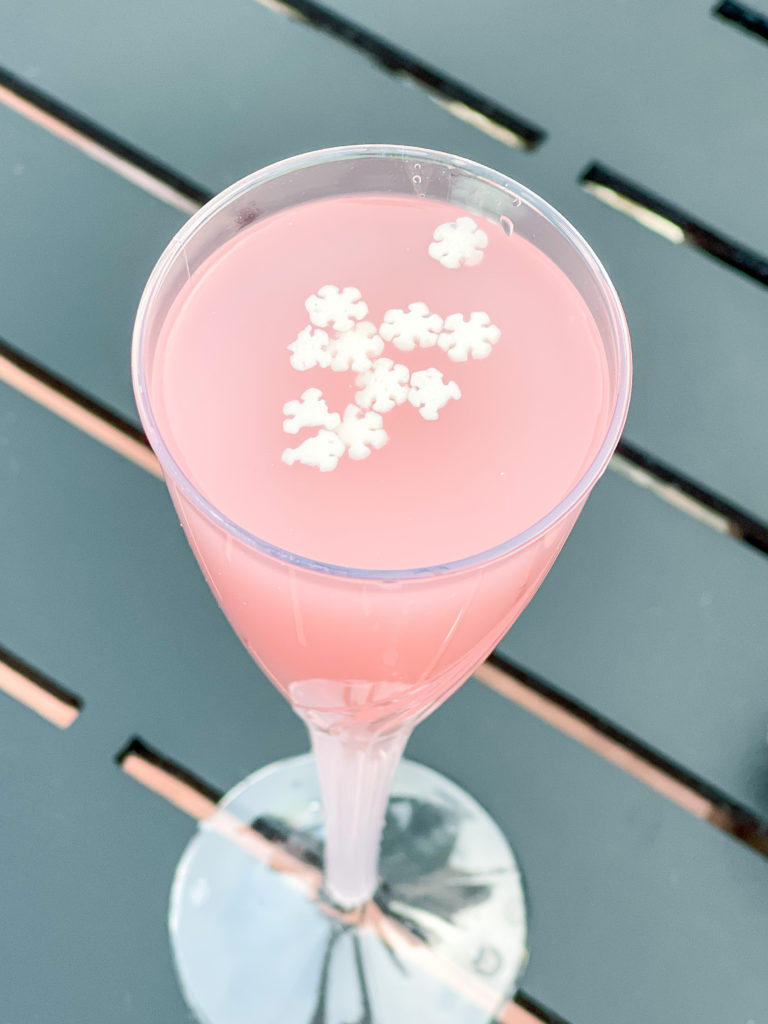 Sushi Doughnut (Also Japan)
Doughnut Shaped Sushi featuring Salmon, Tuna, Shrimp, Cucumber and Sesame Seed over a decorated plate of Wasabi Aioli, Sriracha, and Eel Sauce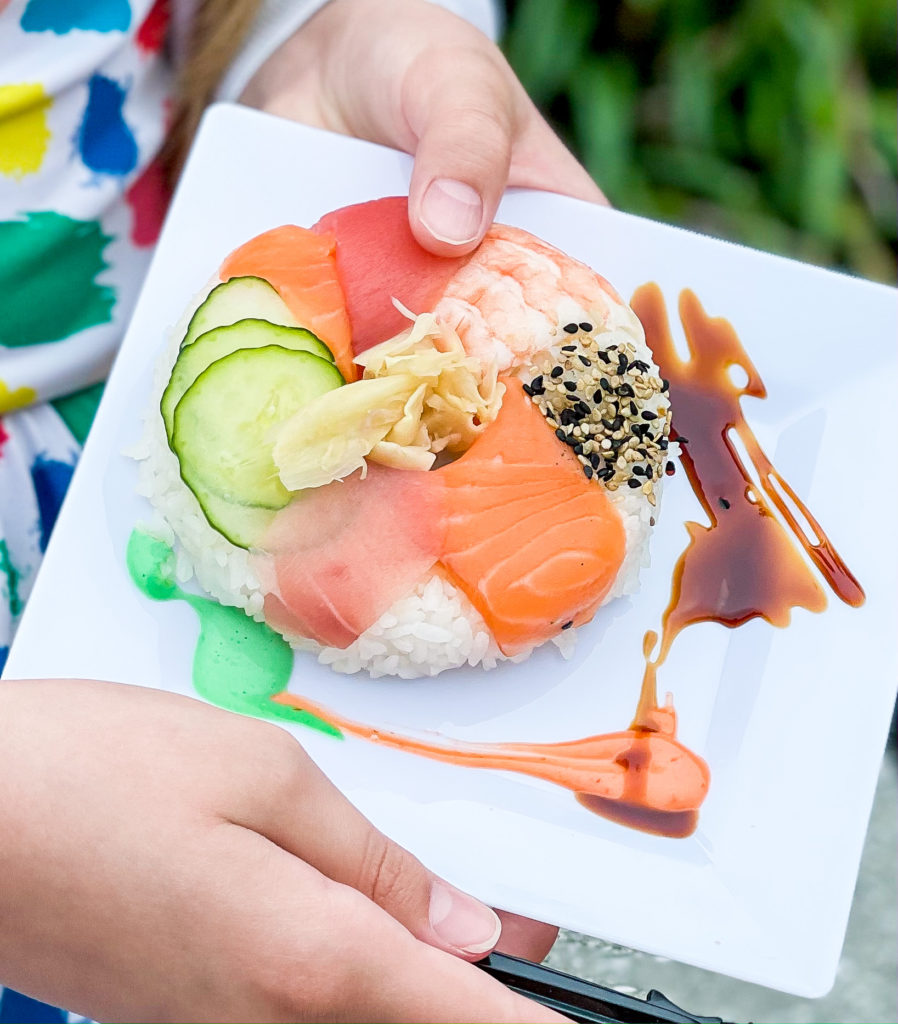 Lobster Poutine from the "Refreshment Port" (Near Canada)
Lobster, Lobster Bisque cheese sauce, Pickled Jalapenos and Citrus Cream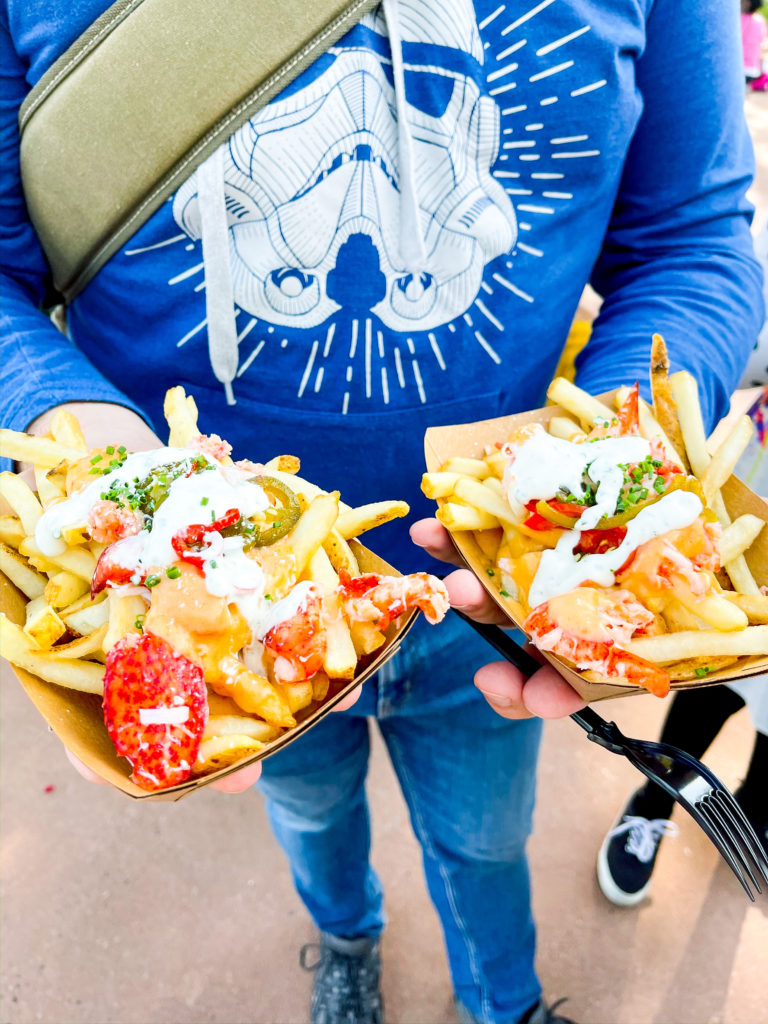 Passion Fruit Mousse from the "Vibrante and Vivido Food Studio" Booth (Near Morocco and France)
Passion Fruit Mousse with Dragon Fruit Jam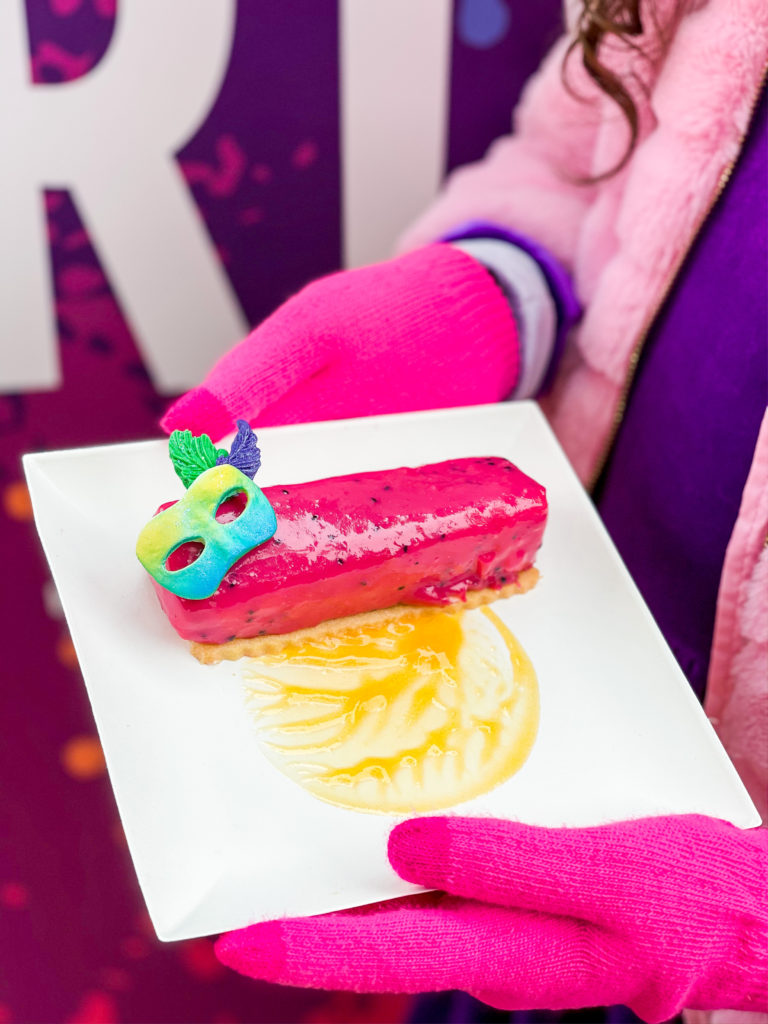 Deconstructed Reuben from the "Deconstructed Dish" booth
Rye Popover, Corned Beef, Gruyere Panna Cotta, and Brined Brussel Sprouts with Broken Thousand Island Dressing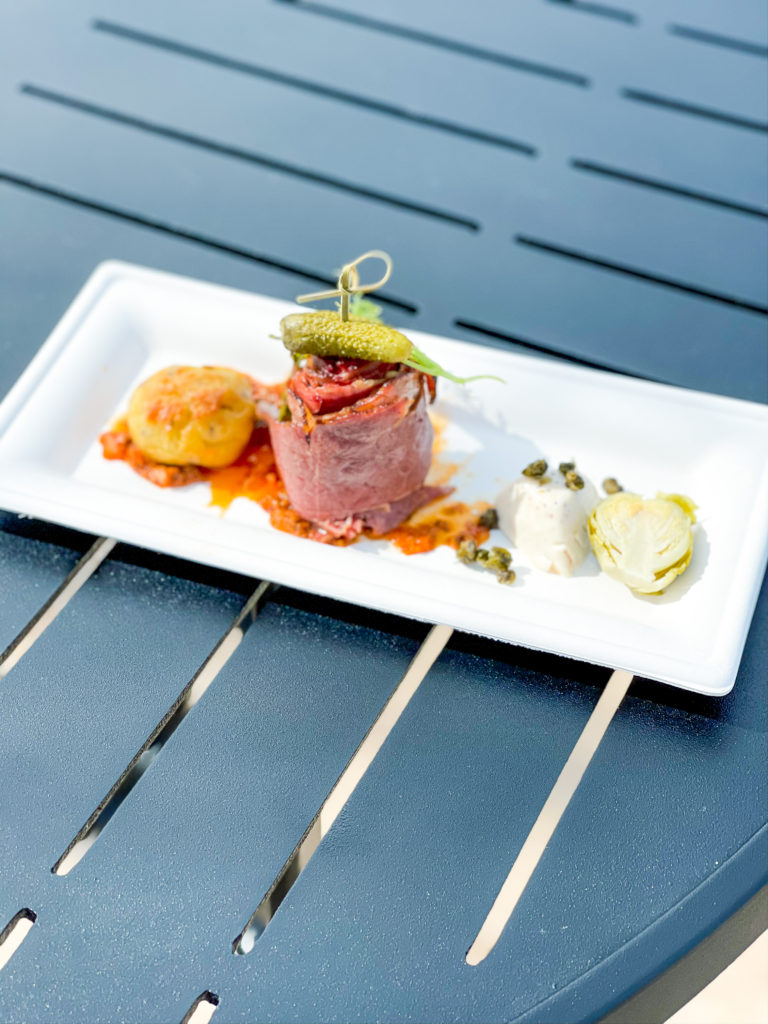 All 4 Joffrey's Coffee Stands have special festival doughnut coffee pairings.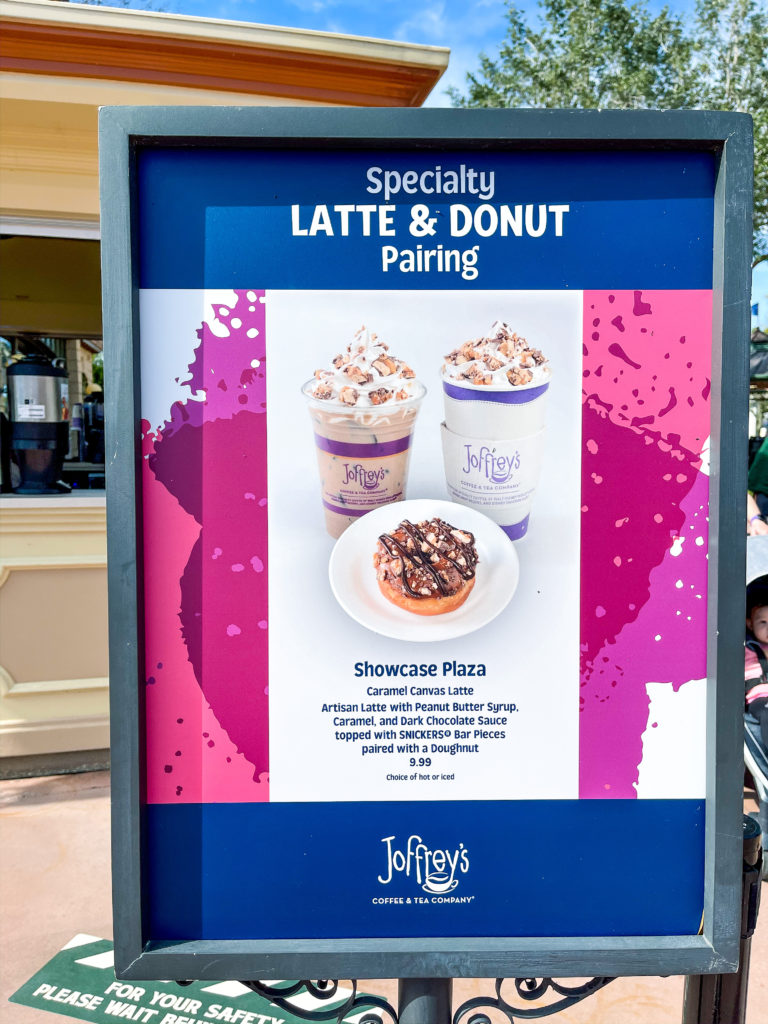 This one can be found at the Joffrey's located at the beginning of the World Showcase near Mexico.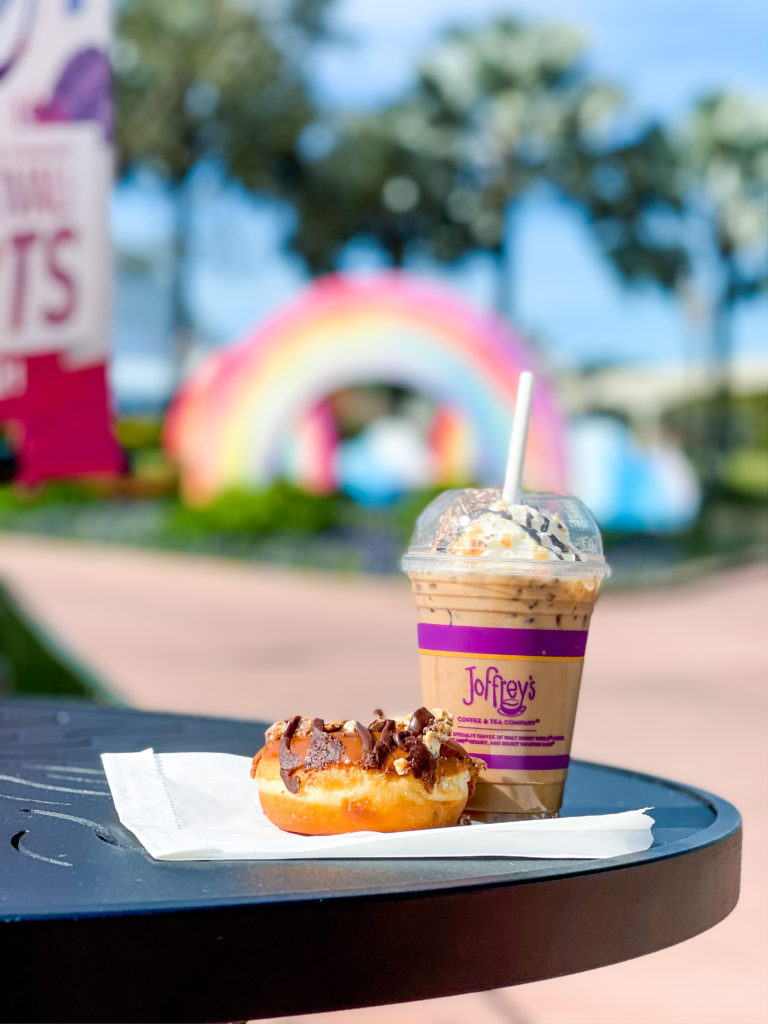 Caramel Canvas Latte with Peanut Butter Syrup, Caramel, and Dark Chocolate Sauce topped with Snickers bar pieces and Paired with a matching doughnut. You can choose hot or iced. (Don't forget your 20% off at Joffrey's if you're a passholder, just show your card)
Tomato Soup with French Onion and Bacon Grilled Cheese from "Pop Eats" (Near Mexico)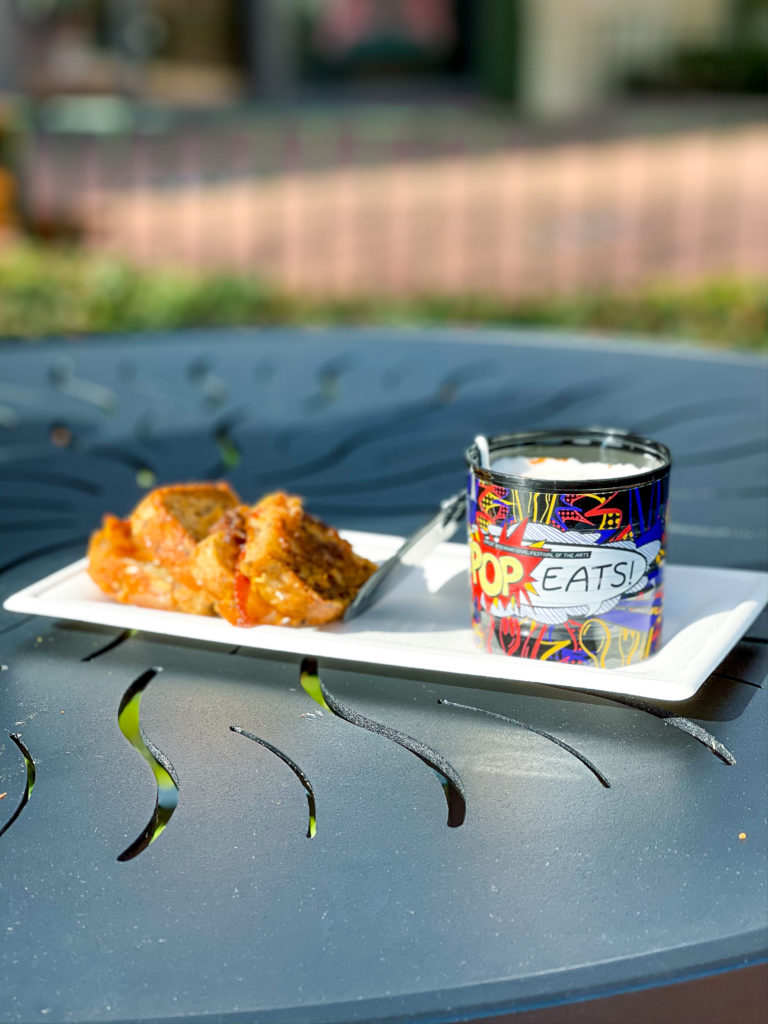 Also from "Pop Eats"
Rainbow Sherbet Glitter Dream Ale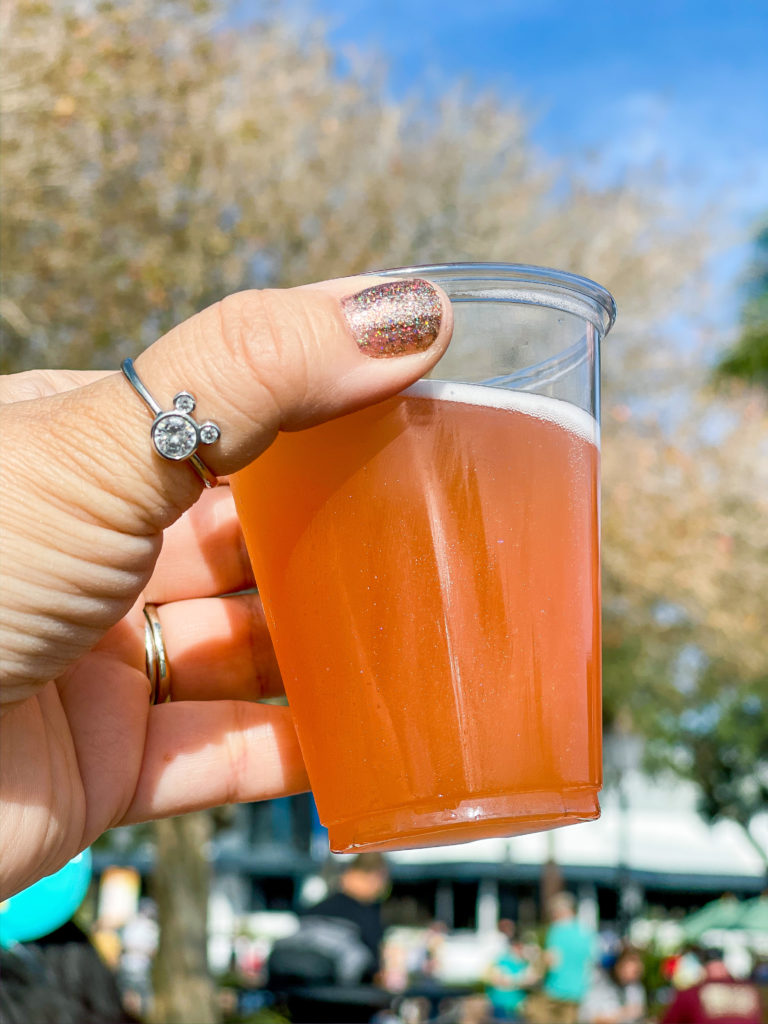 Bomboloni from " L'Art Di Mangiare" in Italy
Cream Filled Italian Doughnut with Raspberry Sauce and Powdered Sugar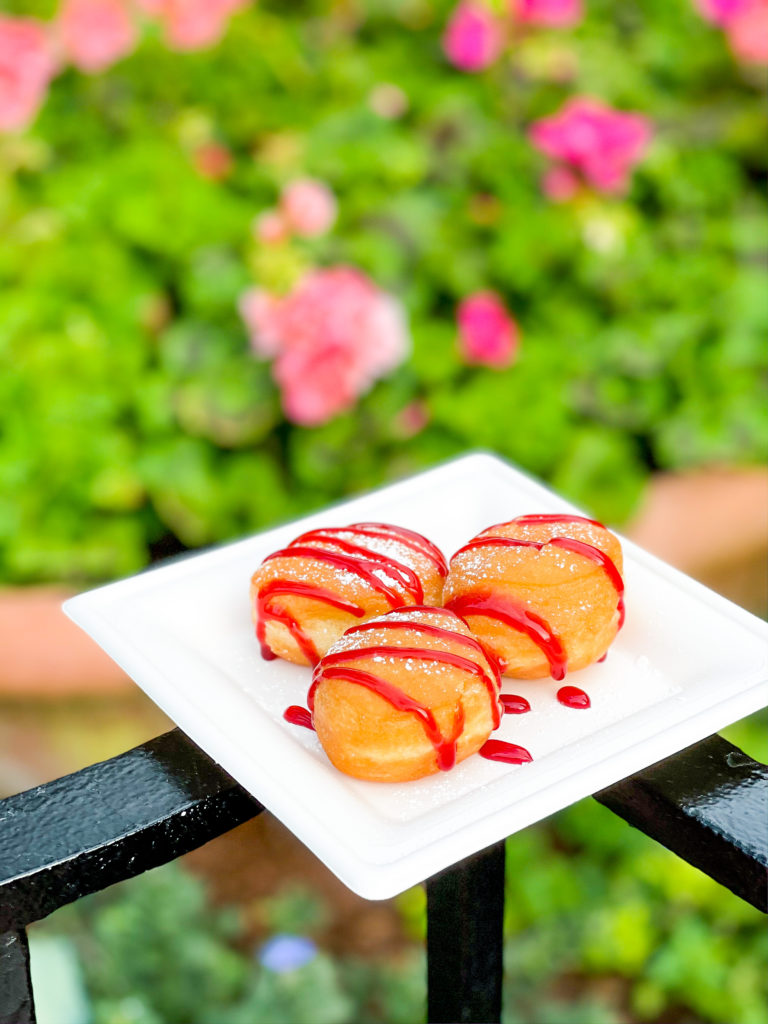 Frozen French Martini from L'Art De La Cuisine in France
Grey Goose, Vodka, Chambord Liqueur, Pineapple, Orange, and Grape Juices with Lemon Lime Foam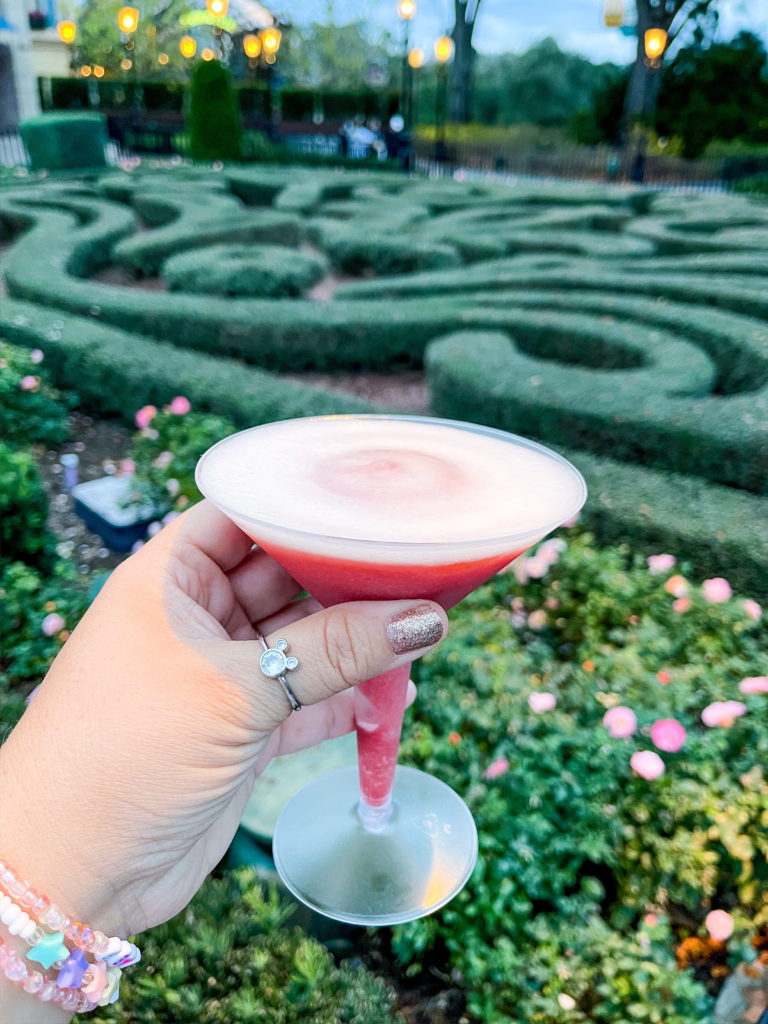 All of this is just the tip of the iceberg of the fun things to try and do!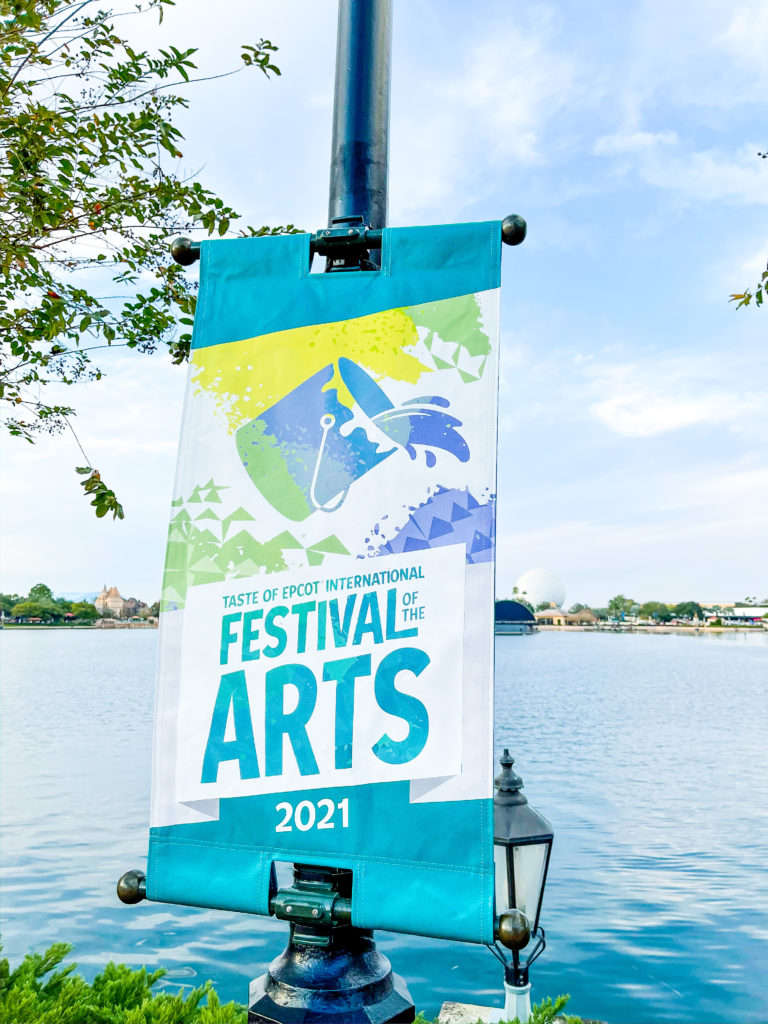 Have you been to this festival before? Anything particular you're looking forward to trying?
Hope you have a Magical time on your next visit to The Festival of the Arts!
Brandy (BrightSpotPhoto)