Good Morrow fine people of the Realm, what say you of this fine day? Are you ready to be transported back to the Medieval Times? I know I am!
If you haven't had the chance to drive by the quite large 11th Century Castle located at 4510 W. Vine Street in Kissimmee, FL, then join me for a brief history and allow me to explain a little about it.
The History
Medieval Times is a dinner and tournament show based upon authentic Medieval history and is the true story of a noble family with documentation dating back to the 11th century. Medieval Times began with two dinner/entertainment complexes located in Majorca and Benidorm, Spain. The first North American Castle in Kissimmee, Florida opened in December 1983. Today, there are ten Medieval Times Castles throughout the United States, with one located in Toronto, Canada. They have entertained more than 60 million guests.
On Friday, January 8, Winter Garden Moms was able to partake in this breathtaking and one-of-a-kind show.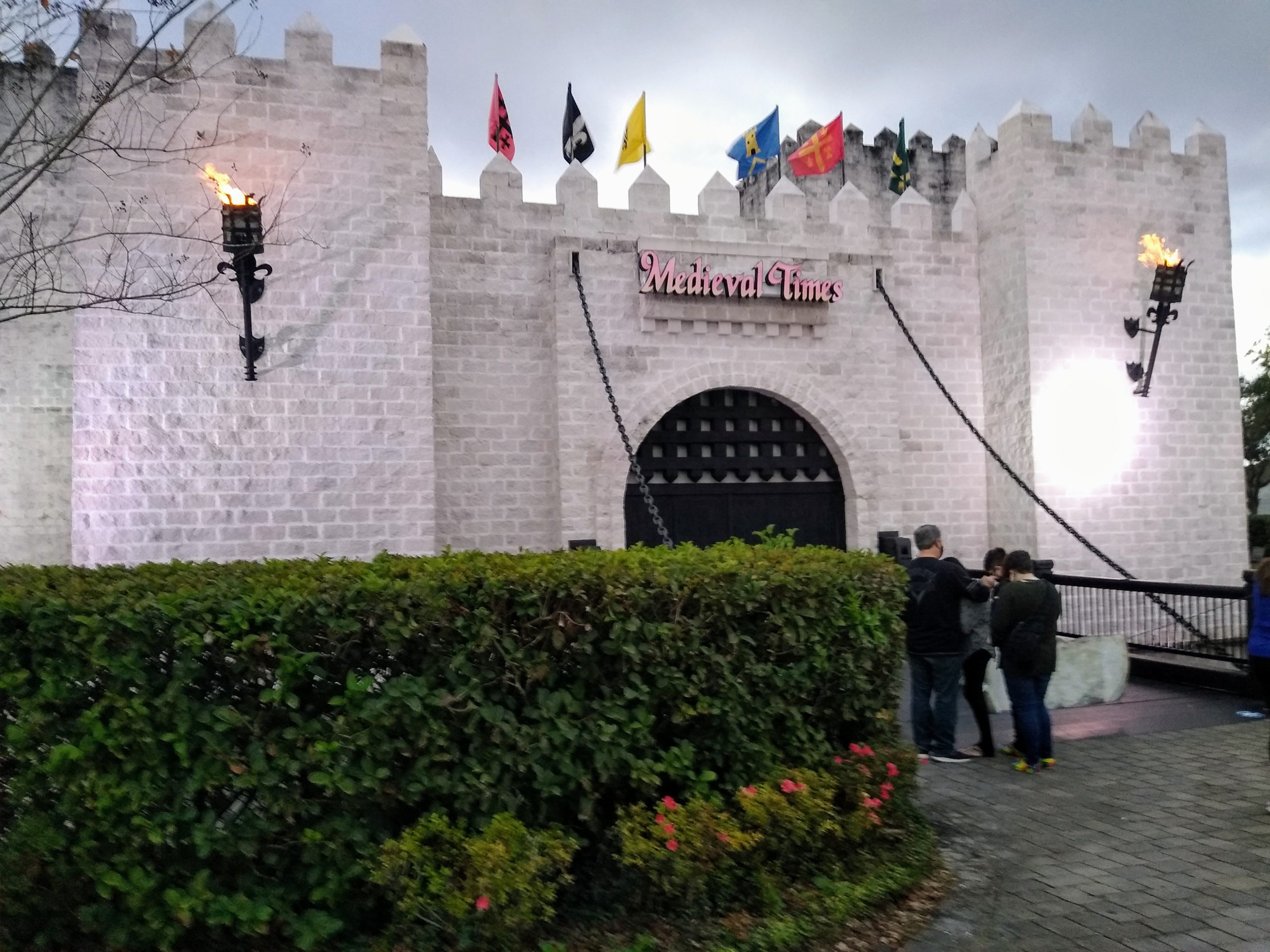 The Village
Doors open 60 minutes prior to showtime, and I recommend getting there to allow time to explore the beautiful castle grounds. There is an awesome replica of an 11th Century village on-site. Unfortunately, I did not get here early enough this time, but I have visited before and I absolutely love it! Also, I am not 100% positive if it is operating during this time.
The village shows you up close and personal the daily lives of the villager. My favorite area is where they showcase all of the torture devices. I know that sounds totally creepy, but I've always had an obsession with the way things were built, and these specific devices were usually done in very clever and creative ways.
Moving on from showing how morbid I am…
Entry Into The Castle
If you arrive prior to door open, grab your spot in line. Please remember to social distance while waiting to be summoned.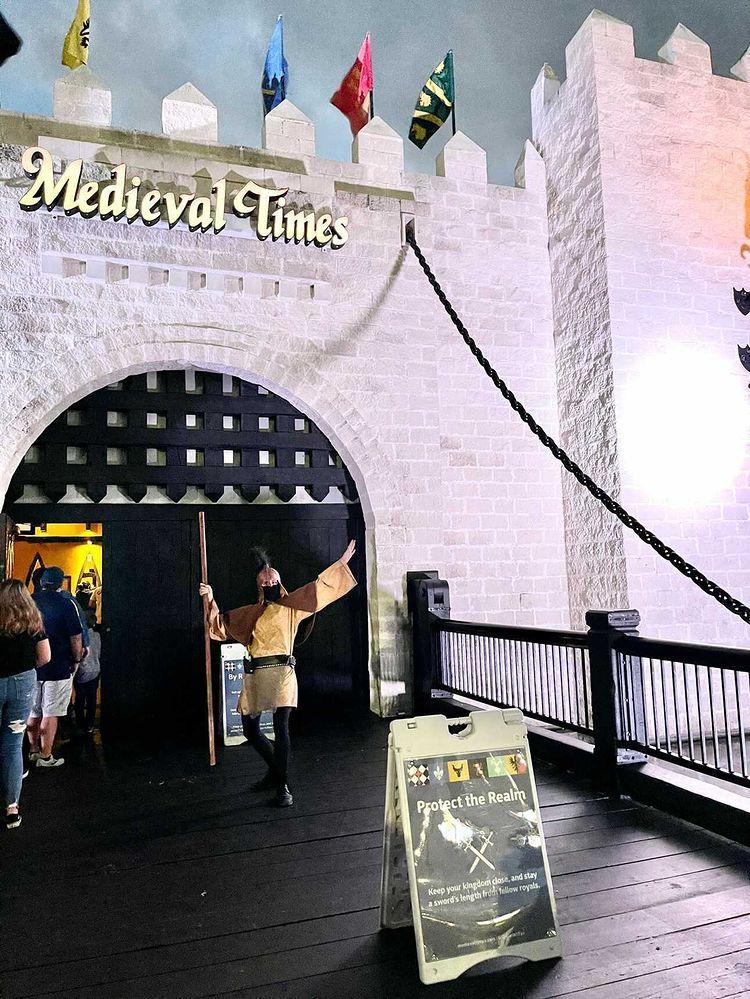 The show begins once the doors open. You are taken back in time and showered with a wonderful welcome by the Lord Marshal, Hip Hip Huzzah! Please pay attention as he will give you a full rundown on the new health and safety procedures.
Health and Safety Measures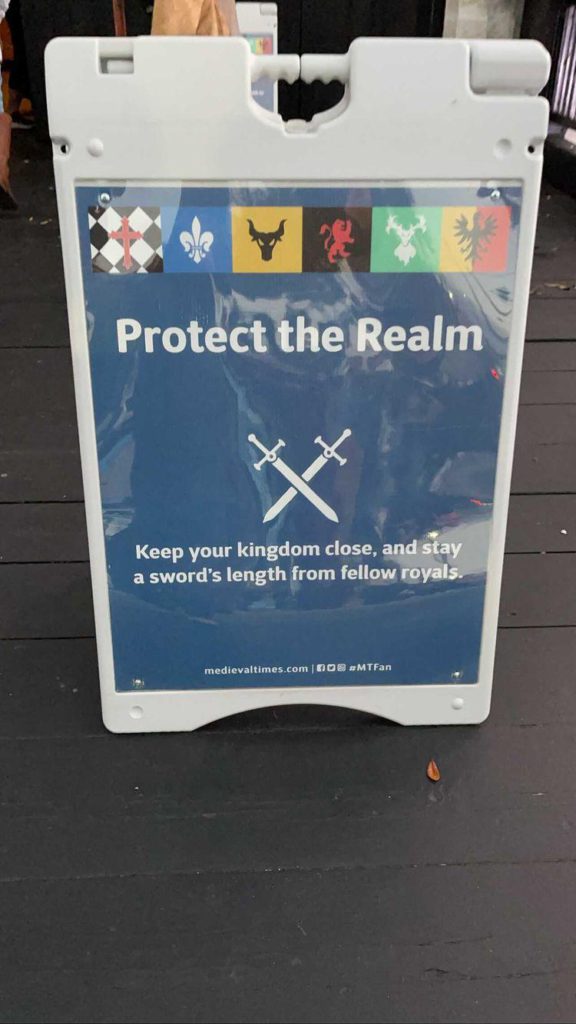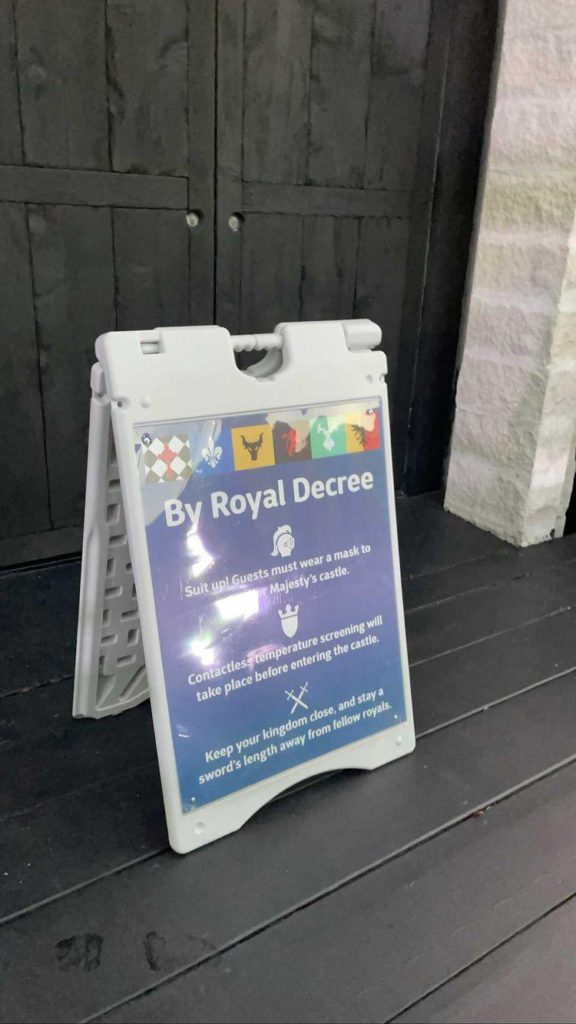 Medieval Times is doing a fantastic job adapting to the current times – which I love to see – to keep all guests safe as possible.
This includes, but is not limited to:
Requiring masks
Socially distanced lines, waiting areas, and tables
Temperature checks upon arrival and entry
Upon entering the castle doors, you're greeted with the line to the admission window – perfectly themed in every way!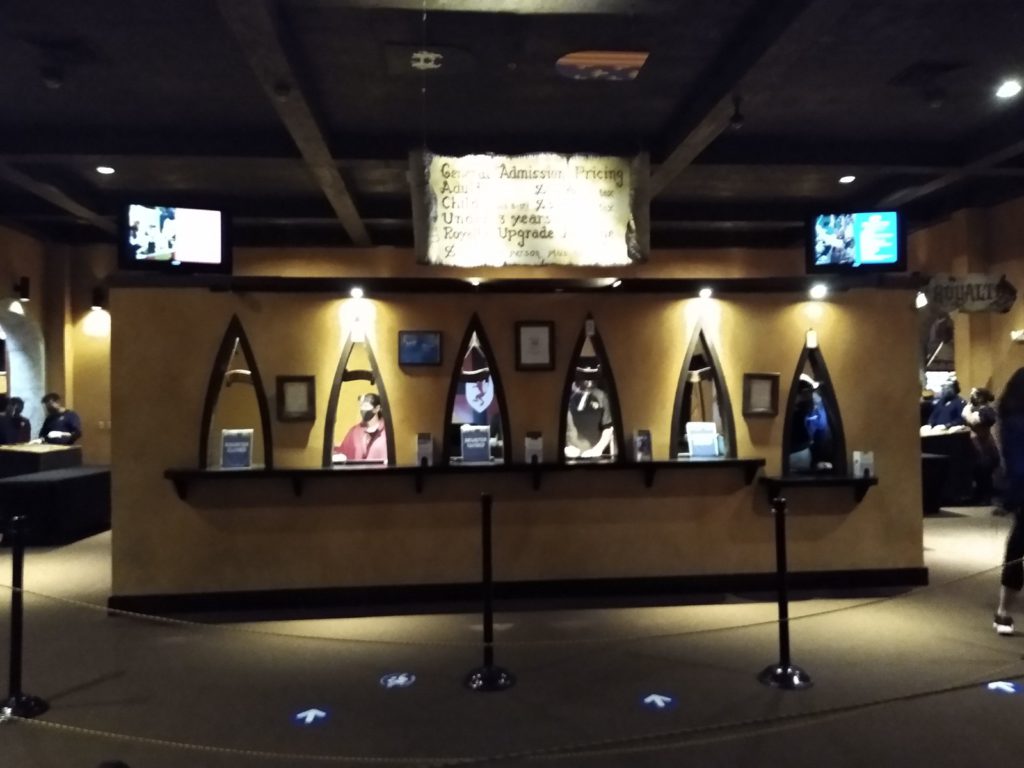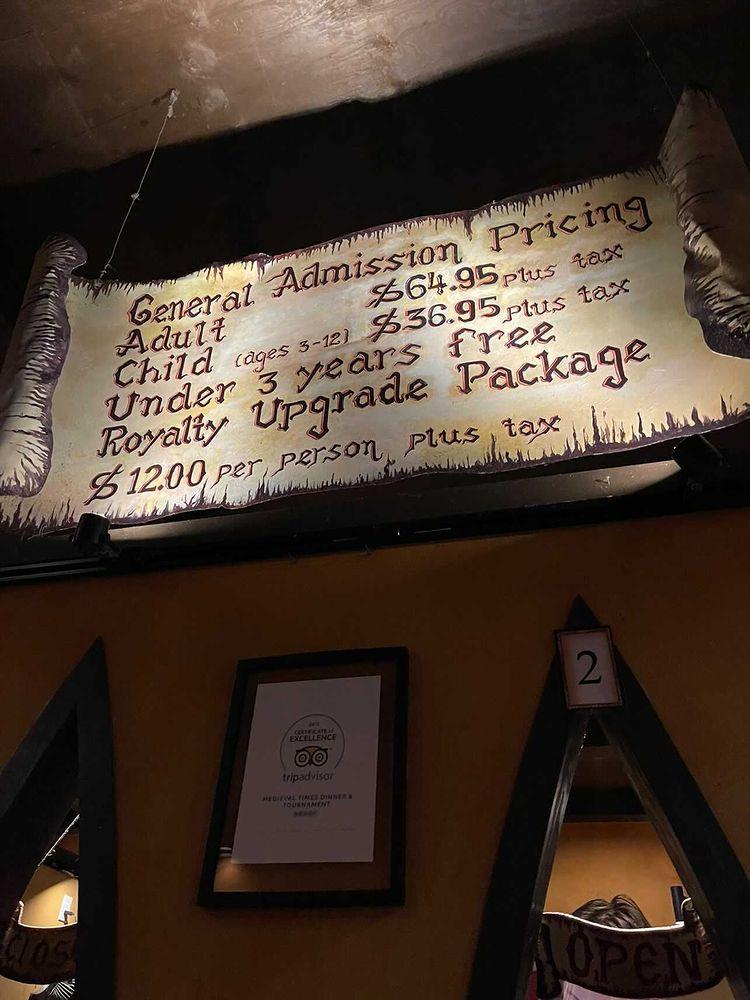 Admission to Medieval Times includes your tournament ticket, a 4-course meal (including NON-alcoholic beverages):
Adults (ages 12+): $64.95 plus tax
Children ( ages 3 – 12): $36.95 plus tax
Children under 3 are free, you also have the option of upgrading to the Royalty Package for $12.00 a person – which offers (depending on the package) VIP seating, a VIP lanyard (I love lanyards), framed photo, personalized message during the show, and more.
Contact your local Castle for all of the offerings on specific celebrations, group events, and VIP packages.

Whoa, not so fast though, I know you're super excited – as we all are – but make sure to head over and get your temperature checked before grabbing your tickets.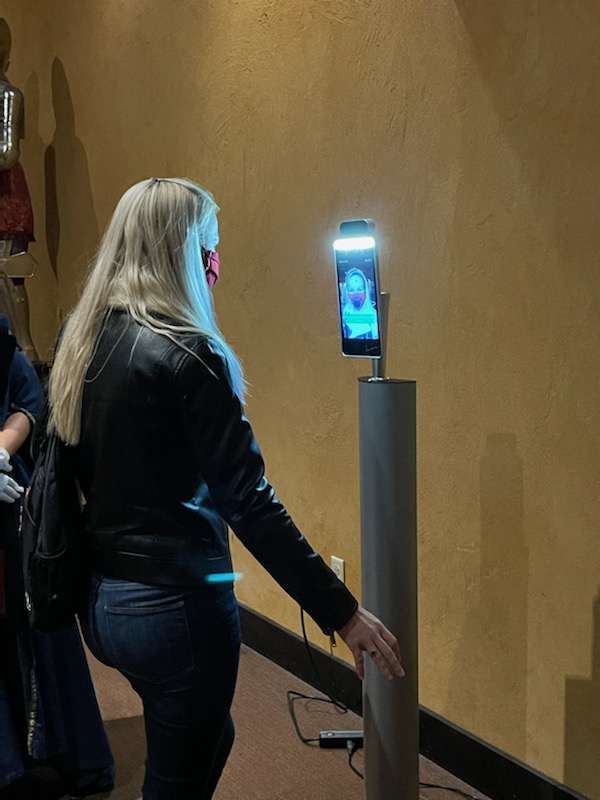 If you have the time, take a look around at the fun decor.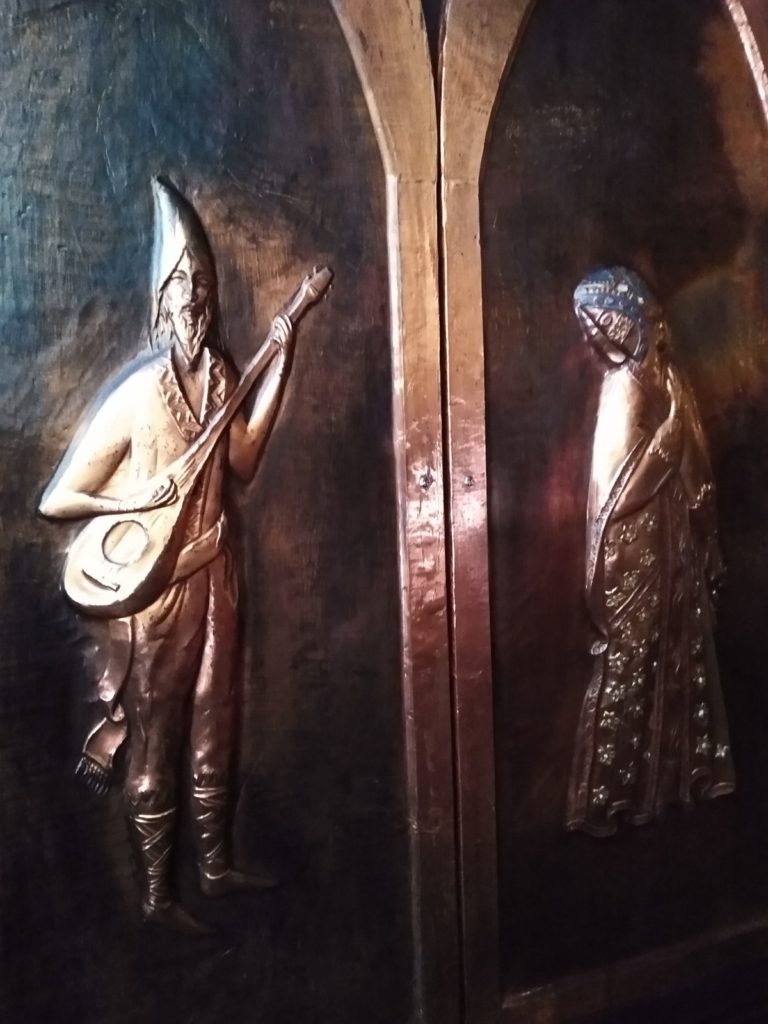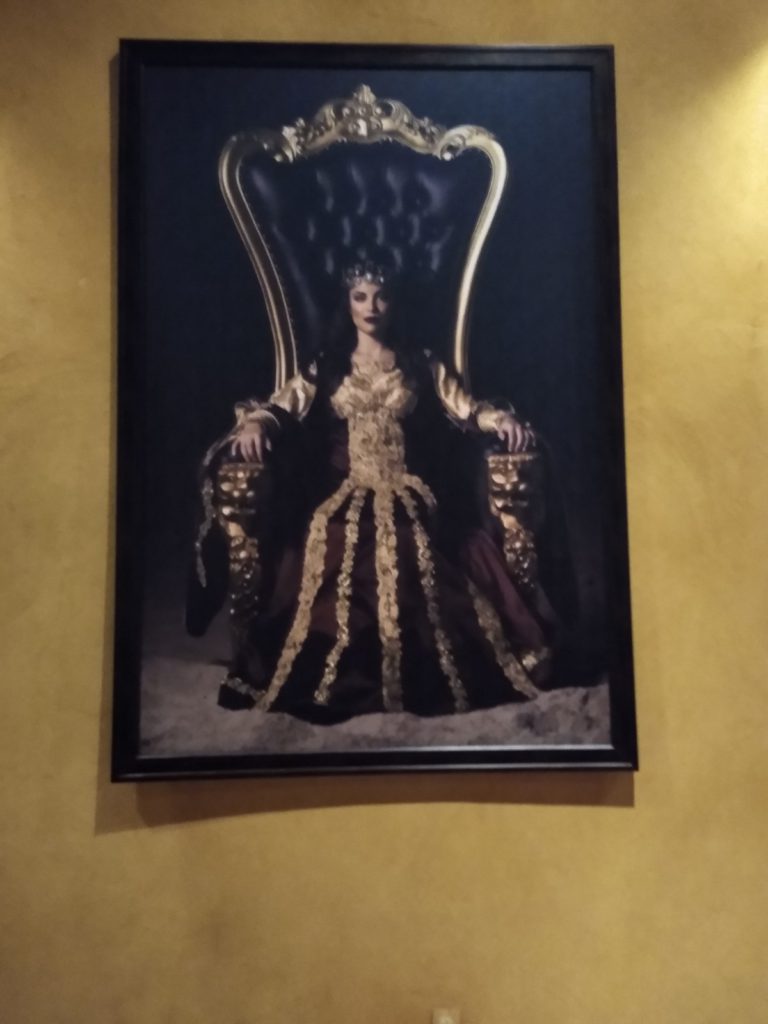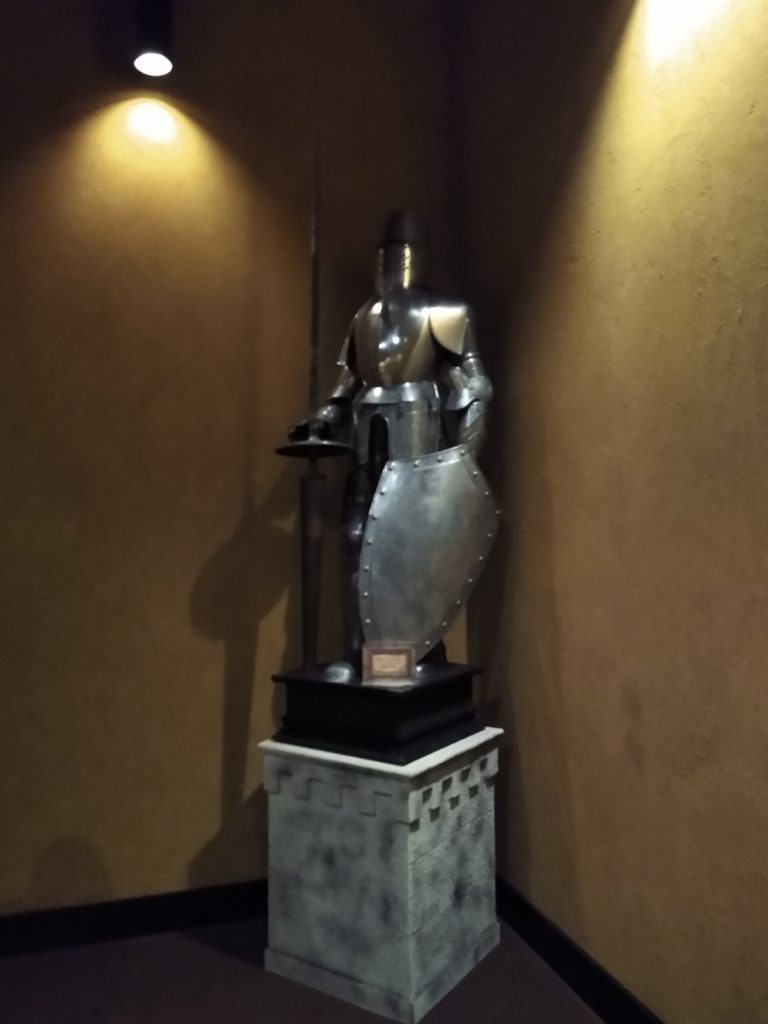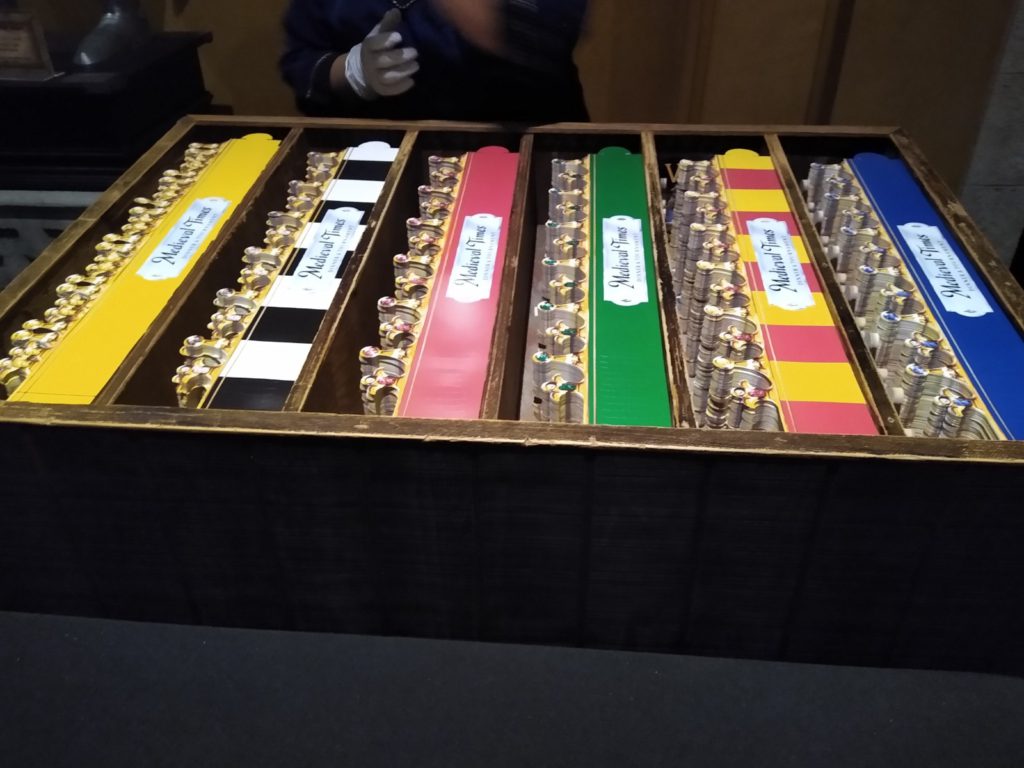 Now that you're all set with your tickets, crowns, and have taken your photo, you make your way to the different areas of the commons area. I always wonder about my past lives, and definitely feel that I'm an old soul dating back to the Medieval Times era. I love the architecture and the design of the buildings. There is also something about the way they were able to build such long lasting structures on such little resources that just fascinates me.
Let's take a look at one of my favorite areas…the weaponry…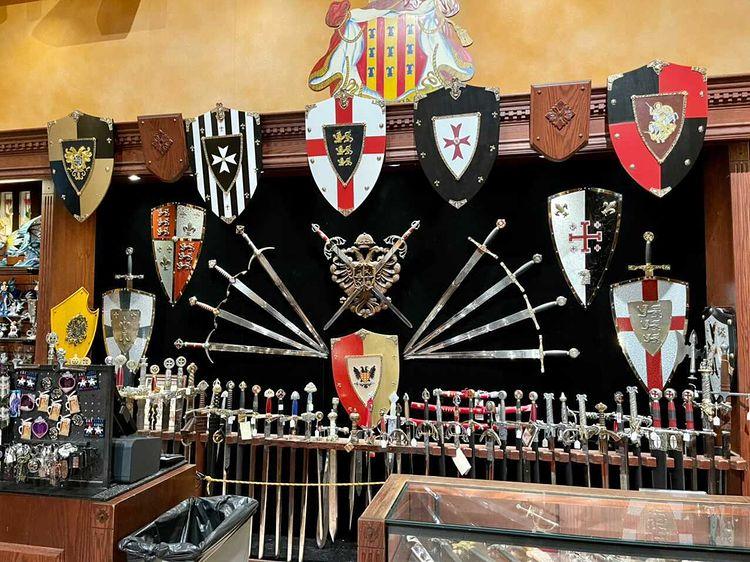 As you can see, it's sword and shield galore! From all types of blades, colors, and grips, you have a wide assortment to take home with you – not to fret, they also light plastic swords that light up for the younger Lords and Ladies who long to be Knights in the family.
Take a look at all of the merchandise, as there are so many awesome items…Dragon figurines, leather bound journals, tiaras, flowers, etc.
The Knights of Medieval Times actually use two different swords which you'll see later in the action photos:
The Espada – a one-handed, short sword used on horseback, or in combination with a shield or another type of weapon.
The Mandoble – a longer, heavier, two-handed sword used on foot to deliver powerful blows.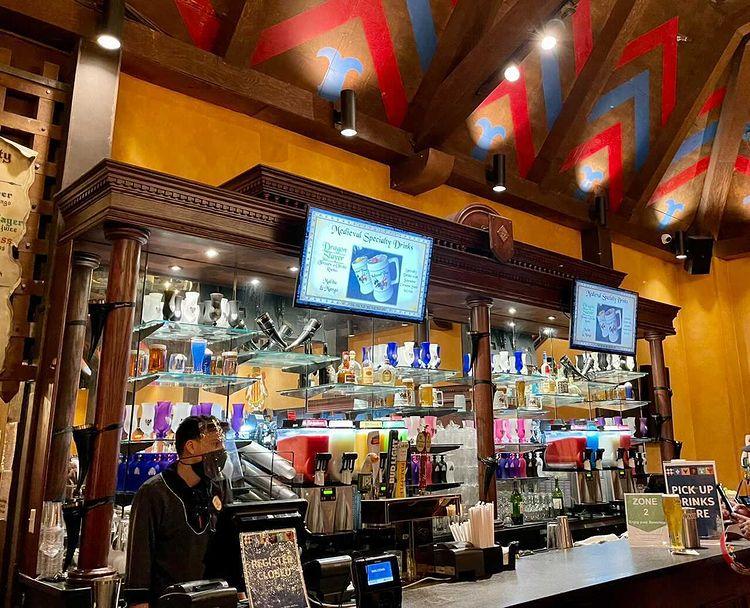 If you are looking to grab a beverage prior to show time, they will have the bar set up for you to do so, if not, the bar wenches (it is appropriate to call them that) will be coming by your table before and during the show to take any "adult" beverage orders you'd like to place.
Be sure to check out their assortment of collectible glassware such as steins, goblets, and light up cups! You can get any beverage in them and there are different sizes as well.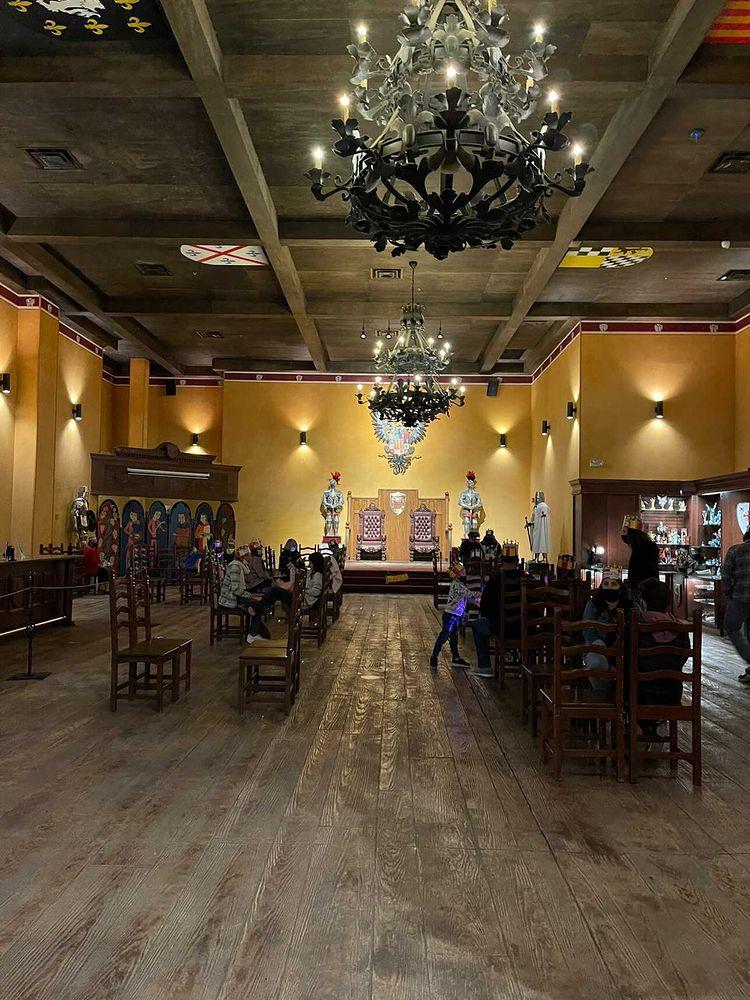 Be sure to check out the throne room while you're waiting. In here you can get knighted by the Queen herself, which I think is super cool!
We've now come back to that architecture I mentioned earlier. I love the decor, the designs, the woodwork, and just everything about this. This is also the common area where you'll wait to be called. The Lord Marshal will call you by your Knight's colors and table numbers, but please pay attention as there are different entrances into the arena. We want to make sure you get to where you're needing to go in a safe and efficient manner.
PRE-SHOW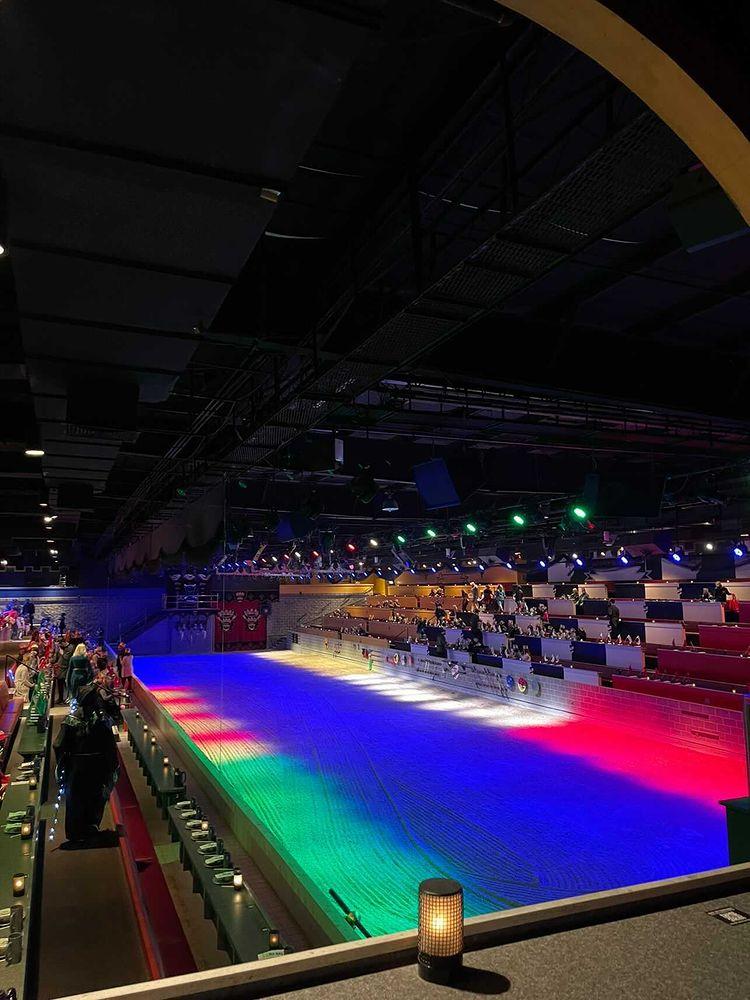 When you've heard your name, make your way either through the doors below the stairwell, or make your way up the staircase to the right of the stairwell where the Lord Marshal is calling.
The arena is quite breathtaking. Take a moment to look around and take it all in when you've arrived at your table.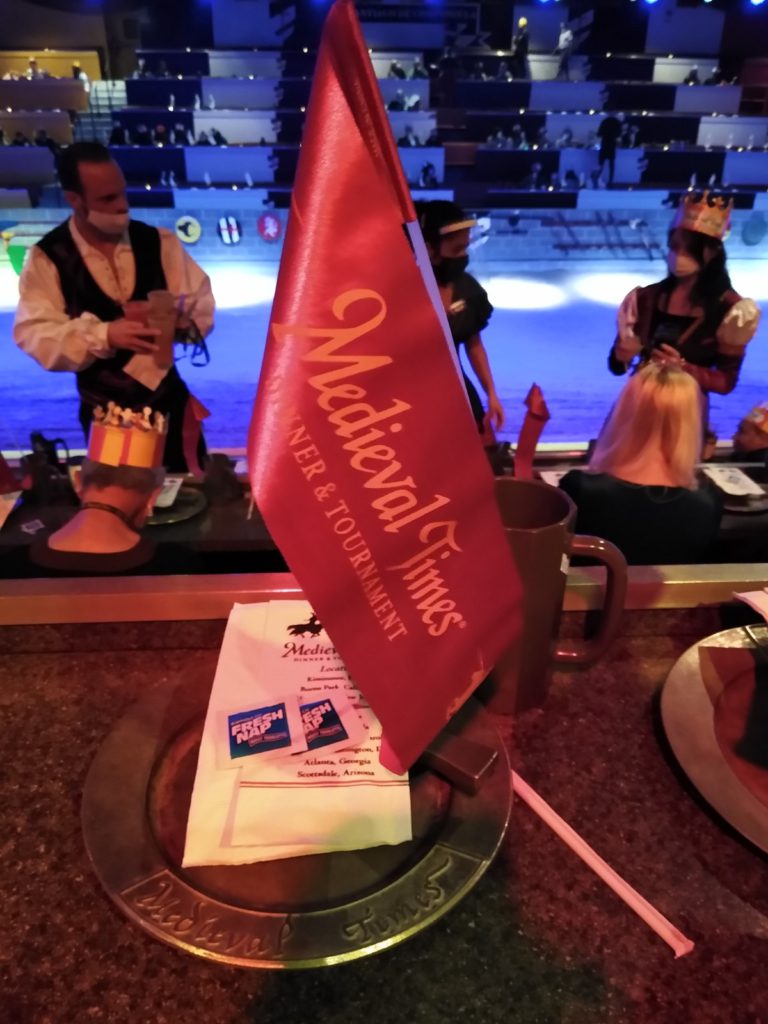 Your table will be fully set up with everything you need for dinner…complete with your cheering banner! In true Medieval fashion, there are no utensils readily available, but you can get them upon request. I love to fully immerse myself into the experience, choosing to go without. However, it could get a little messy…hence the wet naps to wipe your hands.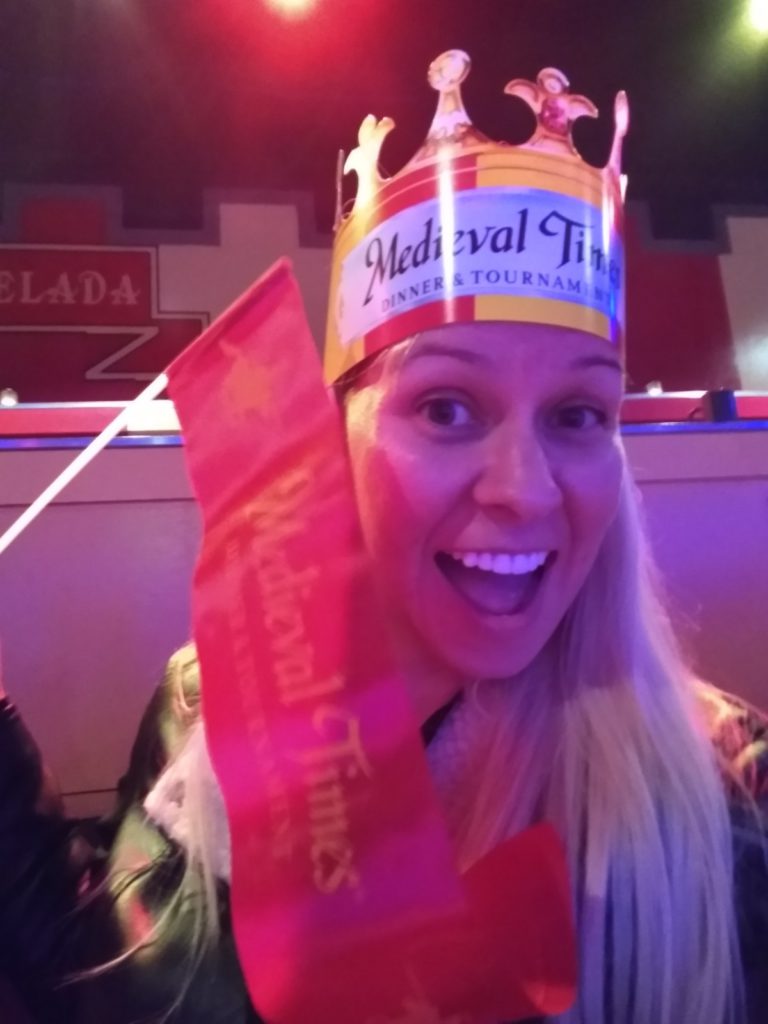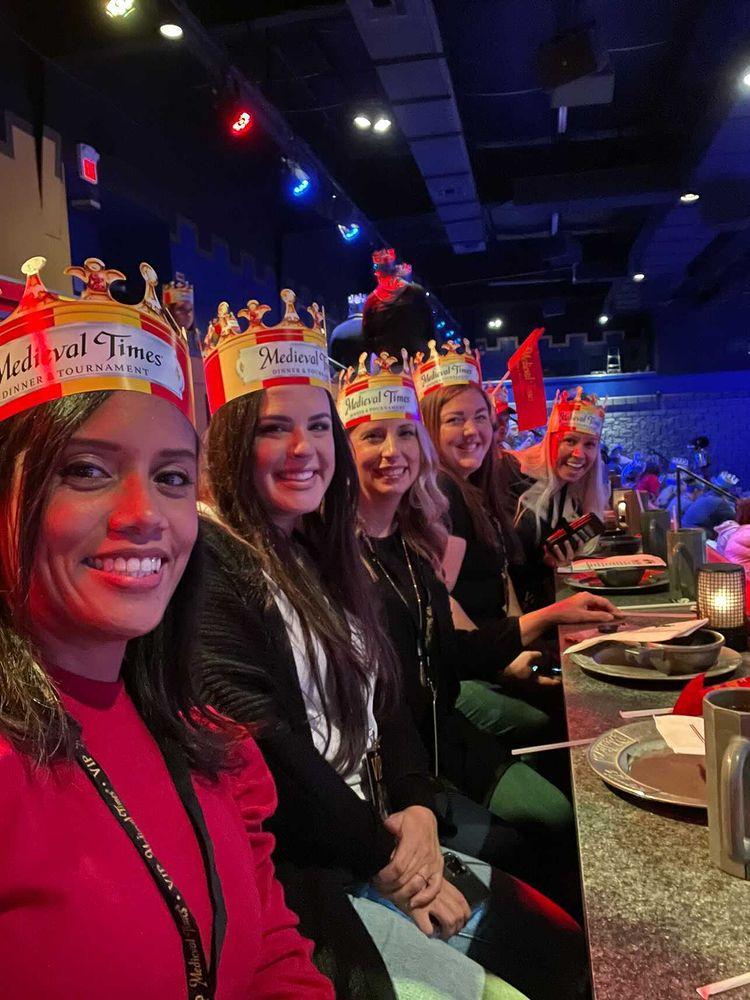 THE ACTION
Okay, so hold on to your crowns…or helmets, whichever you have decided to don on this very evening – because things are about to get wild!
Not gonna lie, I would have totally lost my mind had "We Will Rock You" by Queen started playing, but like, I know this isn't A Knight's Tale…although, it would have been awesome…
The start of the show begins in the dark. A mysterious figure emerges and makes his way to the middle of the arena, the lights come on with the crack of a whip, and he makes his way back…never saying a word.
You are then greeted with the Lord Marshal, one of the most entertaining folks I have seen in a long time. He's really into what he does and does it with a passion above all else.
He will also introduce you to Queen Isabella and Cedric – who has quite the love of oranges – and you will also meet your Knights for the evening.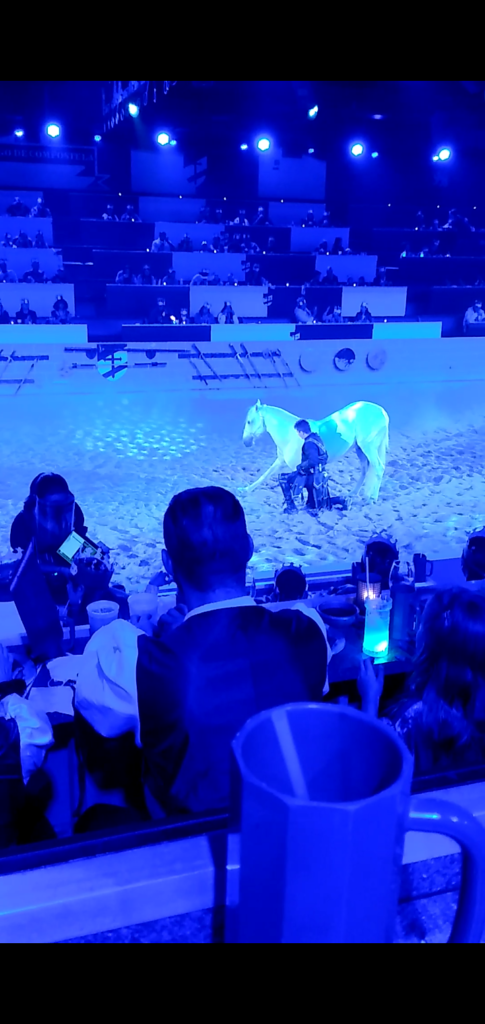 Before we get to the tournament, let's talk about these beautiful horses and all that they do. Majestic creatures that show off their beauty and grace with jumps, kneels, dancing, and of course, lightning speed!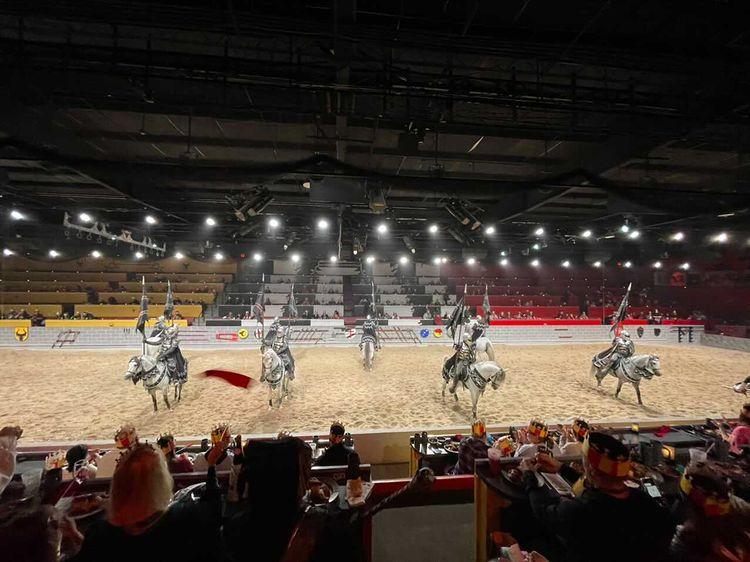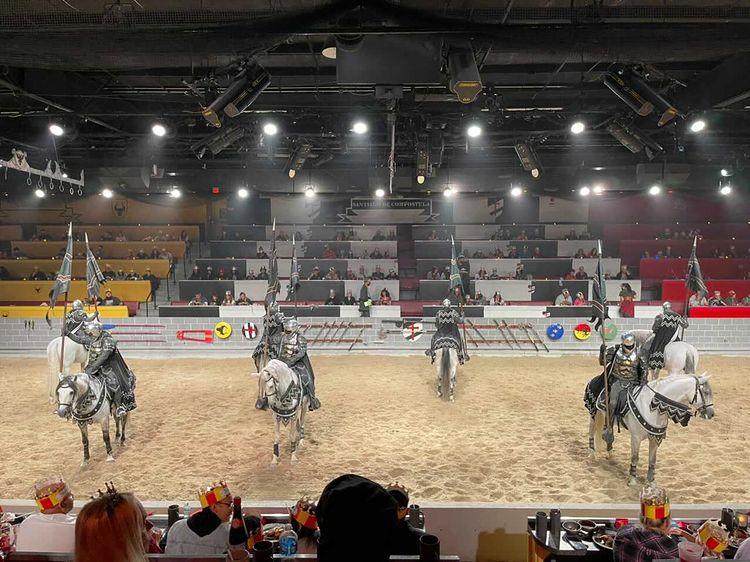 After quite a wonderful show of horsemanship, they bring out the Royal Falconer – one who must embody Patience, Trust, Caution, and a love and understanding for nature – as they work up close and personal with the fierce falcon. Now, I'm not going to lie, I got a little teary eyed when this beautiful creature took flight…and while I tried to get photos, there was just no capturing it with the speed it was moving.
The Tournament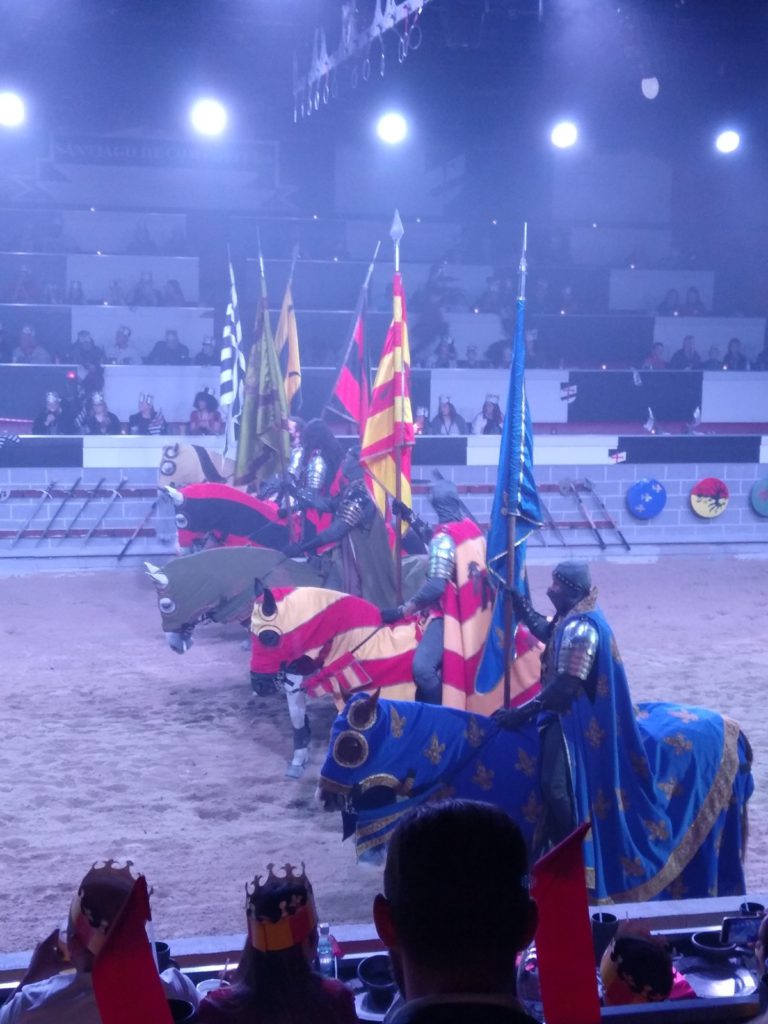 We've now come to the exciting beginning of the tournament. Here, six knights are lined up and ready to compete in multiple challenges such as jousting, flag grabbing, spear throwing, grabbing the flag while on horseback, grabbing rings while on horseback – all for the ultimate prize.
Side Note: I'm sure there are way more intelligent names for the challenges, but I wanted to also give the idea of what the challenges are.
They pair the knights up with a teammate and they compete against each other. The color that sits across from you is basically your arch nemesis, your mortal enemy, whatever the opposite of yin and yang are. Make sure you BOO as loudly as you can when it's their turn.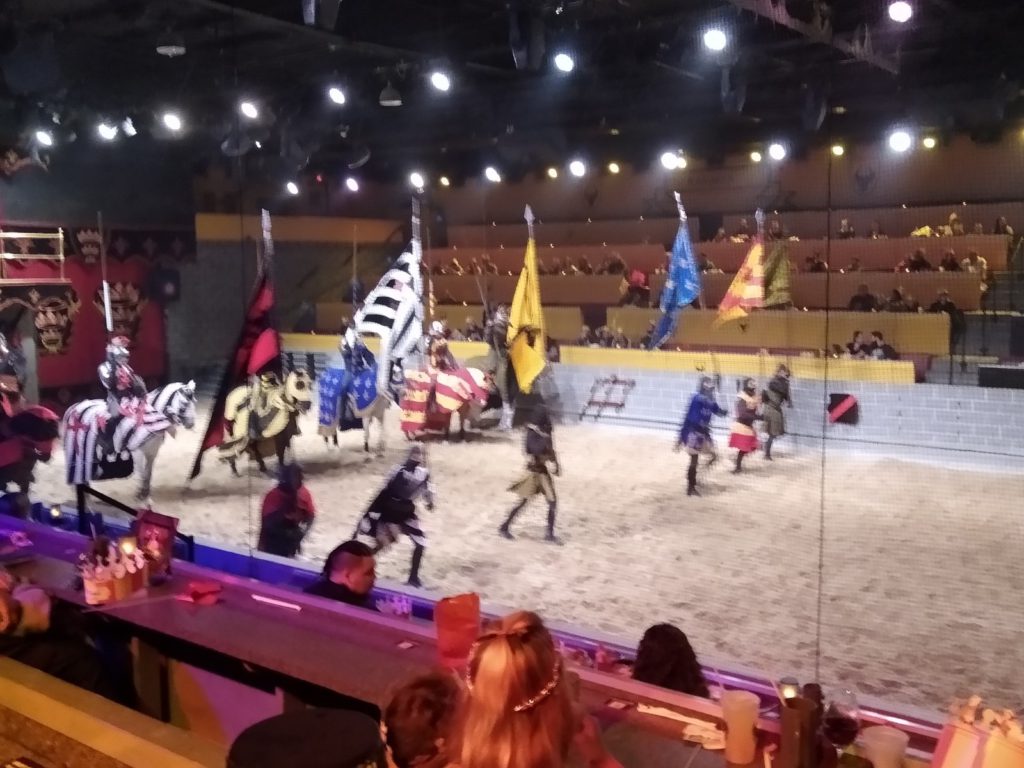 You can also cheer the Knights to your left and right, because they are your allies, but anyone across the field…BOO them like your life depends on it. Remember, it's all fun and games, so be respectful…but for real, boo the heck out of them. Haha I swear, I'm not actually that competitive, I just love having a great time with all aspects, especially at shows like this where you can just let loose!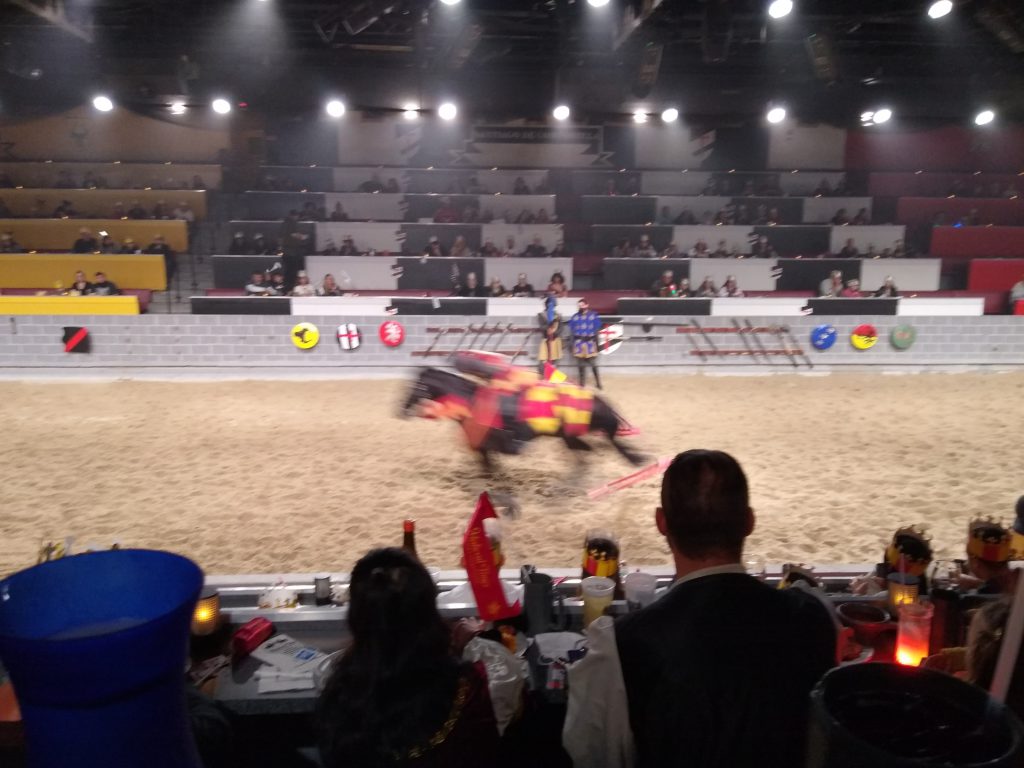 I was a little distracted by my food during the explanation of this game, but what I gathered was each knight gets a good speed with their horse, and has to grab the flag out of a wooden holder on the ground. I can't imagine that being an easy task…especially because those horses REALLY go! Mixed with the movement and trying to hold yourself on the horse while focusing on grabbing the flag and keeping a hold of it to score the point, I can't even imagine the skill it takes to do so!
Not pictured: The Ring Games- The Knights must catch rings upon their lance while riding horseback. They have this set up as two different ways: in one there is a row of rings where they get a certain one for themselves while the other is a tiny ring set up on a wooden beam where they go one at a time to get the ring.
Target Spearing: They (once again)are go full speed on horseback towards a target then take a spear and try to get a bullseye. Red & Yellow had NEARLY perfect, not to brag on my Knight, but totally bragging on my Knight!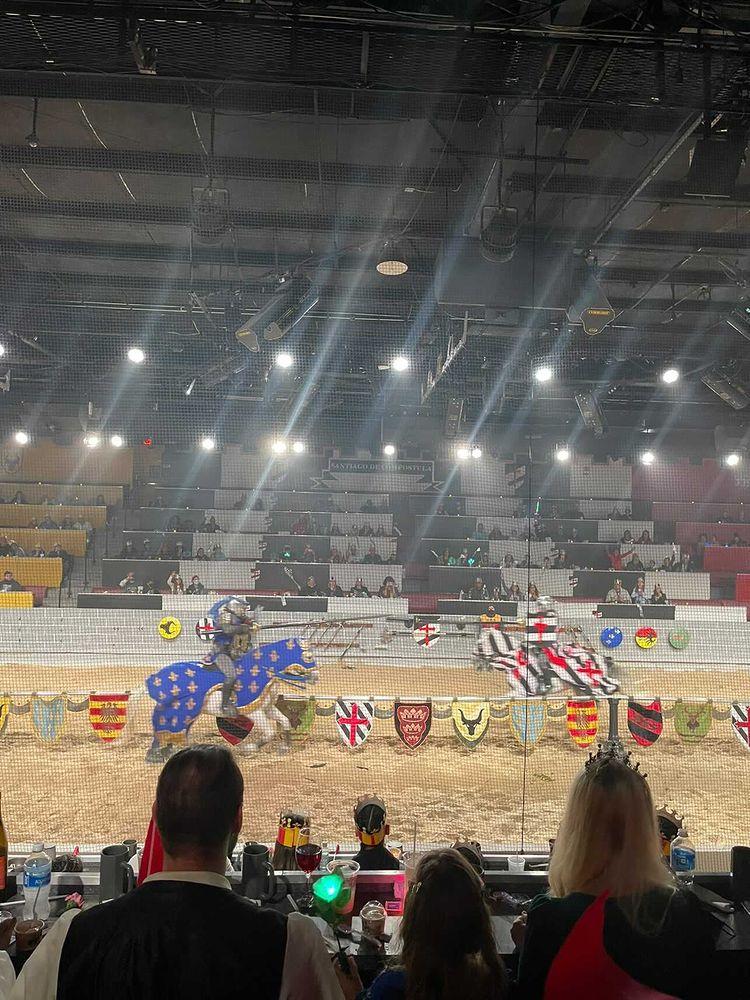 We've come to one of my favorite parts of the evening…The Joust. As stated, I feel like I definitely lived a past life in the Medieval Times. Growing up my family had our annual trip to the Renaissance Festival and I would be mesmerized by the jousting tournaments. I've always loved it, and have always been drawn to it. So, needless to say, I got pretty loud during this time.
If you're not familiar with jousting let me give you the rundown. Two knights upon horseback take their marks, one at each end of the trail, lances in hands. They charge at each other, aiming to knock the other off their horse to get points.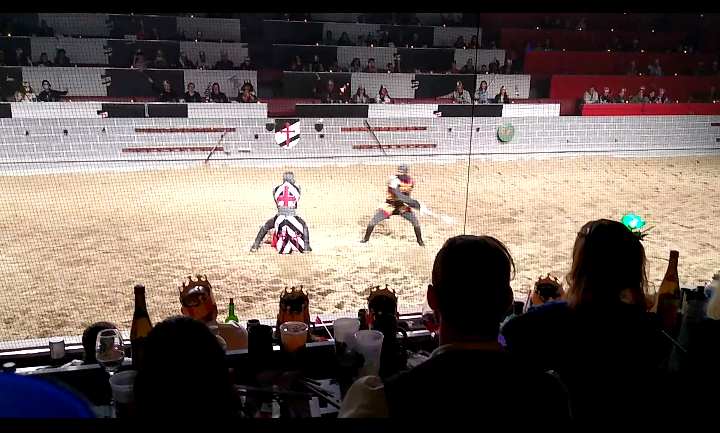 Once a knight has been dehorsed, they continue to spar on the ground with their weapons of choice. Most of the time it's swords, but they can also choose from the mace (a wooden handle with the spiked ball), the alabarda (kind of like a battle axe, but it has a pointed side on the back), and I have also seen them beat the daylights out of each other using their shields. I'm here for it.
The jousting and ground combat continues until all but two knights have been eliminated. This particular night, it came down to Red & Yellow (woohoo) and our arch nemesis Black & White. You see, the Black and White Knight was not too fond that Queen Isabella wasn't allowing them to fight to the death, because "what honor is there in that?" Then he made some comments about how women shouldn't be making decisions, and I'm sure you can see where that led…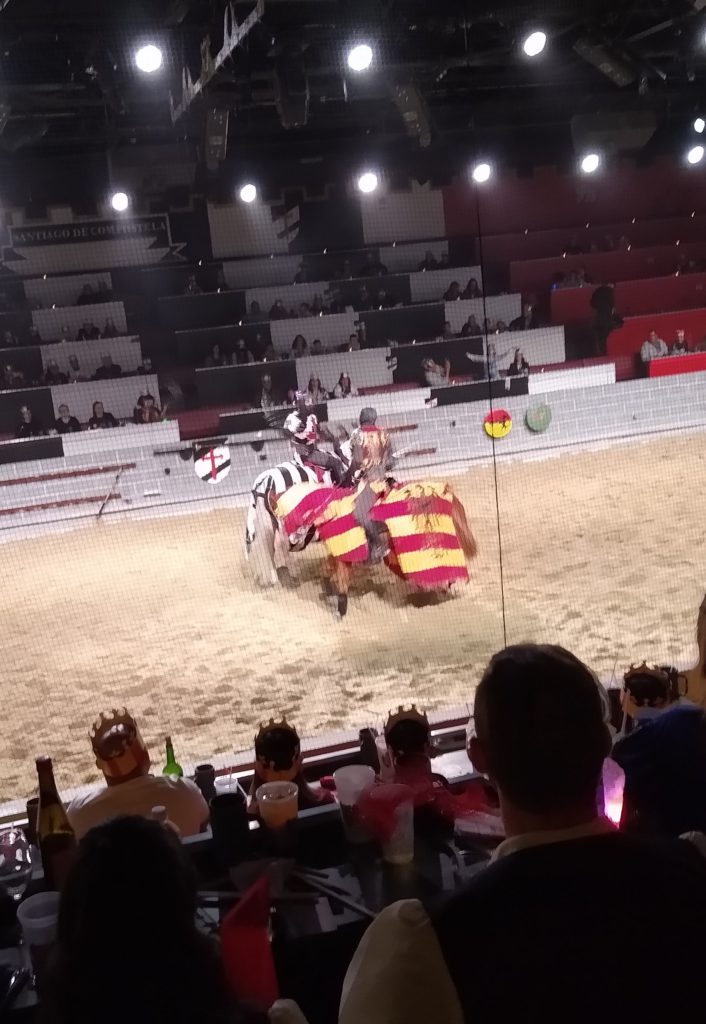 Our Knight in…kinda dull and dented armor – which I totally prefer, who wants a knight in shining armor? It means he hasn't seen a day of battle, or he spends way too much time polishing his duds and isn't going to have time for you as it is – I'm sorry, where was I?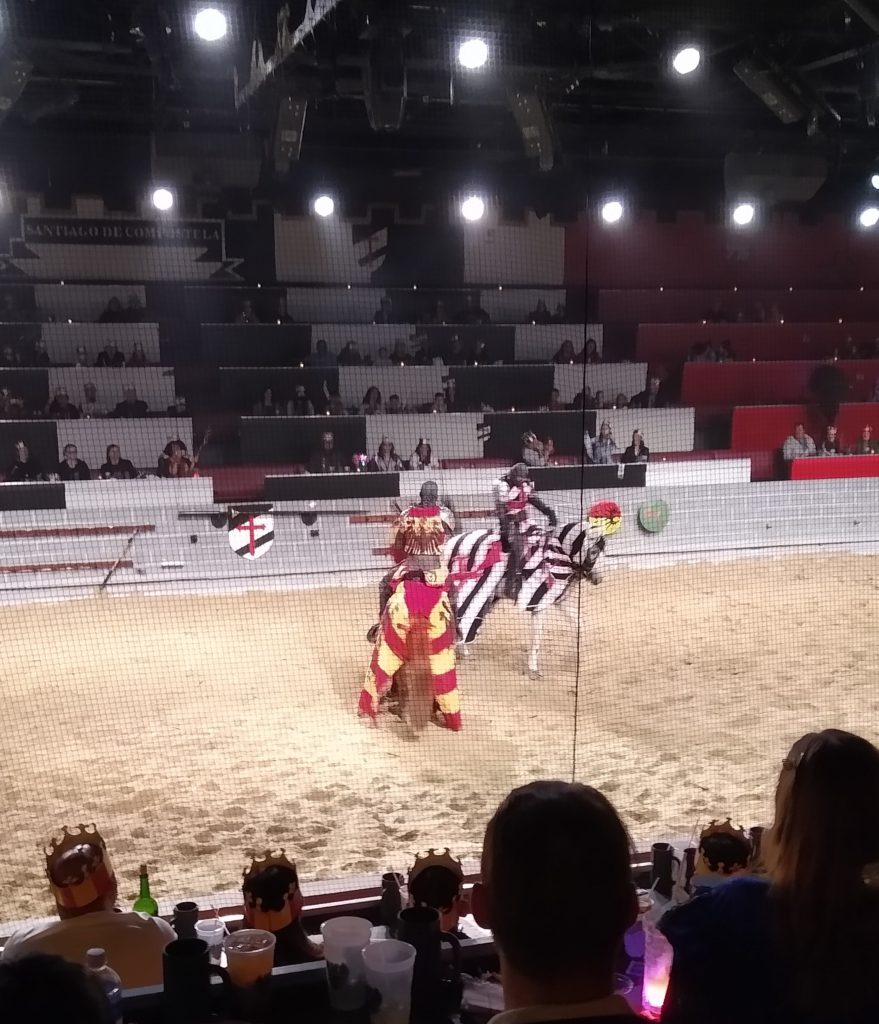 Oh yes…the Red & Yellow Knight rides again! He comes out to battle, starting out on horseback, which was a gorgeous dance in itself.
But then…the Black & White Knight is knocked off of his horse and the final combat on the ground is upon us.
Remarkable it is…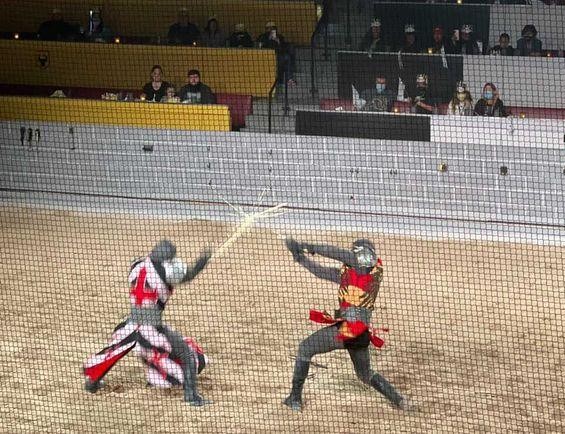 Mind-blowing to see the amazing swordsmanship, the way the sparks fly from the blades hitting so hard, how they can keep a grip…as someone who has actually taken a couple of sword fighting classes, totally not to this extent, but I know it's not the easiest to hold on as you're clinking and clanking with another strong entity.
But finally –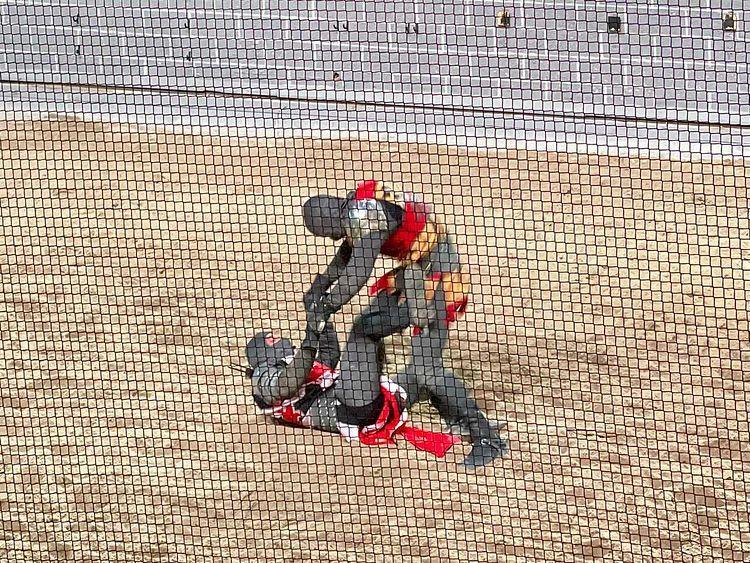 The final blow from the Red & Yellow Knight takes the Black & White Knight down, and he is defeated!! The crowd goes absolutely WILD…screams, cheers, HUZZAHS! Everyone jumps out of their seats in celebration of our guy's win!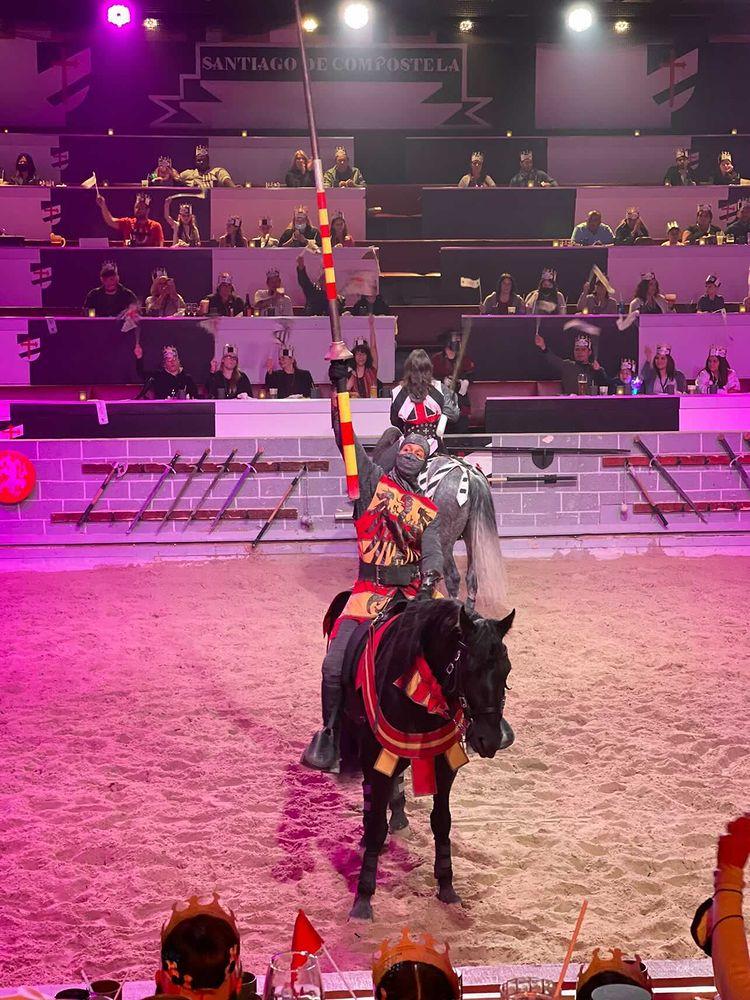 He takes his victory lap and is congratulated by Queen Isabella. Then he makes his way over to the stands to crown a lucky young lady as Queen of his Realm. Super cute, super fun! I love it!
THE FOOD
My favorite thing about the Dinner Tournament is the fact that there is never a dull moment, there is always something going on.
From the horses to the falcon to the lively conversation, to the jousts and games, and just…everything, there is always something to hold your attention.
But, what would the DINNER tournament be without the dinner?
Now, I will admit, I was so entranced with the show and with the lighting at certain points, that I wasn't able to get many food shots. However, here are a few to give you an idea of what you'll be enjoying for the evening.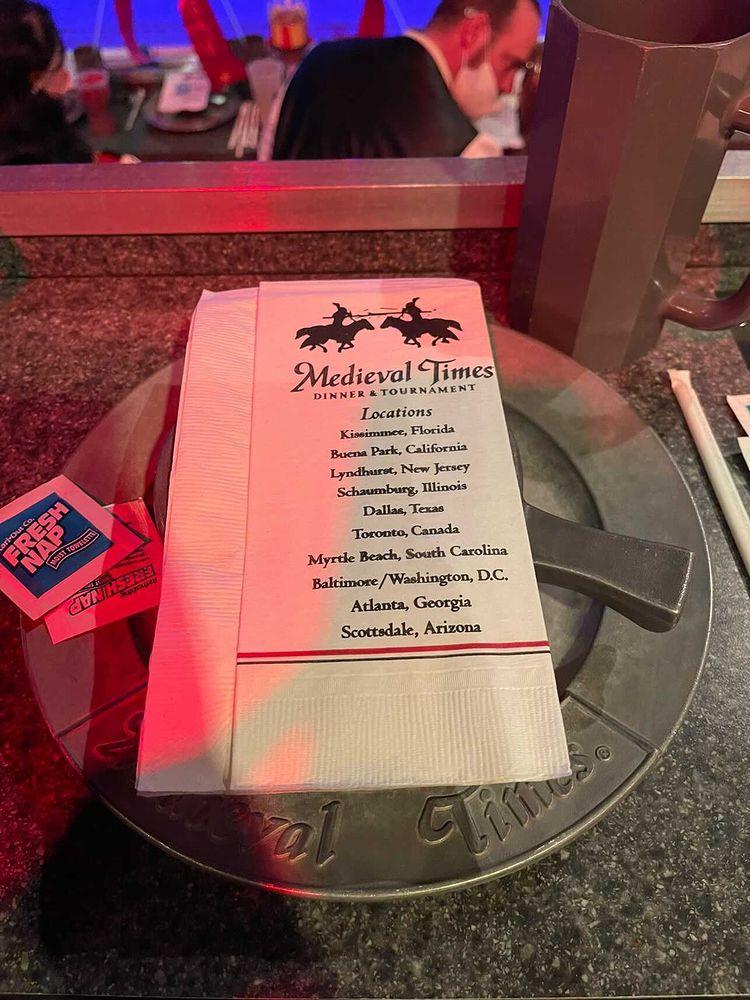 Medieval Times has a total of ten Castles. Nine are located throughout the United States and one is in Toronto, Canada. You can find all of those locations listed on your napkin, which is pretty cool. I kind of want to start a bucket list and visit all ten, to see how they differ.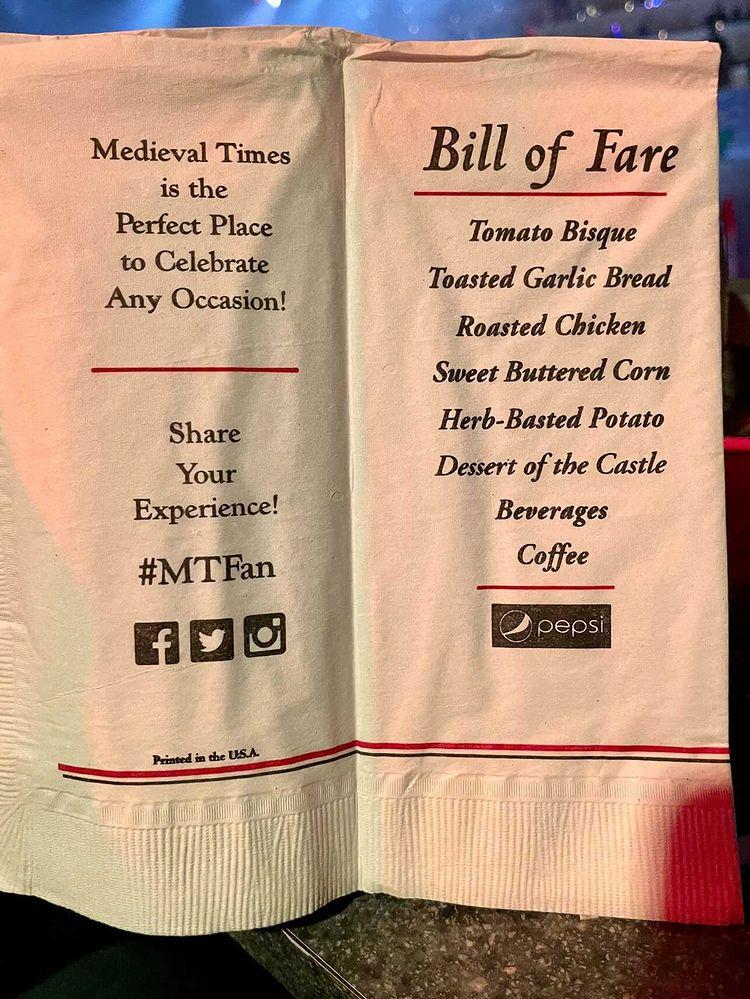 Inside your napkin, your menu for the evening is actually listed as well –
You start off with a bowl of Dragon's Blood. Don't worry, it's just tomato bisque and no dragons were actually harmed in the making. It also comes with a slice of garlic bread, which I may have to say was the best garlic bread I have had.
Followed by some roasted chicken, perfectly moist, perfectly seasoned, and gigantic. The sides included buttered Corn on the Cob and an Herb Basted Potato, also delicious.
Dessert of the Castle this evening consisted of vanilla ice cream with caramel sauce.
If you happen to have a vegetarian in the party, the Royal Chef has got you covered as well. Vegetarian options are available, consisting of Hummus, pita bread, celery and carrot sticks, three bean stew with fire roasted tomato & brown rice – which sounds amazing. I'm almost kind of sad I didn't know about this prior. I'm not vegetarian, but I would have loved to have tried this!
Fresh fruit or Italian Ice for dessert.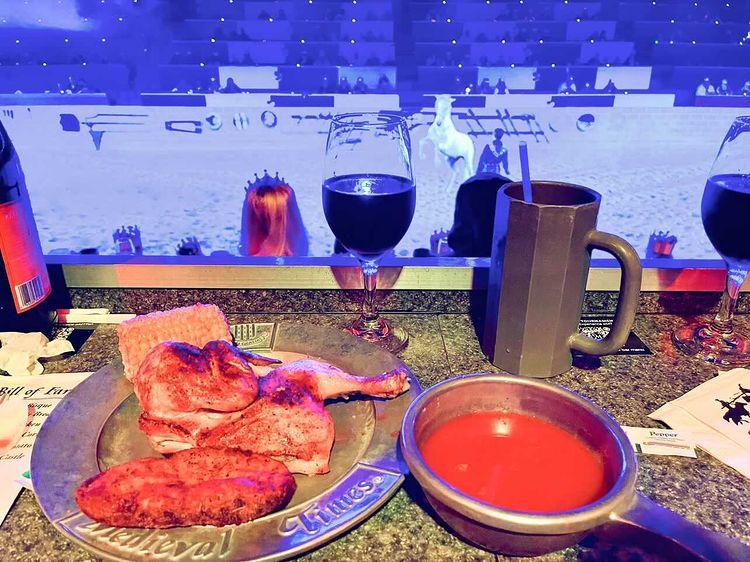 As you can see, it's quite the full dinner plate, so make sure to bring your appetite, especially as it's an absolutely amazing meal. Kudos to the chefs on a five-star dinner.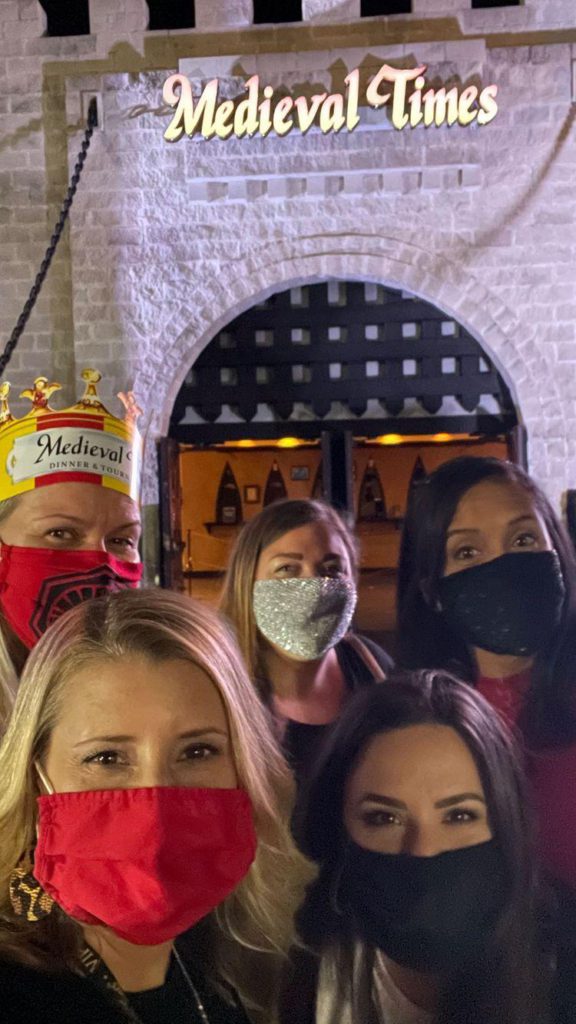 So, I'm sure you can see, the Winter Garden Moms had a blast storming the castle.
A huge thank you to Medieval Times for having and hosting us. It was a "knight" we'll remember and talk about for quite a while.
Also, a thank you to our server, Albert for the awesome service, the Knights, the Queen, Cedric, and everyone for the amazing show and entertainment. We couldn't have asked for a better night out! It was superb, and we can't wait to visit again!
Medieval Times is located at 4510 W. Vine Street in Kissimmee, Florida. For more information or to purchase tickets, please visit www.medievaltimes.com.