Nestled along the banks of Lake Osceola adjacent to downtown Winter Park, you'll find the world famous Winter Park Boat Tour! This one-hour tour of the Winter Park chain of lakes has been operating since 1938, and is a short drive from major attractions in Orlando. My family and I have been twice – once with our kids, and once with grandparents in their 80s, and both the young and young at heart enjoyed the tour!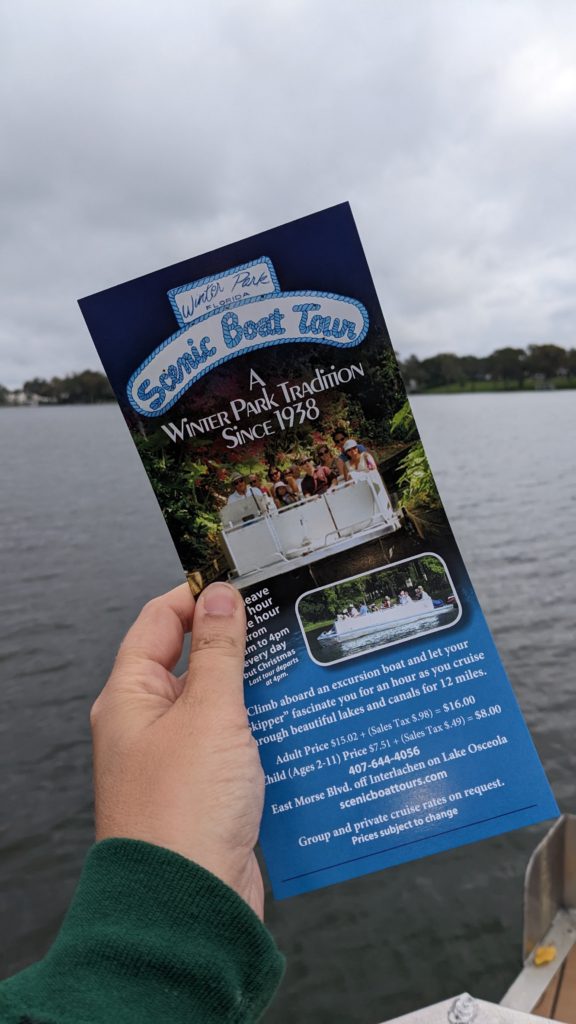 What to Expect
You'll board an 18-person boat, guided by a captain narrating your journey. You'll travel across three different lakes, connected by Venetian-style canals. Along the way, you'll get a guided tour of some local history as well as a glimpse of gorgeous mansions and Rollins College. While traveling through the canals, you'll be surrounded by gorgeous greenery and maybe get to wave hello to the local residents. Keep your eyes peeled for wildlife!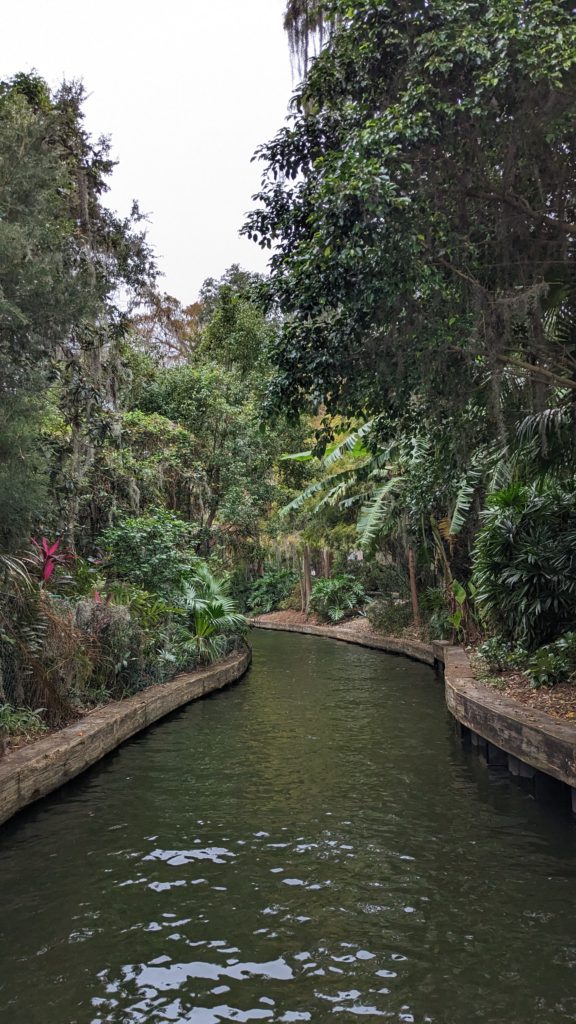 I don't want to spoil it for you – but you'll definitely want to listen for the fun facts your captain shares. We learned a lot of local history. In fact, the second time we went, we had a different captain, who shared different stories from our first captain!
Upon the conclusion of the tour, you'll disembark right where you started.
Preparing For Your Boat Tour
First, check the weather! While the tour is open every day of the year except Christmas, if there is bad weather, like a tropical storm or hurricane conditions, they will be closed. You can double check their website at https://www.scenicboattours.com/ to see if they are open!
You'll want to dress in layers. The first tour we took, it was bright and sunny with no clouds in the sky. The second tour, it was gloomy and overcast with a crisp chill in the air. The boat also speeds up while traveling across the lakes and it can get quite chilly when you're moving fast! The boats do not have any sort of shade, so I would definitely recommend sunglasses, sunscreen, and a hat – make sure to hang on to your loose items when the boat starts moving across the lakes.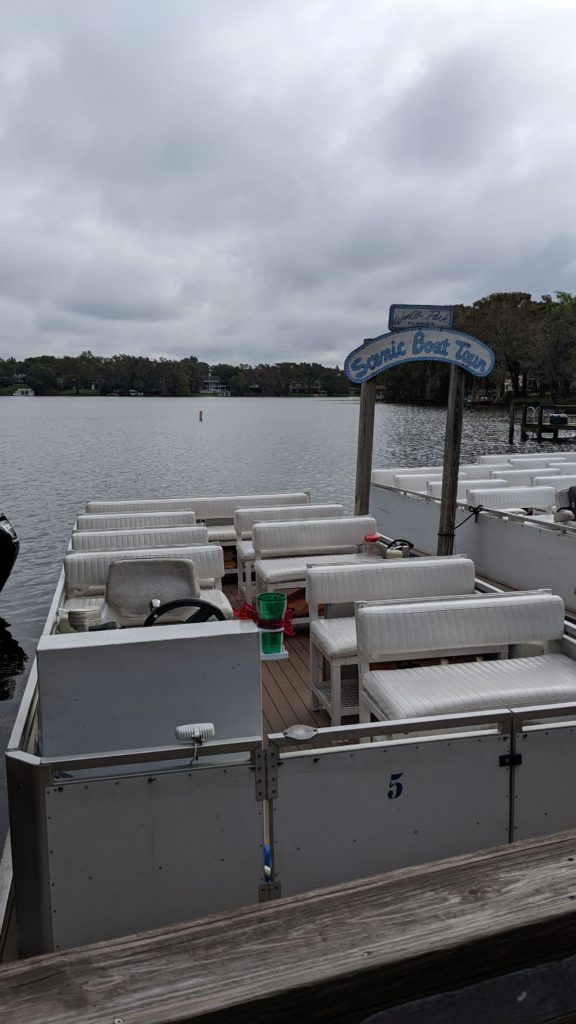 Finally, Winter Park Boat Tour is first come first serve and does not take reservations, so you'll want to get there in advance of your tour to secure your ticket. If you are coming in on a Saturday, you'll want to give yourself a bit of extra time, as Winter Park has its Farmers' Market on Saturdays. We have done the tour on both a Saturday and a Sunday. We left our home in Winter Garden around 9am to make it for the first tour of the day – 10am – and that was perfect timing, as we arrived at the dock around 9:40am to purchase our tickets. While the Winter Park Boat Tour does not take reservations, they do have private tours available. Visit their website for more details!
Kids On The Winter Park Boat Tour
There are a couple things you need to know about kids on the Winter Park Boat Tour. First, any child under the age of 6 must wear a life jacket. This is heavily enforced by the staff as it is required by the state of Florida, and life jackets are provided free of charge!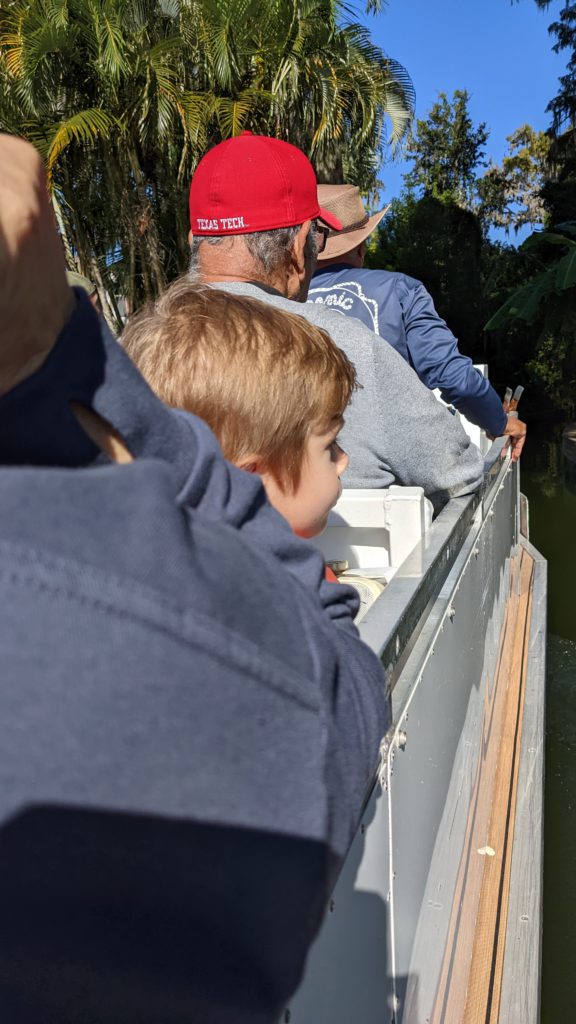 Next, if you're worried whether or not your kids will be bored on the tour, rest assured there is plenty to see and it's a fun ride! My daughter was just under 18 months and my son was just over 4 years old when we went together. A little over halfway through they were getting a little antsy, so we brought out their favorite snacks (Goldfish crackers and apple slices) and they were totally fine for the remainder of the journey!
Extending Your Visit In Winter Park
Winter Park is a cute town with a lot of unique restaurants and shops, as well as a robust Farmers' Market most Saturdays out of the year. The Farmers' Market operates from 8am-1pm, on the corner of New York Ave & Morse Blvd, and is a great way to extend your visit after the boat tour.
Shopping and dining is plentiful in downtown Winter Park, and the downtown area is pretty walkable, so park your car and go exploring! Dining options range from upscale to casual, so you'll find a brunch or lunch spot to please everyone's tastes.
If you're into art, consider visiting the Morse Museum, which hosts the world's largest collection of Tiffany glass. Rollins College also has an art museum open to the public. There's also some gorgeous public parks including Kraft Azalea Garden and Mead Botanical Garden.
Both times we've taken the Winter Park Boat Tour, we've had a great experience and our captains were so knowledgeable! It has become a "must-do" for family who visits from out of town, and we can't wait to go back.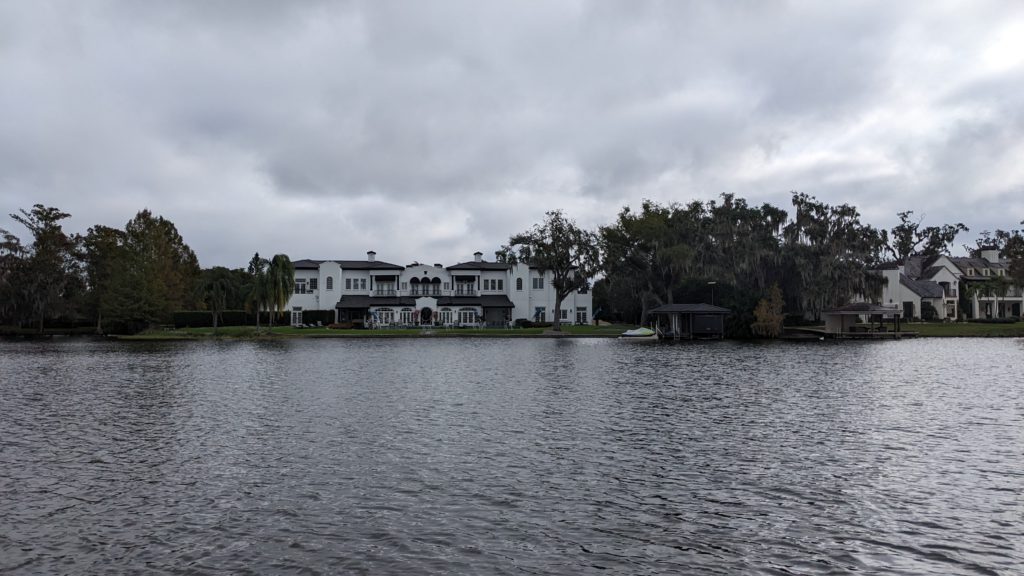 Tours leave every hour from 10am-4pm, with the last tour departing at 4pm. Adults are $16 and children ages 2-11 are $8.