If you're looking for a barbecue restaurant to take your family this Valentine's season, check out 4 Rivers Smokehouse! I recently dined at their newest location in SoDo and sampled two limited-time baked potatoes, available until March 4!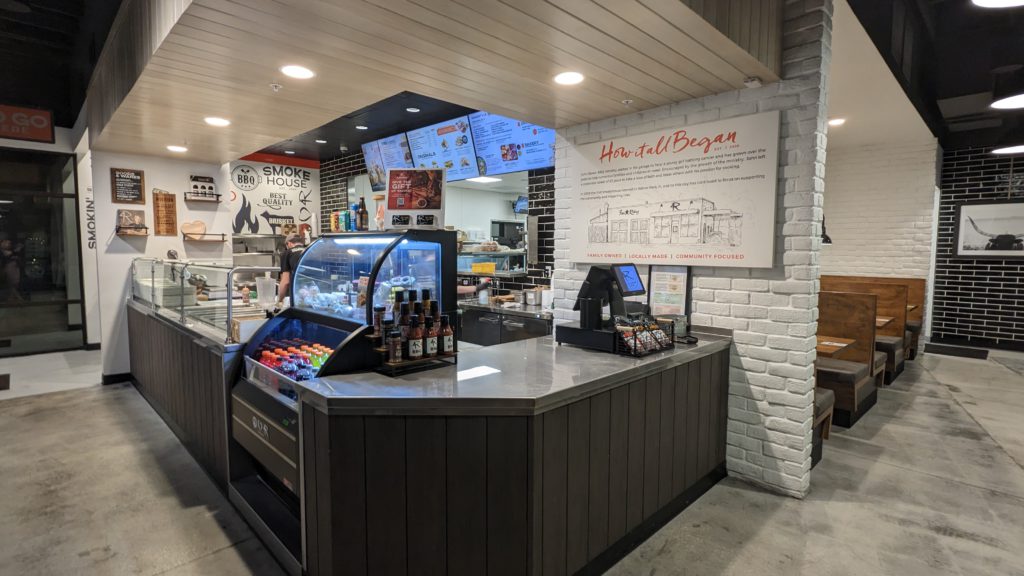 The Food
First up is Spud Love, which is topped with your choice of meat, jalapenos, cheese, scallions, sour cream, and 4R Signature Sauce. Next is Spud Crush, which is topped with brisket, cheese sauce, crispy onions, horseradish sauce, 4R Signature Sauce, queso fresco, and cilantro.
Due to an allergy, I had these without the onions & scallions, and not only did the kitchen handle the allergy just fine, the potatoes were still very flavorful and filling! Spud Crush has a traditional barbecue flavor, while Spud Love has a bit of a kick to it with the jalapenos.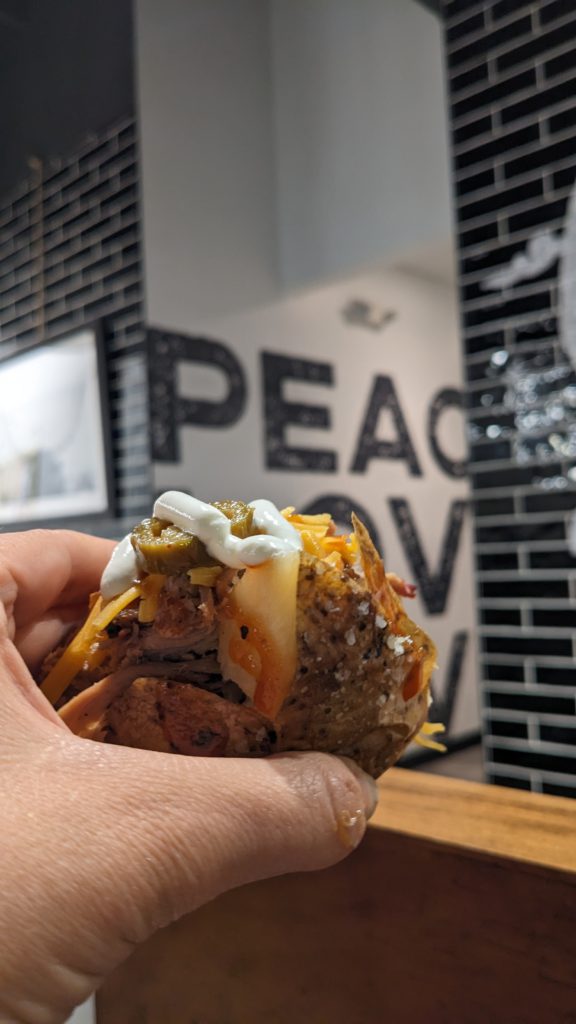 I also sampled a smoked jalapeno, slider, and mac & cheese. I'm a huge jalapeno fan, and I absolutely loved this! It's filled with cream cheese and wrapped in bacon – what more could you ask for? Delicious!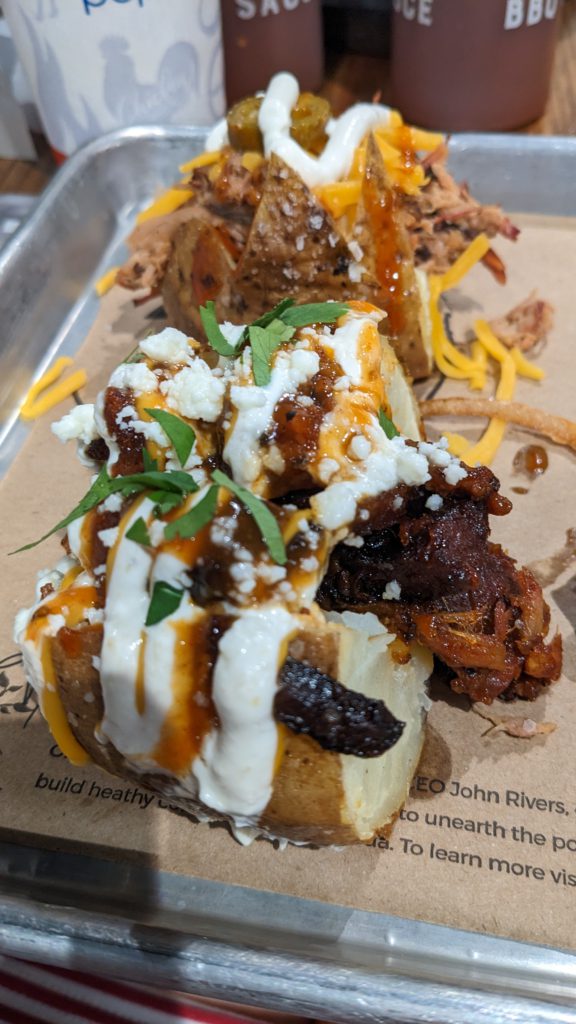 The slider and mac & cheese were fantastic as well, and perfect for picky eaters in your party. I know my kids would devour the mac & cheese!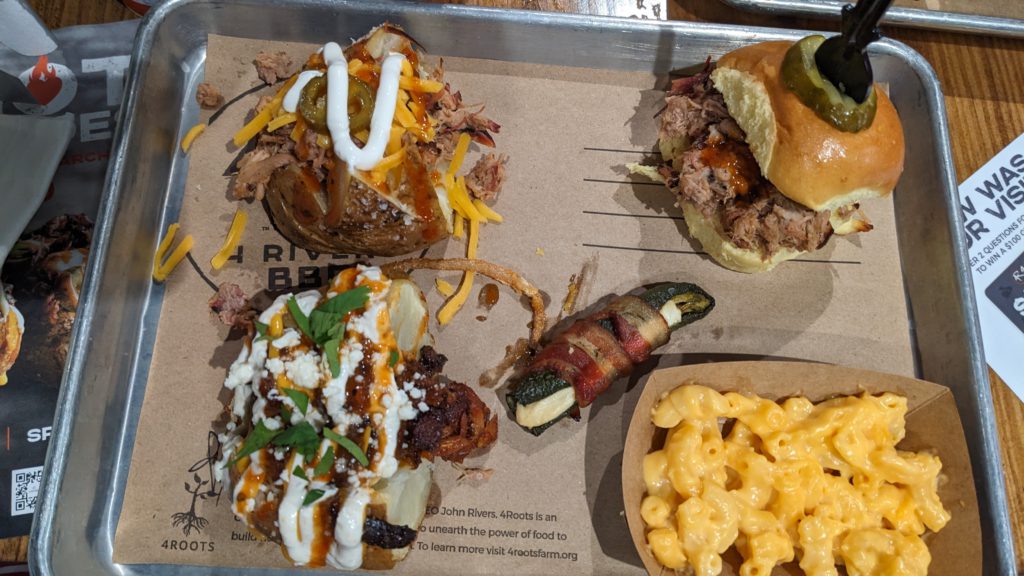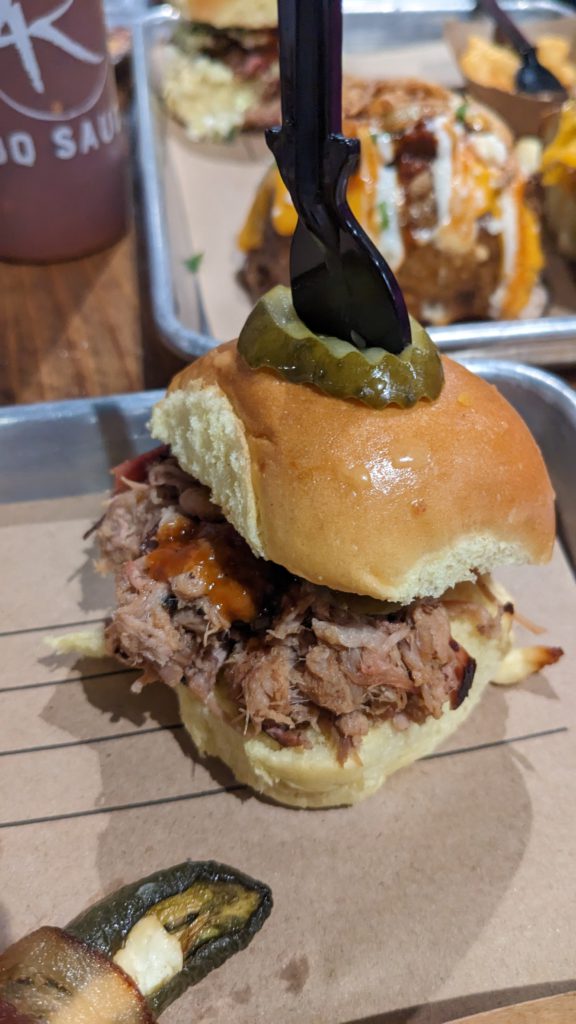 The Atmosphere
The SoDo location is the newest location for 4 Rivers Smokehouse, and features a light, fresh interior. Booth seating, table seating, and countertop-style seating is available, plus there's a patio out front! One feature about this location that is very convenient is its double drive thru, great for busy families on-the-go. I also loved the music they played while we dined – I heard everything from Backstreet Boys to Michael Jackson! It's a fun, light atmosphere with friendly service.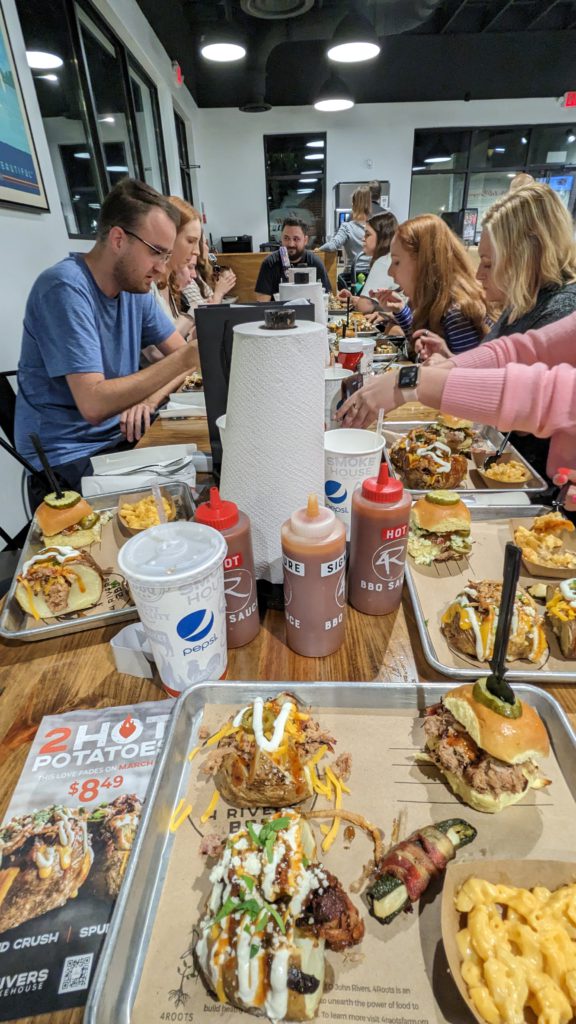 For those with noise sensitivities, I would consider sitting outside for a quieter dining experience. And just for kids, they currently have Valentine's Day activity pages, available while supplies last – so you don't have to worry about bringing things to keep the kids entertained!
In addition to the great food and service I experienced, I learned that 4 Rivers Smokehouse is involved with a new venture called 4Roots. 4Roots is an organization that looks to promote education about food and farming along with health and wellness, amongst other initiatives. The 4Roots Farm Campus broke ground in Fall 2021, with plans for an education center, community green, greenhouse, gardens, and more. It looks to be a fantastic resource for the community and local students. I can't wait to see how 4Roots impacts the greater Orlando area, and I'm excited for the hands-on educational opportunities for my kids. Check out 4rootsfarm.org for more details on this exciting project!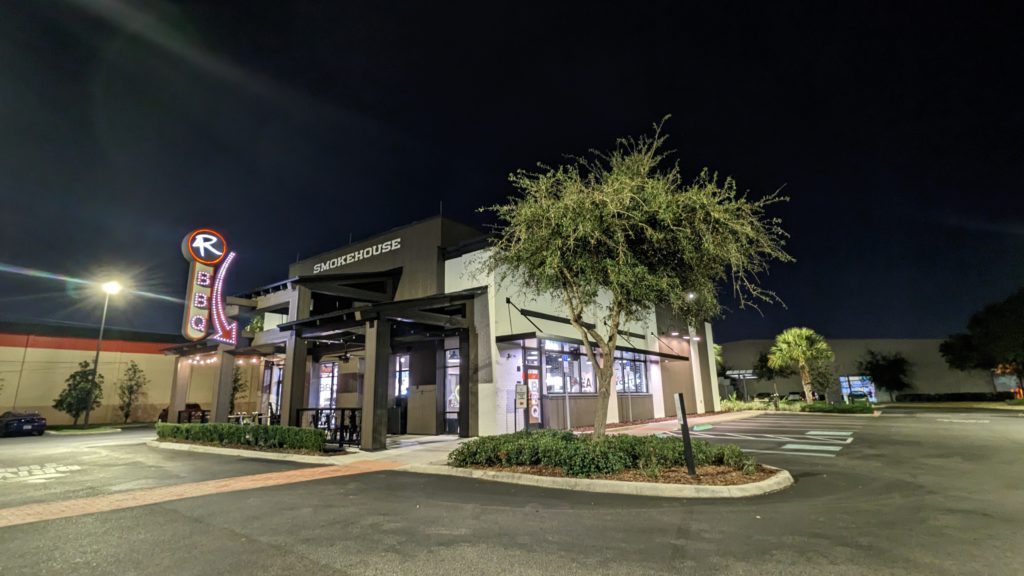 4 Rivers Smokehouse SoDo is located at 3200 S Orange Ave, Orlando FL. They are open Monday-Saturday 11am-8pm and closed on Sundays. There are over a dozen locations throughout Florida with more to come! Visit 4 Rivers Smokehouse for a full list of locations. A big thank you to them for hosting Winter Garden Moms!