Have you heard? Flamingo Crossings is getting a new restaurant! Award-winning Hash House A Go Go will be opening at the end of May, and I cannot wait to dine with my family and friends at their second Florida location! Known for its twisted farm food, unique drinks, and generous portion sizes, you'll find something for everyone at Hash House A Go Go.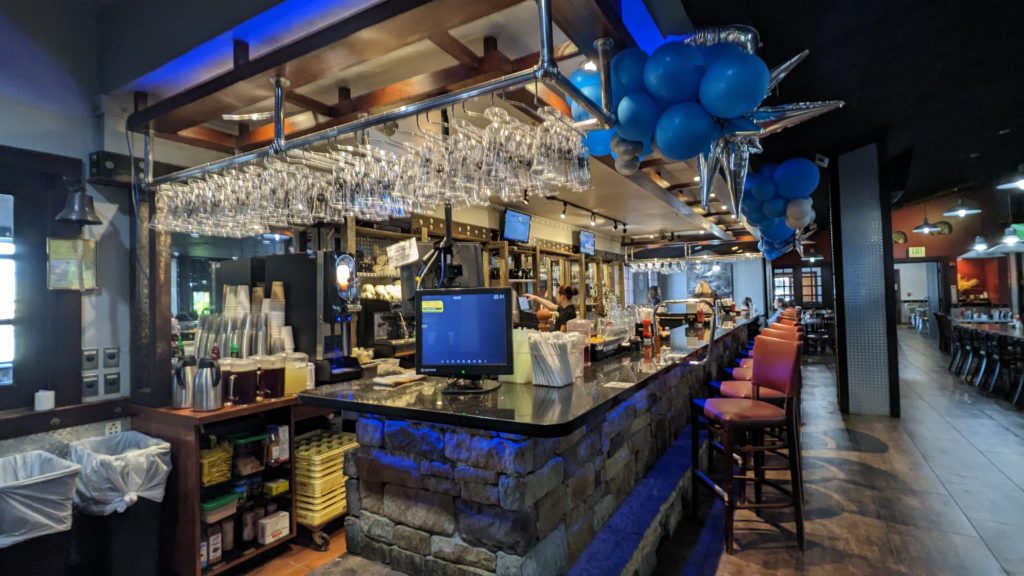 On my recent visit to the Hash House A Go Go location on 5350 International Drive, I tried the Tractor Driver Combo, Bacon Bacon Bacon, Churro Waffle, and Hot Chocolate. For the Tractor Driver Combo, I chose one of the Twisted Flapjacks – blueberry – and paired it with scrambled eggs and sausage. The blueberry flapjack was massive, and the blueberries were plump and juicy, but it wasn't a dense, heavy pancake. The other Twisted Flapjacks you can get include chocolate chip, Snickers, and brown sugar banana! Or you can stick with a classic buttermilk flapjack if you don't want to be on sugar overload.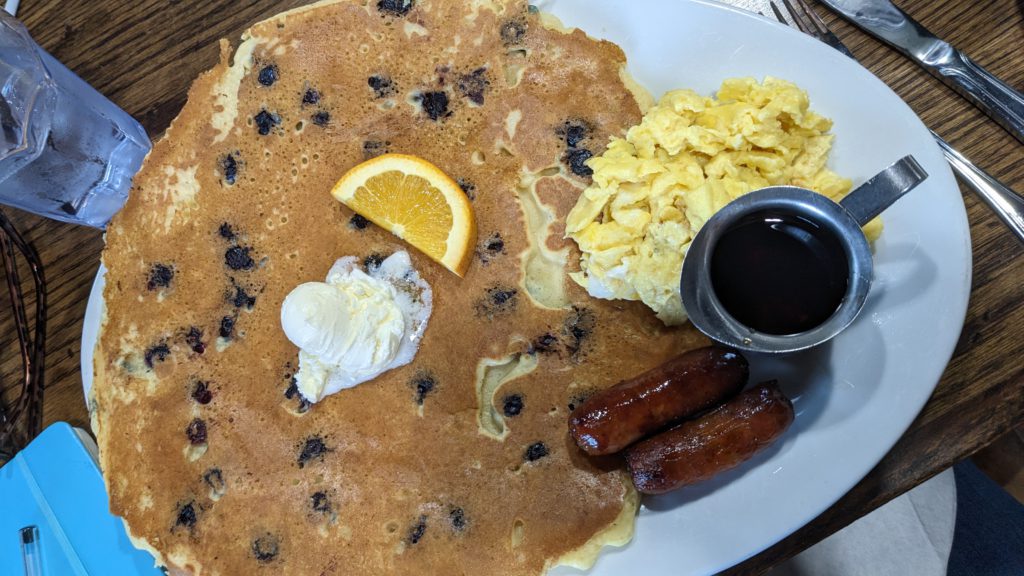 Bacon Bacon Bacon is one of just a few appetizers on the menu, and it did not disappoint. It came with 4 strips of bacon seasoned with brown sugar, black pepper, and their special house seasoning. It was a surprisingly delicious blend of sweet and savory. I really enjoyed it, and it's something I'm definitely going to order for my husband when he joins me on our next visit!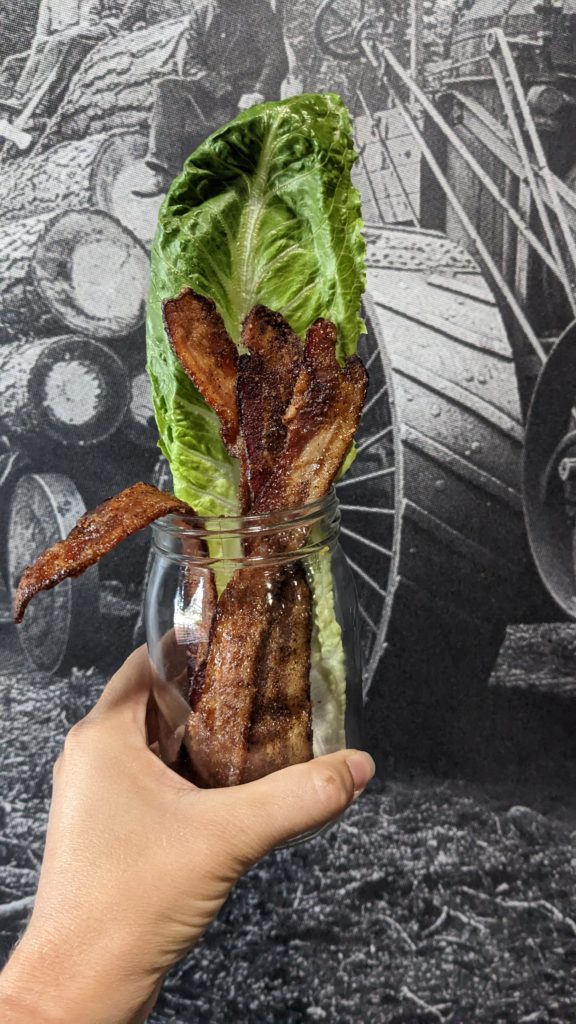 The Churro Waffle is on the menu as a dessert, but when waffles are involved, you could order it for brunch too. It tasted just like a churro, and even had that nice sugary crunch on the outside. Like the other dishes, this was a large waffle and easily shareable.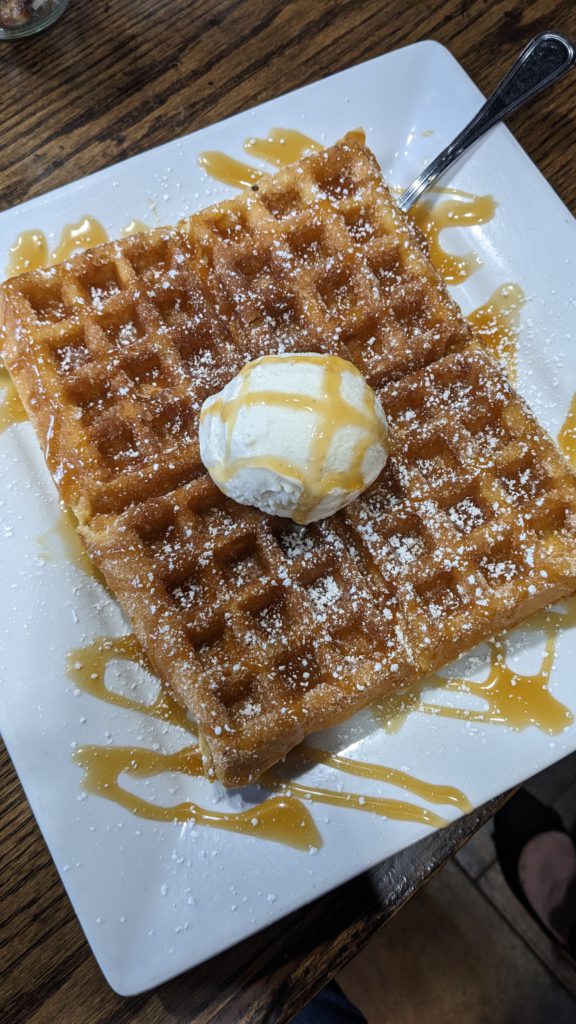 Andy's World Famous Sage Fried Chicken & Waffles and Sage Fried Chicken Benedict are also on the menu, and these popular items have been featured on the Travel Channel show Man Vs. Food! They are also very large portions, so next time I go, I will bring a buddy to share with me! If you're looking for something for dinner or more savory fare for brunch, you'll find salads, sandwiches, burgers, meat loaf, pot pie, and other classic dishes.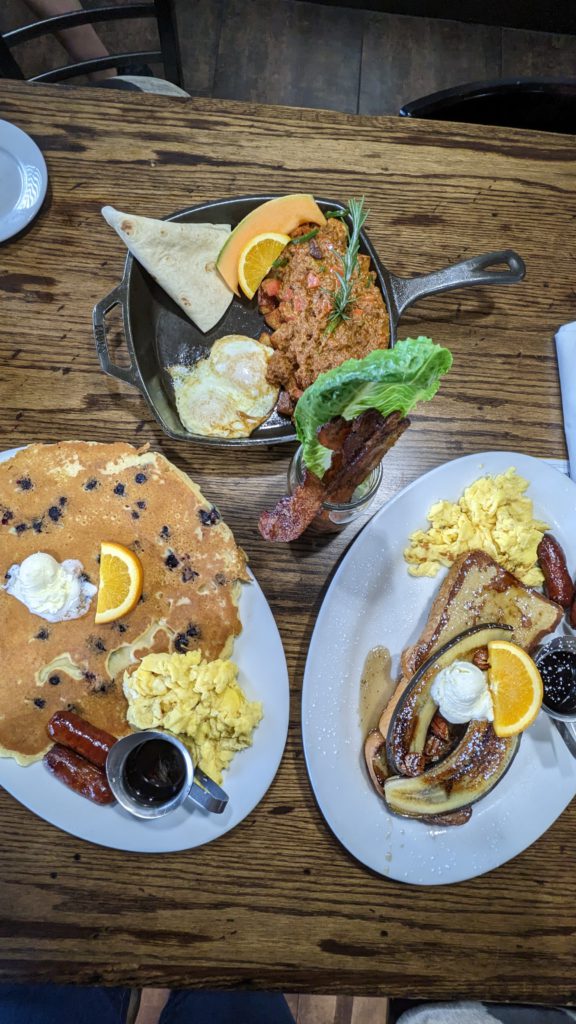 To go with your meal, Hash House A Go Go has a variety of unique drinks. I ordered the Hot Chocolate to go with my brunch, and it was chock-full of marshmallow-y goodness. They also have several over-the-top coffee drinks, Bloody Marys (made from scratch!), mimosas, and cocktails. The cocktails can be made into mocktails, so if you are dining with guests under 21, they can have a fun drink too!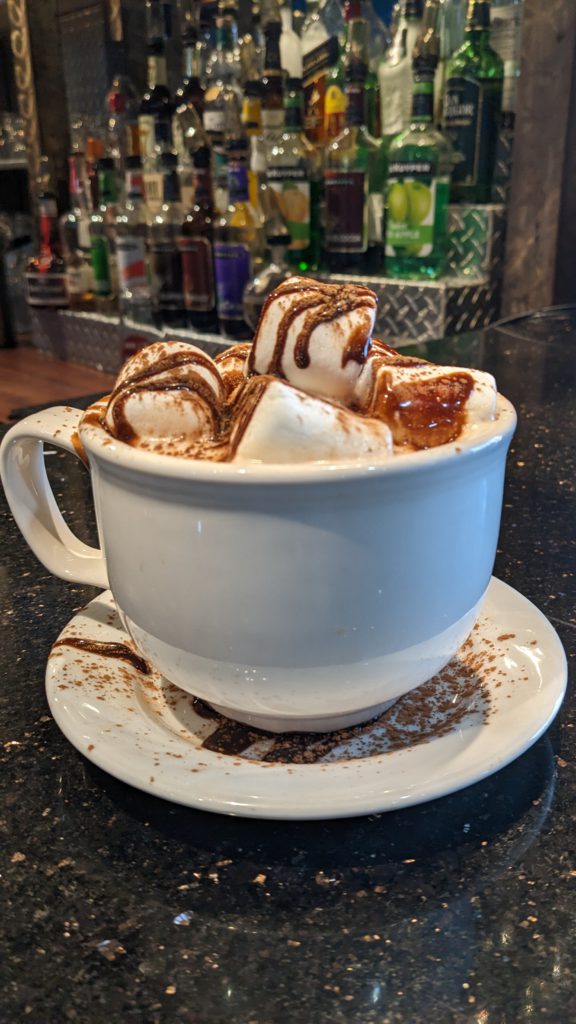 The Flamingo Crossings location is opening at the end of May, and will have a bar, online ordering, and will be open for late night dining. Sounds like a great spot to hit for late night eats on our way home from a Disney day! This is sure to be a fantastic addition to the Winter Garden/Horizon West area, and my family cannot wait to chow down on brunch once it opens.