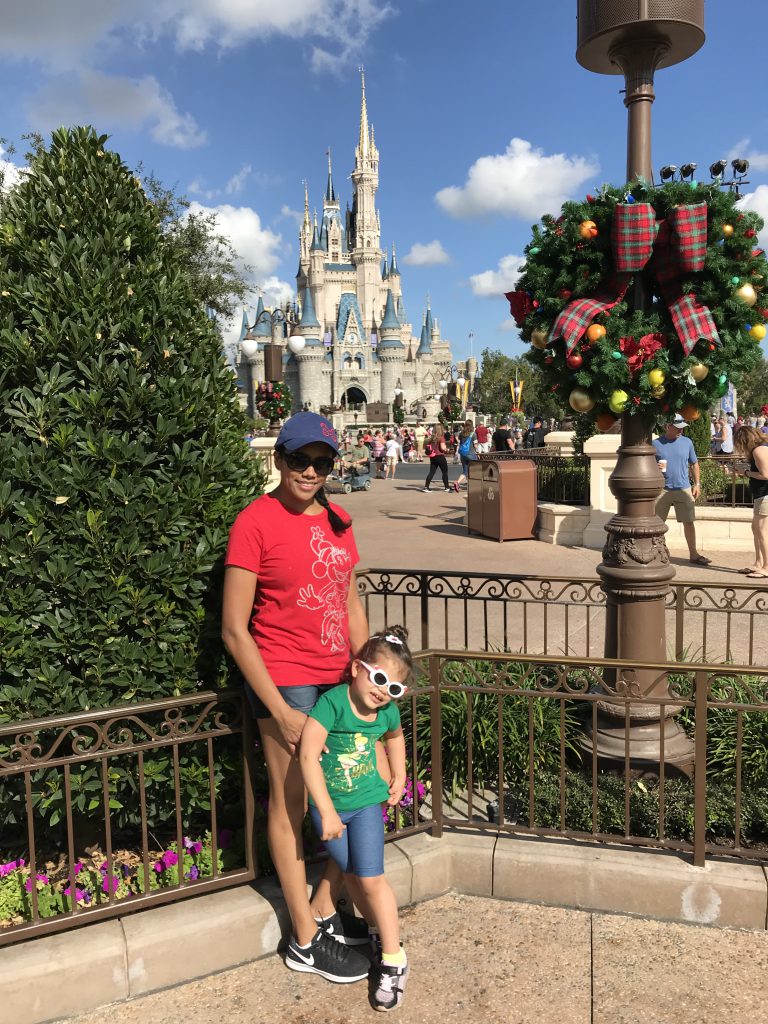 The first time I decided to venture out to Magic Kingdom with my daughter was a very special experience, mainly because it was a day just for the two of us.  Honestly, I was pretty anxious because I kept asking myself if I was being crazy, going to a place with such heavy crowds and long lines with a 3 year old. What if I forgot something she needed or she had to use the bathroom and there was a ridiculously long line? What if I couldn't find my car keys (or car) when we decided it was time to go? Nevertheless, I grabbed my daughter, stocked up our bags, and headed out the door to spend the day at The Most Magical Place on Earth.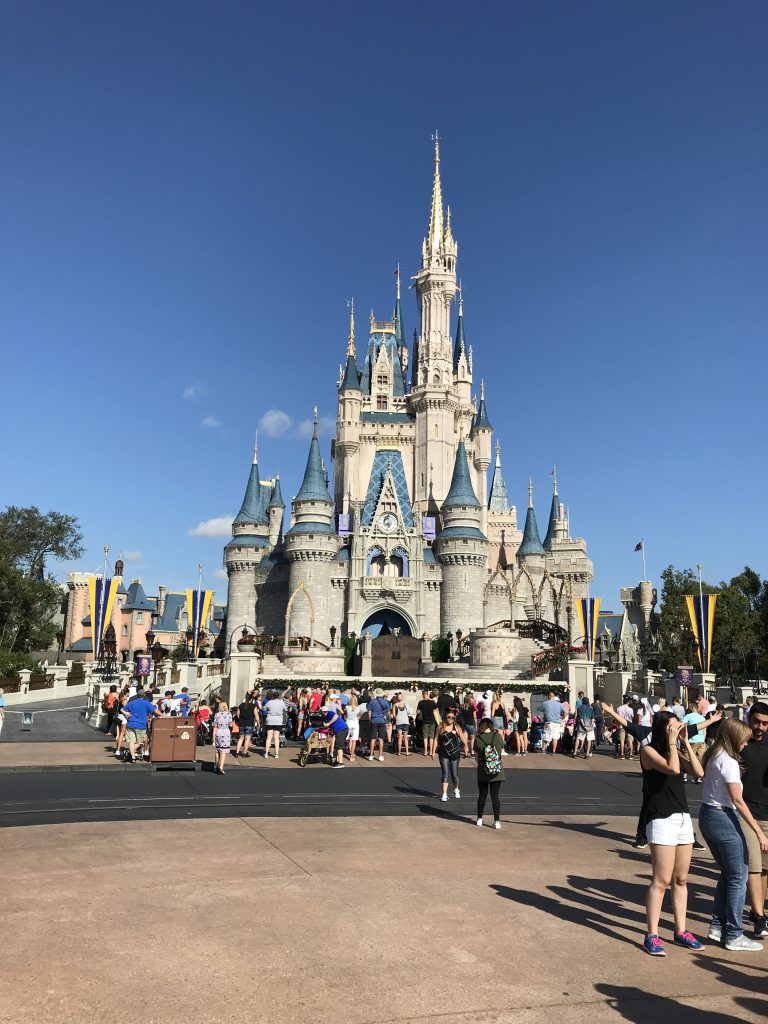 Magic Kingdom here we come!
I don't know about you but getting out the door with a 3 year old is a nightmare for me. It simply takes FOREVER. Luckily, I had planned for all this and we were out the door by 9:30am. I figured the day would be stressful enough so we aimed for a realistic time that we could head out. I managed to grab some Fastpasses for talking Mickey but again, being realistic, I scheduled it for around 11am knowing that we would have plenty of time to get there if we ran into any heavy crowds.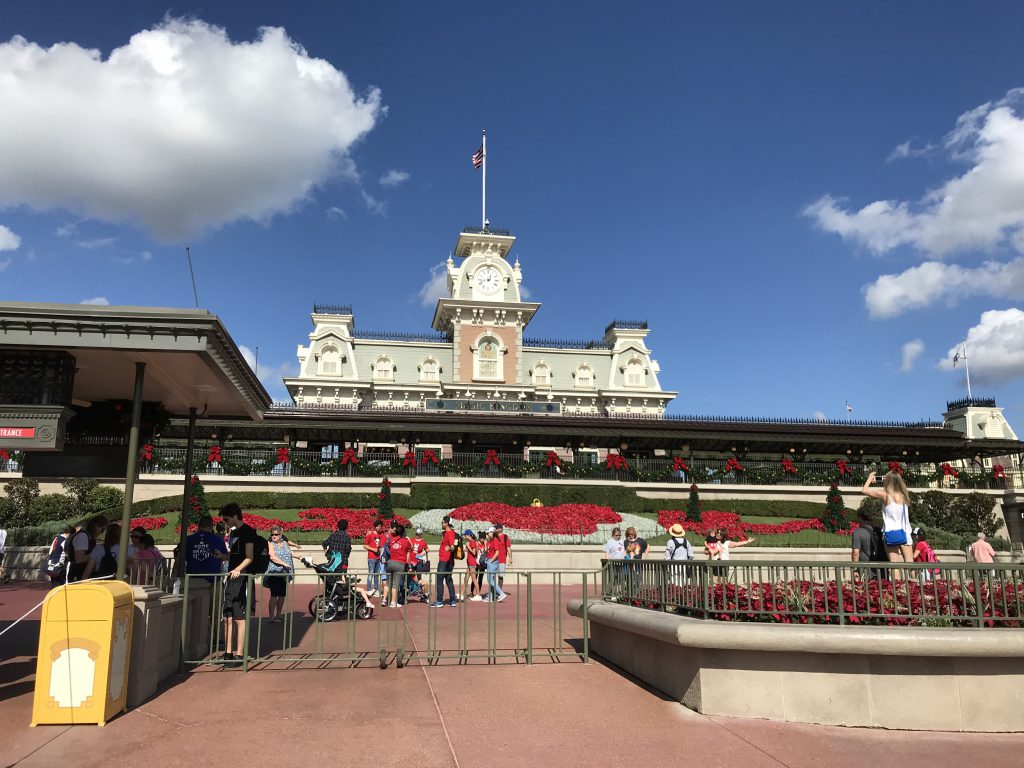 We were able to arrive at the Magic Kingdom parking lot early enough and I managed to park right next to the preferred parking. I soon realized that if you park either in Aladdin (Preferred parking) or Peter Pan (which is the next one over) you are still close enough to the Transportation Center that you are able to walk instead of taking the tram. This is ideal if you are planning on taking a stroller. It's such a struggle to fold it up, carry it on the tram (along with your little one and bags) then carry it back out and fold it open. I honestly prefer walking than having to deal with that. I could have also rented a stroller at the park but I love our stroller and really, why spend the extra money.
Main Street, U.S.A
We decided to take the Monorail and after dealing with a bit of a crowd, we finally made it to the Magic Kingdom entrance. I couldn't believe I was actually entering the park with my daughter, just the two of us. We made our way down Main Street, U.S.A, stopping at one of the shops for some Rose Gold Ears and then finally making it to the bathroom by Casey's Corner. I knew enough time had passed where my daughter might need a potty break. I try to plan for this because she NEVER tells me when she needs to go, especially when we're out and I definitely didn't want to rush around like a crazy lady looking for a bathroom at the last minute.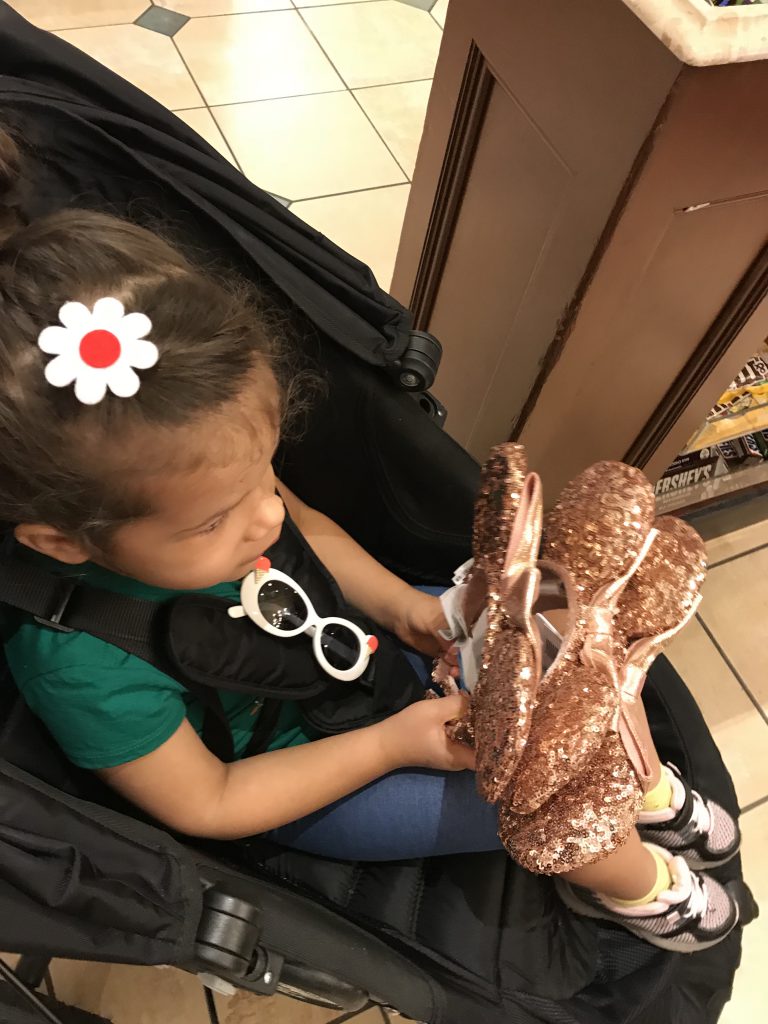 After, it was time for a snack. A show was starting at Cinderella's Castle so we stayed to watch it while we ate our snacks.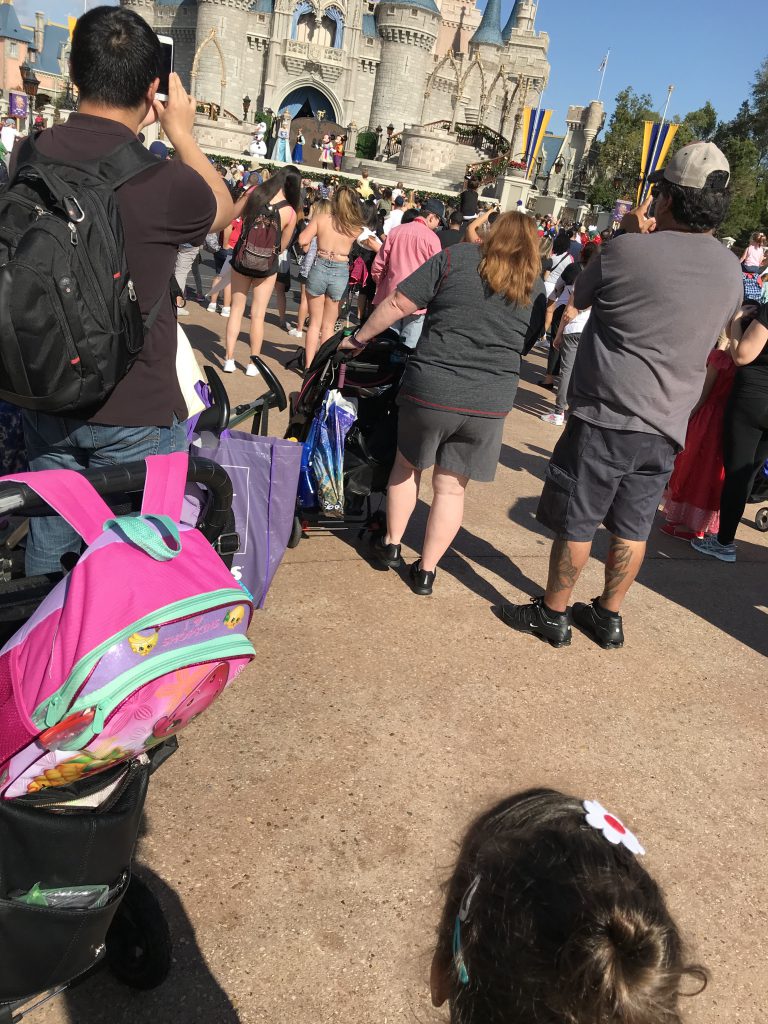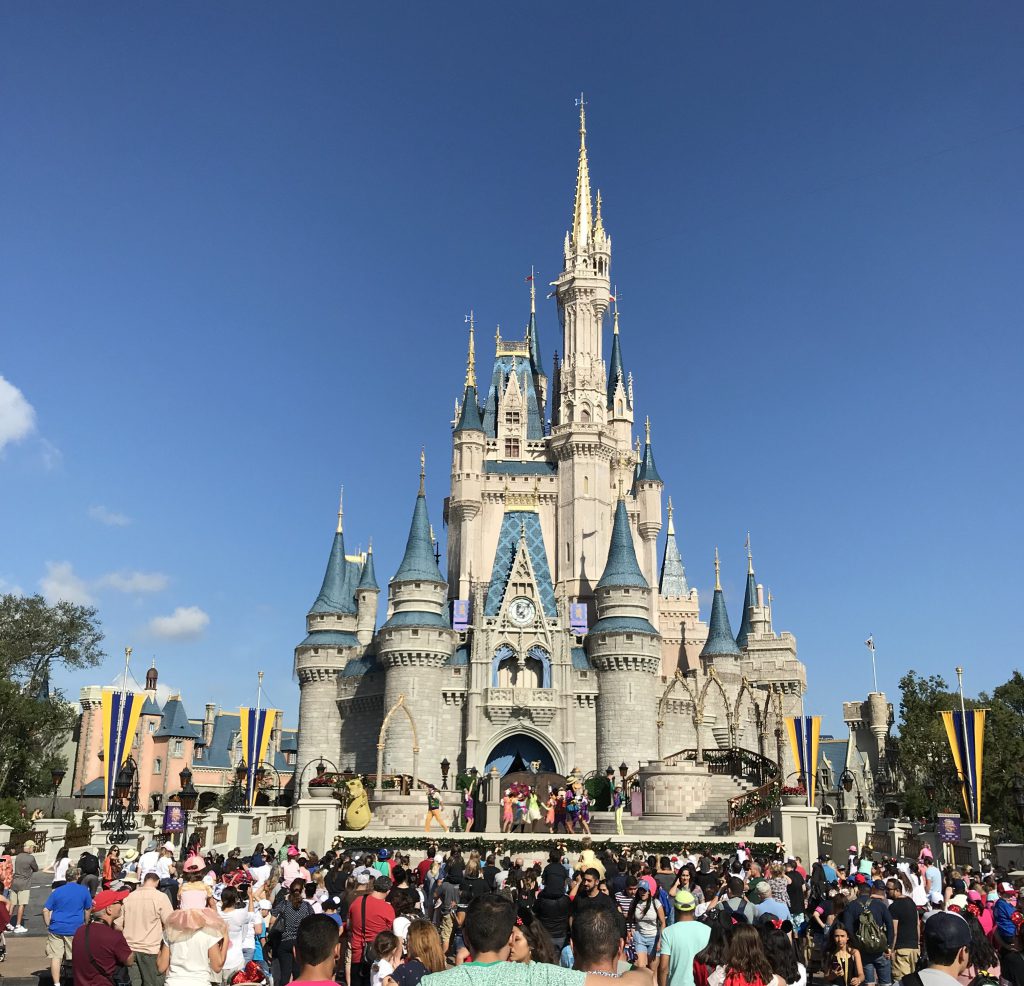 Once the show ended, I tried to head out to one of the lands. Unfortunately, once my daughter saw that they were starting the Move It! Shake It! Dance and Play It! Parade, there was no way we were getting out of there. She danced, sang, and had so much fun with the characters. We ended up just spending the whole time there until the end of the parade. When it finally ended, it was already time to meet talking Mickey!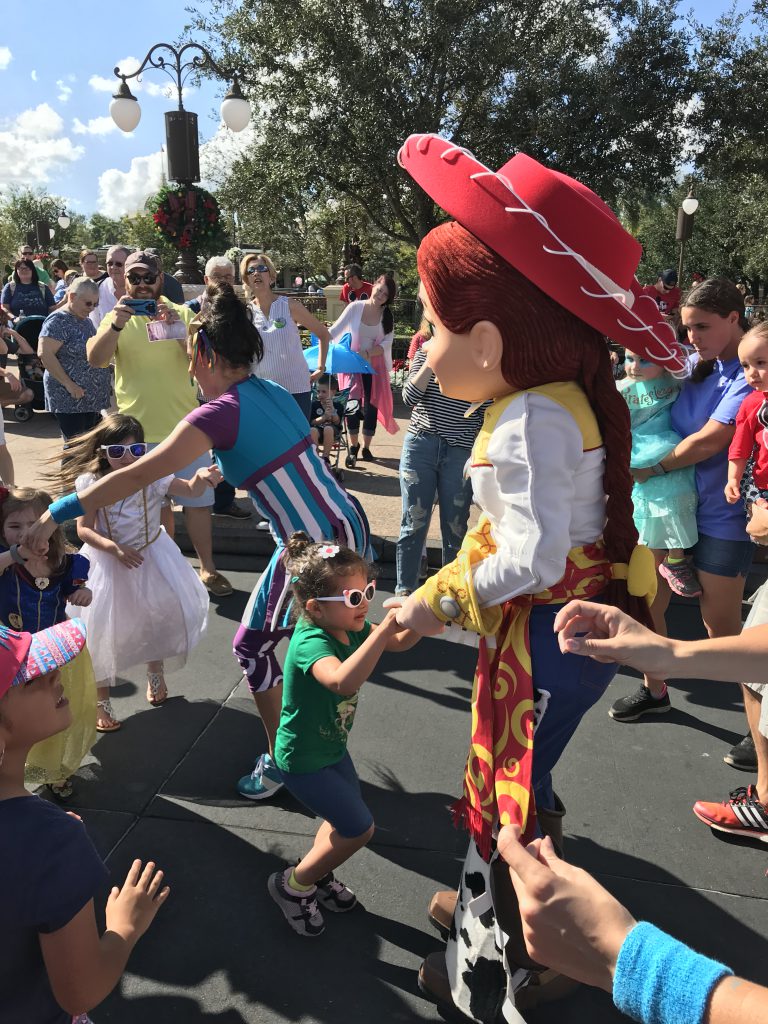 Meeting Talking Mickey
We headed back down Main Street and got in line. I couldn't believe there was still a line even with Fastpasses! We waited in until it was our turn to meet Mickey. A few minutes later, the moment finally arrived! My daughter had never done a meet and greet with him before so she was beyond excited. He started talking to her and honestly, it was even more magical and amazing than I could ever have imagined! I honestly didn't even know Mickey talked either (not sure how that slipped past me). I think I almost cried when I saw and heard him! It was one of the best Disney experiences ever, especially sharing it with my little girl.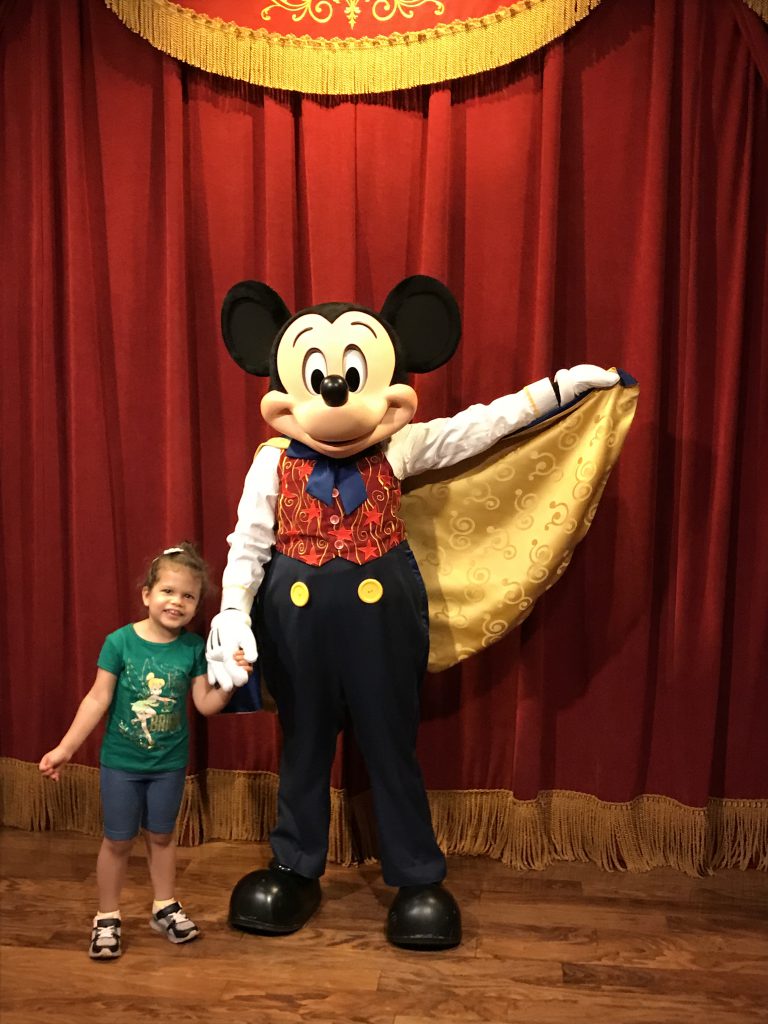 Well, to say we spend the rest of the day in the park would have been more exciting. However, being the inexperienced Disney mom that I am, I was already overwhelmed, hot, and exhausted. My little princess was ready for a nap as well so we headed right to the exit. We took the ferry boat this time and had a nice trip back to the Transportation Center.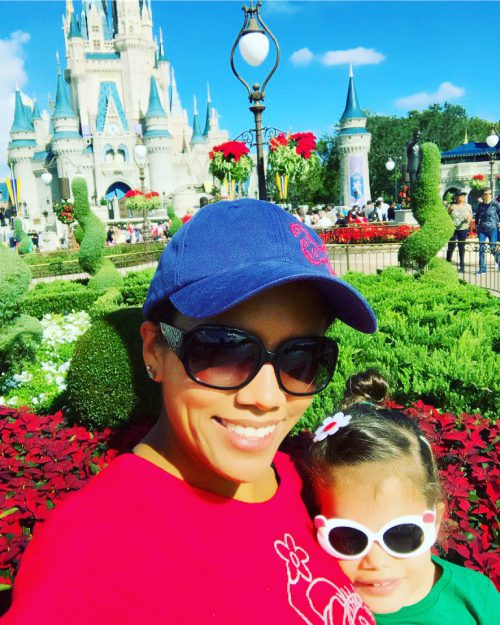 I did skip the tram again and walked all the way back to the car.