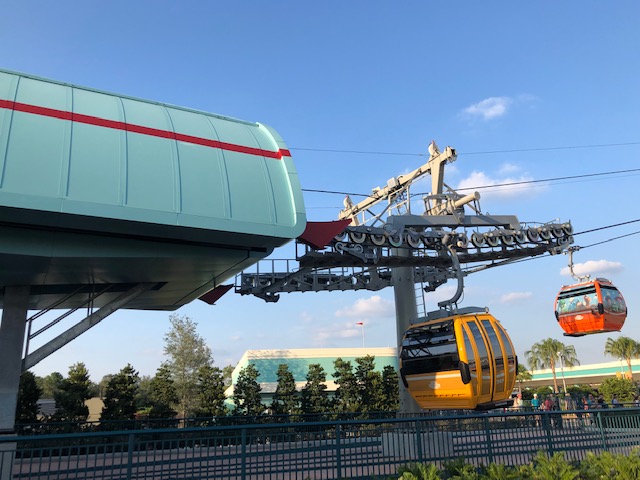 We recently had the chance to try out the new Disney Skyliner that is now open to the public. These awesome enclosed cabin gondolas give guests a chance to experience a bird's eye view of the area from their suspended cables while providing transportation to and from Disney's Hollywood Studios, Epcot's International Gateway, Disney's Pop Century Resort, Disney's Art of Animation Resort, Disney's Caribbean Beach Resort, and Disney's Riviera Resort which will open in December 2019. It is also a convenient way for guests staying at any of the Boardwalk area resorts to travel because it's just a short walk from those hotels to the International Gateway station.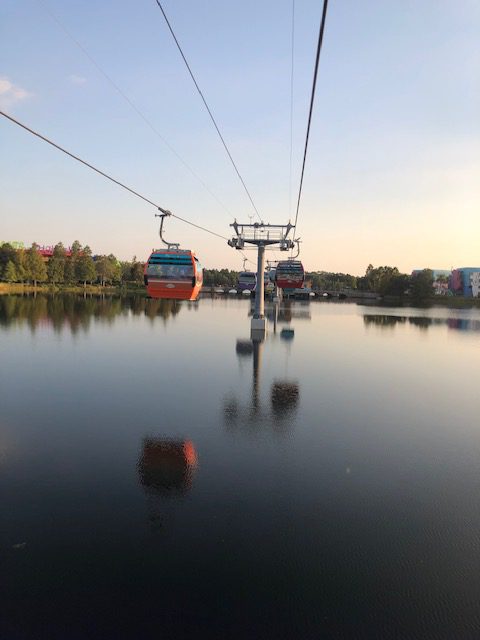 There are many questions about the Skyliner so I thought I'd give some tips and must-do advice. The Skyliners can seat 10 people to a gondola so there is a good chance you will be seated with another party. I found it to be comfortable with 8 people but with 10 it will be a bit crowded, so you may want to consider splitting up your party.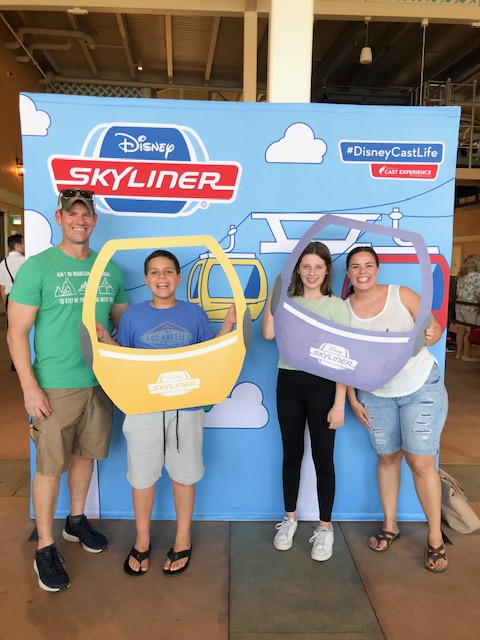 One of the main questions I have gotten is about electricity in the gondolas. There is no air conditioning and no overhead lighting. There are small lights under the seats that will come on automatically at night. As far as the air conditioning is concerned, the air flow through the side vents is sufficient at most points. When the Skyliner is moving steadily, a nice breeze comes in and it's quite comfortable. However, when the gondolas slow down to approach the station or round a corner, it does get warm very quickly.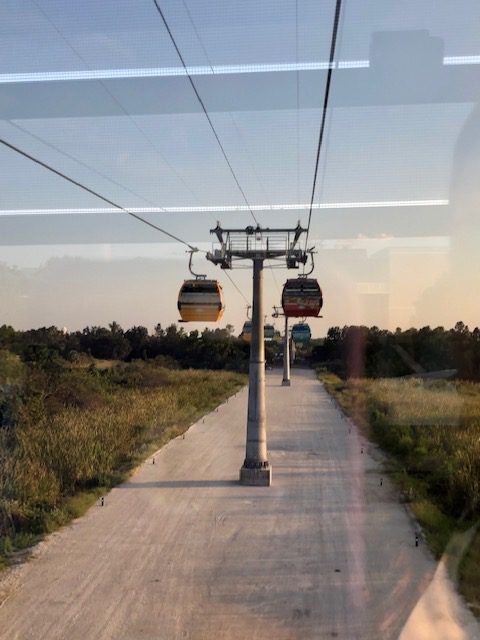 If you will be riding in the summer or midday heat, a handheld fan is a nice luxury to bring with you. Of course, like any attraction, the Skyliner may become temporarily delayed or stopped. While this is a rare inconvenience, it does happen occasionally. Usually this only happens for a brief time before they are up and running again. If for some reason, an extended delay happens and people start to get very uncomfortable, there is a comfort kit under the bench with things like bottled water in it. There is also a call button in the cabin if you need to communicate for help.
Many of the gondolas are decorated on the outside windows with adorable Disney characters and scenes while some of them have clear windows. I found that depending on the time of day, the wraps don't affect the view too much. However, if the sun is shining directly on them, it may be hard to see out.
The main terminal for the Skyliner system is just outside of Disney's Caribbean Beach Resort. There you can grab a Joffery's coffee or treat and board a gondola to any of the transportation stops. Of course, you can also board from any of the locations listed but you will need to transfer at the main hub.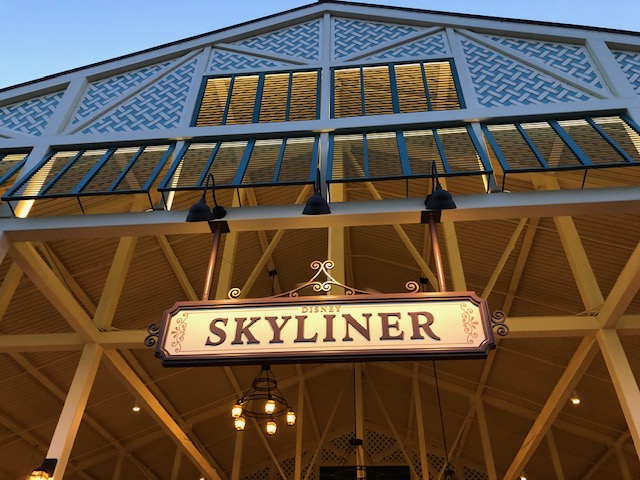 If you are traveling to Epcot from the main hub, you will also need to transfer at the Riviera stop as well. Don't worry, there are plenty of cast members around if you get confused. All in all, there are 3 separate lines that run to the stops.
While getting a fun ride to Hollywood Studios or Epcot is certainly great, don't forget you can also get off at the Pop Century or Art of Animation stop to explore all of the great things those resorts offer like playgrounds and the awesome cars area where you can explore and find great photo ops!
The Skyliners move at a quick pace and there is no real swinging or bouncing during normal operation. I did notice that if they are delayed mid-line, they will swing a bit as they come to a stop so keep that in mind if you are very sensitive to motion sickness.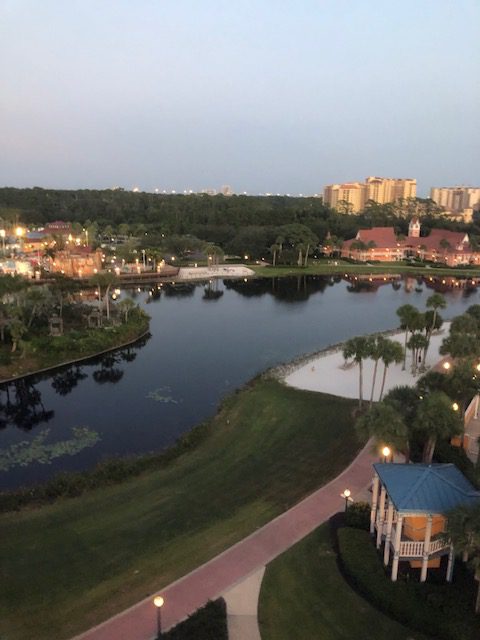 The Skyliners offer a great deal of benefits such as shortened bus lines and an extra option for travel. Not to mention, they are more eco-friendly than the large buses. I would absolutely recommend trying them out when you get the chance. And make sure to let us know what you thought if you've ridden them already!