There you are, strolling through Disney Springs, minding your own business…just taking in the sights, when it happens.
The rumble of the building hunger in your tummy.
Let's be honest, it happens to all of us. Don't panic! I know with all of the amazing choices that have recently popped up at Disney Springs, and the fan favorites that have been around a while, it can be quite difficult to decide on where to eat.
Well, sit a spell, and I'll tell you one of my go-to spots.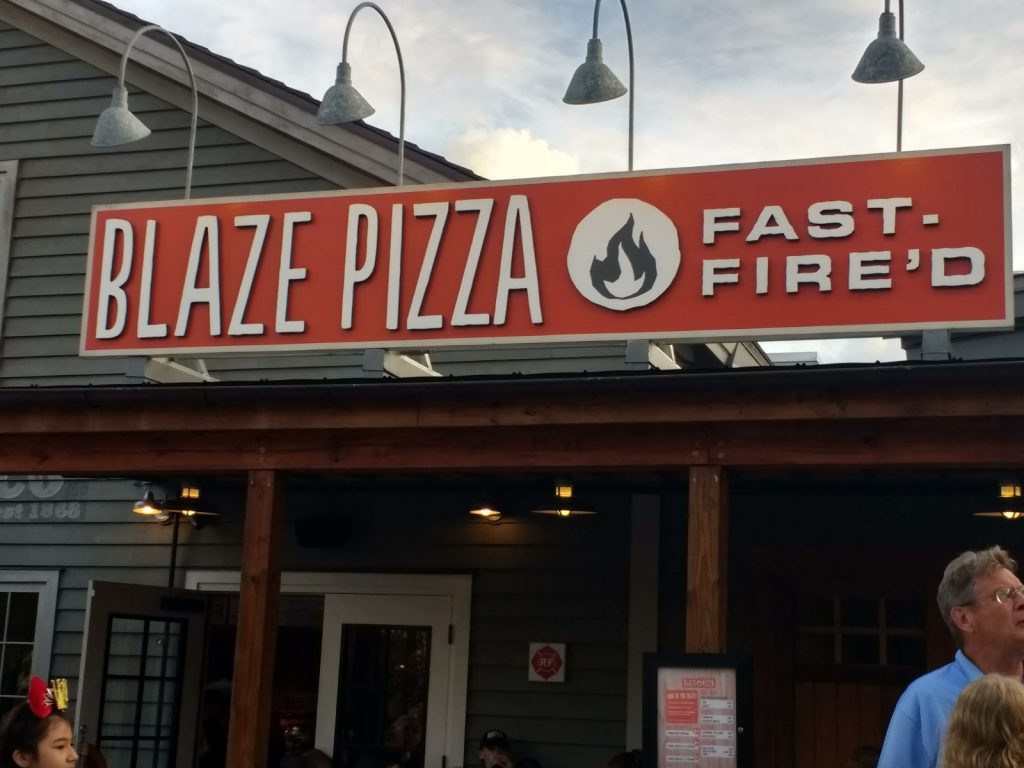 Now, I know what you're thinking, of course she would say Blaze, pizza is her favorite food, it only makes sense. Hear me out, Blaze never fails to offer an amazing experience when I visit, and that is quite often.
Located in the Town Center area of Disney Springs, nestled next to Planet Hollywood in its quaint spring side cabin glory.
I'm always excited when I see a short line when I approach, as it's usually out the door. Don't let that deter you from popping in to grab a delicious pie, the team here really rocks it out of the field and does an amazing job to get people through quickly.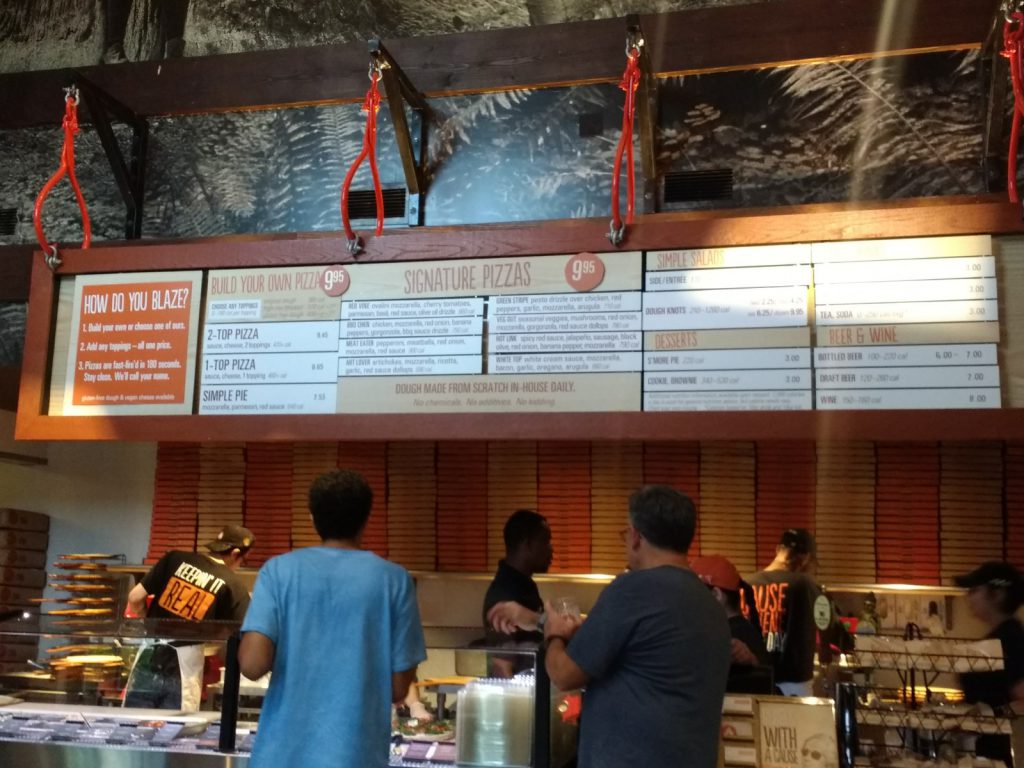 Always welcomed by a friendly face and a warm smile, asking if I have visited before…More times than I care to admit! One of my favorite aspects of Blaze isn't even the food, it's the team. They are always friendly, helpful and efficient. They always make me feel welcome, which is one reason I visit so often.
The unique feature that Blaze offers is the order system setup. It is what I like to call an assembly line, think Subway or Moe's, but with pizza.
Step up to the counter, give your name, how many pizzas you'll be ordering, and what kind. – I'm a Build Your Own gal myself. –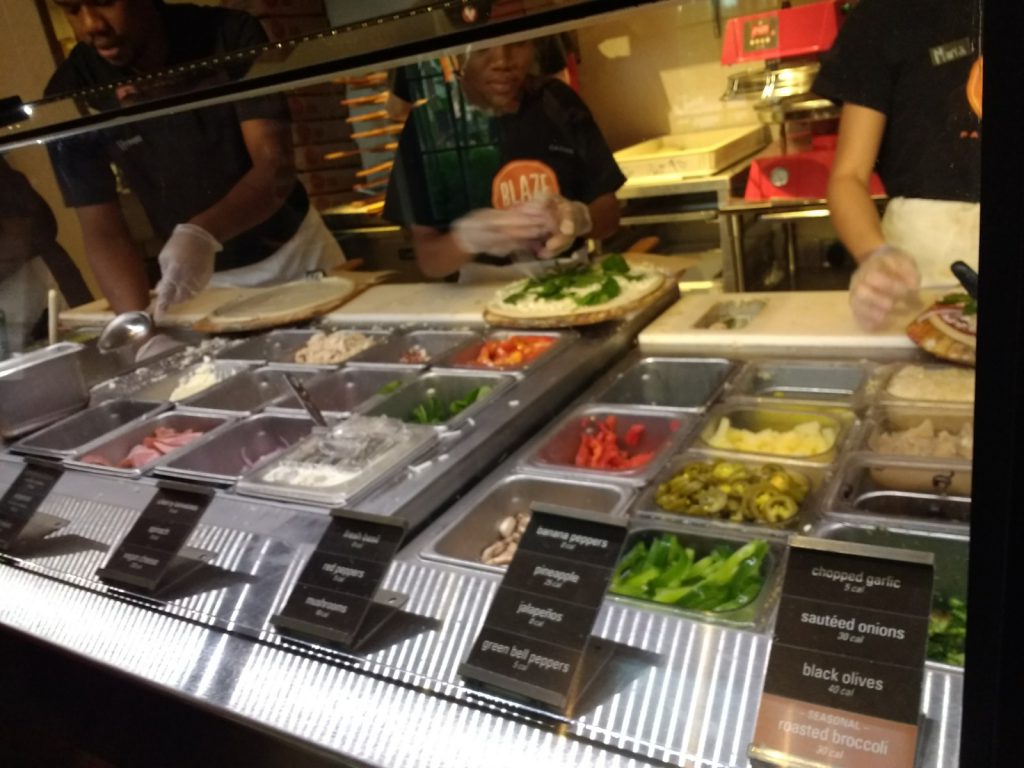 Starting at just $7.55 for a one-topping 11-inch thin crust pizza pie, I personally feel the Build Your Own is the best value for your dollar, coming in at $9.95. Besides, who doesn't want to choose their sauce, cheese, and toppings?
Grab your pager, and slide on down to begin the ordering process.
The ingredient counter is a beautiful set up with an array of choices, but let me not get ahead of myself here. You have your very own pizza artist with a freshly rolled pizza dough on a wooden paddle.
Let's begin at the Sauce Station with four sauces to choose from. Will you go with Classic Red or will you Spice it up? If you're feeling adventurous, try the Garlic Pesto.
My personal favorite spot, the Cheese…EXTRA for me please! For my fellow cheese lovers, they have eight…you read that right! EIGHT different choices ranging from your classic Mozzarella to a smooth Goat Cheese, to a crumbled Feta. The best part is that you can have more than one!
Now, on to the main event (I told you they were quick!) You're ready for the toppings. Choose from the gorgeous display of over 40 meats, veggies, and fruits consisting of the favorites from Pepperoni and Sausage to a more obscure Salami, Roasted red pepper, and sauteed onions. Add a little dash of sea salt and oregano for an extra mmph.
Here comes the hard part, your newly created pizza is taken away from you. In the words of Tom Petty, "The waiting is the hardest part." I know it's tough, but it's only for the longest 180 seconds of your life while they gently place it in the wood burning fire oven that sits just behind your cashier.
Feel free to take this time to get your beverages (assorted soft drinks, lemonades, and fresh teas are available). They also offer beer, wine, and bottled beverages in the grab and go cooler. Pick a seat, or do what I do…sit and stare at the oven while your taste buds kick and scream for their pizza, just try not to drool too much.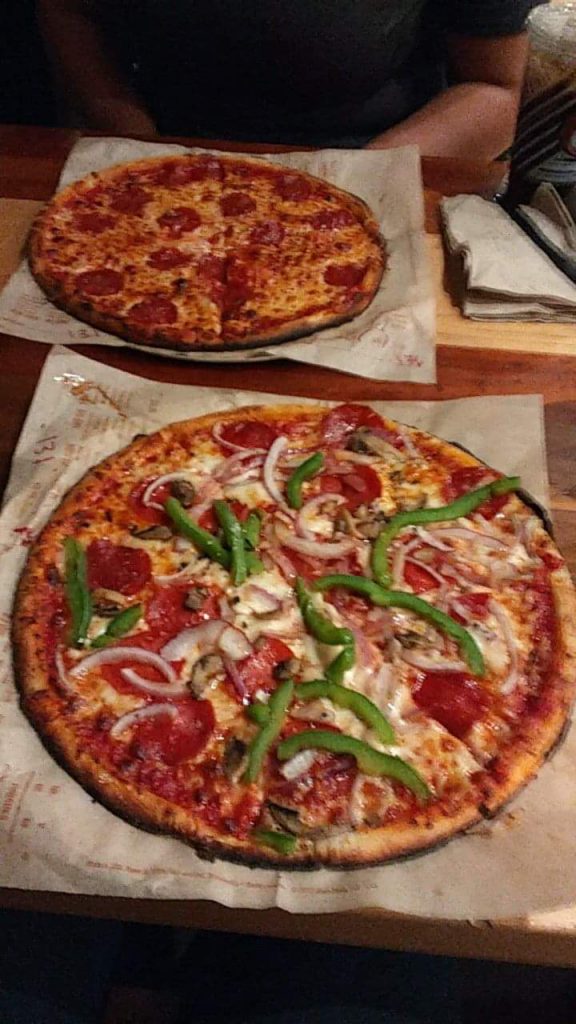 Once your pizza is ready, they will page you, it's like winning the lottery every time…okay, not quite, but close enough.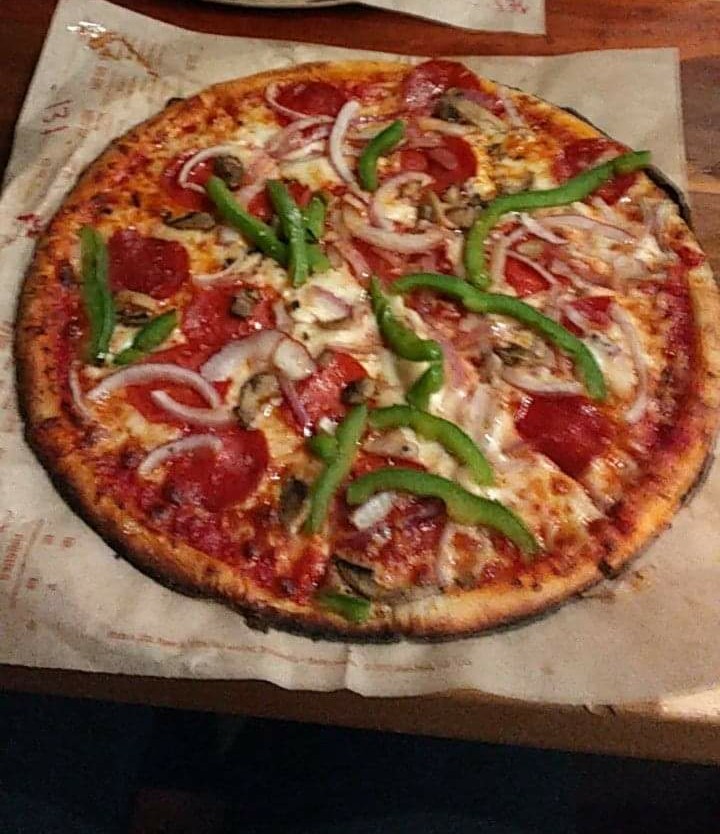 Blaze also offers dough knots, salads, and desserts. For my health conscious friends, they also offer wheat and gluten free crusts.
To sum it all up, Blaze has become one of my favorite spots. The staff is always friendly, welcoming, and efficient. The quality and taste of the food blows me away every single time! You can tell the ingredients are high-quality and fresh, made with love and care. The restaurant itself is always clean, very well kept, and fully stocked for easy access.
You can also join the Blaze Rewards Program to earn points towards free beverages, sides, and even free pizza!
Blaze opens daily at 10:30 am until 11:30 pm (Sun-Thurs) and 12:30am (Fri/Sat). If you stop in, tell them I sent you…even though they probably have no idea who I am.