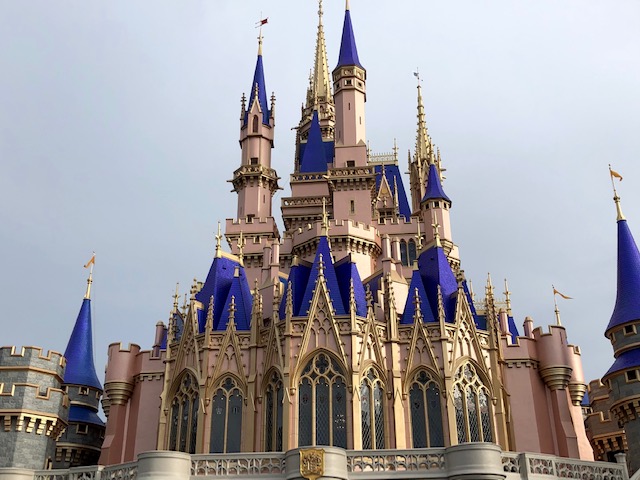 Hey friends, Happily Ever Alison here! I just attended the Cast Member Preview of the reopening of Walt Disney World and I'm here to bring you all the info and details that you will need to know when returning to the Most Magical Place On Earth!
I'm going to break it all down by safety measures, park experiences, and tips. So, read on for everything you need to know about planning your trip to the Magic Kingdom.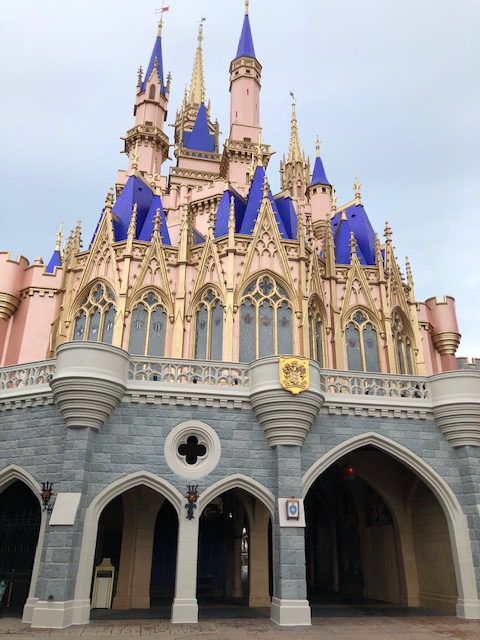 Arrival
First up, is getting to the park. Expect a delay when it comes to parking at the Ticket and Transportation Center. Parking is happening in waves so the flow of traffic will be stopped at the gates periodically as not to overcrowd the parking lot. Once in the parking lot, cars are parked every other space to allow distance between parties exiting their vehicle.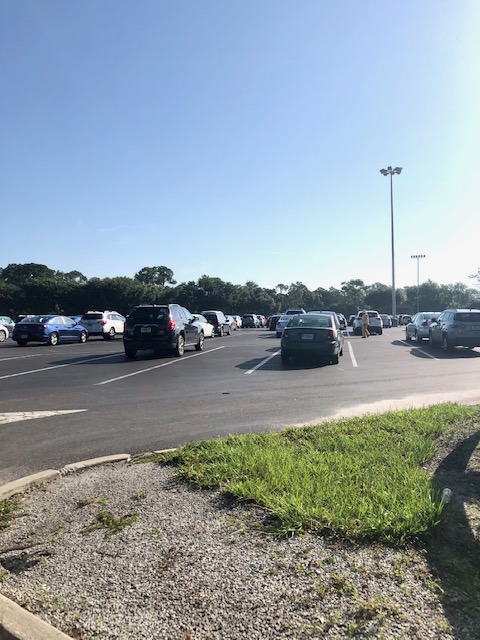 After that group has exited their cars, the next wave will be parked in the spaces in between. Guests are expected to wear a face mask from the time they exit their car until they leave for the day. Read on for circumstances when masks may be removed.
There are no trams operating at this point so expect to walk from your car to the entrance of the Ticket and Transportation Center.
Next up is the security checkpoint. Your temperature will be scanned when entering security. You will be asked to take a complimentary clear plastic bag to place all your electronics and metal items inside. And when they say anything metal, they mean it! All chargers, batteries, cameras, lanyards, watches, etc. must go in the bag. This is because you will now wear your bag through the metal detector instead of Cast Members digging through it.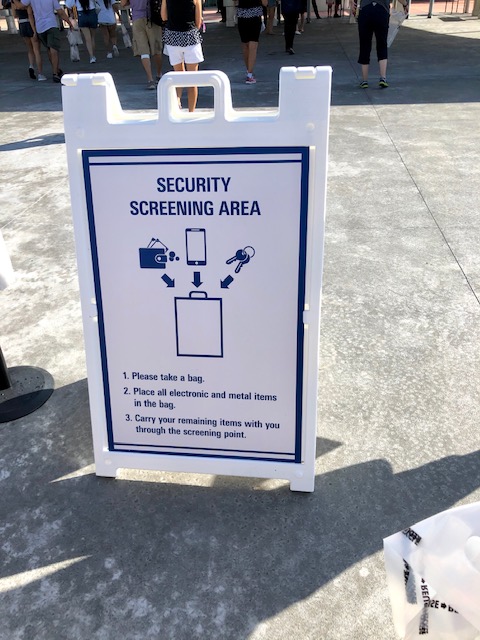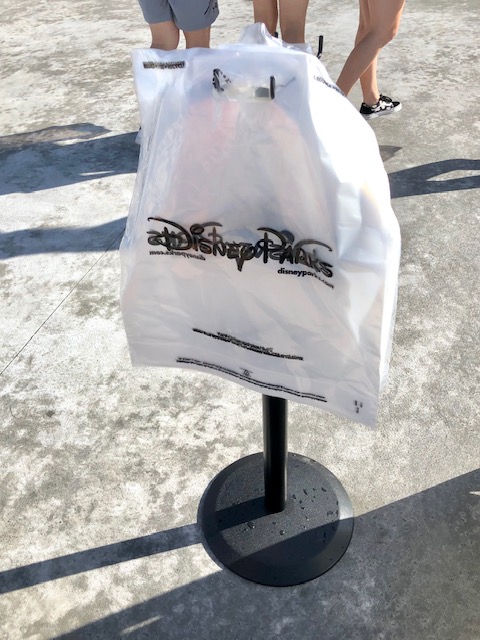 However, if you set off the metal detector with something in your bag or on your body, you will be asked to step aside and empty the entire contents of your bag and a Security Cast Member will use a wand to scan your body. This slows down the process quite a bit so allow ample time to get through security as many people had to stop and empty their bags.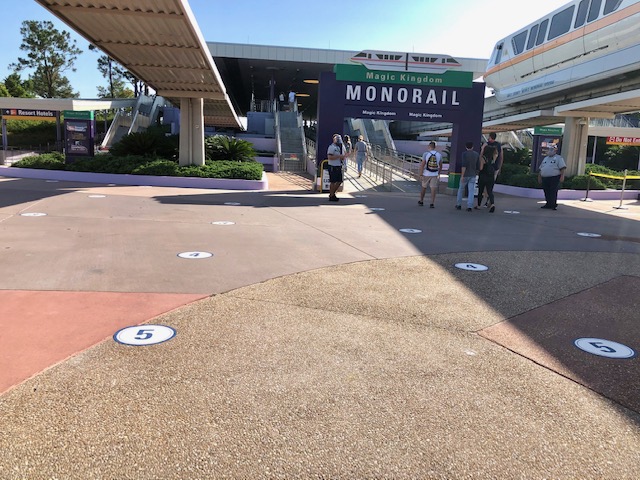 Once through security, you will proceed to either the monorails or ferry boats to make your way to the Magic Kingdom. When loading the monorail, you will now be given a number to stand on with your party and you must sit in that section. There are dividers placed in between the sections and no standing is allowed to ensure physical distancing.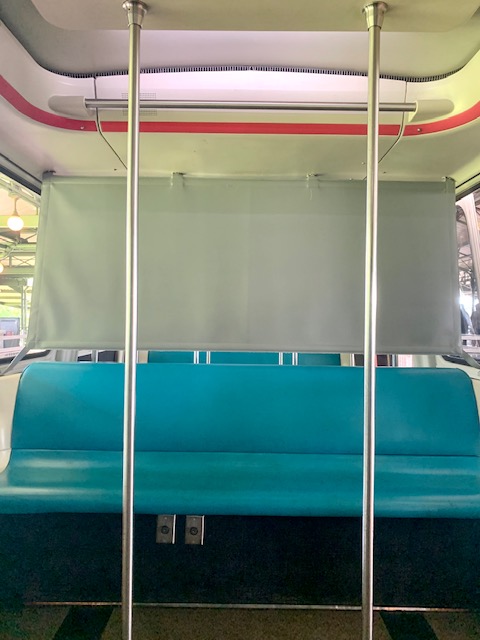 If you choose to take the ferry boat, a cast member will instruct you to stand on a marker on the floor with your party. All of the bench seating is closed.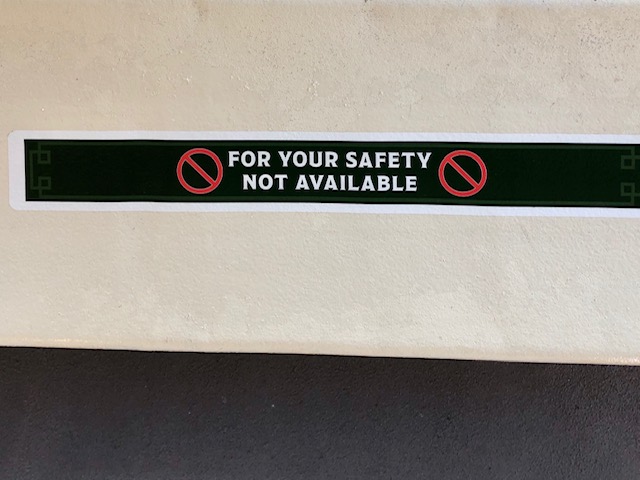 Entering Magic Kingdom
Once you unload and approach the entrance to the Magic Kingdom, there are several changes that have been made. There are 6 feet markings on the ground that guests will stand on and you will no longer scan your fingerprint to enter. Instead contactless entry will be used by a cast member scanning your ticket.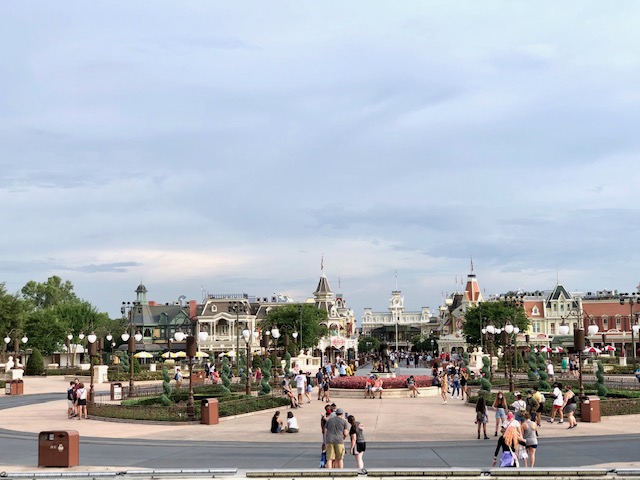 As you walk down Main Street and approach the newly painted castle, you may notice queues outside of the merchandise stores. This is because only a certain number of people are allowed in the shops at a time so you may be asked to wait outside on the ground markings until there is space for your party to shop. You may also notice signs inside the merchandise shop instructing guests not to touch the merchandise unless they plan to purchase it.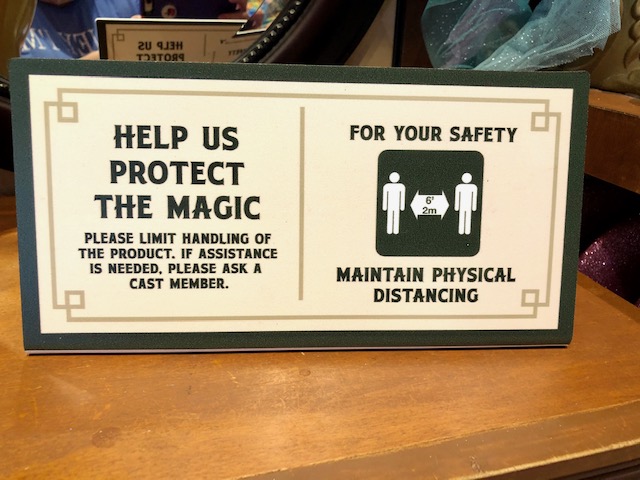 You'll notice Disney Photopass photographers placed throughout the park to capture your magical moments. You must keep your mask on for pictures and the cast members will no longer take pictures with your phone or camera to avoid the spread of germs. You will also see that trash cans are now propped open so guests don't have to touch them in order to throw away garbage.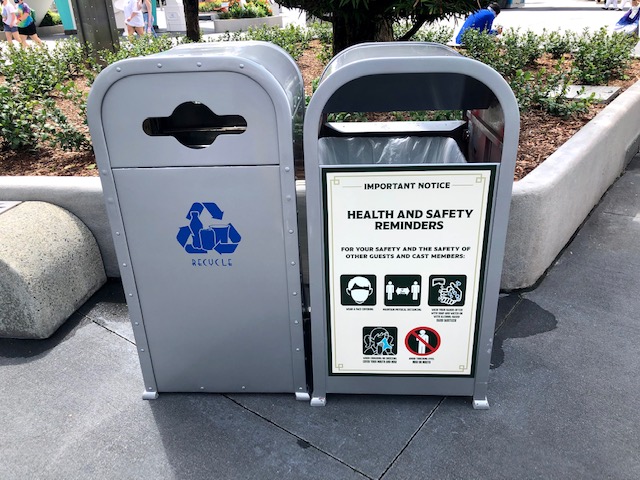 Rides
I'm sure you'll be eager to get on your favorite rides! Fast Passes and single rider lines are not available during this time, so all rides are standby only. There has been talk of virtual queues being implemented but according to a cast member that I spoke to, nothing has been confirmed yet. But don't be disheartened by the long lines. They look much longer than they actually are because all parties are required to stand 6 feet apart while waiting in ride lines.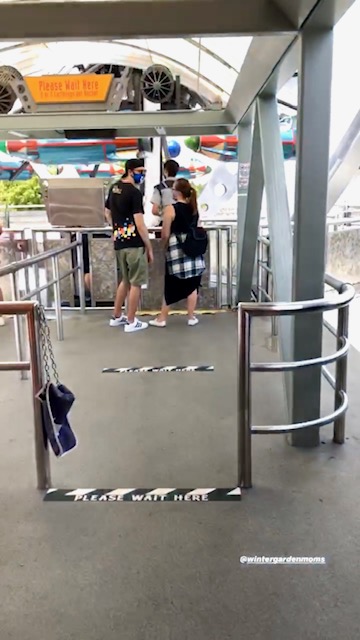 You will also notice that there are plastic dividers placed wherever the line wraps around or where parties will need to pass each other. This will ensure that even when physical distance isn't possible, you will never come in contact with another group.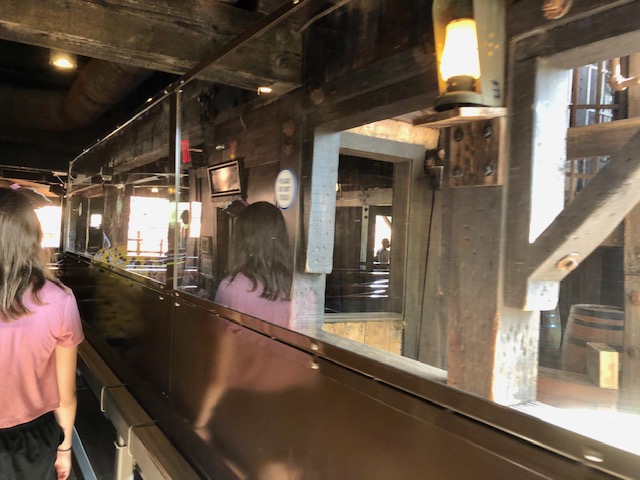 Touchless hand sanitizer stations are located at the entrance and exit of each attraction. Some parts of the rides may look a bit different these days. For instance, you'll notice that the stretching room in the haunted mansion is no longer being used as an enclosed waiting area. You'll simply walk through this area to enter the ride. The playground area for Dumbo is also closed off.
Another thing to consider is the time it takes for the attraction to be sanitized. Each ride is on a maintained cleaning schedule so while they may not be cleaned after each rider, they will be stopped frequently in order for cast members to spray the area with sanitizer and clean them thoroughly.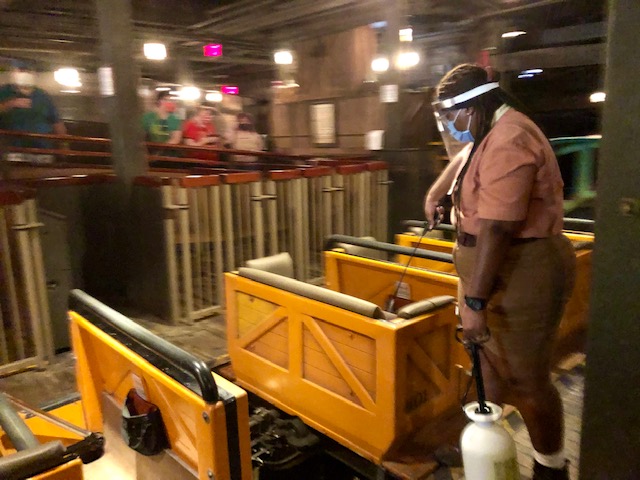 This process takes about 10 additional minutes each time so if you are in the group that is boarding during a cleaning time, you will be informed that the wait will be extended for that purpose. Guests may also be seated every other car or row depending on the attraction spacing or they may be plastic dividers placed in between rows.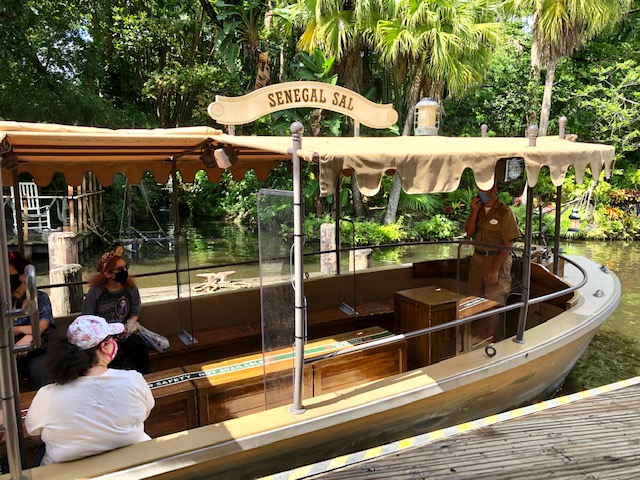 Dining
I'm sure you'll be getting hungry by now! Let's talk about food. Snacks are no longer allowed in the attraction lines but drinks are still ok. If you are ready for a meal you have a couple of options. You are able to go inside of a full-service restaurant if you have a reservation or if they have room to accommodate your party.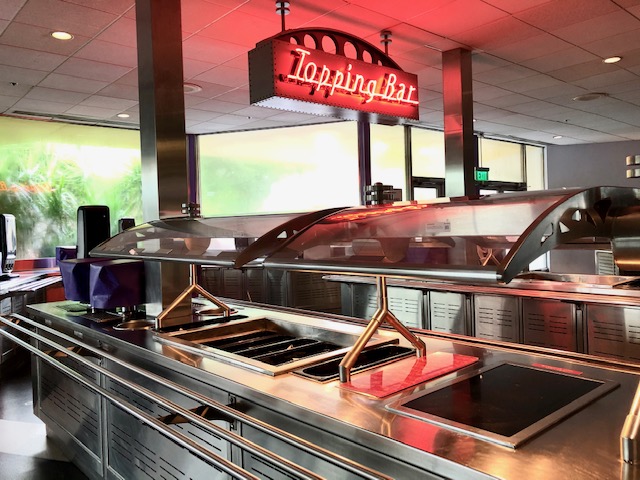 Otherwise, you can mobile order from a quick-service restaurant. You can either open your My Disney Experience app or go to the website to browse the dining options and place a mobile order.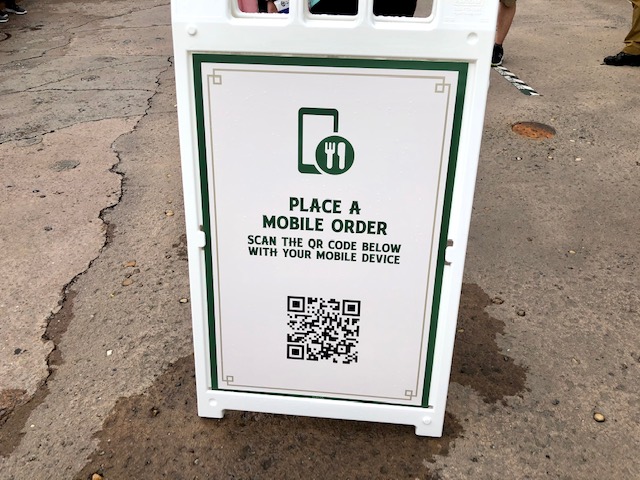 You may also scan the QR code on a sign outside of the restaurant to place a mobile order. The app will tell you when your food is ready and you will then be allowed inside the restaurant to retrieve your order and sit at one of the open tables to eat. Every other table is closed inside the quick service restaurants to ensure distance between parties. Masks may be removed while eating and drinking.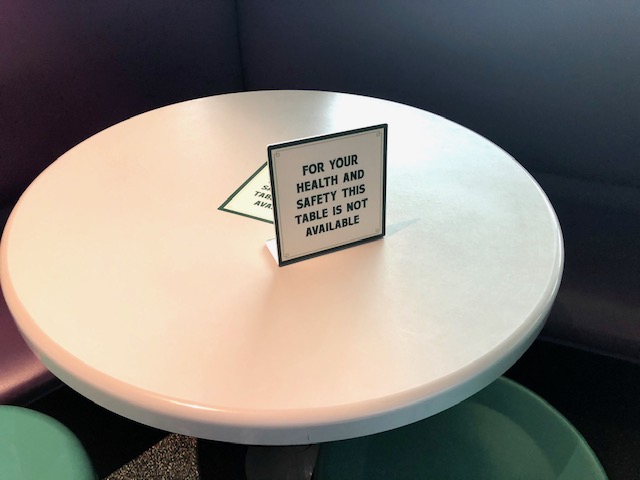 New Guest Experiences
Now let's talk about some of the experiences inside the park. While parades, character meet and greet experiences, and fireworks have been cancelled until further notice, there is still plenty of fun to be had!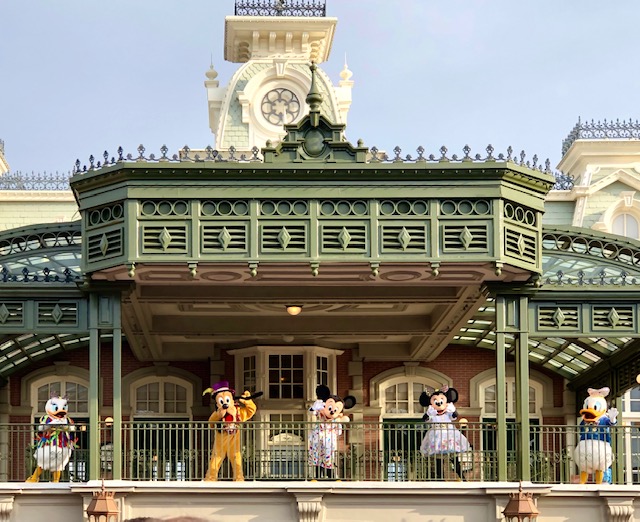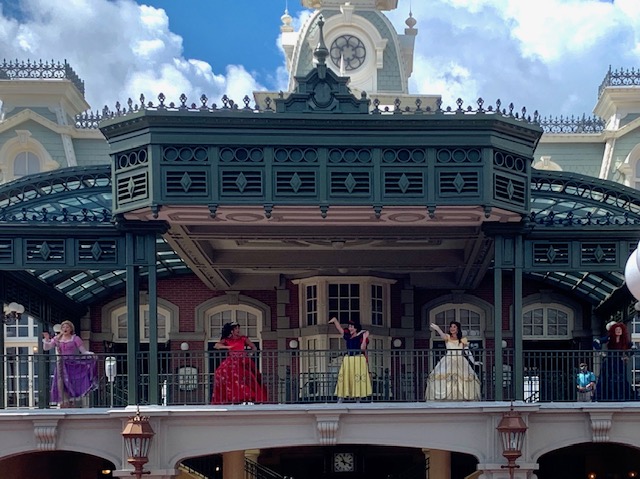 Characters can be seen waving from the Main Street Train Station, and you can find characters like Stitch and Buzz Lightyear at the Galactic Gateway stage in Tomorrowland for guests to take distanced selfies and pictures with.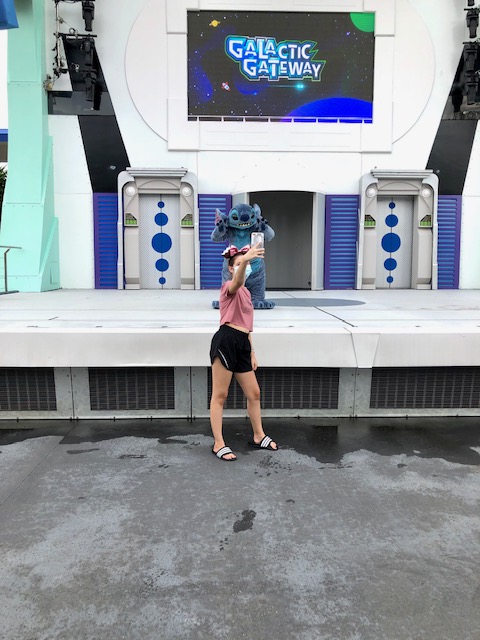 Other entertainment that is being offered is the Main Street Philharmonic band marching through the streets as well as floats of characters riding and walking through the park.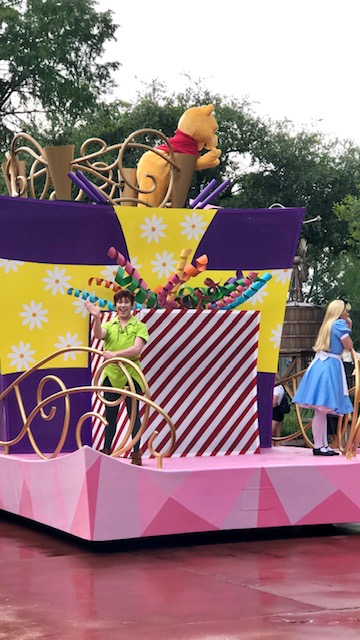 You can catch The Royal Princess Processional, Tinkerbell & the Lost Treasure, A Goofy Cavalcade, and Fantasyland Friends Cavalcade periodically throughout the day. These are like mini parades of just one single float and because most people don't know they are about to happen, guests don't crowd together to watch.
Masks and the Florida Heat
I know many people are worried about wearing a mask all day in the Florida heat. If you feel like you need a break you can visit the relaxation stations on the Tomorrowland Terrace, in Golden Oaks between Frontierland and Adventureland, and in Pete's Silly Sideshow near Dumbo. In these locations, you will be permitted to removed your mask while at your table spaced 10 feet from other parties. Eating is also permitted in these locations.
Don't forget cups of ice water are free at quick-service locations and masks may be pulled down while drinking. I'd also suggest browsing merchandise stores to take advantage of the air conditioning. Masks are for sale in the stores in case you need a fresh one or just want to stock up on cute Disney face coverings.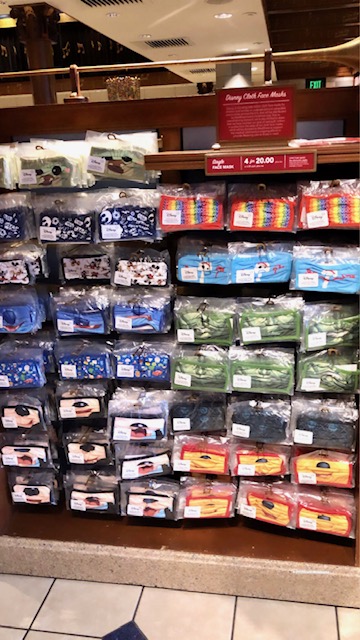 Overall Thoughts
There is no way around the fact that things look quite different in the parks now. Unfortunately, this is our new normal in order to keep everyone safe.
But I must say that I am beyond impressed with all of the safety measure that Disney has put in place at their theme parks.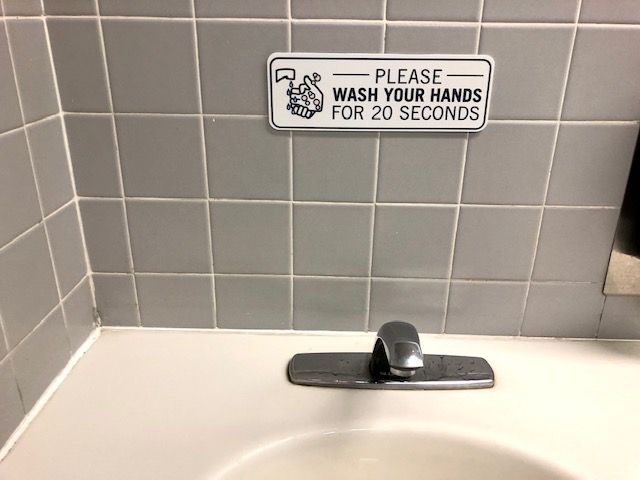 My family and I felt entirely safe and comfortable the whole time we were there. Everyone adhered to the social distancing procedures and cast members seemed well trained in the new processes.
Hand sanitizer was placed throughout the park. Safety announcements and signs reminded guests of the new procedures, and everyone was very courteous of each other.
If you are planning to visit the parks in the near future, I'd suggest making sure you are familiar with the guidelines and scheduling extra time into your day as this is new to everyone and will take some getting used to.
However, I know that with a little planning, you and your family can still have a magical day at the Magic Kingdom!