Hi friends, @BrightSpotPhoto here! I was able to attend the Cast Member preview of Hollywood Studios yesterday and I wanted to tell you all about the new updates and changes to expect on your next visit!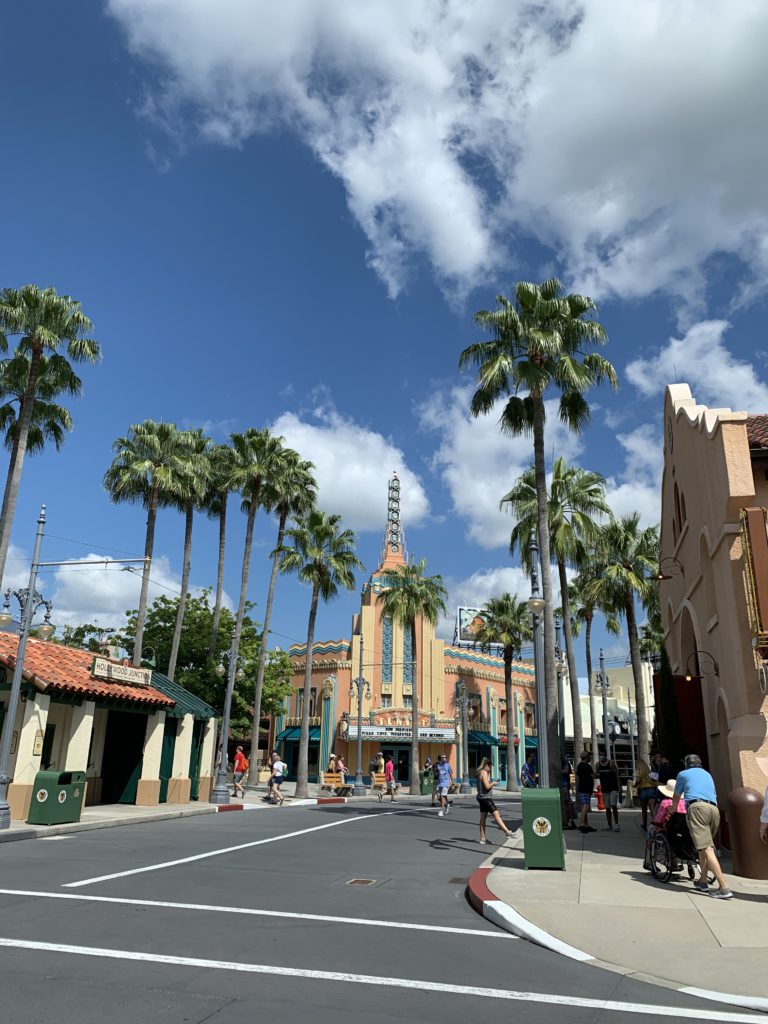 Arrival
So let's start at the beginning! As we arrived at the entrance to parking, the lanes were a little more backup than usual. They were letting only groups of cars through to help stagger the parking lot crowds as well as bag check and tickets. Such a clever way to do that! I'd rather wait an extra few mins in my car than in a line of people or in the heat!
Once we passed through there, the cast members direct you to your parking spot. They were parking cars in every other spot to give people plenty of space to be able to get out and get ready.
You are expected to put your mask on from the time you are out of the car to the time you get back. There are a few exceptions which we will talk about later.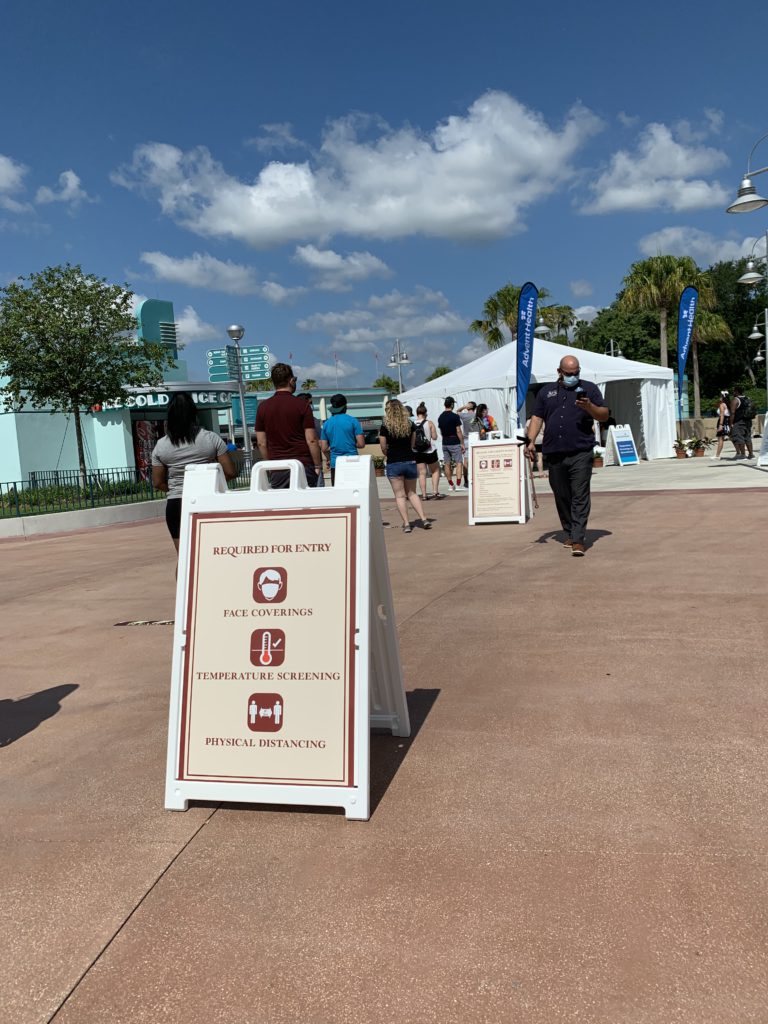 Next up the temperature scanning tents. There was a small line at park opening when we got there, but it moved quickly and parties were spaced out from one another.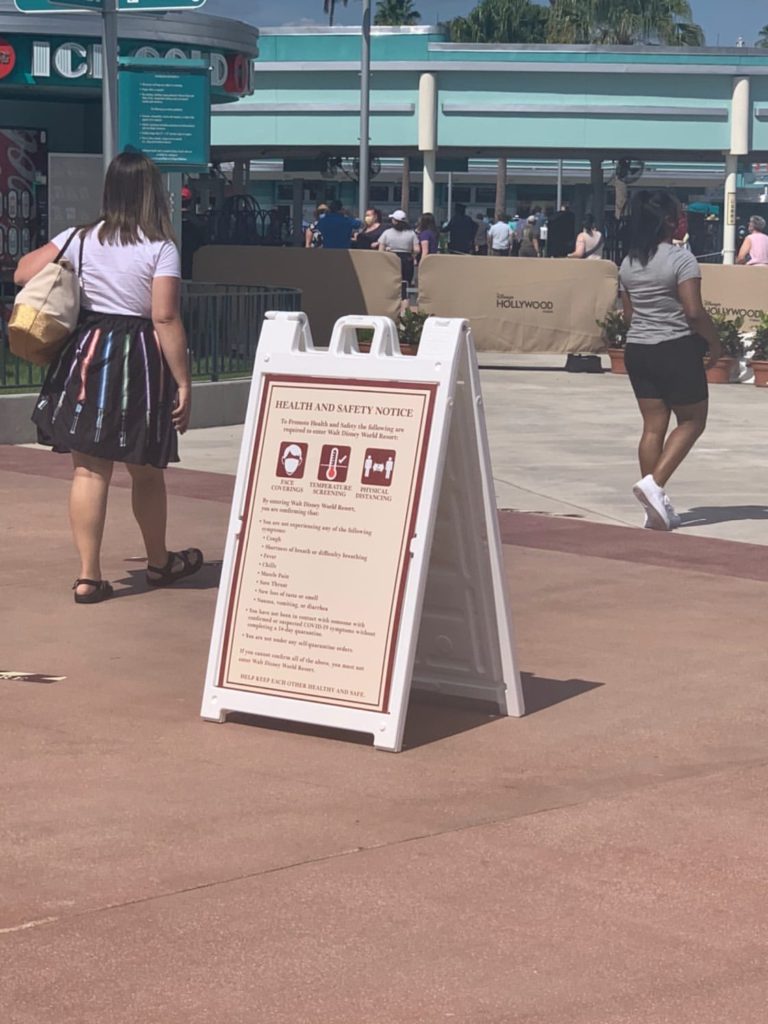 I also noticed hand sanitizers at the tent. They simply scan your forehead for your temperature and there is no contact involved.
After that was "bag check". There is new signage right before going through for things to take out of your bags as you walk through the metal detector. I grabbed my metal water bottle, umbrella, phone and held them together as I walked through and didn't set anything off.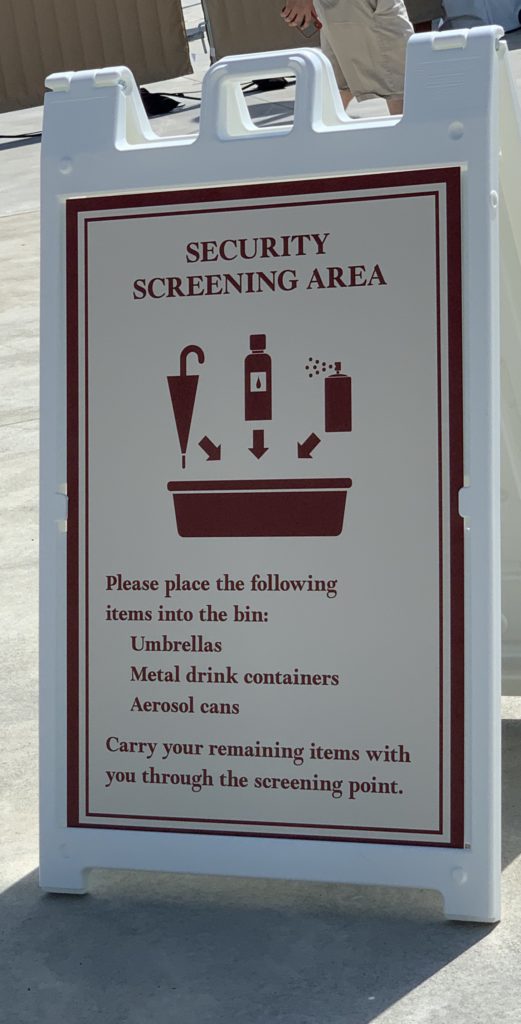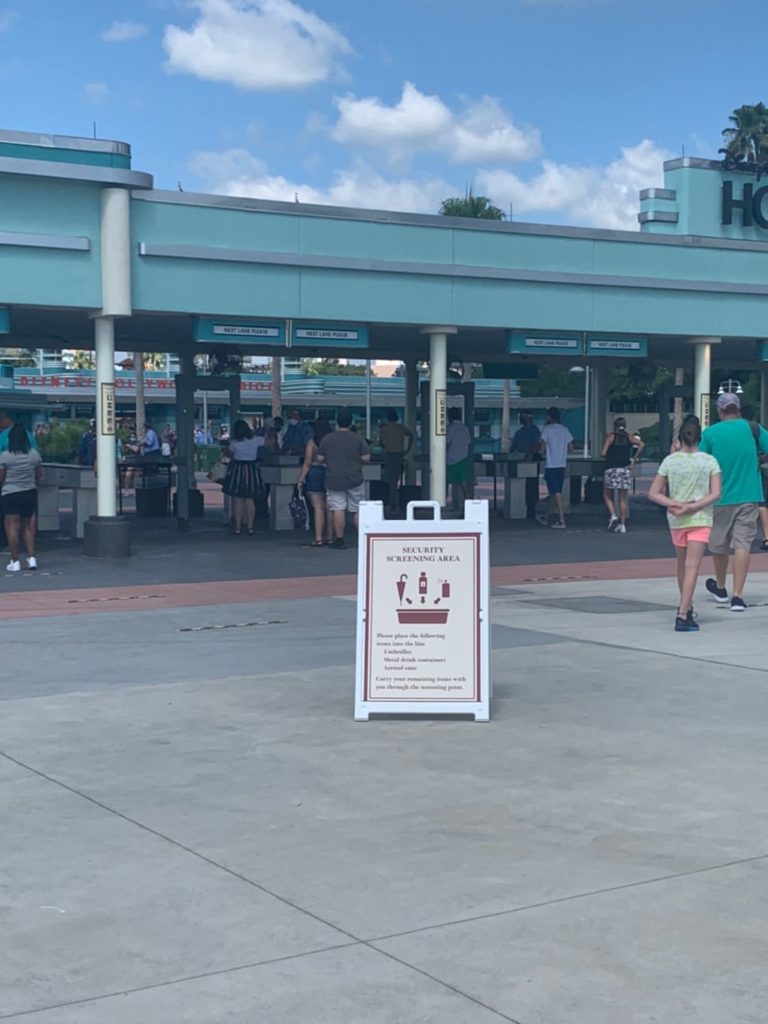 No worries if you do set it off though, they will simply ask you to show them a few things from your bag to see if they can find what set it off. However they are currently not touching anything in your bag like they had before.
Entering Hollywood Studios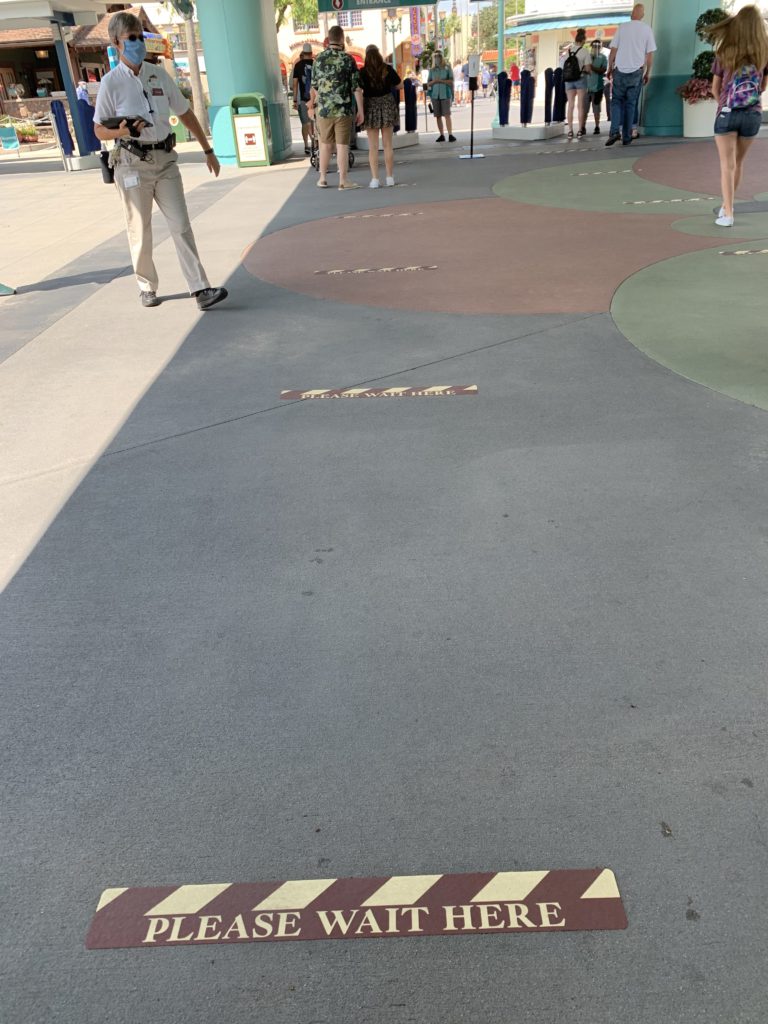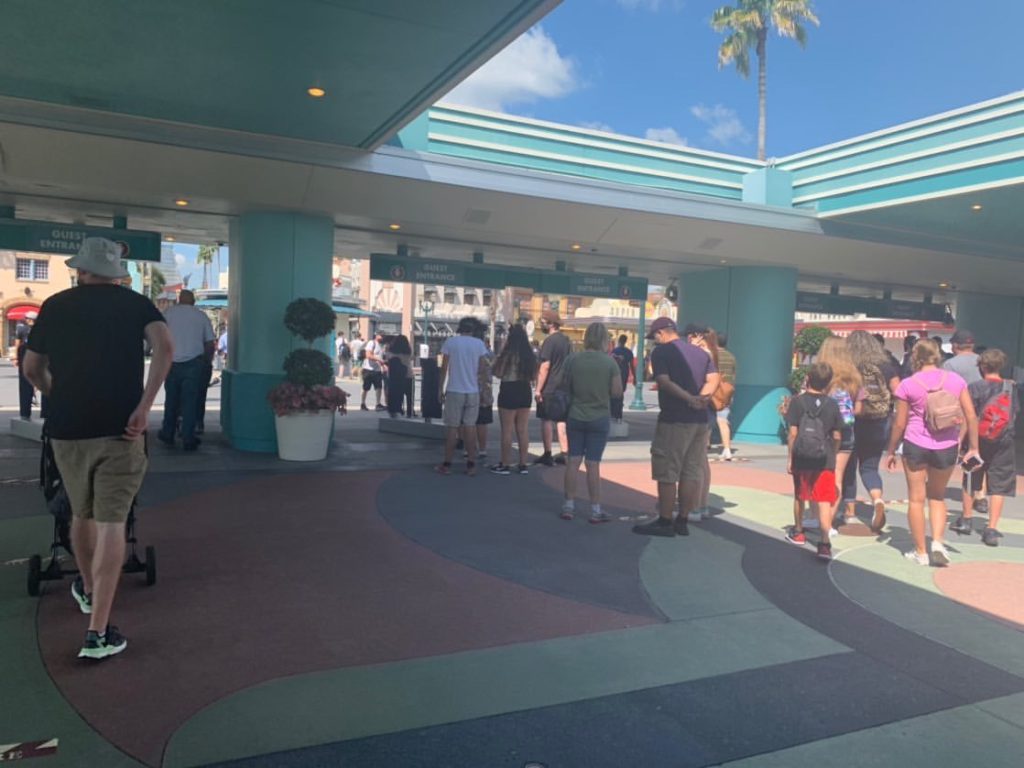 Once we were in the park we wanted to find out how to ride Rise of the Resistance and were hoping to test out the virtual queue for you guys. However they didn't do that yesterday since it is supposed to start tomorrow, Wednesday July 15th.
From what I've been told, once you get into the park open your "My Disney Experience app" and look for the spot to join the virtual queue. It should have you select a time like 10am, 1pm, or 4pm and then you would head over to the ride around whichever time you were able to grab.
I believe all party members that want to ride together have to be scanned and in the park before you're able to make the time reservation. Now, like I mentioned we didn't get to test it out and things could change. This is just what I was told as of this past weekend. Hopefully it is as seamless as that for you though!
Some things I noticed as we walked around the park and rode the rides: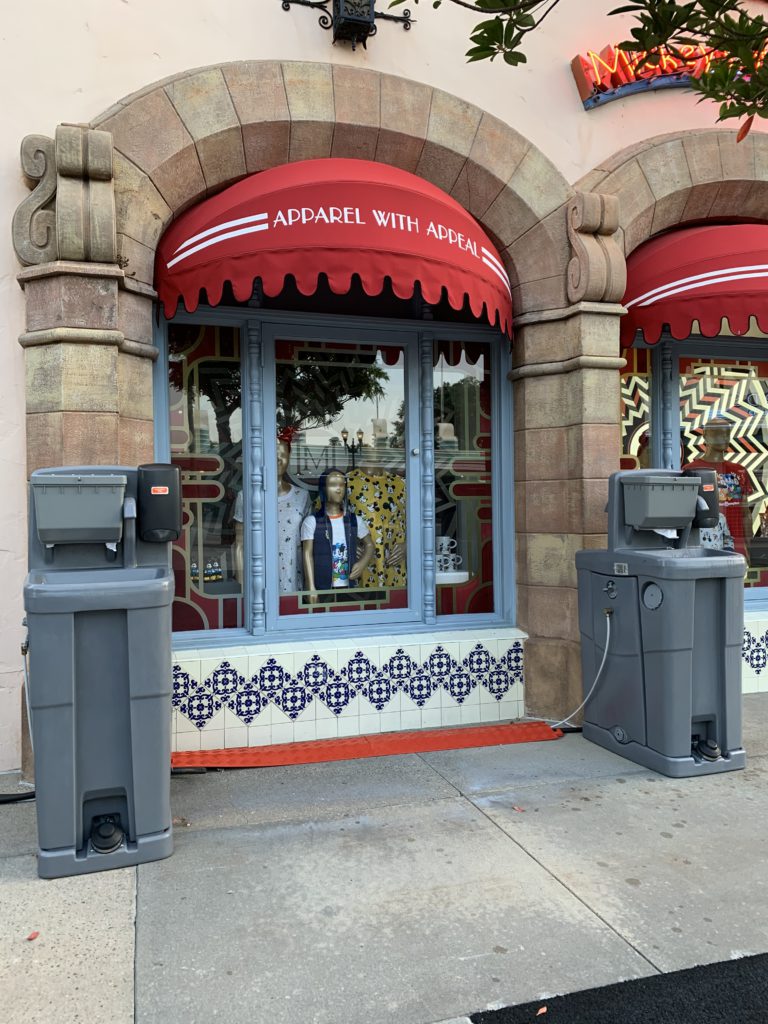 Hand sanitizer and hand washing stations set up all around the park. There was also hand sanitizer as you entered the ride and exited the ride.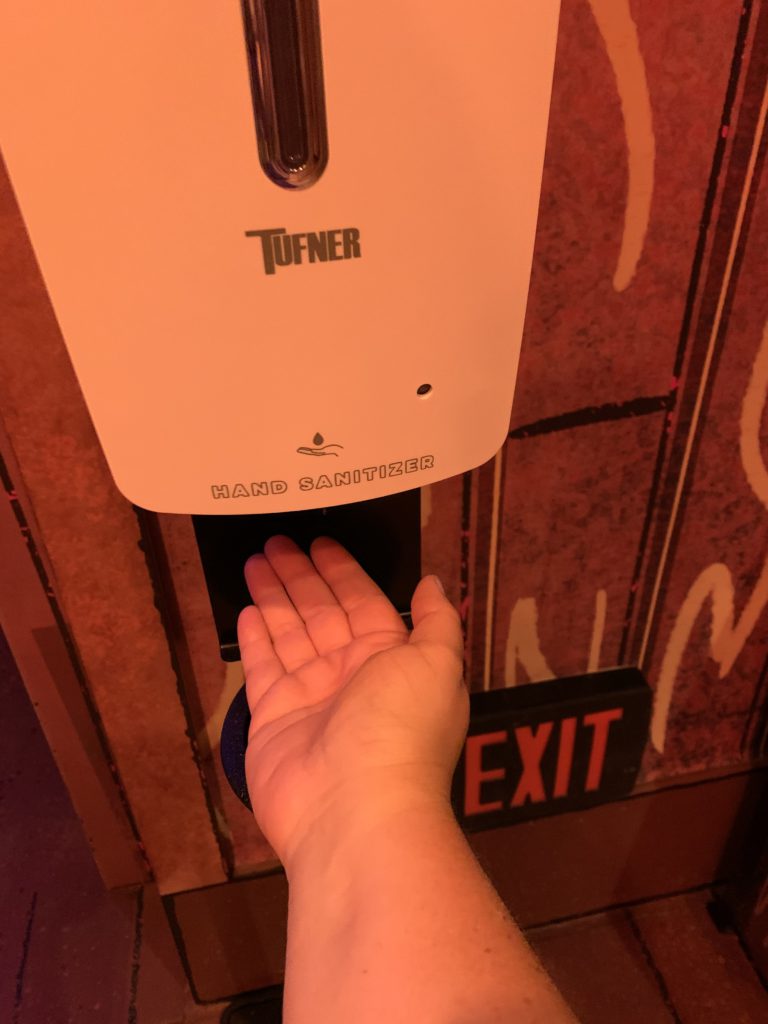 Also, I'm not sure about the schedule but cast members also have certain times they stop rides and spray and wipe them down.
I consistently saw cast members cleaning all throughout the day.
Tables around and in restaurants are spaced apart and or have signs on them for which tables to sit at and which not too, to keep space between parties.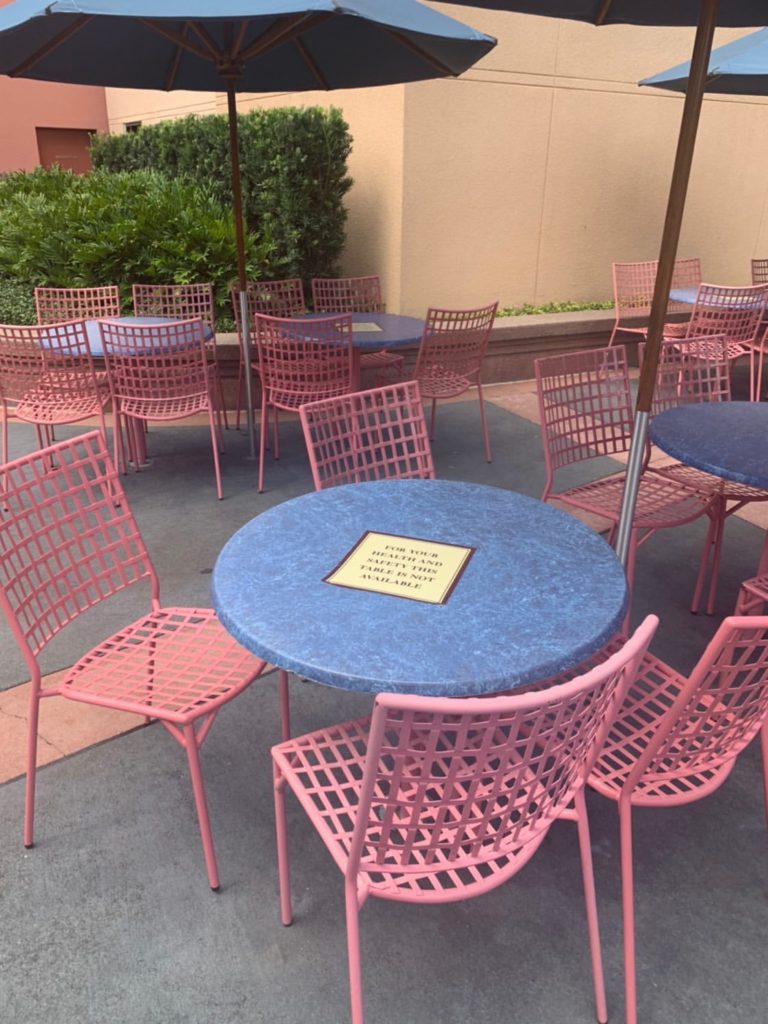 Trash can sides are open so you don't have to touch them.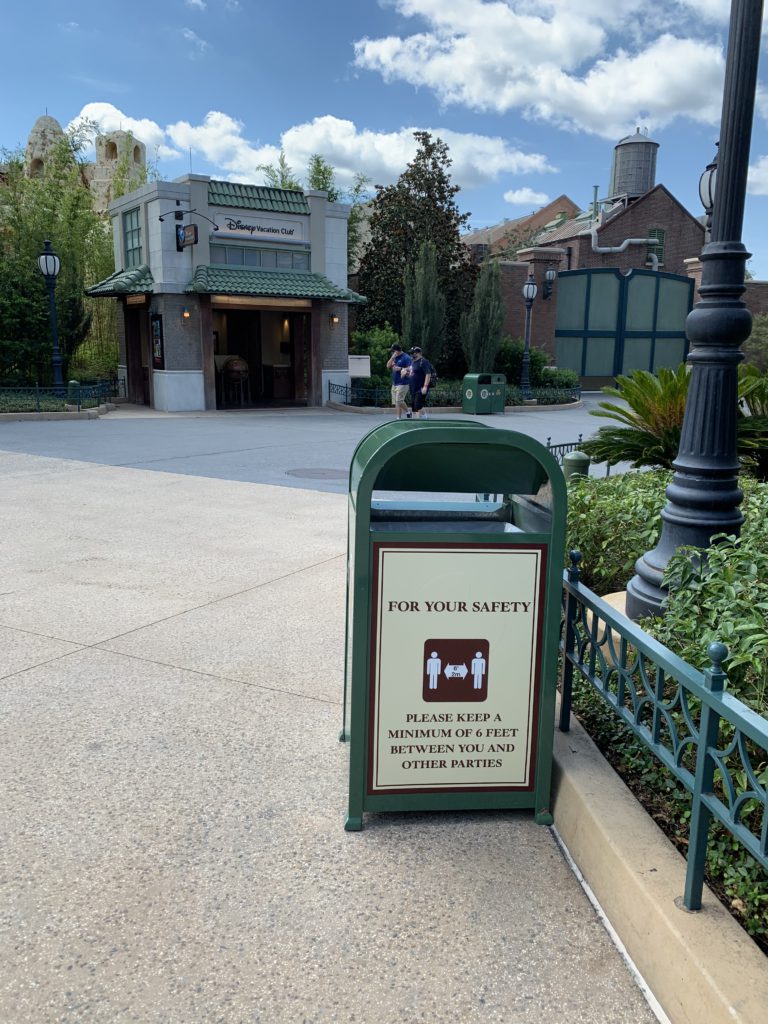 Shops currently have one entrance open for going in, this way they can keep the shop from being over crowded.
Water bottle refill stations are open in Galaxy's edge.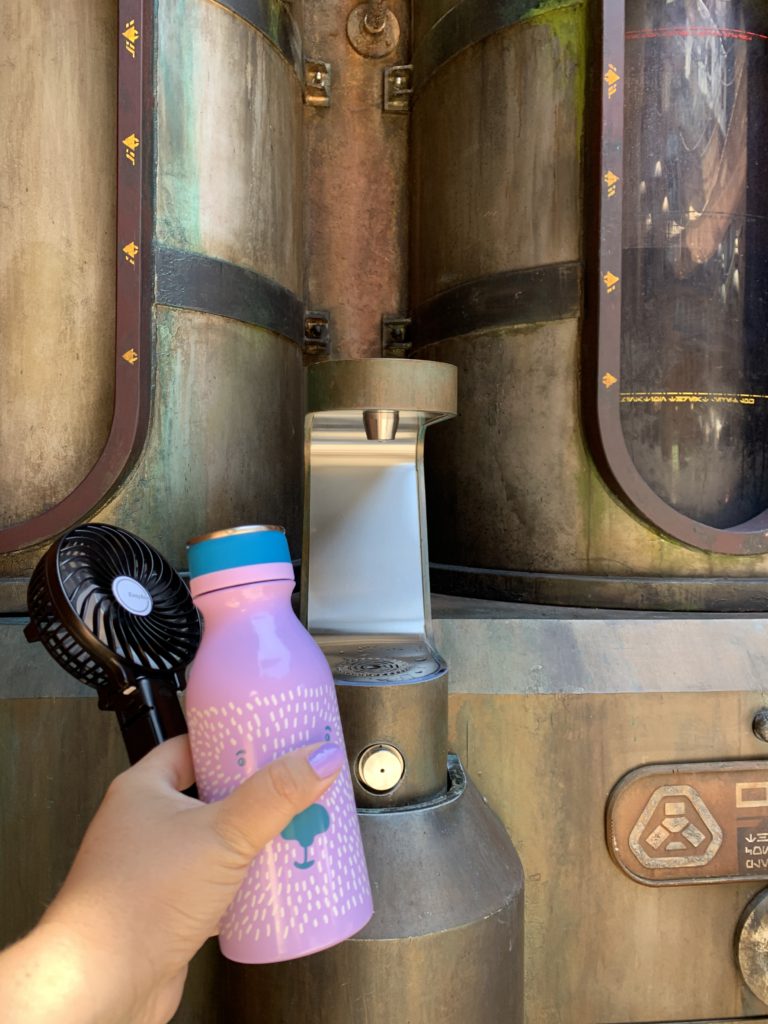 If they see you taking photos with your mask off, you will be asked to put it back on.
We also found a relaxation station. The one we found was in Galaxy's Edge near the main area with shops. In areas like these and while you're eating are really the only places you're allowed to take your mask off.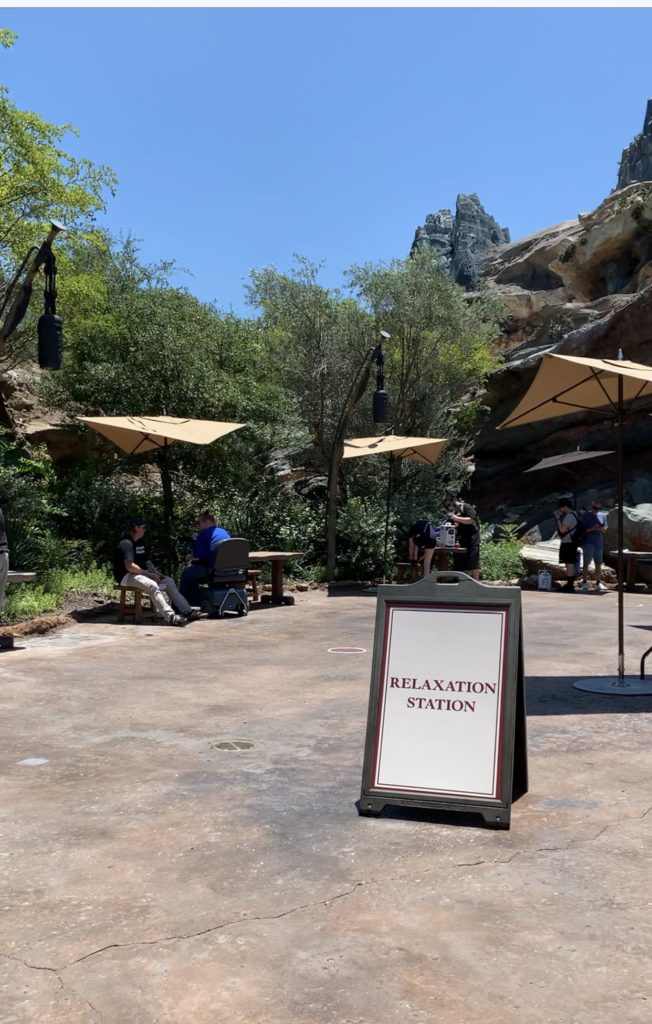 They have tables and umbrellas set up with lots of space between so you can enjoy a break without your mask on.
Dining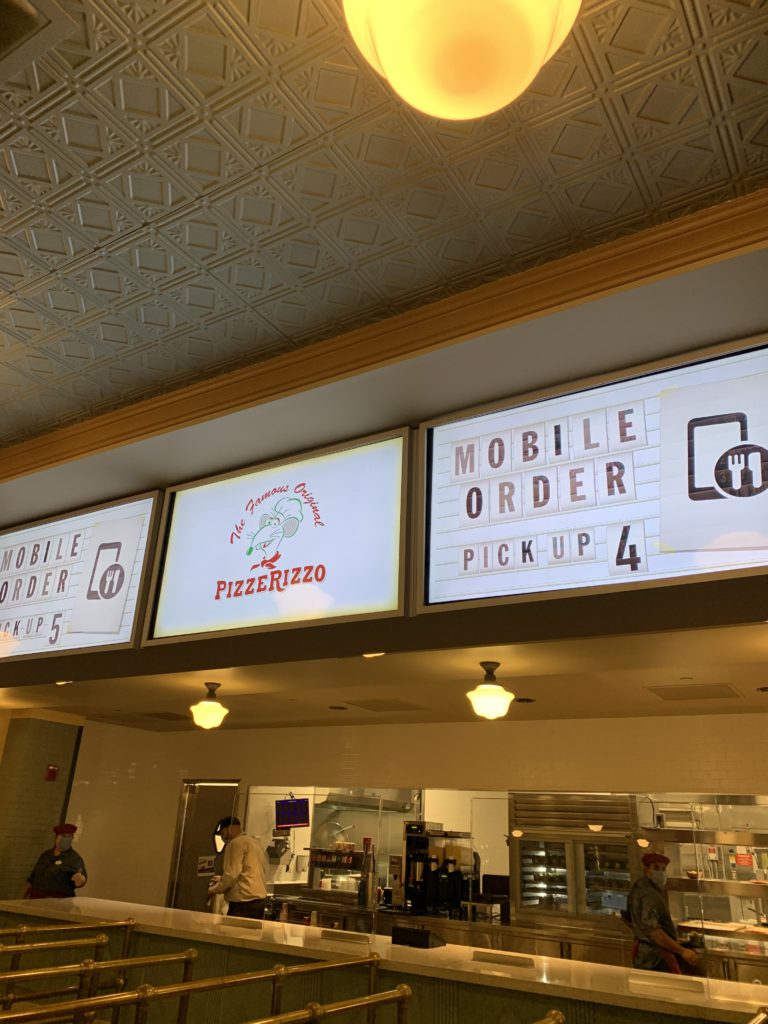 At restaurants and other tables you can eat without your mask on also, however, they don't really want you walking around the park snacking with your mask off. You can sip and drink as you walk around but the mask is supposed to be on in between sips.
The quick service restaurants that are open require you to use mobile order. You go into the "My Disney Experience app", select your restaurant and place your order. When you're outside of the quick service restaurant, you click the button on the app to tell them you've arrived and they start making your order. They will update you on the app when it's ready.
Once it's ready the cast member will then let you into the restaurant to pick up your food. I personally tried Pizza Rizzos for the first time and the Pizza was delicious!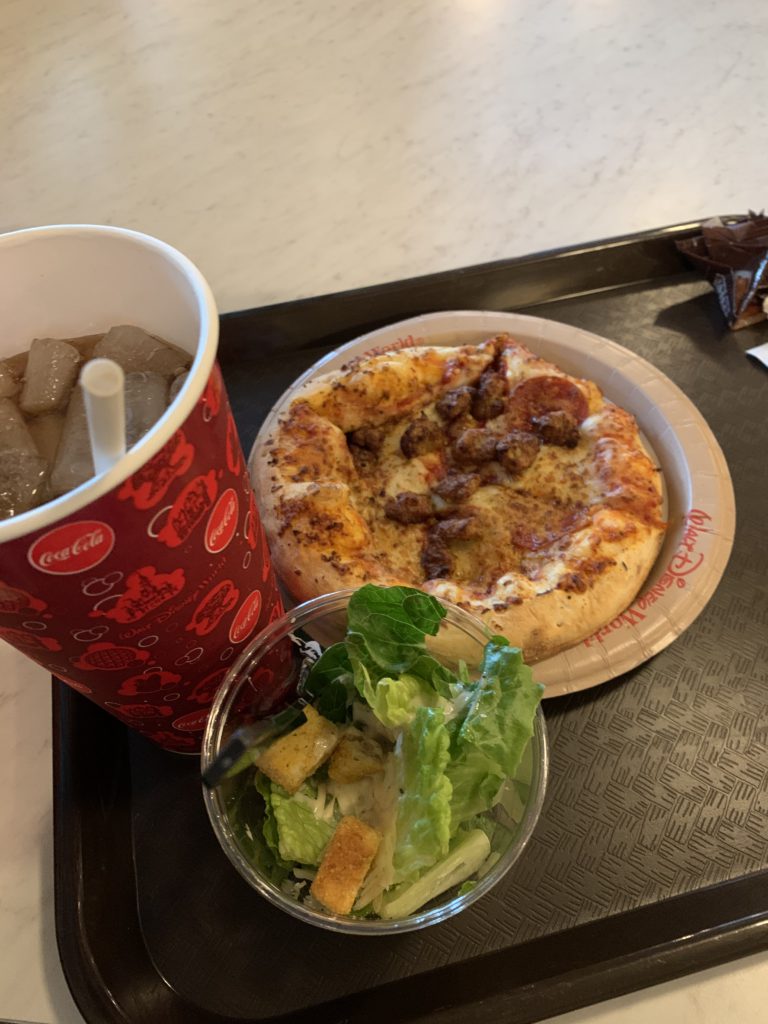 Another thing to note is that not all of the smaller locations where you would normally buy popcorn, pretzels, churros ect. were open. Some were, but not all the locations.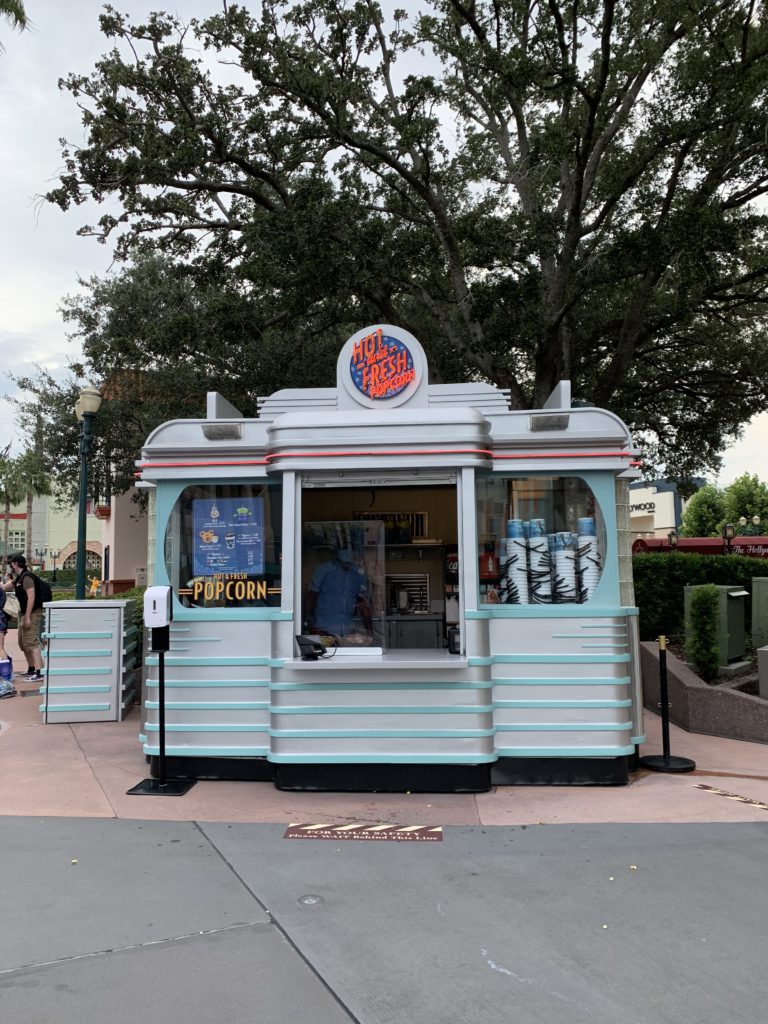 Joffreys and Starbucks were both open though and you can get cups of water for free at those locations also!
New Guest Experiences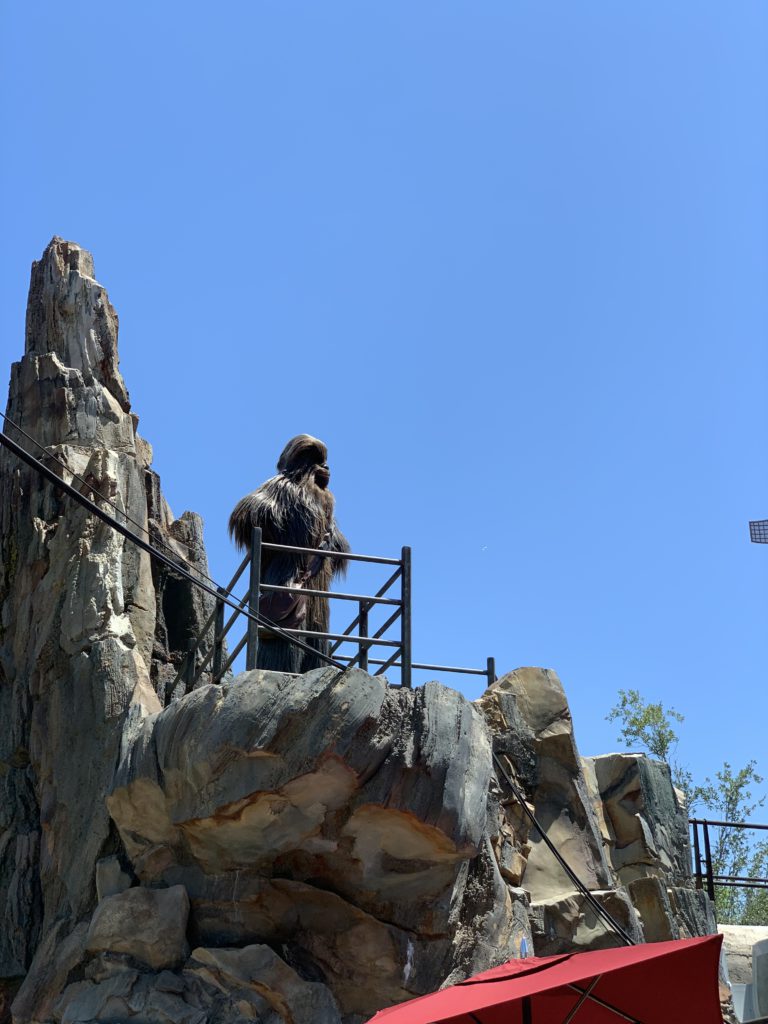 In Galaxy's edge we found Chewbacca and Rey saying hello from a safe distance while they were "fixing" some space cruisers.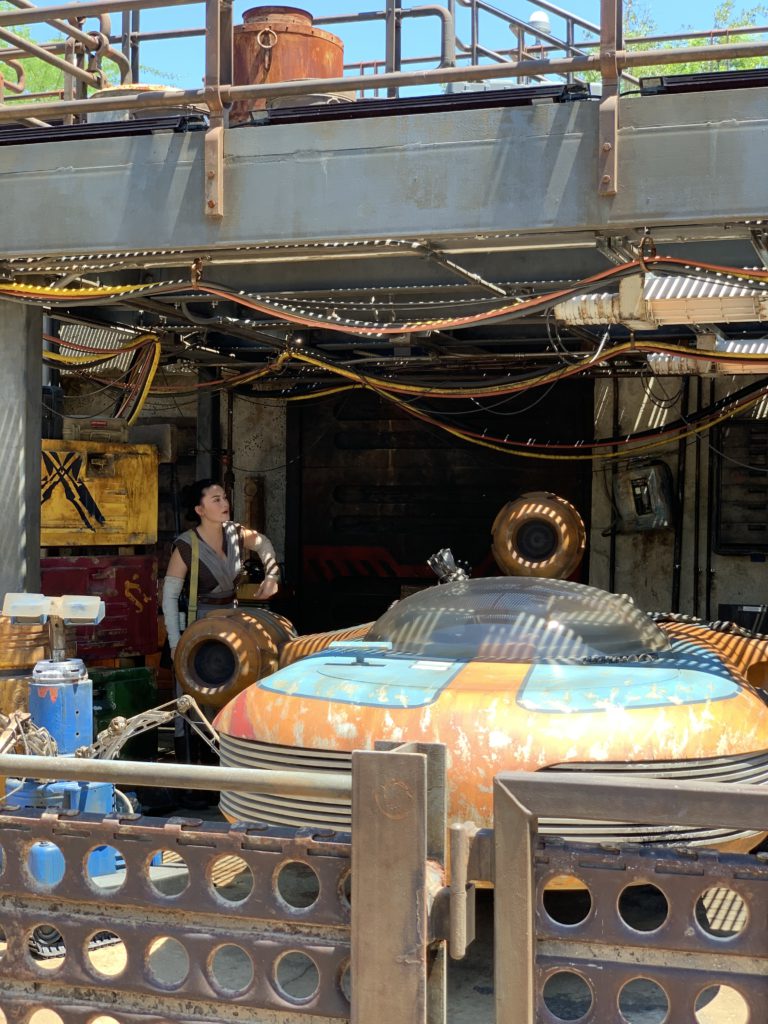 Kylo Ren and some Storm Troopers were overseeing the area near his ship. They were talking with people from up on the ships platform while guests grabbed photos from the ground.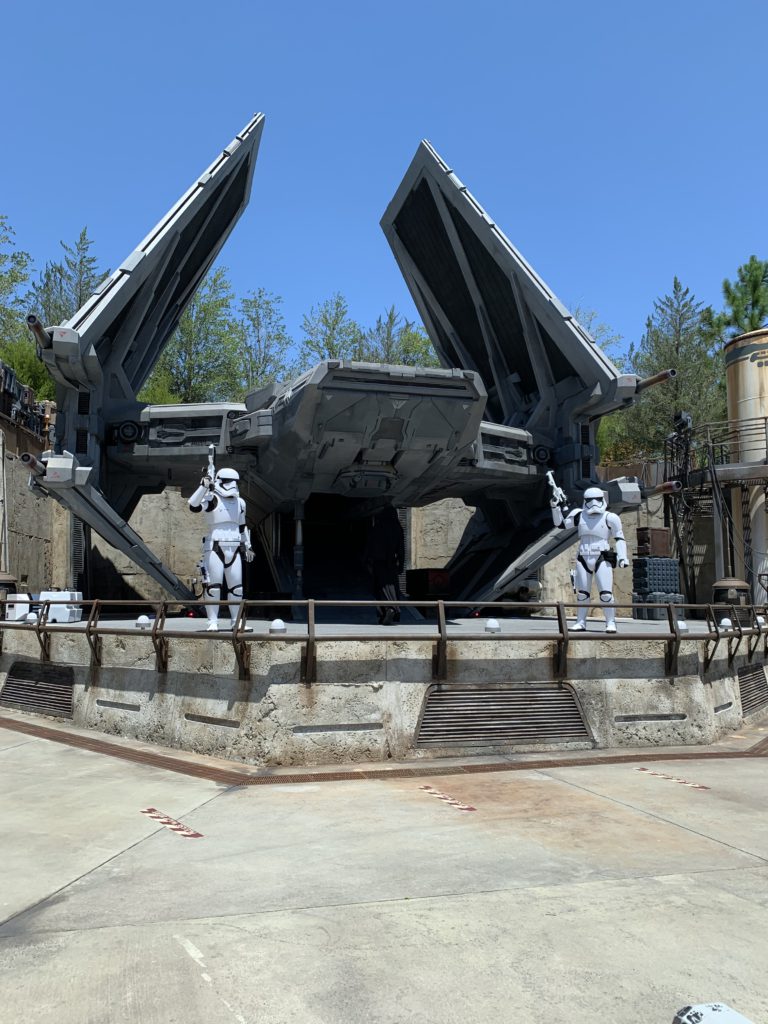 As far as the other general Hollywood Studios characters go, you'll find them in a cavalcade throughout the day at varying non announced times. If you're on Hollywood Blvd (the main strip you enter the park on) and hear the music change, that's a great indication that characters may be coming.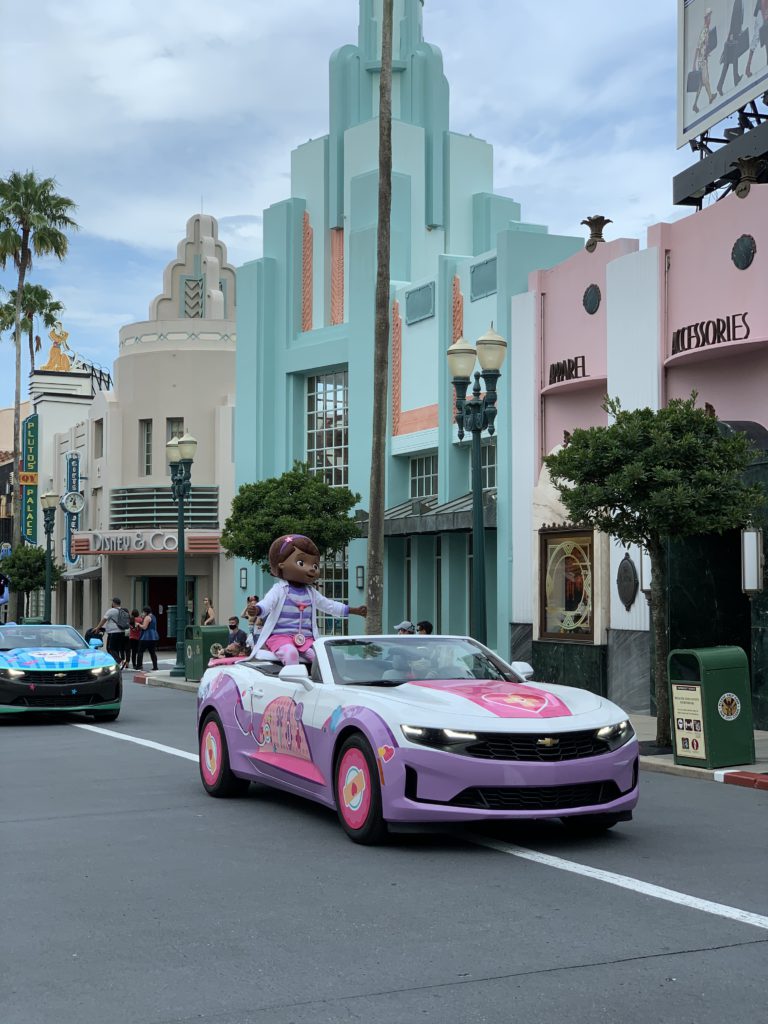 One group that came through was Fancy Nancy, Doc McStuffins & Vampirina.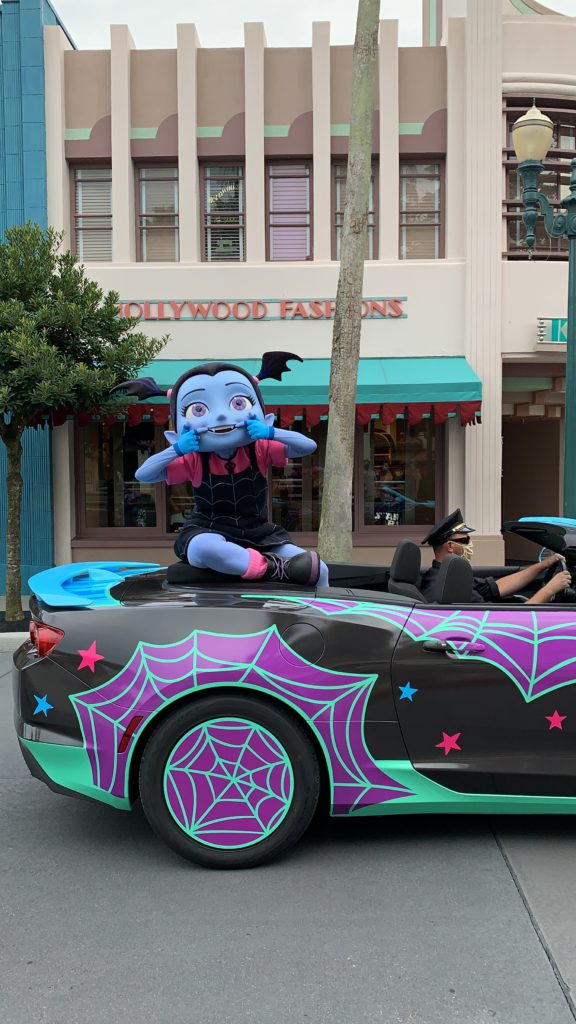 A little later I heard Pixar music and down the road came Mr. and Mrs. Incredible, Edna Mode, drumming Army Men, Sulley, Woody, Jesse and Buzz!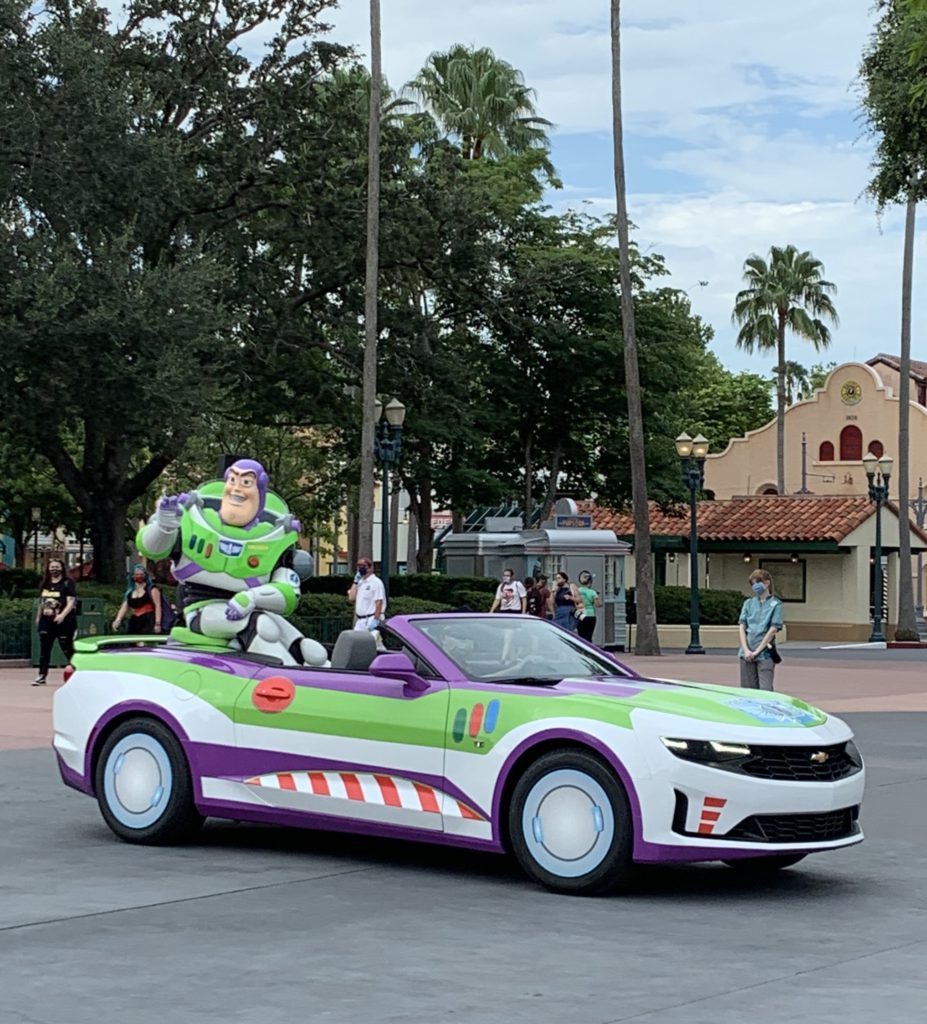 We also caught Chip and Dale, Mickey, Minnie and Pluto at the end of the cavalcade route. The route starts at the beginning of the park and ends by Star Tours. I'll attach a map so you can see its path!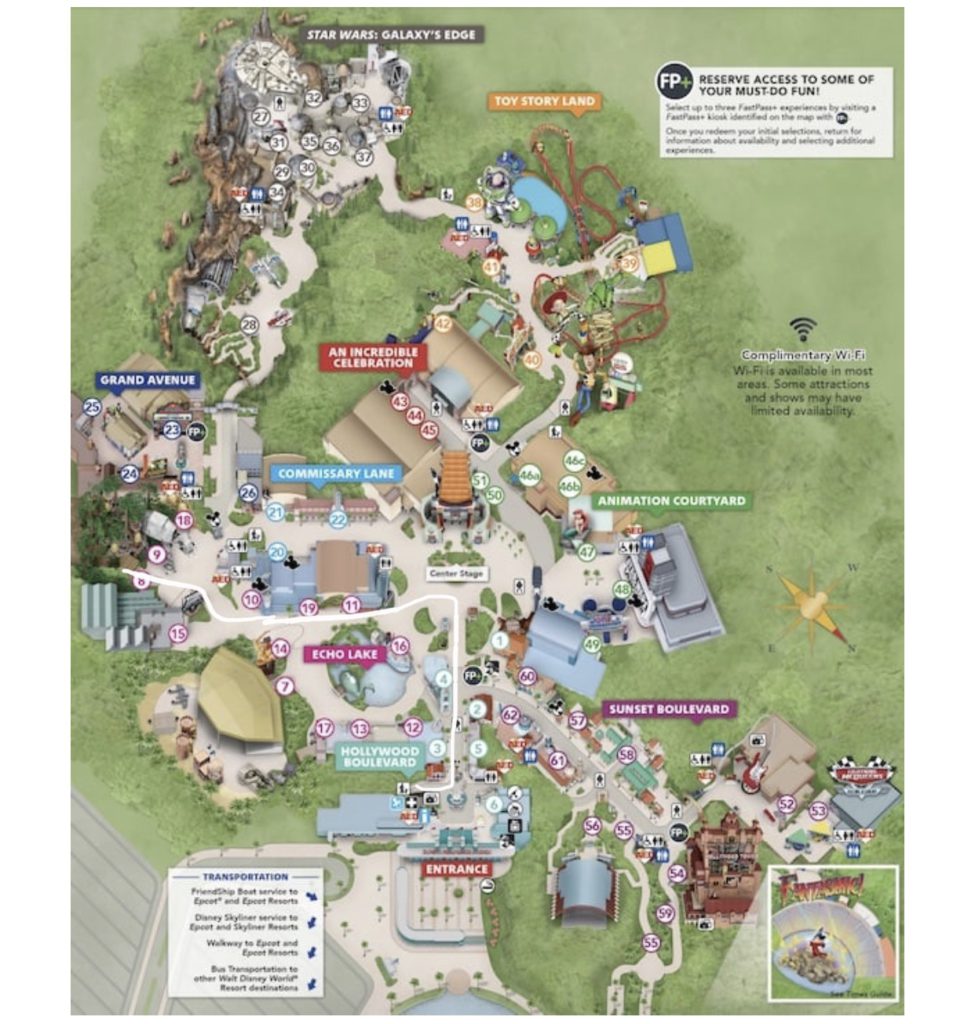 Rides
While I personally didn't get to ride Rise of the Resistance, my friend did and she gave us the scoop on the rides queue updates and how they "load" the different portions of the ride. (Warning: Spoiler Alert if you haven't been on ROTR)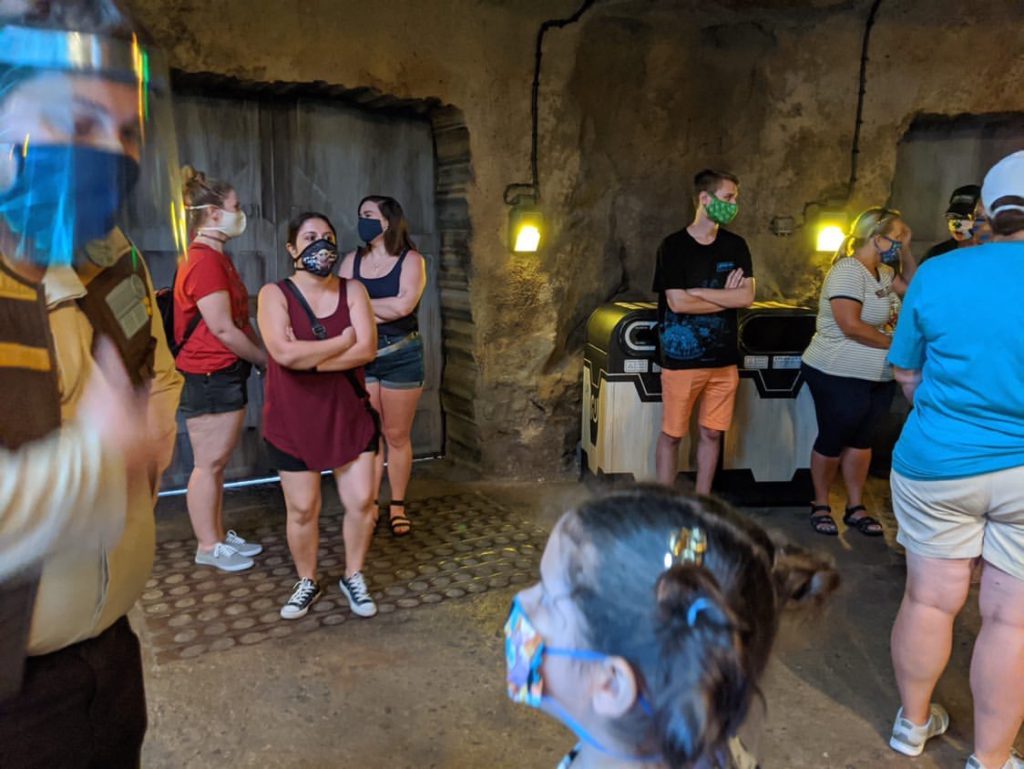 You are given a number before the show starts and that's the same number you stand on during the part with Rey as well as when you enter the ship.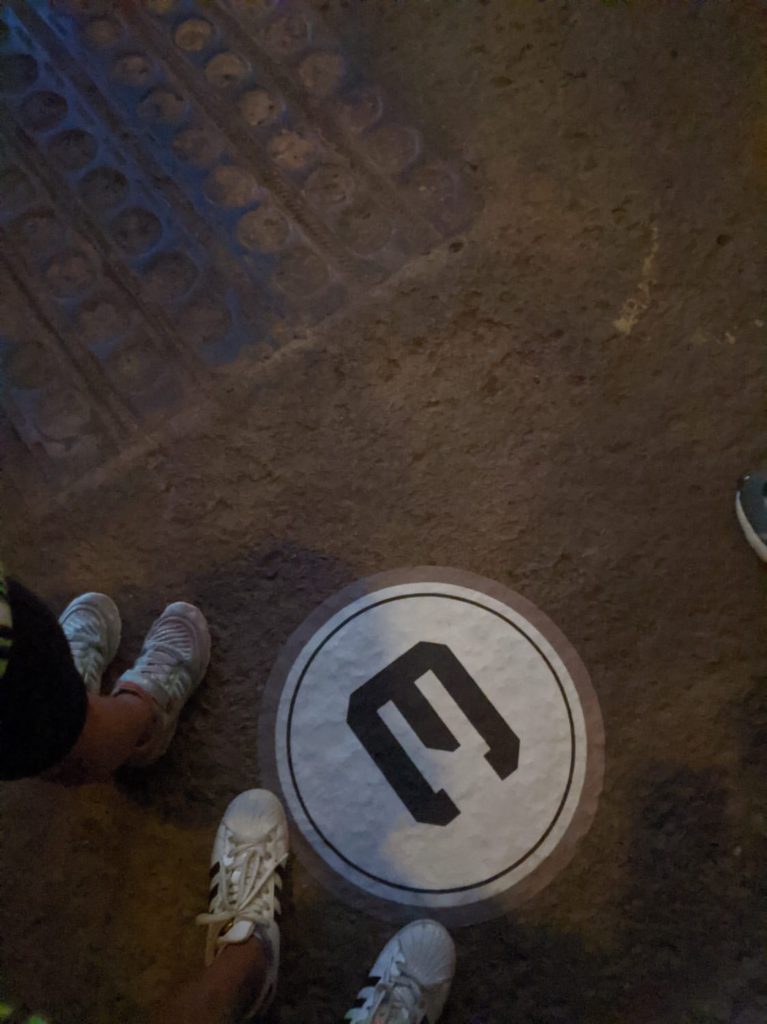 There were about 6 groups total for the show as well as the ship.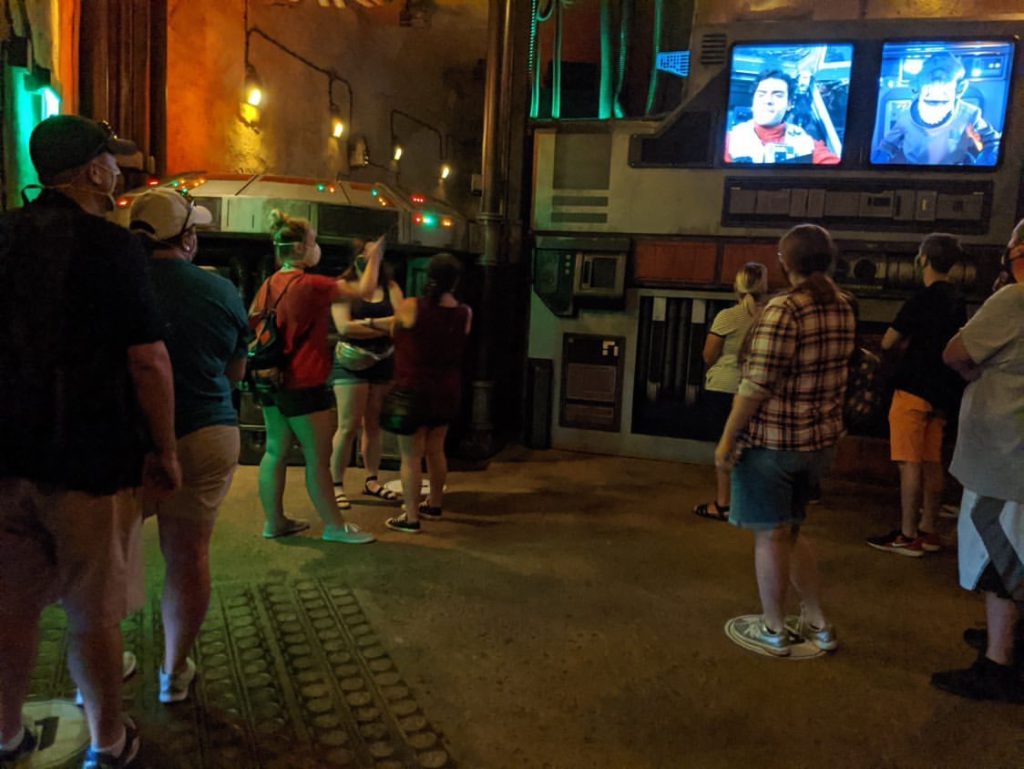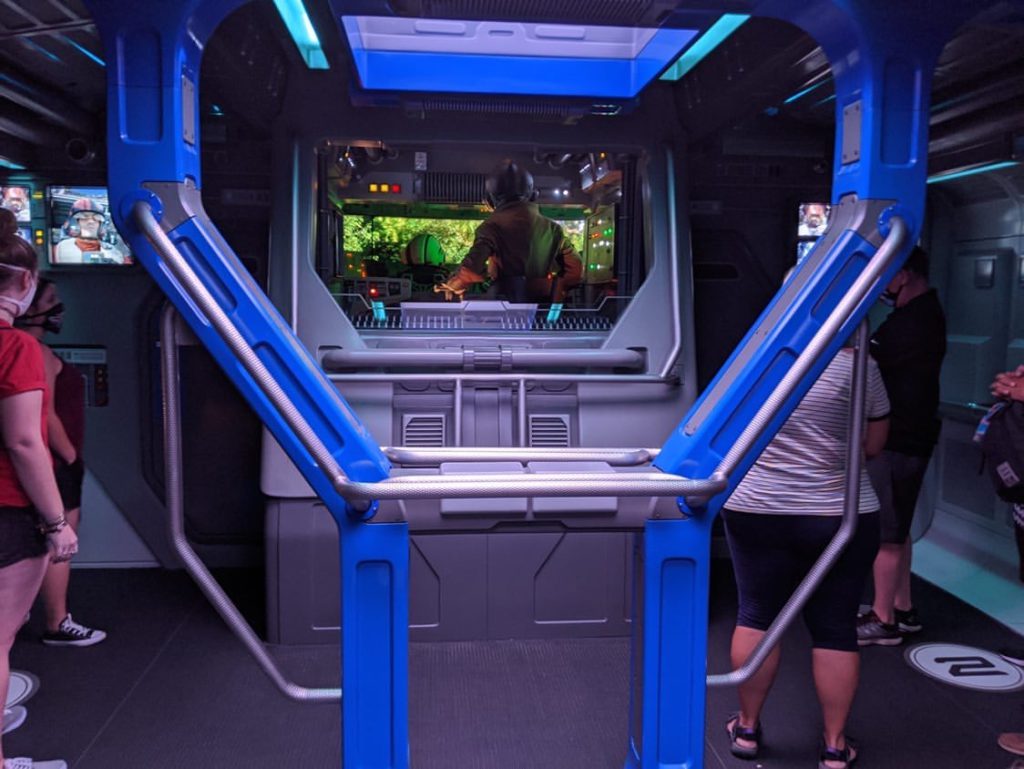 They have added some extra plexiglass in the armor room and the walkway after the Storm Trooper room.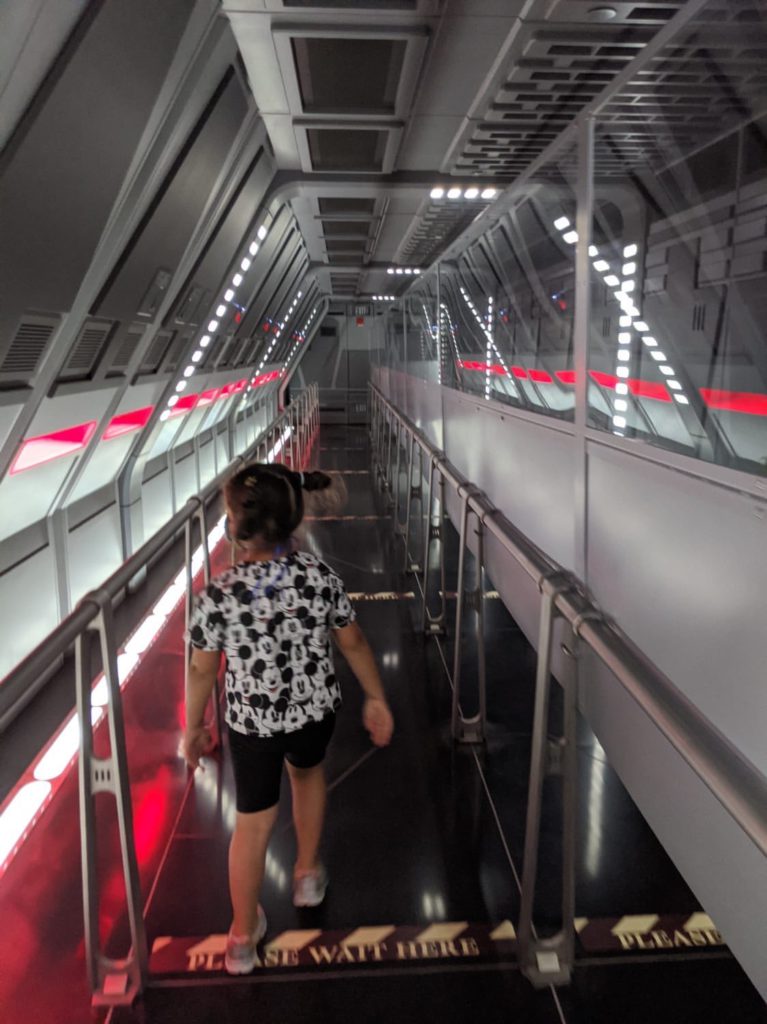 The Storm Trooper room also had a hand sanitizing station. Spots were marked as you get to the part with the prison cell and in hers, it was only them and one other group in that room. Each party gets their own ride vehicle as well. They used to add more parties to fill in the spaces.
The ride with the biggest queue changes I think is Rise of the Resistance. All rides have extra marks for where to stand and various plexiglasses added.
If it's a ride that they normally would have put people next you to fill in space, they aren't currently doing that. I rode Mickey and Minnie's Runaway Railway all by myself in a cart.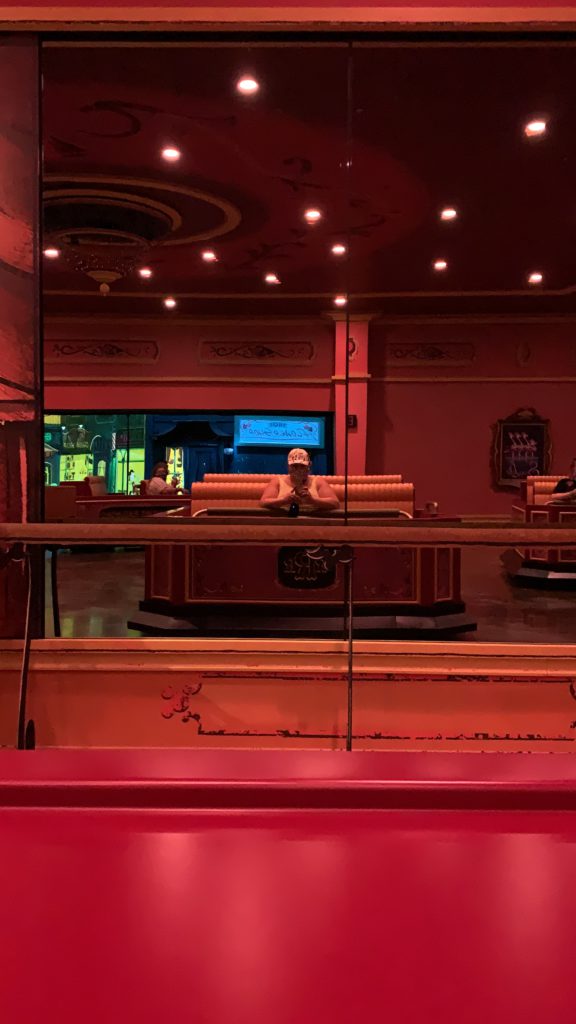 Our party also had a whole Millenium Falcon to ourselves!
This is truly a unique way to experience Disney. Are the masks a bit hard? Yes, but is the Magic still there? Also Yes!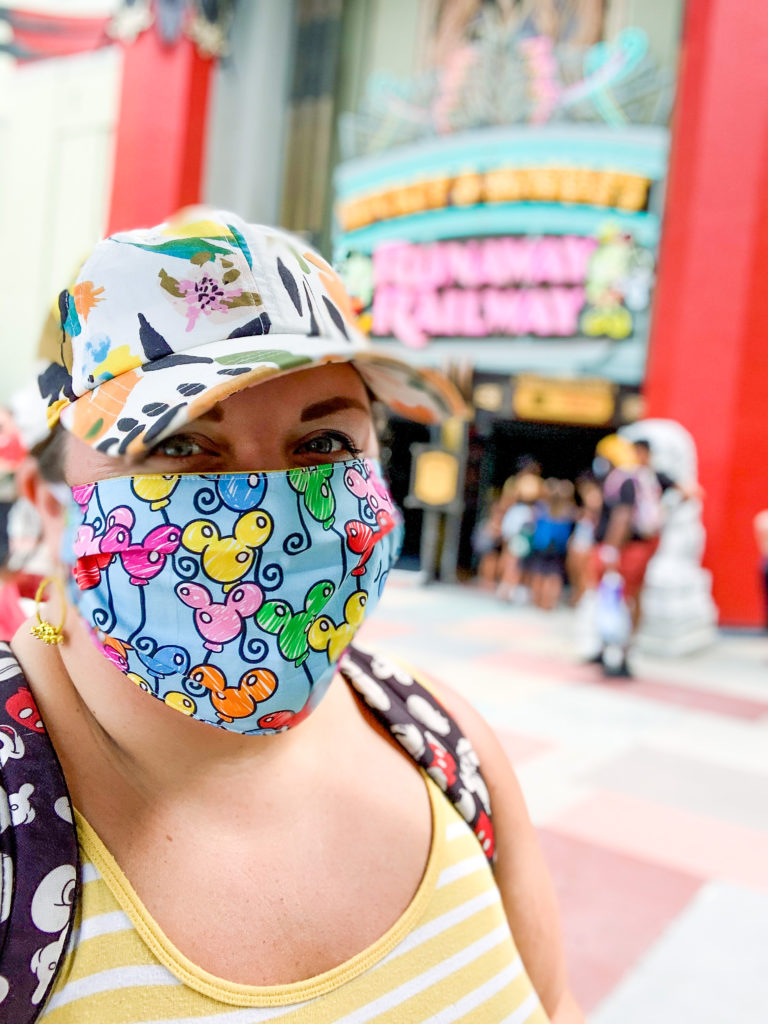 Let me know if you have any questions below!