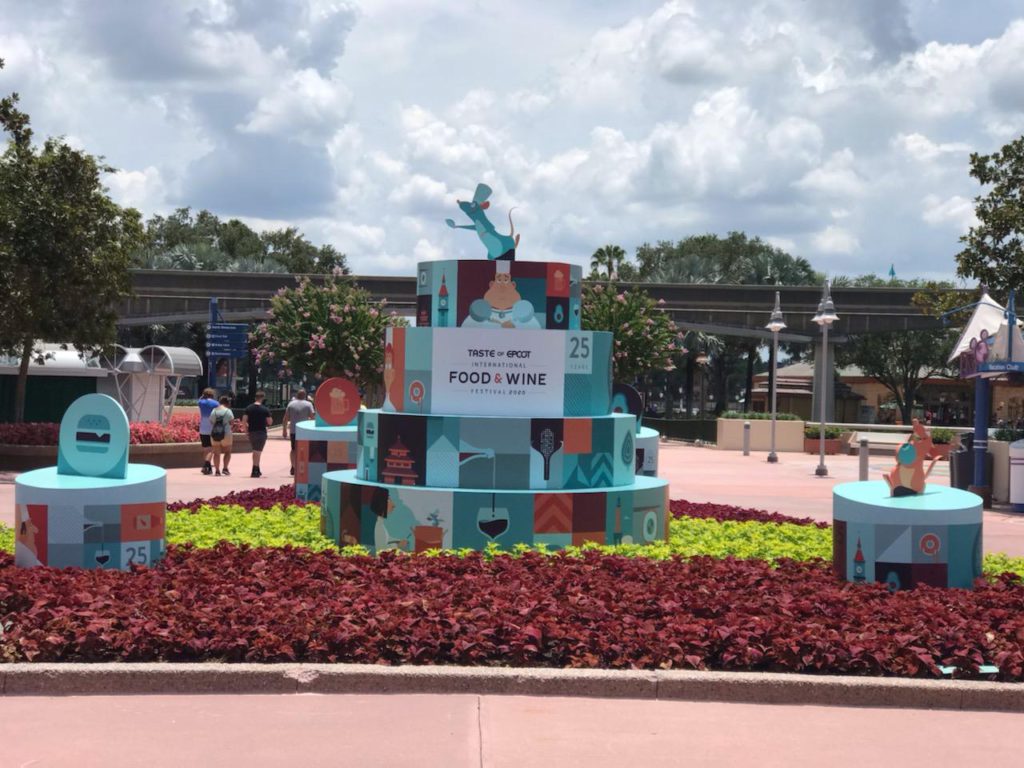 FINALLY!! All four Walt Disney World parks are open! I was able to go back to my favorite park on opening day to take a peek at some of the new procedures and features.
Arrival
Temperature and Bag Checks
Same as the other WDW parks, every guest will have their temperature checked by Advent Health employees before entering the park. The process was very quick and efficient.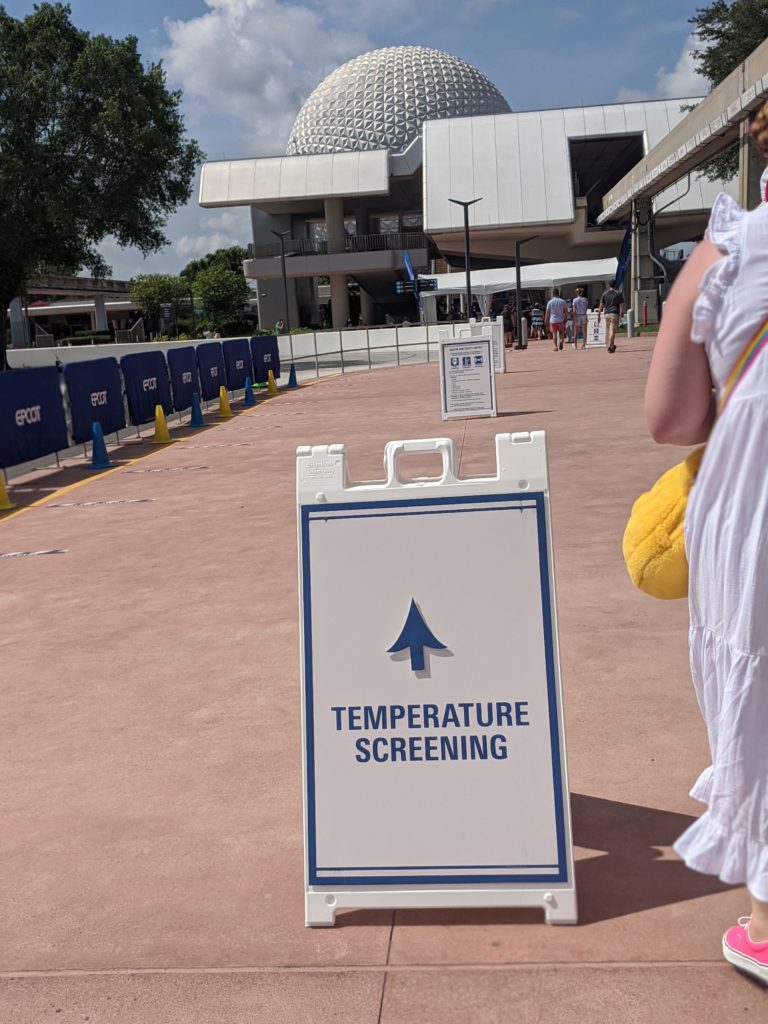 Some guests nearby had their temperature checked on their forehead with a contact free thermometer. If your temperature wasn't reading correctly or seemed a little off it would also be checked (contact free) at the base of your ear on your neck.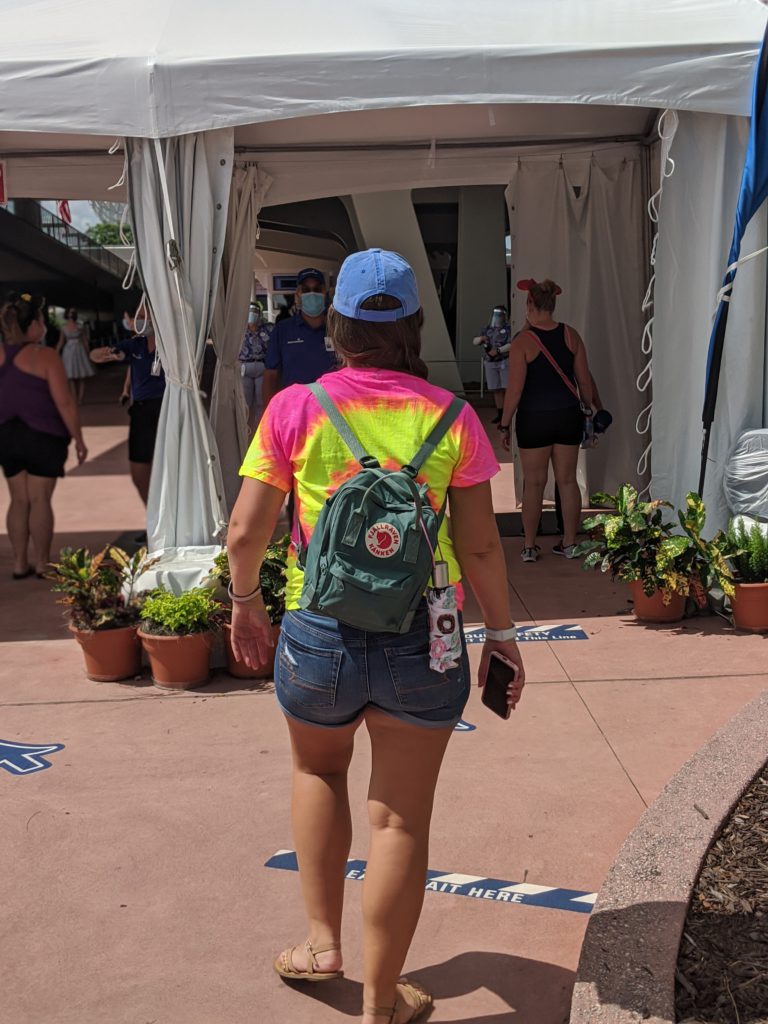 I am personally LOVING the new bag check lines! You are asked to take any umbrellas, metal water bottles or aerosol cans out of your bags and place them in a bin before going through the metal detectors. If you set off the metal detector you are then asked to remove items from your bag and your bag is checked.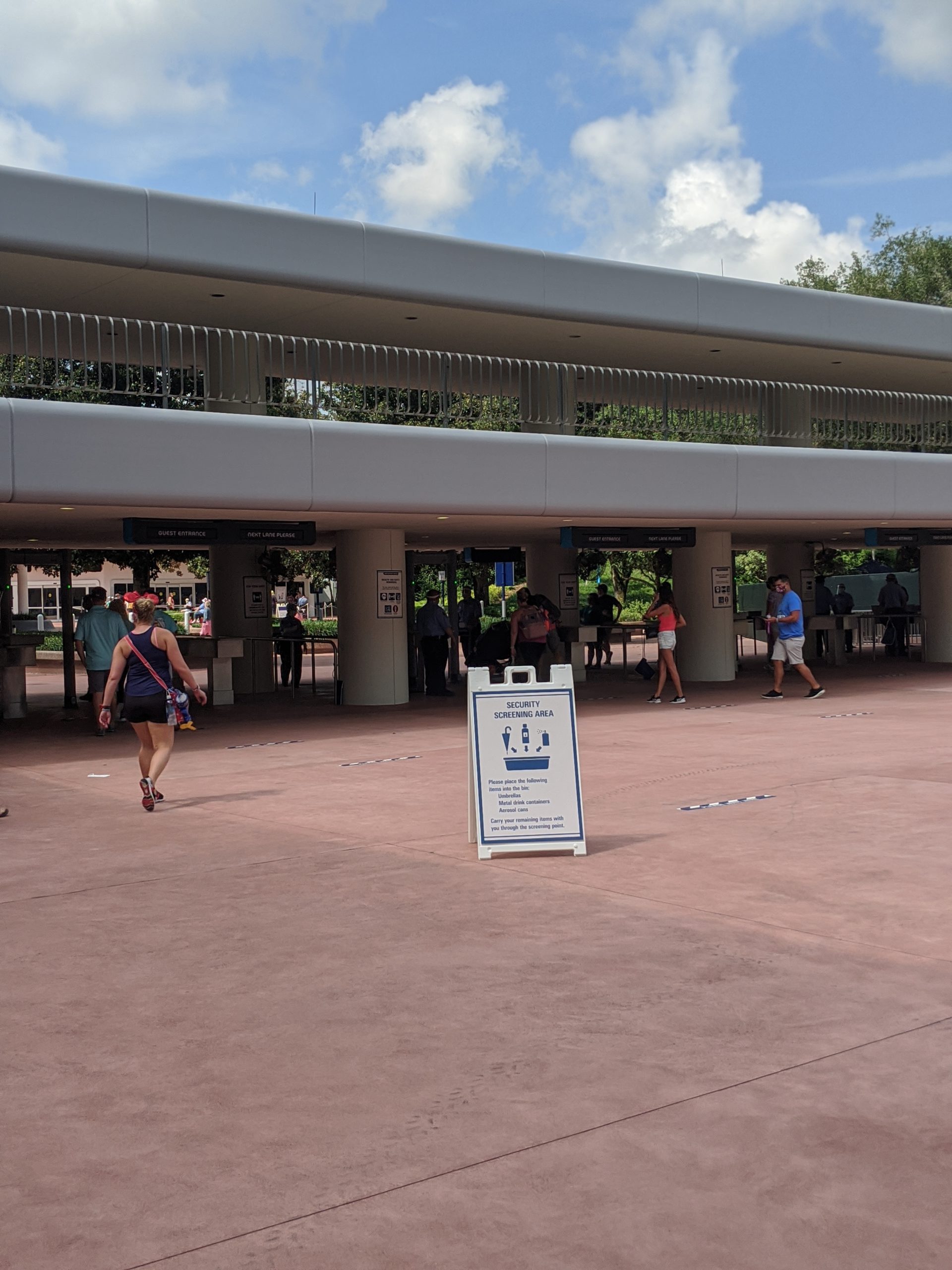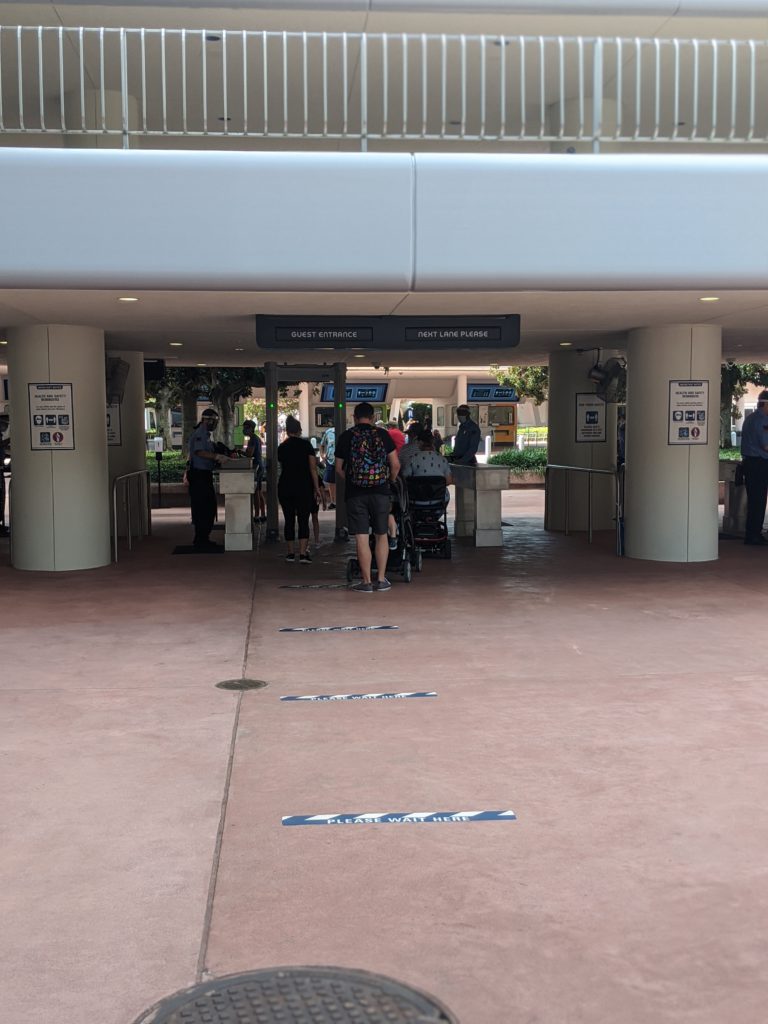 I set off the detector when I went to Magic Kingdom last week with my larger battery pack. Before going through the metal detector I confirmed with the security guard that I indeed would need to remove my battery pack, so just a heads up! The same likely applies to larger camera and video equipment.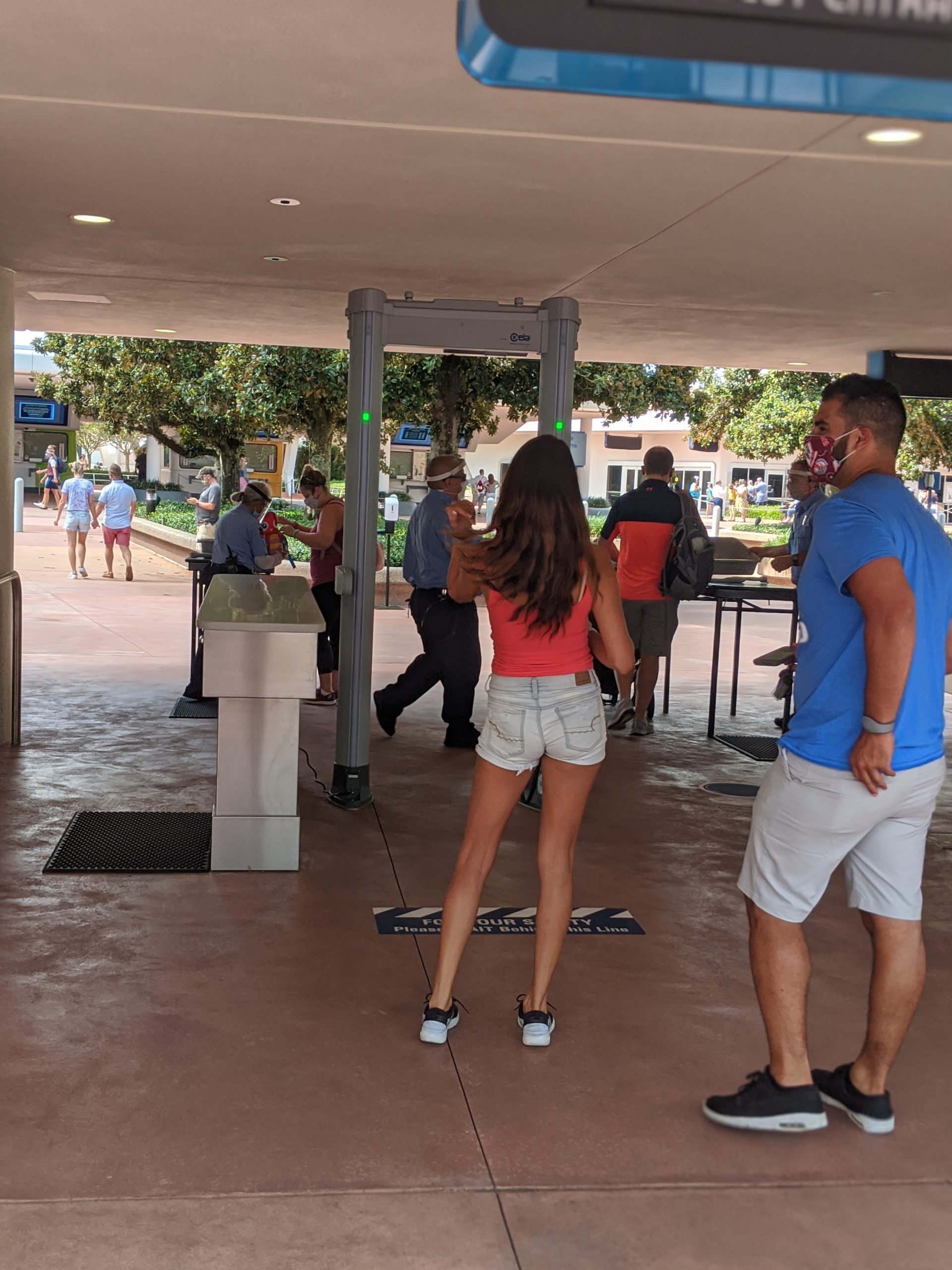 Park Entrance
Magic bands or park passes are being scanned on the touchpoints but no finger scans are currently being done. With all of the current construction that is being done for Epcot's remodeling, new directional signs are in place to help you get where you want to go.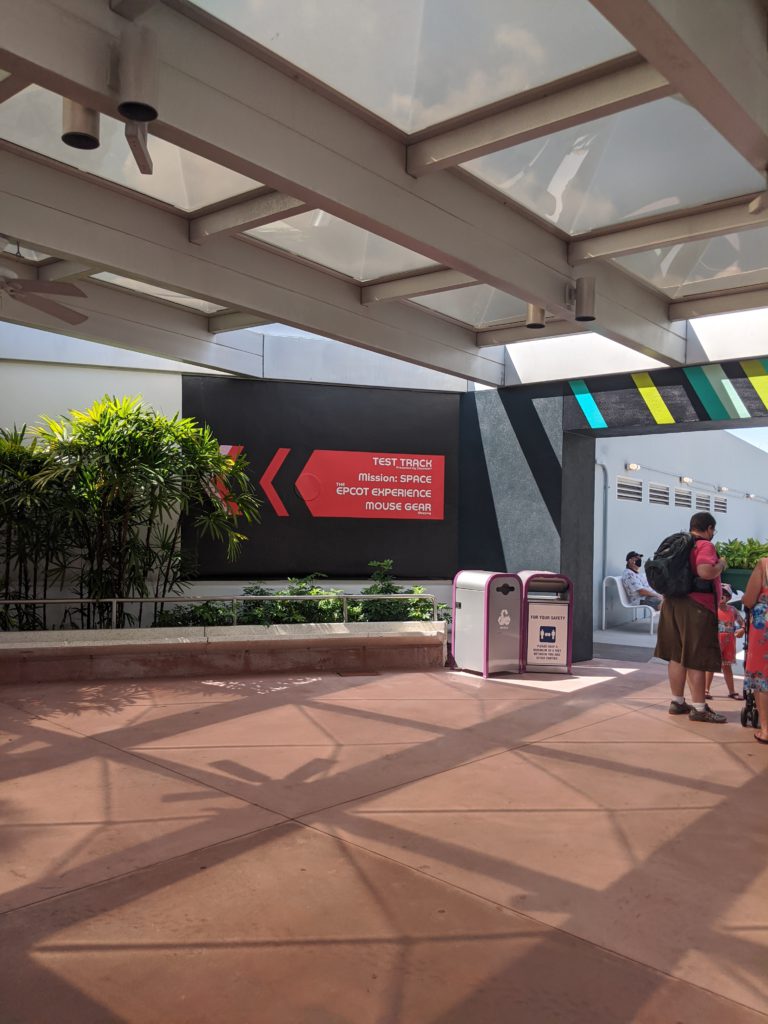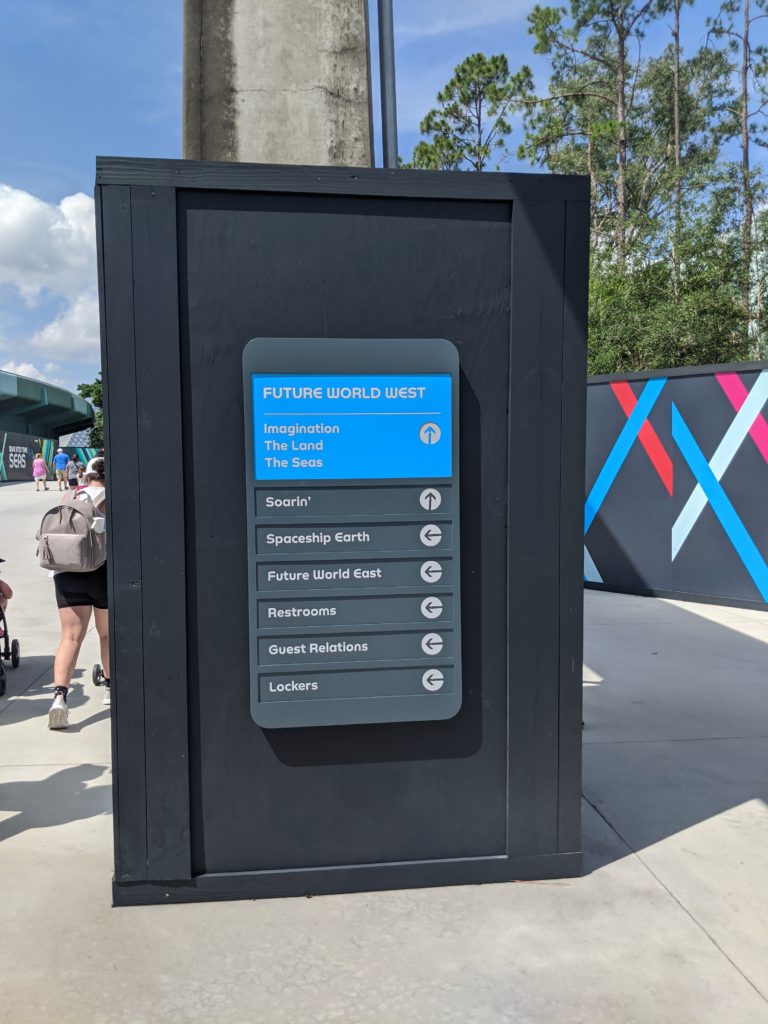 Guest Experiences
Rides and Attractions
We tried out Soarin' because it usually has a very long line on a normal park day. I can't even tell you the last time I rode it without a Fast Pass! The posted wait time said 10 minutes but we ended up waiting around 30 minutes.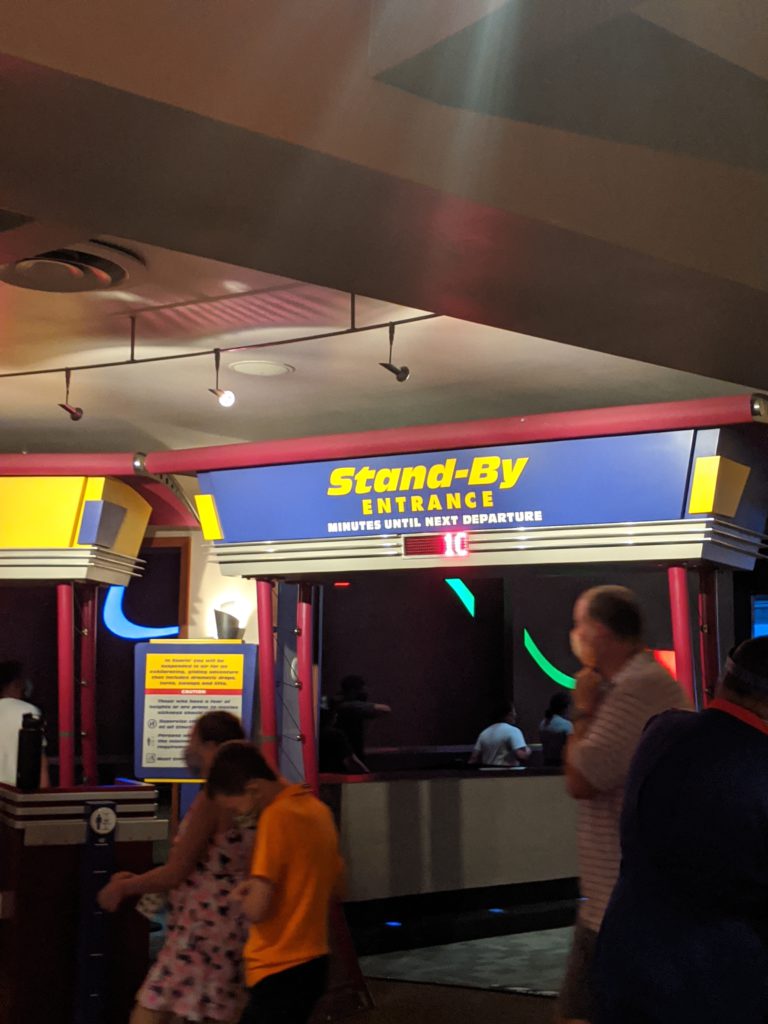 This was right after park opening so we suspect that the wait time hadn't been changed with the influx of guests. Throughout the day we felt that wait times were overall much less than what was posted.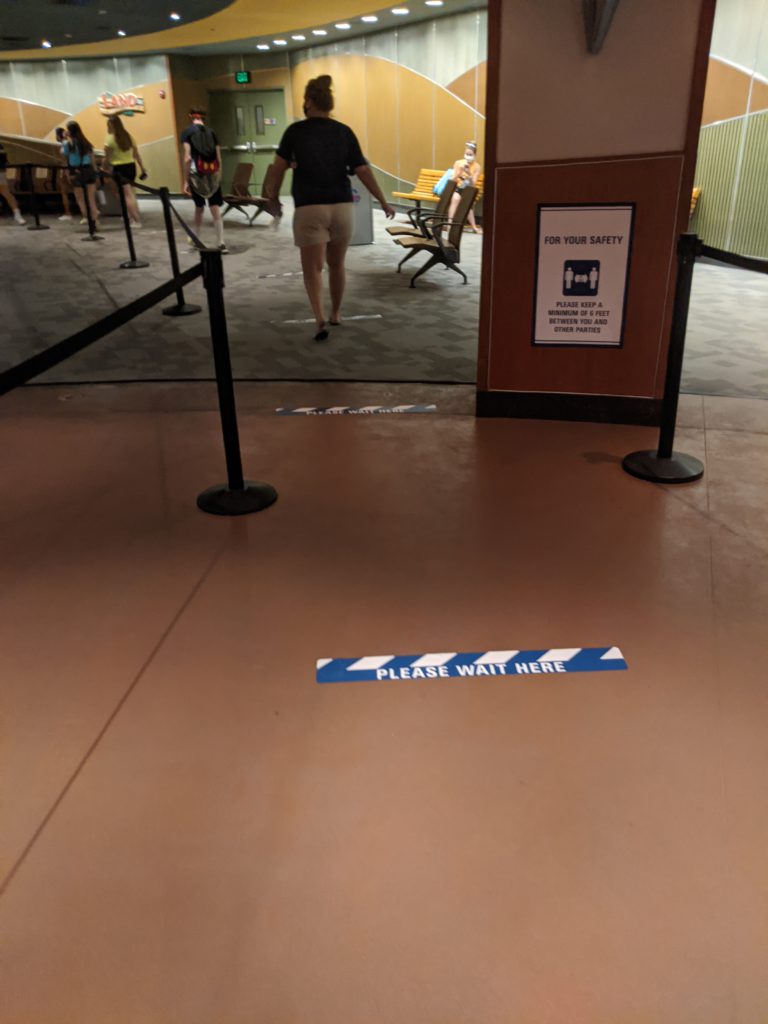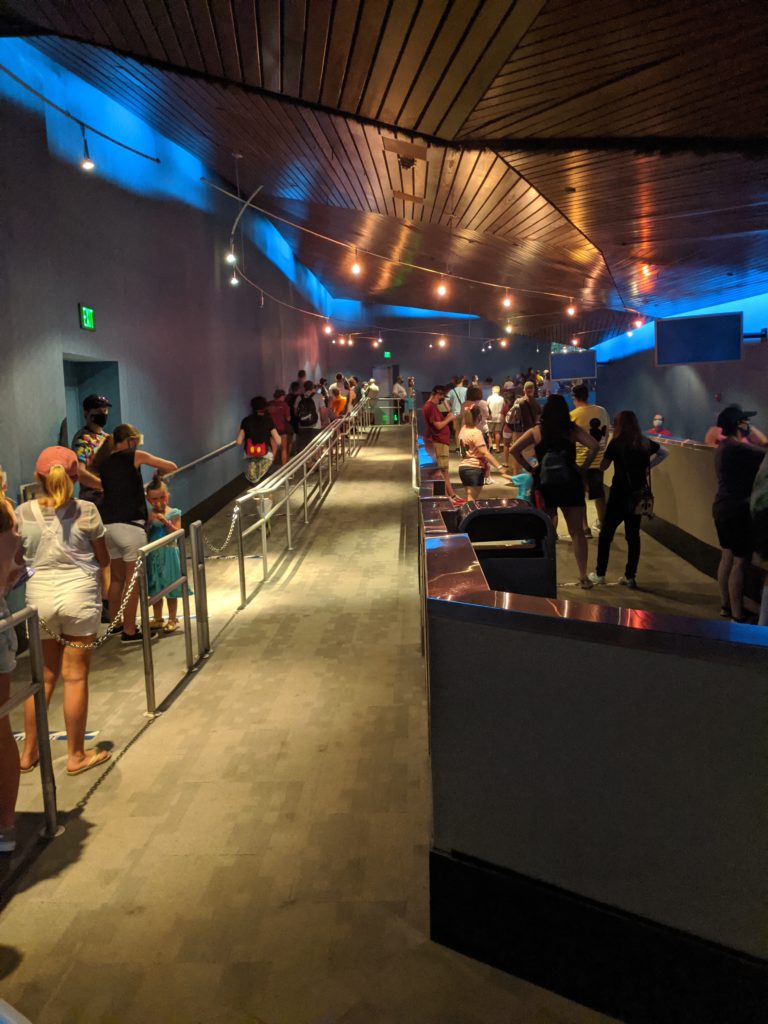 Social distancing markers were place throughout the ride queue. Plexiglass was in place in areas where distancing was not easily obtained, for example in the pre-show area and between sets of chairs on the ride vehicle. Masks must be worn at all times, even on the ride itself.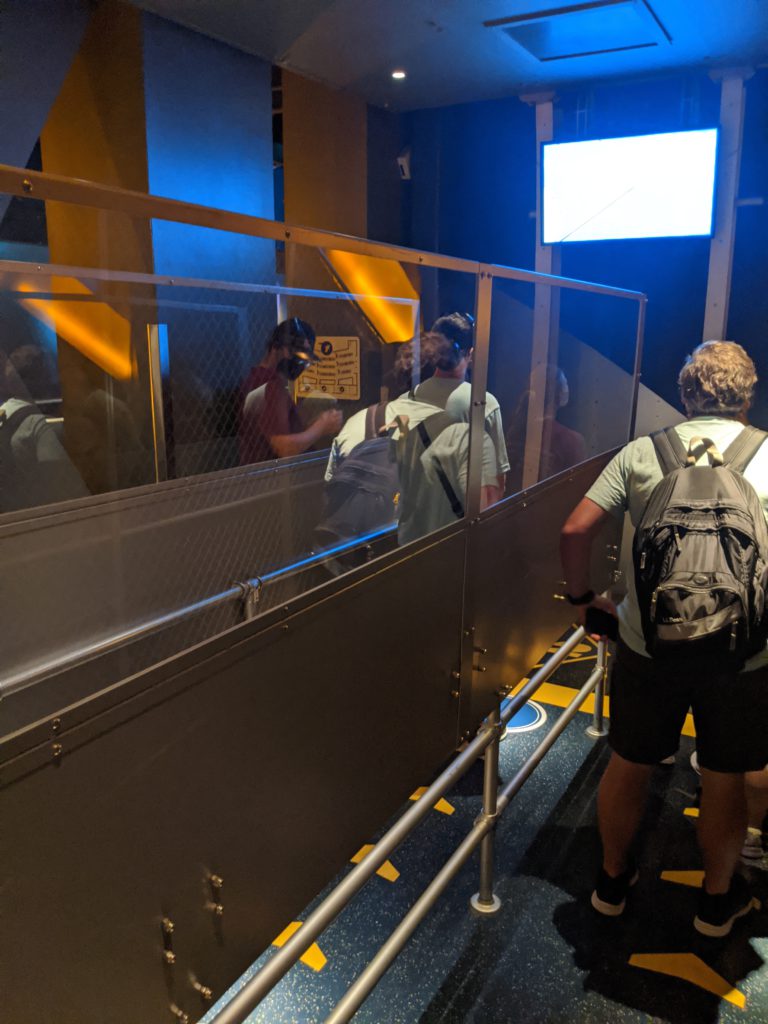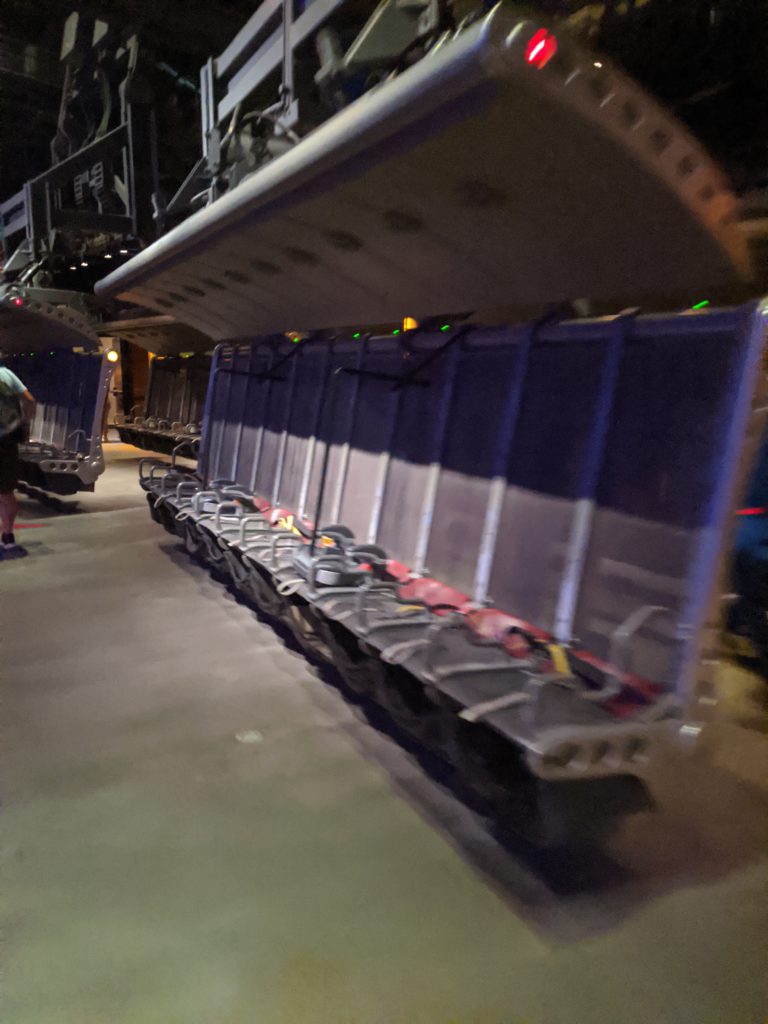 After the ride was completed there was an overhead announcement reminding guests to be aware of where other guests were as they exited and to maintain a distance of 6 feet from other parties. It made me really happy to hear this announcement because exiting rides is one example where I consistently feel that people forget about social distancing. I personally take the time to allow other parties to exit and maintain my personal space.
Taste of Epcot Marketplaces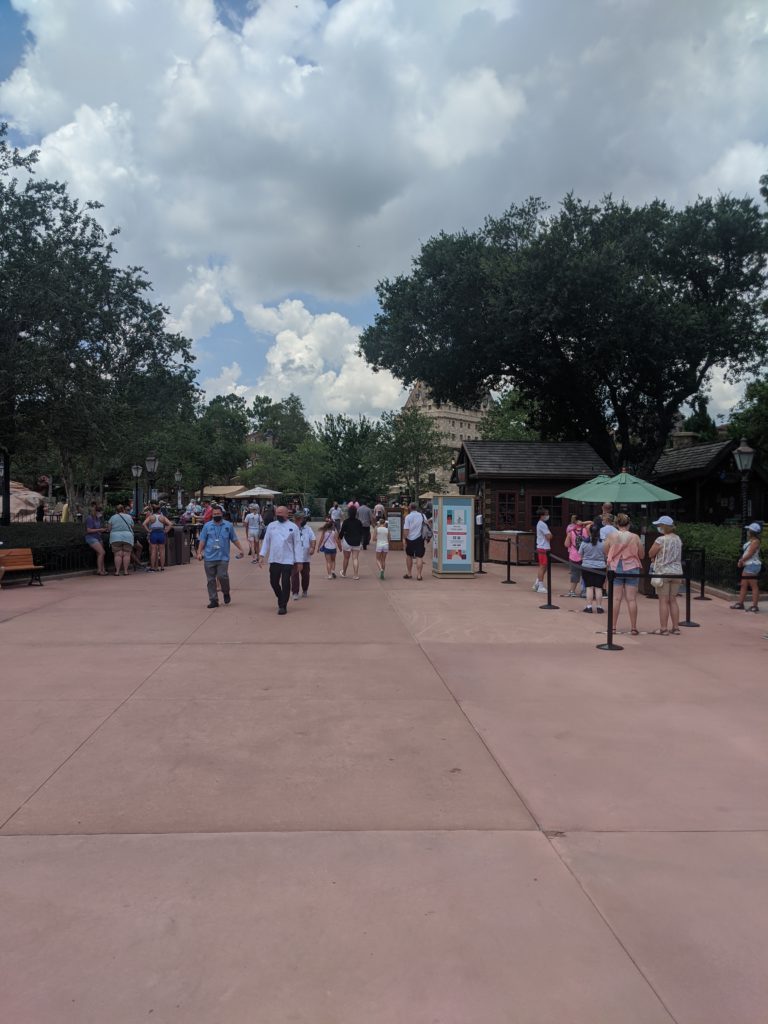 Social distancing markers are in place for all of the festival marketplaces. Menus are a bit paired down from the normal offerings, both in booth numbers and menu offerings.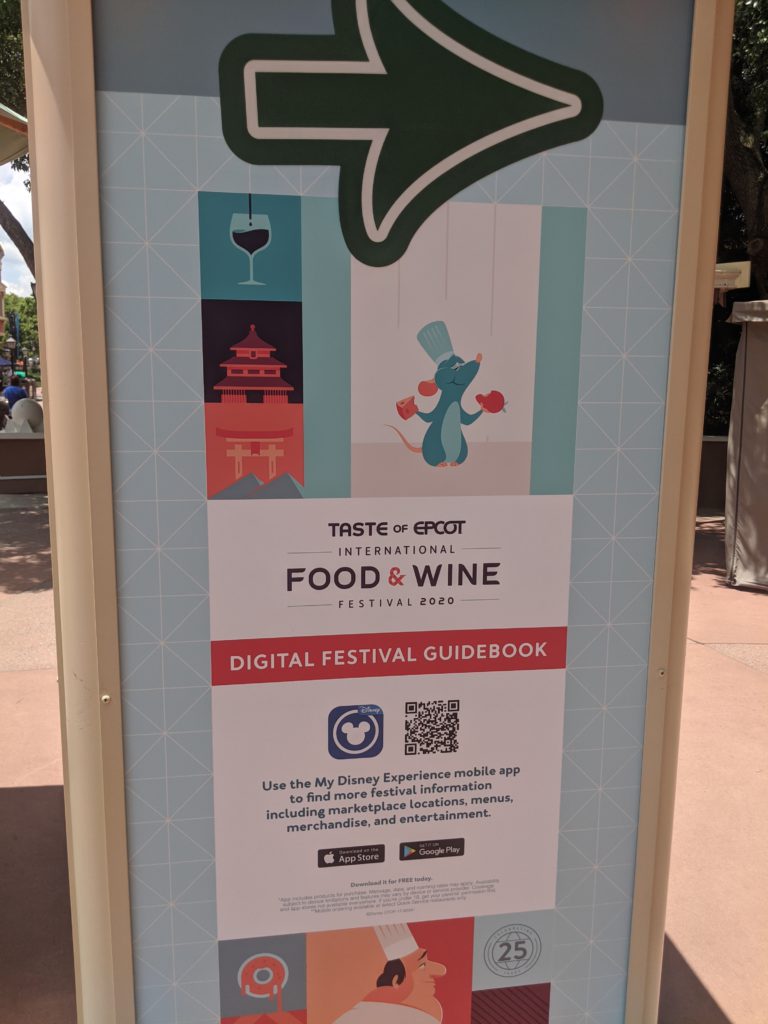 One of the more exciting new areas is the World Showplace Pavilion was between Canada and England.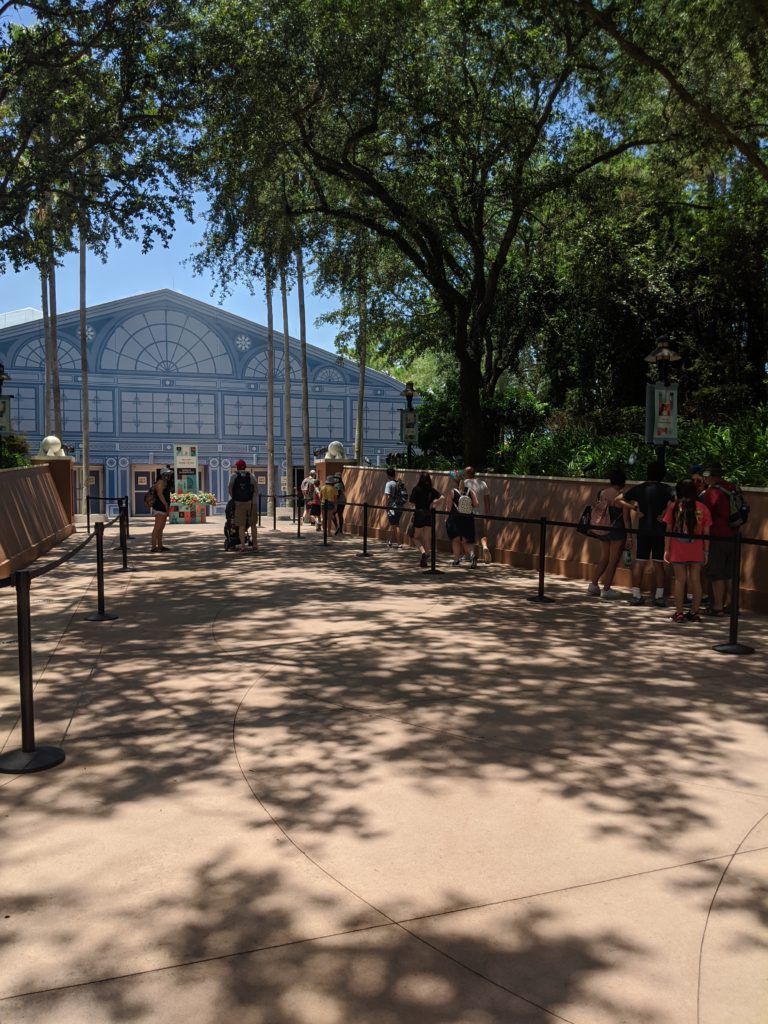 This area is usually used for larger events like Taste of the Senses and media previews, however, they have converted it into an indoor marketplace area to house four different marketplaces.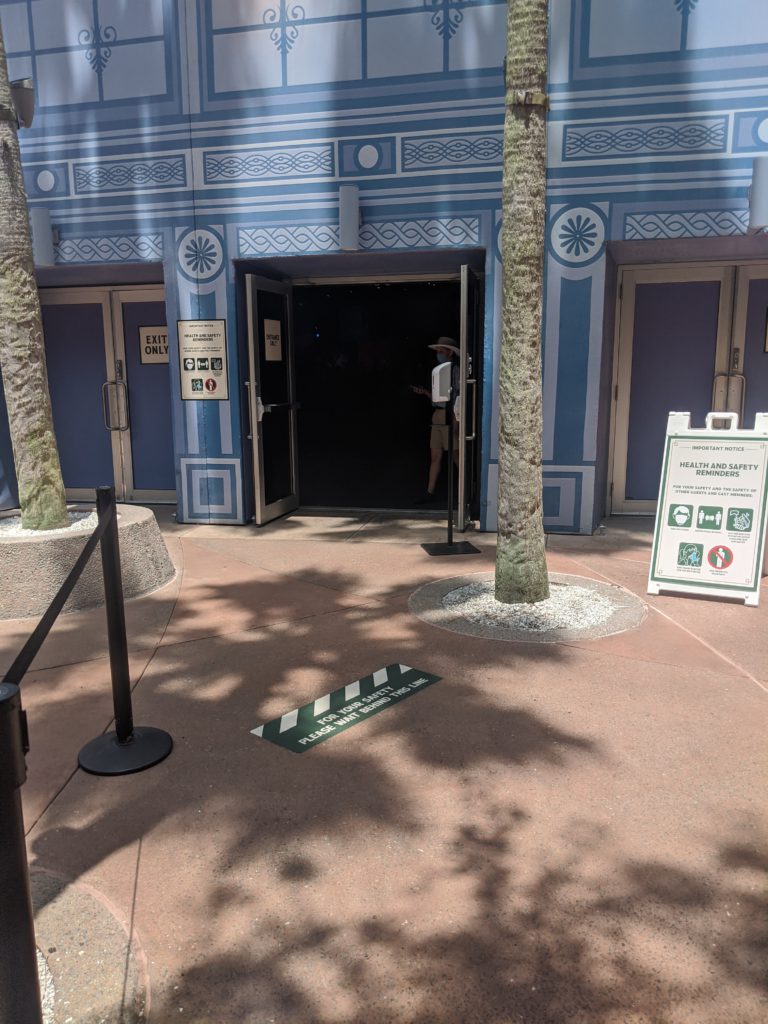 There are tables that are spaced out and cast members are only letting in a limited number of guests. This area is WONDERFUL! It has tables, air conditioning and delicious food!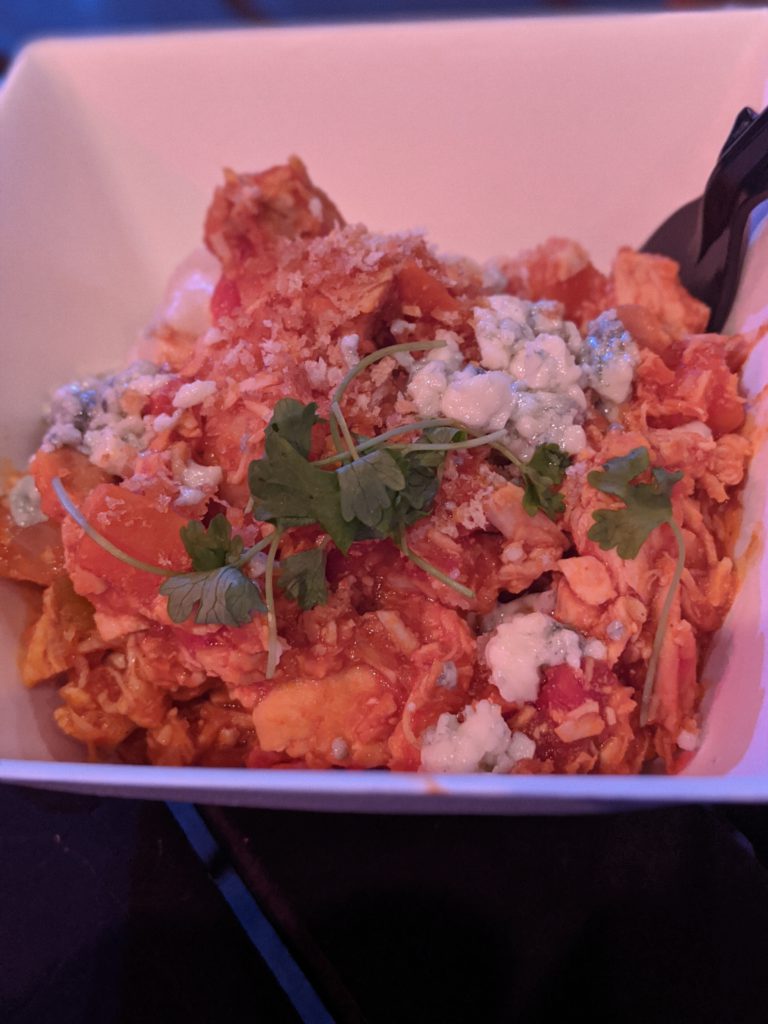 Changes to the World Showcase
The World Showcase is still as magical as ever! For many of the smaller establishments, like the Rose and Crown Pub, you are held in a queue until there is a space available for you to enter.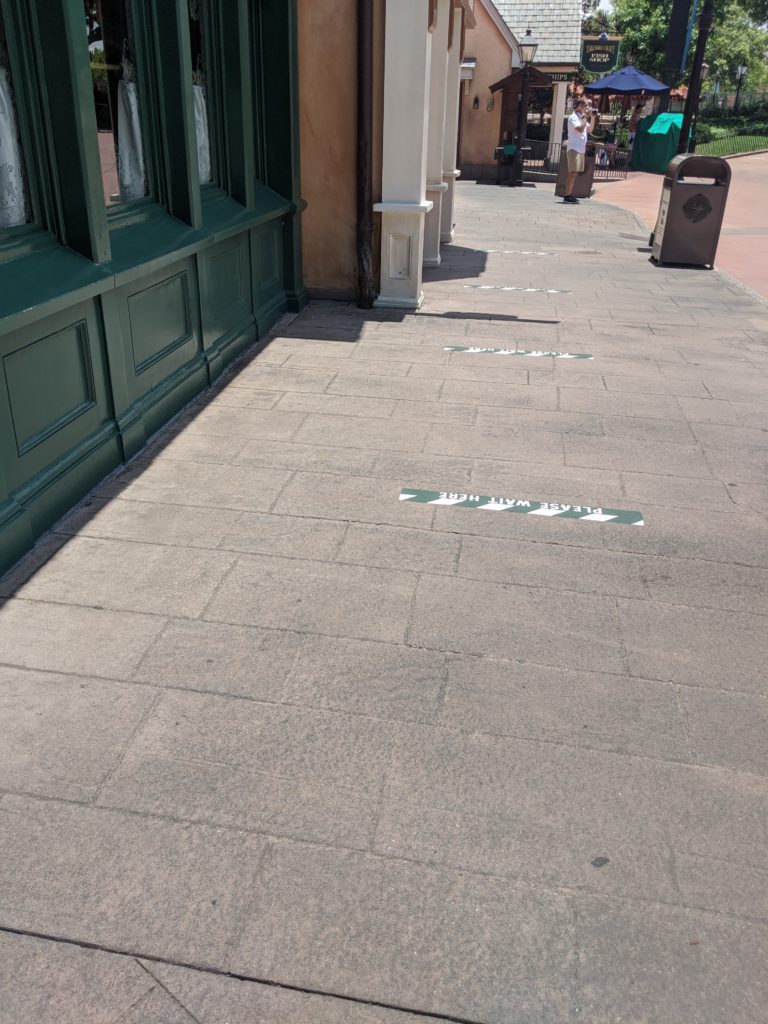 At that time you go to a marked spot on the floor where a cast member will then assist you with your order.  Many still have small tables or areas for you to relax. However, a mask is required if you are not actively eating or drinking.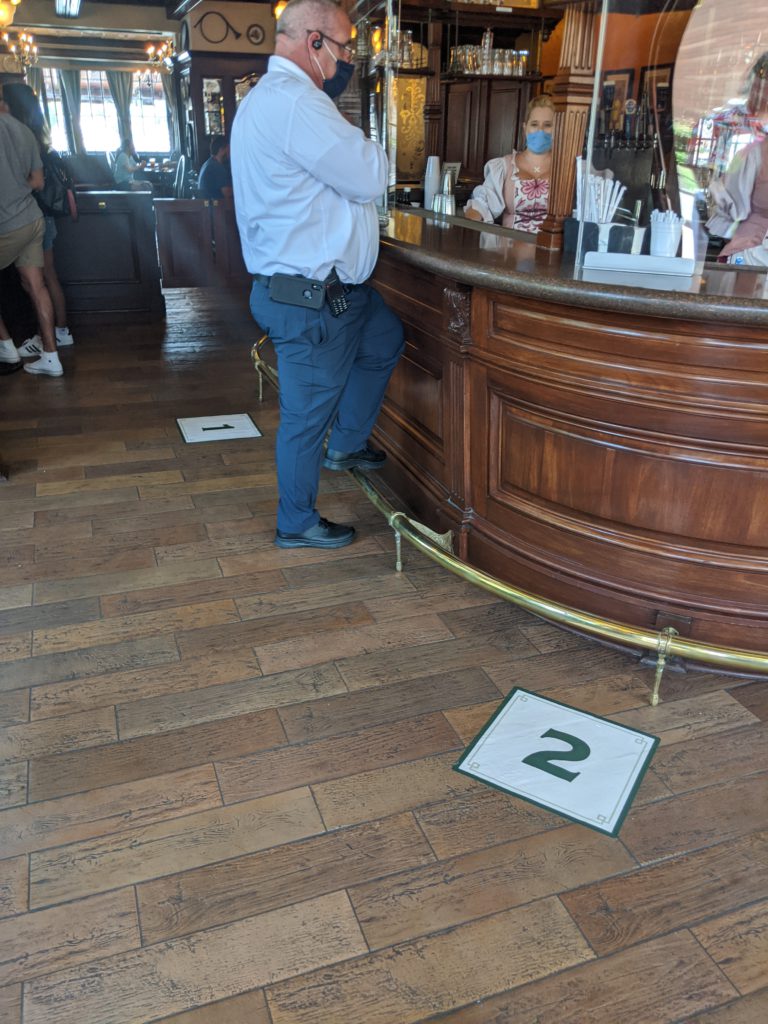 Many smaller stores are closed throughout the World Showcase because it's just physically impossible to implement social distancing inside of them. A few that were closed included the wine cellar and a smaller perfume boutique in France. One of the gift shops in the United Kingdom was also closed.
Stores that remained open had a central entrance and separate exit to allow cast members to keep track of the total number of guests present inside.
Please keep in mind that any smaller "bars" in the pavilions or stand alone drink carts are closed due to current Florida mandates. On the day that we went this included the Winekeller in Germany, the wine counter in Italy (although the rest of the store was still open) and the sake stand outside of the Japanese pavilion.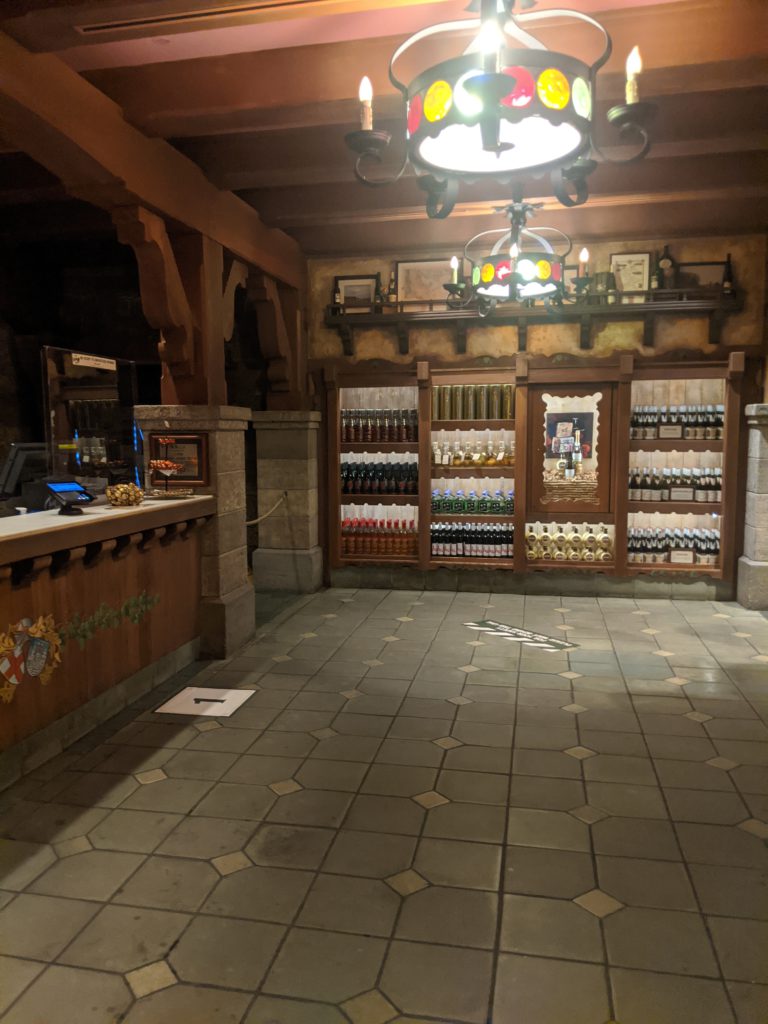 These closures may change once state mandates are revised.
Characters
Just like the other parks, character interactions are available! We came across Pooh Bear in the Showcase promenade where he greeted guests.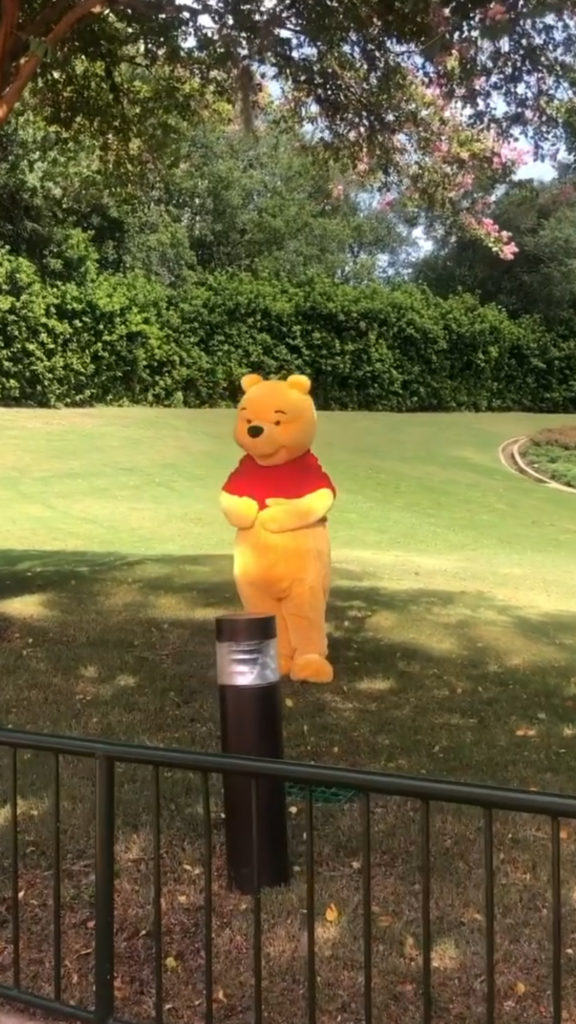 Alice and Mary Poppins took turns greeting guests from inside the gazebo in the United Kingdom.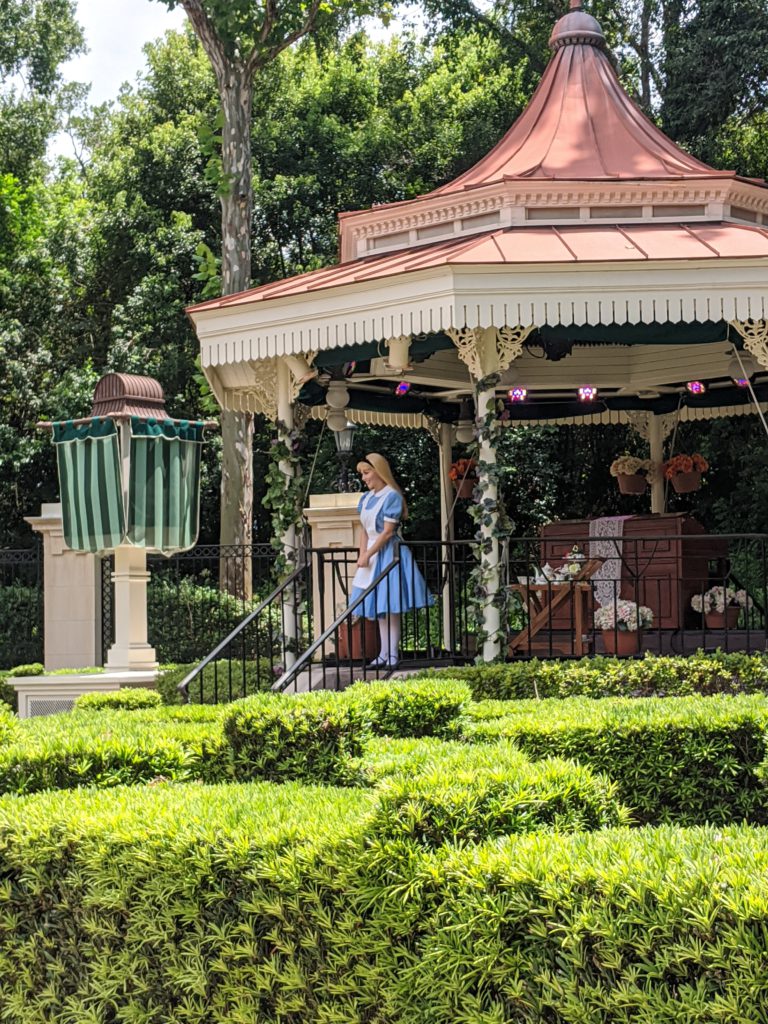 If you don't have anyone to take a photo for you a selfie will have to suffice since cast members are unable to handle your personal cameras or phones!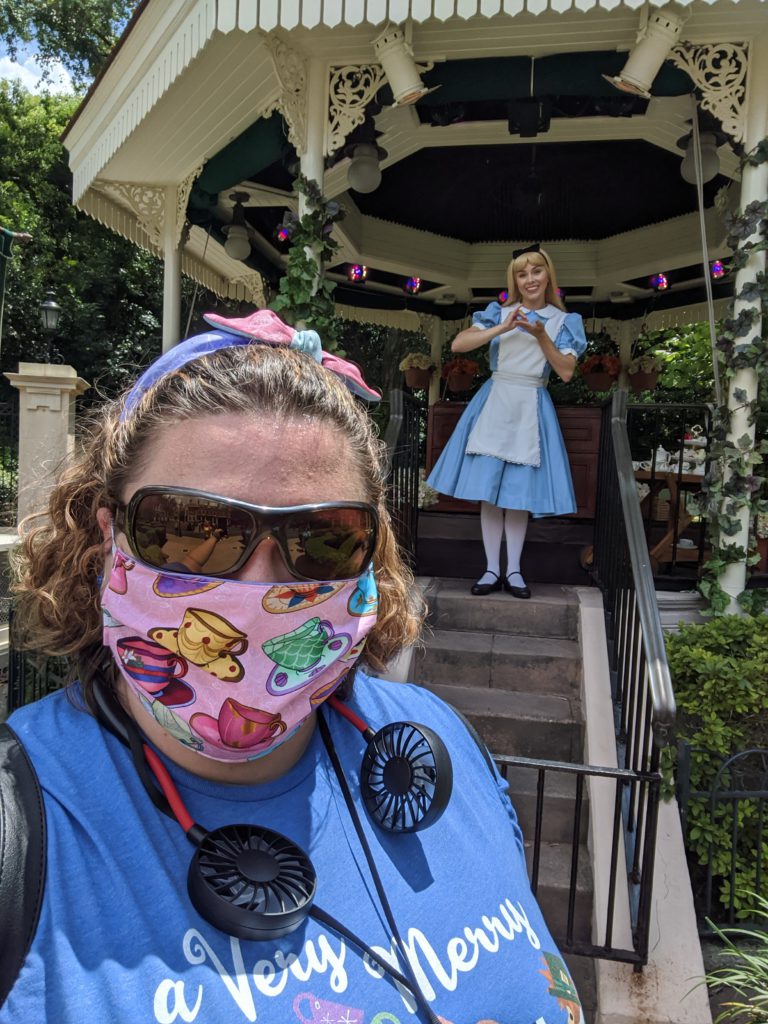 Character cavalcades appear intermittently along the World Showcase. We caught a glimpse of Elsa and Anna in their new costumes.
It rained throughout the afternoon and evening so no cavalcades occurred during that time. Others throughout the day saw additional princesses and even Mickey and Minnie!
Relaxation Stations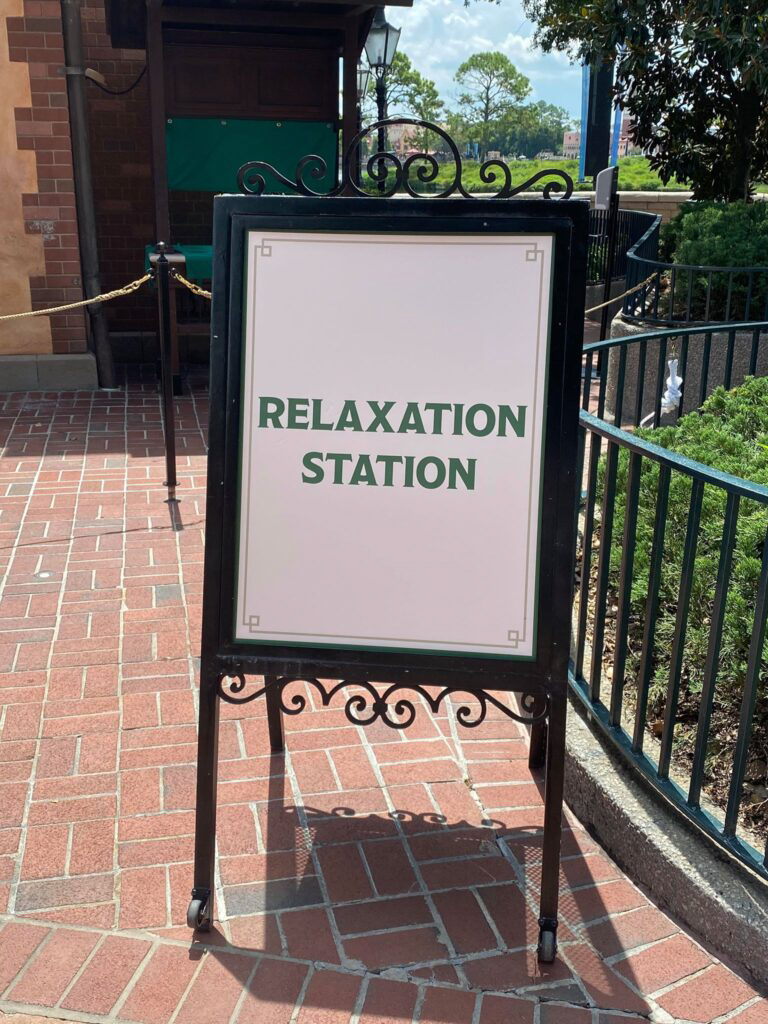 There are three relaxation stations were set up inside the park. These areas included the seating area next to the Yorkshire County Fish Shoppe in the United Kingdom, inside of Akershus Royal Banquet Hall in Norway (air conditioning!) and in Future World between Mission: Space and Test Track.  In these areas you may remove your mask as long as you stay in the designated areas.  
Cleaning and Sanitation:
Throughout the park hand sanitizer and hand washing stations were available. Restrooms were clean and there were friendly reminders to wash your hands for at least 20 seconds.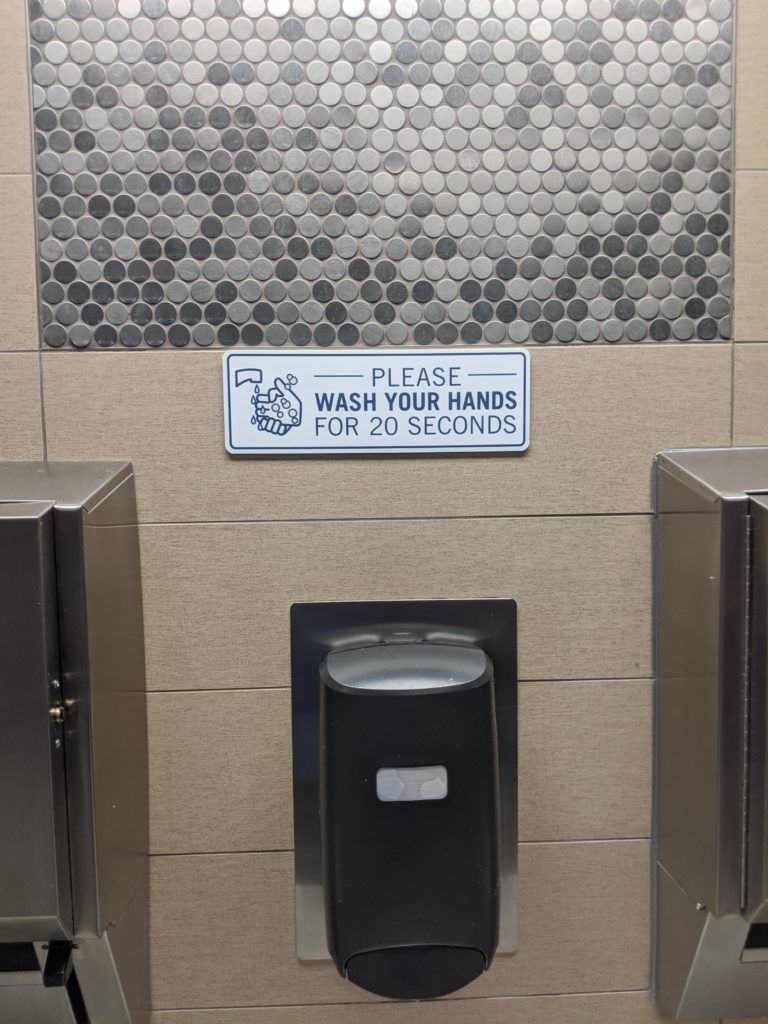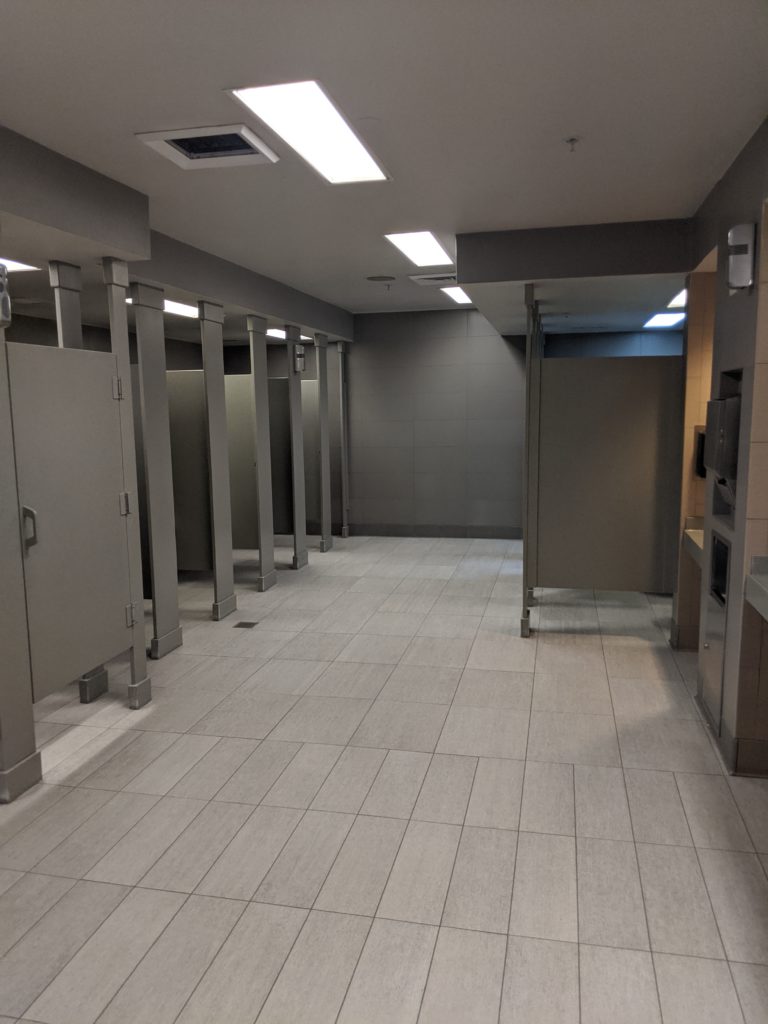 Although we did not personally see it (we only rode two rides), ride vehicles are routinely sanitized using a spray sanitizer.
Crowds:
For an opening day of a festival, crowds were extremely low. Yes, areas of congestion occurred. During those times we took it upon ourselves to let groups pass us by in order to maintain social distancing.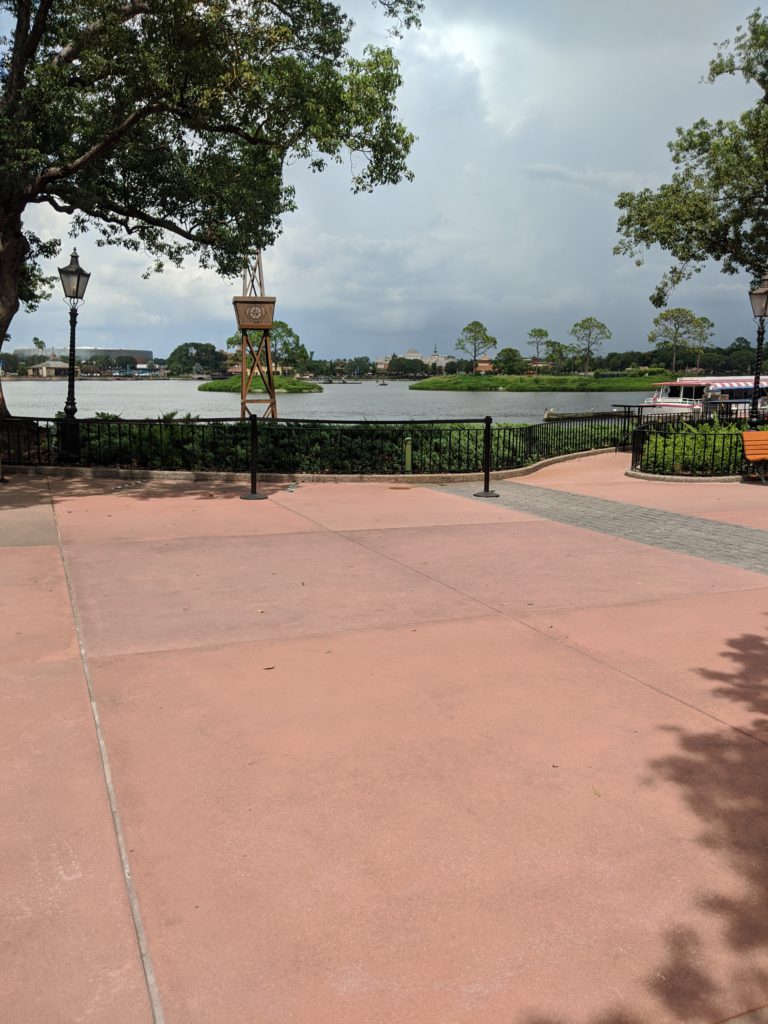 During one of the rain downpours we felt a little crowded when people began to seek shelter where we were already at (again, we simply relocated).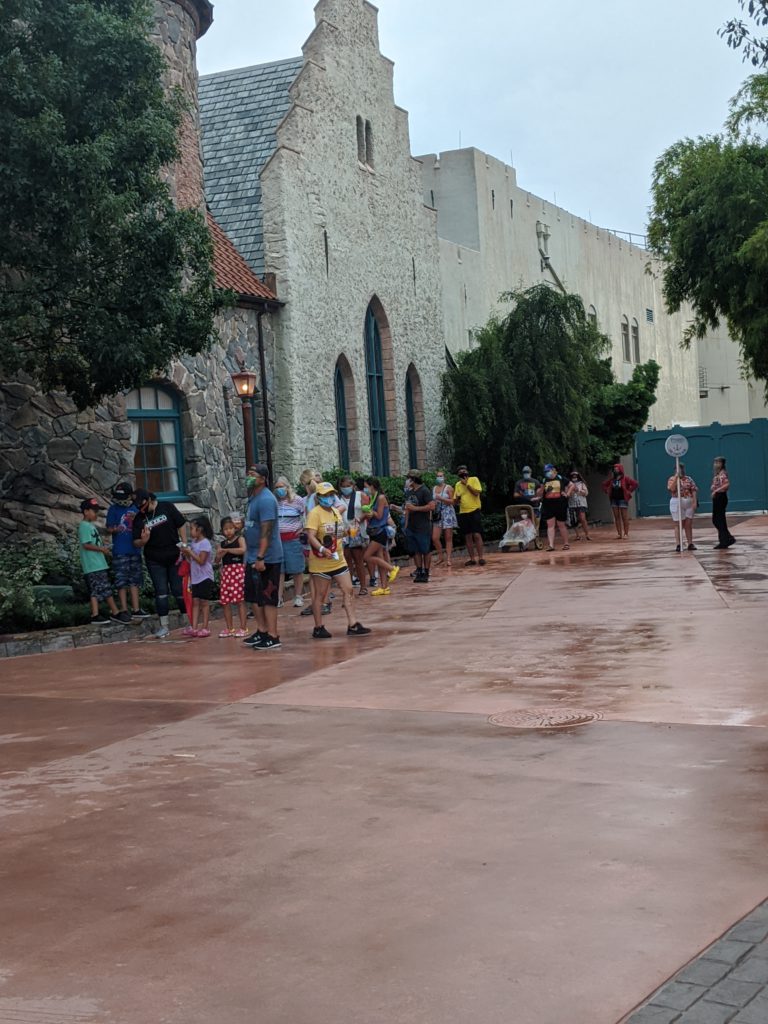 Disney has provided an excellent framework for us to enjoy the parks. Ultimately, our personal safety is our own responsibility. We have to make decisions based upon our comfort levels.  
I hope this helps you get an idea for what the "new normal" is like at Epcot! Feel free to join me over on Instagram at @happiest.haigs.on.earth as I traverse the Disney parks and sprinkle some Disney magic at home!