Over the weekend fellow Winter Garden Moms contributor, Brandy and I had the honor of trying out what has definitely become one of my favorite local spots.
Located at 13800 S. Greater Hills Blvd in Clermont, FL, right off of HWY 50, is an adorable setup in the parking lot of the Shell gas station.
Featuring a plethora of tasty options, Sno Mo's Shaved Ice is a MUST visit for locals and tourists alike!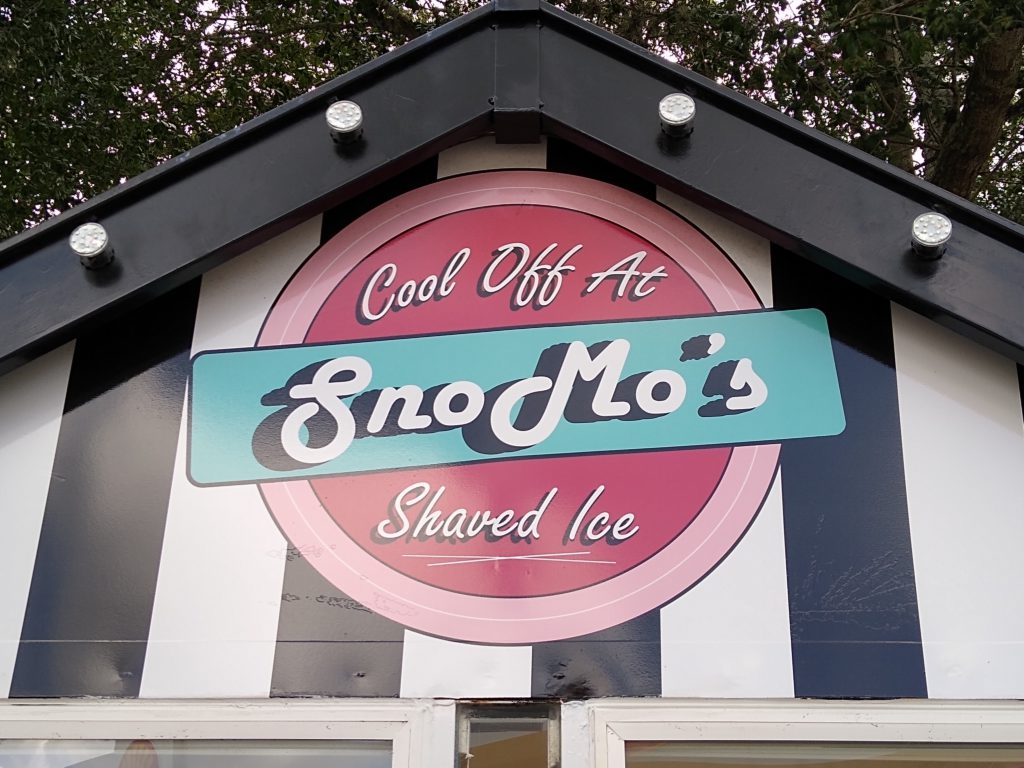 We popped in Saturday afternoon and they had a line forming. They have a pretty great following, and after getting to taste the deliciousness that is their shaved ice, I can see why.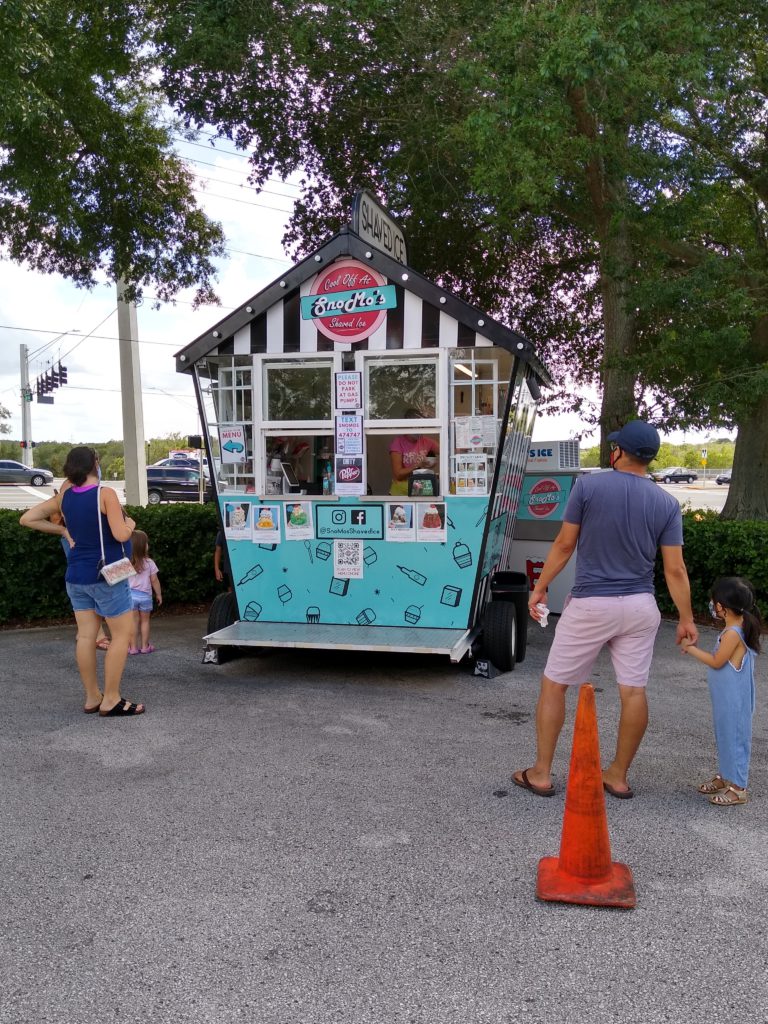 Being a Libra, I'm sure you can imagine how tough it was for me to make a decision. There were so many flavors that sounded amazing! I look at it as I just have so many more to go back and try out, right?
Looking at you, Bubblegum and Cotton Candy!
After changing my mind at least five times, I decided to go with a mixture of Peach with Mango, and of course I had to get it stuffed with vanilla ice cream!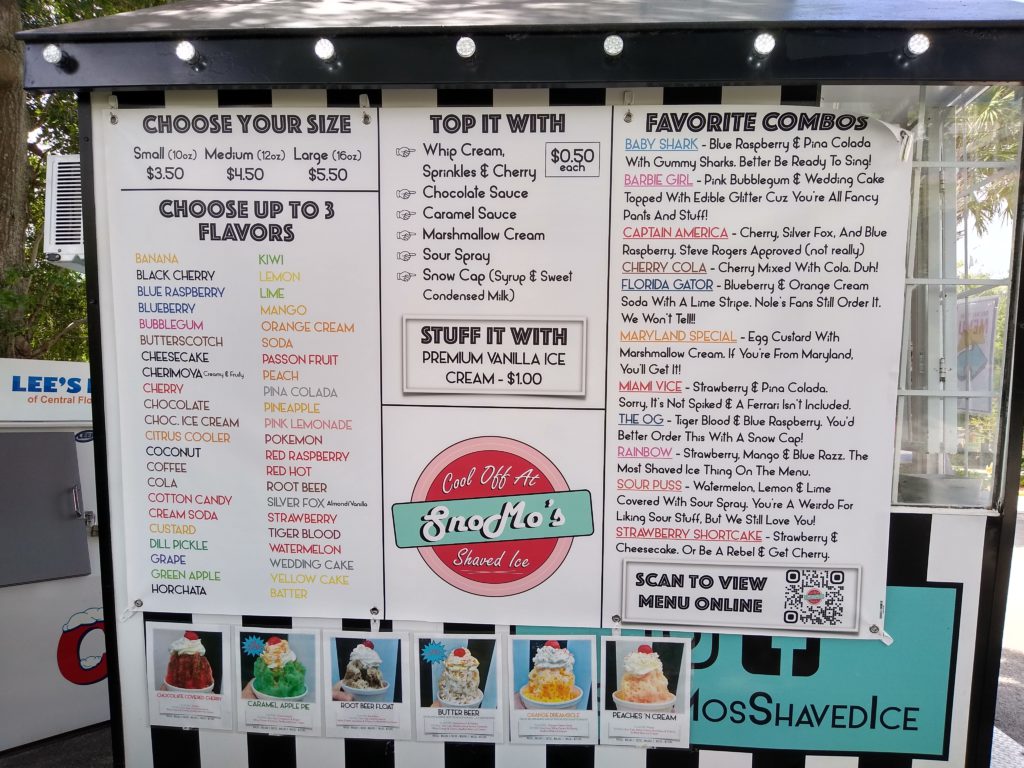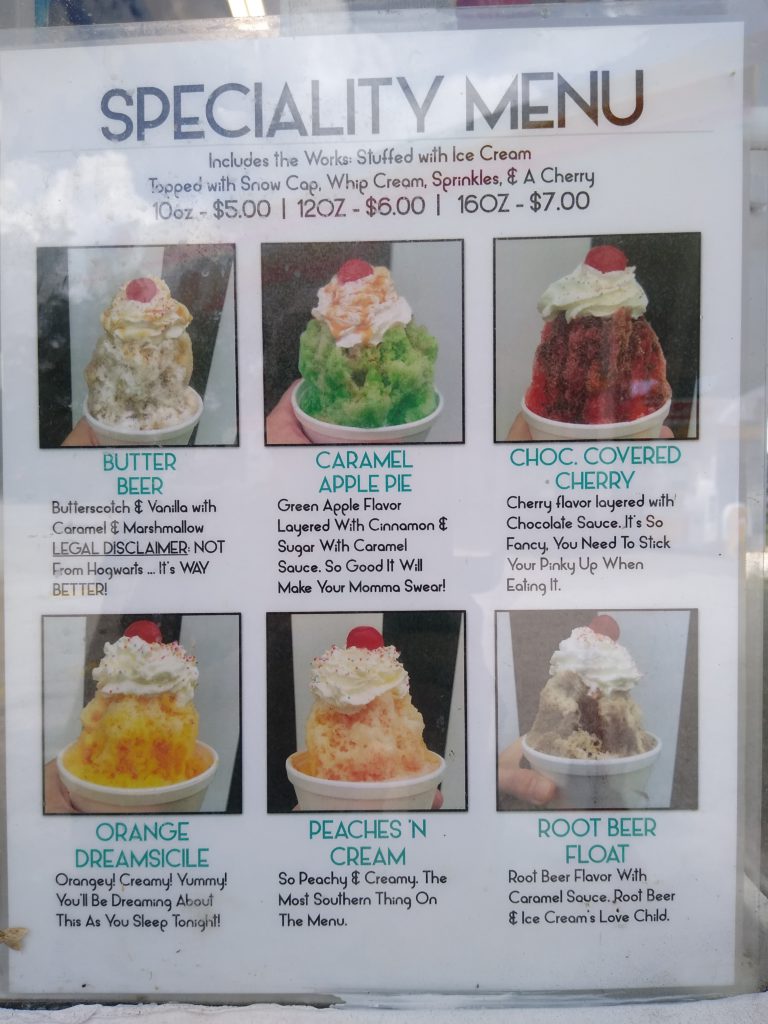 The staff was super welcoming and friendly, doing an awesome job of knocking out the orders quickly with smiles on their faces. The process really caught my attention as well. This isn't your typical blend up ice cubes in a blender with flavor poured over it, not that I'm knocking that type, but this is SO much better.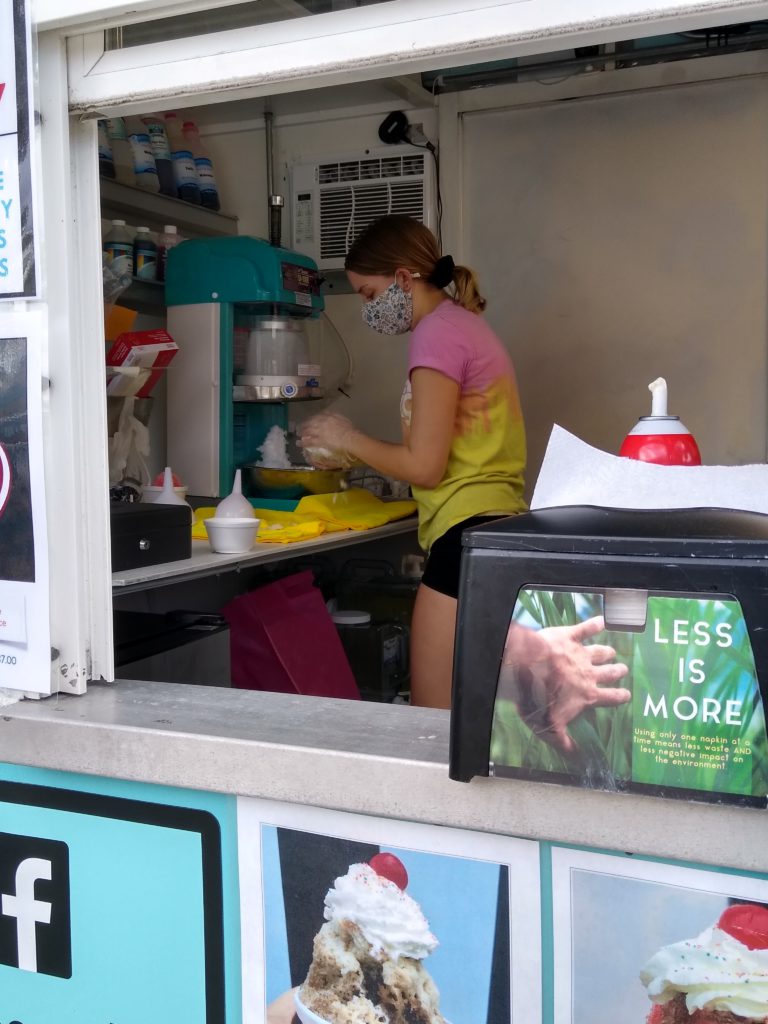 They take large blocks of ice, and use a machine that actually SHAVES the ice to a nice, smooth snowball texture , although I have never seen or felt snow, my adventure buddy can speak for it.
If you opt to stuff it with vanilla ice cream, and I totally recommend that you do, they put that in and then surround it with the shaved ice. Then they top it off with your flavor choices and any add ons you'd like, some which include whip cream, sprinkles, caramel, and even a sour spray.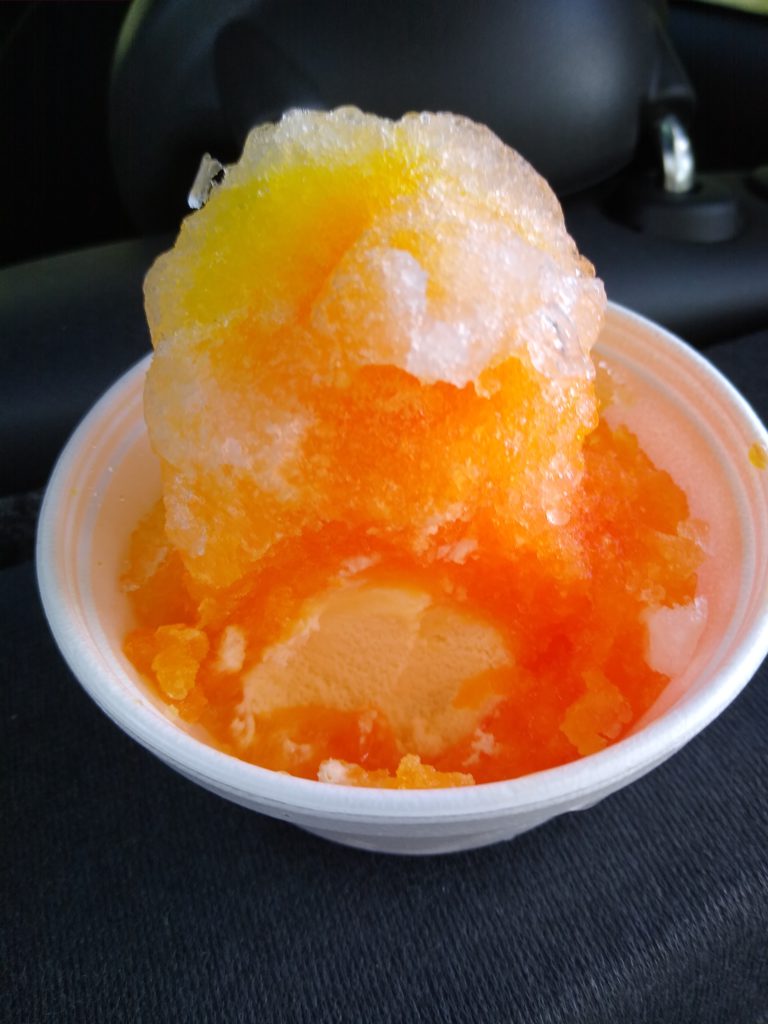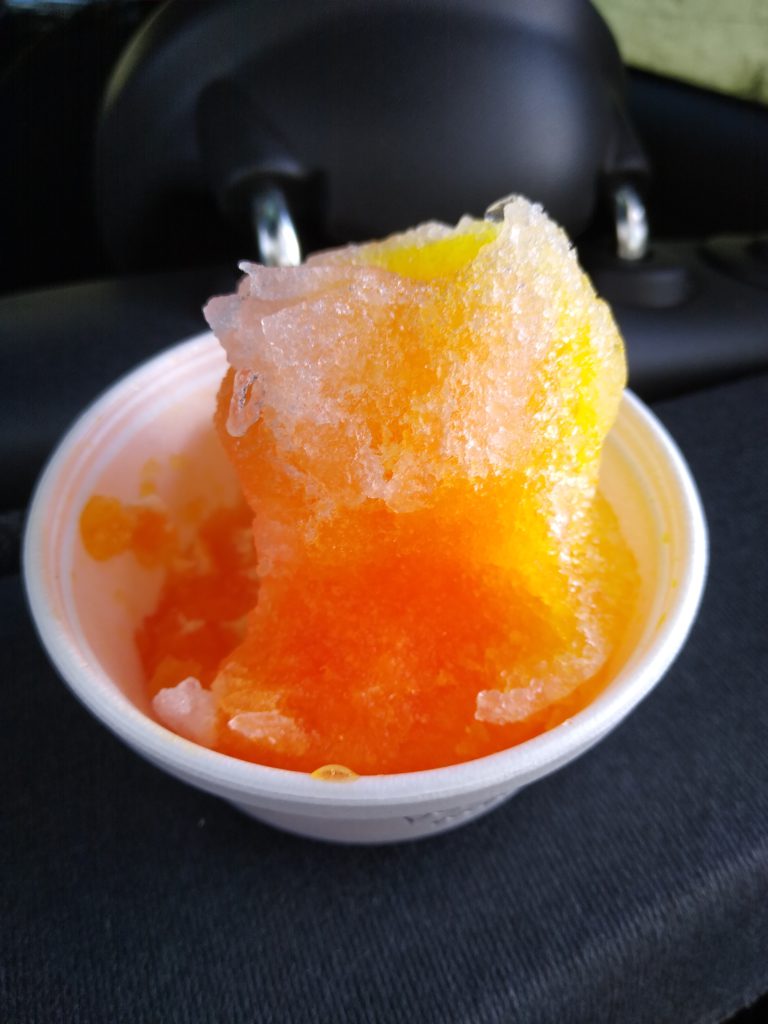 My creation…and by my creation, I mean the two I chose from a long list, were super delicious! The vanilla ice cream made it like a peaches and cream with mango. It hit the spot with a wonderful texture, light and super refreshing on a hot Florida afternoon. I cannot wait to get back!
Scott Morrison, the owner was cool as can be. He took the time to chat with us and explain a lot of the inner workings of buying the carts. He also talked about the time that goes into getting the process just right and how he goes about creating fun new and fun combinations.
I volunteer as tribute to be a guinea pig!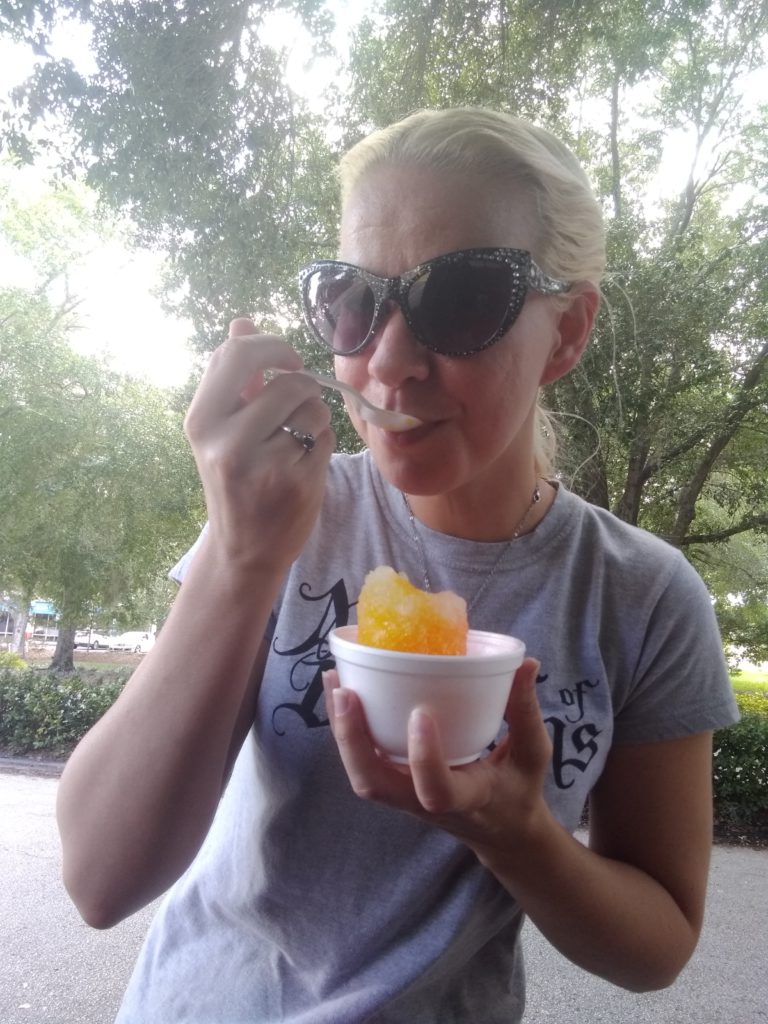 Sno Mo's Shave Iced is open Monday- Friday from 1pm-10pm, Saturday from 12pm- 10pm, and Sunday from 12pm-8pm. For more information click here.
On behalf of Winter Garden Moms and Pizza and Pigtails, I want to send a HUGE thank you to Scott and the team at Sno Mo's Shaved Ice for inviting us to try their amazing product, we will definitely see you in the future!