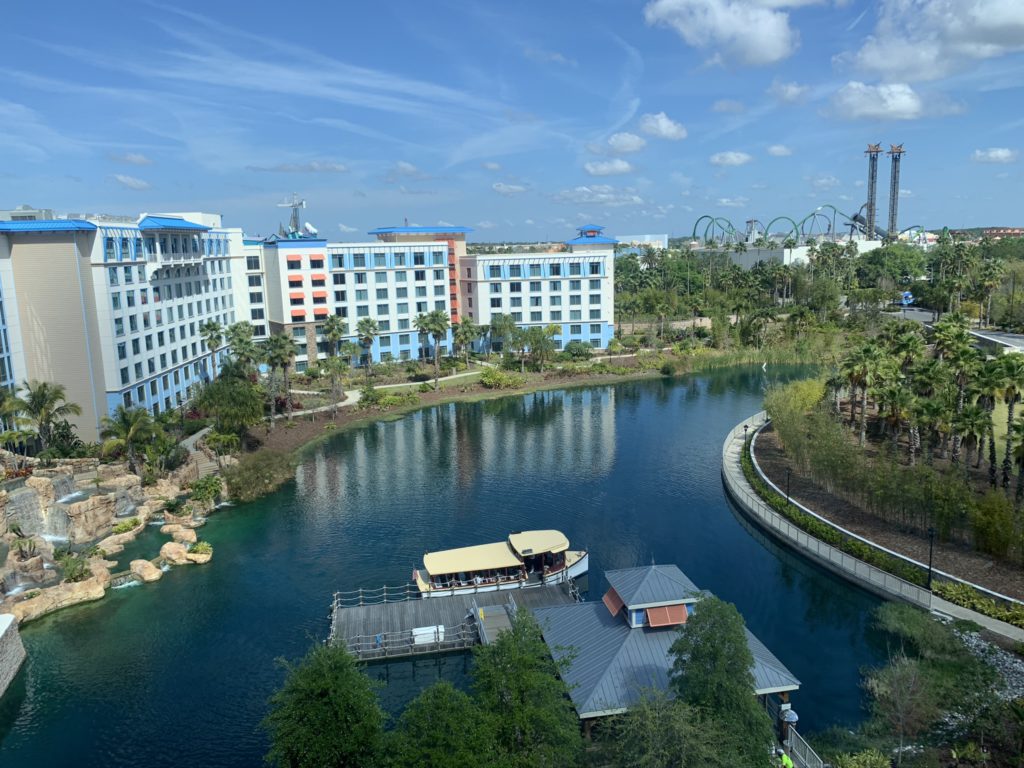 It's no secret our family LOVES staying onsite at Universal Orlando Resorts. We've stayed at four different Universal resorts so far, and as much as we'd like to continue checking the different ones off our list, we keep coming back to Universal's Sapphire Falls Resort again and again. Here's a look at our pre-covid and post-covid trips to Sapphire Falls!
Pre-Covid Visit
We had booked a staycation at Sapphire Falls over Spring Break as things were beginning to shut down. After much consideration we decided to keep the reservation. We were a bit nervous about our stay but we need not have worried. The team members at the resort were amazing and made us feel so welcome. There were few guests by this point so even though the new safety protocols weren't fully in place, everyone was social distancing and we felt completely safe.
Here is a quick video walk through of a standard resort room with water taxi/lagoon view (our favorite view)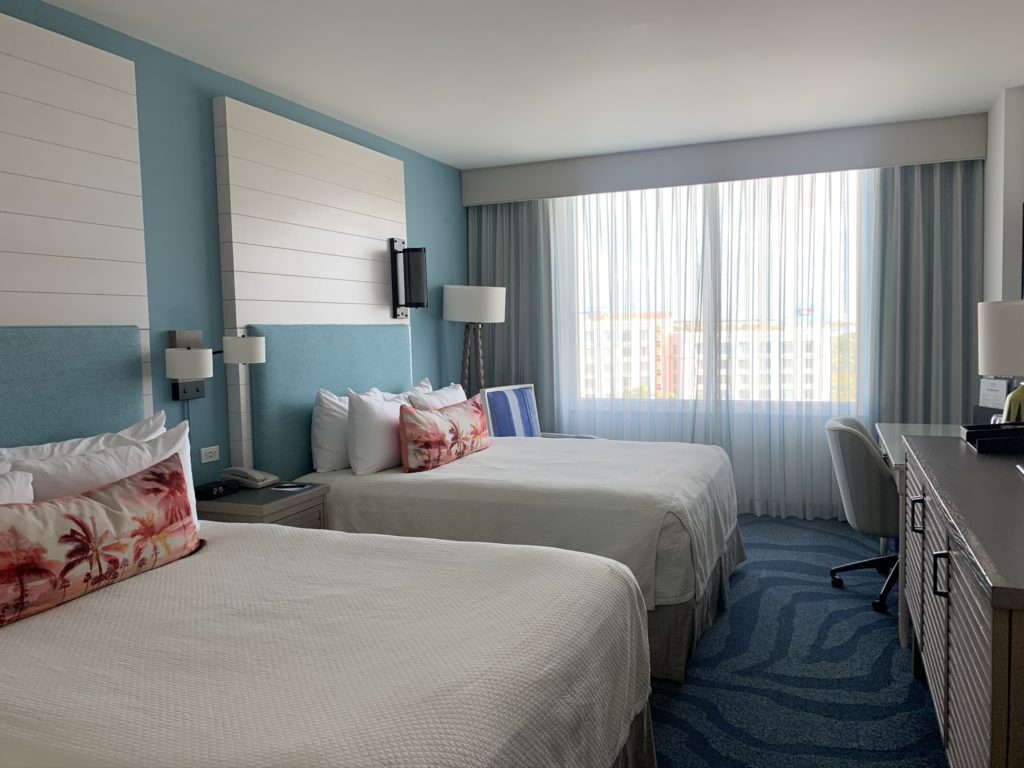 There is something about the atmosphere at this resort that whispers vacation to me even just walking the halls to our room. The bright tropical colors mixed with all the calming blue tones says RELAX and let your cares go!
We also love the beautiful spiral staircase near the lobby. The candles seem to float and it reminds me of Hogwarts.
The first day of our Spring Break stay, Sapphire Falls was still offering normal poolside entertainment for the few guests on property such as bingo and hula hoop competitions.
And Universal gives out great prizes for these competitions. My son won a slushy from the Drhum Club Kantine pool bar and my husband won an adult beverage for winning at Bingo!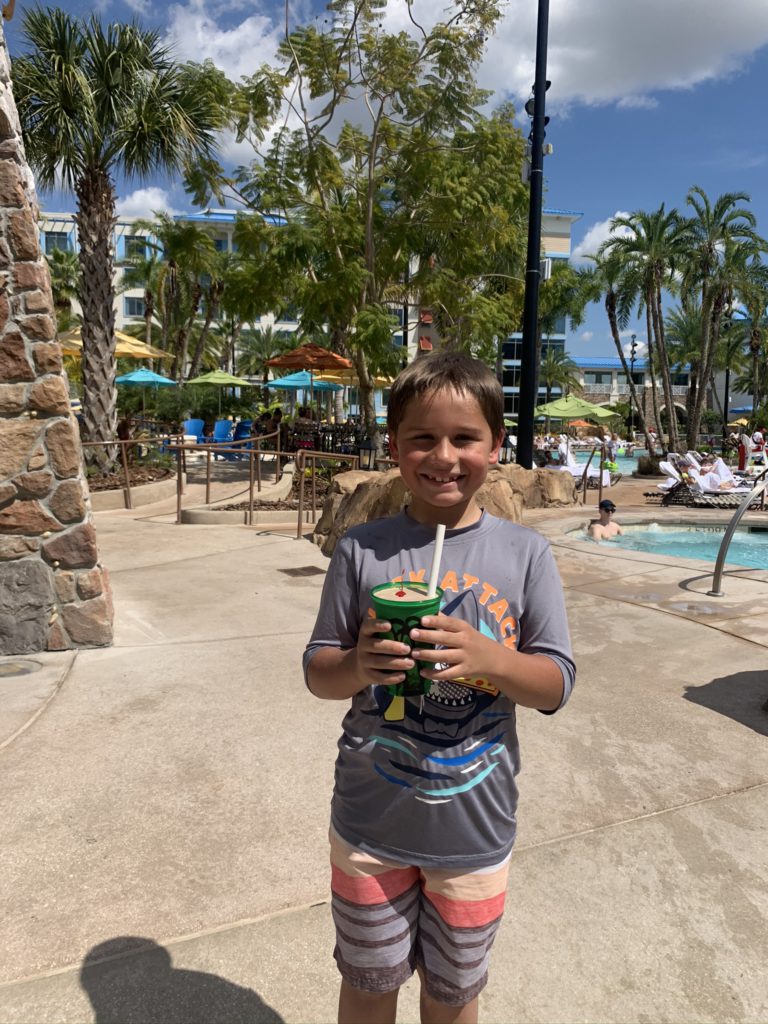 We were only there 2 nights and spent the majority of the time in one spot by the pool so our youngest could play in the sand, but during the months of quarantine following our trip, we felt so grateful to have gotten away when we did.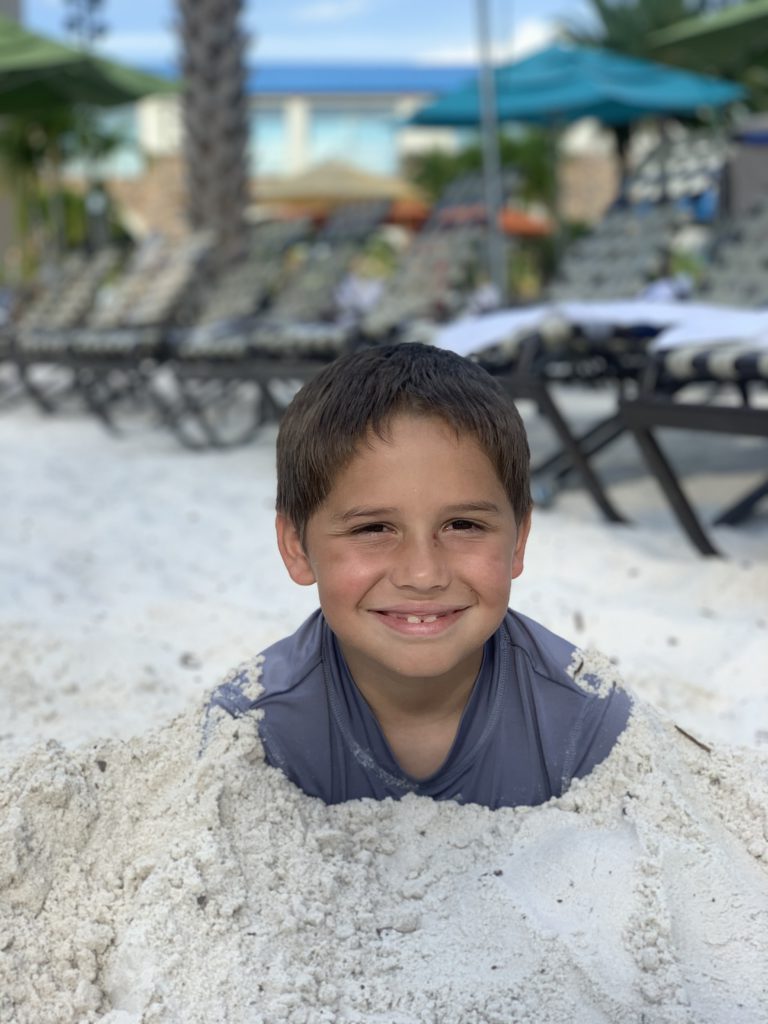 Post- Covid Visit and New Safety Measures
After months where we barely left our house, we were some of the first visitors back onsite when the Universal resorts reopened with the new safety protocols in place.
Again, we didn't know what to expect, but we trusted that things would reopen slowly and safely based on our earlier stay.
Health and Safety Measures included:
Daily temperature checks. One difference we noticed right away was that your temperature is checked as soon as you walk into the lobby. Guests are then given a colored wristband so that they can move about the resort freely. Each morning, guests must go to one of the temperature check stations and get rechecked. The wristband colors change each day but are good across all the resorts, so if you like to resort hop (like we do), you don't have to get rechecked at each resort.
Rooms are not serviced until checkout to limit the amount of people coming and going from your room. Instead, carts with towels, coffee pods, toiletries, and such are available in the halls and you can restock as needed. We actually loved this since we tend to run out of towels and coffee and this made it easy to restock. But if you do need something, the resort can arrange for contactless deliveries.
You must wear a mask at all times as you move about the resort outside your room. The only time you don't wear a mask is when you are swimming, are at your lounge chair by the pool or you are at a table eating or drinking. So if you are at the pool but want to order something from the pool bar, you need to put your mask on to approach the bar.
Team members wear masks at all times.
Hand sanitizer stations are available everywhere.
Team members were constantly cleaning high touch areas.
The water taxis also have new procedures in place. Each water taxi has seats that are blocked off to help maintain social distancing. We never felt crowded or too close to anyone when we used them. And in fact, the water taxis are our favorite way to travel to CityWalk and a huge perk of staying at Sapphire Falls.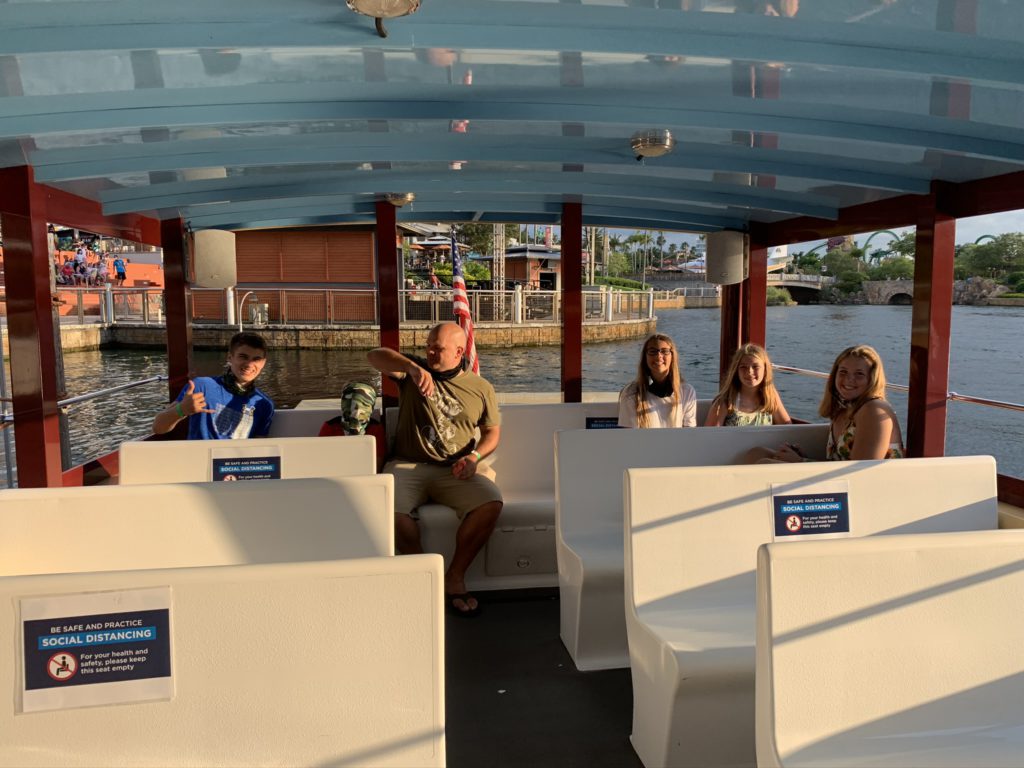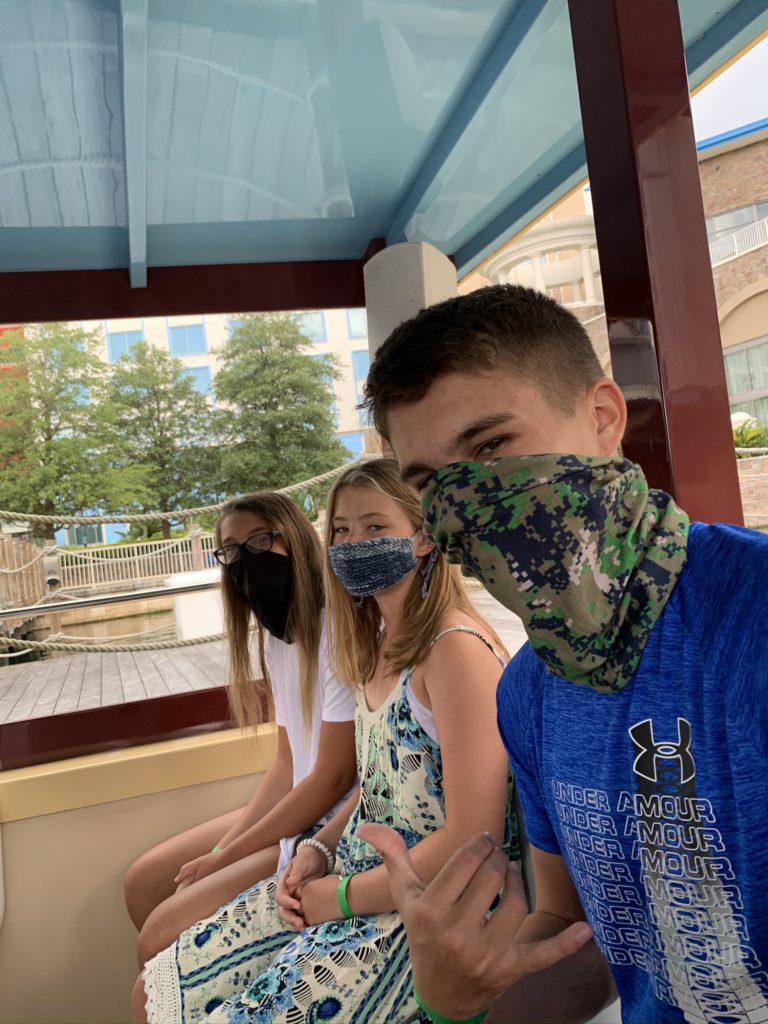 Seating is more limited in the lobby and pool area. We noticed that many of the lounge chairs were removed from the hotel pools we visited. They were in groups of 2 to 4 chairs and very well spaced out. With the limited capacity at the resorts, everyone still had plenty of room to find seating at the pool.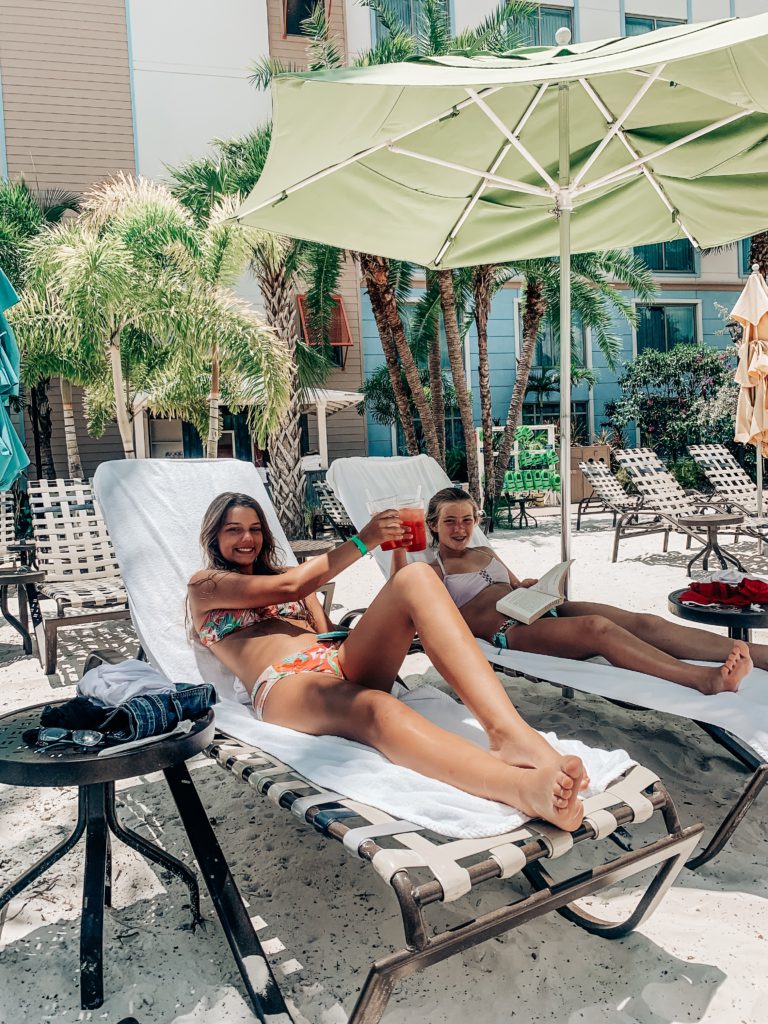 Pool games like the ones we played on our earlier visits have stopped at all the pools. Some of these games required people to get close to one another so this is an obvious safety precaution. Live music has also ceased at the Hard Rock pool for now. We love the playlists they use. For us, it's still worth carving out some time to hang out over there on all our trips!
Social distancing markers are everywhere. If there is a spot where people tend to congregate like at the water taxis, in line at the front desk, at the top of the pool slide, etc., then there are markers on the ground indicating where people should stand to avoid getting too close.
All in all, I would stay at Universal again in a heartbeat. They are doing everything they can to ensure that guests are safe and comfortable, and we can't wait to go back!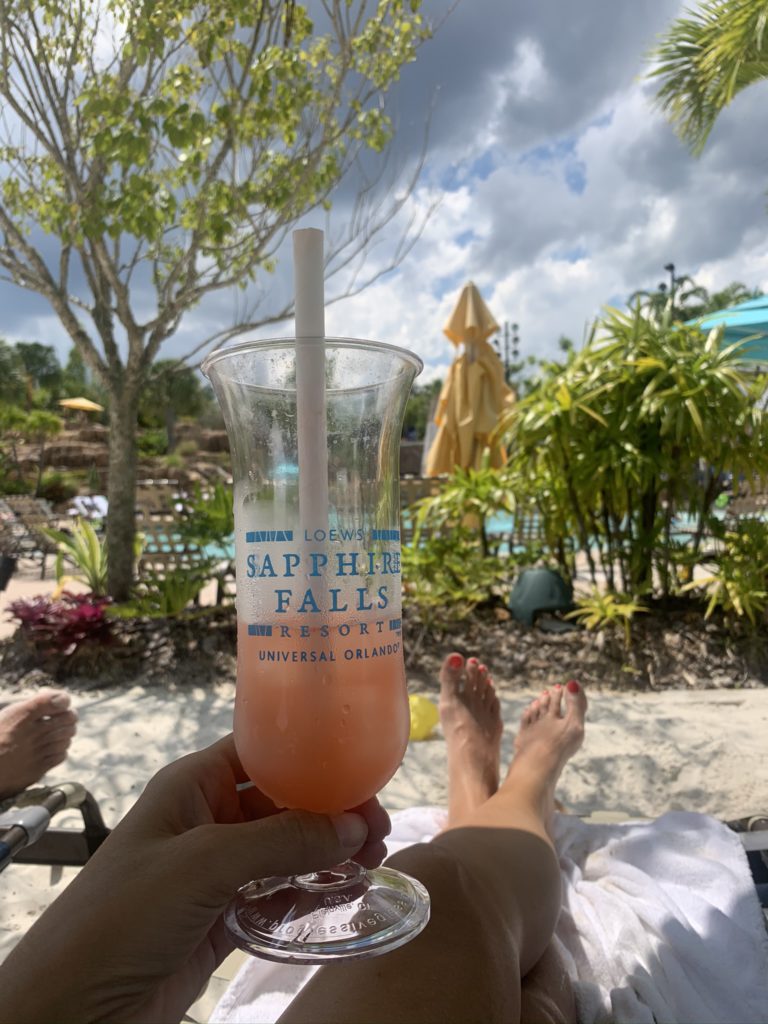 For more information or to book a reservation visit the Universal Orlando website.