Living in Florida my whole life, I have definitely been spoiled to live so close to the theme parks.
Growing up, when Christmas time came around, we always opted to renew our annual passes over getting lots of gifts because we enjoyed the parks and time together.
Recently, I visited Universal Studios (sorry Islands, it was a quick trip, I'll see you next time) because mostly I wanted to have my long lost love pizza from Louie's Italian Restaurant. I also wanted to get the scoop on how they are doing during the Covid Days of 2020.
I am super impressed with Universal's handling of the safety guidelines!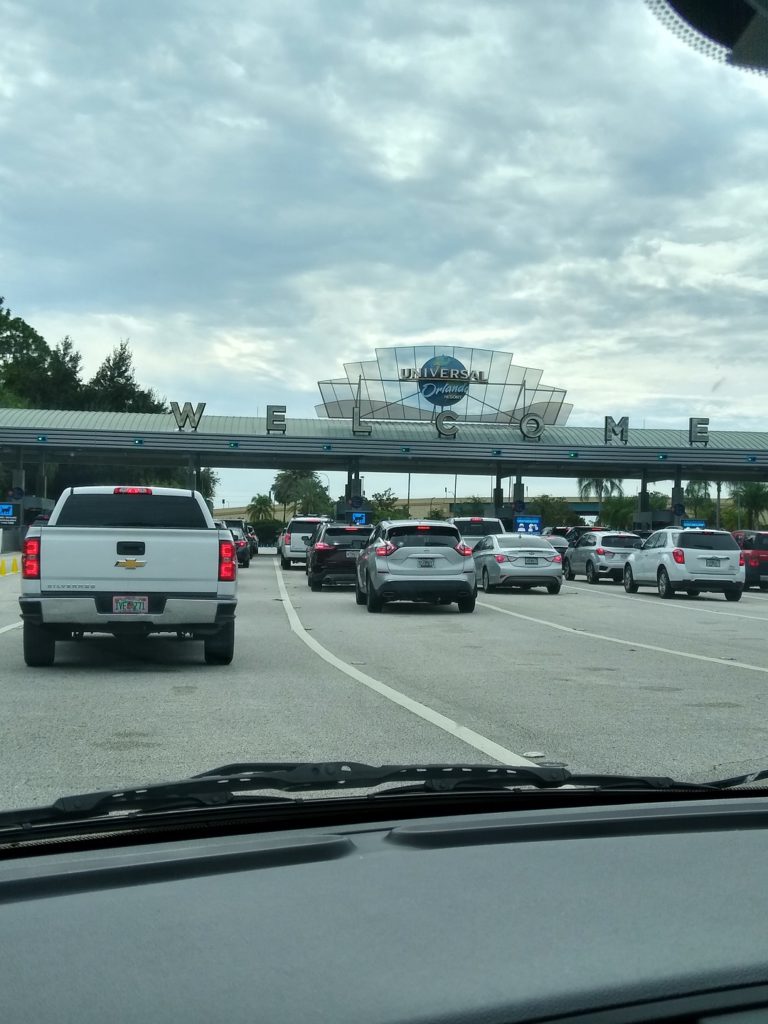 There's nothing like seeing the large welcome sign of the parking plaza when you come around the corner. I was a little worried as to how many cars were in line, but it seemed to be moving fast. Oh, and Annual Passholders, don't forget (I almost did), Universal has set up a separate lane (all the way to the left) just for us! Be sure to take advantage on those busy weekends!
Parking was a little rough, not bad, but you can tell that not everyone is used to the way they are doing it now. I didn't grab a photo, but have no fear, I'll explain.
As you enter the rows, they will guide your car into the available row, then they will skip a space to allow for social distancing. Once all of those folks clear out, they will then begin filling in those empty rows. It's actually pretty cool the way they do it.
Please respect the way it's done and don't just grab any spot because you want to be closer. Can't even begin to explain how much of a pet peeve of mine that is.
Park Bag Essentials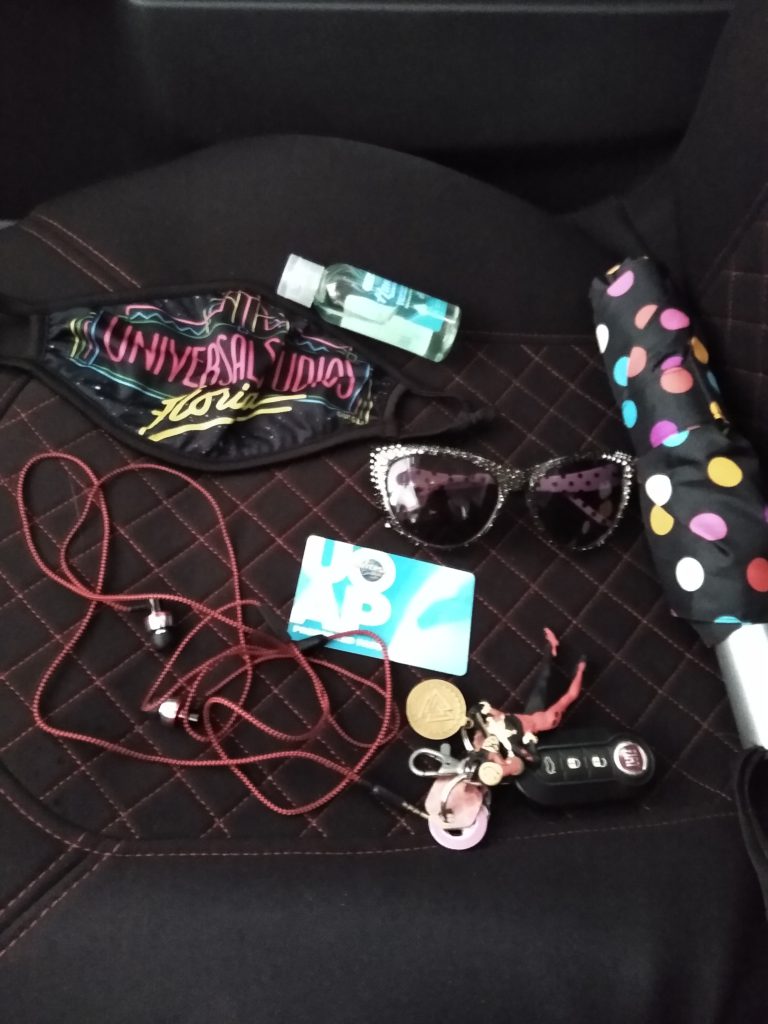 Anyone else have that final "Park Necessity Checklist?" Keys, pass, phone, umbrella (because Florida), headphones (especially on my solo trips), sunglasses (did I mention, Florida?), and the recently added: awesome mask/hand sanitizer.
Also, always leave at home anything that you know shouldn't be brought into the parks. I have had to make that walk back after forgetting I had my key knife still on my key ring.
'Tis not a fun walk of shame…haha.
Getting Through Security
Okay, we're here! Parked, did our final item check, we have our mask on, we are all set to go…now on to the temperature checkpoint. I didn't take a photo of this because there were a lot of people and I know some are a little edgy about their photo being taken.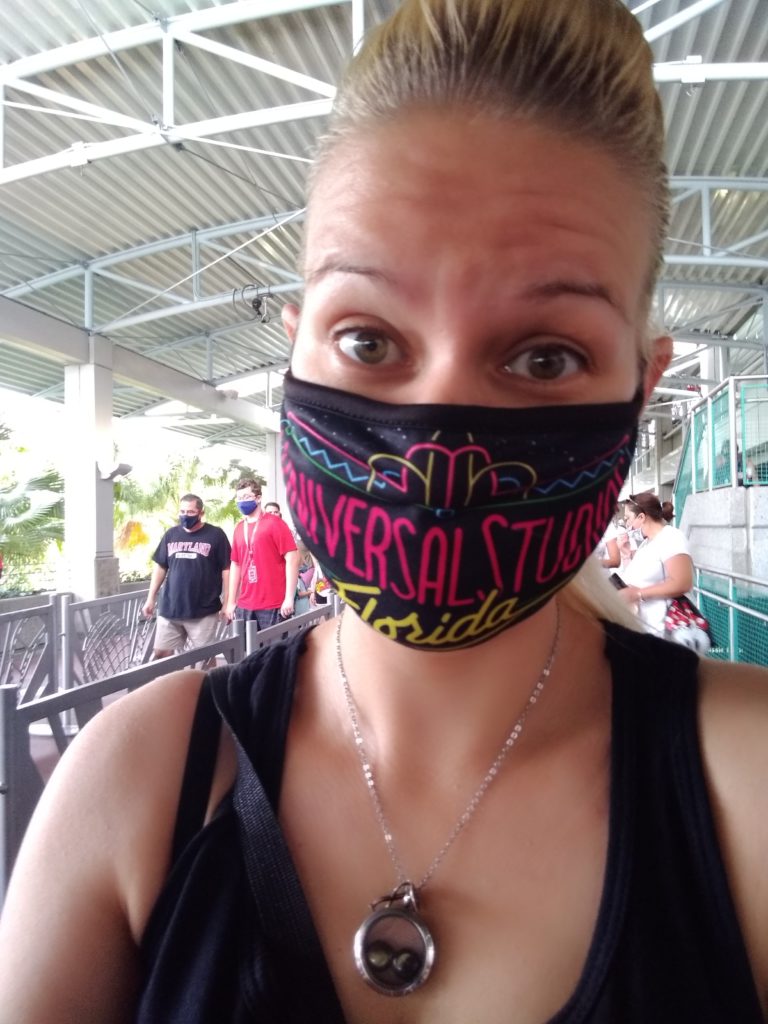 It's pretty simple though, stand on the stickers placed 6 feet apart, until it's your turn. The security guard will take your temp (they always zap me twice for some reason) and hopefully you pass!
Time to make our way through the metal detectors. Once again, follow the walkway with the stickers, and the security guards will direct you to the next available line.
Now that we've made it through security, we're home free! Let's get into the park!
Entering The Park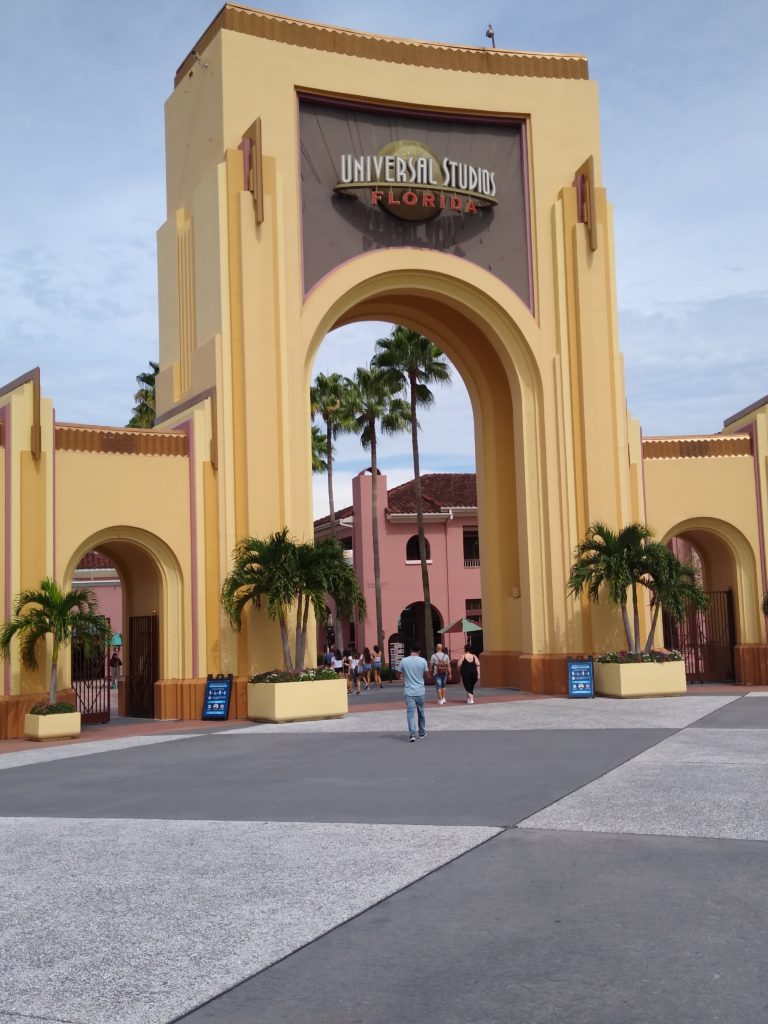 Does anyone else get a rush of joy upon seeing this? I know I do!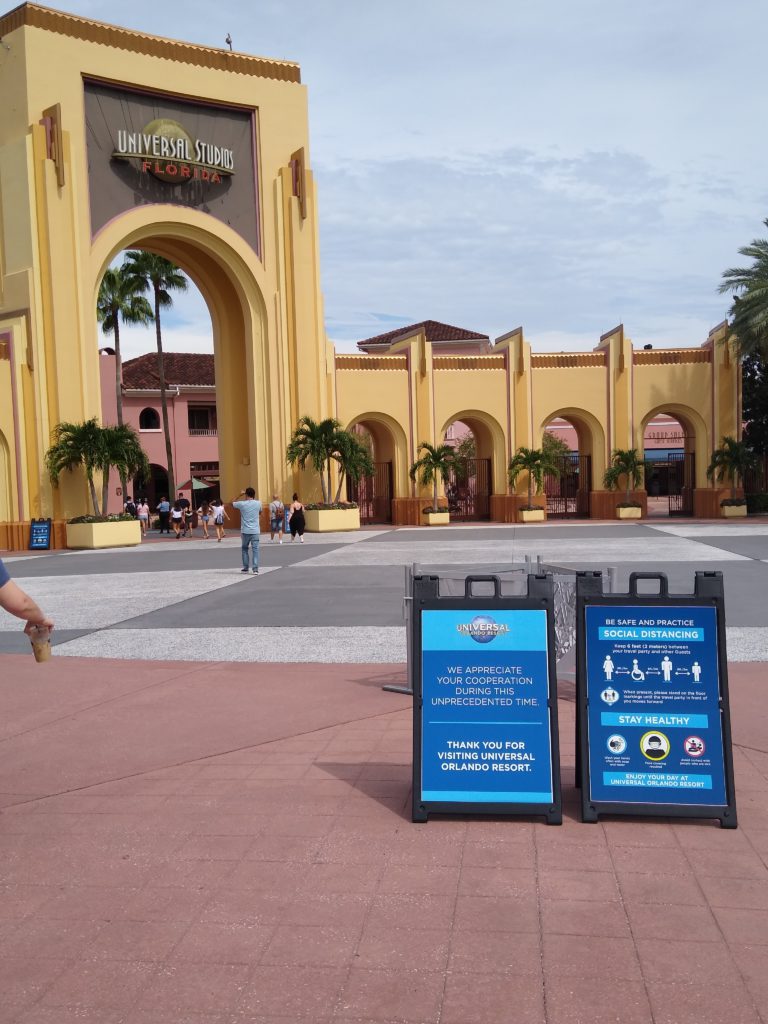 As always, Universal has all bases…basis…covered! I totally get this is a weird time right now, I totally get it's uncomfortable for everyone, but please, take the time to read the safety guidelines. If you already know them, please do your best to do your part.
Once again, don't forget Passholders…in the words of Beyonce, to the left, to the left!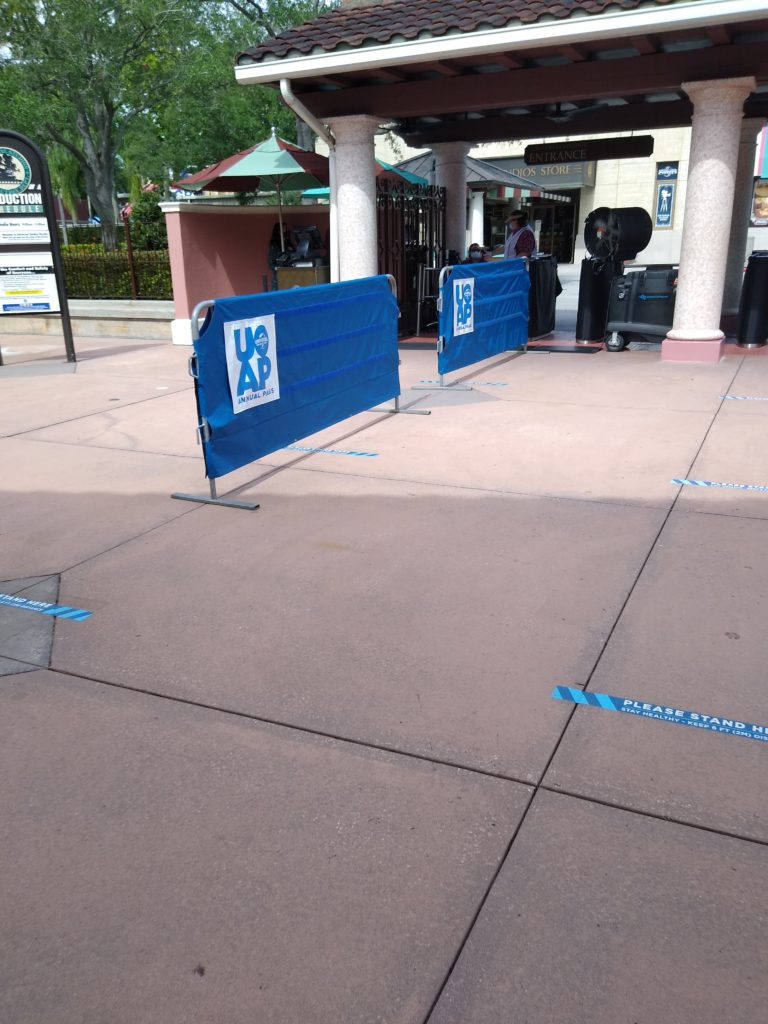 New Merchandise Options
If you're looking for some cool ways to rock your masks, check out the various points around the parks. They have plenty of options! It took me quite a while to choose…and I still walked away with more than one!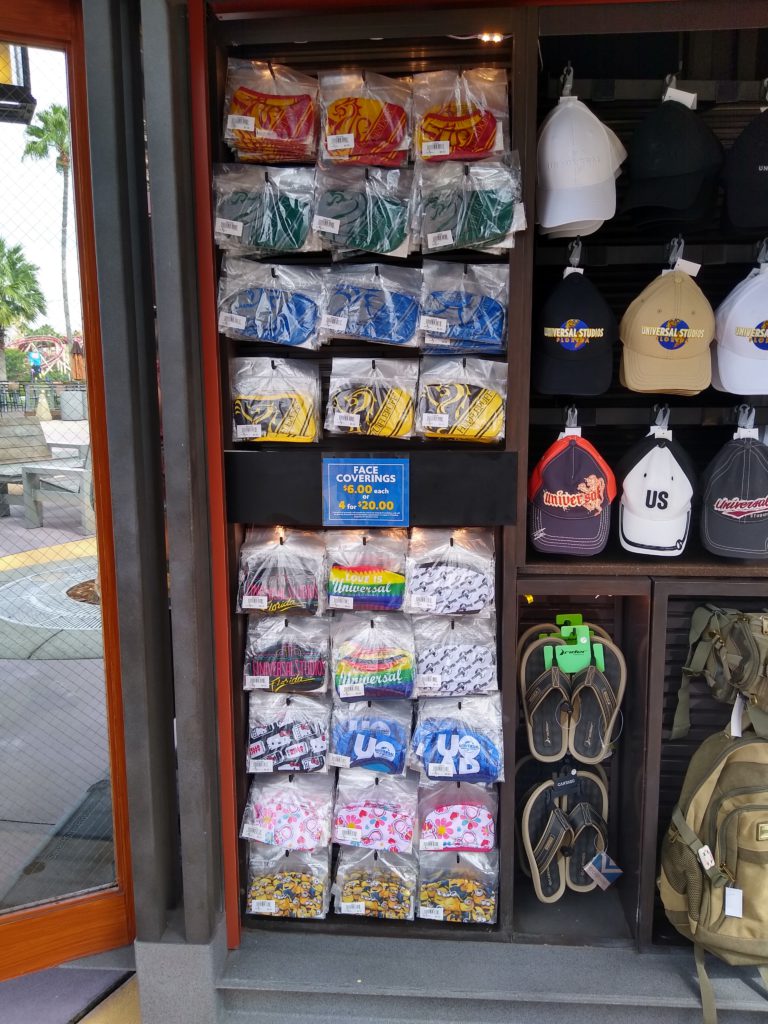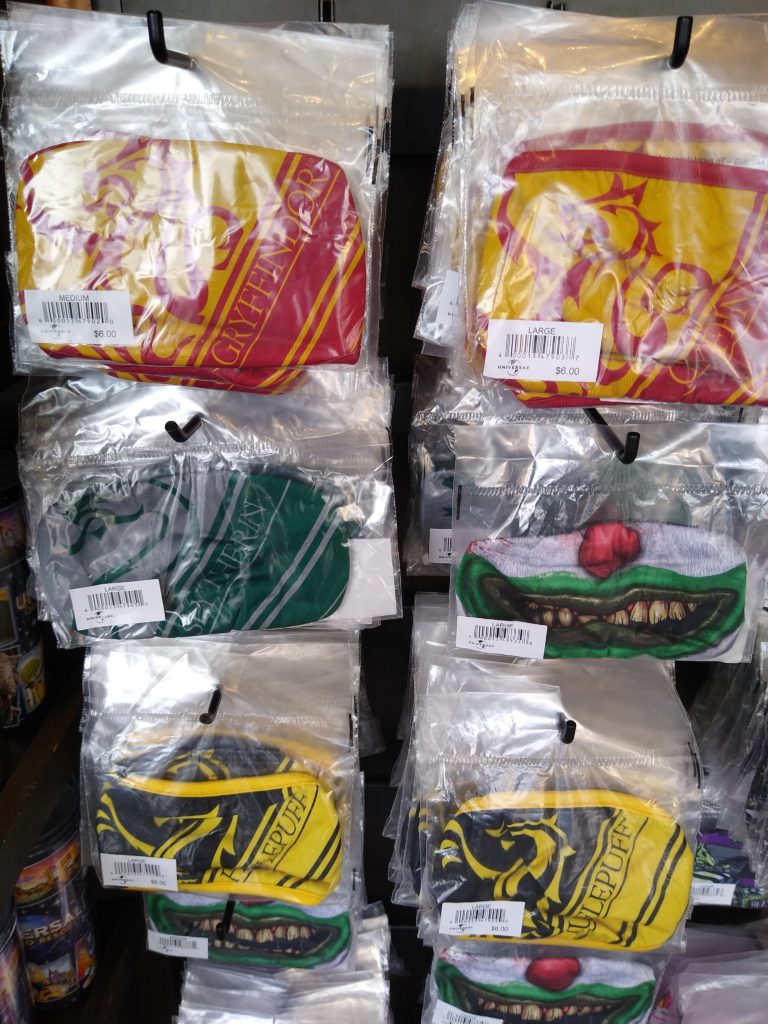 They even have them for the recently deceased! I know this seems like a horribly timed joke, but I am a HUGE, HUGE, HUGE Beetlejuice fan and it's in the movie!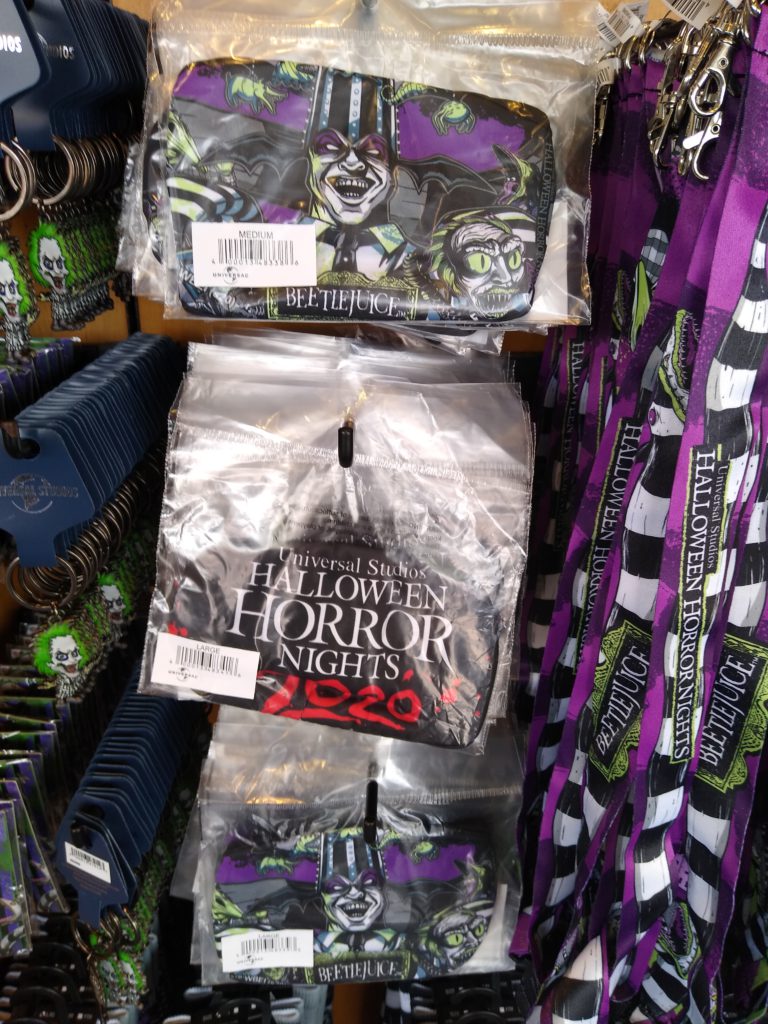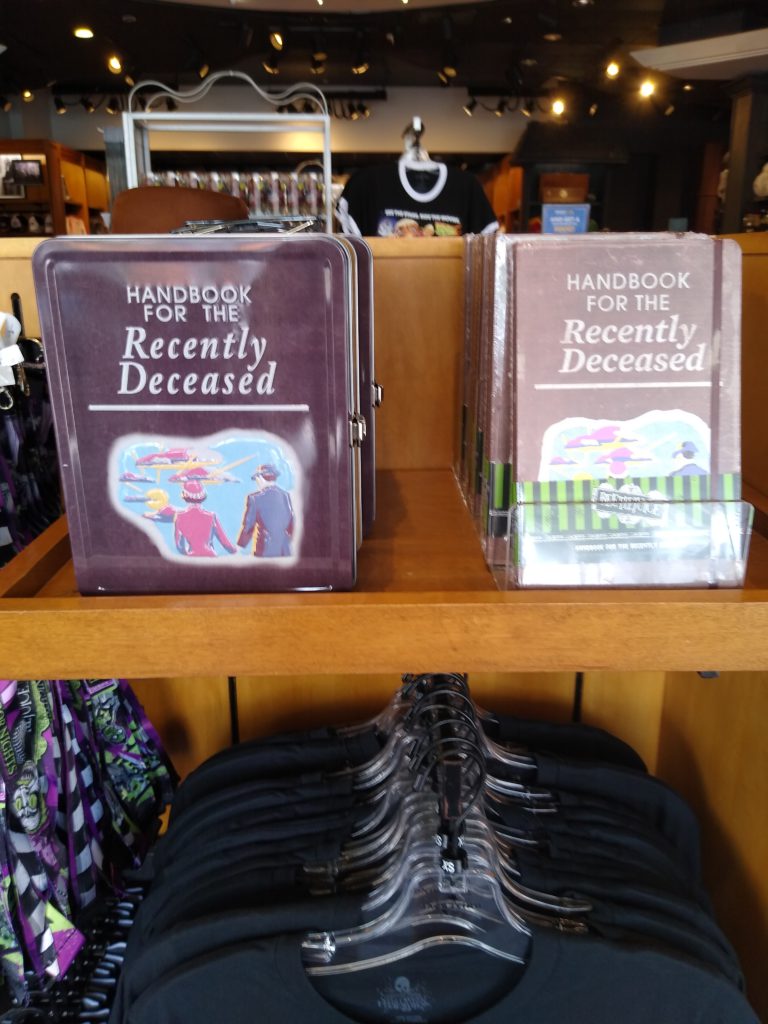 I want that journal and lunchbox…if anyone is feeling like really giving, my birthday is October 19th! Haha, kidding…not really…but kinda.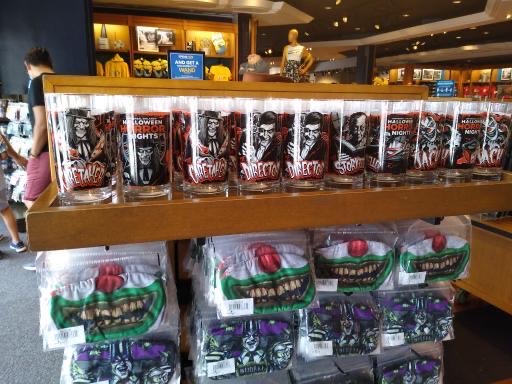 Also, I love Halloween Horror Nights and my heart breaks that they won't be having it this year, but I also know that I'll be back for this glassware!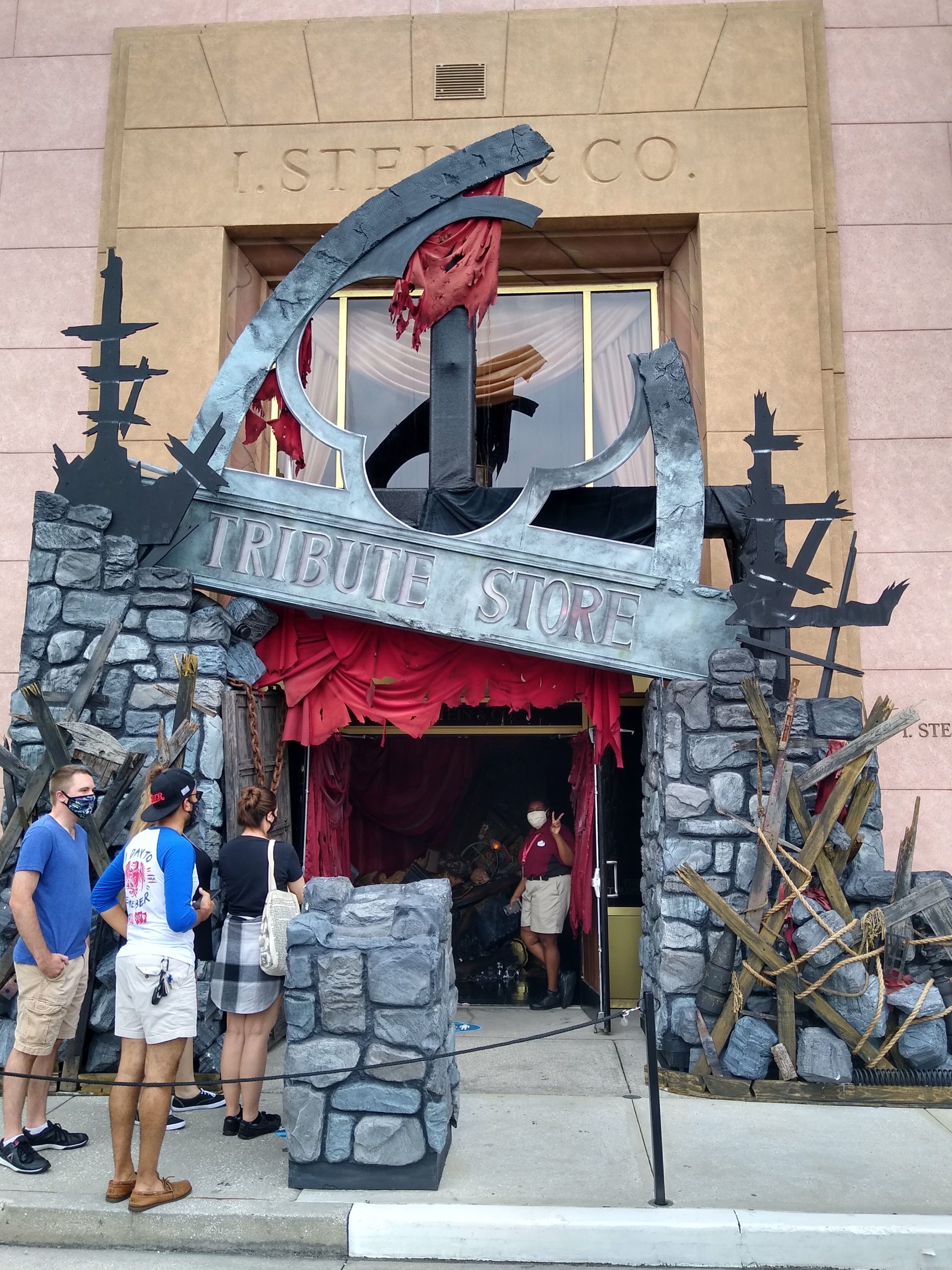 I didn't get to visit this time because the line was super long and wrapped outside the building, but the Tribute Store has really gone full throttle. They added rooms, including a BEETLEJUICE themed room, and you can also purchase food and beverage items as well. I'll be back for you!
Things To Do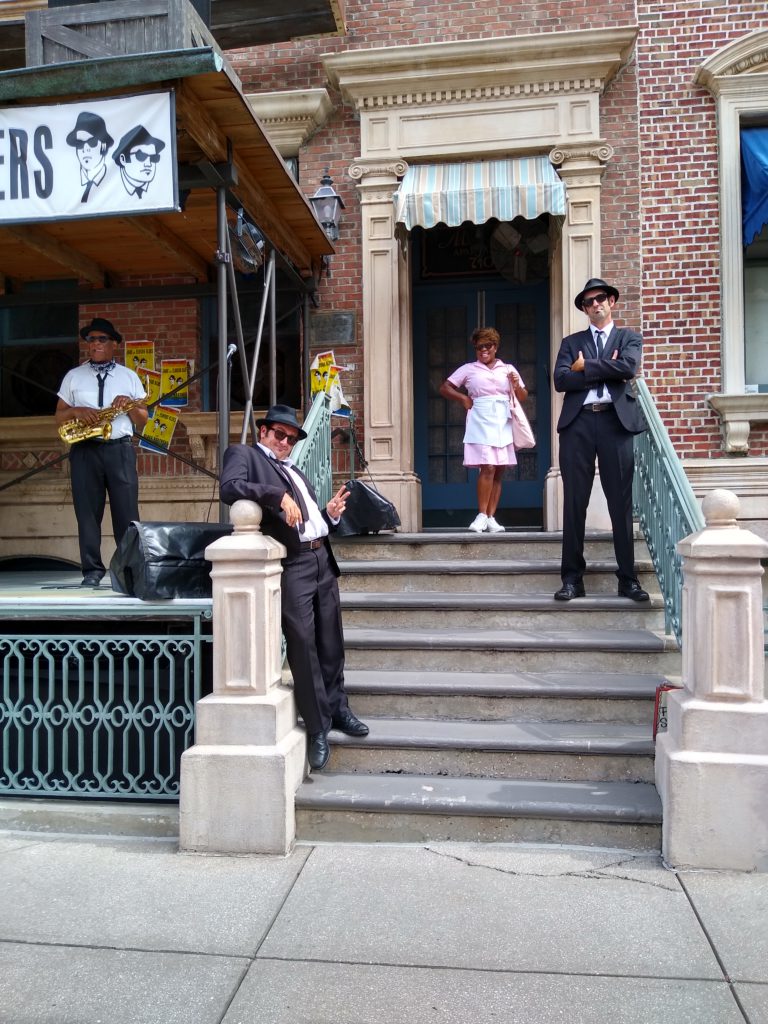 A must-see show here at Universal is definitely The Blues Brothers show! It is a condensed version, so also check out videos online of the full performances as it's amazing. These awesome performers really go above and beyond to bring their best every time! I can't believe the talent that graces this stage on a daily basis.
One of my favorite things to do at Universal, especially on solo trips is to wander around just to check out the amazing detail they put into their sets, themes, and how well they separate the different areas.
It really feels as if you're being transported from the streets of New York to the coast of California to London, or maybe it's just me and as a writer, I immerse myself into these worlds. Either way, KUDOS! (round of applause)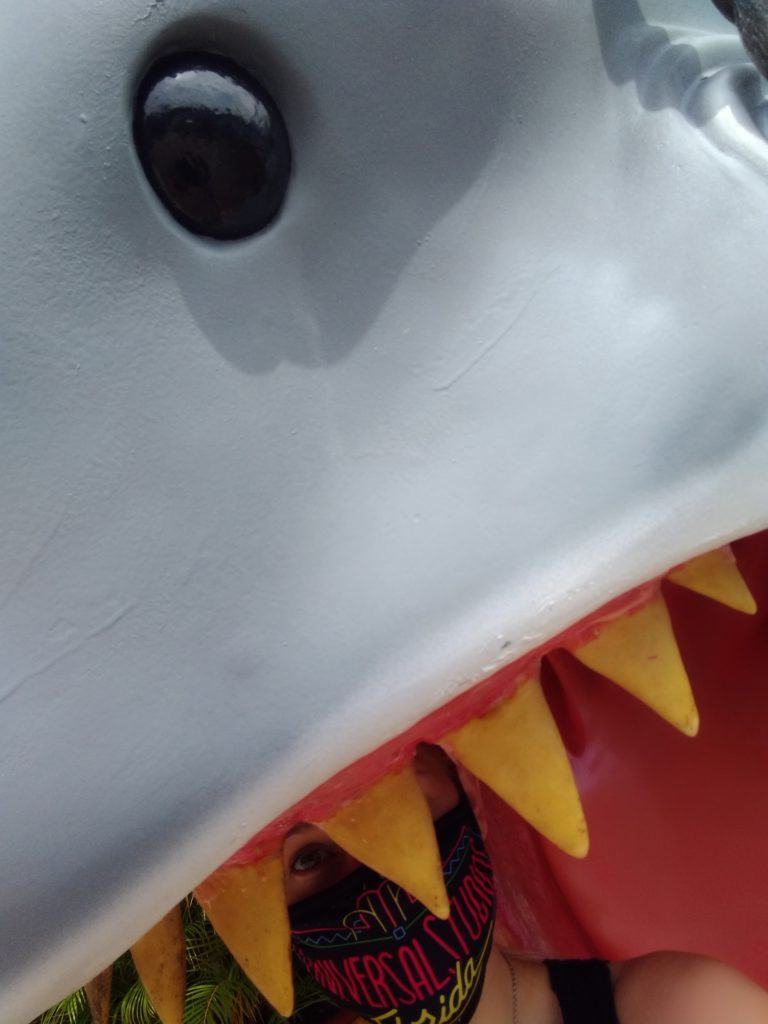 Always have to stop by and see my buddy, Bruce…he kills me! Okay, that was a little too cheesy…even for me.
Make sure you stop in to Chez Alcatraz, and if Murphy is working, call him Papa Murph, he loves it!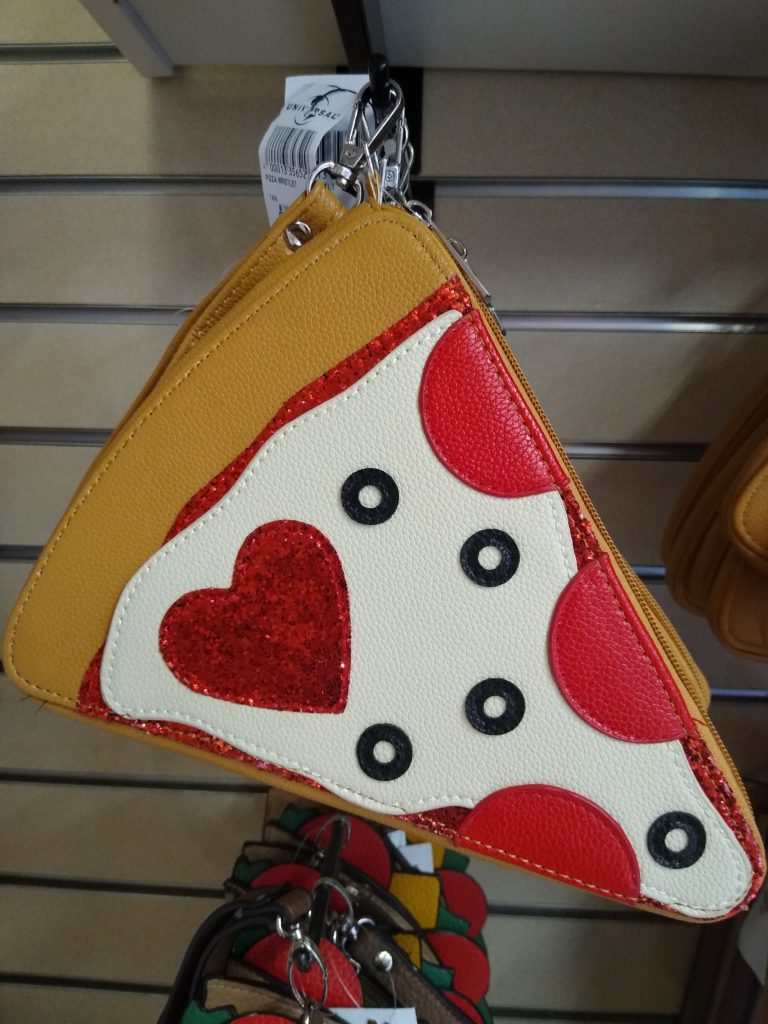 They definitely know how to tug at my heart…did I mention my birthday is October 19th?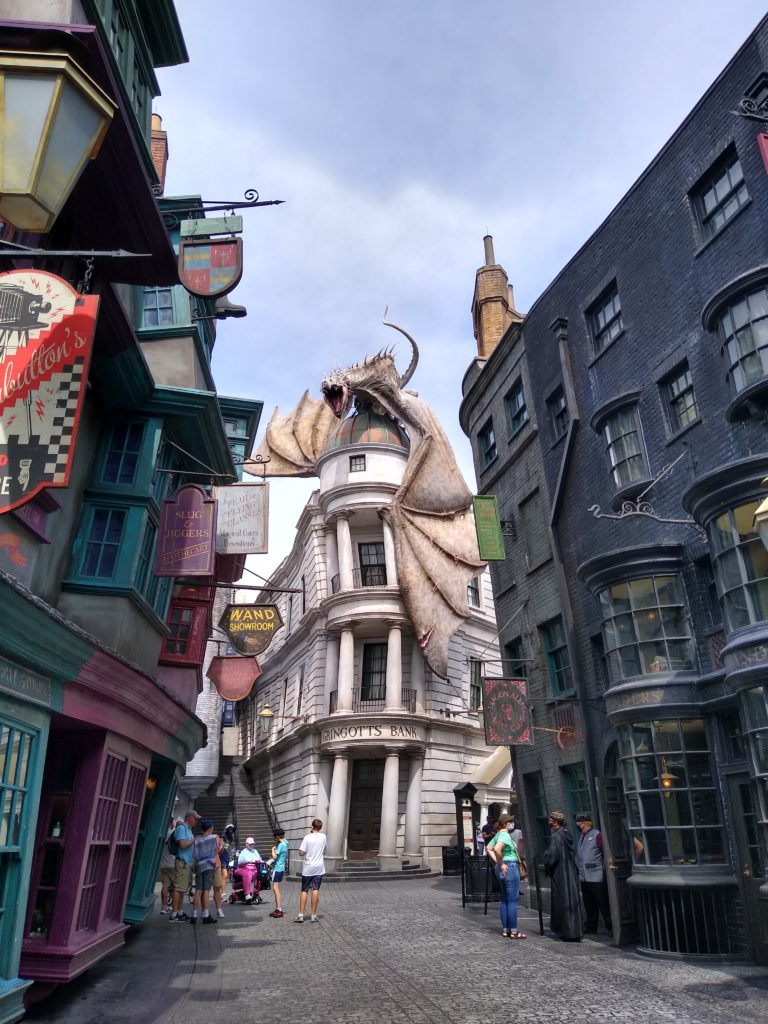 Obligatory visit to see my Dragon and the Apothecary, which I wish was a store you could go into. I took a video of the Weasley twins' magic shop, as I also have to visit every time, but in true style of me, I didn't grab a photo.
I really like that there are added hand sanitizer stations throughout the park and before getting on any rides. The team members give you a nice sized amount. Just one more way they go above and beyond.
Eating At Louie's
I know this has been quite the post, but stay with me because we have made it to Louie's!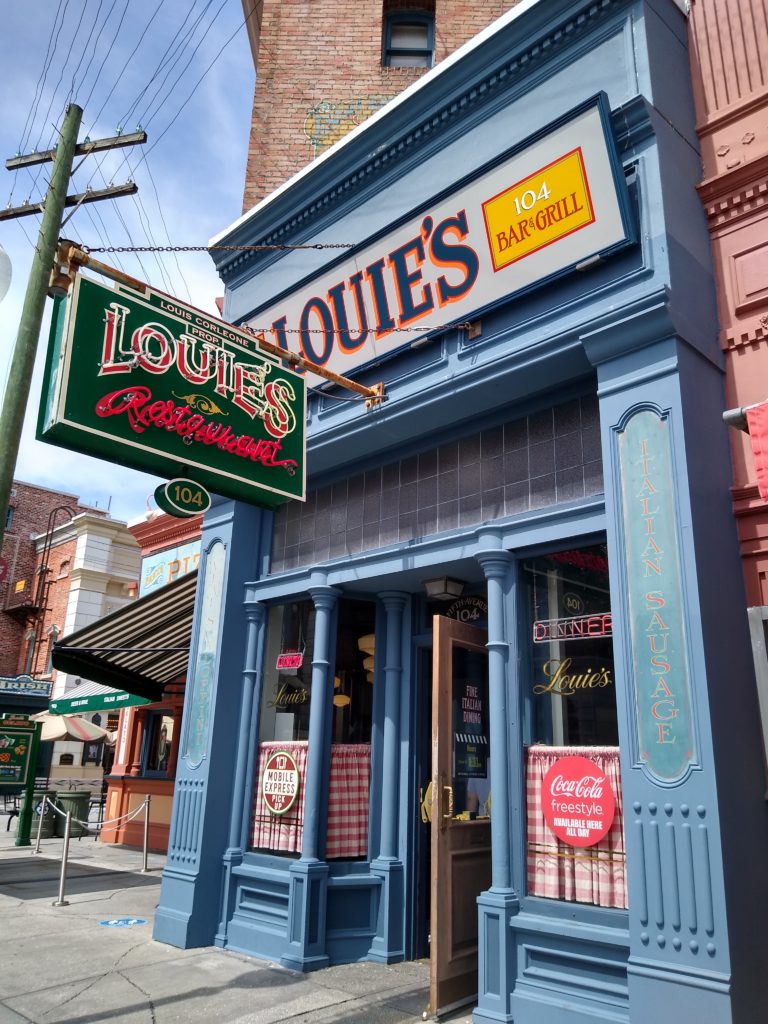 Let me start off by saying, I eat at Louie's 99% of the time I come to Universal. It is my favorite restaurant here because the food is absolutely delicious. Louie's is hands down the best pizza I have had in a theme park ever…and I have eaten a lot of pizza!
The only times I don't eat here are if:
A.) I don't visit this side – which is rare.
B.) I'm with friends/family who don't get to visit and they want to eat somewhere else.
C.) See options A & B
You can see a full pre-2020 review of Louie's on my personal blog www.pizzaandpigtails.com, but I wanted to give everyone an idea of what to expect if you make a recent trip.
Louie's is a quick-service restaurant located in the streets of New York at Universal Studios and opens daily at 11:30 am. It offers a variety of choices from pizza, salads, pastas, and desserts, sodas, beer and wine.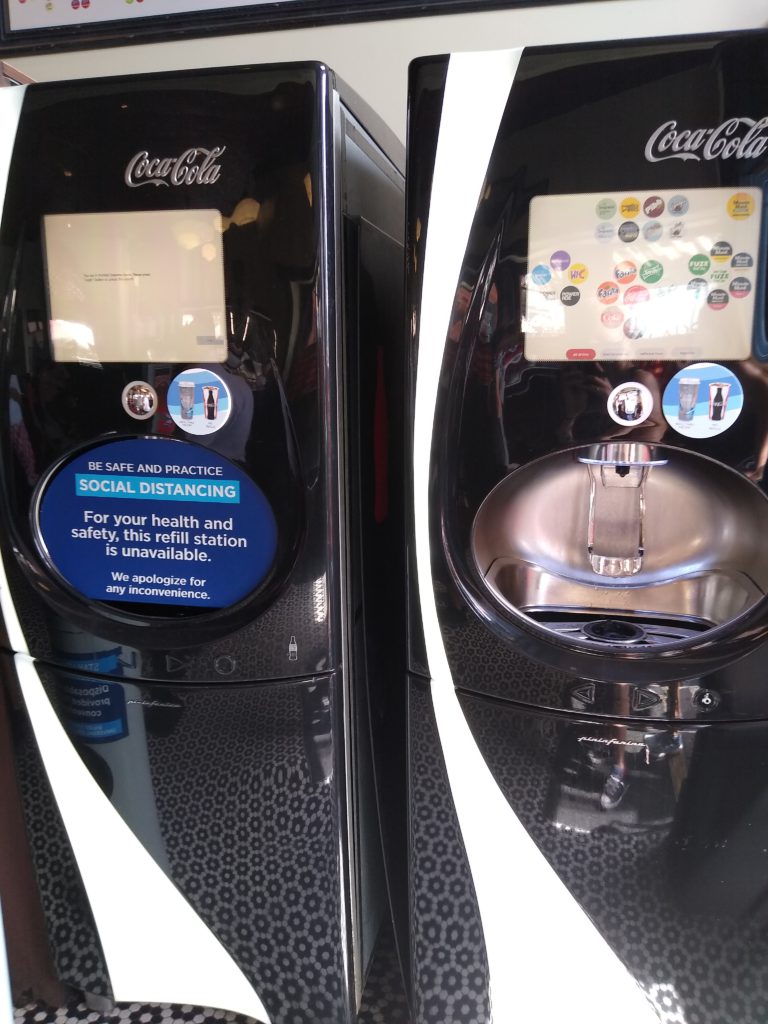 I really appreciate how serious they are taking the social distancing!
They are part of the mobile ordering restaurants. You must download the Universal Orlando app in order to use this feature. I recommend downloading that before you get to the parks or when you know you're ready to eat.
One of the cool features about this is, you can actually order BEFORE you get to the restaurant. Just go into the menu, add your items (APs – GET THE PIZZA FRIES), checkout, and you're good. When you are seated, go back into the app, hit that green "Prepare my Order" button and you're all set. The team members will bring your items out to you.
I will say, I had a little bit of a rough time receiving my order. One thing I noticed was that when I pressed "Prepare my order" upon being seated, it didn't ask for the order confirmation number nor table number in which I was sitting.
I also noticed that the team members were walking up to tables asking "Did you have (insert items here)," so it would be easy to get lost in the shuffle if someone orders the same things as you. It took 4 visits to the table for my confirmation number and one trip to ask my name.
There were other tables having the same issue, but that's really the only down side I saw.
I did mention this to a manager, so hopefully the kinks will get worked out.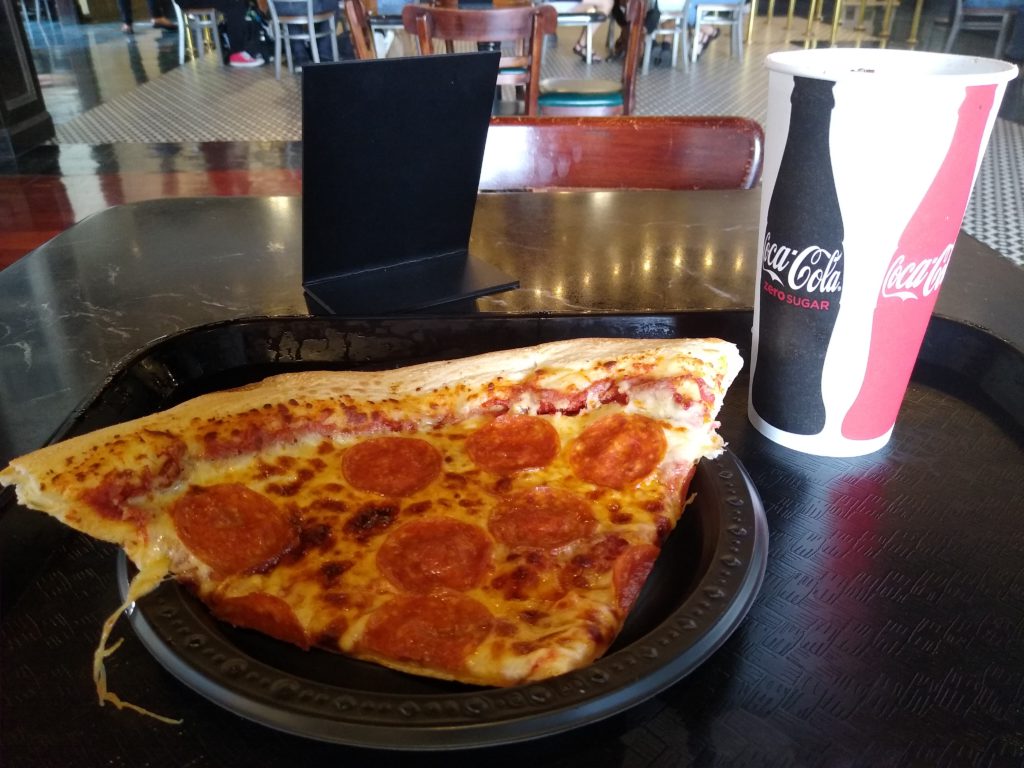 Once I got my pizza, it was delicious! Piping hot and perfectly baked! I don't know how they do it, but they really have a way with getting the flavor profile to blend so very well with each other! It was and is always Heavenly. Make sure you get a side of the garlic butter dipping sauce if available! If you can't tell, I totally recommend!
I also recommend the alfredo, the chicken caesar, and the gelato for dessert!
Once again, thanks so much for joining me on my short but sweet trip to Universal Studios. I know from this post it doesn't see all that short, but time always goes by so quickly when you're having fun, doesn't it?
Until next time!