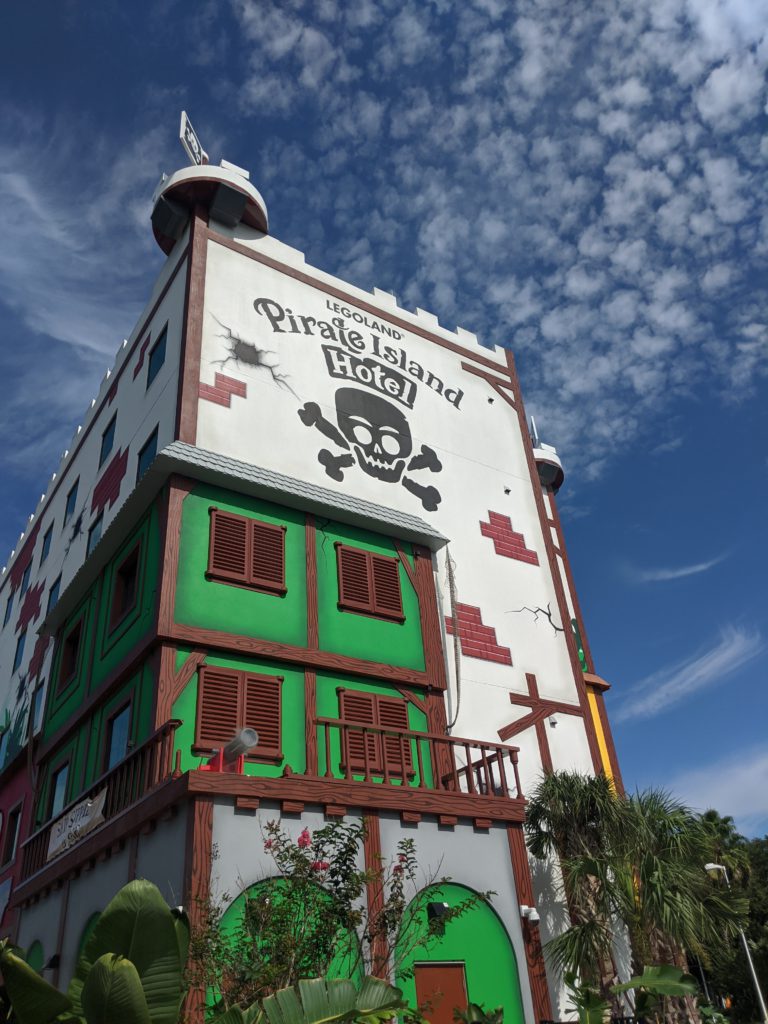 Ahoy Mateys!
We were fortunate enough to be hosted by LEGOLAND Florida Resort to check out their new Pirate Island Hotel! If you want to check out our day at the LEGOLAND theme park, click here!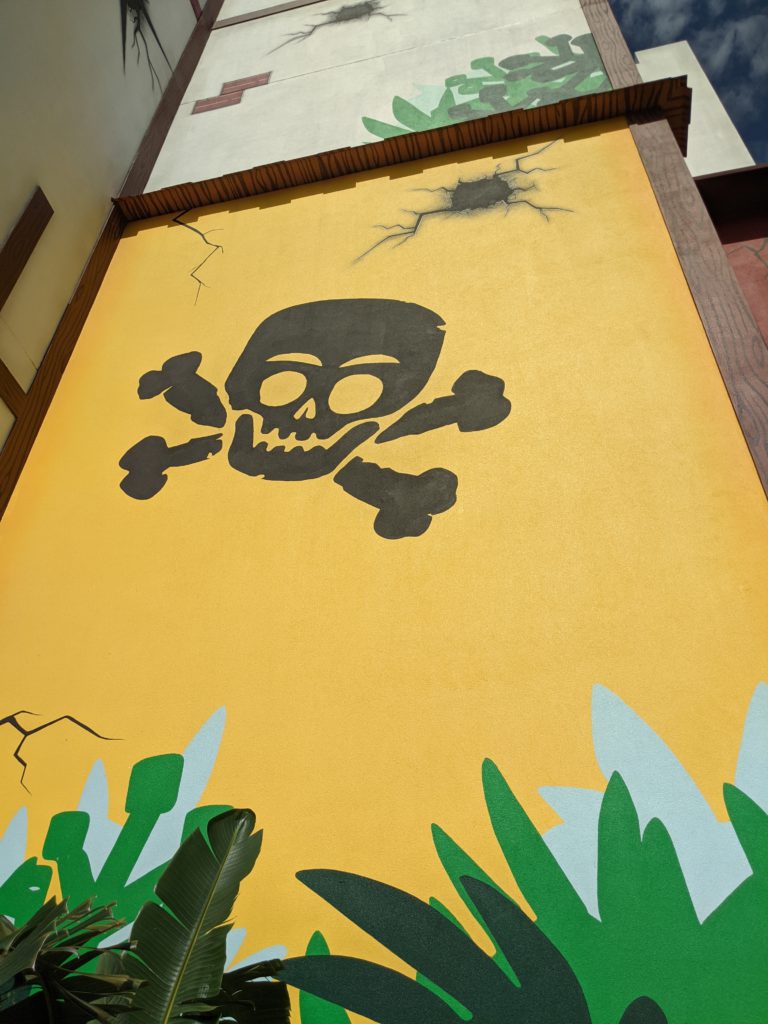 The LEGOLAND Pirate Island Hotel is located in Winter Haven, Florida and is just steps away from the entrance of the LEGOLAND Florida. This new hotel connects with the LEGOLAND Hotel and boasts 150 pirate themed rooms, including four suites. More than 1.6 million LEGO bricks were used to make up the more than 600 models throughout the hotel! That's a lot of LEGOs!
I still can't get over this hotel!
We checked in after a full day at the LEGOLAND Florida theme park and I absolutely loved that it was just a few steps away from the entrance of the theme park! Talk about convenience! Both the Pirate Island Hotel and LEGOLAND Hotel check in at the LEGOLAND Hotel Lobby.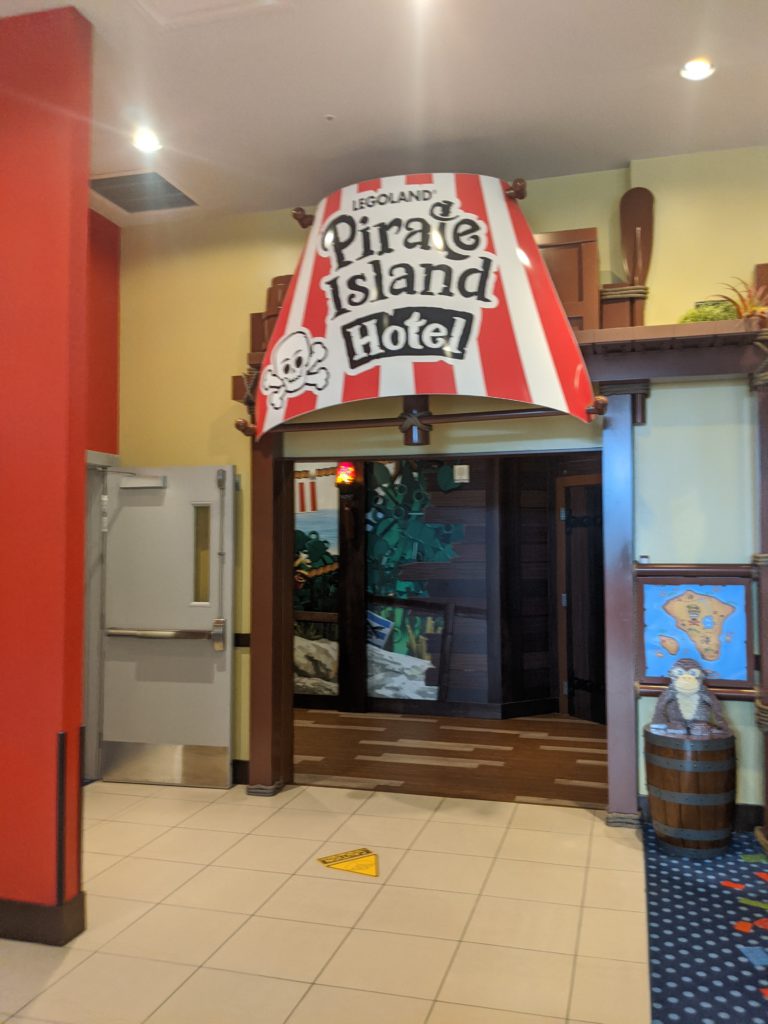 Temperature checks were performed as you entered the lobby and you received a wrist band color coded for that specific day. Social distancing marks and reminders were in place throughout the lobby.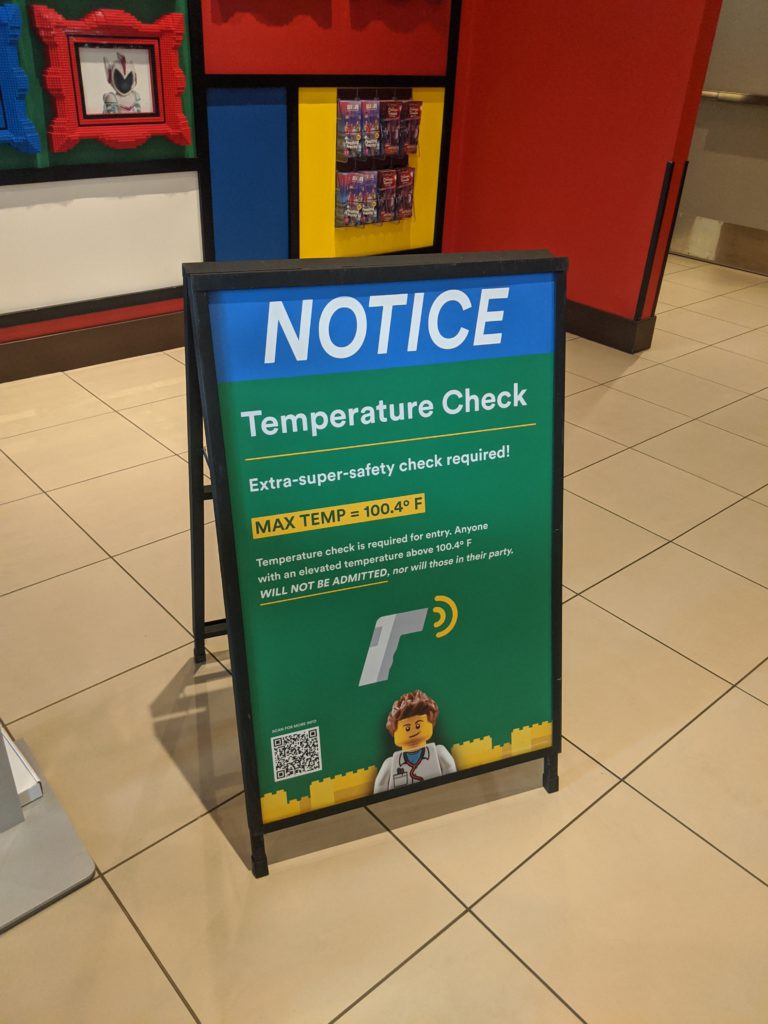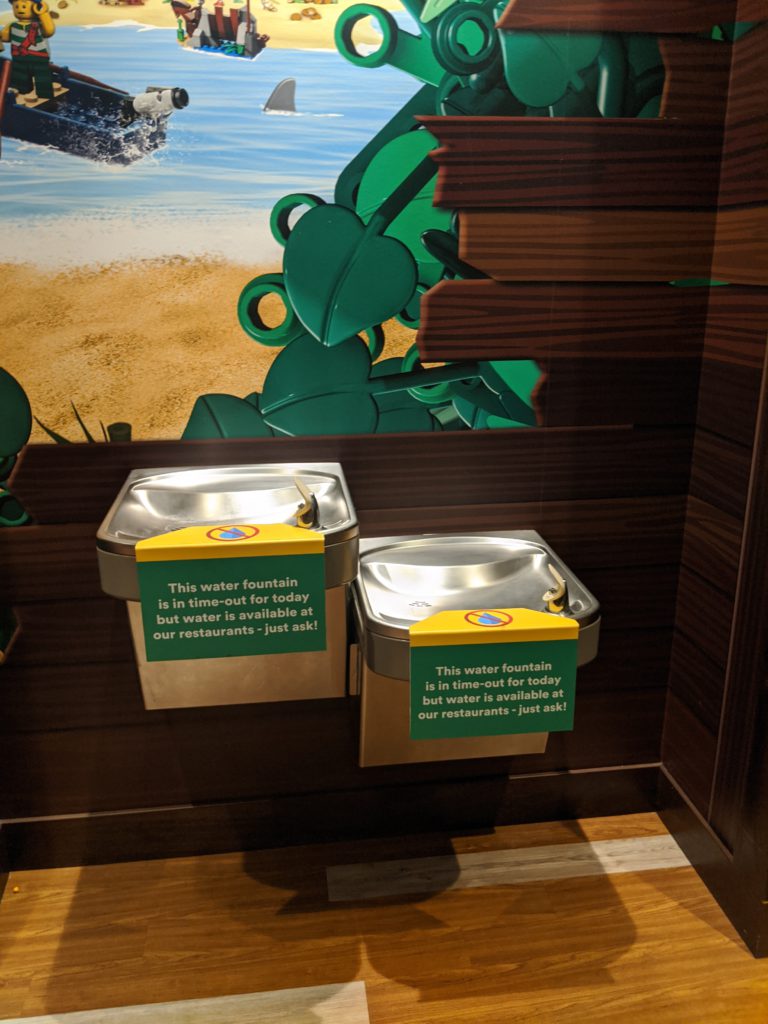 Masks are required for those 8 and up in all indoor areas of the hotel (except while eating or in your private room).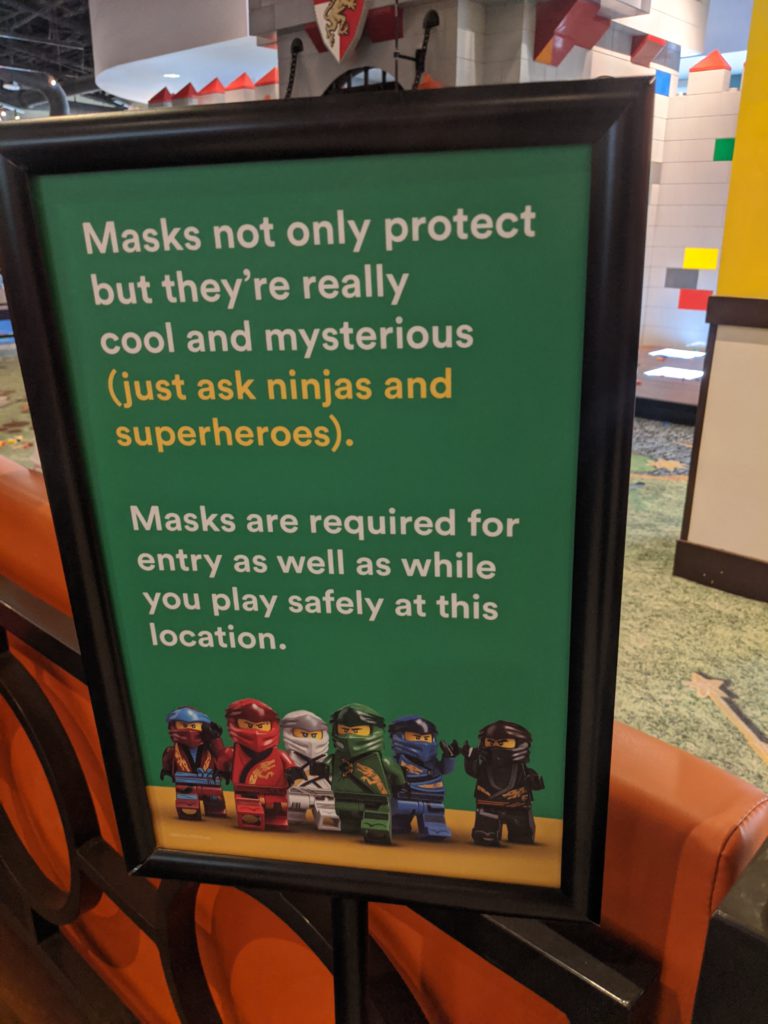 The attention to detail in the lobby is exquisite! As an adult I could appreciate the hard work and hours of building that went into making each piece come to life. As a kid, Grace saw LEGO! LEGO! LEGO!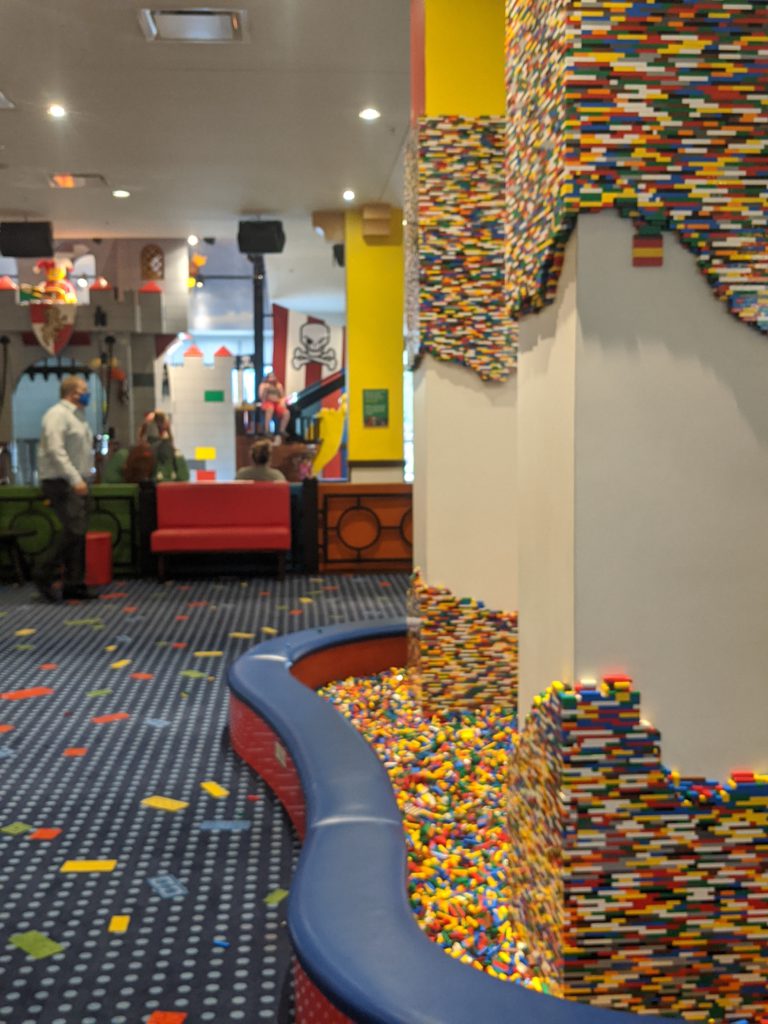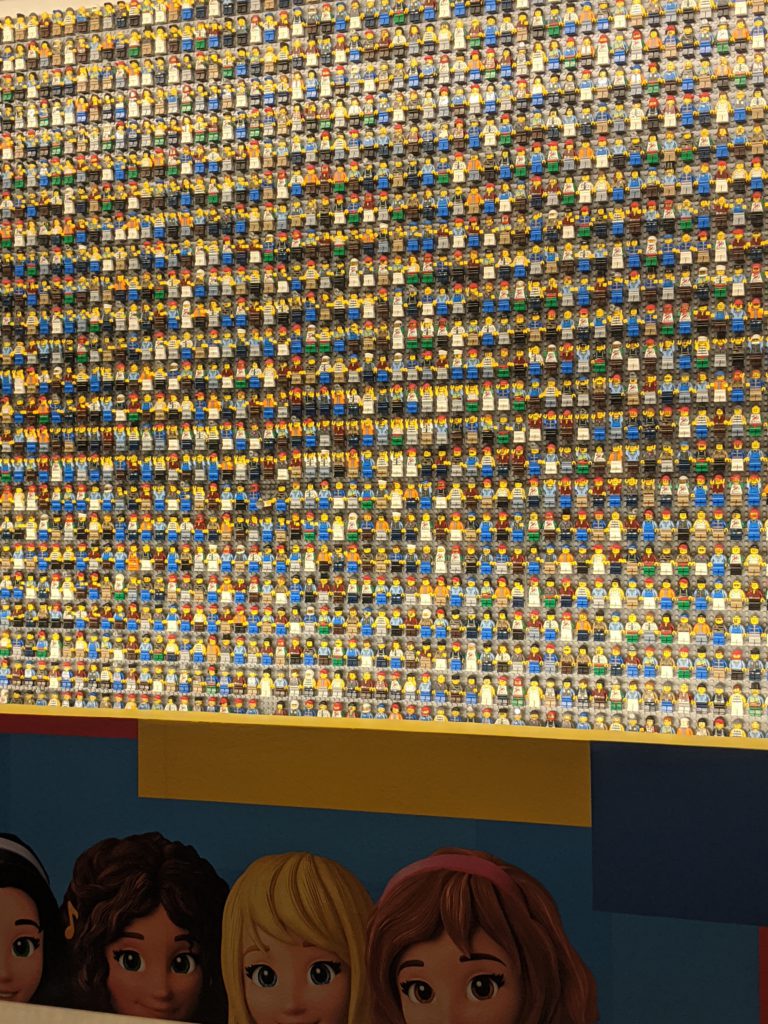 Check in was a breeze for two reasons: the talented Model Citizens (what LEGOLAND calls their employees) and the fact that Grace was content playing in a nearby brick pit!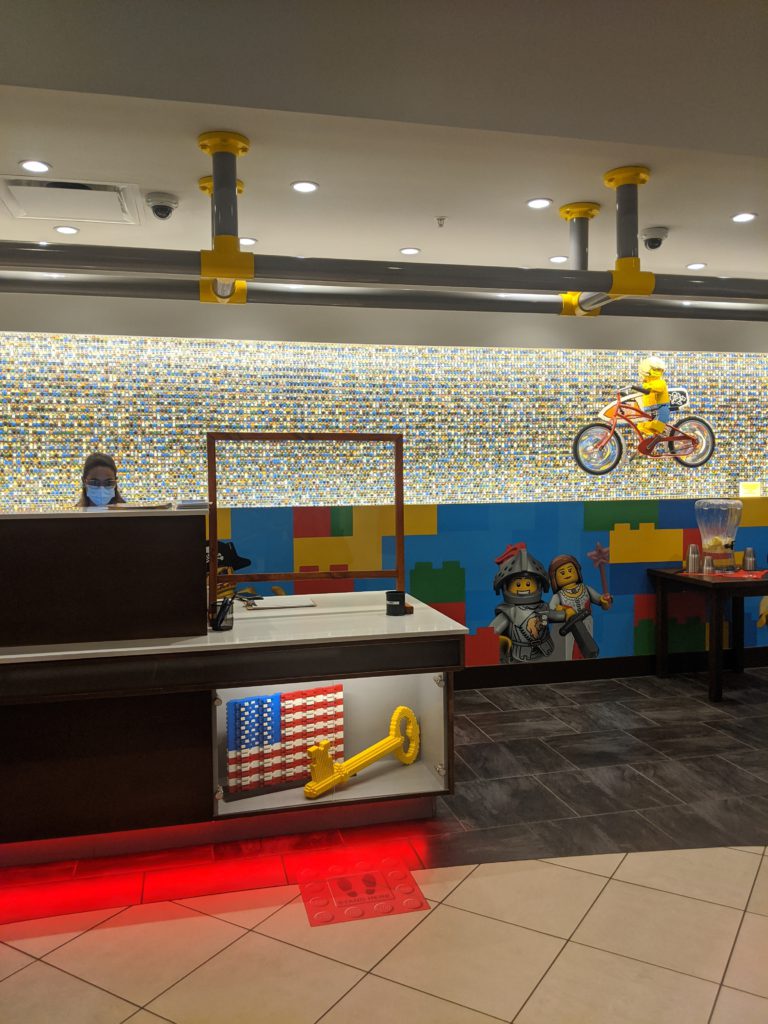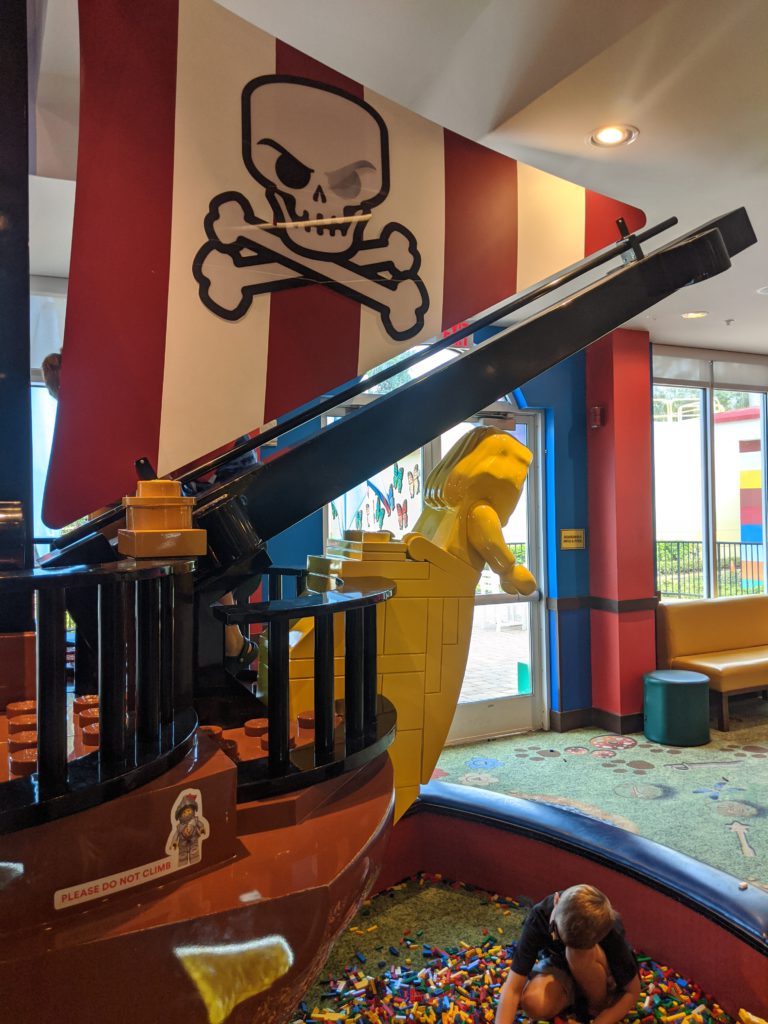 There's nothing worse than a tired, cranky kiddo that just wants to get to their room or the pool (parents, you know this is true!). LEGOLAND already thought of this and gave them PLENTY of distractions!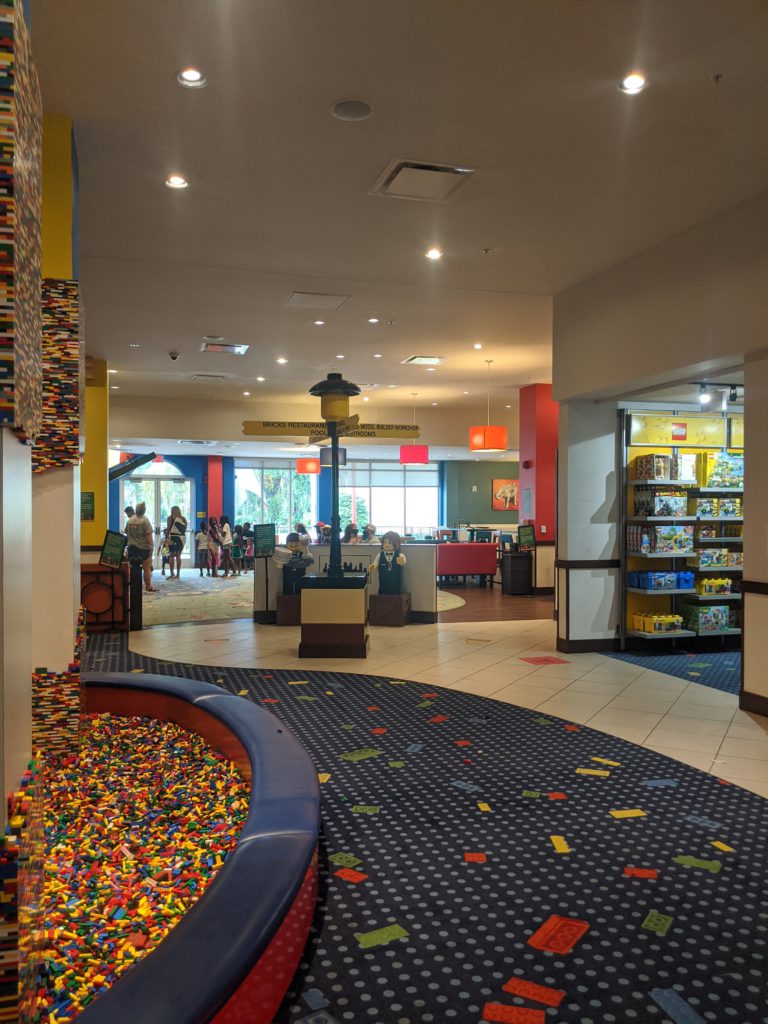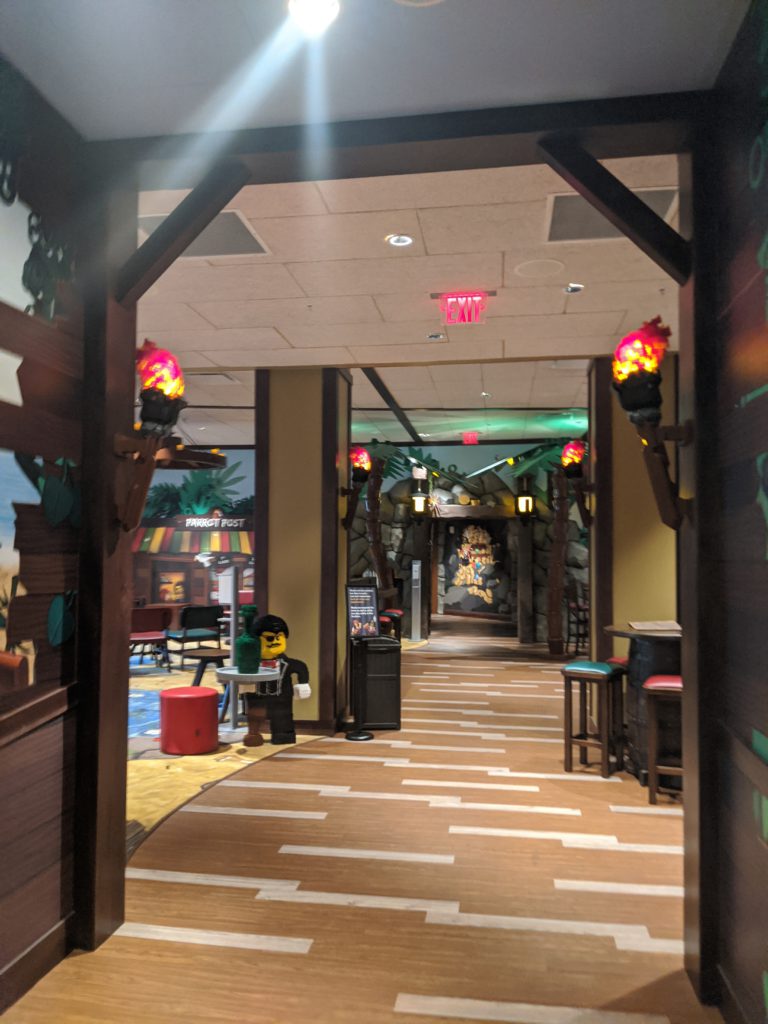 Once we were all set we went back to the Pirate Island Hotel building (a few steps away from the main lobby) and headed towards our room.
Our Room
I absolutely CANNOT stop thinking about this room! I will forever sing its praises as a parent and Grace hasn't stopped talking about it since we returned home!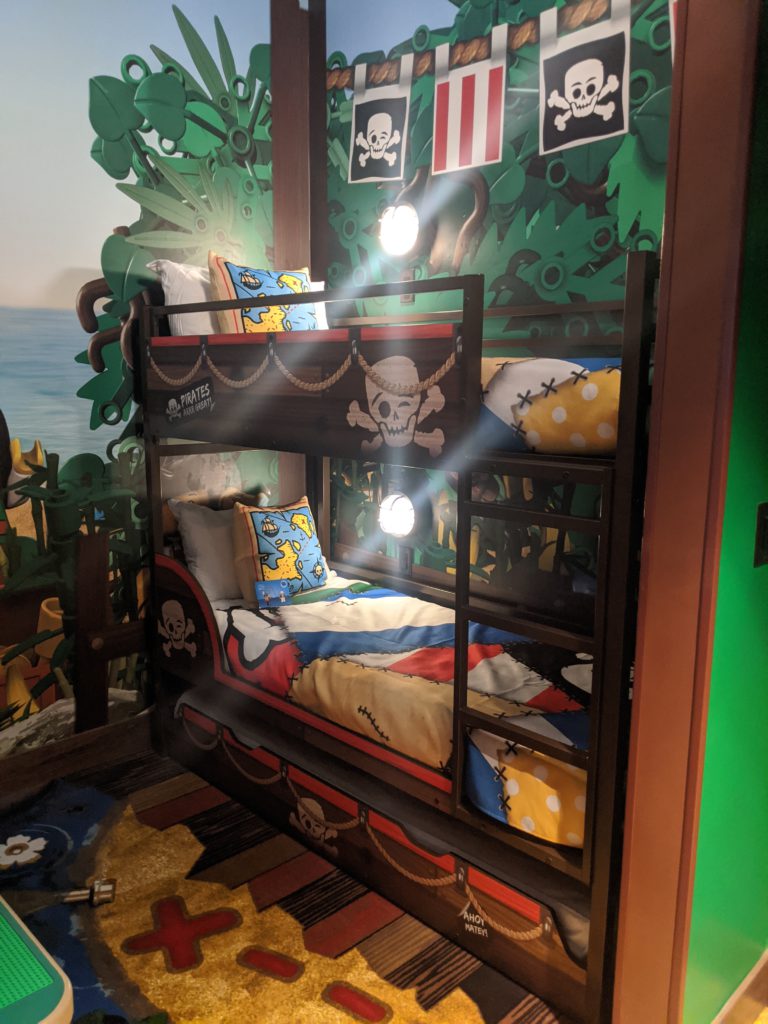 We stayed in one of the standard rooms but this is FAR from a standard room! Each room has a separate kid's bunk area featuring a bunk bed and pull out trundle bed, TV and LEGO building station!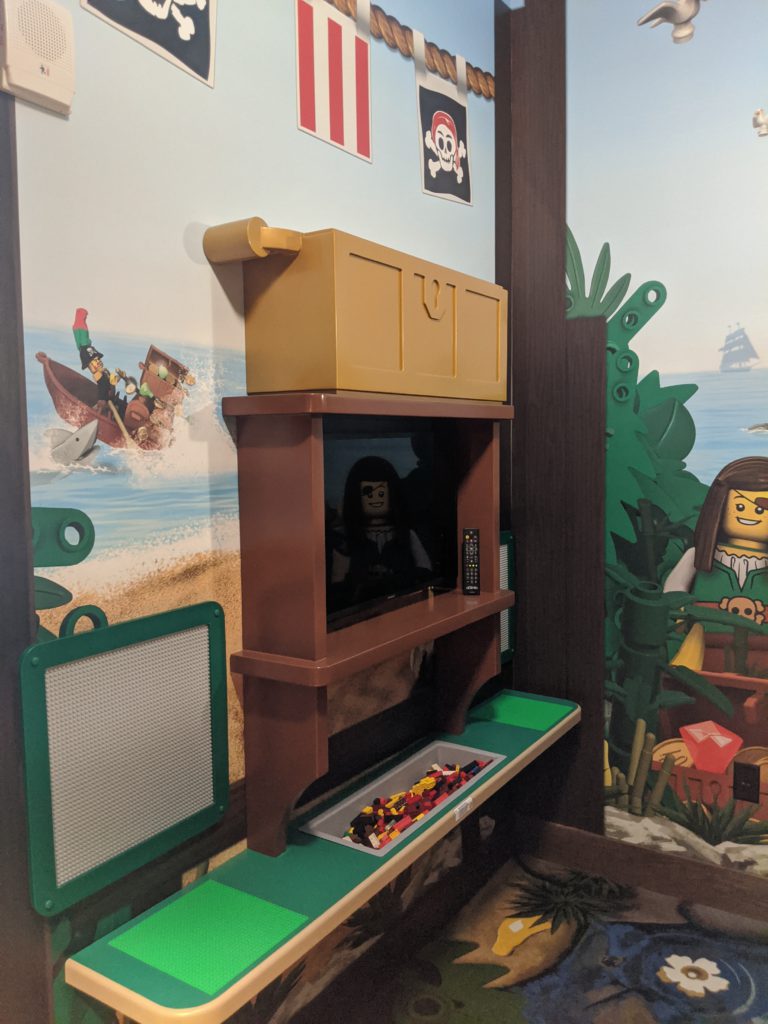 The main bedroom features a king bed, desk, and chair.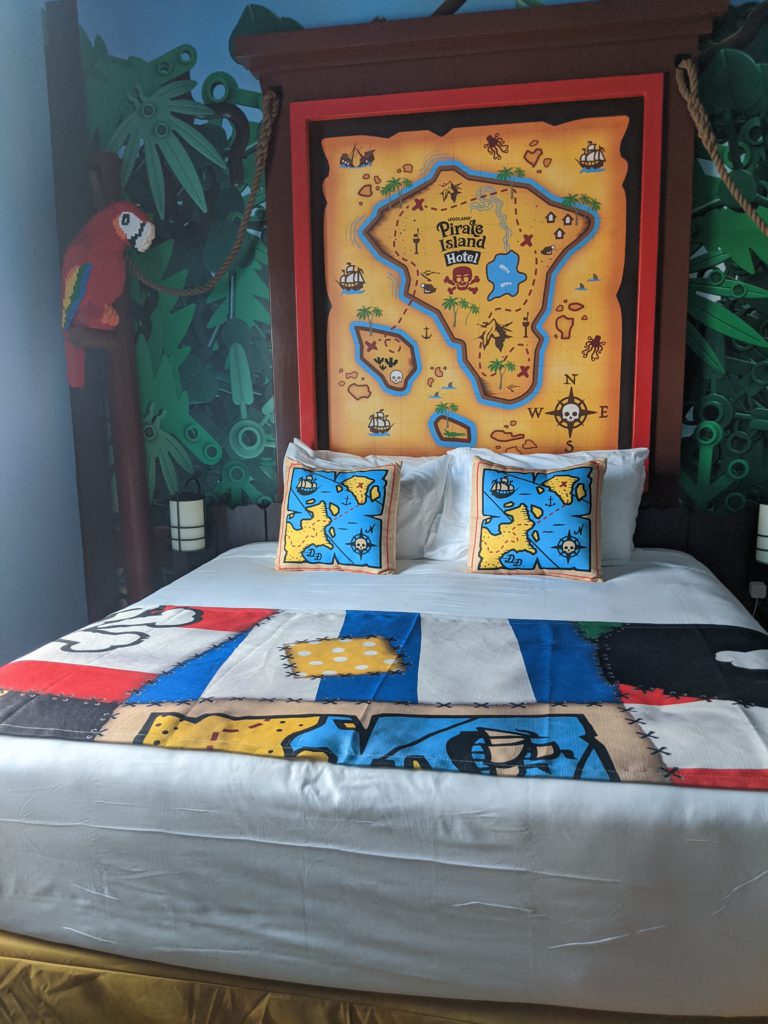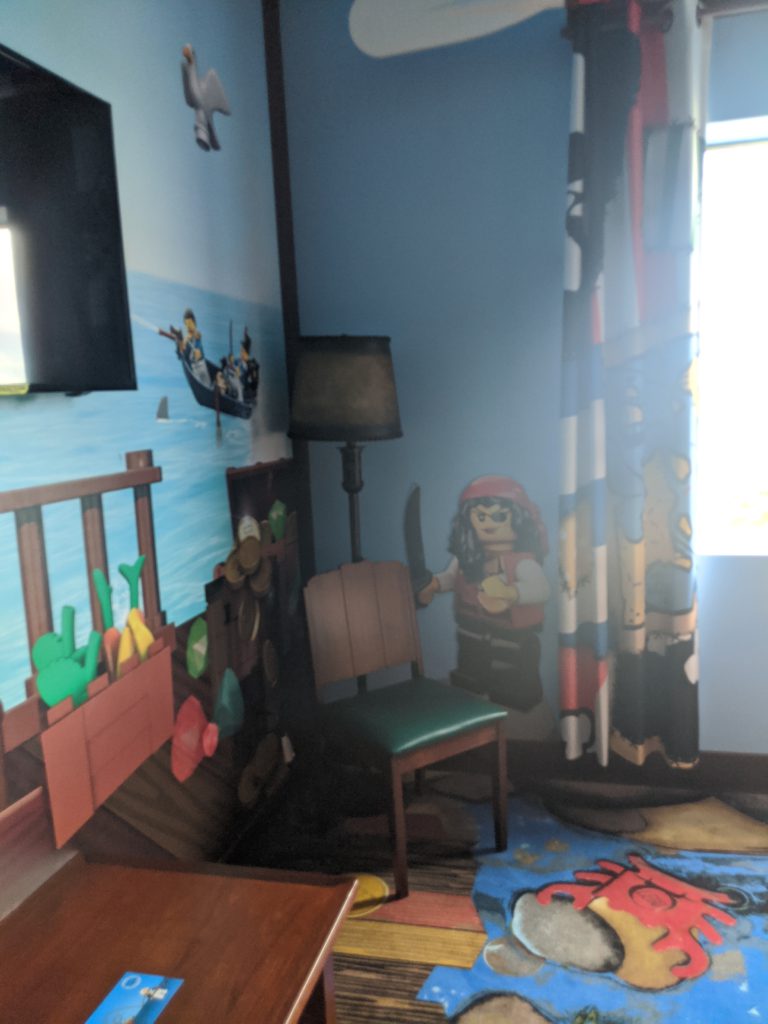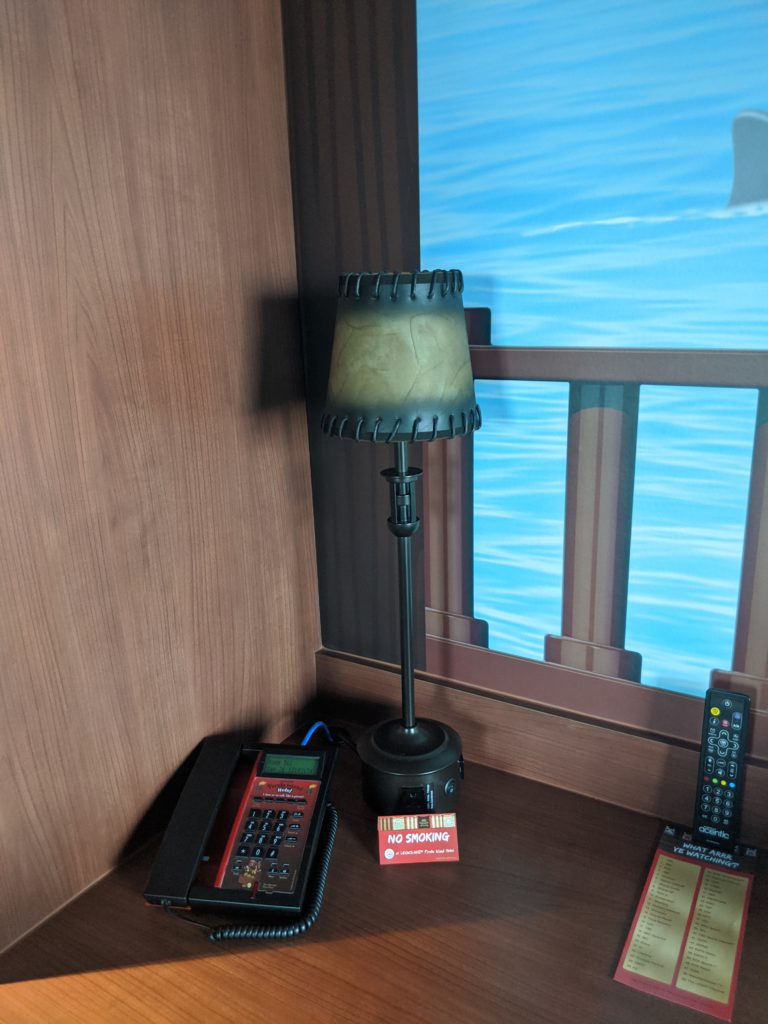 There's ample closet space and a family bathroom with a built-in toddler potty, step stools and a tub.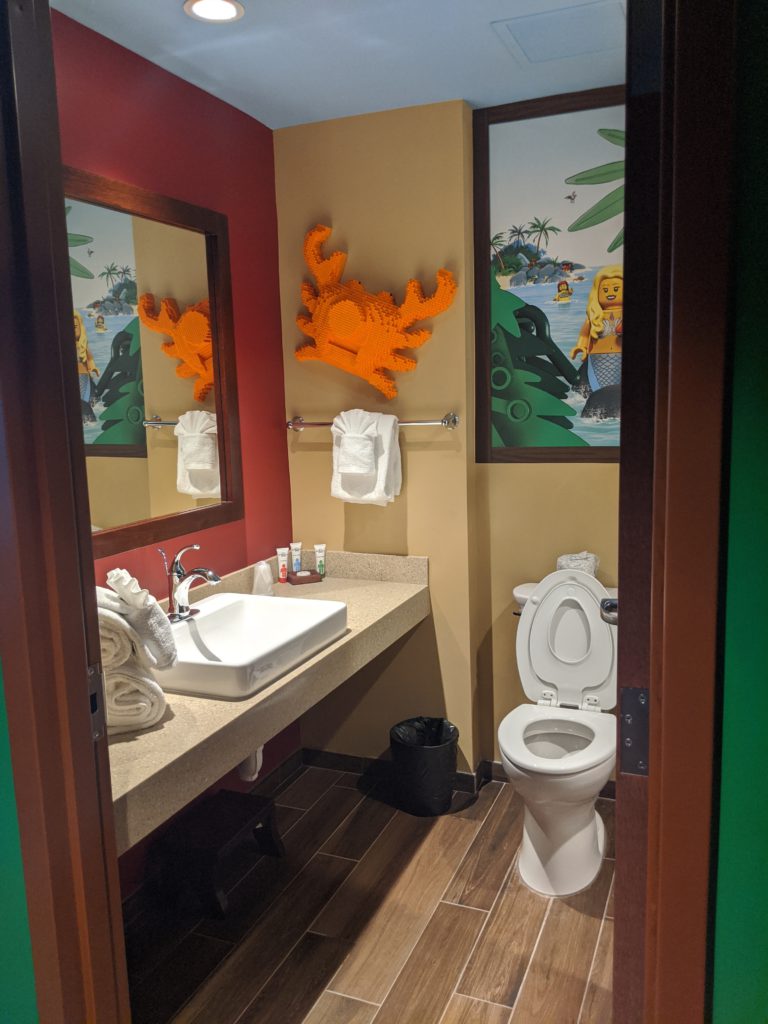 Oh, and did I mention it's ENTIRELY LEGO PIRATE THEMED?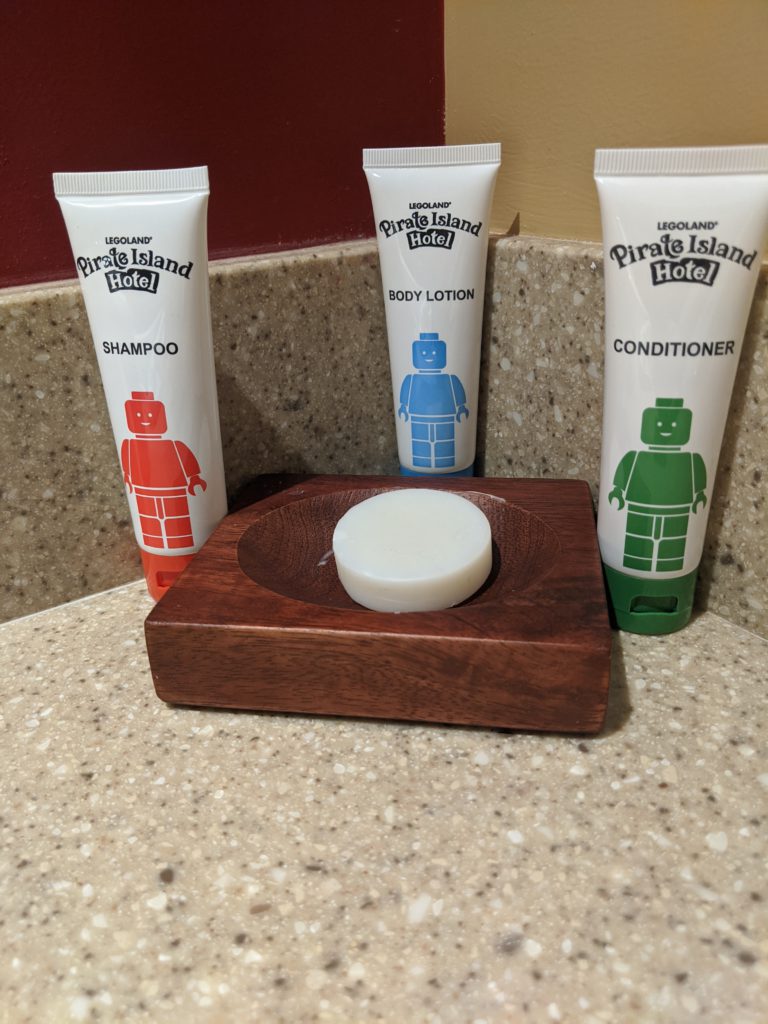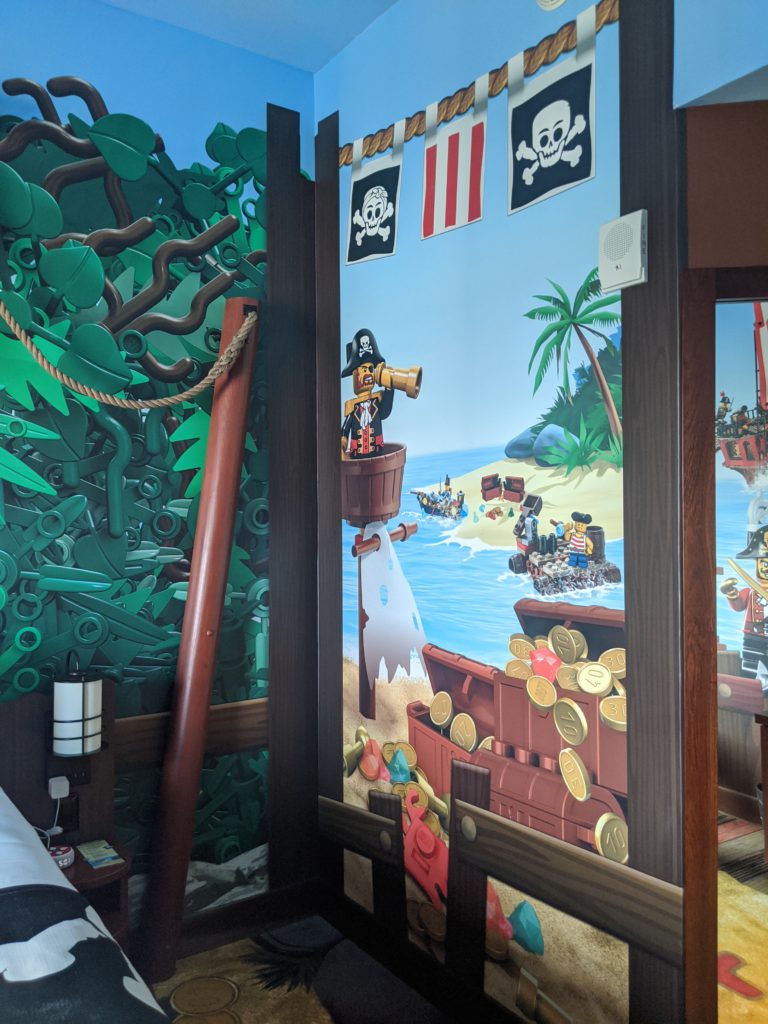 Each room contains three LEGO models (a monkey, scarlet macaw, and crab) that are made up of 6,600 total LEGO bricks!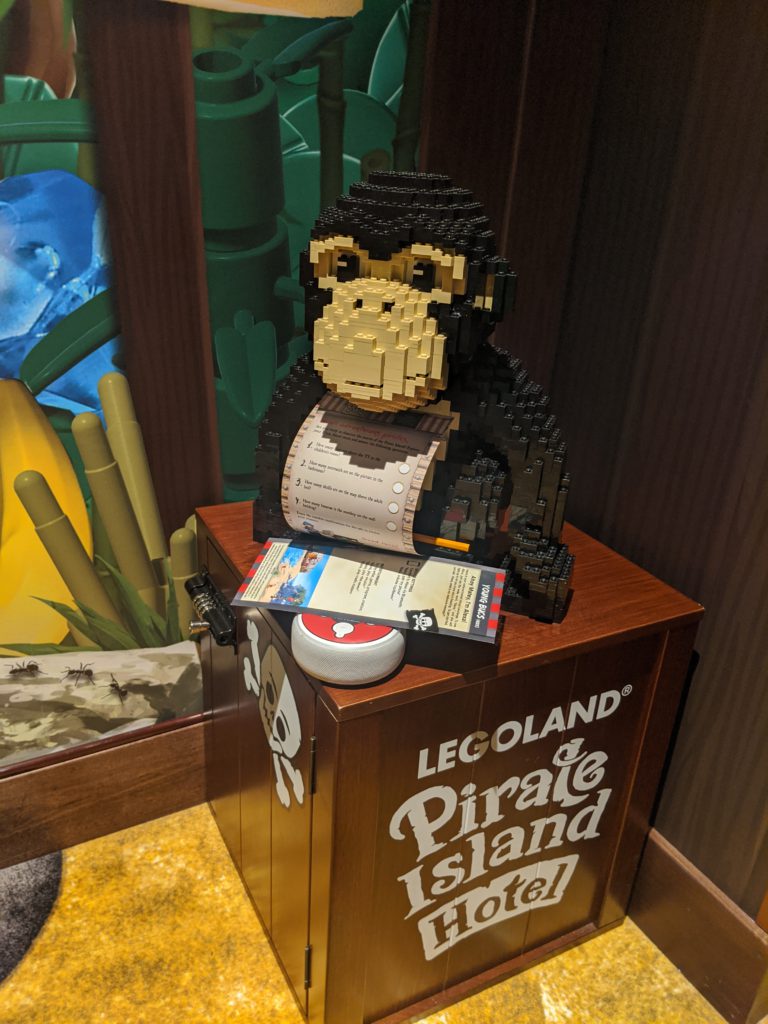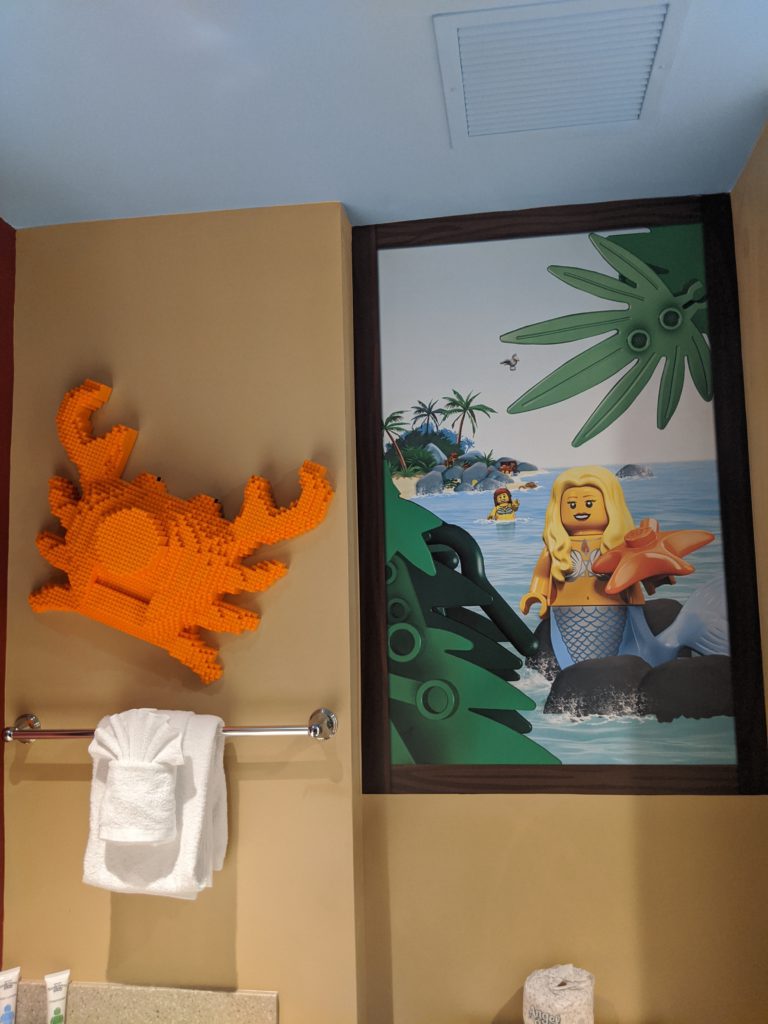 The scarlet macaw was my favorite!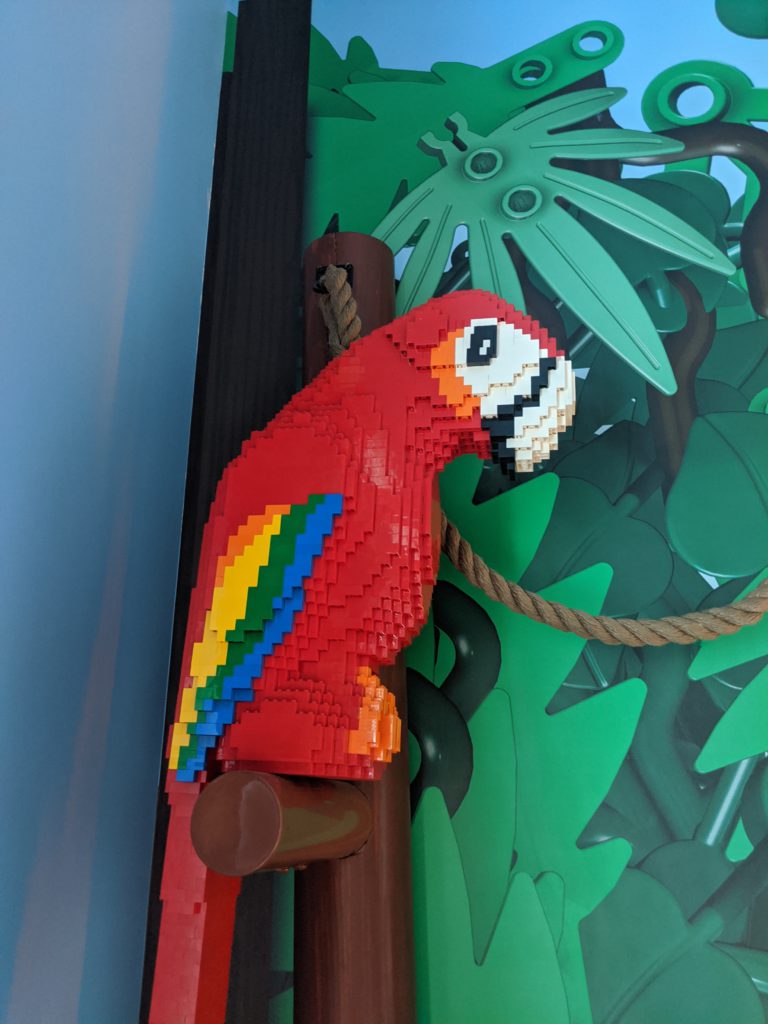 Each night of your stay there's a new treasure hunt for you to do! Complete the treasure hunt and you can unlock the treasure chest for a LEGO surprise!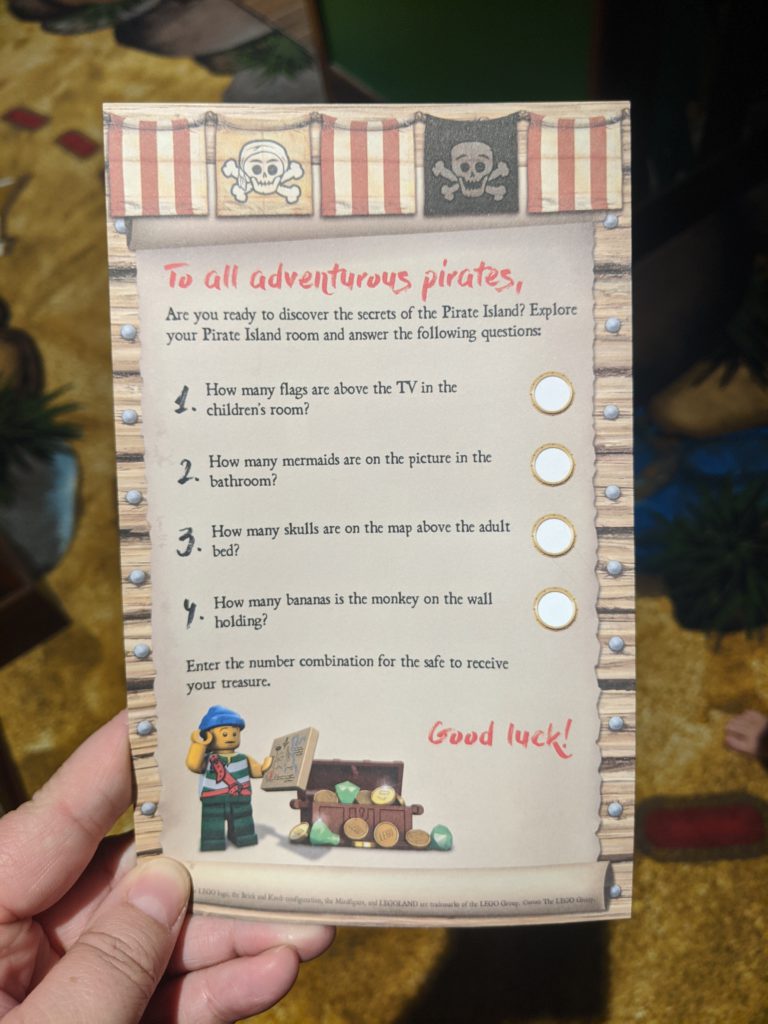 Be sure to check out our video of the treasure hunt over on the Winter Garden Moms Instagram page! You'll find it under the "LEGOLAND" tab in the highlights section.
We had a hard time getting Grace to leave the room. She absolutely loved playing with the LEGO station and being able to watch TV from her own bed!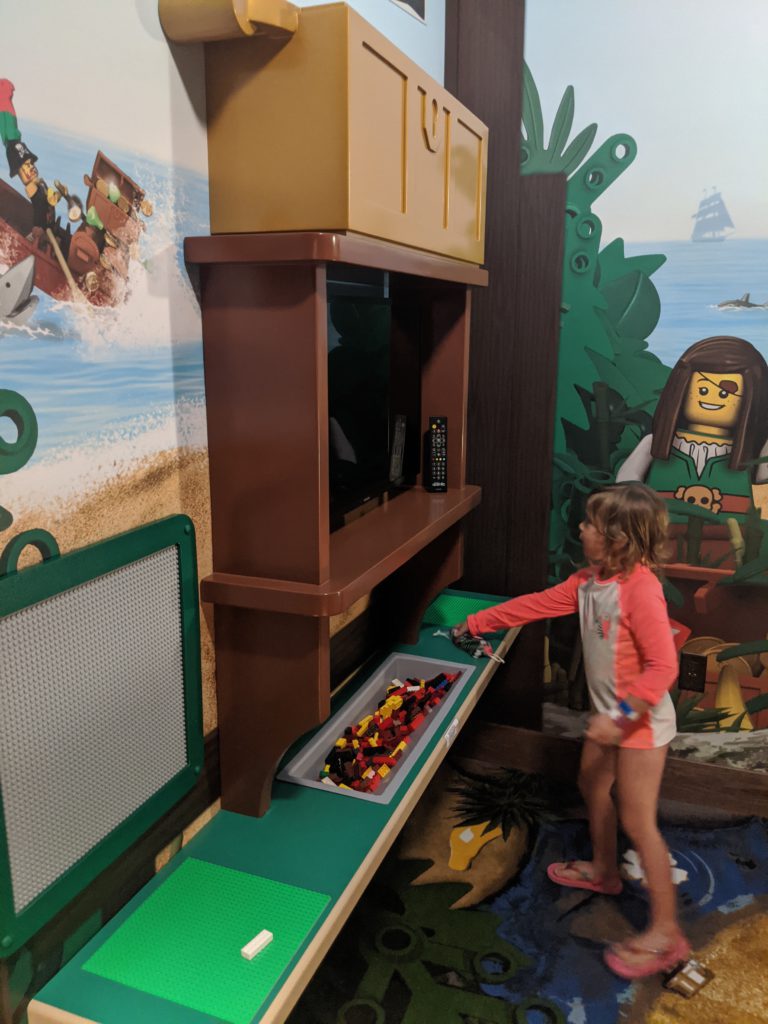 Dining
Pirate Island Hotel features Shipwreck Restaurant, the Resort's only family style restaurant.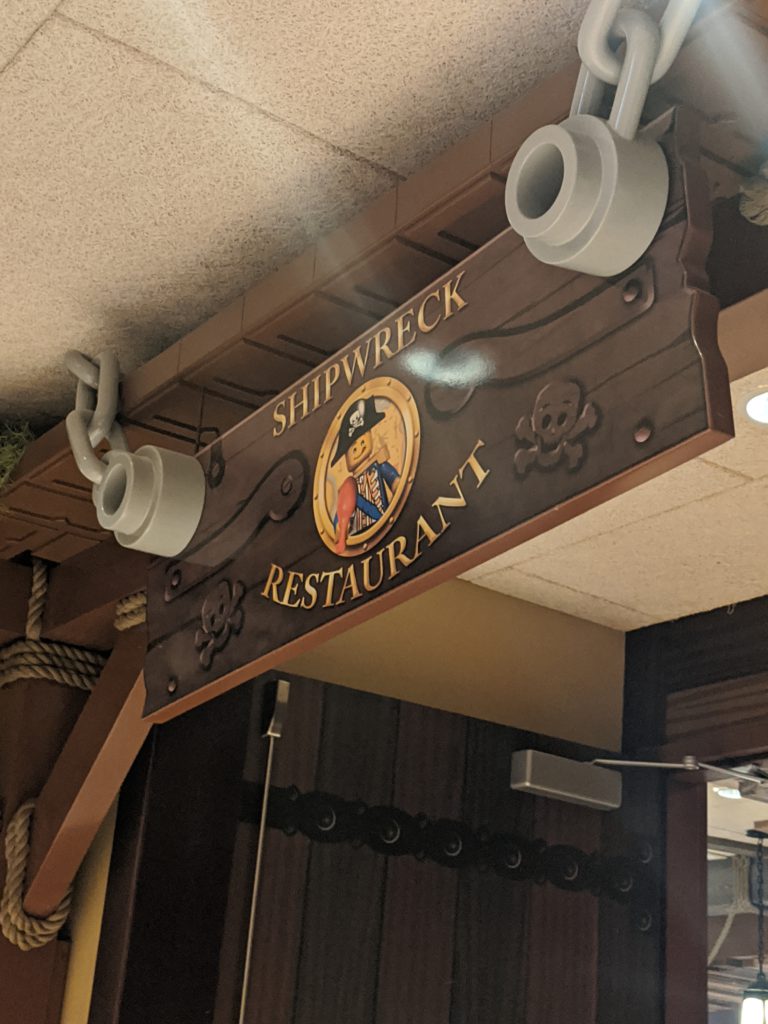 Naturally, it's pirate themed! Please note that at this time, this restaurant is reservation only in order to accommodate for social distancing and increased spacing.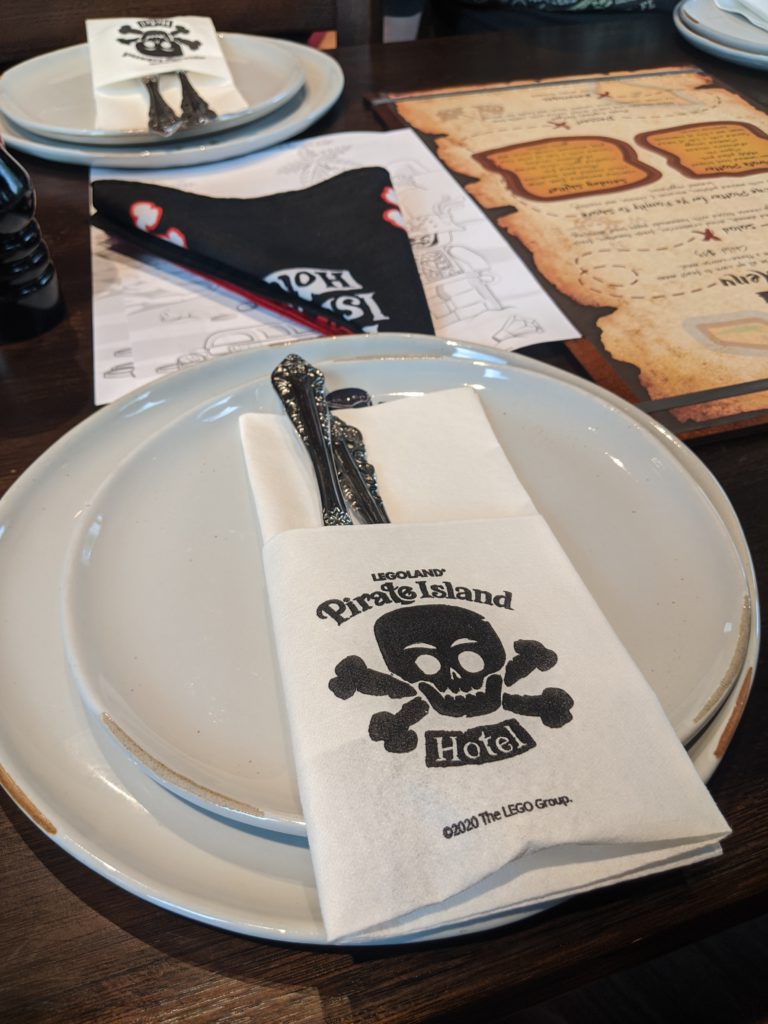 For a set price, each meal comes with salad, the most delicious fresh made rolls, your choice of one of two platters, dessert, and soft drinks.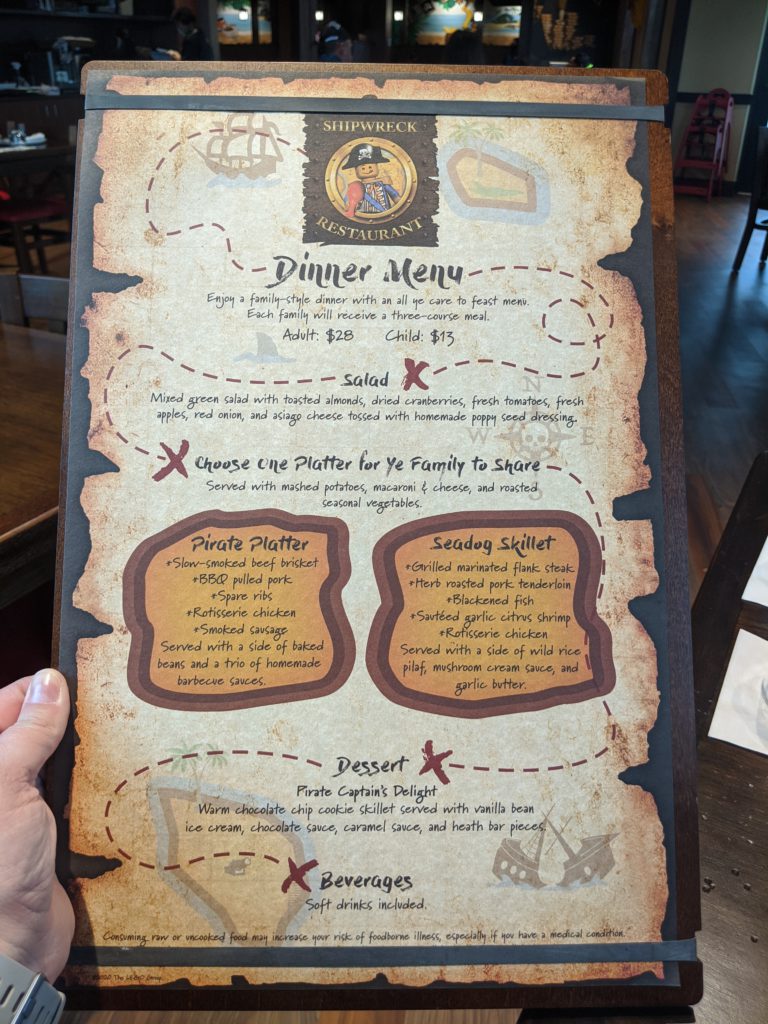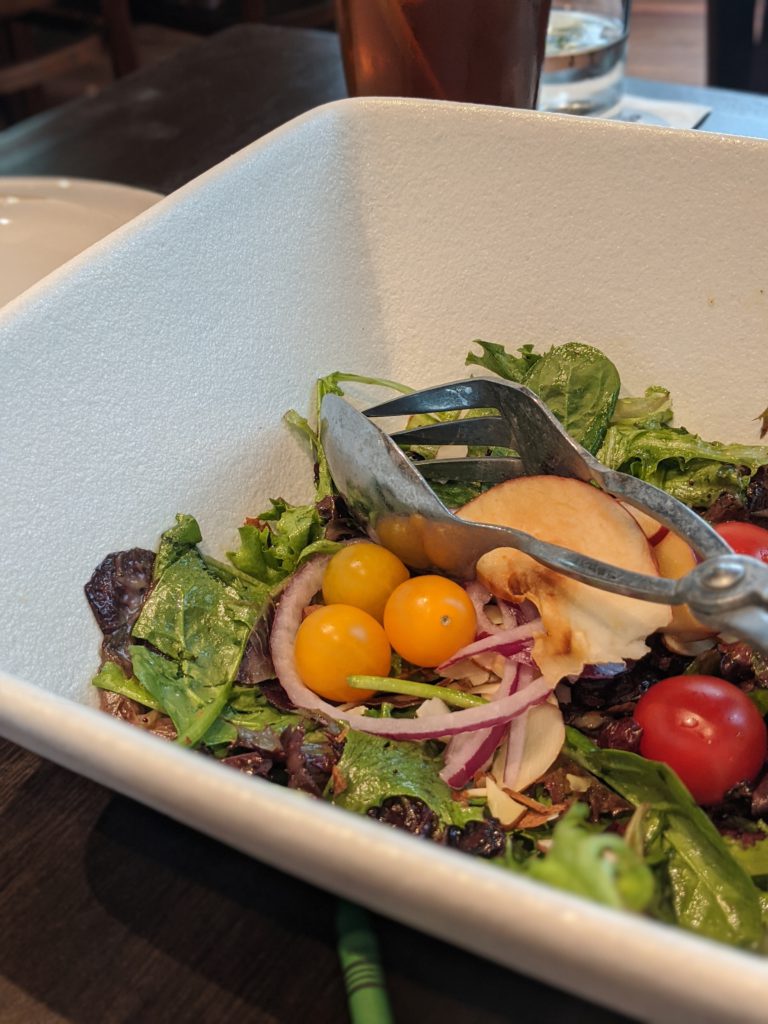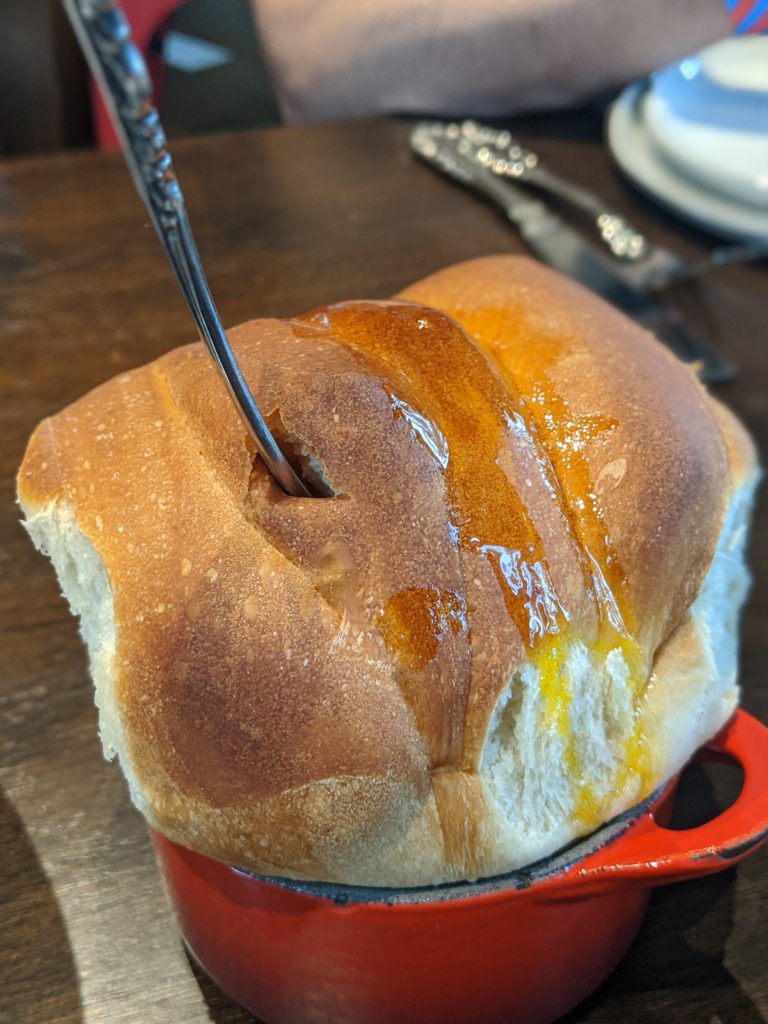 You could also purchase mocktails for the young bucs in your family and cocktails, beer or wine for the "seasoned mates" in the family.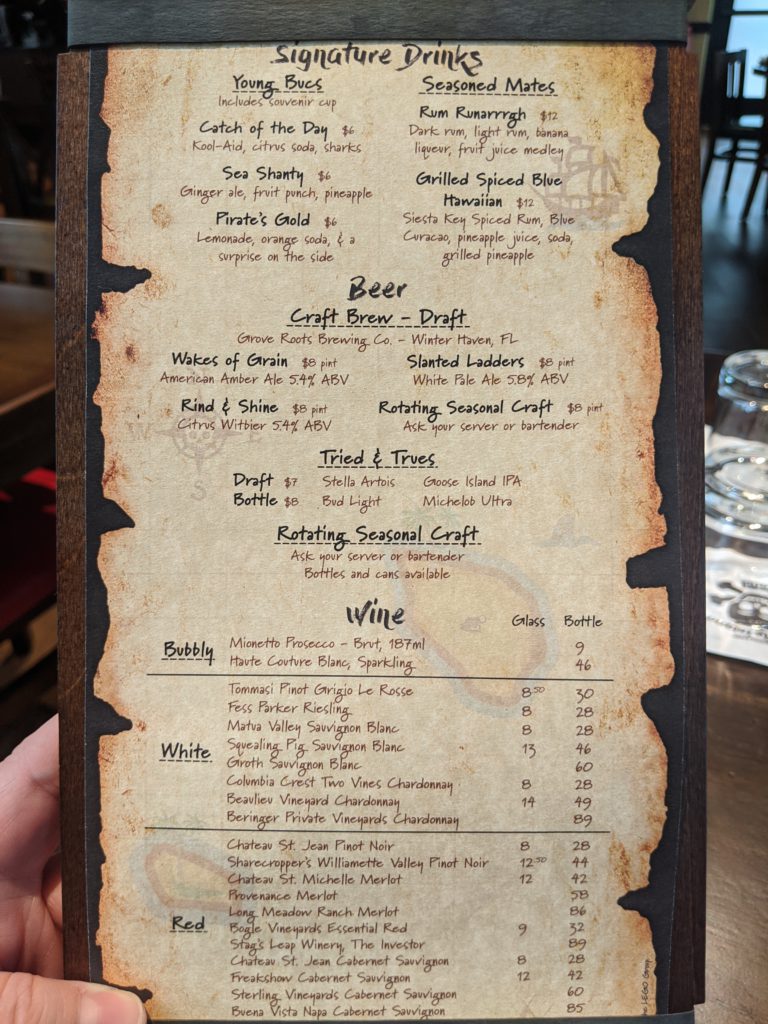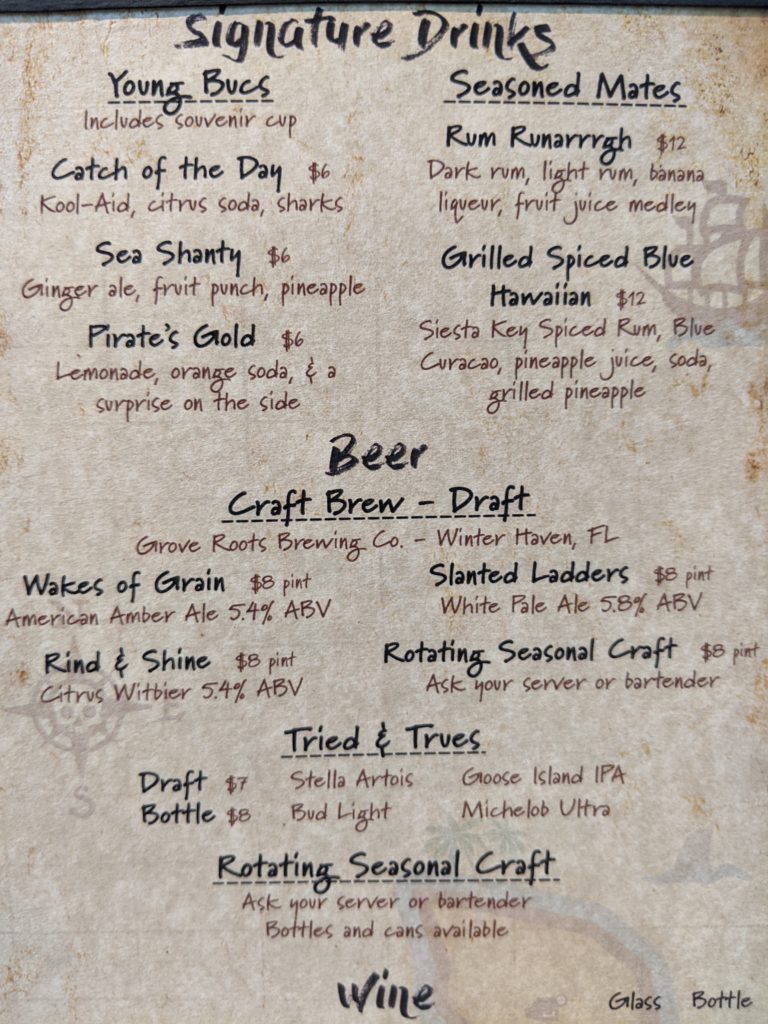 We chose the Pirate Platter. Both platters also came with mashed potatoes, macaroni and cheese and roasted seasonal vegetables.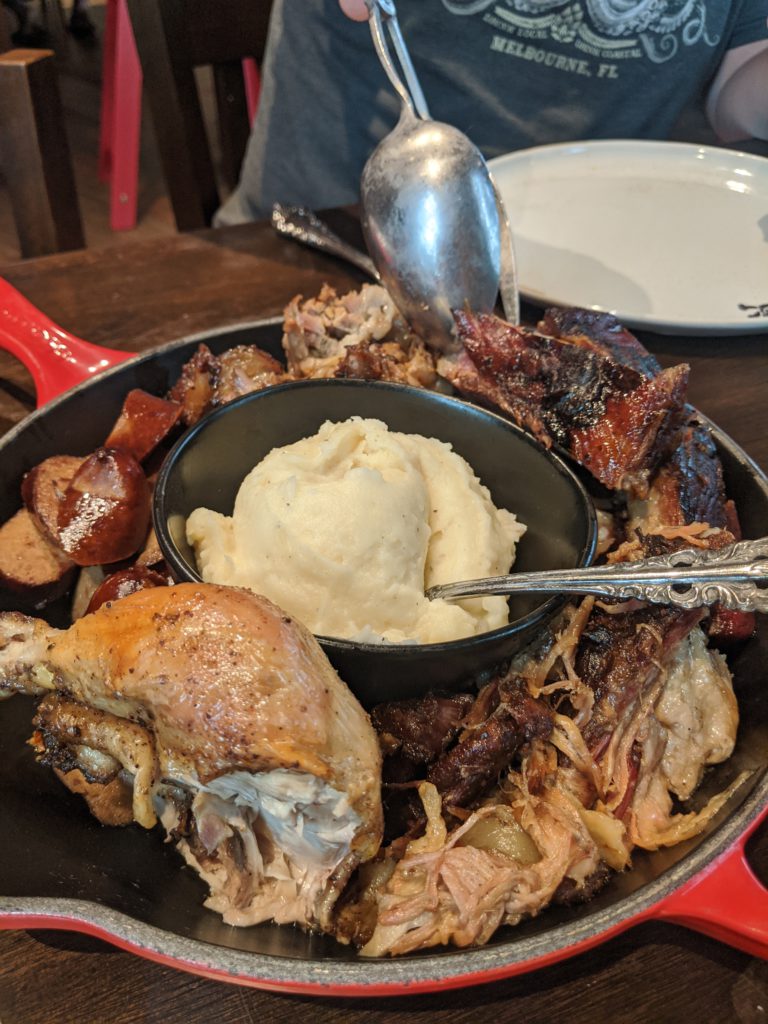 Everything was absolutely delicious! We barely had room for dessert, but don't worry, Grace somehow saved room!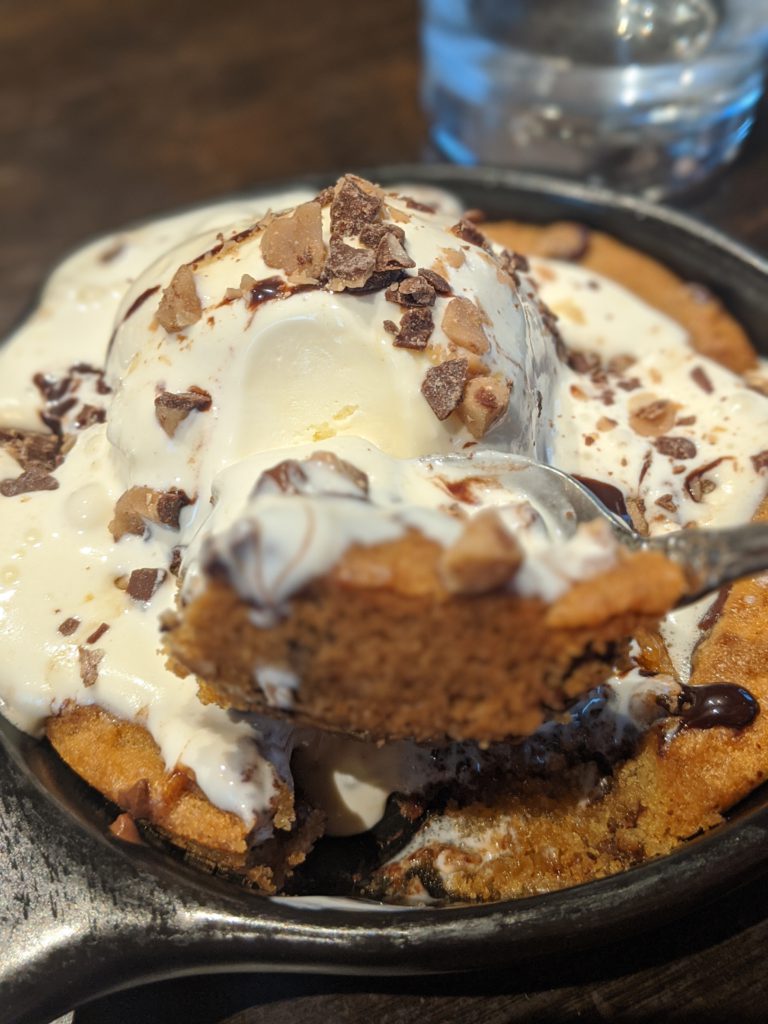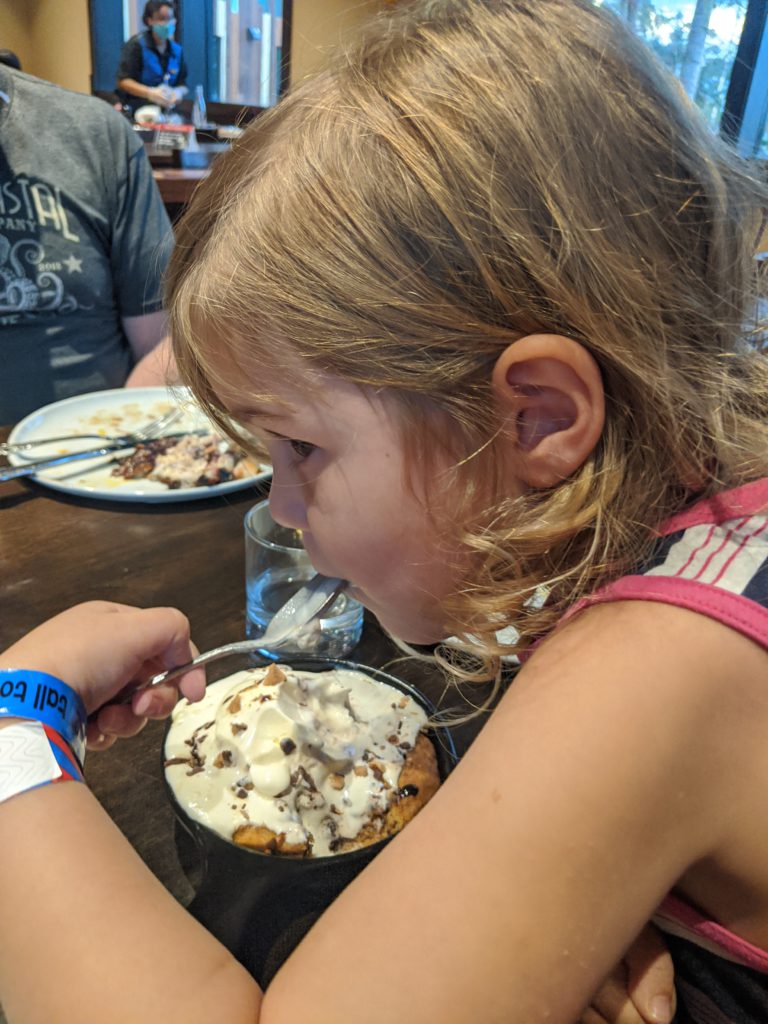 At the end of the meal your bill comes to you in a treasure chest!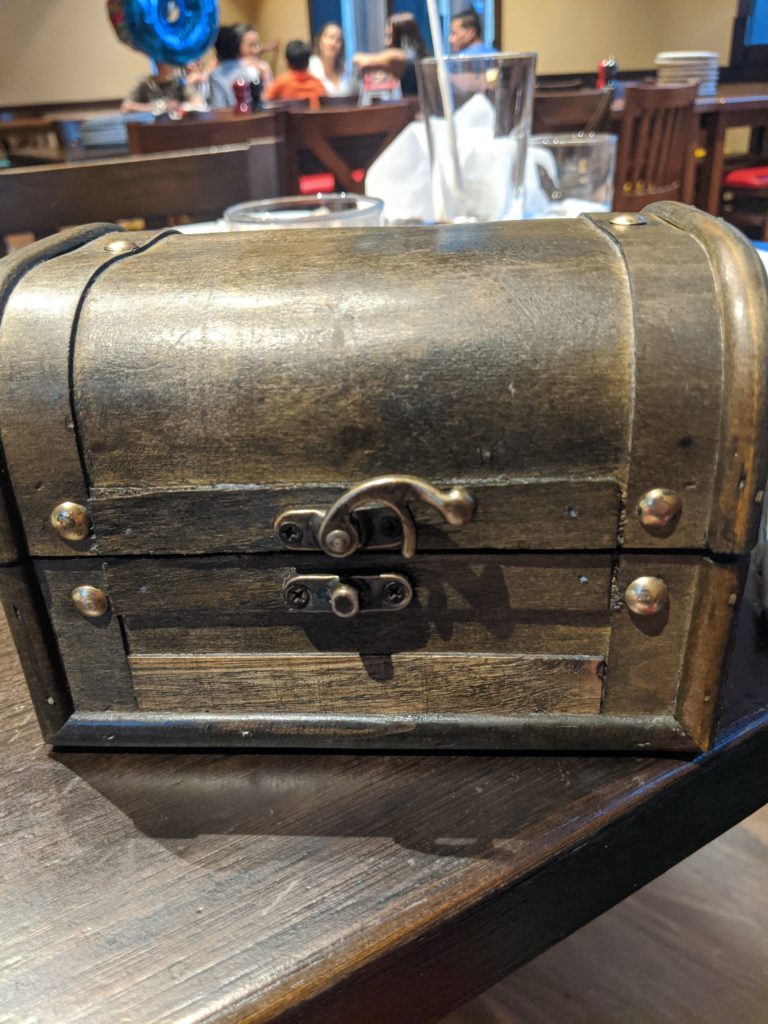 EVERY ROOM in the Pirate Island Hotel also comes with complimentary breakfast! Breakfast is also served family style in the Shipwreck Restaurant. Even though it is complimentary, reservations are required!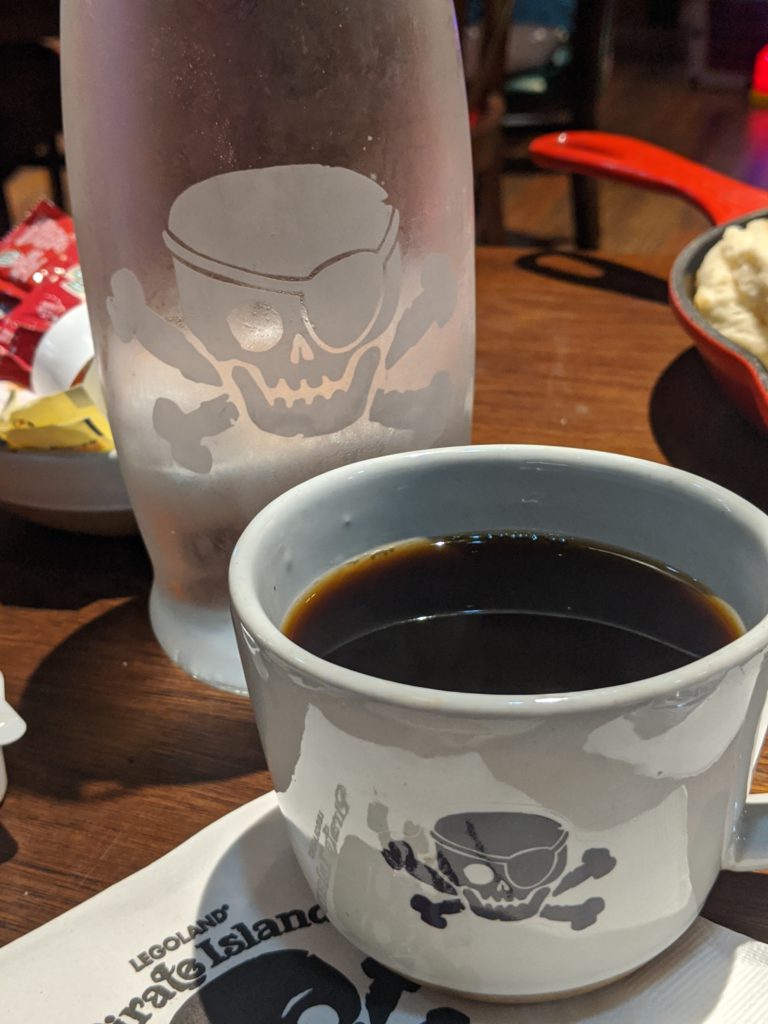 Breakfast comes with a family style platter and your choice of coffee, tea, juice or milk. Each platter includes eggs, bacon, sausage, breakfast potatoes, biscuits and sausage gravy. You can also request sides of fruit, yogurt, toast or cereal.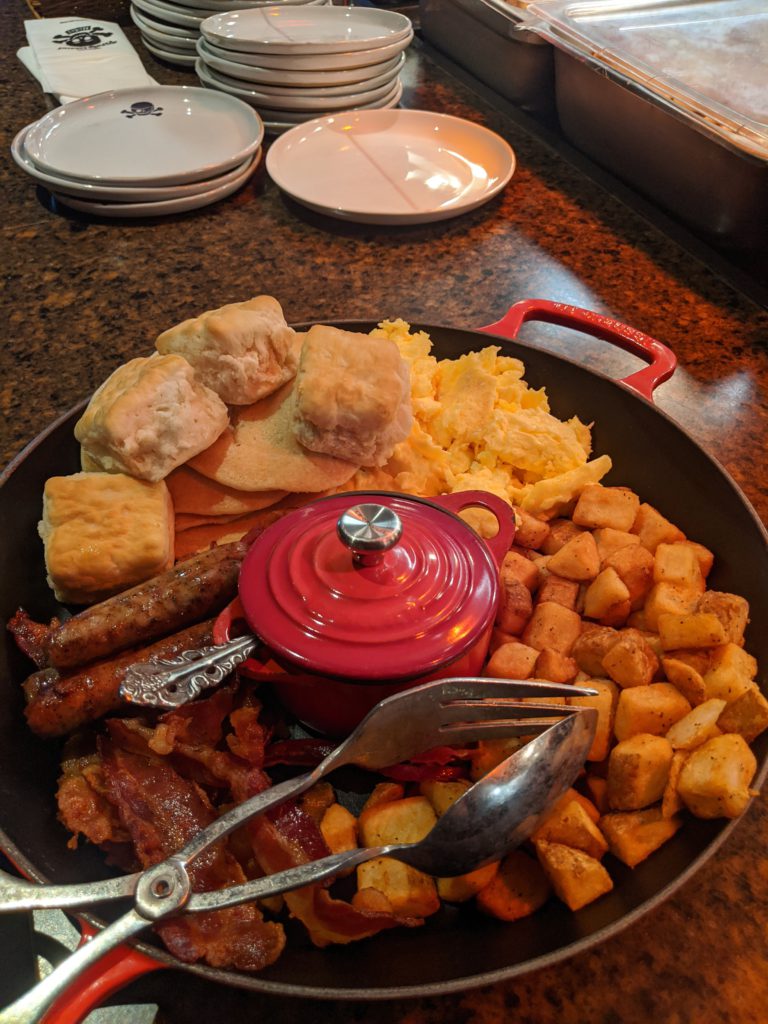 Needless to say, this feast was far superior to your average complimentary breakfast!
Activities
Throughout the afternoon and evening there are activities run by Model Citizens throughout the hotel lobby.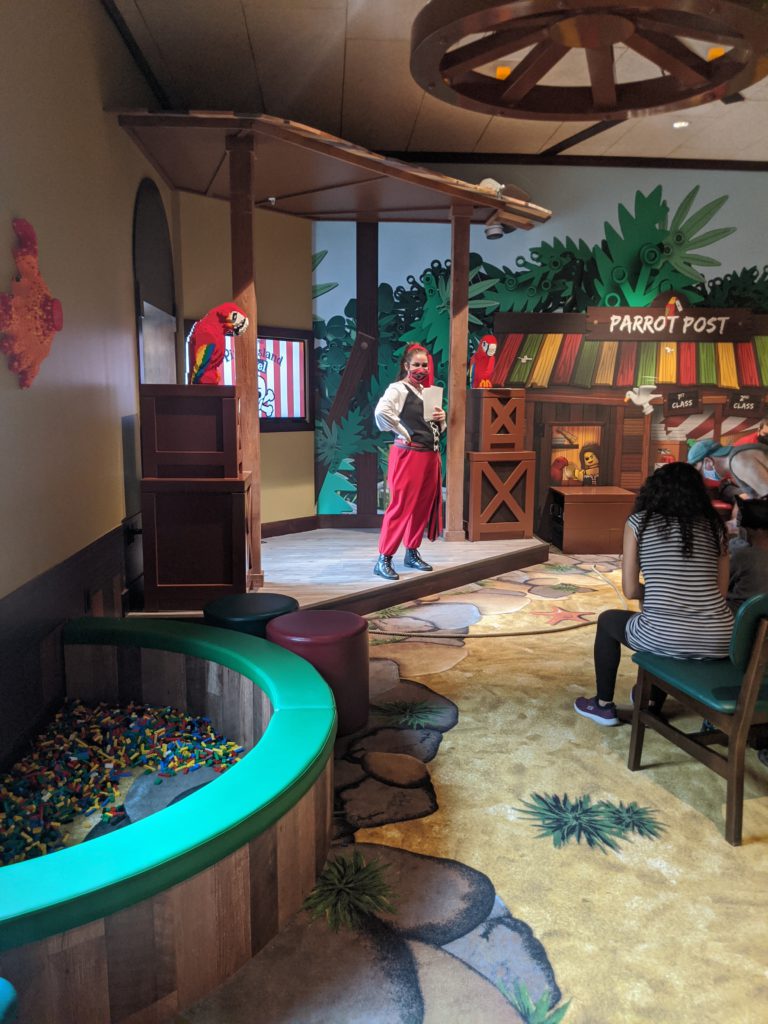 You can build with a Master Builder (we missed this due to our dinner reservation) or catch one of the fun games in the activity area of the Pirate Island Hotel.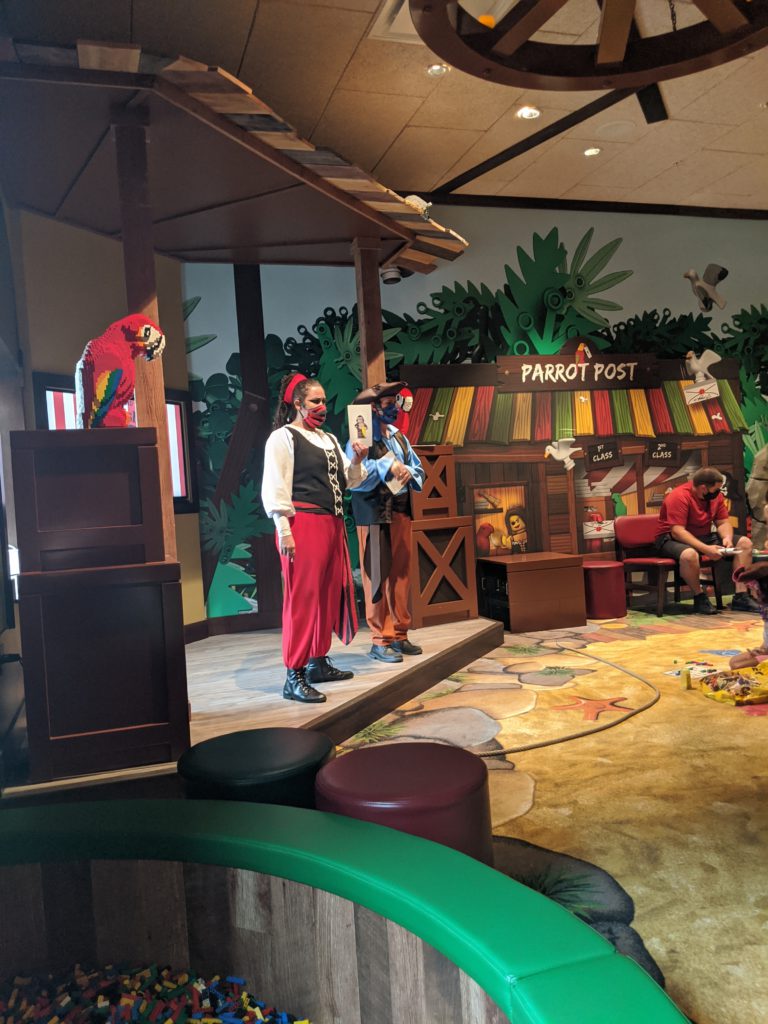 Currently, activities are only available to guests that are in a seat in the activity room in order to promote social distancing.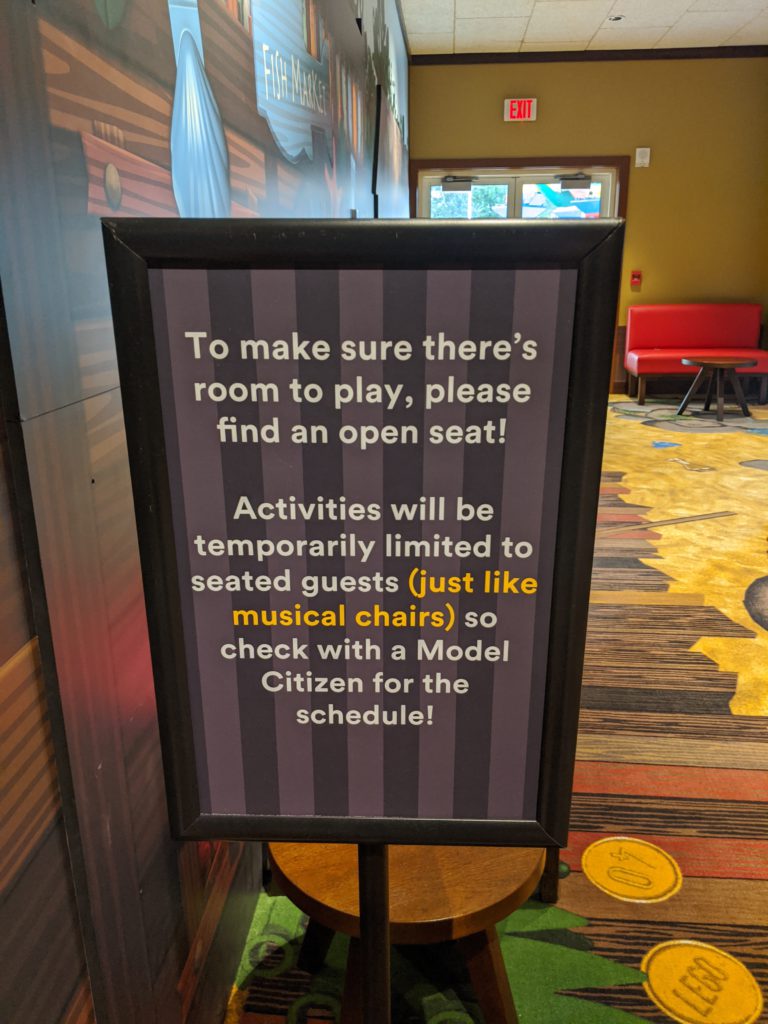 We participated in LEGO Bingo that was being led by two hilarious pirate Model Citizens. And if you win? You get eternal bragging rights!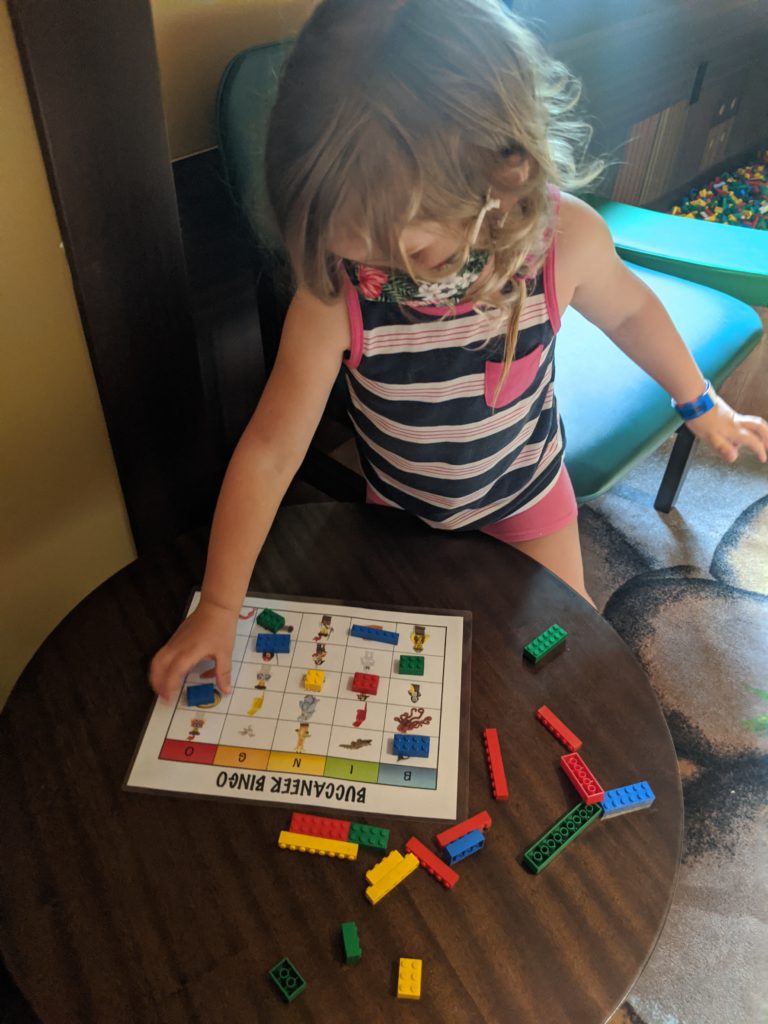 As an adult, one of the perks of the activity area was that there was the Smuggler's Bar just steps away.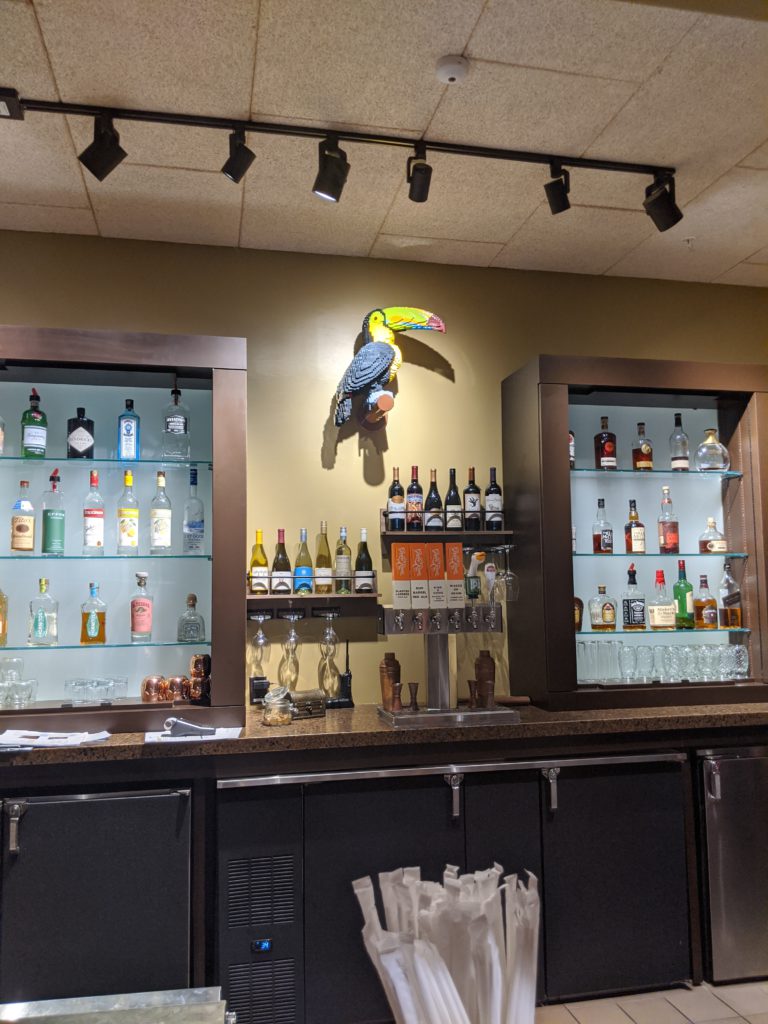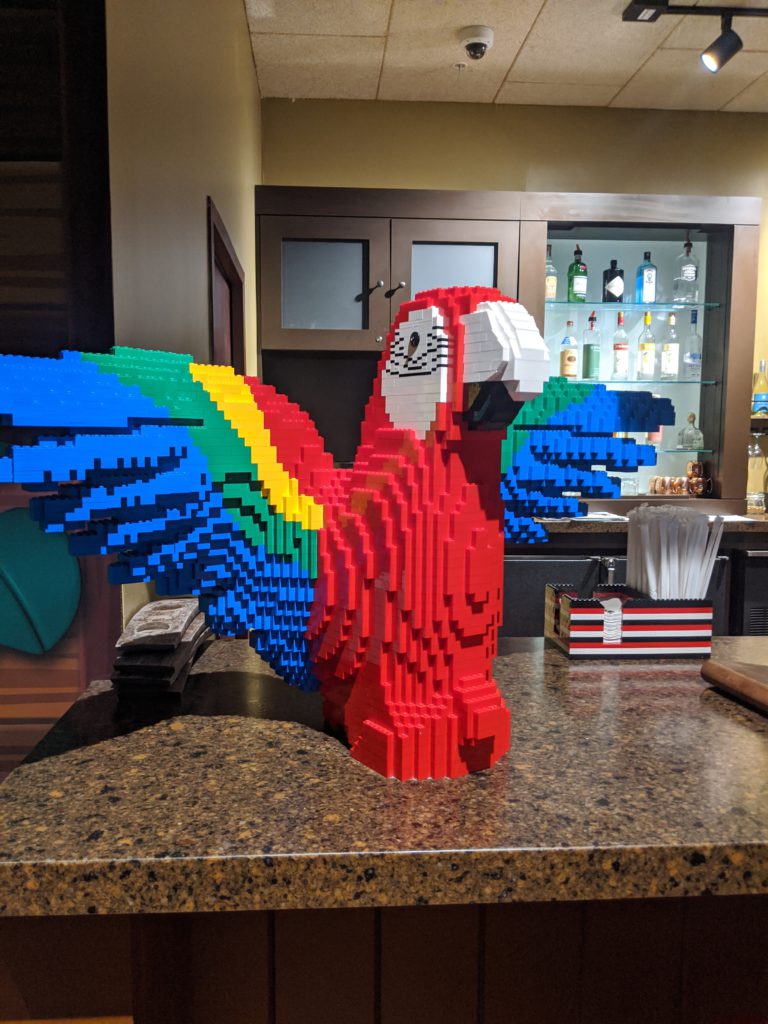 We could see Grace play with the LEGO table and LEGO pits while we ordered one of the draft beers from nearby Grove Roots brewery.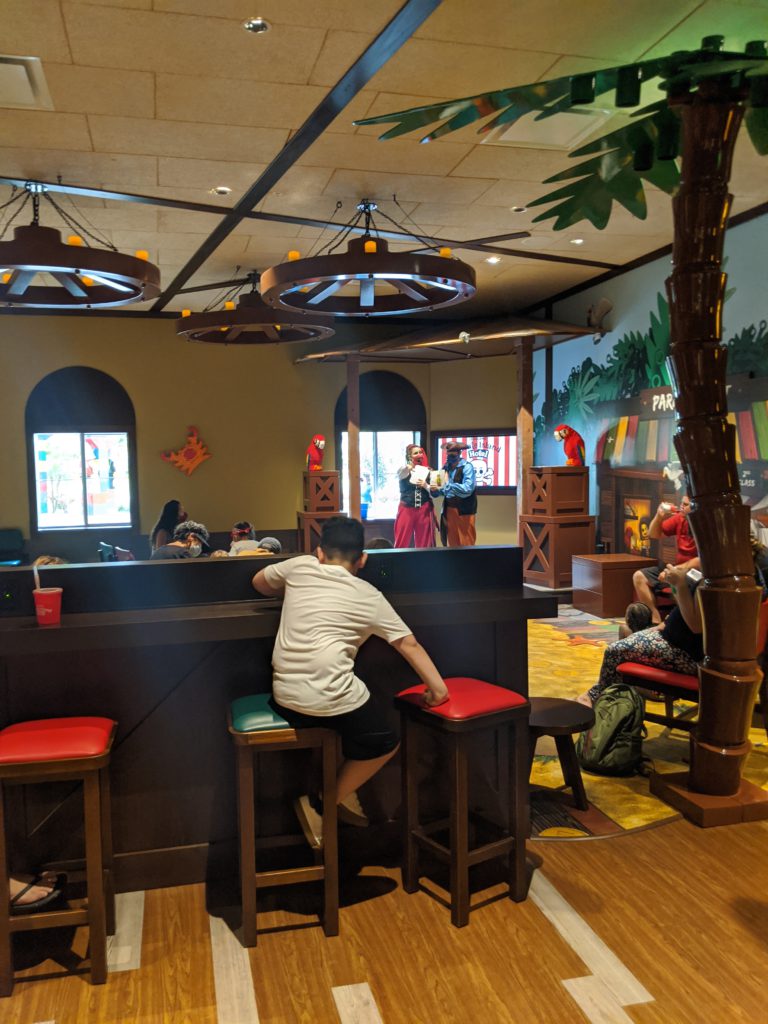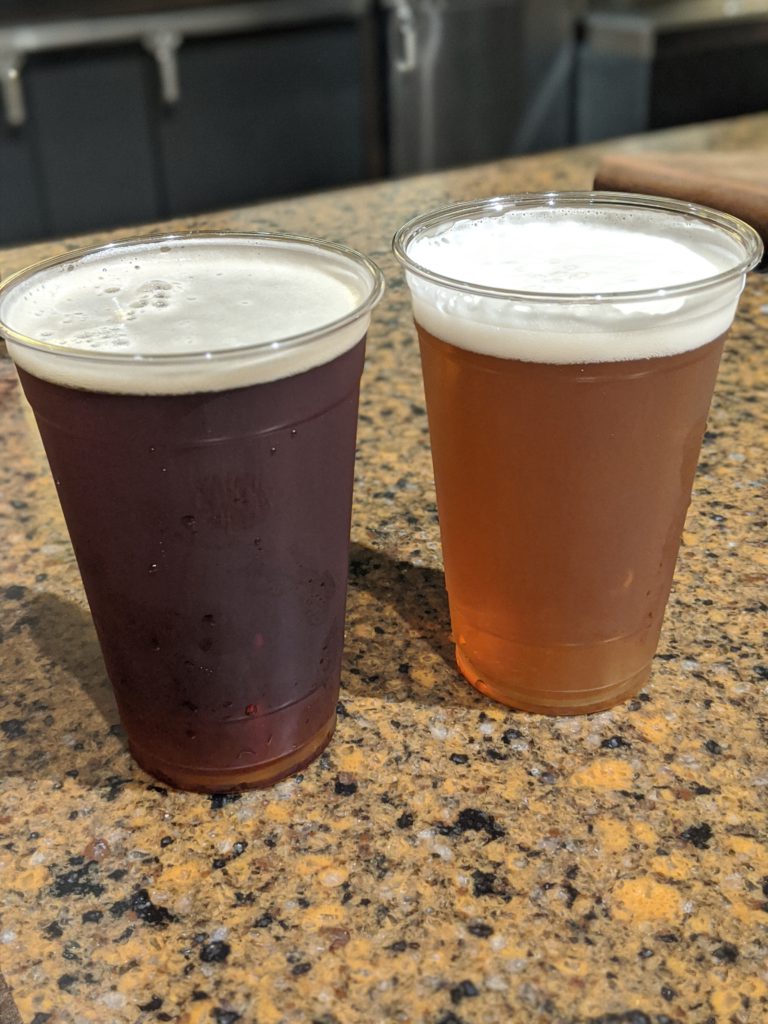 They also had wine, cocktails and specialty kid mocktails available for sale.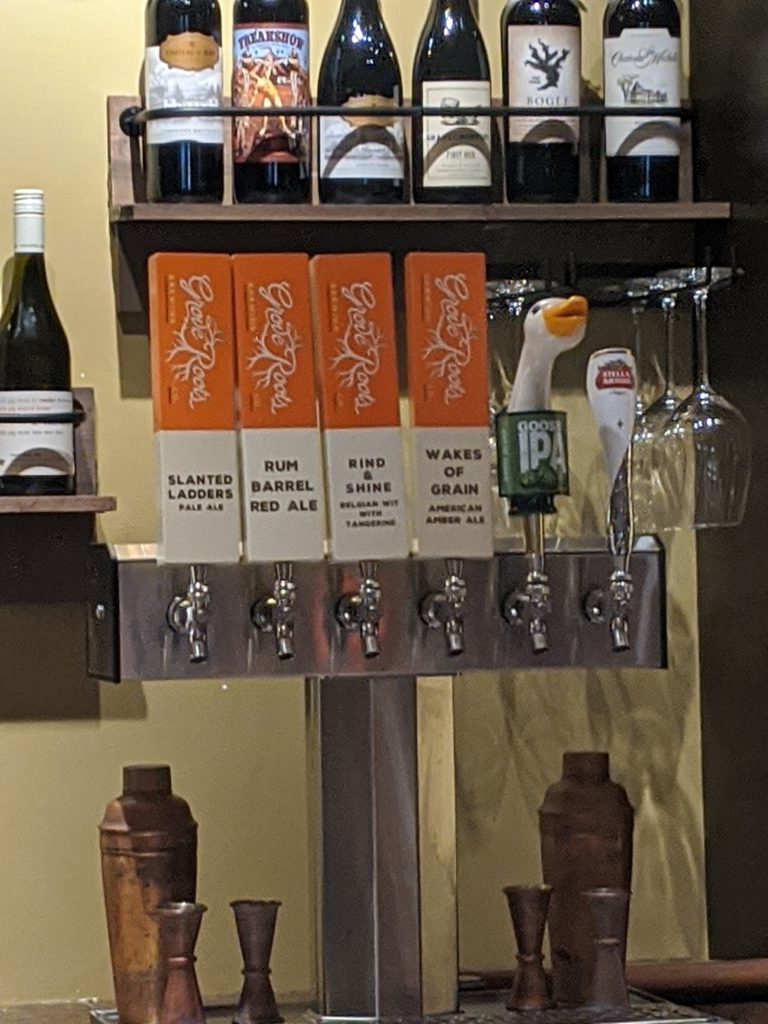 Amenities
Pirate Island Hotel features a heated resort pool that's packed with floating LEGO bricks! Grace absolutely loved her night swim with daddy where she could build to her heart's content!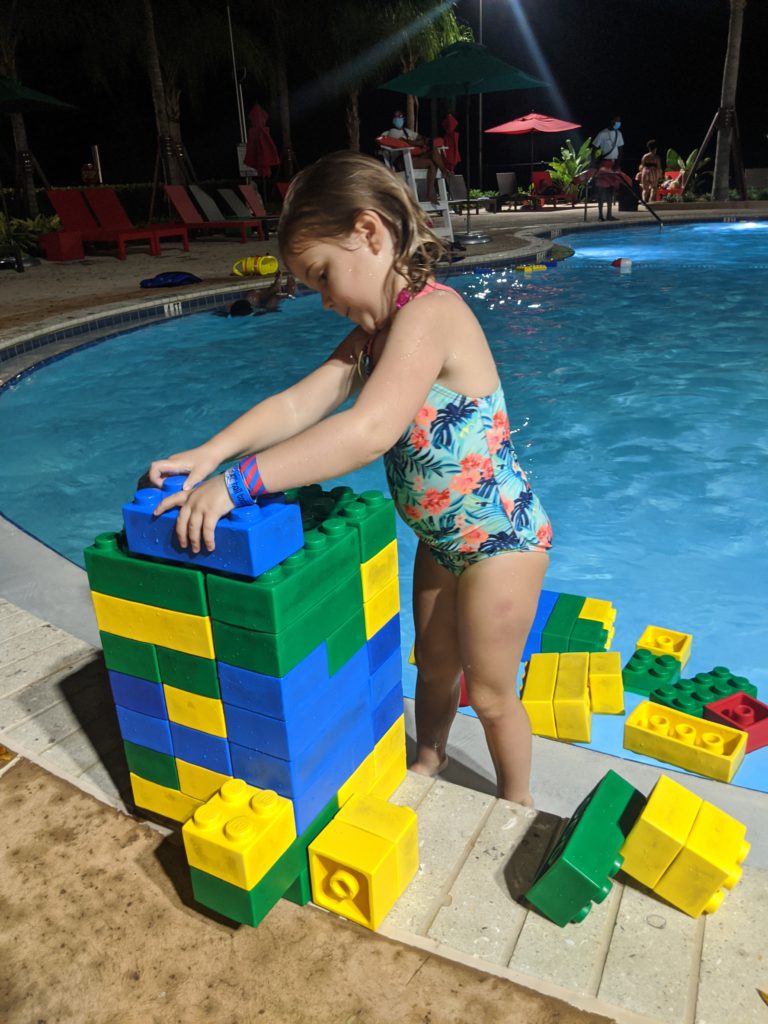 Guests also have access to the LEGOLAND Hotel during your stay. Pool hours vary so make sure that you check the hours as you plan your trip!
We spent most of the next morning exploring the outdoor shipwreck at the front of the hotel! Grace loved her photo opportunity with the ship, the sea monster tentacles and the LEGO pirates!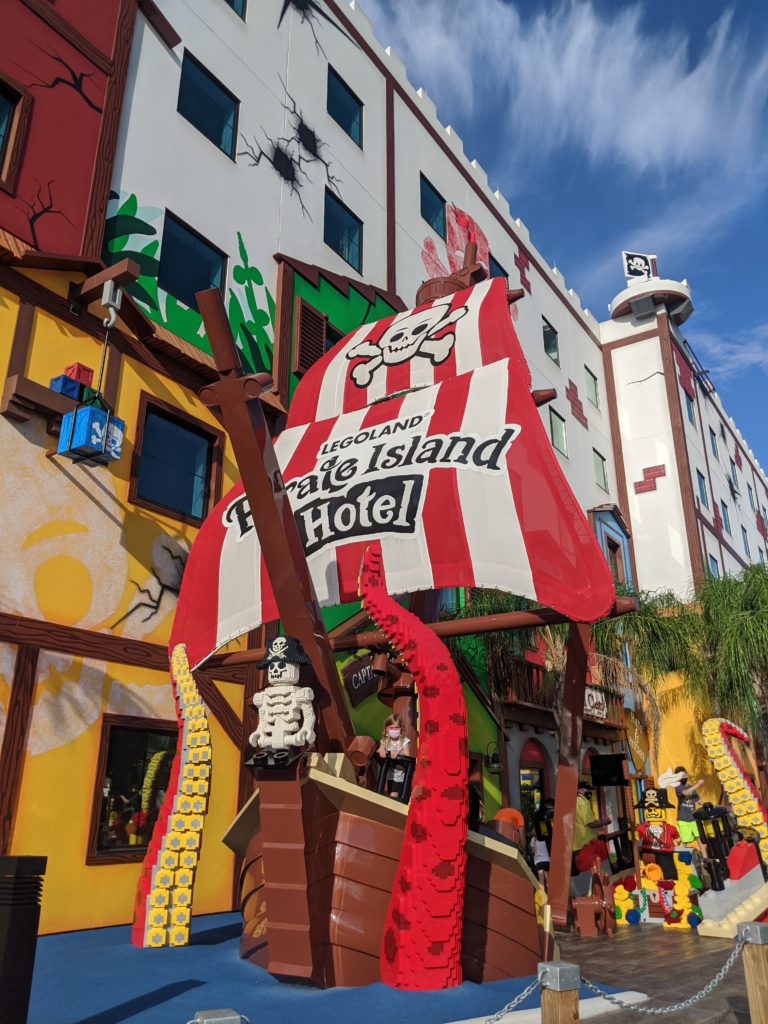 We also explored the lobby of the LEGOLAND Hotel! There was an entire play castle and pirate ship indoors with built in LEGO pits!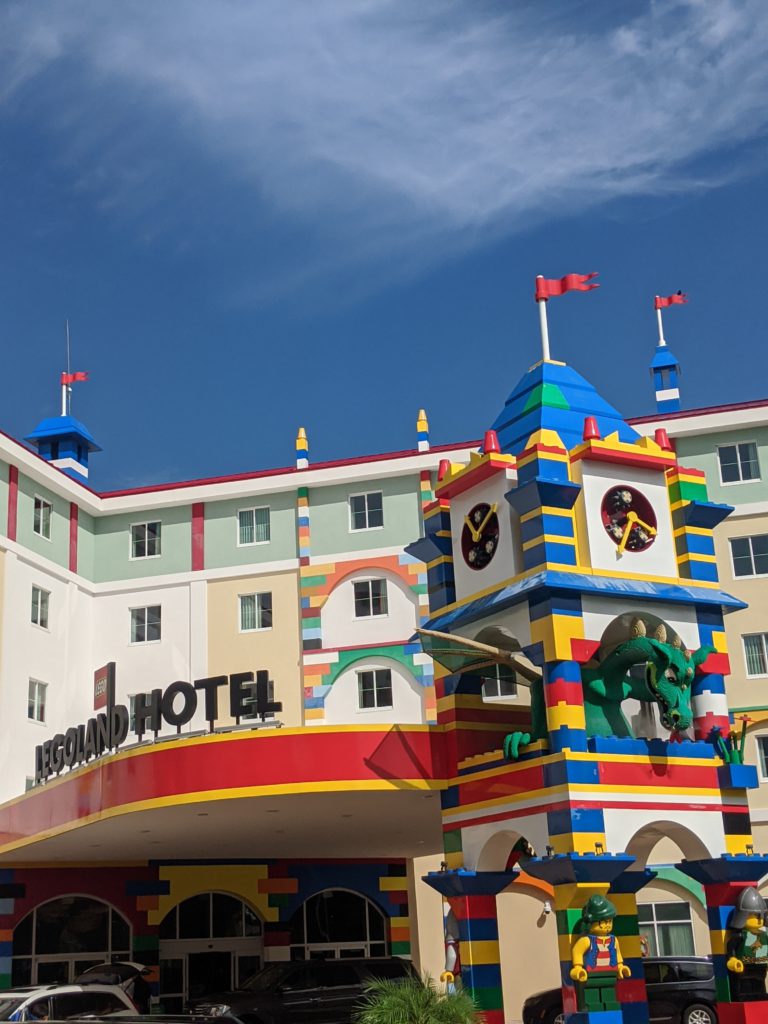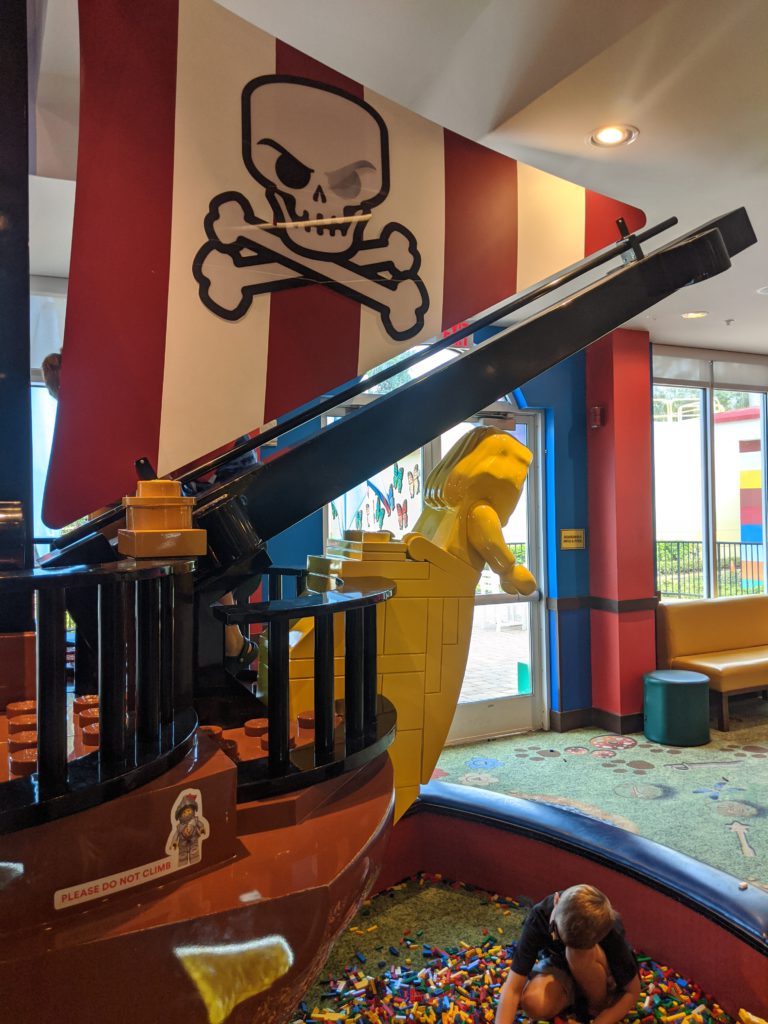 Who would have thought that the ELEVATORS could be an amenity at a hotel? All elevators are currently a "VIP experience" for one traveling party at a time.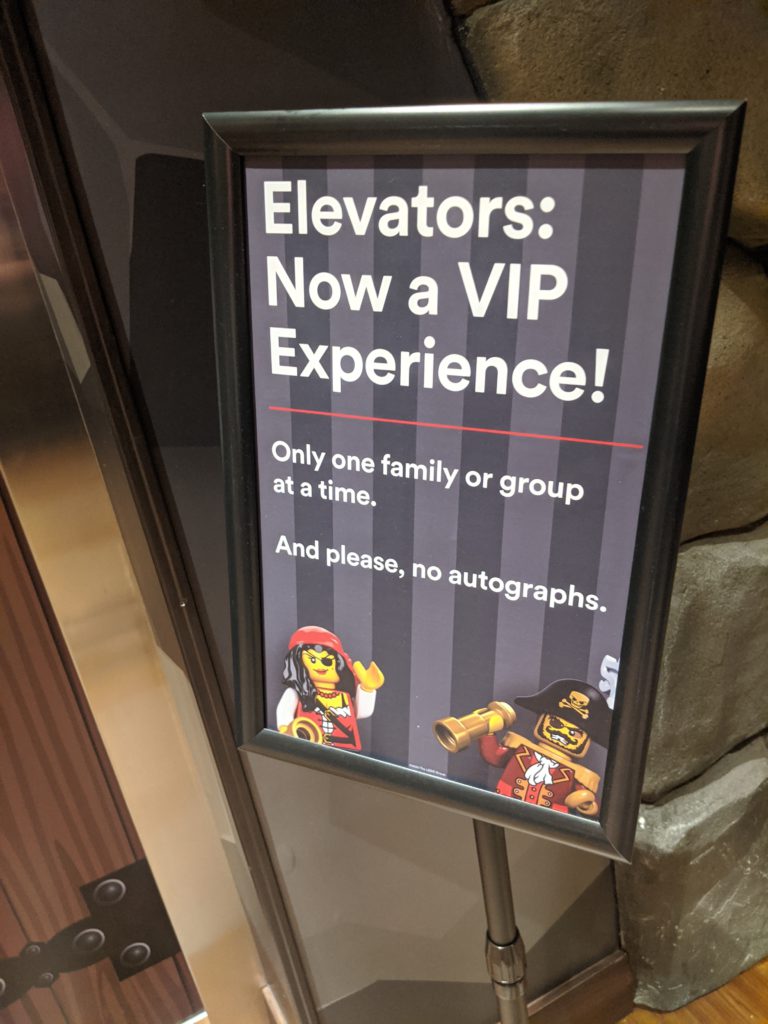 Besides that, they are perfectly themed and feature the LEGO pirates telling you to "heave, ho!" as you sail the elevator to your destination. We also checked out the disco party elevators at the main LEGOLAND Hotel and had our own personal dance party!
Check out our videos of both elevator experiences over on the Winter Garden Moms Instagram page (@wintergardenmoms) in the highlights section labeled "LEGOLAND".
For an additional fee guests can also add on a sunset pontoon boat ride on Lake Eloise, make s'mores at the outdoor fire pit or participate in the small miniature golf course that sits near the boardwalk.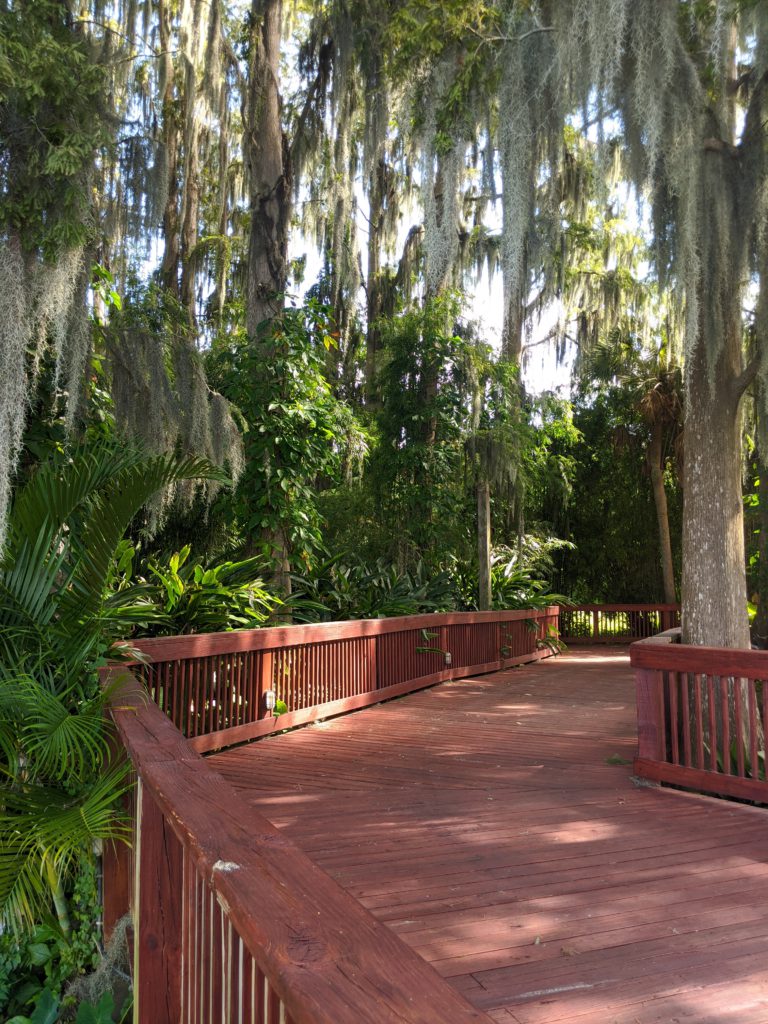 We opted to just explore the boardwalk for a quiet morning walk before heading back home. The cypress trees were absolutely gorgeous and you could see many bird species in their native habitat. Old Florida at its finest!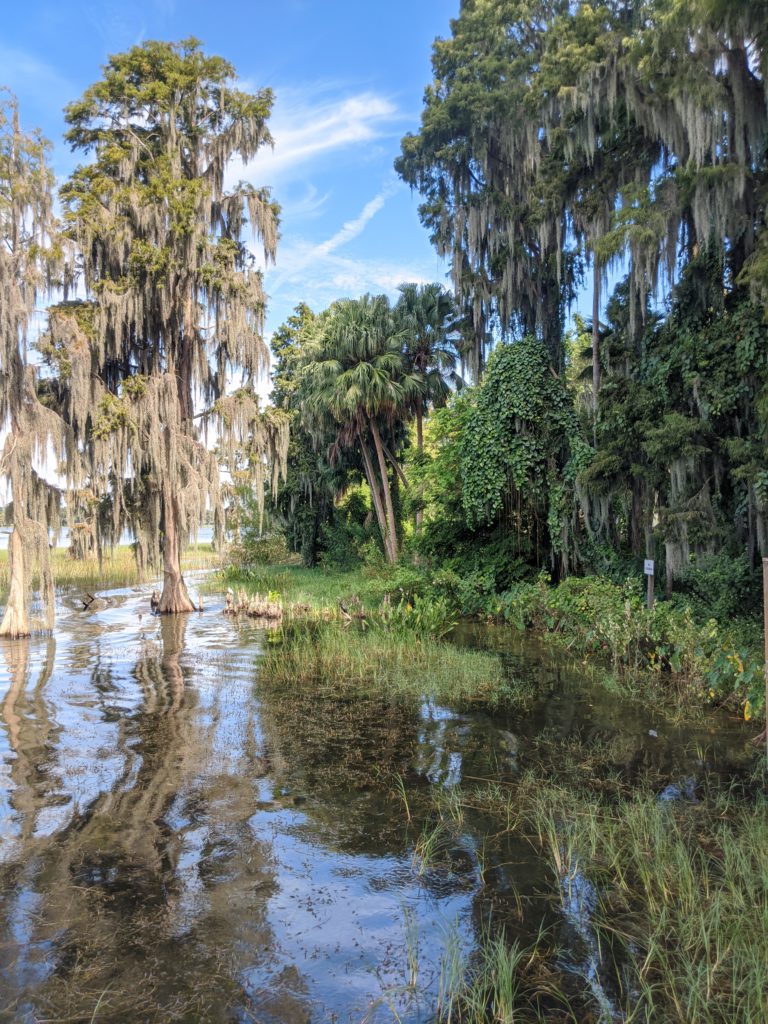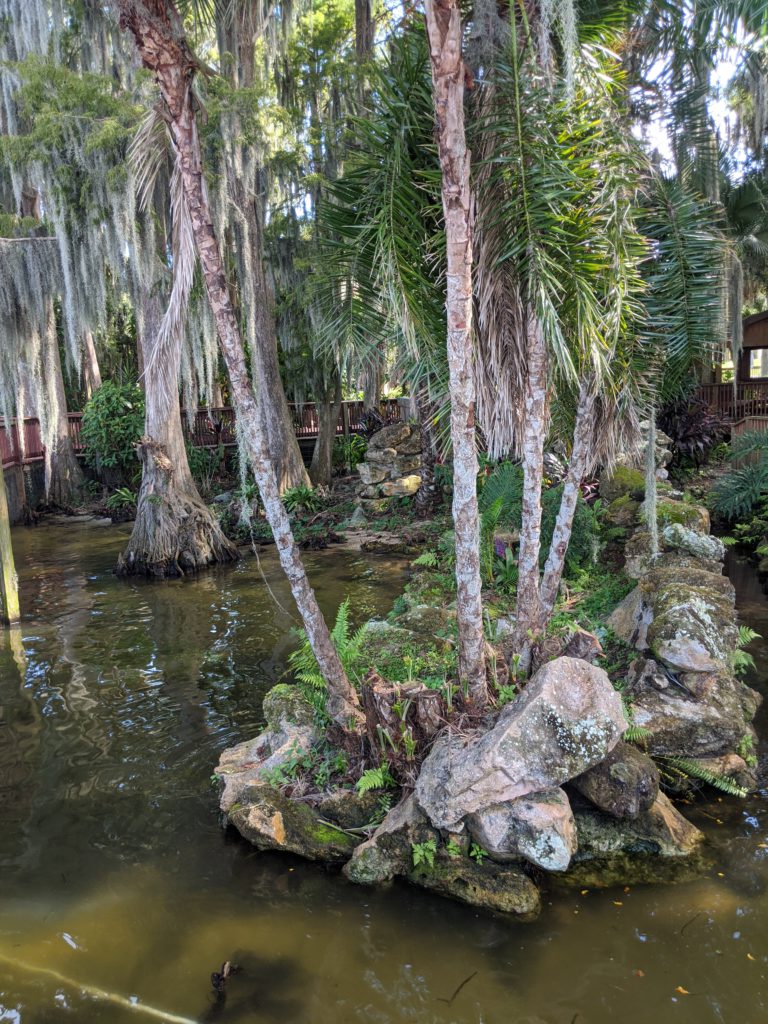 You can see more of our adventures over on the Winter Garden Moms Instagram page (@wintergardenmoms) or our Instagram page (@happiest.haigs.on.earth). Don't forget to see the complete room tour on both of our InstagramTV channels and the IG stories saved in the "highlight" sections under "LEGOLAND"! You can also click here for more info and to book your stay at the Pirate Island Hotel!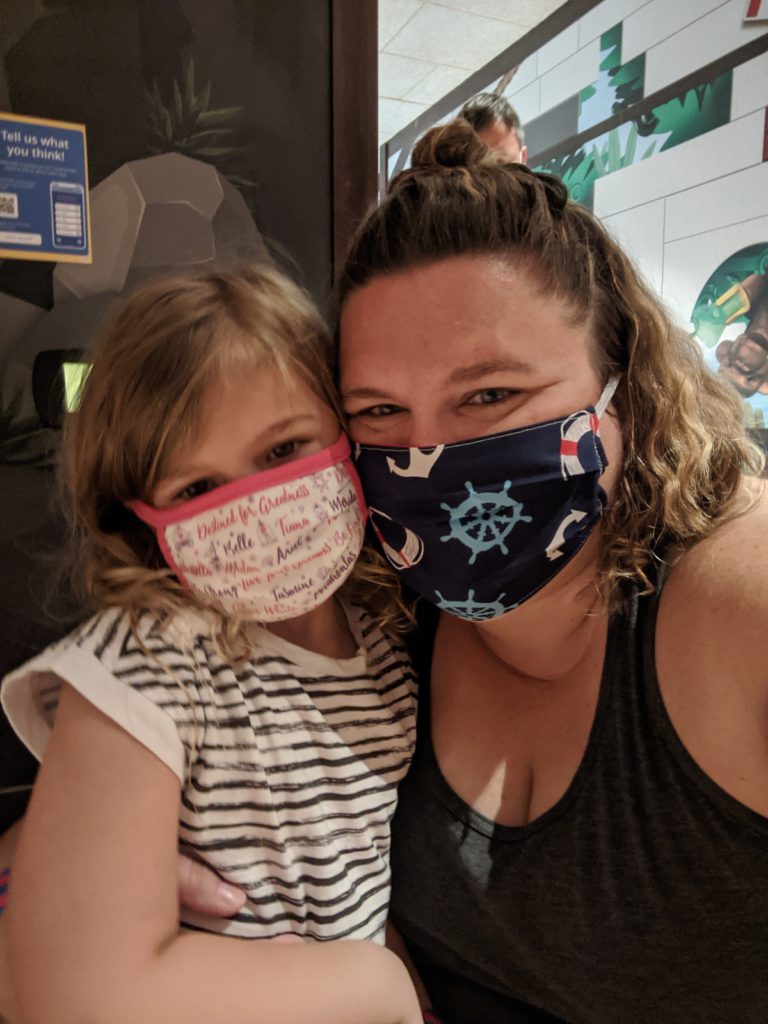 Thank you again to LEGOLAND Florida Resort for hosting us at the theme parks and overnight at Pirate Island Hotel! It was an experience that we won't forget and Grace is still talking about!