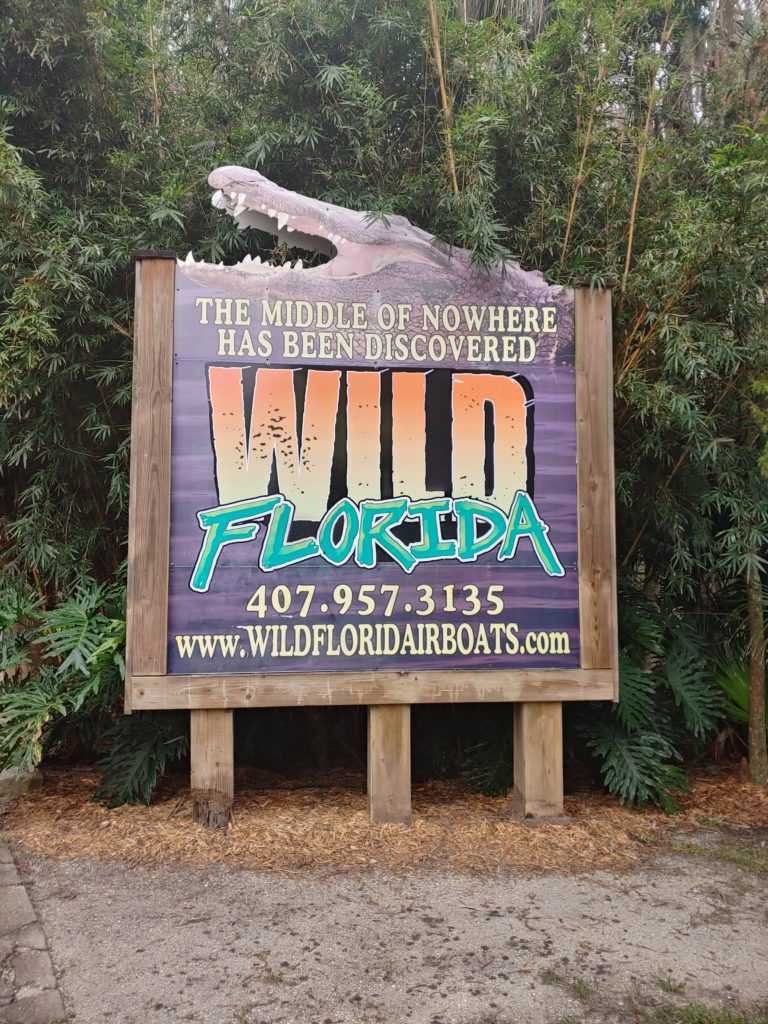 Have you ever wanted to see Florida in its purest form? Have you ever just wanted to see all of the beautiful wildlife and nature that Florida is known for? Then Wild Florida is THE spot to see! A few of us from Winter Garden Moms and our families got to experience this wonderful place and we are happy to share what it's all about!
This beautiful place is located in Kenansville, Florida and about an hour drive from the main theme parks. There are airboats, a gator park, petting zoo and a drive-thru safari that is unlike any other!
This is the only place in Florida where you can do it all while being in the beautiful Florida Everglades! Wild Florida is a family friendly attraction that mixes both fun and education for an experience of a lifetime!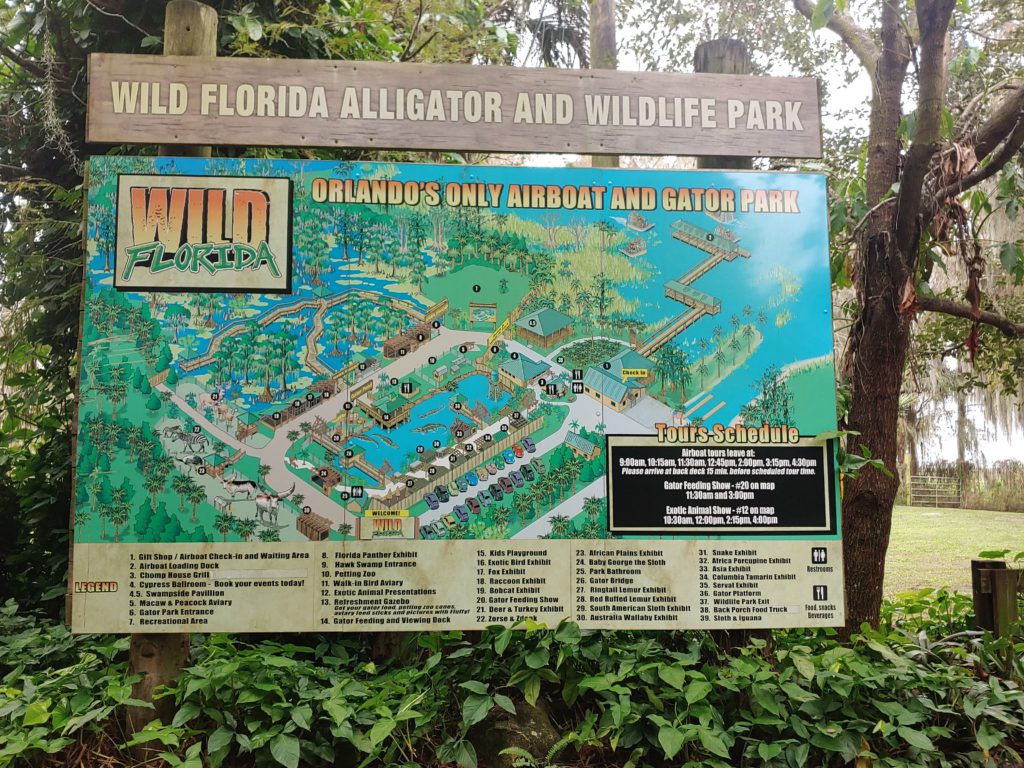 AIRBOATS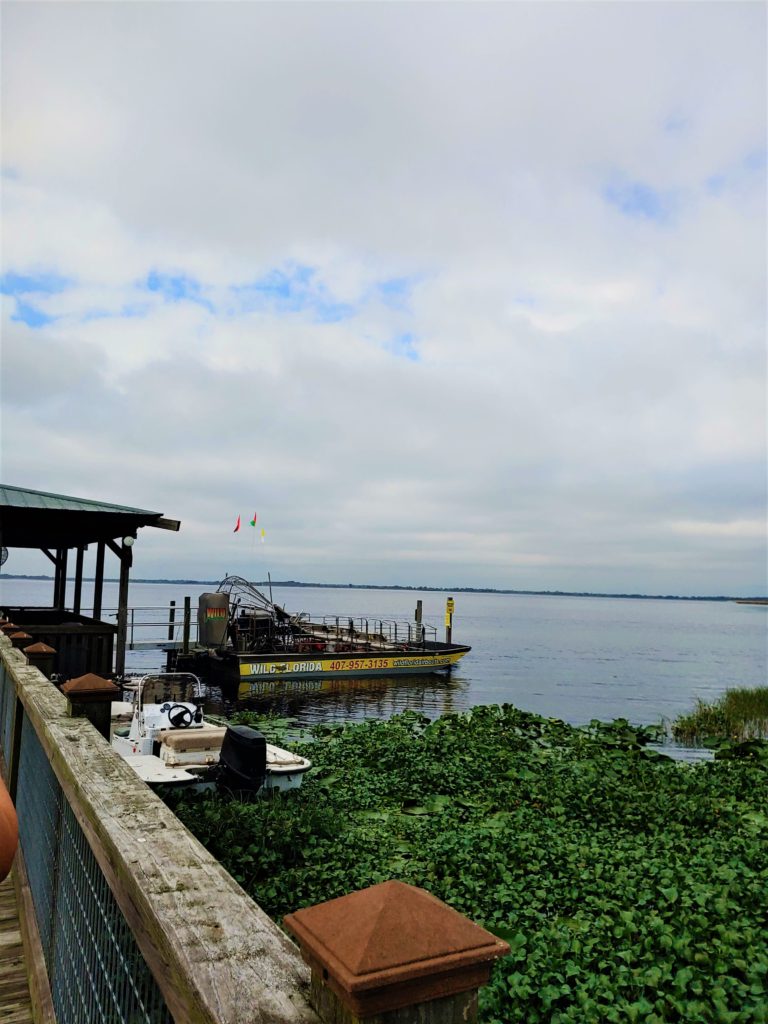 An airboat ride was one thing I got to check off my bucket list! I have always been a little nervous to go on one but this was the most amazing ride ever! Airboat rides are for all ages. Children 5 and under are required to wear a life vest but there are other life vests on board in case they are needed. Ear protection is also provided as it gets really loud at times!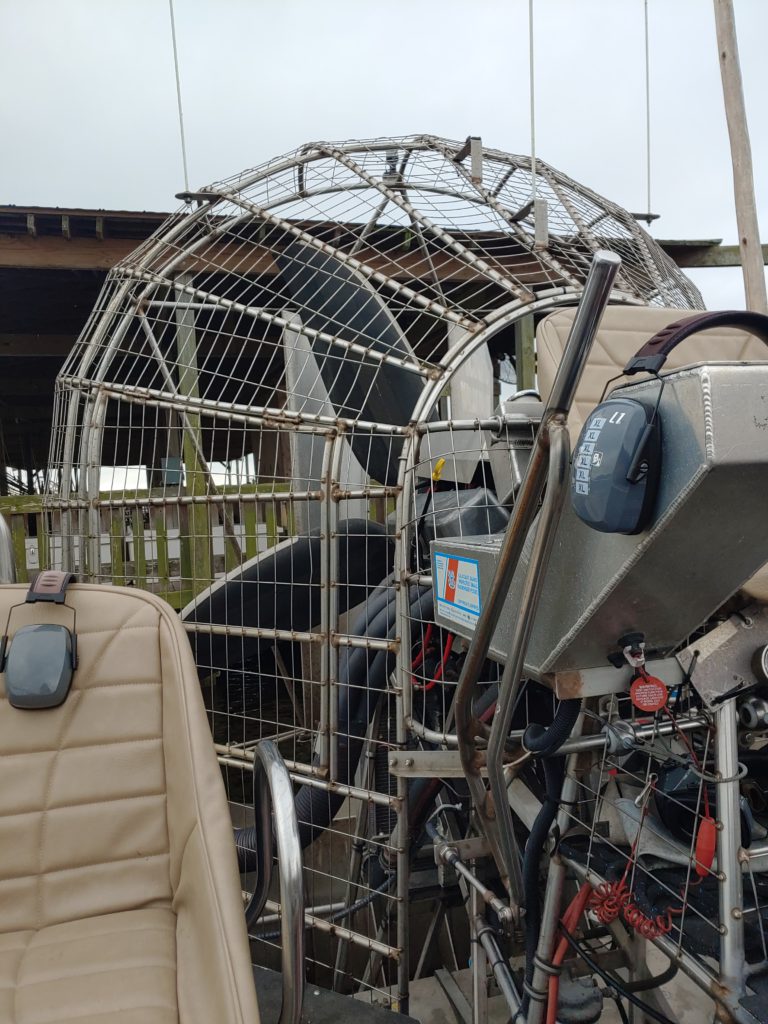 This experience was probably my favorite of the whole day as it really showed us Florida's wildlife in its natural habitat. We got to see eagles, alligators, even some newborn baby gators as well!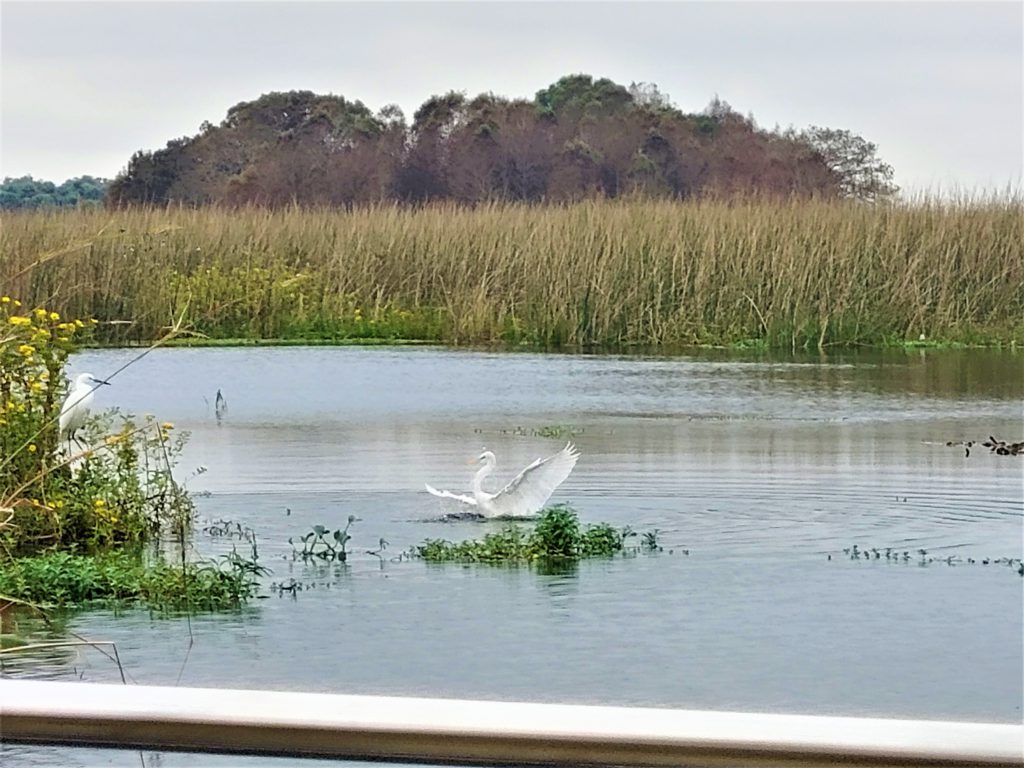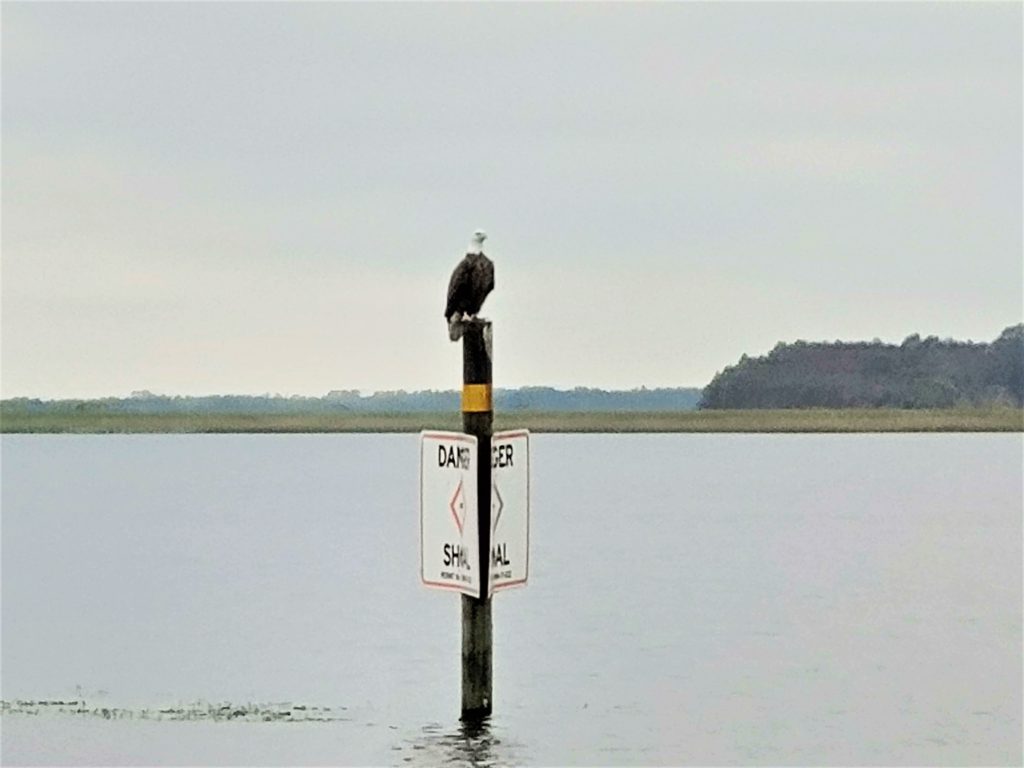 There were a ton of different types of birds including the rare Snail Kite Bird which happens to be found in only a few parts of the world. People travel from all over to see it. It was amazing to see and learn about what makes it so special!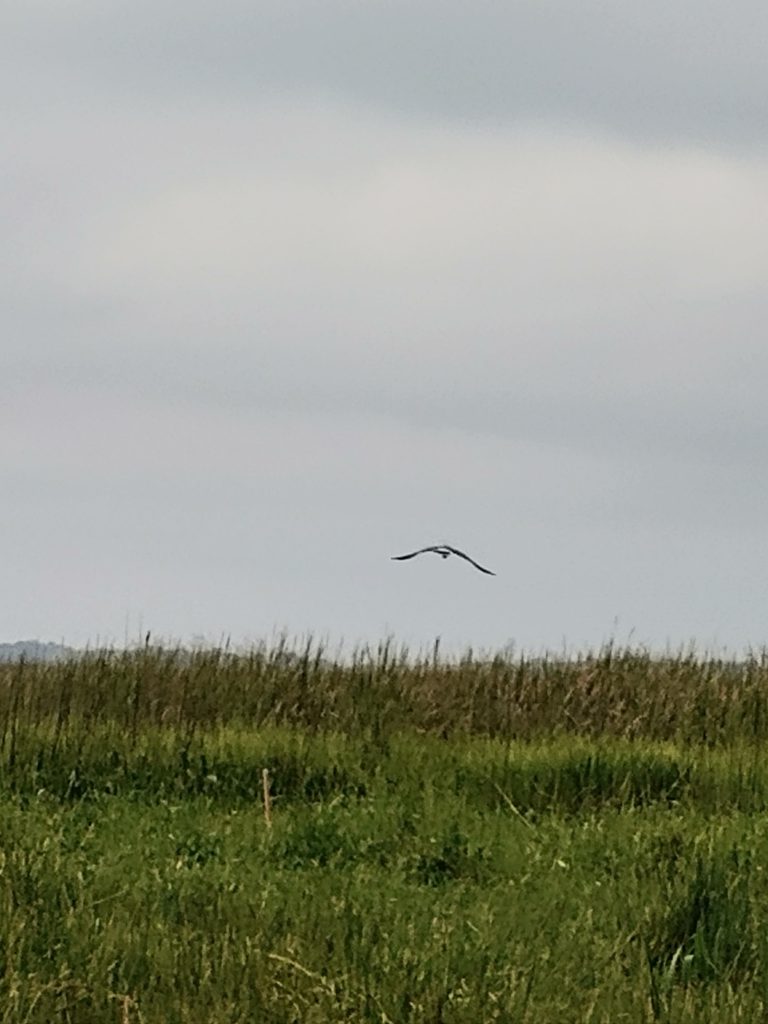 Airboats tours can last from a half hour to an hour and group discounts are available! If there's anything that is a must do here, this is it! It is honestly one of the most beautiful and refreshing things one can do in Florida!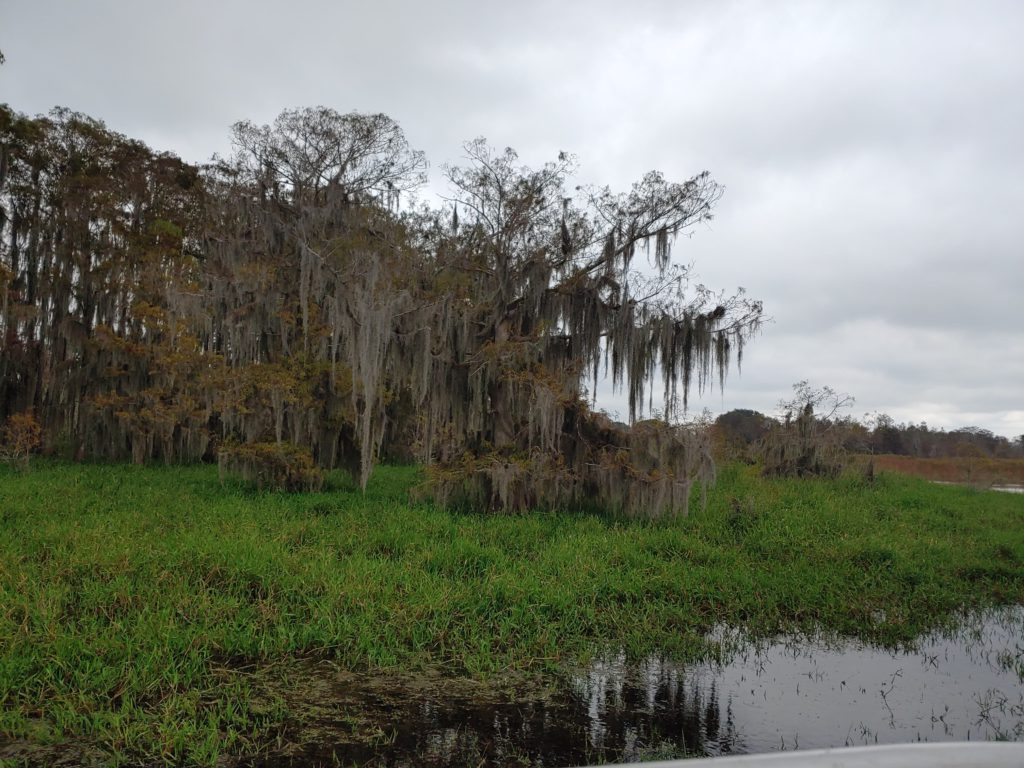 If you have long hair, I highly recommend you tie your hair back or bring a hair brush because airboat hair is a real thing!
GATOR PARK & OTHER ANIMALS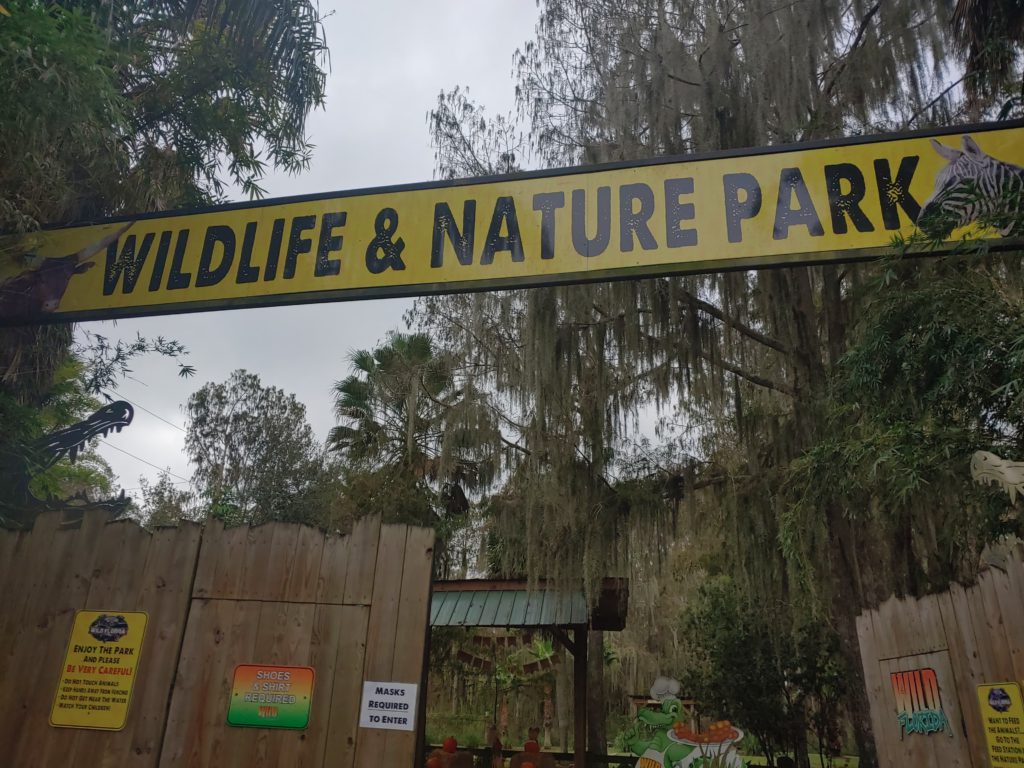 Although it is called a Gator Park, don't let the name fool you! This park is home to over 200 native and exotic animals! As we wandered around for hours checking out all the amazing animals, we learned so much about them and their natural habitats.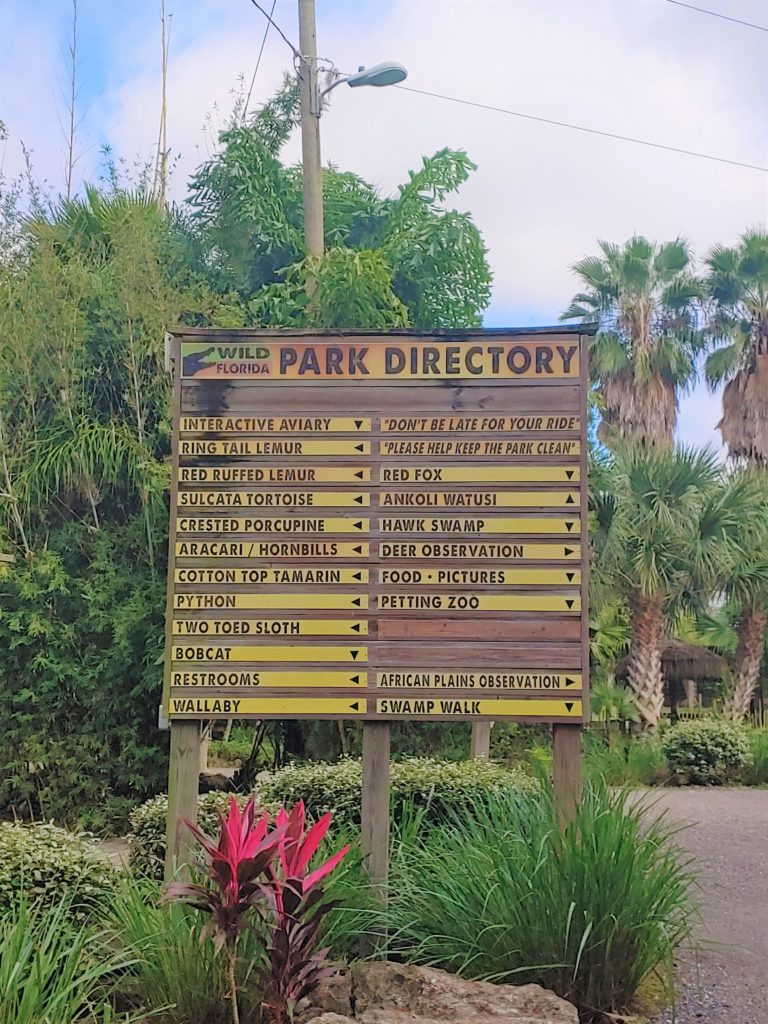 This area is full of different birds, gators, turtles, big cats, furry critters and so much more! You can easily spend an entire day just looking at all the animals because there are so many!

This area also includes a petting zoo and a playground for entertaining the kids so parents can take a break and just relax! The petting zoo has a ton of friendly goats and a giant tortoise! This guy was so big that this picture does not do it justice!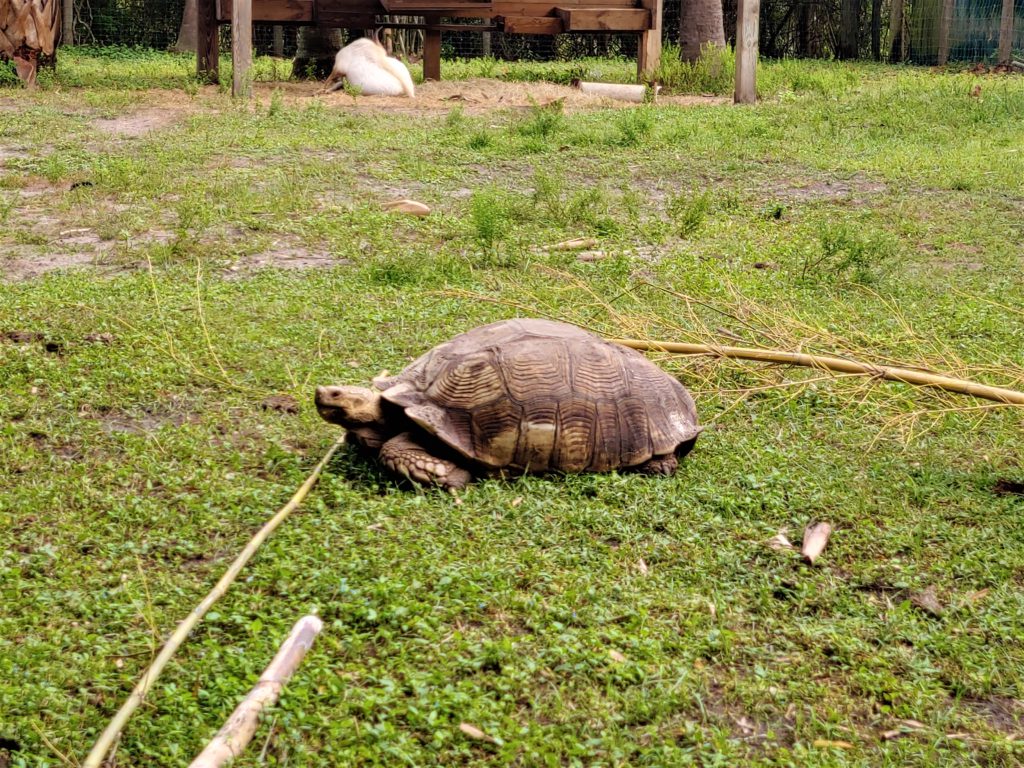 We got to see some of their more spotlighted animals like Crusher the gator, who is the parks oldest gator at over 65 years old and a whopping 13 feet long! He was huge! There is an animal encounter available with him where you can have lunch with him so if you love gators, it's the perfect opportunity to get up close and personal with one!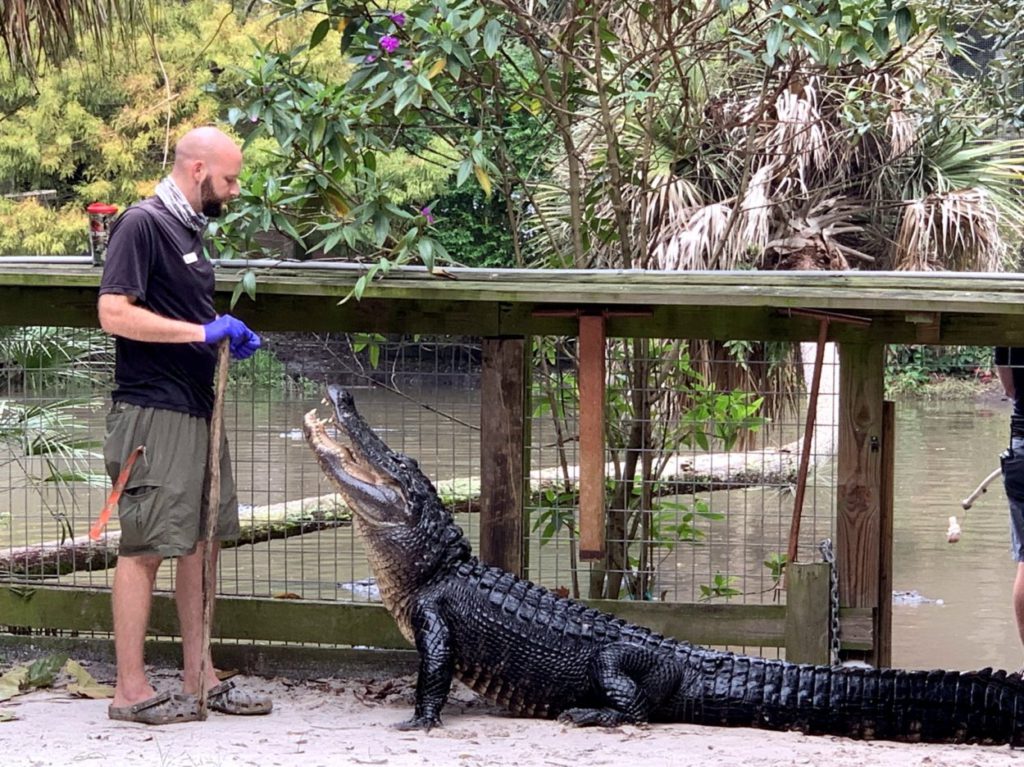 Snowflake and Blizzard, their albino gators, were also out! Did you know there are less than 20 albino alligators left in the world? This is why I love parks like this that help with conservation and protecting our wildlife! There is also an animal encounter available with these two so take advantage of these rare animals!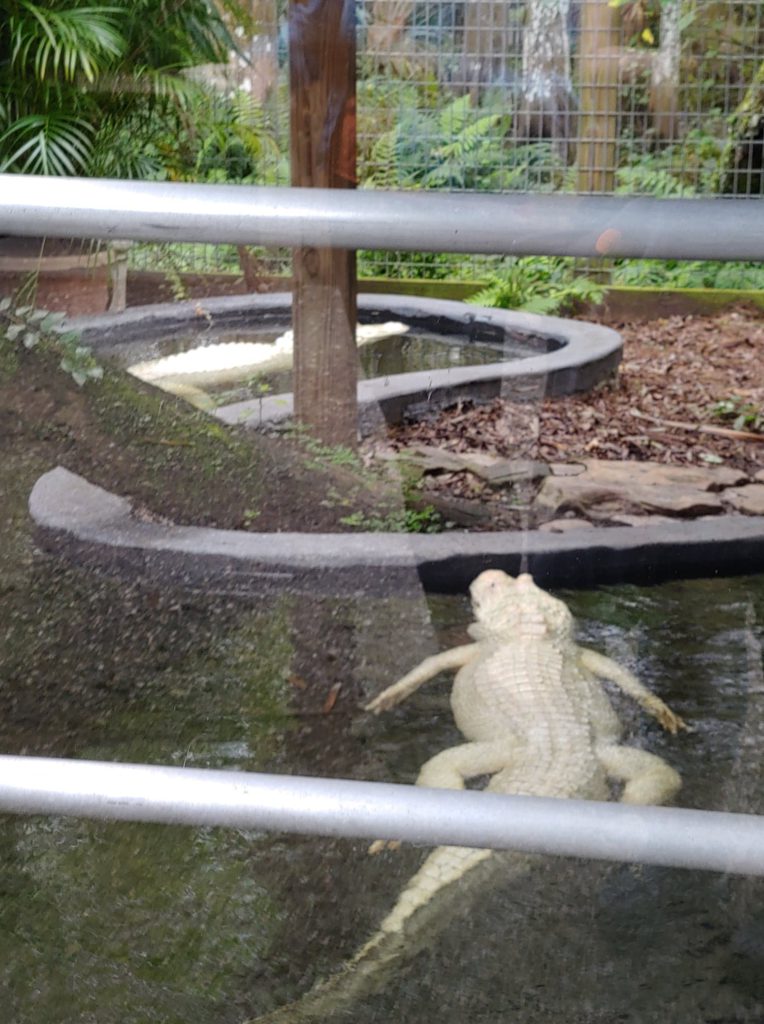 We got to see Guy the sloth and another female sloth with her baby! It was one of the cutest things I have ever seen! Sloths are such amazing creatures that sleep a lot and are found in tropical rainforests in South America!
Guy was the first sloth to join the Wild Florida family and this sweet guy loves people! He likes people so much you can do an animal encounter experience available with him! There is also a VIP encounter available where you get to hold him! If you've ever wanted a cuddly hug from a sloth, here's your chance!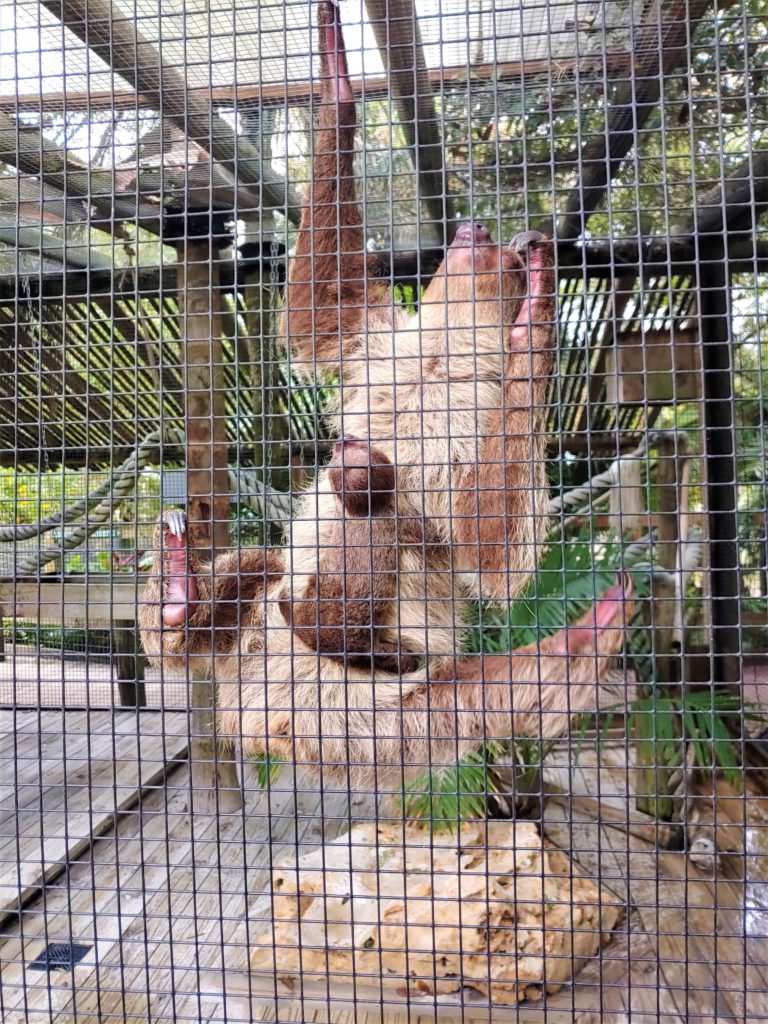 Some other notable critters that you can have encounters with are Stella and Safari, two cute little porcupines that are extremely playful! Despite popular belief, porcupines are actually really soft and do not shoot their quills.
There is also Luke the ring-tailed lemur who is absolutely adorable and sweet! He enjoys painting and you can actually purchase his artwork in the gift shop! Another amazing duo to have an encounter with is Mango and Kiwi, the Tamanduas. Tamandua's are anteaters with 16-inch tongues and you get to feed them ants during the encounter!
There are several other activities available in case there wasn't already enough for you! Activities include the Exotic Animal Show, a Gator Feeding and a show featuring Crusher! We didn't get to catch all of the shows but we did see the exotic animal show! The Gator picture below is named Fluffy!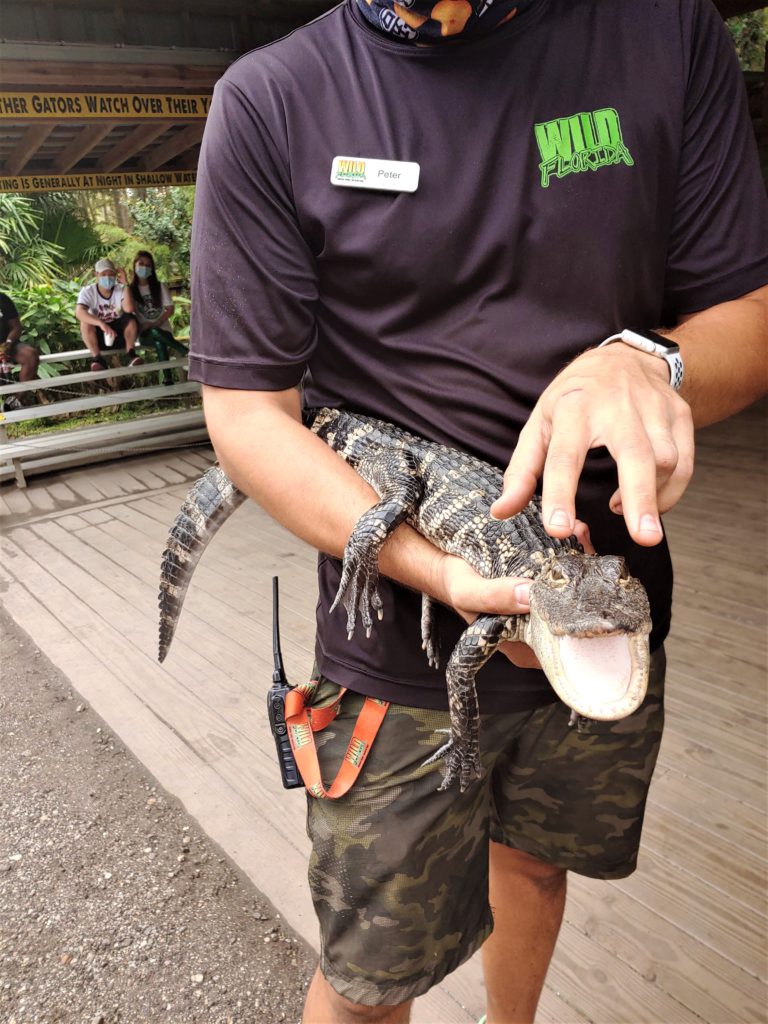 There is also a giraffe painting experience where you can hold a canvas up and the giraffe will paint it! You are also able to feed the giraffes which is another amazing experience! The best part of this experience is that they donate a portion of ticket sales to the Giraffe Conservation Foundation!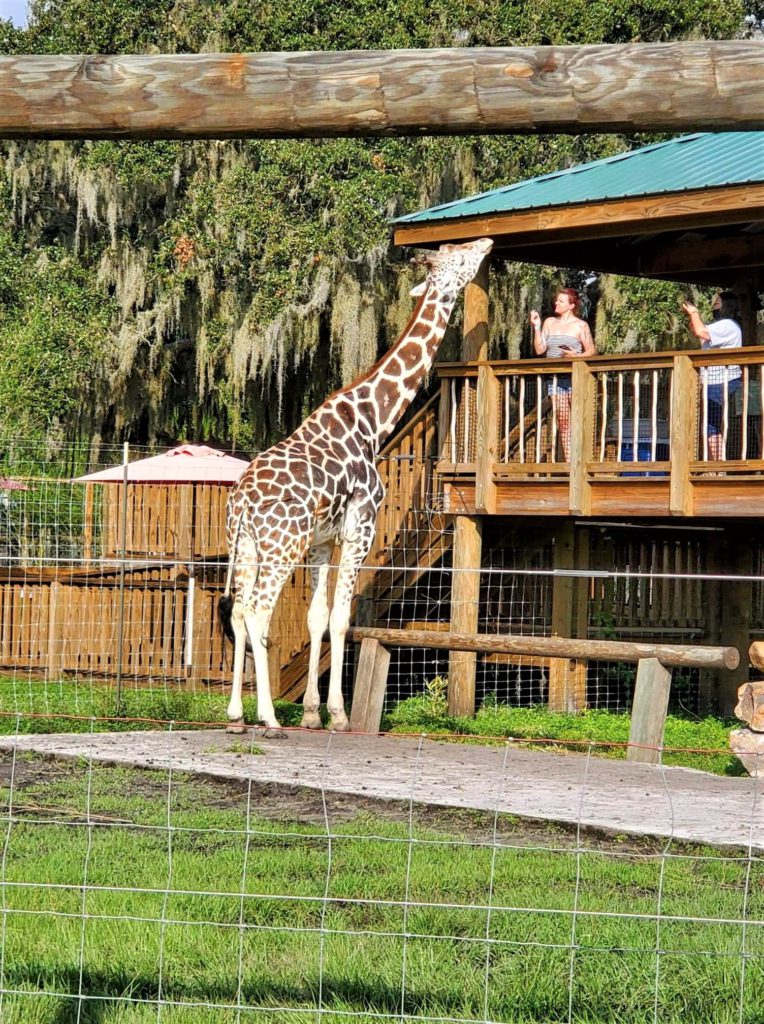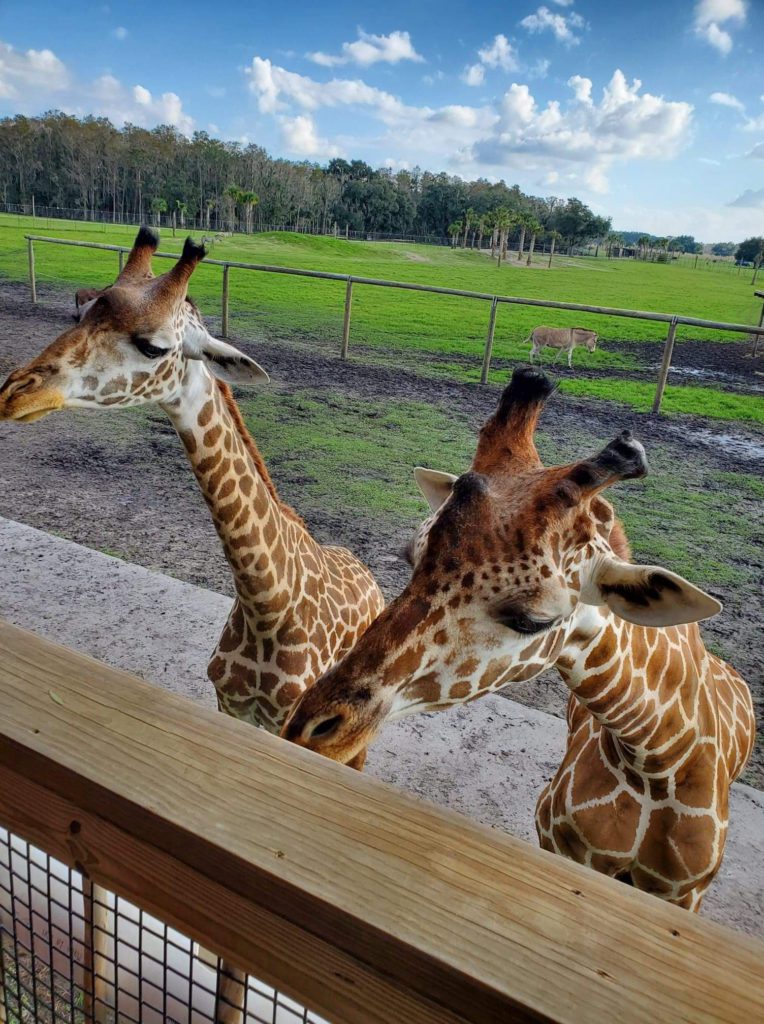 There are so many more animals to see here but it would take a whole book to list them all! It just means you need to take a trip out there to see them all!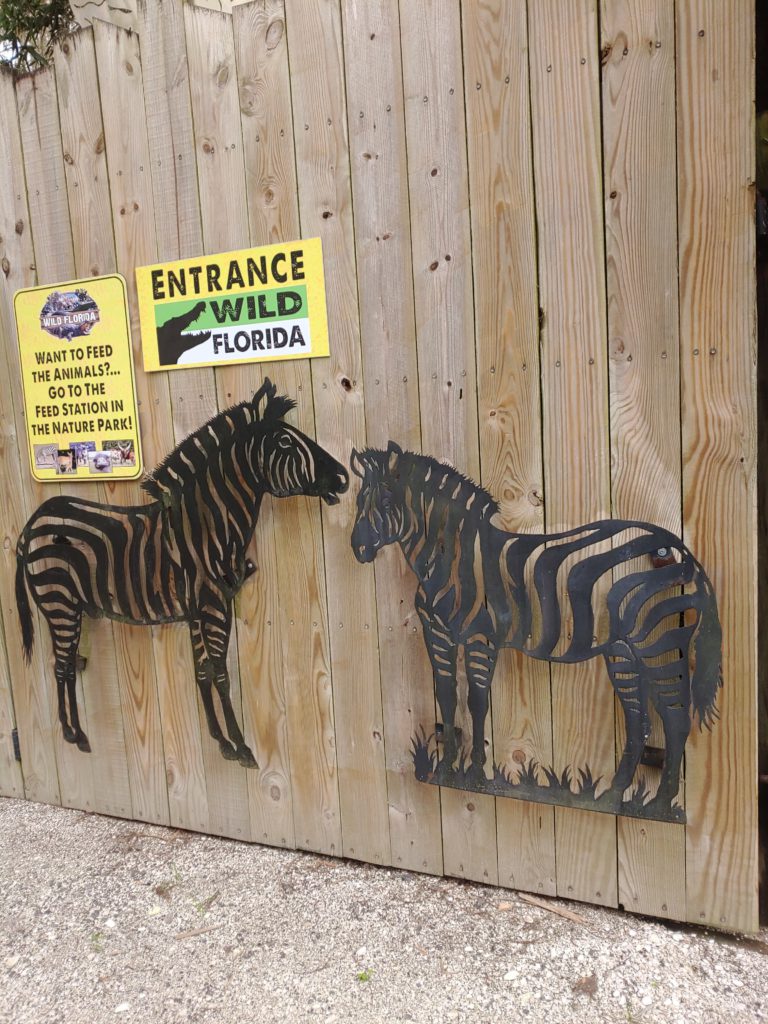 Make sure to check out their website for show times and information on how to book one of the amazing animal encounters! They are all such a great learning experience while being really fun!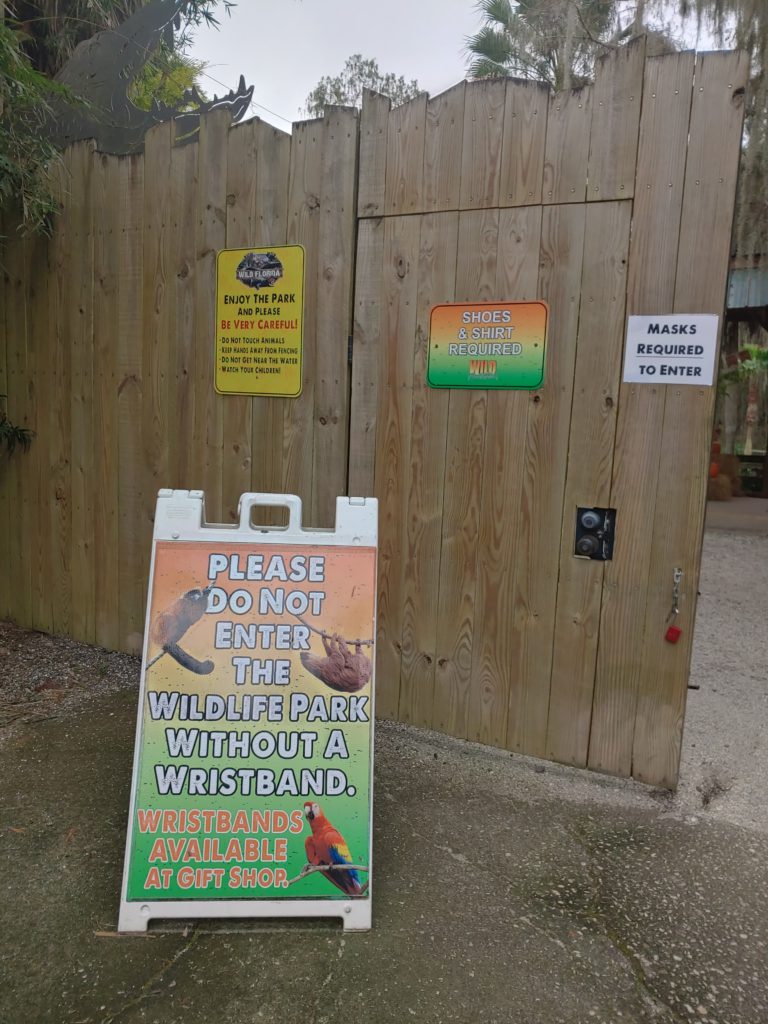 DRIVE-THRU SAFARI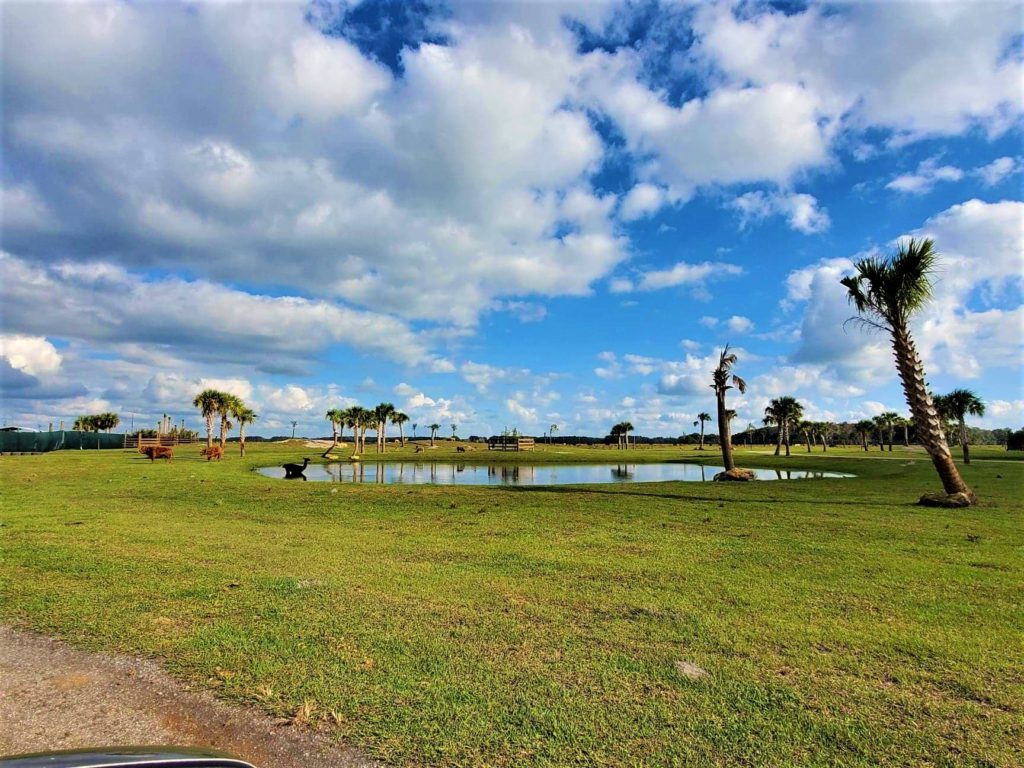 One of the biggest things Wild Florida is known for is the drive-thru safari park! This was one of the most amazing experiences here and there is almost nothing to compare it to.
If you have ever done the Kilimanjaro Safari at Disney's Animal Kingdom, it is probably the most comparable but it still doesn't come close to this! The luxury of driving your own vehicle at your own pace (under 5 MPH) is simply magical!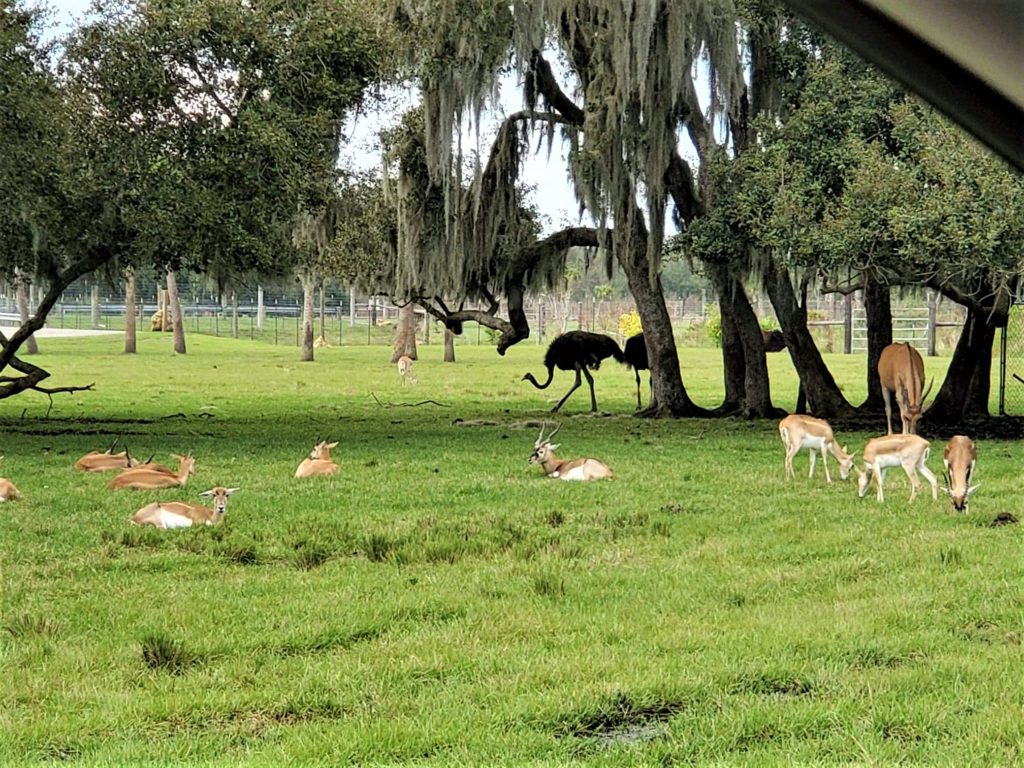 The land spans across 85 acres and host over 100 different animals that are roaming freely! As you drive along the 2-mile path, you are greeted by some familiar and some not so familiar wildlife. There are emus, giraffes, camels, zebra, eland antelope, scimitar oryx, American bison, mouflon sheep, and so much more! You get to see animals from all over the world in one place with some of the most beautiful scenic views!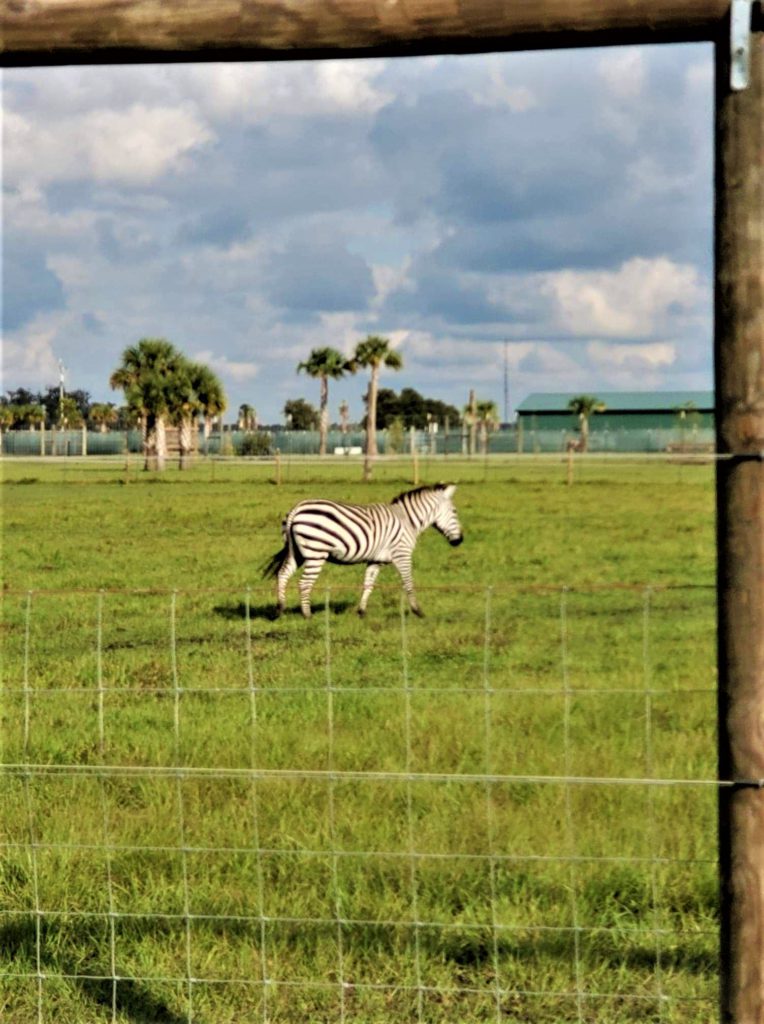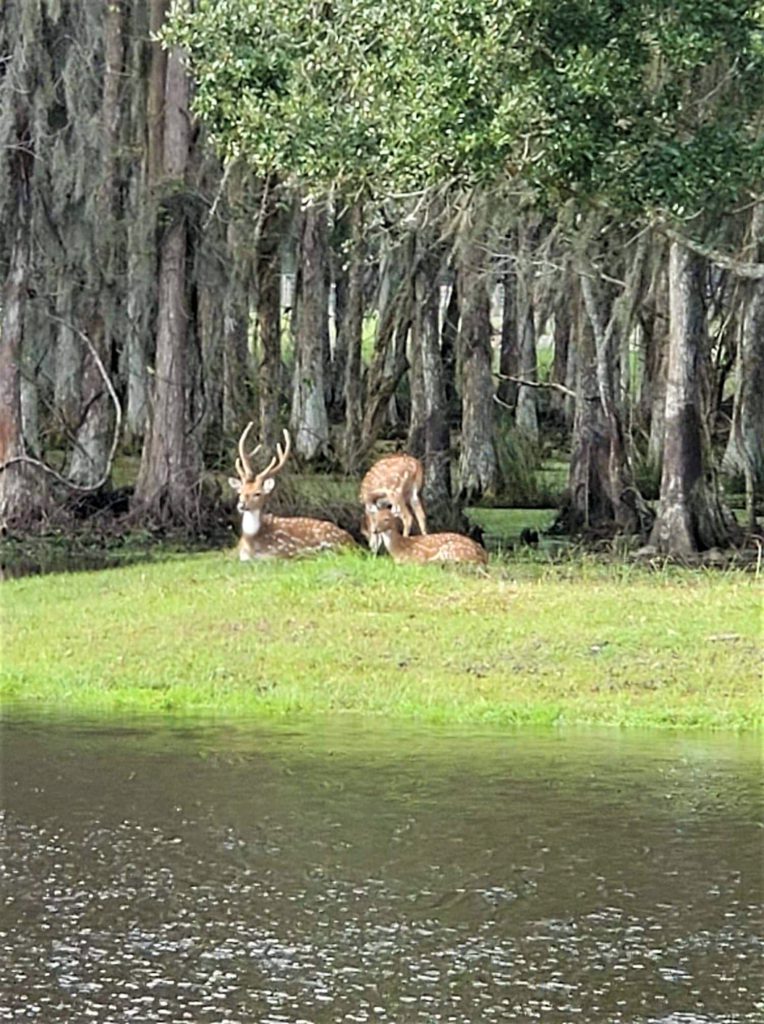 You are given a sheet that lists all the animals on the property and you are supposed to find them and mark them off as you go. It is such a fun activity for the kids and a great learning tool!
CHOMP HOUSE GRILL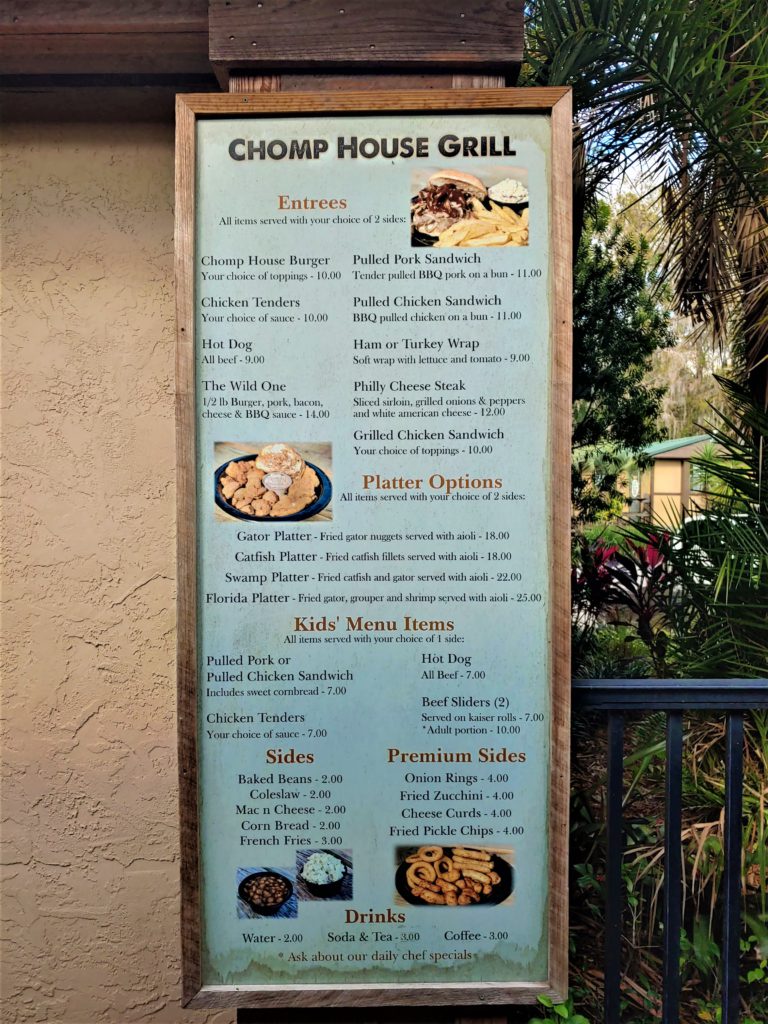 Don't worry about bringing food because the Chomp House Grill has you covered! The menu is amazing with its wide variety of food which includes burgers, hot dogs and fried gator! The portions are huge and the prices are very fair for the quality and quantity of the food!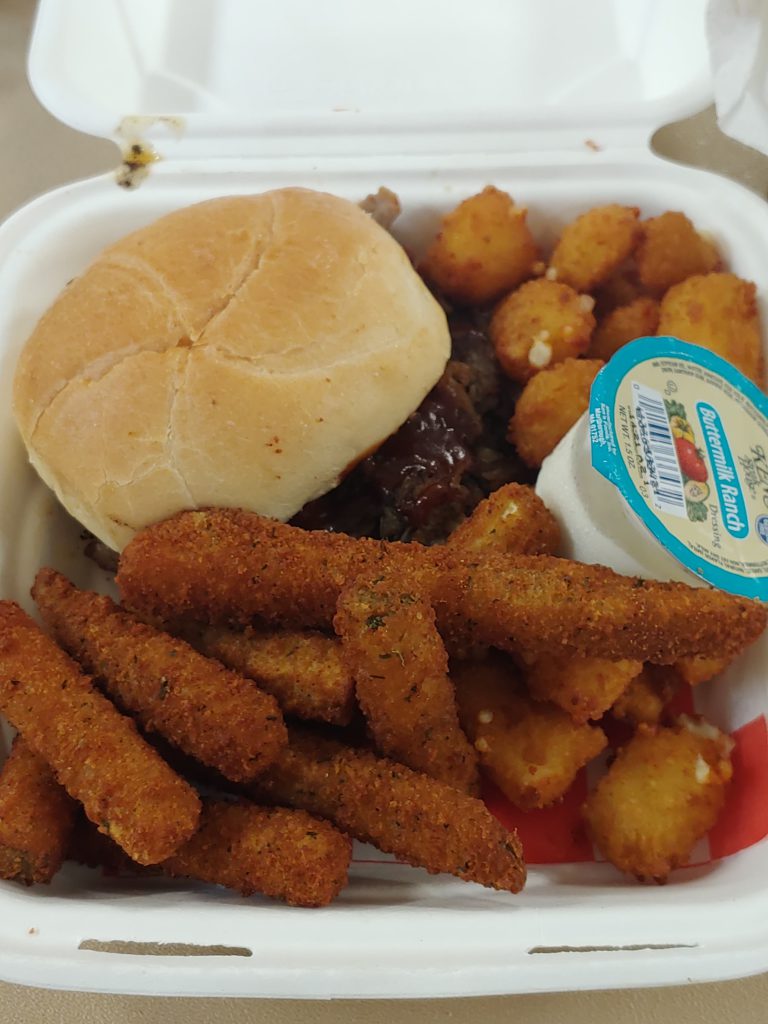 There is a kid's menu that also has really good-sized portions and includes chicken tenders, sliders, sandwiches and hot dogs! Entrees and platters are served with 2 sides and kid's items are served with one.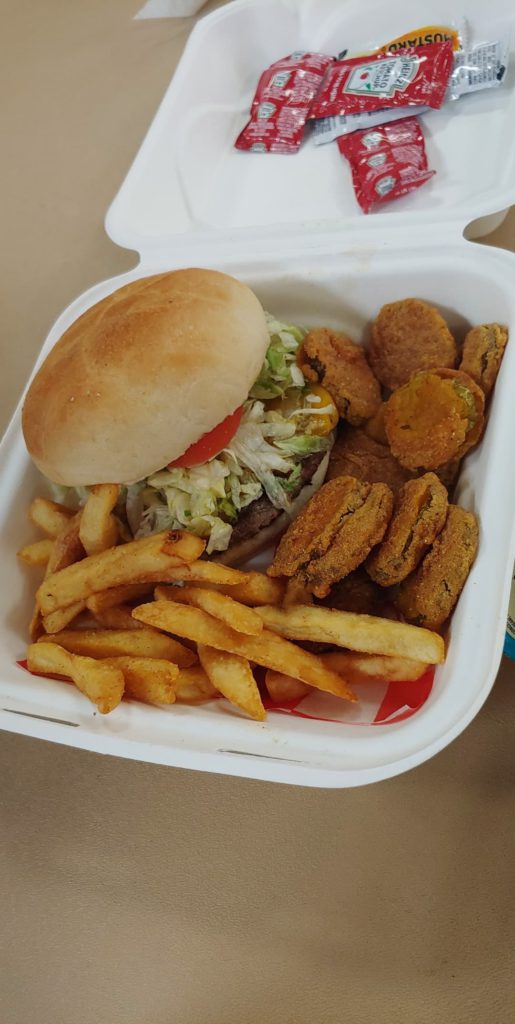 We tried the pulled pork sandwich, Chomp House Burger and kid's chicken tenders and all were really good!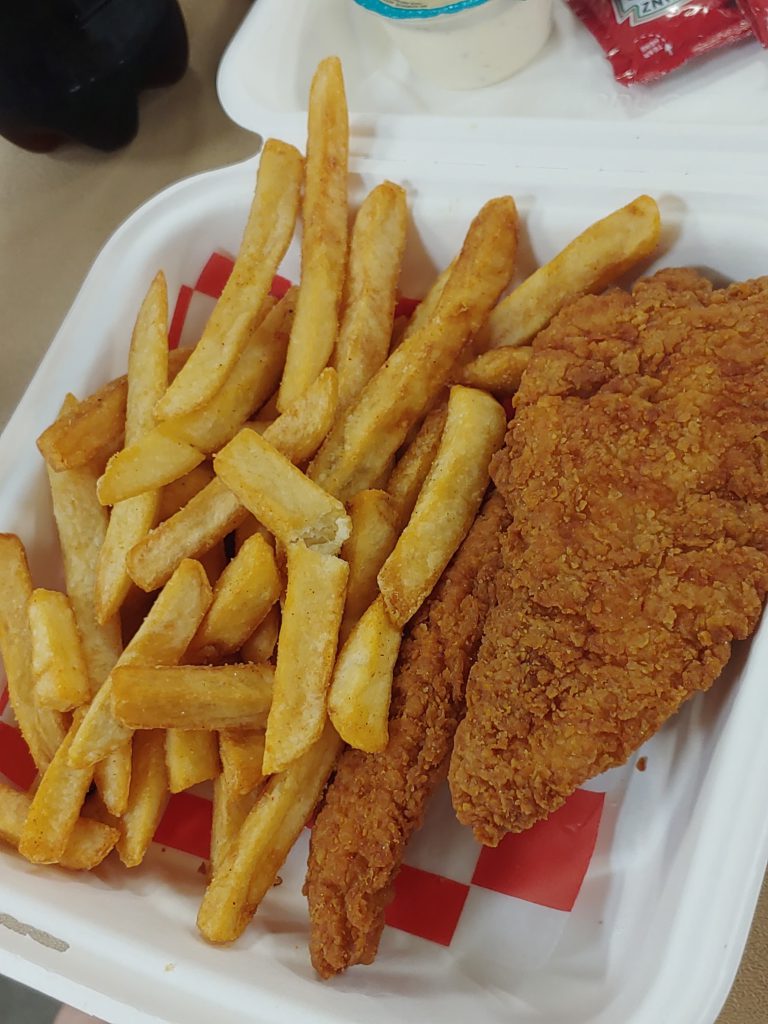 Although the main food items were great, it was the sides that really stood out! The must have items are the fried zucchini, fried pickles and cheese curds! I could have just had a meal of sides and been satisfied; they were so good and I still think about them!
They do have a variety of soft drinks, tea, coffee and milkshakes to choose from but I just had to try the Swamp Slushy! It was a delicious blend of orange, peach, passion fruit and lychee fruit that made for a refreshing concoction!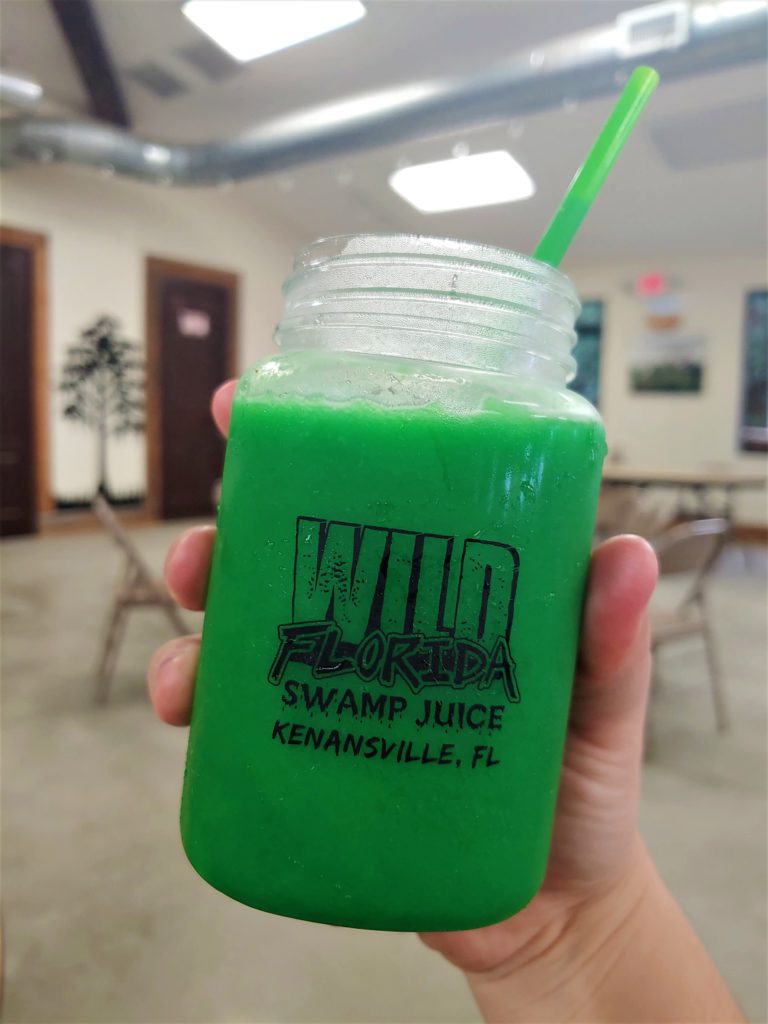 The lychee was the standout flavor in this beautifully colored drink and you get to keep the cool cup it comes in! You can also try it with ice cream for an added touch!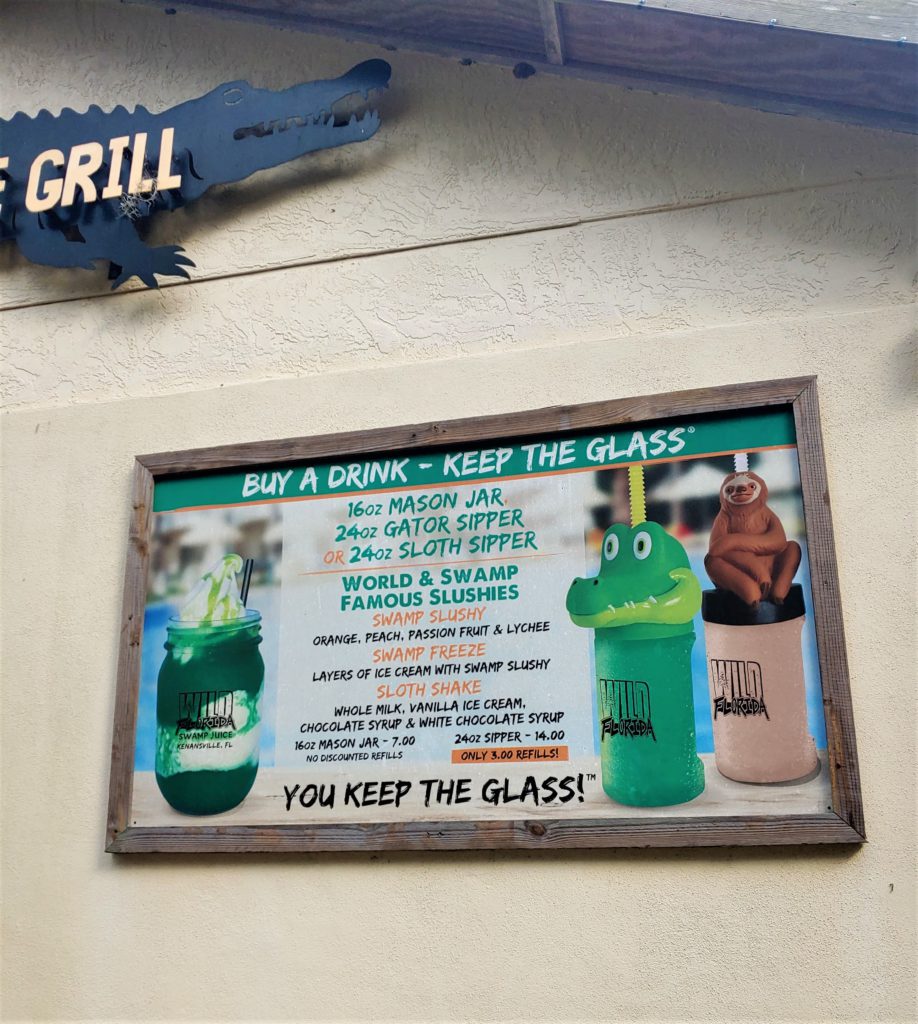 SOCIAL DISTANCING
The park has signs and sanitizer all over the park as well as markers on the ground stating where to stand if there are tighter areas. You are supposed to stand one gator apart from the next party! I love that they made the signs fun and integrates them into the theming of the entire park. You are also required to wear a mask while on property. You do not have to wear a mask while riding the air boat as it may fly off.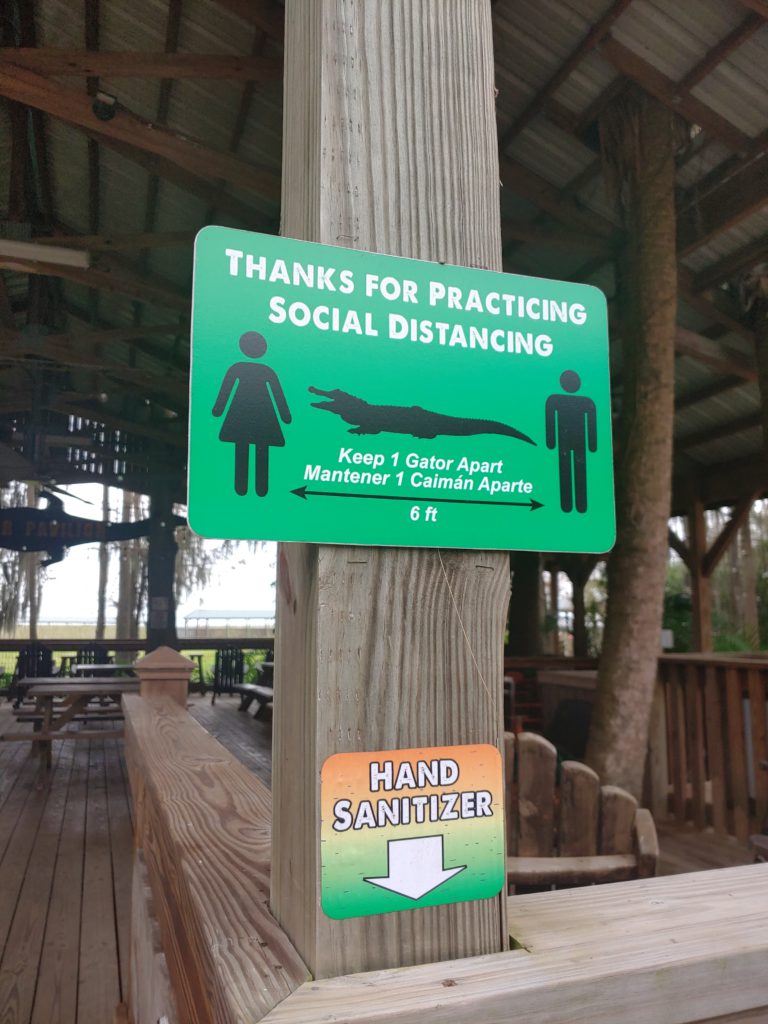 GIFT SHOP & EVENTS
Make sure to check out the gift shop which is also the area to check in and purchase tickets.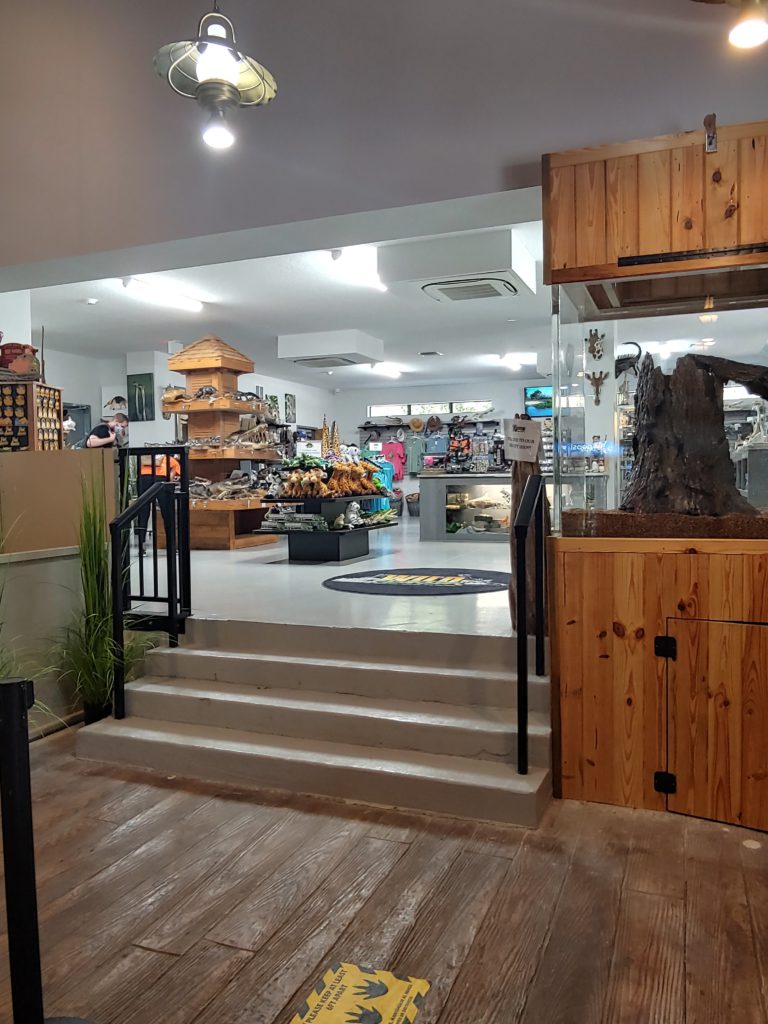 The gift shop is as amazing as the rest of the park and has tons of wonderful souvenirs at great prices! There are also cold drinks and ice cream available if you need something to cool you down during hot days in the park!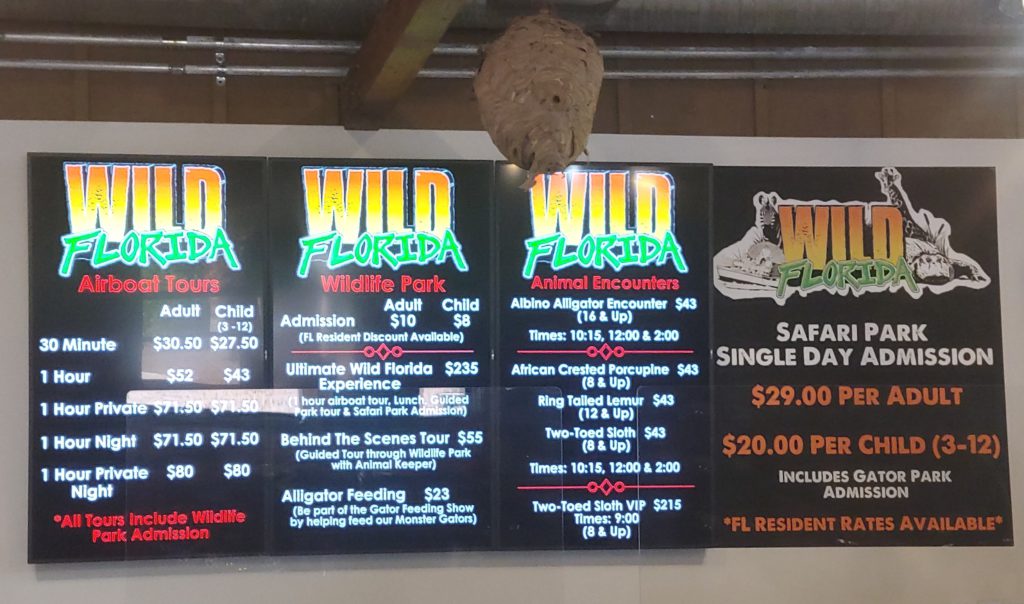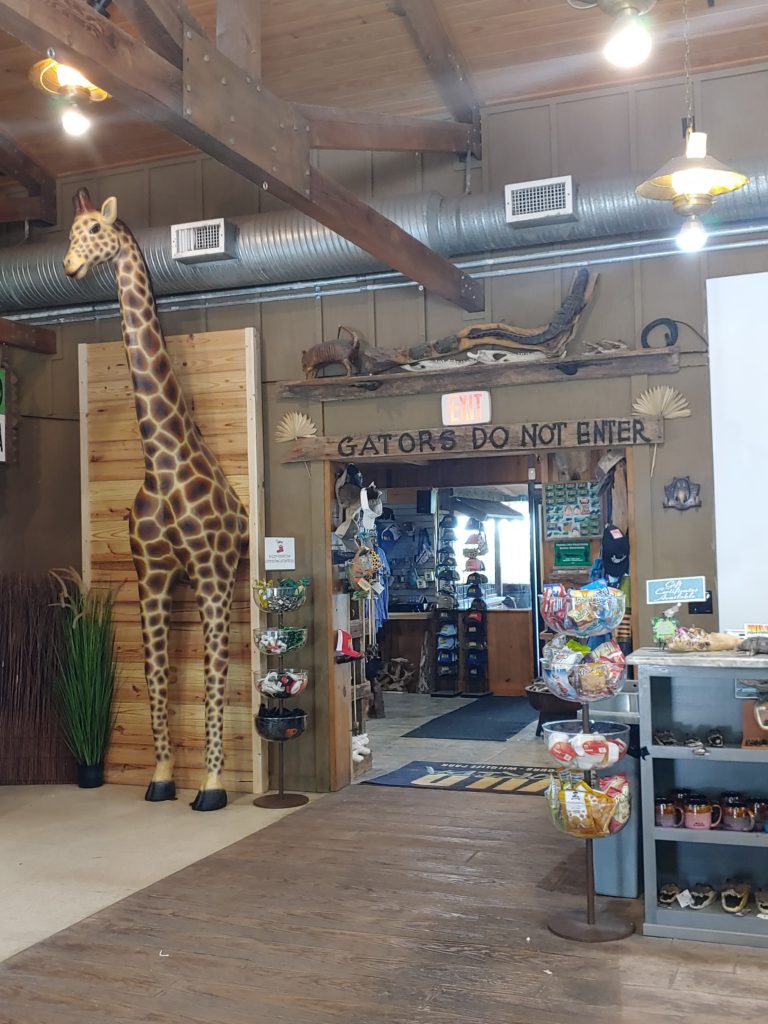 There is a big area called the Gator Pavilion that you can use which is the perfect setting for birthday parties, school functions or other events that you might want to have here. You get a beautiful view of the Florida Everglades and can hear the airboats go by. It is a really nice setting for any event!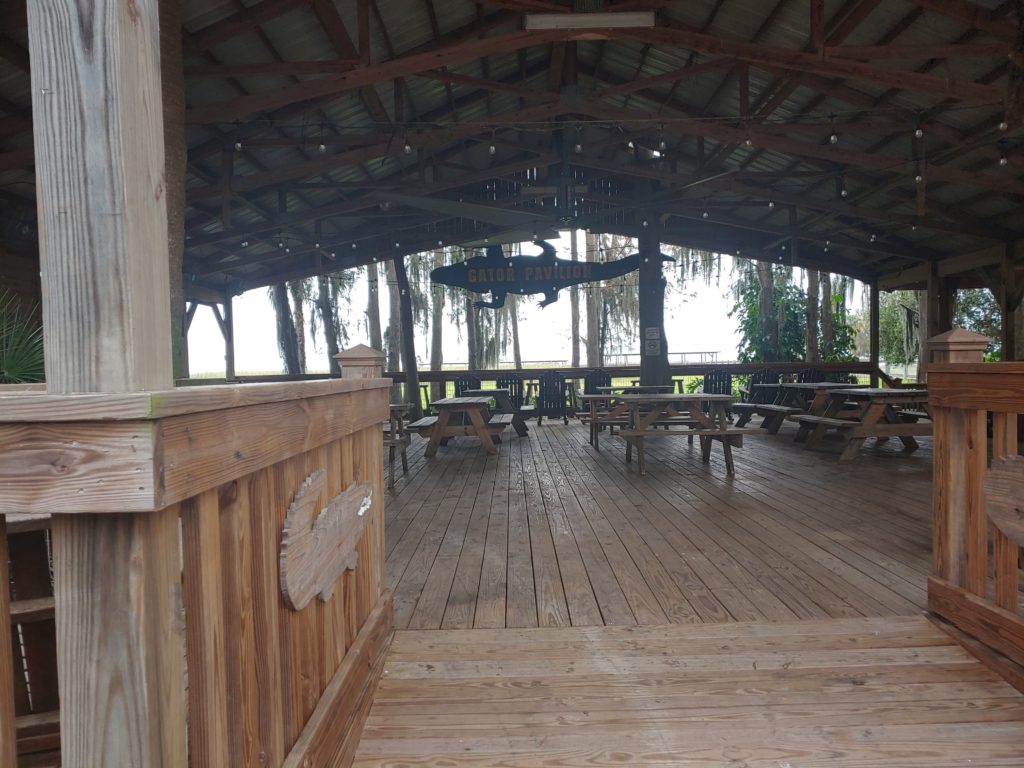 If you are close by, make sure you take advantage of their black Friday deal which is an $80 annual pass! This is something they have never offered before and is only available to purchase 12 a.m., November 27, 2020 through 11:59 p.m., November 30, 2020.
It includes unlimited weekly drive-thru safari admission and unlimited anytime access to the gator park which includes the petting zoo, playground and seeing all the animals! You also receive 10% off all Wild Florida merchandise! This is an amazing deal for Florida residents if you plan on visiting multiple times per year! It is also helpful to get the kids out of the house to let out some energy while they also learn at the same time!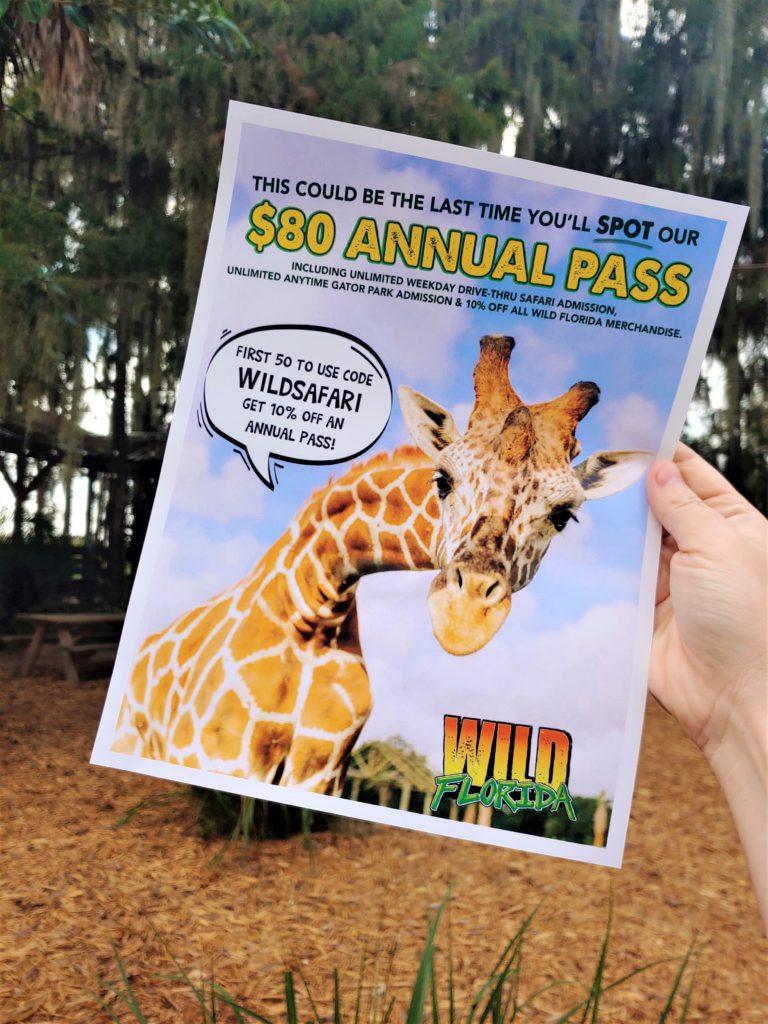 OVERALL THOUGHTS
I strongly believe this is something everyone should experience at least once in their lives! It is a one-of-a-kind place that is both fun and educational and great for all ages! The prices are fairly priced for what you get to experience and it's a great place to make memories with your family!
I do recommend you wear closed toed shoes and wear bug spray as there are a lot of bugs around the property. There are enough activities to easily spend an entire day and more here.
I love that they focus on animal conservation while also giving people a one on one connection with animals both endangered and not. They are driven to give the community and world a first hand look at how they are dedicated to protecting wildlife and creating an experience like no other.
If you are visiting Florida or live here and want to experience something other than a theme park, this is the place to go! Having airboat rides, animals and a drive-thru safari all in one place is a guaranteed great adventure!
Make sure to check them out on Instagram, Facebook, Twitter and YouTube as well as their own website at www.wildfloridairboats.com for information on hours, tickets, tours, animal encounters and more! Wild Safari is closed on Sundays, Thanksgiving and Christmas.