If you've been following us at Winter Garden Moms for long, you know we love delicious food, enjoyable entertainment and each other's company! We recently experienced this trifecta at Planet Hollywood in Disney Springs.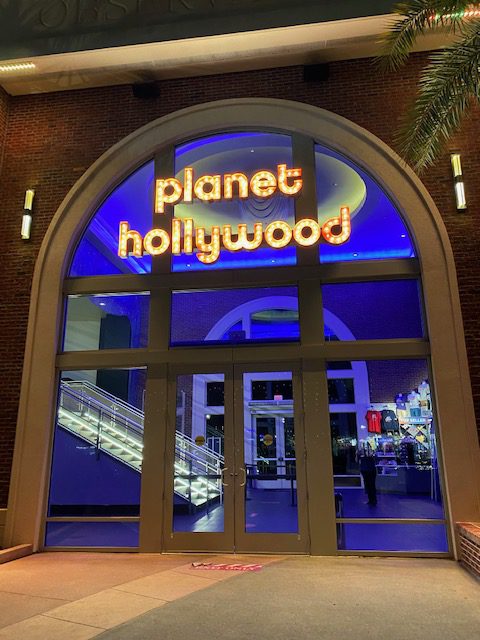 You can spot the huge restaurant, which is shaped like an observatory, from most places in Disney Springs but it's easiest to get to if you park in the Orange Parking Garage.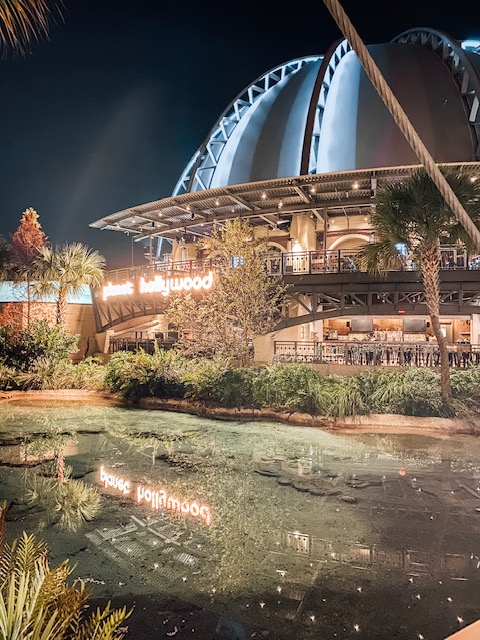 The Atmosphere
Once inside, the restaurant creates red carpet vibes with its massive staircase and sparkling lights. We loved seeing all the memorabilia from blockbuster movies all throughout the restaurant, including the life sized Spider Man and Terminator on display in the lobby.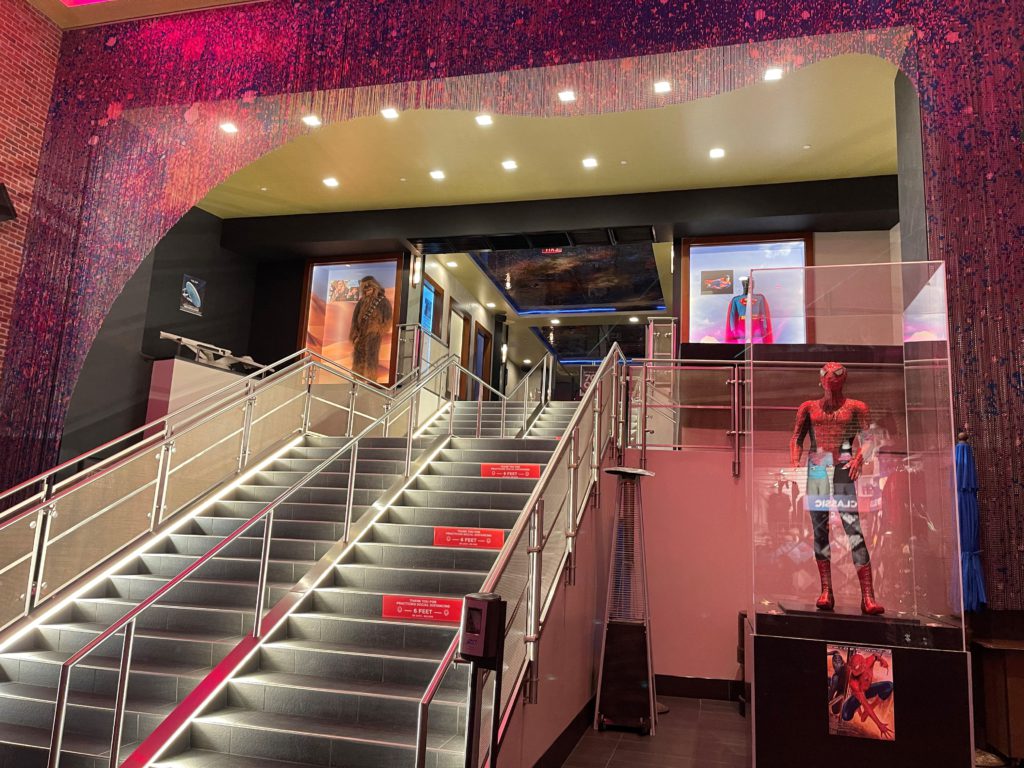 Guests are allowed to wander through the restaurant to check out the displays, like the door from the Titanic or the yellow dress Katniss wore in the Hunger Games.
We dined on the second floor of the massive, four-story building. Each level has balconies that ring a 4,500-square-foot video wall. During our meal, the video wall displayed classic movie scenes, music videos, and our personal favorite…sing-alongs!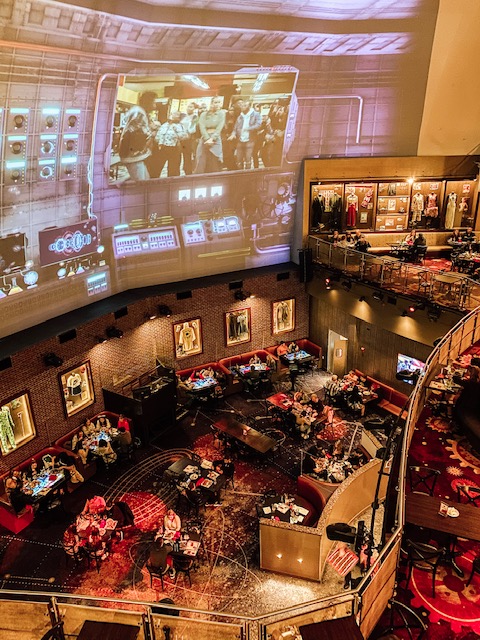 The Food
We tried a couple of specialty cocktails, including the Pineapple Express and the It's Showtime Mojito. Both were fruity and refreshing.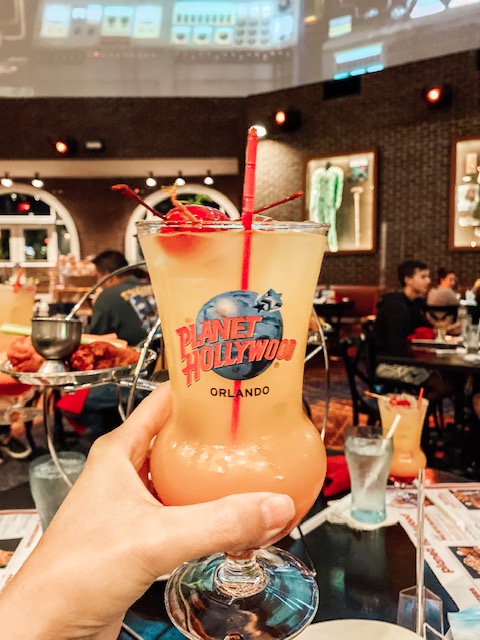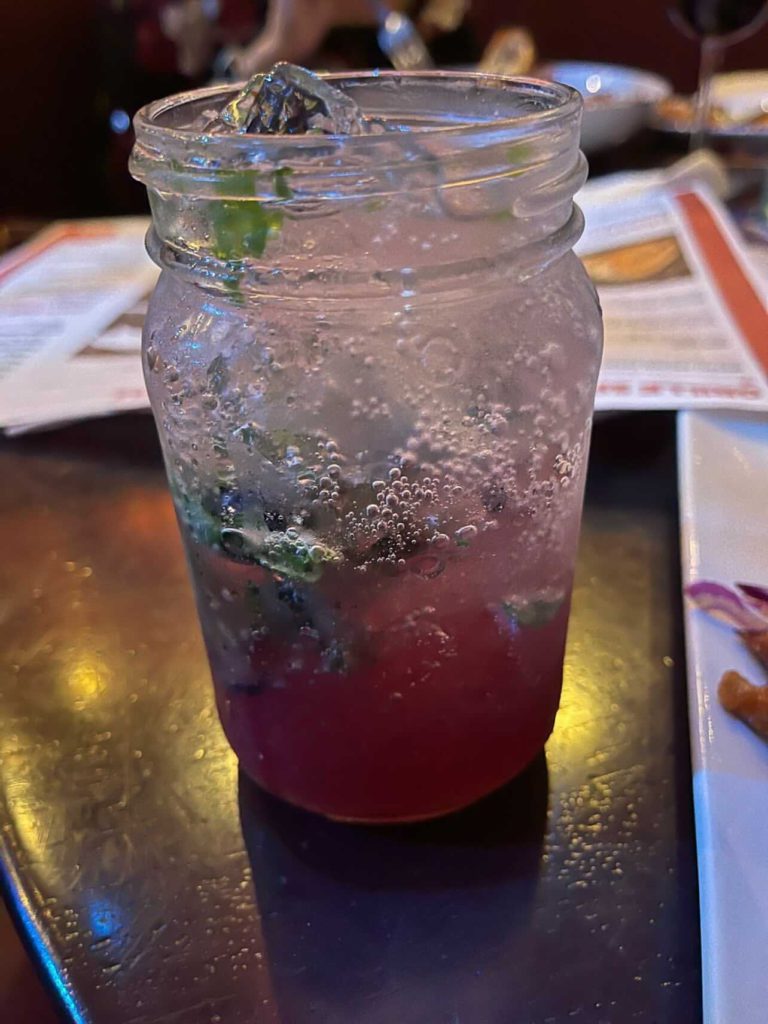 Dinner at Planet Hollywood consists of an extensive menu with something for everyone. We started off with the High Roller Sampler, which easily serves four people.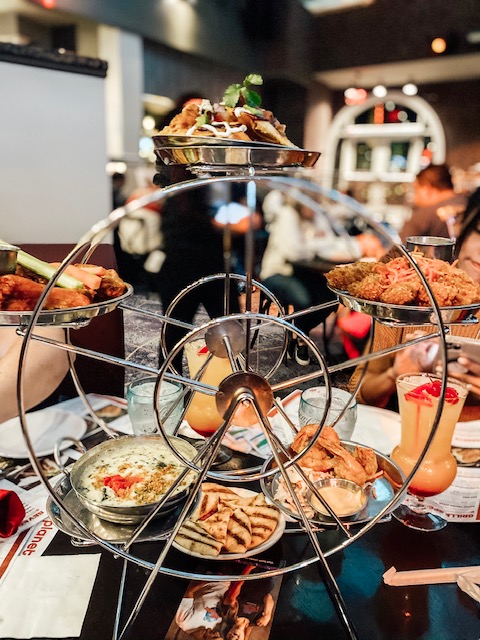 It includes Chicken Crunch Sticks, Texas Tostados, Buffalo Wings, Five Cheese Dip, and Fried Jumbo Shrimp. Everything was so tasty, but my personal favorite was the Five Cheese Dip. So yummy!
For entrees, we tried the L.A. Lasagna…basically FRIED lasagna. Who knew lasagna needed a little frying to take it up a notch?!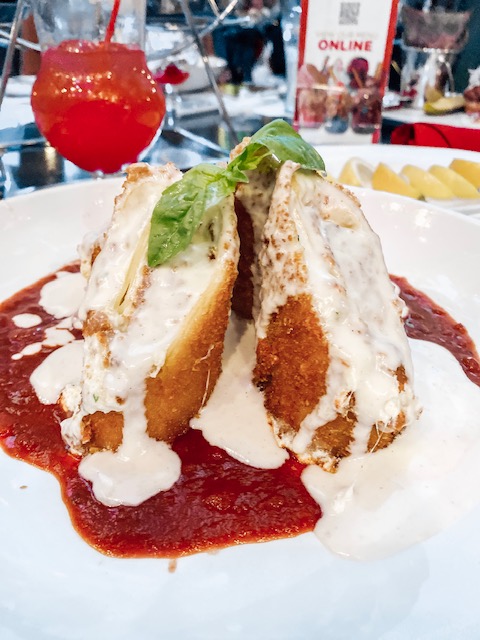 We also tried the award-wining Bacon Mac-n-Cheese Burger by Guy Fieri. This burger was topped with Applewood-smoked bacon, six cheese mac-n-cheese, and crispy onions on a brioche bun. The flavor combo was wonderful once you figured out a way to take a bite out of the huge burger!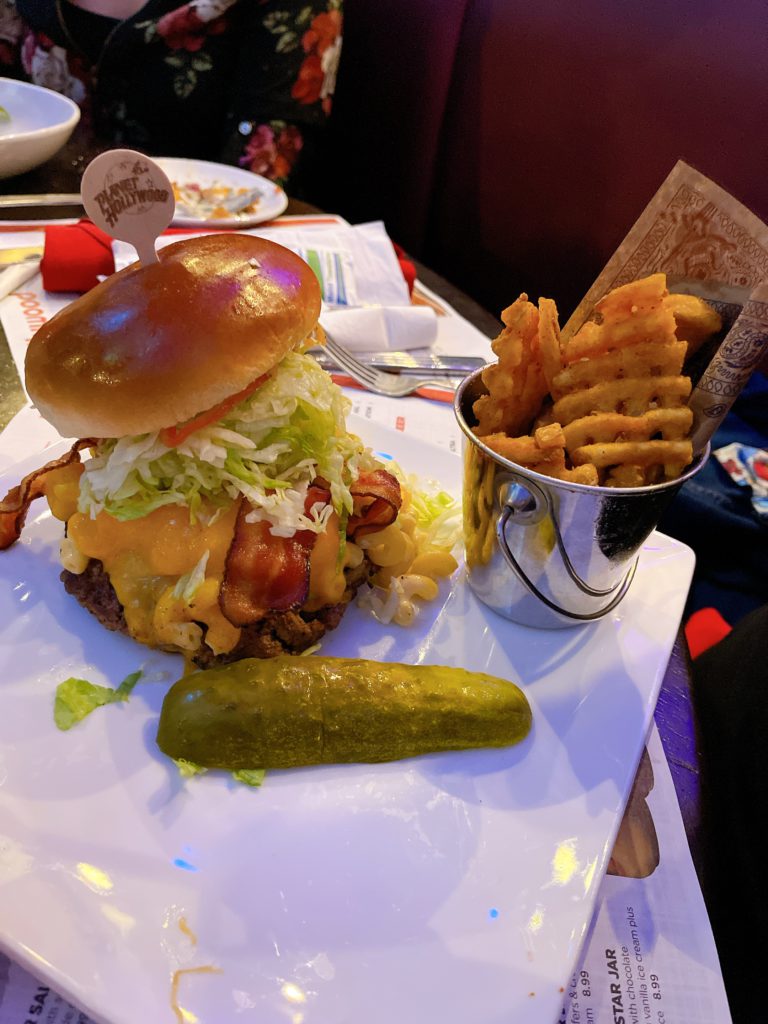 We also tried another Guy Fieri specialty sandwich, the Championship Pulled Pork. With Guy's signature BBQ sauce and crisped pulled pork, this sandwich was on point. The portions for each dish were humongous and highly sharable, at least for this group of ladies!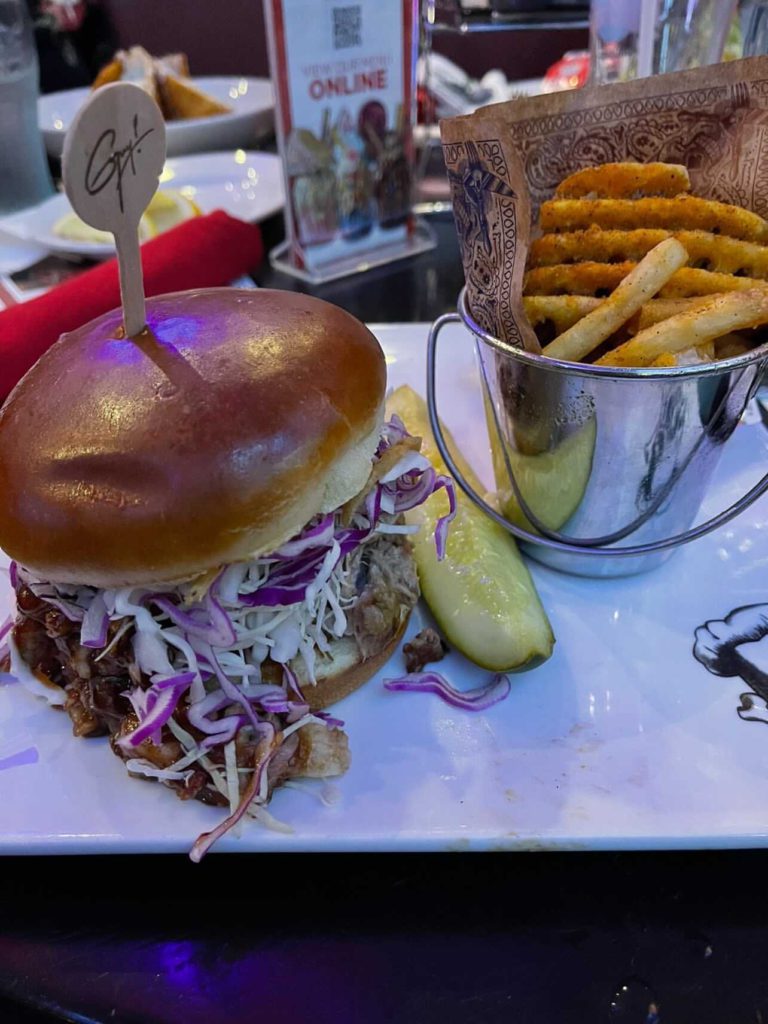 While we barely had room for dessert, we couldn't resist trying the Planet Meltdown. The Planet Meltdown arrives at the table looking like a chocolate sphere.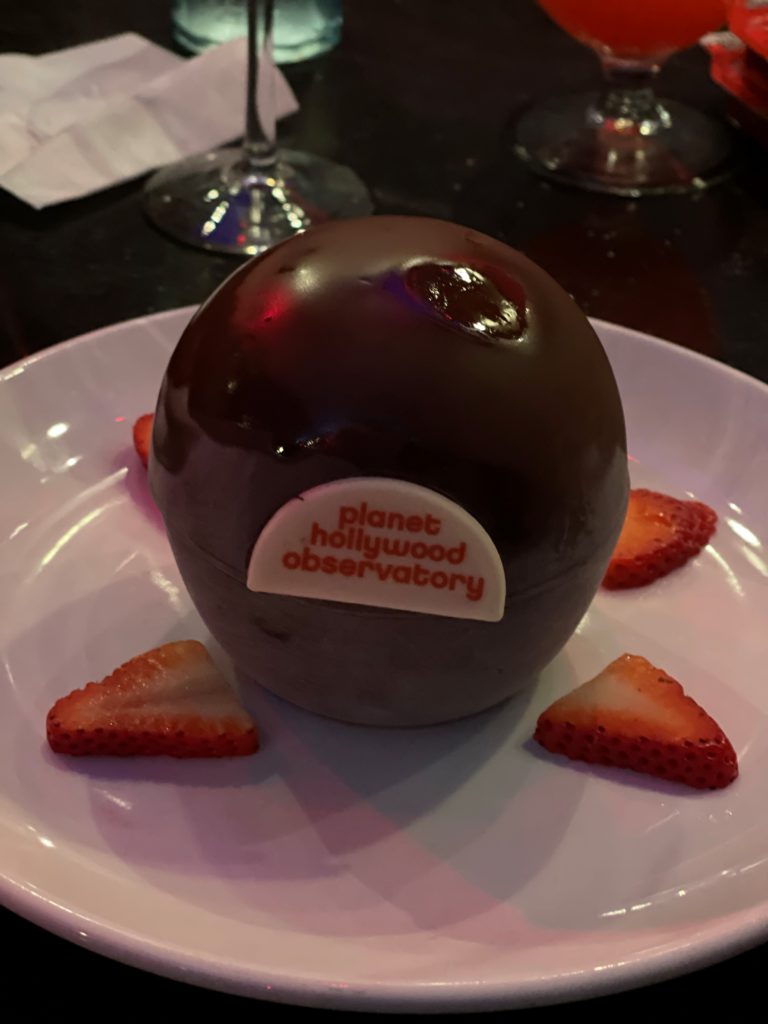 Our server poured hot caramel sauce over the sphere, which melted the chocolate. Inside the sphere we found brownies and vanilla ice cream. It was a warm, chocolaty, delicious treat and the presentation of the dessert made it even better!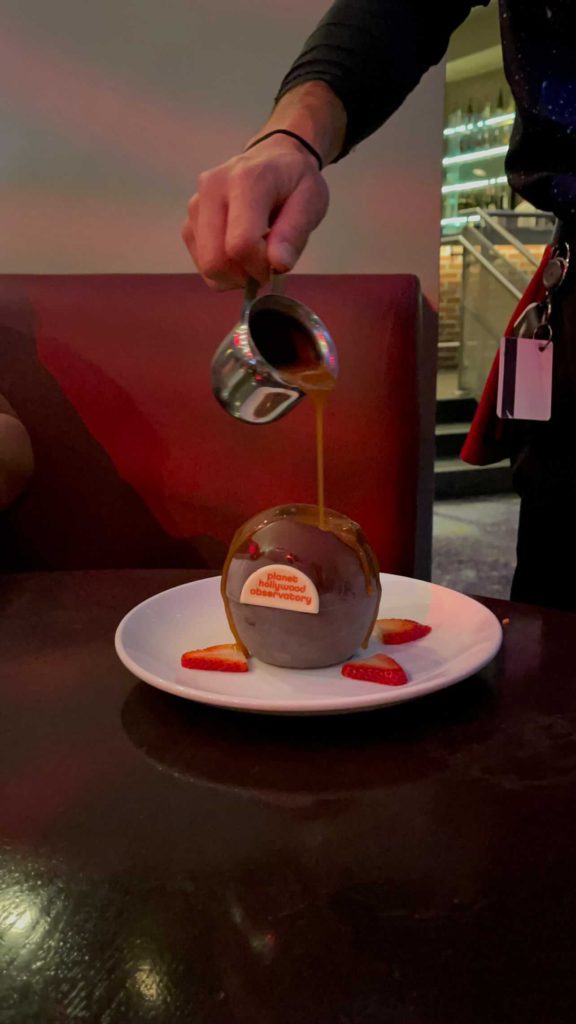 Safety
While at Planet Hollywood, our group felt completely safe. When we arrived, we checked in at a socially distanced check-in stand located on the ground floor outside the main entrance. This eliminated crowding in the downstairs interior lobby. We were escorted to our booth which had additional plexiglass dividers between it and the adjoining one. Each table had a QR code to scan for menu options. Masks were required whenever we were not at our table. It also helped that the restaurant is just so big! There's plenty of room to keep at least six feet away from other groups.
So if you are looking for a safe spot that's more than just a delicious meal, check out Planet Hollywood for a complete entertainment experience!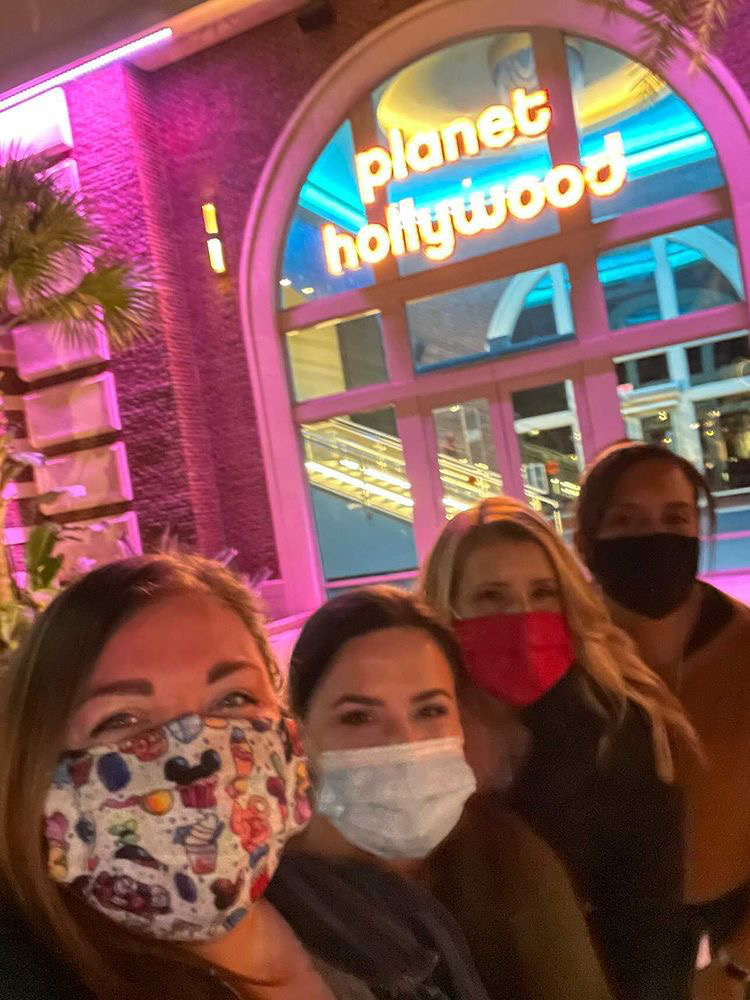 Thank you so much to Planet Hollywood for hosting Winter Garden Moms Blog for such an amazing night out!