The Taste of Epcot International Flower & Garden Festival is in full bloom now through July 5th!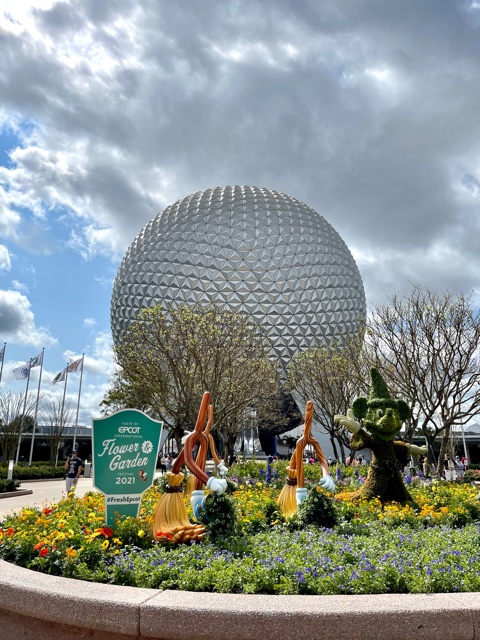 Because the festival only ran for just over a week last year before the parks closed due to the pandemic, I know we all have been looking forward to seeing all the topiaries and trying all the snacks for such a long time. This year, Walt Disney World did not disappoint when it came to bringing their "A Game" for this beloved festival!
I recently went to explore the festival on opening day and tried some awesome things. I'm sure I'll be back for more trips as there are plenty of things left on my list to try but I wanted to share with you my initial must do list!
Here are my picks of the food, drinks, and topiary picture spots you can't miss at the festival!
Mexico
Let's start in Mexico at the Jardin de Fiestas booth with the Passion Fruit Margarita with a hibiscus salt rim ($12.50). I loved this drink! It was light and refreshing, perfect for warm days at the park.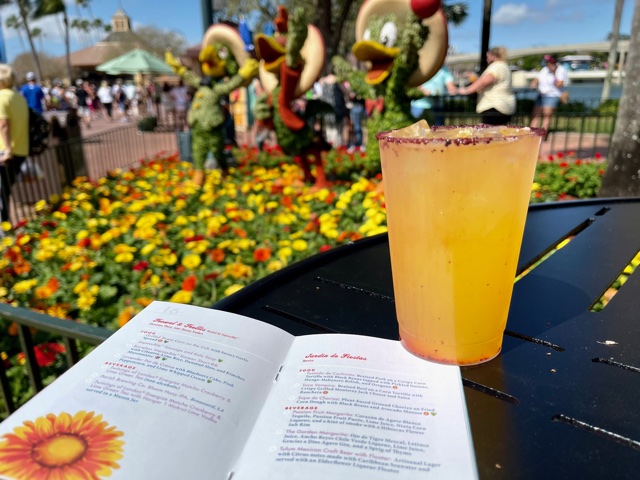 I can guarantee I'll be having more of these as the months get hotter! I usually don't like salt on my margarita, but the hibiscus salt was really tasty. It also made for a beautiful picture because the bright yellow color perfectly matched the Three Caballeros topiary.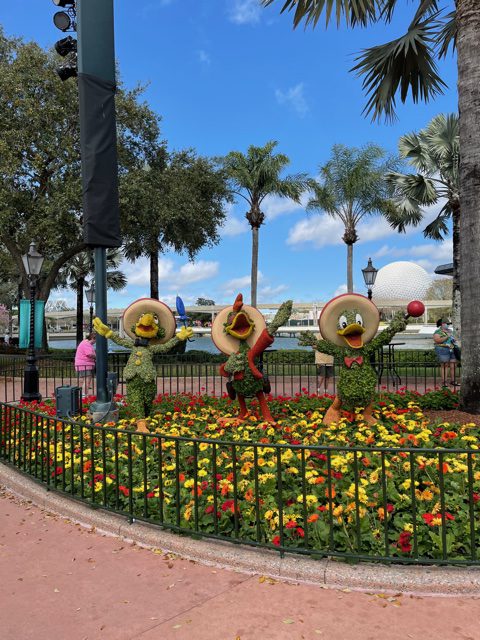 Norway
Next up is the Frozen topiary in Norway! This is an awesome spot to snap a sister or BFF pic or grab an adorable photo of your Frozen obsessed little one! Because this spot is slightly tucked away from the main pathway, there usually isn't a huge line at this location and the scenery in the background is beautiful!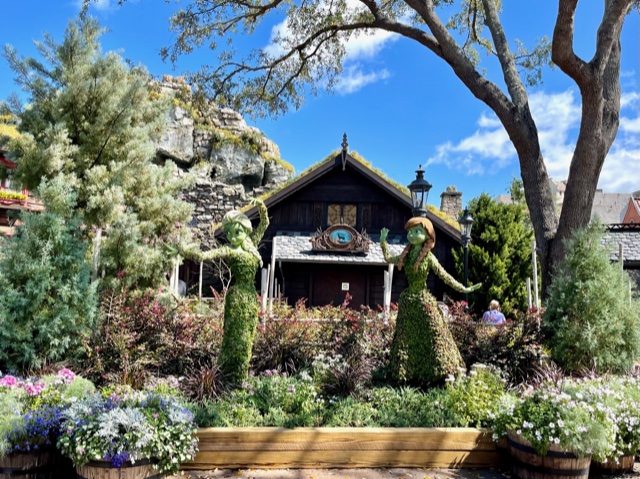 China
After passing through Norway, you'll arrive in China. I think this country consistently has great food all year, but they really come up with some unique things during festivals. Make sure to try the Bon Bon Chicken Skewer with sesame and peanut sauce ($6.75) and the Kung Fu Punch ($11.00) from the Lotus House.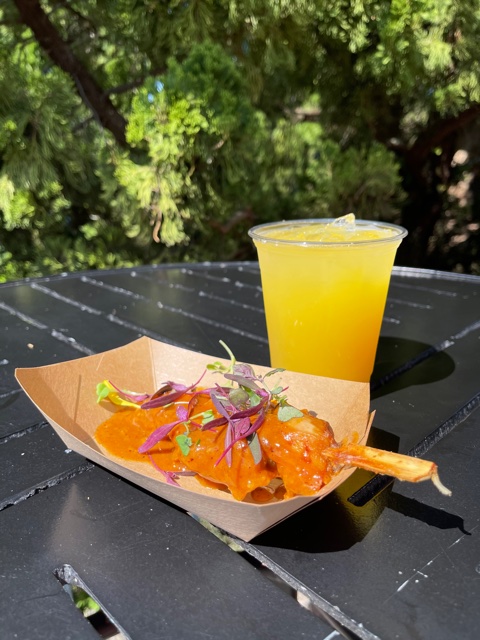 The chicken was perfectly cooked, and the sauce was a a great combination of savory and sweet from the peanuts. It's also topped with the prettiest edible flowers. The Kung Fu Punch is another drink that's great for a hot day. Sweet mango flavor mellows the vodka, and the carbonation is very refreshing.
Germany
Continuing into Germany, you'll find the Bauernmarkt: Farmer's Market. If you're looking for something with a little substance after those drinks, this is the place to go. They are offering two different types of potato pancakes, one sweet, and one savory. There is also a cheese strudel as well as a ham and cheese pretzel bread. It was almost impossible to decide what to sample from this booth.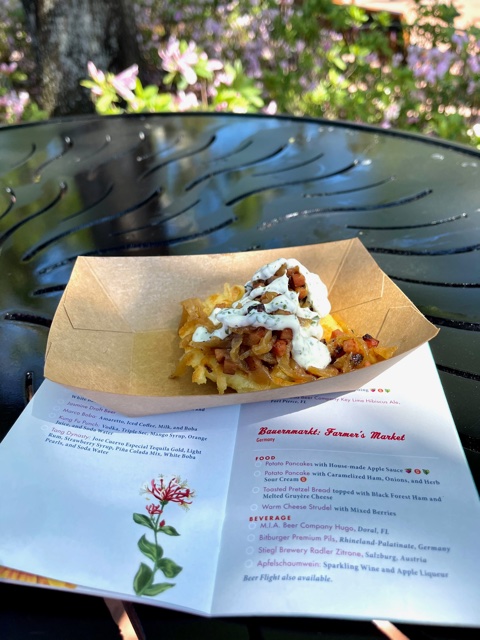 I finally settled on the Potato Pancake with caramelized ham, onions, and herb sour cream ($4.75). It was salty, crunchy, savory, and creamy all at the same time. I could have eaten five of these!
Italy
After finishing in Germany, I continued on the path through Italy. There are so many adorable topiaries, stunning flower displays, and beautiful water views here. I decided to get a cool drink and enjoy the sunshine and scenery.
I chose the Italian Margarita with limoncello ($11.00) from the Primavera Kitchen. This is one of my favorite drinks that has been offered at festivals in the past as well. It's a frozen drink that has the perfect amount of tartness from the limoncello.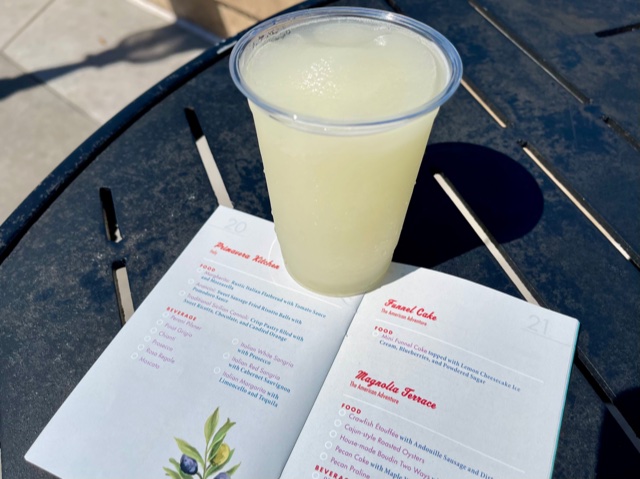 It's a great pallet cleanser after the heavier foods in Germany. You can usually find a table right by the water to enjoy your selections from the Italy booth and snap some beautiful photos with no one in the background.
American Adventure
As you make your way toward the American Adventure Pavilion, you might be lucky enough to see The Voices of Liberty performing at the America Gardens Theater. They perform throughout the day and it's definitely worth stopping to listen. Just across the way from the theater, you'll see the funnel cake stand. While they sell funnel cakes all year, during festivals you can find special seasonal flavors.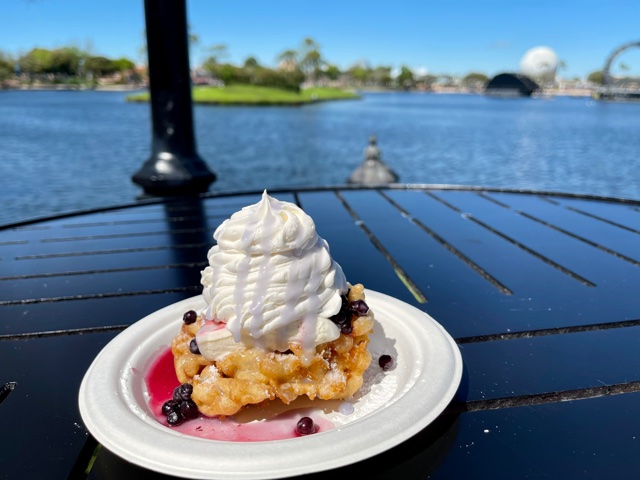 During the Flower & Garden Festival they have a Mini Funnel Cake topped with lemon cheesecake ice cream, blueberries, whipped cream, and powdered sugar ($8.50). Of course this is a sweets lover's dream, but the lemon and blueberry flavors add a great freshness and help cut through all the sugar. This was perhaps my favorite thing I've tried at the festival this year and a definite can't miss!
France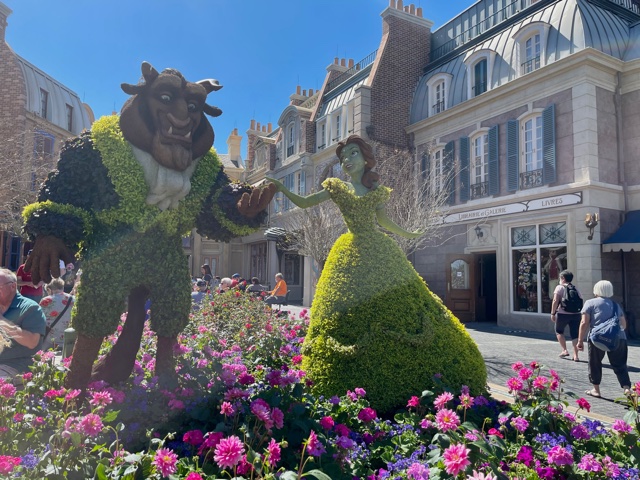 As you follow the path through France you'll spot the Beauty and the Beast topiary surrounded by pink and purple flowers. It's another great spot to take pictures although this area tends to be crowded.
United Kingdom
If you continue over the bridge into the U.K. Pavilion you'll see Captain Hook and Peter Pan facing off right before Pooh and friends across the walkway.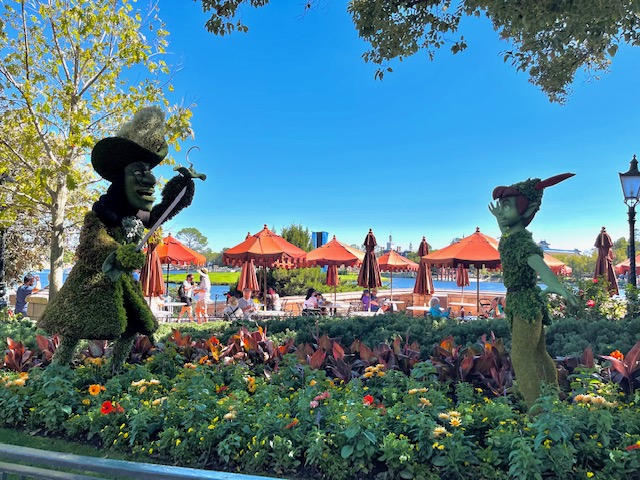 This area has so many beautiful topiaries. You can even find Kermit and Miss Piggy as you head through Canada! There is no shortage of picture spots here.
Future World
Don't forget to stop into the World Showplace to try some festival favorites before continuing on to the assortment of booths near the entrance of the World Showcase. In fact, you may even choose to start your day heading this way but I find it tends to be more crowded going that direction during festivals.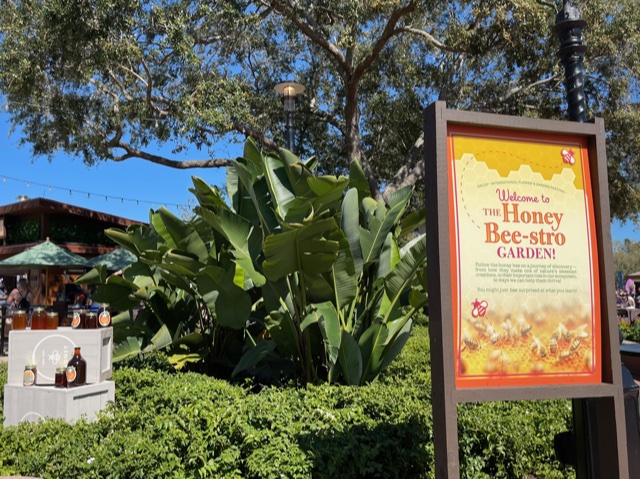 One booth I wouldn't miss in this area is the Honey Bee-Stro. Everything there is always great, but you must try the Tupelo Honey and Sweet Corn Spoon Bread topped with jalapeños, bacon, and honey butter ($4.75) and the Honey Peach Freeze with Blueberry Vodka ($12.00). The spoon bread is soft, warm, and slightly sweet. The Freeze is a creamy milkshake consistency and is also available without the vodka.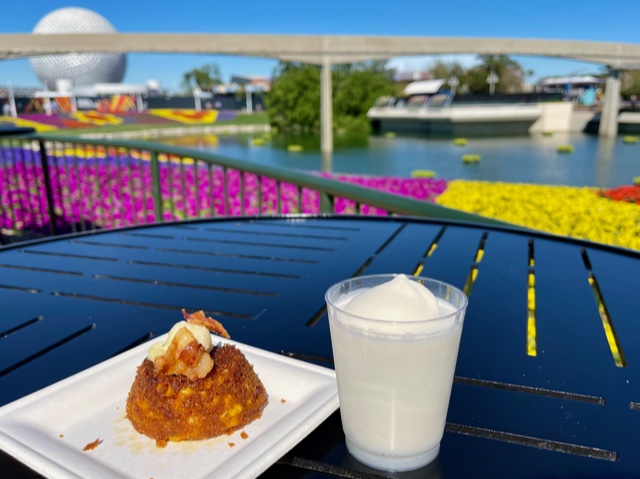 As you exit this area of the World Showcase, you'll find that the crowds thin and there are some amazing areas to see.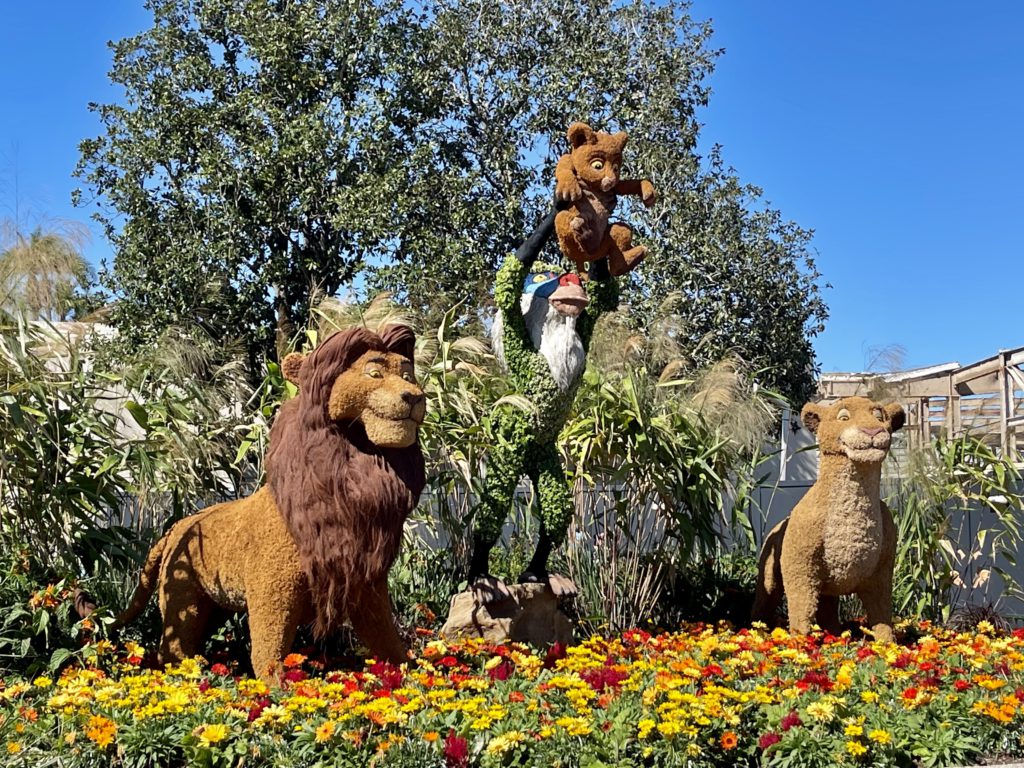 The Lion King topiary is so adorable! Of course, you'll see the beautiful butterfly topiaries that we all look forward to at this festival each year. These will lead you toward The Goodness Garden Butterfly House where you can stroll through beautiful flowers and watch hundreds of butterflies in their habitat. If you are lucky, a butterfly or two might even land on you!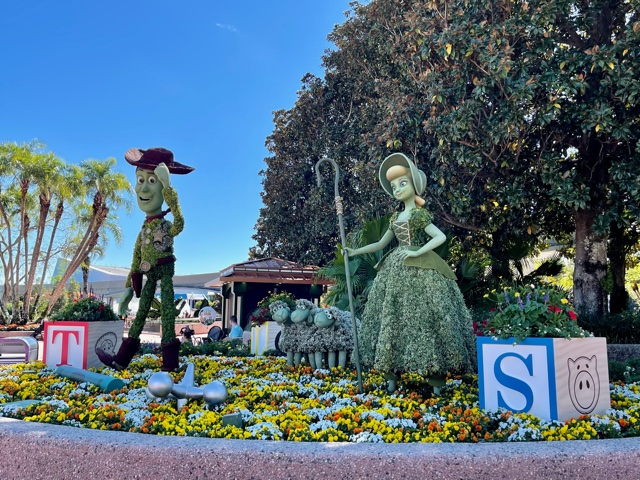 You can also find a Toy Story topiary featuring Woody, Bo Peep, and her sheep right across from a wall of beautiful butterfly wing murals that make the perfect spot for your next Instagram pic!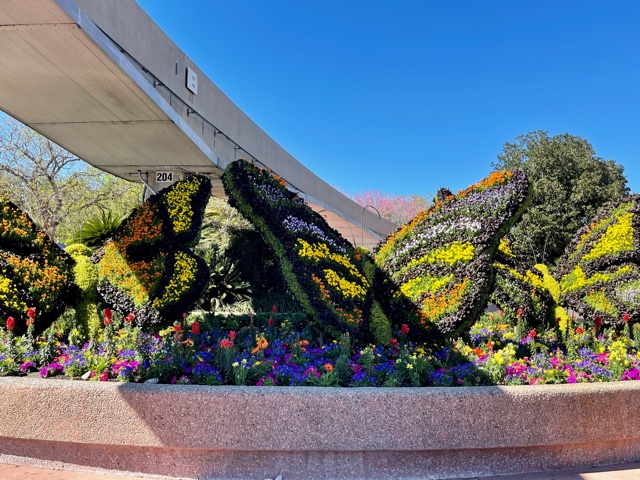 My favorite thing about this festival is that if you take your time, there are so many unique places to see and explore. From the flowers and topiaries to the food and drinks, the Flower & Garden Festival truly has something for everyone.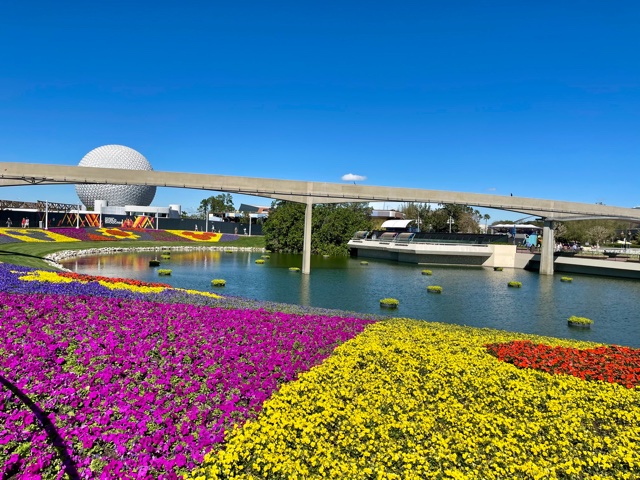 I can't wait to head back soon to find even more things to sample. Make sure to keep up with us here at Winter Garden Moms, as we bring you all the news and recommendations from Epcot and beyond!