The Epcot International Food & Wine Festival is officially underway! We had the opportunity to visit a sneak peek of the festival before it opened and try out some of the delicious menu items, as well as see some of the merchandise and entertainment options. This year is sure to impress with all of the amazing options. Let's get into it!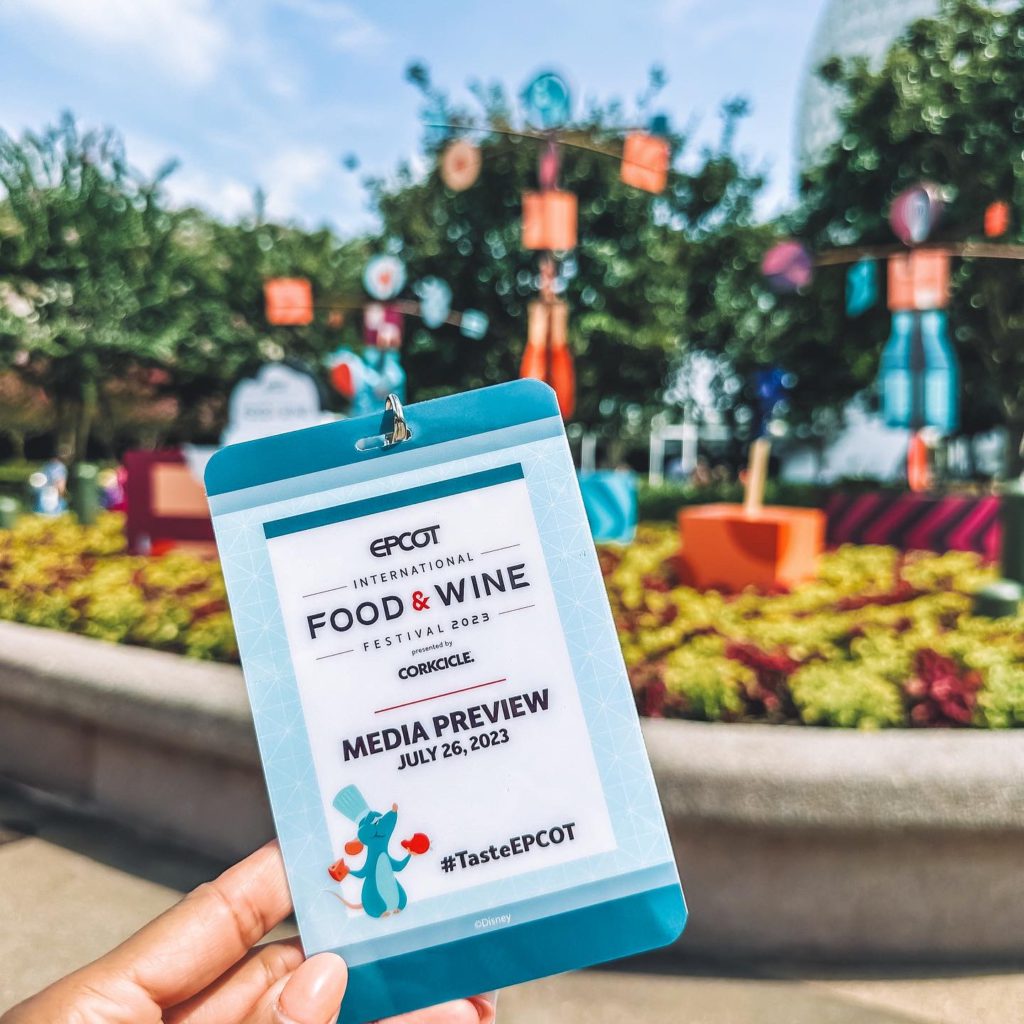 Entertainment
First off, let's start with the entertainment. The Eat To The Beat Concert Series lineup has so many amazing artists and includes new additions of Orianthi, For King + Country, Ruben Studdard with Haley Reinhart, Ayron Jones, Phillip Phillips, Raul Acosta & Oro Solido, and We The Kings.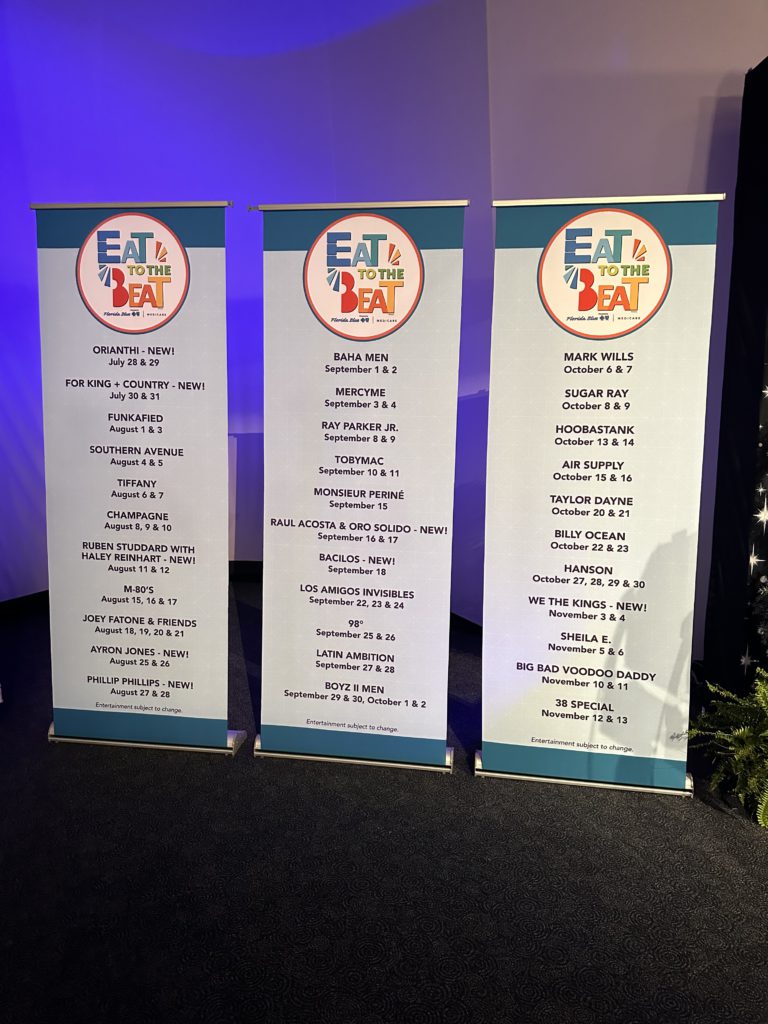 The lineup is also bringing back some returning favorites such as Tiffany, Joey Fatone, Baha Men, Boyz II Men, Sugar Ray, and Hanson, among many others. Make sure to check out the schedule for the bands that you want to see and plan ahead because seats fill up fast!
Merchandise
Epcot is bringing the magic this year with an entire line of Encanto kitchen accessories featuring La Familia Madrigal with Mirabel as the star. We love the casita serving tray and the family of measuring spoons.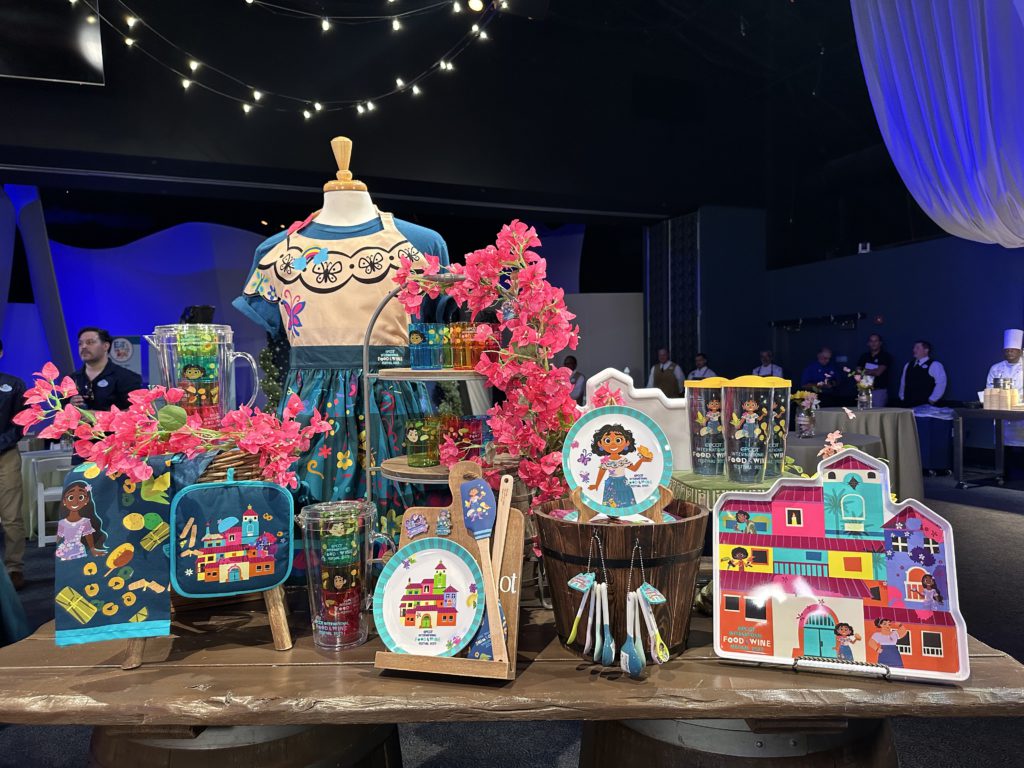 The festival also has a beautiful new line of merchandise icluding a brand new Loungefly bag covered in food items featuring a Spaceship Earth pocket, shirts, tumblers, pins, coasters, and wine glasses, as well as hats and Mickey ears with the new 'Choose Your Course' logo. There is also the Mickey Mouse & Minnie Mouse Picnic Collection which includes a folding tray table, drinkware, Dooney & Bourke accessories and more.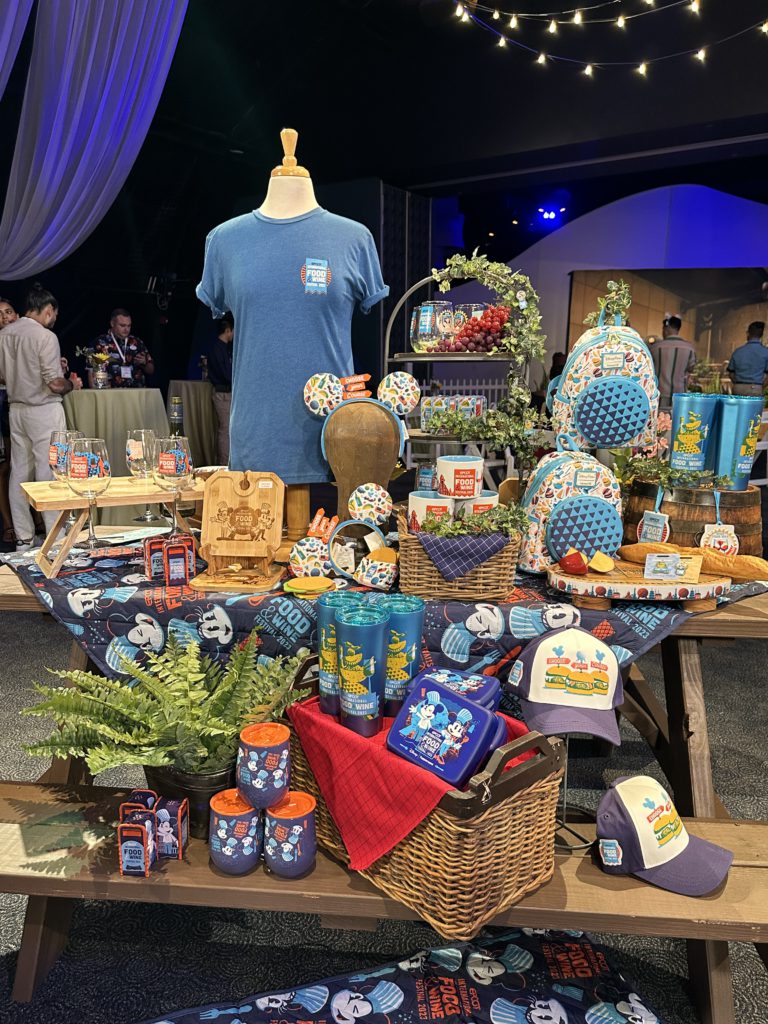 Remy's Ratatouille Hide & Squeak
There is also scavenger hunt featuring Remy that looks like a napkin with silverware folded inside. Kids can search for Remy in the World Showcase and mark his location with the provided ingredient stickers. Once they've completed their scavenger hunt, the map can be turned in for an insulated keepsake bag featuring different characters from the festival!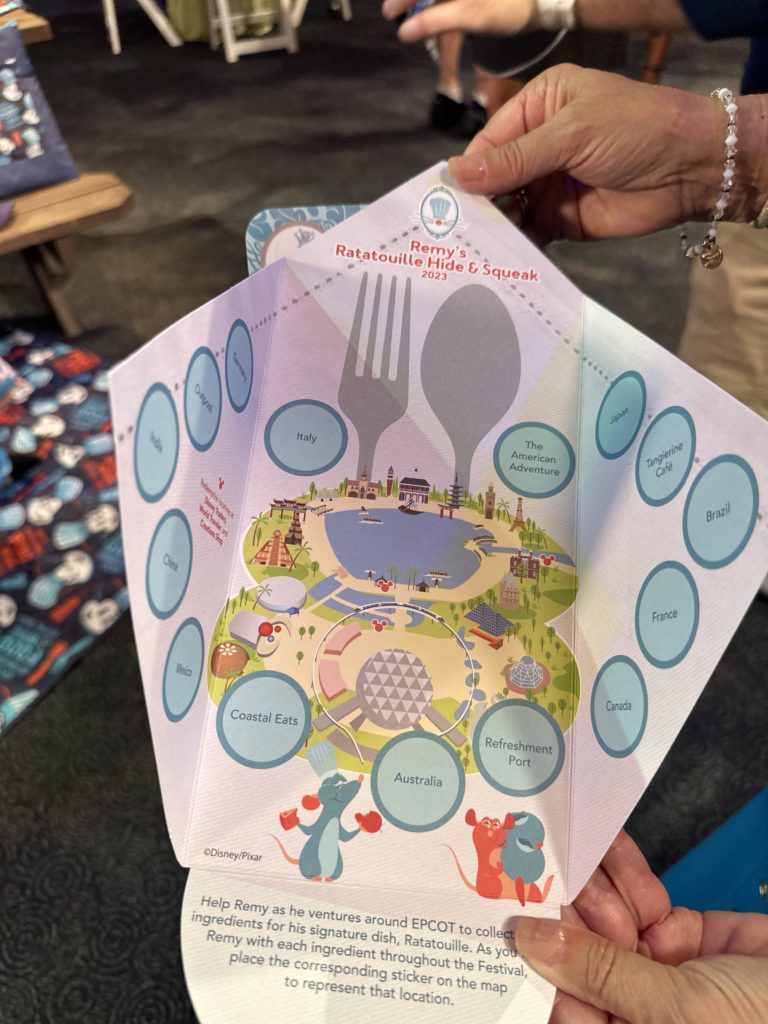 Global Marketplaces
Of course the star of the Food & Wine festival is just that, the food and drinks! We tried so many delicious things and a few that might surprise you.
Starting off with the Impossible Burger Slider with wasabi cream and spicy Asian slaw. This was delicious and packed a punch with the flavors and spices. This can be found at Flavors From Fire.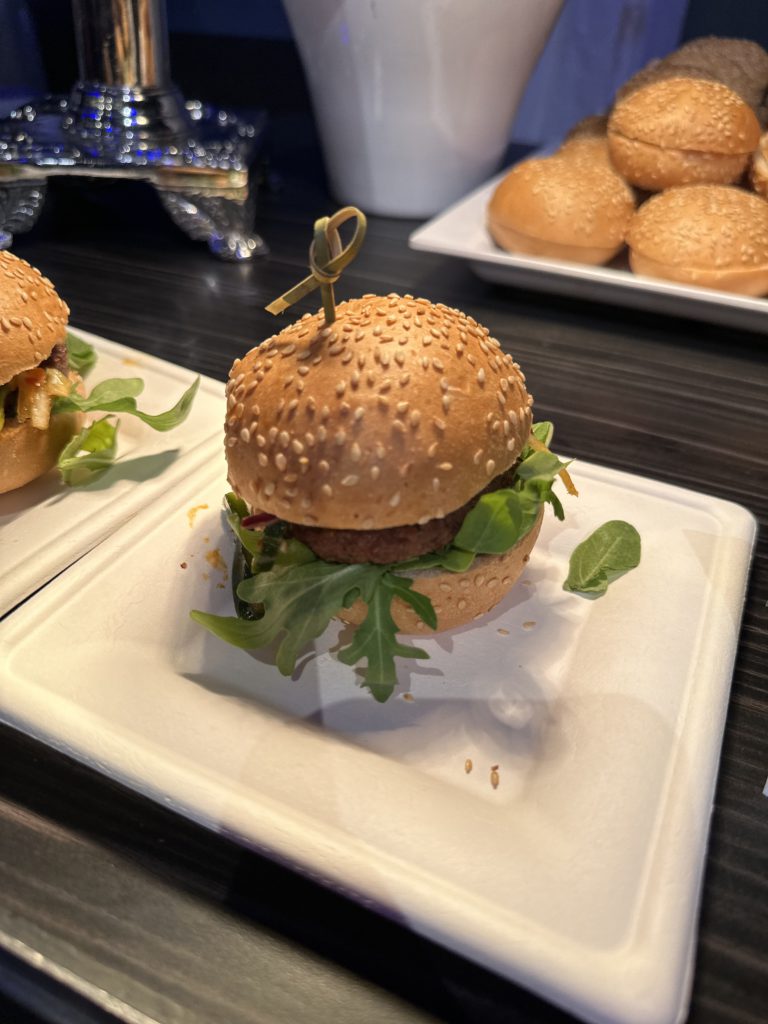 The Remy Liege Waffle from Connections Café is as sweet as it is adorable. The kids will love this one!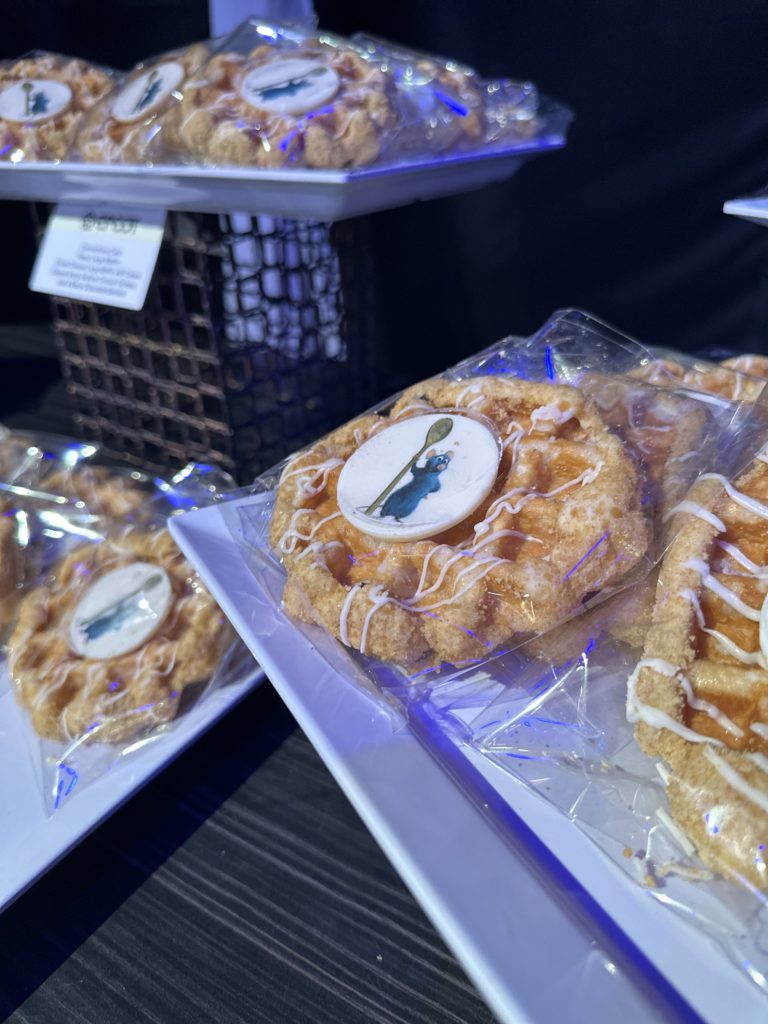 The Flavors of America booth features an Italian Hot Beef Sandwich with shaved beef, spicy giardiniera, and au jus on a French roll. This was so good and hit the spot of a classic comfort food.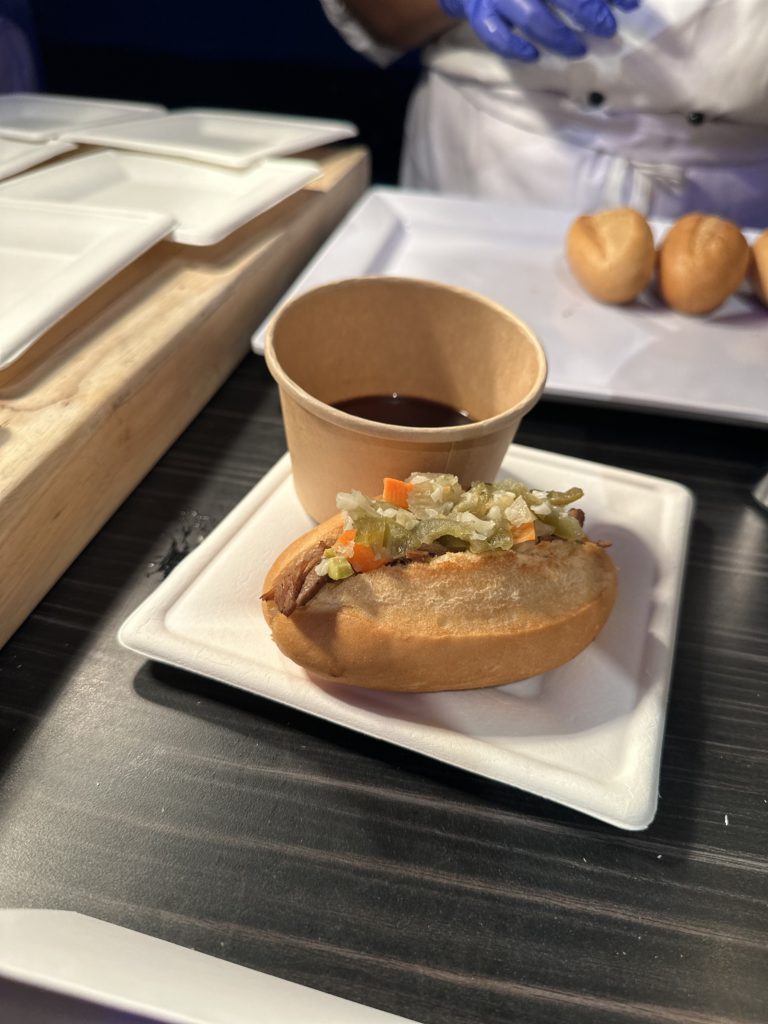 We also tried so many amazing things from Brew-Wing inside the Odyssey. This is a must stop because of the adorable new Muppets theme inside!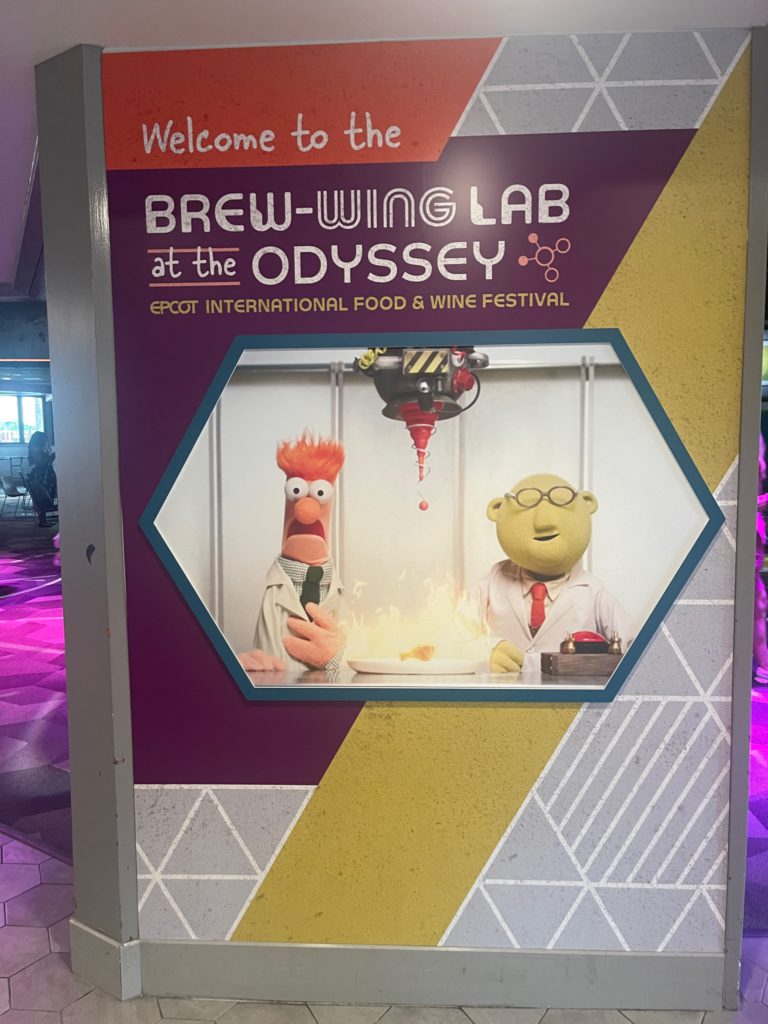 We started with the Buffalo Brussel Sprouts with plant-based blue cheese and ranch. This is a great vegan option and very tasty. We then decided to move on to the wings.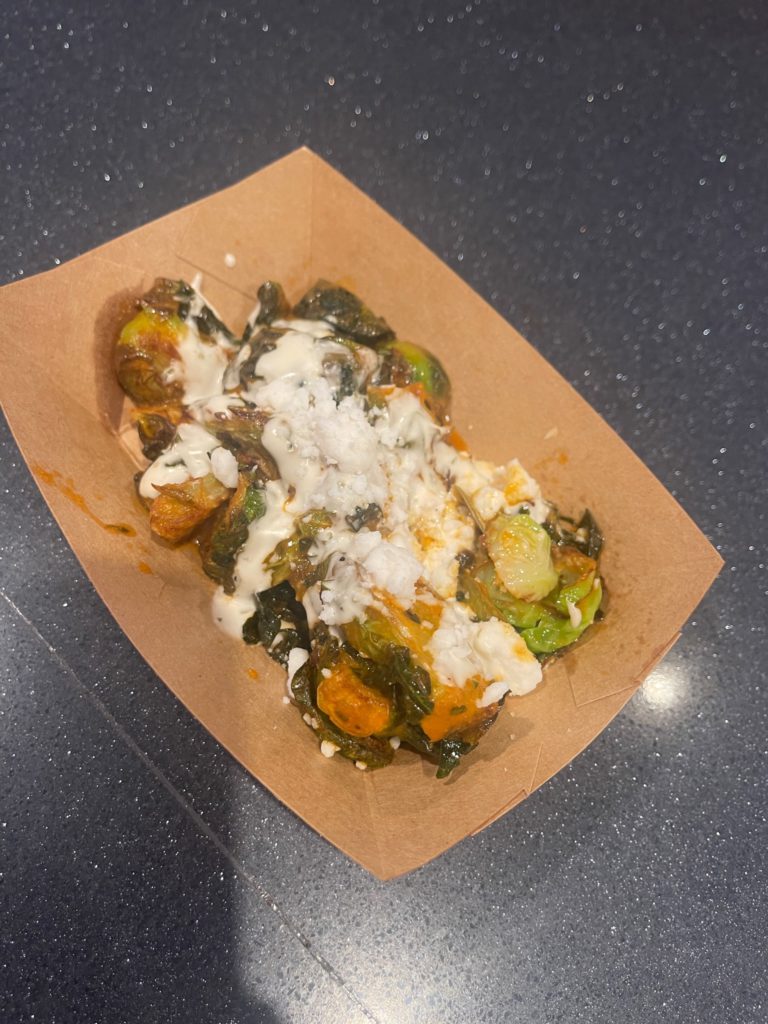 We tried the Peanut Butter and Jelly Sticky Wings, the Garlic-Parmesan Wings, the Unnecessarily Spicy, Yet Extremely Tasty Scotch Bonnet Pepper-Curry Wings, the Orange Cardamom Wings. Oh, my goodness!
They were all amazing, but our favorites were by far the Peanut Butter and Jelly and the Orange Cardamom. They both had so much flavor and unexpected combination profiles that blew us away.
For the heat lovers, the Unnecessarily Spicy Wings are exactly what they sound like. Proceed with caution! If you do choose to try them, you'll need a cold drink to cool your mouth down. We suggest the Frozen Fusion which is a slushy made from Twinnings Pomegranate Tea and Raspberry Herbal Tea, topped with orange ice cream molecules.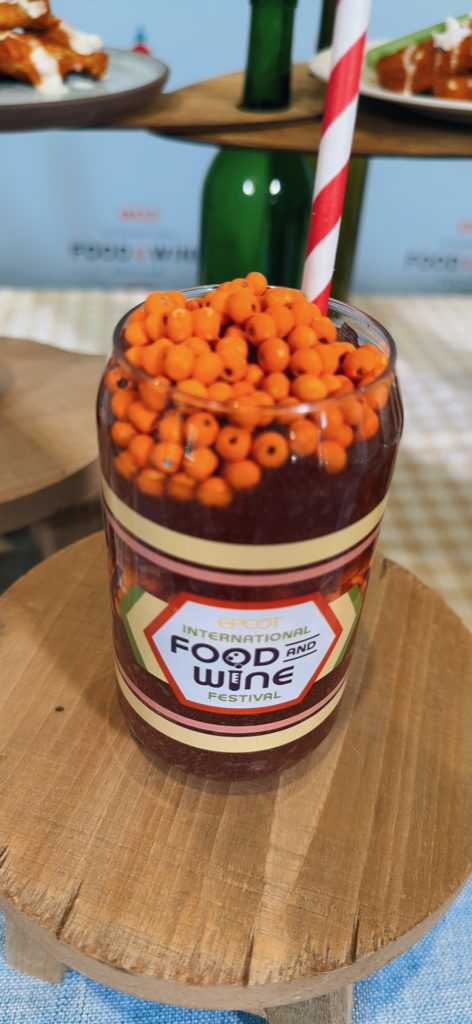 If you are feeling adventurous, why not give the Pickle Milkshake a try? You'll be surprised at the flavors. While you definitely taste the dill, you won't find that vinegar tartness here. More than anything I tasted very mild savory flavors of pickling spices and garlic. The creaminess of the shake mellowed out the flavors and we were shocked by how much we enjoyed this!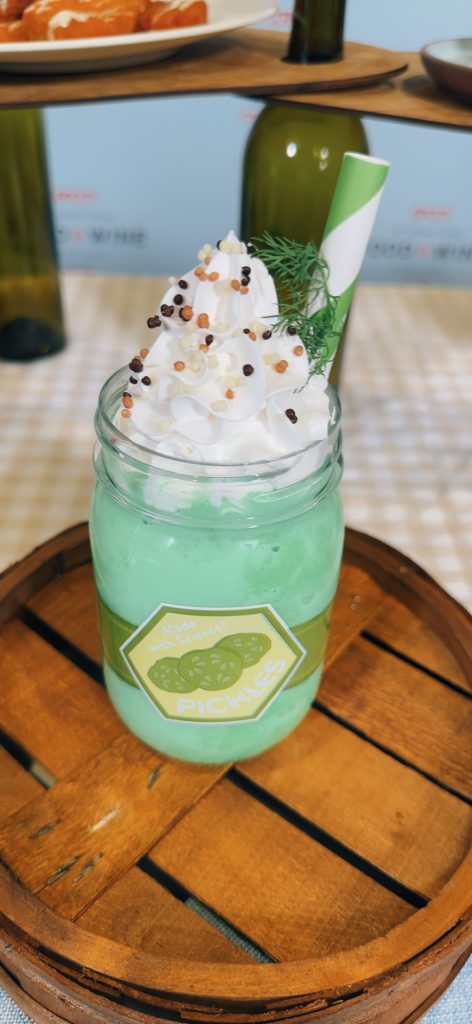 If you are looking for something a bit stringer, we recommend the cider flight. It's samplings of Tropicolada Hard Cider, Peach Berry Hard Cider, and Raspberry Lemonade Hard Cider.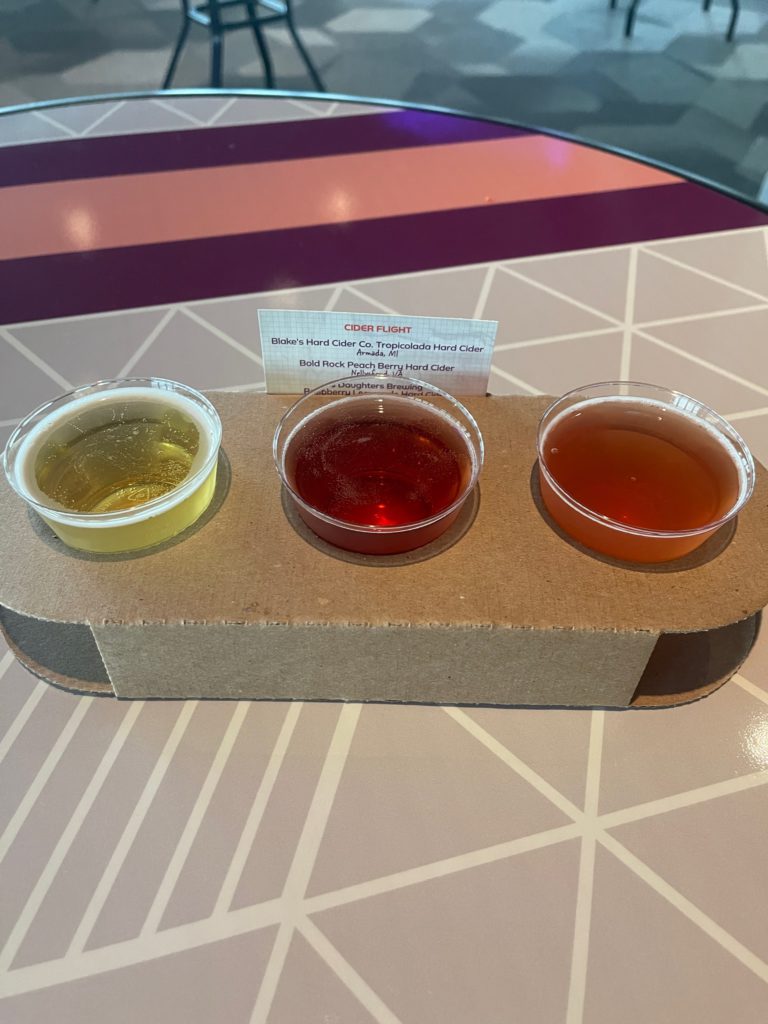 We also loved the Taco de Costilla which was braised beef on a fried corn tortilla with salsa de chile morita and avocado mousse.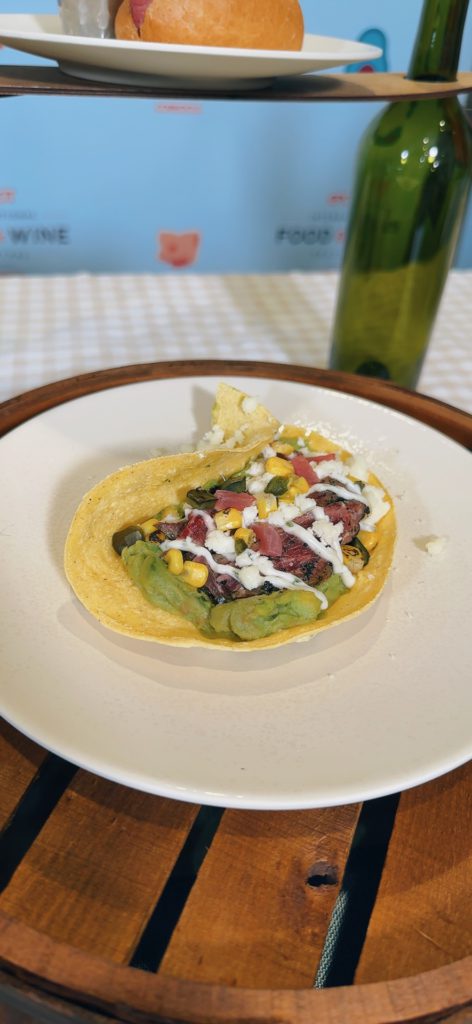 Another stand out dish is actually a dessert and a crowd favorite. It's the Pistachio Cake with Cinnamon Pasty Cream and Candied Walnuts from Tangerine Café in Morocco. It's not too sweet but absolutely delicious. Plus, its totally Instagram worthy with its beautiful mosaic topper!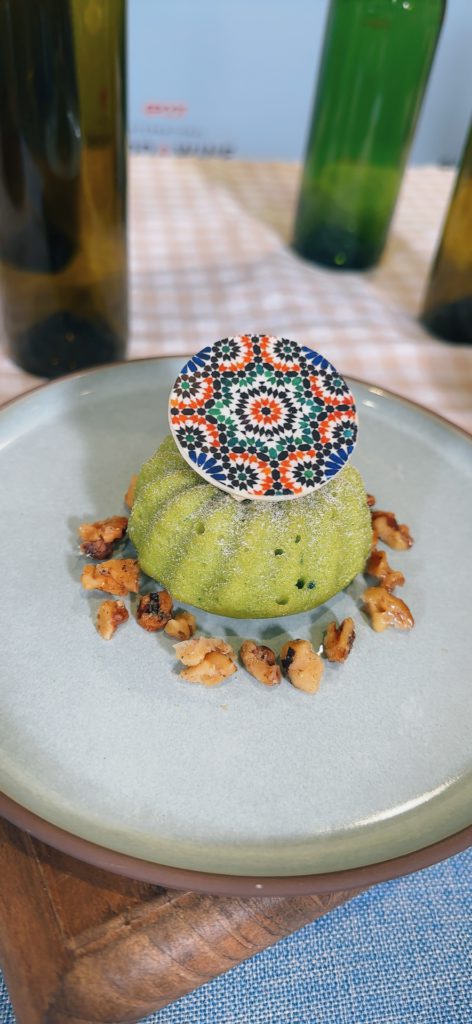 The Beer-Braised Beef with Smoked Gouda Mashed potatoes will hit the spot for the meat and potato lover in your group. It can be found at the Belgium booth.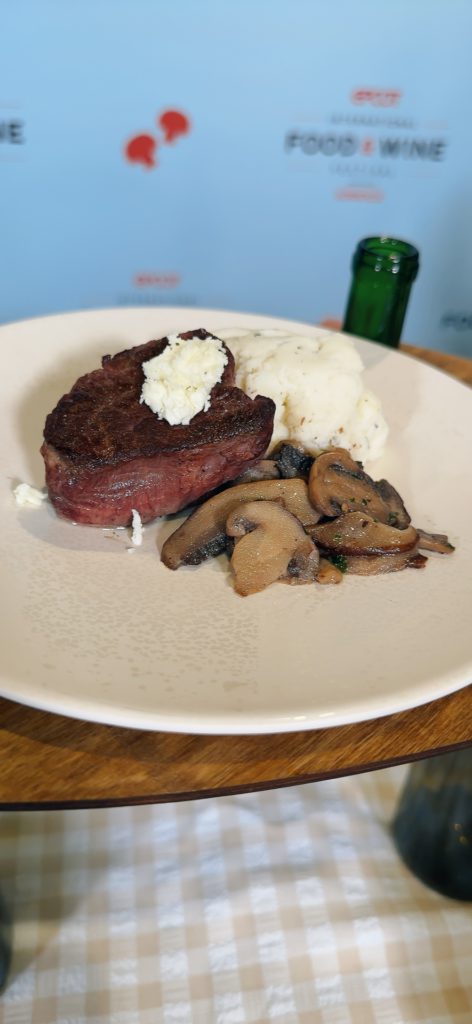 For the seafood lovers, don't pass up the Cioppino. It's seafood stew with saffron-infused tomato-fennel broth and sourdough crostini.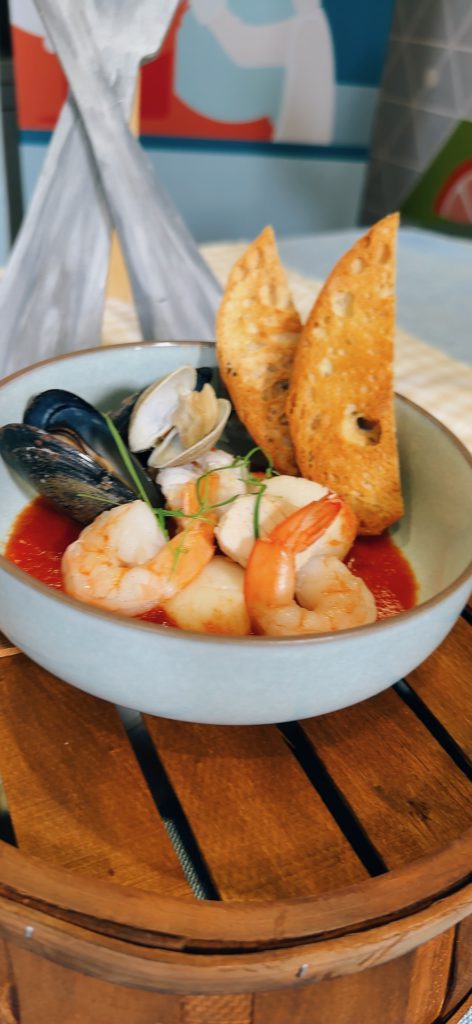 We had such an amazing time sipping and savoring all of the delicious items and exploring everything that the festival has to offer. Thank you so much to Disney Parks for having us.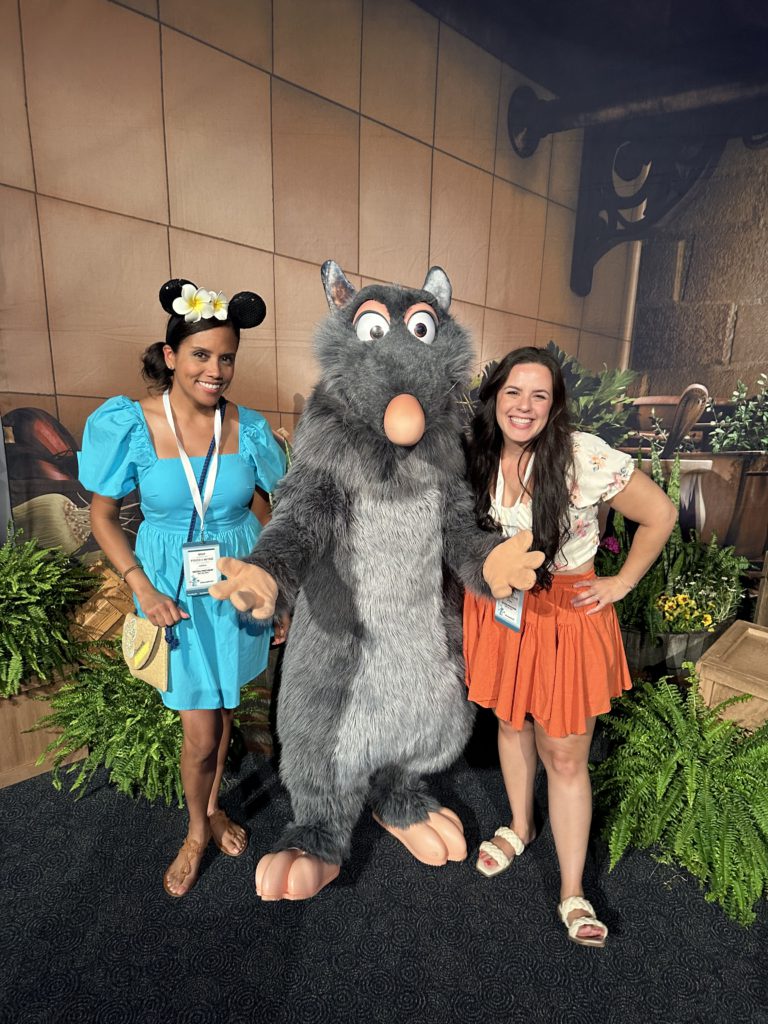 Don't miss your chance to check out Epcot's International Food & Wine Festival open now through November 18, 2023!