There are so many ways Walt Disney World makes your vacation just a little bit more special, and a few of those happen to be some of the best dessert parties around (you can read about my previous dessert party here). It seems I've taken it upon myself to try as many as I can, with my most recent one being the Star Wars Galactic Spectacular Dessert Party!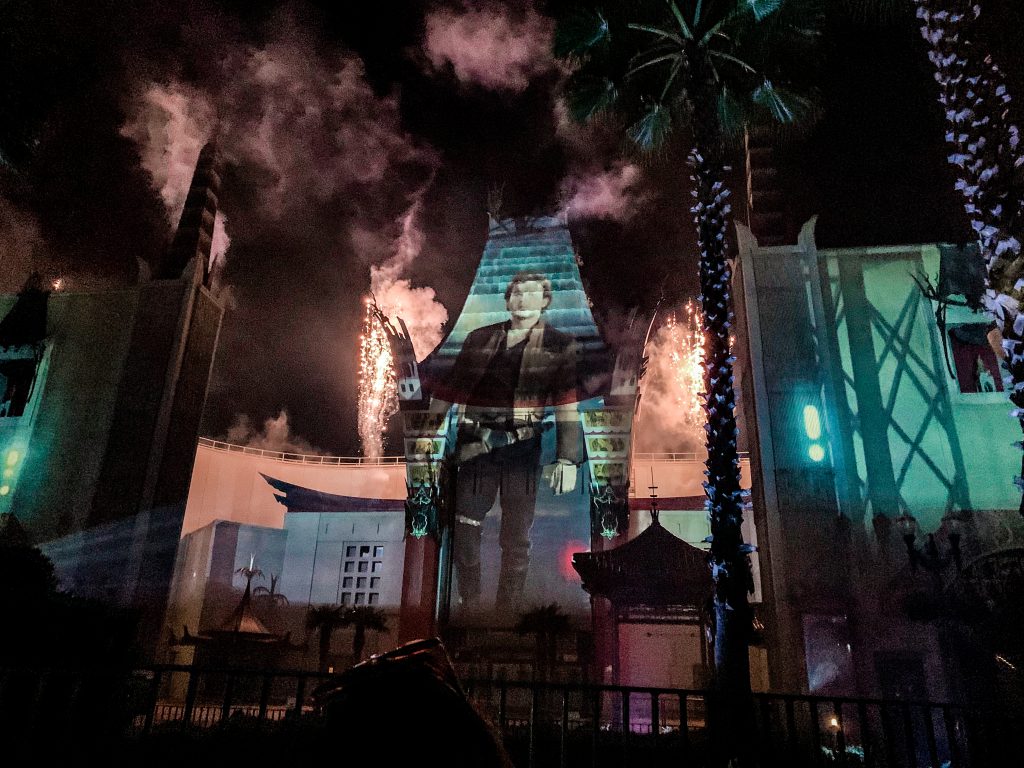 For those not familiar with this special event, it takes place inside the Star Wars Launch Bay, includes unlimited savory snacks, desserts, non-alcoholic and alcoholic drinks. You are also assigned an exclusive viewing area for both of the nighttime shows. Tickets are $79 per adult and $49 per child (ages 3-9).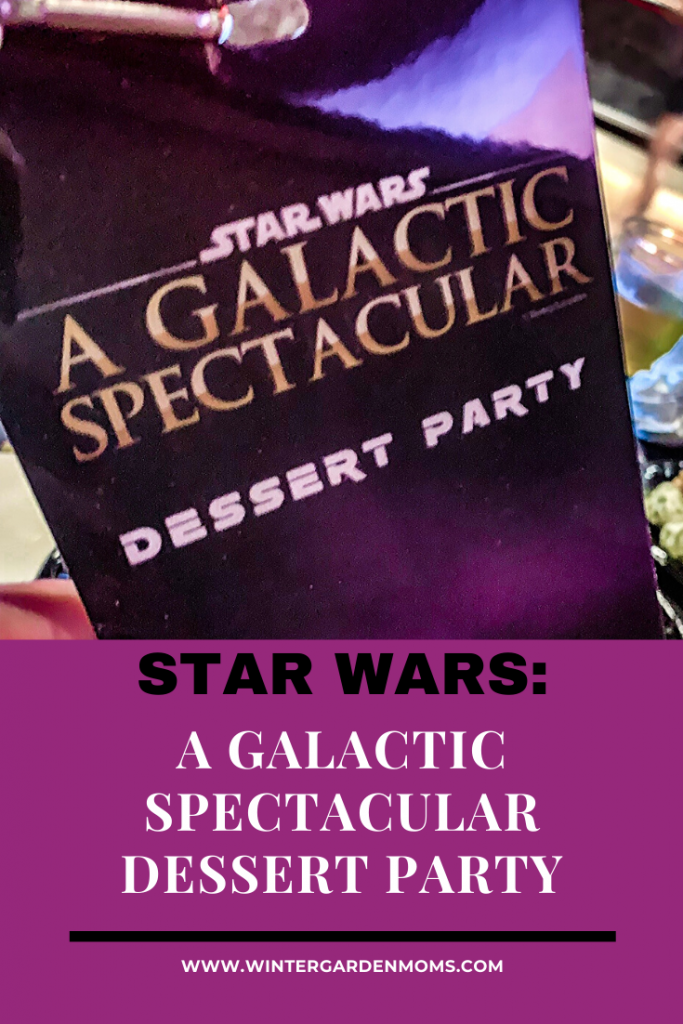 Arrival
Our party began promptly at 7pm, but before heading there we arrived about an hour and a half earlier and grabbed a small dinner at the Hollywood Brown Derby. I highly recommend always arriving early to these dessert parties. Not only do you get the most out of the event but many times (as it was the case with this particular one) they start earlier than scheduled, which means you are able to start enjoying the food and drinks for much longer!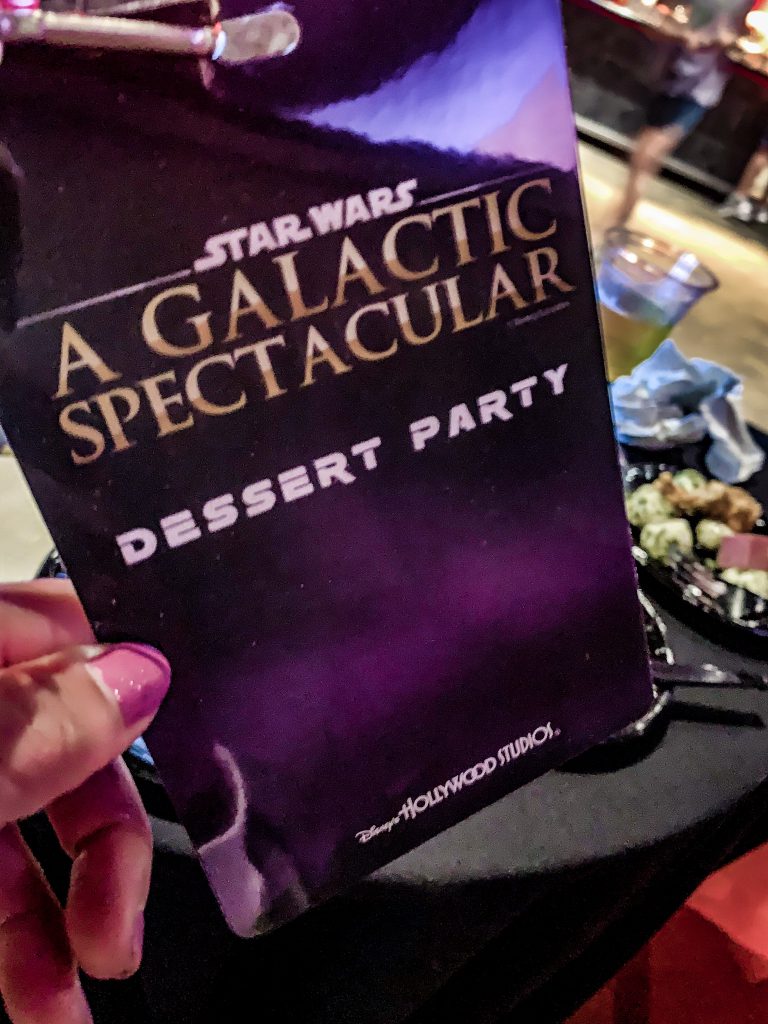 We arrived at the Star Wars Launch Bay to find a Cast Member standing right by a cart and podium handing out the event lanyards and doing check in. He informed us that these lanyards must be worn at all times, especially when using the restroom since the only one available was outside the event location. He also proceeded to give us thorough information of everything that would take place during the event.
Location
The event is set up right by the meet and greet area inside the Launch Bay, with the tables starting on the right side, just as you go down the steps. There is another check in point before you can head inside to the party area, with a cast member ready to assign you your own table.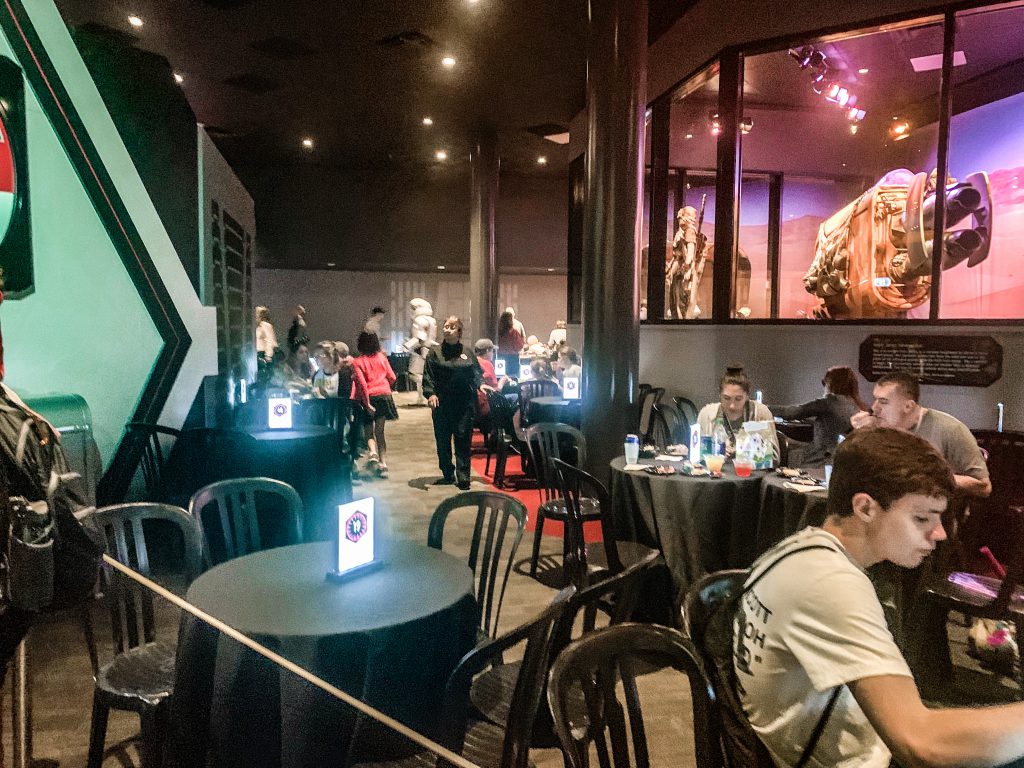 However, we did not get a chance to pick our table. Luckily, the reserved seating worked to our advantage and we were assigned one right by the desserts! Having our own table and a place to sit down already made for a great experience, especially since we had our young daughter with us.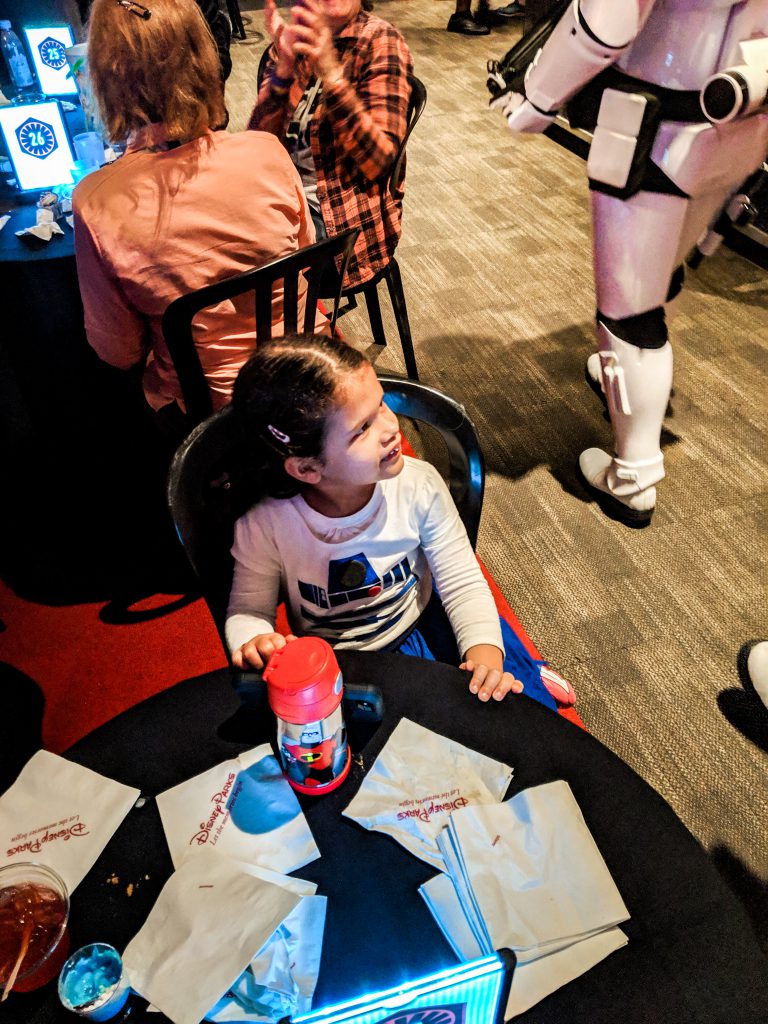 The Desserts
The dessert options are amazing! There were so many to choose from, in addition to two entirely separate smaller dessert stations.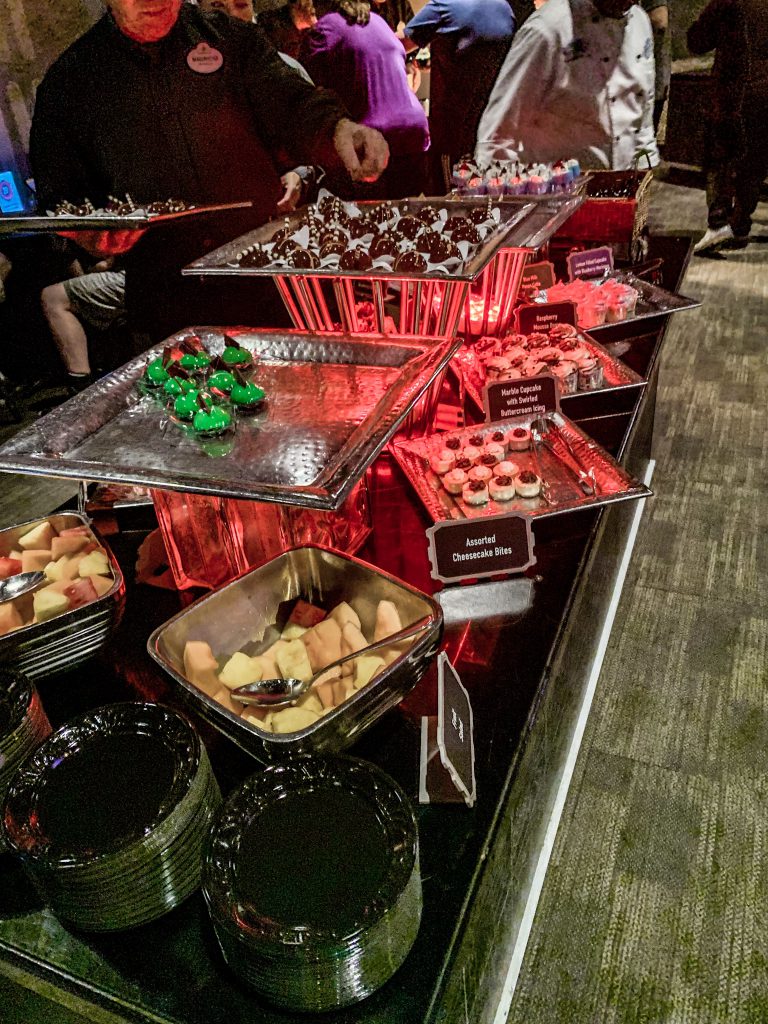 Some of my favorites included a Marble Cupcake with Swirl Buttercream Icing and a Lemon Filled Cupcake with Blueberry Meringue.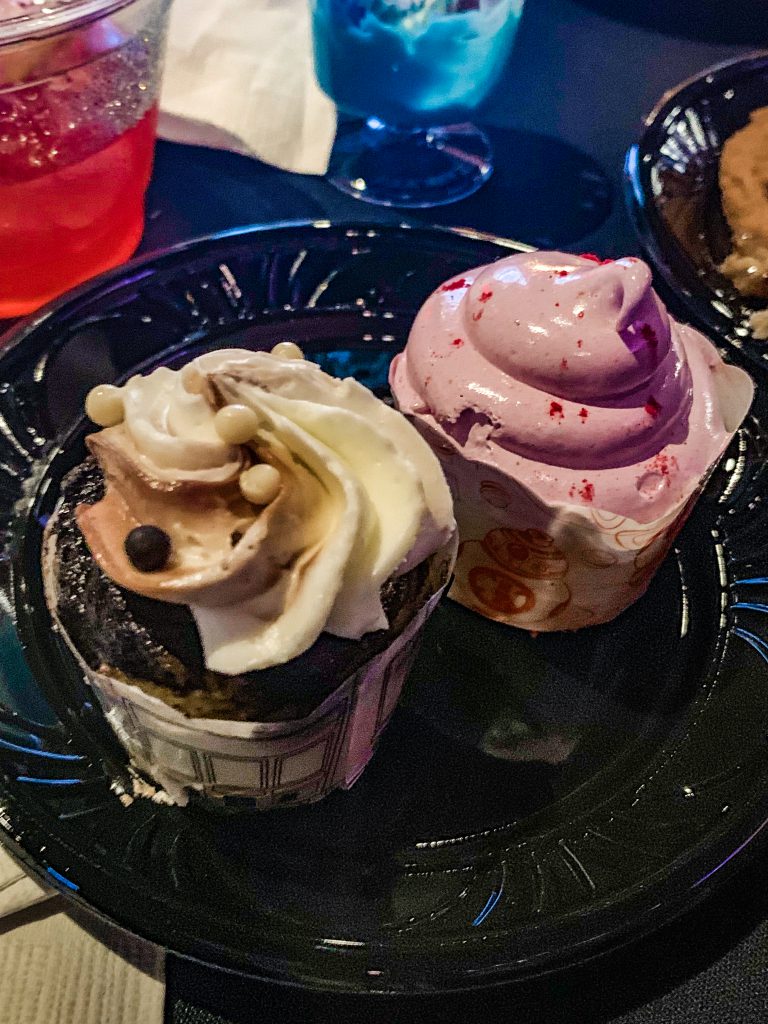 Many of the mini desserts were themed beautifully to match the overall look of the party, and all were definitely worth a try.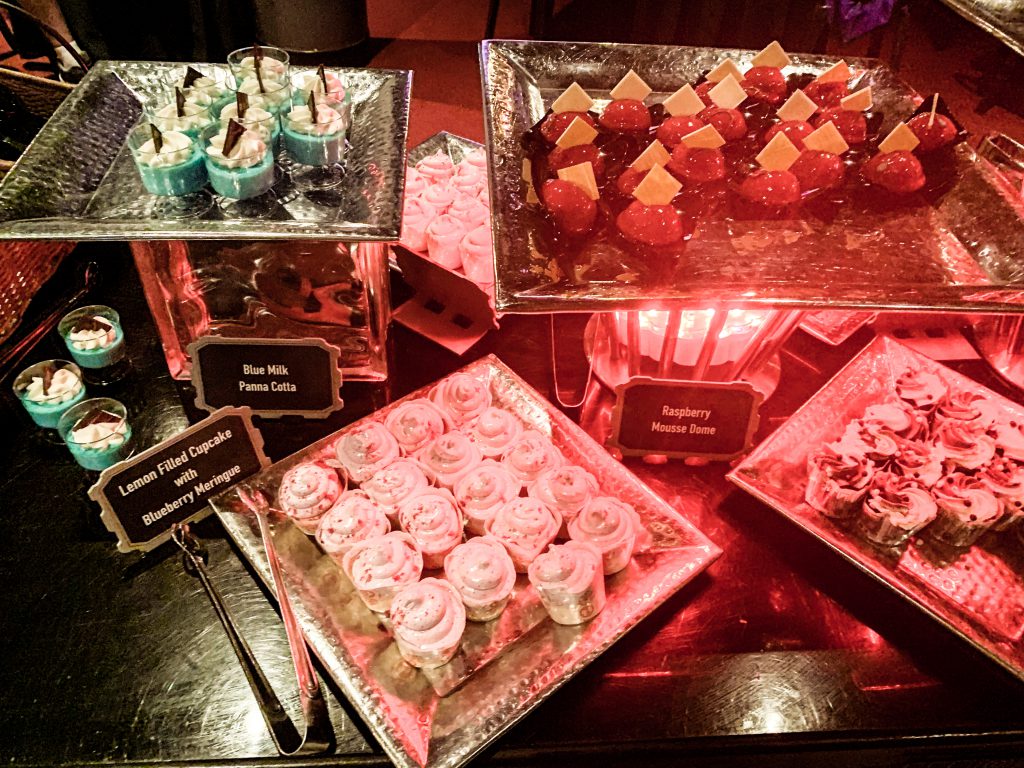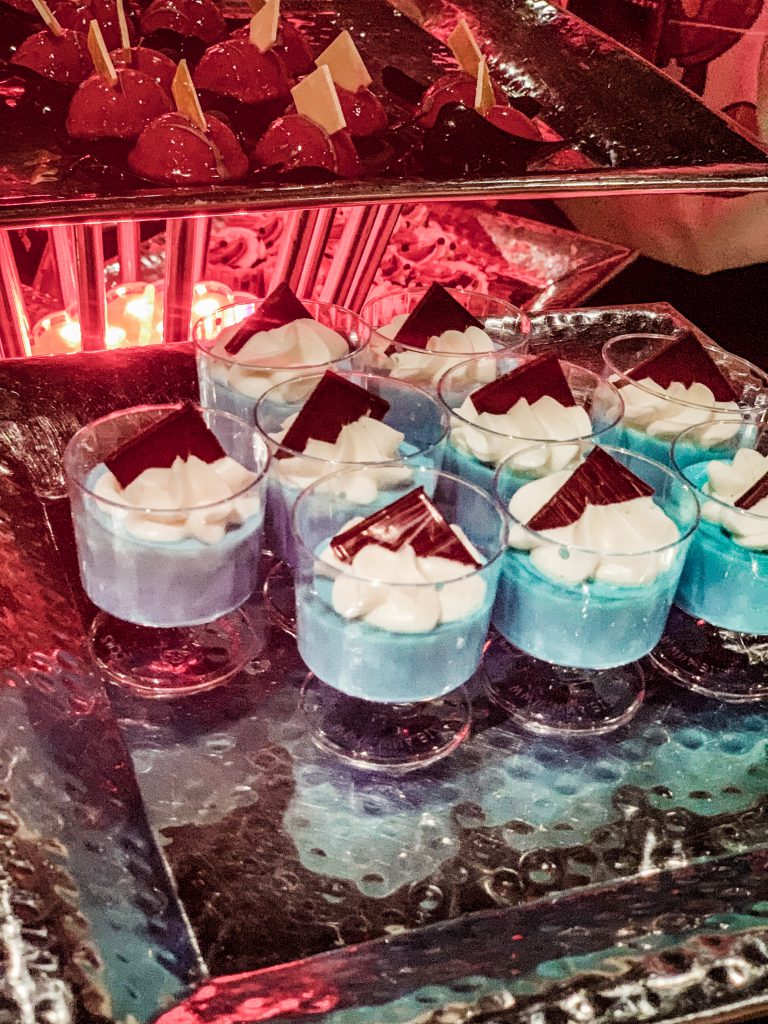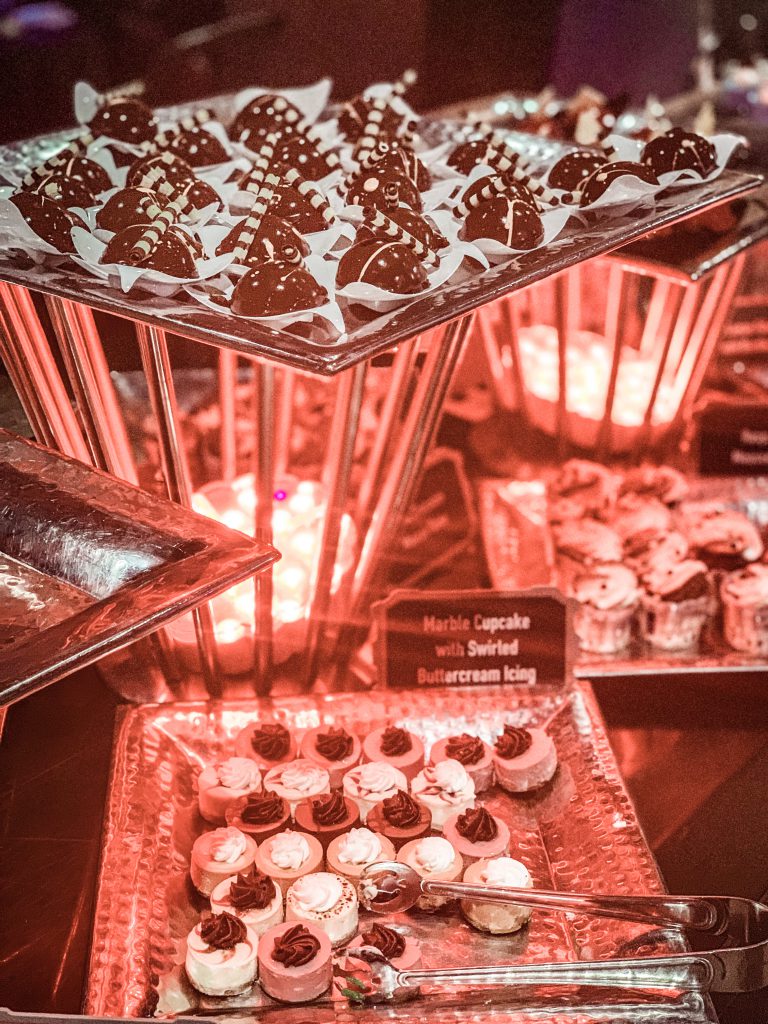 One of the additional dessert stations was an amazing freeze-fried chocolate hazelnut truffle station, complete with additional options of toppings and sauces. It was pretty fun to watch the process, as the scoop was dipped into a pool of liquid nitrogen. This was definitely my daughter's favorite dessert!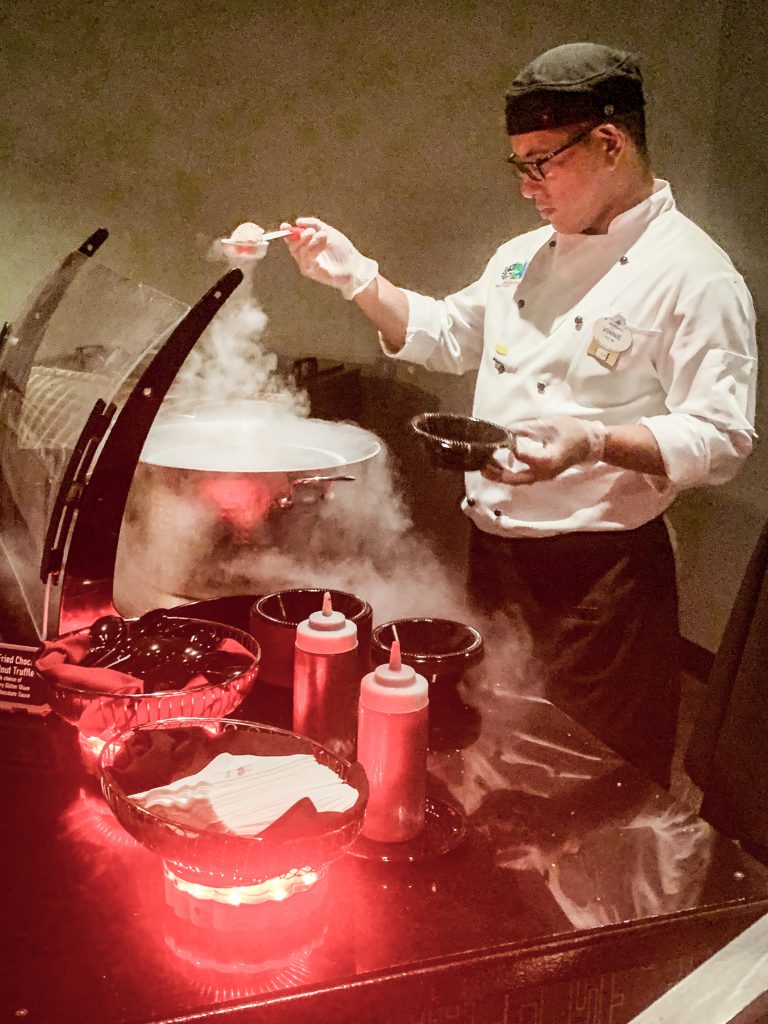 The last dessert station featured the most amazing bread pudding I've ever had! It was served warm, with additional toppings including a vanilla sauce, making this the most delicious thing I tasted all night!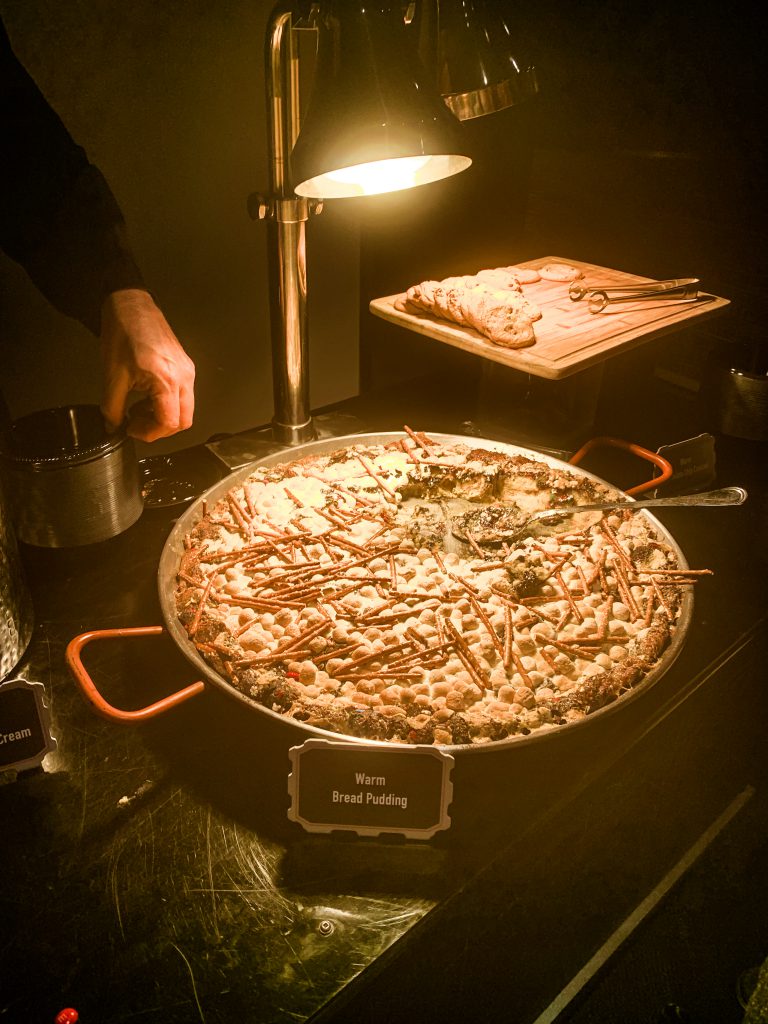 As always, there was a selection of savory snacks, which included cheeses, hummus, dips, fruits, flatbreads, and prosciutto.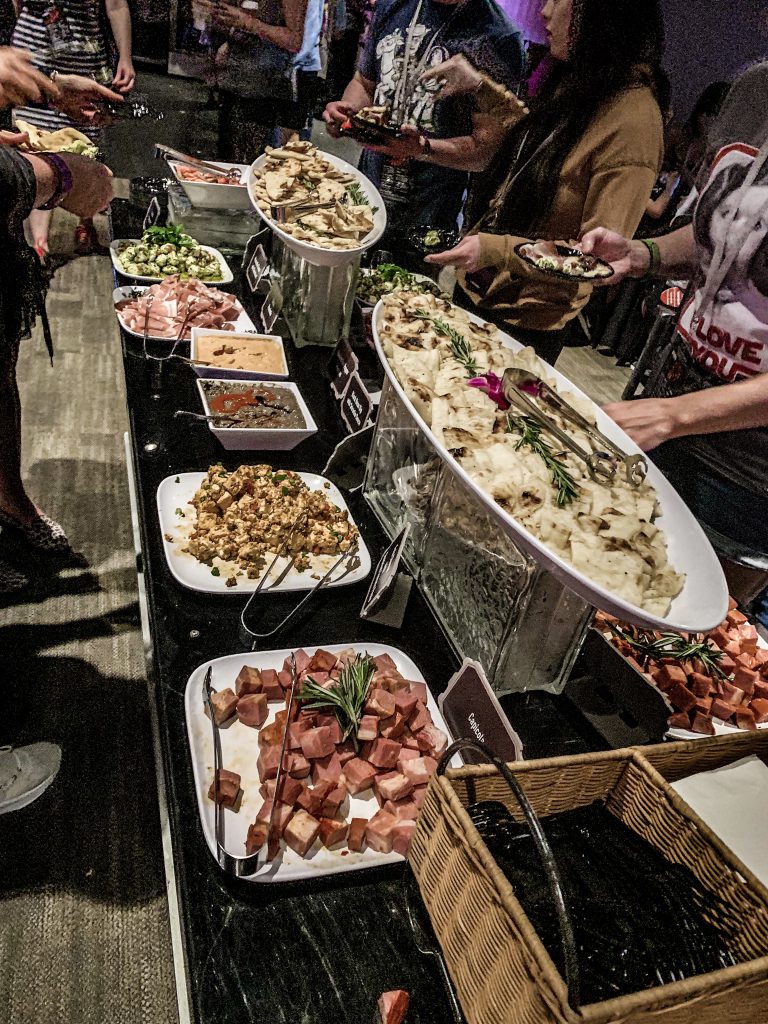 The Drinks
An unlimited selection of non- alcoholic drinks was available, which included water, juice, and soda. For those looking to try some alcoholic specialty drinks there were also unlimited alcoholic beverages. I absolutely loved the Light Speed Margarita! The others included the Galactic Punch and the Cosmic Citrus Twist. Some nice options of beer and wine were also available.
Entertainment
The Stormtroopers "patrolling" the party were just plain awesome. They stopped at tables, interacted with the guests, posed for photos, and pretty much added that extra special touch to the whole night.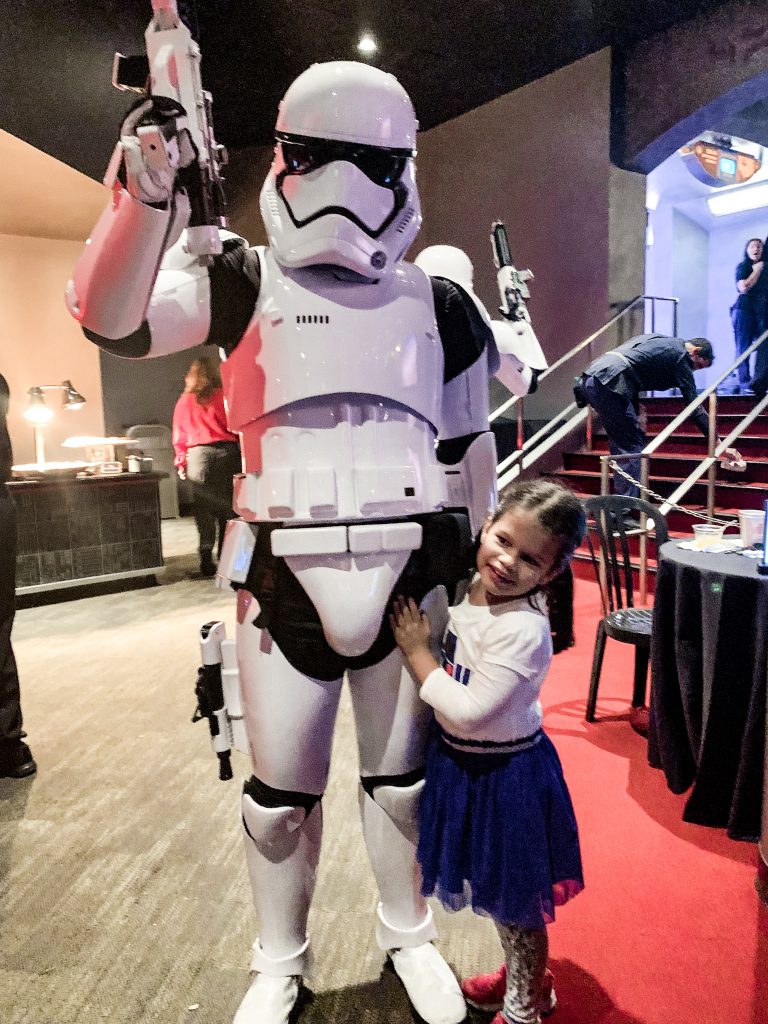 You even get a special time slot where Kylo Ren is available to see party guests only. We opted out of this part of the experience since my little one wasn't interested but it's definitely a nice addition. To top it off, they continuously have the Star Wars theme music playing in the background as well.
One thing to note is that the regular meet and greets are also available during the event but are open to all park guests as well. However, due to the time of the party, meet and greet wait times were shorter. My daughter really wanted to go see BB-8 so we headed there first on our way to the restrooms and only waited a total of 5 mins. We were the only ones in line!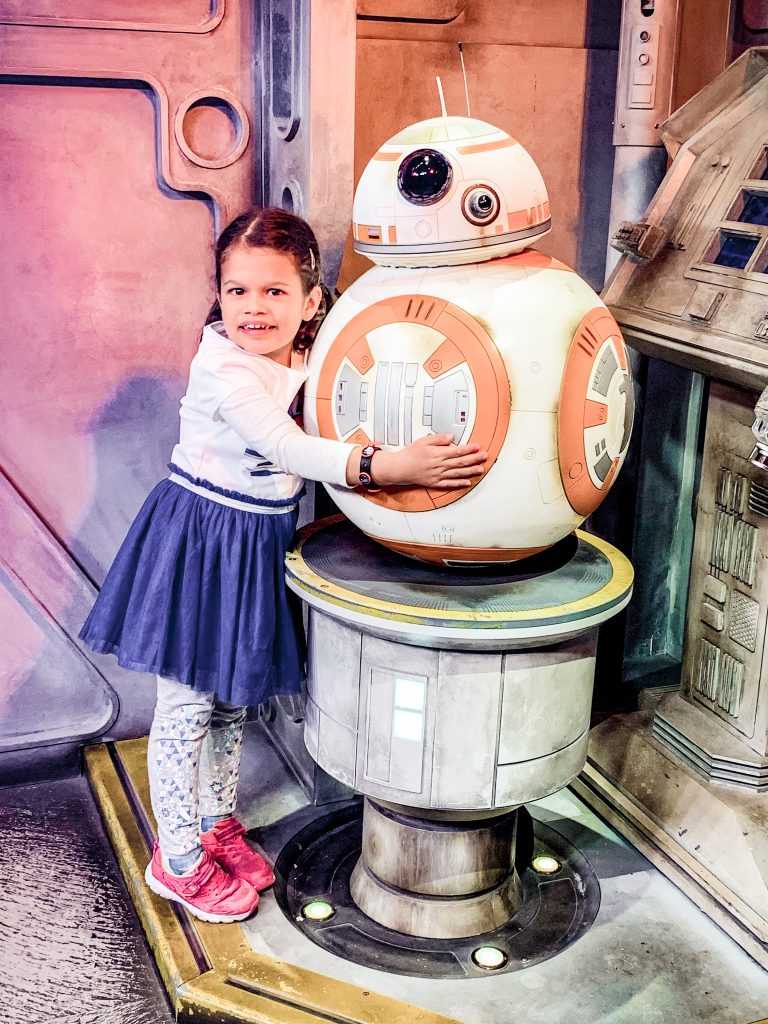 Souvenirs and Fireworks
Earlier we had been informed that we would be expected to line up around 7:50pm outside the Launch Bay in order to be escorted to the exclusive viewing area for the fireworks. About 10 minutes before the nighttime show started, Cast Members passed by and informed us it was time to head out. We were allowed to take any drinks or food we wanted with us but would not be allowed to return once we left the party location.
As you form a line and begin walking to the exit, you are given a special souvenir (we each received a Darth Vader stein) and a small bottle of water. Then we grabbed our stroller which had been parked outside, and followed the rest of the guests (and Stormtroopers) to the reserved viewing area. One thing to note, if you happen to be some of the last people in the line as you enter the viewing area, you may end up sitting right up in the front.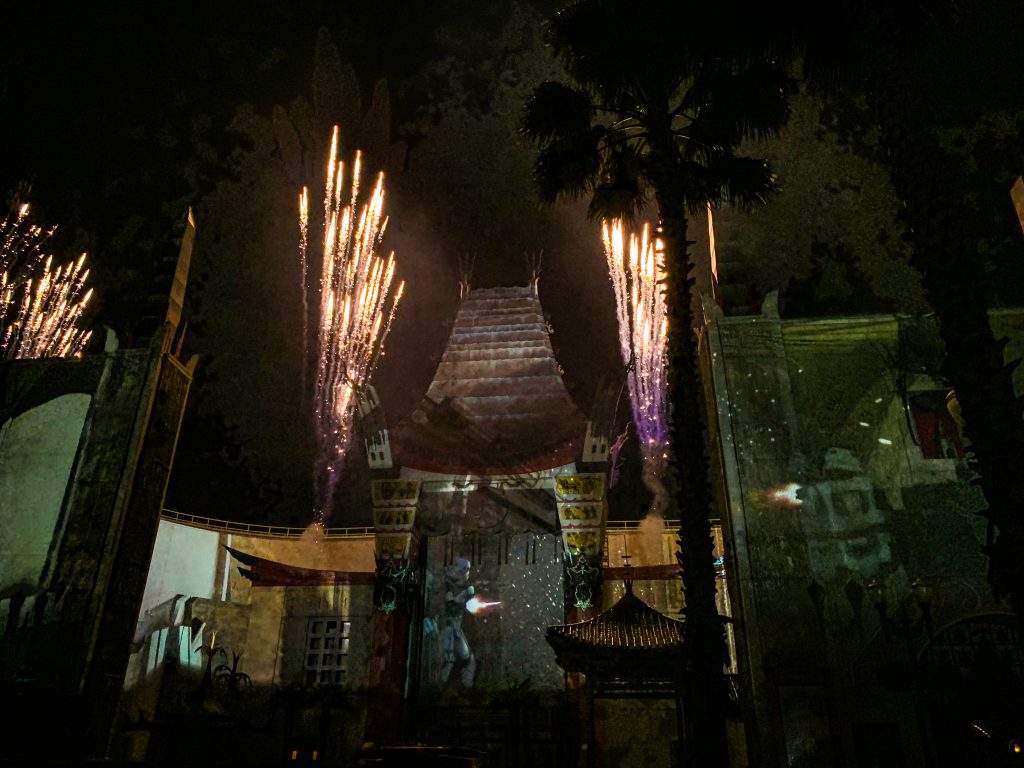 We had never seen the nightime show at all, and had never experienced the Star Wars fireworks show up this close before, so to say that it was amazing is an understatement. My daughter had never seen any of these shows before and she was in awe of how close the fireworks seemed!
Is It Worth It?
In my opinion, YES, it is! Between the two dessert parties I've attended so far, you honestly get the most for you money in this one. Although the price is a bit high and you get about 50 mins of actual "party time," the food and drinks selections are great. The theme and experience throughout is excellent, from the character interactions and attentive cast members, to the souvenir stein and exclusive fireworks viewing area. It is truly a well rounded event for the whole family that offers you the most for one price. My family and I had an amazing evening and would even consider returning again in the future!