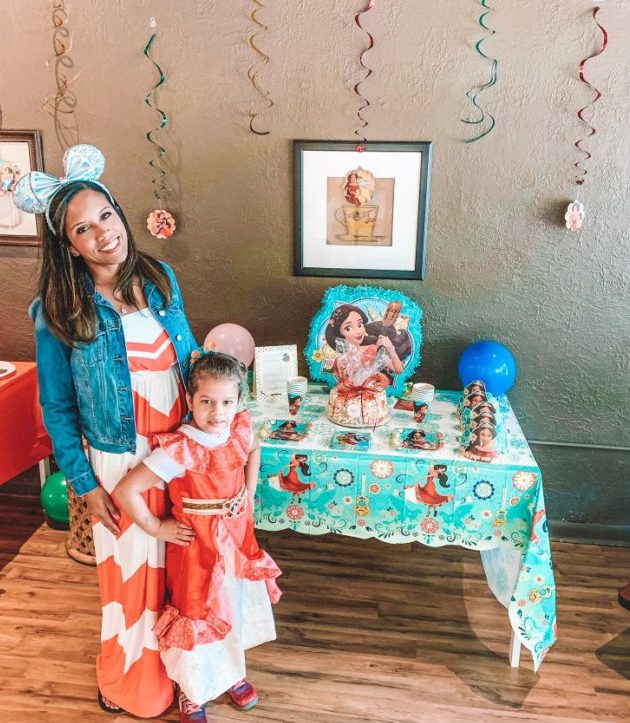 It's pretty much a fact that little ones love parties, playdates, and Disney, especially my own little princess, so when I found out I had been selected to host a #NowMoreThanEver Disney Playdate Party, I could barely contain my excitement!
With so many new events taking place at Walt Disney World right now, it's such an exciting time to visit. Whether you're planning a Disney themed party at home or your first family trip to Walt Disney World, read on as I share with you how you can bring home the magic of Disney and all the magical experiences that await you at Walt Disney World.
Decor
We received the most magical package in the mail from Disney, filled with tons of wonderful goodies which included Elena of Avalor party decor and their newest Magic Mirror Metallic Minnie Ears. Honestly, you can never go wrong with a Disney themed party because everyone's bound to find a character they love!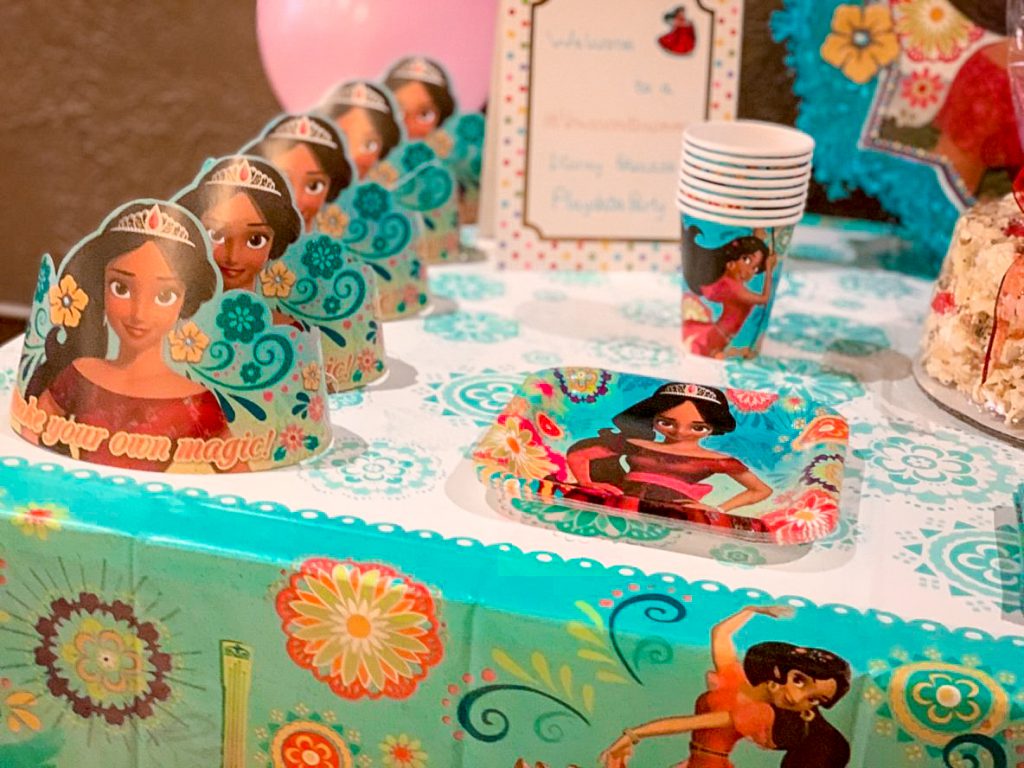 Included in the package was a tablecloth, cups, plates, napkins, decorations, balloons, paper tiaras, stickers and even a piñata! Many of these Disney themed party supplies are also available at Target, Dollar Tree, Party City, and various other retailers.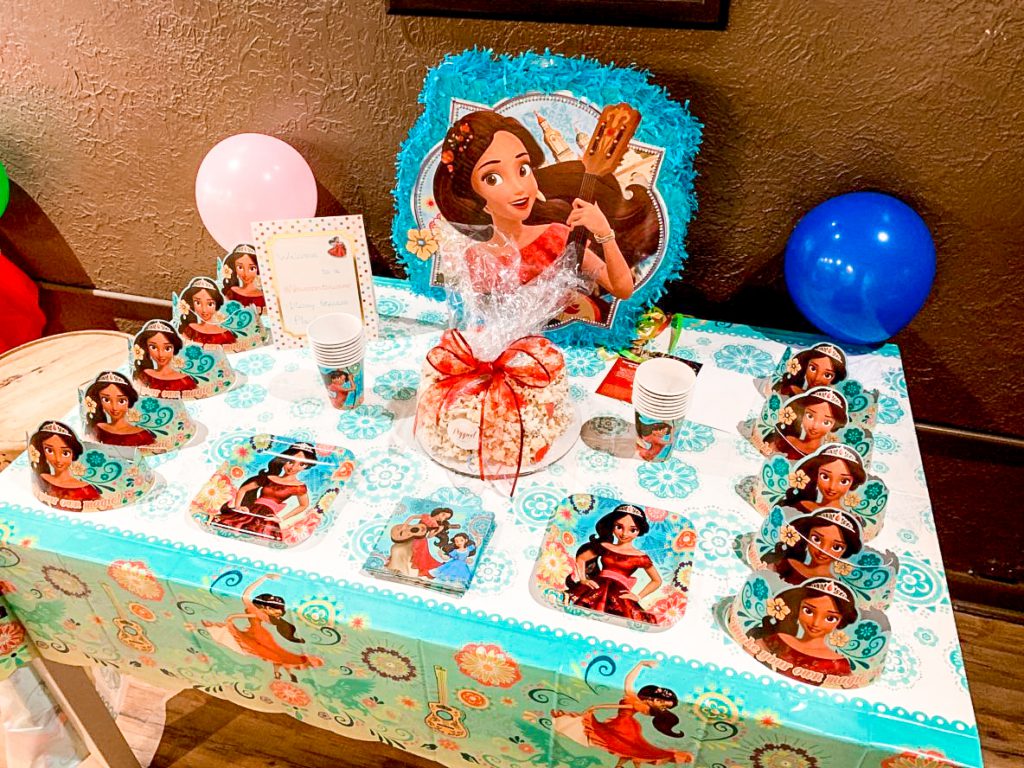 Snacks
Since I'll gladly take any excuse to use my Mickey cookie cutter, I kept the snacks simple by making Mickey-shaped PB&J sandwiches. I also provided the kids with Goldfish Crackers (the Mickey Mouse and Toy Story themed bags were a hit), as well as fruit juice and water.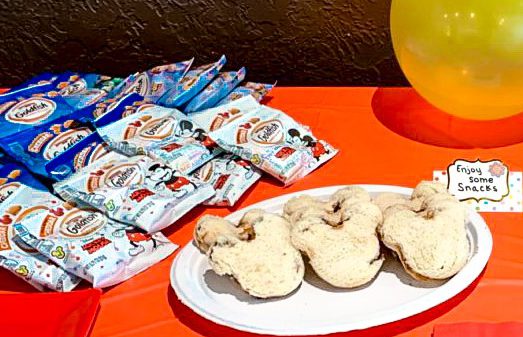 We also received a coupon for a Michael Angelo's frozen meal in our package. Their frozen dinners have the amazing taste of a home cooked meal without having to spend hours in the kitchen. One of our favorites so far has been the Baked Ziti with Meatballs and we can't wait to try more!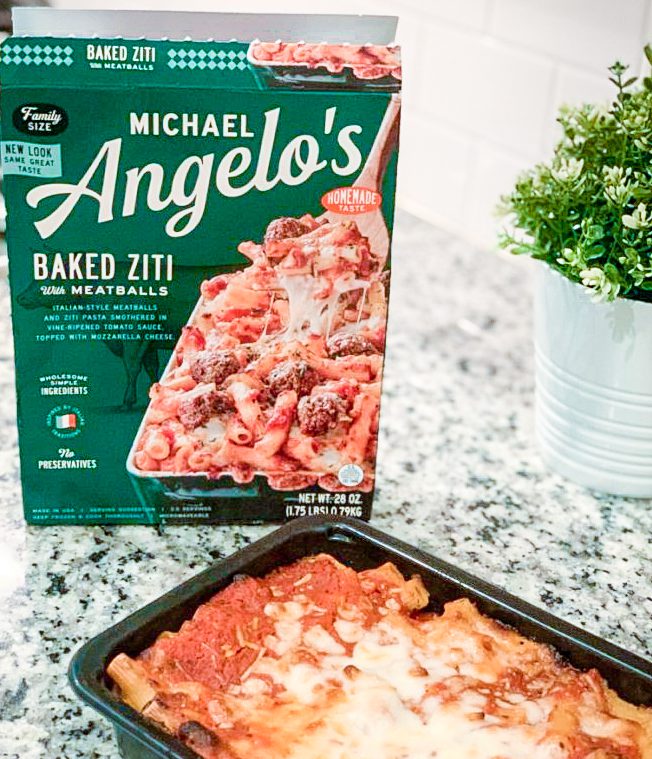 Activities
I drew inspiration from the Bibbidi Bobbidi Boutique and set up a table with foam wands, bracelets, rings, necklaces, and Elena of Avalor stickers to welcome all the little princesses as they arrived.
They absolutely loved being able to choose accessories to add to their royal outfits.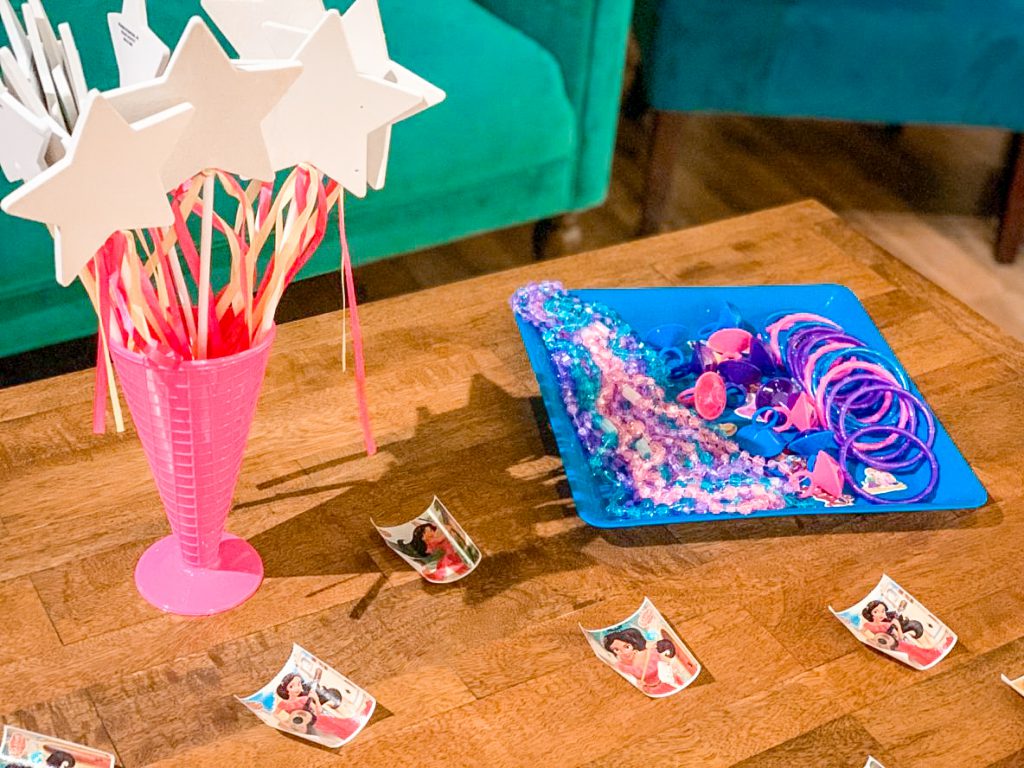 The first activity consisted of arts and crafts. Disney coloring pages, crayons, markers, stickers and mini maracas provided the perfect entertainment while guests continued to arrive. Since Elena is known for playing the guitar, I made guitar cutouts out of styrofoam for them to decorate as well.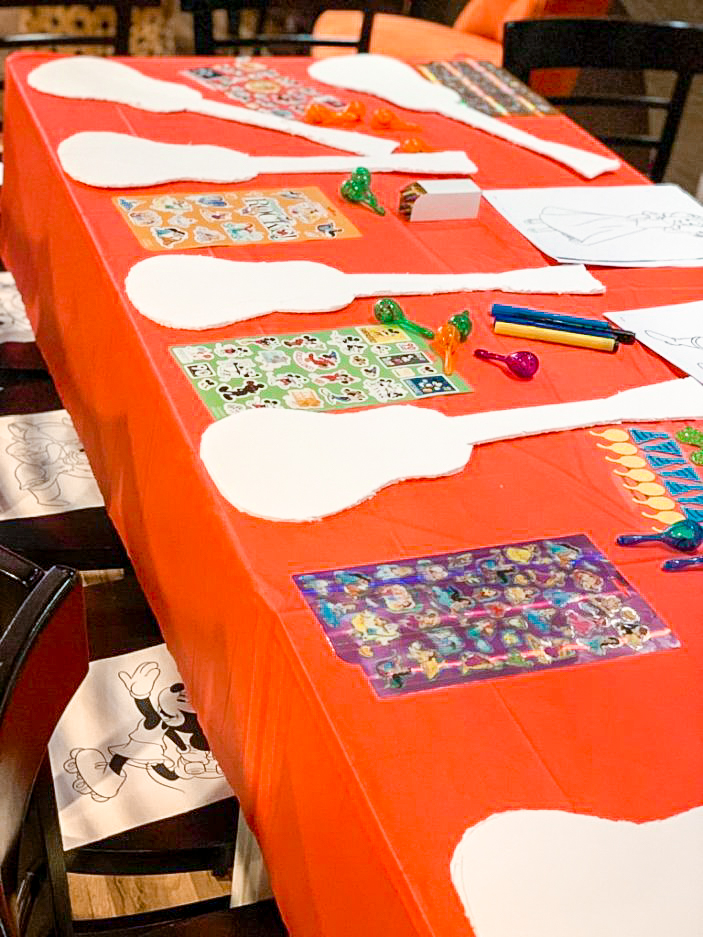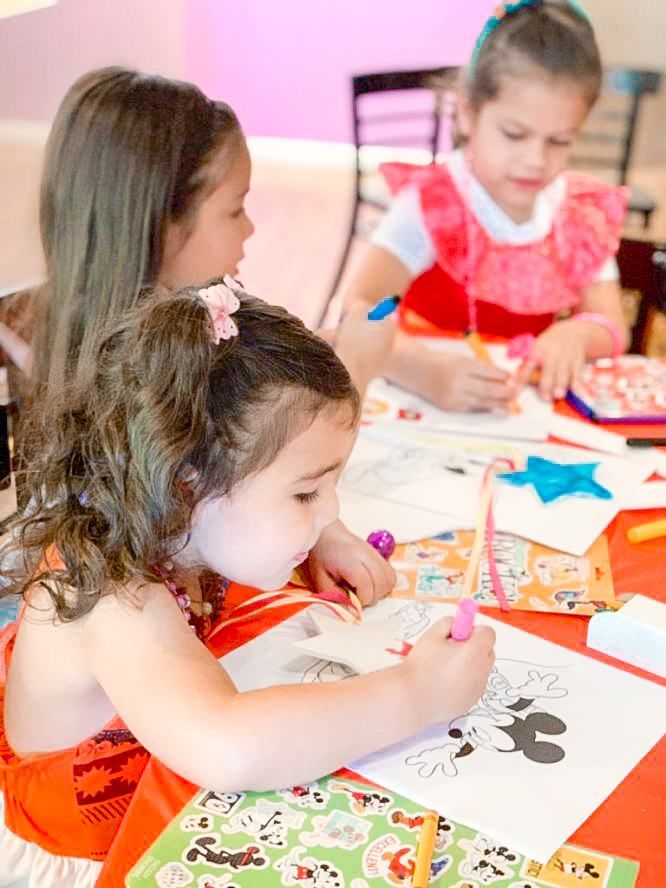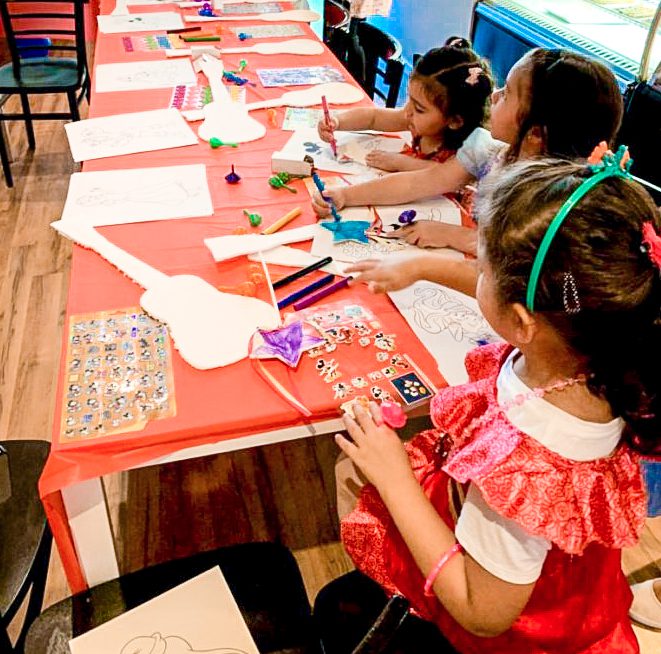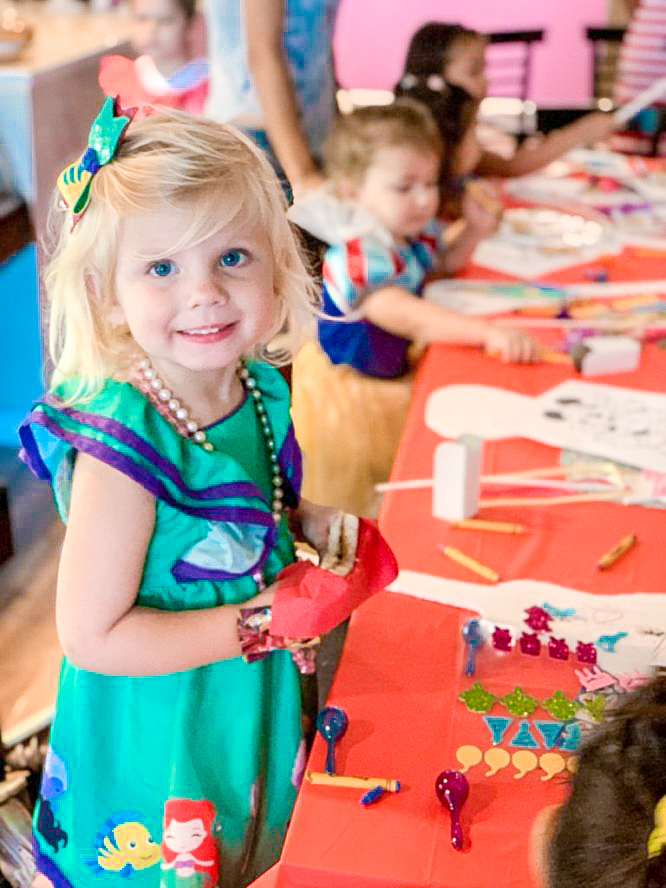 Disney also sent us some fun games including "Pin The Crown" on Elena of Avalor, a printable Disney Fab Fortune Teller Activity and Magic Match Game, and of course, the beautiful piñata which I filled with candy.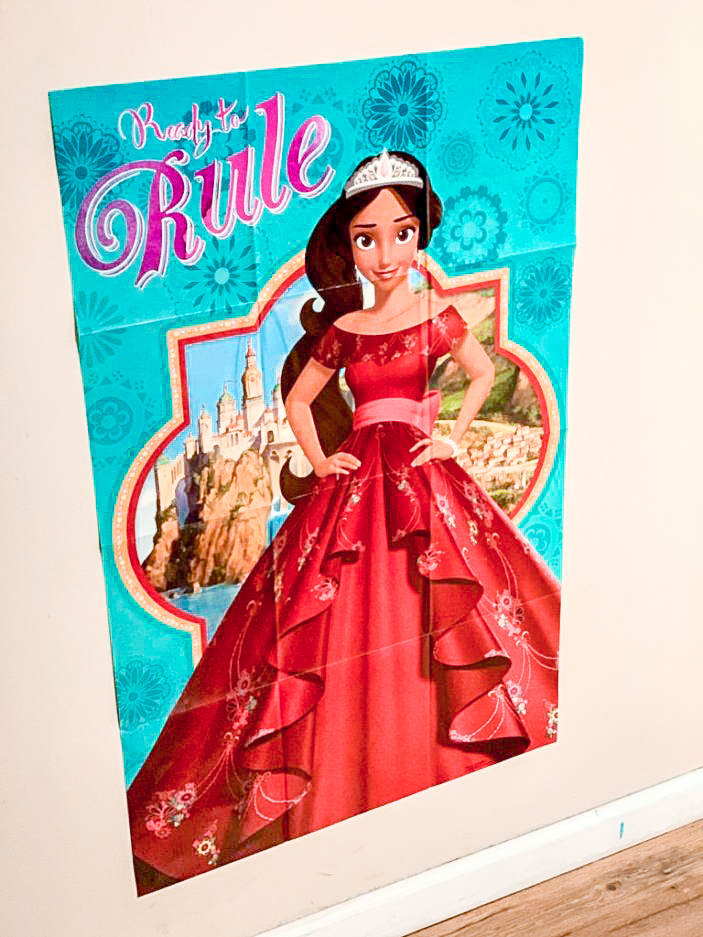 Desserts
Popped Passion sent us a delicious popcorn cake filled with candy, topped off with sprinkles and a hidden Mickey made out of Oreo's.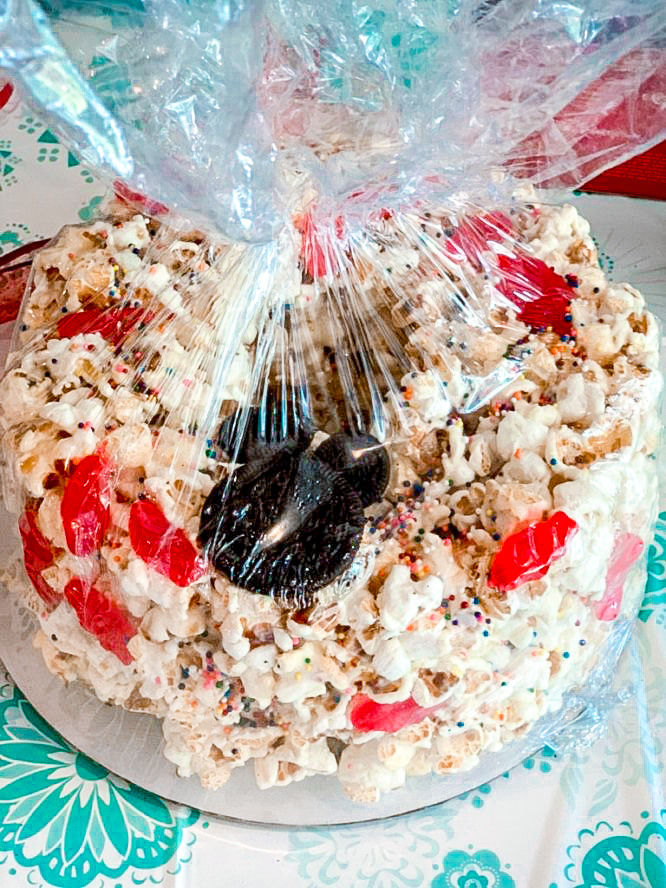 These popcorn cakes are amazing because they slice like a cake and are as yummy as a marshmallow treat! You can customize them to your liking and they come beautifully packaged in clear wrap and matching bow.
We also had a blast decorating cupcakes made by our amazing venue sponsor Chef Maria at Way Chocolate & Coffee. The kids really enjoyed this activity and it's definitely a great idea for any playdate party!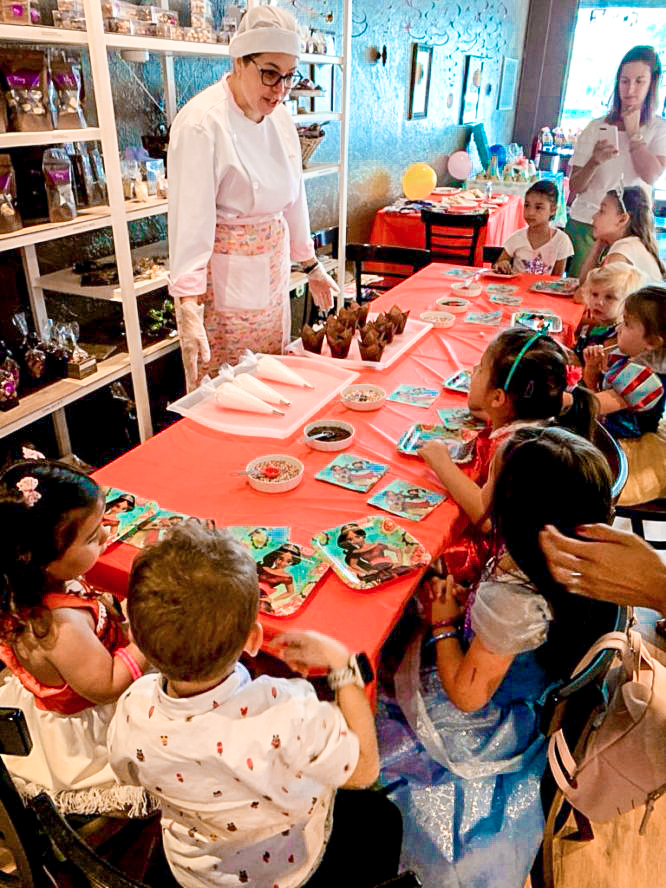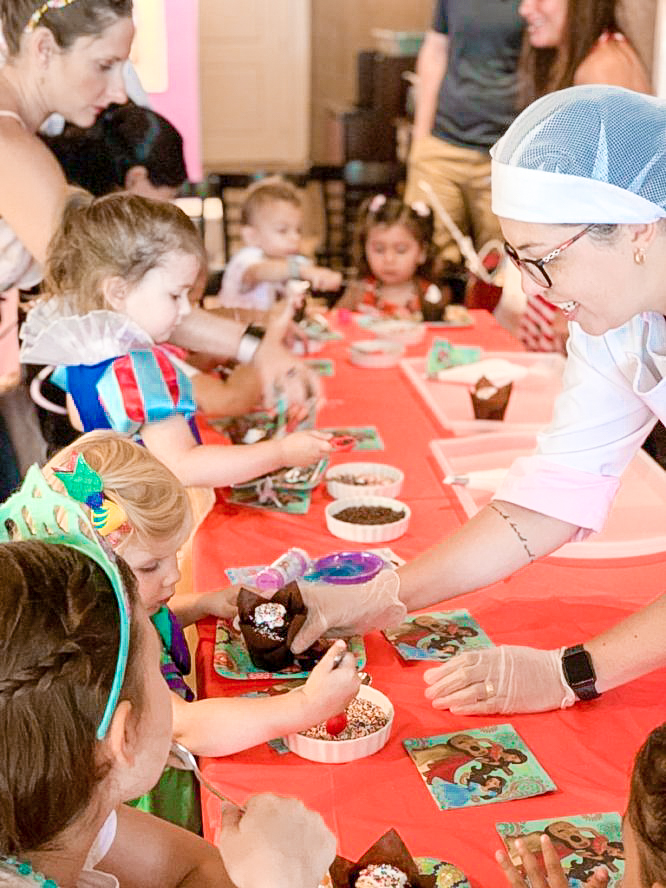 Of course no party is complete without a Dance Party! After dessert, everyone was ready to dance to their favorite Disney tunes.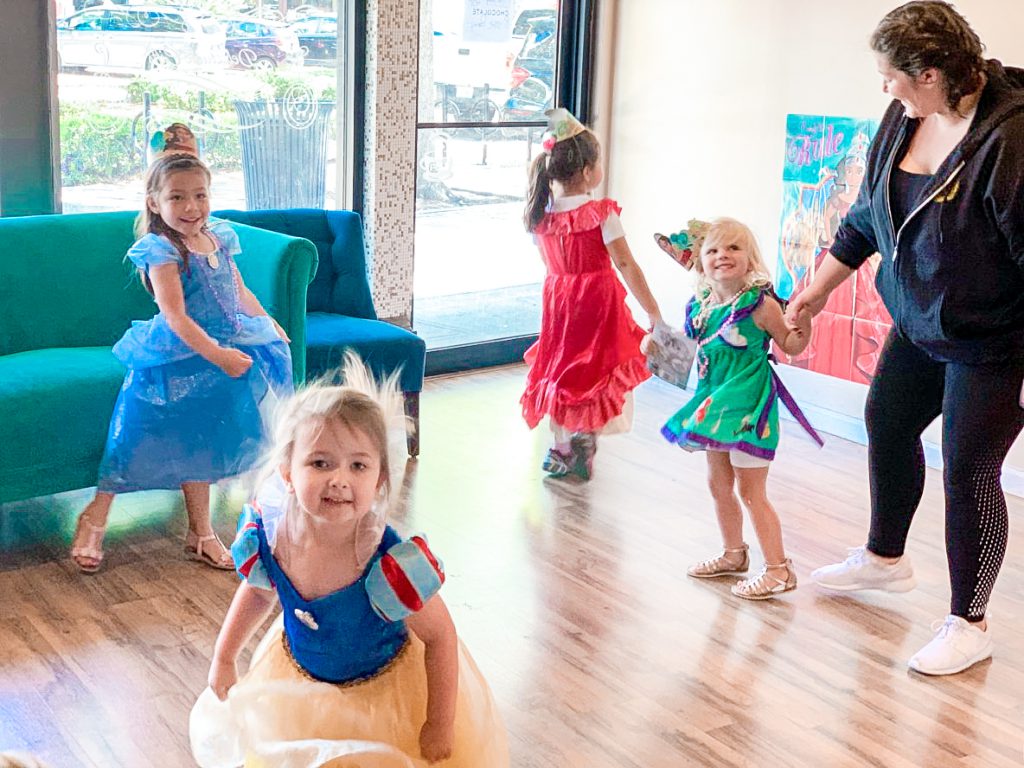 You can find as many as 30 official Disney playlists on Apple Music, so head on over to https://apple.co/disneyparks and check them out!
Party Favors
I knew I wanted to make favor bags for our small guests without having to spend too much. Dollar Tree, Party City, and Amazon definitely have a great selection of Disney items for a great price!
I decided to incorporate the overall theme of our #NowMoreThanEver celebration into the items of the favor bags. Based on the new experiences that were being offered at each of the Disney Parks, I chose my party favors accordingly.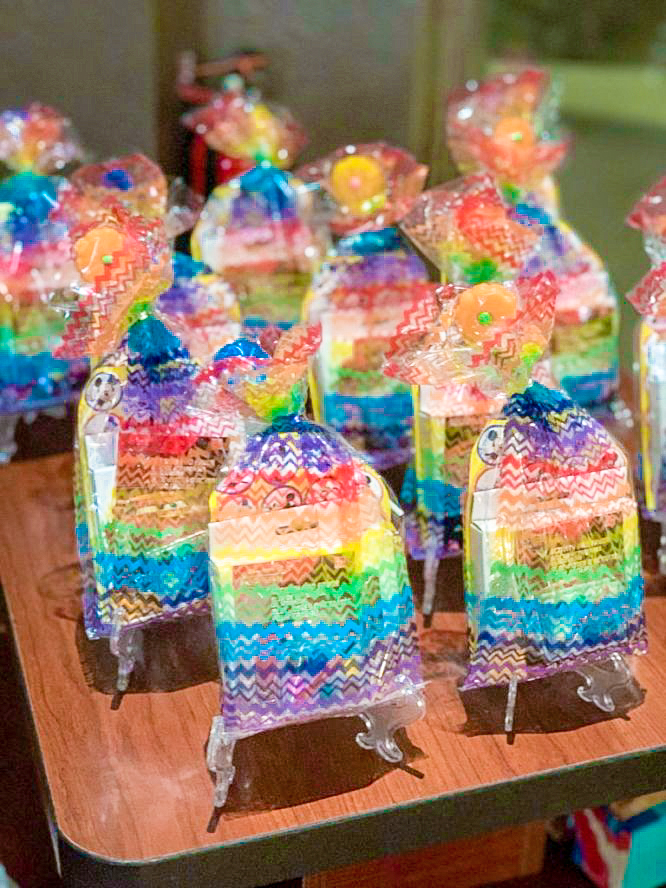 I chose stickers of Mickey and friends for Mickey and Minnie's Surprise Celebration at Magic Kingdom, Lion King crayons for the Festival of the Lion King at Animal Kingdom, Cars activity book for Lighting McQueen's Race Academy at Hollywood Studios, and a pack of watercolor paint sets for The Festival of the Arts at Epcot.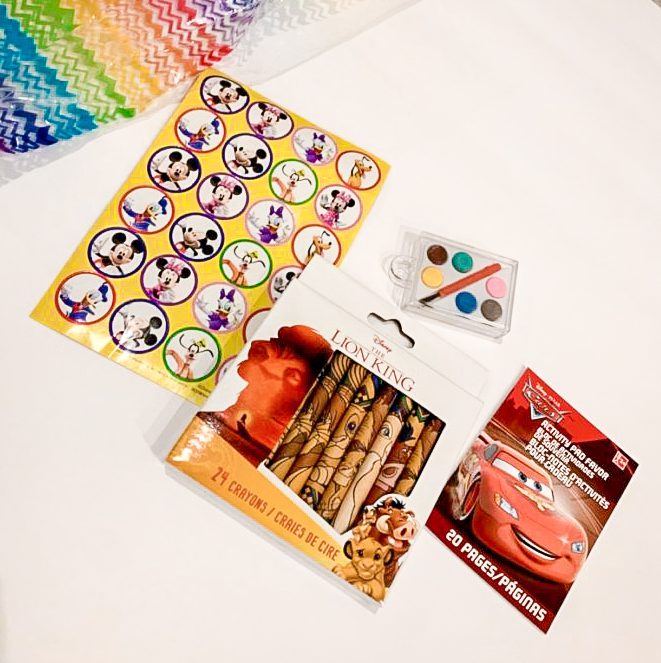 Big Fish Games also sent a few of their Toy Story Drop PopSockets which were great party favors for the moms to take home.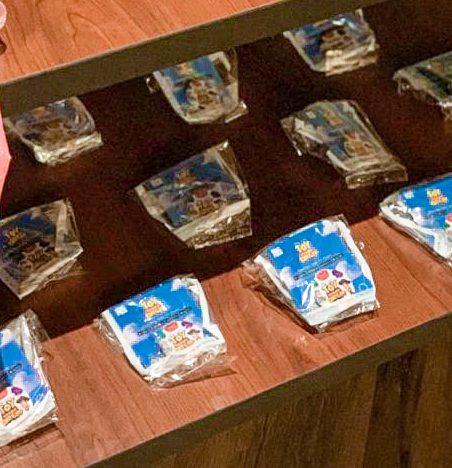 Gifts
We held a small giveaway towards the end of our playdate in which a lucky little princess went home with a beautiful princess dress from Jakks Pacific.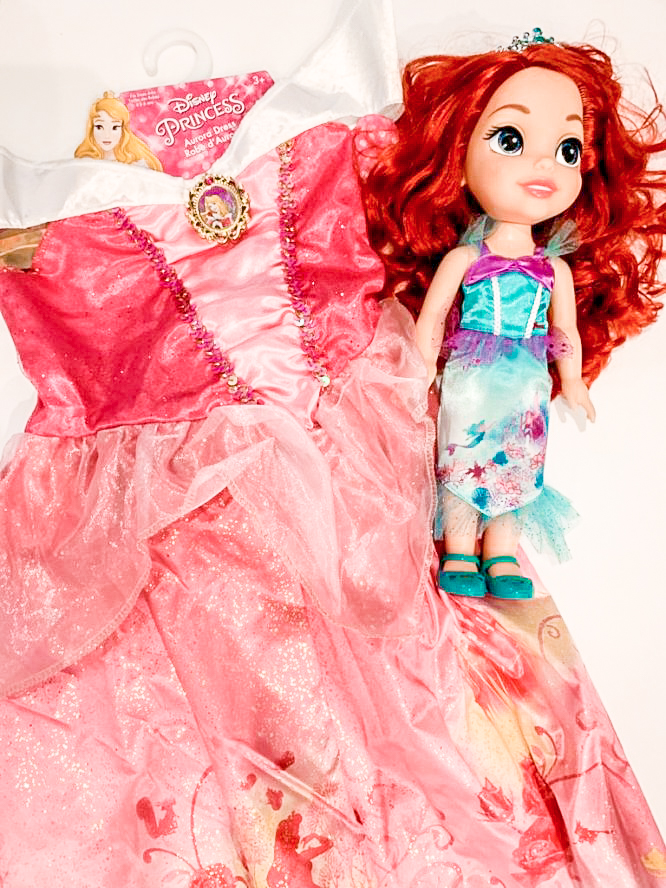 My daughter got to keep the gorgeous Ariel doll we received from them, as well the most adorable Mickey Mouse pillow from Pillow Pets.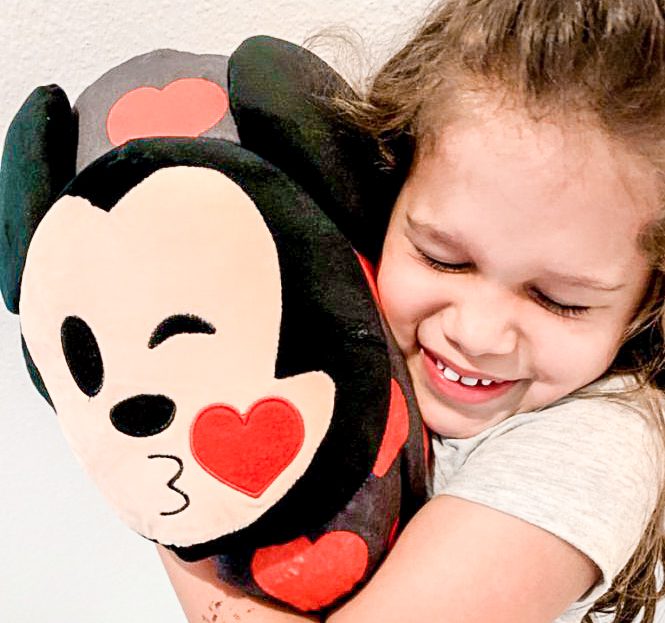 This was her first ever Pillow Pet and it has officially become one of her favorite bedtime companions.
Now it's the perfect time to visit Walt Disney World
Now more than ever is the best time to plan that family vacation to Walt Disney World with so many new attractions throughout all the parks!
At Magic Kingdom you can join the party with Mickey and Minnie's Surprise Celebration, where you can meet this adorable duo in their festive outfits and join in on the fun with a brand new parade.
There's also a party going on at Hollywood Studios as the park celebrates it's 30th year anniversary with the reveal of a brand new logo. Join The Incredibles at Pixar Avenue for music, dancing, and games for the whole family or visit Mike and Sulley from Monsters, Inc. The little ones will also love the Disney Junior Dance Party featuring favorite characters like Vampirina and many more!
Speaking of dance parties, the Hakuna Matata Time Dance Party is another family favorite, featuring beloved characters like Timon and Rafiki from Disney's The Lion King. My daughter absolutely loved dancing alongside some of her favorite characters during this dance party!
Epcot will also be adding some brand new attractions including an all-new nightime spectacular in place of its current nightime show, "Illuminations: Refections of Earth."
Thinking of taking your preschooler to Walt Disney World for the first time? Then take advantage of the "My First Disney Getaway" Package, a 2-night stay for only $999! And don't forget to use the hashtag #NowMoreThanEver to stay up to date on all the new events happening at Walt Disney World!
A huge thank you to Disney for selecting us to be a part of this. Everyone had an amazing time and I truly enjoyed planning it!
Make sure to follow along for more Disney adventures and tips on my Instagram, Twitter, Facebook, Pinterest, and Youtube.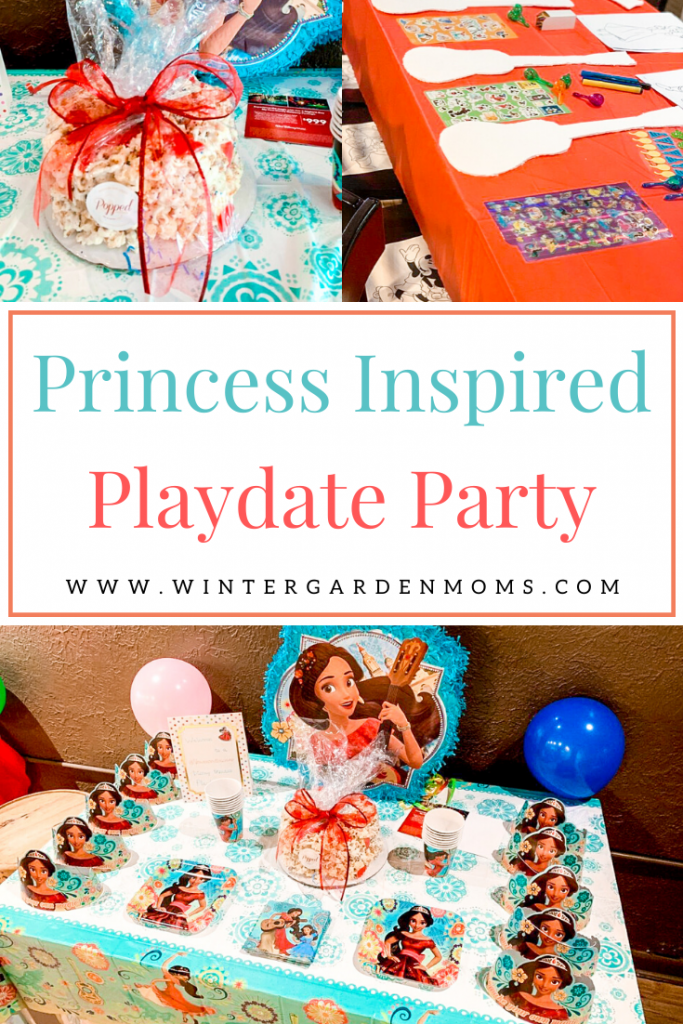 Are you planning a Disney themed party?? Let me know in the comments below!