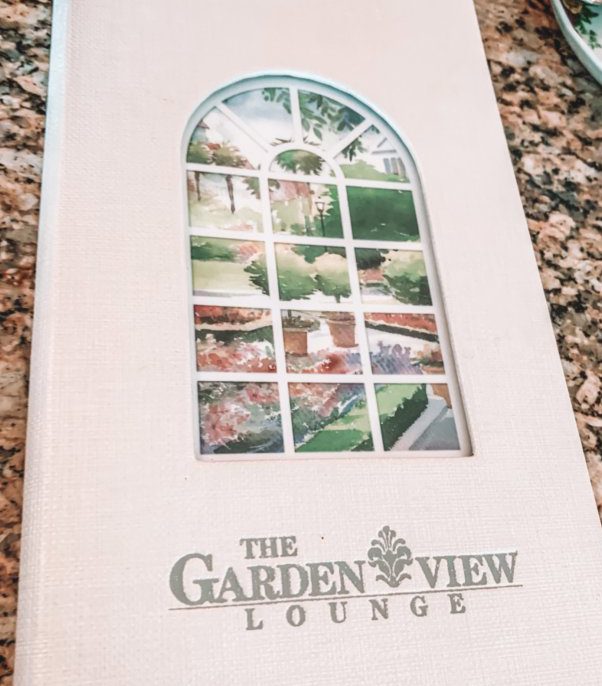 The Afternoon Tea at the Garden View Tea Room is one of the many amazing experiences offered at Disney's Grand Floridian Resort. The location is absolutely beautiful and although the menu is small, each tea experience has a nice selection of food items and various tea choices.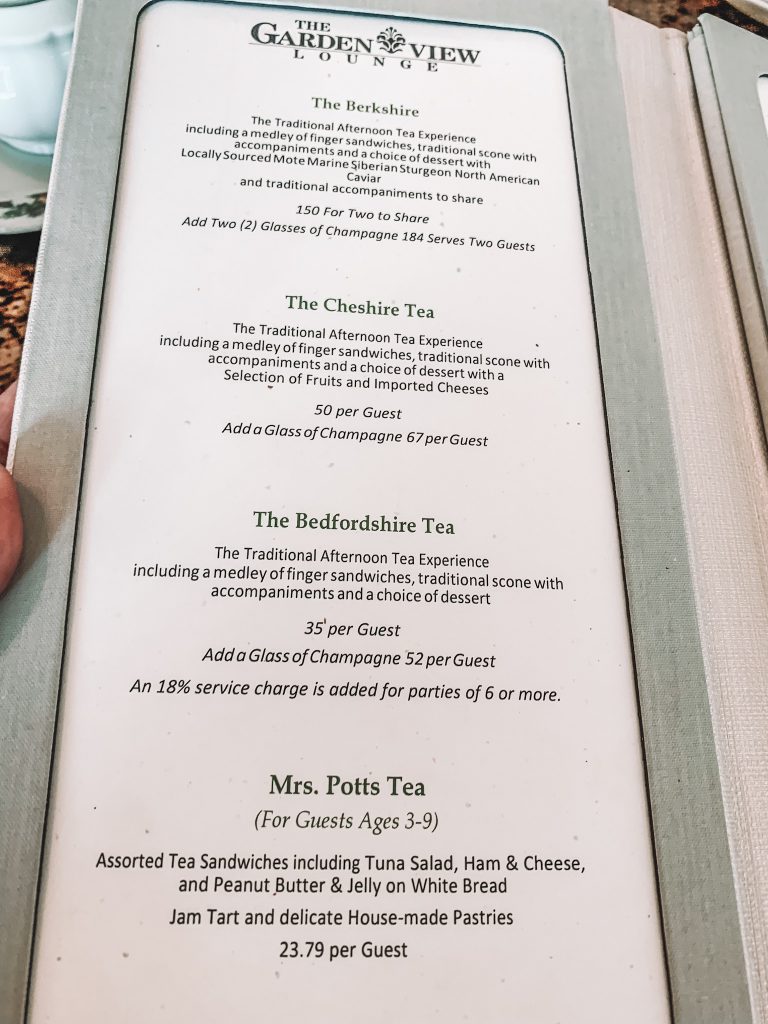 I opted for The Bedfordshire Tea which includes a pot of tea of your choice, medley of finger sandwiches, traditional scone with accompaniments, and choice of dessert. You can add a glass of champagne to your order as well.
My daughter had the Mrs. Potts Tea, which is their kid's menu option and includes an assortment of tea sandwiches, jam tart, and pastries. She also had a choice of apple juice, chocolate milk, and a fruity tea.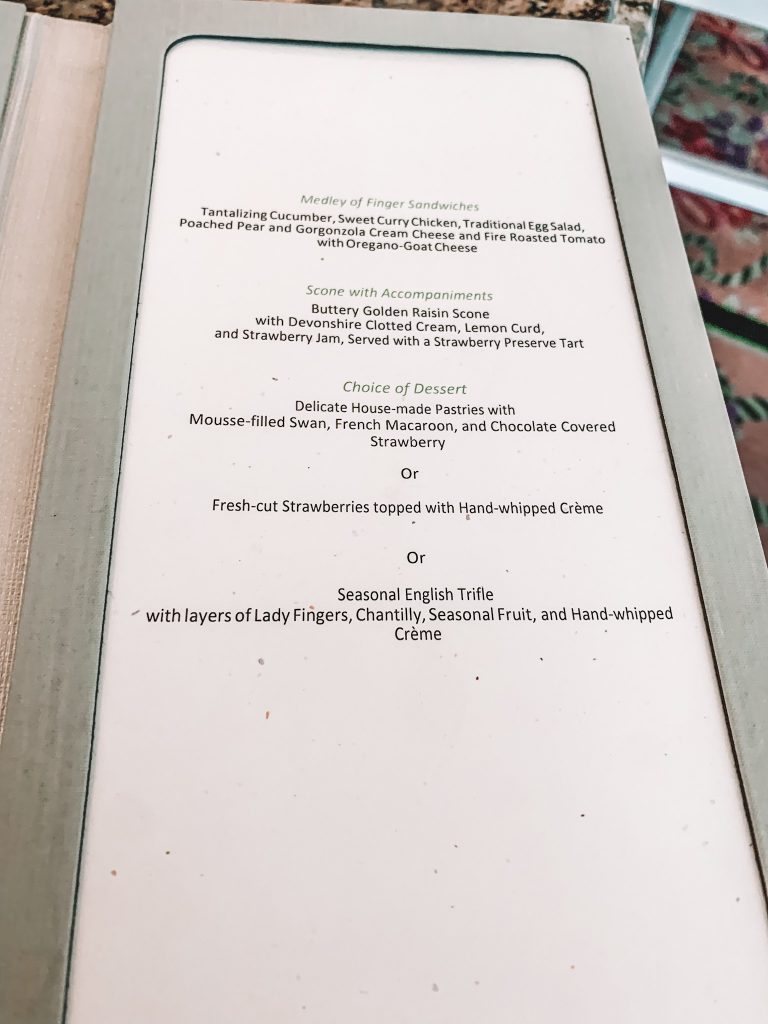 After choosing our tea (my pick was the Enchanted Forest black tea while my daughter chose apple juice) they brought us each our own pots with our drinks. My daughter's favorite part because she loved being able to pour her own "tea" in her cup.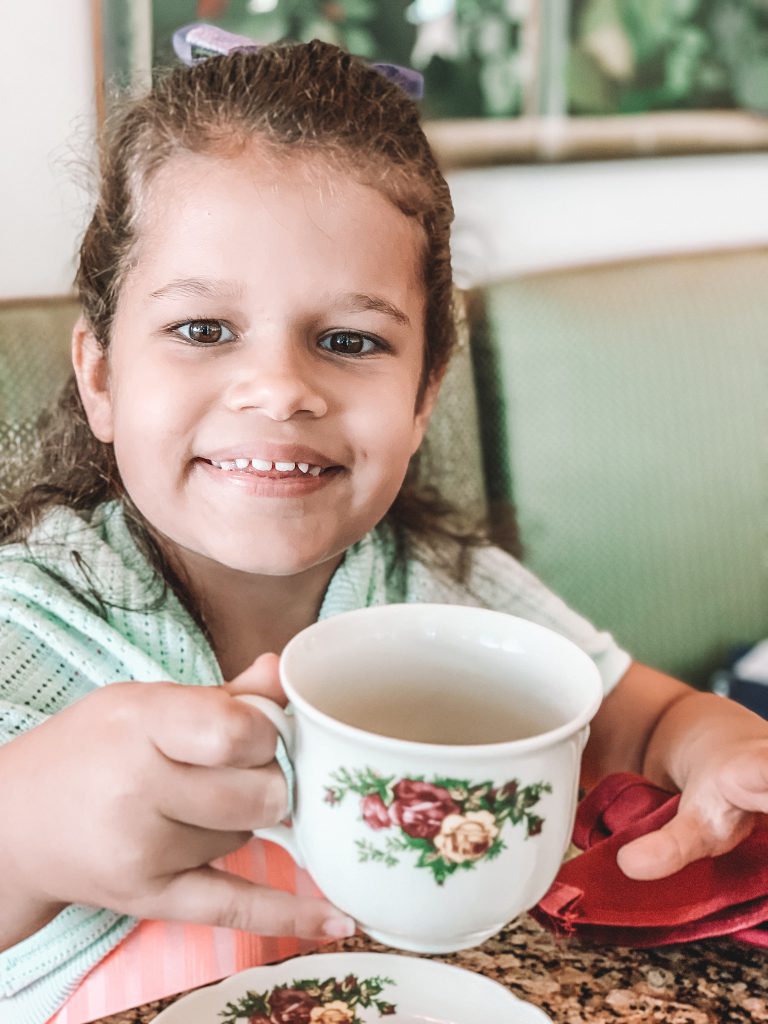 Soon after our finger sandwiches arrived. My plate consisted of cucumber, sweet curry chicken, traditional egg salad, poached pear and gorgonzola cream cheese, fire roasted tomato with oregano goat cheese, and an onion tartlet. I really enjoyed the variety of the sandwiches and found them to be quite tasty!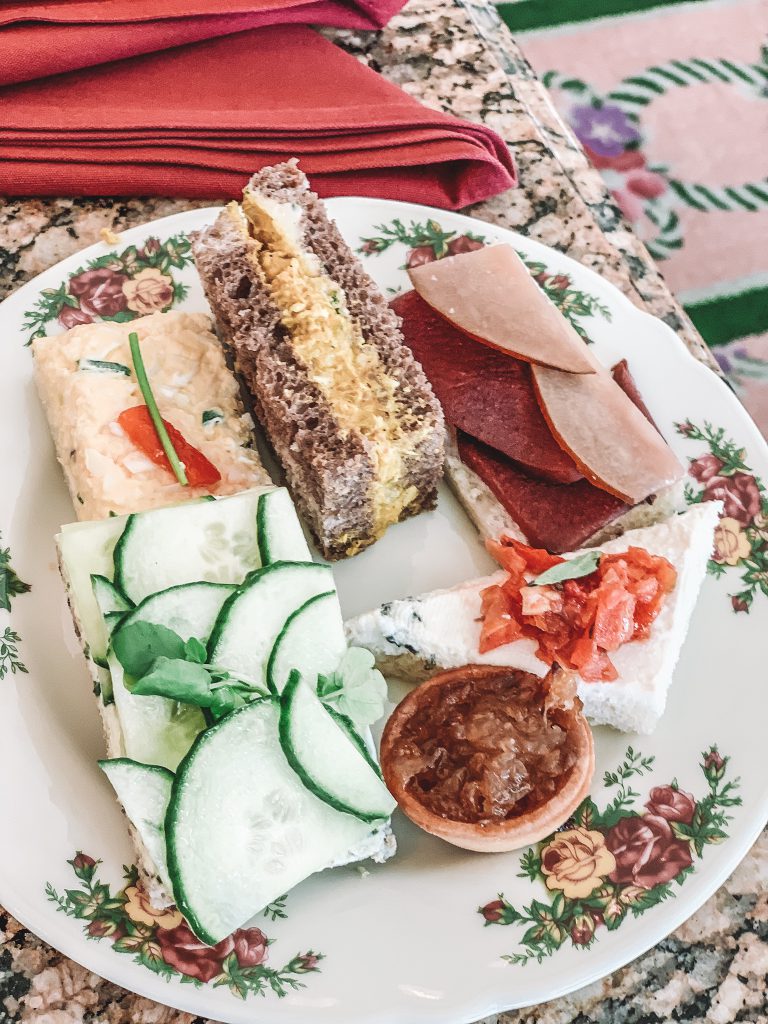 My daughter's sandwich plate included peanut butter and jelly, ham and cheese, and tuna salad. She loved the sandwiches except for the tuna salad. I took a bite of the tuna sandwich and honestly thought it was pretty good. My daughter isn't a big fan of tuna though.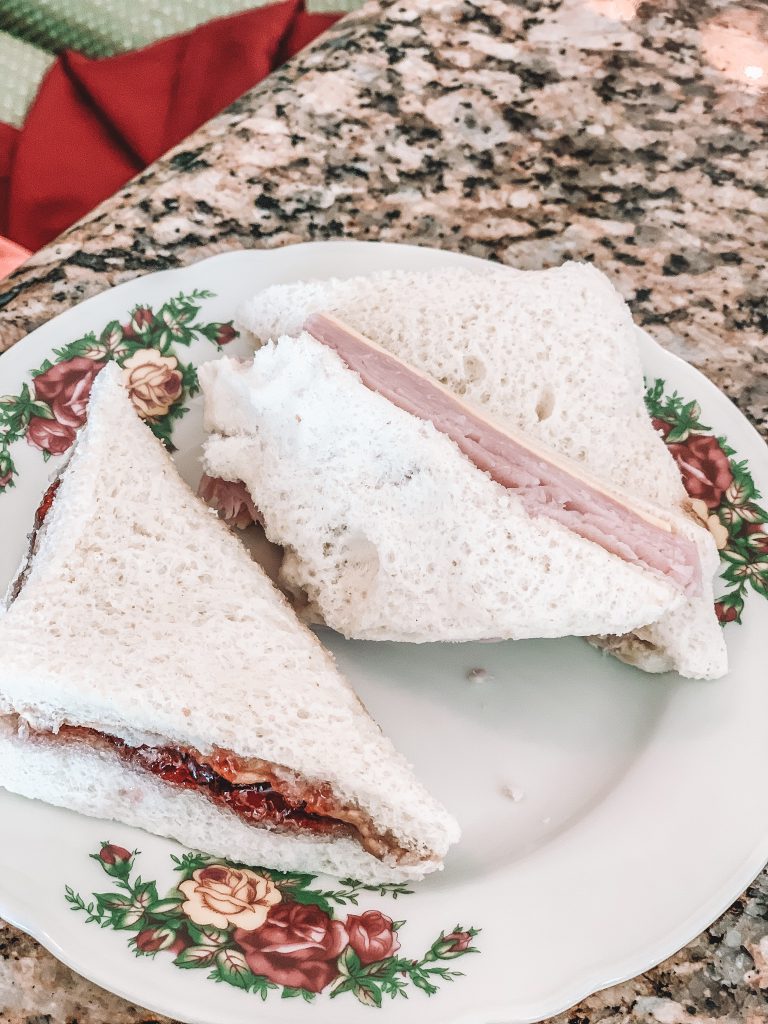 Once we finished our sandwiches it was time for dessert. This included a buttery golden raisin scone with cream, lemon curd, and strawberry jam, served with a strawberry preserve tart. Choices of dessert were delicate house-made pastries with a mousse-filled swan, French macaron, and chocolate covered strawberry.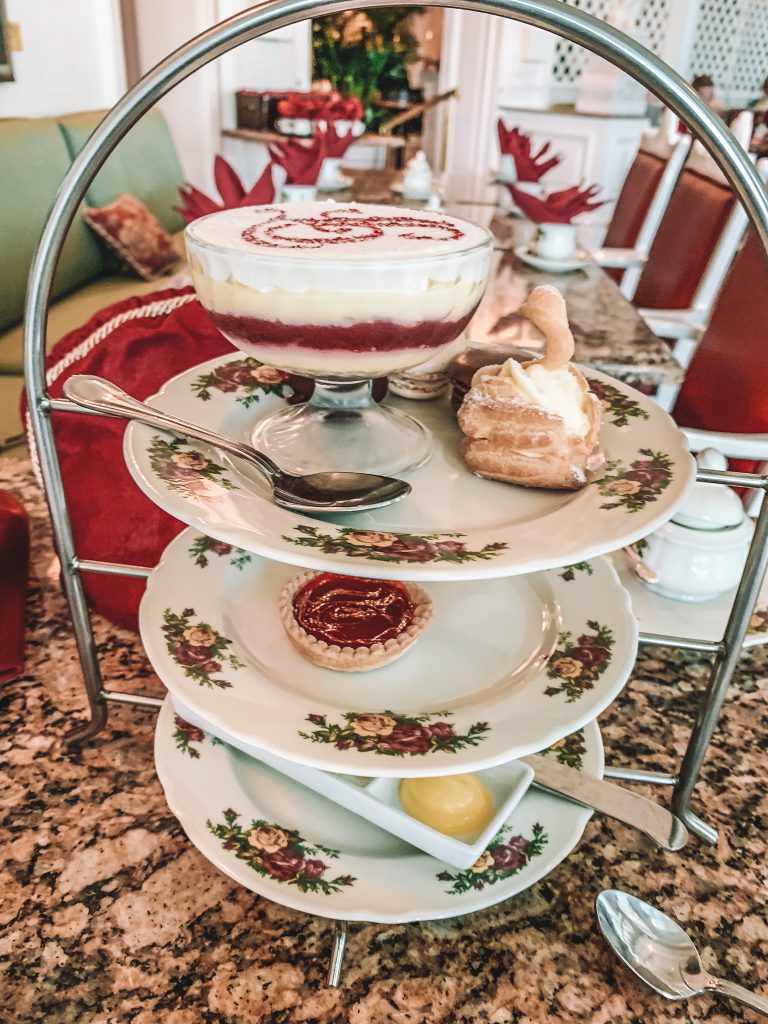 We also had the English Trifle with layers of Lady Fingers, lemon curd, strawberries, and hand-whipped Creme. This was absolutely delicious and probably the highlight of the whole meal for me!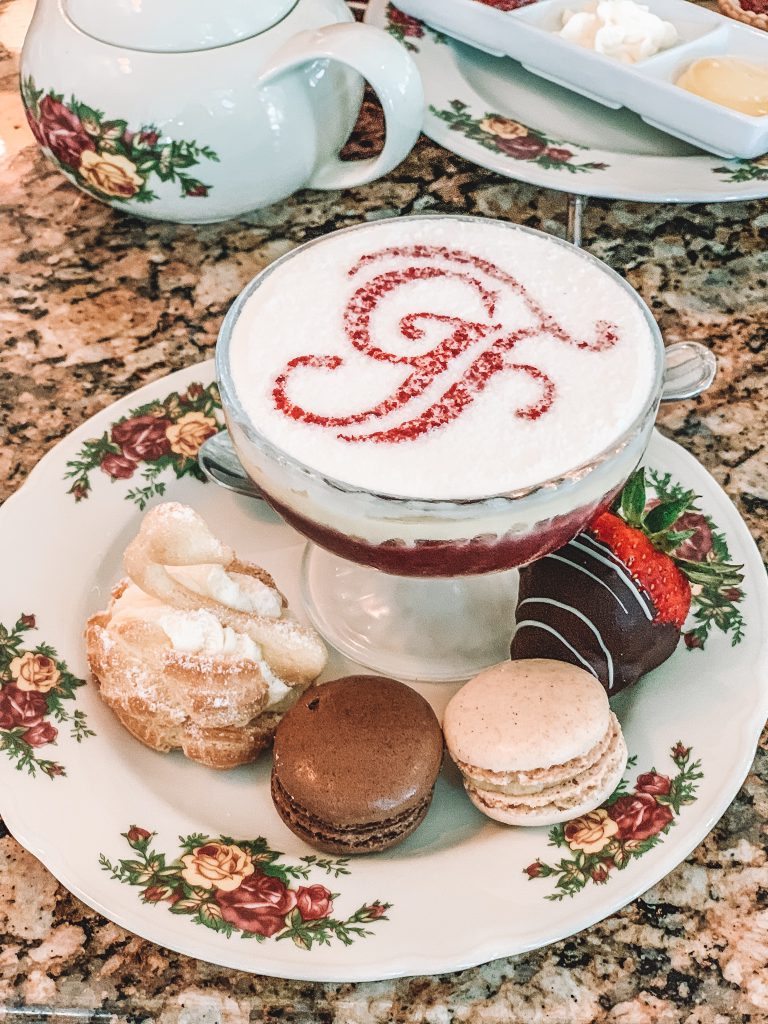 Overall Thoughts
As you may know, we attended The Perfectly Princess Tea Party a few months ago for my daughter's birthday (you can find that post here) which also takes place at the Garden View Tea Room. As far as the menu goes, I found the finger medley plates to be quite similar for the adults in both of the tea experiences. However, I believe my daughter enjoyed the menu selection a lot more at the Perfectly Princess Tea Party than the Afternoon Tea as it is more tailored to small children and features a better variety of choices for them.
Dessert is also different, but she did love all the choices of pastries at The Afternoon Tea compared to the single slice of strawberry cake offered at the Princess Tea Party (although that cake was incredible!)
Overall we had an amazing time at our Afternoon Tea at Disney's Grand Floridian. It was a nice atmosphere, delicious menu, and definitely a lovely experience worth booking on your next trip to Disney! For more information, visit the Walt Disney World Website.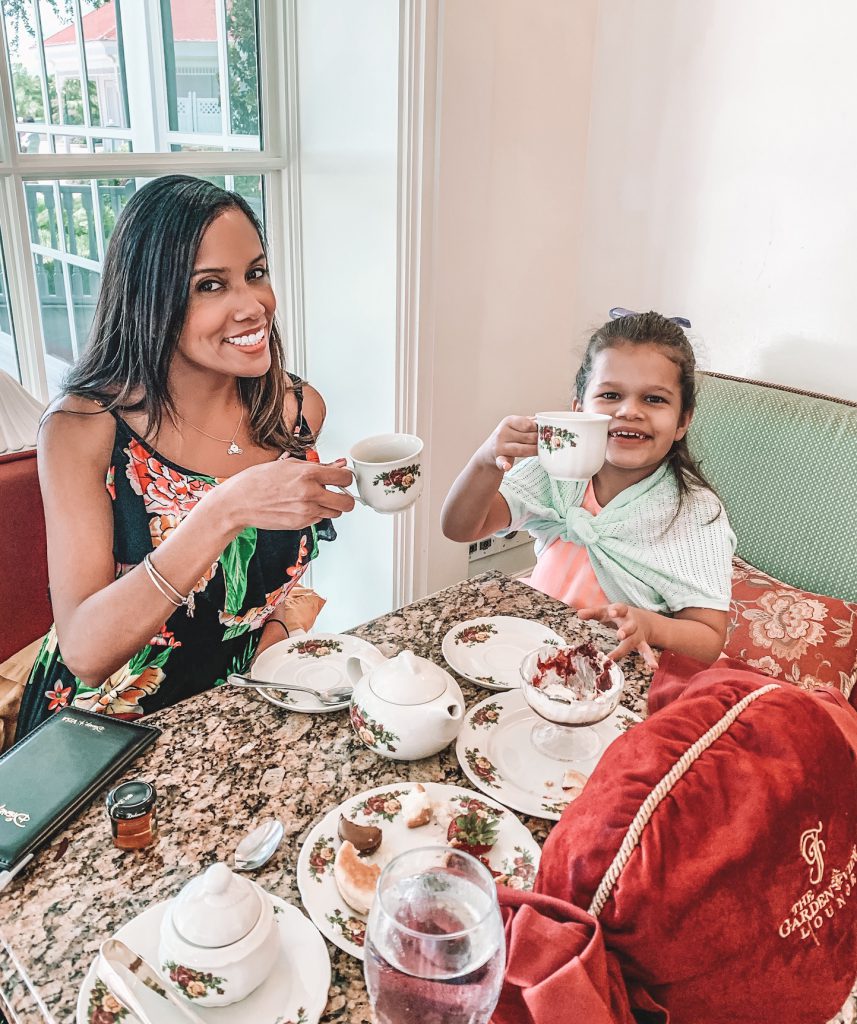 Have you had The Afternoon Tea at Disney's Grand Floridian Resort yet?